There's so much power in writing out your tasks for the day with a to-do list – and what do you get when you marry to-do lists with one of the best productivity platforms out there? Notion to-do templates and systems.
To-do lists are a staple in any Notion dashboard, and will make your dashboard even more functional than it already is. To-do lists come in many shapes and sizes, from simple checkbox lists, all the way to a full-blown productivity hub using the Pomodoro technique.
To help you figure out which one's best for your needs, we've curated the best Notion to-do list templates and digital task lists for you to pick from!
Want more Notion template updates? Join our mailing list! 📮

The Ultimate Notion To-Do List Template
A to-do list dashboard that allows you to manage your habits, tasks, projects, and daily reminders all in one place! Using this template, you can categorize tasks and set time estimates on each to-do list item to keep track of your task list progress.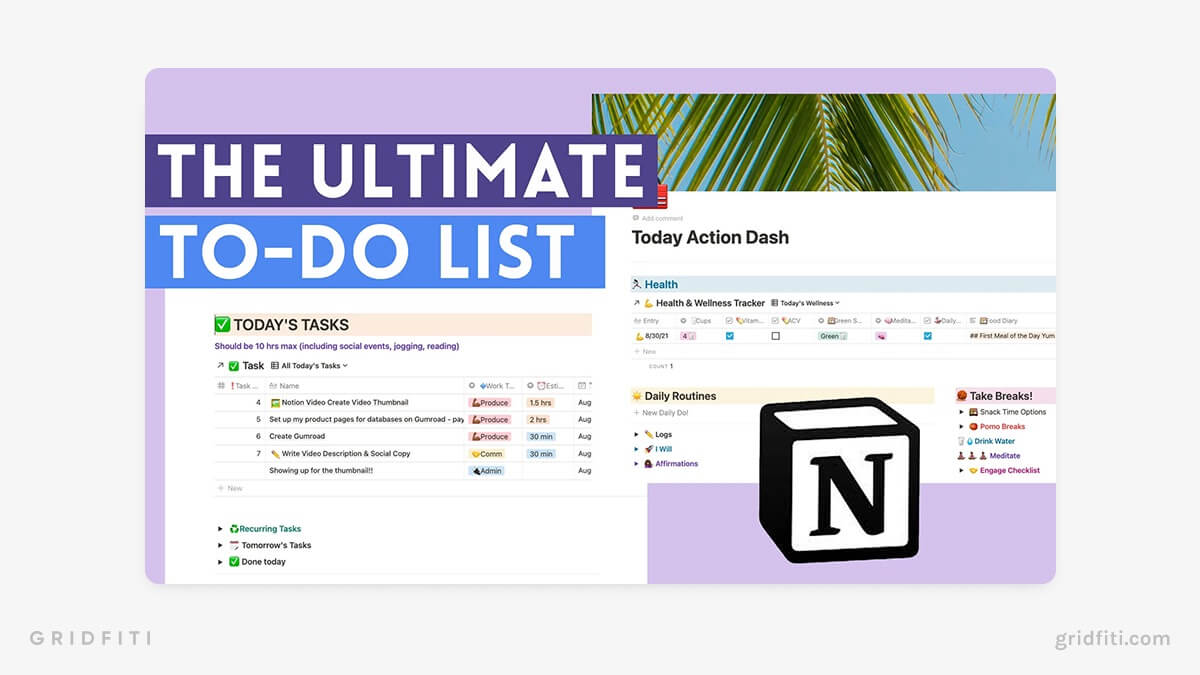 Pomodoro Technique To-Do List Template
Accomplish your tasks in focused, ultra-productive sessions every day with Tomato, a robust pomodoro Notion template.
This easy-to-use and actionable template includes a to-do task agenda with start/end times and target number of pomodoros to use, an automatic productivity rating per session to stay accountable, an automatic daily summary recapping total productivity levels, a built-in pomodoro timer widget, and more! Did we mention the cute tomato theme throughout?
Notion Spatial Task List Template
Organize your tasks and daily schedule in a matrix of importance and effort. A simple, but effective Notion task template that allows you to work on your most important tasks at your most productive hours.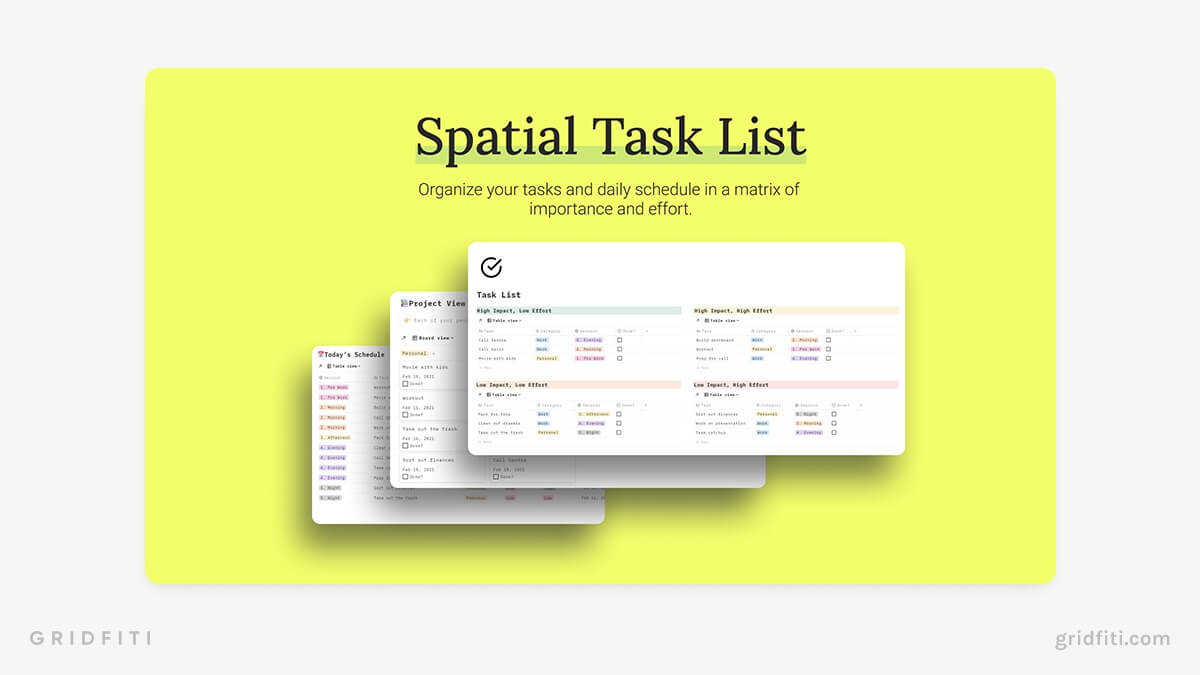 Notionable Tasks Hub
Manage your daily, weekly, monthly tasks – along with your recurring and backlogged tasks, and achievements with the Notionable Tasks Hub! The template uses elements of the GTD and Eisenhower Matrix methods to provide you with a system to schedule tasks, hit goals, and form new habits.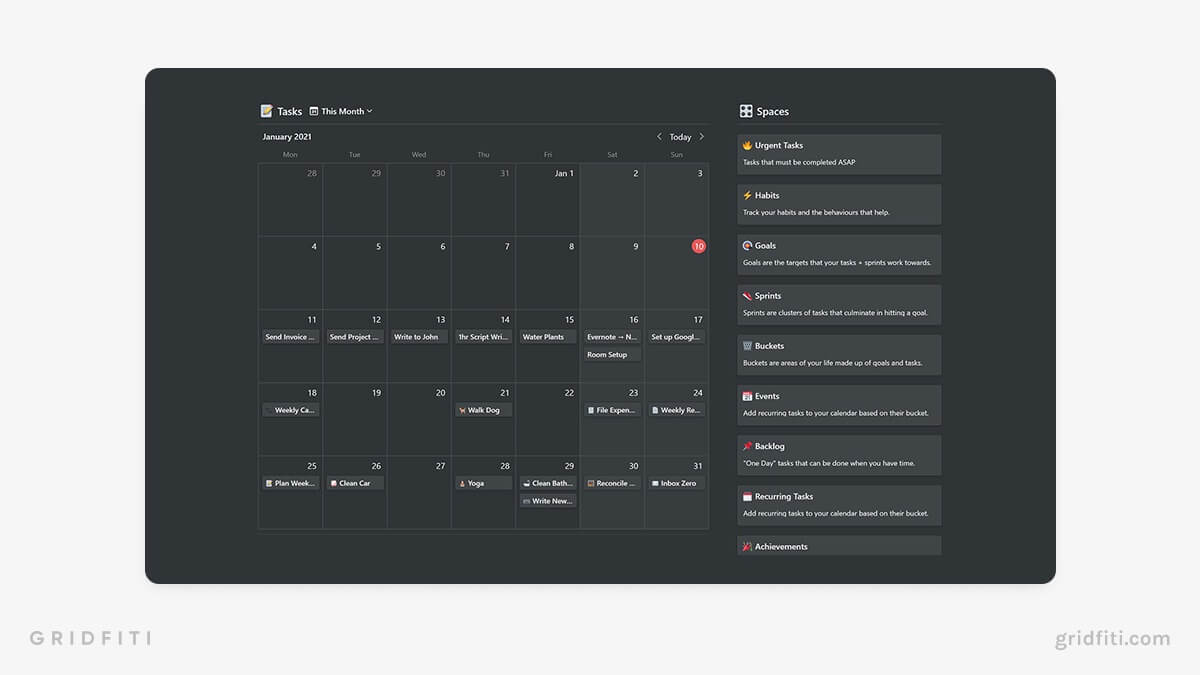 Notion Planners 2.0 – Daily, Weekly, Monthly To-Do Lists
Create daily, weekly, and monthly digital to-do lists with this Notion planning template. A minimal template that helps you map out what you need to accomplish in your life in the short term so you can plan your days, weeks, and months accordingly!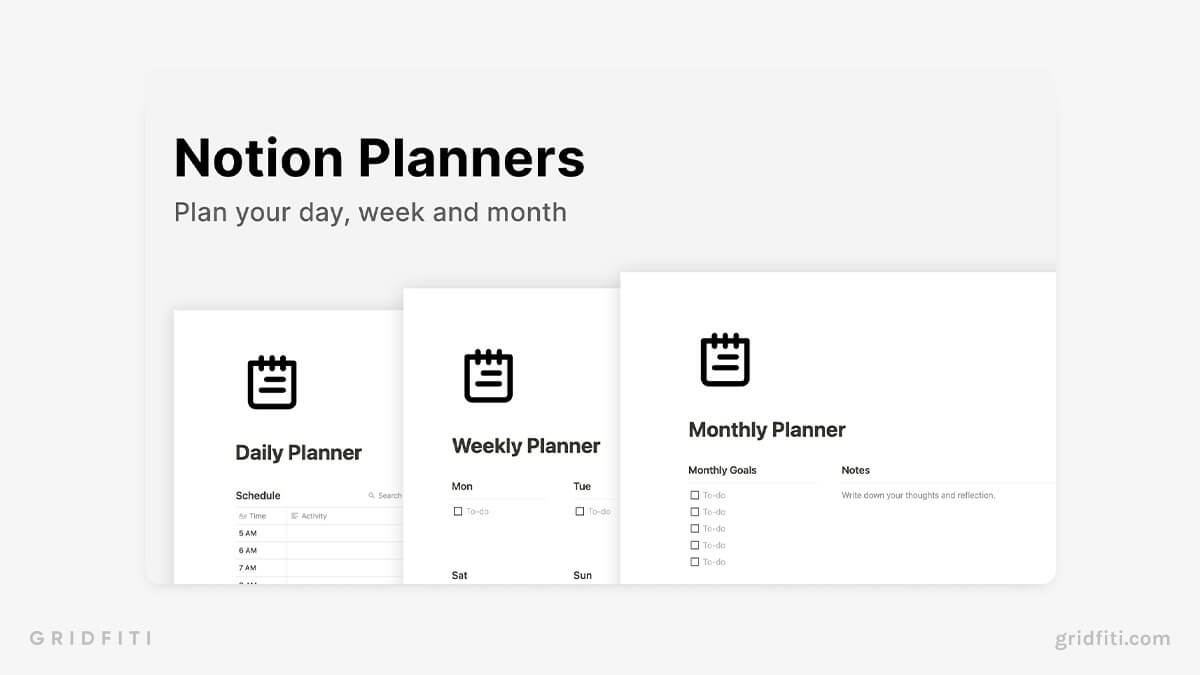 What Notion to-do list template are you using? Do you have any other recommendations for to-do lists or Notion task lists templates to use? Let us know in the comments below.
Gridfiti is supported by its audience – when you buy something using the retail links in our posts, we may earn a small commission at no additional cost to you. We only recommend products we would use ourselves and recommend to our friends and family. Read more about our affiliate disclaimer.