There's so much power in writing out your tasks for the day with a to-do list – and what do you get when you marry to-do lists with one of the best productivity platforms out there? Notion to-do templates and systems.
To-do lists are a staple in any Notion dashboard, and will make your dashboard even more functional than it already is. To-do lists come in many shapes and sizes, from simple checkbox lists, all the way to a full-blown productivity hub using the Pomodoro technique.
To help you figure out which one's best for your needs, we've curated the best Notion to-do list templates and digital task lists for you to pick from!
Want more Notion template updates? Join our mailing list! 📮
Get the all-in-one Life OS template, the only Notion template you'll ever need — with over 25 integrated templates built in.
Ultimate Planner Dashboard – Powerful To-Do List for Daily Weekly, Monthly
The Ultimate Planner Dashboard is a robust, yet easy-to-use, interconnected planning dashboard designed to help you get organized and live more intentionally.
With two central databases, Planner and Tasks, plan your days, weeks and months, map out your tasks each day or week by time and priority, get served up lingering to-dos, stay motived with automatic productivity summaries and ratings, monitor your efficiency with automatic task progress bars, and so much more. This template is all you need to plan your time and get more done!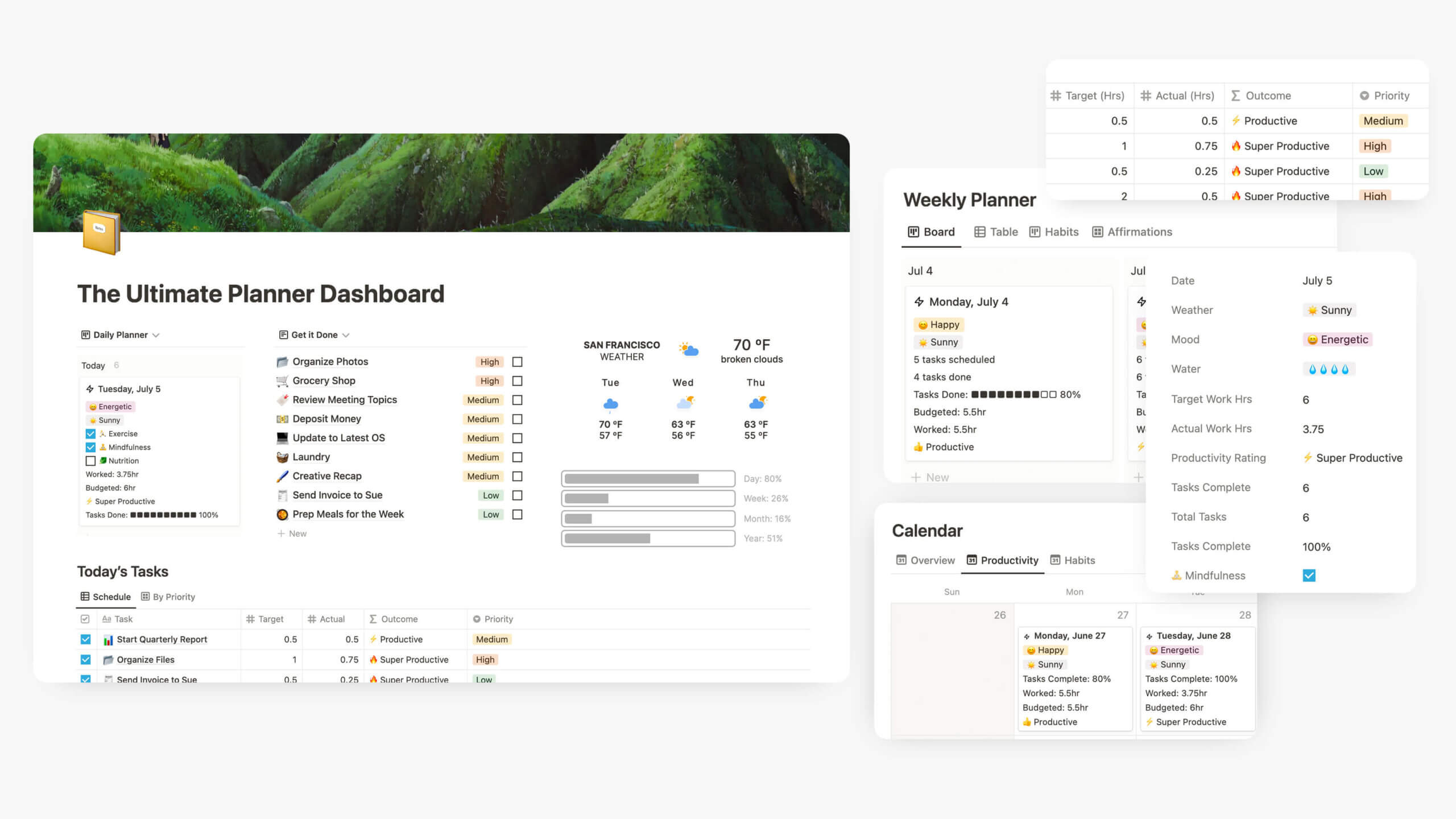 Life OS Template with To-Dos
Life OS is a fully integrated all-in-one template for every aspect of your life! One of the over 20 templates included is Task & To-Dos, and there's a centralized task hub that serves up your most important to-dos for both personal and work tasks right in the dashboard. You can even view your daily, weekly, and monthly plan for each task with table, board, and calendar views.
Beyond your day-to-day productivity tasks, Life OS also integrates to-dos and reminders on your homepage – automatically! Your daily morning and evening routines, plants to water, contacts to follow up with, chores and cleaning tasks all get pushed to the homepage when things need to get done.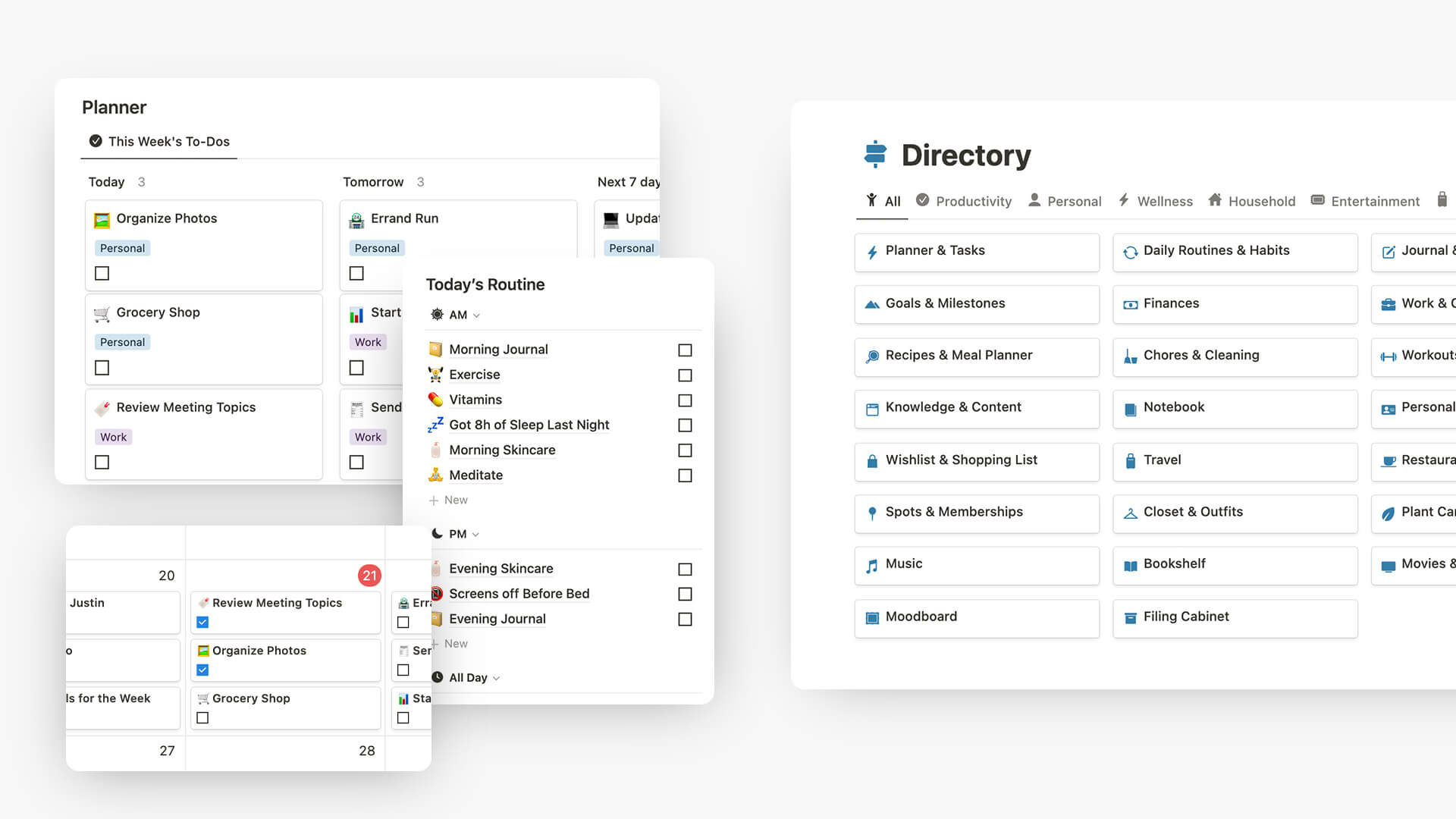 Focus OS: Notion Task Management & Goal Setting System
Define your most important goals and stay focused with actionable steps to achieve them with the Notion Focus OS! Integrate your goals, key results, projects, habits, tasks, and learnings all together in this advanced productivity system.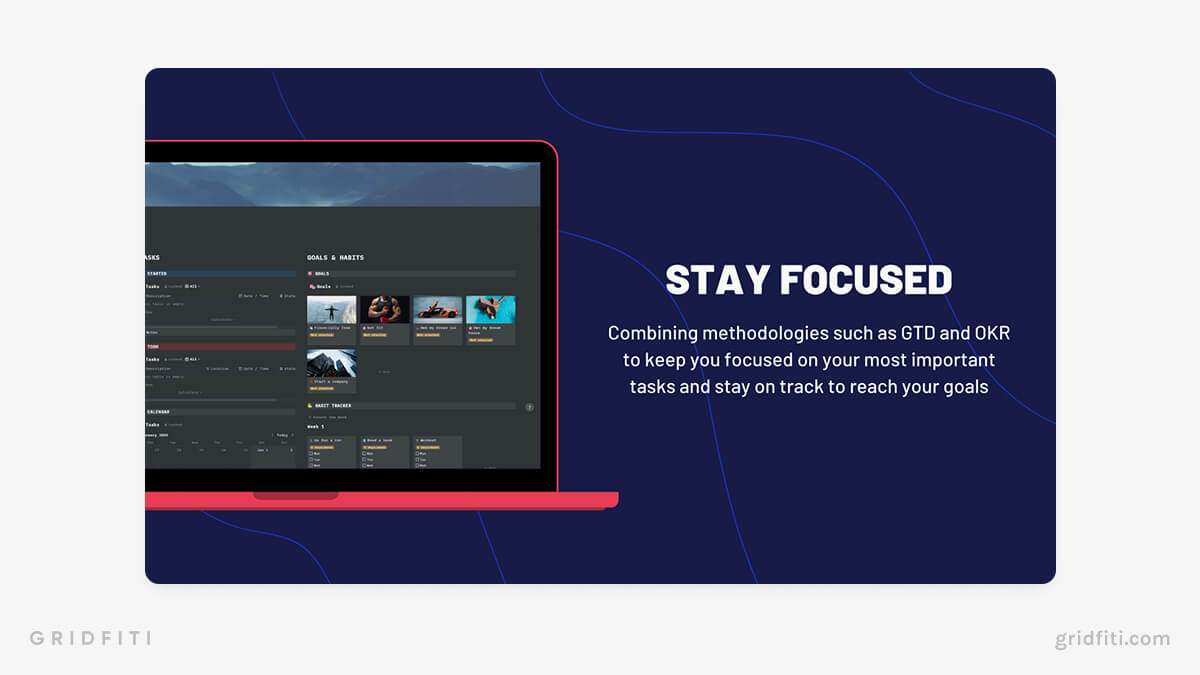 The Focus Hub: Daily Task Management Notion Template
The Focus Hub allows you to work on your highest ROI tasks, determine priorities, and set constraints to finish projects on time! If you're looking for a task management system that is built for success, and not for failure, by making sure you never take on too many tasks at once – this is the system for you!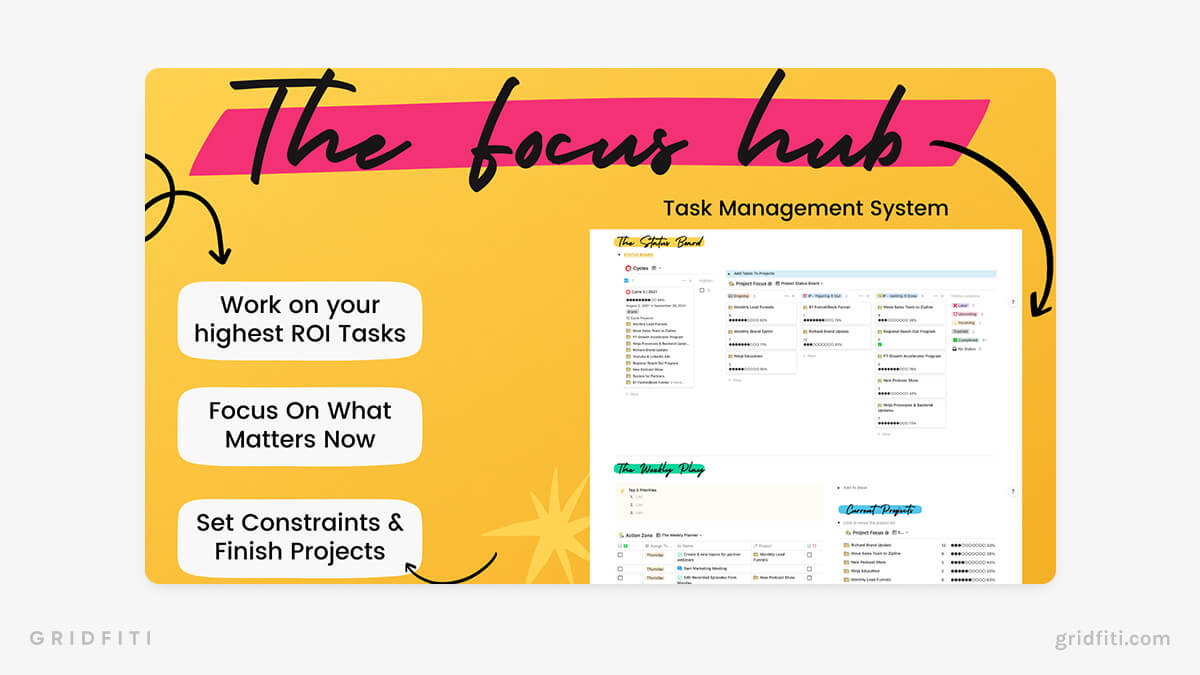 Simple Notion Planner Pack – Daily, Weekly, Monthly To-Do Lists
Create simple daily, weekly, and monthly digital to-do lists with this Notion planning template pack! A minimal template that helps you map out what you need to accomplish in your life in the short term so you can plan your days, weeks, and months accordingly.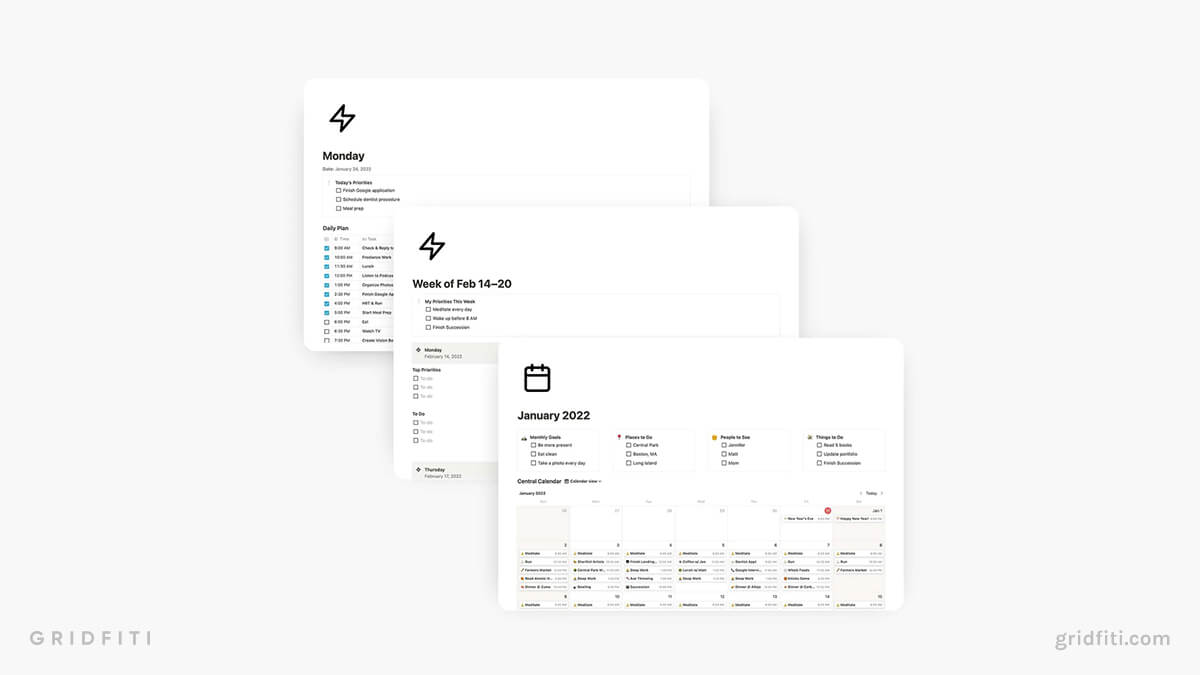 Student OS Dashboard with To-Do Tasks Database
As a student, there are hundreds of to-dos every semester both inside and outside the classroom. With the all-in-one Student OS template with 15+ templates – including a task and to-dos database, centralize your studies all in one dashboard!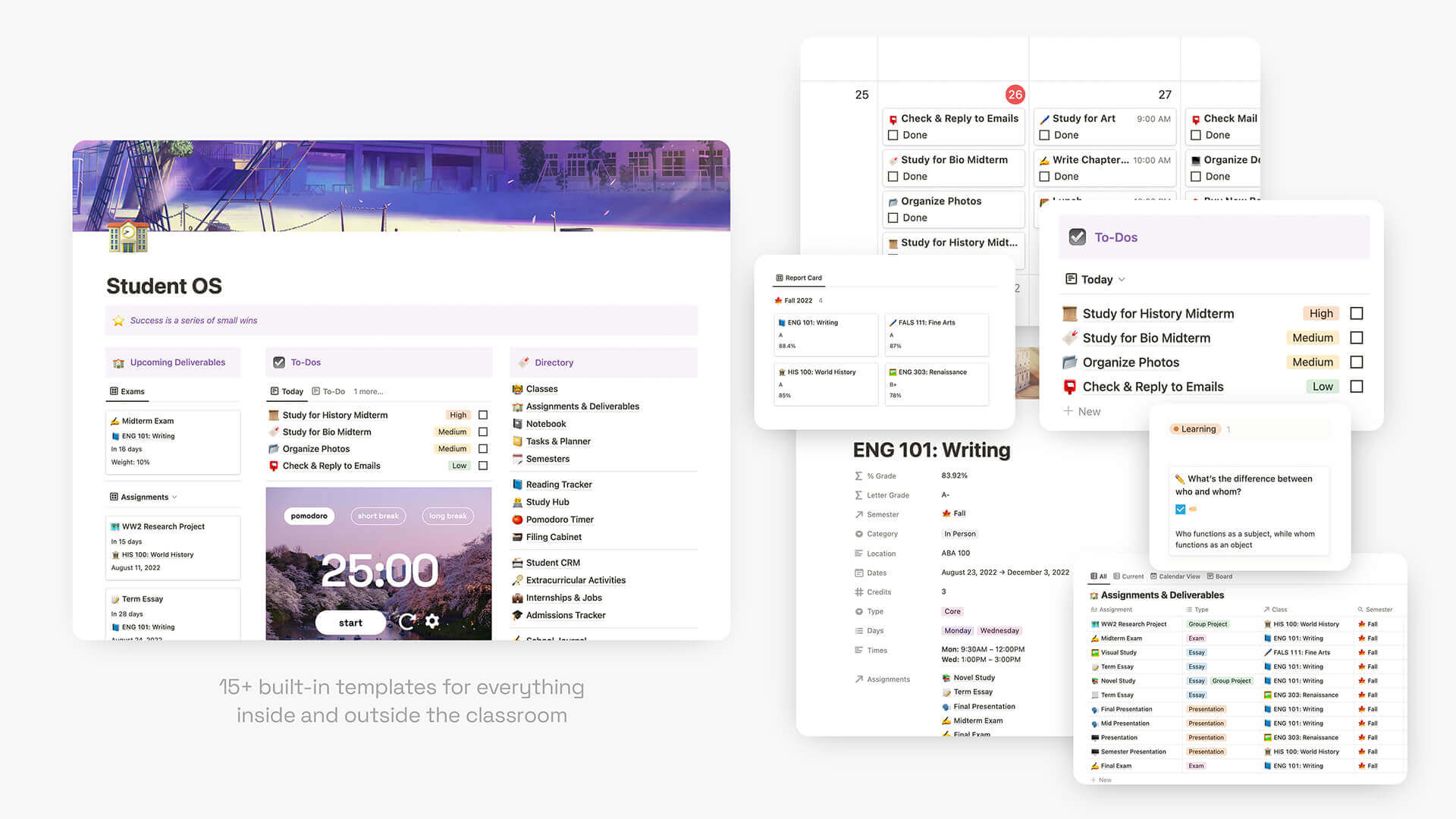 Notion Task List Dashboard – Getting Things Done
Your personal productivity system to help you get things done, use this to-do list dashboard to organize your tasks by recurring, rollover, priority, timelines, and more – all within Notion! The flexible and customizable layout makes this Notion template perfect for anyone looking to increase their productivity.
For more templates like this, check out our full round-up featuring the best Notion GTD templates!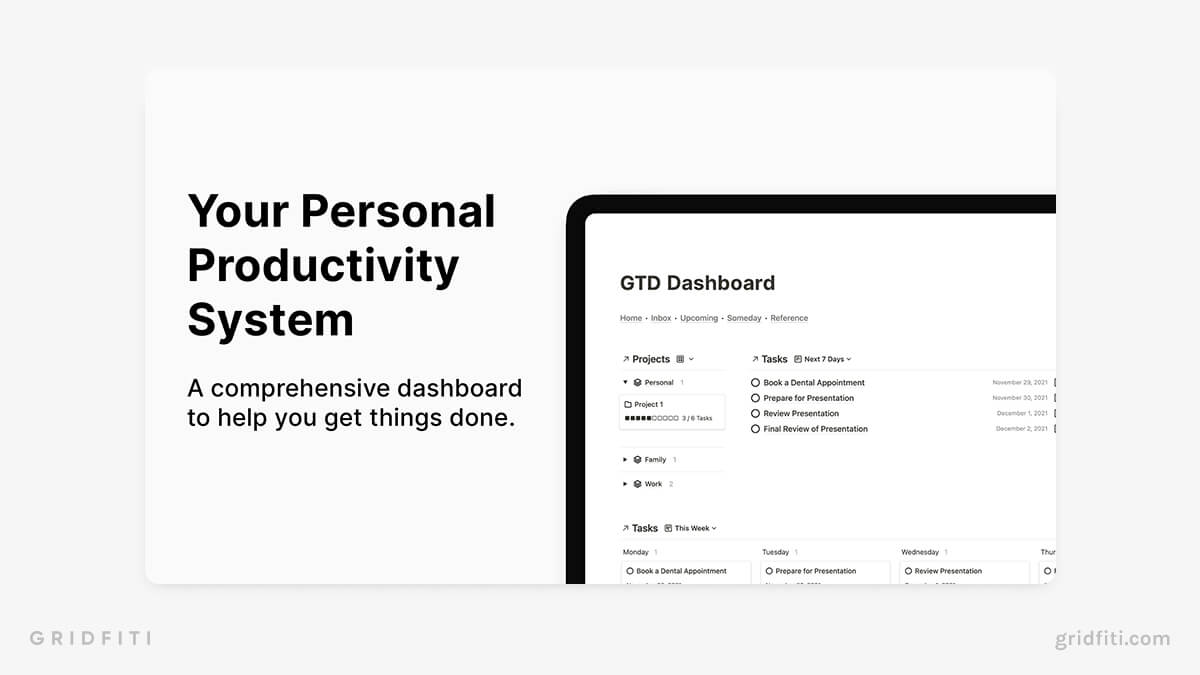 The Ultimate Notion To-Do List Template
A to-do list dashboard that allows you to manage your habits, tasks, projects, and daily reminders all in one place! Using this template, you can categorize tasks and set time estimates on each to-do list item to keep track of your task list progress.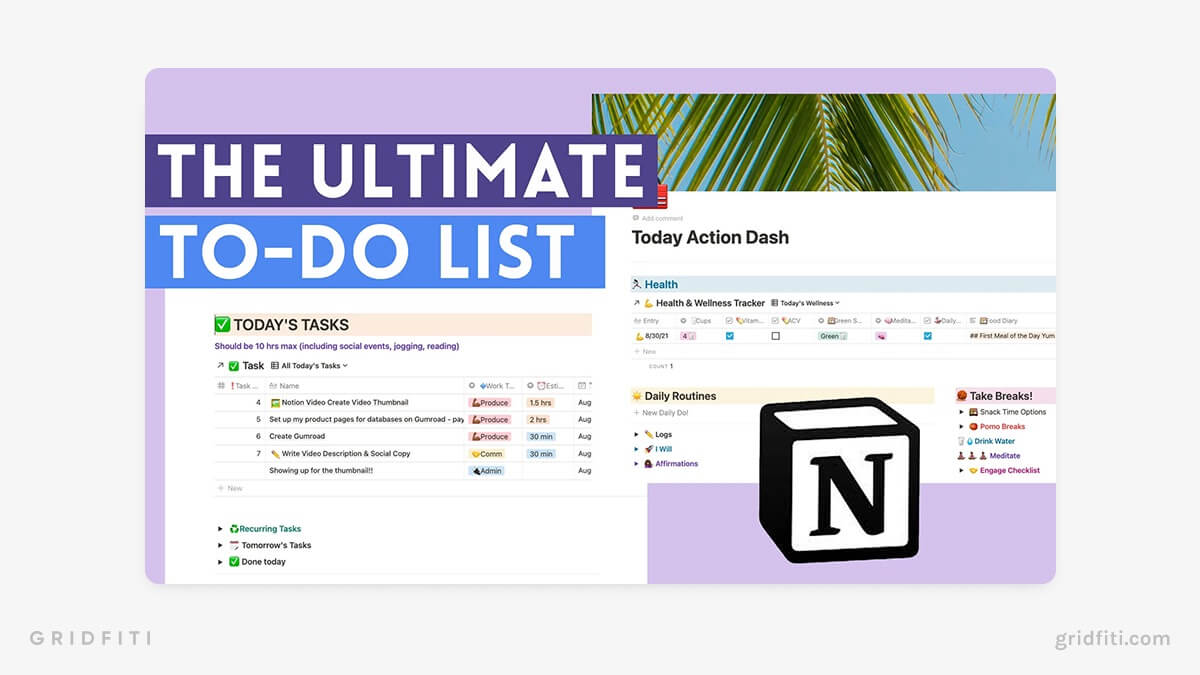 Pomodoro Technique To-Do List Template
Accomplish your tasks in focused, ultra-productive sessions every day with Tomato, a robust pomodoro Notion template.
This easy-to-use and actionable template includes a to-do task agenda with start/end times and target number of pomodoros to use, an automatic productivity rating per session to stay accountable, an automatic daily summary recapping total productivity levels, a built-in pomodoro timer widget, and more! Did we mention the cute tomato theme throughout?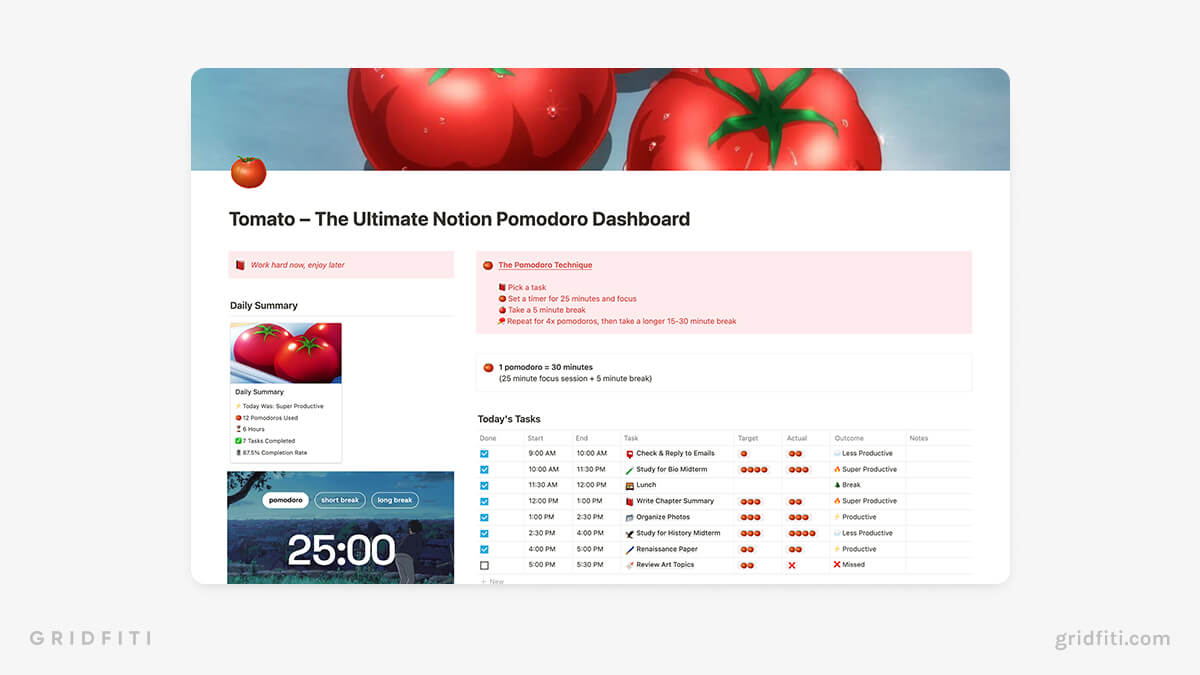 Notion Spatial Task List Template
Organize your tasks and daily schedule in a matrix of importance and effort. A simple, but effective Notion task template that allows you to work on your most important tasks at your most productive hours.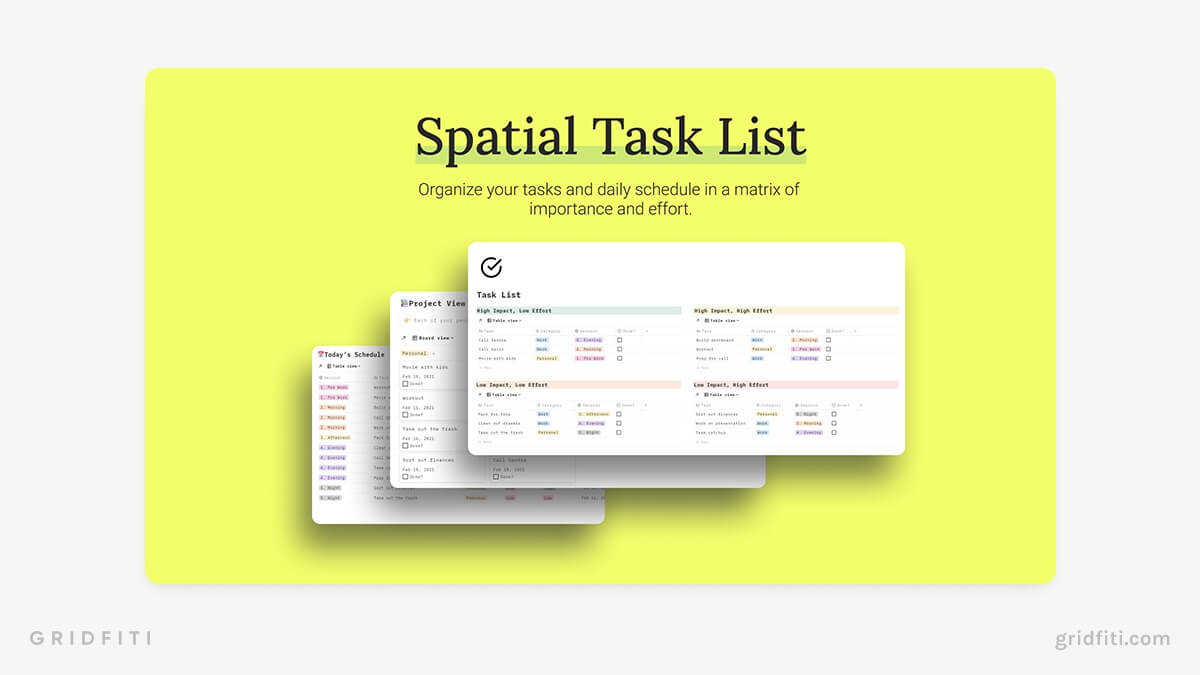 Task Management Template
Transform your to-do list into an effective and efficient task management system in five easy steps with this Notion template. Use the system to add, organize, complete, reschedule, and review tasks all in one place!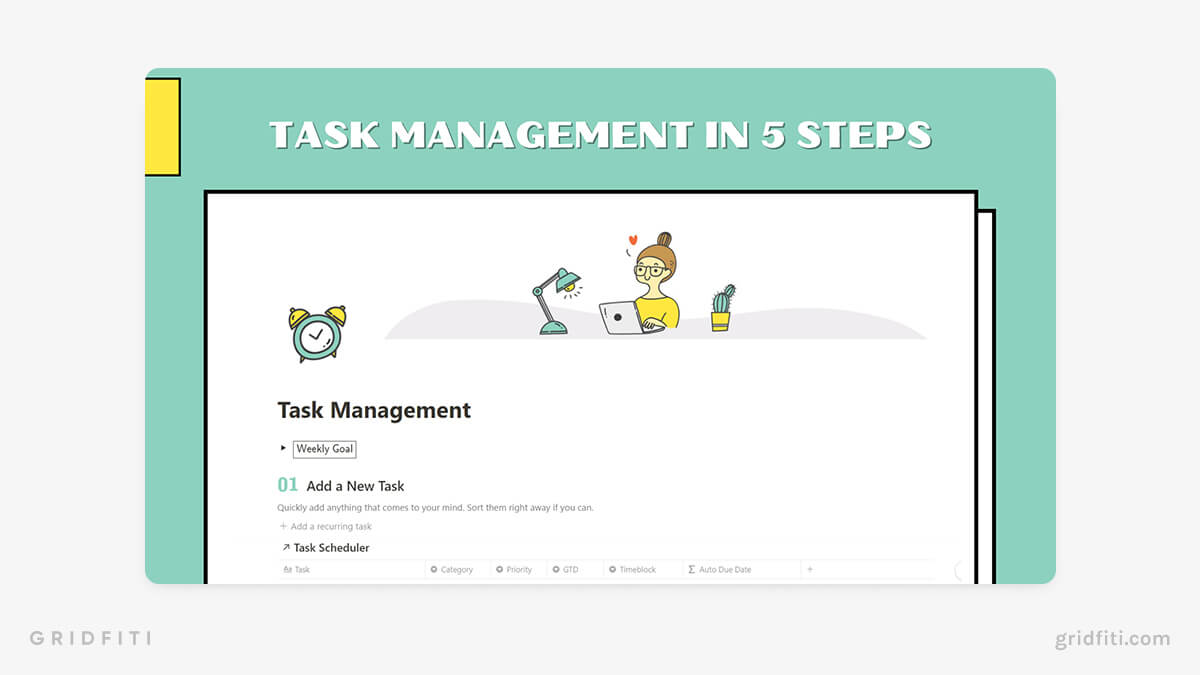 Notionable Tasks Hub
Manage your daily, weekly, monthly tasks – along with your recurring and backlogged tasks, and achievements with the Notionable Tasks Hub! The template uses elements of the GTD and Eisenhower Matrix methods to provide you with a system to schedule tasks, hit goals, and form new habits.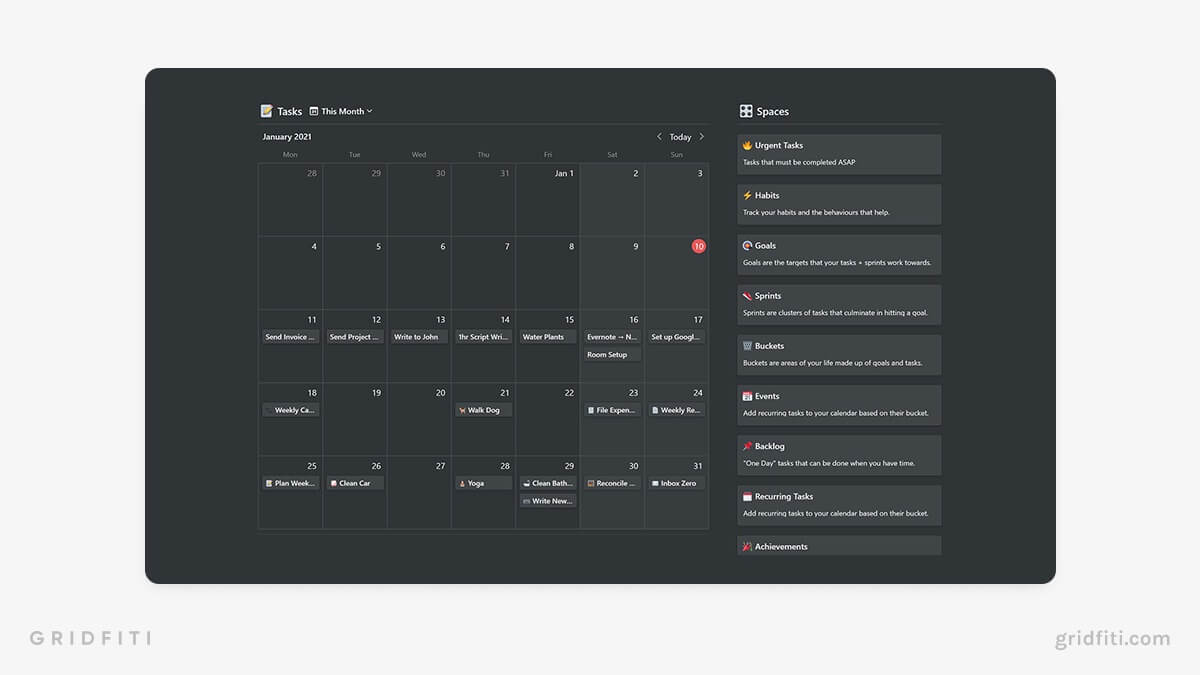 What Notion to-do list template are you using? Do you have any other recommendations for to-do lists or Notion task lists templates to use? Let us know in the comments below.
Gridfiti is supported by its audience – when you buy something using the retail links in our posts, we may earn a small commission at no additional cost to you. We only recommend products we would use ourselves and recommend to our friends and family. Read more about our affiliate disclaimer.