Checklists, Kanban boards, fancy task management apps — we're willing to bet you've tried them all to stay on top of your tasks. And while each method has its merits, these solutions may not provide enough clarity or insight for some folks (including us!).
Looking for a new, more efficient way to manage your tasks? Already a die-hard Notion nerd and want to take your dashboard to the next level? A Notion task template is a perfect place to start building a task manager that works for your brain (and also matches your aesthetic!).
From simple checklists to full-blown productivity hubs, Notion to-do templates come in all shapes, sizes, and setups. To help you figure out which one's best for your needs, we've curated the best Notion to-do list templates and digital task lists for you to pick from!
---
Looking for more productivity tips and tools? Subscribe to The Flow — our quick, snappy, value-packed focus and recharge newsletter. Also, don't miss our several other Notion template round-ups and guides!
---
Table of Contents
Premium Notion To-Do List Templates
Ultimate Planner Dashboard – Powerful To-Do List for Daily Weekly, Monthly
The Ultimate Planner Dashboard is a robust, yet easy-to-use, interconnected planner designed to help you get organized and live more intentionally.
Using the central Planner and Tasks databases, you can:
plan your days, weeks, and months
map out your tasks by priority, estimated time to completion, and more
get pinged automatically about lingering to-dos
stay motived with automatic productivity summaries and ratings
monitor your efficiency with automatic task progress bars
…and a bunch more!
This aesthetic yet functional Notion task dashboard comes complete with helpful widgets and formulas, while also keeping your most important tasks front and center.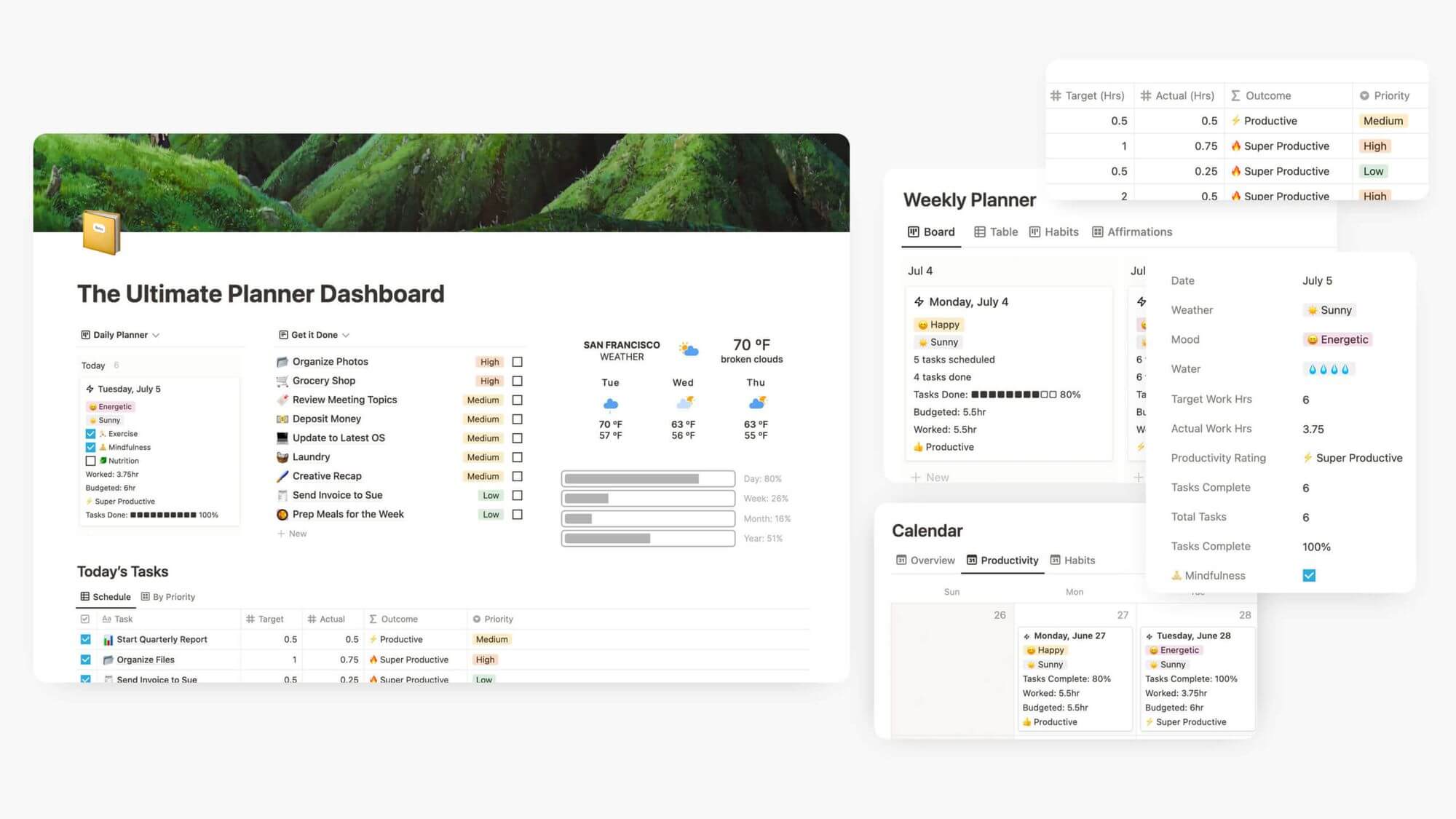 Focus OS: Notion Task Management & Goal Setting System
Define your most important goals and stay focused with actionable steps to achieve them with the Notion Focus OS! Integrate your goals, key results, projects, habits, tasks, and learnings all together in this advanced productivity system.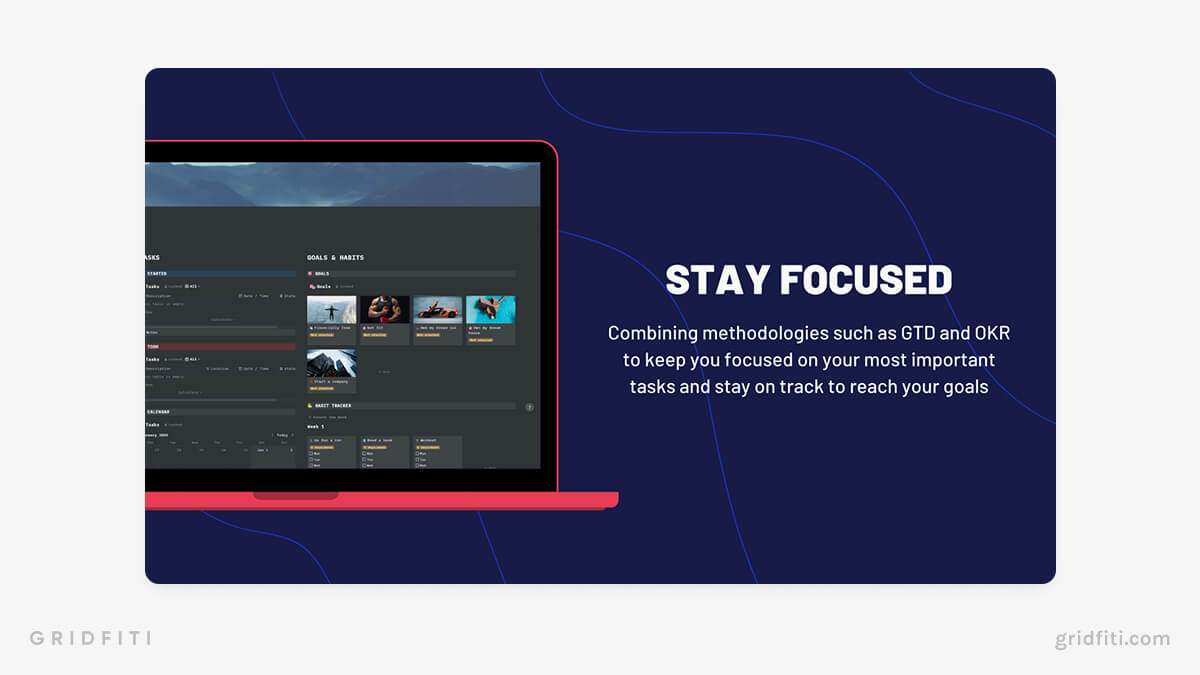 Life OS Template with To-Dos
Looking for something that's more than just a task manager? A Life OS Notion template might be what you're after. These powerful dashboards connect every element of your life, from your tasks and goals to your meal plan and TBR list.
Our very own Life OS includes over 20 templates, one of which is a centralized task hub that serves up your most important work and personal to-dos.
Beyond your day-to-day productivity tasks, Life OS automatically integrates to-dos and reminders on your homepage. Your daily morning and evening routines, plants to water, contacts to follow up with, chores and cleaning tasks — each task gets pushed to the homepage when things need to get done. Handy!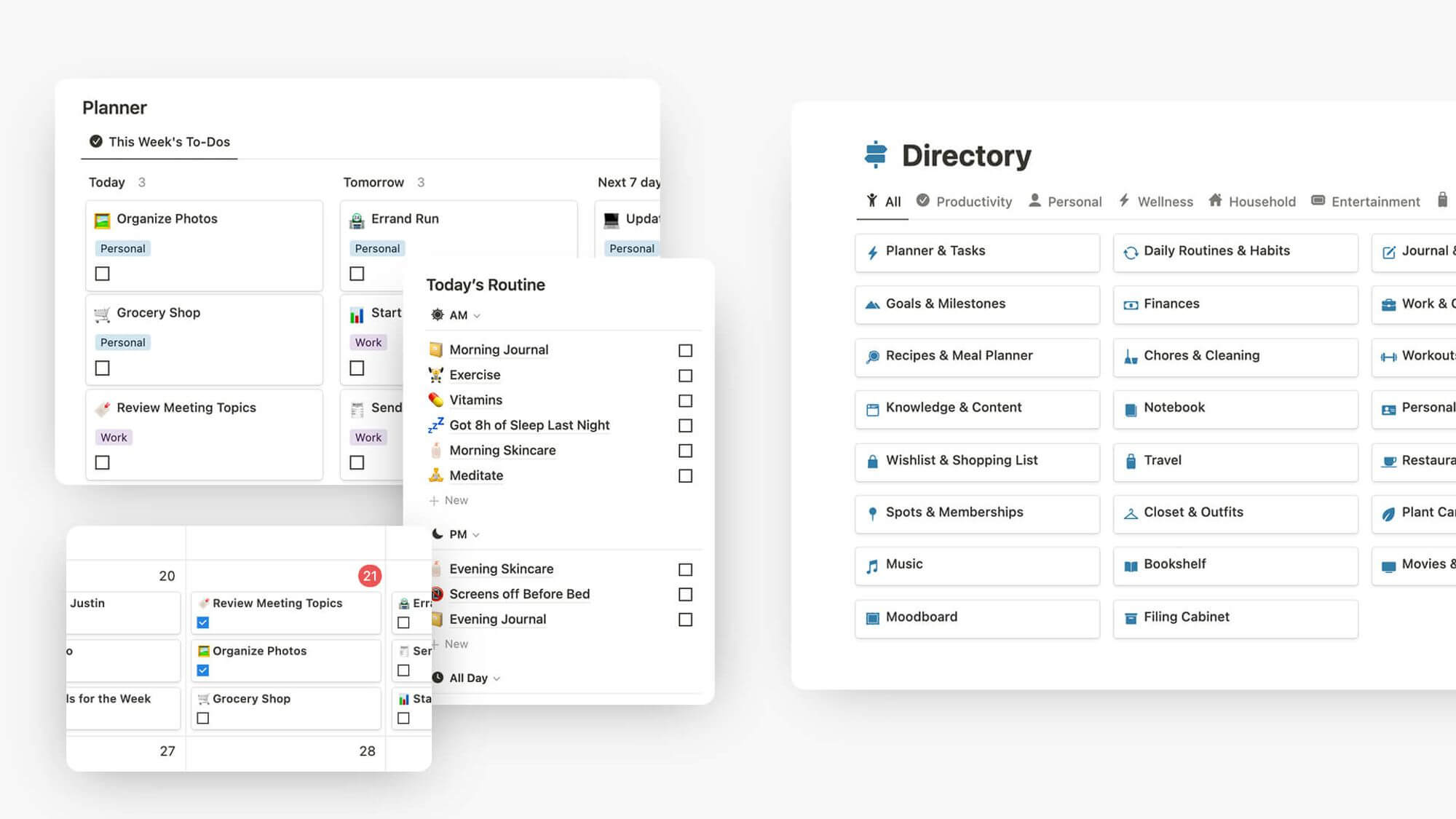 The Focus Hub: Daily Task Management Notion Template
Built on smart time management techniques like the 8-week planning cycle and the "close the loop" approach, The Focus Hub helps you cut through the clutter and do the work that's truly impactful.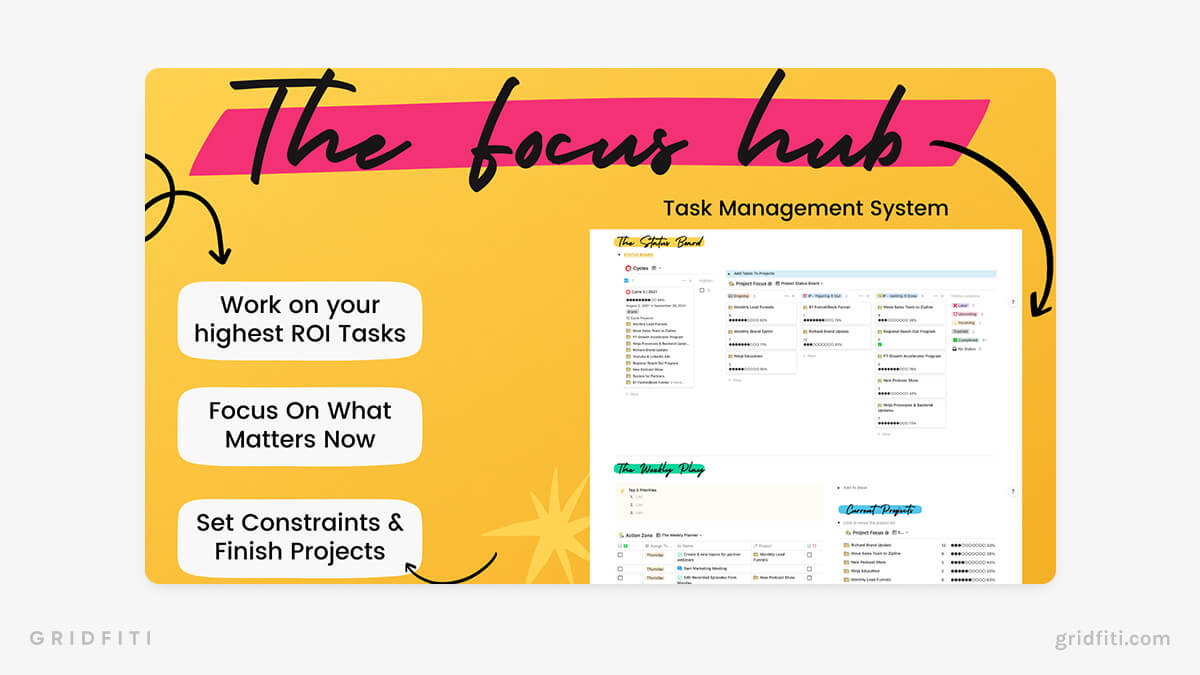 Simple Notion Planner Pack – Daily, Weekly, Monthly To-Do Lists
Create simple daily, weekly, and monthly digital to-do lists with this Notion planning template pack! A minimal template that helps you map out what you need to accomplish in your life in the short term so you can plan your days, weeks, and months accordingly.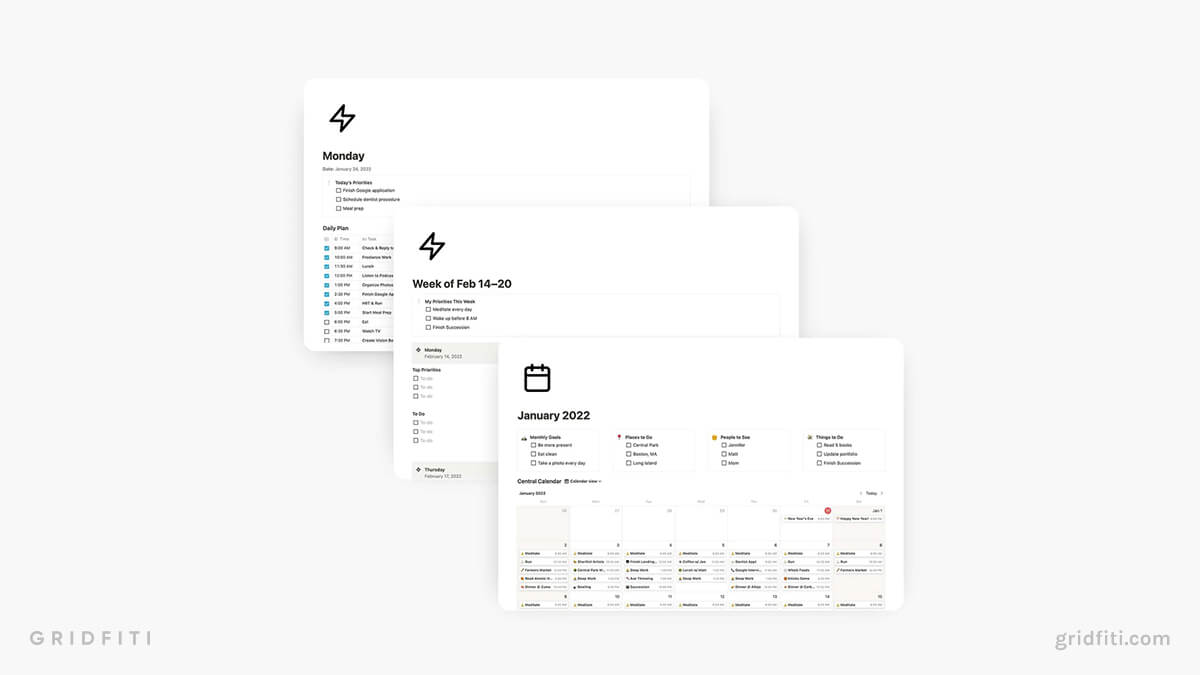 Notion Task List Dashboard – Getting Things Done
One of the top GTD Notion templates, this personal productivity system from Easlo lets you create tasks and projects for today, tomorrow, and the next 7 days. Group tasks by context, and view them by priority or difficulty.
Use the quick capture to jot down tasks in a hurry, and check your inbox to see what you've got on your plate for the coming days. This minimalist Notion template is ready to use outta the box, and its simple layout is easy to customize — perfect for Notion newbies!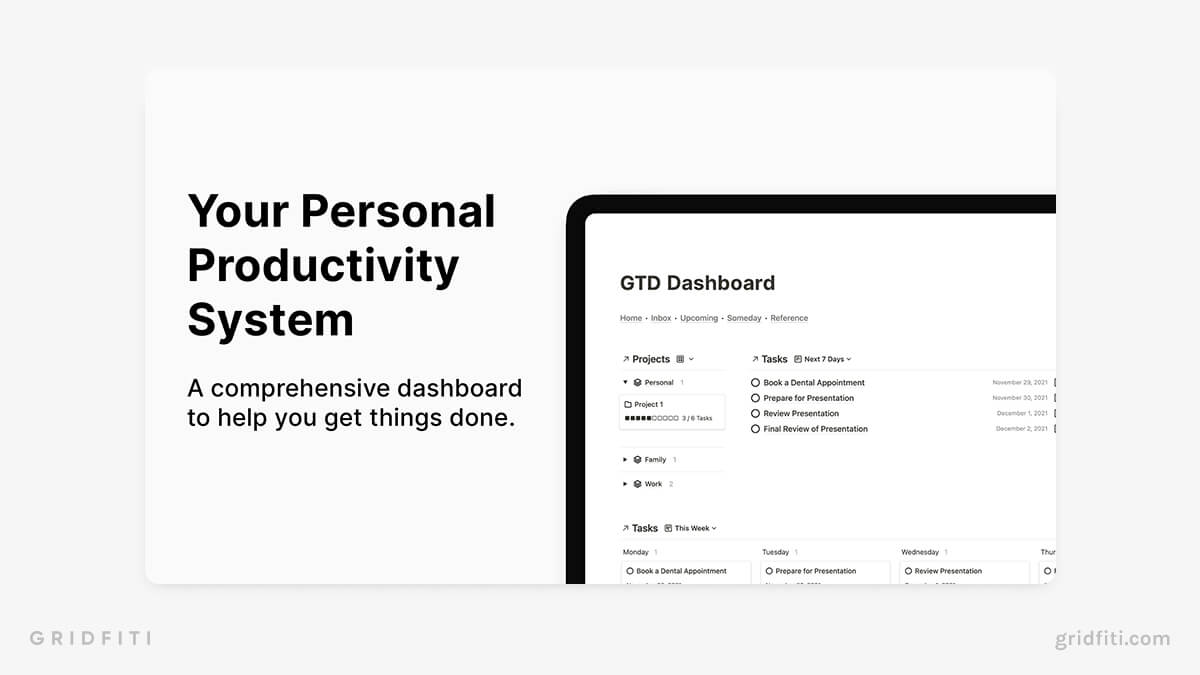 The Ultimate Notion To-Do List Template
A to-do list dashboard that allows you to manage your habits, tasks, projects, and daily reminders all in one place! Using this template, you can categorize tasks and set time estimates on each to-do list item to keep track of your progress.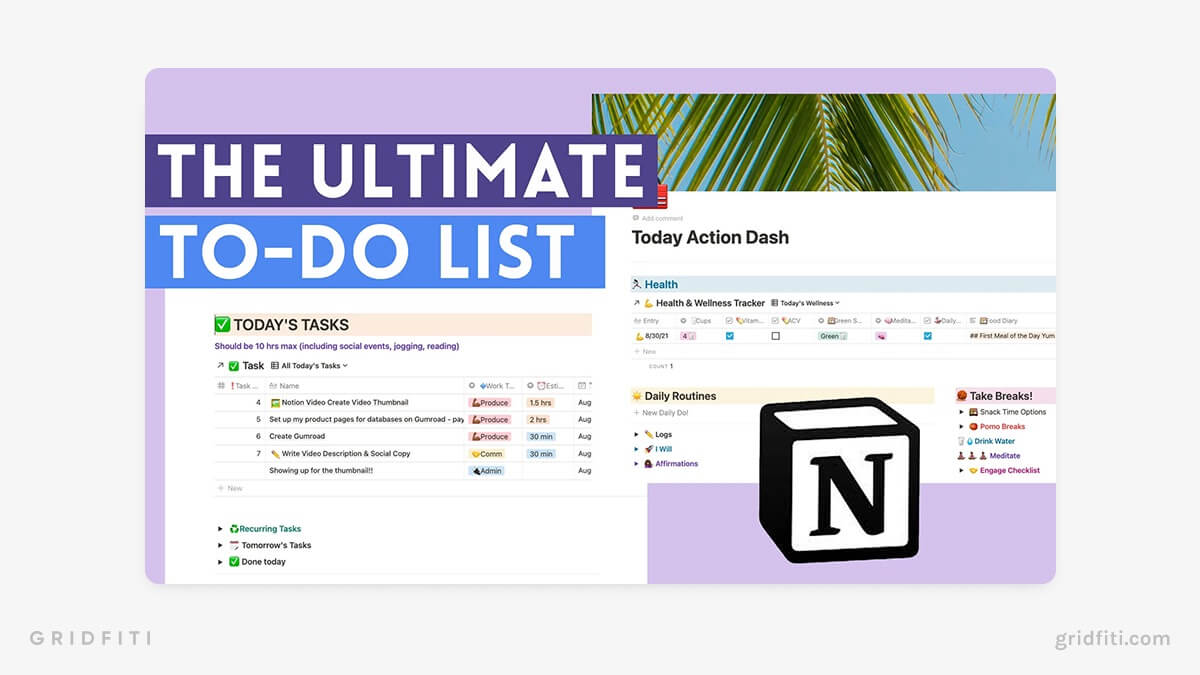 Notion Spatial Task List Template
Organize your tasks and daily schedule in a matrix of importance and effort. A simple but effective Notion task template that helps you work on your most important tasks during your most productive hours.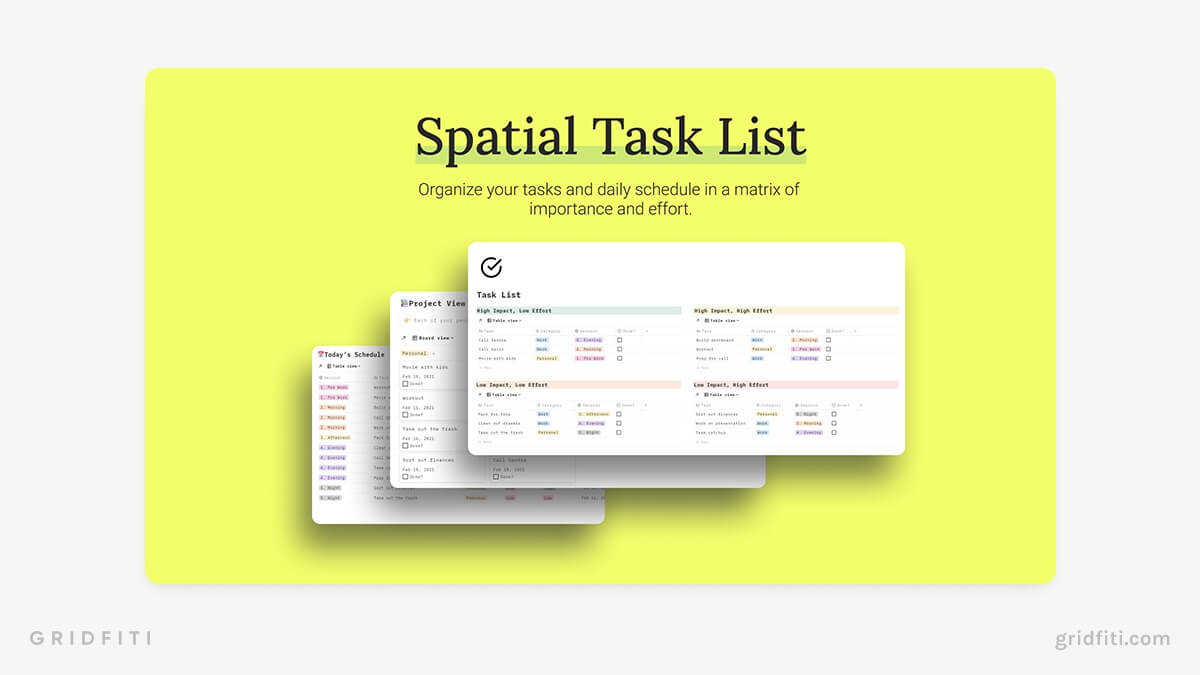 Notion x GTD System
Notion x GTD System can help you clean up your thought processes and get down to business. This in-depth Notion to-do template features a project management system that lets you prioritize what really matters and sort tasks by different aspects of your life. The logbook and notes section ensures you always have somewhere to jot down big ideas. Track your appointments in the calendar, use progress bars to track your accomplishments, and tick items off your to-do list — all from your interactive dashboard!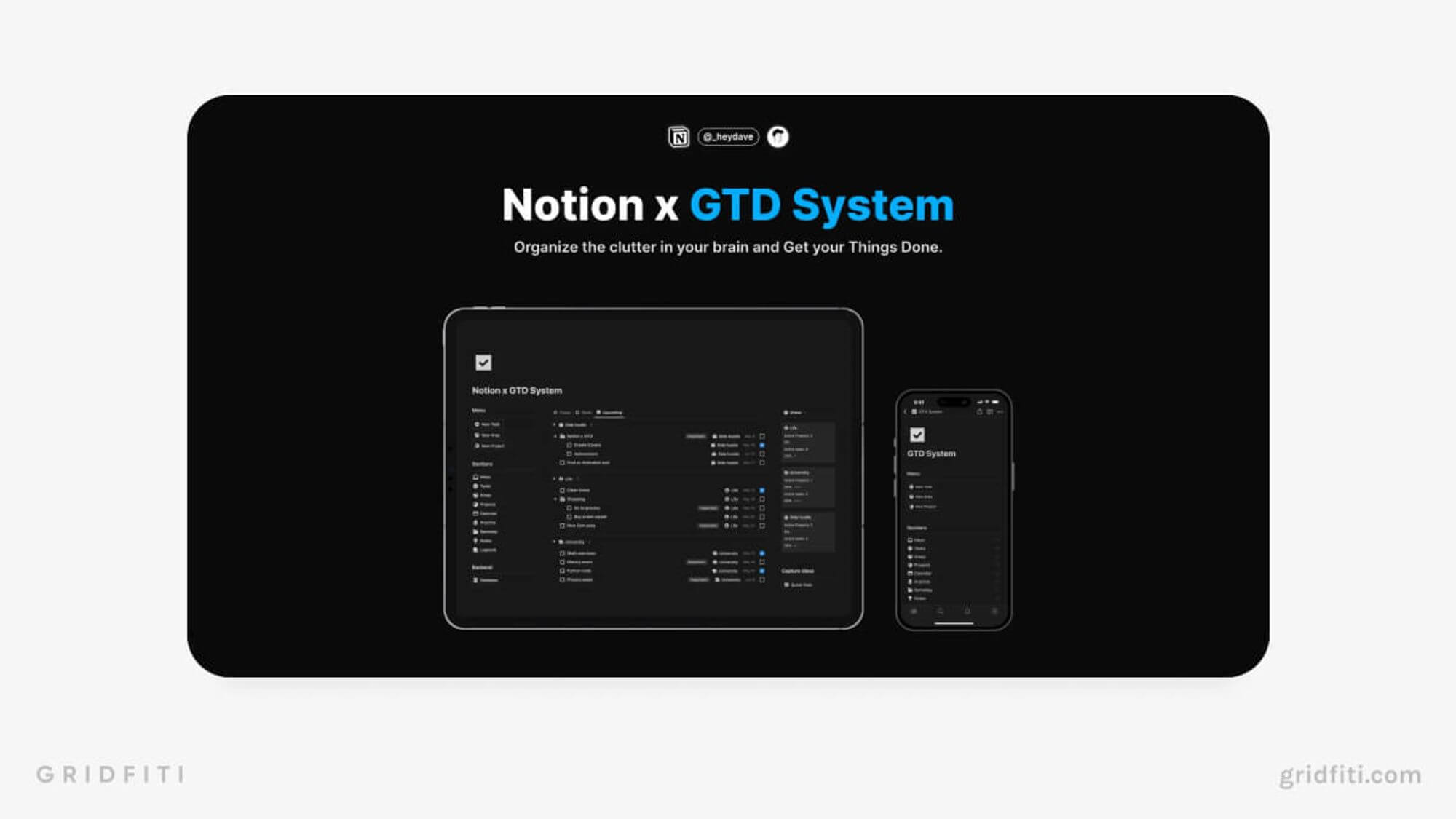 Notionable Tasks Hub
Manage your daily, weekly, monthly tasks along with your recurring and backlogged tasks with the Notionable Tasks Hub! The template uses elements of the GTD and Eisenhower Matrix methods to provide you with a system to schedule tasks, hit goals, and form new habits.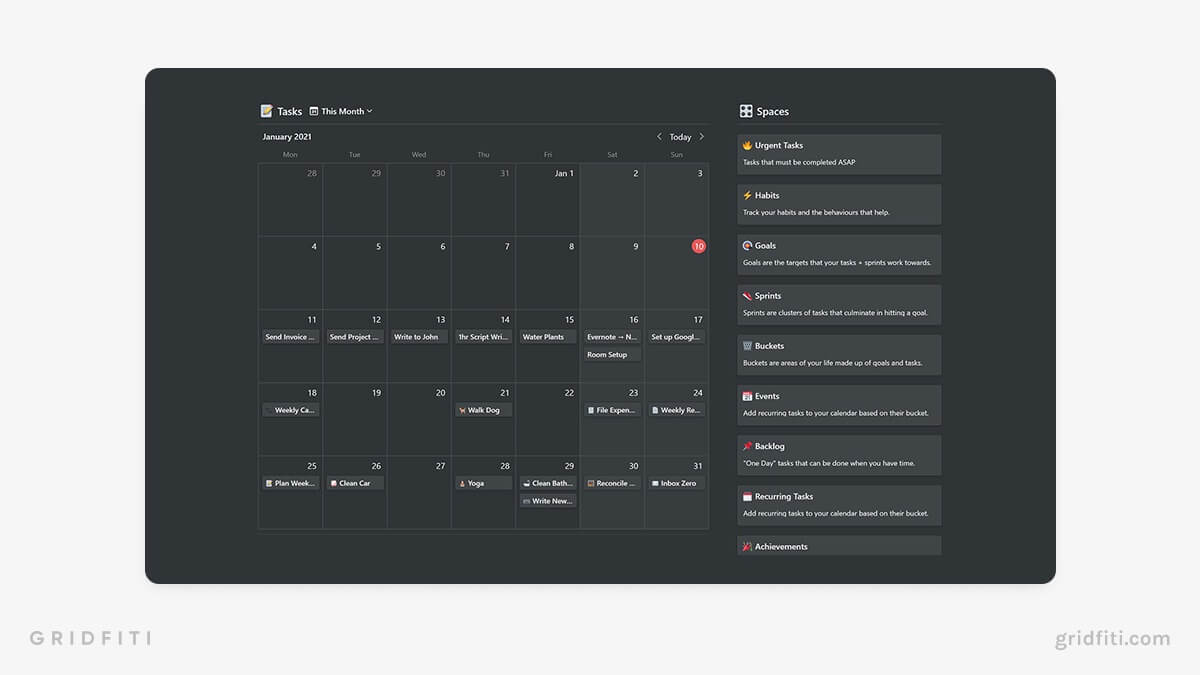 Notion Tasks Tracker
With its minimalist and clean design, Notion Tasks Tracker can help you declutter your to-do list. Add tasks, set their priority, and sort them into categories. Get a clear view of what lies ahead thanks to this template's transparent timeline. This no-frills setup is perfect for anyone looking for a simple Notion task template.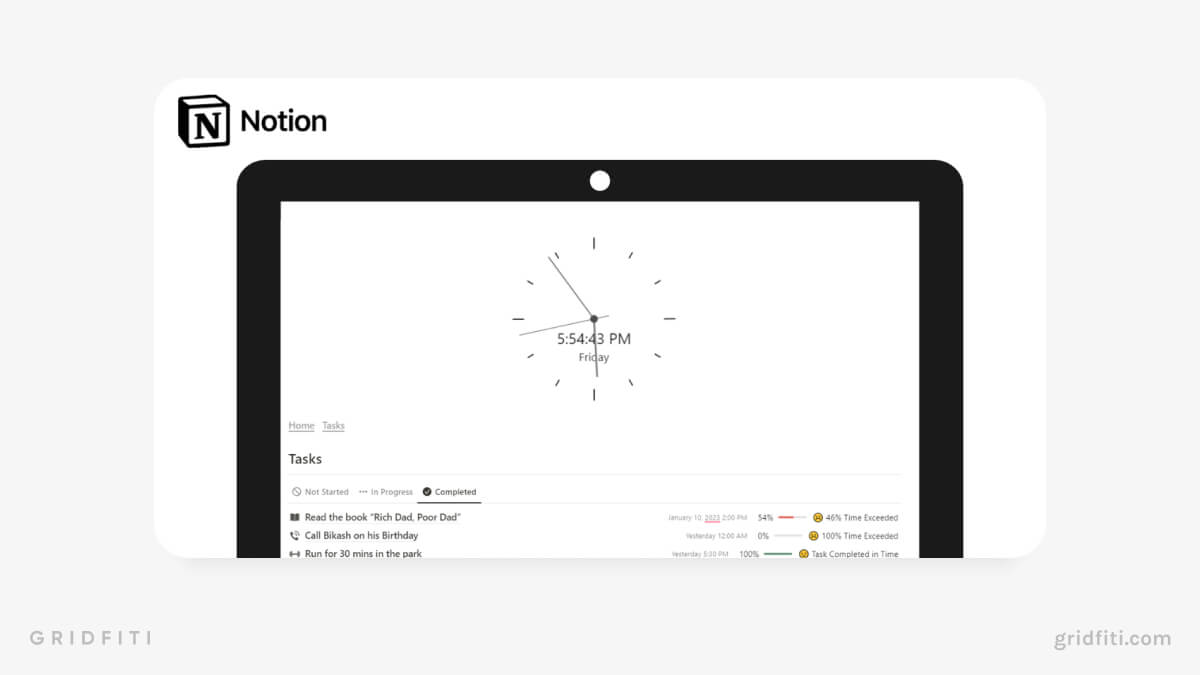 Student OS Dashboard with To-Do Tasks Database
Students juggle hundreds of to-dos every semester both inside and outside the classroom. The all-in-one Student OS template includes a task and to-dos database that lets you organize every part of your academic life under one roof!
(Psst! Want more templates like these? Hop over to our guide on the best Notion templates for students.)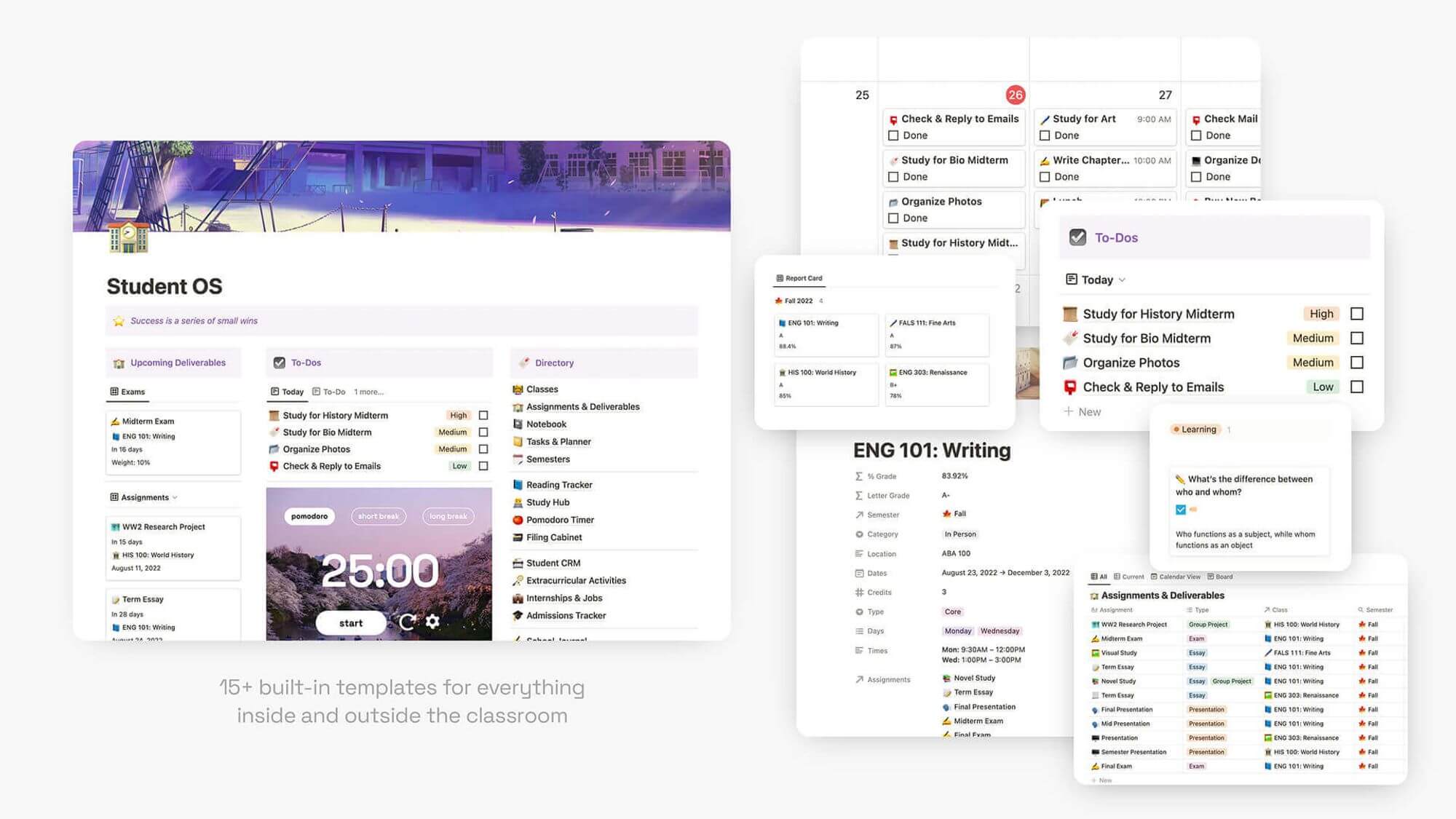 Task Management Template
Transform your to-do list into a well-oiled task management machine in 5 easy steps with this Notion template. Use the system to add, organize, complete, reschedule, and review tasks all in one place!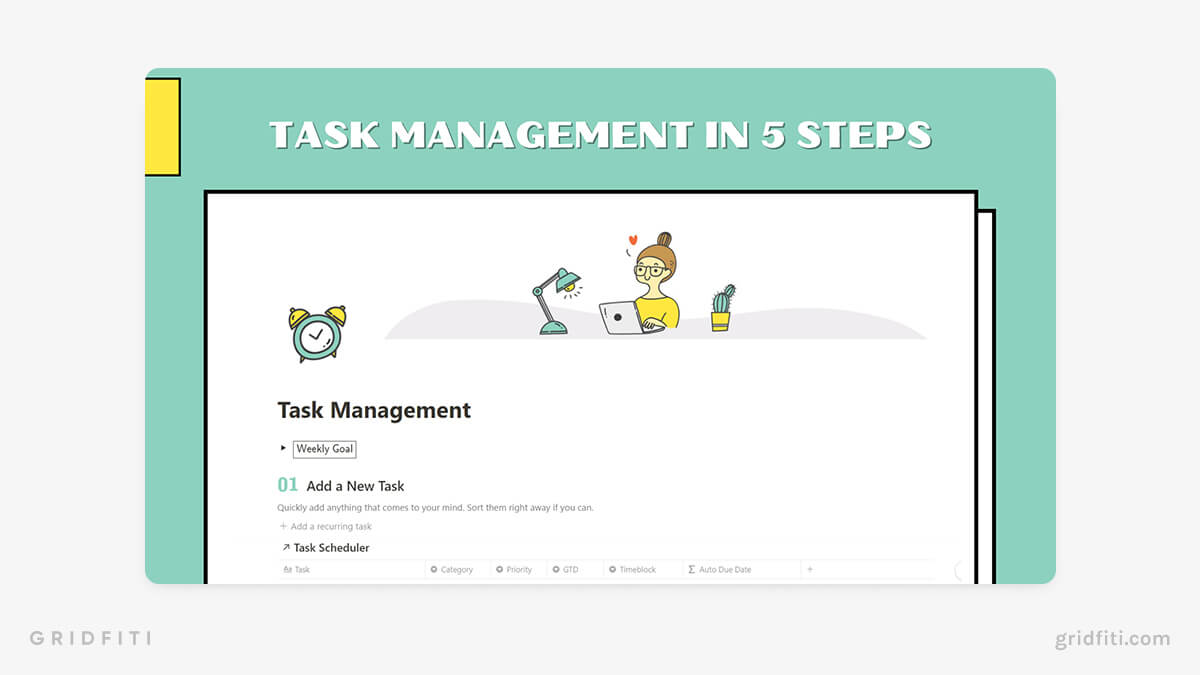 Free Notion To-Do List Templates
Thinking about using Notion to manage your tasks but not sold on the switch just yet? Learn your way around the app with these free Notion to-do list templates!
Related: The Best Free Notion Templates for Everything
Pomodoro Technique To-Do List Template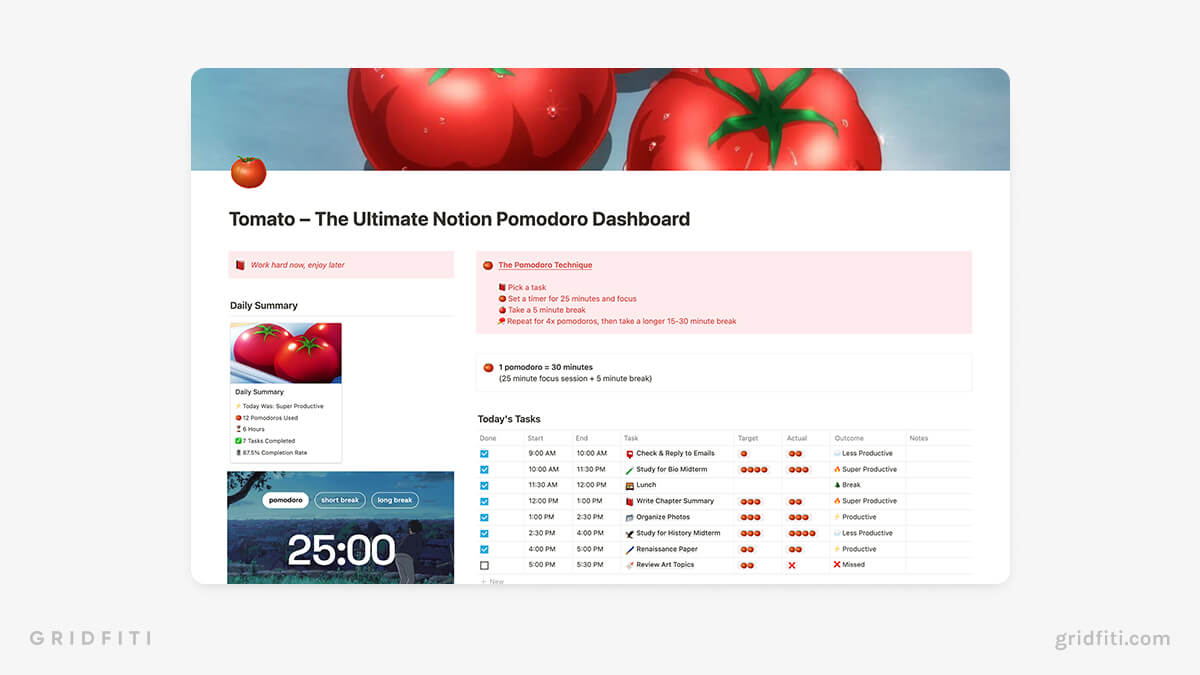 Notion ZenTask Planner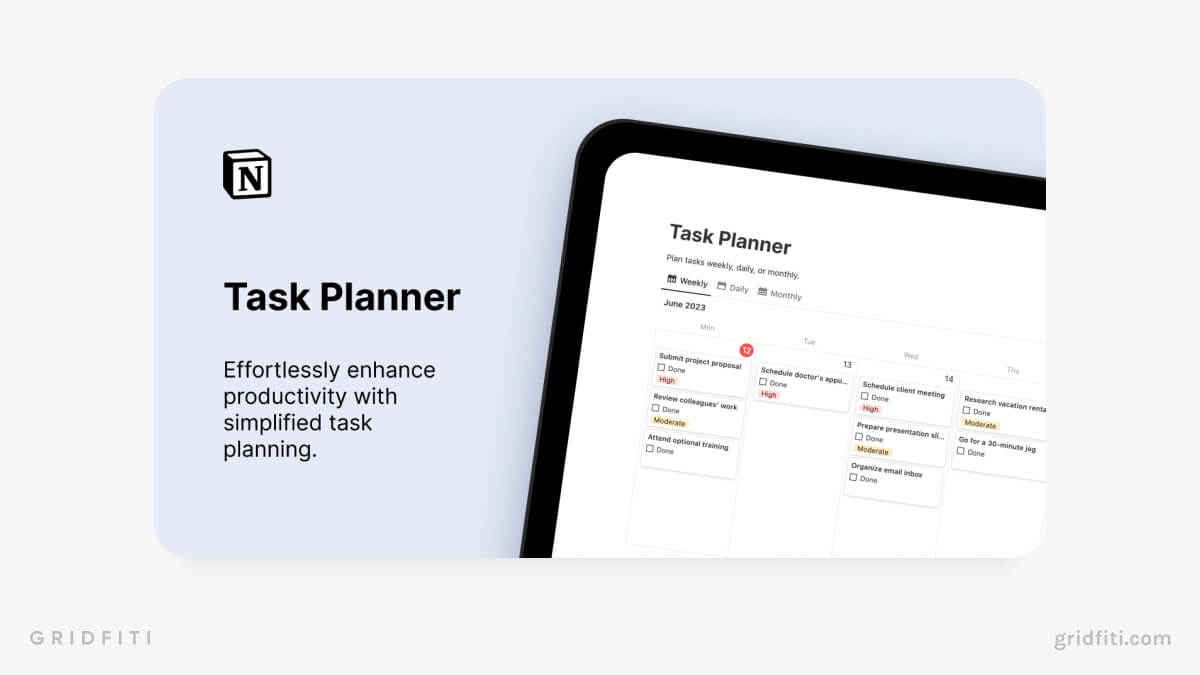 Simple To-Do List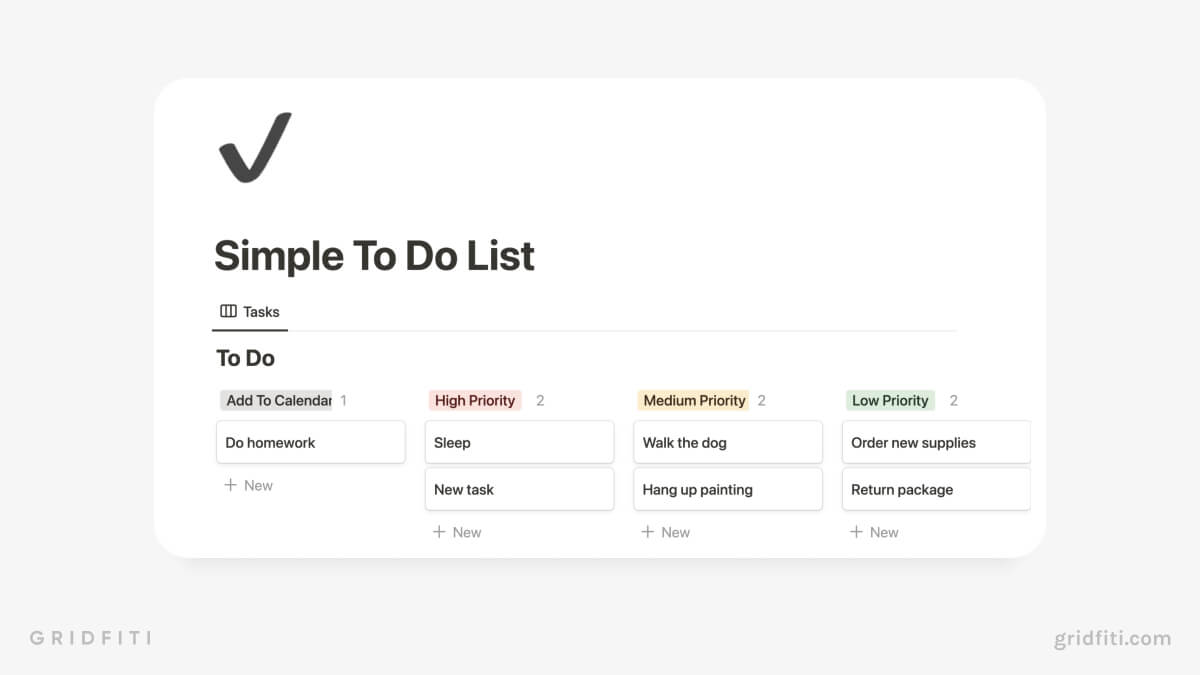 Template by Pascio
Weekly To-Do Planner – Cotton Candy Themed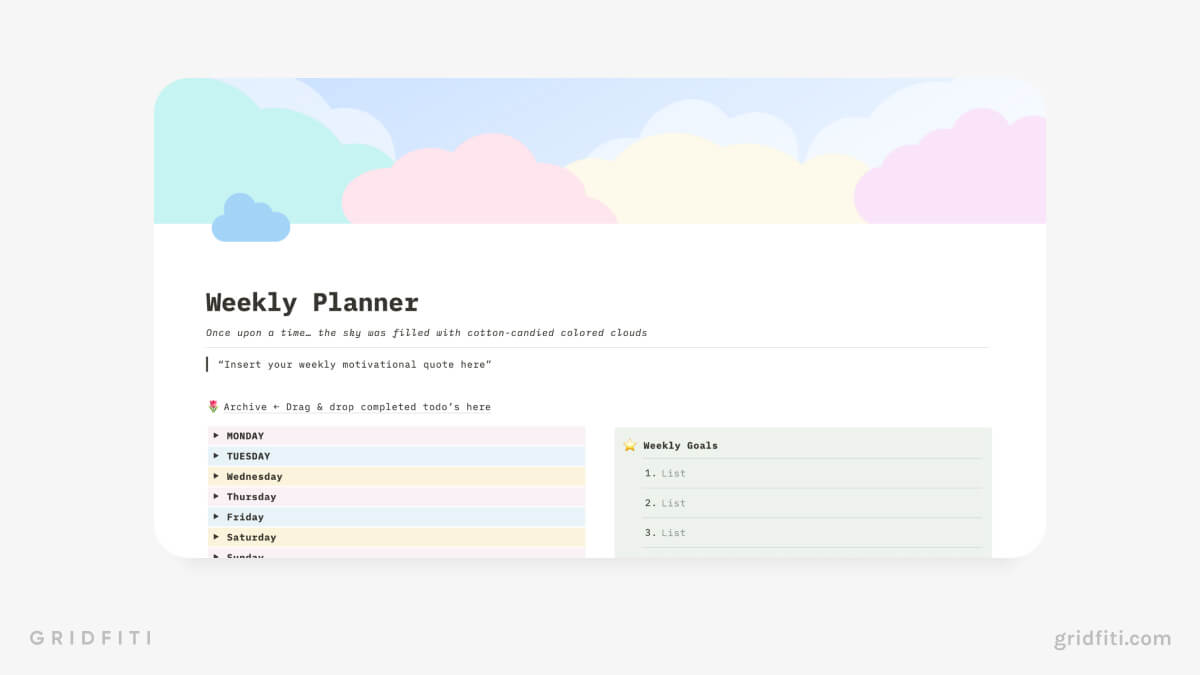 Template by Sweet Notion
Simple GTD & Second Brain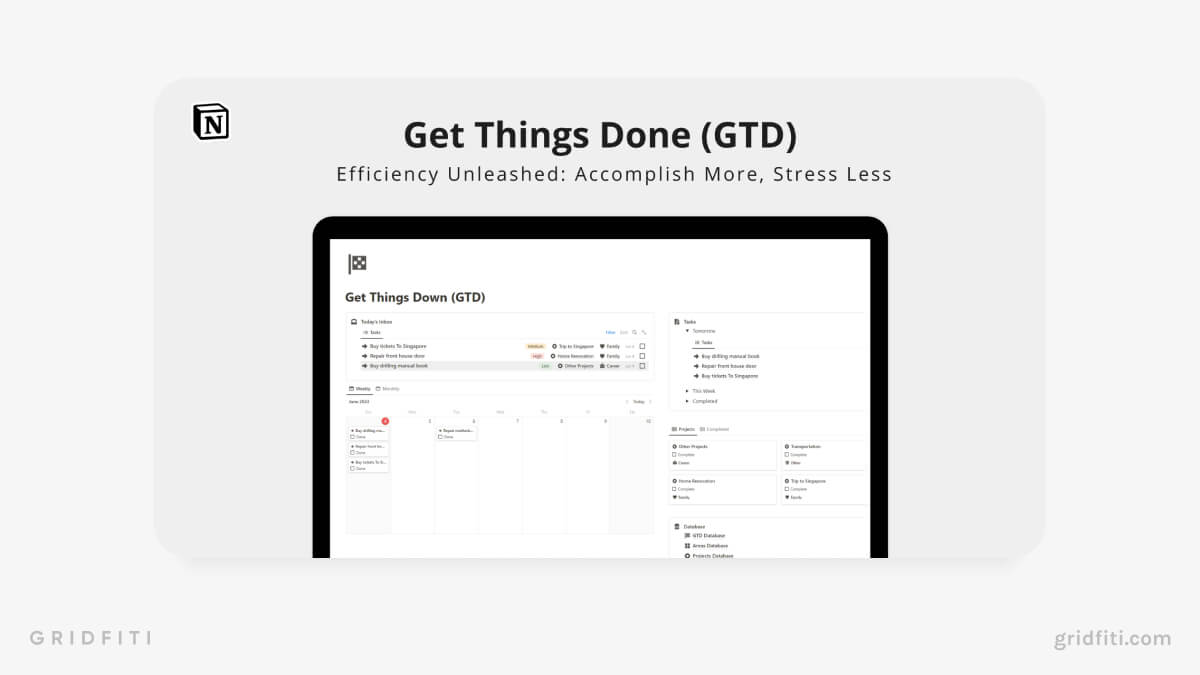 The Eisenhower To-Do List
Check out our full round-up of Notion Eisenhower templates for more!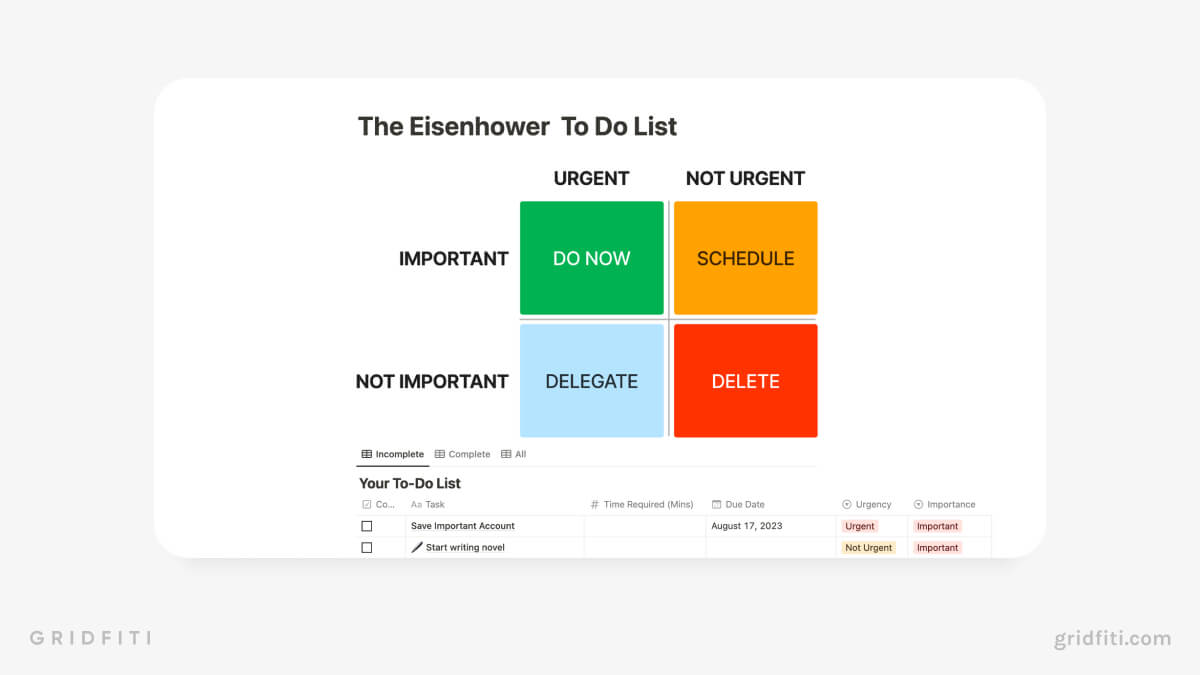 Template by Gus Bartholomew
OptiDo: Notion To-Do List Template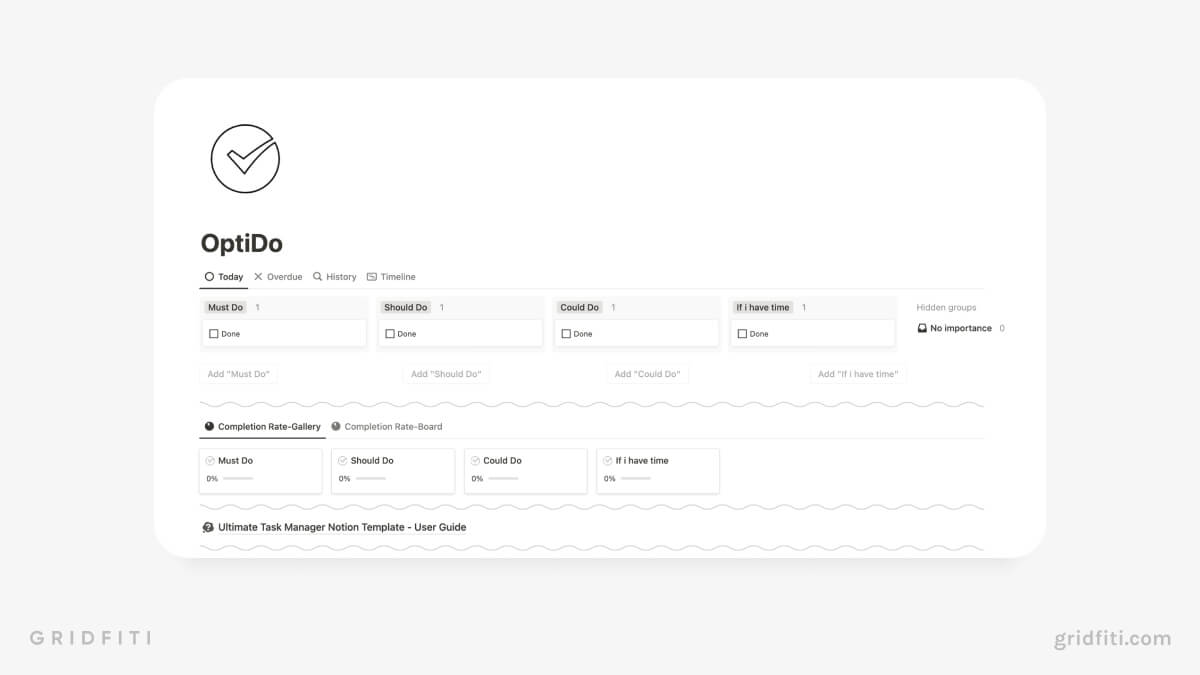 Template by Ahmet
What Notion to-do list template are you using? Do you have any other recommendations for to-do lists or Notion task lists templates to use? Let us know in the comments below.
Gridfiti is supported by its audience – when you buy something using the retail links in our posts, we may earn a small commission at no additional cost to you. Read more about our affiliate disclaimer.