There's no better time than the New Year to reflect on how far you've come, while also planning and setting intentions for the year ahead. But we know all too well how those ambitious resolutions set in January don't always come to fruition throughout the year — and they're sometimes forgotten within days or weeks.
If you're looking to stay accountable and create systems to make your resolutions for the year actually happen, you've come to the right place!
Notion is the perfect platform to map out your intentions and resolutions, while doubling as a hub throughout the year to take the micro and macro steps to make them happen.
We've curated the best Notion year-in-review and resolutions templates to reflect on your past year, create next year's resolutions, and implement a system to make sure you take the small steps to hit those big goals.
---
Looking for more productivity tips and tools? Subscribe to The Flow — our quick, snappy, value-packed focus and recharge newsletter. Also, don't miss our several other Notion template round-ups and guides!
---
Table of Contents
Get the all-in-one Life OS template, the only Notion template you'll ever need — with over 25 integrated templates built in.
New Year's Resolution Notion Templates
Ring in the new year the right way with these top Notion New Year's resolution templates for 2024!
Actionable Notion Resolution Dashboard & Year in Review Template
A system to map out your big resolutions, then dissect and track the macro and micro tasks to make them happen? Say no more.
The Ultimate Notion Resolution Dashboard by yours truly is designed to be by your side year-round, with an interconnected 3-level system to easily convert your big plans into actionable tasks and to-dos to make them happen. Each micro and macro item is attached to your big-picture goals — reminding you why you're doing each task, and helping you act more intentionally.
This robust dashboard truly has it all — here's a sneak peek at what's inside:
a "hall of fame" section to celebrate recently completed resolutions
visual progress bars to keep track of how you're doing
sample resolutions for 10 major areas of life already built in
a year in review hub
onboarding tooltips
priority support
aesthetic visuals
Template Available Here | Get the Template Integrated with Life OS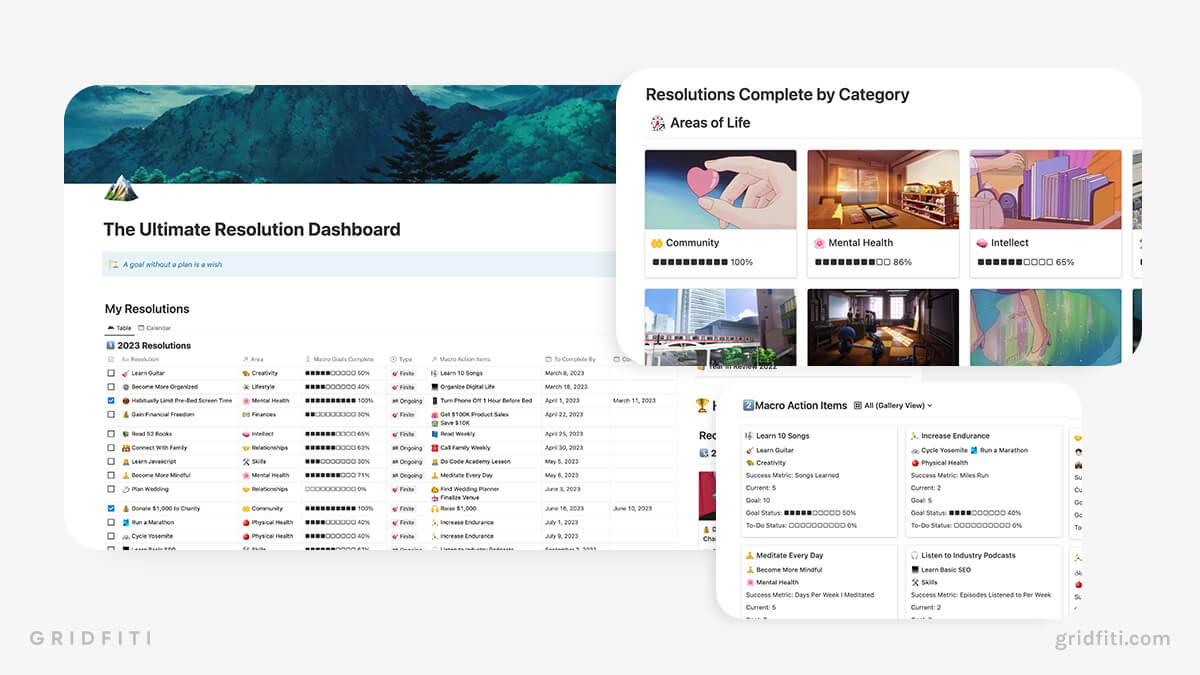 Aesthetic Student Dashboard with Simple Resolution & Reflection Template
Use this simple reflection worksheet for students to reflect on your previous year, and learn how to improve for the next semester with resolutions for different areas of life!
This is a great way to take ownership of your academic journey and make sure that you're making true progress toward your goals. On top of its goal-setting features, this student dashboard helps you manage your courses, important dates, and assignments.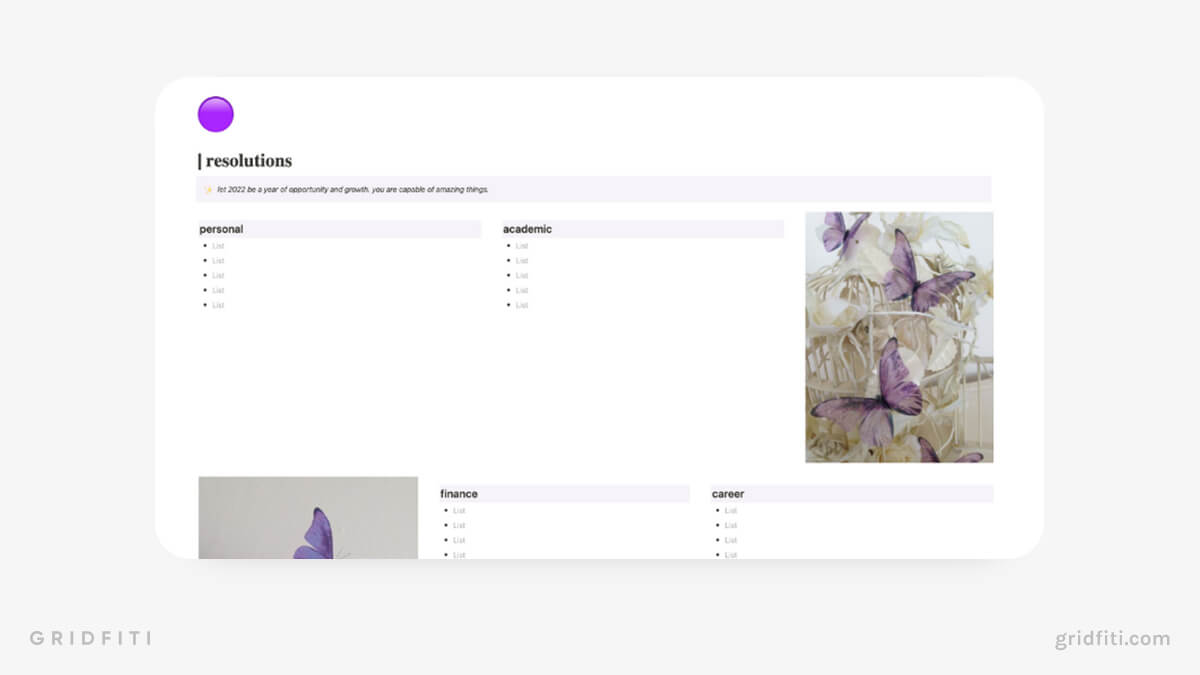 Notion Resolutions & Goals Tracker
Keep yourself accountable in the new year by setting goals and tracking your progress in Notion. This template helps you set explicit goals in all important areas of life — including health, personal growth, relationships, family, exercise, and anything else that matters to you.

Minimalist Notion Bucket List Template
While this isn't a resolution template, if you're looking to build your long-term bucket list, this is the pick for you! Track your experiences and live life to the fullest with with this minimalist black and white Notion bucket list template. This dashboard gives you an overview of the experiences you're looking to achieve, along with aesthetic visuals.

Moonshot – Resolution & Goal Management Board
Set goals, break them down into actionable steps, track your progress, and stay on course with the Moonshot Resolution & Goal Management Board! Make sure to review and update your metrics regularly, and use it to monitor your progress towards your goals throughout the year.

Annual Review & Yearly Planning Notion Templates
Raise a glass to new beginnings (and new planners!) with these year-in-review and annual Notion planner templates for 2024! (Perfect for folks who aren't fans of making resolutions and are simply looking for a new annual planning tool.)
Simple Year in Review Notion Template
Looking to create a simple bullet overview of your past year and the year ahead? Covering several areas of life, and even featuring a highlight reel photo dump section, check out our free Simple Year in Review Template!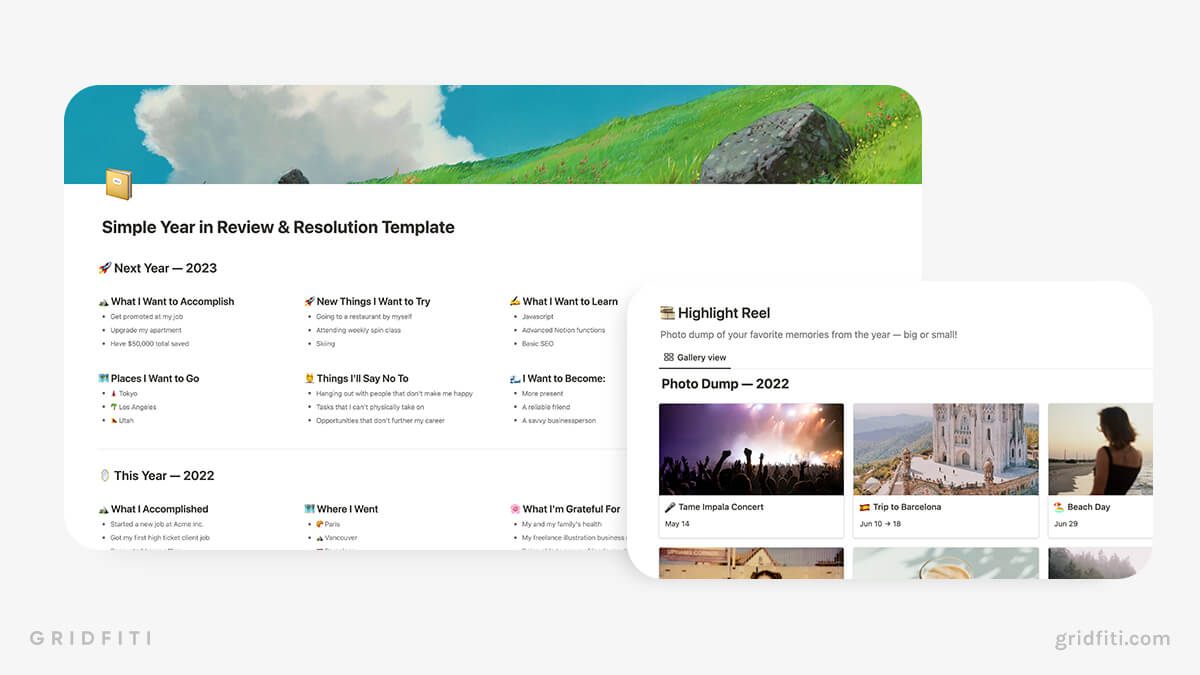 Yearly Planning & Review Notion Template
Break down your year into 4 quarters and reflect on the year as a whole to gain a better understanding of your intentions and aspirations. Use this template to track your successes and capture all you've achieved in the last 365 days, review your progress, and identify any areas where you may have fallen short — or, conversely, exceeded expectations! Set yourself up for success and stay focused all year long with this Notion year-in-review template.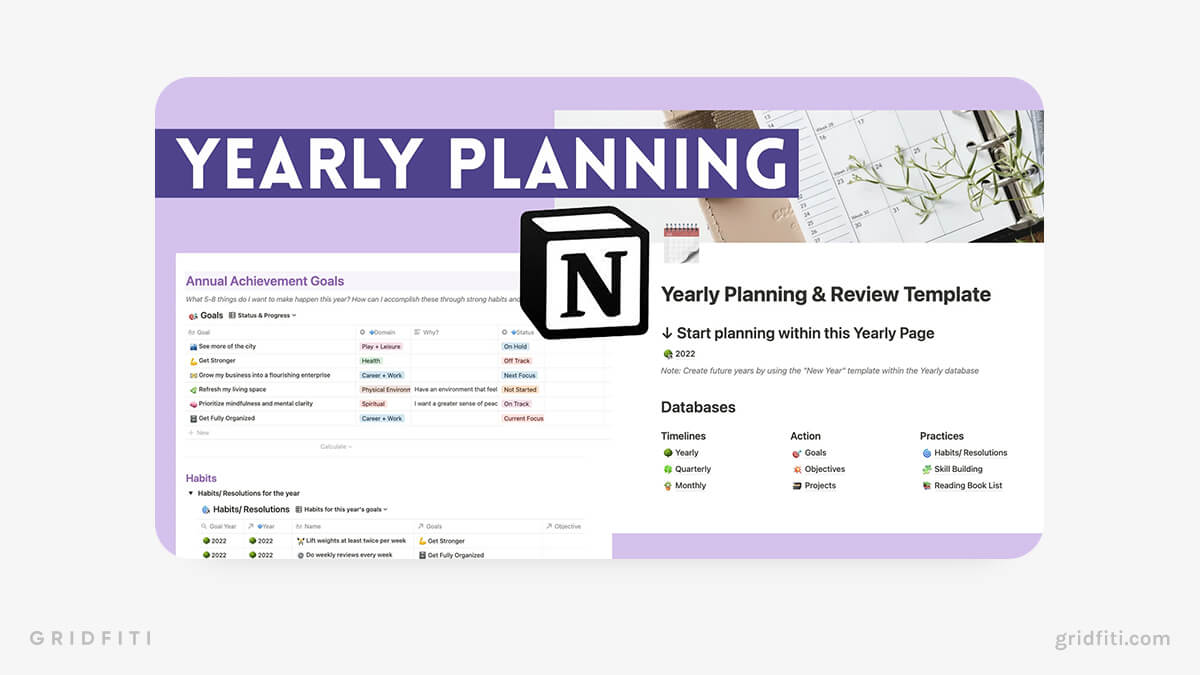 Aesthetic 2024 Yearly Planner Notion Template
The 2024 Yearly Planner Notion Template can help you make this year your year. This Notion New Year planner template takes goal planning to the next level, with actionable steps and weekly or monthly reviews to help you stick to your resolutions. Customize your planner to match your aesthetic with 50 bonus icons and 7 color themes!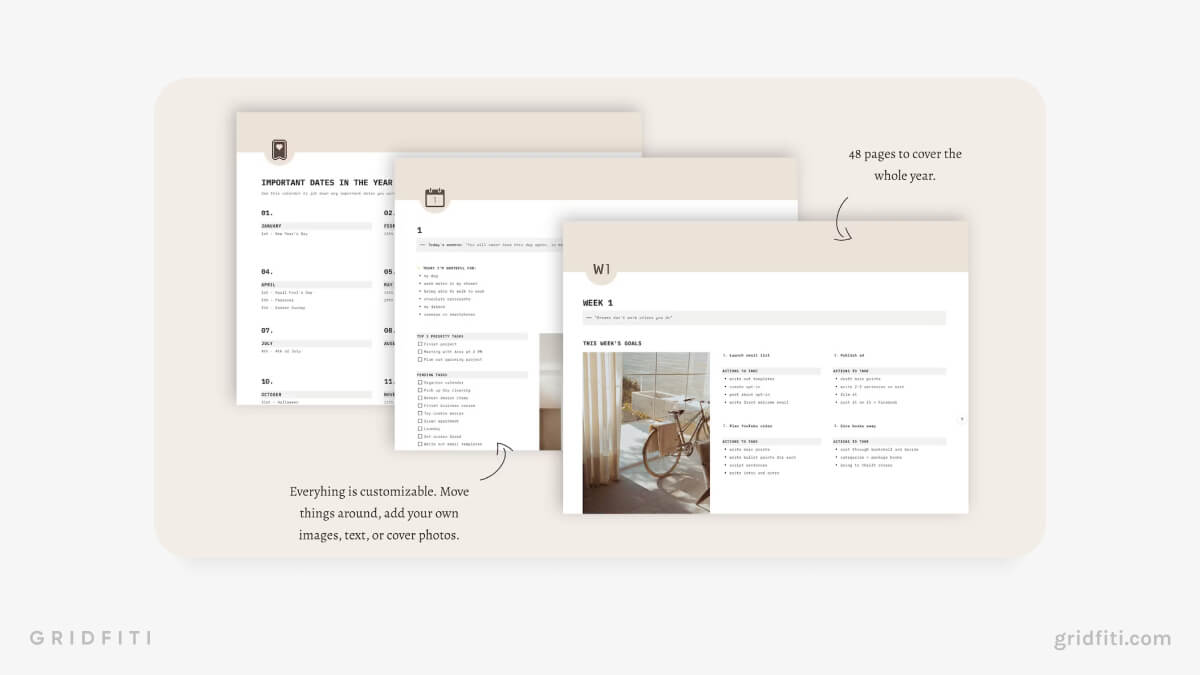 Notion Annual Review & Goal Setting Template
Use this annual review template in Notion to plan your year and set goals. The template will guide you through the process of making the most of your year by prompting you to create realistic goals, set milestones, and build an actionable plan.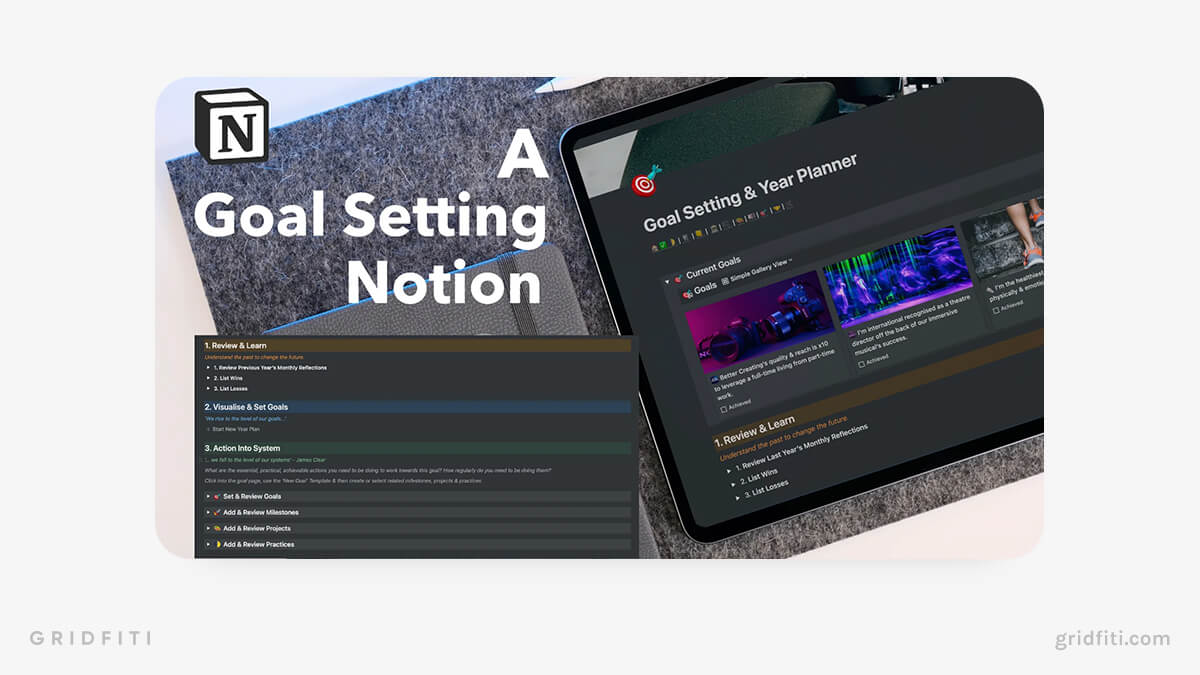 Actionable Annual Planner
Check out the Actionable Annual Planner if you want to take inspired action instead of merely making resolutions. Create a foolproof plan by breaking down your goals into mini tasks, and reward yourself when you reach your target.
Start every day of the year the right way with a 365-day gratitude check-in! The Actionable Annual Planner is a simple step-by-step system ensuring you stay lasered in on your annual aims.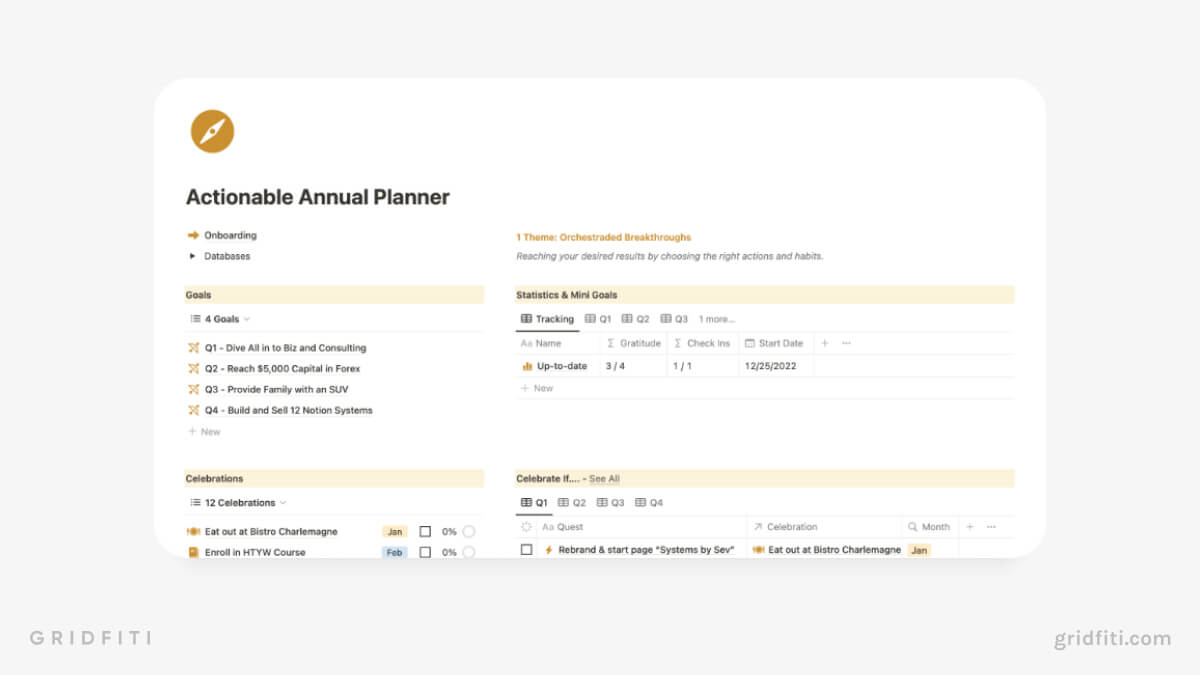 Free Notion New Year's Resolution Templates
Thinking about starting the new year with a new Notion setup? Check out these free Notion New Year's resolution templates to see if it's a system that suits you!
New Year's Resolutions Template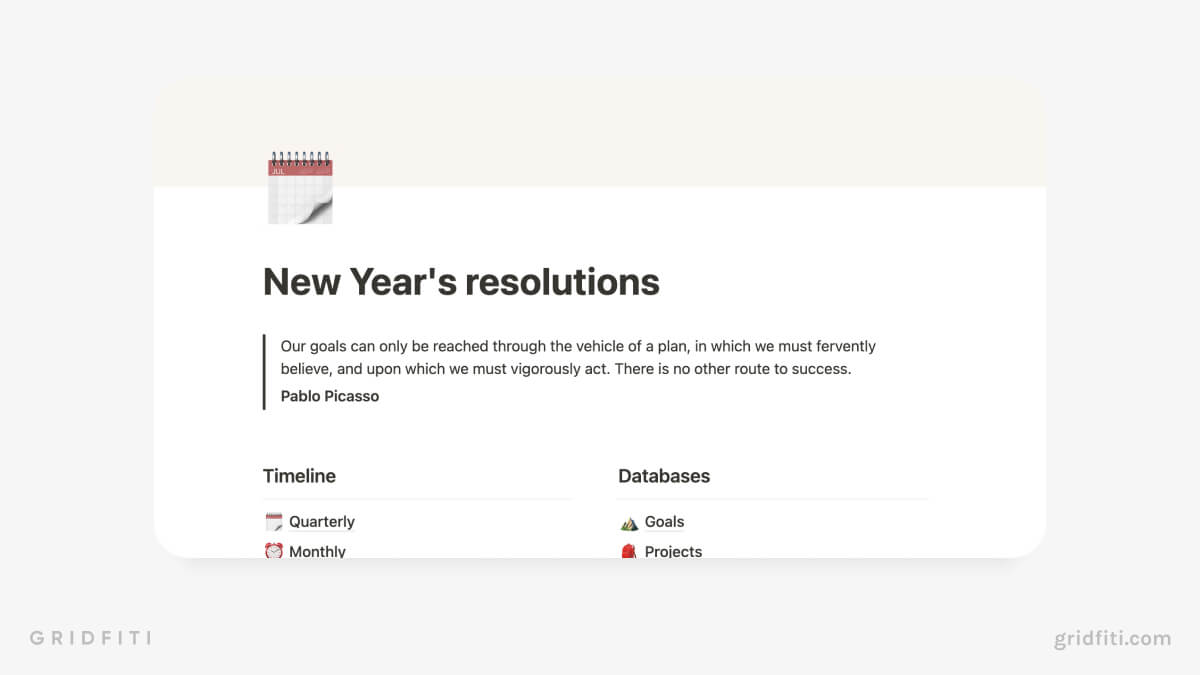 Template by Notion
New Year's Vision Board Template
Check out our full round-up of Notion vision board templates for more!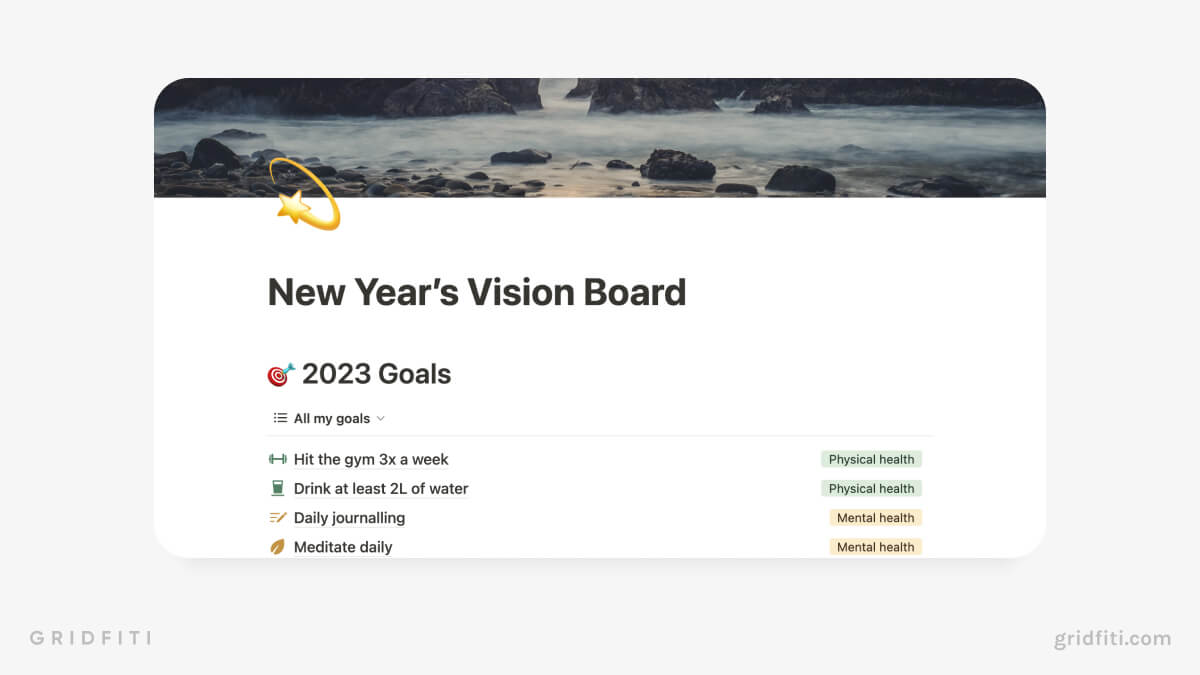 Template by Notion
Ali Abdaal's Notion Annual Review & Bucket List Template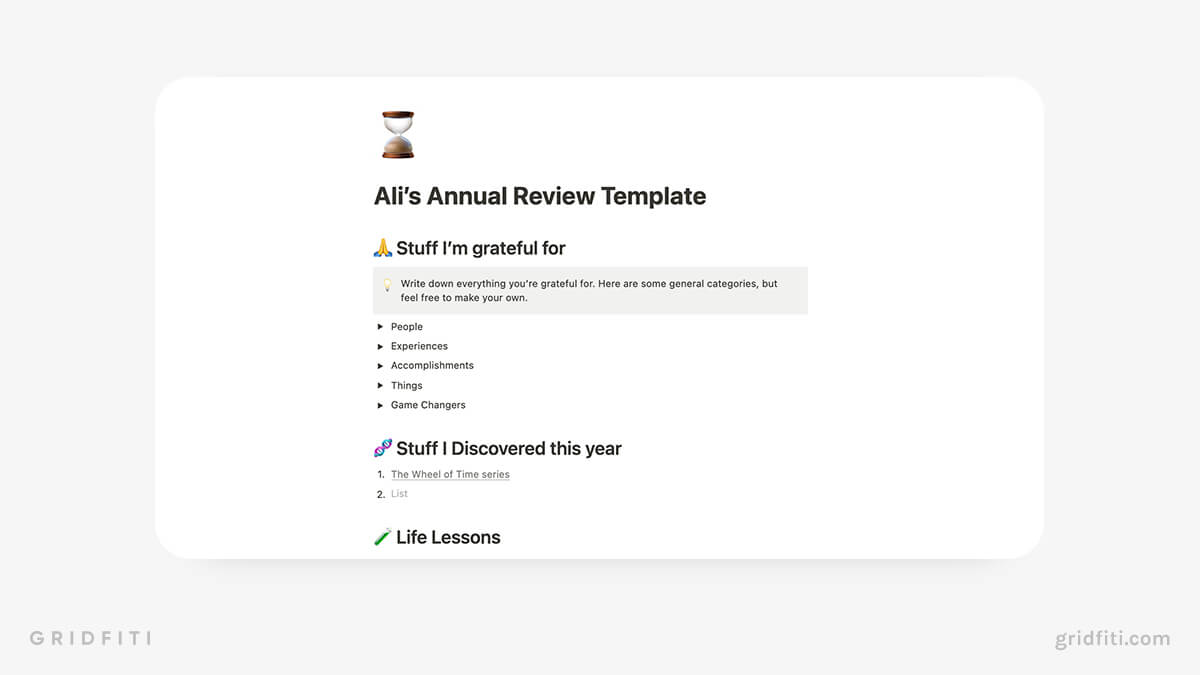 Template by Ali Abdaal
Year Manifesto – Year-in-Review Journal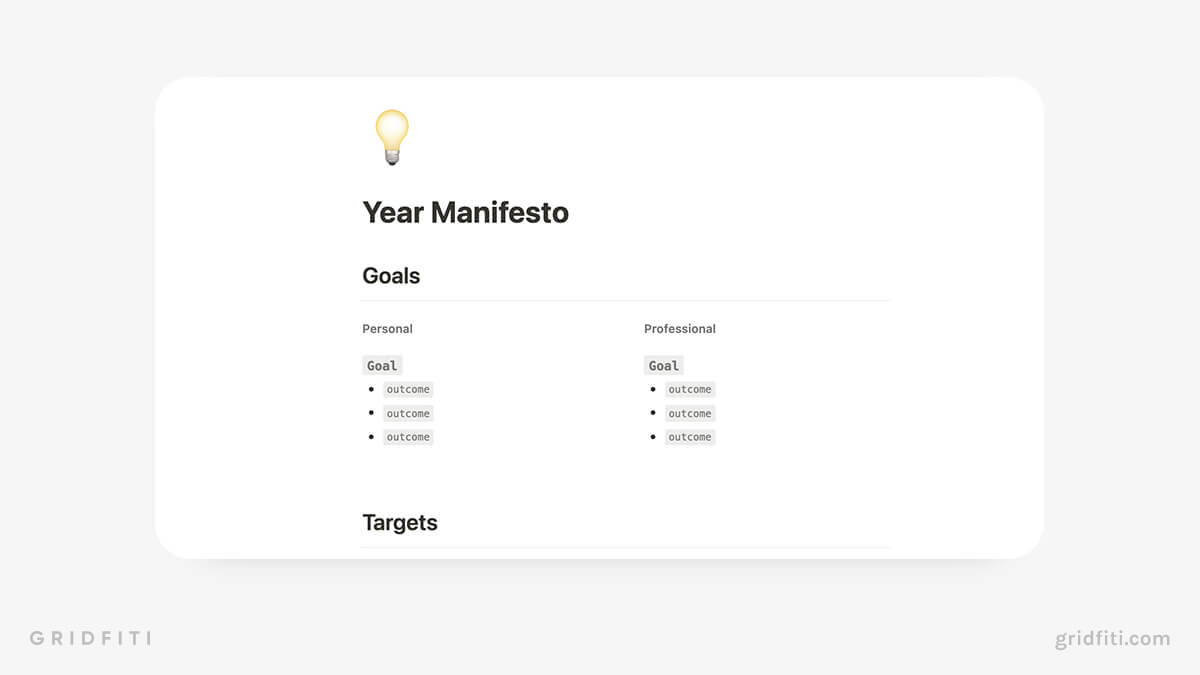 Which Notion New Year's resolution template are you using? Got any other recommendations on Notion templates for setting out your yearly goals or reviewing your year? Let us know in the comments below!
Gridfiti is supported by its audience – when you buy something using the retail links in our posts, we may earn a small commission at no additional cost to you. We only recommend products we would use ourselves and recommend to our friends and family. Read more about our affiliate disclaimer.