There's no better time than the New Year to reflect on how far we've come, while also planning and setting intentions for the year ahead — but we're all too familiar with ambitious resolutions set in January not always coming to fruition throughout the year, and being left forgotten within months.
If you're looking to stay accountable and create systems to make your resolutions for the year actually happen, you've come to the right place!
Notion is the perfect platform to map out your intentions and resolutions, while doubling as a hub throughout the year to take the micro and macro steps to make them happen. We've curated the best pre-built templates to reflect on your past year, create next year's resolutions, and implement a system to make sure you take the small steps to hit those big goals.
Want more Notion templates and updates? Join our mailing list, and check out our several other Notion template round-ups!
Get the all-in-one Life OS template, the only Notion template you'll ever need — with over 25 integrated templates built in.
Actionable Notion Resolution Dashboard & Year in Review Template
A system to map out your big resolutions, then dissect and track the macro and micro tasks to make them happen? Say no more. The Ultimate Notion Resolution Dashboard by yours truly is designed to be by your side year-round, with an interconnected 3-level system to easily convert your big plans into actionable tasks and to-dos to make them happen. Each micro and macro item is attached to your big picture goals — reminding you why you're doing each task, and helping you act more intentionally.
Featuring a "hall of fame" section to celebrate recently-completed resolutions, visual progress bars to keep track of how you're doing in each area of life (of 10 major areas), a year in review hub, onboarding tooltips, priority support, aesthetic visuals, and much more — this robust dashboard has it all.
Template Available Here | Get the Goals Template Integrated with Life OS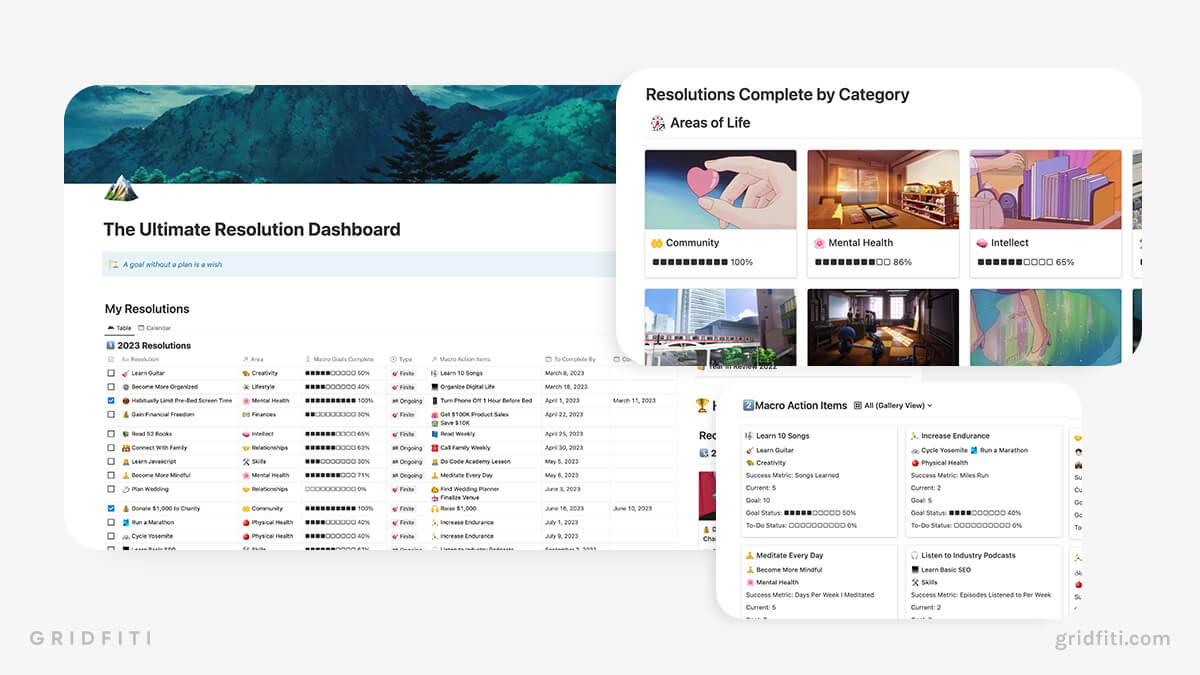 Simple Year in Review Notion Template
Looking to create a simple bullet overview of your past year and the year ahead? Covering several facets of life, and even featuring a highlight reel photo dump section, check out our Simple Year in Review Template!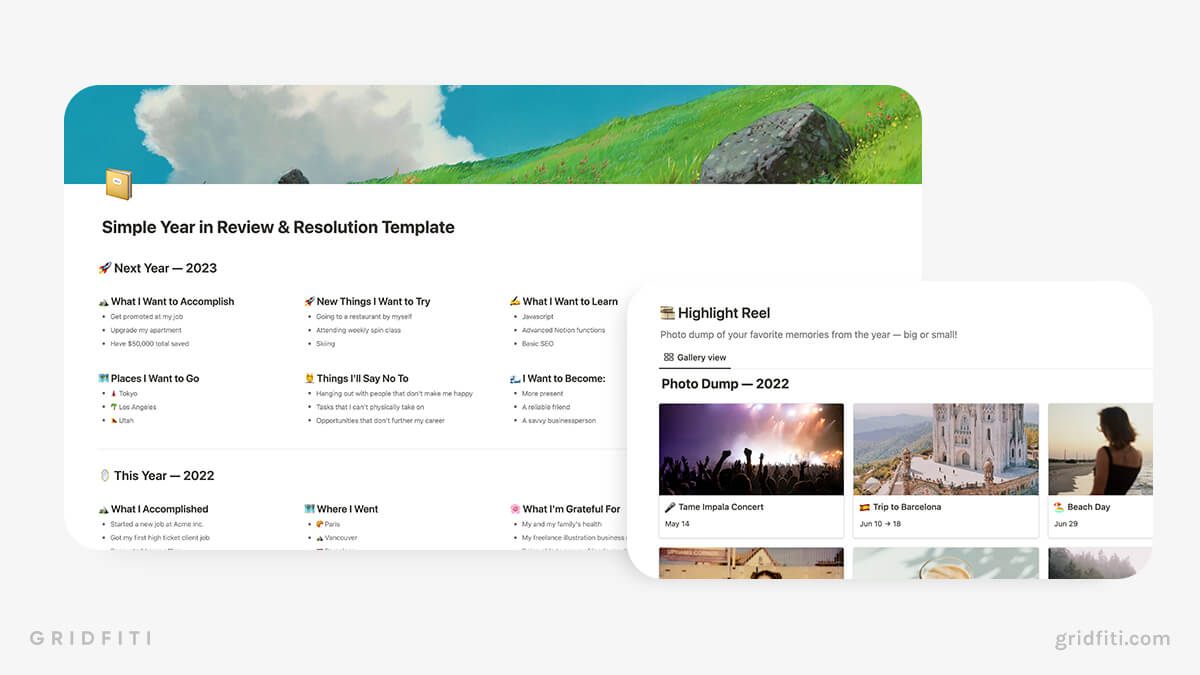 Minimalist Notion Bucket List Template
While not a resolution template, if you're looking to build your long-term bucket list, this is the pick for you! Track your experiences and live life to the fullest with with this minimalist black and white Notion bucket list template. This dashboard gives you an overview of the experiences you're looking to achieve, along with aesthetic visuals.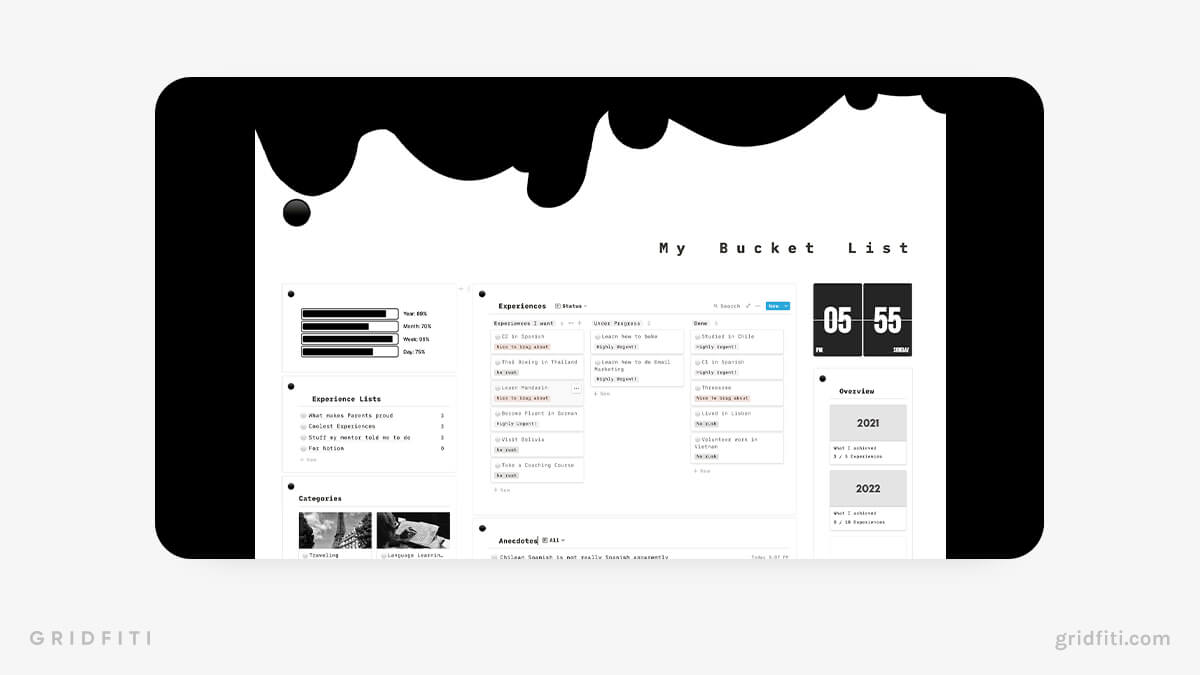 Moonshot – Resolution & Goal Management Board
Set goals, create actionable steps, track your progress, and stay on course with the Moonshot Resolution & Goal Management Board! Make sure to review and update your metrics regularly, and use it to monitor your progress towards your goals throughout the year.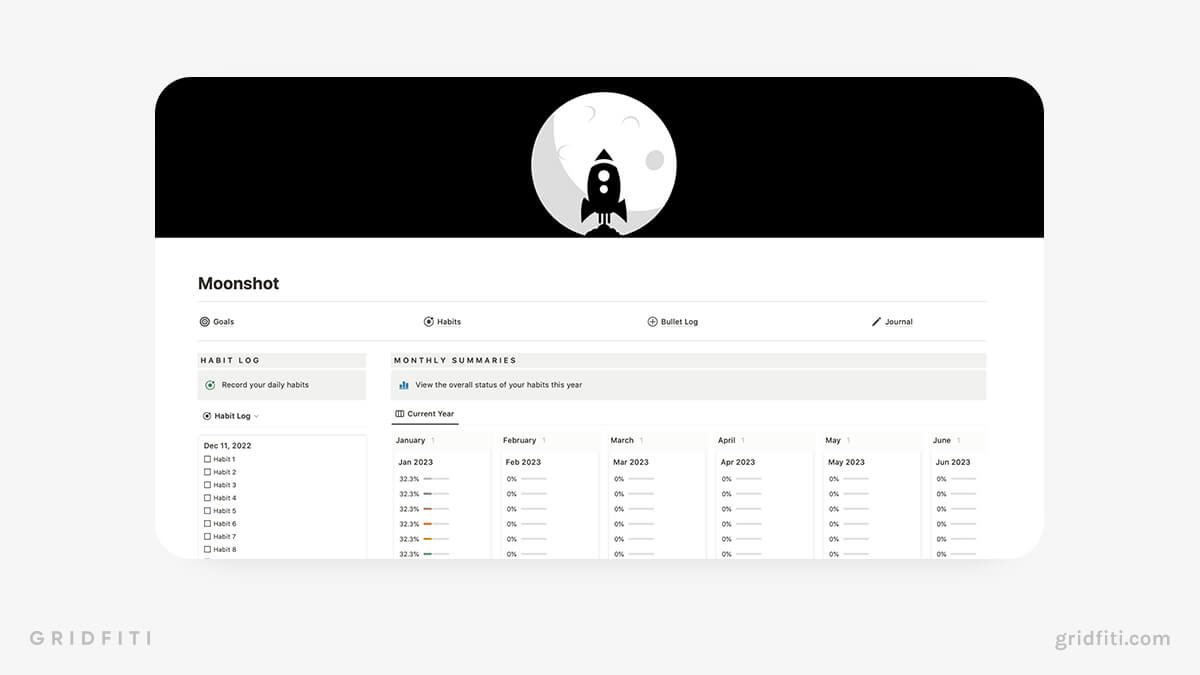 Yearly Planning & Review Notion Template
Break down your year into four quarters, and reflect on the year as a whole to gain a better understanding of your intentions and aspirations. Use this template to track your successes and capture all you have achieved in the last 365 days, review your progress, and identify any areas where you may have fallen short, or conversely, exceeded expectations! Set yourself up for success and stay focused all year long.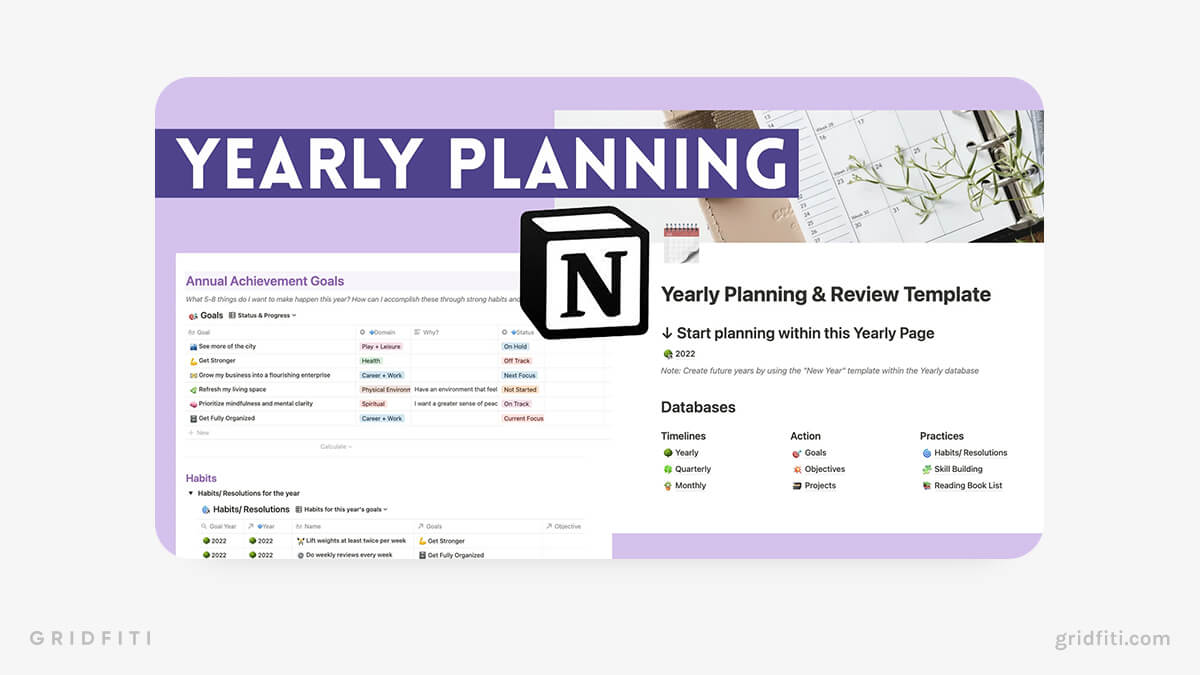 Notion Annual Planner Playbook
With the proper annual planning, you can confidently achieve all your yearly goals with this planner template. Break down your visions into achievable steps and prioritize them based on the results you're trying to obtain.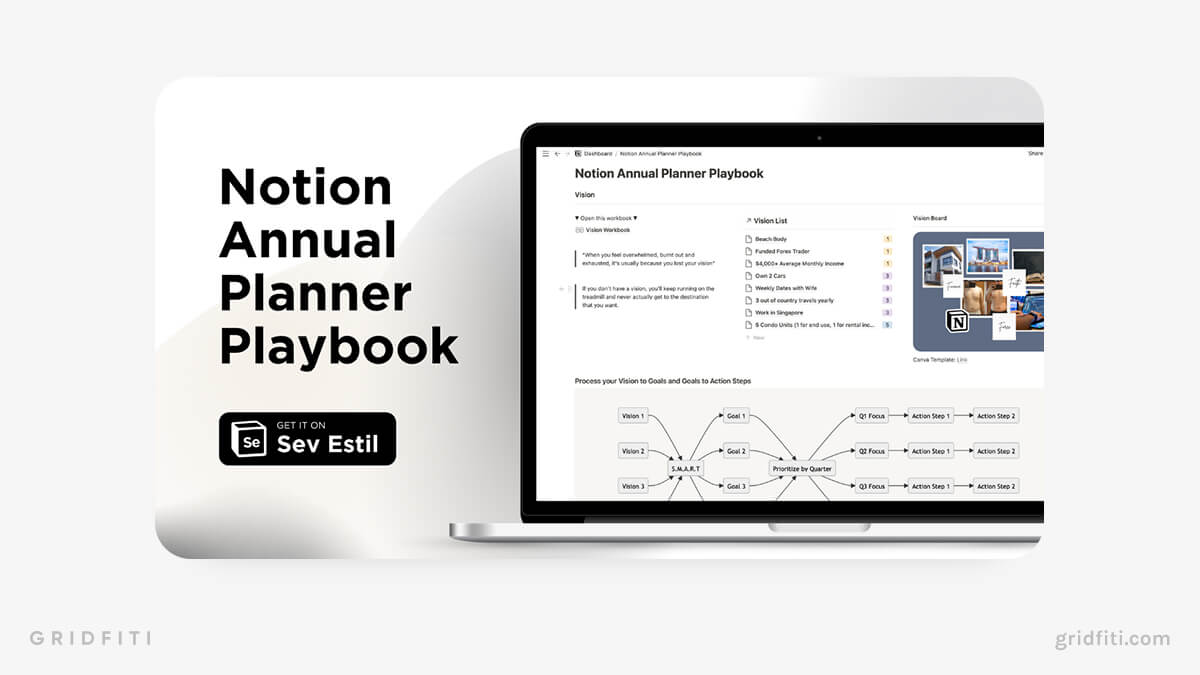 Notion Annual Review & Goal Setting Template
Use this annual review template in Notion to plan your year and set goals. The template will guide you through the process of making the most of your year by prompting you to create realistic goals, set milestones, and build an actionable plan.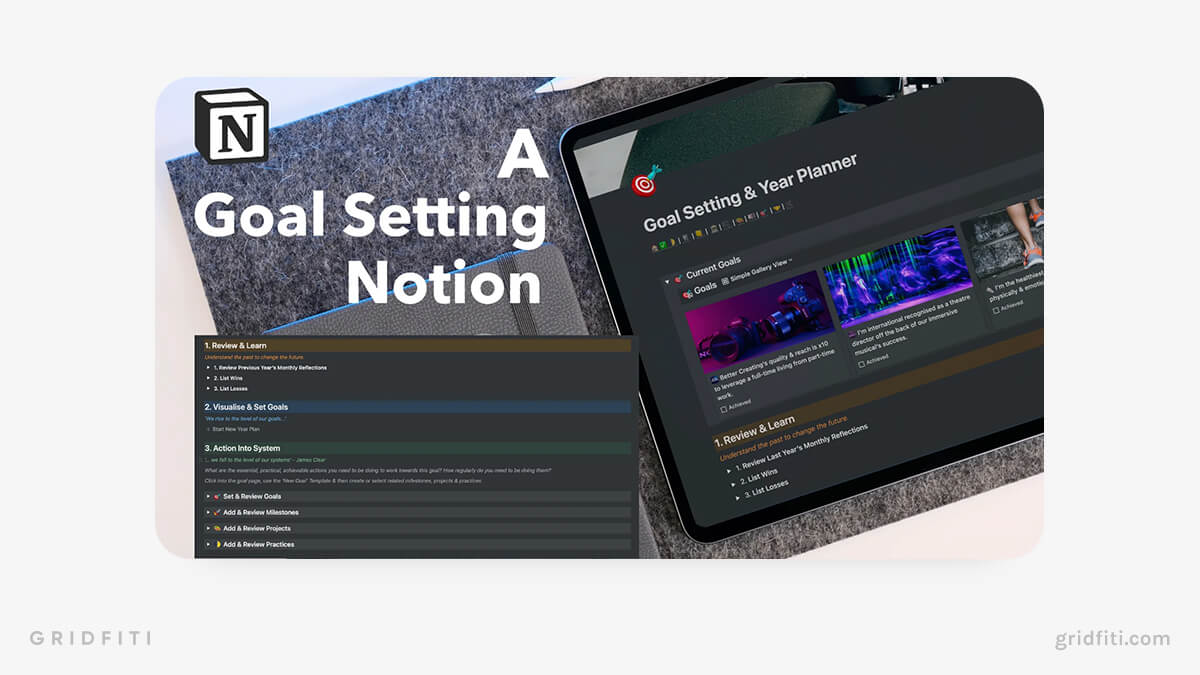 Notion Resolutions & Goals Tracker
Keep yourself accountable for the new year by setting goals and tracking your progress. This template helps you set explicit goals in all important areas of life – such as health, personal growth, relationships, family, exercise, and anything else that matters to you. It also helps you focus on what is most important to you.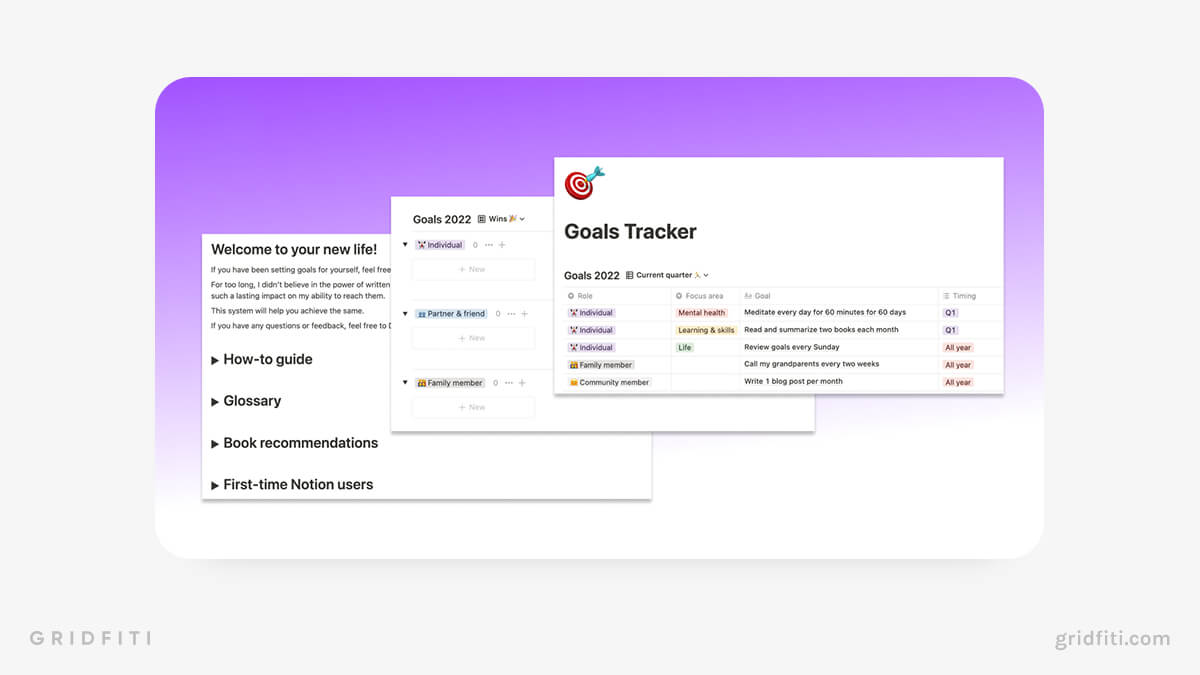 Aesthetic Student Dashboard with Simple Resolution & Reflection Template
Use this simple student-geared reflection worksheet to reflect on your previous year, and learn how to improve for the next semester with resolutions for different areas of life! This is a great way to take ownership of your academic journey and make sure that you are working towards achieving your goals. On top of its goal-setting features, you can use the student dashboard to stay on top of your school work, important dates, and assignments.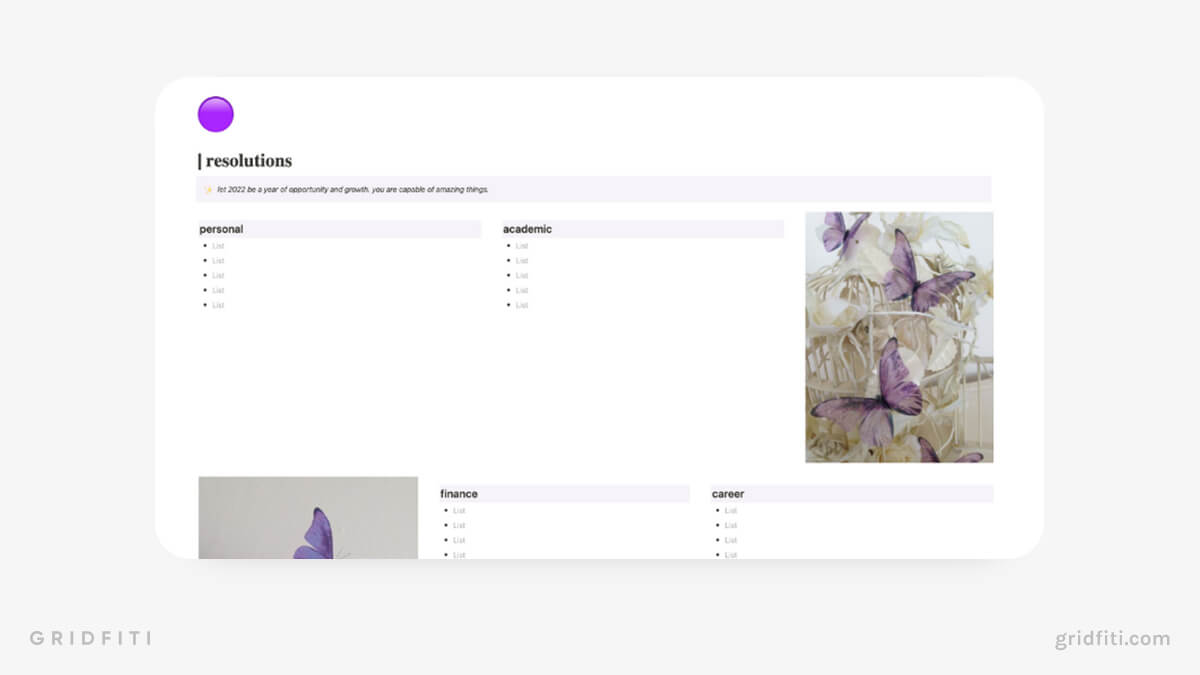 Project 2023 Notion Template
Track your progress, finances, and daily activities all-in-one Notion template! The Project 2023 template includes a progress tracker to track your goals, projects, and priorities for the upcoming year. It's a great way to stay organized and motivated, setting benchmarks and milestones to hit along the way. You can also keep track of your daily activities, setting reminders and to-do lists to ensure that you're staying productive and on top it all. With this template, everything you need to stay organized and on top of your goals is housed in one place!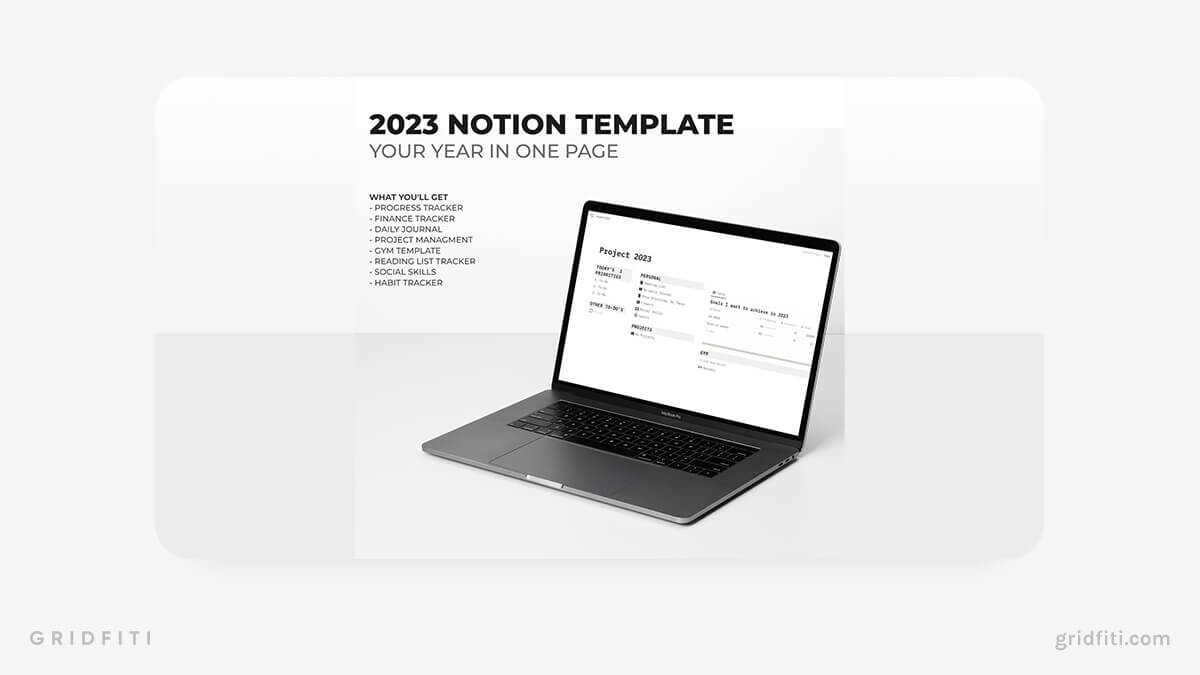 Year Manifesto – Year-in-Review Journal
We often resort to quantifying our goals and achievements with metrics, and there's nothing wrong with that! However, it's also important to understand the intent behind our goals, and learning why certain milestones and habits are important to us and our future.
This simple 1-pager Notion Year Manifesto template acts like a yearly journal – where we can reflect on the year we've had, and understand more about our intentions and goals moving forward.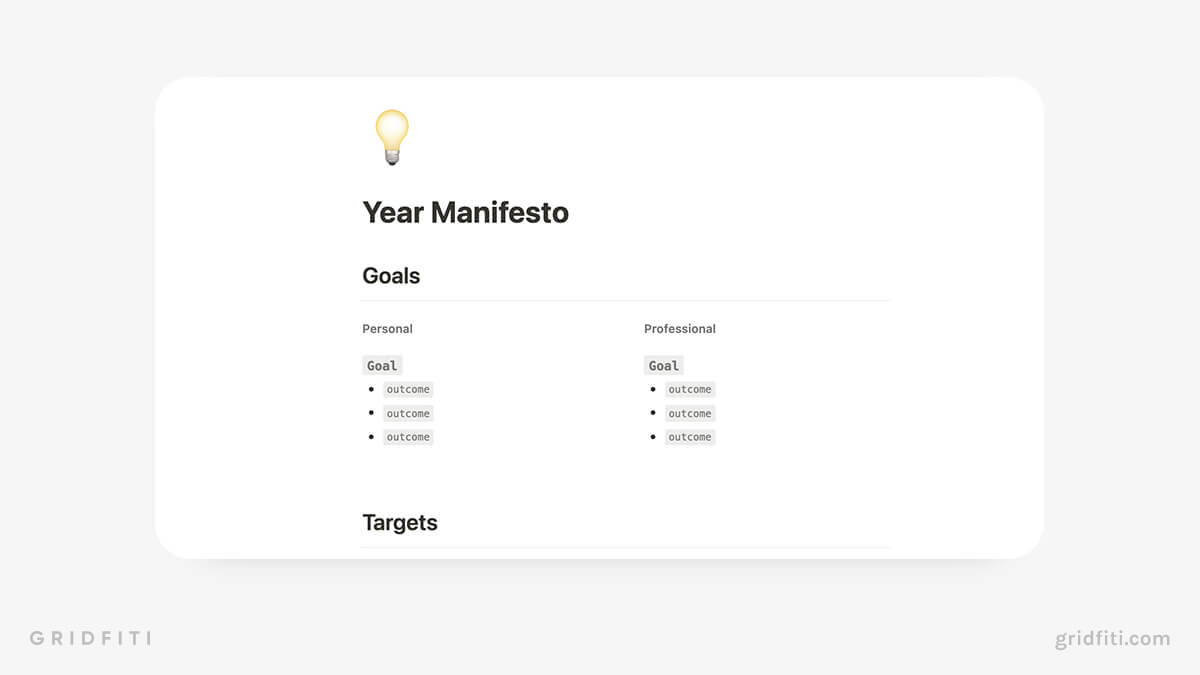 Notion Resolution Board
Organize your goals for a day, week, or month, track your progress, and even create your bucket list with the Resolution Board!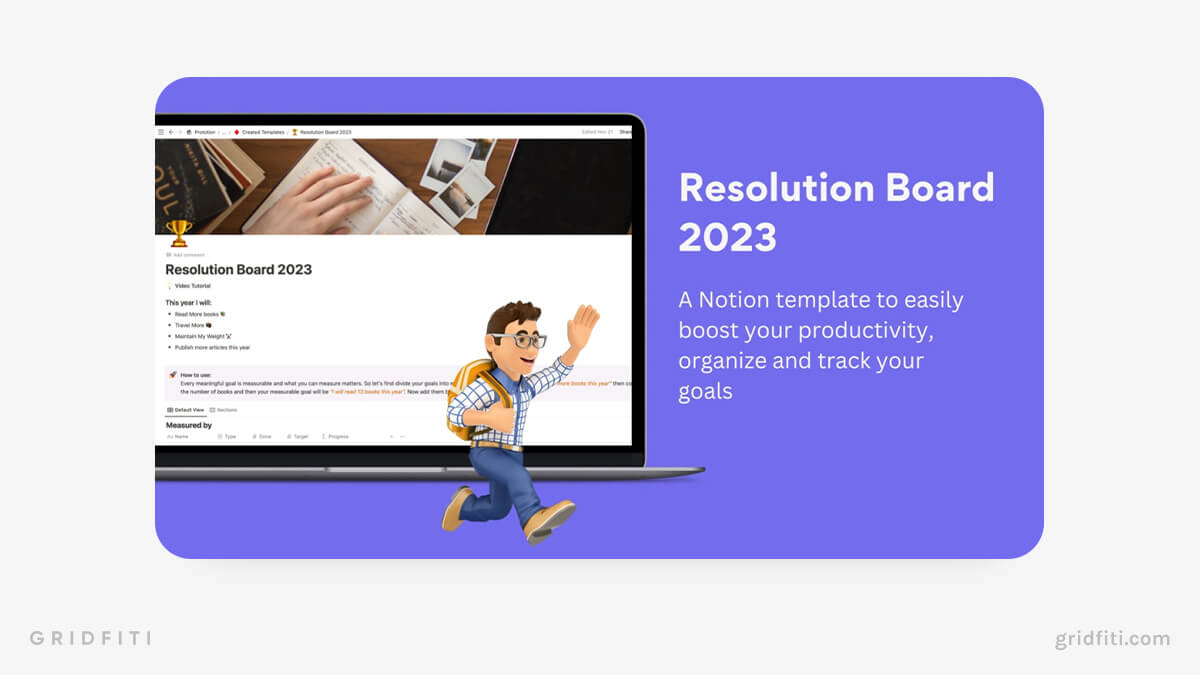 Ali Abdaal's Notion Annual Review & Bucket List Template
Productivity and content creator Ali Abdaal has released a bunch of templates for his viewers, including this simple Notion annual review and bucket list template — which allows you to reflect on the year you've had, and set basic resolutions and goals for the year coming!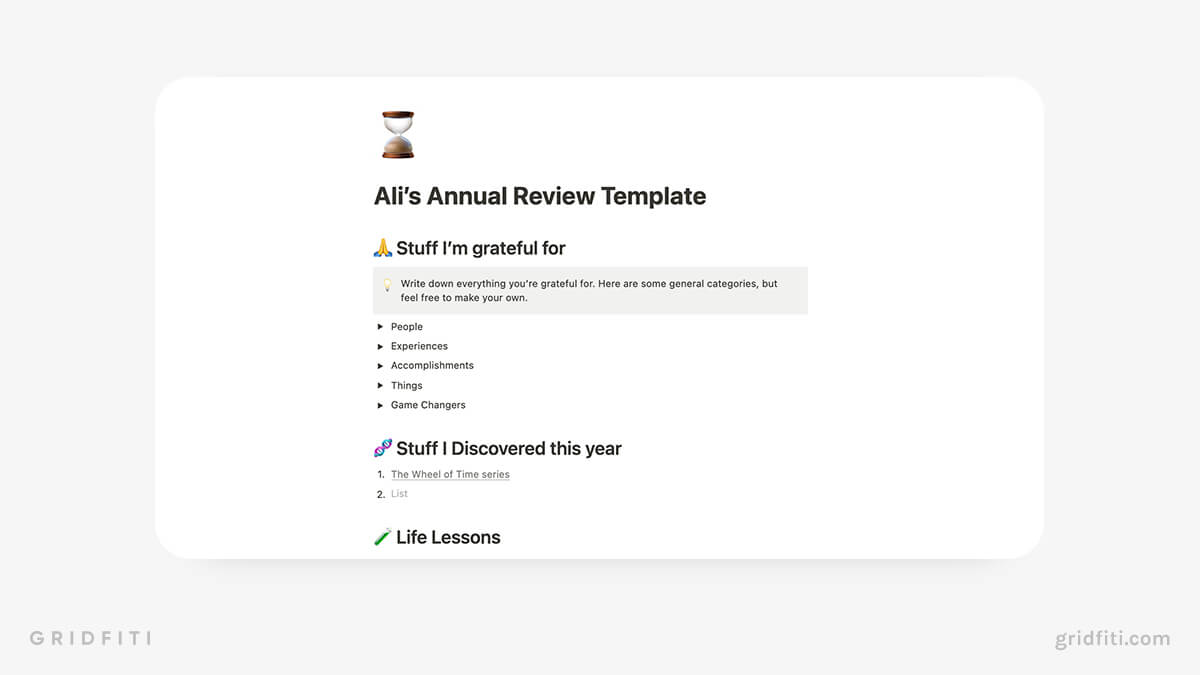 Minimalist Notion New Year's Resolution Template
Similarly, the Resolution Board is an integrated dashboard to measure goals and progress so far for different aspects of life. With a slick minimalist black and white theme, stay on top of your goals in style and stay accountable for your projects, actions, and habits to reach your overall resolutions.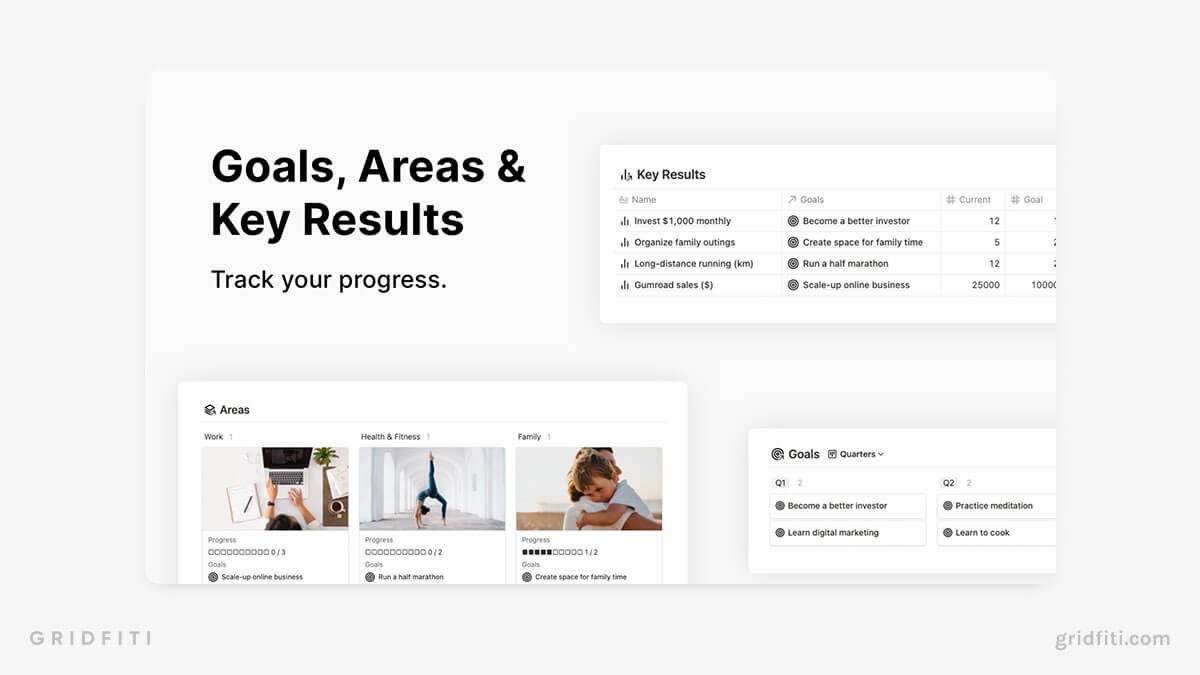 What Notion freelance template are you using? Do you have any other recommendations on Notion templates for freelancers to use? Let us know in the comment section below.
Gridfiti is supported by its audience – when you buy something using the retail links in our posts, we may earn a small commission at no additional cost to you. We only recommend products we would use ourselves and recommend to our friends and family. Read more about our affiliate disclaimer.