Both our physical and mental health affect every aspect of our lives – but looking after all the components of our health and wellbeing can be challenging. Tracking your fitness, medications, allergies, emotions, appointments, symptoms, meals, and everything else can be a daunting task, but with the right Notion templates, you can bring this all into a single digital workspace to monitor and manage.
From workout templates, to medication trackers, gratitude journals, nutrition diaries, and everything in between, we've gathered the best Notion health templates for you to optimize your physical and mental wellbeing!
Want more Notion tips, tricks, and templates? Join our Notion mailing list below and check out our several other Notion guides and round-ups!
All-in-One Health Dashboard Template
With this all-in-one Notion health template, simplify your health and wellness journey by bringing it all into a single dashboard. Separated by two main sections, Physical and Mental, track nutrition, activity, sleep, meditation, emotions, and so much more.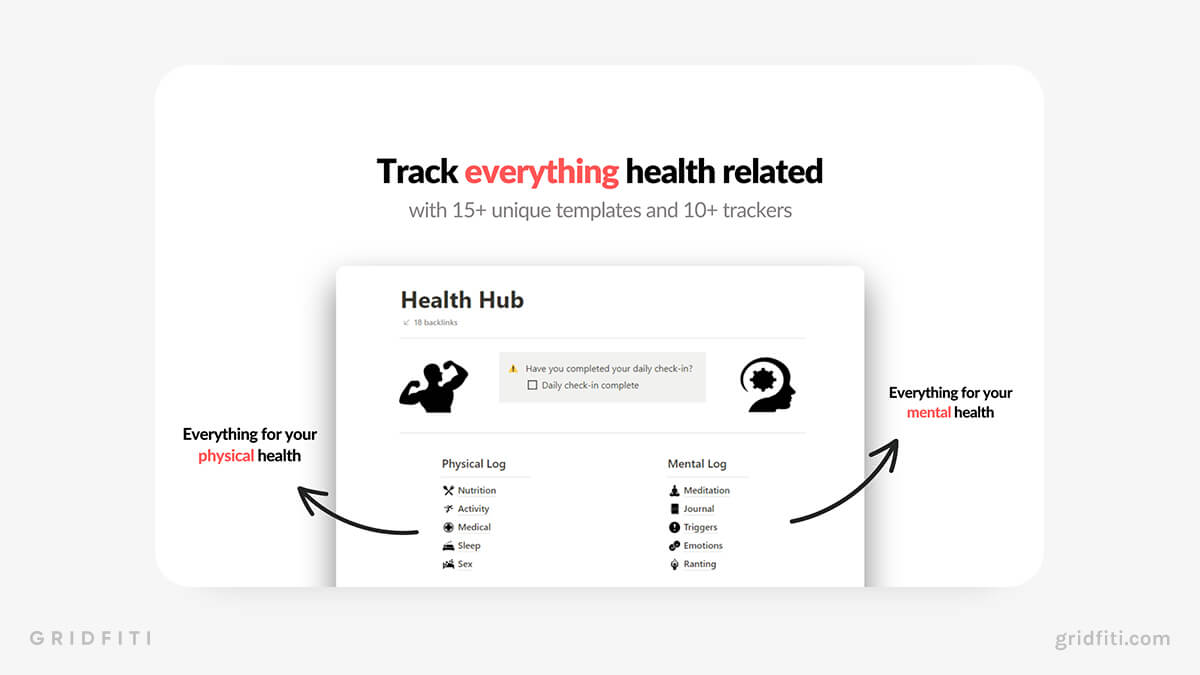 HealthyMe – Health Management Template with Medicine Tracker
HealthyMe is a health management system to help you look after you and your family's health right in Notion. With a medicine and doctor's appointment tracker, physical health board, mental health board, sports management board, and more – regain control of your medical records, important appointments, and workout routine.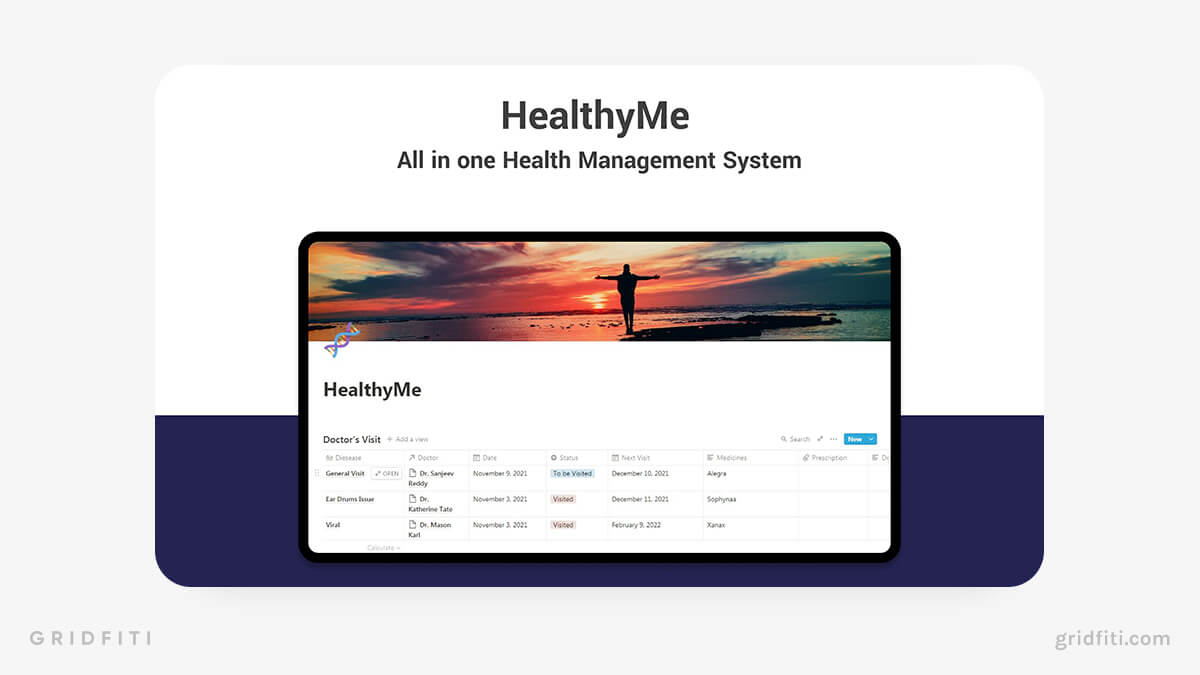 Notion Habit Tracker Template
Build healthy habits and break bad ones with the all-in-one Ultimate Habit Tracker Dashboard by yours truly! Track your physical and mental health habits by category, monitor your progress per category with visual bars, and set integrated AM and PM routines.
Related Post: Notion Habit Tracker Templates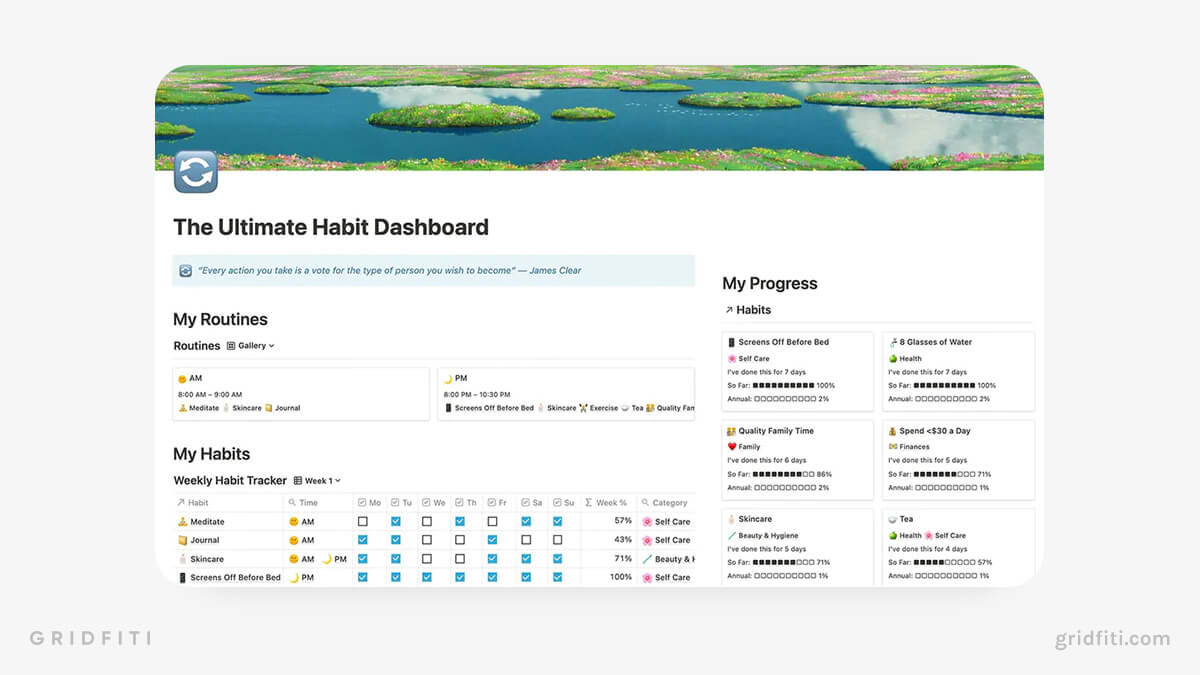 Notion Workout Planner & Tracker Template
This template will help you execute your workouts consistently, and track all your progress! Define your fitness objectives, craft training programs, and design training sessions – all in a singular workspace.
Related Post: Notion Workout Templates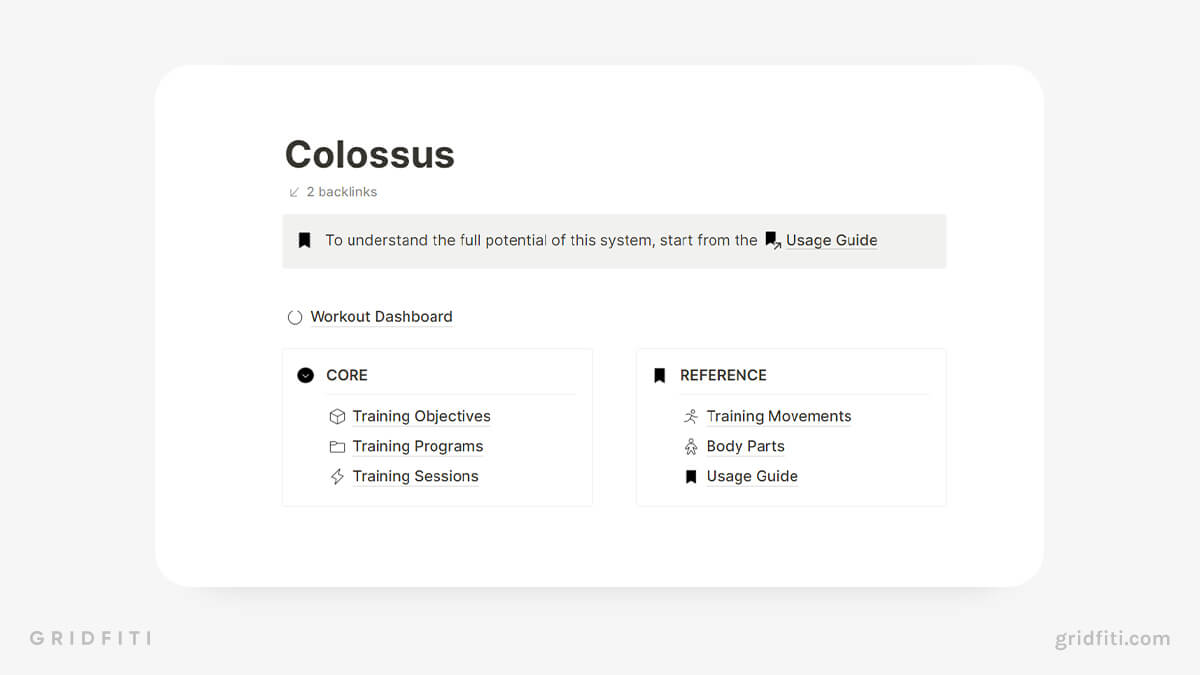 Home Chef Dashboard – 3-in-1 Meal Planner, Recipe Book & Grocery Tracker
The Ultimate Home Chef Dashboard for Notion is an all-in-one, fully integrated Recipe Manager, Grocery Tracker and Meal Planner dashboard template. Store your favorite recipes (and recipes you want to try), get a full inventory of your kitchen and easily convert it into a shopping list, and plan your meals out for the week to avoid impulse eats. With the template's pre-built views and filters, you can easily sort recipes by different health properties and tags, track your calorie intake, and more.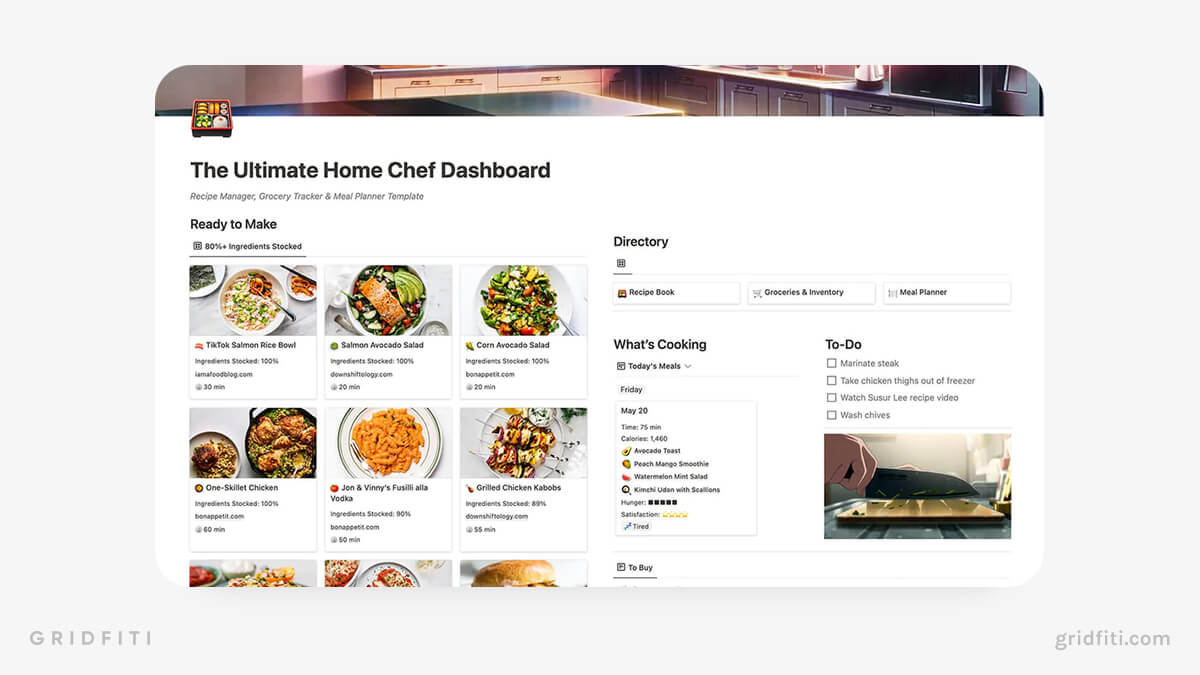 Notion Gratitude Journal Template
A great way to boost our morale and mental health is counting our blessings and expressing our gratitude – and what better way to do that than in a digital, bring-everywhere-you-go gratitude journal? With The Happiness Bar is a Notion gratitude journal template, and includes gratitude journal prompts, visualization worksheets, a mood tracker, planners, and lots more!
Looking for more journal template options? Check out our posts on the best Notion journal templates and bullet journal templates.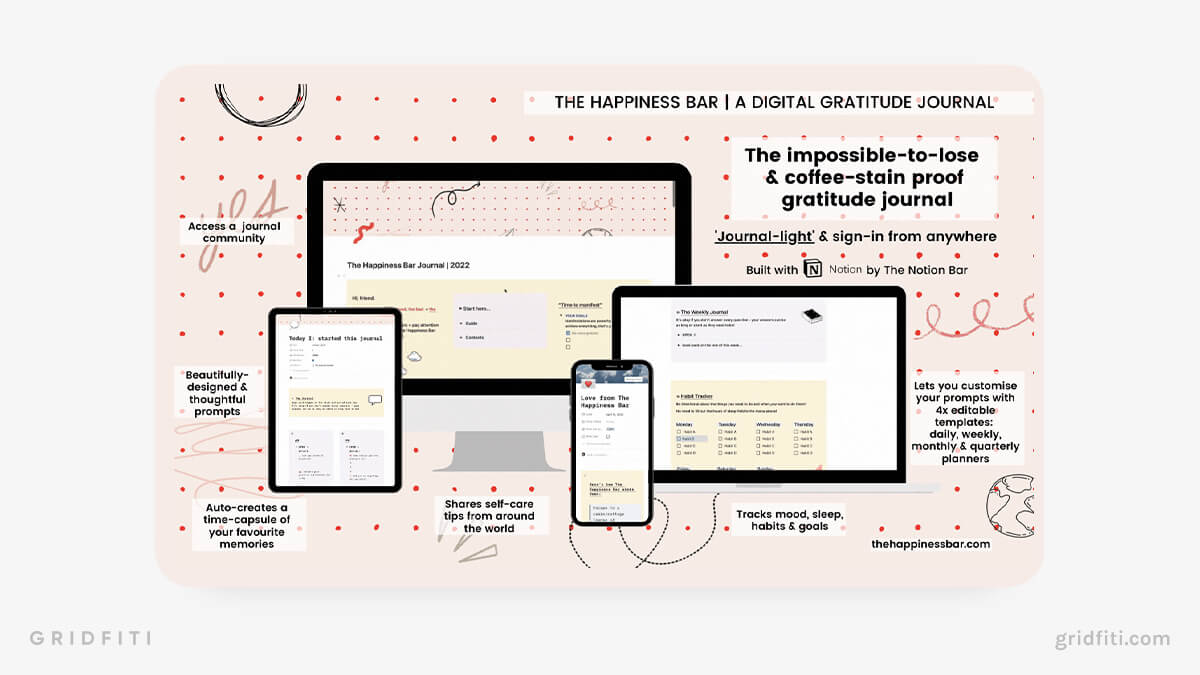 Notion Allergy Template
Having an allergy or intolerance can add a lot of logistical hurdles to eating and living – but this template will help make it as easy as possible. With this dashboard, organize all your allergies in one place, store restaurants that cater to your allergies, track medical appointments, add your favorite allergy-friendly products, and even identify new potential allergies or intolerances by logging any suspicions.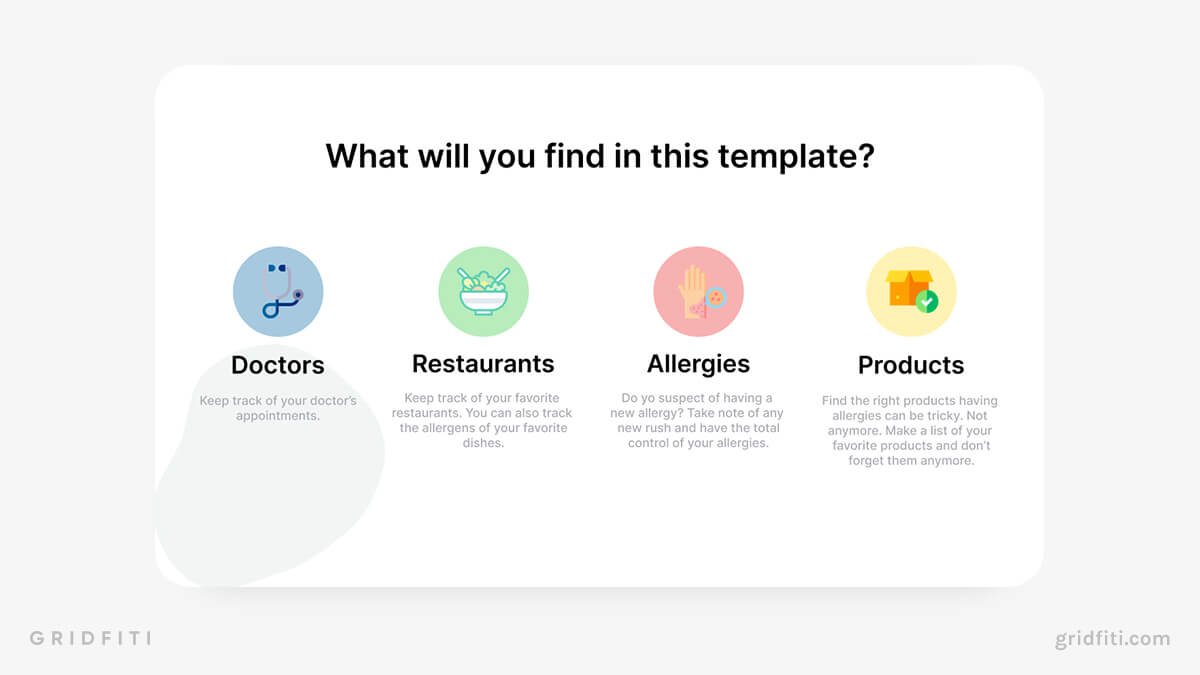 Minimalist Aesthetic Workout & Food Diary Template
Jumpstart your fitness journey with this simple workout and food diary template! Log all of your workouts, plan your meals, get an overview of your cumulative calorie intake, add fitness goals and inspiration, and more.
Looking for more minimalist templates? Check out our curated list of minimalist Notion templates!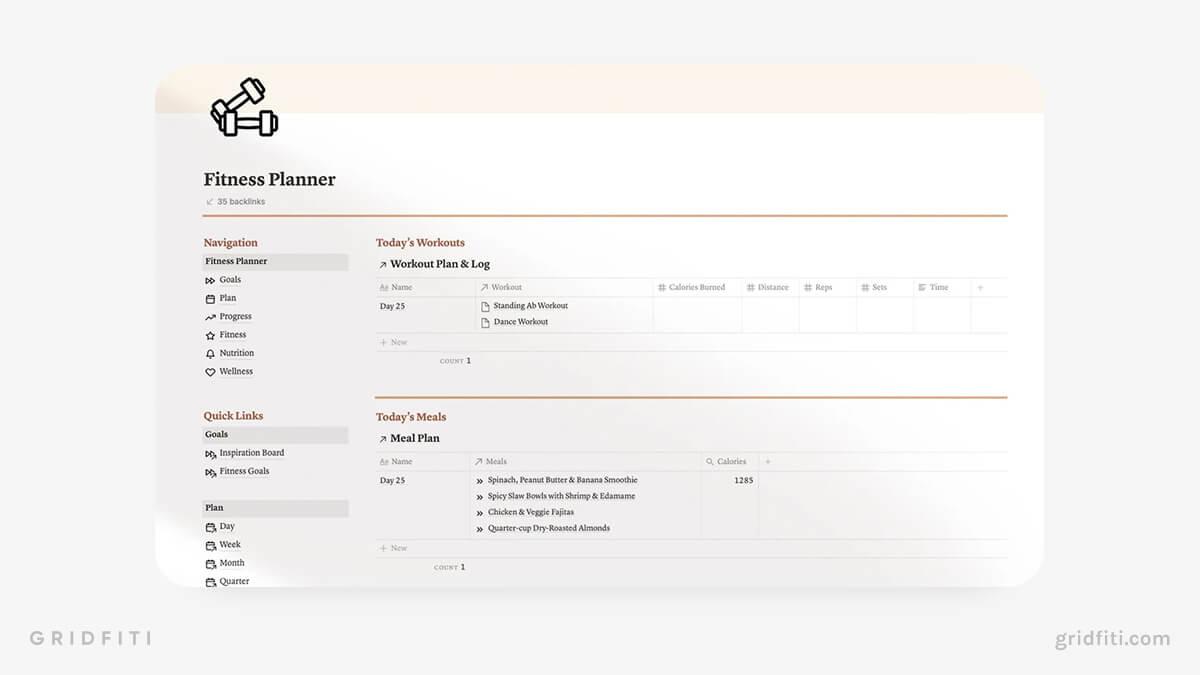 Notion Nutrition Diary Template
Take your wellbeing and gut health into your own hands with the Notion Nutrition Diary! Track your food intake using either the built-in FODMAP list or your own, learn how different foods affect your gut health to identify intolerances or allergies, track month-to-month progress, and ultimately decrease uncomfortable diet-related symptoms!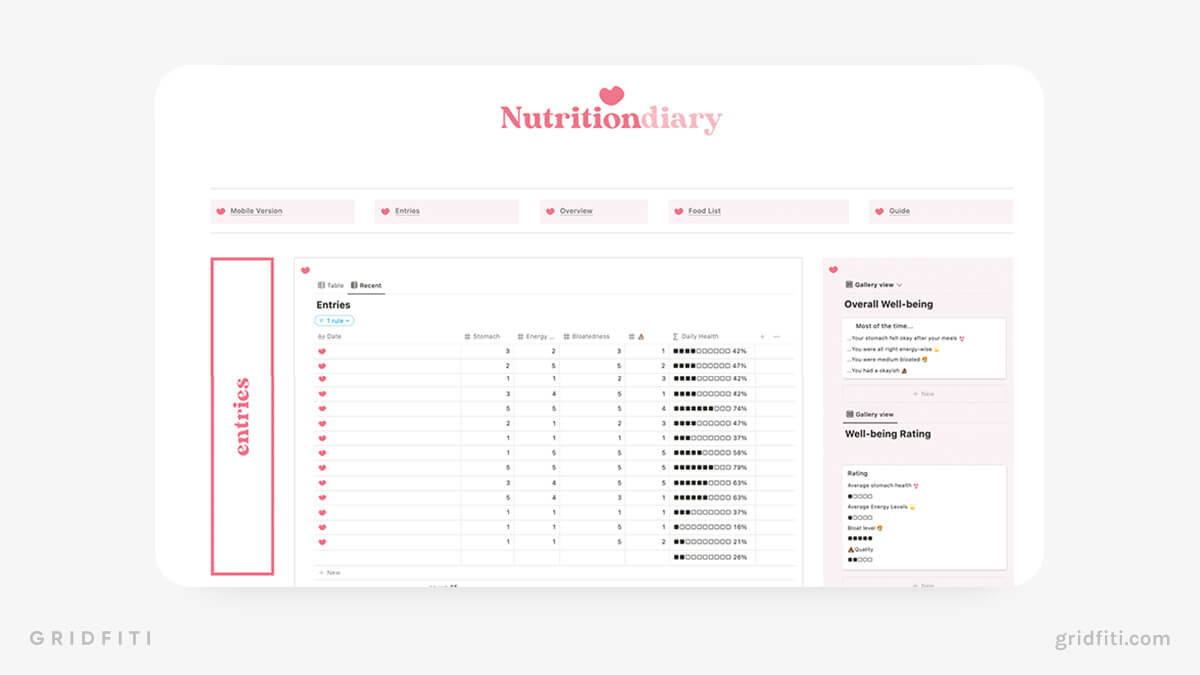 Notion Addiction & Sobriety Template
Whether you're trying to cut caffeine, drink less, or anything in between – Sobriety Hub offers a system to help you cut out addictive substances and habits. In the dashboard, see your action items, collect your thoughts in a daily journal, remind yourself of your why, visualize pros and cons, and see a symptoms timeline.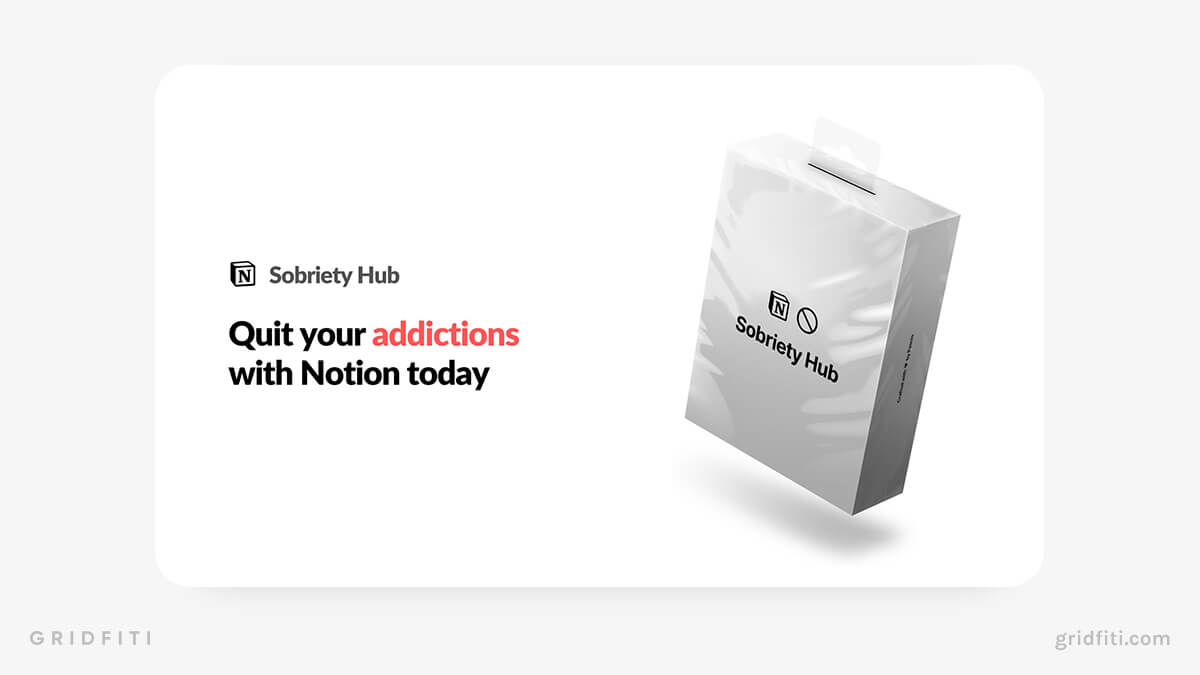 Notion Period Tracker & Ovulation Template
Stay on top of your cycle and fertility, and ultimately understand your body better with this Notion period and ovulation tracker template! Monitor your current and past cycles, keep an eye on your symptoms and mood, predict future cycles, track doctor's appointments, and lots more with this aesthetically pleasing and functional template.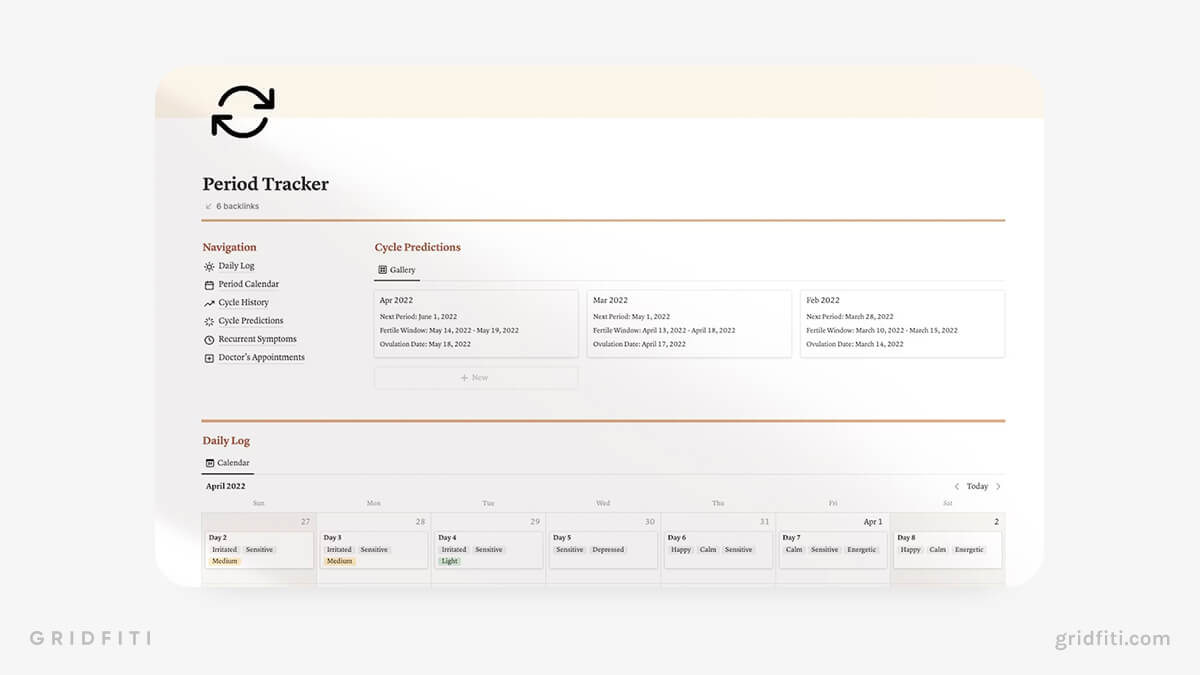 Beastmode Workout OS Template
Boost your performance and beast your workouts in Notion with Beastmode Workout OS! With 150+ illustrated exercises, over 20 training techniques, a built-in stopwatch, integrated training report, muscle gain per exercise, and more, track your workouts, goals, and progress with this template.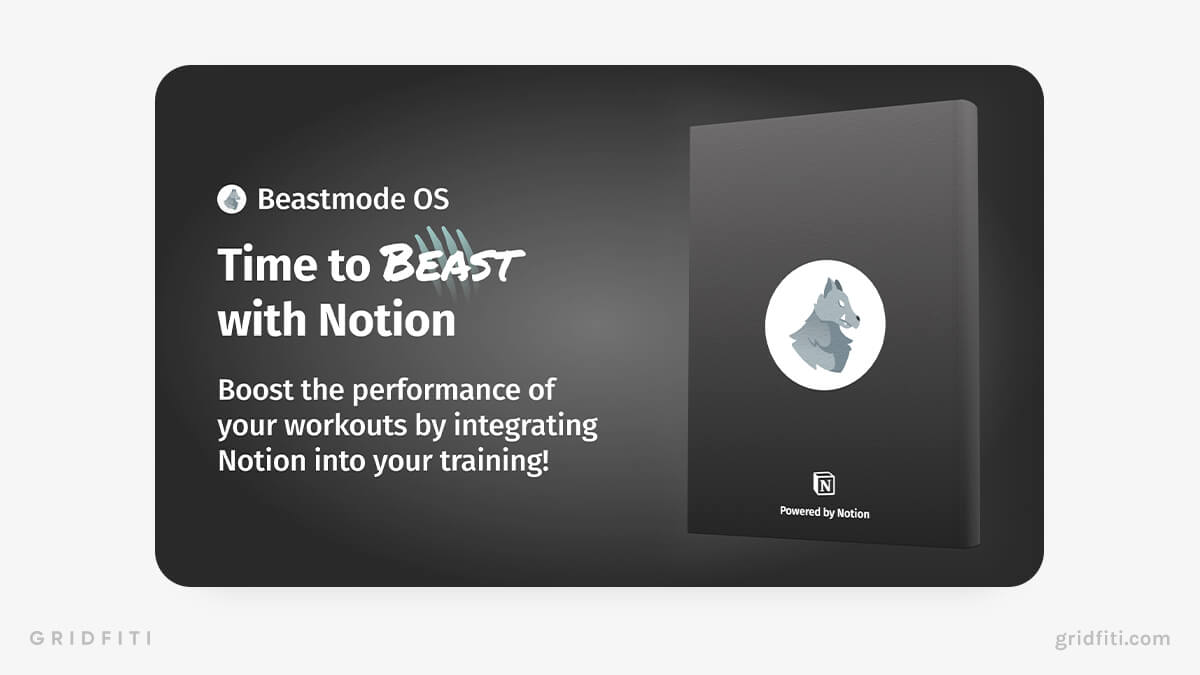 Simple Health Dashboard Template
This template builds off of three pillars: health, wealth, and wisdom. For the health portion of the system – manage all your of health-related information, track habits, and add reminders for health events and health insurance.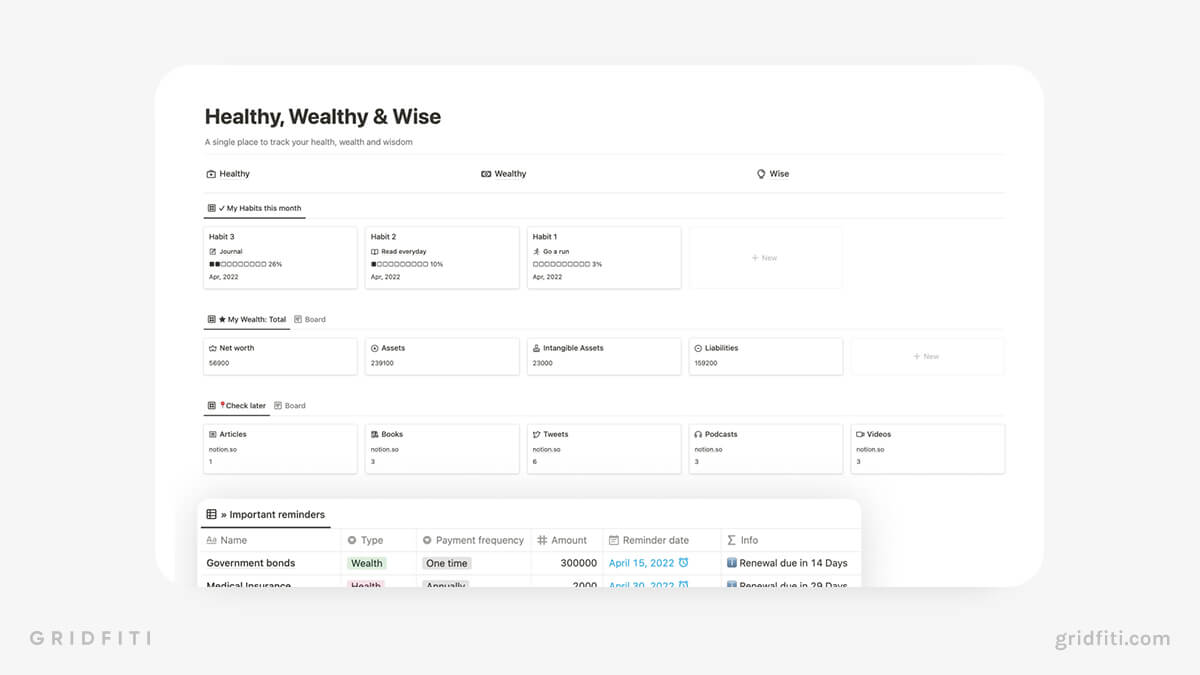 Which Notion health templates will you be integrating into your day-to-day? Any we've missed in the round-up? Let us know in the comments below!
Gridfiti is supported by its audience – when you buy something using the retail links in our posts, we may earn a small commission at no additional cost to you. Read more about our affiliate disclaimer.