When it comes to working out, it's important to have a routine that's consistent, and adaptive to continuously improve as you improve.
Keeping a mental track record of your fitness progress is cumbersome – but with a Notion workout template, you can track your fitness goals and progression easily from any device!
Whether you're new to working out and wanting to improve your wellness, or if you're a fitness vet following an intensive regimen – we've curated the best Notion workout templates for you to pick from, for a variety of health and fitness goals.
Want more Notion templates and updates? Join our Notion mailing list below, and check out our library of several Notion template roundups!
All-in-One Life OS Template with Workout Tracker
A place to track your workouts by stats, fitness progress, have your favorite workout programs for quick gym access, and store workout playlists? Say no more! Life OS by yours truly includes a dedicated Fitness & Workouts section to track your workouts by date, location, sets, reps, time, calories burned, weight lifted – whether you want to plan an upcoming workout, or log an existing workout as you go. If you're on a fitness journey to lose or gain weight, you can also monitor your progress with stats and photos to stay motivated!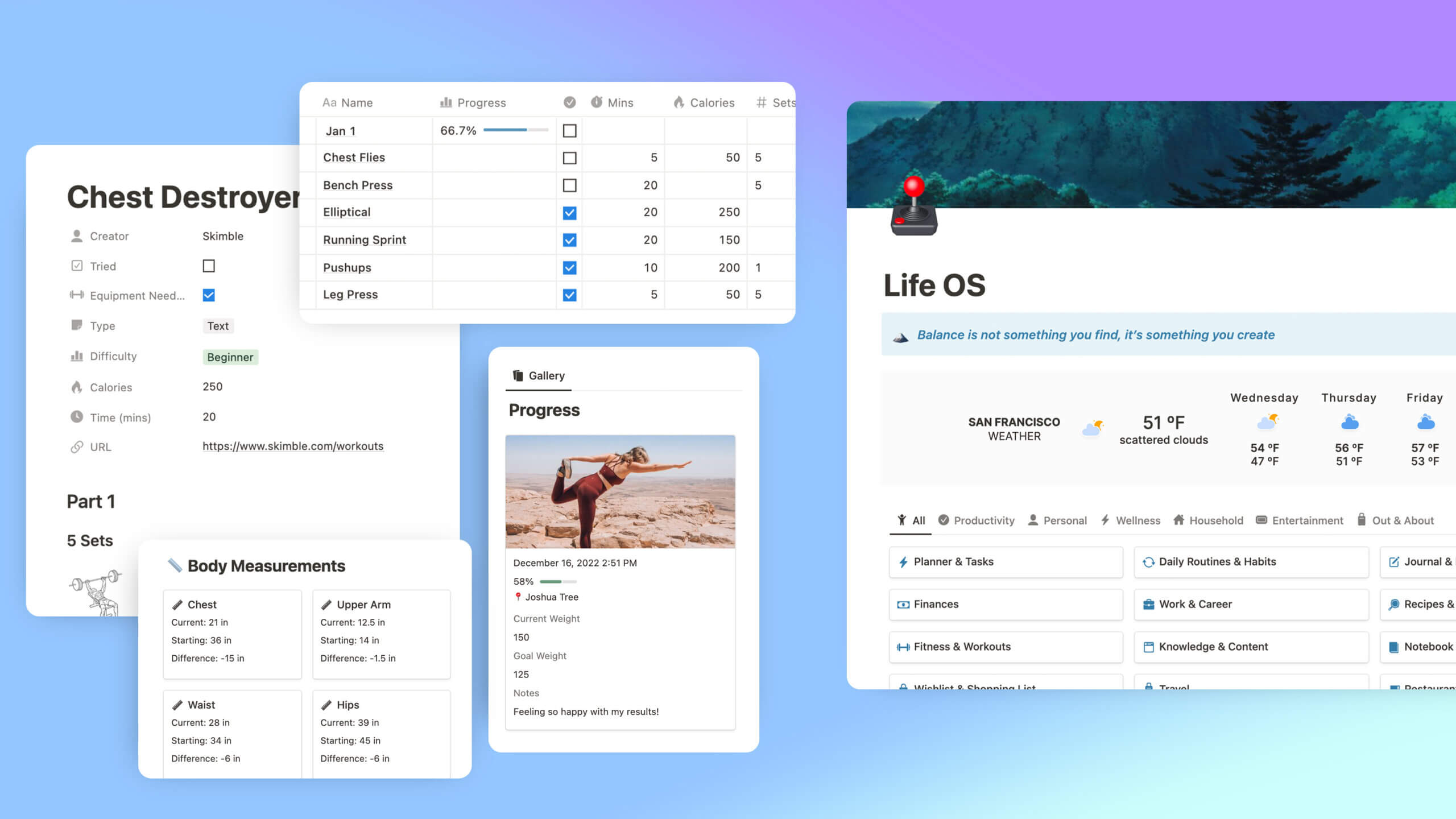 The Ultimate Notion Workout Tracker
Plan workouts, track your progress, and shape your body with the robust Ultimate Notion Workout Tracker template! With this full workout operating system, you'll get a bodybuilding hub, workout tracker, body measurements tracker, pre and post-workout routines, competitions and races manager, and so much more!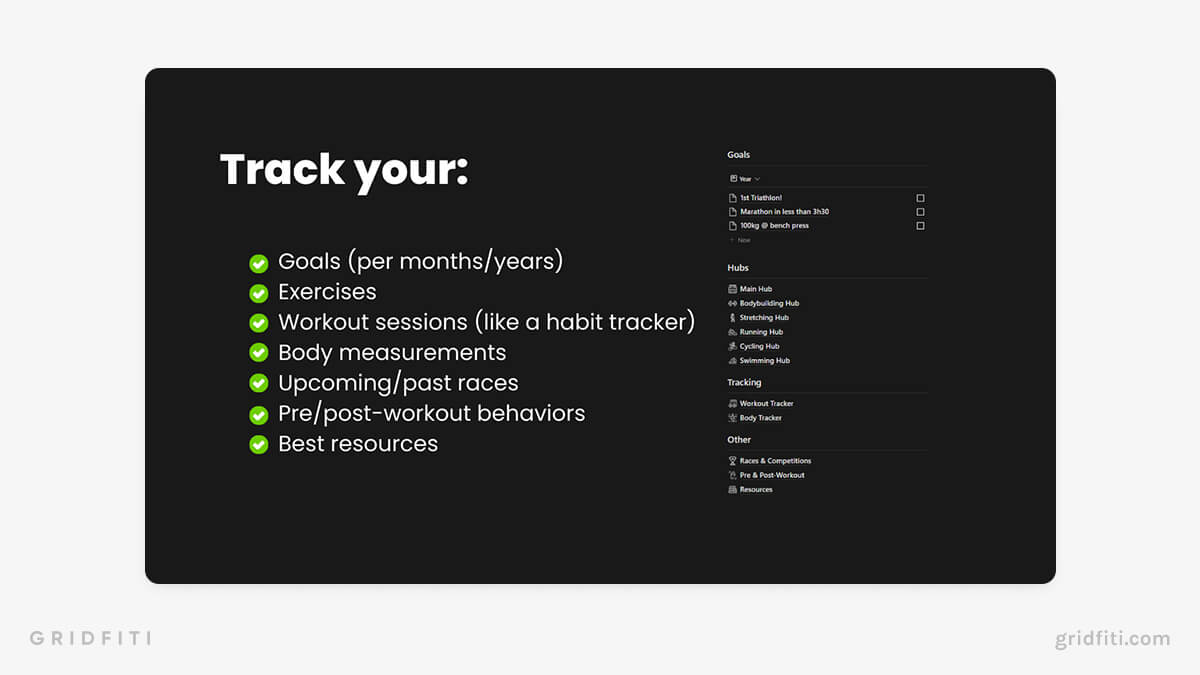 Beastmode Notion Workout OS
Track your strength and body training in this Notion workout operating system! The Beastmode OS includes 180+ illustrated exercises, progression planning, an integrated training report, and more. This template makes great use of Notion's database features – making everything seamlessly connected and calculated for you, especially in the workout and progress databases.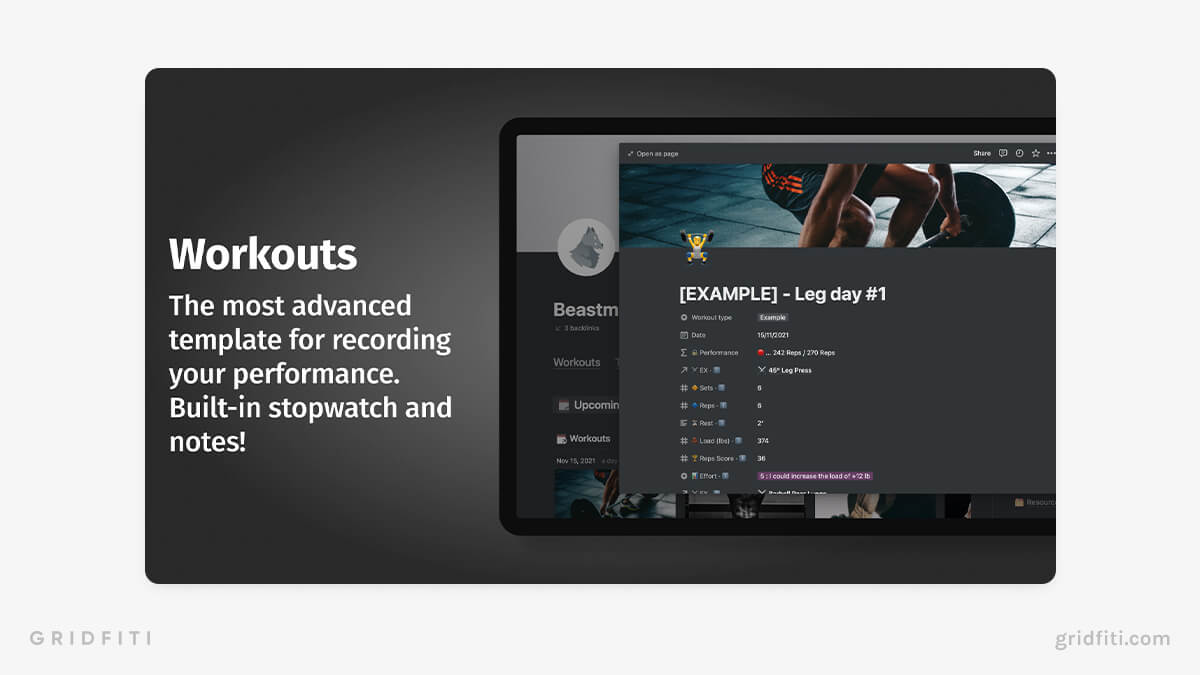 Daily Workout Planner – Notion Exercise Template
Visualize and plan your workouts with this daily workout planner template in Notion. Using this template, you'll be able to learn 32 new exercises, track your workouts, set time intervals and get an overview of the impact on your different muscle groups – all to help you reach your strength and conditioning goals.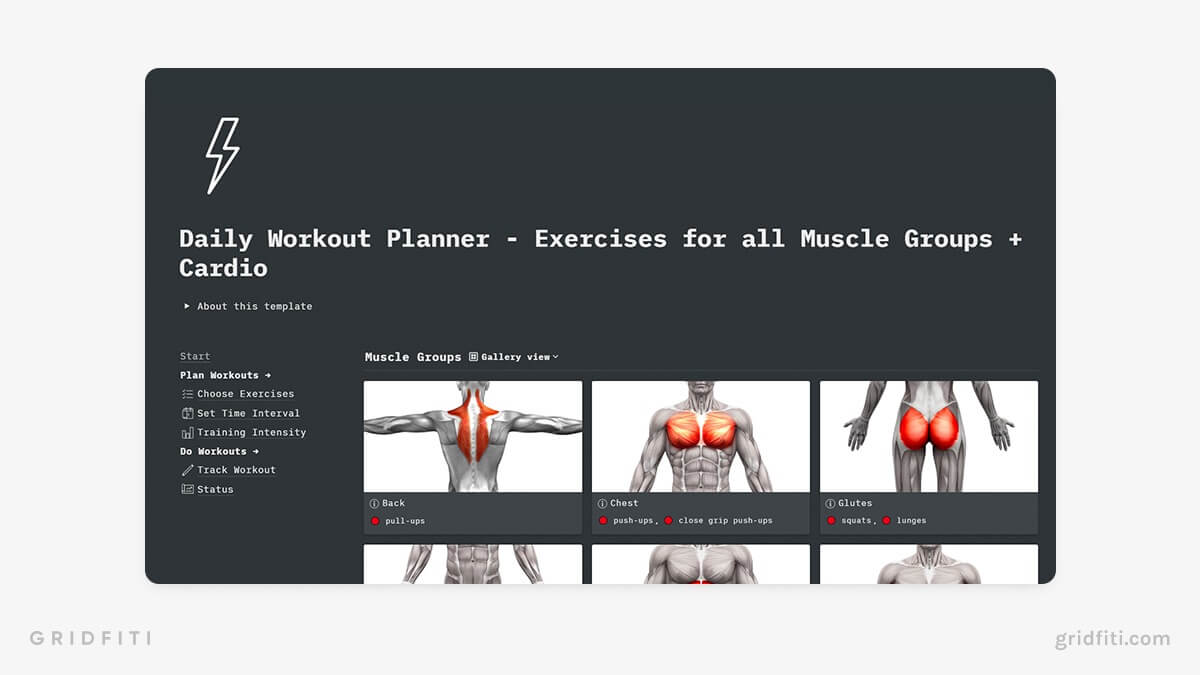 Health Hub OS
Track everything wellness-related right in your Notion workspace with the ultimate health operating system: Health Hub OS! This Notion OS consists of 15 unique templates and 10 different health trackers that are easily customizable and organized – all packaged in a minimal dashboard. Use the physical log to track your workouts, diet, calories, and more.
For more health templates, check out our blog post featuring the best Notion health templates!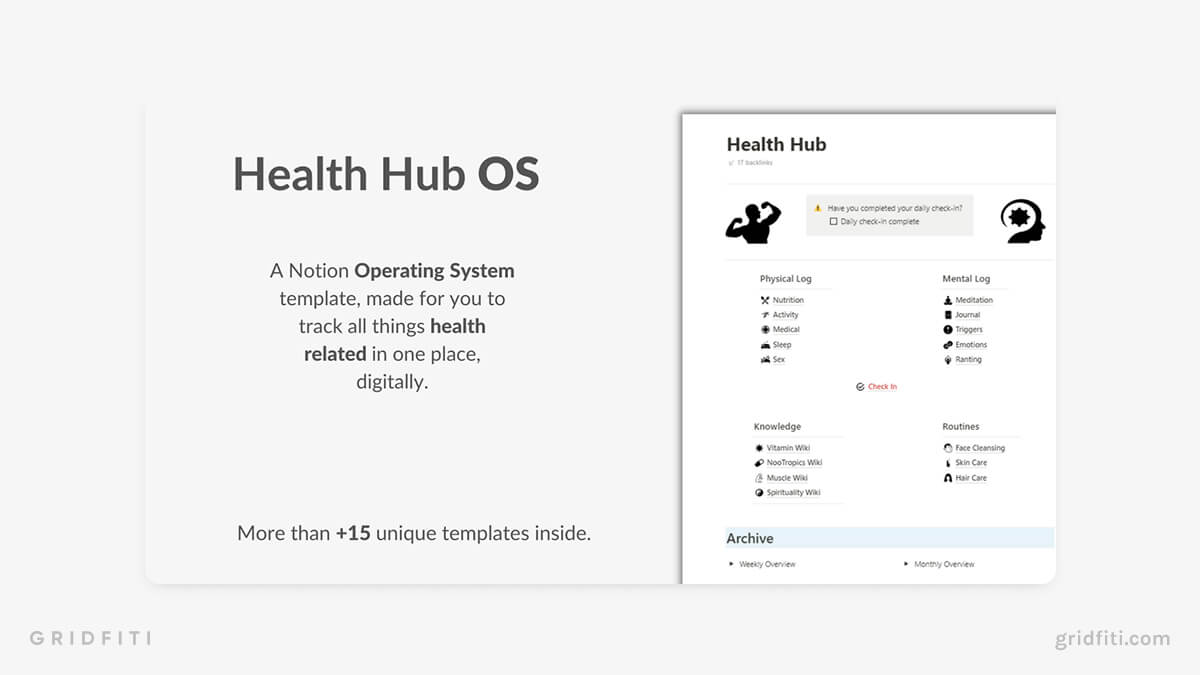 Ultimate Workout System Notion Template
With the Ultimate Workout System template, you'll be able to plan and track your workouts – while also learning a complete 6-day split resistance training program, complete with YouTube links and notes to make sure you're maximizing your physical activity.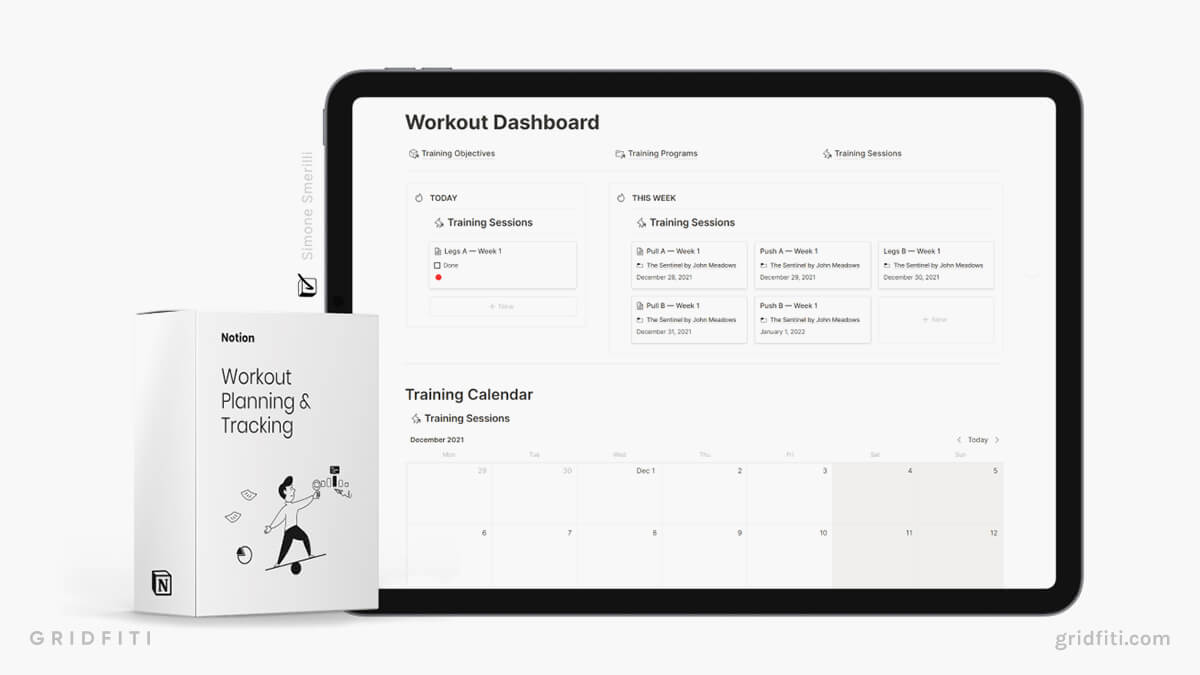 Obsidian Life OS
The Obsidian template is an all-in-one personal workflow Notion system designed to help you understand and accomplish your goals with tangible action items. It includes an entire health section with templates to track your workout plans, body health, and workout routines!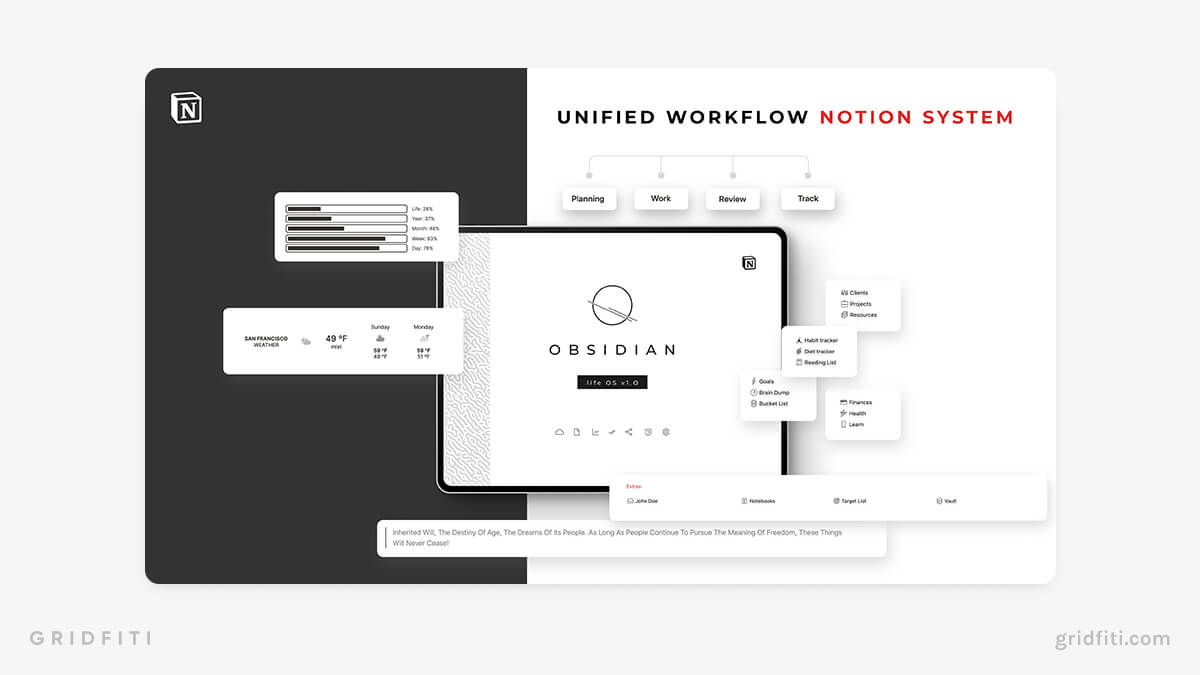 Aesthetic Health & Fitness Notion Tracker Template
The perfect workout diary to log your health progress with a template that tracks your fitness time/duration, distance, sets, weights, reps, and calories burned – all in a beautiful fitness dashboard. This aesthetic health template even includes a meal tracker to help you manage your calories, carbs, water intake, and more!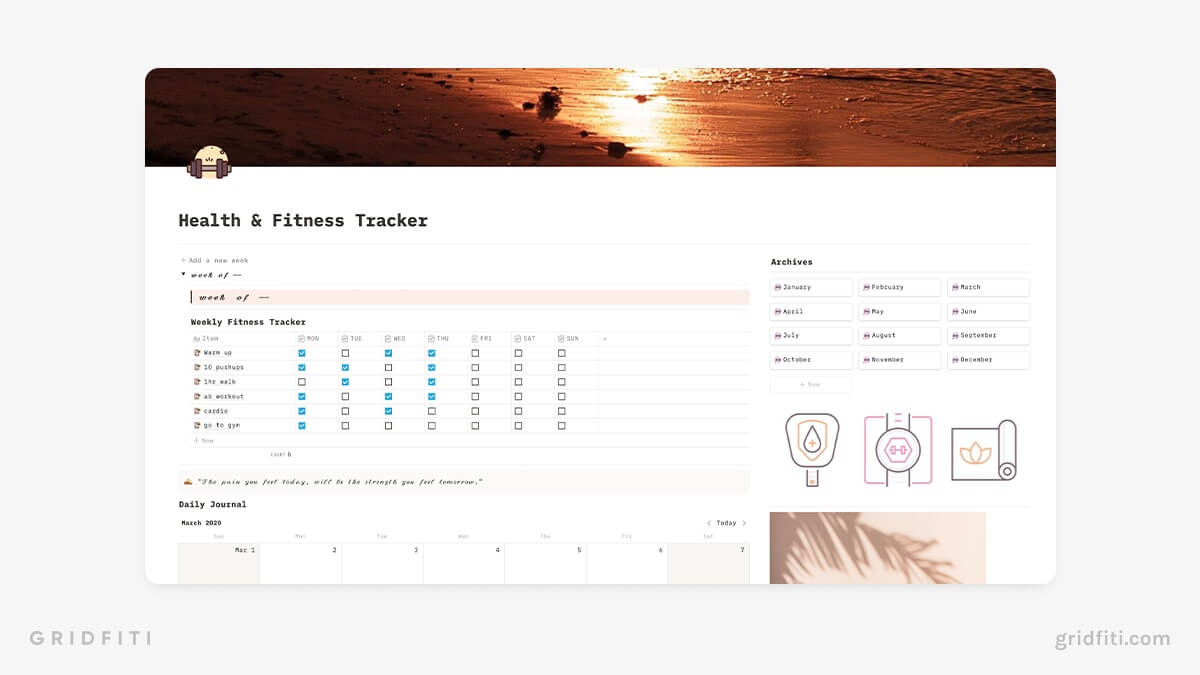 Notion Fitness Calendar Template
Get a daily, weekly, and monthly view of your fitness journey with this calendar-centric workout template. This template uses a relational database to connect your monthly, weekly, and daily workouts all in one place. Within this Notion fitness tracker, you will have individual templates for your strength routines, conditioning, workout classes, and cardio.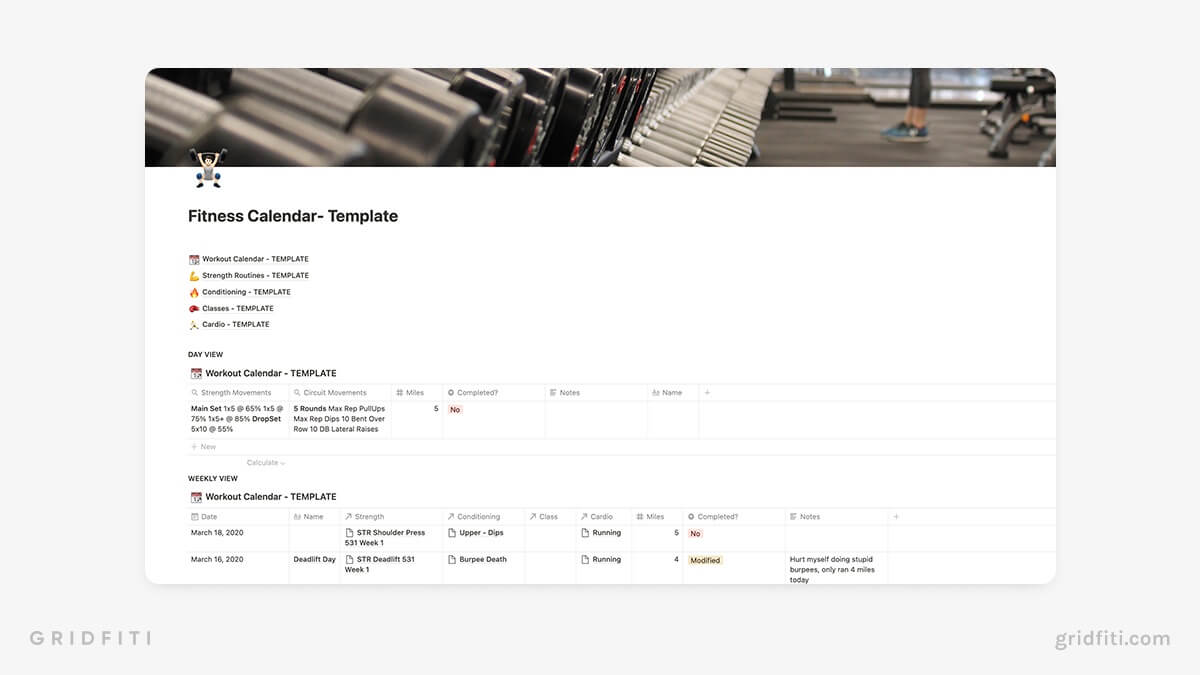 What Notion workout template are you using? Do you have any other recommendations for Notion fitness trackers to use? Let us know in the comments below!
Gridfiti is supported by its audience – when you buy something using the retail links in our posts, we may earn a small commission at no additional cost to you. We only recommend products we would use ourselves and recommend to our friends and family. Read more about our affiliate disclaimer.