After a busy day, the last thing you want to think about is what you should have for dinner, let alone the rest of the week.
Meal planning will help you eat well, save money, and avoid indecision from your day-to-day – and Notion makes meal planning easier than ever.
To help you get started, we've curated the best Notion meal planning templates for you to use each week.
Want more Notion templates and updates? Join our mailing list, and check out our several other Notion template round-ups!
Life Dashboard – Grocery, Meal Prep, Recipe Planners
Along with a simple meal prep template, our all-in-one life dashboards also include a grocery list template and a Notion recipe planner to help you organize all areas in the kitchen! With our life dashboard, you'll also be able to plan your days, journal your thoughts, manage your finances, so that you can focus more on doing the things you love.
Anime Cafe Life Dashboard | Aura Life Dashboard
Simple Meal Planner 2.0 – Notion Template
Make your days healthier and less stressful with this simple meal planner. This minimal Notion meal planner template includes a weekly view, where you can easily drag-and-drop meals and a meals database that links with your grocery and shopping list templates!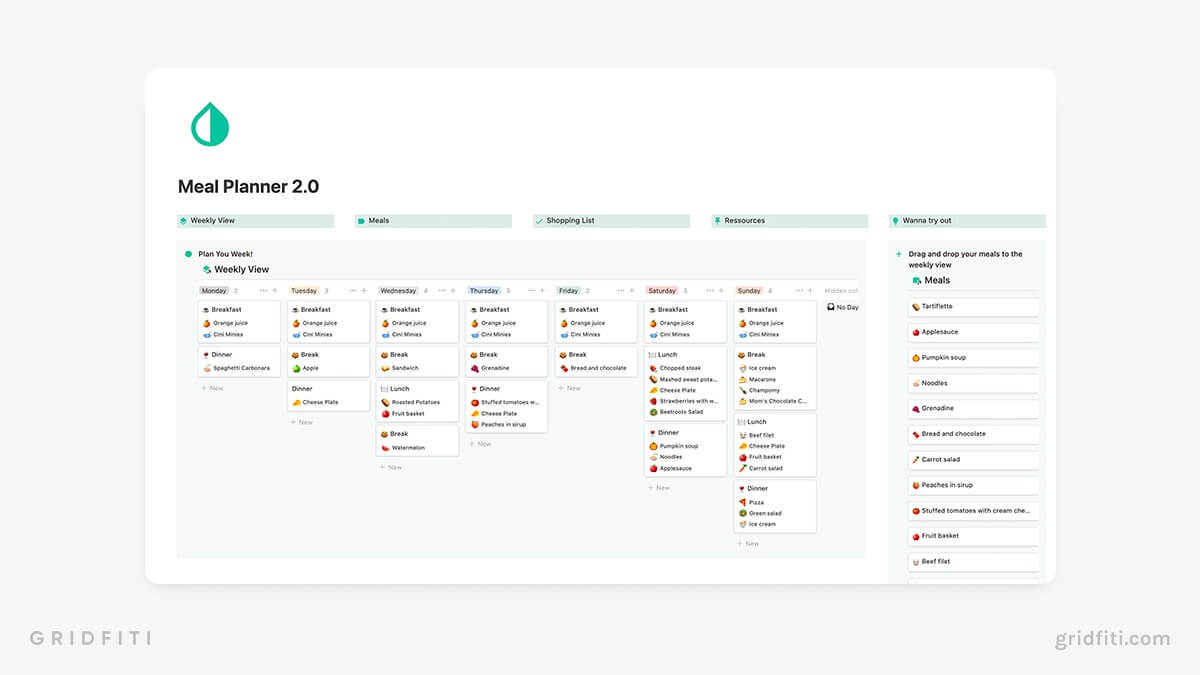 Meal Planning in Notion Template
A detailed weekly meal planner Notion template, where you can visualize your meal prep for the week in an organized Kanban board. With this template, you'll be able to determine what's needed for your Sunday meal prep so you can easily create meals and snacks for the week!
Template Available Here | Video Tutorial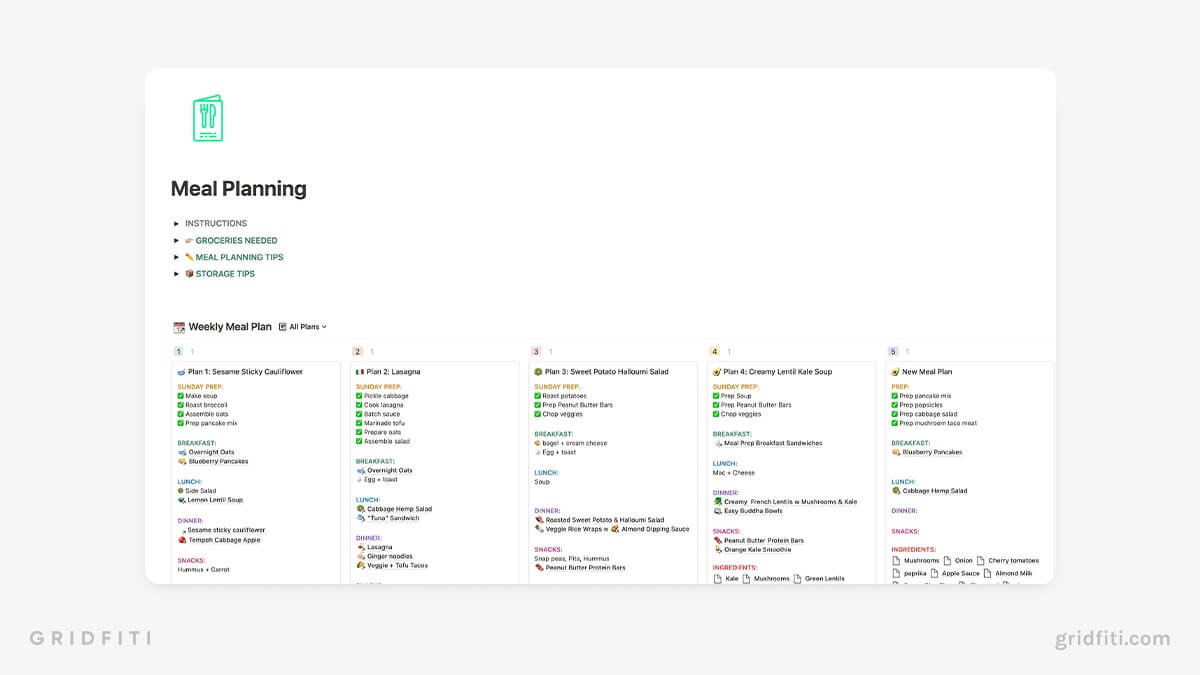 Simple Food Diary Notion Template
A simple food journal to keep track of what you're eating, this food diary will help you log, time stamp, and tag your meals so you have a better understanding of your consumption habits.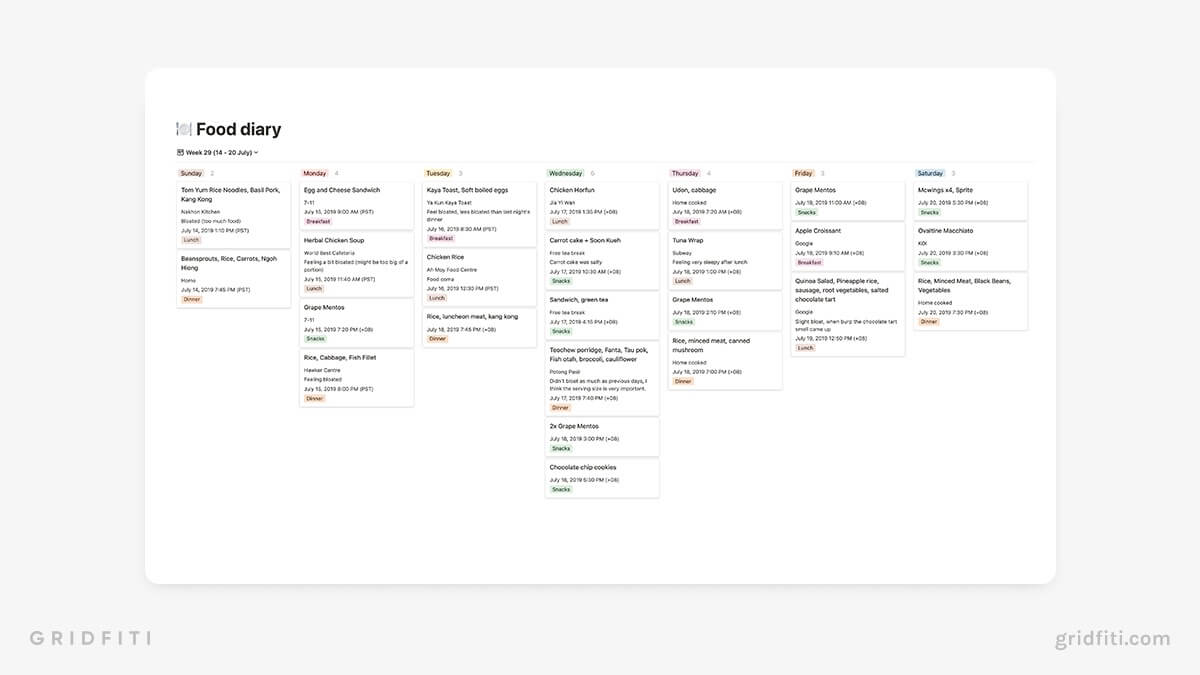 Food Prep Database & Nutrition Tracker Template
Track your calories, carbs, fats, and much more with this food prep database. You can organize your meals by store, frequency, food type, meal type, brand name, and add items to a built-in grocery list to make sure no ingredient is left behind.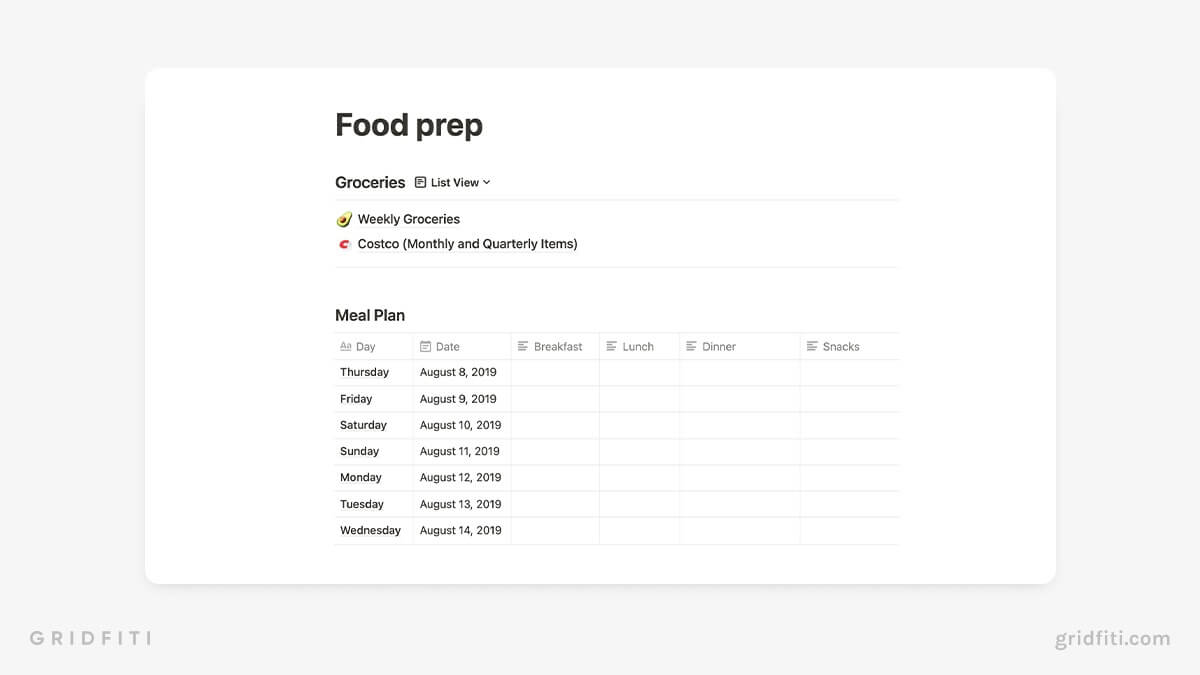 The Perfect Notion Meal Planner Template
Prep meals, automate your shopping list, and manage your grocery budget with this Notion meal planner template – where you can plan your meals within 5 minutes. Choose a recipe and immediately get a grocery list and an estimated cost!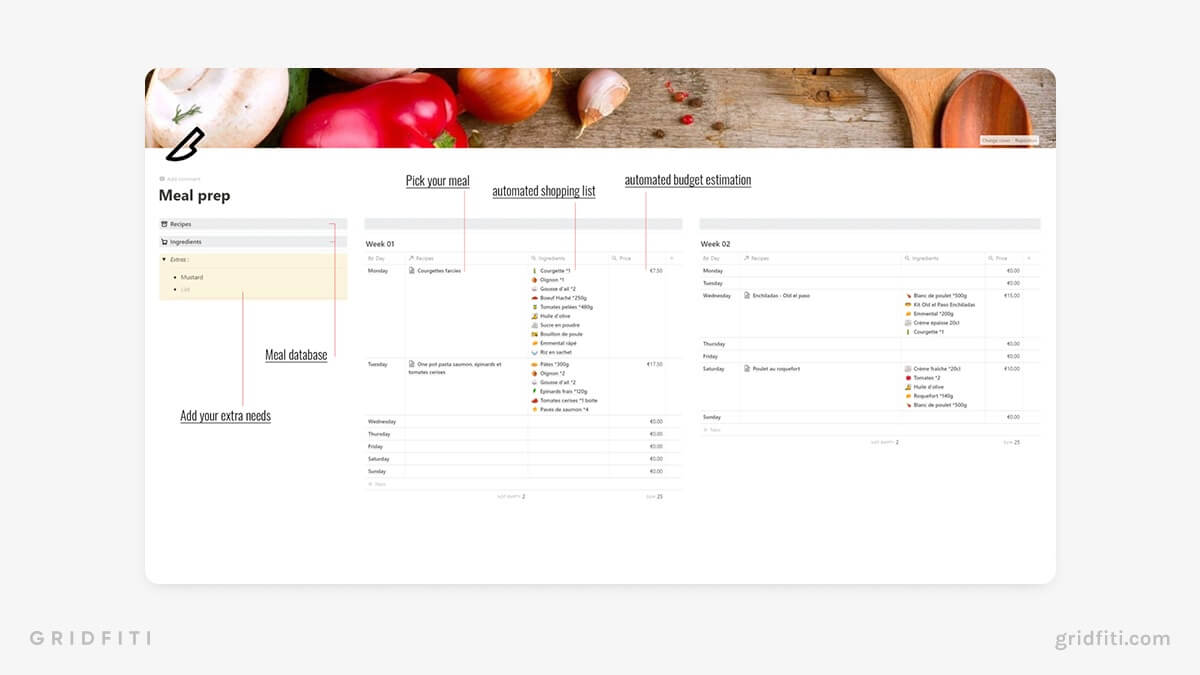 Which Notion meal planner template are you using? Do you have any other recommendations for more Notion food diary templates to use? Let us know in the comments below!
Gridfiti is supported by its audience – when you buy something using the retail links in our posts, we may earn a small commission at no additional cost to you. We only recommend products we would use ourselves and recommend to our friends and family. Read more about our affiliate disclaimer.