After a busy day, the last thing you want to think about is what you should have for dinner, let alone the rest of the week. Meal planning will help you eat well, save money, and avoid indecision from your day-to-day – and Notion makes meal planning easier than ever.
To help you get started, we've curated the best Notion meal planning templates for you to use each week!
---
Looking for more productivity tips and tools? Subscribe to The Flow — our quick, snappy, value-packed focus and recharge newsletter. Also, don't miss our several other Notion template round-ups and guides!
---
All-in-One Notion Meal Planner & Recipe Template
The Ultimate Home Chef Dashboard is a 3-in-1, fully integrated Meal Planner, Recipe Manager, and Grocery & Inventory Tracker Notion template!
Pick out your meals for the day or week right from the connected Recipe Book, and easily map out your meal plan. Reflect on how each meal makes you feel by tagging each day with your hunger level, end-of-day satisfaction level, and even your mood. The template also includes automatic metrics pulled in from anything you enter in the Recipe Book, like total cook times and total calories for the day (optional), as well as a calendar view. With full connectivity to the Recipe Book and Grocery & Inventory Tracker, all things home cooking happen with this template.
Template Available Here | Get the Template Integrated with Life OS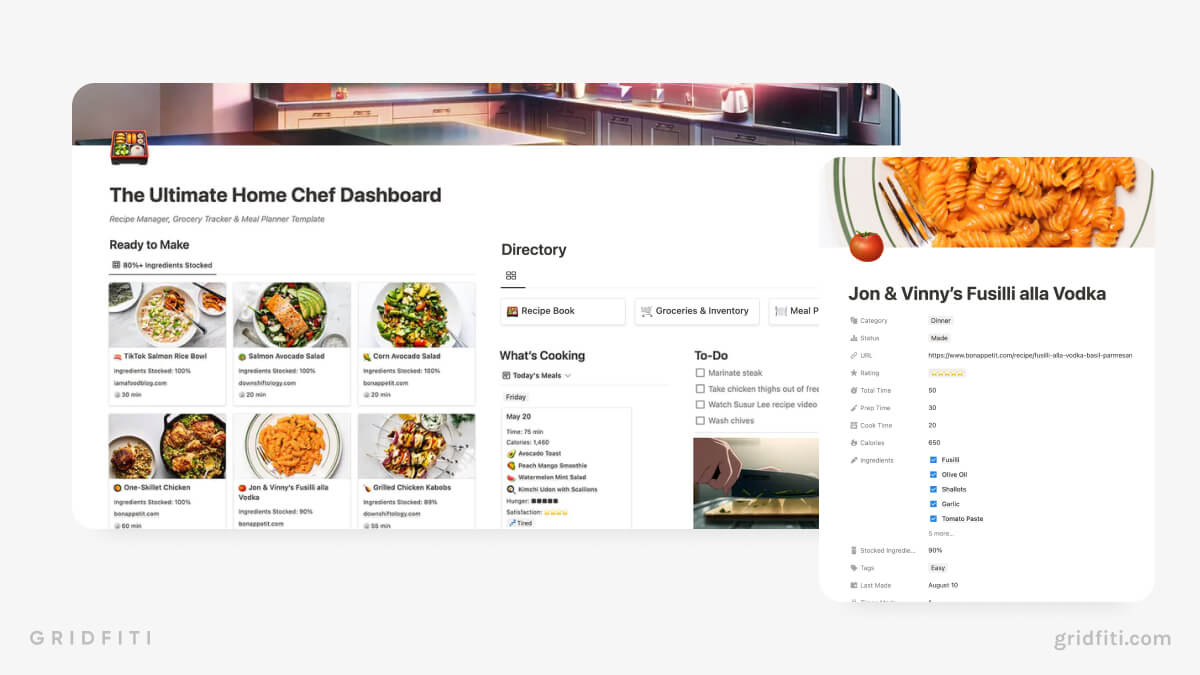 The Happy Kitchen: Meal Planning & Grocery List System
The Happy Kitchen System is a powerful automated template that lets you create meal plans and grocery lists in just a few clicks. Add a star rating to your favorite meals, see what meals you can make based on what's currently in your pantry, and check out the built-in recipes and grocery items!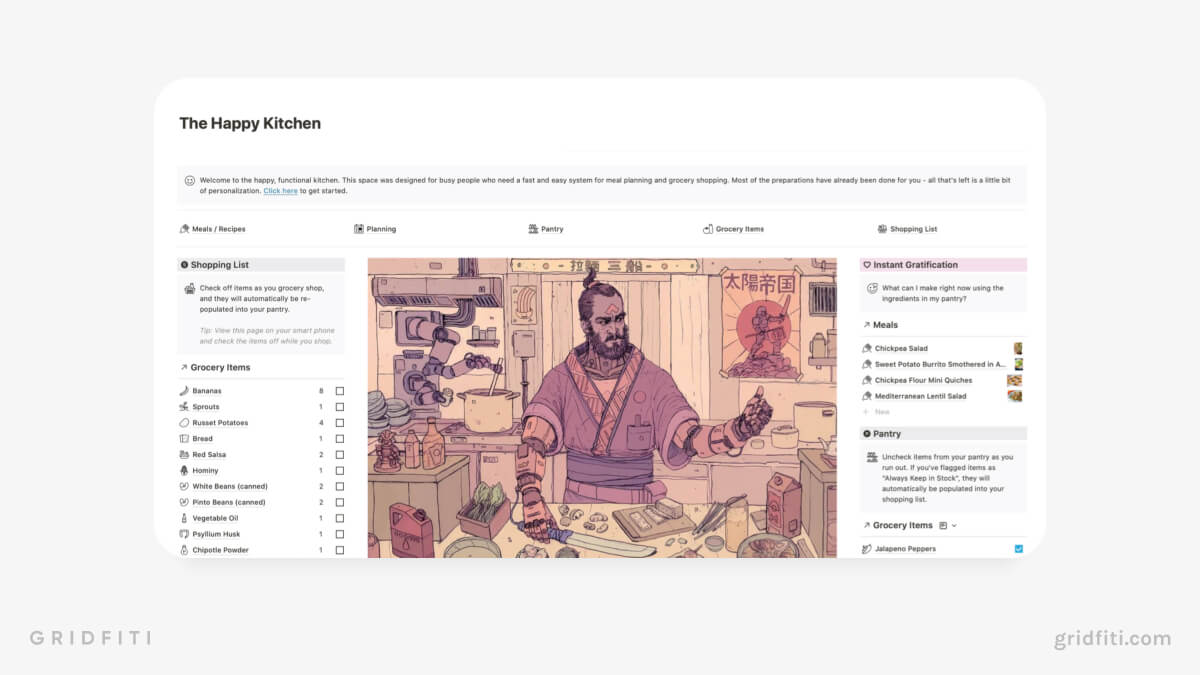 Notion Meal Planner with Automated Grocery List
If you're searching for a meal planner template that's mobile-friendly, you've found it. This next-level template comes complete with everything you'd expect, like meal planning and pantry databases, as well as extras like substitutions and automated grocery lists. The coolest part? You can choose between a minimalist or aesthetic design!
Related Post: Notion Grocery List Templates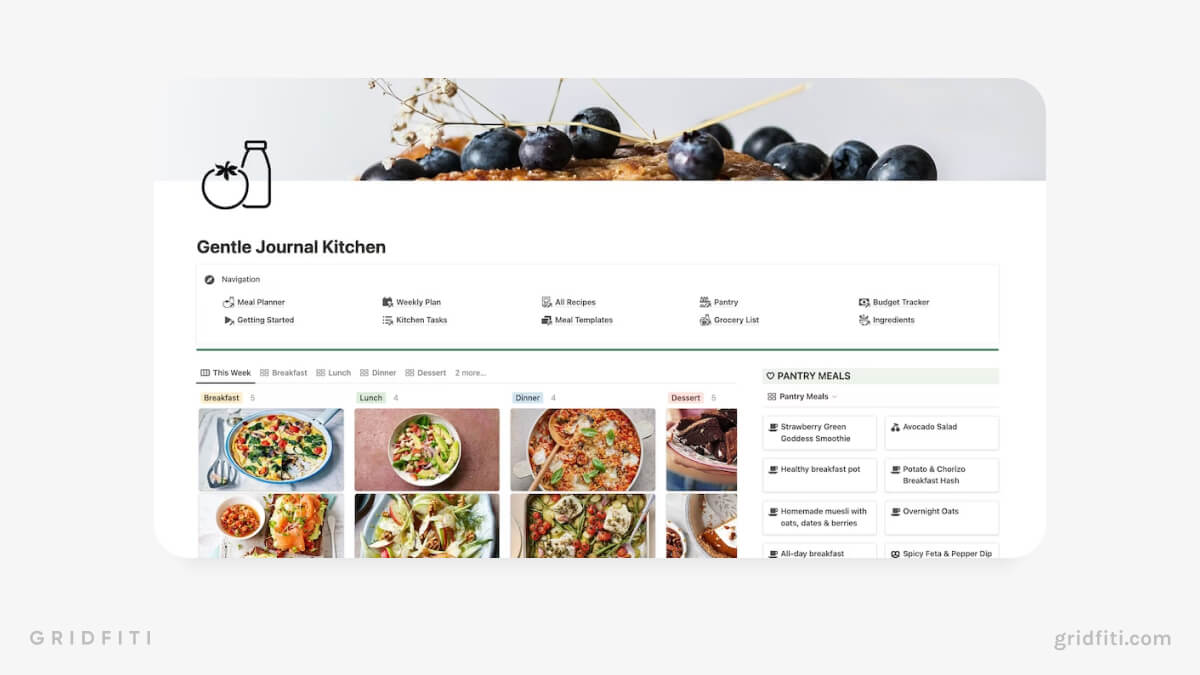 Notion Ultimate Recipe Manager and Meal Planner
Featuring easy-to-use recipe cards, calorie tracking, food stickers, and so much more, the Notion Ultimate Recipe Manager has everything you'd ever want or need from a meal planner. Track your calorie intake, convert measurements and start timers with built-in widgets, and see a daily breakdown of your meals at a glance. If you get stuck, check out the video walkthrough!
Related Post: Notion Recipe Templates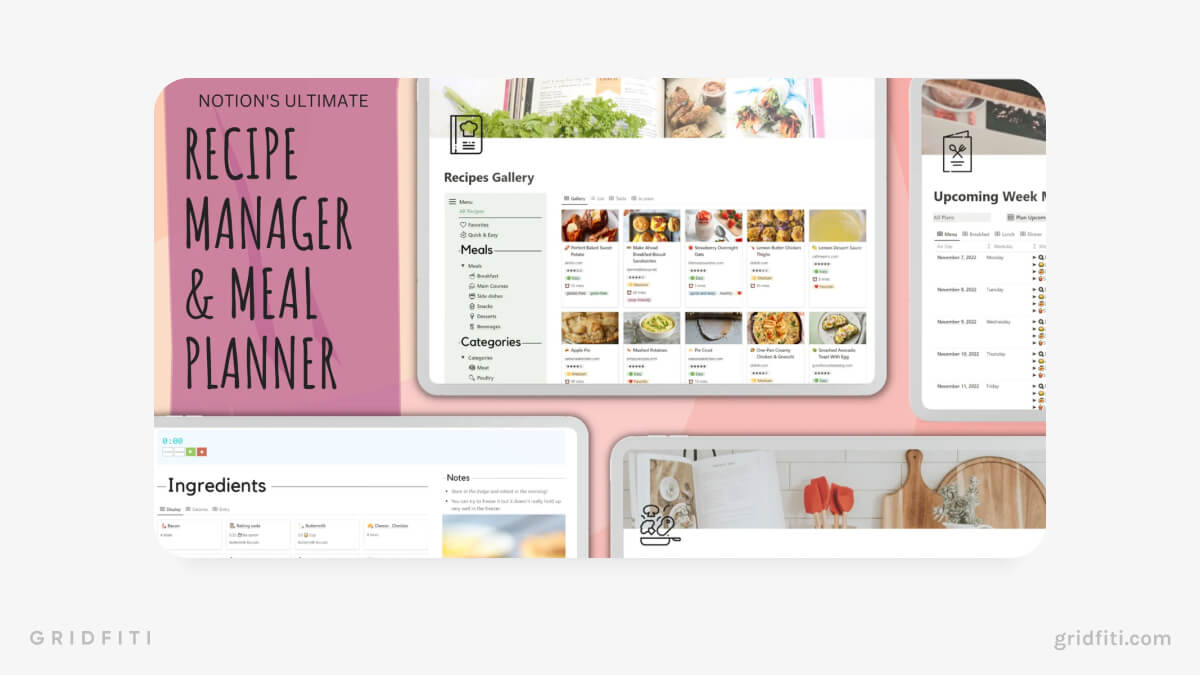 Simple Meal Planner Board
Make your days healthier and less stressful with this simple meal planner. This minimal Notion meal planner template includes a weekly view, where you can easily drag and drop meals and a meals database that links with your grocery and shopping list templates!
Related Post: Notion Health Templates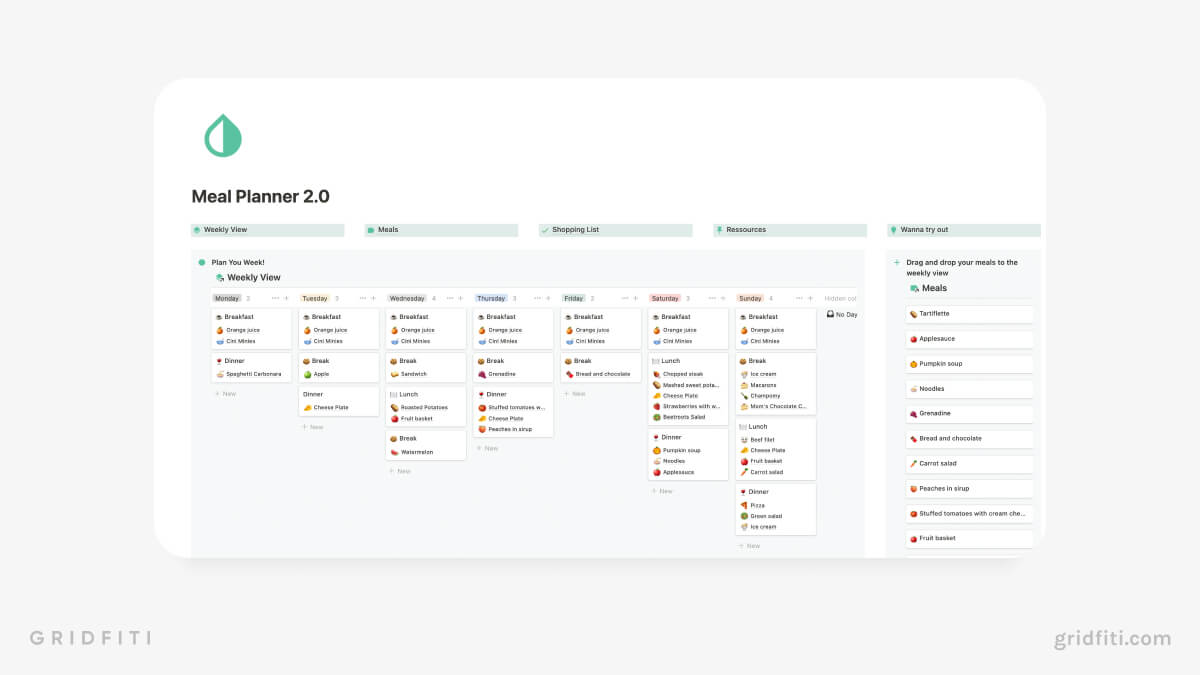 The Meal Planner
Are you notorious for creating in-depth meal plans in Notion, only to forget important tasks like defrosting or marinating the chicken? This robust planner includes a space for notes and reminders for seamless planning. You'll also find all the pages and databases you'd expect, including pantry items and shopping lists.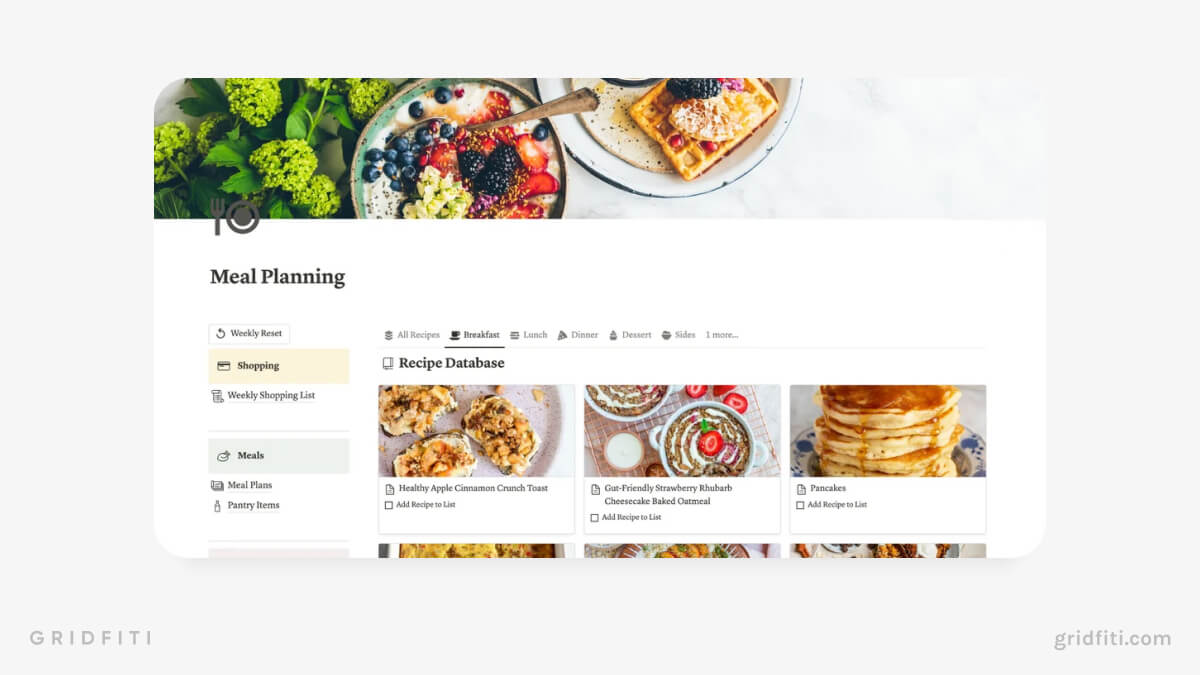 Notion Food Diary Template
The Notion Food Diary takes meal planning and nutrition tracking in Notion to the next level. As well as the standard databases for recipes, ingredients, and meal plans, this template also features a health tracker so you can see how your nutrition directly impacts your physical health. Plus, the ingredients database lets you add nutritional info like calories, servings, and even macronutrients to help you keep tabs on your fitness goals.
Related Post: Notion Workout Templates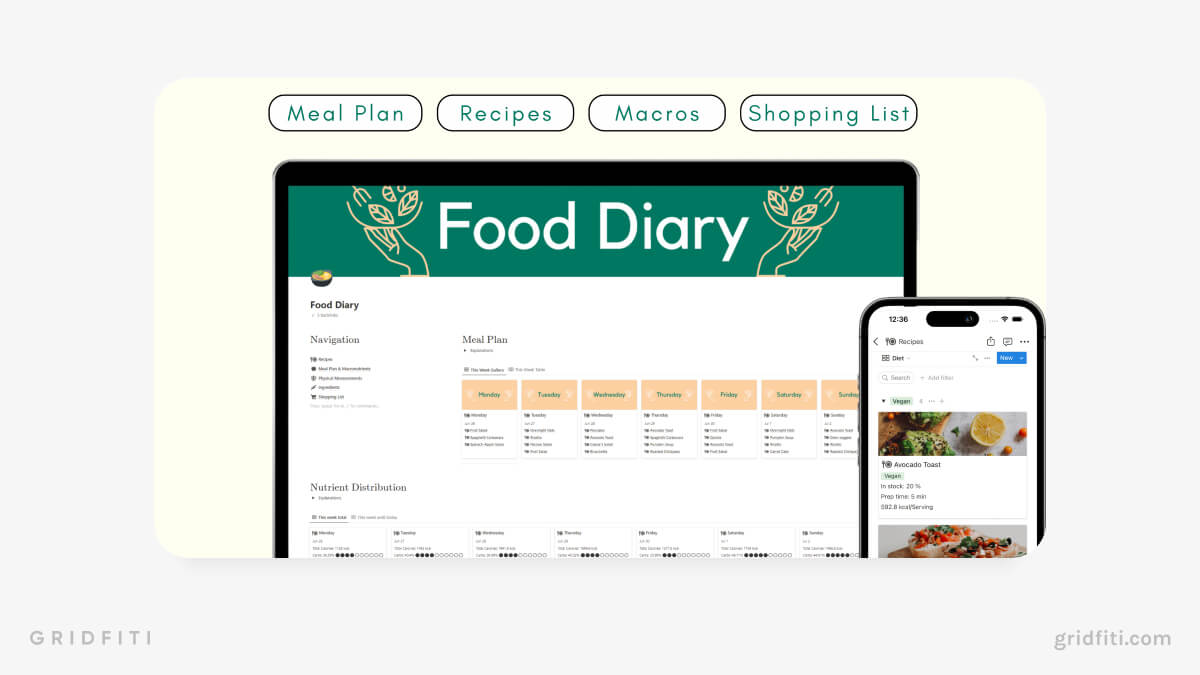 Food & Sports Diary Template
Whether you're looking to ease back into exercise or you're a serious athlete, the Food & Sports Diary is the total health and fitness package! Track your water intake, log your workouts, and keep tabs on your measurements and weight. This Notion food template is ready to go right out of the box, with over 1,000 food items with nutritional info already filled in for you.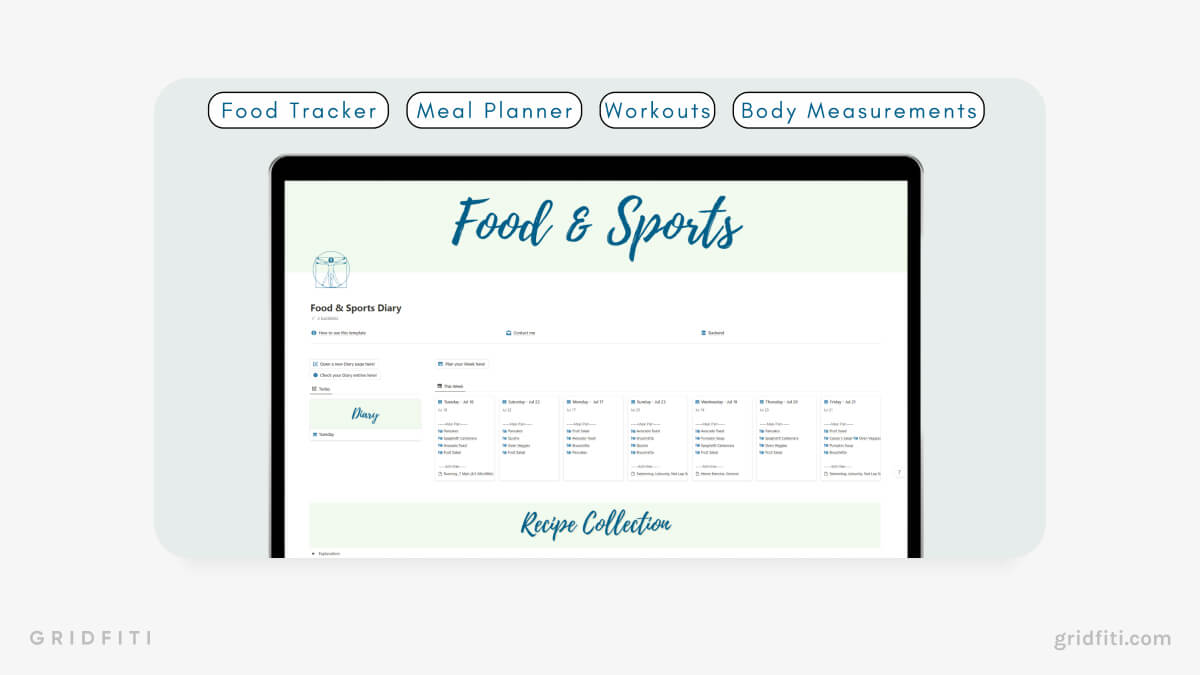 Simple Notion Functional Meal Planner
This simple meal planner template provides a visual overview of your meal plan for the week. Like most other templates on our list, this one features databases for recipes, ingredients, shopping lists, and meal plans. Plus, you can see what meals you can make with the ingredients you already have — handy!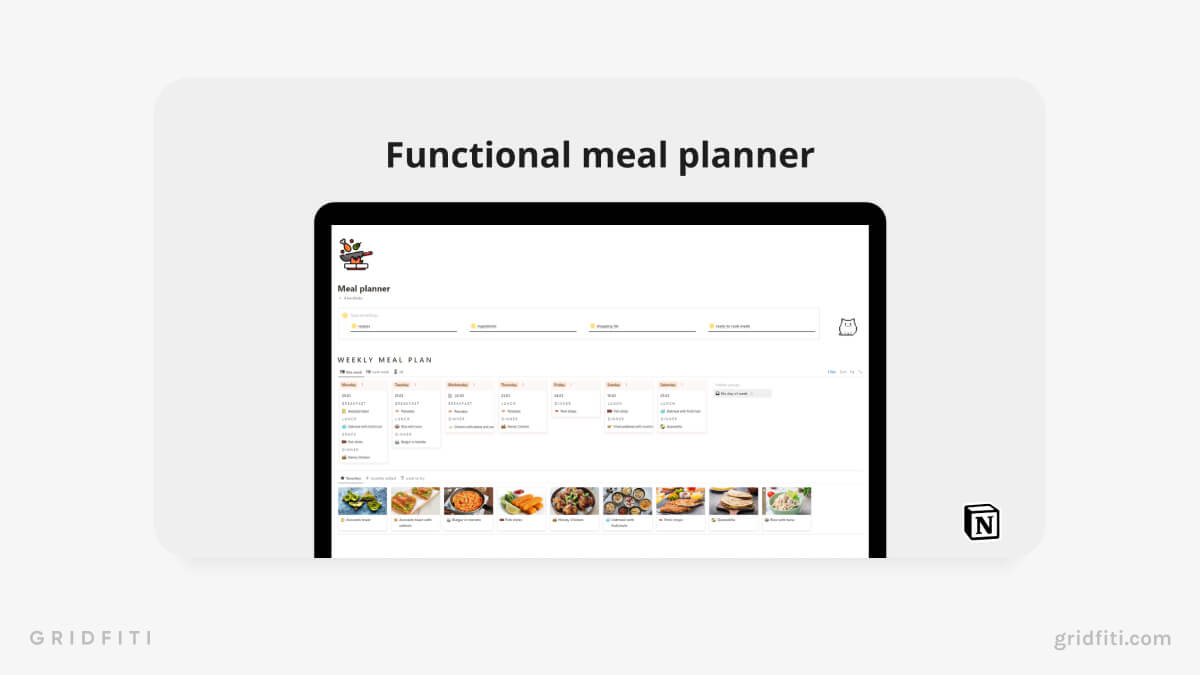 Free Notion Meal Planner Templates
Not sure you want to commit to a paid Notion meal planning template? Check out some of the best (free!) Notion food templates:
Simple Notion Meal Planner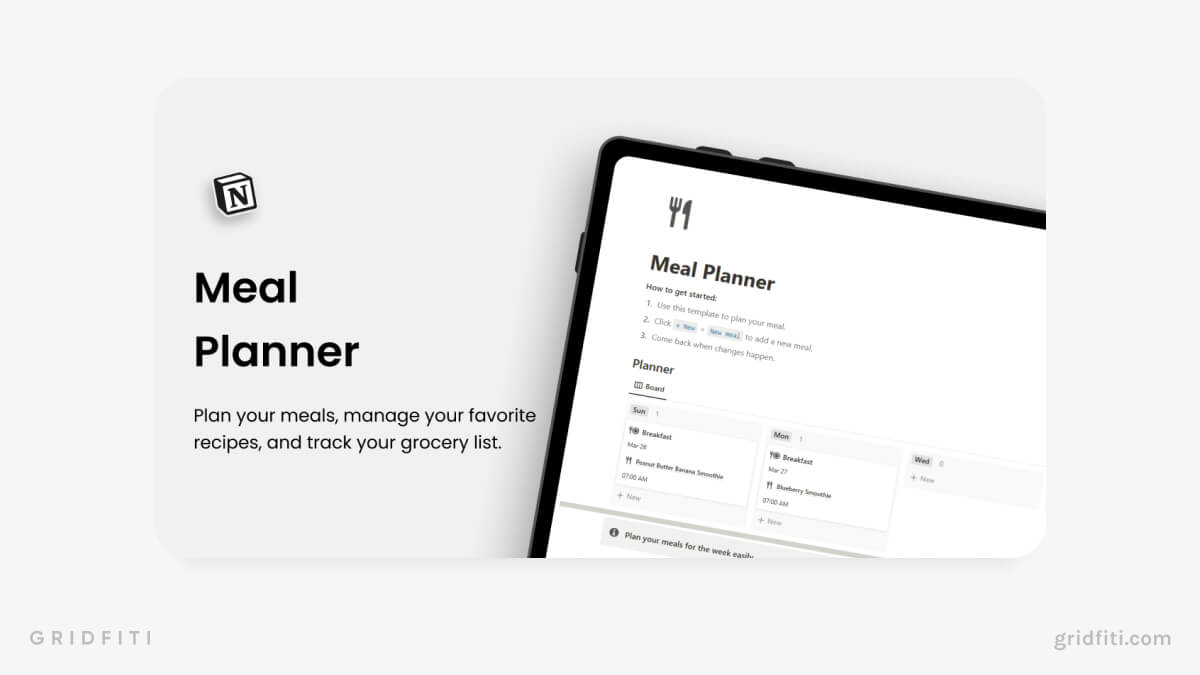 Food Prep Database & Nutrition Tracker Template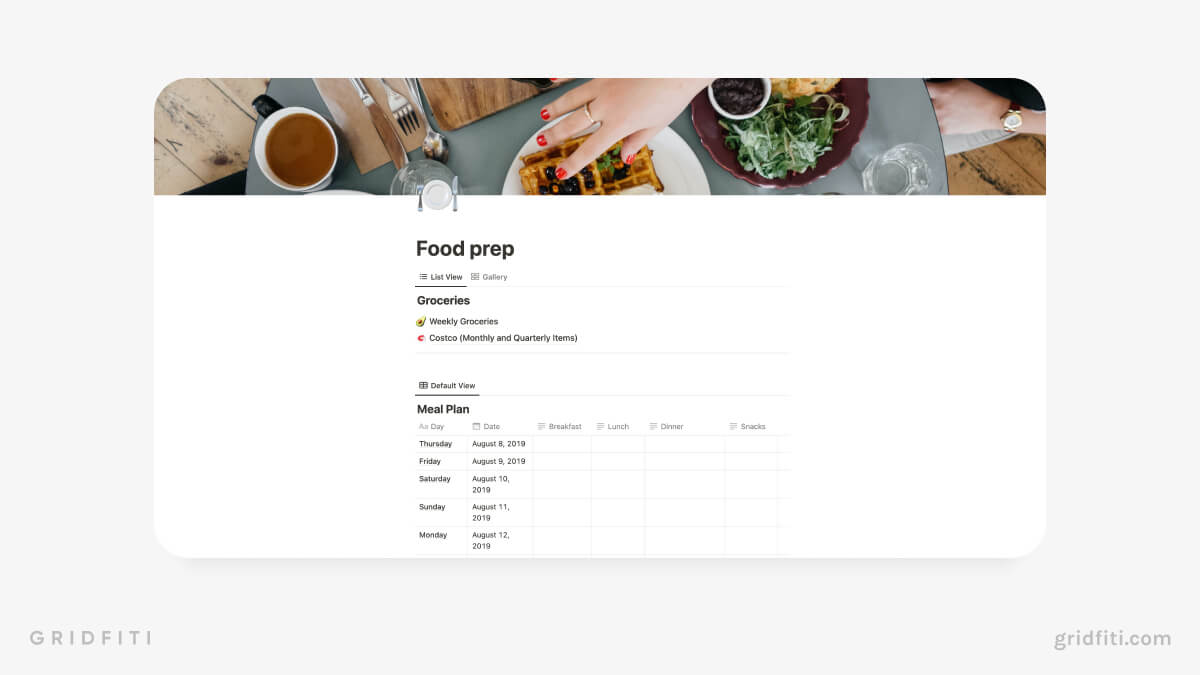 Meal Planning in Notion Template
Template Available Here | Video Tutorial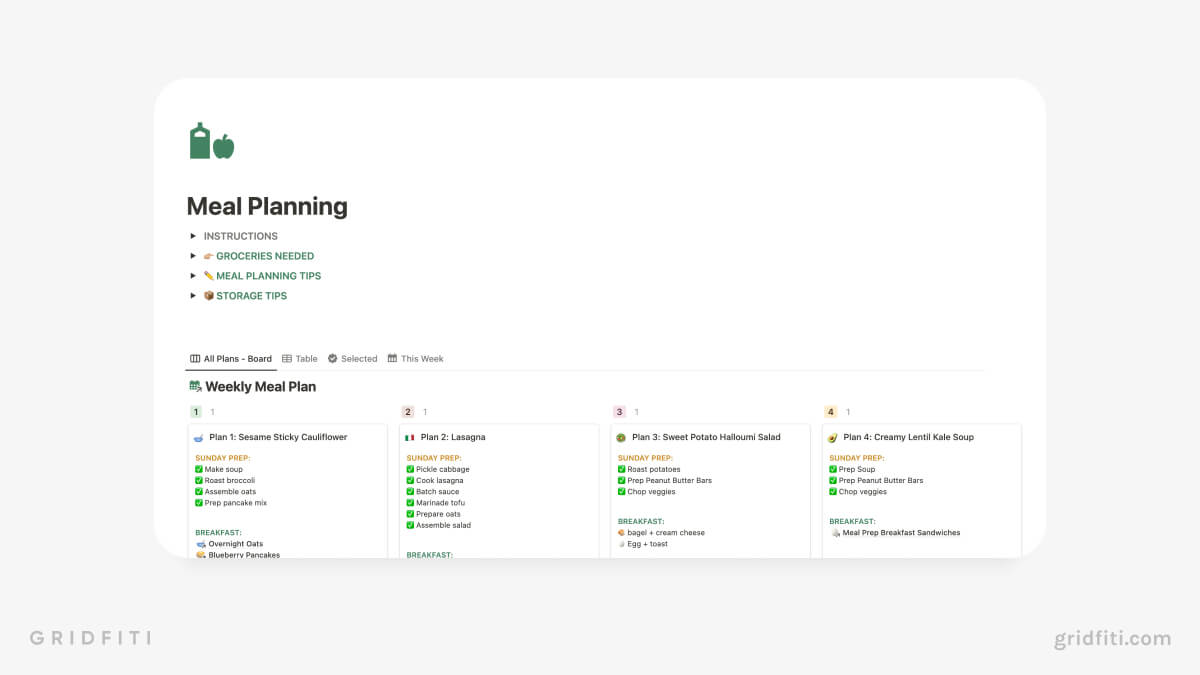 Simple Food Diary Notion Template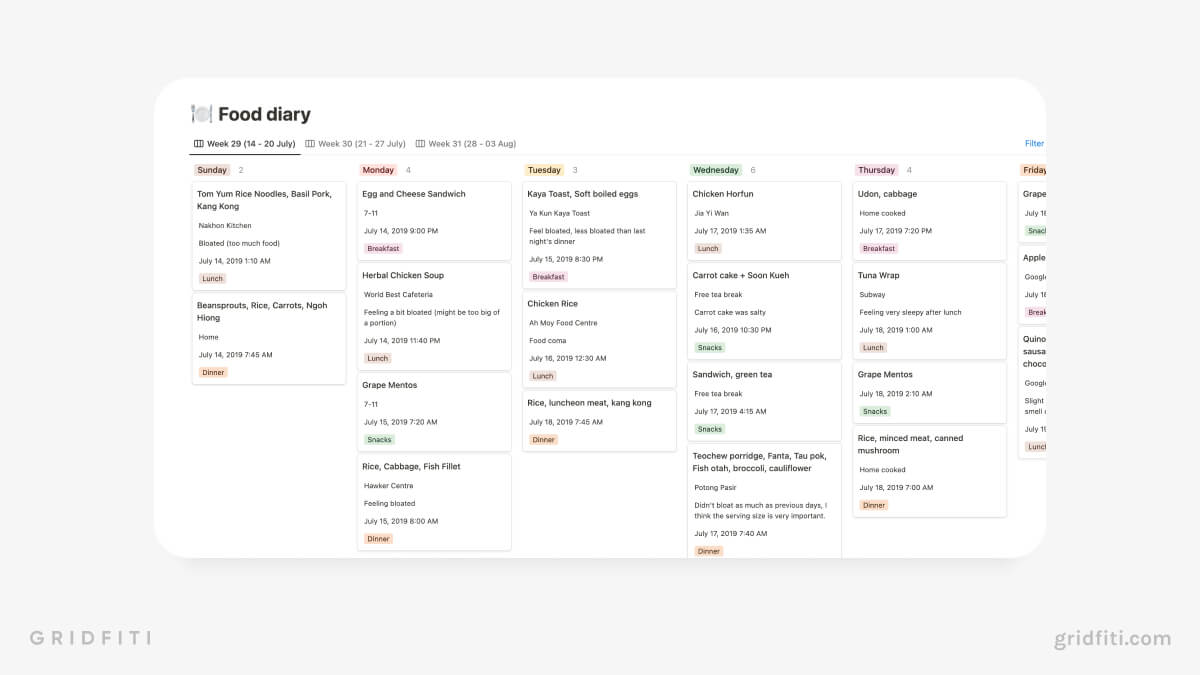 Weekly Meal Planner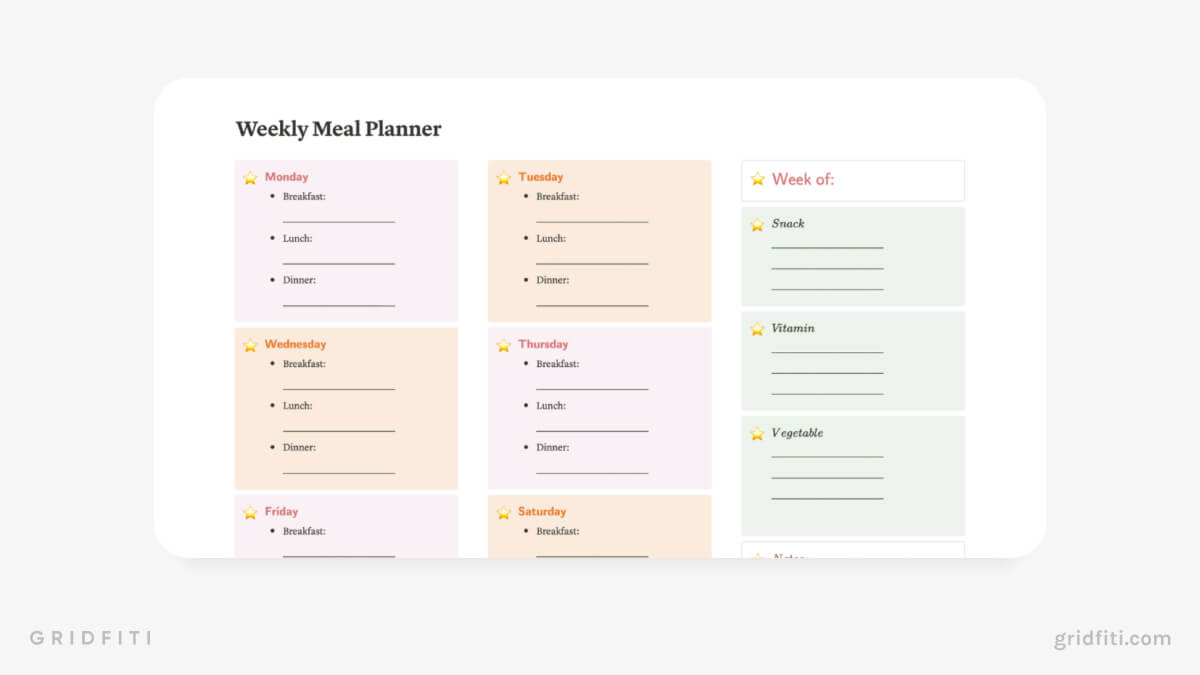 21 Day Healthy Meal Challenge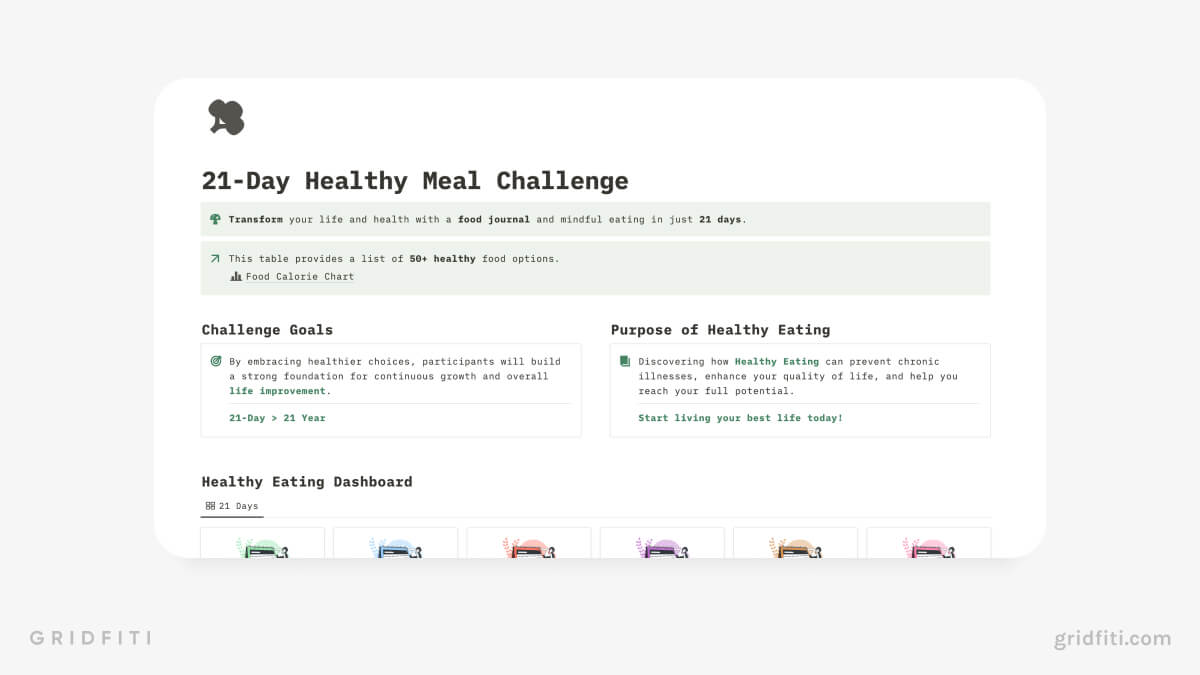 Recipes & Shopping List Template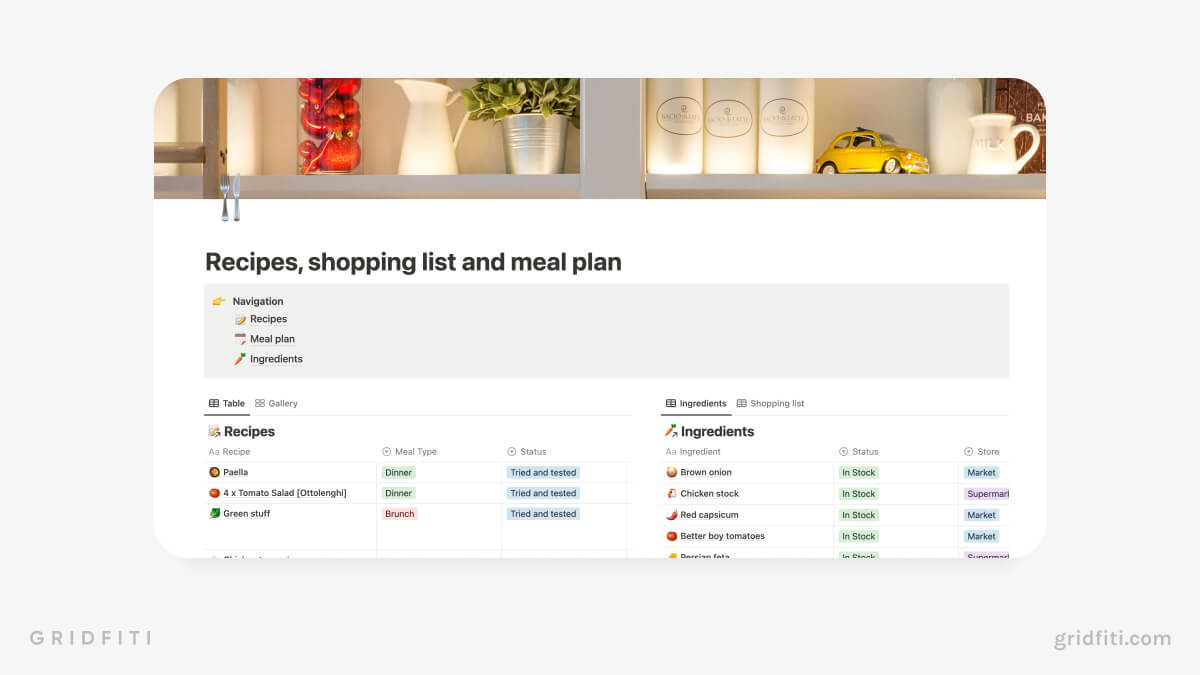 Which Notion meal planner template are you using? Do you have any other recommendations for more Notion food diary templates to use? Let us know in the comments below!
Gridfiti is supported by its audience – when you buy something using the retail links in our posts, we may earn a small commission at no additional cost to you. Read more about our affiliate disclaimer.