There's no better feeling than breaking out of your daily routine and landing in a new city with new adventures, restaurants, and places to explore. Planning trips and itineraries are both fun, but can be a time consuming as well — unless you're using a Notion travel template!
We've curated the best Notion travel templates to map out your travel plans, create detailed itineraries, lay out your travel bucket list, and so much more.
---
Looking for more productivity tips and tools? Subscribe to The Flow — our quick, snappy, value-packed focus and recharge newsletter. Also, don't miss our several other Notion template round-ups and guides!
---
The Ultimate Notion Travel Dashboard
The Ultimate Travel Dashboard for Notion is a feature-rich, all-in-one template to track everything related to your travels! This is one of our most robust templates to date, built by seasoned travelers who don't skip the details.
Featuring a central dashboard for all things travel related, robust trip pages with interconnected databases to build your itinerary (local neighborhoods, attractions, restaurants, shops databases), a trip budgeter, trip journal, interconnected trip calendar, built-in packing lists, travel documents hub, bucket list with 200+ countries to pick from, vacation days tracker, built-in tooltips for easy onboarding, and so much more – this template has it all to centralize your travels. Make sure to check out the screenshots on the template page for more!
Template Available Here | Get the Template Integrated with Life OS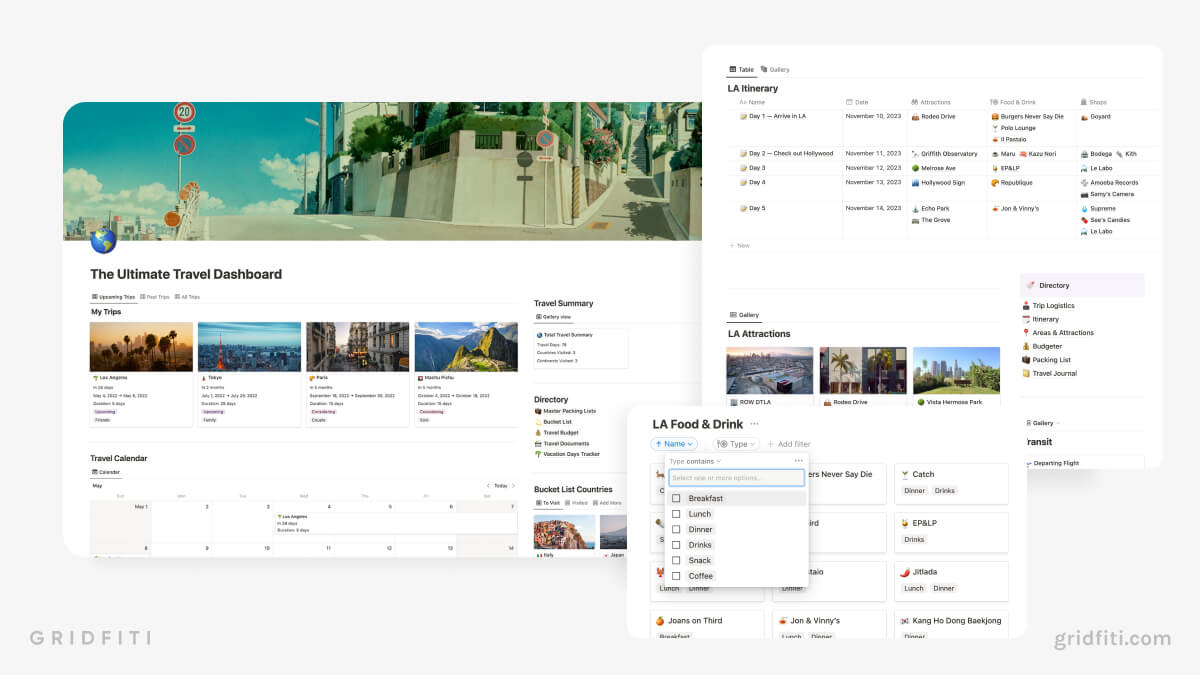 Explorer Travel Planner
Itching to discover a new country, but dreading the research process? Save dozens of hours with the Explorer Travel Planner! This template is incredibly robust, and has essential info for 196 countries, including currency, language(s), outlets, time zones, best times to visit, and more. Add new destinations to your travel bucket lists, create itineraries for upcoming trips, and reminisce about past adventures — all in one place!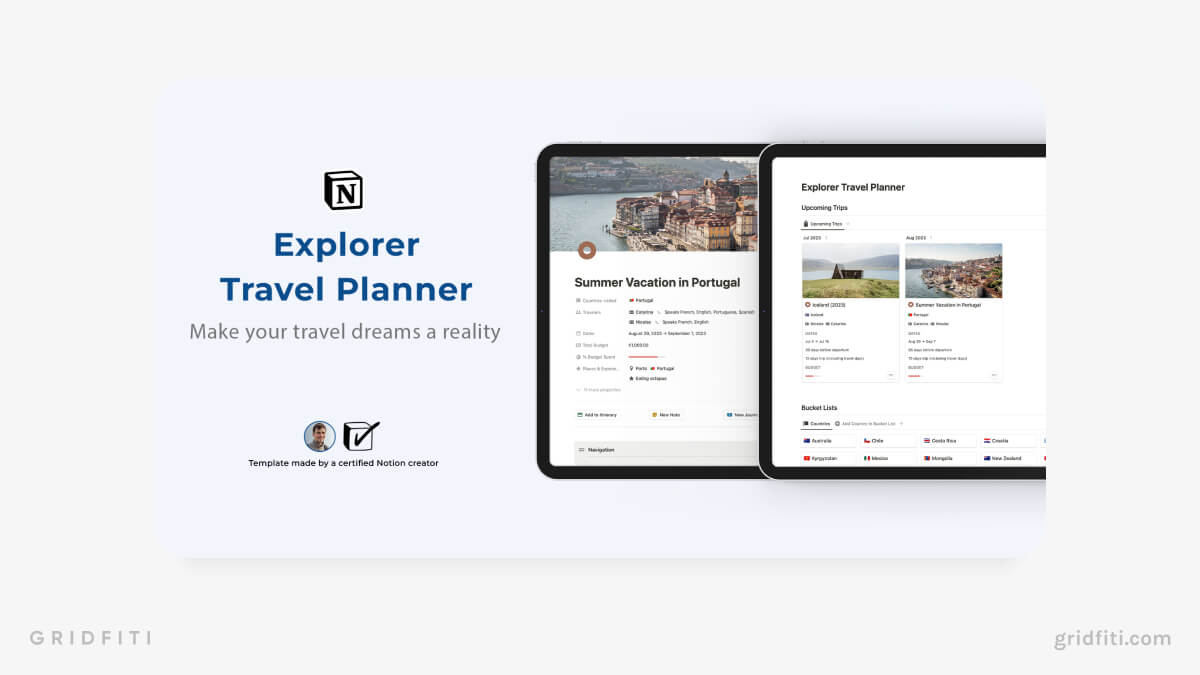 Passepartout – Travel Manager & Documentation System
Passepartout is a comprehensive travel Notion template complete with interactive maps, flight timelines, journal entries, and more. Prepare for any eventuality with a resource database and packing checklist. Make the most of your vacation by planning all aspects of your trip, from meals to accommodation to event schedules.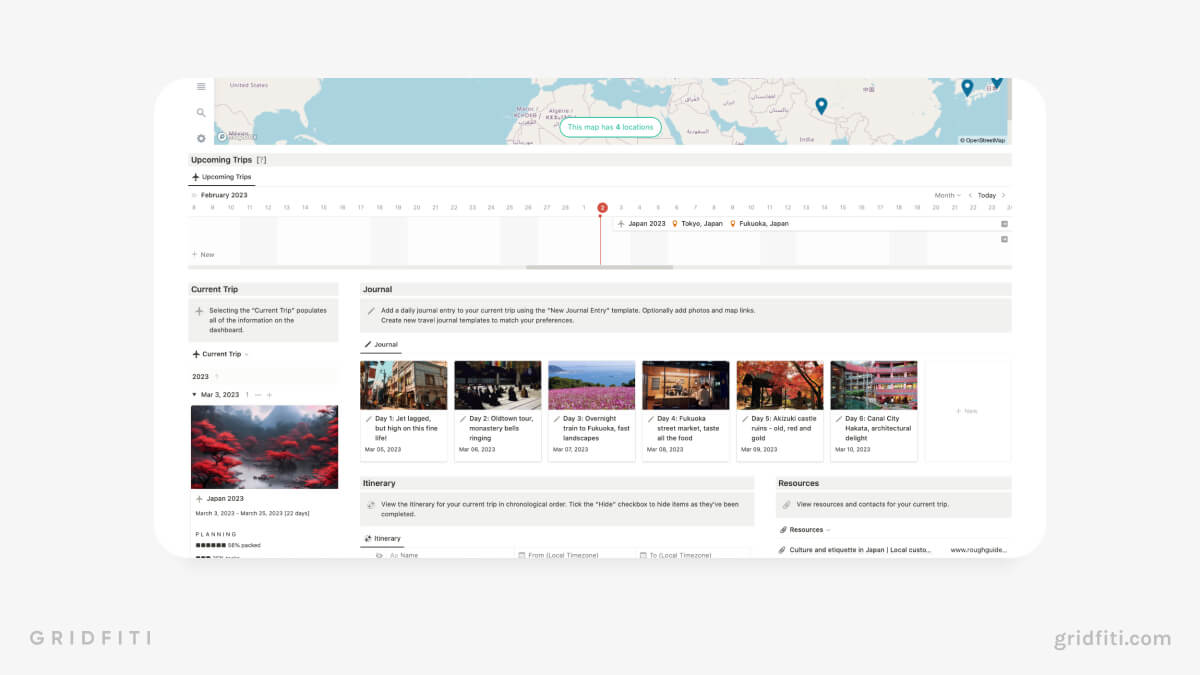 Notion Travel Template Package
Gone are the days of spreadsheets and email threads. Use the Notion Travel Template to plan, research, and organize your trip so you can manage your full itinerary in one place! Featuring robust itinerary options, reminders, expenses, travel document storage, and lots more – this travel template has it all.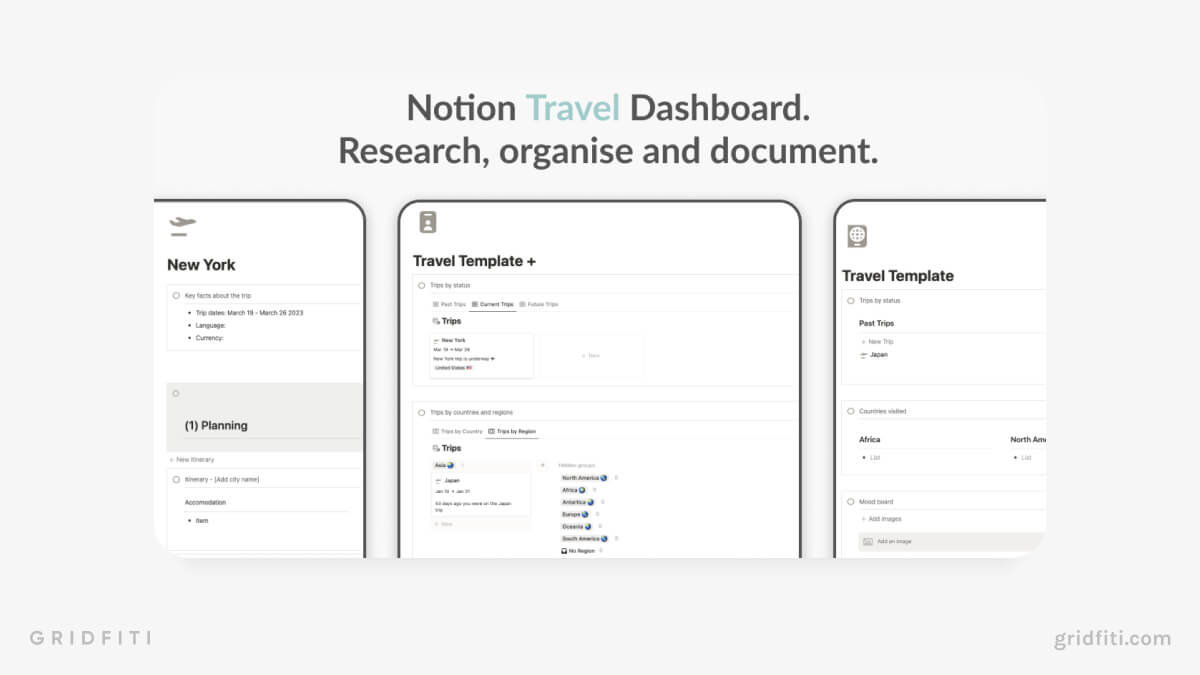 Passport – Aesthetic Notion Travel Planner
Jetset in style with this aesthetic Notion travel planner. Passport features 14 slick Notion templates for building your ideal travel itinerary. Create a travel budget, travel to-do list, packing checklist, itinerary, and more. Passport also includes a digital scrapbook for all your best pics from your favorite destinations.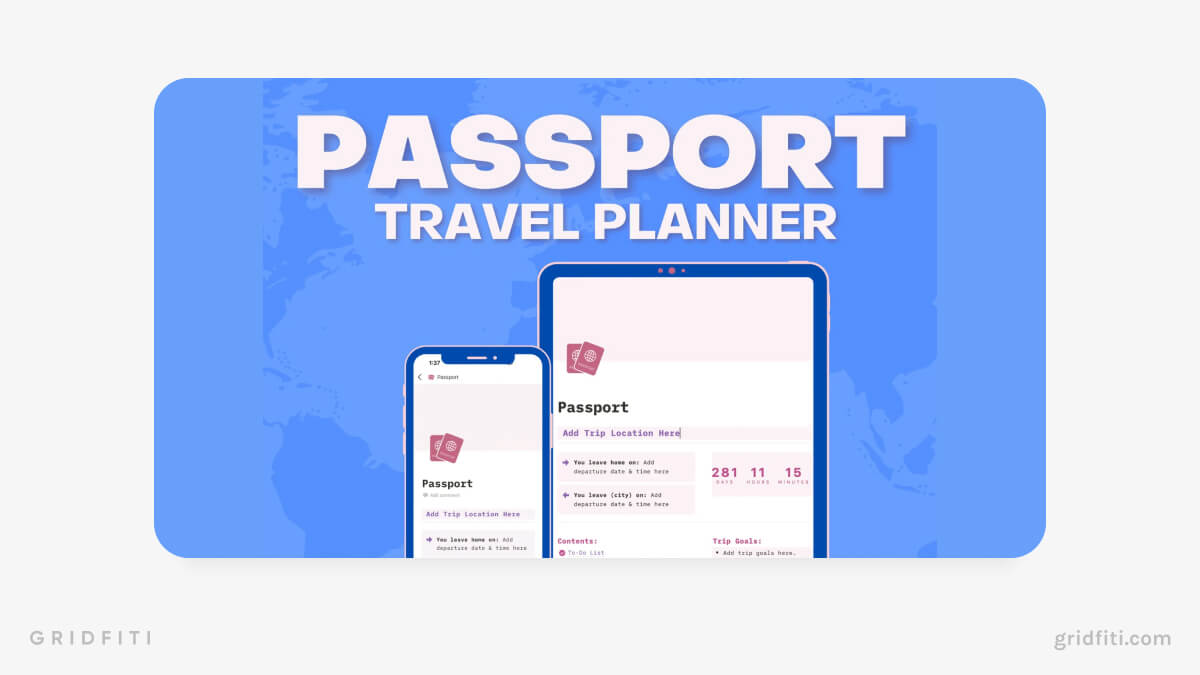 Minimalist Travel Dashboard
The Minimalist Travel Dashboard lets you satisfy your wanderlust without any fuss. This no-frills Notion travel template features an intuitive dashboard where you can plan unlimited trips, track your expenses, collect important info, and much more!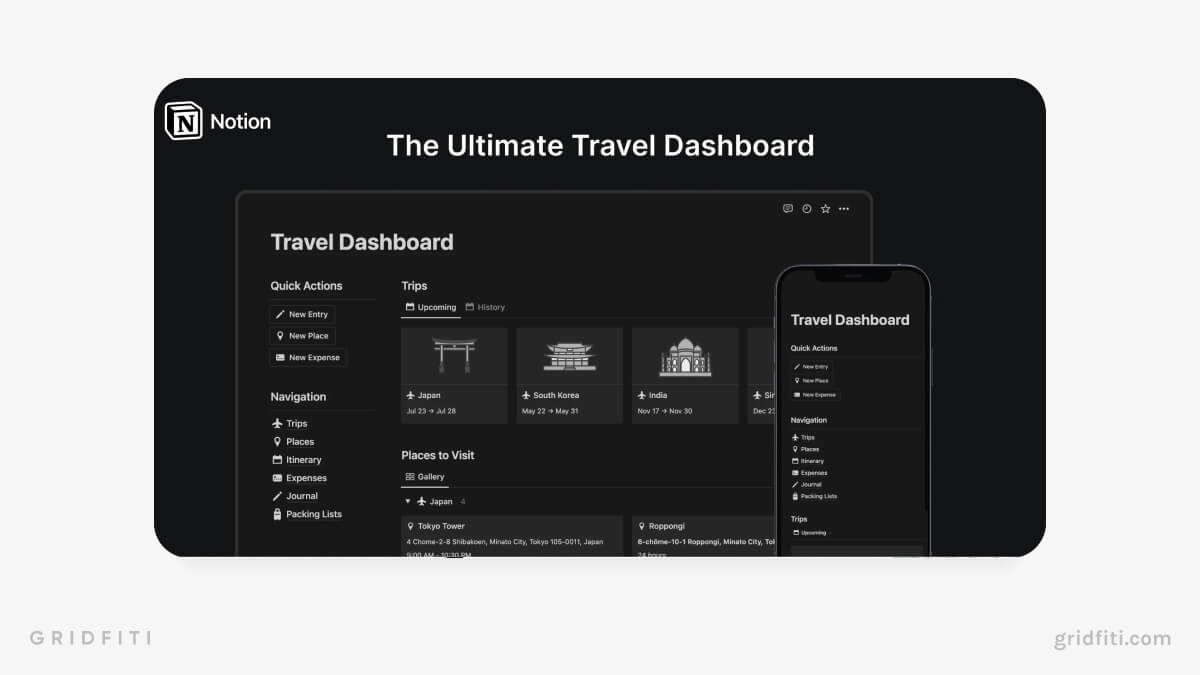 Travelo: Notion Travel Planner Template
Take your travel planning to the next level with Travelo! This template is organized into 5 main sections: trip planning, travel expenses, a travel journal, documents, and a trip database. Think of Travelo as your travel assistant, to turn your bucket list into an actionable travel plan.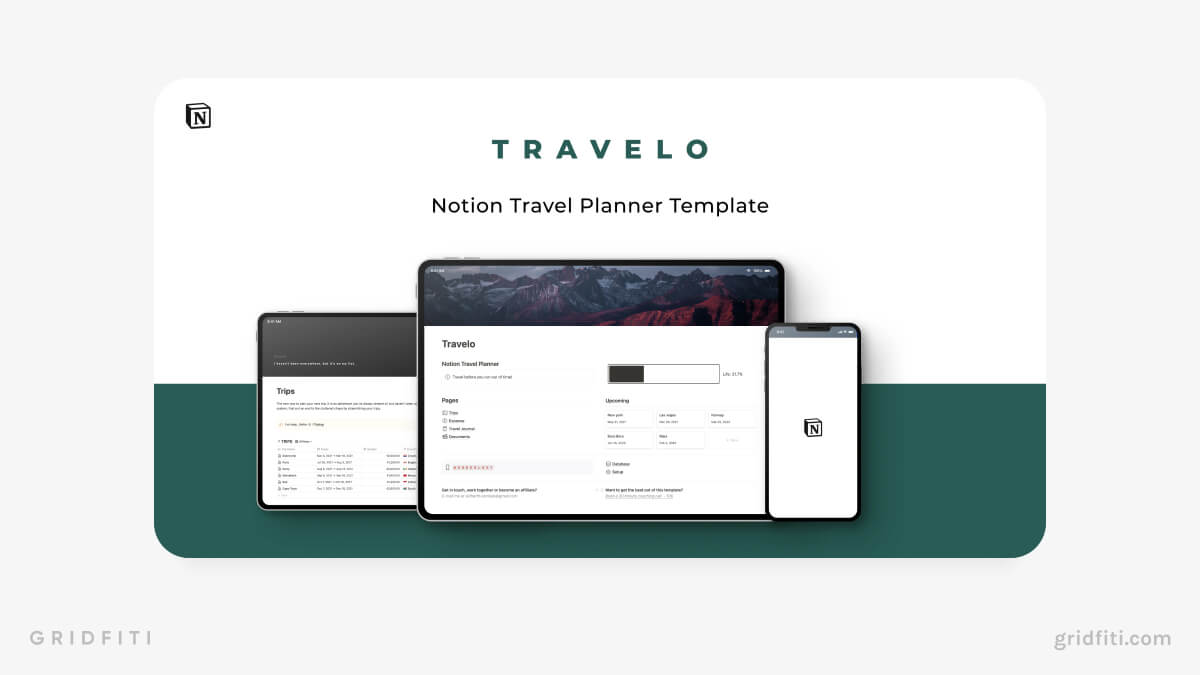 Notion Trip Planner
With all of your trips managed in a single workspace, you can use this Notion travel template to add, organize, and map out your dream itinerary. Once you've got your trips in, easily share with friends and fellow travelers, create checklists, forecast expenses, and more!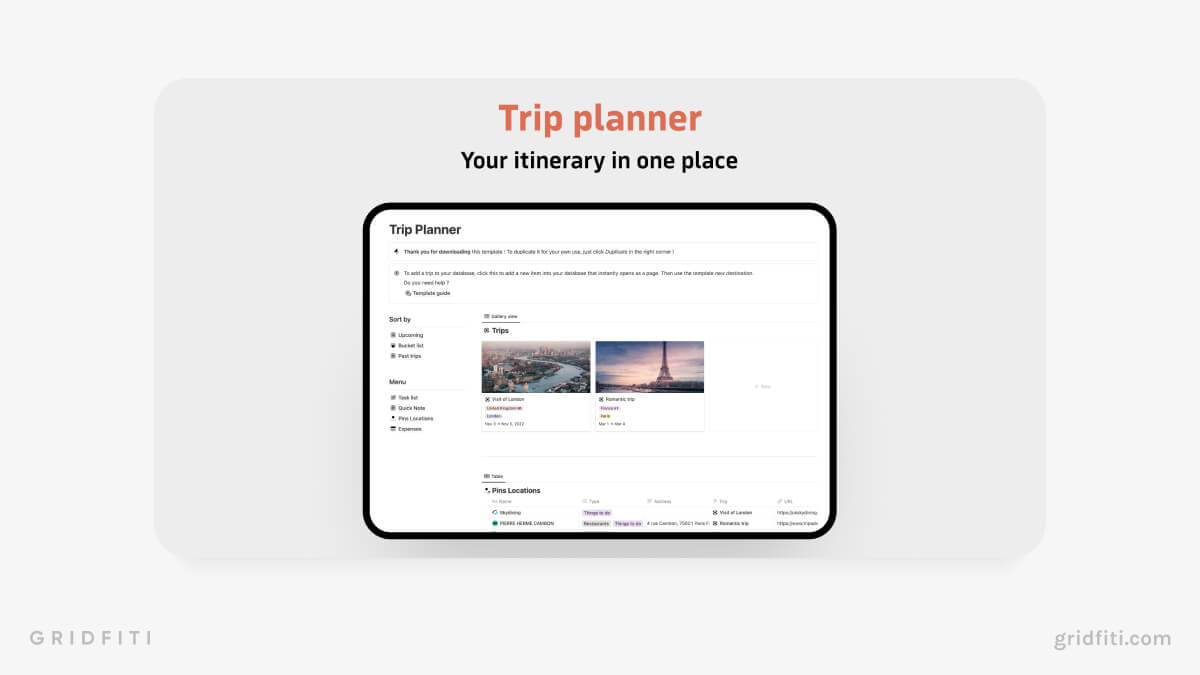 Travel Bucket List & Notion Trip Planner Template
Create a bucket list of your dream destinations and track all of the places that you've traveled to with this aesthetic travel template from The Notion Bar. You also have access to a detailed Notion trip planner template, which will help you plan, organize, and budget your future trips!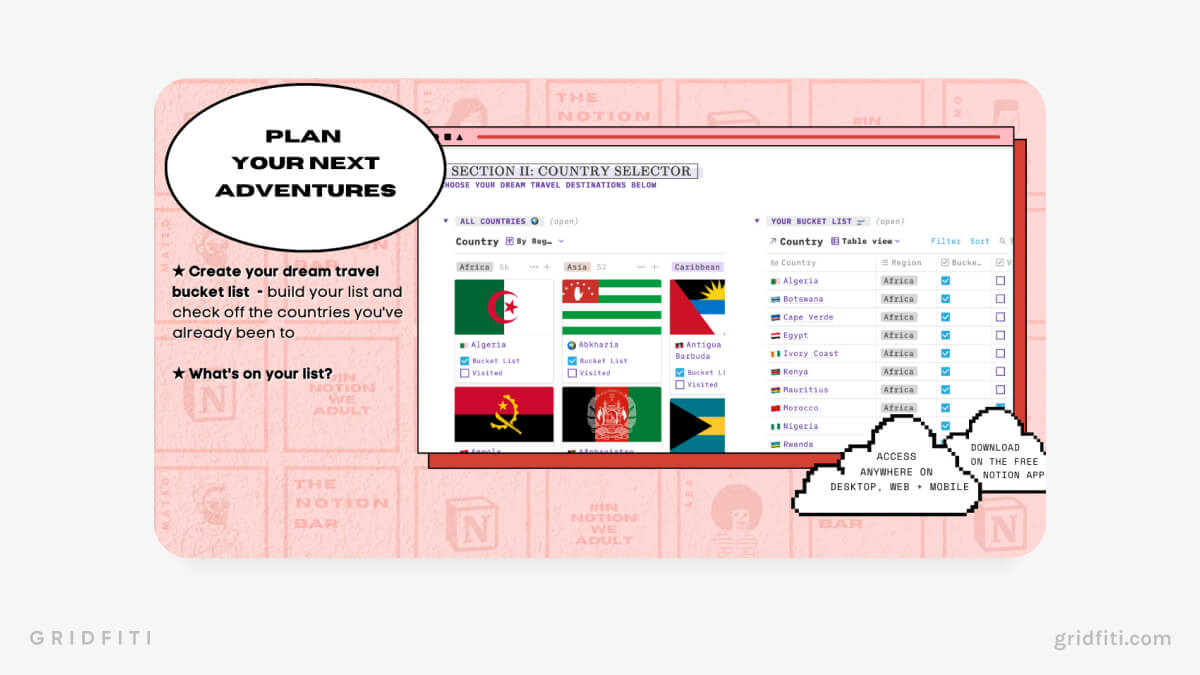 Awesome Trip Planner
The Awesome Trip Planner template gives you the ability to plan your travel days, schedule your flights, organize places to visit, store your plane/train tickets and visa documentation, and so much more. One of the most unique features of this Notion travel template is the dynamic luggage checklist, which changes based on the duration of your stay!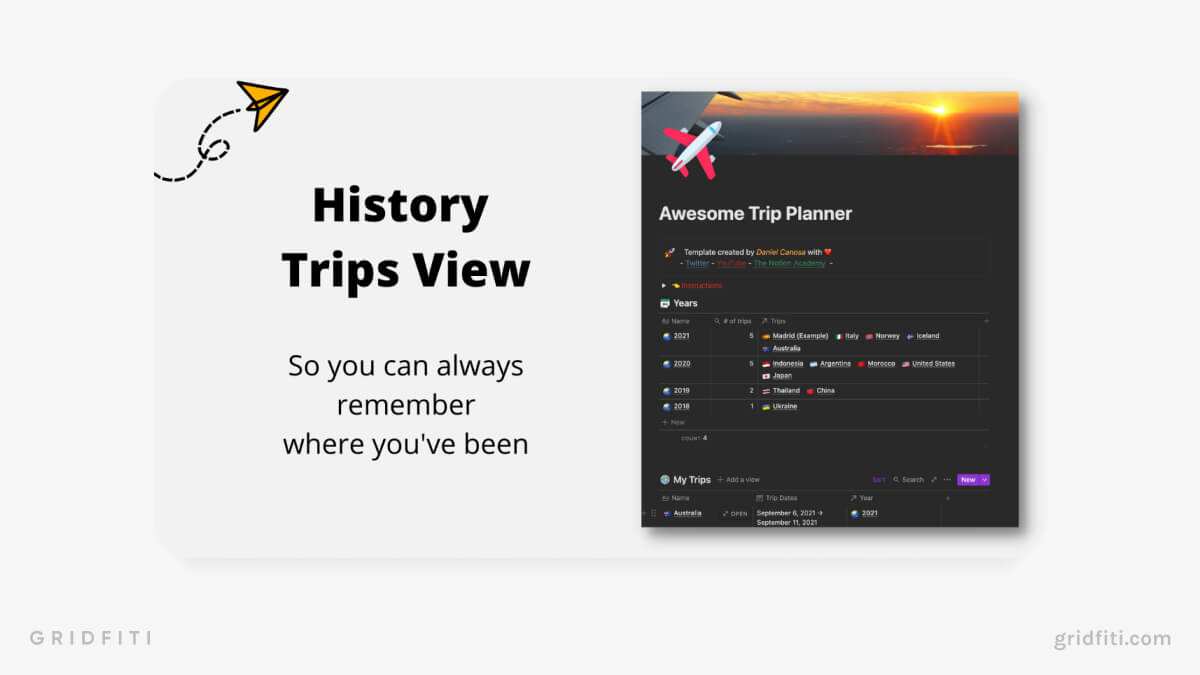 Culture Embrace Travel Journal
Love to get wrapped up in the local culture whenever you travel? Culture Embrace Travel Journal helps you hit the ground running with preparation spaces covering local history, customs, cultural sensitivities, and food exploration. You'll fit right in!
Looking to pick up a new language for your travels? Check out our full round-up of Notion language learning templates!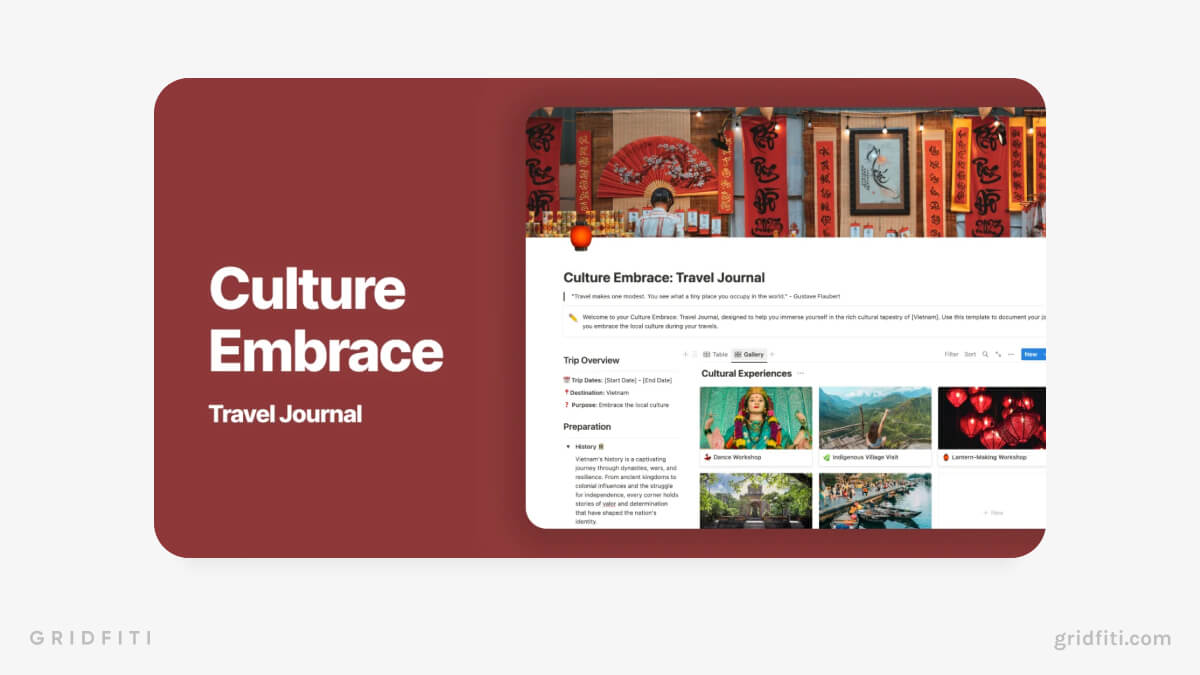 Travel Itinerary – Notion Mobile Edition
This Notion travel template is optimized for use on the go — you can check your travel plans mid-flight, poolside, or while exploring the city. You'll find mobile-friendly travel Notion templates for estimating your trip's cost, planning your itinerary, and saving for your next big adventure.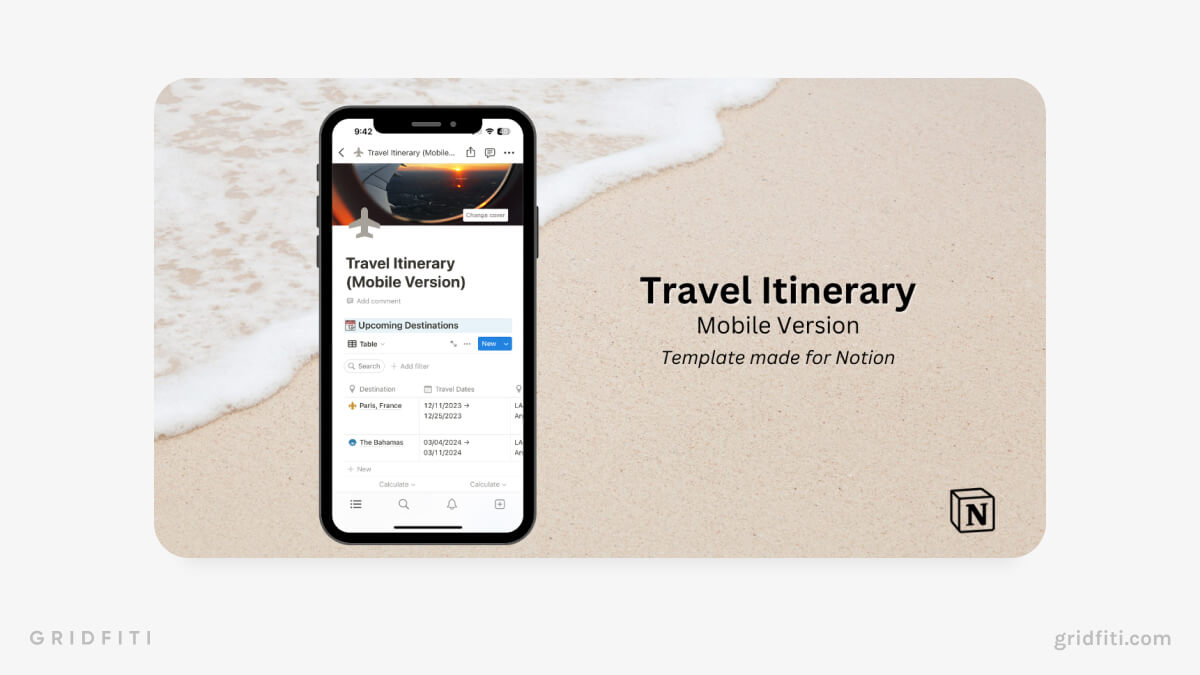 Free Notion Travel Templates
Still figuring out the best way to plan your next getaway? Discover whether Notion is the right tool with these free Notion travel templates!
Simple Trip Planner – Minimal Notion Travel Dashboard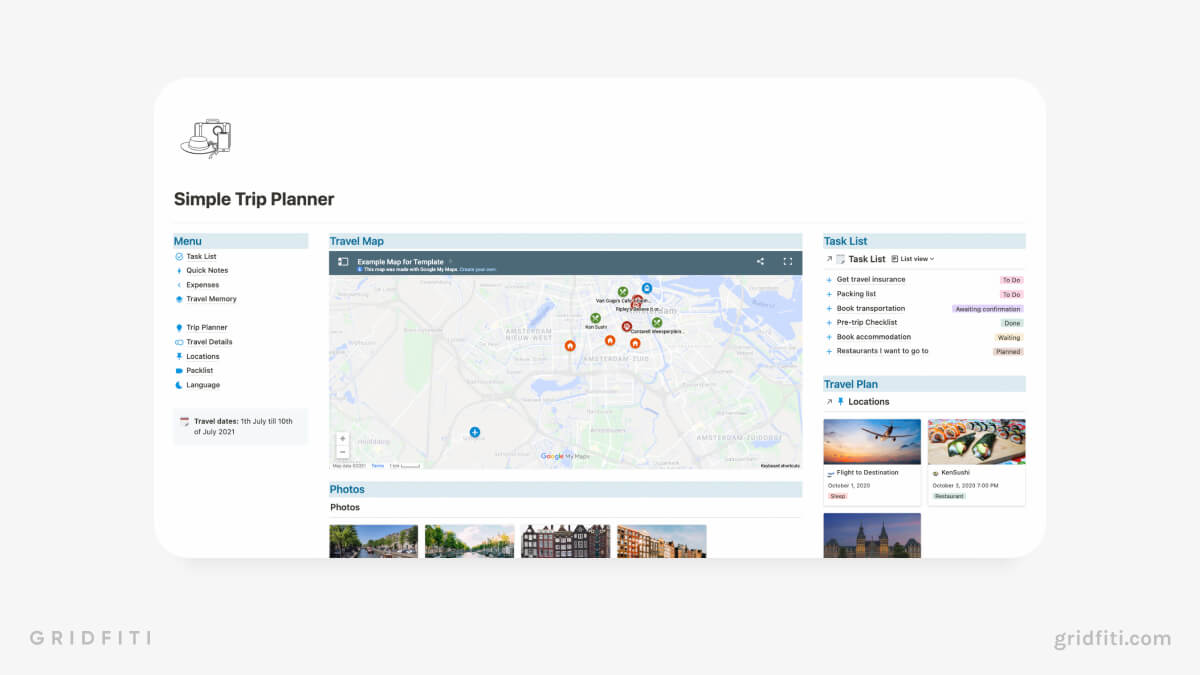 Simple Notion Travel Planner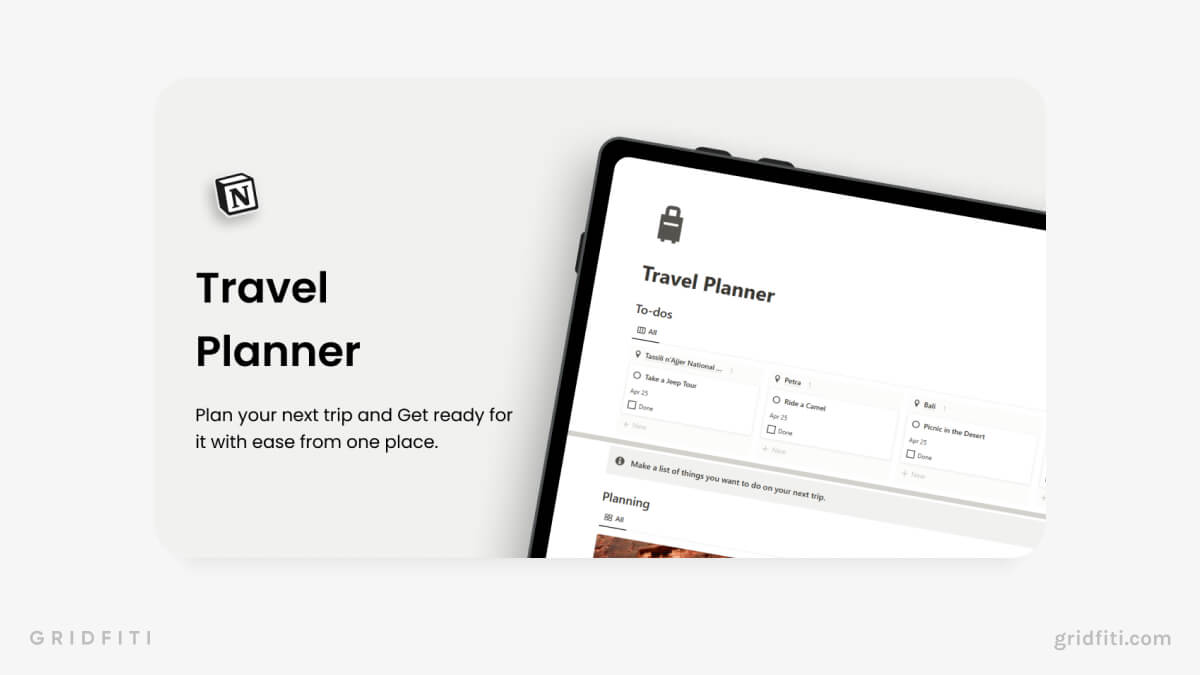 RV Travel Tracker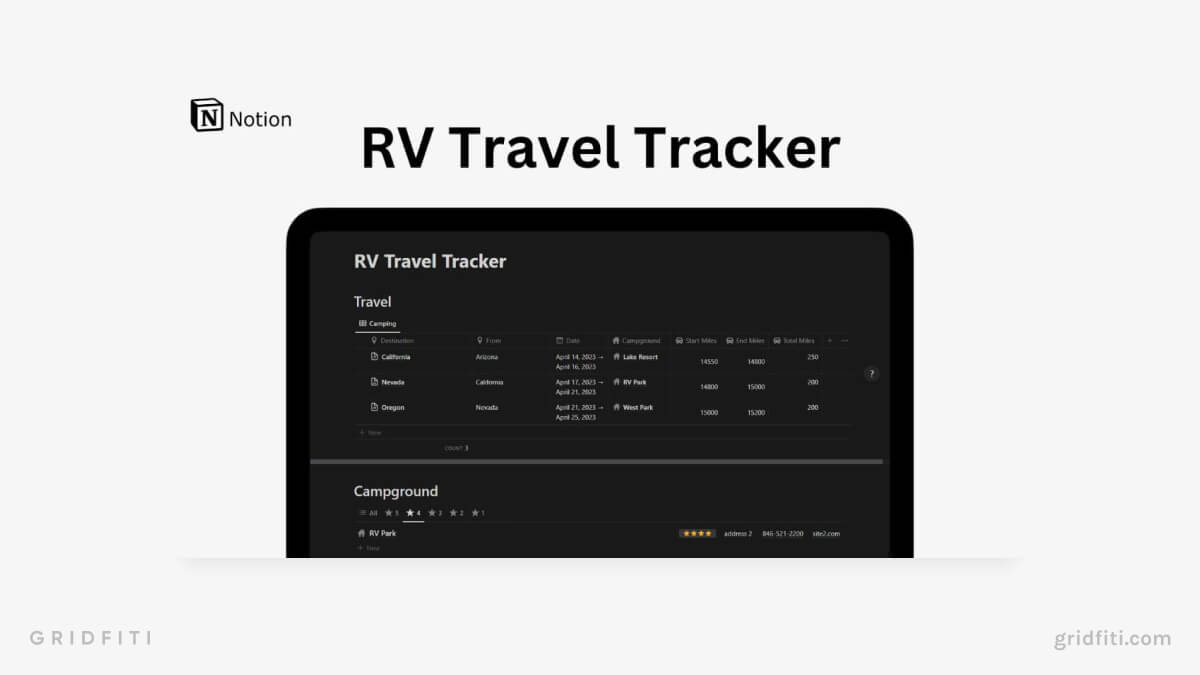 Minimal Travel Planner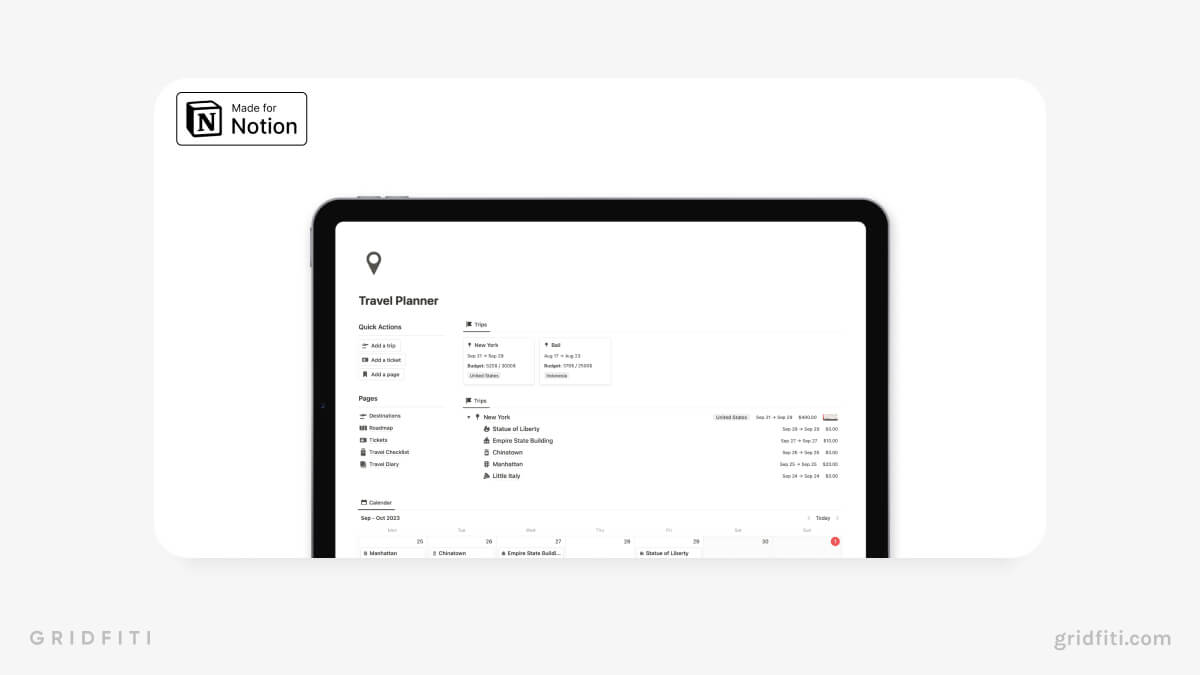 Notion Travel Packing Checklist
Check out our full round-up of Notion packing list templates for more.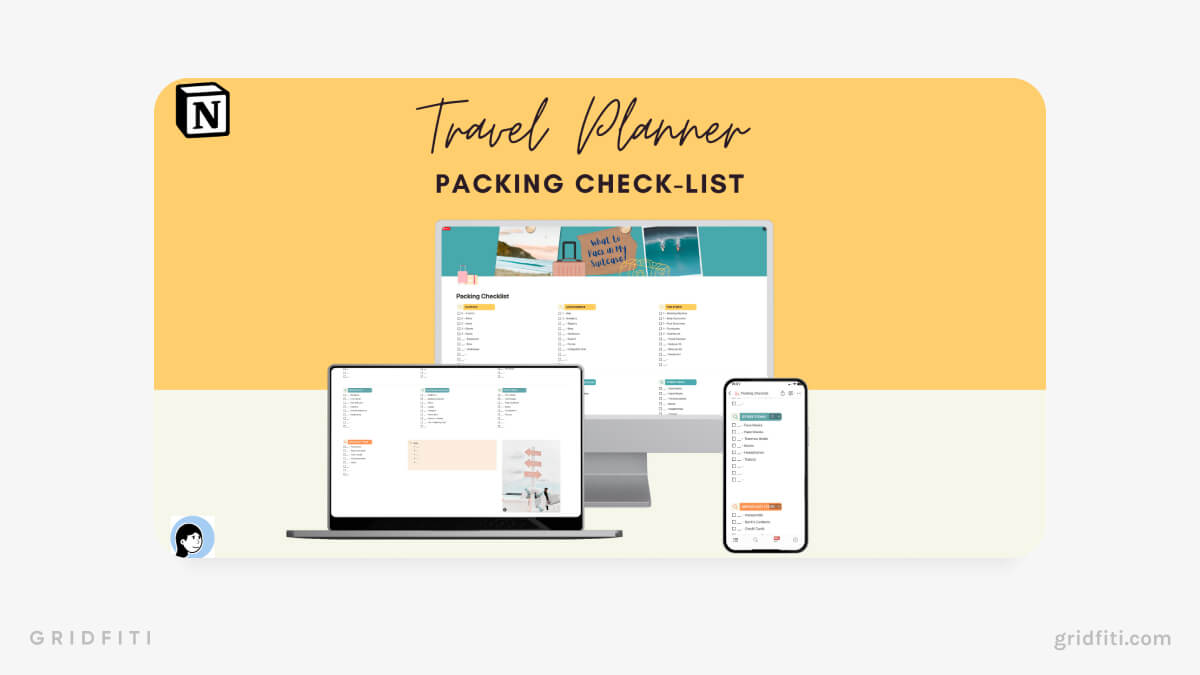 Simple Travel Dashboard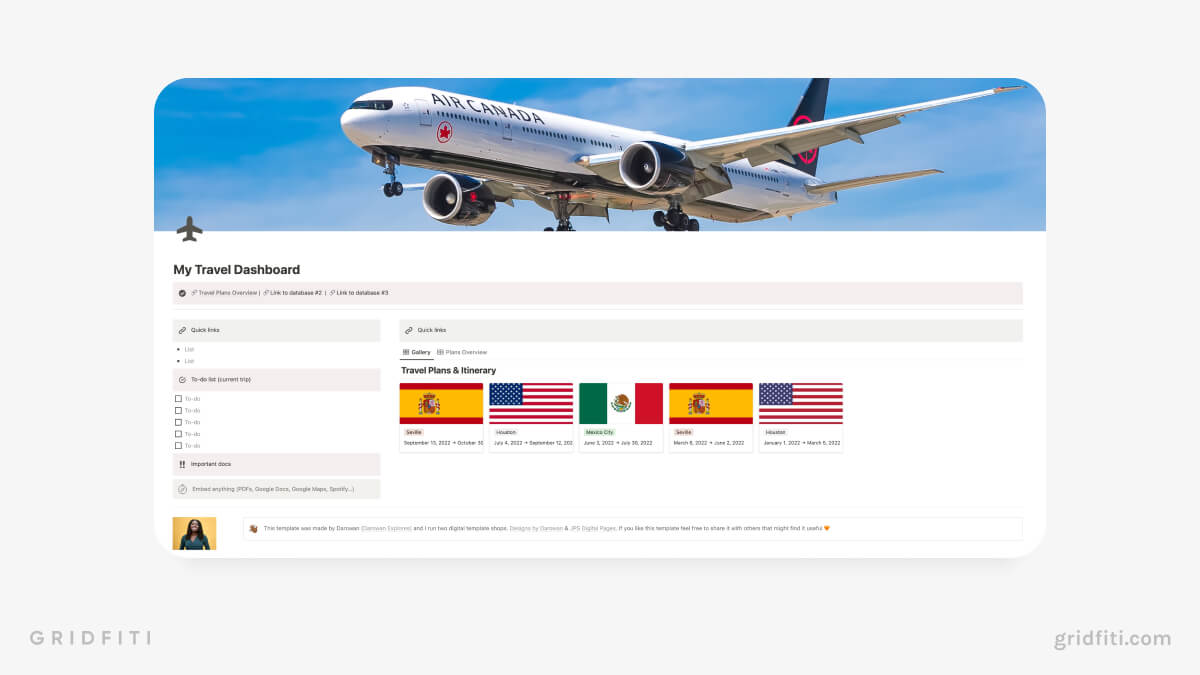 Yearly Travel Planner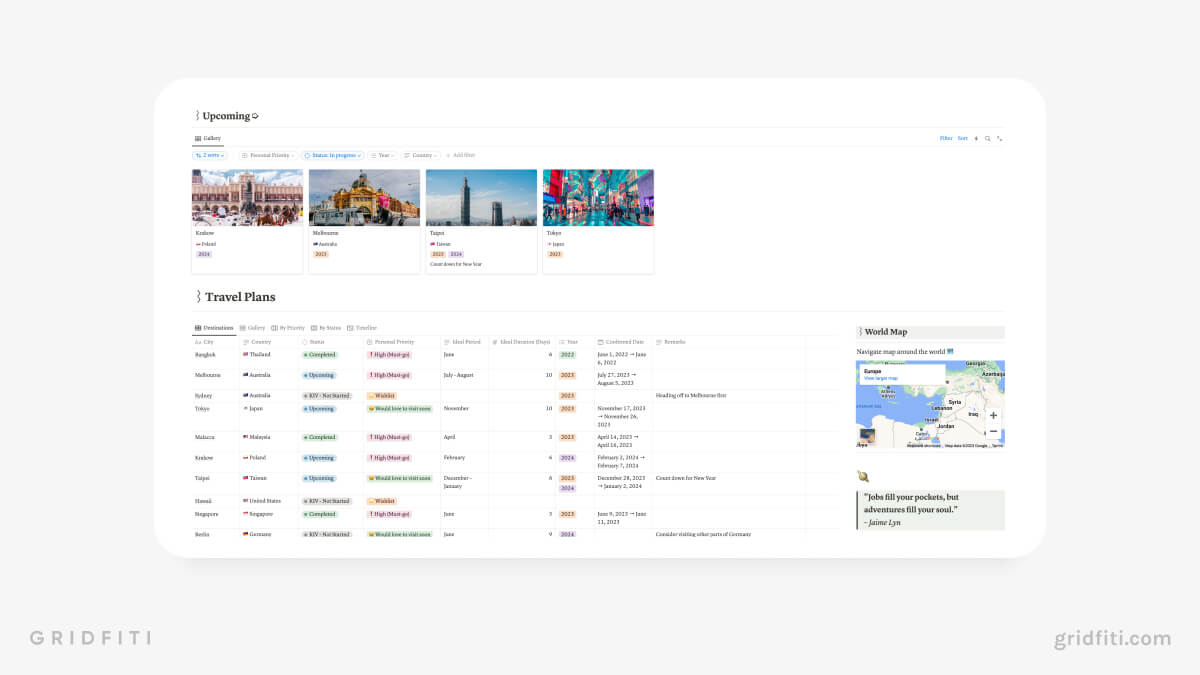 Travel Planner & Budget Template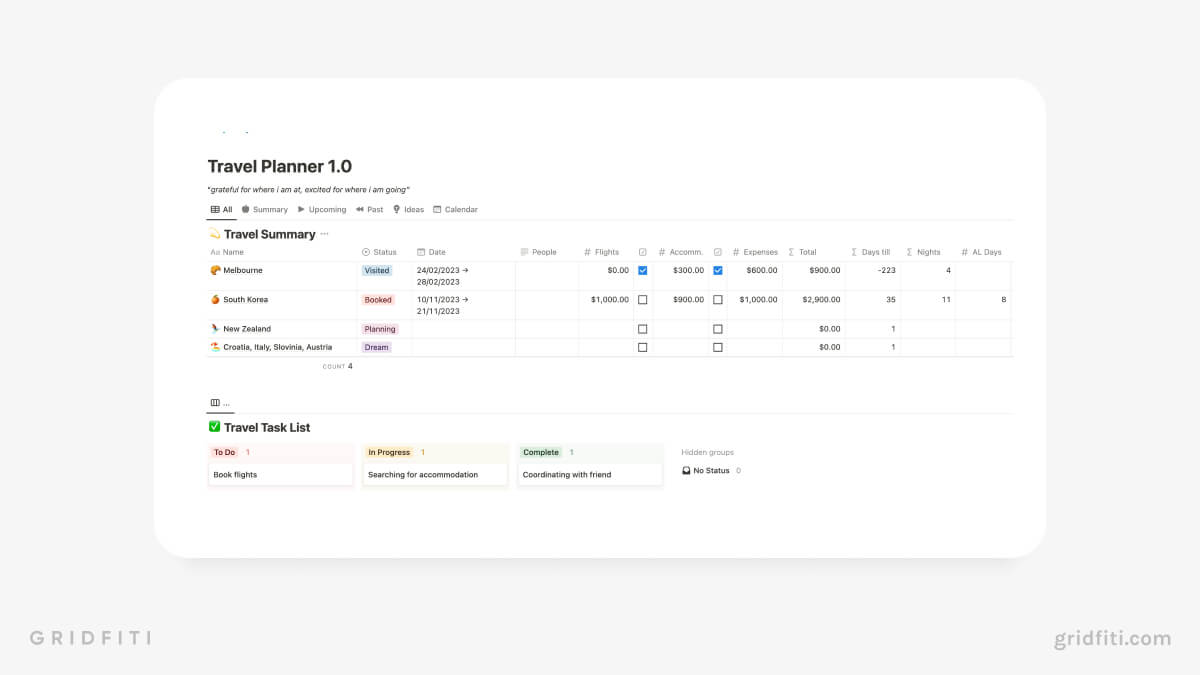 Trip Planner & Bucket List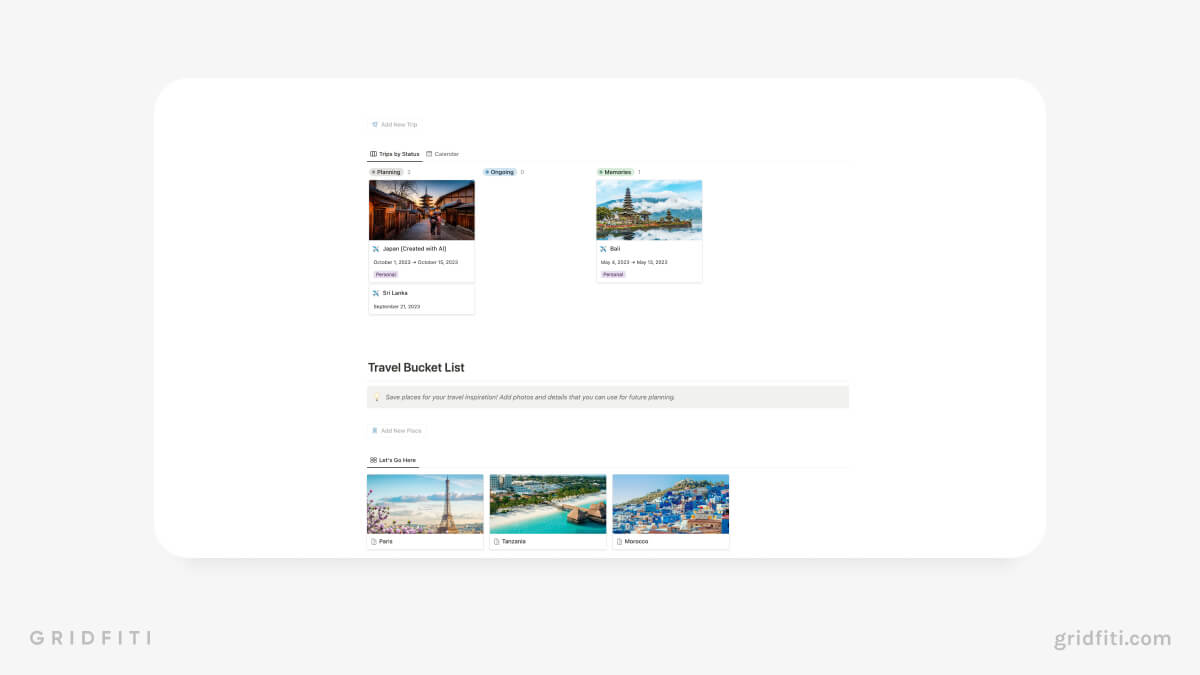 Travel Journal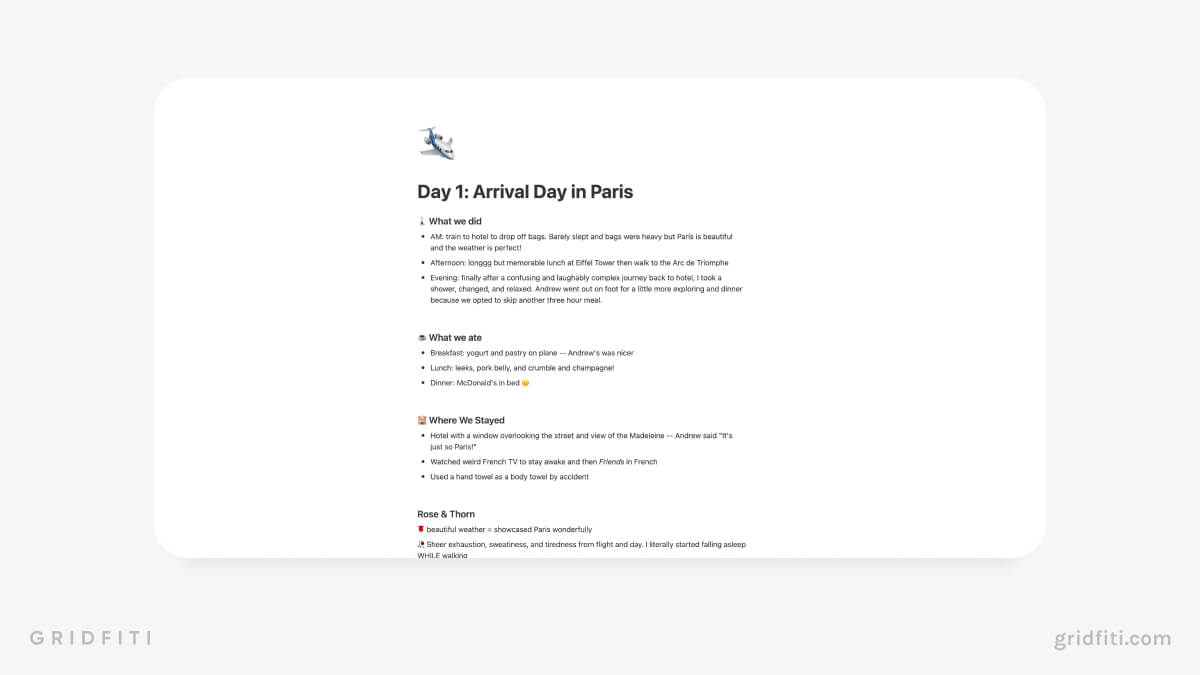 Simple Trip Planner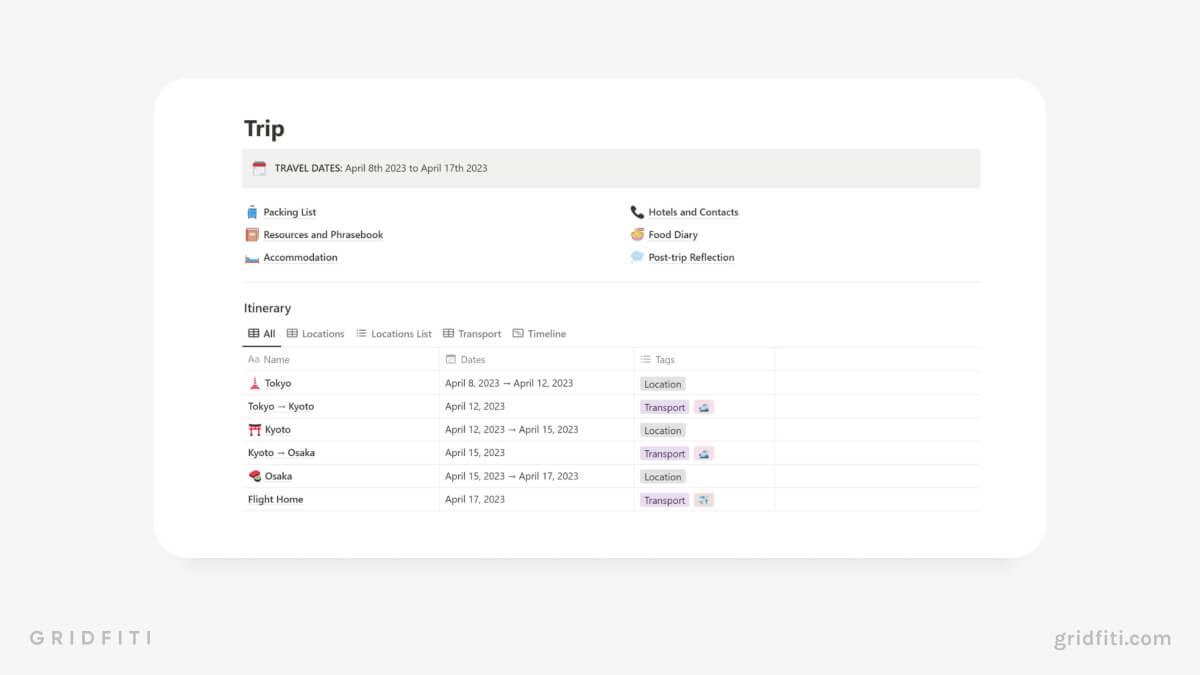 Travel Toolbox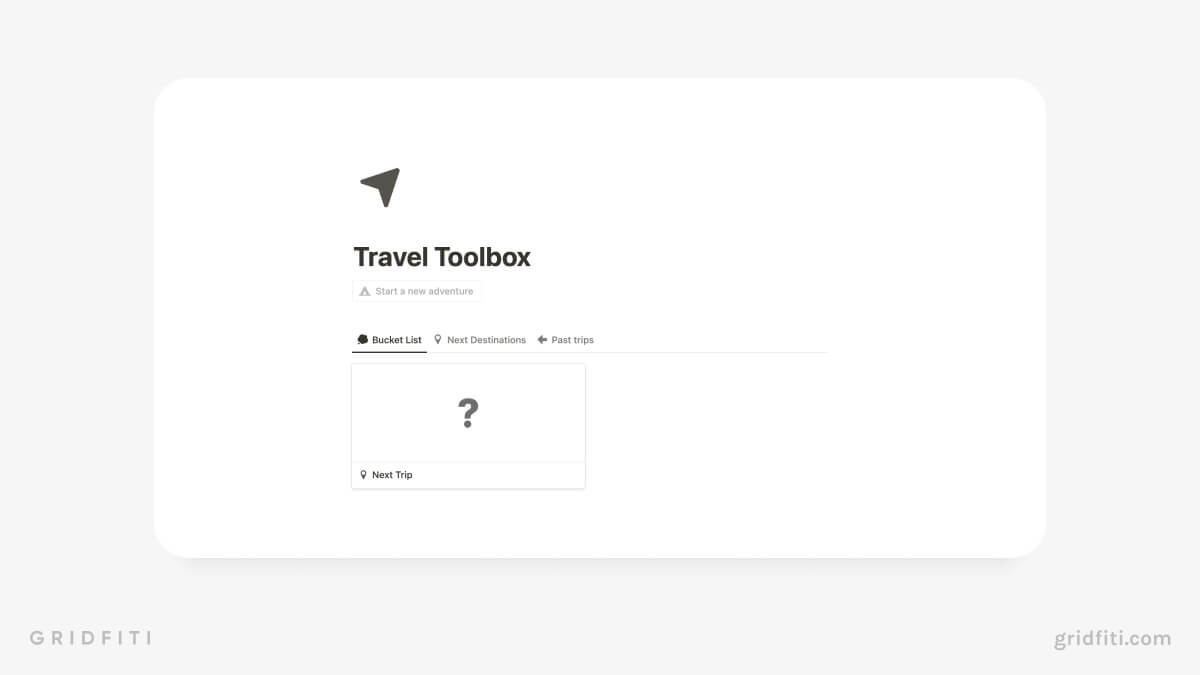 Travel Itinerary & Trip Log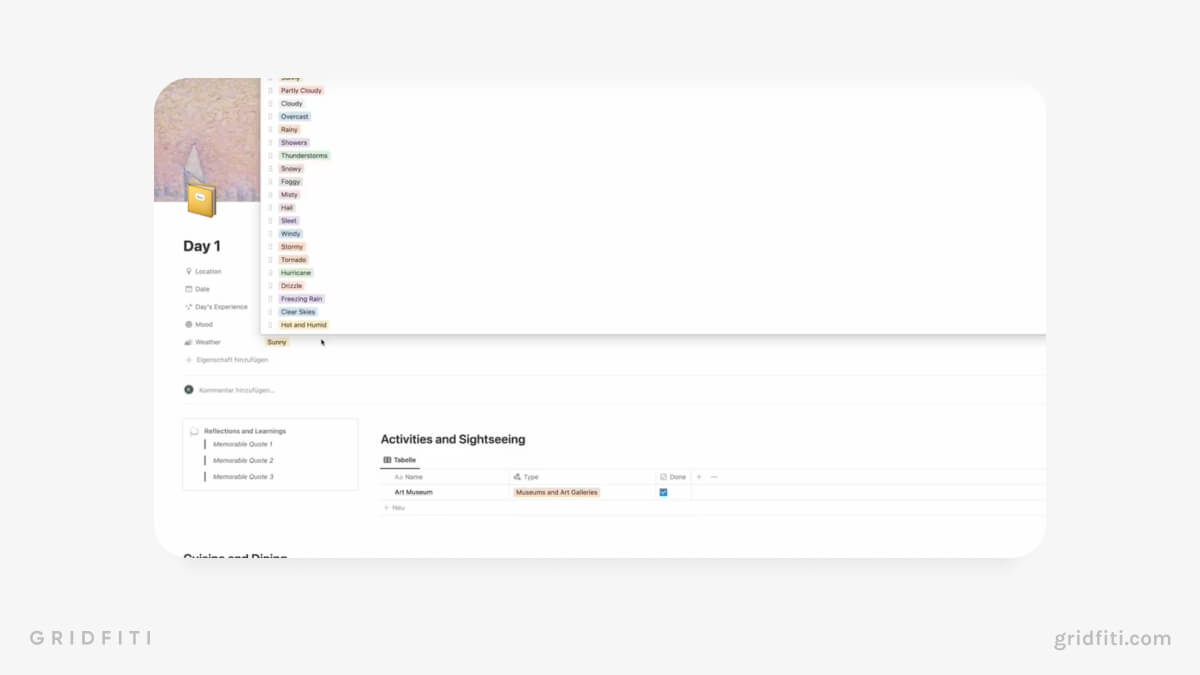 What Notion travel template are you using? Do you have any other recommendations for travel planners to use with Notion? Let us know in the comment section below.
Gridfiti is supported by its audience – when you buy something using the retail links in our posts, we may earn a small commission at no additional cost to you. Read more about our affiliate disclaimer.