Learning a new language is tough, but nowadays, there are more resources than ever to set yourself up for success. Make your language learning as efficient as can be, using a robust digital workspace in Notion, centralizing everything all in one place!
Whether you're picking up some foreign vocabulary for travel, or working to become fluent in a new language, we've rounded up some of the best Notion language learning templates for you to help you on your journey.
---
Looking for more productivity tips and tools? Subscribe to The Flow — our quick, snappy, value-packed focus and recharge newsletter. Also, don't miss our several other Notion template round-ups and guides!
---
Get the all-in-one Life OS template, the only Notion template you'll ever need — with over 25 integrated templates built in.
Notion Language Dashboard Template
The Language Hub template is as functional as it is beautiful. Stay on track of your language learning deadlines and progress with a dual progress bar system, set future review dates with spaced repetition, track your lesson progress, categorize lesson difficulties, and so much more!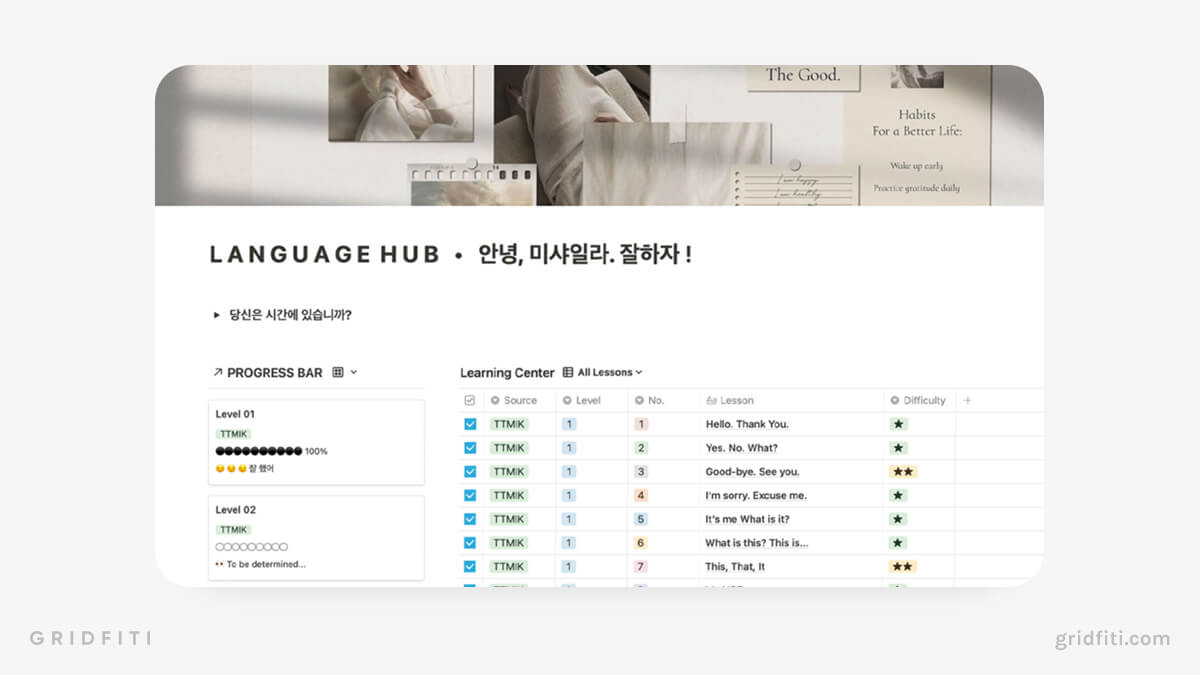 Notion Language Study Template
The Notion Language Study Template is a hub to help you organize your language learning journey! Set your language learning objectives in the goals section, track your to-dos, house videos, podcasts, and articles in the resources section, store and review grammar notes for tenses, and add words by category to the vocabulary database.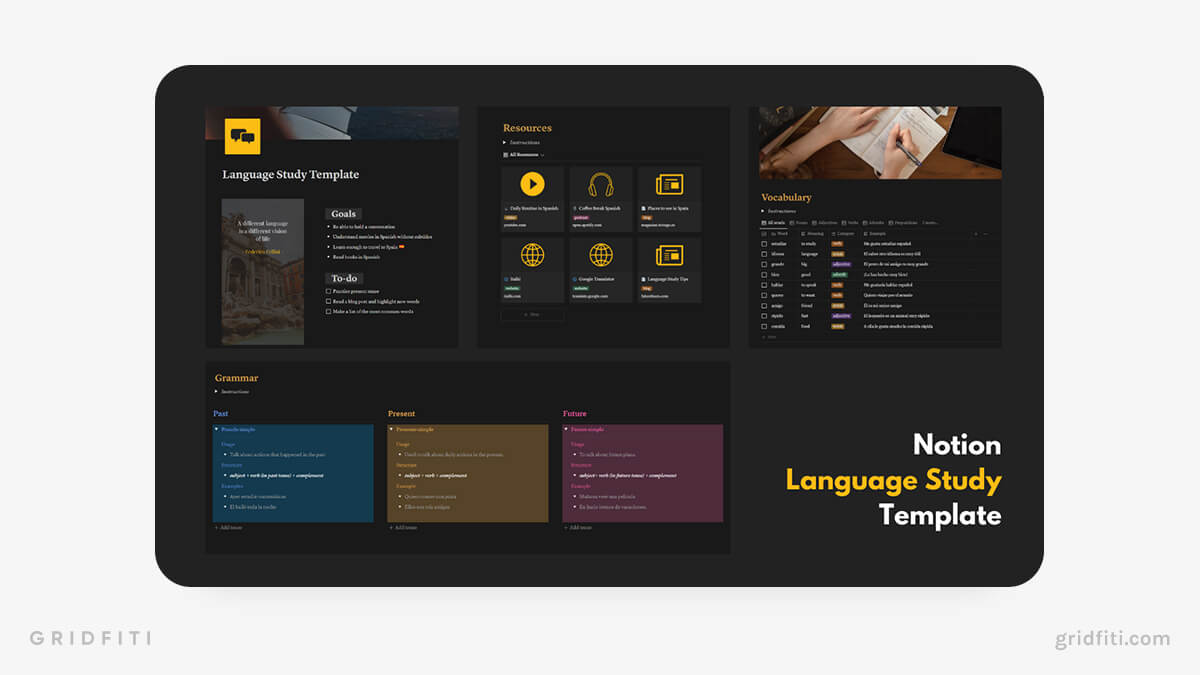 Language Learning Workspace Notion Template
In this language learning workspace, find a clean, simple dashboard that houses all the essential pages in one place. You can track all progress for your reading, listening, speaking, and writing – and even create virtual vocabulary flashcards right in the template.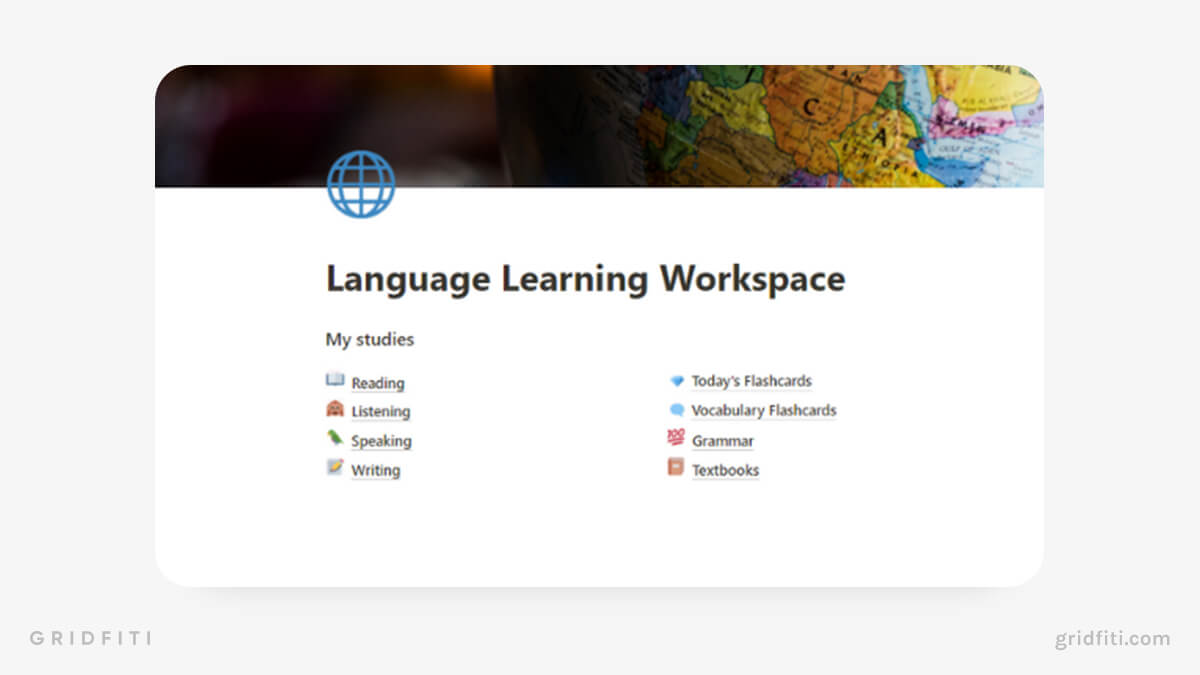 Notion Word Bank Vocabulary Template
With this word back template, organize your vocabulary, sentences, and their sources all in one place! Categorize your words and sentences based on themes, see translations at a glance, and see all of your your key themes in a slick minimalist card view!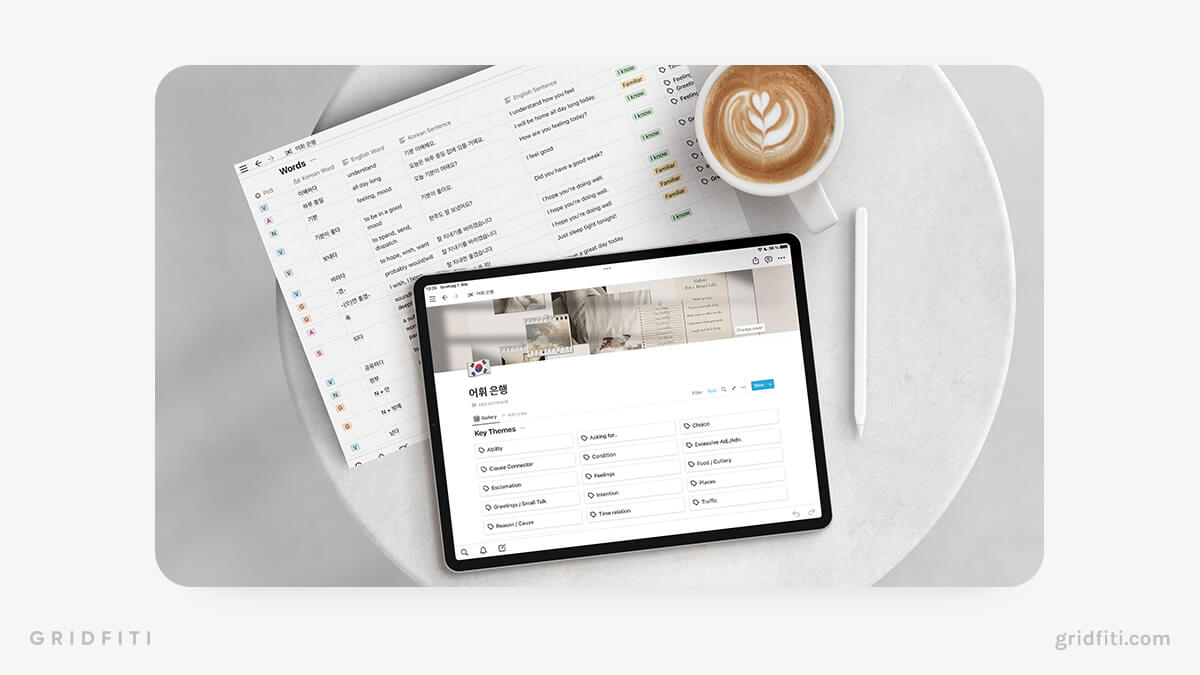 Language Learning OS for Notion
Language Learning OS is a robust workspace for anyone looking to take their language learning to the next level. Gamify your language learning with its point system, use the built-in flashcards to help your recall and fill in the gaps, receive daily words, house all your resources and study content, and so much more!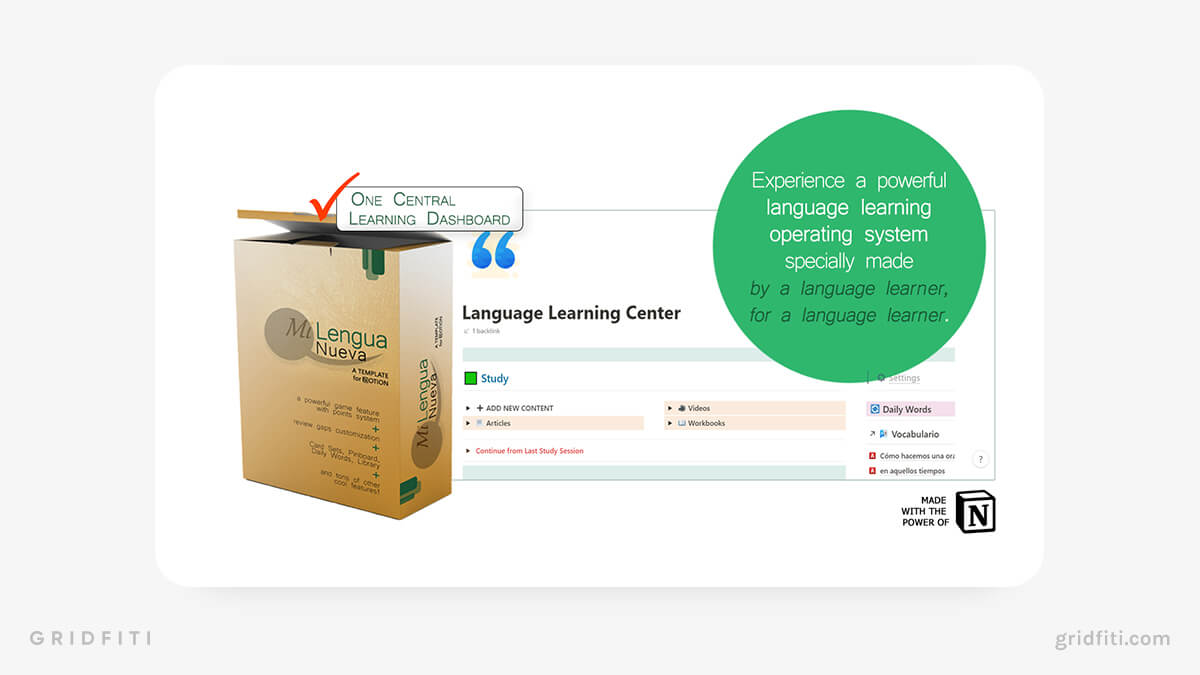 Daily English Vocabulary Template for Notion
Practice makes perfect – and this template is an interactive system for you to get your English practice in daily. Add new words and schedule them to the calendar, practice exercises with a spaced repetition system, and track your progress with vocabulary you've learned!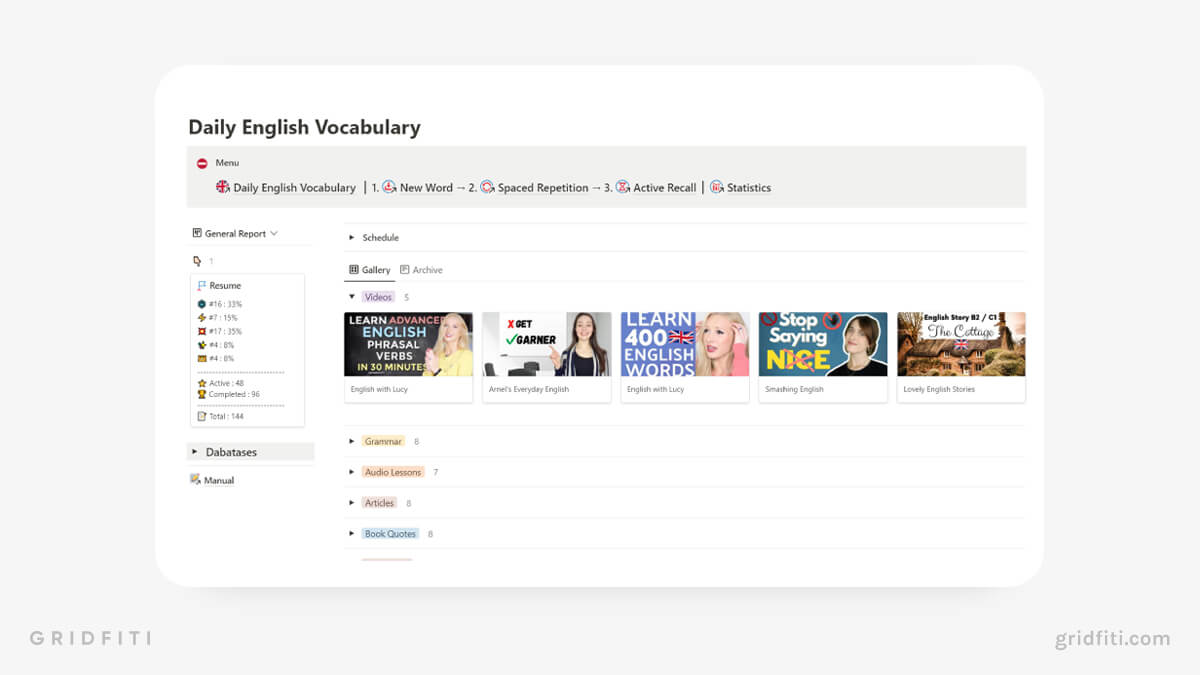 Simple Language Learning Notion Template
With this simple language learning template, outline your purpose for learning, store your words and phrases, create weekly challenges, and define your weekly focus!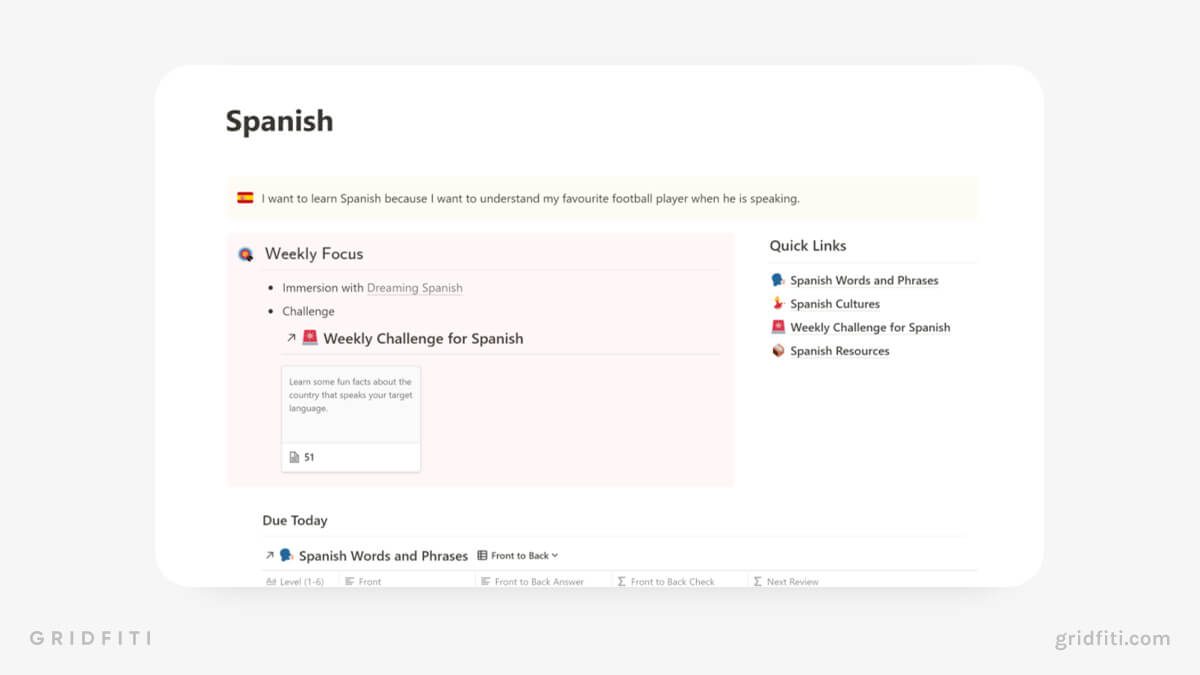 Which languages are you trying to learn using Notion? Any other Notion language learning templates to recommend? Let us know in the comments below!
Gridfiti is supported by its audience – when you buy something using the retail links in our posts, we may earn a small commission at no additional cost to you. Read more about our affiliate disclaimer.