Ever find a recipe searching through TikTok or Pinterest and struggle to find an organized database to save it for later? Now you can curate your favorite recipes all in a single template where you're able sort through and rate your recipes – and even add the ingredients to your grocery list to prepare for it!
To help you get started, we've selected the best Notion recipe templates for you to choose from. Bon appetit!
Want more Notion templates and updates? Join our mailing list, and check out our several other Notion template round-ups!
Notion Recipe & Shopping List Manager Template
Add a new recipe, add a rating, and manage all of your favorite recipes in one place with this virtual cookbook template. You can even log ratings and reviews from your guests, and generate shopping lists based on ingredients owned and ingredients needed!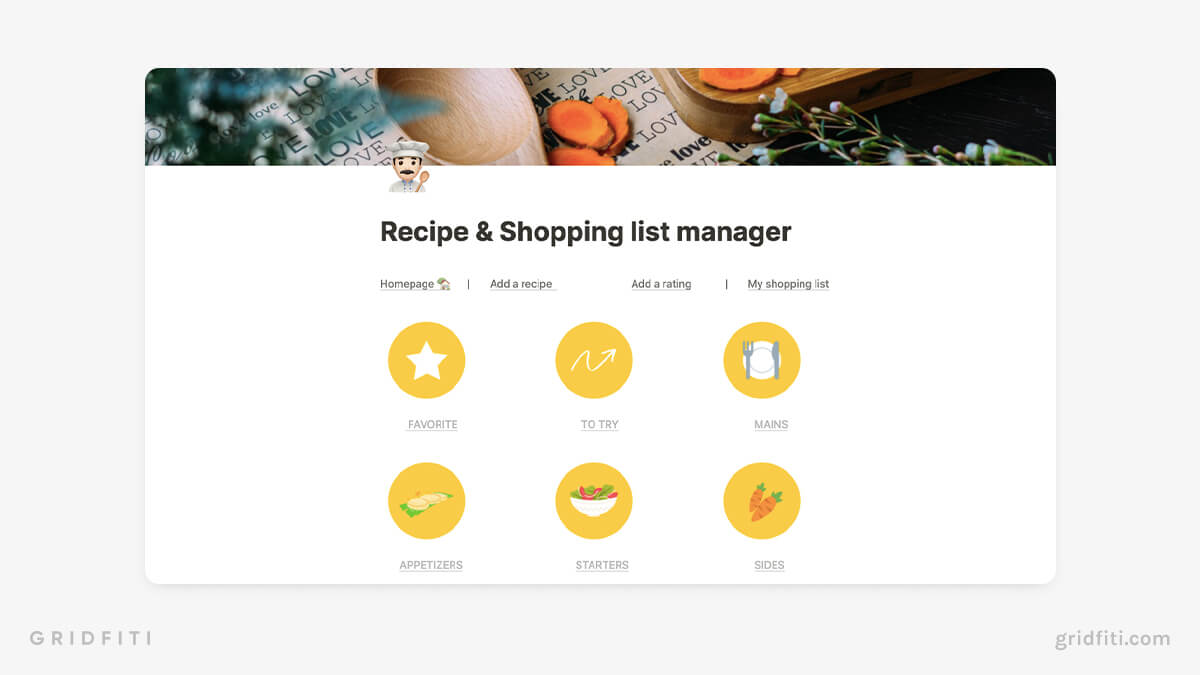 WFH Studio – Notion Recipe + Ingredient Manager
The work from home studio template gives you everything you need when it comes to living a more productive life in your home. Along with different productivity templates, the WFH Studio template also offers a recipe and ingredient management system that allows you to build a database of recipes – so you know exactly what ingredients you need to add to your Notion grocery list!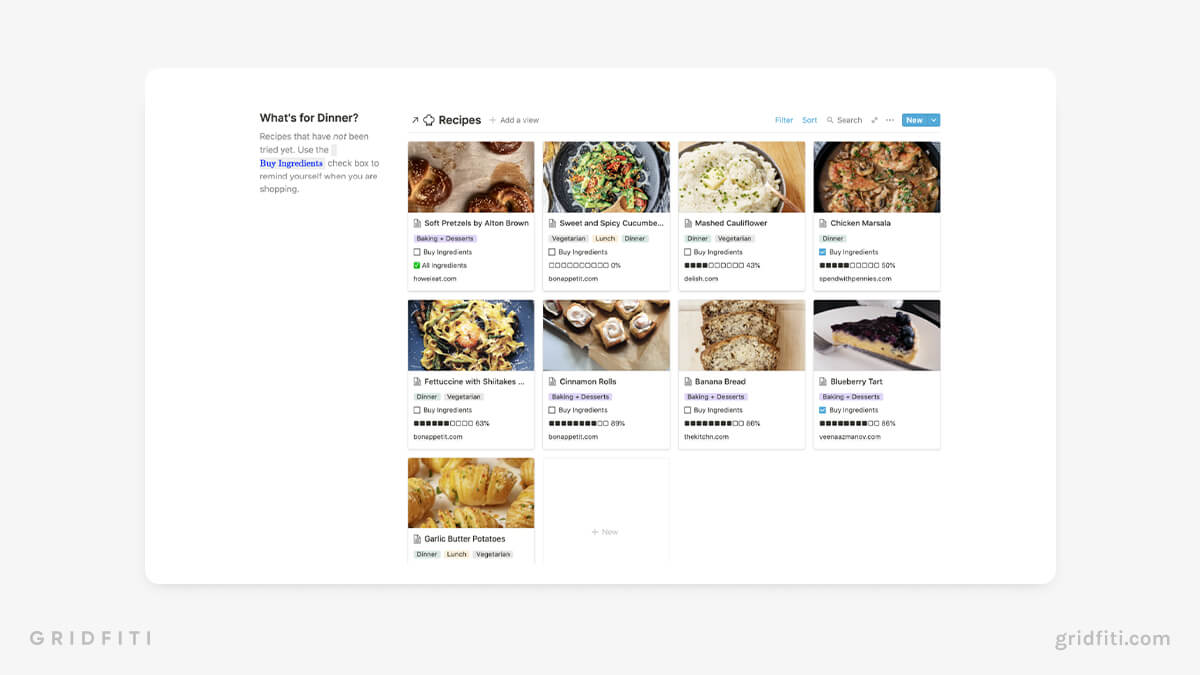 Visual Notion Recipe Template
A visual-focussed, app-like recipe manager template perfect for organizing templates you want to try, and a place to save your favorites! You can also use this template to adjust serving size by scaling your ingredients.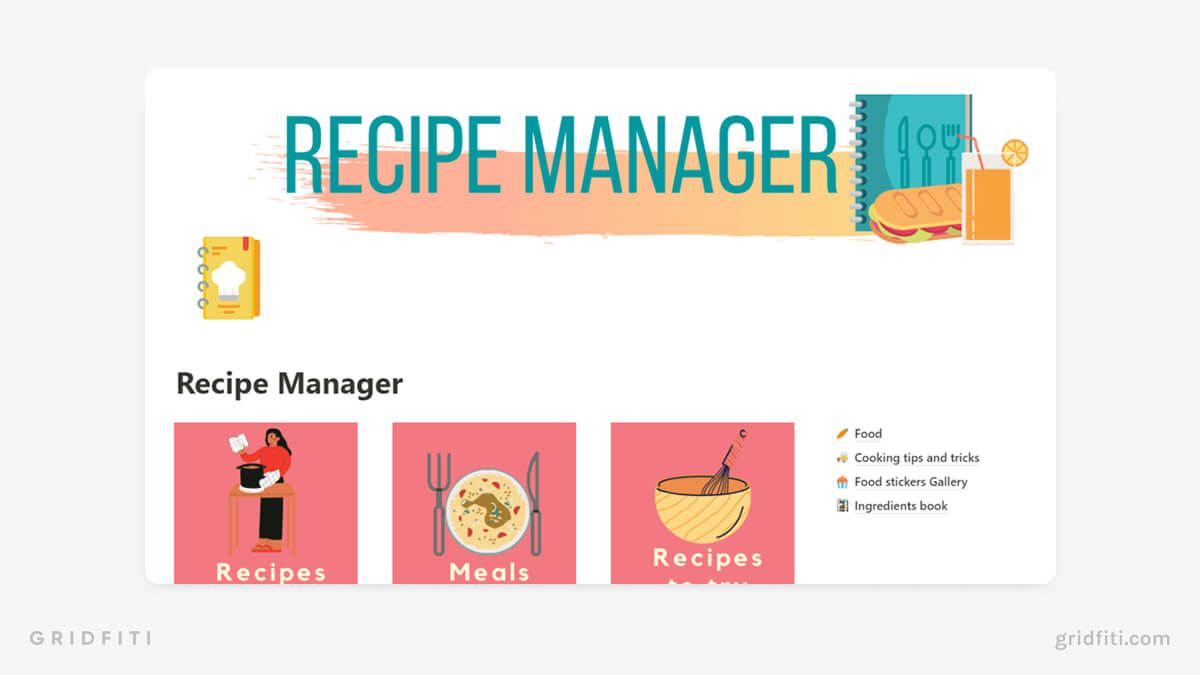 Simple Meal Prep & Recipe Template for Notion
Plan your weekly meals and choose from a database of your favorite recipes with this digital cookbook template. Using the built-in Notion meal planner template, you can map out exactly what you're having for breakfast, lunch, dinner and even what snacks you'll be consuming throughout the week – no more stressing about what to eat!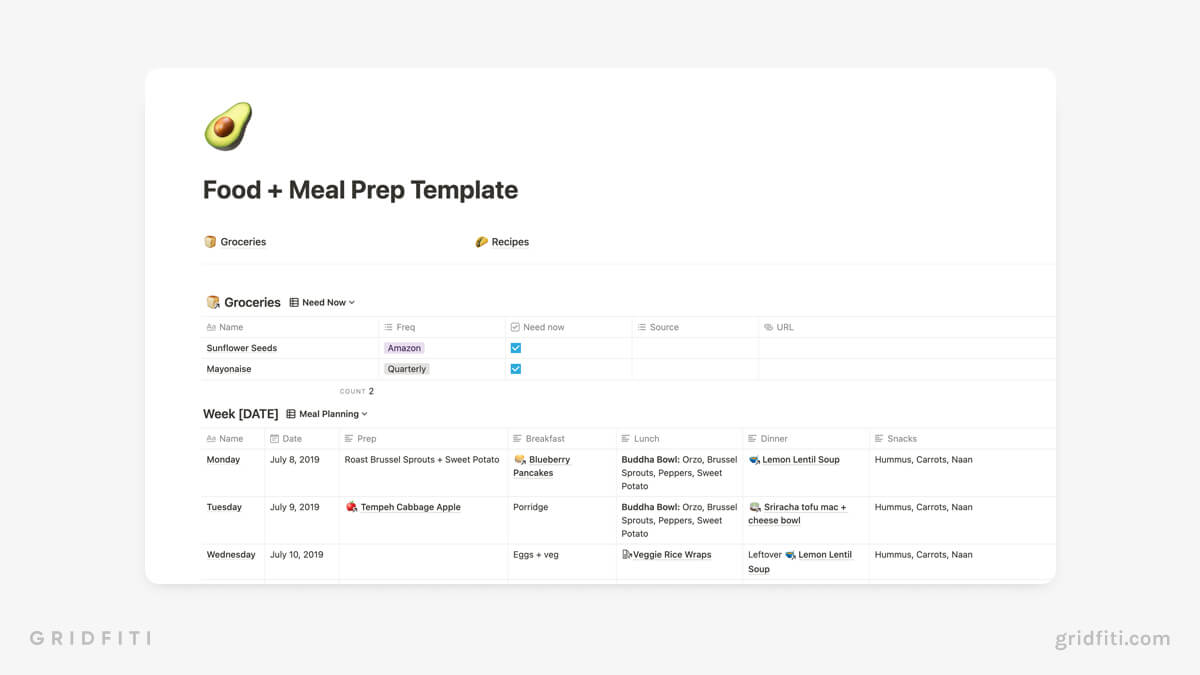 Which Notion recipe template are you using? Do you have any other recommendations for digital cookbook templates for Notion? Let us know in the comments below!
Gridfiti is supported by its audience – when you buy something using the retail links in our posts, we may earn a small commission at no additional cost to you. We only recommend products we would use ourselves and recommend to our friends and family. Read more about our affiliate disclaimer.