Notion is one of the best tools for managing your grocery list and kitchen inventory. Our staff uses Notion daily to create shopping lists, plan meals, track spending, and more — all in one place. It's been a total gamechanger for us thanks to Notion's powerful database features, which let you connect everything together for easy access and visibility.
Want to test-drive Notion for kitchen management? Minimal, aesthetic, advanced, simple — we've curated the best Notion grocery list templates to make sure you have all of the resources you need to keep your fridge and pantry stocked.
---
Looking for more productivity tips and tools? Subscribe to The Flow — our quick, snappy, value-packed focus and recharge newsletter. Also, don't miss our several other Notion template round-ups and guides!
---
All-in-One Home Cooking Dashboard + Groceries Manager
The Ultimate Home Chef Dashboard for Notion is an all-in-one, fully integrated grocery and inventory tracker, recipe manager, and meal planner template!
The grocery portion of the template is more than just a grocery list — it doubles as a full inventory for your kitchen! Out and about and not sure which ingredients you already have at home? Want to see what your must-stock essentials are? The Grocery & Inventory Tracker has got you covered. It also doubles as a mobile-friendly list for heading out to the store, with full pre-set categories (aka aisles) to tag for quicker and more efficient shopping, as well as separate lists by stores.
The template is fully connected with a robust recipe book and meal planner too, so all your home cooking happenings go down in one place. Check out the link to see all the features!
This template is also available in the all-in-one Life OS, which includes 20+ other templates: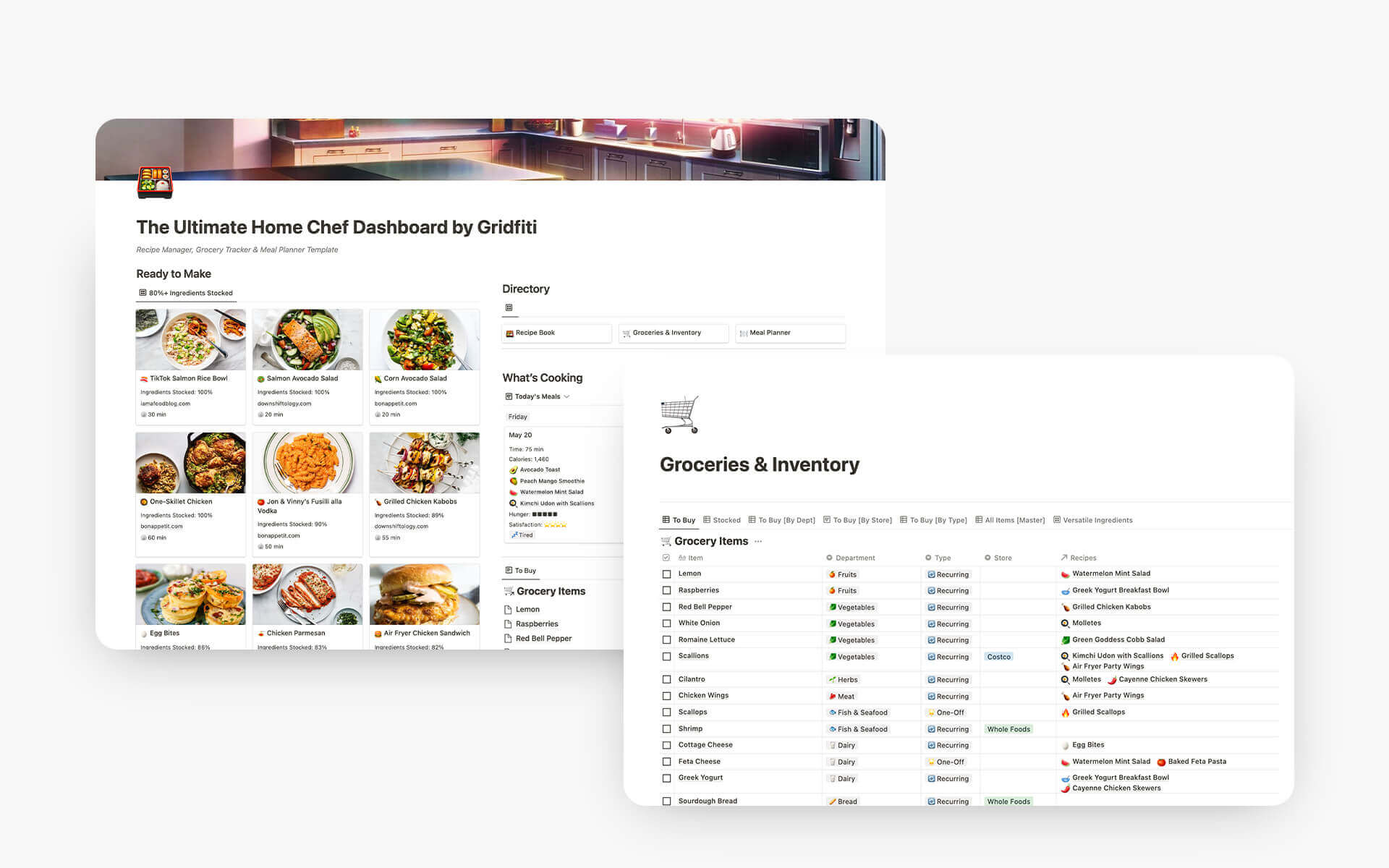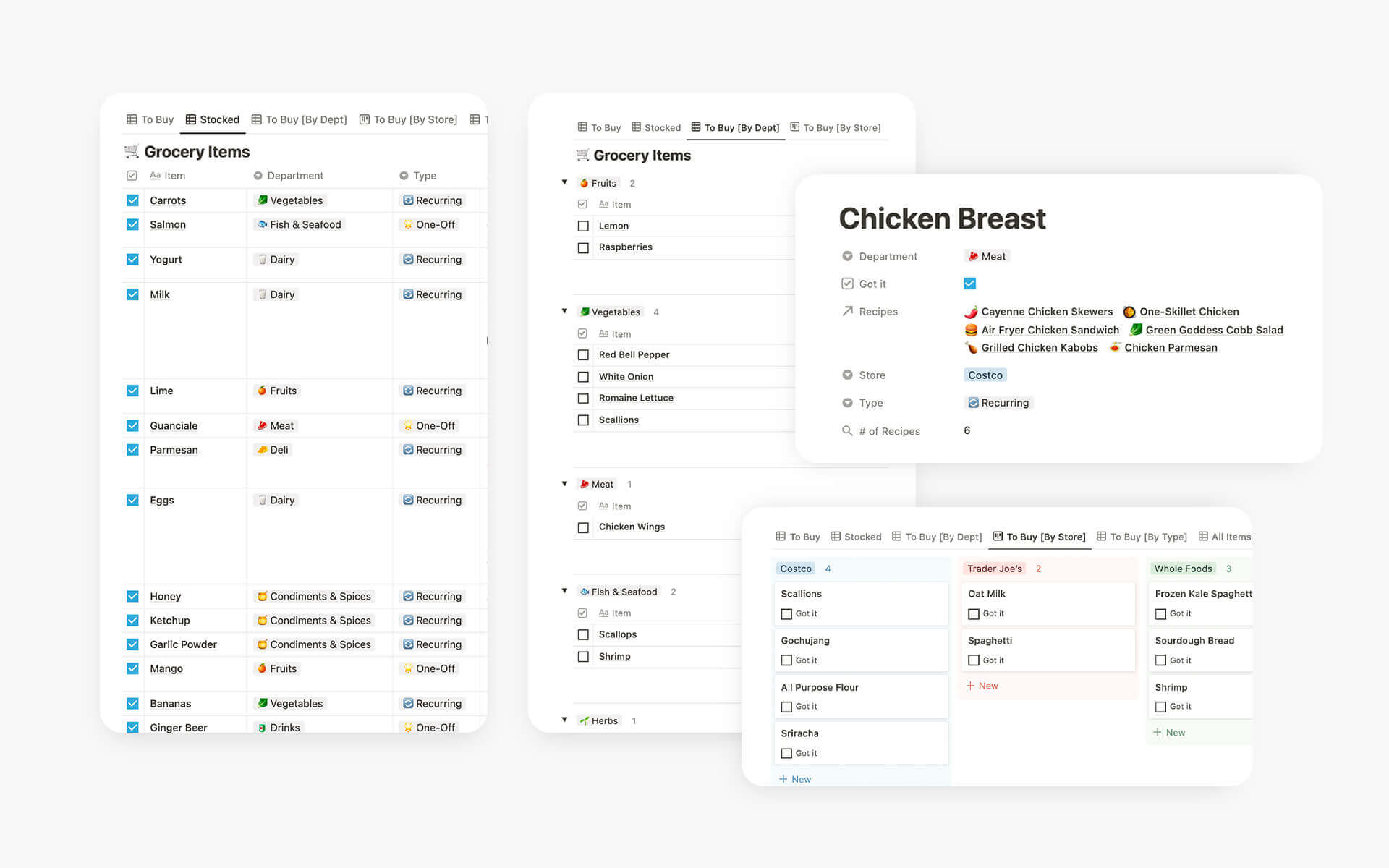 The Happy Kitchen: Meal Planning & Grocery List System
Tired of constantly updating your shopping list? The Happy Kitchen System auto-adds needed ingredients for your upcoming meal plan to save you precious time. Change the ingredient quantity in recipes, and it'll instantly change the amount on your shopping list. Access your Notion list while at the store, cross items off as you go, and they'll be immediately added to your pantry. Super convenient!
Template Available Here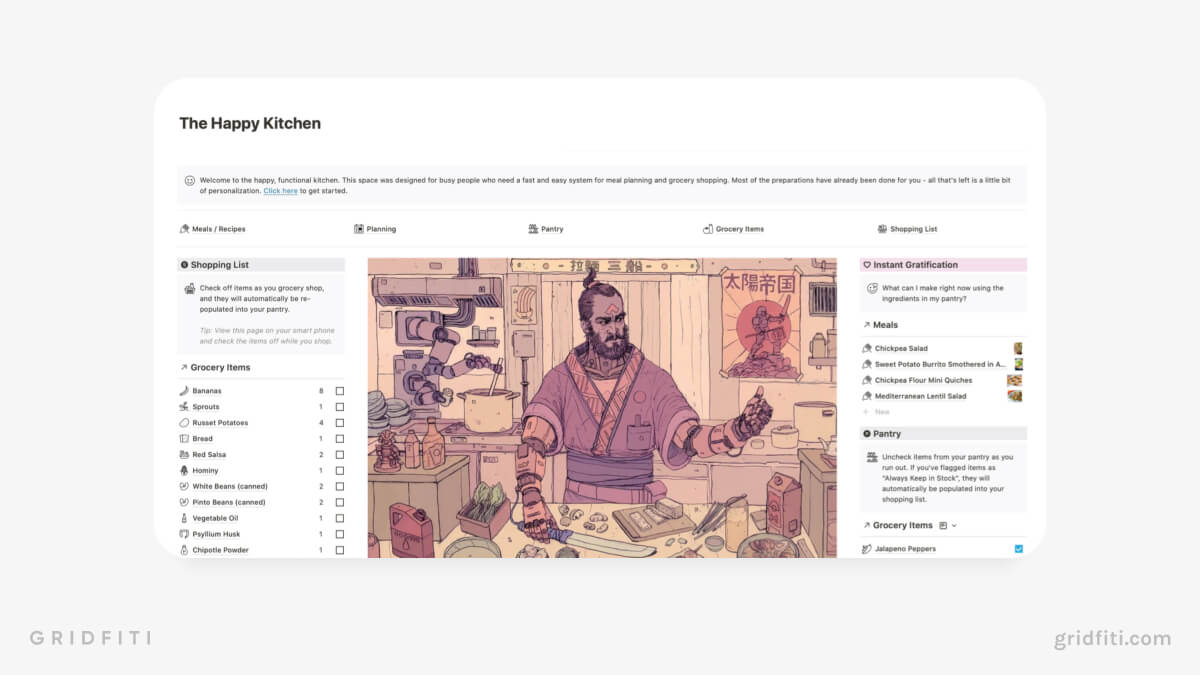 Simple Meal Planner with Shopping List Database
Download the Simple Meal Planner if you're looking for a shopping list template without any digital clutter. With the Simple Meal Planner's minimalist design, you can clearly check out your current meal plan and shopping list. Your meals and list are linked to save any manual edits. Databases for resources and new meals make it easier to keep your weekly meal plans exciting.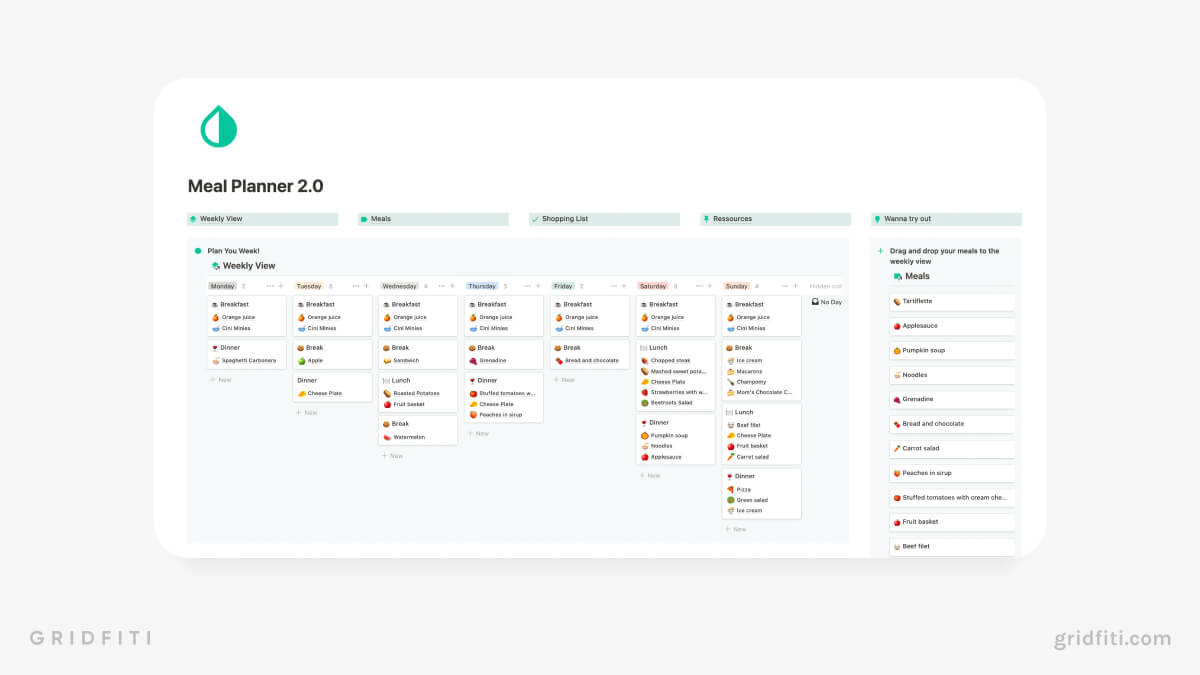 Notion Meal Planner with Automated Grocery List
This automated shopping list Notion template will make you a kitchen whiz, featuring 100 pre-populated recipes, budget tracking, and custom meal plans. Mark items in your pantry as out of stock, or set up meal plans, and Notion Kitchen will add needed ingredients to your list. Smart substitutions make it a breeze to stay flexible while cooking up something special. Pick from minimalist and aesthetic homepages to customize your Notion Kitchen experience!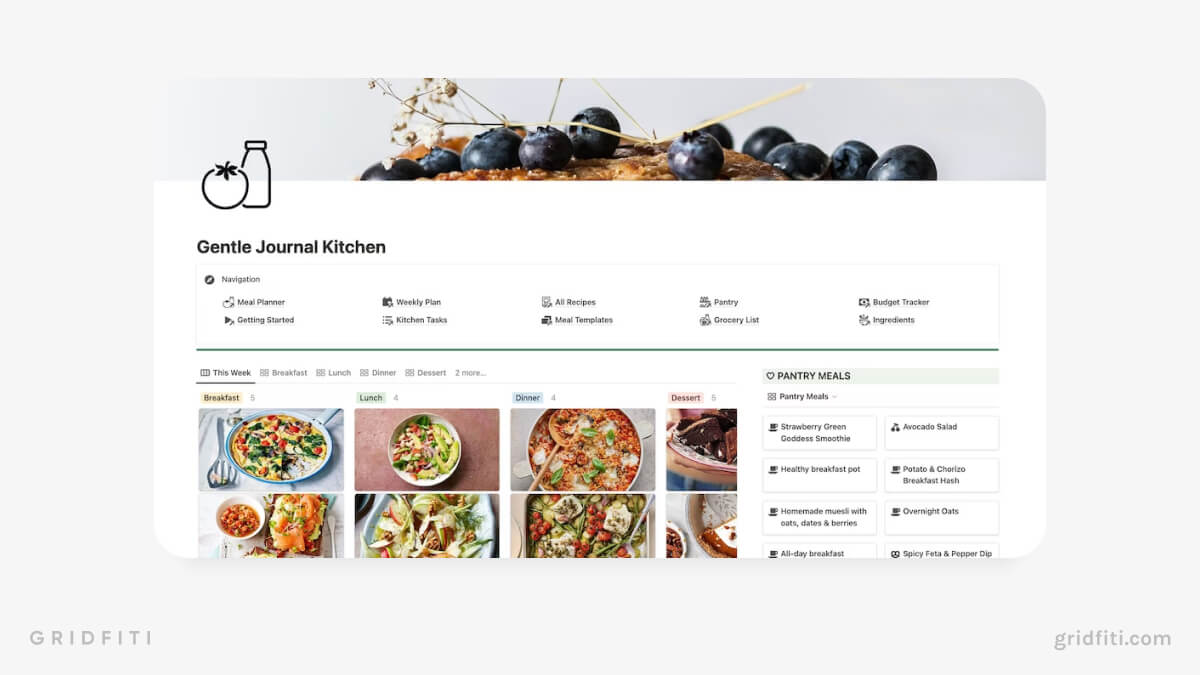 Aesthetic Shopping/Groceries List Manager
Say goodbye to your paper grocery lists and say hello to this aesthetic grocery template from The Notion Bar. Track items that you have and compare them to what you need and check them off your grocery list as you add them to your cart in-store or online! If you have roommates, easily invite them to collaborate with you on the shopping list!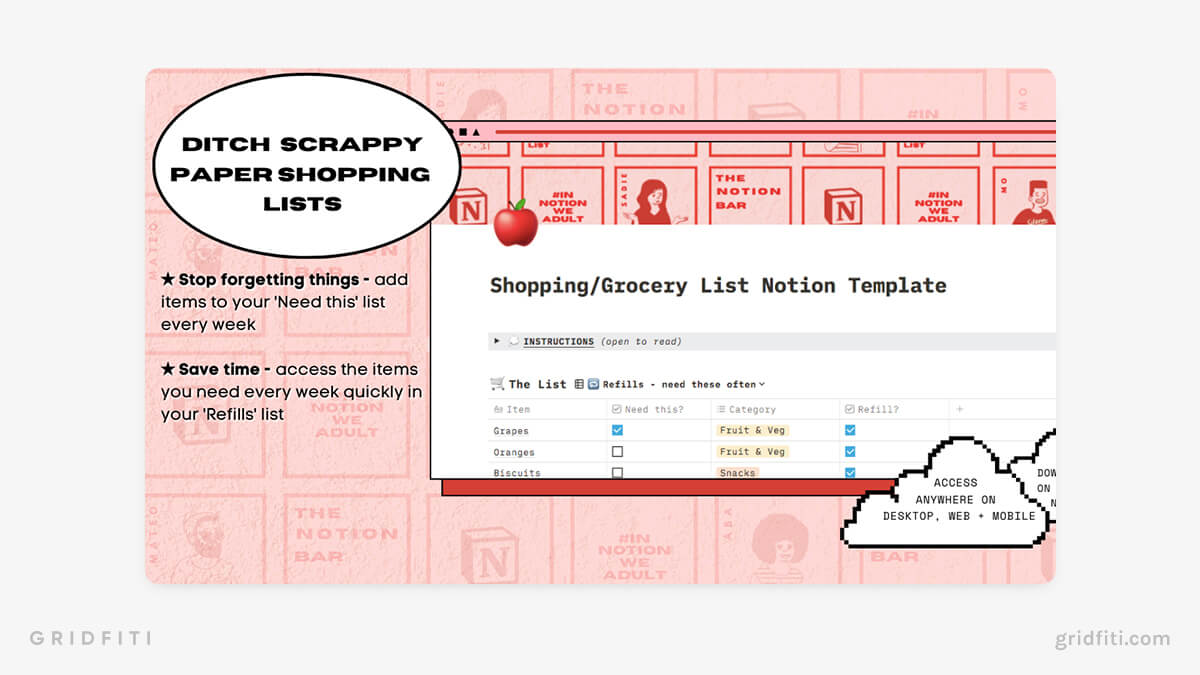 Anime Cafe Life Dashboard, with Grocery List
With the starter all-in-one Anime Cafe Dashboard for Notion, you'll be able to connect your grocery list with your meal planner and recipe database. In the rest of the template, you can keep track of almost every aspect of your life, including your finances, goals and milestones, watchlists, reading lists, and so much more!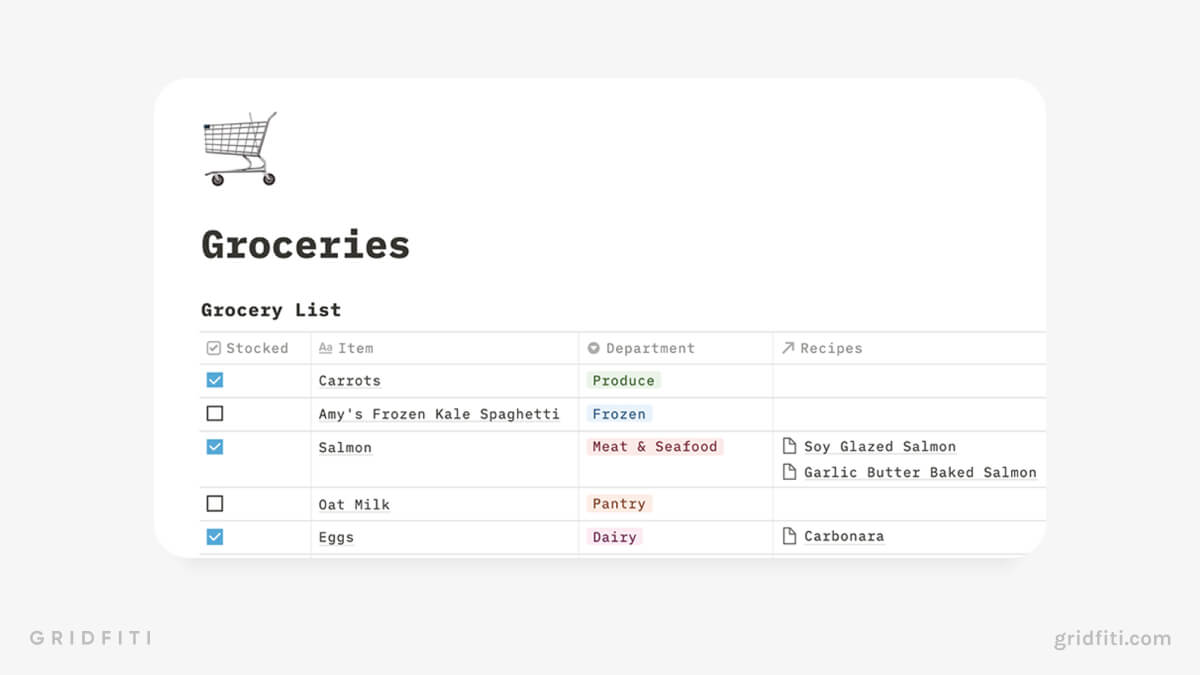 Household Management Pro with Shopping List
Get your house in order with Household Management Pro! Create full shopping lists and link them to your recipes, ingredient list, and weekly meal plans. But that's not all — Household Management Pro features dashboards for car maintenance, finance planning, pet care, plant care, and more!
For more templates like this, check out our full round-up of Notion household templates.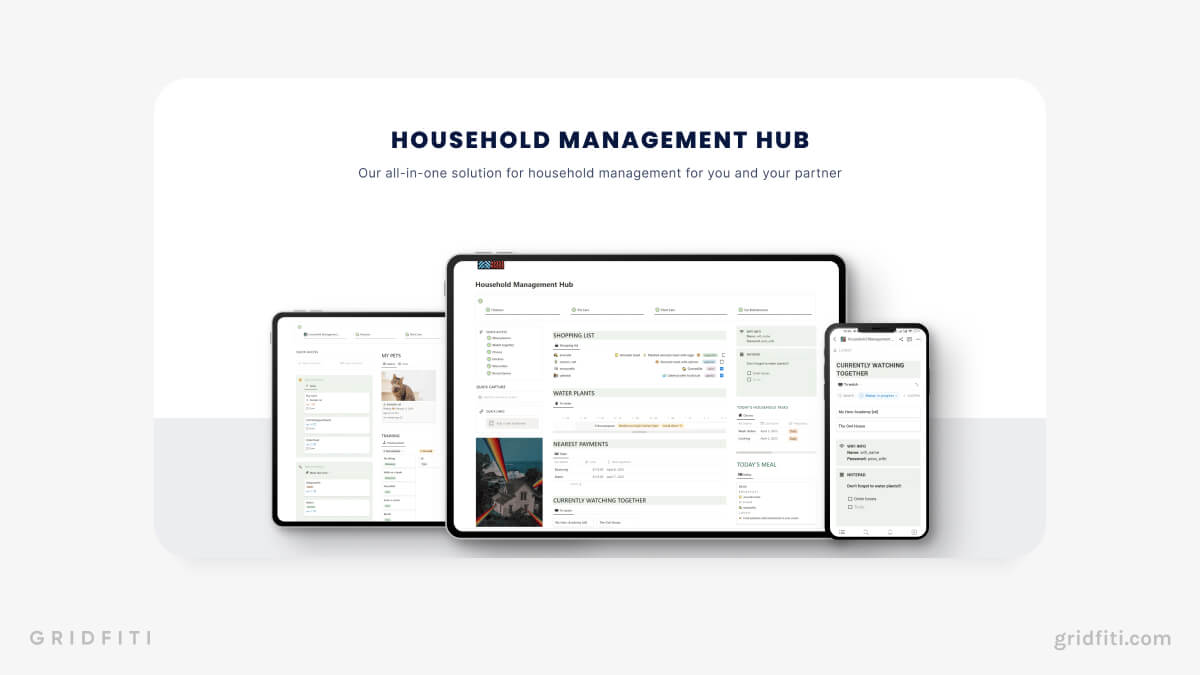 Grocery List Template
Grocery List is an excellent template for budget-conscious shoppers, as it automatically calculates your current shopping list expenses. Sort items into customizable categories and mark if you need to buy them or not to make your next trip to the store a walk in the park.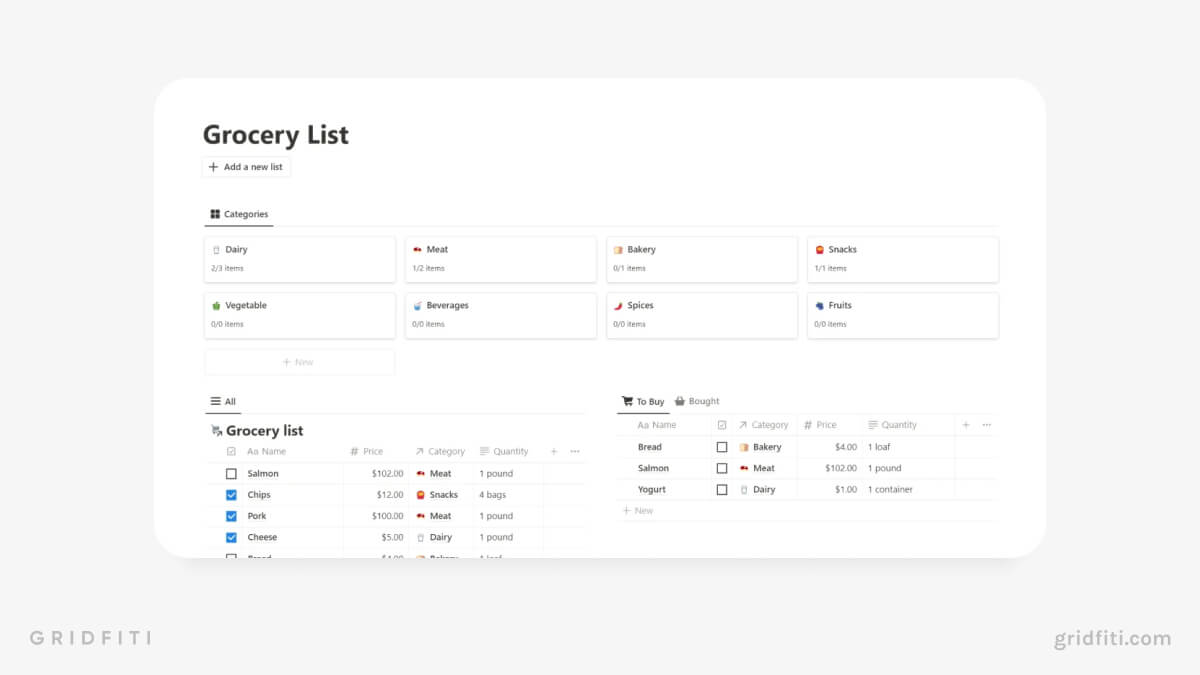 Free Notion Grocery & Shopping List Templates
Scroll down for the best free Notion grocery list templates if you think Notion could solve your shopping woes!
(Want more freebies? Check out our favorite free Notion templates for everything — literally!)
Recipes & Shopping List Template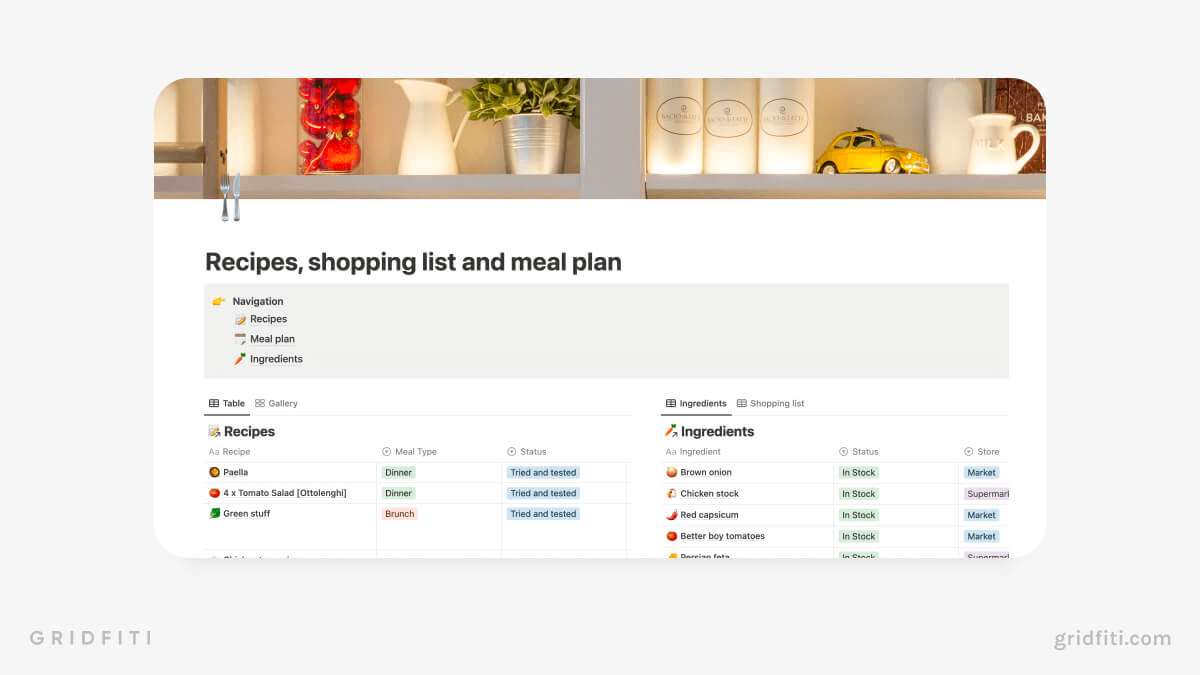 Simple Grocery Shopping List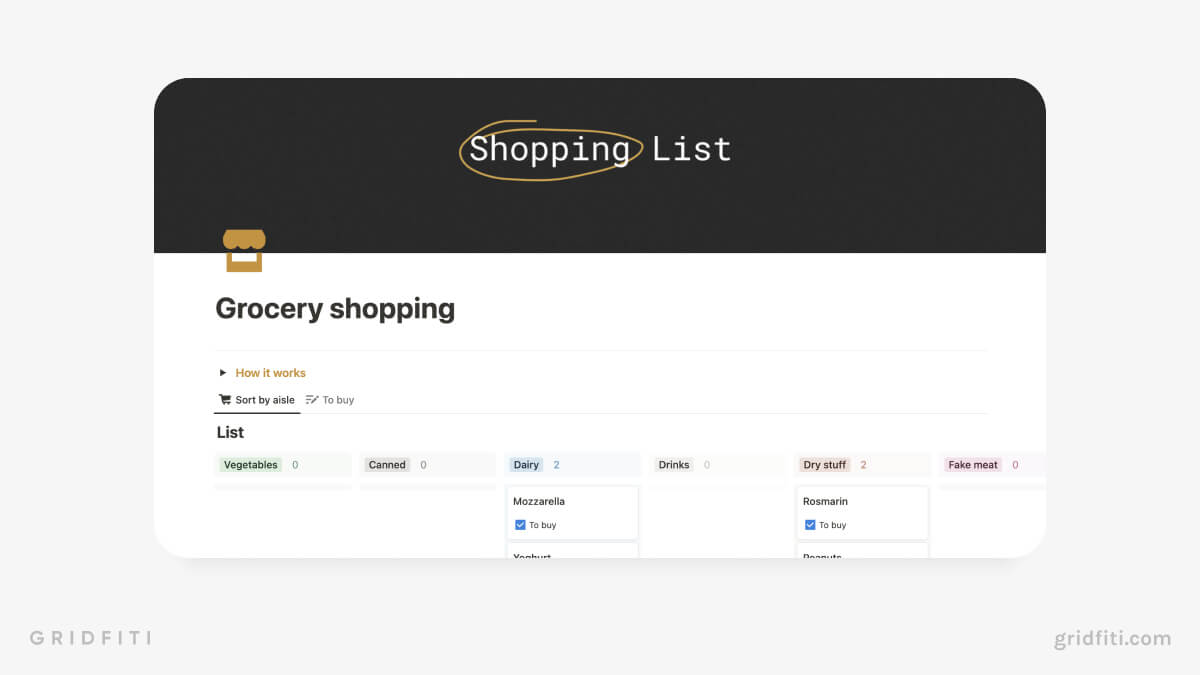 Template by Ini Müller
Grocery Food List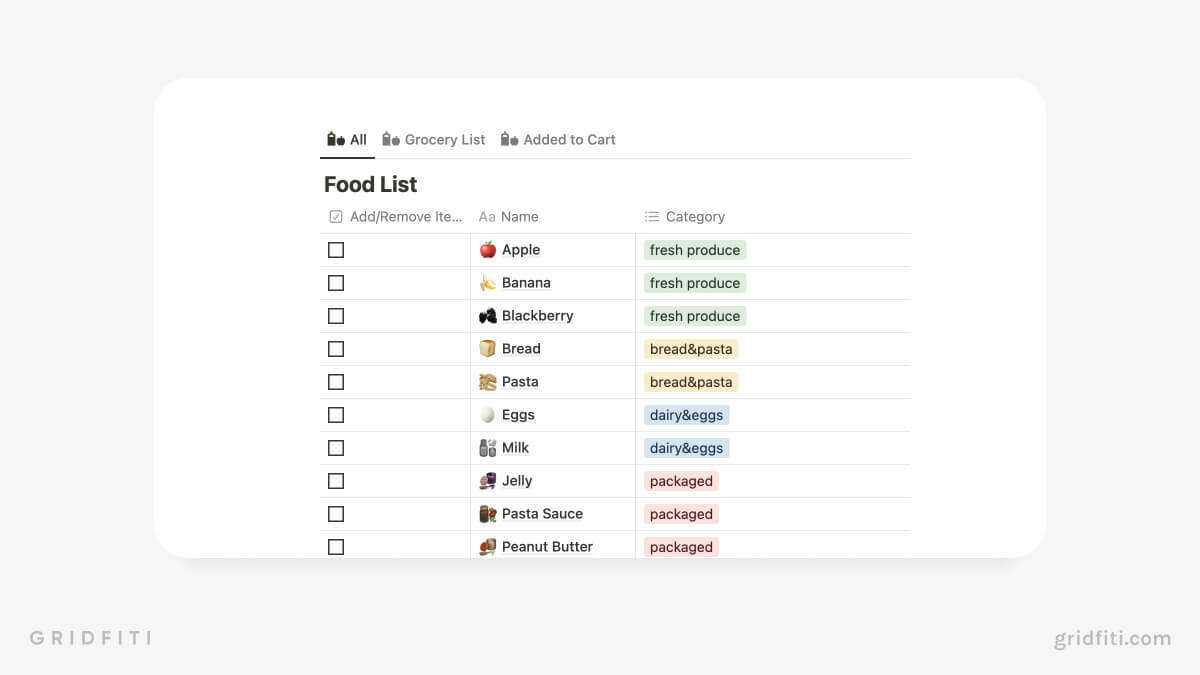 Template by Madi Null
Groceries List – Dark Mode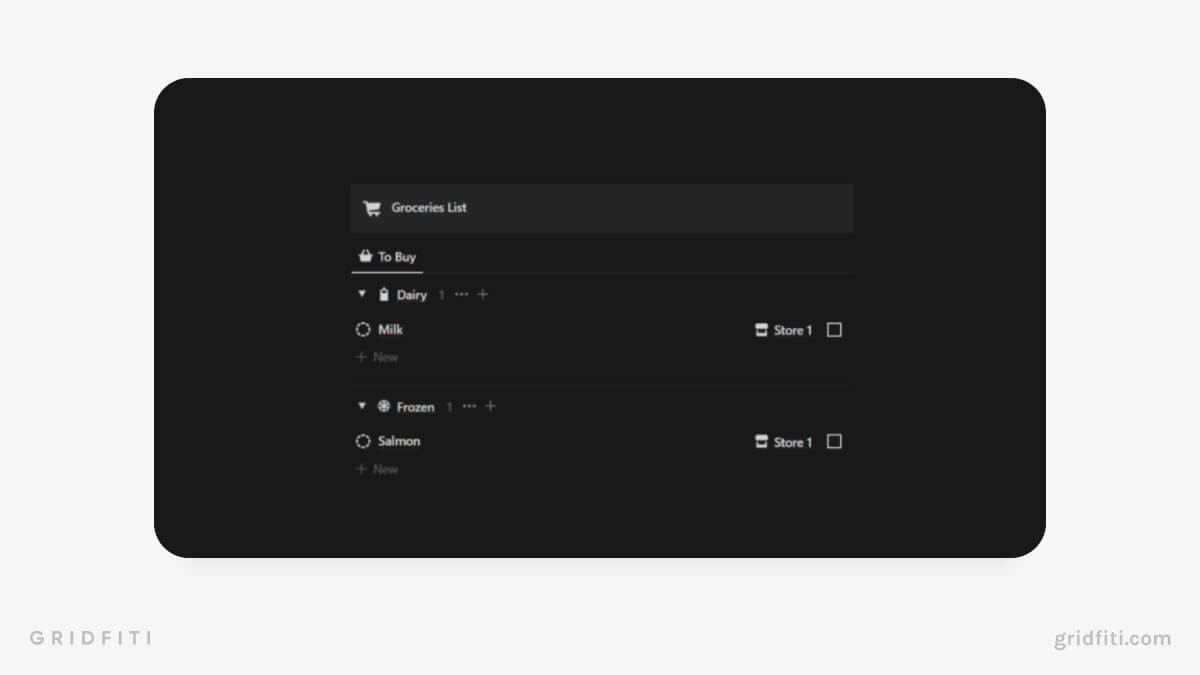 Simple Shopping Cart Template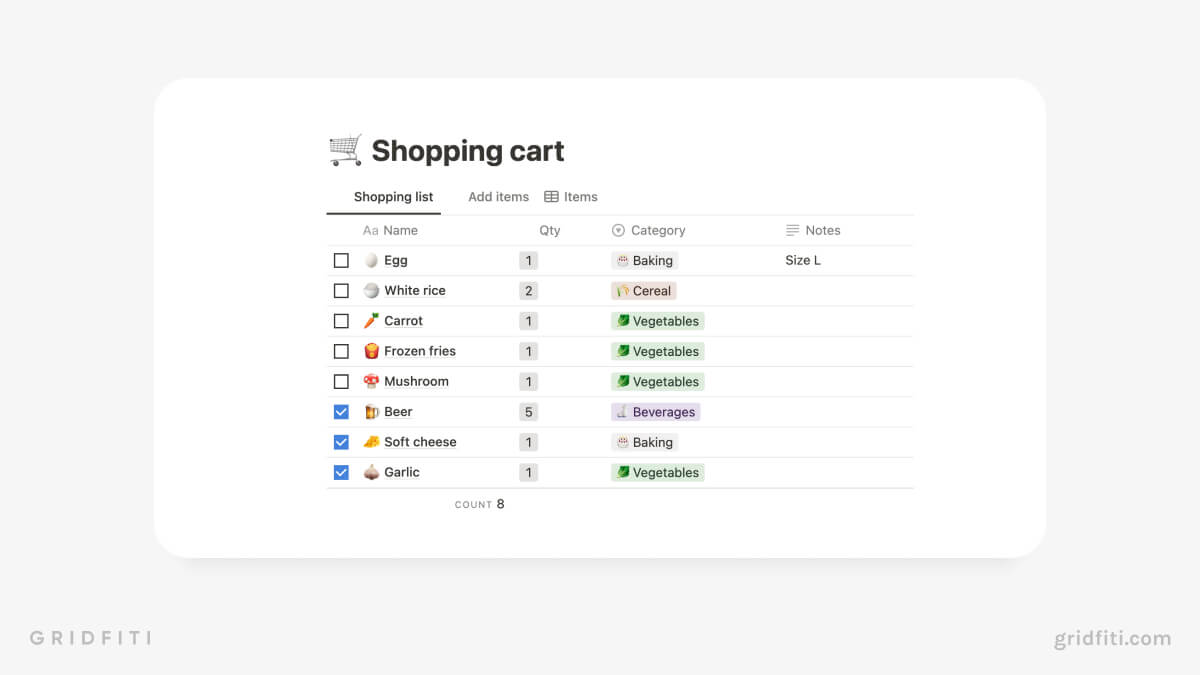 Template by Carlos Bonadeo
Notion Kitchen Manager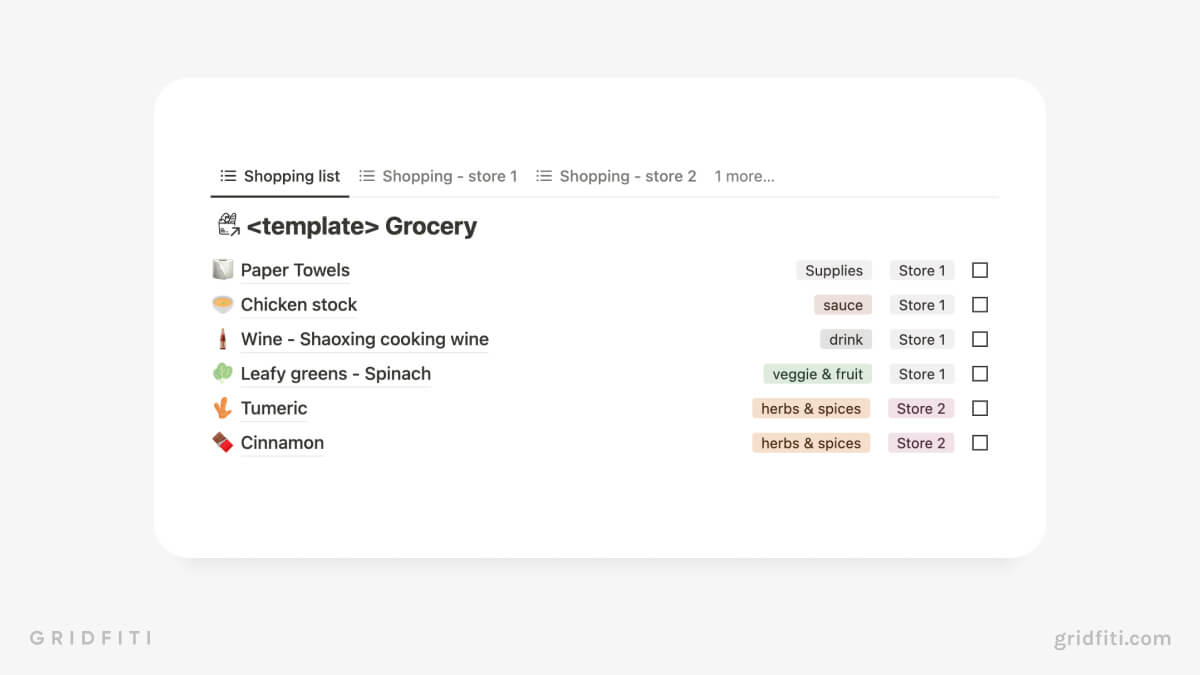 Which Notion grocery list template is your fave? Got any other recommendations for grocery list managers to use with Notion? Let us know in the comment section below.
Gridfiti is supported by its audience – when you buy something using the retail links in our posts, we may earn a small commission at no additional cost to you. Read more about our affiliate disclaimer.