Gone are the days of worrying about leaving your grocery list at home – thanks to Notion, you can now create, check, and cross off your list at home on your computer, to on your phone at the grocery store.
Plan your meals, buy the right ingredients, track your purchases – all in one place! From minimal, to aesthetic, to advanced, and simple dashboards, we've curated the best Notion grocery list templates to make sure you have all of the resources you need to keep your fridge and pantry stocked.
Want more Notion templates and updates? Join our mailing list, and check out our library of several Notion template roundups!

Aesthetic Shopping/Groceries List Manager
Say goodbye to your paper grocery lists and say hello to this aesthetic grocery template from The Notion Bar. Track items that you have and compare them to what you need and check them off your grocery list as you add them to your cart in-store or online! If you have roommates, easily invite them to collaborate with you on the shopping list!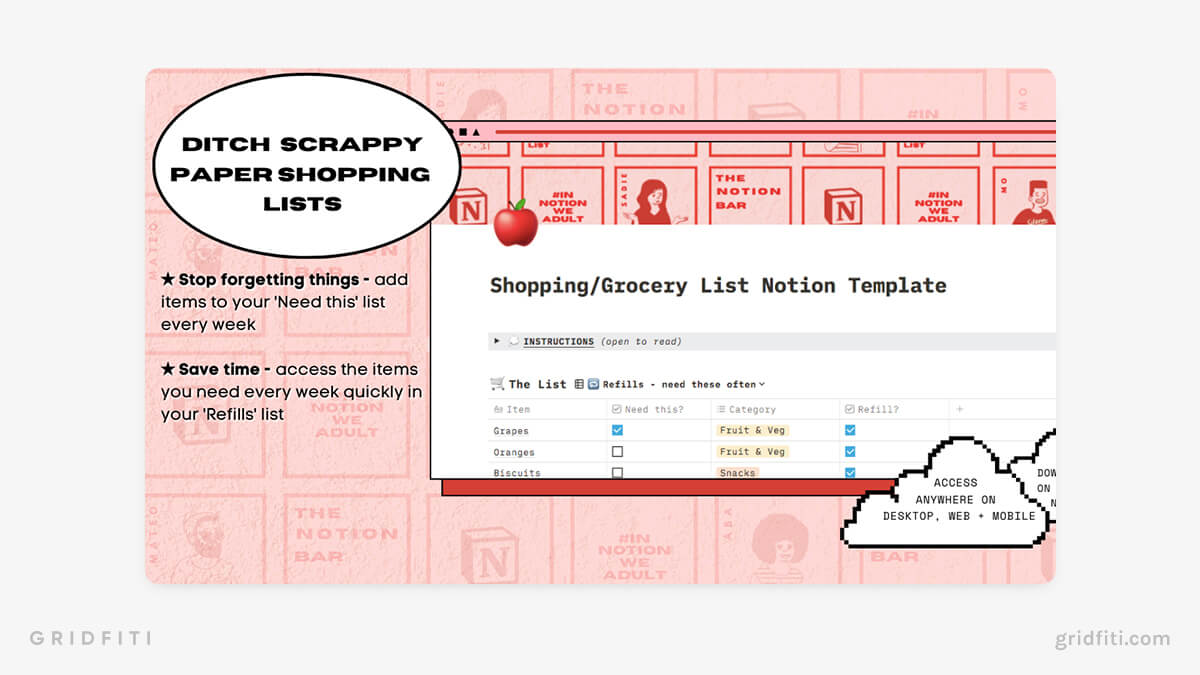 Anime Cafe Life Dashboard – with Grocery List
Not only will you easily manage your groceries, but with the all-in-one Anime Cafe Dashboard for Notion, you'll be able to connect it with your meal planners and recipe book. In the rest of the template, you can keep track of almost every aspect of your life, including your finances, goals and milestones, watchlists, reading lists, and so much more!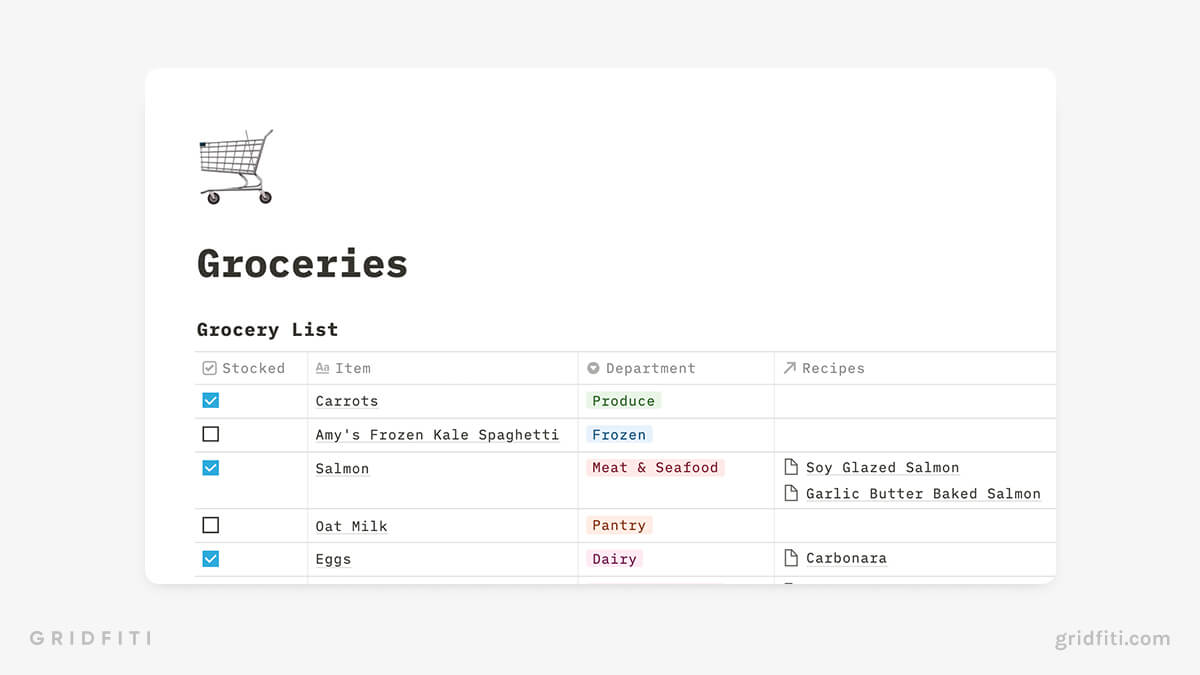 Minimalist Grocery List Template
Keep it simple with this minimalist grocery list from Easlo. With this template, you'll be able to organize your groceries based on categories and stores so that you know exactly what you need and where to get the items on your list!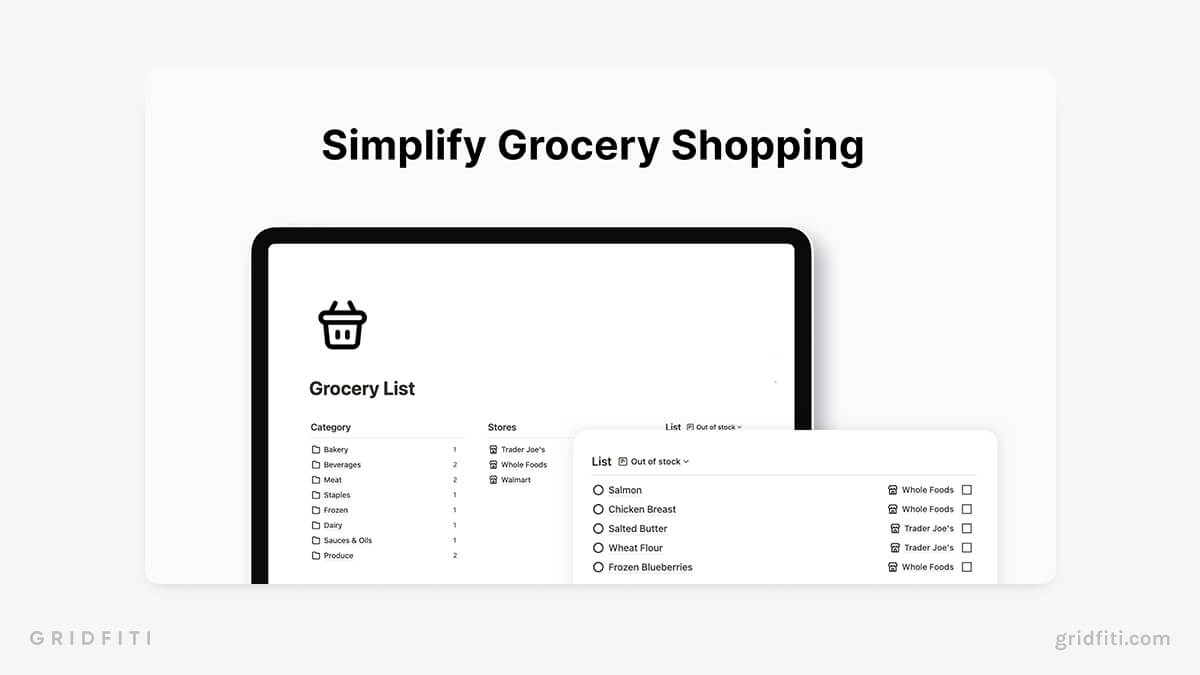 Advanced Notion Kitchen Manager
Everything you can think of when it comes to running the show in the kitchen. From recipes, meal planning, and an advanced grocery list – this is the advanced template you need if you're looking to manage your home cooked meals!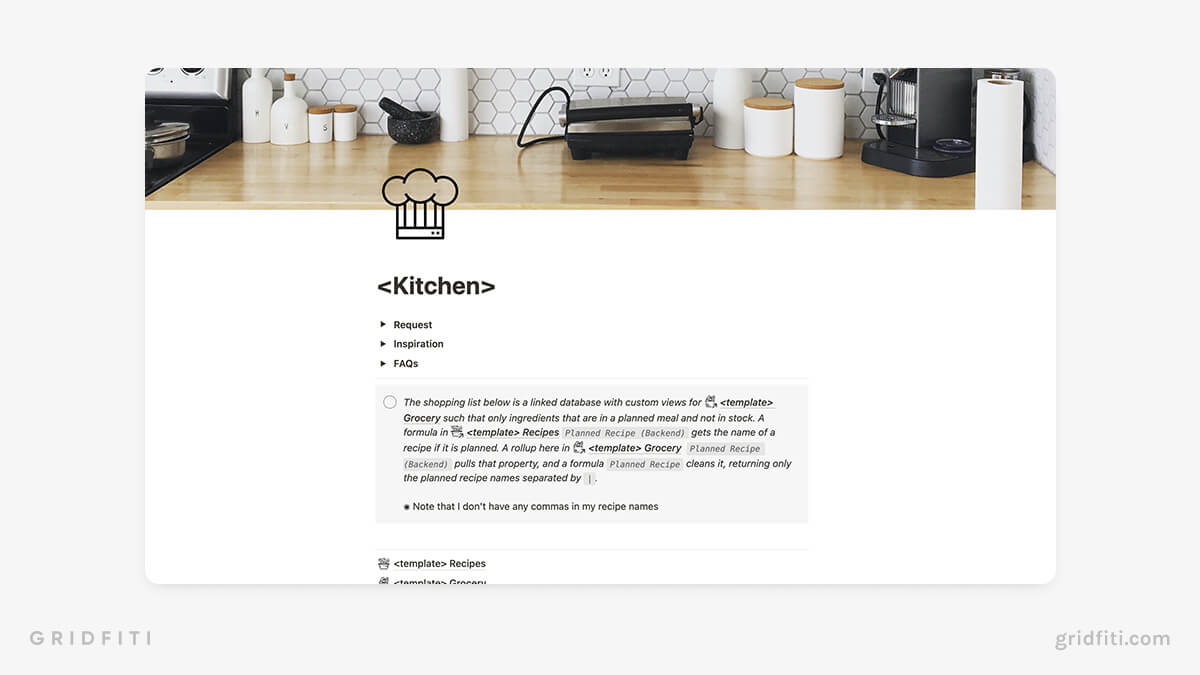 What Notion grocery list template are you using? Do you have any other recommendations for grocery list managers to use with Notion? Let us know in the comment section below.
Gridfiti is supported by its audience – when you buy something using the retail links in our posts, we may earn a small commission at no additional cost to you. We only recommend products we would use ourselves and recommend to our friends and family. Read more about our affiliate disclaimer.