In a world where pets are family, making sure all their needs are met can be overwhelming – but with Notion, it's never been easier to care for them.
From tracking vet appointments to managing dietary requirements, storing medical records, and even documenting special moments, these templates will lend a helping paw with all your pet care needs. From all-in-one pet care templates, to onboarding templates for your pet's caretakers, we've curated a variety of Notion pet templates for you to get started!
Want more Notion tips, tricks, and templates? Join our Notion newsletter below and check out our several other Notion guides and round-ups!
All-in-One Dog Life Planner Template
The Dog Life Planner is an all-in-one solution for dog parents looking to streamline all of their pup's routines and records. With everything from a feeding schedule to vet and medication logs, expense tracker, grooming records, and so much more, this template is the ideal companion in keeping tabs on your dog's wellbeing.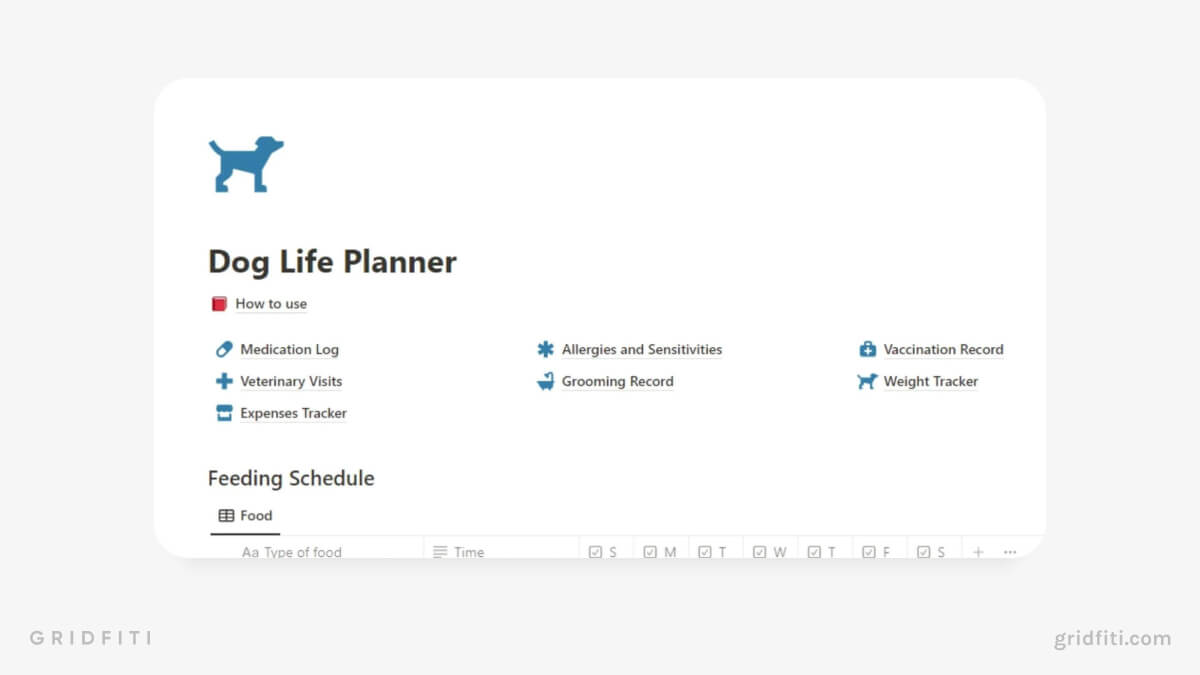 Pet Wiki Template for Dog Walker Onboarding & More
Developed by a dog owner in San Francisco, this template is your very own encyclopedia for your furry or not-so-furry friends! From managing appointments, medication, and weight to detailing your pet's preferences and behavioral traits, organize it all in a centralized pet wiki.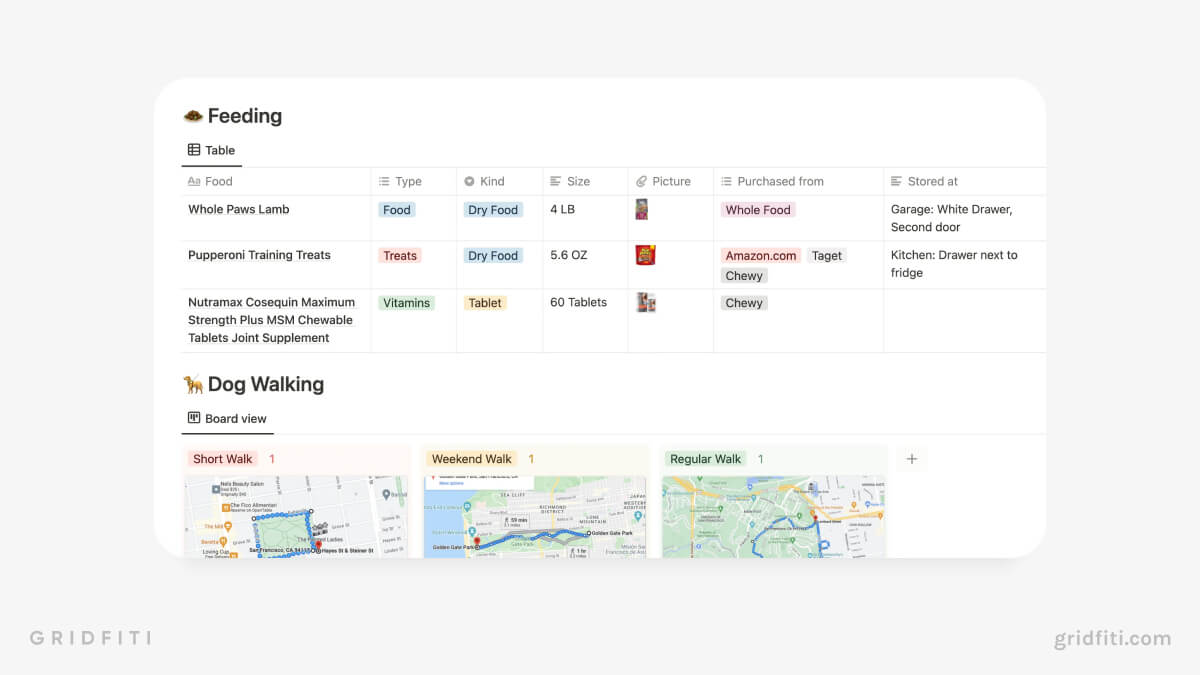 Pet Hub Template
Pet Hub is made for pet families both big and small. With 13 integrated databases that include a pet medical profile, walking routines, budget, and a grooming database, this template ensures all-around care and management for your beloved pets. Whether you're tracking vet visits, immunizations, or planning walking routes, this template seamlessly links it all to get an overview of your pet's day-to-day.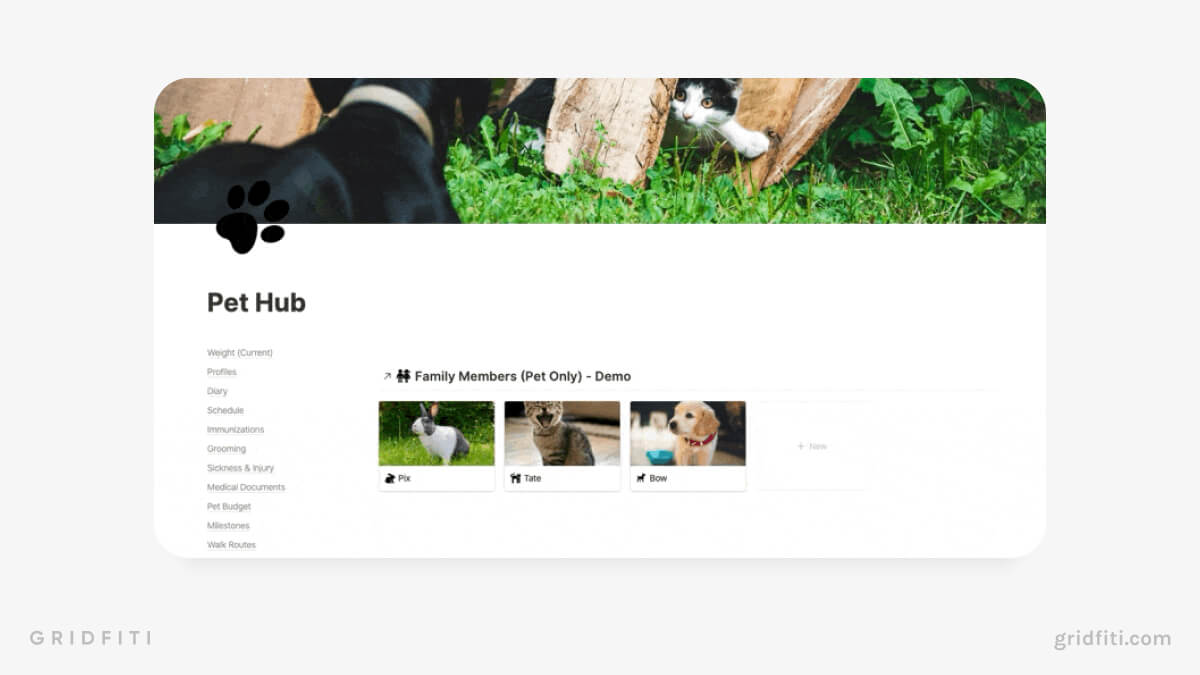 Pet Care Mastery Template
The Pet Care Mastery template is a great pick if you're a multi-pet owner feeling swamped by your fur babies' various needs. With user-friendly tables and cards, you can effortlessly organize your pets' dietary needs, medication schedules, and even add photos! Dive into the world of organized pet care and ensure your pets receive the love and attention they deserve, without the stress.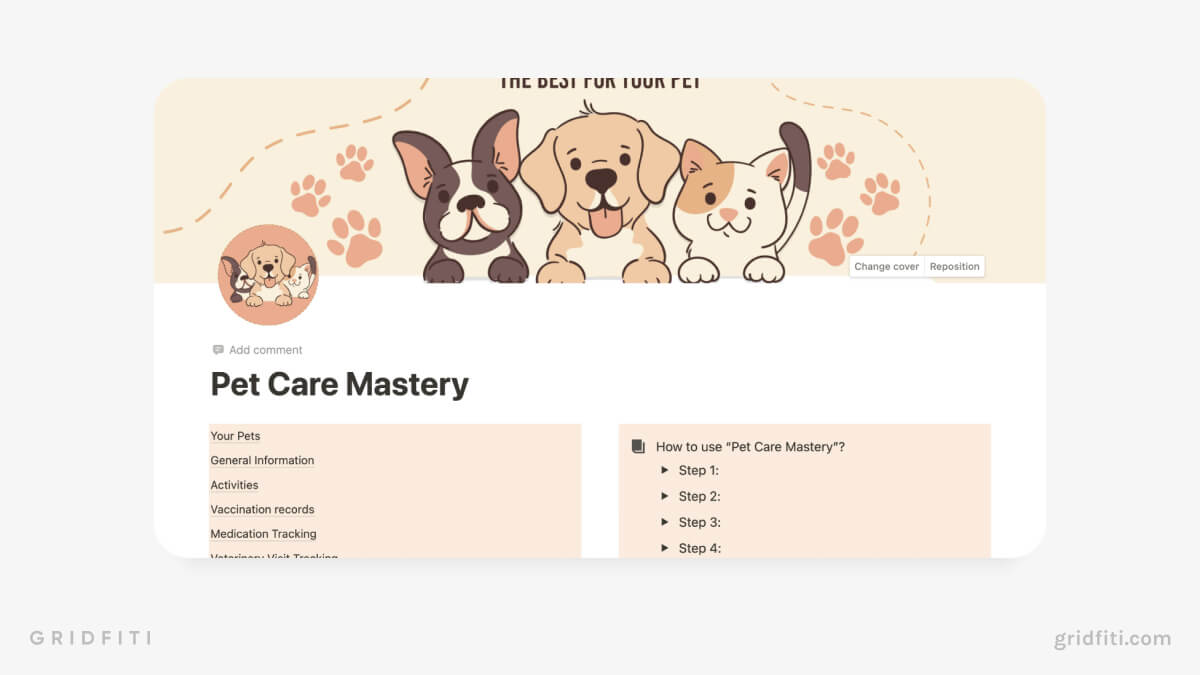 Digital Pet Book Template
With bio cards containing birthdates, neuter dates, microchip information, and more, this template was designed to be a compact summary to have your pet's vital records on the go!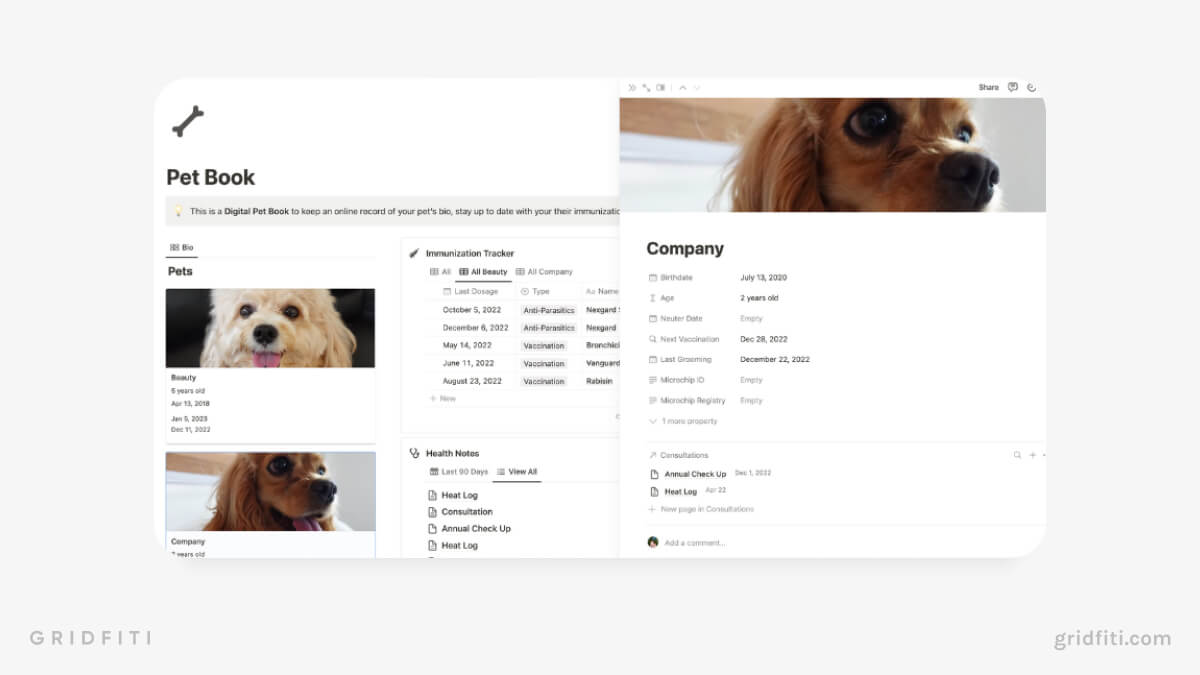 Pet Sitter Onboarding & Pet Wiki Template
Whether it's feeding instructions or medical records, a Notion pet wiki ensures that you or any sitter has all the information at your fingertips. Easily glance at your pet's key details to ensure that your sitter can provide the best possible care!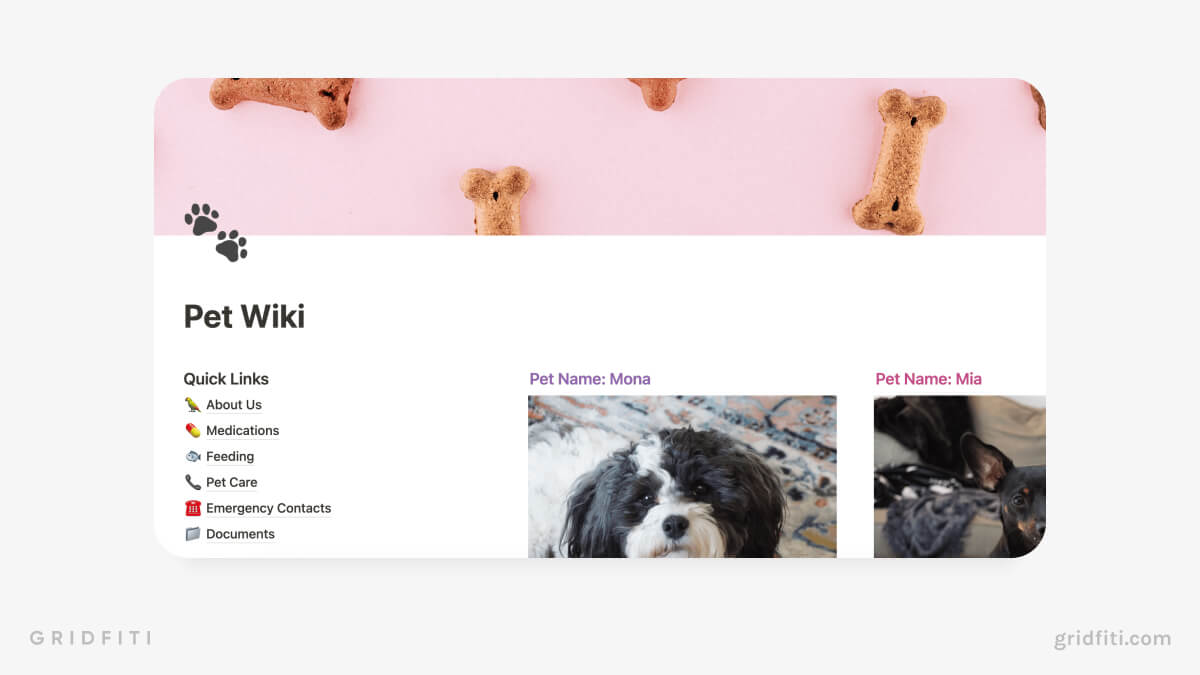 Aquarium & Fish Tank Management Template
From feeding schedules to equipment inventories and water quality logs, this template will help you stay on top of your aquarium's maintenance and keep your fish happy and healthy! Stay ahead of routine maintenance and create a thriving environment for your finned friends.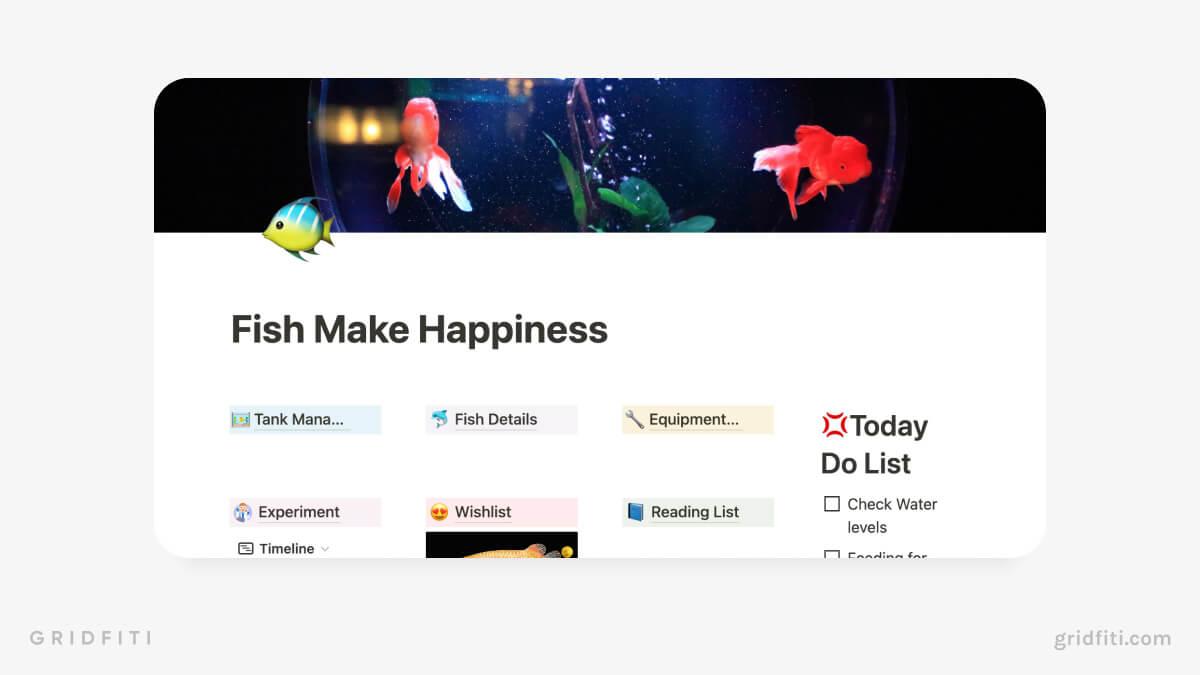 Booking Template for Pet Care Businesses
Big Paw is an all-in-one solution for pet care professionals and businesses to record bookings, manage tasks, calculate pricing, and maintain detailed records of both pet clientele and their owners! Ideal for boutique dog hotels, pet daycare facilities, pet sitters, dog walkers, groomers, and everyone in between, this template will help streamline your pet business operations.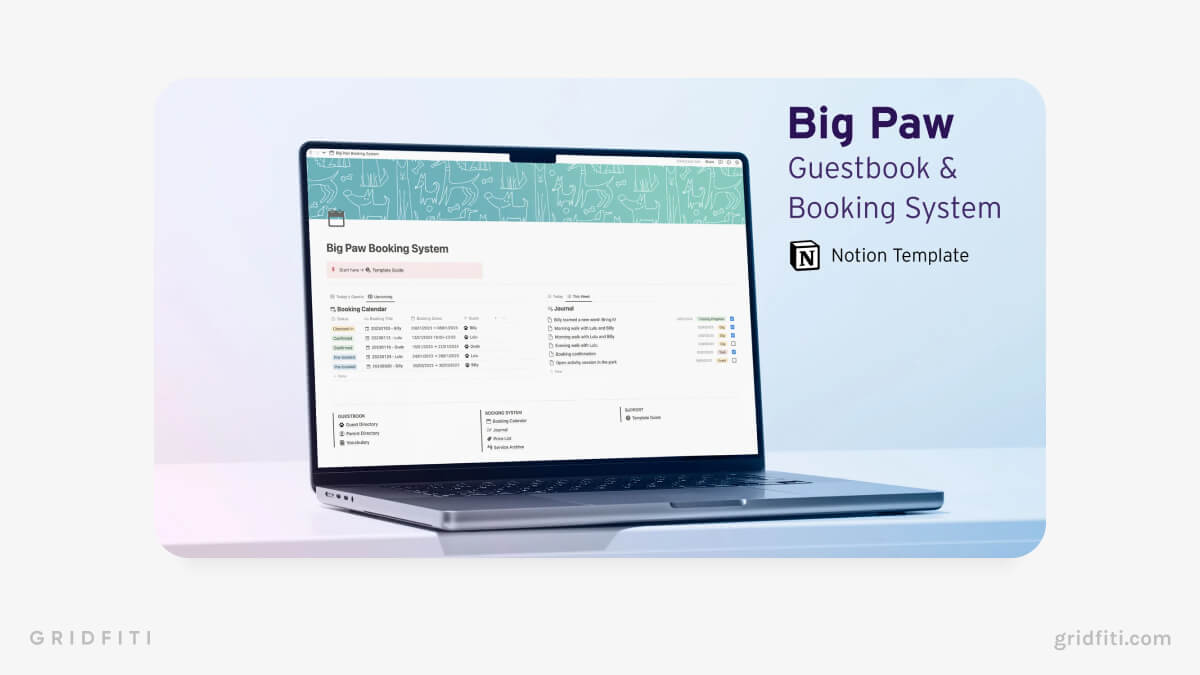 Simple Notion Pet Templates
If you're in need of no-frills solutions for keeping tabs on your pet's necessities, these simple pet templates will get the job done! Perfect for those who prefer simplicity and efficiency.
Simple Pet Tracker Template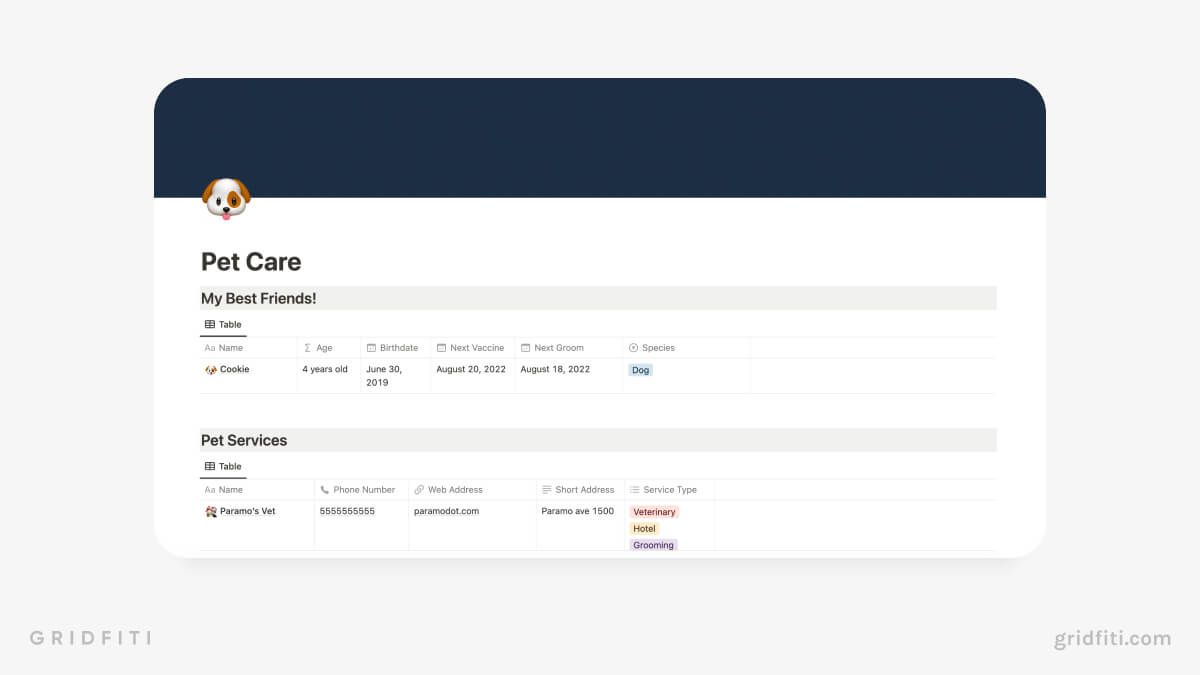 Simple Notion Pet Hub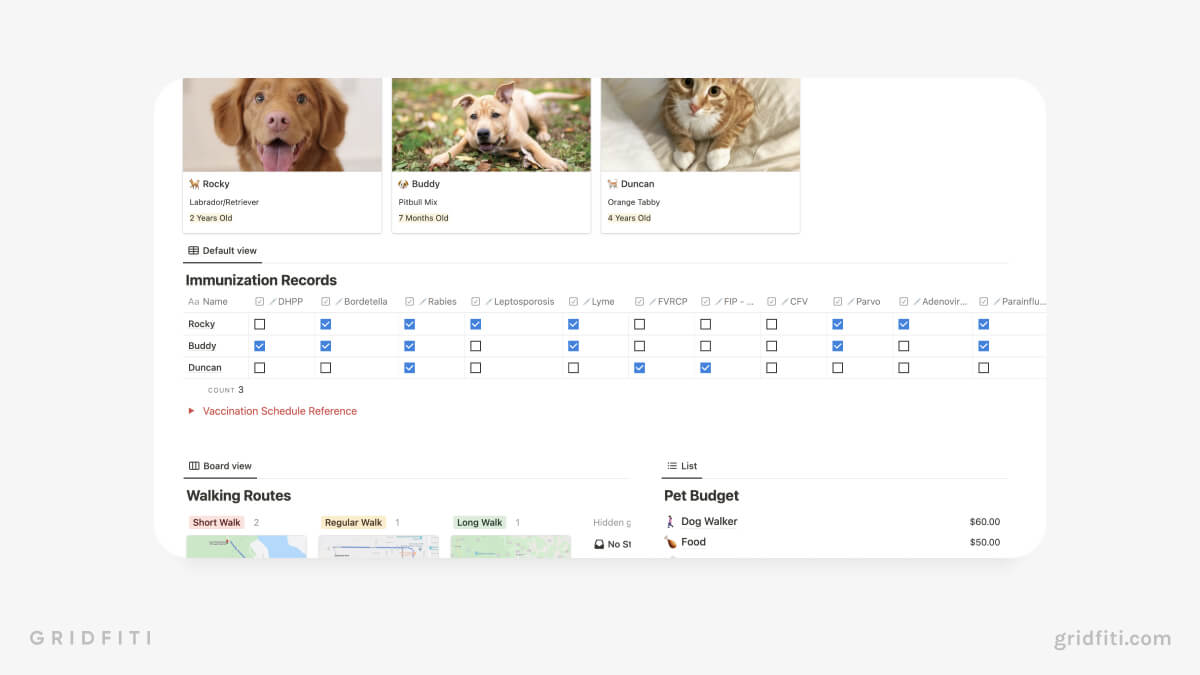 Simple Notion Pet Database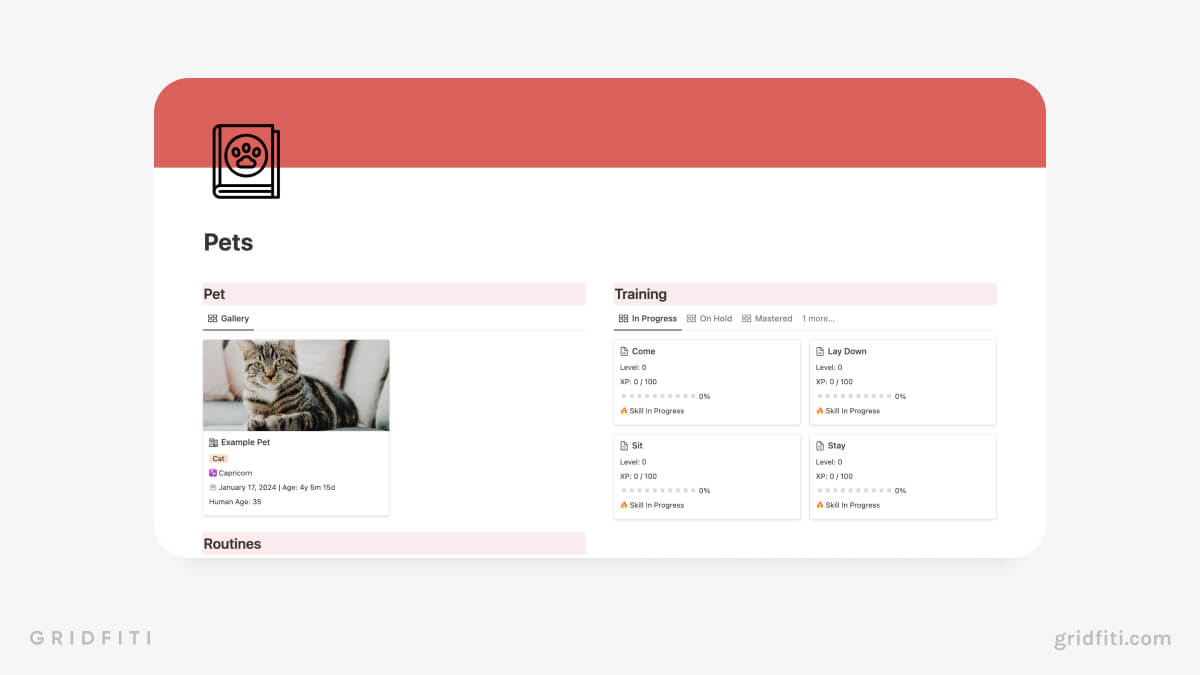 Simple Pet Template with Reminders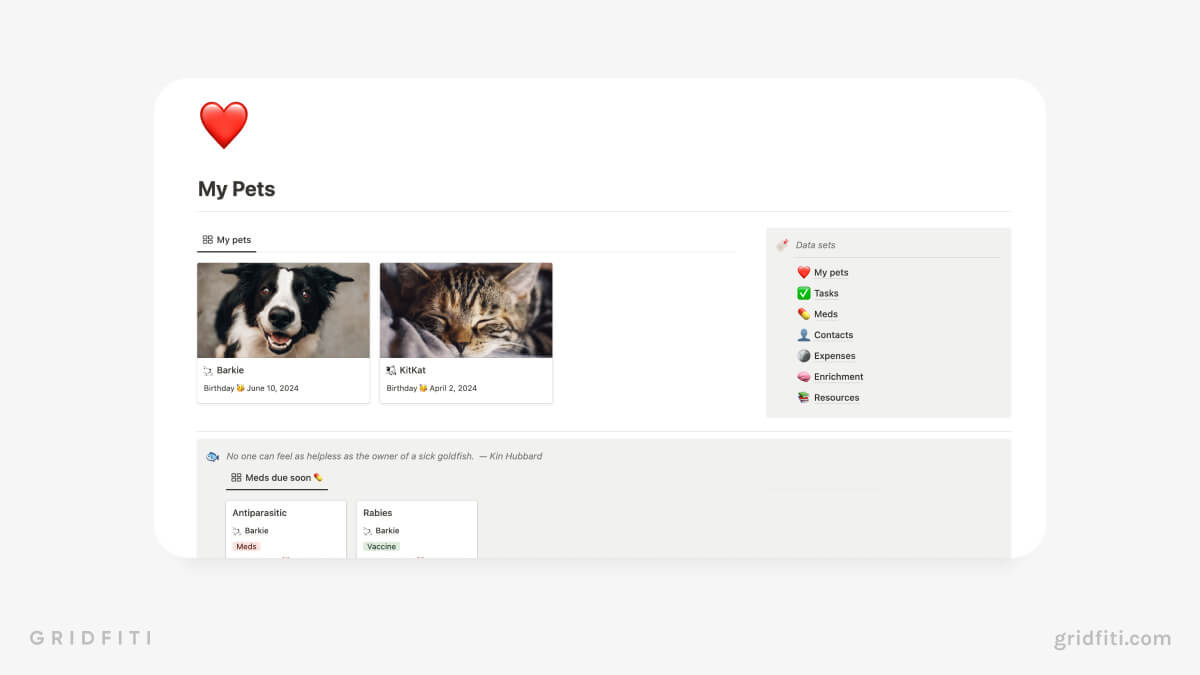 Which of these Notion pet templates do you see yourself using for your furry friend? Any others that we missed? Let us know in the comments below!
Gridfiti is supported by its audience – when you buy something using the retail links in our posts, we may earn a small commission at no additional cost to you. Read more about our affiliate disclaimer.