When it comes to managing our finances, having the right tools can make all the difference. Notion finance trackers make it easier than ever to keep tabs on your cashflow, budget for the future, and even make strides towards early retirement.
We've gathered the best templates out there – from minimal designs to comprehensive dashboards – so you can find the perfect fit for your needs. Let's dive in and explore these Notion finance tracker templates!
Looking for more templates like these? Check out our post gathering the best Notion budget templates and track your investments with the best Notion stocks and investment templates!
Want more Notion templates and updates? Join our newsletter, and check out our several other Notion template roundups!
The Ultimate Personal Finance Dashboard for Notion
The Ultimate Personal Finance Dashboard template is a one-stop-shop for all things personal finances and budgeting!
Boasting 10+ built-in templates and tools for everything you need to track your finances, including advanced income and expense tracking, a connected budget status tracker by monthly averages, recap of top income streams and spending categories, total net worth tally, financial habit tracker, trip budgeter, rate calculator – and even a bonus "$10K in 100 days" spending challenge! Not to mention beautiful visuals, priority customer support, and built-in tool tips for easy onboarding.
The template is available in two different themes, offering the same functionality: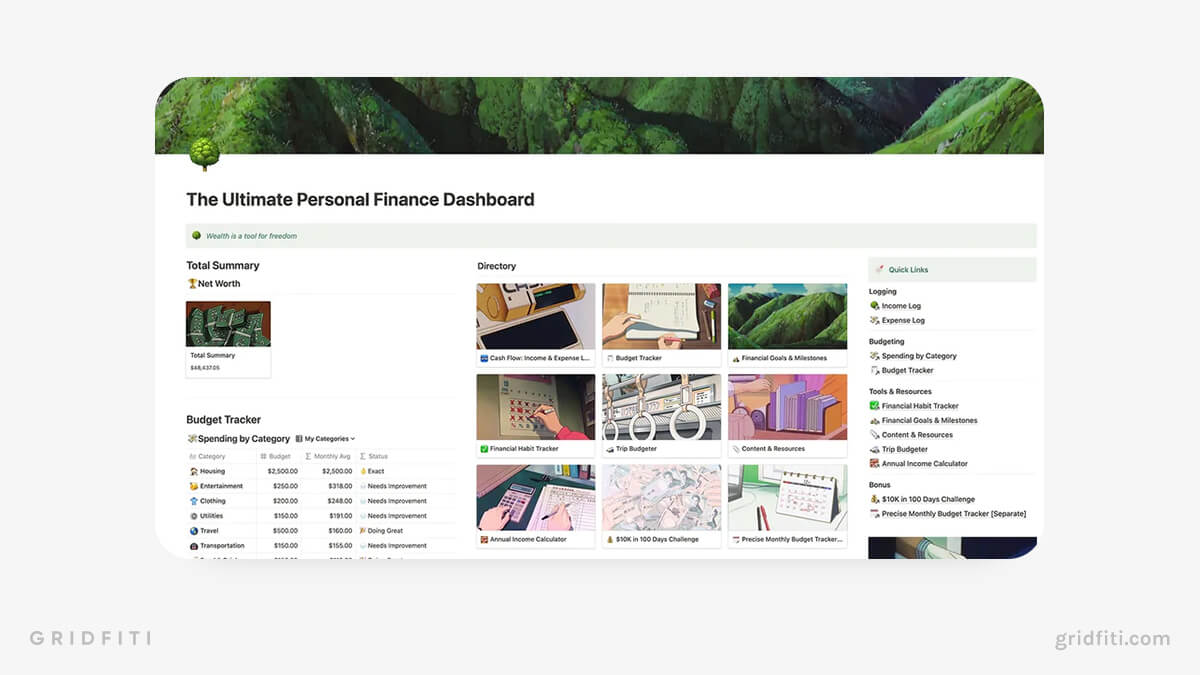 Notion x Finance Template
Notion x Finance is a tool designed to make managing your finances easier and more efficient by providing a clear view of your cash flow, and identifying areas where you can improve your wealth. It allows you to track all of your accounts in one place, and presents your financial information in a visual and intuitive way. The user-friendly interface is also customizable to fit your needs and help you reach your financial goals faster!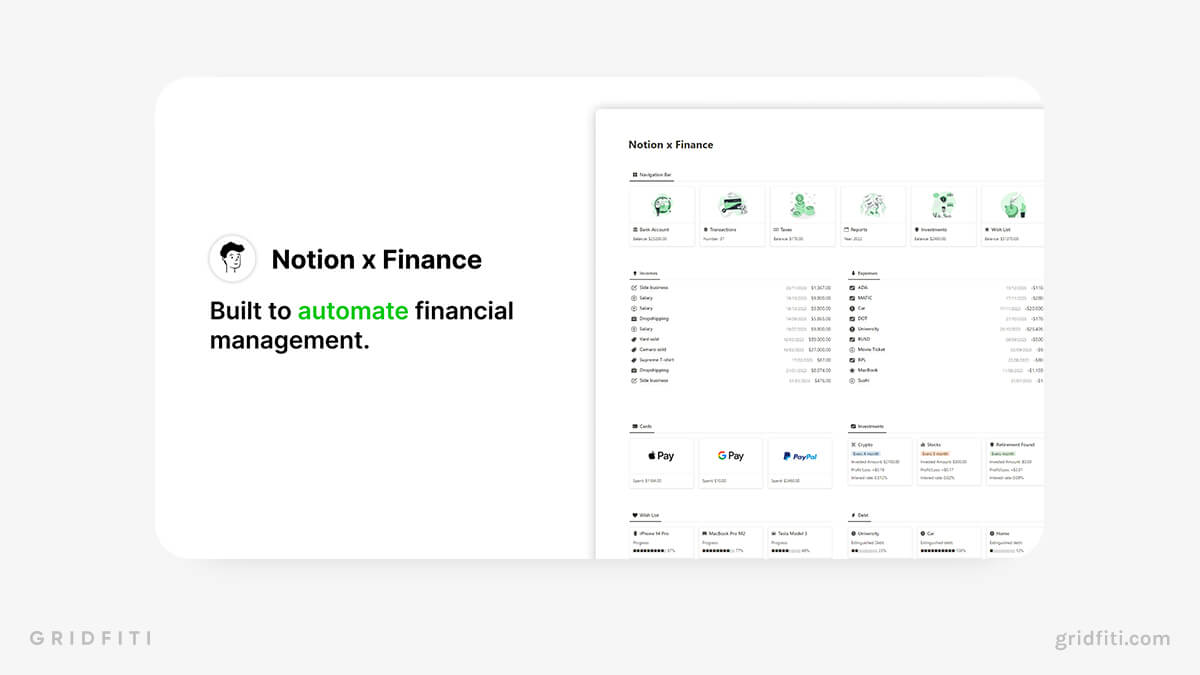 The Bank – Notion Finance Template
This Notion finance template is designed to help you stay on top of your finances by setting goals, tracking expenses, and reaching your income targets on a monthly basis. 'The Bank' features an easy-to-use daily layout and an organized category spending section, making it the perfect tool for budgeting beginners. With a goal-oriented system, this planner provides a clear roadmap for your financial progress, week by week. Whether you're new to budgeting or need a fresh start, this template will help you manage your finances.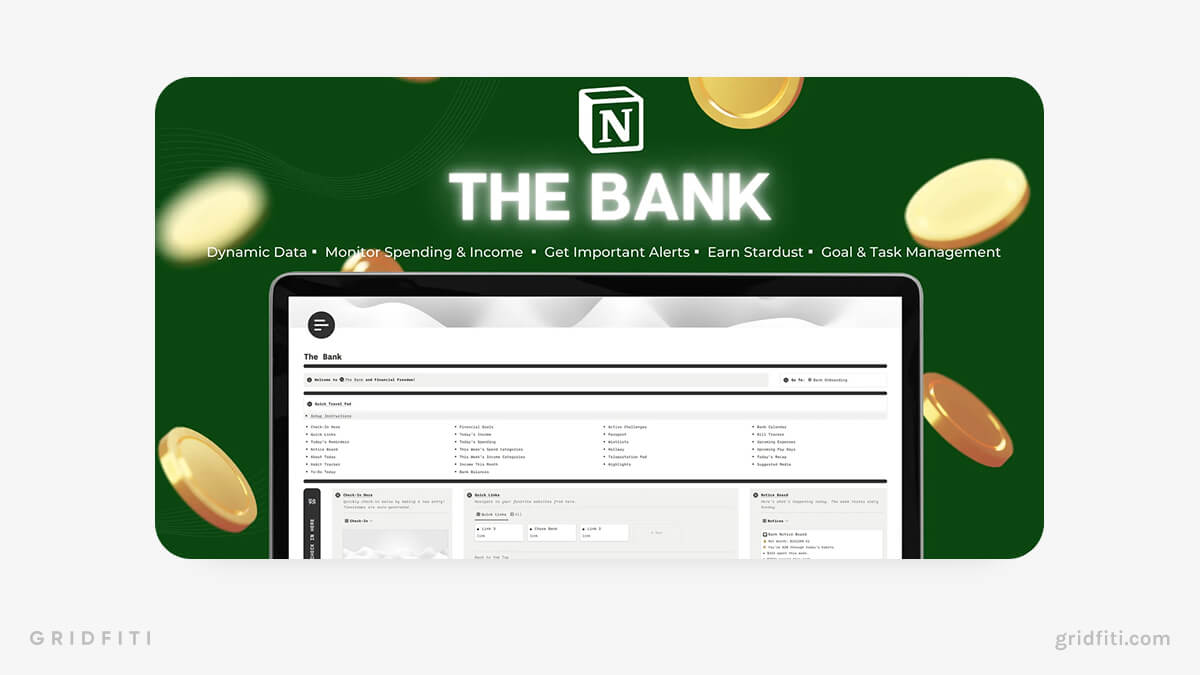 Rich Finance Tracker for Notion
With the Rich Finance Tracker Notion template, you can effectively track, make, spend, invest, and grow your money all in one place! The tracker is integrated with systems that allow you to manage your finances from anywhere, making it easy to monitor your assets and achieve financial freedom.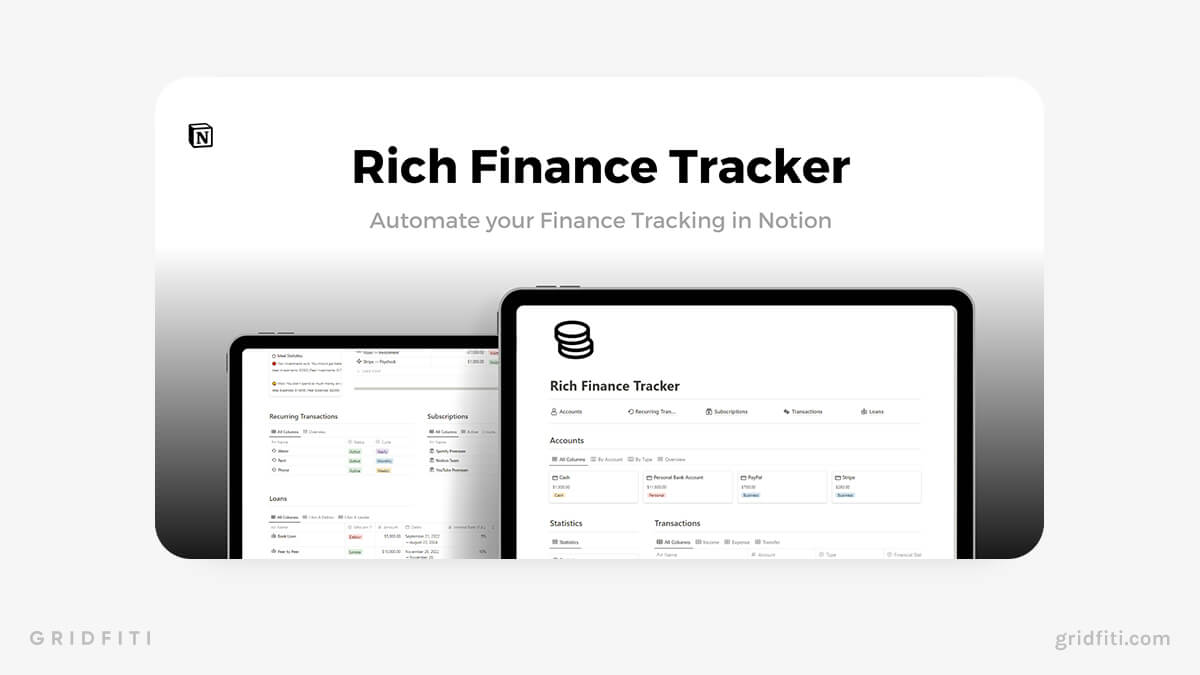 Notion Money Jars System
The Money Jars concept by T. Harv Eker is a unique approach to personal finance – built for you to organize your money into 6 different purposeful jars: Necessities, Long-Term, Play, Education, Financial (investments), and Give. Now, thanks to this Notion template, you can seamlessly incorporate this concept into your digital workspace.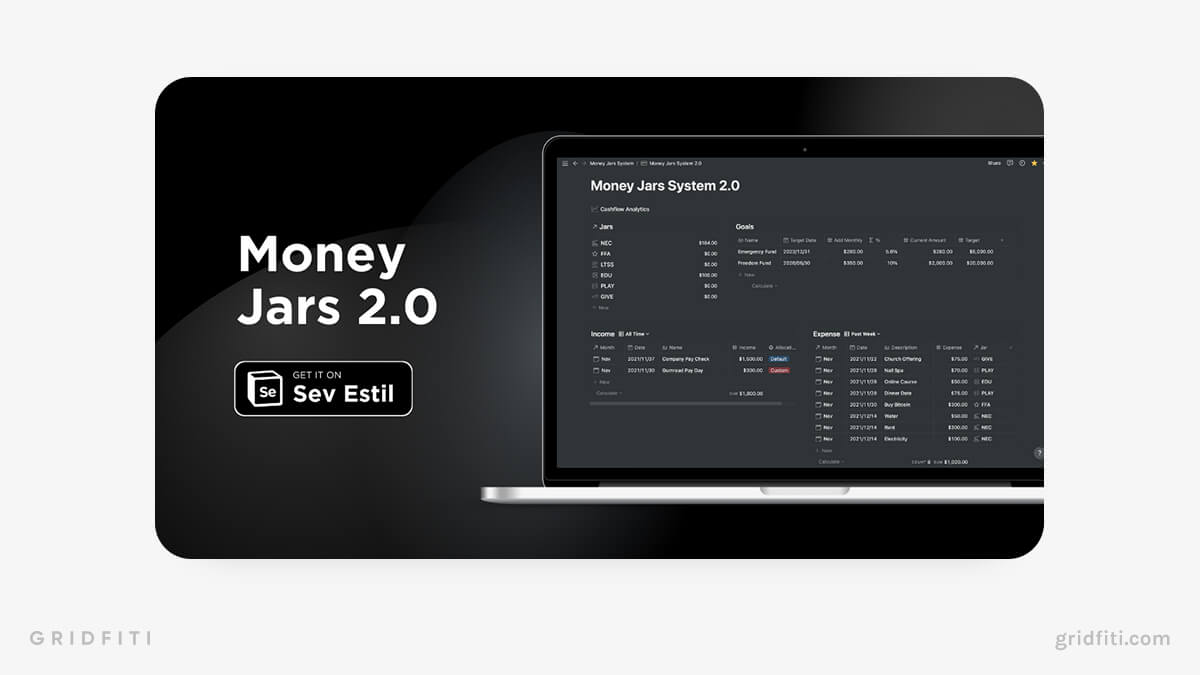 Notion Debt, Cashflow, & Net Worth Tracker Template
The key components when tracking your finances are managing your debt, monitoring cashflow, and ultimately understanding your net worth. Use these Notion templates to keep your financial standing in check by reducing debt and re-evaluating your future moves!
Templates Available Here: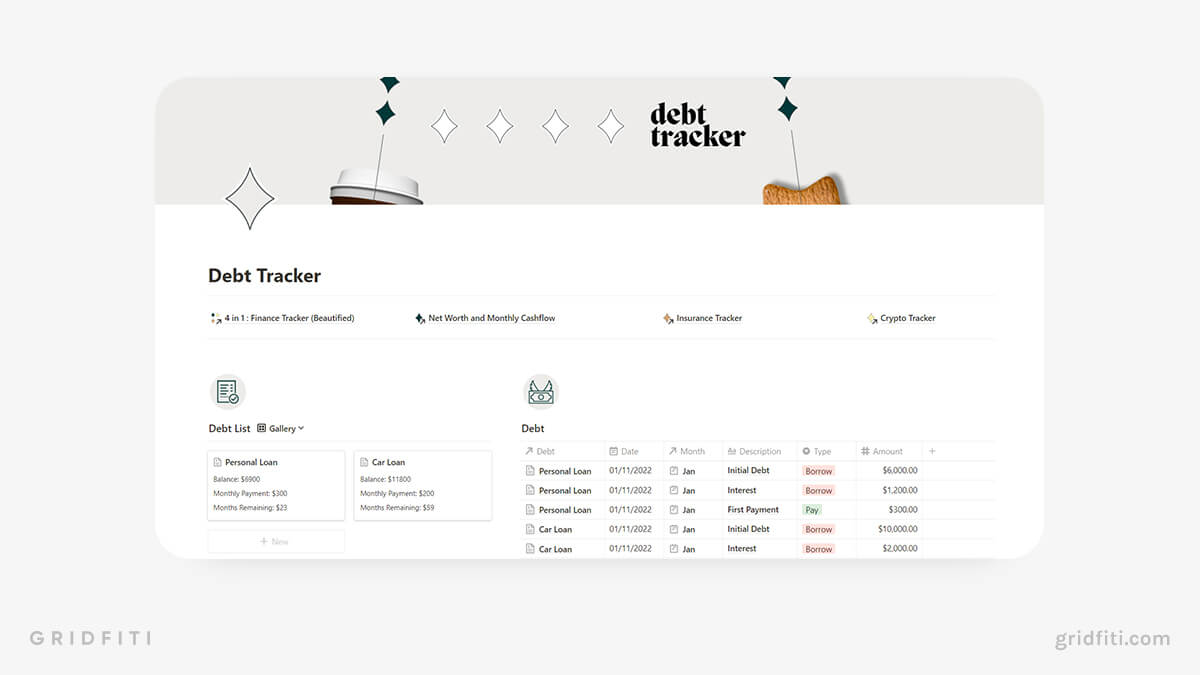 Notion Balance-Focused Finance Tracker Template
Track your different accounts' earnings, expenses, investments, and more with this Notion finance tracker! Once you add in a transaction and select a payment method, your account balances will update to reflect the new changes.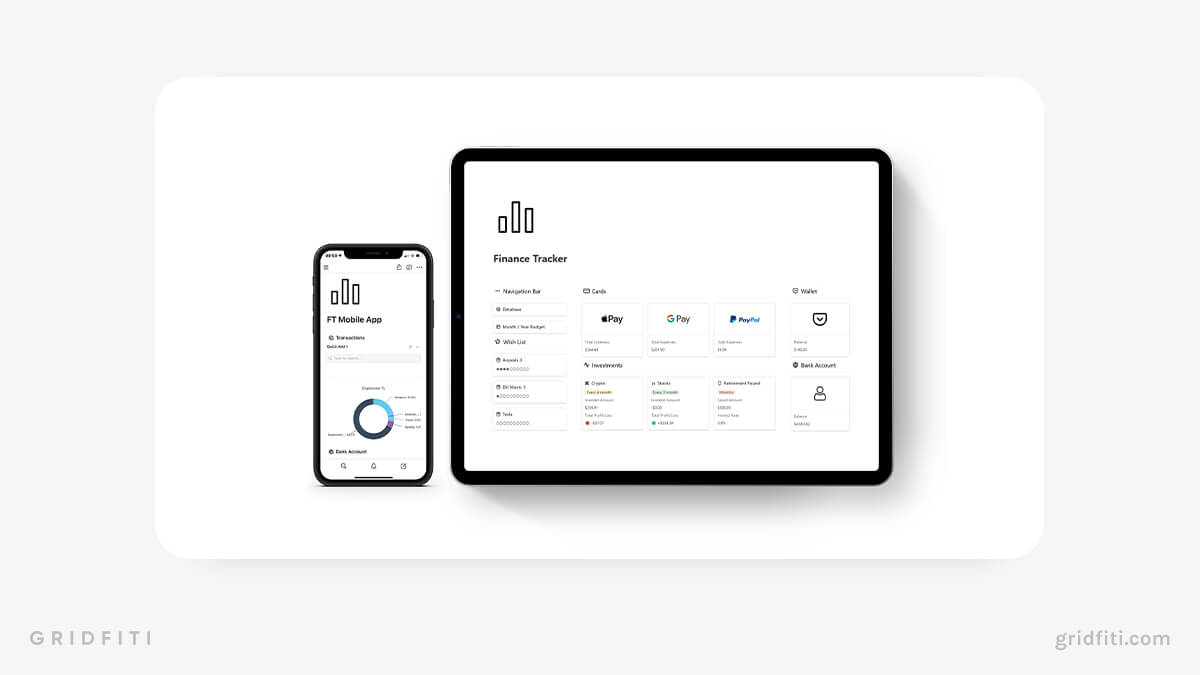 Finance Compass 2.0 – Trading Journal & Investment Template
The Finance Compass is an all-in-one Notion template for managing your financial assets and tracking your investments. With its powerful features, you can easily manage your portfolio, track the performance of your trades, and keep everything organized in one place. This template stands out for its ability to simultaneously monitor multiple types of assets, such as stocks, cryptocurrencies, currencies, and metals, in an easy-to-use dashboard, as well as an unrestricted number of accounts!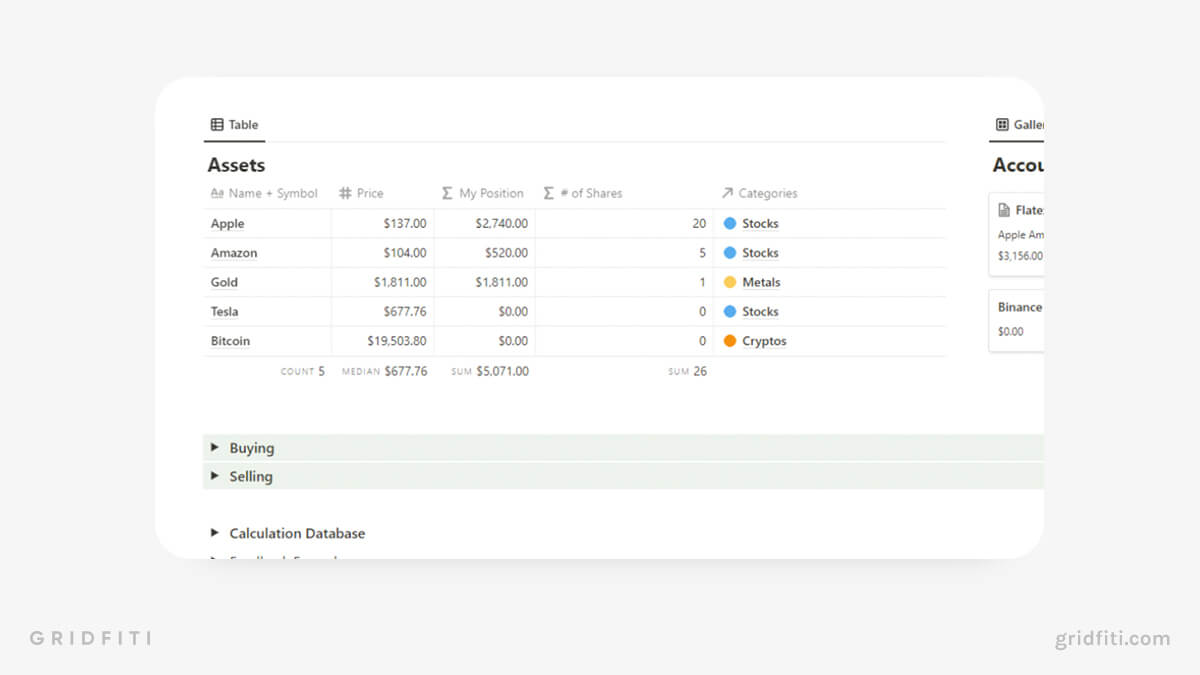 Minimal Notion Finance Tracker
This template's got a minimalist and airy facade, but don't be fooled – there's a ton under the hood. With Easlo's Finance Tracker template, log everything from your income, expenses, receipts, debts, and so much more. It even includes tools like bill splitting, subscription tracking, and renewal reminders!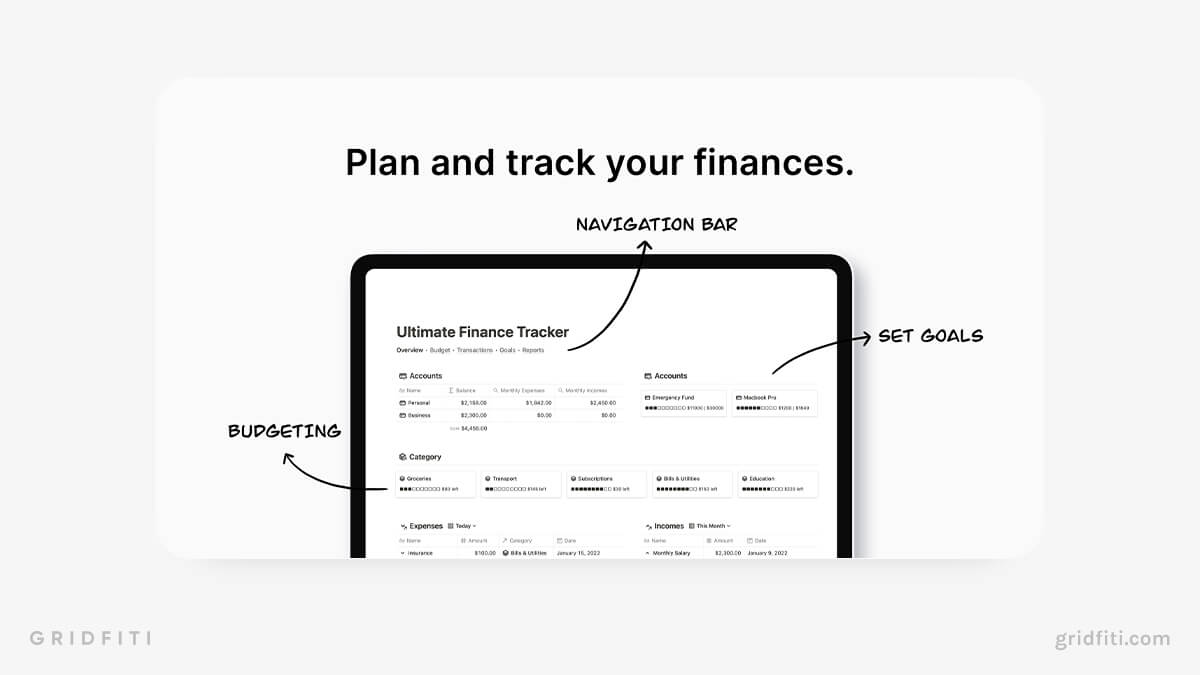 Aesthetic Notion Finance Tracker & Journal
Gone are the days of personal finance being plain and boring. Use this aesthetic Notion finance template to track your monthly expenses, monitor your debt, journal your spending, and more – all while having something pretty to look at.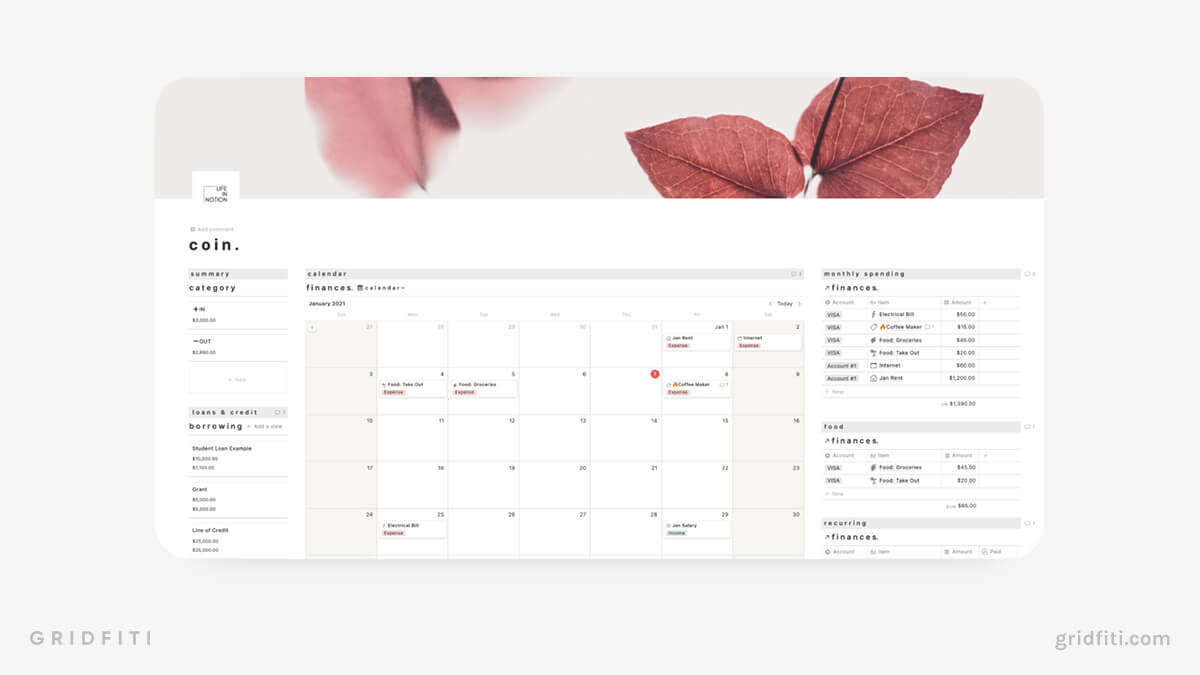 Personal Finance Dashboard Template
With the Personal Finance Dashboard, easily track what comes in, and what goes out, to hit your financial goals. The personal finance dashboard lets you record and monitor your income and spending by category, and even aggregates your past spending habits across months and years.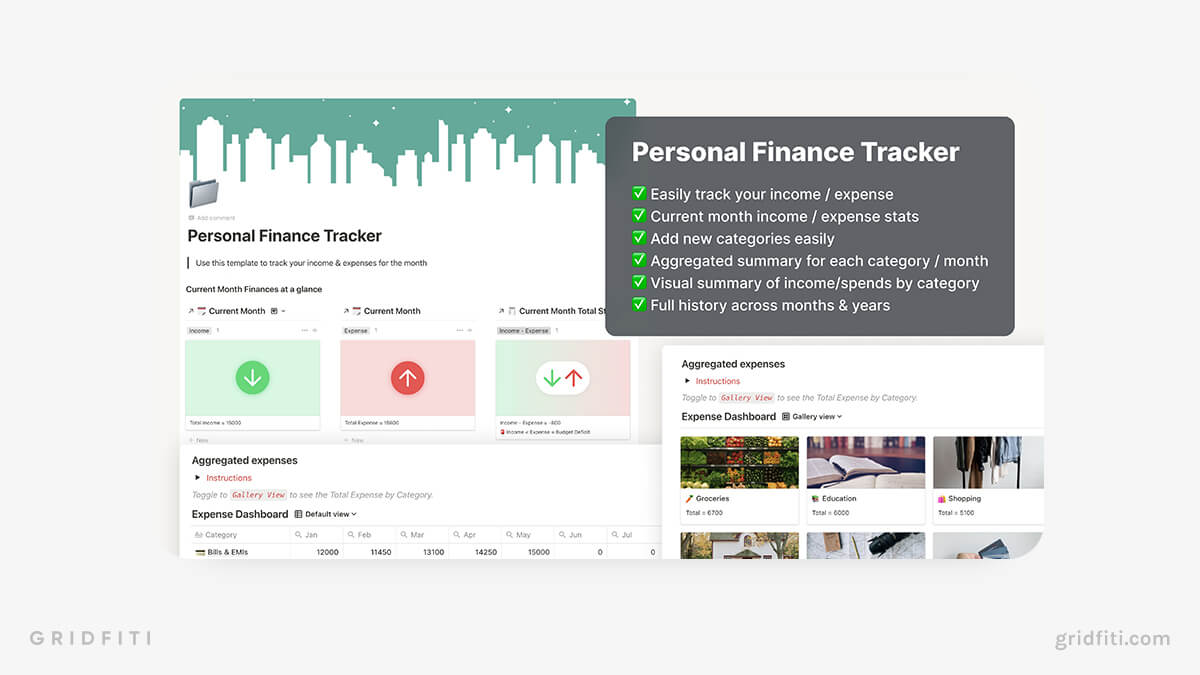 Notion Crypto Tracker Template
Monitor your digital currency holdings all the way to the moon with this Notion crypto tracker template! Organize your holdings, summarize your transactions, plan future buys, and more.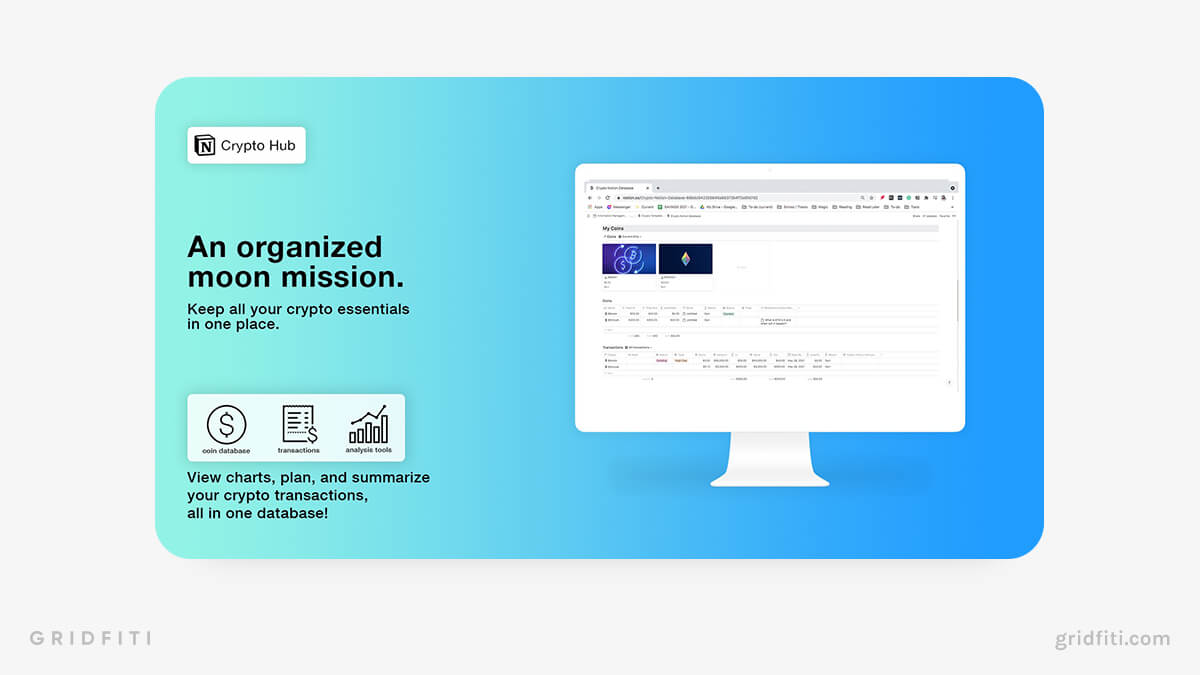 Simple Student Finance Tracker
Everything you need to keep your finances organized and under control, in one simple template. Perfect for students, this Notion tracker has all the properties you need to stay on top of your finances. It includes multiple account tracking, a calculator widget for quick calculations, a wishlist section, reminder tracking for rent, EMI, bills and subscriptions, and lots more!
Looking for more student-geared templates? Check out our round-up on the best Notion templates for students.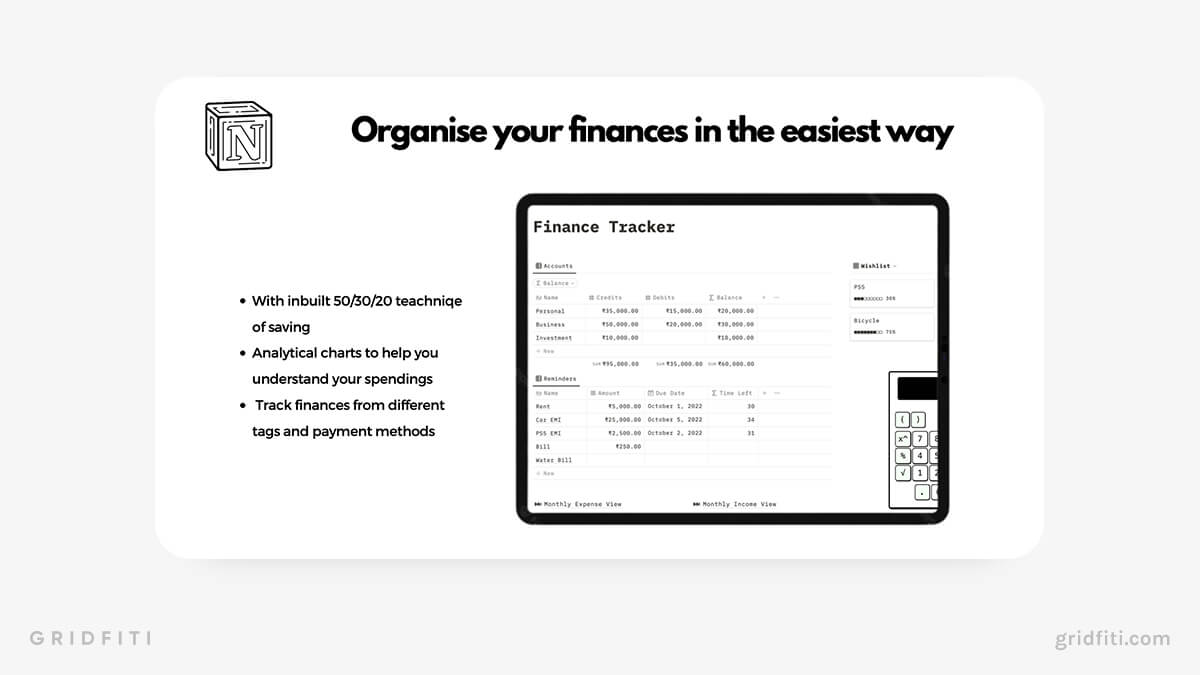 The Business Calculator
Managing your business finances can be tedious and time-consuming – but it doesn't have to be. With The Business Calculator, you can save time and focus on what you love: growing your business and creating valuable products or service! This template simplifies the process of calculating your costs, expenses and income by providing clear and easy to use calculation tables. No need to worry about complicated terminology, just input your sales, expenses, taxes, and any fees and let the template do the rest – everything will be sorted and calculated automatically.
For more Notion templates like this, don't miss our round-up with the best Notion templates for businesses.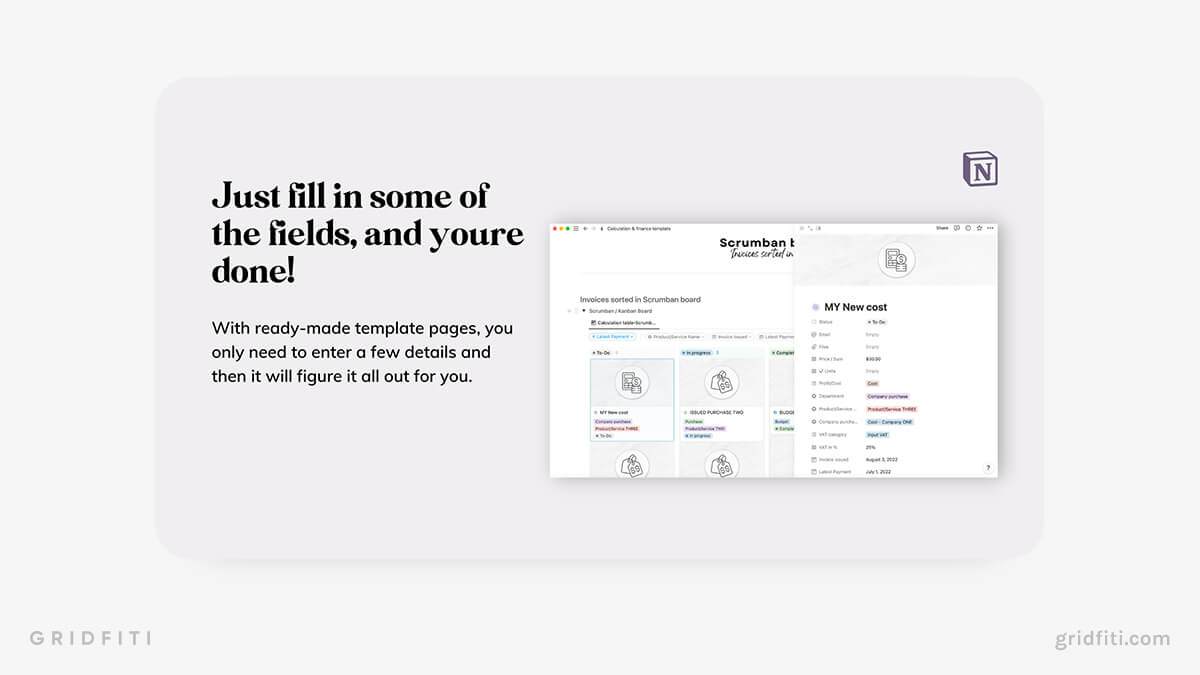 Money Caretaker
The Money Caretaker is a Notion budgeting tool that empowers you to make smart financial choices by setting a budget system each month and providing a detailed overview of your expenses. With the Money Caretaker, you'll be able to stabilize and predict your cash flow over time.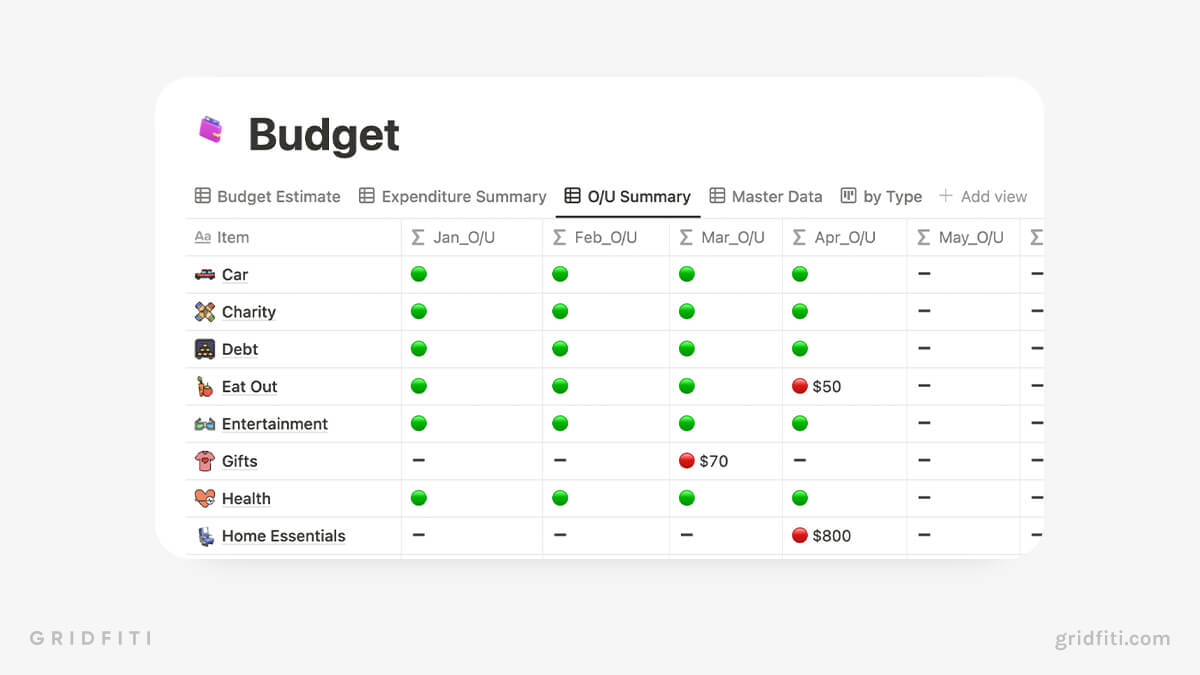 Minimal Finance & Crypto Tracker
This Notion template includes all the essential elements of a finance tracker, but also gives you the ability to take control of your finances and improve your wealth. This Notion finance tracker stands out from the rest by tackling the common problems that other trackers have, such as missing budget creation and investment tracking, and not being able to set up recurring expenses. With this template, you can track your finances, crypto or other investments, and create budgets like a pro.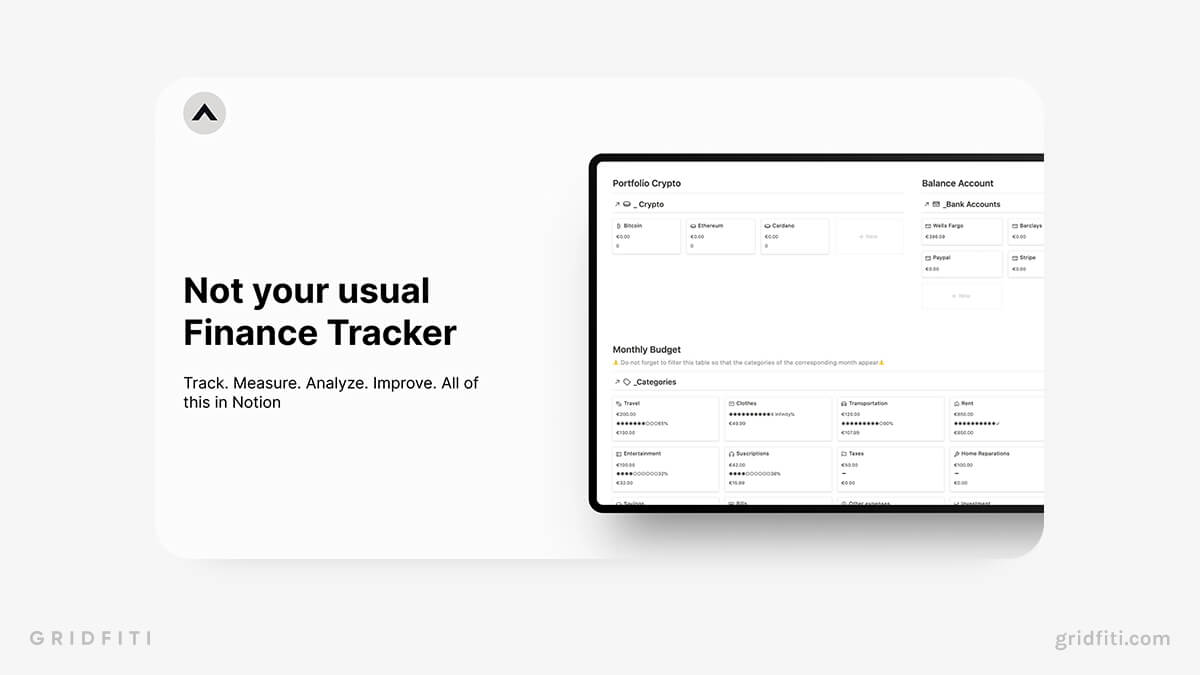 Personal Money Manager
This personal money manager template provides a comprehensive view of your financial picture, allowing you to track your income, expenses, and net balance in a detailed and organized layout! With its simple and intuitive design, you'll be able to quickly understand your financial situation and discover new opportunities for managing your money. The template also includes a way to input your monthly income and expenses, a balance calculator to show a monthly breakdown, and an overall view of your total net balance.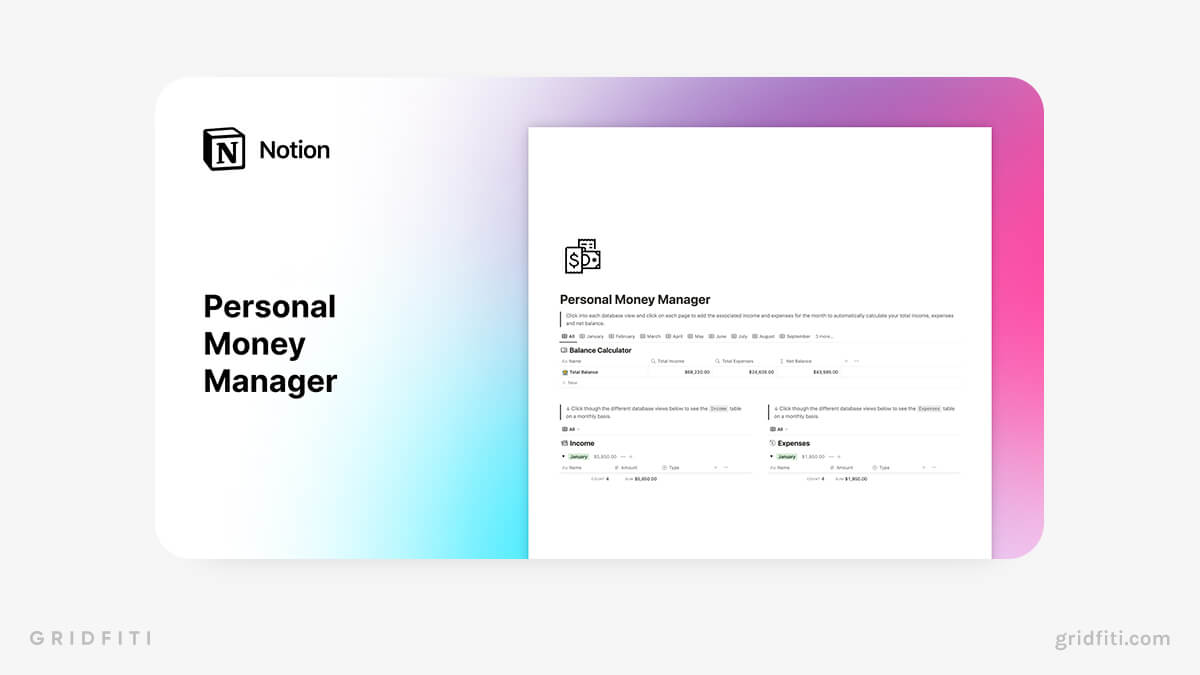 Free Notion Finance Tracker Templates
Get your finances in order with our curated collection of the best free Notion finance tracker templates. Perfect for personal finance beginners, check out these simple templates for budgeting, expense tracking, income tracking, and more.
Don't miss our post on free Notion templates for more great starter templates!
Simple Spending Tracker
Journal and categorize your expenses with the Simple Spending Tracker, made by yours truly! This aptly named template boasts several built-in spending categories, an emoji sentiment rating to reflect and spend more intentionally, and a summary at the end of each month to review how under or over budget you went.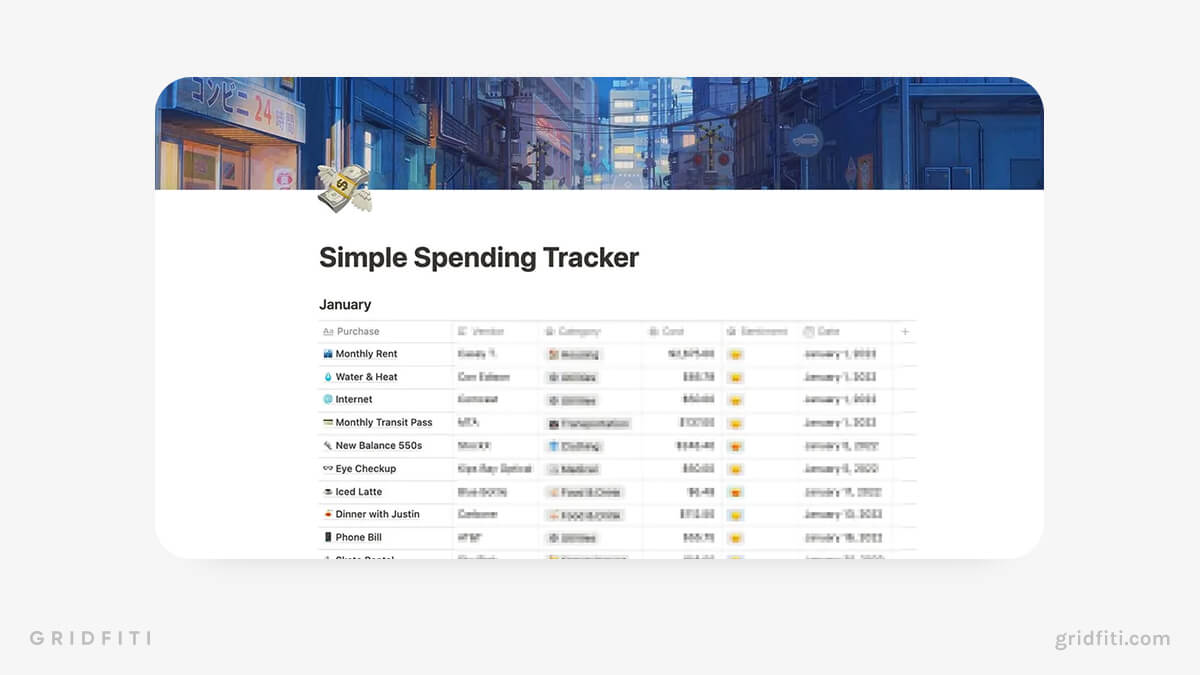 Simple Finance Tracker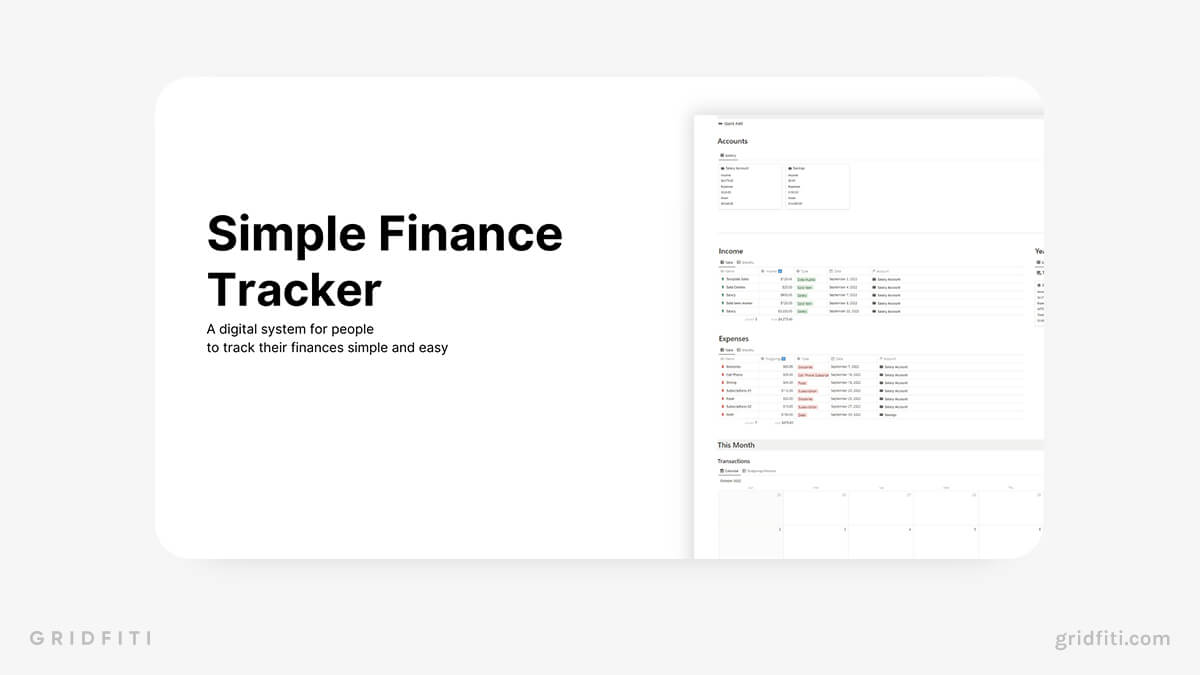 Notion Shared Expenses Template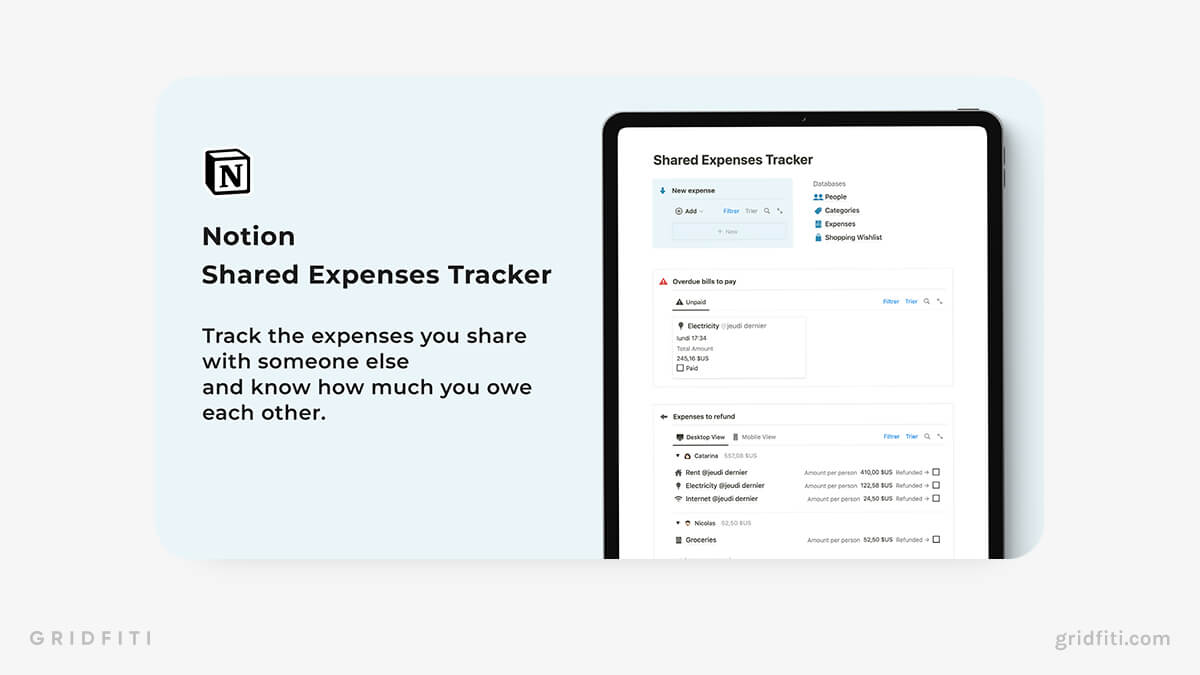 Frictionless Finance Tracker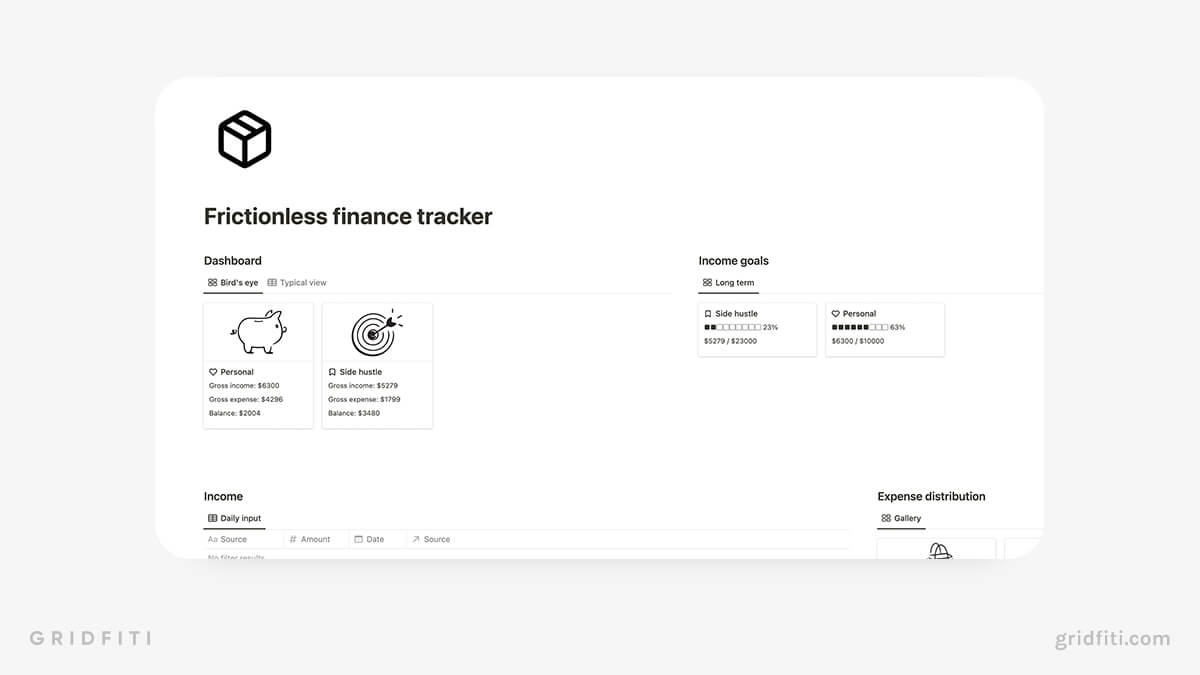 Template by @_heyharish on Twitter
Cash Flow & Financial Habit Tracker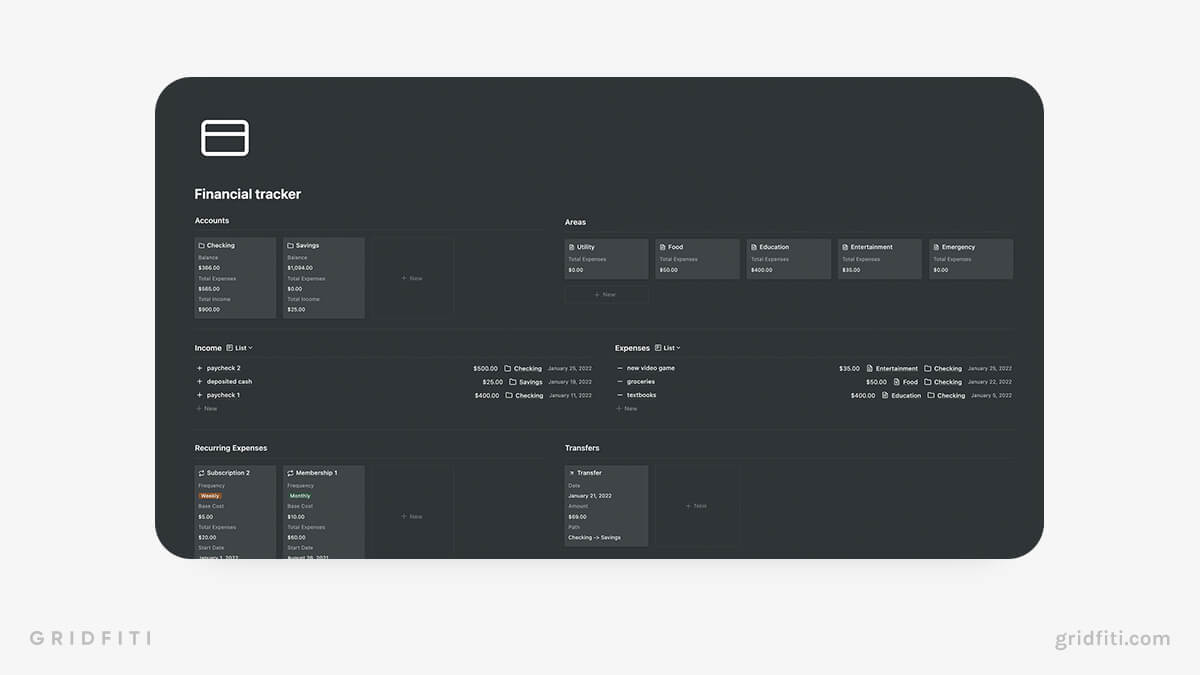 What Notion finance tracker template are you using? Do you have any other recommendations for spending tracker templates to use? Let us know in the comment section below.
Gridfiti is supported by its audience – when you buy something using the retail links in our posts, we may earn a small commission at no additional cost to you. We only recommend products we would use ourselves and recommend to our friends and family. Read more about our affiliate disclaimer.