Whether you want to keep track of your grail products, or if you always have a hard time knowing what to ask for when the holidays roll around, a Notion wishlist template is the perfect place to store what you're after.
As you come across items, simply add them to your workspace and curate a database of everything you want or need! We've rounded up some of the best Notion wishlist templates for you to start putting together your lists – let's check them out.
---
Looking for more productivity tips and tools? Subscribe to The Flow — our quick, snappy, value-packed focus and recharge newsletter. Also, don't miss our several other Notion template round-ups and guides!
---
Simple Wishlist & Shopping List Template
The Simple Wishlist & Shopping List template is a quick and easy tool for anyone looking to keep track of their wants and needs! Add priorities and prices per item, as well as the brand and stores, and organize each item by any of the several built-in categories – and see your wishlist and owned inventory in different pre-built filtered views. Whether it's electronics, clothing, handbags, or anything in between, buy more intentionally and work towards some of your most coveted grails with this clean and simple wishlist template by yours truly.
Template Available Here | Get a Wishlist Integrated with Life OS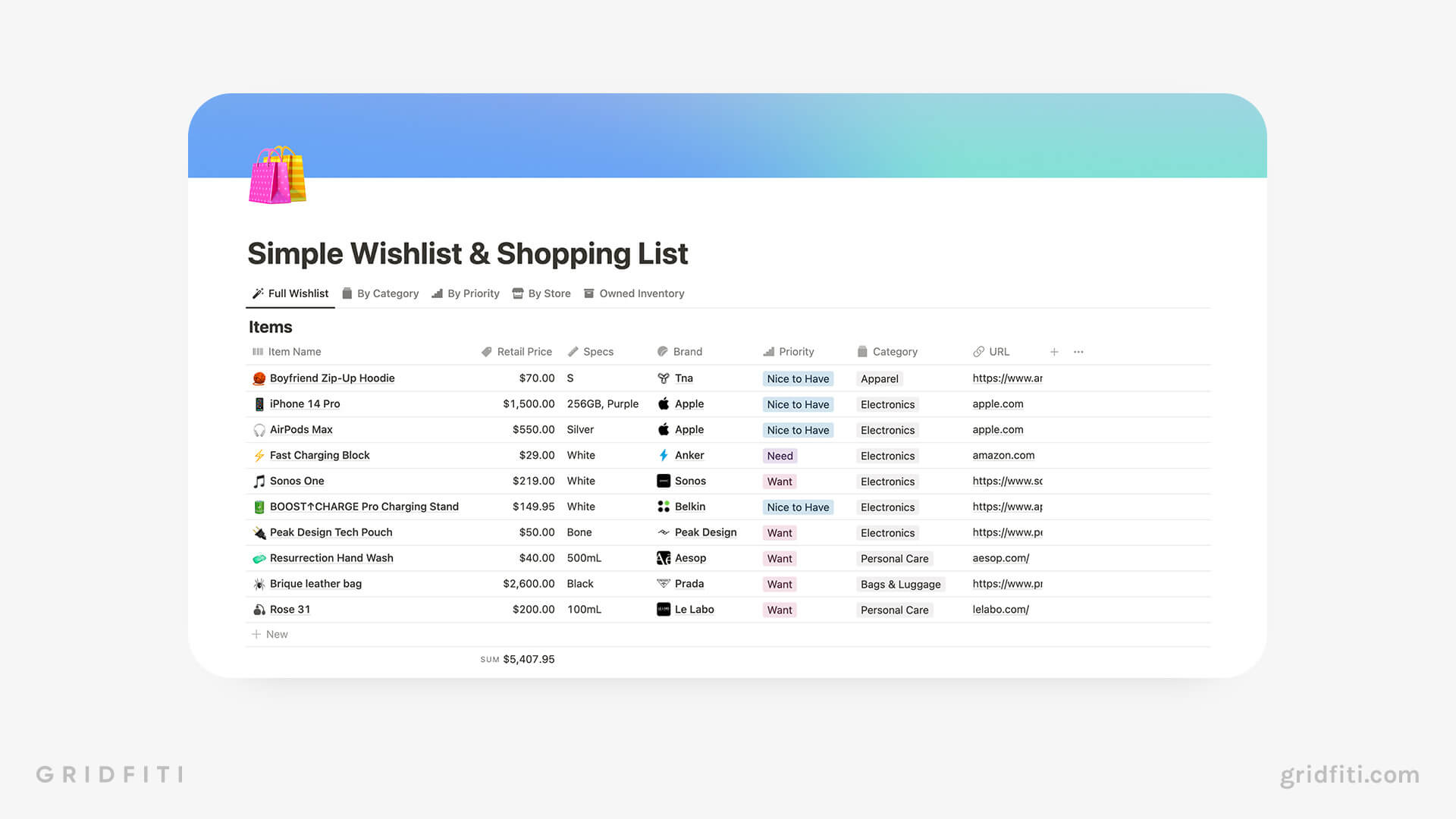 Notion Shopping Wishlist Template
This shopping wishlist template is a one-stop shop to manage all your wants. Save your shopping items for purchasing at a later date so you don't forget about them, reduce your impulse purchases, and ultimately, buy more intentionally!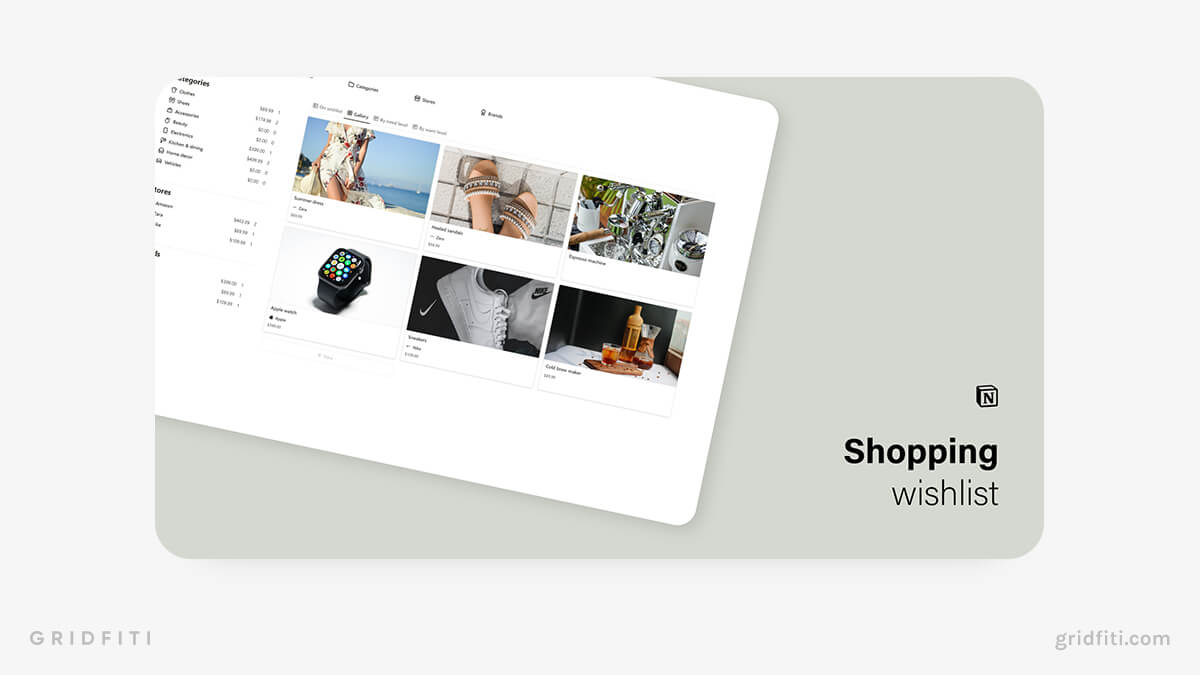 Notion Christmas List Template
Make your list and check it twice – right in Notion! With this Notion Christmas list template, create a list of your most wanted items throughout the year, and easily share it with your family. Family members can even reserve presents you've got on your list.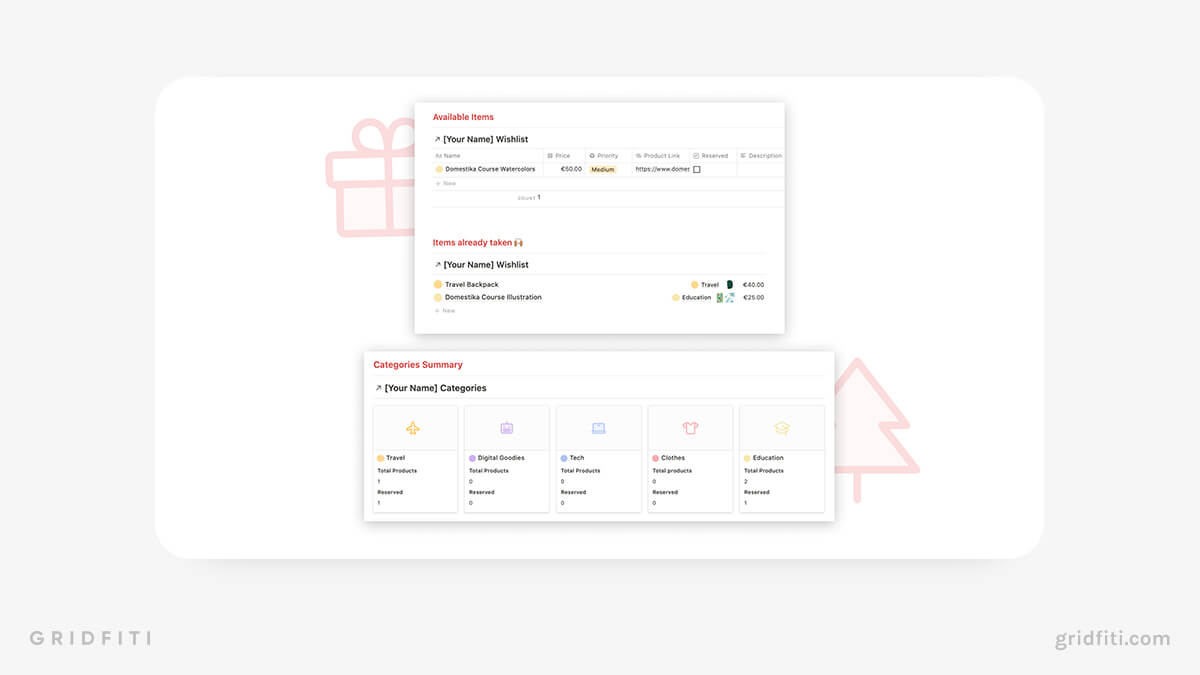 Notion Gift Guide & Wishlist Template
This template doesn't only include a wishlist for you to create and share with others – but also a database to plan gifting for your friends and family! Organize what you want to gift others by category, and even track recipients' birthdays.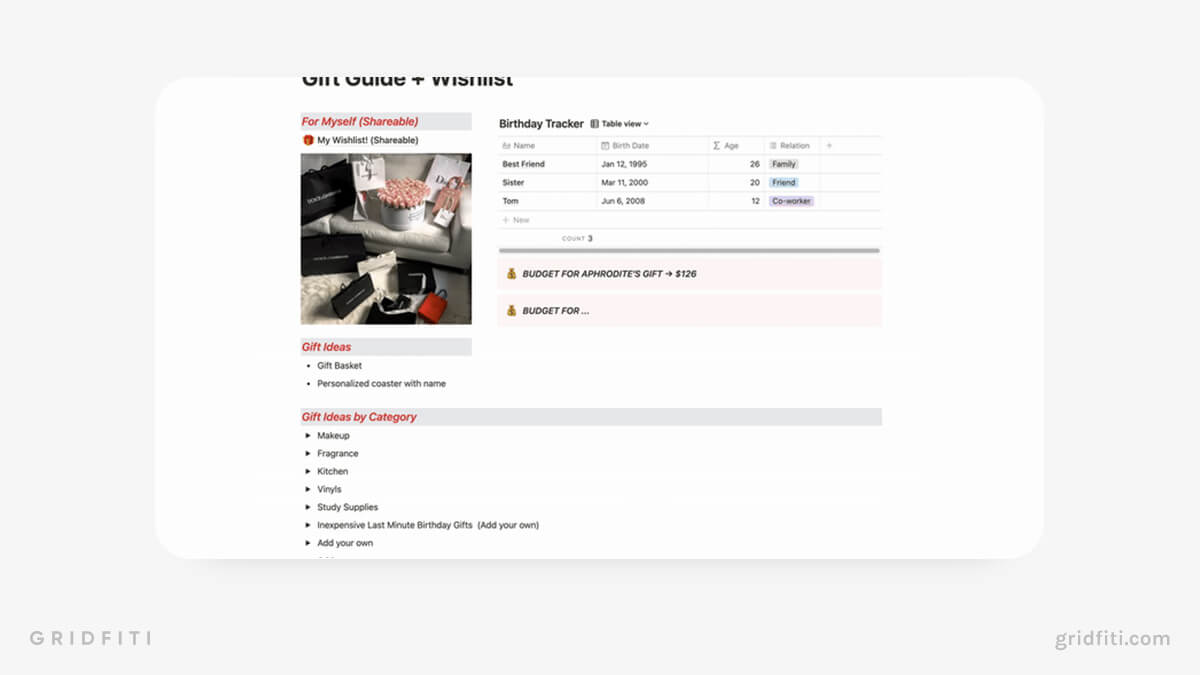 Notion Business Goodies Wishlist
We've all made wishlists for our personal lives, but what about our business lives too. Whether it's software that will streamline your team's workflow, or a new desk chair to help those long workdays, log them all in this business wishlist!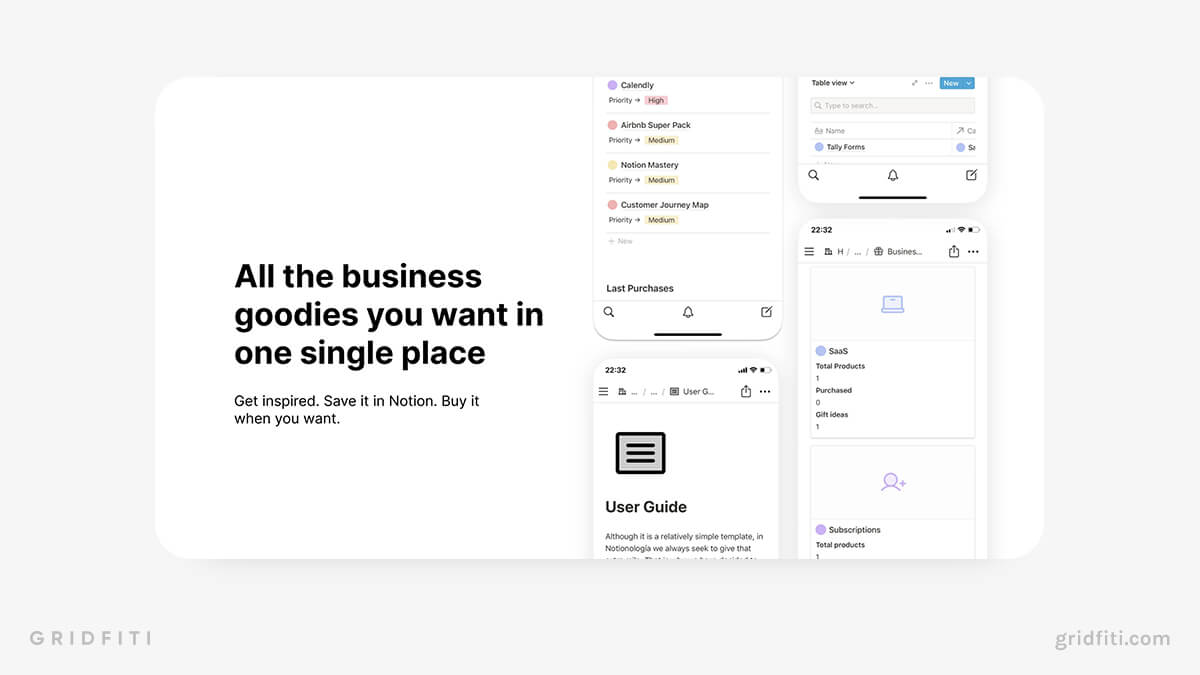 Wishlist Tracker Template for Notion
Make more thoughtful purchases with this wishlist tracker template! Track items you want to buy, assign each item with a 'desire' star rating, and add a countdown date for when you wish to purchase each wishlist item.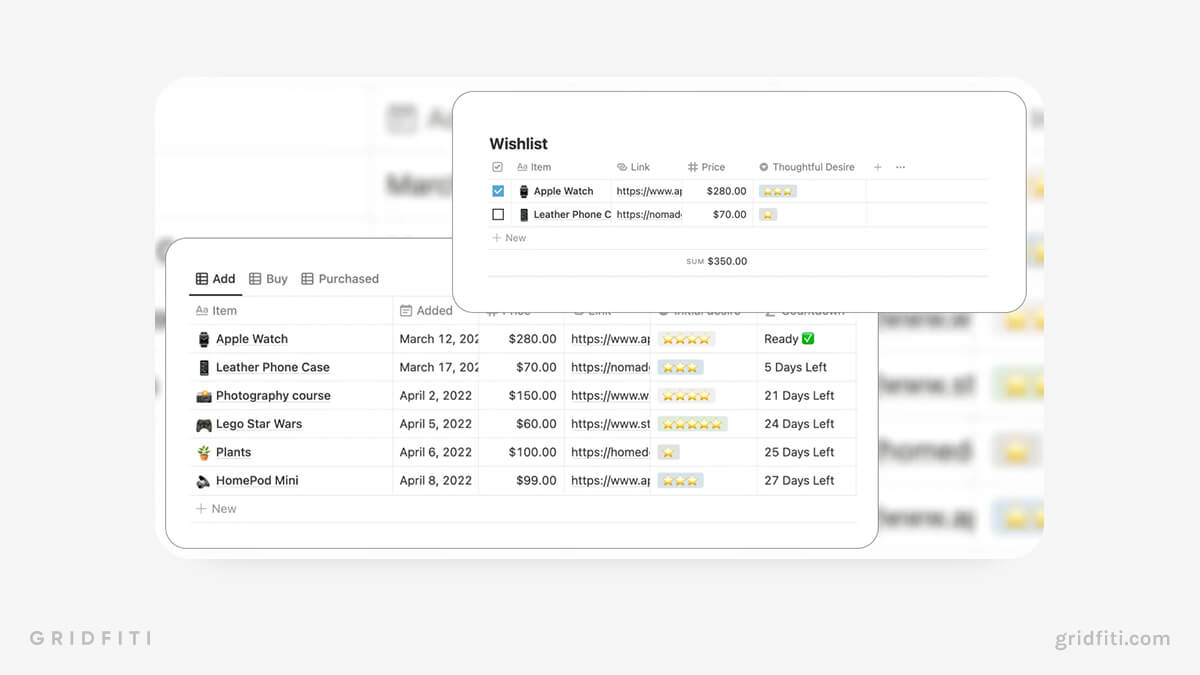 Aesthetic Notion Concert Wishlist
While this one's not a template to track things you want to buy, this concert wishlist template is for the music lovers wanting to cross off their concert bucket list! Add artists you want to see live, and once you do, check them off and give them a rating.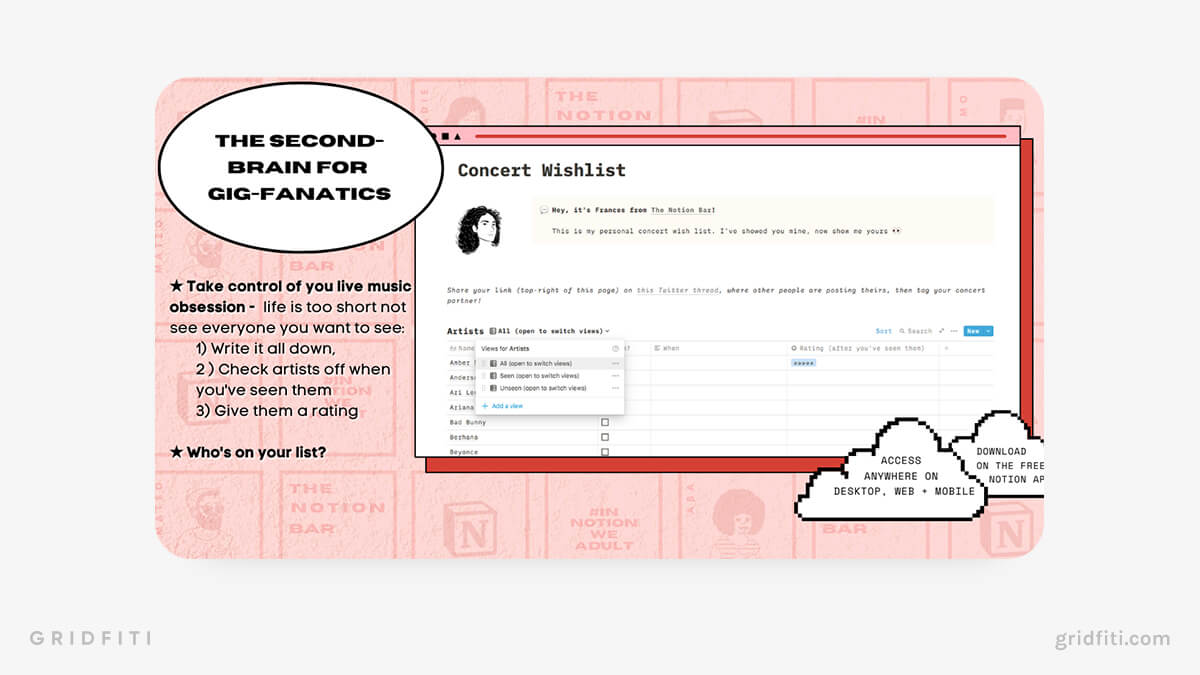 Which Notion wishlist template will you use to track your must-have items? Any other wishlist templates to recommend? Let us know in the comments below!
Gridfiti is supported by its audience – when you buy something using the retail links in our posts, we may earn a small commission at no additional cost to you. Read more about our affiliate disclaimer.