The resurgence of film photography is no secret – photographers are hitting the streets with everything from vintage Canons, Nikons, Fujis, Pentaxes, and everything in between.
There was a period in time where the iconic photos of the world were captured through manually metering for a shot, adjusting aperture and shutter speed, then exposing a film strip to the image for a split second.
This comes with a level of experience and skillset, but what if you're just looking to casually capture what life throws at you? This is where good ol' point and shoot film cameras come in. As the name implies, point the camera in front of you and shoot – the metering, shutter and aperture are all taken care of.
Diving into this world can be daunting for any newcomer, so we've gathered some of the best point and shoot film cameras for every budget and needs!
Want more film photography tips? Join our mailing list, and check out our several other film photography guides.
Entry-Level Point and Shoot Film Cameras
Olympus Mju
Price Range: $80-$200
Everyone's favorite entry level point and shoot, the Olympus Mju, does it all within a budget-friendly package. Made from plastic with a nifty 35mm f/3.5 lens (which hides away when not in use), the Mju has grown in popularity in recent years as the camera to get started with in film photography.
It comes with a variety of flash options, one of the best auto-focus systems for a point and shoot, and it can focus as close as 0.3m – allowing for close-ups of your subject.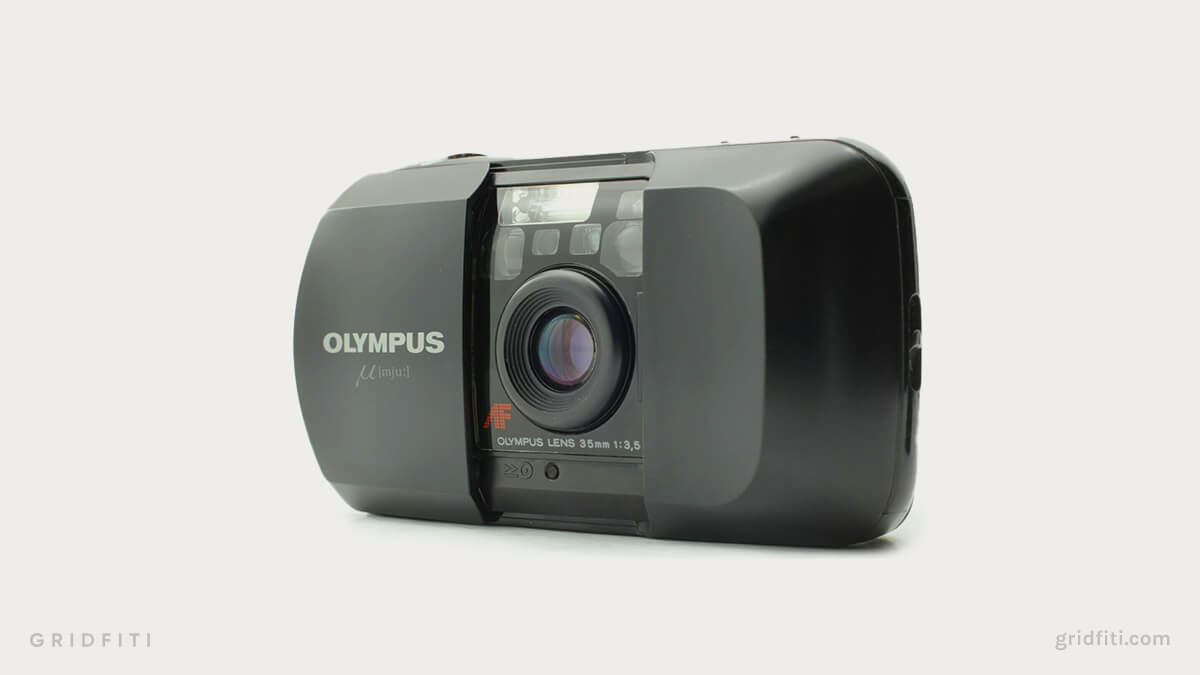 Canon Autoboy Mini T
Price Range: $50-$100
At a very accessible price range, the Canon Autoboy Mini T is an all-encompassing point and shoot film camera, getting the job done through an optimized set of features. Sporting a 38mm-70mm zoom lens, viewfinder with focus indication, and robust auto-focusing system – you can't ask for much more at this price!
Get the Canon Autoboy Mini T on eBay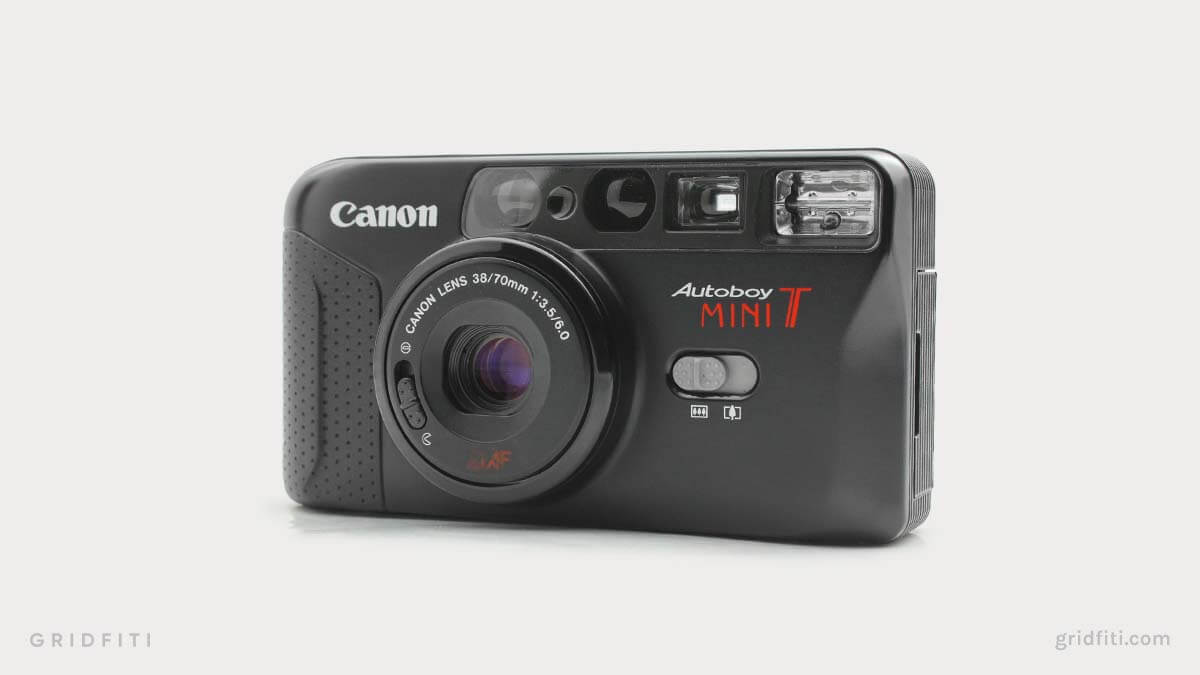 Mid-Range Point and Shoot Film Cameras
Nikon L35AF
Price Range: $150-$250
Looking like an 80s relic, enter the Nikon L35AF. A much more affordable alternative to Nikon's premium line of point and shoot film cameras, the L35AF's unique features include a built-in flash that pops up and away from the lens to combat red-eye, adjustability with ISO metering (as it doesn't read DX codes), and most importantly, a sweet 35mm f/2.8 lens. One of the camera's most unique features is the way it focuses: press the shutter halfway down, and you'll see what range is focused on in the form of small tree icons.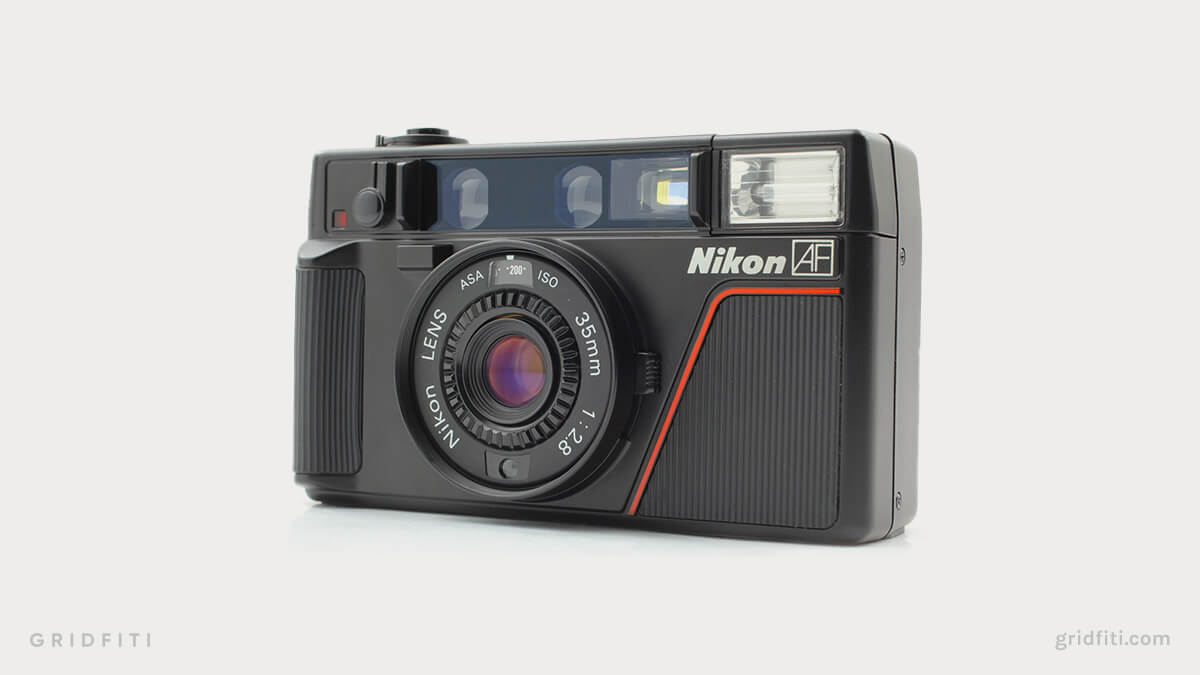 High-End Point and Shoot Film Cameras
Yashica T4
Price Range: $500-$800
Also known as the Kyocera Slim T in North America, the Yashica T4 isn't cheap, but won't break the bank as much as the Contax T2. The T4 features a light plastic build, built-in flash, spot-on autofocus, and a snappy on/off button – ensuring you don't miss the moment. The cherry on top is the camera's sharp Carl Zeiss 35mm f/3.5 lens, which brings it all together as a great contender in the mid-to-high range point and shoot film camera game.
Get the Olympus Yashica T4 / Kyocera Slim T on eBay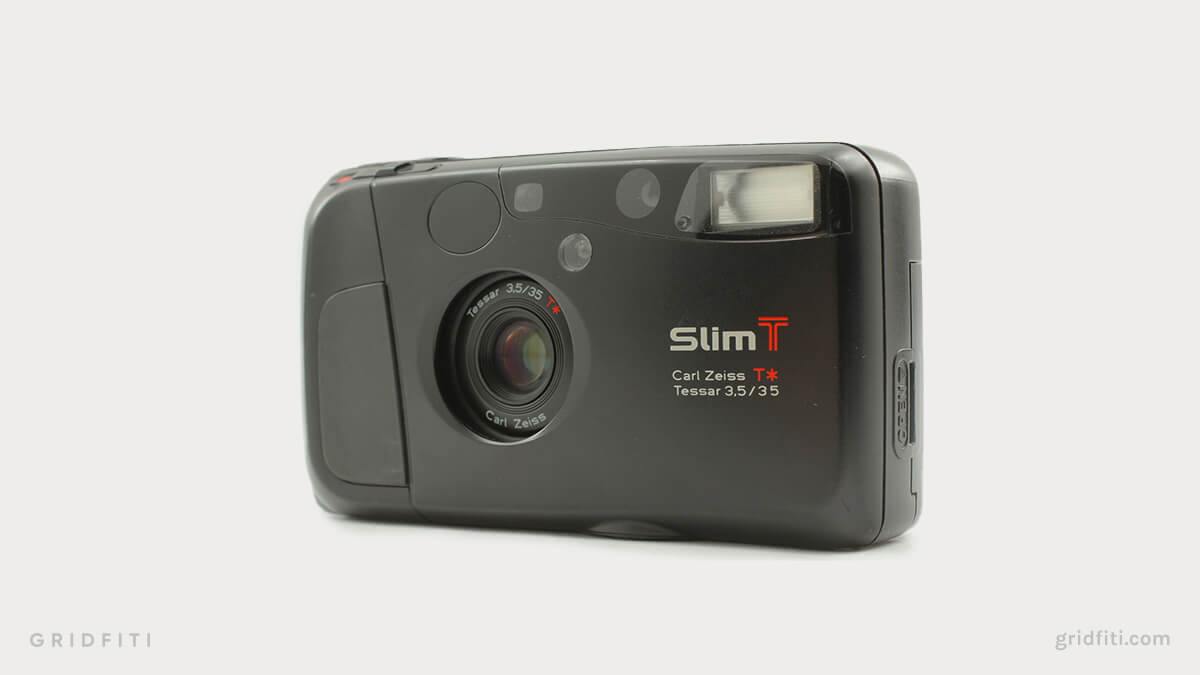 Contax T2
Price Range: $700-$1,500
You've heard about it, and everyone from Kendall Jenner, Emma Chamberlain, and Zendaya is using it: behold, the coveted Contax T2. This is likely the most popular point and shoot film camera that money can buy – and that's the kicker, its popularity and demand has led to a steep price point. Despite that, if you're working with a bigger budget, you can't go wrong with this camera. We love the T2 for its ease of use, robust titanium build, super accurate metering, ergonomic design, and most importantly – a super sharp Carl Zeiss 38mm f/2.8 lens that captures perfectly sharp images.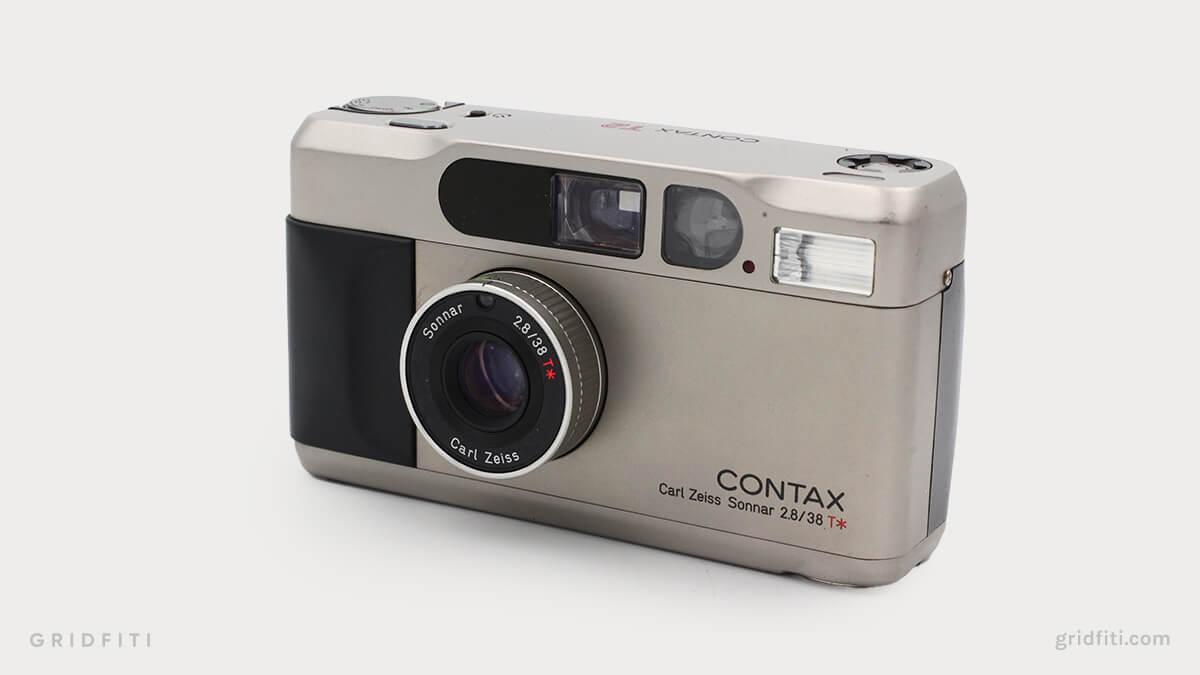 Nikon 35Ti
Price Range: $700-$900
The Nikon 35Ti is Nikon's answer to premium point and shoot film cameras – encased in titanium and equipped with a 35mm f/2.8 lens. The camera's built-in matrix metering system will get the exposure perfect no matter what the circumstances, and you can customize the automatic flash adjustments for different exposure settings. Last but not least, you can't help but love the Swiss watch-like analog dial at the top!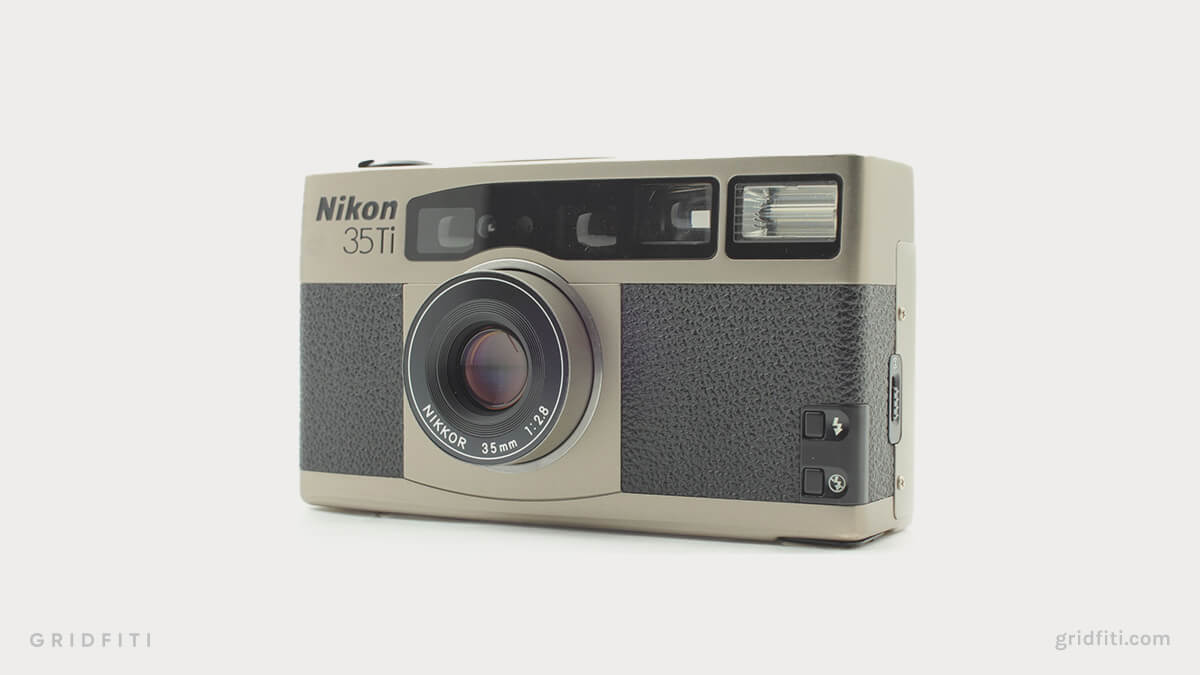 Minolta TC-1
Price Range: $800-$1,200
The Minolta TC-1 is the one true point and shoot film camera with a pocket-size form factor – ready to go whenever, wherever! The camera sports a 28mm lens with an adjustable aperture, and a 'HOLD' mode that lets you create custom functions – such locking flash, exposure compensation settings, and more. The lens does create some vignetting around edges, but besides that, the TC-1 packs a punch in the high-end point and shoot category.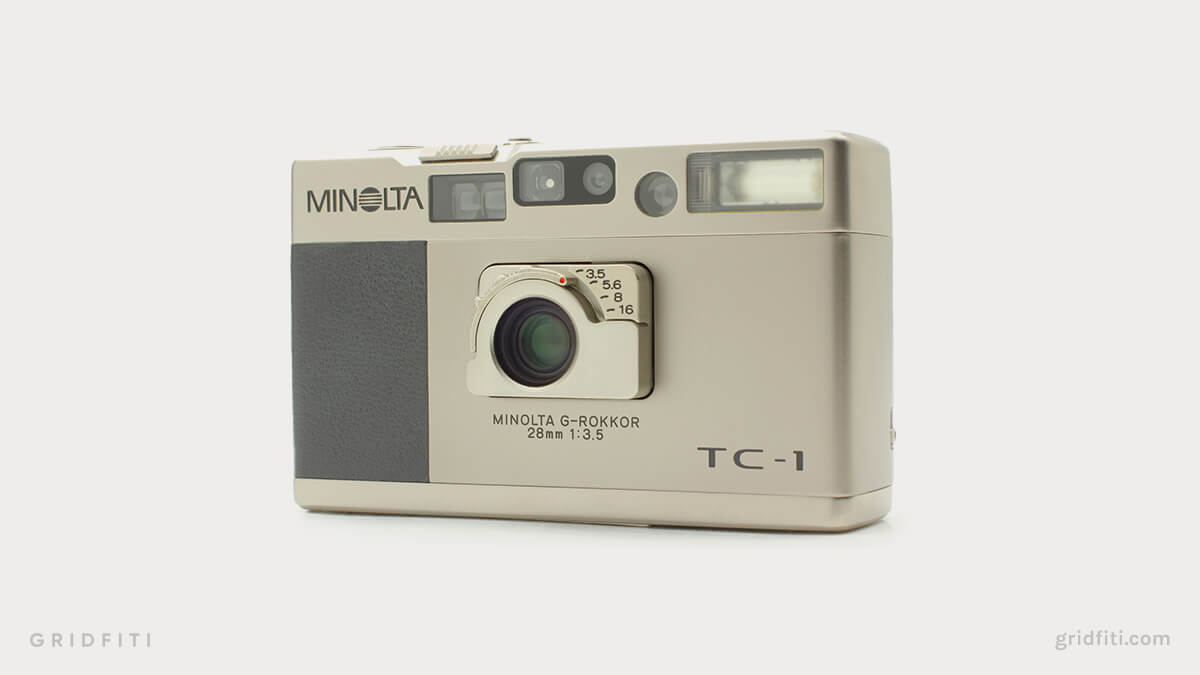 What did you think of these point and shoot film cameras? Are there any we're missing? Let us know in the comments below, and tag us in your point and shoot film shots on Instagram @gridfiti
Gridfiti is supported by its audience – when you buy something using the retail links in our posts, we may earn a small commission at no additional cost to you. Read more about our affiliate disclaimer.