Have a mountain of clothes in your closet and forgetting what you have on hand? Not sure how to create your perfect capsule wardrobe? Can't decide what to wear this week? Enter Notion wardrobe templates.
With Notion, you can create a digital closet inventory and track all of your pieces in one place – helping you get more organized, and ultimately put together better fits.
Whether you want a glance of what's in your closet, coordinate better outfits, or create a clothing wishlist, we've gathered the best Notion wardrobe templates and outfit planners for you to do it all!
---
Looking for more productivity tips and tools? Subscribe to The Flow — our quick, snappy, value-packed focus and recharge newsletter. Also, don't miss our several other Notion template round-ups and guides!
---
Wardrobe Inventory & Outfit Planner in All-in-One Life OS
With the integrated Closet & Outfits section in Life OS, create a digital inventory of your entire wardrobe from head to toe – and even organize all your clothing pieces, accessories, and shoes by color and brand! Seamlessly put together organized and coordinated outfits in the built-in weekly outfit planner board – and get a visual of 'Today's Outfit' automatically served right in the homepage dashboard.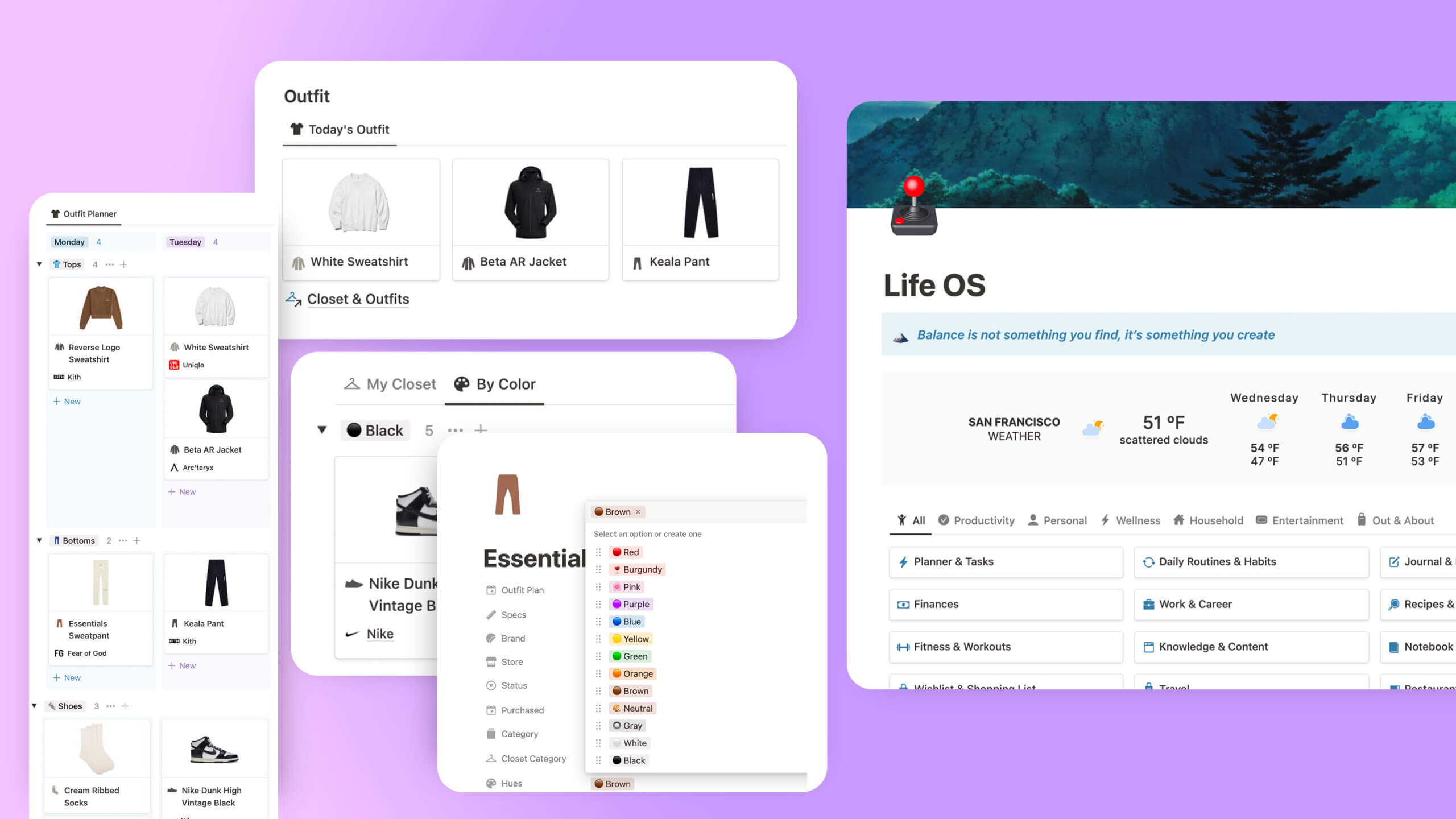 All-in-One Notion Wardrobe Dashboard Template
The Wardrobe Knowledge Bank is a jam-packed, all-in-one dashboard template for you to create your digital closet. Put together your very own style profile, closet inventory and outfit tracker, sortable wishlist, seasonal assortments, outfit log, packing list, worksheets, and so much more. The template even includes a 'getting started' section with an actionable to-do list to start your wardrobe journey in Notion!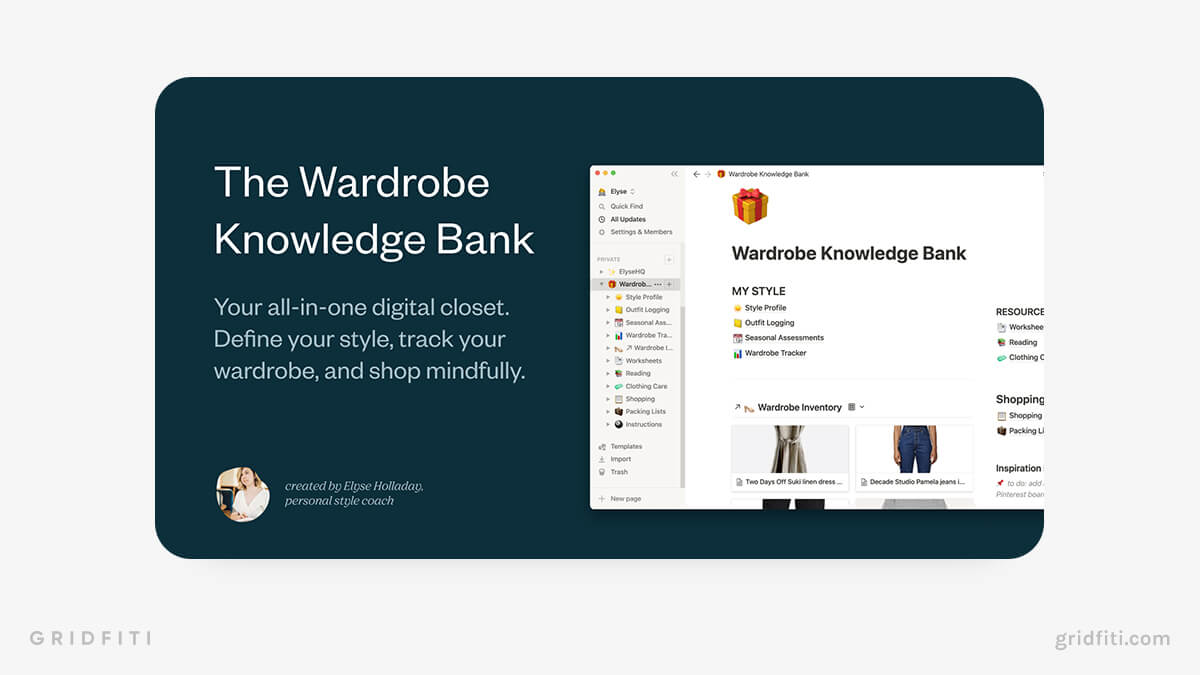 Notion Capsule Wardrobe Planner Dashboard
Living off of the 'less is more' mantra, we all know capsule wardrobes are great, but it can be daunting to put one together. With the Capsule Wardrobe Planner template, use the wardrobe organization database to regain control of your closet, and the built-in capsule wardrobe builder to put together your dream wardrobe! The template also includes a wardrobe budget tracker, fashion directory, shopping wishlist, vision board, and color palette database.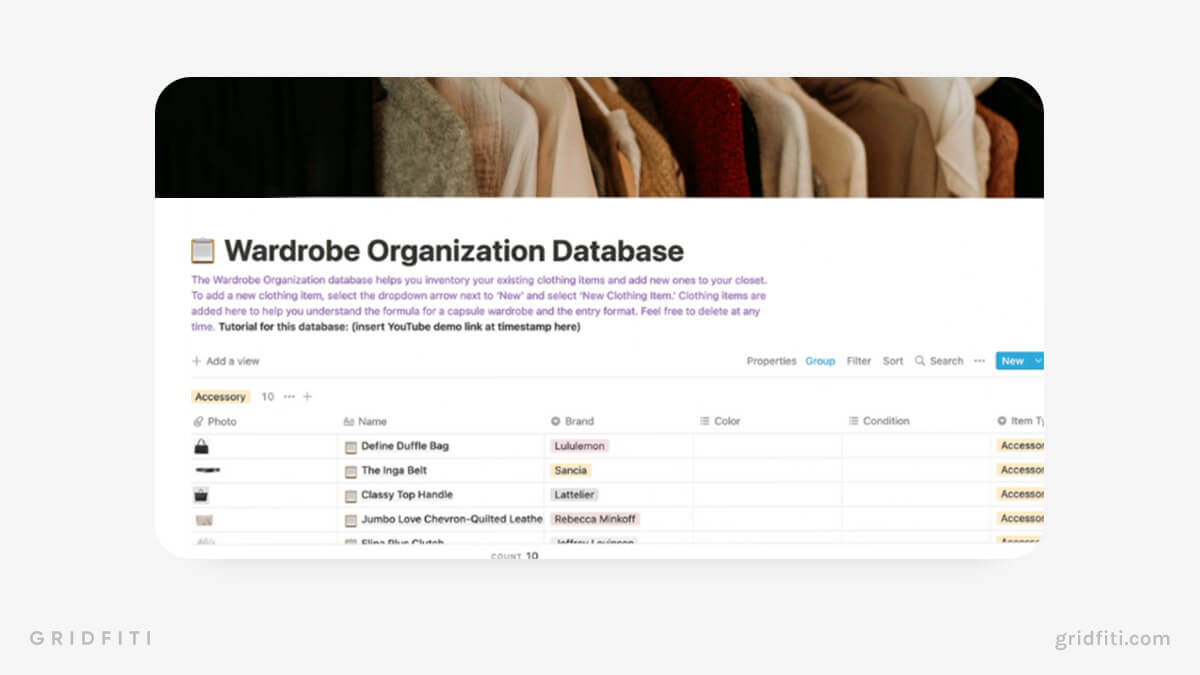 Outfit Hub – Notion Wardrobe Dashboard Template
The Outfit Hub is an easy-to-use, one-page template to help you organize your closet and plan your outfits. Once you've added all your pieces in, sort by color, style, or season.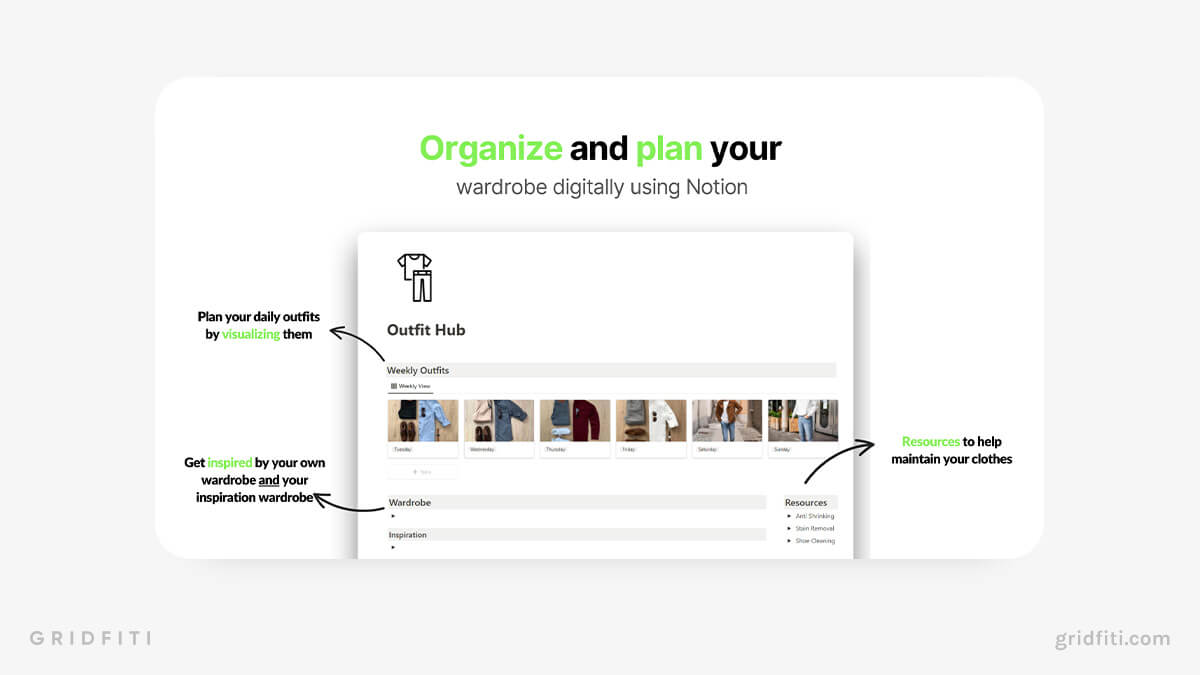 Aesthetic Notion Wardrobe Manager & Outfit Planner Template
Give yourself one less thing to think about every morning by planning your outfits in advance! This aesthetically pleasing, neutral-themed outfit planner template will help you digitize your wardrobe and curate the pieces you love. Track your closet, define your personal style, and highlight pieces you love and actually wear!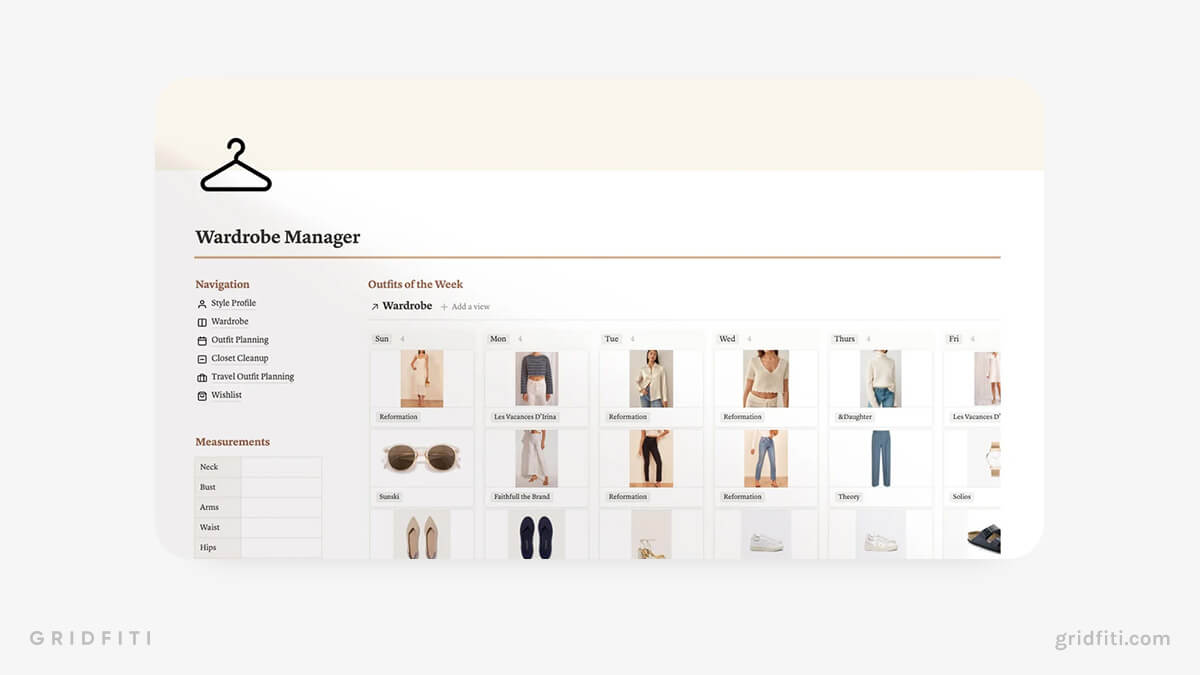 Notion Wardrobe Organizer Template
This wardrobe organizer lets you inventory your clothes by brand, weather, times worn, and even last worn! Use its integrated properties to even plan if you'll be wearing it today or tomorrow, and automatically get served up today's and tomorrow's outfits in a gallery!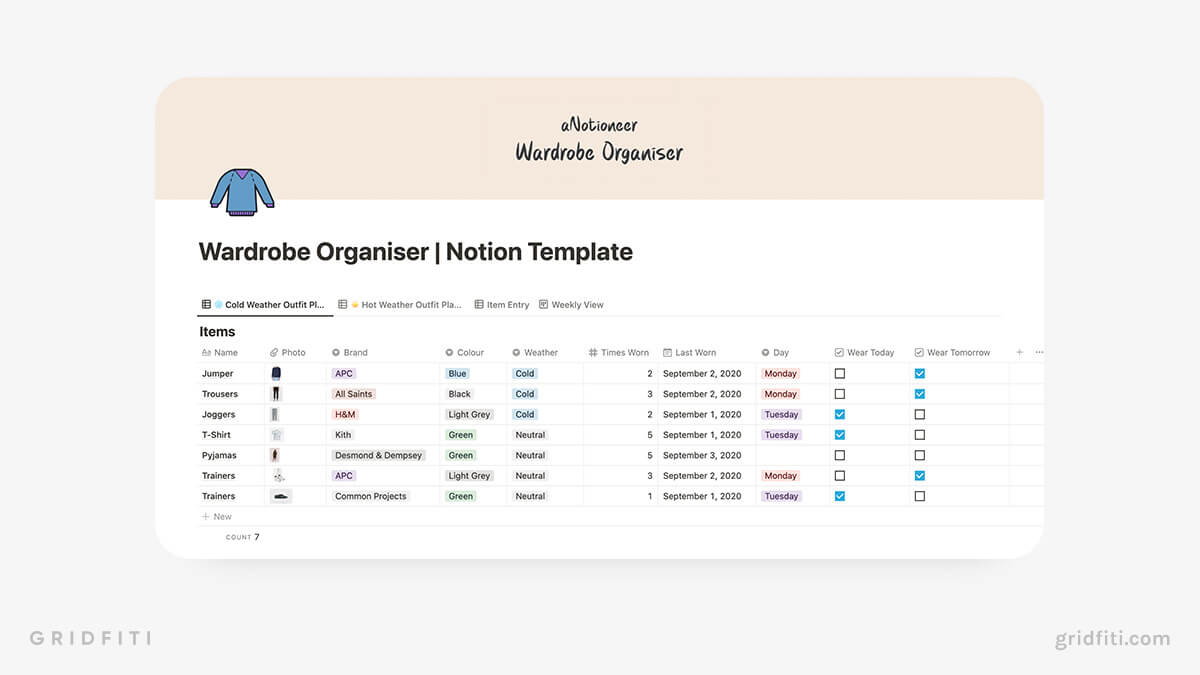 Simple Wardrobe Tracker Template
Looking for a simple spreadsheet to inventory your closet? This template does the trick!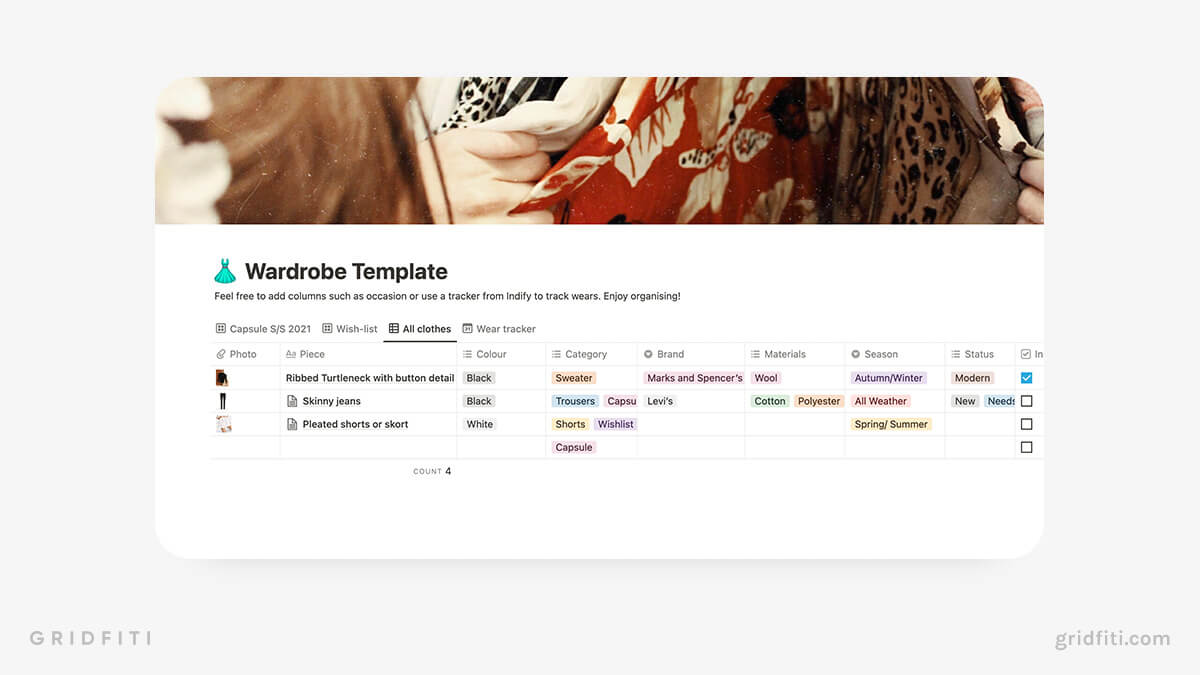 Which Notion wardrobe template are you using? Any other Notion wardrobe planners or organizer templates that you recommend? Let us know in the comments below!
Gridfiti is supported by its audience – when you buy something using the retail links in our posts, we may earn a small commission at no additional cost to you. Read more about our affiliate disclaimer.