If you have too much on your plate from your personal, professional, and academic lives, you're not alone. Knowing what to prioritize without becoming distracted makes it nearly impossible to live each day intentionally, especially while managing ADHD.
The good news is there are several incredible Notion templates made specifically to help those with ADHD improve their focus and develop both day-to-day and long-term productivity solutions. We've rounded up some of the best Notion ADHD templates to add to your workspace and get going – let's check 'em out!
---
Looking for more productivity tips and tools? Subscribe to The Flow — our quick, snappy, value-packed focus and recharge newsletter. Also, don't miss our several other Notion template round-ups and guides!
---
Table of Contents
ADHD Planner Templates & Dashboards
ADHD planner templates and dashboards are created to help you get organized and prevent overwhelm. Scroll down for some of the best ADHD Notion templates and dashboards available!
Notion ADHD Life Planner 3.0
ADHD Life Planner 3.0 is one of the most comprehensive ADHD Notion templates, with thoughtfully designed hubs for budgeting, morning routines, personal calendars, and much more. Set auto payments and reminders for all your bills, tick items off your habit checklists, and journal about your mental health. Switch to Focus Mode to hide unnecessary distractions and dive head-first into deep work!
Template Available Here | Demo Template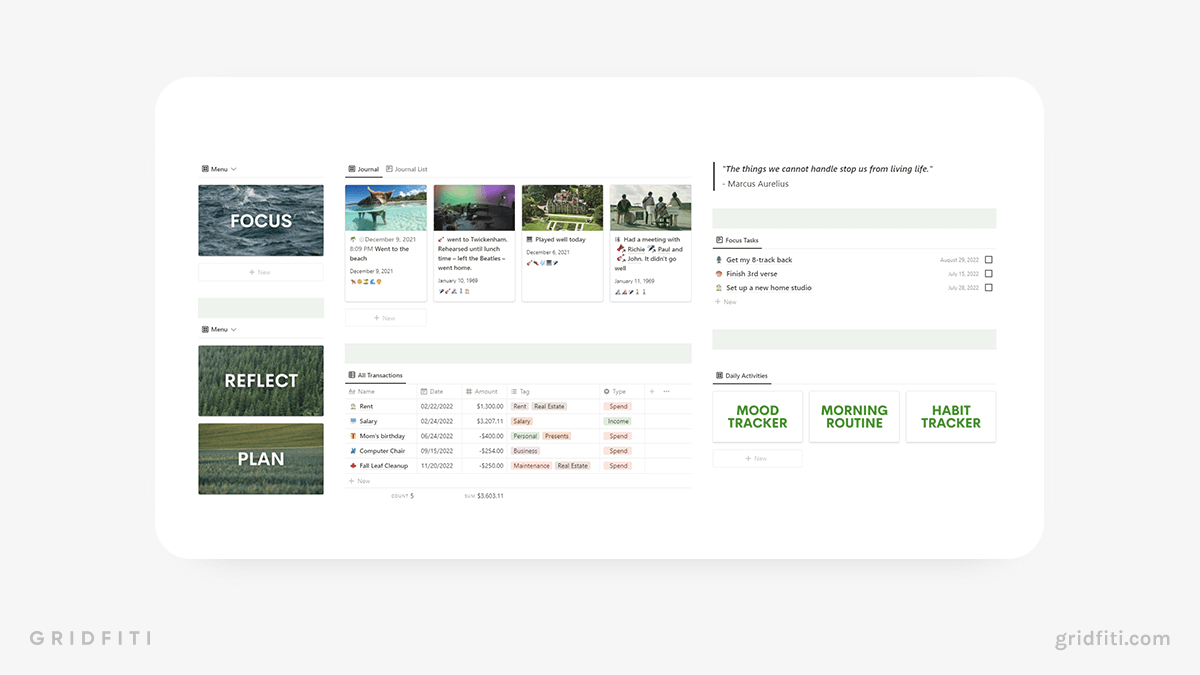 ADHD-Friendly Life Planner
ADHD-Friendly Life Planner can help you manage your time effectively with several time management and organization systems like the Eisenhower matrix, the Pomodoro method, and digital decluttering.
Stay on top of every aspect of your life by using weekly planners, fitness logs, and brain dumps. You'll also find ADHD-specific wellness pages where you can track your mental health. Pick one of four stylish color-coded themes to match your Notion aesthetic!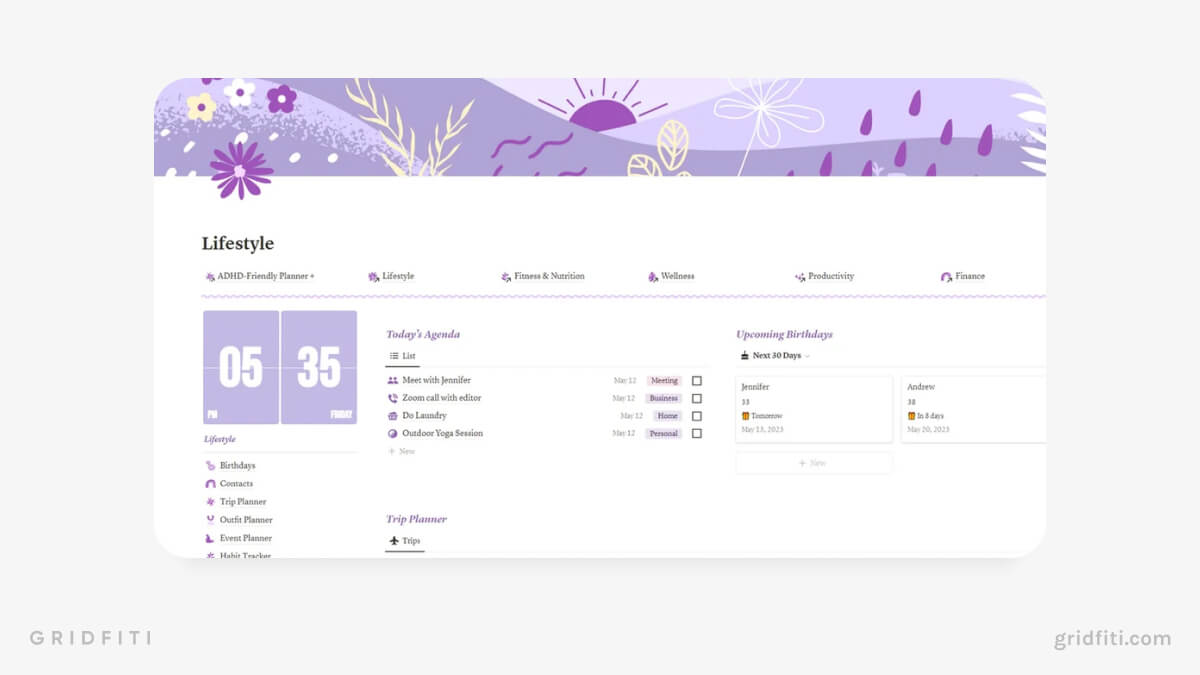 The Ultimate ADHD Life Planner Notion Template
The Ultimate ADHD Life Planner Notion Template features a notification center and pastel-colored daily focus missions to help you manage your life with ease. Organize your finances, set yearly goals, and improve your self-care — all with this sleek Notion template designed to enhance focus and avoid chaos. Plus, it's a super cute template with cuddly mascot cat, Bubbles, providing extra motivation from your dash!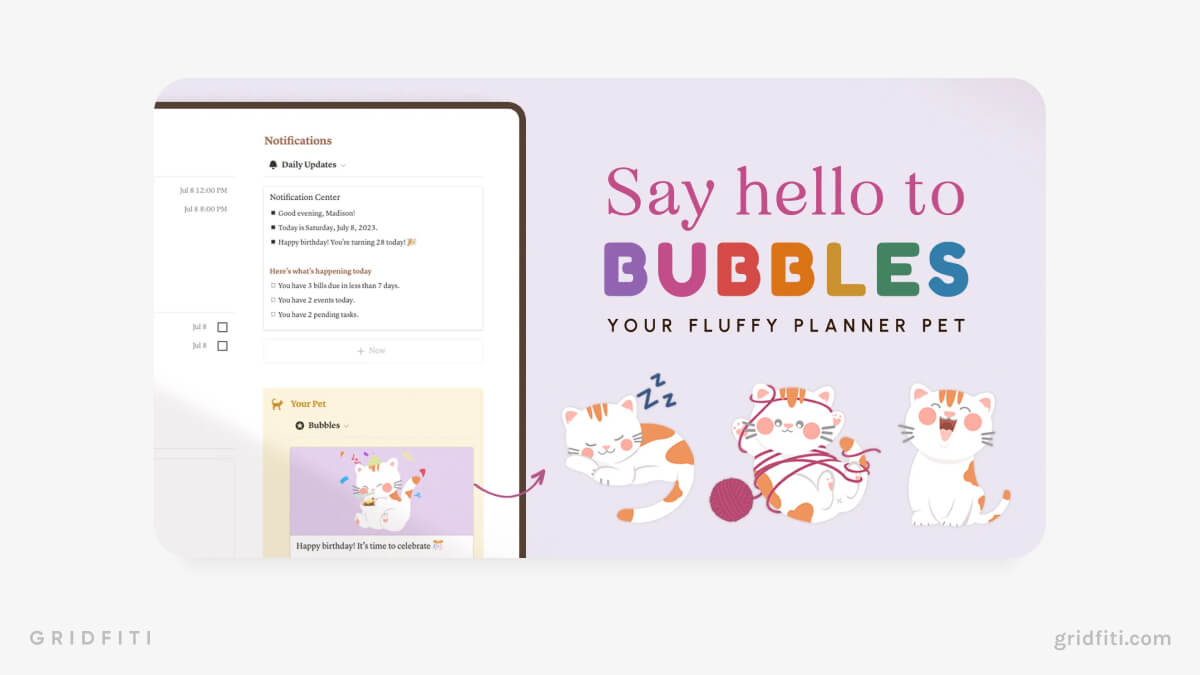 ADHD-Friendly Student Planner Template
Struggling to juggle your school and personal life? With study hubs, nutrition pages, social media managers, and even wardrobe trackers, the ADHD-Friendly Student Planner Template can help put you on the path to success. This bundle even includes the full set of original page icons and covers, giving you full customization control!
For more templates like this, check out our full round up post featuring the best Notion templates for students!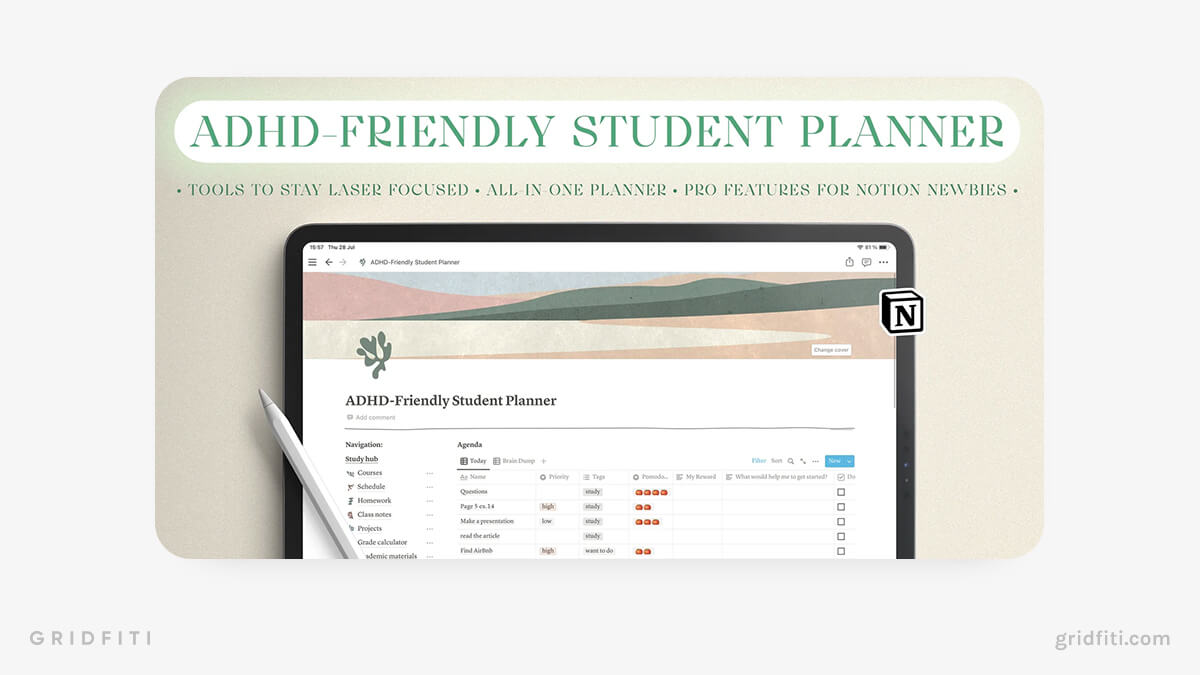 Hero ADHD Planner
Hero ADHD Planner consists of over 14 Notion pages in one superpowered system! Remember everything from when to take medication, to when to contact others with the unique Memory Manager. Monitor your growth with the ADHD journal and keep all your resources and files in one handy database!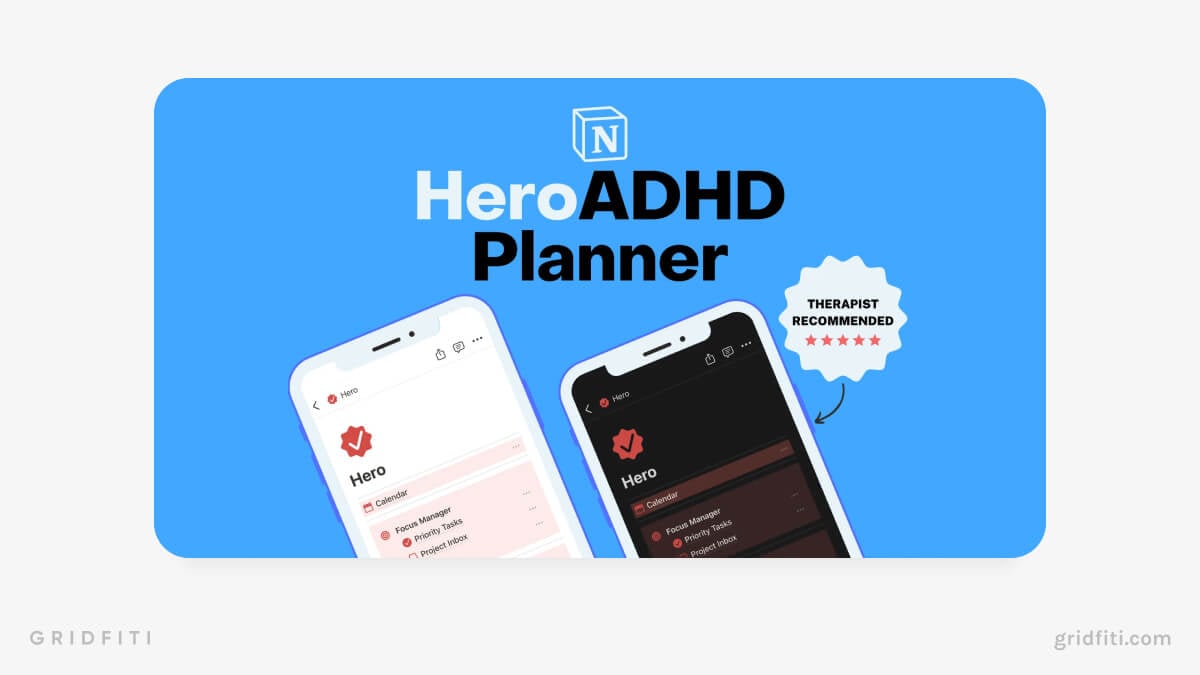 ADHD Notion Planner with Google Calendar Integration
Having your tasks scattered across different calendars can cause a few headaches. The ADHD Notion Planner with Google Calendar Integration moves your upcoming to-dos over from your Google Calendar to Notion, and vice versa, so you can track tasks regardless of the platform. Plus, this template's minimalist design makes it easier to laser in on what's important. There are some unique pages, like procrastination, anxiety level, and meal prep trackers, as well as the usual scheduling tools.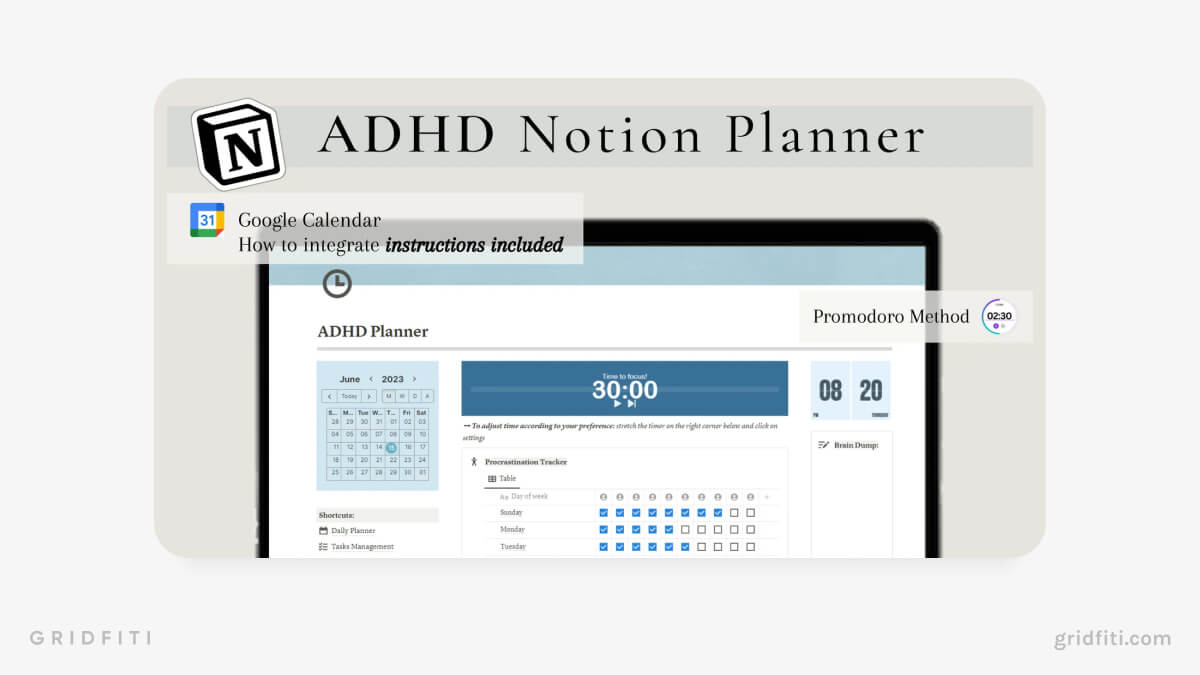 ADHD Life Tracker – Daily Command Center
Getting a handle on your health can go a long way toward helping you stay organized. The ADHD Life Tracker – Daily Command Center includes helpful templates for menstrual cycles, steps and weight, and mood so you can prioritize your wellness with ease. As well as over 13 pillar systems for home, business, and growth, you'll receive two Notion courses and monthly live workshops to help you wrap your head around Notion's in-depth interface.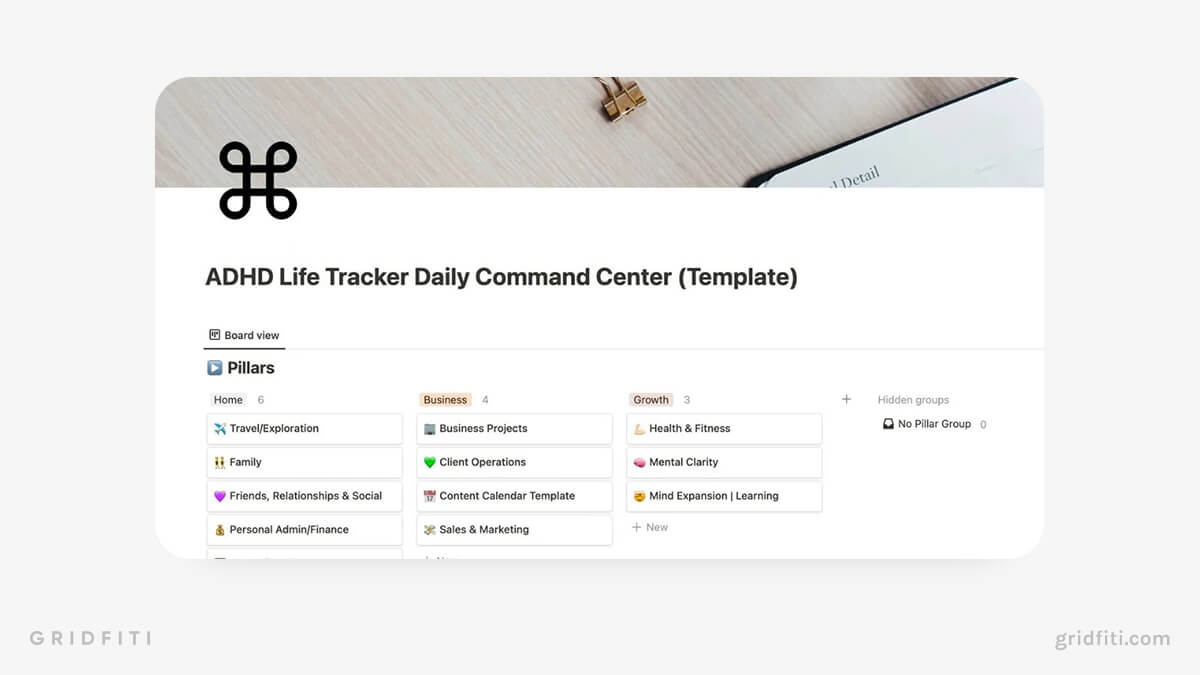 Minimalist Ultimate Life Planner – ADHD Friendly
Whether you're struggling with productivity, nutrition, school, or finances, the Minimalist Ultimate Life Planner has you covered. Its calming, minimalistic design cuts through the clutter to keep you focused and avoid stress. Auto-updates to this template ensure you have all the latest Notion tools at your disposal!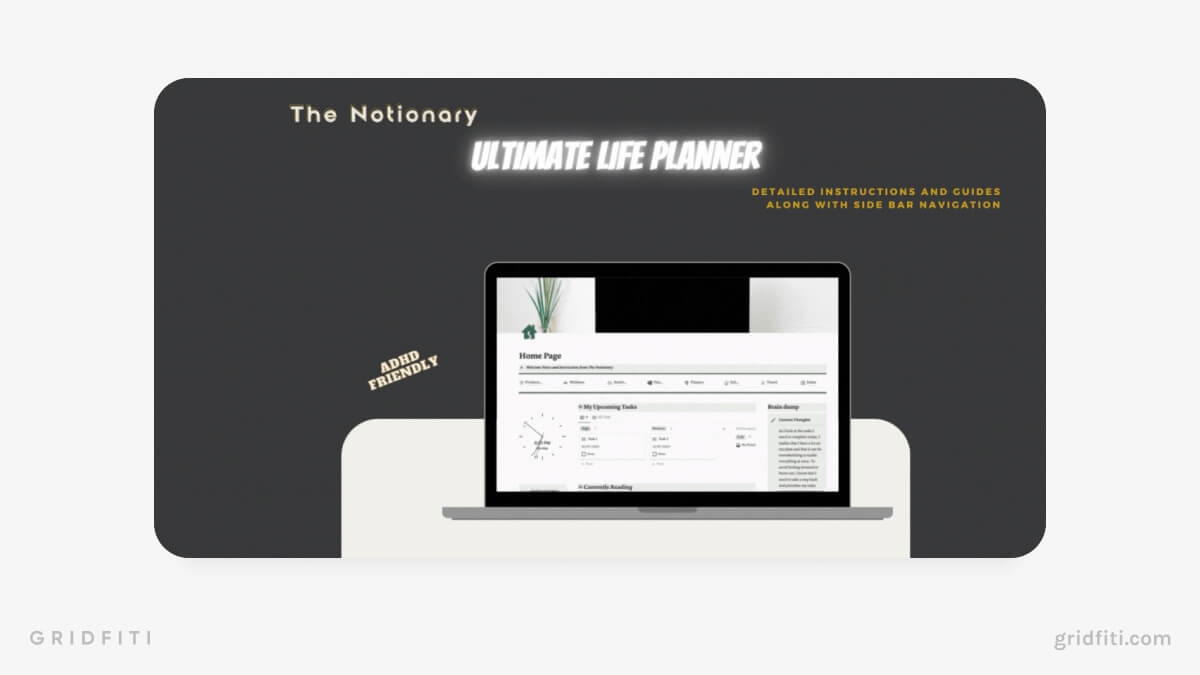 Color-Coded Notion Life Planner – ADHD & Neurodivergent Friendly
Is color-coding key to unlocking your productive best? The Color-Coded Notion Life Planner is one of the best color-coded ADHD Notion templates in the game. It includes 6 vibrant hubs for your calendar, journal, and routine, making task-switching super simple.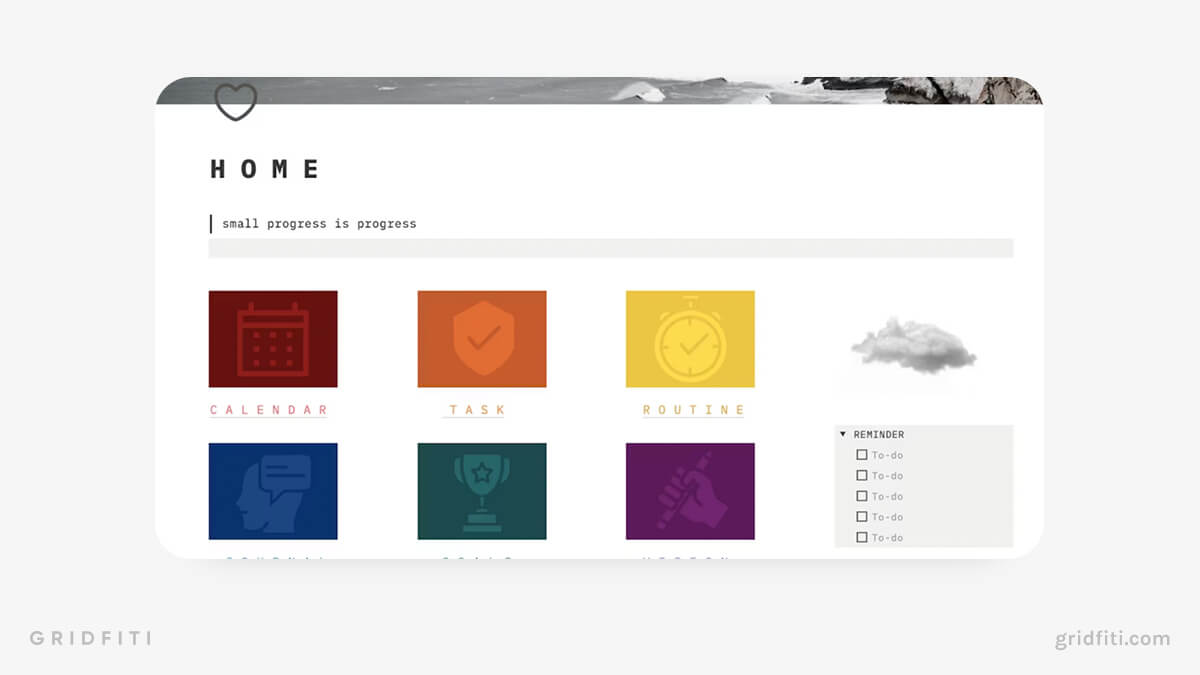 Notion ADHD Dashboard Template
Document your ADHD journey with the Notion ADHD Self Care Template! Start your days right by setting your intentions and reading motivational quotes. Then, tick items off your daily medicine checklist, journal about your mental health progress, and stay regulated with the self-care ideas database. Plus, there's a resource and education list in case you need a helping hand.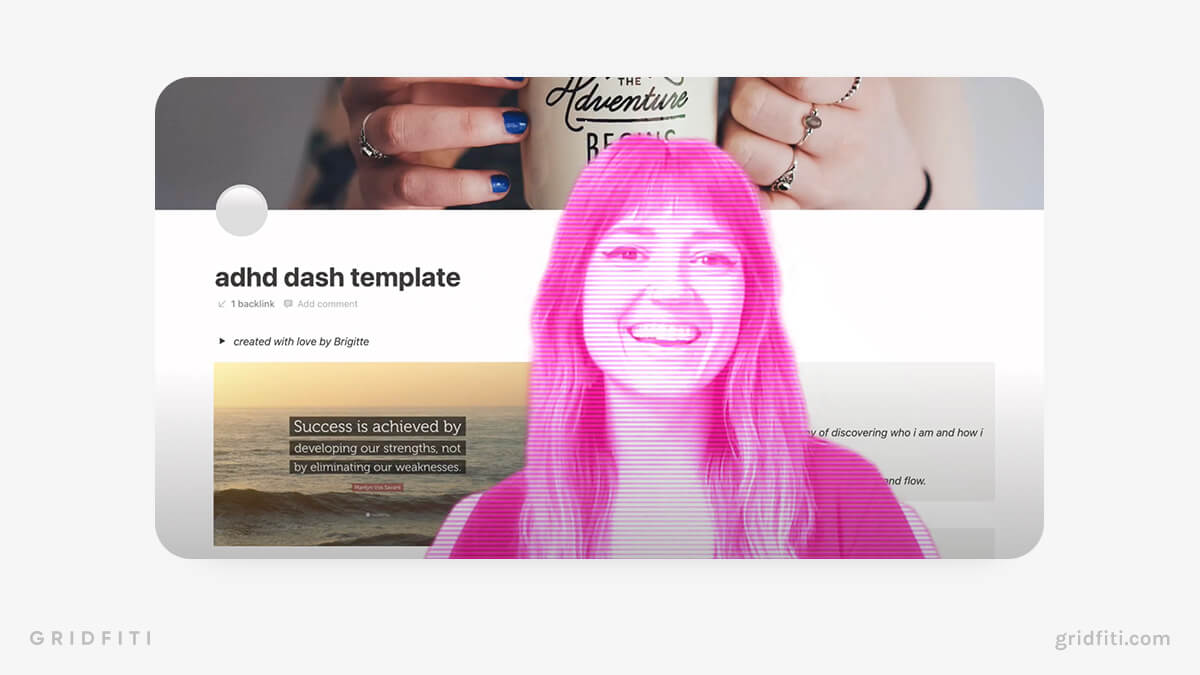 Beginner ADHD Daily Dashboard Notion Template
Thanks to its inviting layout, tutorials, and extra support, this highly customizable template is great if you're just getting to grips with Notion. With task lists and weekly calendars split into different tabs, it's easy to differentiate between your work and personal life. Emojis and images add a splash of color and customization to your template. Need help navigating Notion? Join the template's Discord server for free troubleshooting!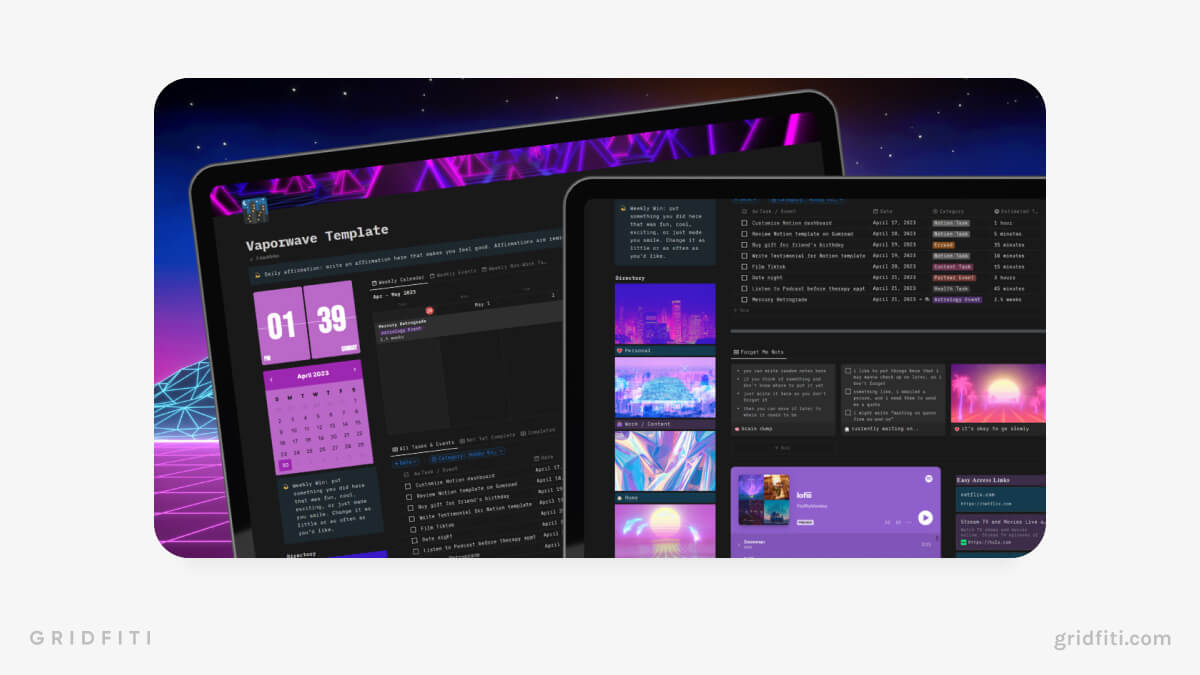 Simple Space Themed Notion ADHD-Friendly Daily Planner
Space Themed Notion ADHD-friendly Daily Planner is digital minimalism at its finest with a unique space theme that reduces distractions. It's full of useful tools like an automatic Eisenhower matrix on databases and optional Google Calendar integration. Set a daily agenda with a built-in Pomodoro timer to help you get in the groove.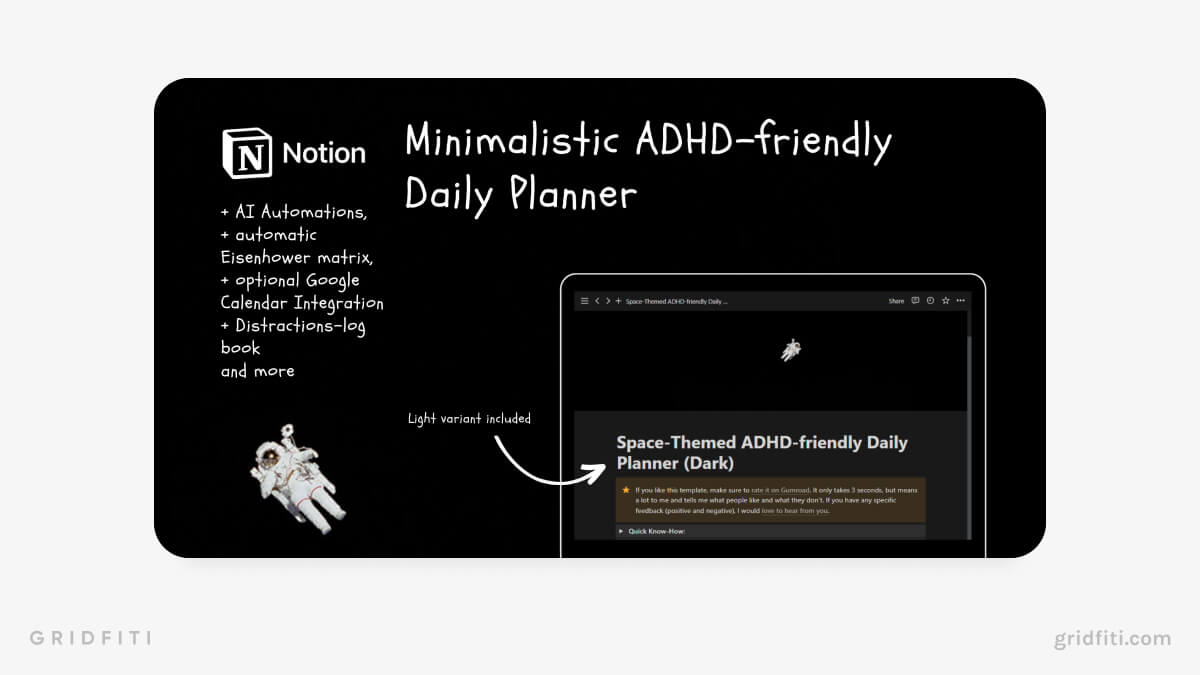 Simple ADHD-Friendly Dashboard Template
The Simple ADHD-Friendly Dashboard Template is ideal if you're new to Notion or find most ADHD Notion templates a bit too busy. A straightforward dash with to-do lists, habit trackers, financial trackers, and brain dumps is all you need to stay organized and focused without feeling overwhelmed.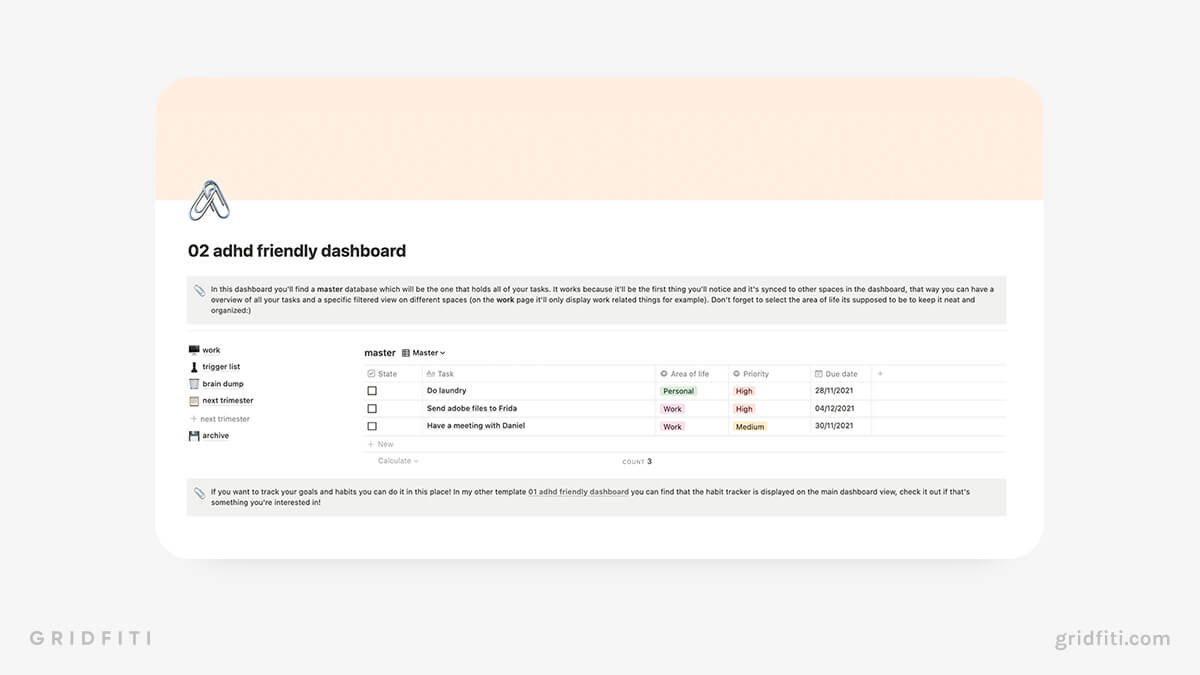 Notion ADHD Planner Template
Complete with goals, projects, and master task databases, the Notion ADHD Planner Template is perfect if you have trouble prioritizing what's important. Compile checklists of tasks in different categories, and set their priority to complete them in the right order. Add prompts to each task's page to remind yourself why specific tasks take precedence.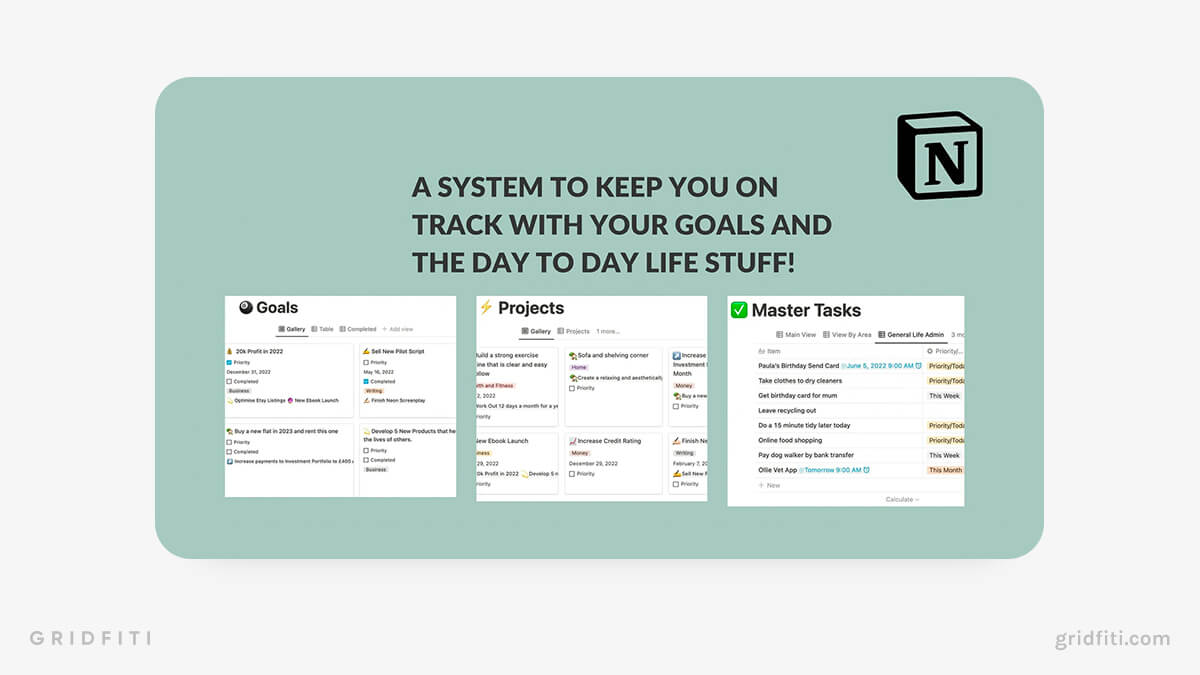 More ADHD-Friendly Notion Templates
If you're an avid Notioneer, chances are you're looking to build a robust plan for your ADHD. Check out even more ADHD-friendly Notion templates below!
Helpful Habit Builder + Tracker
Taking care of your mental and physical wellbeing goes a long way toward managing your ADHD. From appointment tackers to care visibility plans to customizable to-do lists, you'll have everything necessary to build a care plan with this template. There's also a resource center where you can store health-related files and links!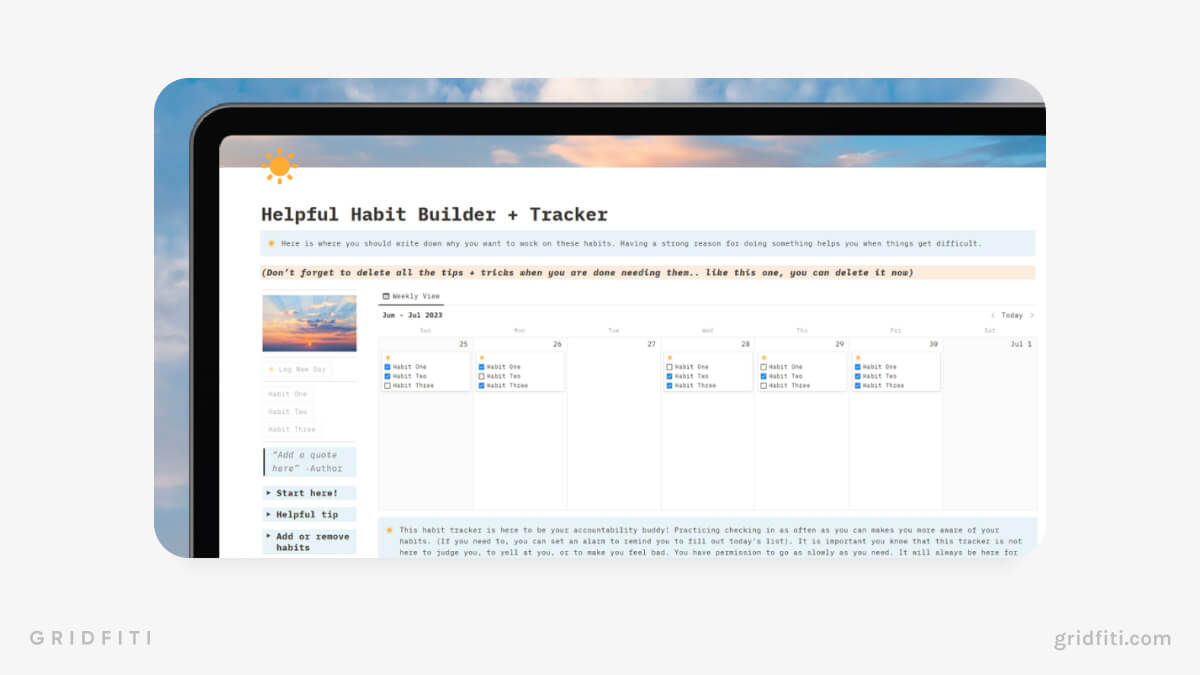 Health + Therapy Tracker
This dual-purpose template includes specialized trackers for therapy sessions, mood swings, and medication schedules. Get reminders for your therapy appointments and chart your emotional landscape to gain actionable insights. Whether you're in therapy or embarking on self-improvement, this template serves as a thoughtful companion for your journey!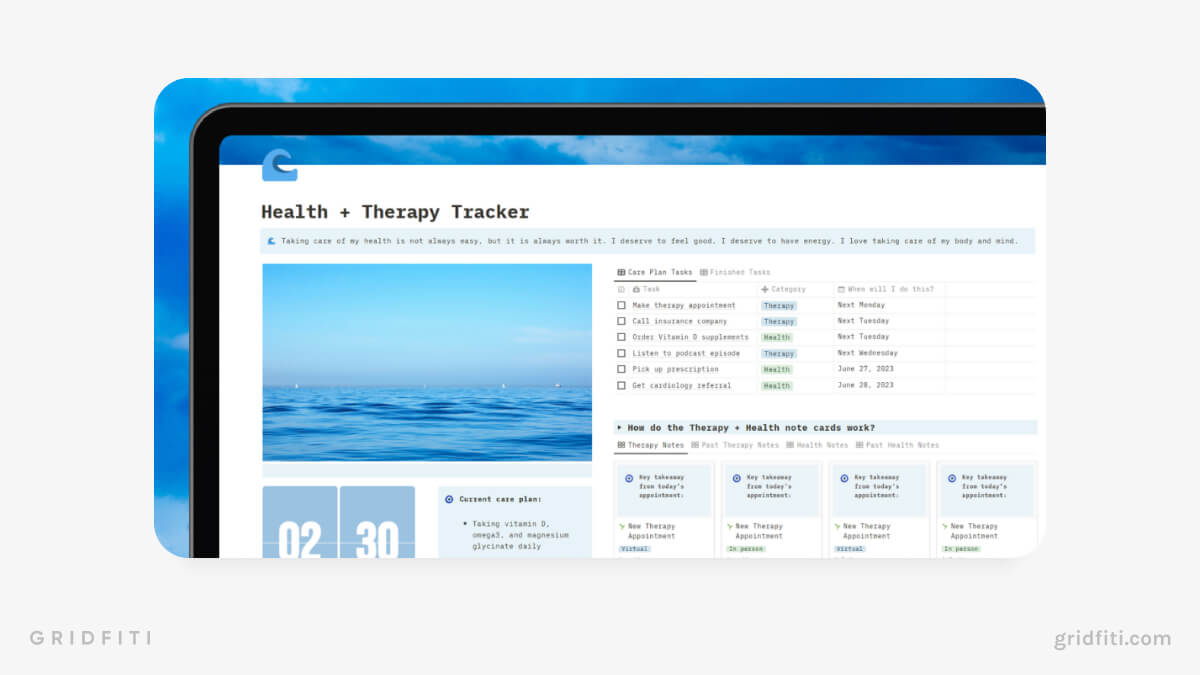 Simple Vacation Packing List
Heading off on a summer vacation? If you're a jet-setter with ADHD, you'll love the Simple Vacation Packing List Notion template. Pack perfectly whatever the weather, with a packing checklist tailored to different temperatures and conditions. Use this template's journal with pre-written questions to record your next big adventure!
Looking for more templates like this? Check out our full round-ups of Notion packing templates and Notion travel templates!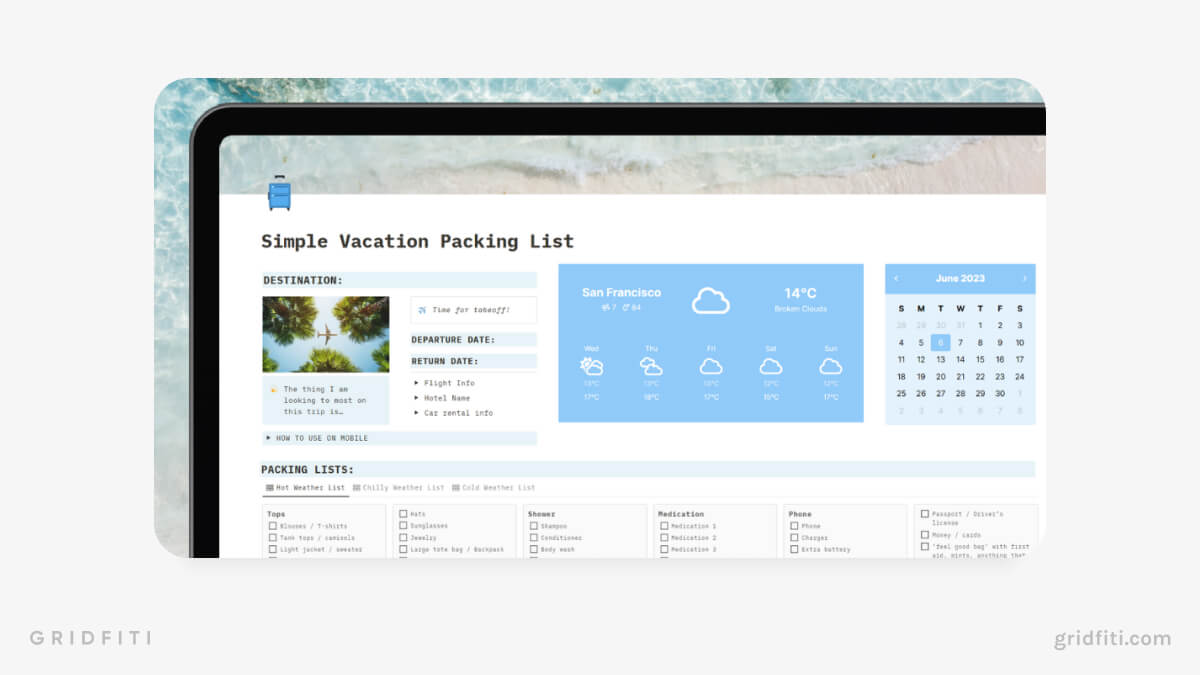 Calm Study Space
Creating an environment that prevents distractions and overwhelm is essential for efficiently completing tasks. The Calm Study Space is a study space, complete with Spotify playlists, positive affirmations, and break activity suggestions to help you find your flow!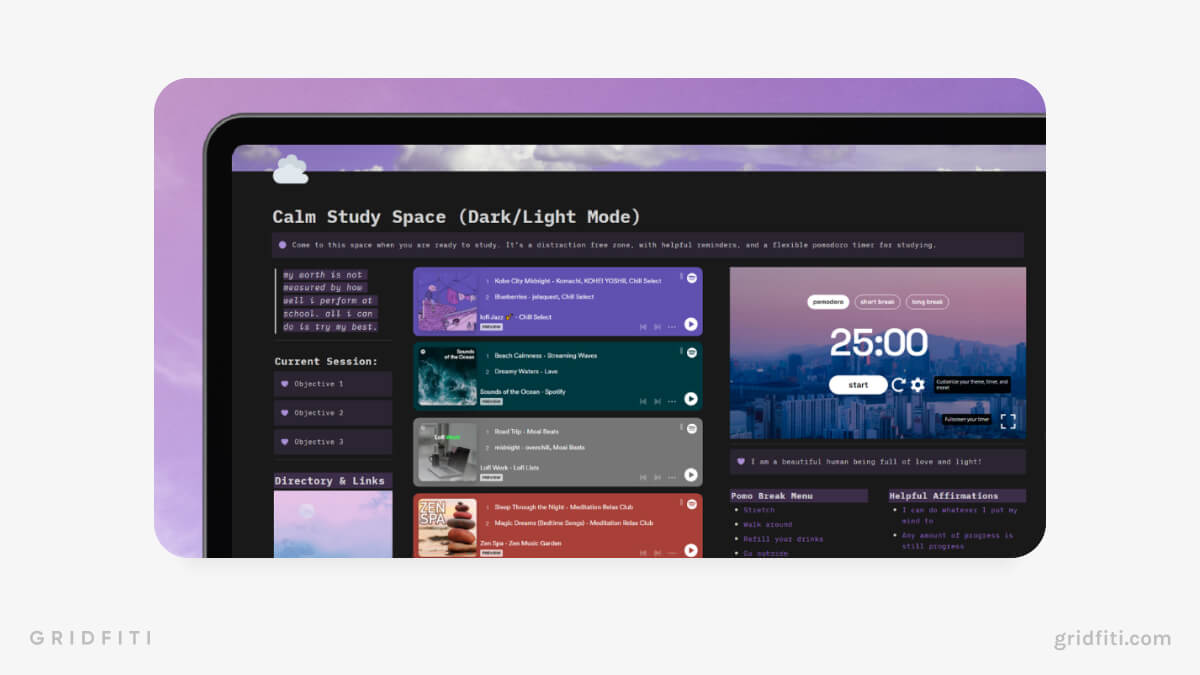 Period Tracker + Cycle Sync
The Period Tracker + Cycle Sync helps you track all 4 stages of your cycle, with suggestions on how to exercise, eat, and work in order to feel at the top of your game all month long!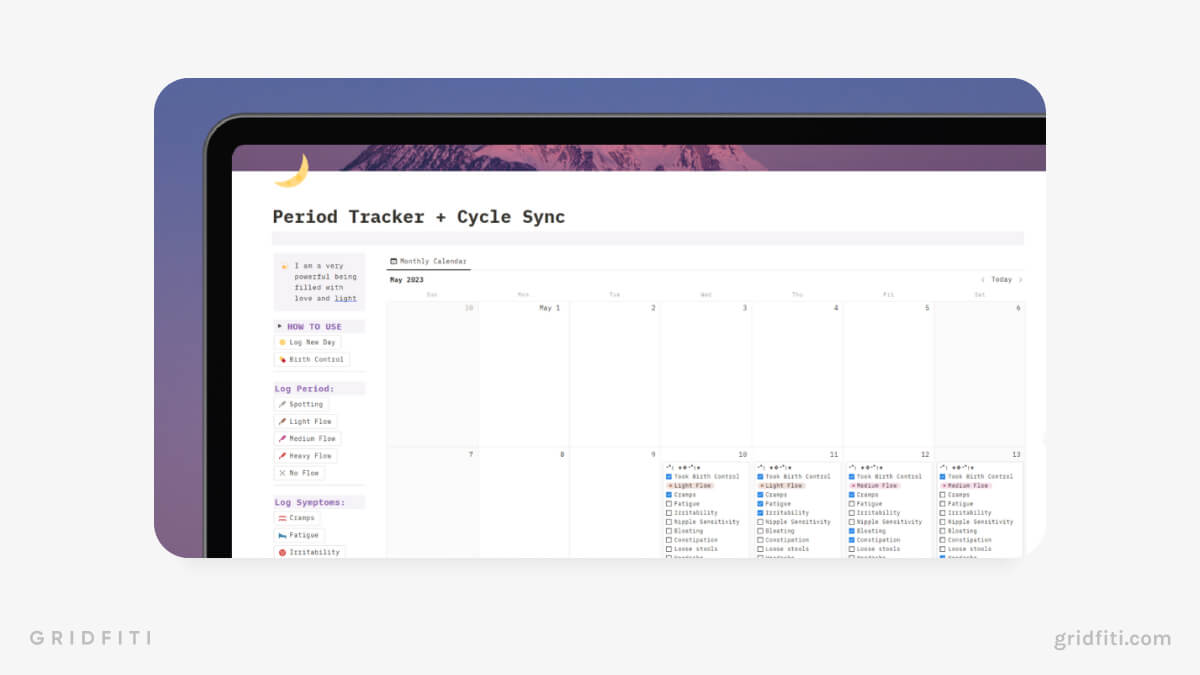 No More Impulse Spending Template
This is the template for you if impulse spending is the crux of your financial woes. Get encouraged to wait before splashing out on something frivolous to help you save some cash. Make a budget, track your finances, and be in tune with your spending habits!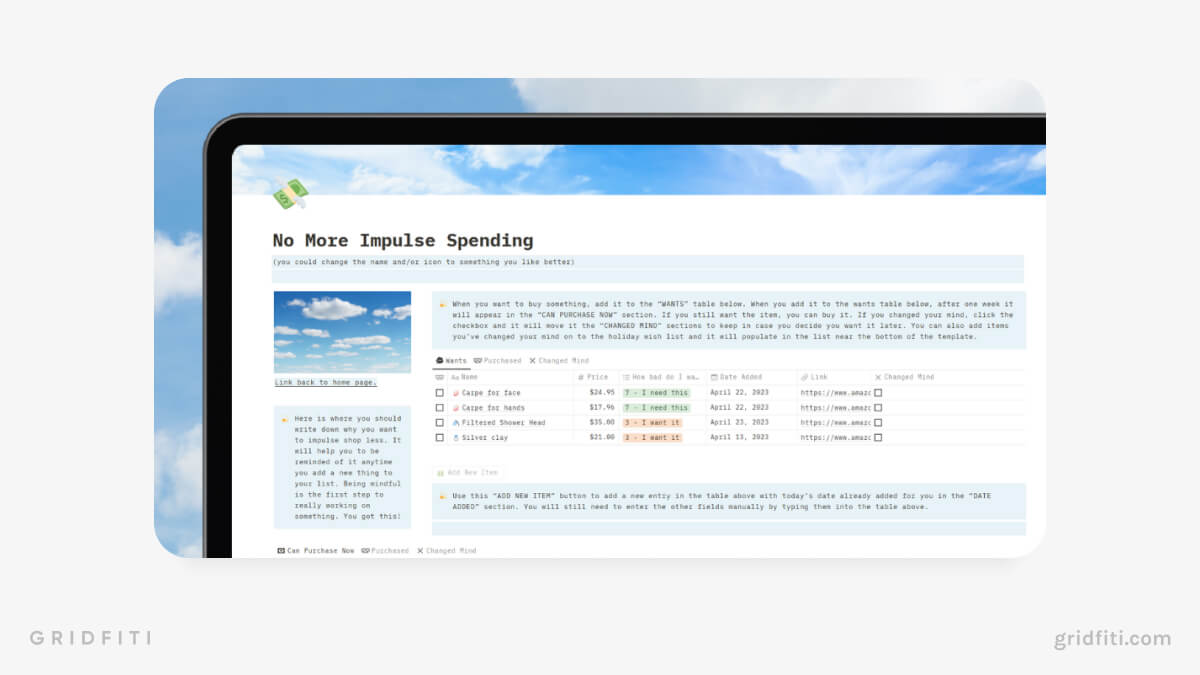 Get Sh*t Done – Smart Notion Template for Goals
Based on James Clear's best-selling book Atomic Habits, Get Sh*t Done does exactly what you'd expect — it helps you complete tasks quickly and efficiently! This template emphasizes starting tasks rather than setting specific goals, as getting started is the hardest part.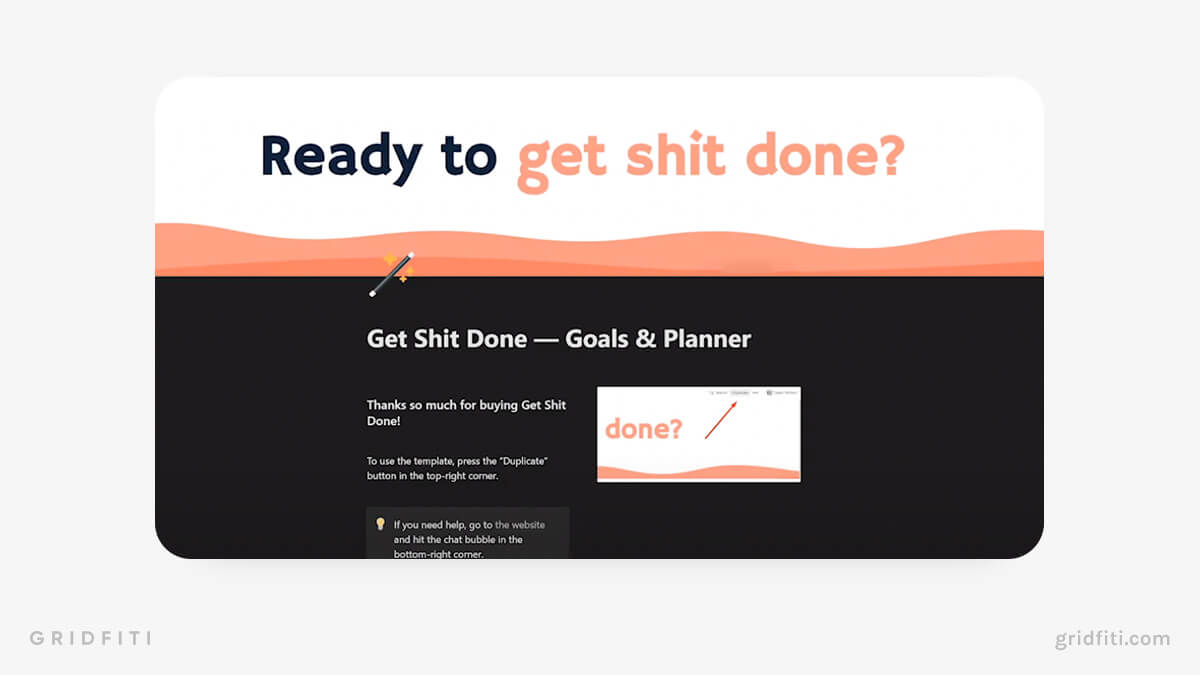 Vision to Action – Notion Goal Planning Roadmap
Professional life coach Caren Magill's Vision to Action is a Notion-based program to help you discover your character strengths, needs, and values. Once you've rounded up your main traits, you can dive deeper and learn more about yourself with questions and prompts.
Once you've identified what's important, you can set goals and make a plan that aligns with your values and needs. By using Magill's method, you can use this template's calendars, habit builders, mood trackers, etc. that comprehensively cover your aims.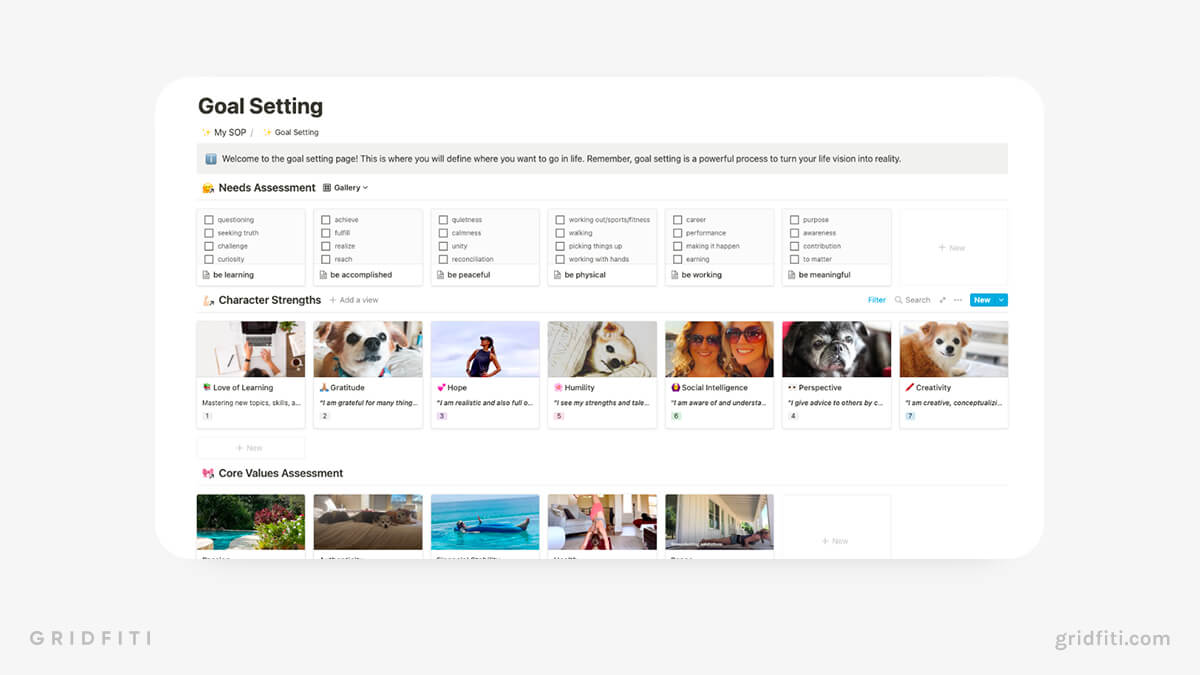 Concentration Companion Dancing Panda — Notion Widget & Stickers
Notion is all about customization, so why not add a fun personal touch to your ADHD templates? These widgets and stickers aren't just adorable characters that brighten your dash — they're specially designed to help people with ADHD stay focused! They also slowly change color as you complete more tasks and dance when you tick an item off your to-dos!
Available Here: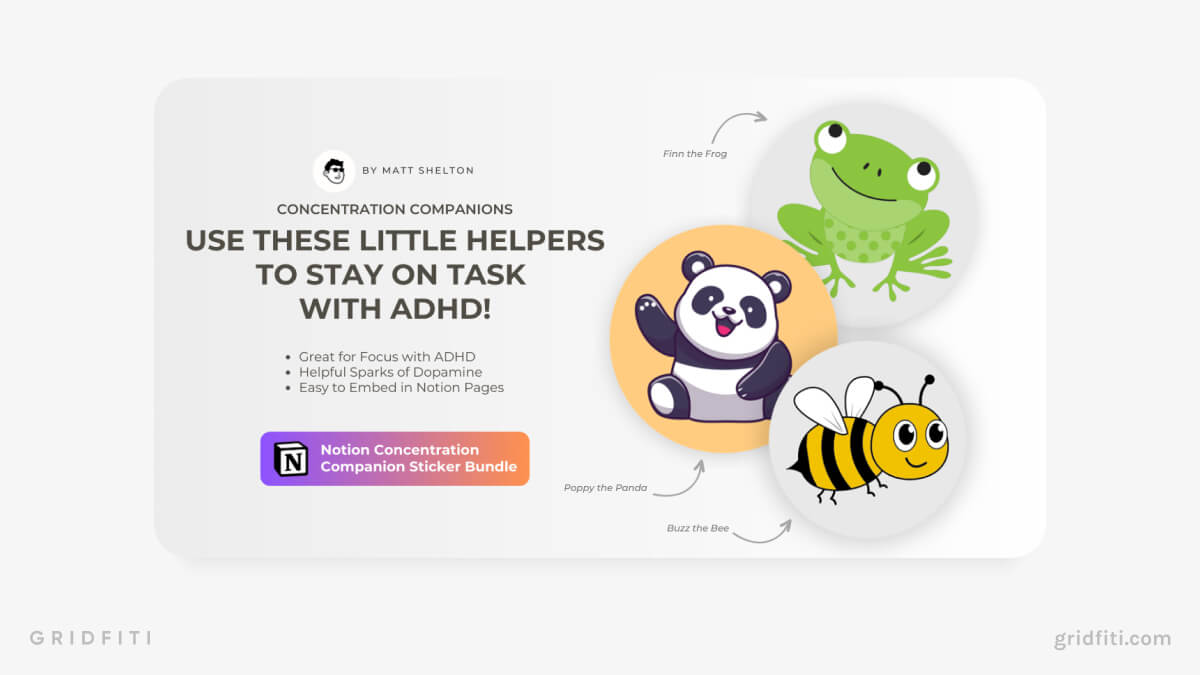 Which Notion ADHD templates will you be integrating into your workspace? Any ADHD templates for Notion we've missed in the round-up? Let us know in the comments below!
Gridfiti is supported by its audience – when you buy something using the retail links in our posts, we may earn a small commission at no additional cost to you. Read more about our affiliate disclaimer.