Between new releases on Netflix, blockbuster debuts at the cinema, and recommendations from friends and family, it can be overwhelming to keep track of your full watch list.
Thankfully, you no longer need to worry about remembering what you've watched, and what you want to watch, with a dedicated Notion watch list template – a one-stop-shop to track all of your movies and shows.
Journal your watched films, sort your lists, categorize your genres, rate your viewings, and share watch list recommendations with these curated watch list templates!
Looking for some beautiful movies to add to your list? Don't miss our roundup on the most visually stunning movies.
Want more Notion templates and updates? Join our Notion mailing list, and check out our several other Notion template roundups!

Notion Life Dashboards – TV & Movie Watch List
Not only will you easily manage your groceries, but with this anime life dashboard, you'll be able to keep track of almost every aspect of your life – from your finances, goals & milestones, watchlists, reading lists, and much more!
Not only can you track your watch list – this template includes a template to track books you've read and want to read, too!
Anime Cafe Dashboard Template | Aura Gradient Dashboard Template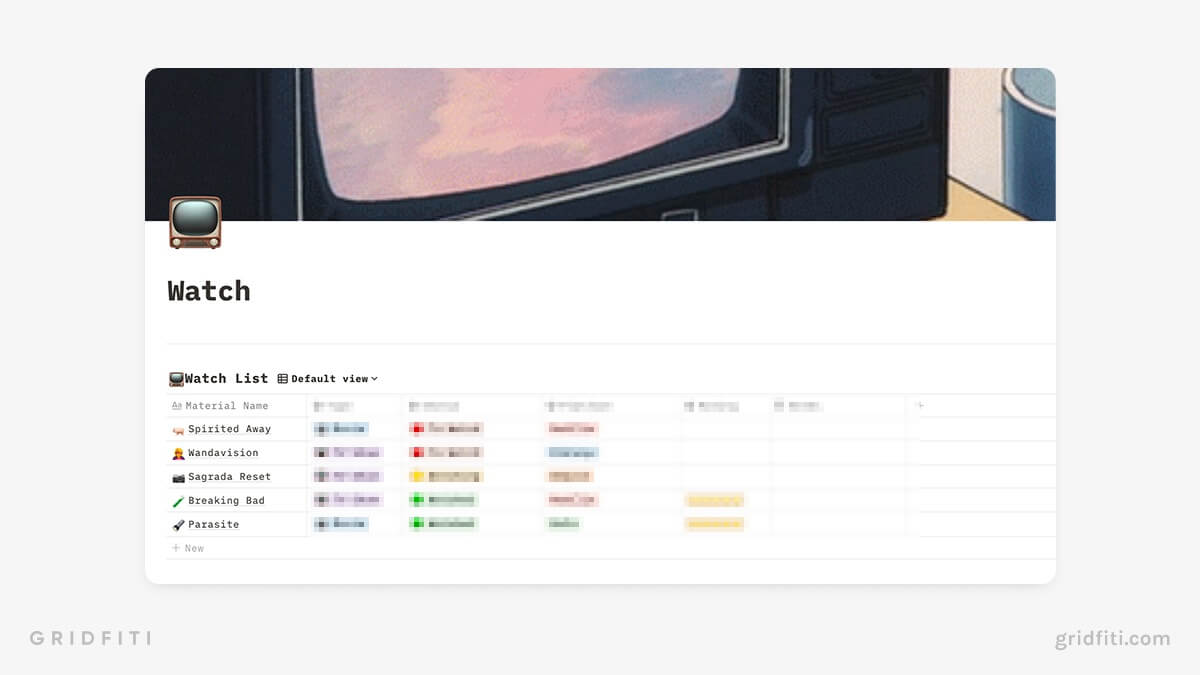 Simple Notion Watchlist Tracker Template
A simple Notion watchlist tracker if you're looking to add your favorite animes, films, TV shows to a visual list in order to monitor what's being watched, what's in progress, and also give a rating out of 5.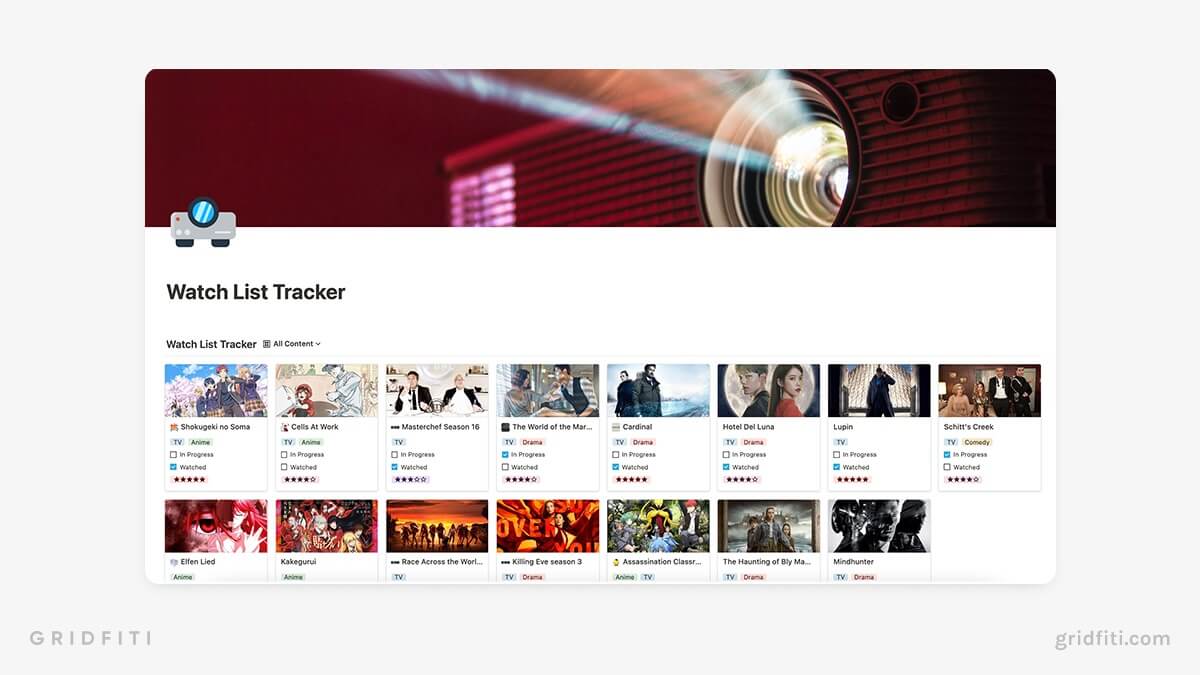 The Perfect Notion Movie List
Organize your favorite films all in one place with The Perfect Notion Movie List template. The advanced ability to sort, search, and store movies you've watched (or want to watch) makes this movie dashboard one of the best. The template also includes a database with over 350 movies listed!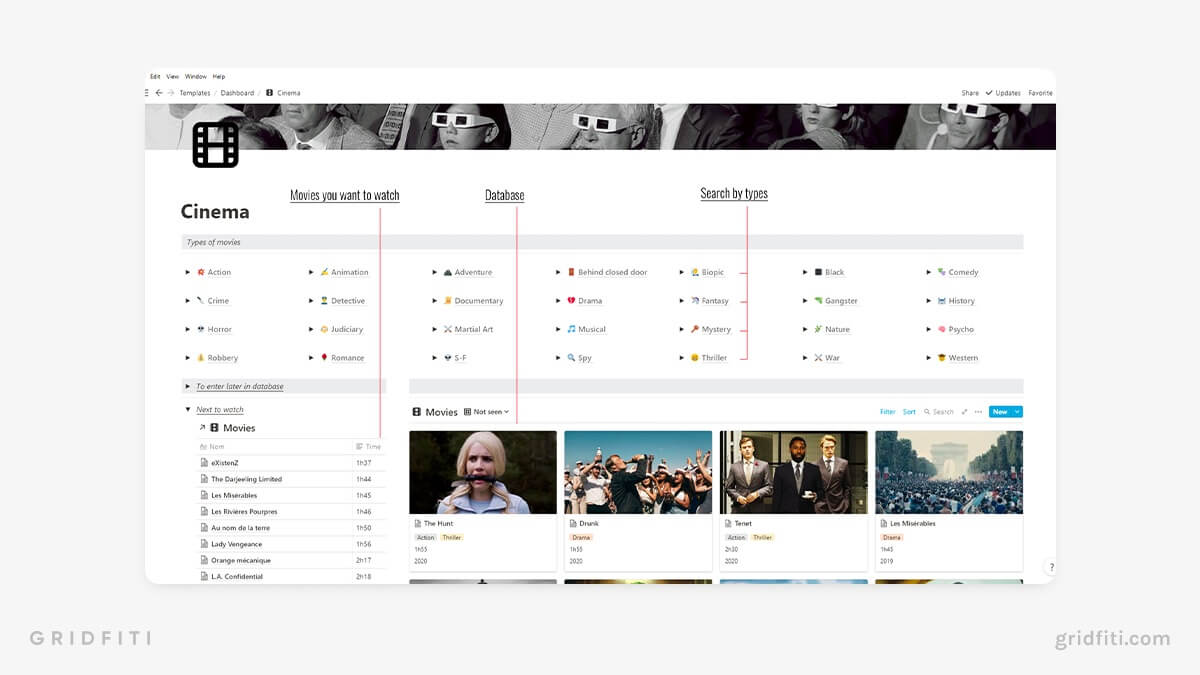 What to Watch Monster Notion Template
From streams, to shows, to films, use this watch list Notion template to help you keep track of new releases, rate and sort your favorite films, and reference movie notes and info to help give the best recommendations to friends and family!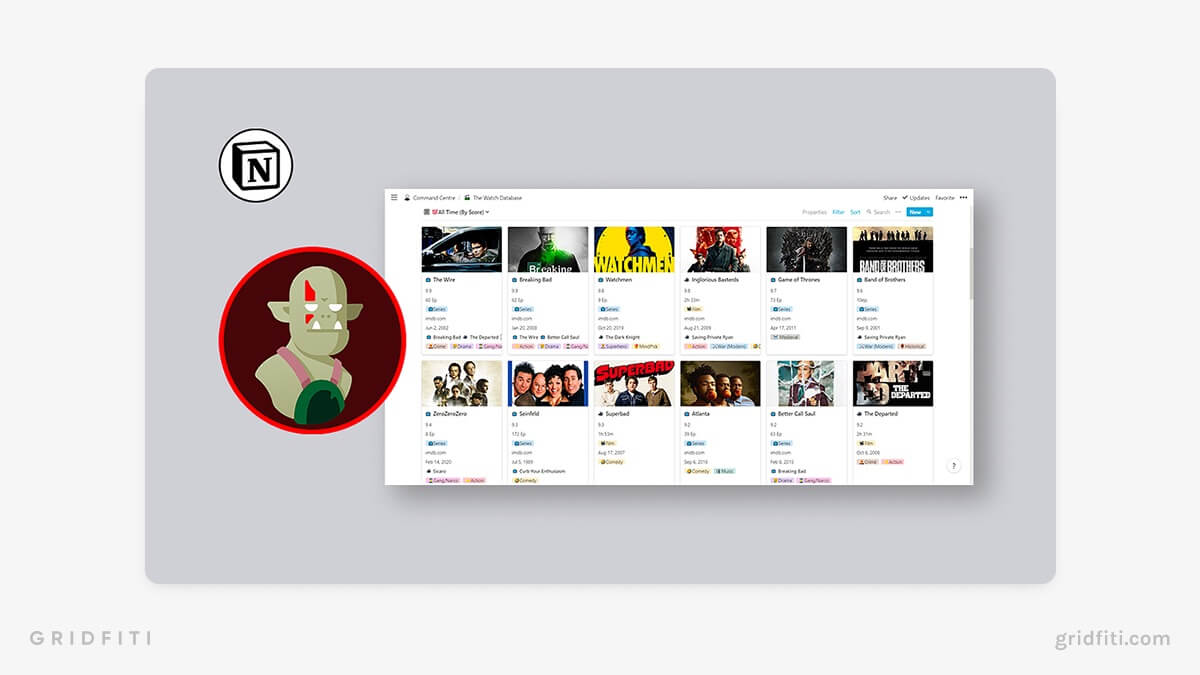 What Notion watch list template are you using? Do you have any other recommendations for movie tracker templates to use with Notion? Let us know in the comments below.
Gridfiti is supported by its audience – when you buy something using the retail links in our posts, we may earn a small commission at no additional cost to you. We only recommend products we would use ourselves and recommend to our friends and family. Read more about our affiliate disclaimer.