Chrome is the most popular browser, and for good reason. Beyond its compatibility and performance, one of the beauties of it is its customizability via extensions.
There are tens of thousands of extensions out there, but if you're on the hunt for extensions that specifically make your setup more aesthetic and productive, it can be hard to cut through the clutter and find the right ones – but worry not, you've come to the right place! We've curated the best aesthetic Chrome extensions for you to integrate into your workspace and get more done – let's check them out.
---
Wanna level up your productivity? Subscribe to The Flow — our free quick, snappy, value-packed focus and recharge newsletter:
---
Table of Contents
Aesthetic Extensions for Students
From auto-generated citations to background noise extensions, Chrome extensions can help with studying in countless ways. Scroll down to discover some of the best Chrome extensions for students!
Flocus – Aesthetic Dashboard for Focus & Ambience
With aesthetic backgrounds, a customizable Pomodoro timer, an eye-catching clock, personalized time-based greetings, inspirational quotes, and more, Flocus is a free all-in-one dashboard for focus and ambience.
Toggle Focus Mode to set your intentions, start your custom Pomodoro timer, and dive into deep work. Or, switch to Ambient Mode with beautiful backgrounds and and mellow playlists to unwind from the daily grind.
For easy access to Flocus, check out the new tab Chrome extension!
Features and highlights
Aesthetic backgrounds to romanticize studying
Multi-use dashboard for focus and relaxation
Customizable Pomodoro timer
Encouraging personalized greetings and quotes, live clock
Curated Spotify playlists and ambient background sounds
Go to Flocus in Browser | Get the Extension Here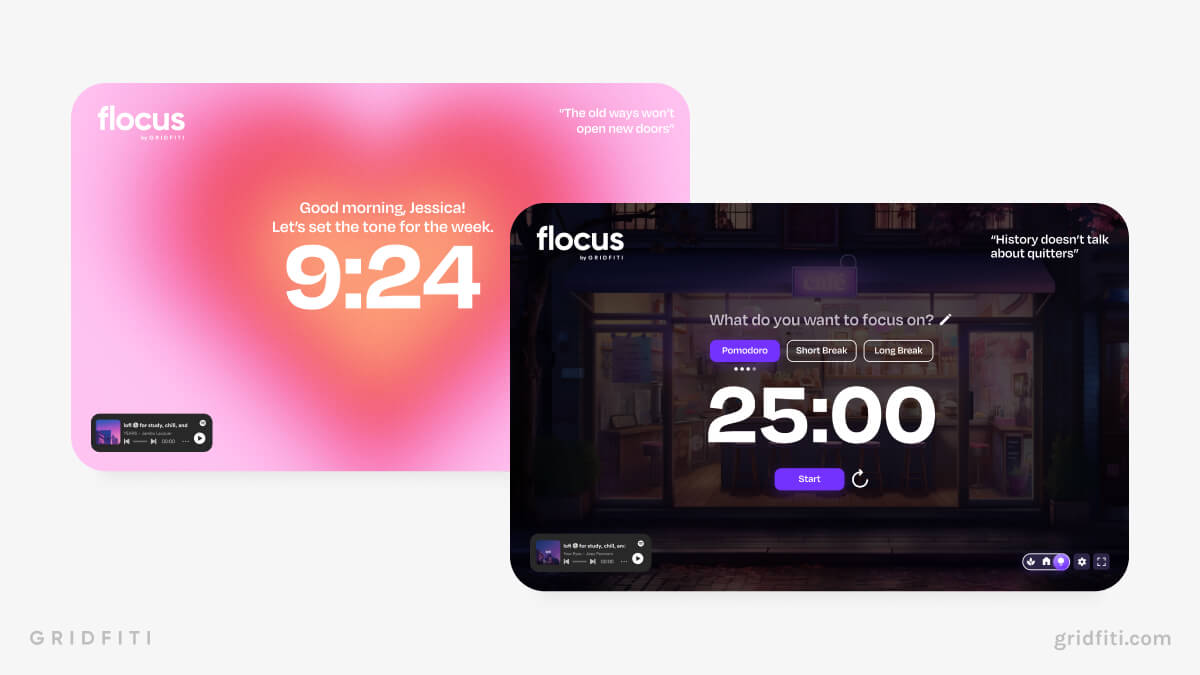 Otto – Pomodoro Timer and Website Blocker
Otto is a one-of-a-kind, gamified Pomodoro timer that operates on a points-based reward system! Built to add some play to your day, treat these little friends as your modern Tamagotchi, and even maintain Otto's health by avoiding blocked sites and completing work sessions.
One great feature of Otto is it blocks websites based on how long you spend on them. Don't want to spend longer than 20 minutes on YouTube? Otto will auto-block the site after an allotted time. You can also view statistics on Otto's "deaths," your daily work time, and more.
Features and highlights
Gamifies a Pomodoro timer with a Tamagotchi-style avatar
Maintain Otto's health by avoiding blocked sites and completing Pomodoro sessions
Auto-block websites after a set amount of time
View your stats on your Otto deaths, distractions, average daily work, and more
If you're looking for more Pomodoro timer extensions, check out our full round-up here!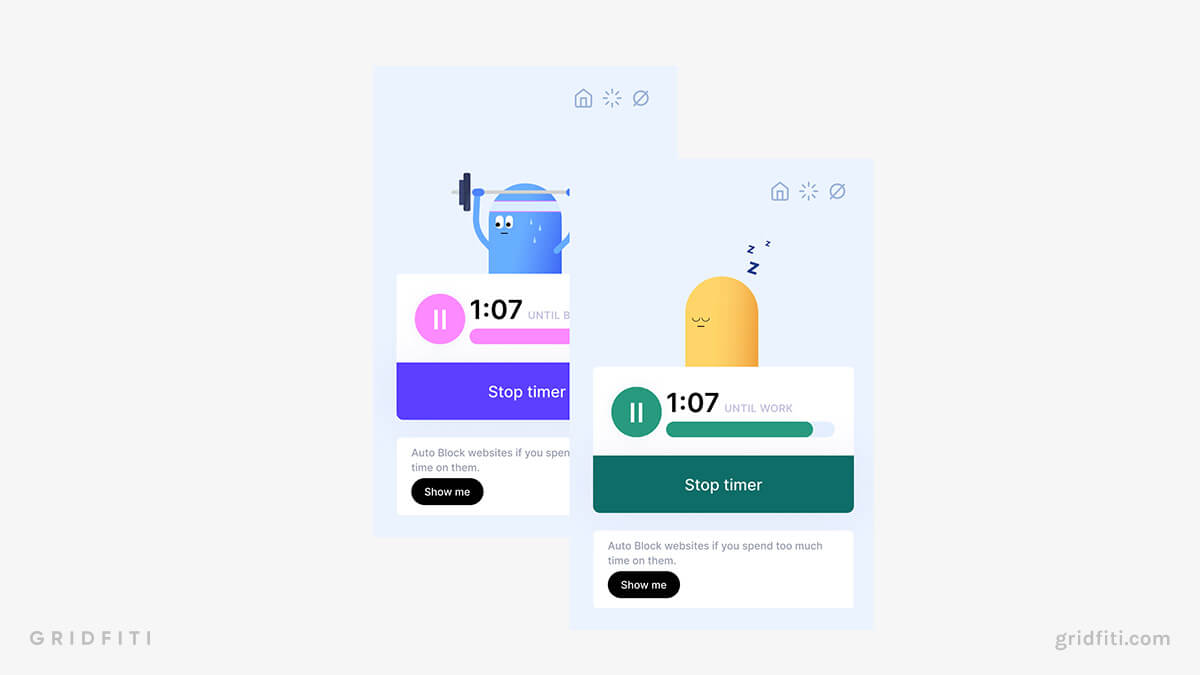 Angry Study Helper
You've seen cute and encouraging focus tools — but there are times when everyone needs some tough love. Angry Study Helper is an extension that gets grumpy when you open a new tab and get distracted while you're supposed to be working or studying, in the form of angry memes and videos appearing!
Angry Study Helper is a unique and quirky focus tool that makes you think twice about mindlessly scrolling through social media while you're meant to be working on an important essay.
Features and highlights
A unique approach to reducing distractions
A man appears on-screen and yells every time you open a new tab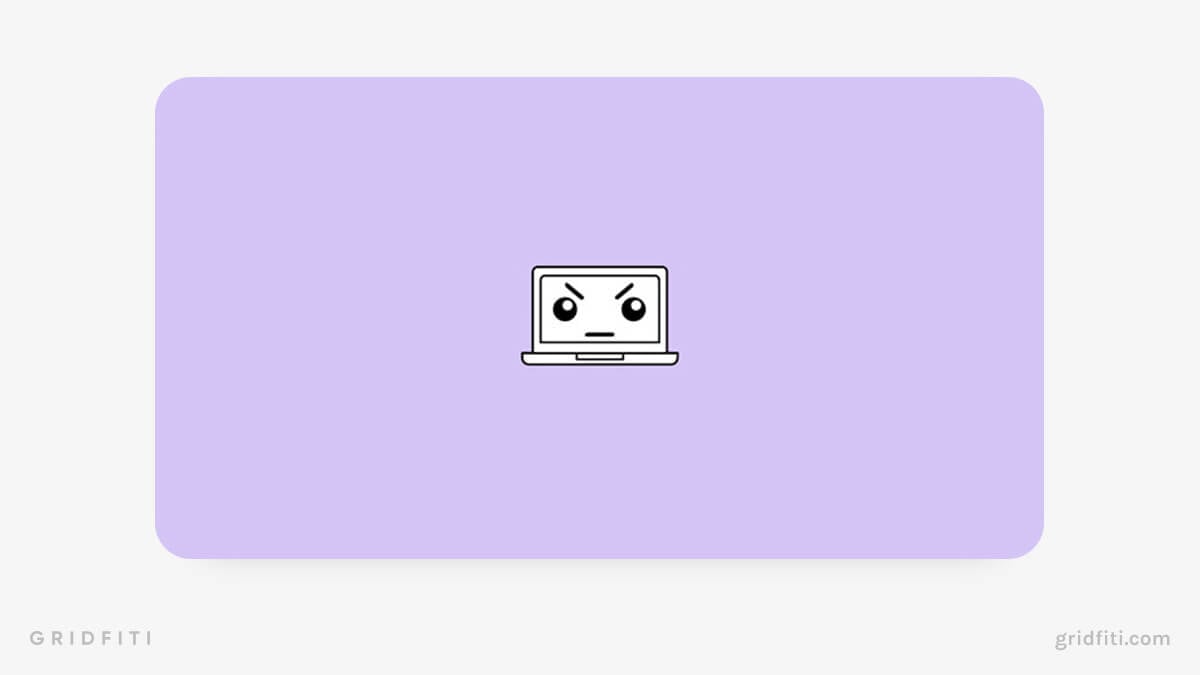 Forest
If you're a visual learner, this one's for you. Forest is a straightforward productivity extension to help you stay focused by planting virtual trees. It's simple: your tree will grow when you're focused, and your tree will deteriorate if you leave the app and get distracted. Once the timer finishes, you'll have grown an adorable virtual tree.
Create a blocklist and allowlist of websites to minimize distractions while you work. Visualize your progress, get motivated, and stay focused on the go with the Forest mobile app. Join over 30 million users improving their focus with Forest!
Features and highlights
Grow virtual trees to improve motivation
The virtual tree dies with you abandon timer
Grow daily virtual forests to track your productivity
Build block/allow lists for websites to reduce distractions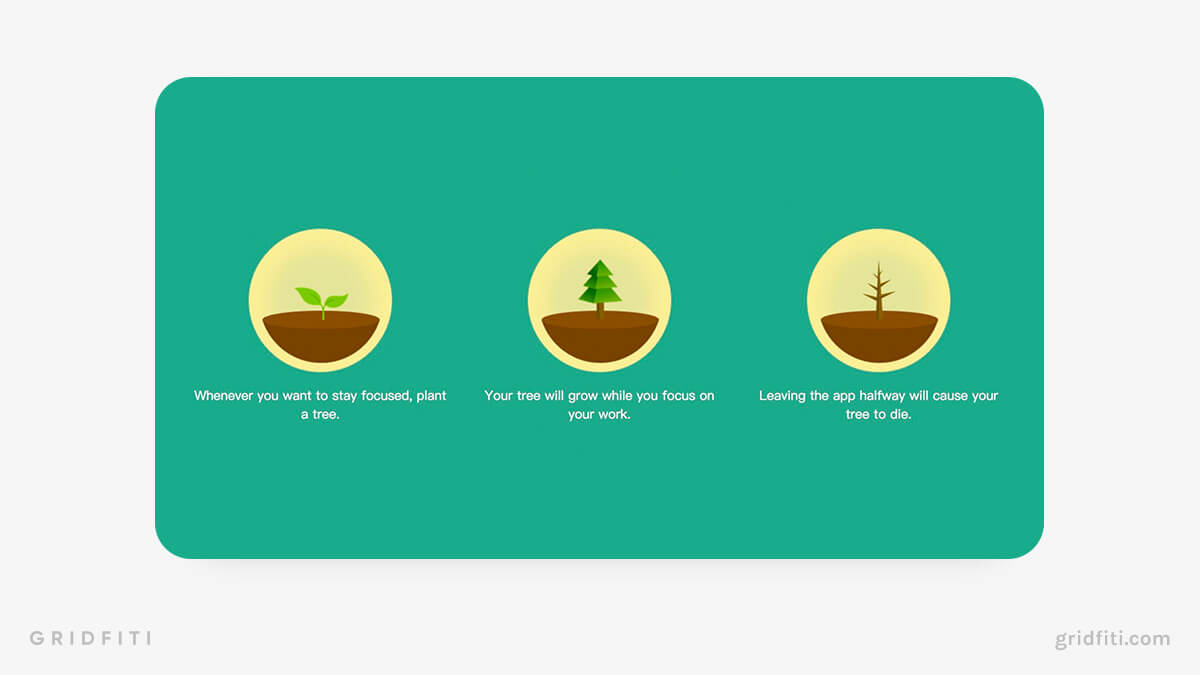 Focus To-Do: Pomodoro Timer & To-Do List
Focus To Do: Pomodoro Timer & To-Do List is one of the best chrome extensions for students. Its sleek, minimalistic design lets you track your Pomodoro intervals and tasks with ease. Input daily tasks and set how many Pomodoro intervals you want to work for.
Focus To-Do is highly customizable — set the length of your Pomodoro intervals and breaks, change your alarm sounds, and play white noise to reduce background distractions. With Focus To-Do Premium, you can view in-depth statistics on your daily work, sync your tasks between devices, and unlock more alarm sounds.
Features and highlights
Focus To-Do can be used to track tasks in your work and personal life
Use Pomodoro timers to track and manage tasks
Track your daily, weekly, planned, and completed tasks
Customize your timer lengths and alarm sounds
Unlock in-depth statistics, new alarm sounds, folders, and more with Focus To-Do Premium
Kami
Kami is a resource and learning management tool designed for teachers but super helpful for students. Kami allows you to upload over 40 popular learning resources and tools, which you can then collaborate on with our students.
Teachers can assign and grade projects through Kami. They can also annotate documents and record visual and audio tutorials. Kami integrates all the tools you already use to provide a seamless remote working experience.
Features and highlights
A comprehensive tool for remote learning
Collaborate and merge different tools and documents to simply teaching and learning
Record video tutorials, annotate documents in real-time, and more
Integrate popular learning management systems like Canvas, Google Classroom, and Microsoft Teams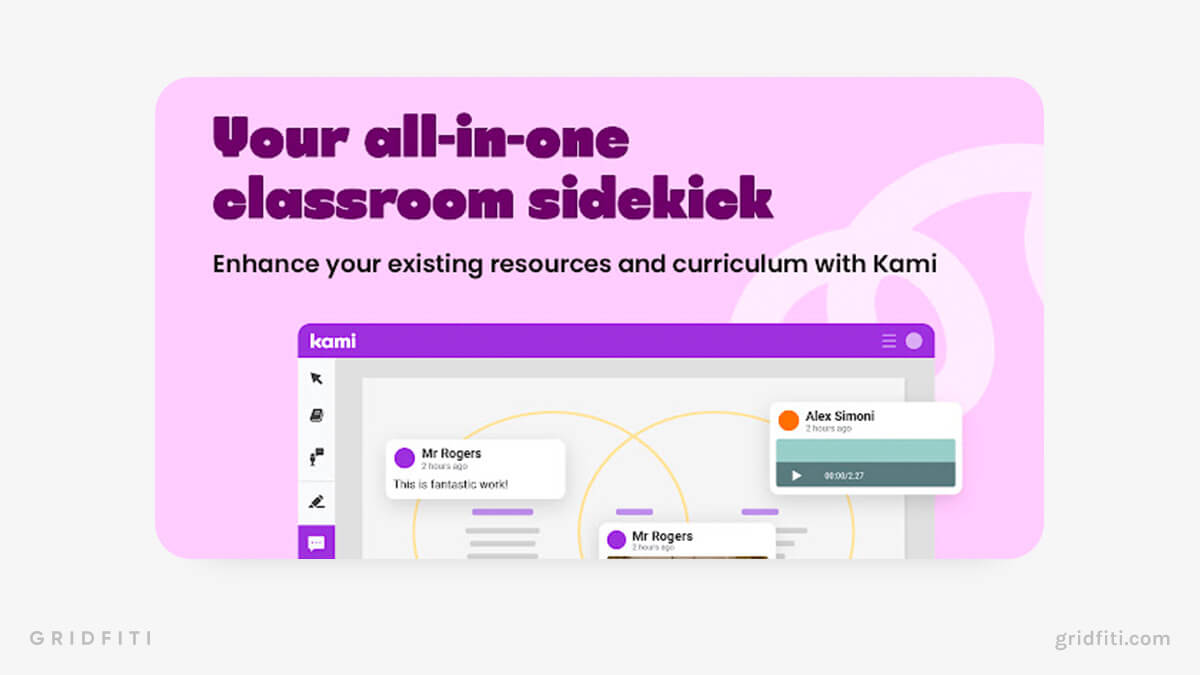 Tide – Focus Timer & White Noise
Tide is a no-nonsense Pomodoro timer that works great as a study Chrome extension. Customize your Pomodoro timer and breaks to suit you. Choose from five white noise sounds to reduce distractions, like a bustling cafe or a peaceful forest.
Pick between "Work Mode" which focuses on the Pomodoro technique. Or, toggle "Immersive Mode" which blocks distracting websites that aren't added to your whitelist. Access stats on your daily focus time, accessed websites, and more.
Features and highlights
A straightforward Pomodoro timer and white noise generator
Customize timer length and choose from 5 background noises
Block distracting websites with "Immersive Mode"
View stats on daily focus and time spent on websites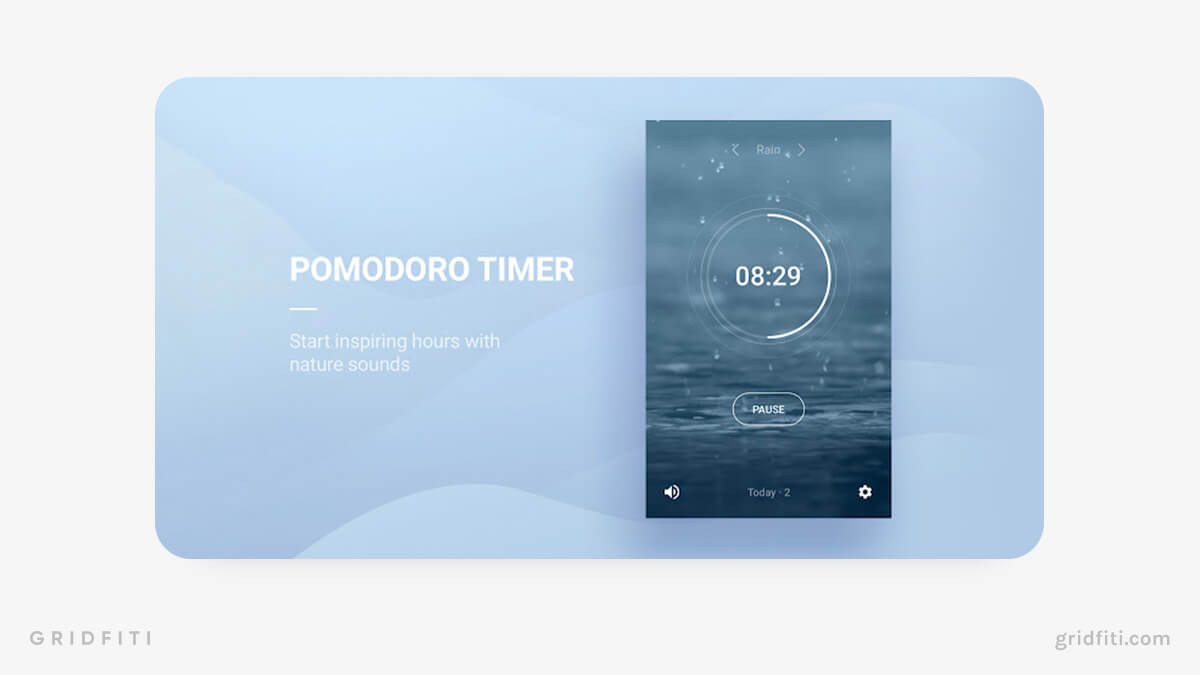 TLDR This
Tired of skimming through long documents to get the key takeaways? TLDR This is a free natural language processing (NLP) tool that takes the pain out of summarizing long text.
With this game-changing Chrome extension for students, you'll get a brief, five-bullet-point summary of a document in a matter of seconds. Just activate the extension from your toolbar and let TLDR This work its magic.
Features and highlights
Uses NLP to summarize text into five bullet points
Simply download the extension and activate it in your toolbar to get summaries in seconds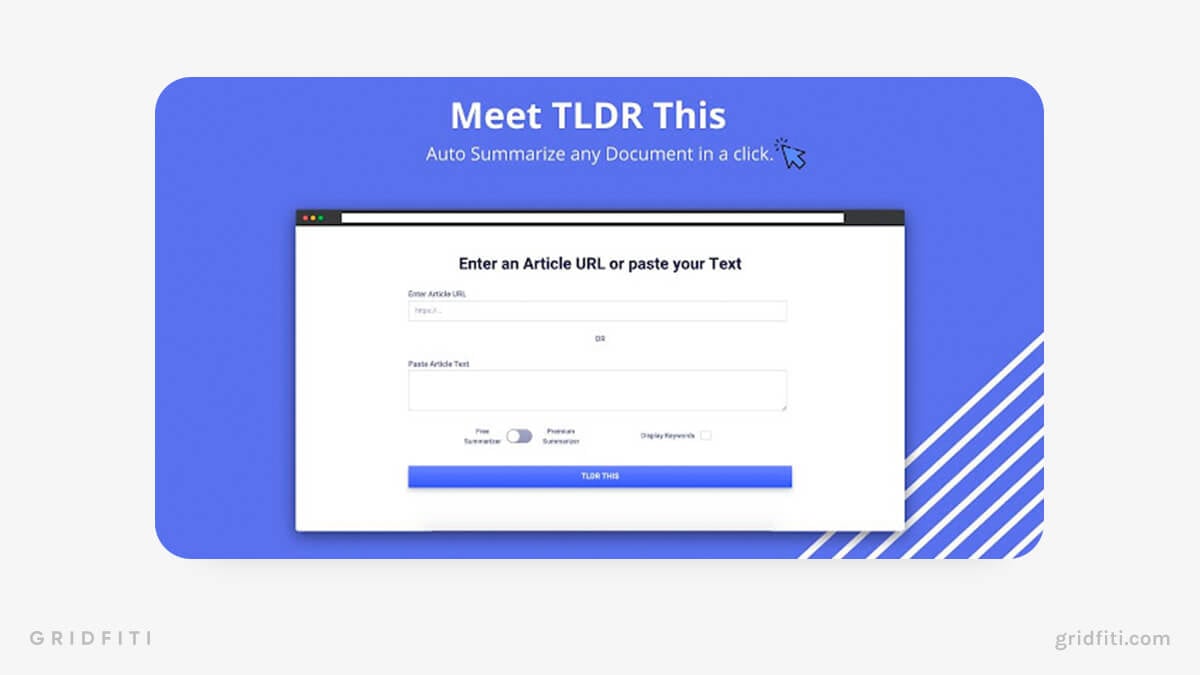 Flora
Flora is an upcoming Chrome study extension that builds on the Forest extension. Use Pomodoro timers to grow virtual trees — if you leave the app, the tree dies. You can unlock more tree species by completing tasks and sessions.
Flora is more comprehensive than Forest because it includes to-do lists, calendars, and habit-building. You can also challenge your friends to grow trees for unique co-working sessions.
Features and highlights
Grow virtual trees by completing tasks and Pomodoro sessions
The tree dies if you exit the app
Team up with friends to grow trees in co-working sessions
Create to-do lists and reminders
Use the calendar to build daily habits
Views stats on trees grown in the form of a garden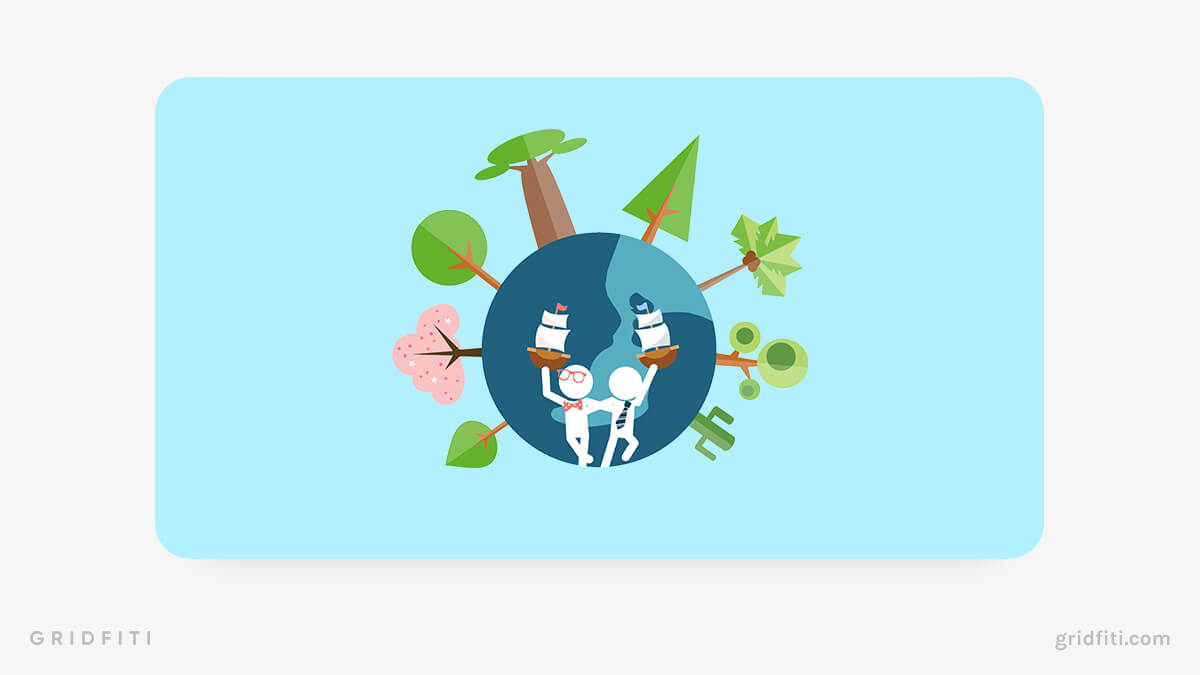 Marinara
Marinara is the ideal method for tracking your Pomodoro sessions without the distractions of a flashy extension. Click the extension in your toolbar to start your timer without needing an intrusive pop-up window. The time left on Pomodoro is shown in the Marinara icon.
Despite its simplicity, Marinara is fairly customizable. Within settings, you can edit the length of your intervals, as well as your short and long breaks. Pick over 20 alarm sounds for each interval type. Plus, you can view some basic stats on completed Pomodoros and export them to other software.
Features and highlights
Simplifies tracking Pomodoro sessions with an extension
No pop-up windows needed — Marinara shows remaining time in the toolbar
Customize Pomodoro timer and break lengths
Choose from 20+ alarm sounds
Open source software allows you to import and export stats and data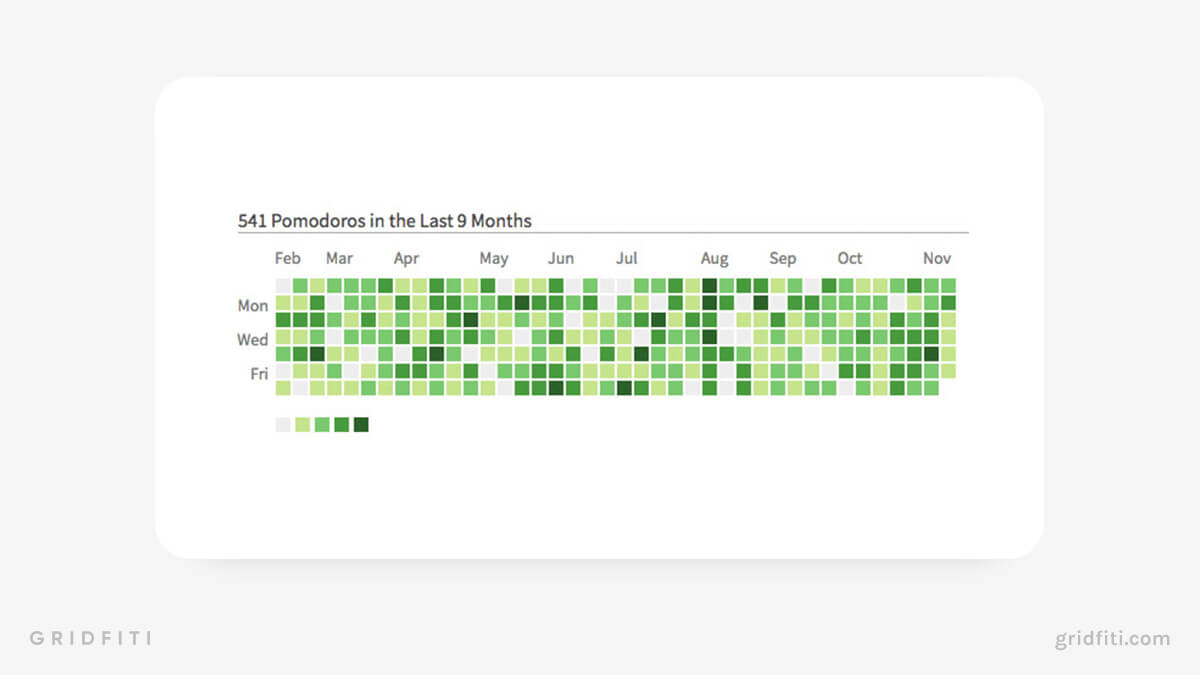 PaperPanda
Any students tired of trying to access academic papers locked behind paywalls will love PaperPanda. Scouring the web for a PDF for a research paper is time-consuming, so why not let PaperPanda do the leg work for you?
Click on PaperPanda in your toolbar while on a locked research paper, and this extension will scour the web for a free PDF version. It uses the research paper's digital object identifier to seek it out on open access repositories and university websites.
Features and highlights
Uses DOIs to find free versions of paywall-locked research papers
Simply click the panda icon and download the free PDF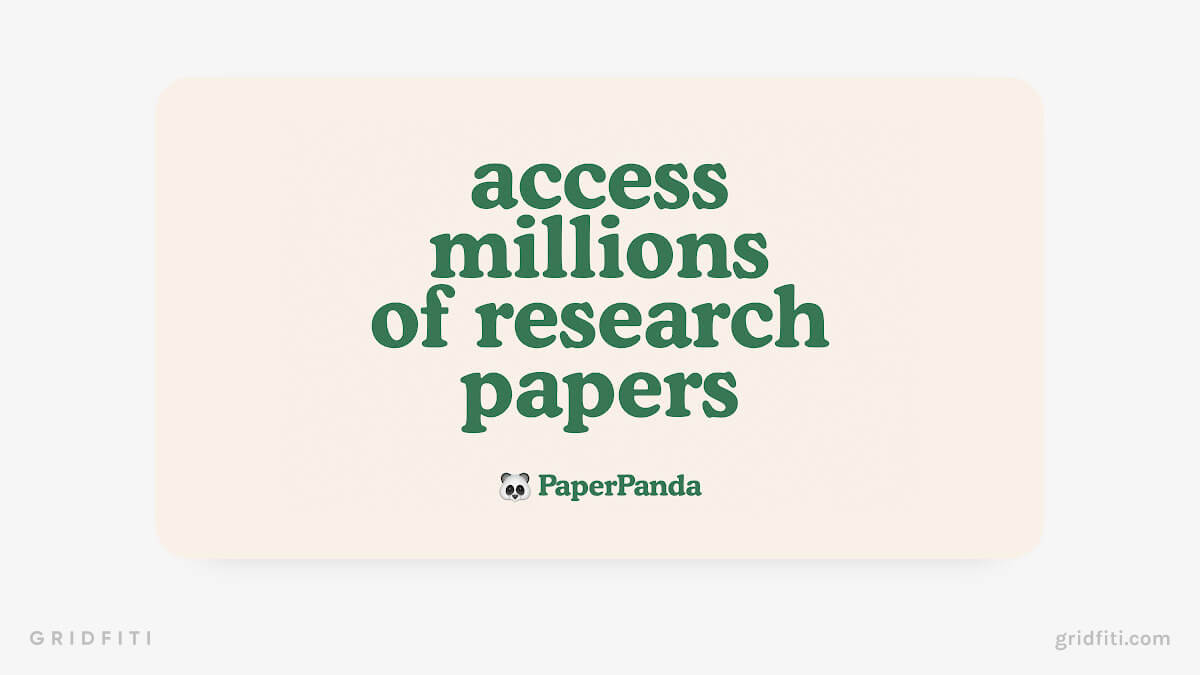 AlphaText
AlphaText takes all the headaches out of trying to read badly formatted text by quickly adjusting the font size, spacing, and color on websites.
Choose which font size, style, and color work best for you. Set up profiles with different preferences for different sites. Use the declutter tool to remove distracting images, videos, and backgrounds.
Features and highlights
Improves readability of articles
Choose your preferred text color, font, and size
Set up profiles with different font preferences
Use the declutter tool to improve distracting multimedia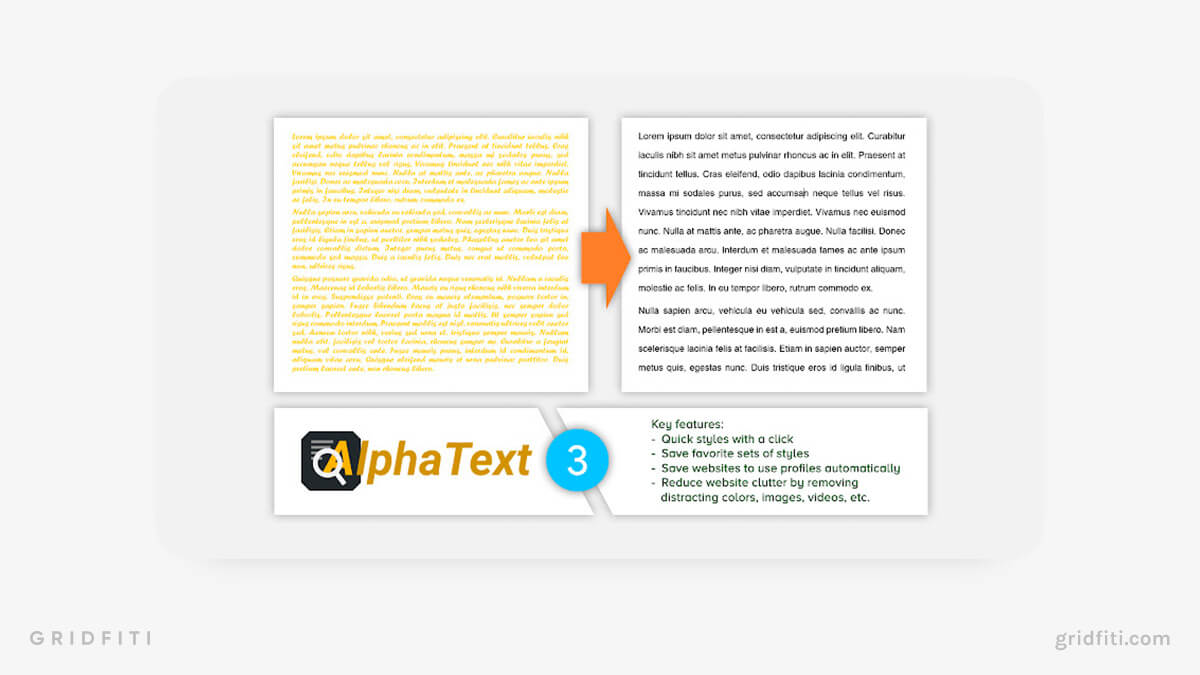 Visor
Visor aids in readability by acting as a screen dimmer and line highlighter. You can change the red/green/blue contrast to suit your needs and adjust how many lines you can read at once. Visor follows your mouse movement and highlights the lines you hover over. Visor is ideal if you have visual sensitivities or difficulty focusing. It's also great for avoiding eye strain while reading at night.
Features and highlights
Improve readability by dimming the screen and highlighting text
Adjustable red/green/blue contrast
Customize how many lines are highlighted
Ideal if you have visual sensitivities or difficulty focusing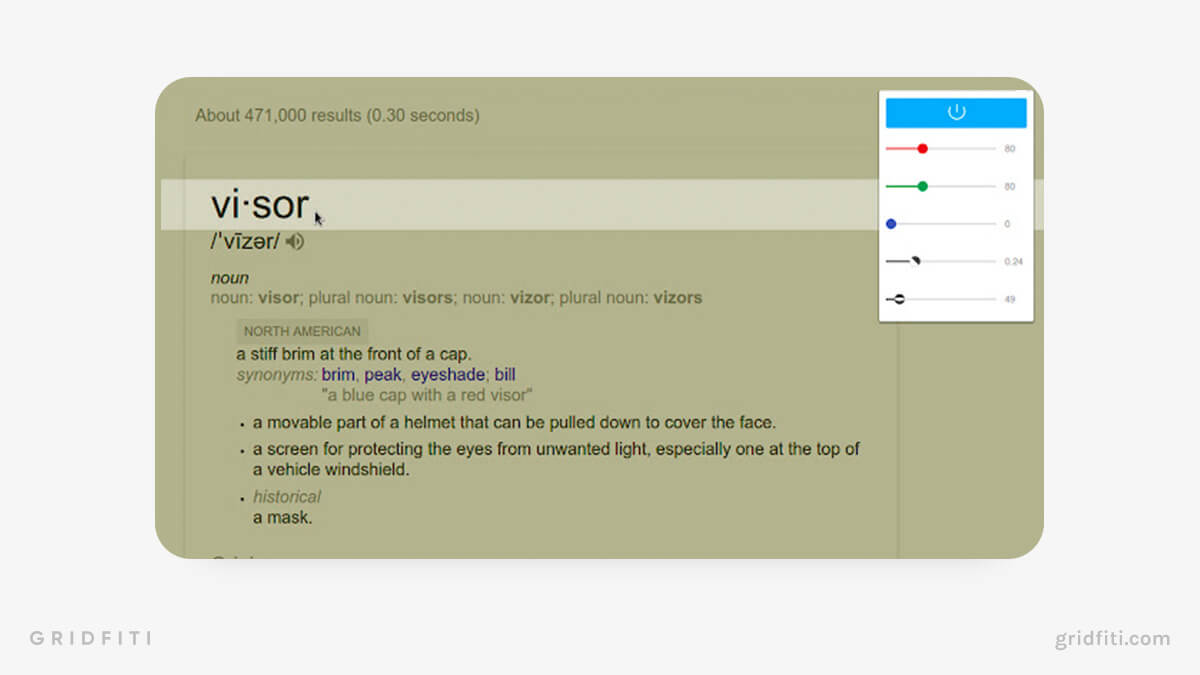 Power Thesaurus
You're writing an essay, but you've used the same word several times — we've all been there. But is there an easier way to find a replacement word without tediously googling synonyms?
Power Thesaurus is a Chrome extension for students that finds synonyms, antonyms, definitions, and rhymes of any word by right-clicking. Adjust the settings to change Power Thesaurus' font size, active dark mode, and more
Features and highlights
Find synonyms with an effortless right-click search function
Search for antonyms, definitions, and rhymes
Keyboard shortcuts to make searching even faster
Adjust settings for font size, dark mode, and list order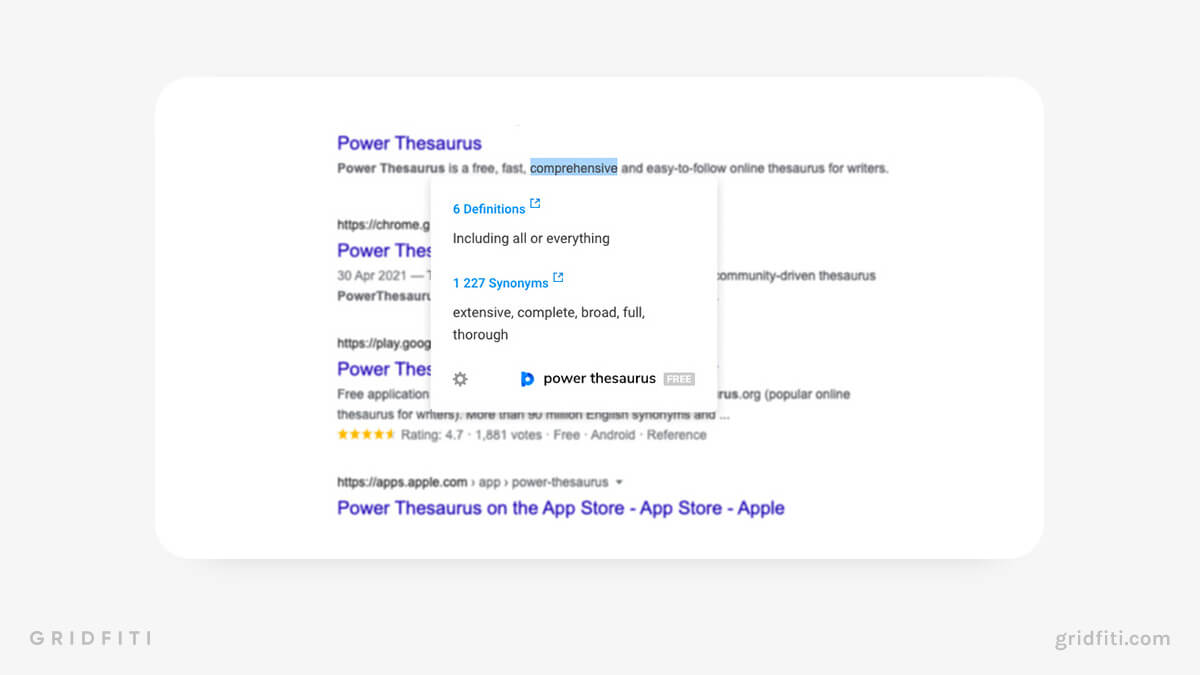 Grammarly
Edit essays efficiently with Grammarly. Grammarly is a writing tool that offers suggestions on spelling errors, grammar, fluency, clarity, and conciseness. It's an automated proofreader that'll help you avoid simple mistakes in your work.
As you write, Grammarly underlines phrases and words which might be misspelled or lack proper grammar. It can even identify more complex grammatical errors like comma splices. A built-in plagiarism checker and the new auto-citation feature make Grammarly one of the best Chrome apps for students.
Features and highlights
Identifies errors with spelling, grammar, clarity, and more
Flags complex grammatical issues like subject-verb disagreement
Offer synonyms suggestions after right-clicking on a word
New auto-citation feature for students using ALA, MLA, and Chicago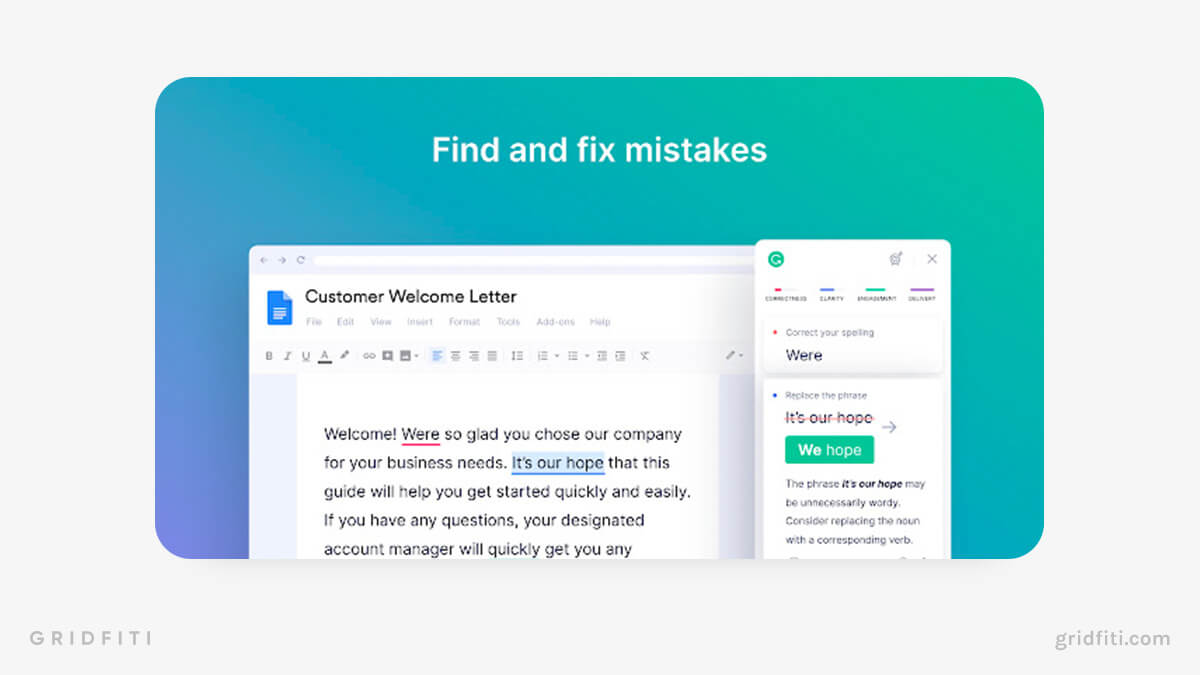 Wondershare DemoAir
Video presentations can be nerve-wracking, but Wondershare DemoAir makes producing high-quality tutorials a breeze. This Chrome extension is a screen recording tool with built-in microphone, webcam, and annotation functionality.
Toggle what settings you want to use, and click the DemoAir icon to start and stop recordings. All your recorded videos will appear in the DemoAir dashboard, where you can share them with others. Plus, you can sync DemoAir with Google Drive to save all your videos for future use.
Features and highlights
Make screen recordings with webcam and voice recording functionality
Edit your videos and add effects, text, and annotations without any prior video editing experience
Share your videos with other people and upload them to Google Drive
One of the best video-editing chrome extensions for students, marketers, developers, and streamers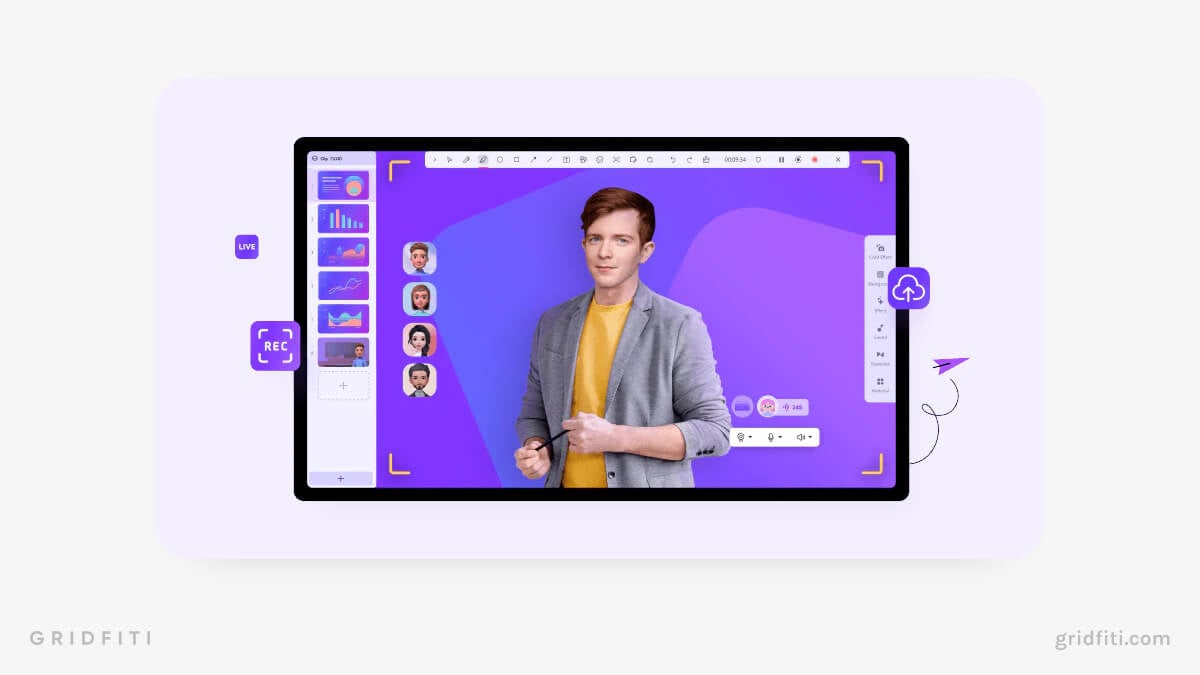 Mini Sticky Notes
Mini Sticky Notes is an old-school way to take a quick note of something during a lecture or meeting. Click the icon to open a classic yellow sticky note and jot down a quick reminder. Mini Sticky Notes autosaves so you can quickly open and close the extension without losing your work.
Features and highlights
A basic sticky note extension for making brief notes
Autosaves what you wrote so you can quickly open and close the extension without losing your work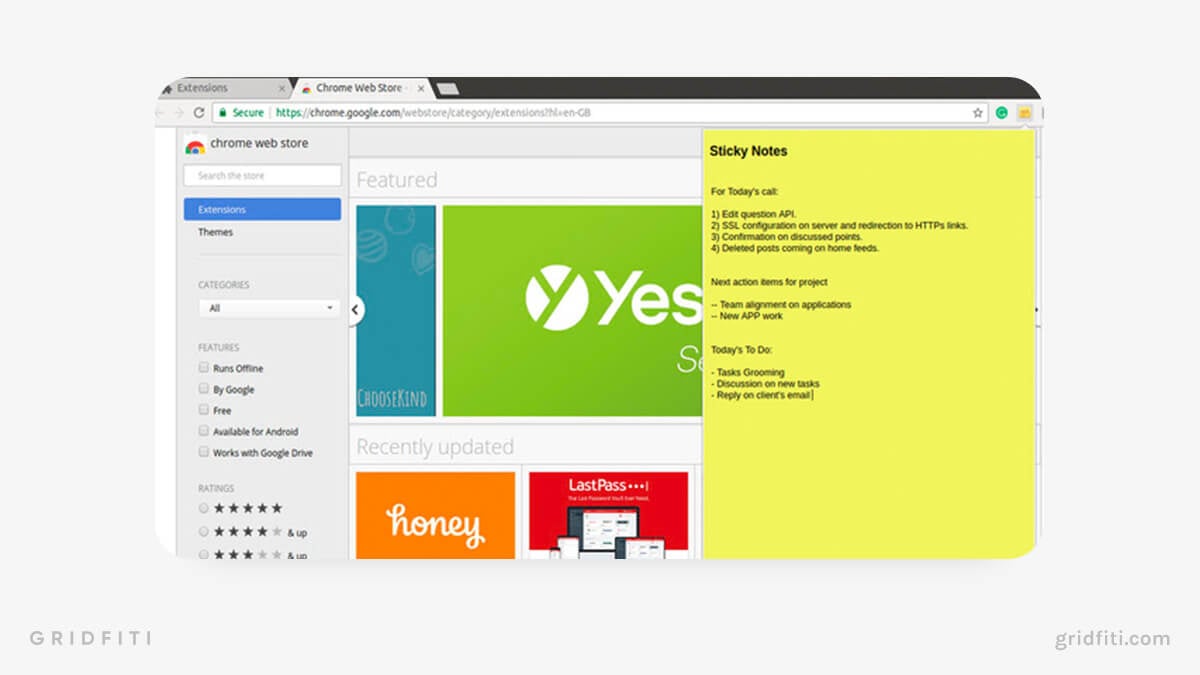 Awesome Screenshot
Awesome Screenshot is a screen capture and recording tool with over 3 million users. Record, annotate, and share videos with others. Use Awesome Screenshot's toolbar to blur sensitive information and insert arrows and squares when annotating.
Built-in webcam and microphone functions mean you can create tutorials and presentations with ease. Save your videos locally, or upload them to the cloud and share them with others.
Features and highlights
A screen capture and recording tool with webcam and microphone functionality
Annotate your work, blur sensitive information, and choose the video quality
Upload your screenshots and recordings to cloud storage
Intuitive controls make editing recordings and screenshots easy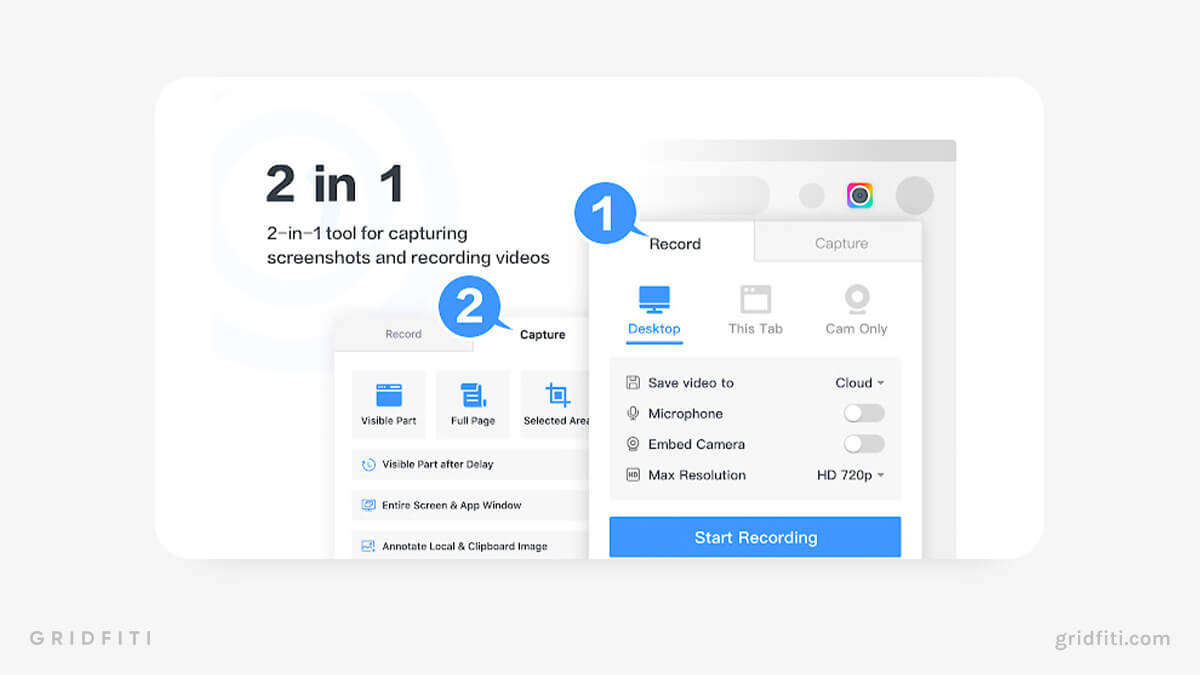 Aesthetic Extensions for Productivity
Staying productive is something we all struggle with whether we're working, studying, or creating. Luckily, you'll find dozens of aesthetic productivity extensions that'll add an extra spark to your daily tasks. Scroll down to learn about the best aesthetic extension for productivity.
Gratitutab – Aesthetic New Tab Extension
Make your new tab page an aesthetic to-do list with Gratitutab! Compartmentalize both urgent and non-urgent tasks in a simple split view, start practicing gratitude each day, and even keep an eye on the date and time – all with this extension!
Features and highlights
A minimalistic to-do list splits up urgent and non-urgent tasks
Shows your task in each new tab making them easy to track
Displays the date and time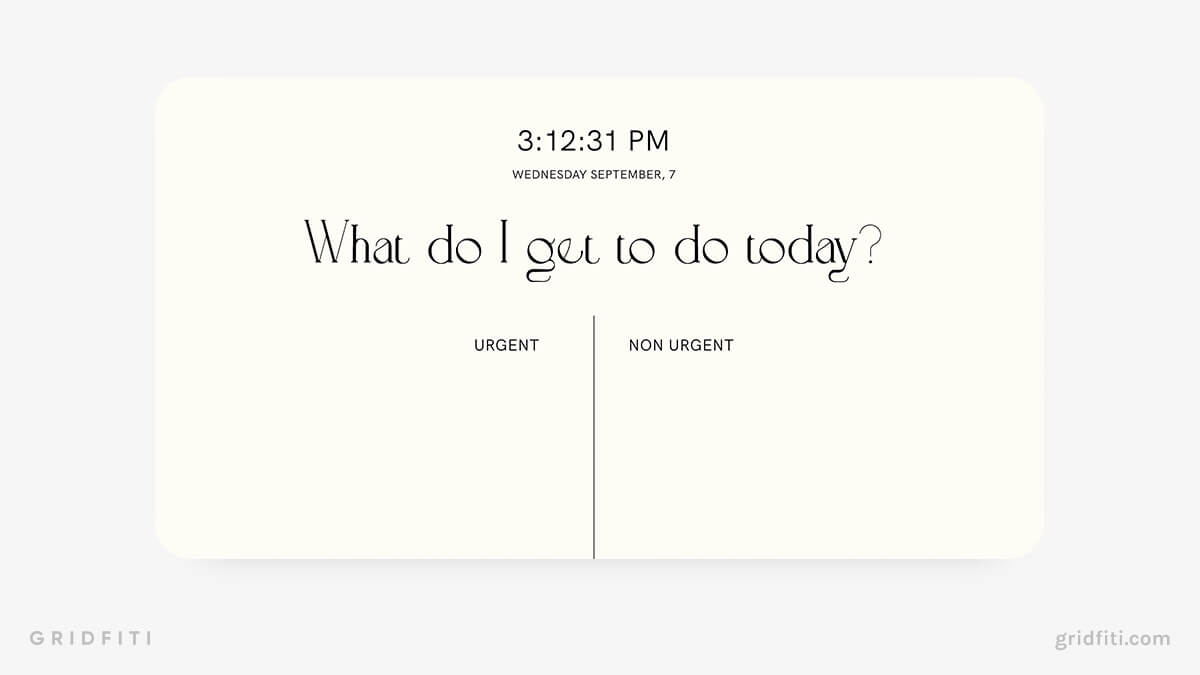 Taskade
Taskade is a to-do list extension to help you create aesthetically pleasing task lists, notes, and outlines. Taskade will help you capture ideas, check off daily to-dos, monitor your goals, bookmark links, and more — all in a single workspace.
Make mindmaps, create calendars, and build a second brain through this super slick task management tool. To take your workspace aesthetic up another level, adjsut your Taskade's font, colors, headings, and icons!
Features and highlights
Build a second brain complete with bullet journals, task lists, mind maps, and organization charts
Collaborate on documents with others with video calls and chats
Use an AI content writer to generate outlines for projects
Customize your workspace's fonts, colors, and more
Sync across multiple devices and use Taskade on the go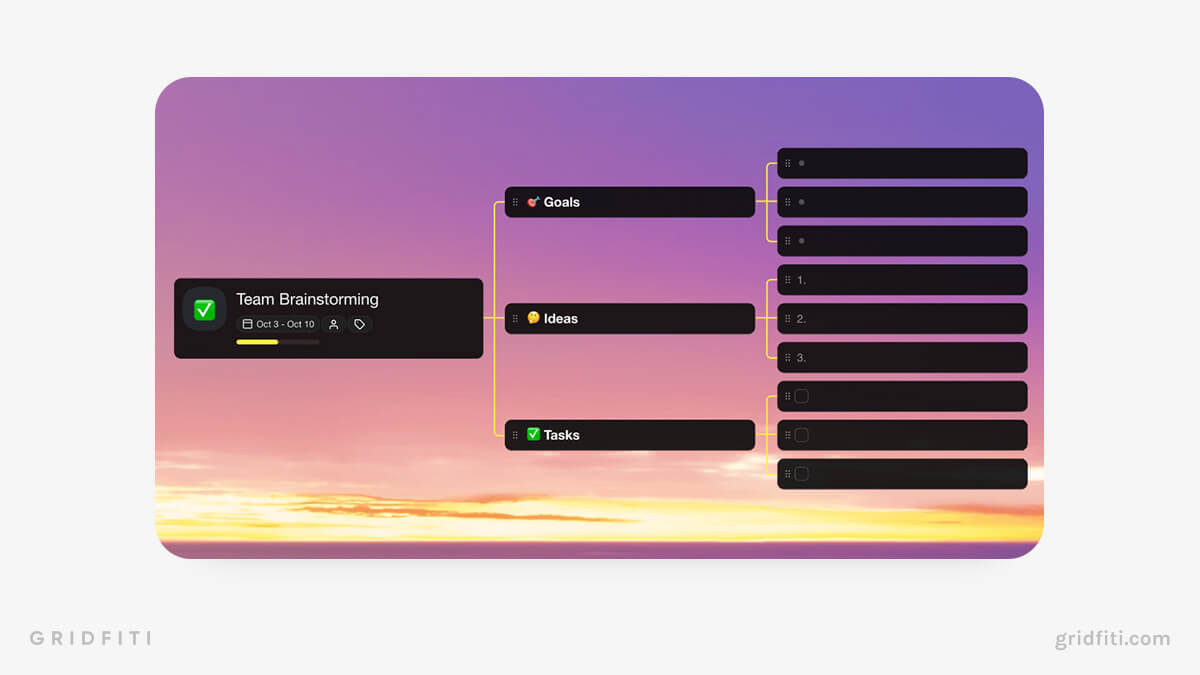 Noisli
Noisli produces background sounds to help you focus while you study, work, or even relax. With curated playlists, you can create and favorite sound combos, share them with friends, and track your work sessions. Noisli's Pomodoro timer means you can track your productivity and listen to relaxing soundscapes all with one extension.
Features and highlights
Listen to curated soundscapes to reduce distractions
Track Pomodoro sessions
Construct soundscapes using intuitive icons and sliders and save them for later
Share your personalized background sounds with our friends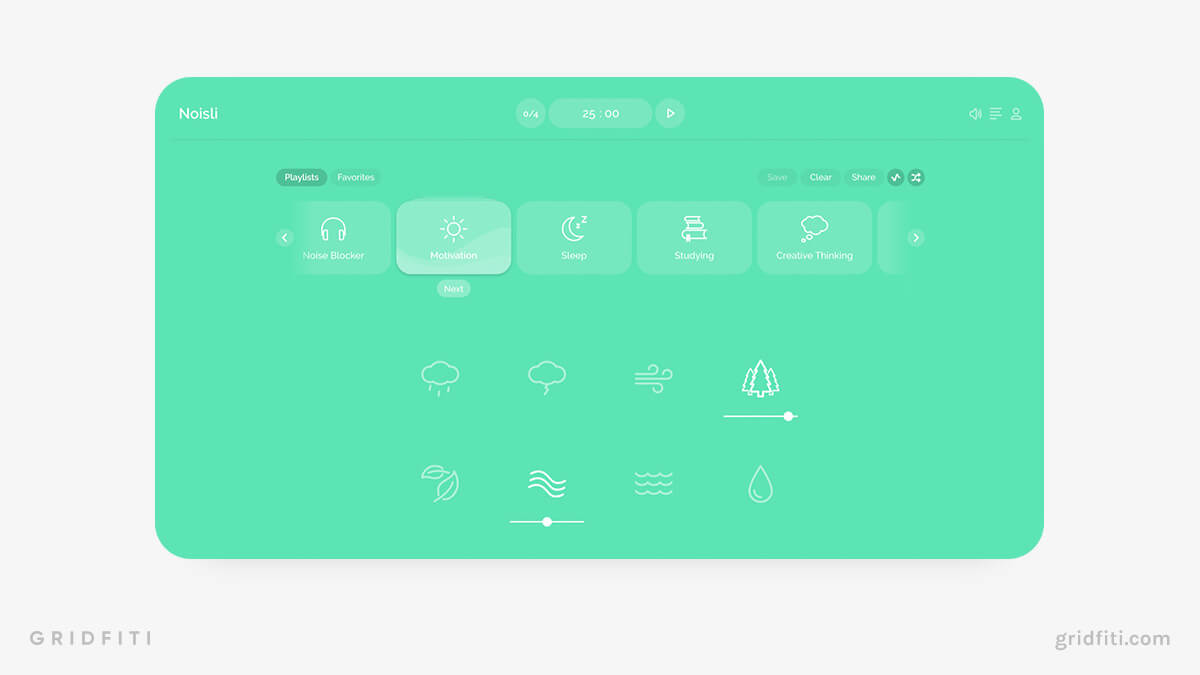 Momentum Dashboard
If you've been on studygram or studytok, chances are you're no stranger to Momentum. Offering a daily dashboard for inspiration both with its landscape wallpapers and motivational quotes, follow simple prompts to set your daily focus, add to-dos, weather widgets, and more – all in a single dashboard.
Looking for more workspaces to keep up your momentum and get more done? Check out our full round-up of aesthetic virtual spaces and study websites.
Features and highlights
Change new tabs into a daily dashboard with a soothing landscape background
Make to-do lists, read motivational quotes, check the weather, and more
Prompts, quotes, and backgrounds change daily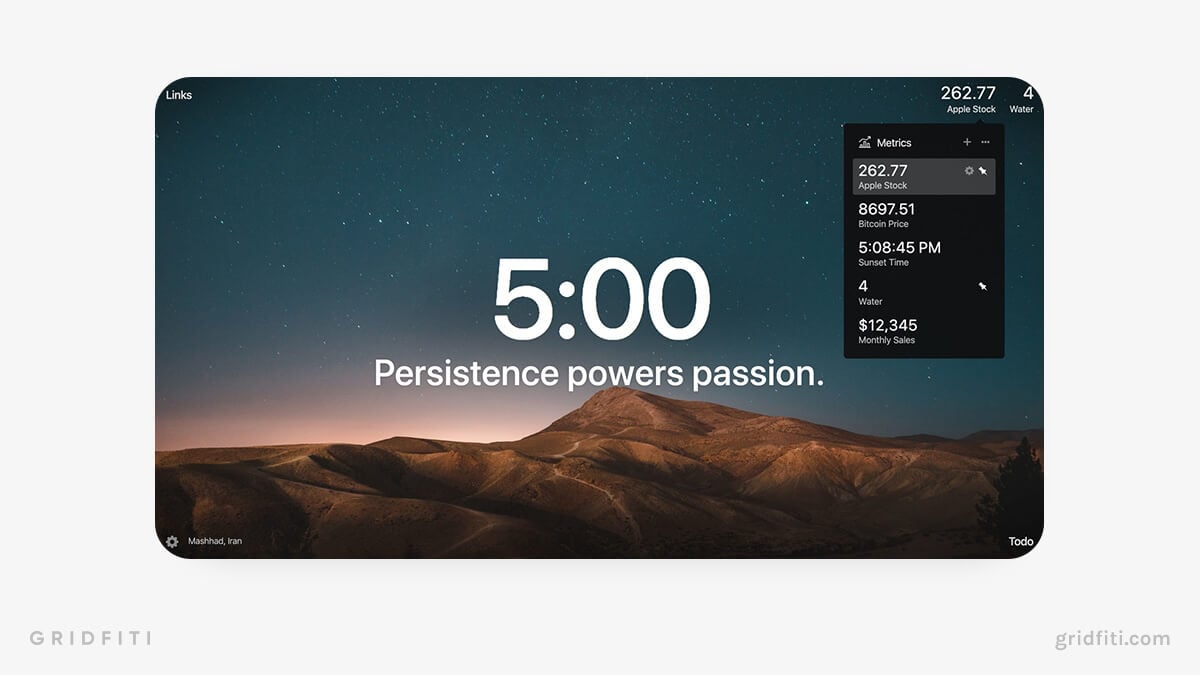 Weava Highlighter
Want to store and organize important snippets you find online? With Weava, highlight text from both websites and PDFs using aesthetically pleasing colors, and even organize your highlights as bookmarks!
Weava is an ace in the hole students and academics. Weava saves you precious time by automatically generating citations based on highlights or saved PDFs and websites in several styles, including Havard, Chicago, and MLA.
Features and highlights
Group together research documents into folders
Highlight PDFs and websites and leave notes
Auto-generate citations based on saved or highlighted websites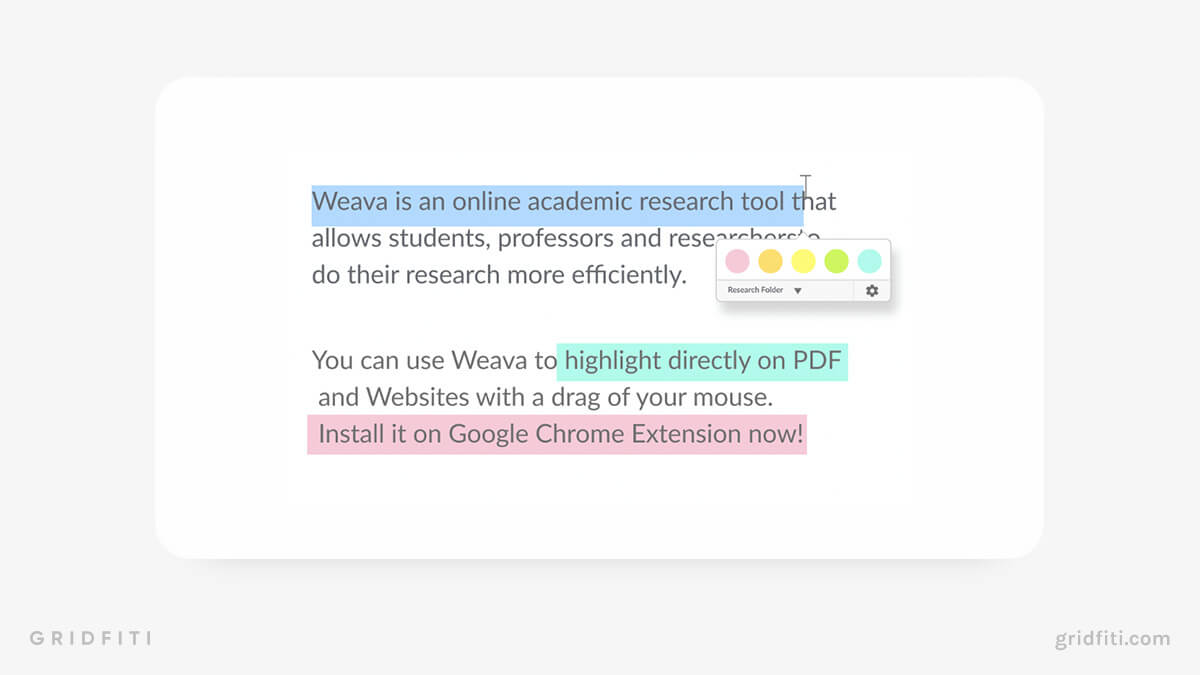 Todoist
Todoist is one of the top-rated to-do list chrome extensions. This task management tool isn't just for logging tasks — it lets you set deadlines, build habits, and collaborate with others.
Set goals for the number of tasks you want to complete weekly, save websites and blog posts to your lists and download templates for various jobs. Todoist integrates with over 60 apps and extensions, so you can view all your taska cross multiple apps in one place.
Features and highlights
Manage your tasks, set deadlines, and build habits
Add websites and blog post to your reading and to-do lists
Download templates to get a headstart on your next project
Todoist integrates with 60+ apps and websites, including Google Drive, Dropbox, and Slack
Customize Todoist's theme with a range of colors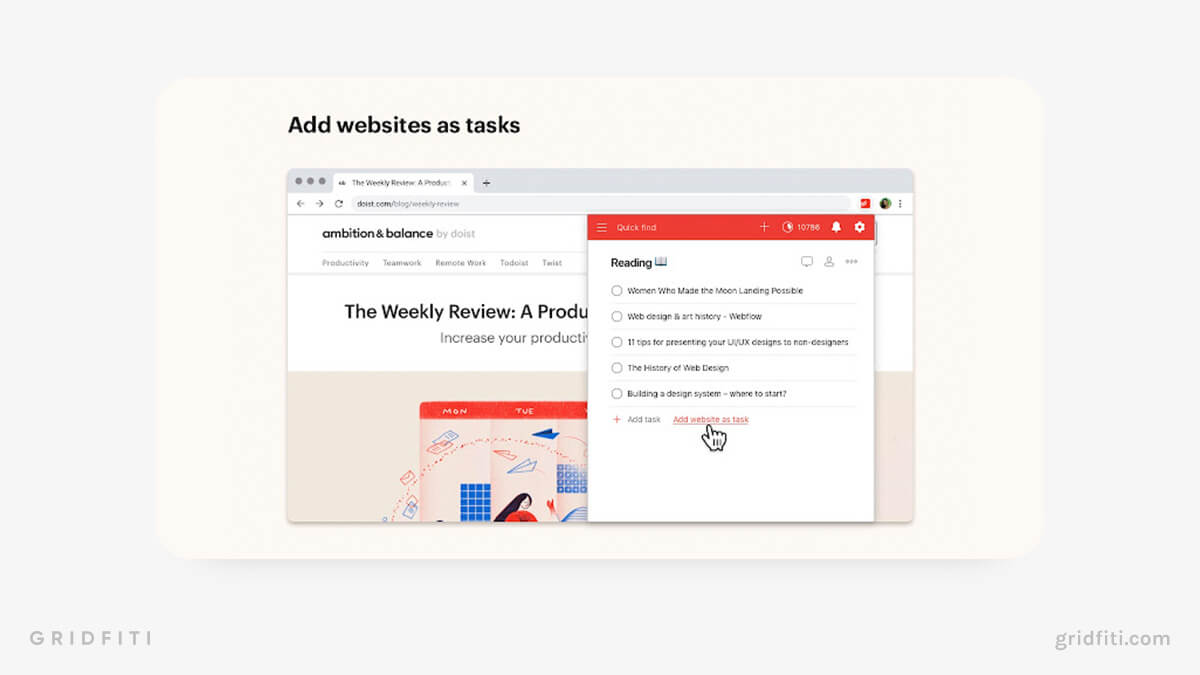 Prioritab
Prioritab helps you keep your priorities in check every time you open a new tab. Change a new tab into a dashboard displaying your daily, weekly, and monthly tasks. Percentages showing how long is left of the day, week, and year help you keep tabs on your tasks. Prioritab is super simple and super effective.
Features and highlights
Turn new tabs into a dashboard showing your daily, weekly, and monthly tasks
Display percentages of how long is left in the day, month, and year
Sleek and uncomplicated monochrome design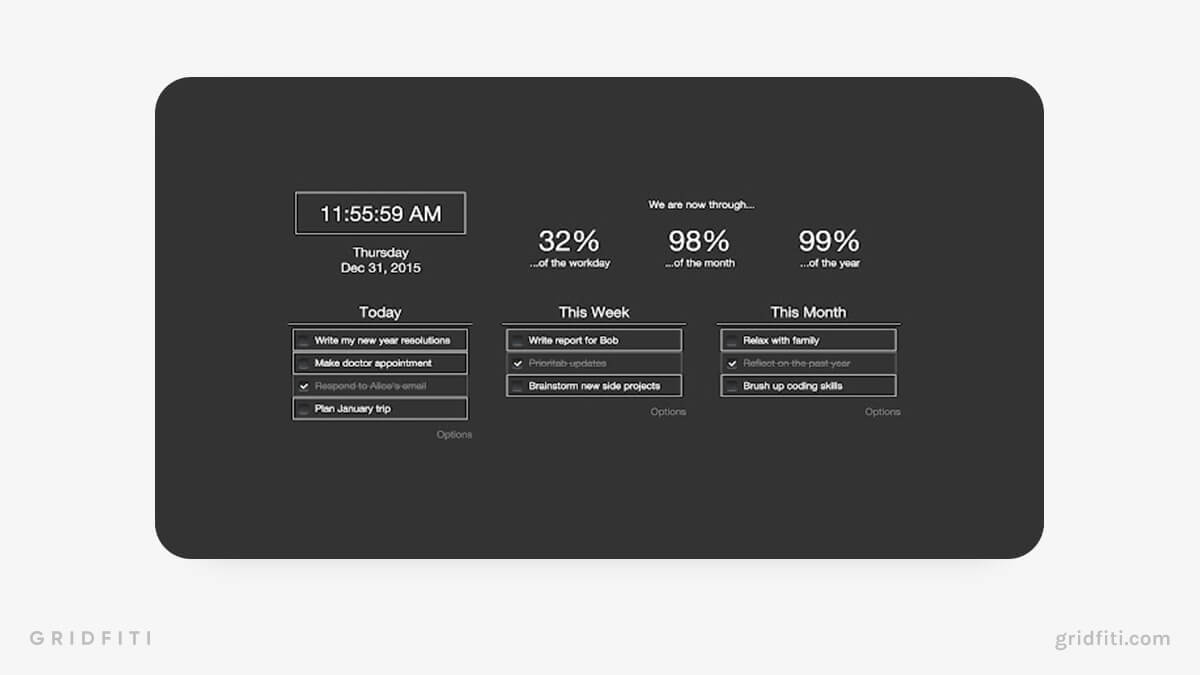 Dualless
Dualless is the perfect productivity extension if you have to swap between tabs constantly or you could benefit from an extra monitor. Dualless activates a splitscreen instantly, saving you from having to fiddle with separating your tabs manually.
Choose from several different ratio options, helping you find the right split screen balance. Now you can make notes while reading a blog post your article without needing another monitor.
Features and highlights
Split your screen between two browsers
Divide your screen in just two clicks
Choose between several different ratios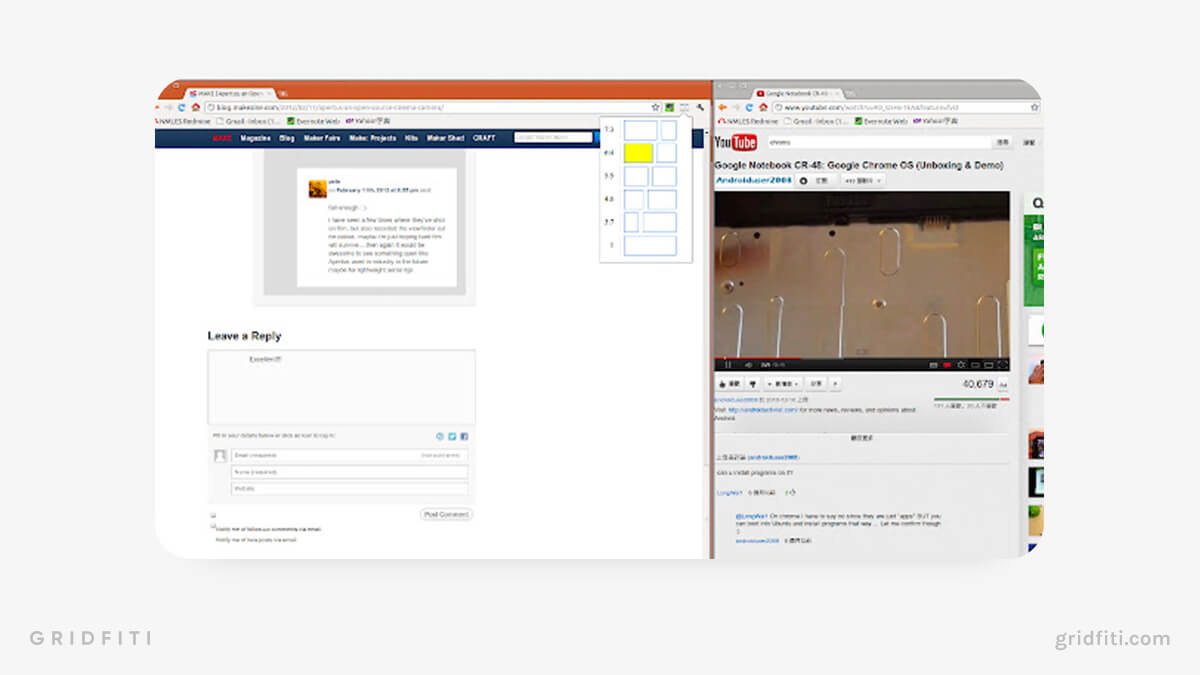 Merlin – OpenAI ChatGPT-Powered Assistant
Merlin gives you the power of ChatGPT on every webpage. Just hit ⌘+M or Ctrl+M to open ChatGPT and have AI write emails, social media posts, and product descriptions.
Merlin saves you from swapping between OpenAI and your current webpage, giving you one of the web's most powerful AI NLP at your fingertips.
If you're looking for more AI-friendly extensions like this, don't miss our full list of the best ChatGPT extensions!
Features and highlights
Access ChatGPT anywhere on the web using keyboard commands
Works on popular sites including Gmail, LinkedIn, and GitHub
Compose emails, respond to tweets, edit spreadsheets, etc.
Copy ChatGPT responses to your clipboard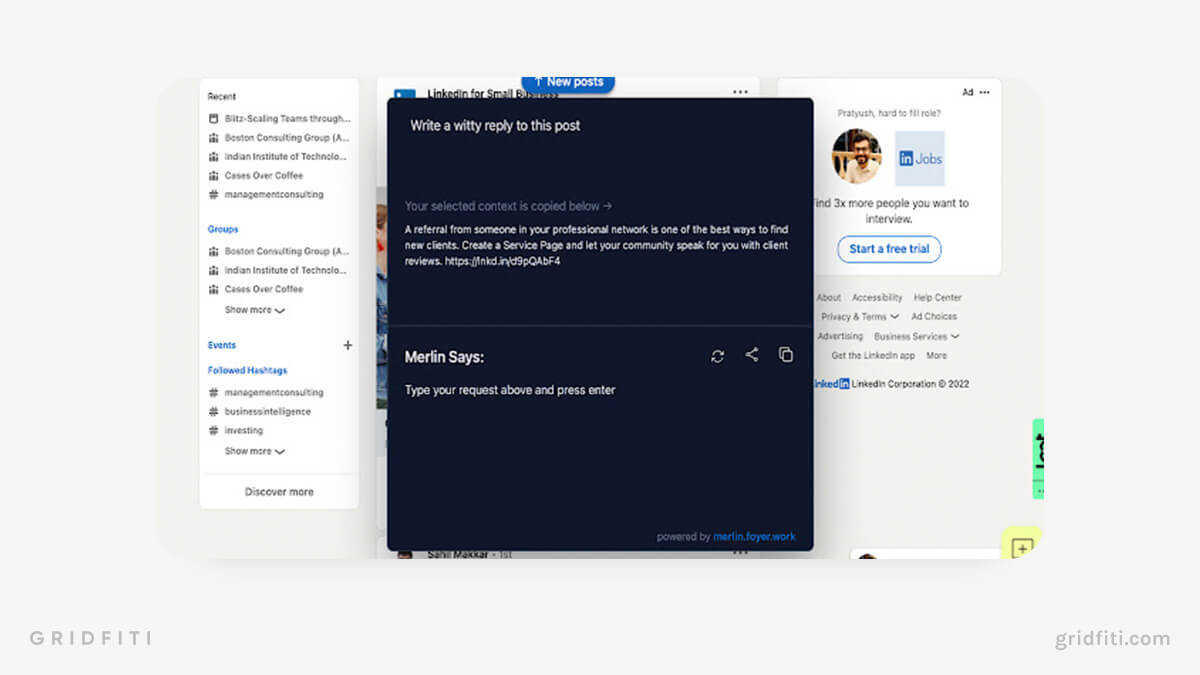 LINER: ChatGPT Google Assistant & Highlighter
LINER is one of the web's most popular highlighter tools, using ChatGPT to reduce search time and cut straight to the information you need. Get the best results on Google as soon as you enter a query, with references to back up ChatGPT's response.
Highlight text, images, and videos anywhere on the web and save them for future reference. Group your highlights into personalized folders and stay organized. LINER sorts through millions of search results and provides only the top hundred answers in seconds.
Features and highlights
Get only the best search results using ChatGPT
Highlight text and media anywhere on the web and save them into personalized folders
Cut through millions of search results and receive only the top 100 sites
Get search results based on your highlighted web pages and history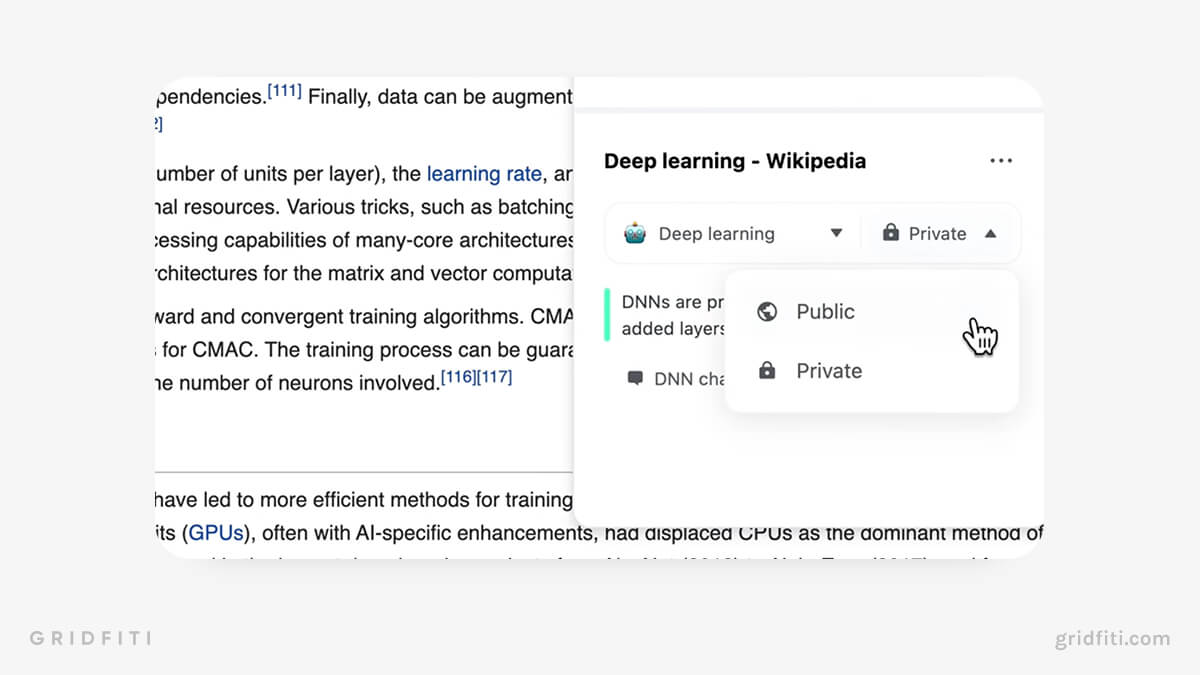 Aesthetic Extensions for Wellness
Let's face it — sitting at a computer for long hours isn't the best for our physical and mental health. That said, many extensions can help us take better care of ourselves and keep tabs on our mental health. Here are a few of the best aesthetic extensions for wellness.
Posture Reminder
Sick of slouching at your desk? Posture Reminder is a straightforward wellness extension reminding you to fix your posture in intervals. Set reminders at intervals ranging from 15 minutes to an hour. It's a helpful tool for anyone with back pain after a day at their desk.
Features and highlights
Reminds you to sit up straight at regular intervals
Adjustable intervals to fit your needs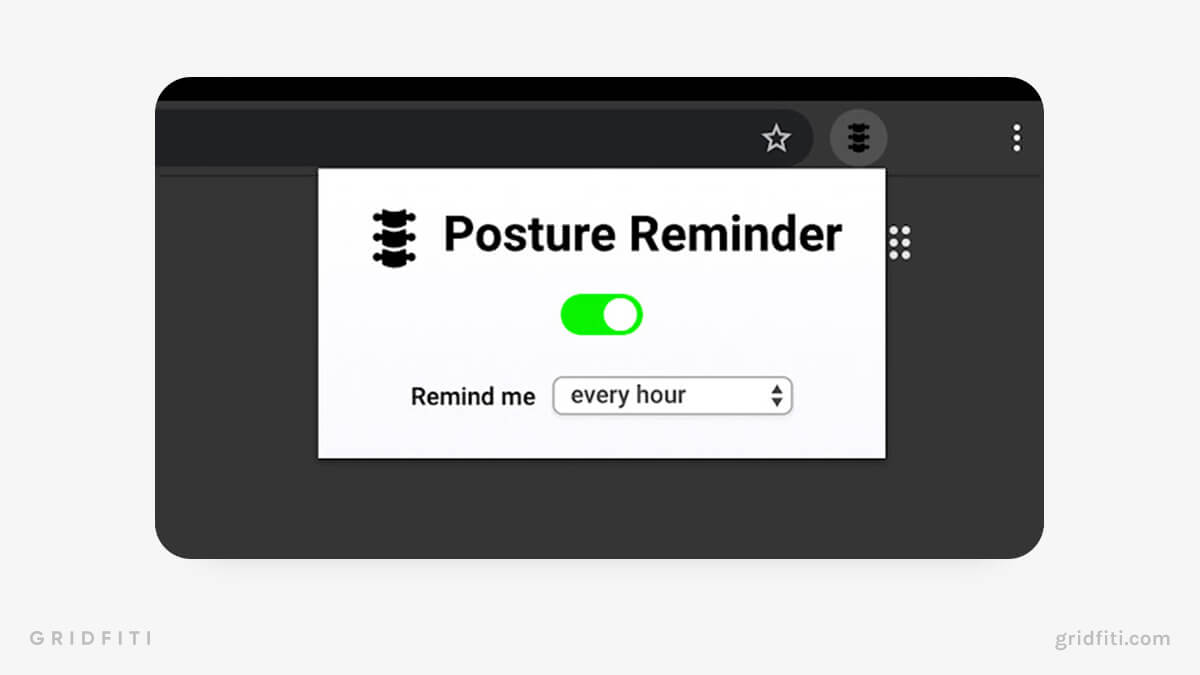 Water Reminder
Staying hydrated is key to cognition, with water intake affecting your brain power and overall health. The Water Reminder extension does exactly what it says — it reminds you after a set interval to drink water.
Set the time between reminders, and choose between audio and visual notifications. Pick between 10 different alarm sounds and decide whether to display the notification until it's exited.
Features and highlights
Sets a reminder to stay hydrated
Manually edit the length of each interval
Pick between audio or visual notifications
Choose from 10 different alarm sounds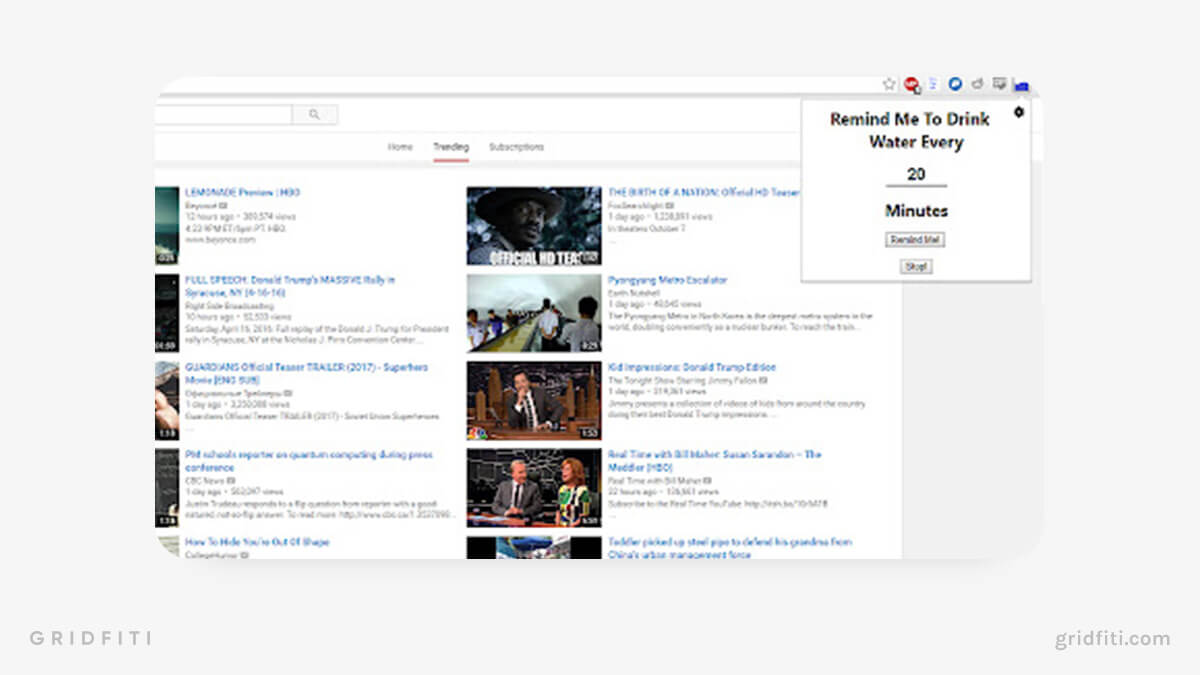 Thyself
Thyself is your personal and mental health dashboard. Start by choosing what you want to achieve with Thyself, whether you want more mindful moments throughout the day or you just want to track your mood. Periodically, Thyself will ask you pick from over 30 emojis to show how you're feeling. You'll have access to a dashboard, where you can track your moods, manage your self care, and document your daily intentions.
Featuring journal prompts, self-care checklists, intention-setting aids, affirmations, breathing exercises, mood insights, tranquil backgrounds, and more, this extension will help you become more self aware and mentally in check.
Features and highlights
Track your mood, mental health, and mindfulness
Use emojis to track your moods in a clear way
Access journal prompts, self-care checklists, and breathing exercises
Invite your team to check in on co-workers and share your emotions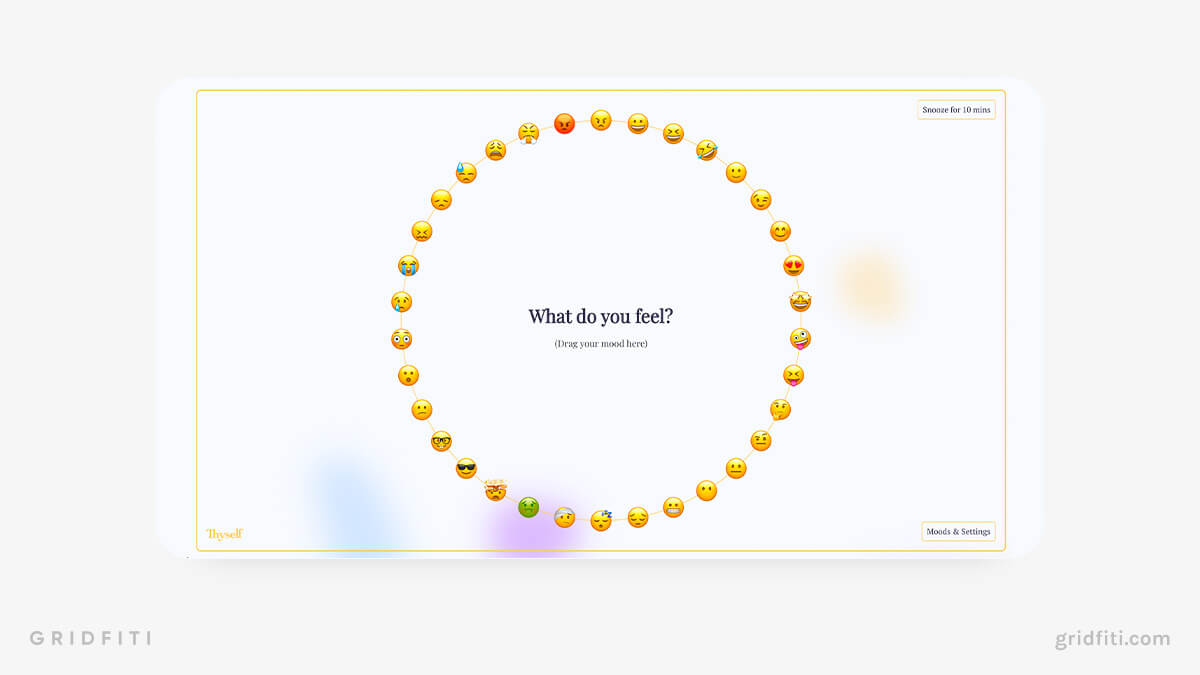 Coffeelings
Coffeelings is a fresh take on a familiar concept: mood tracking. Each day, pick a coffee roast (shades of brown) to match your mood, write a quick journal entry, and receive an aesthetically pleasing palette-themed calendar to see a bird's-eye view of your moods over time! The extension saves data locally and works offline, too.
Features and highlights
Coffee-themed palette calendar for mood tracking
Choose one of five coffee colors to convey your mood
Add notes about how you're feeling
Works offline and saves data locally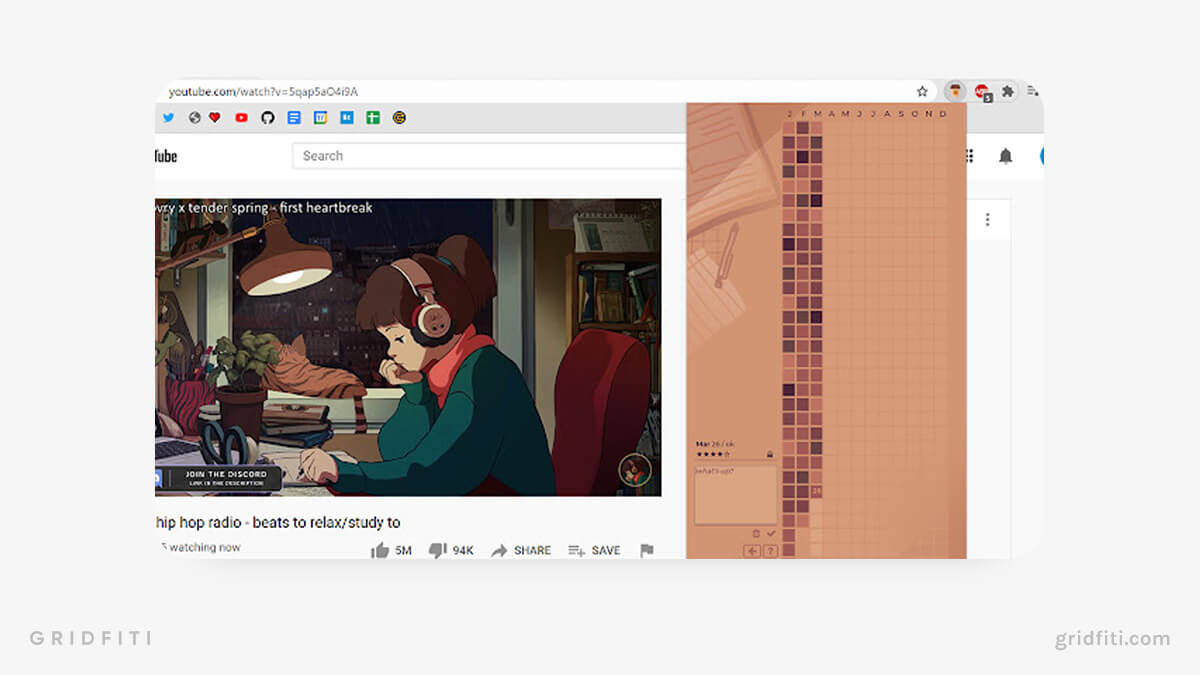 Aesthetic Extensions for Customization
Customizing your workspace makes your PC more personal, enhancing your mood and improving productivity. From bespoke cursors to colorful wallpapers the opportunities to customize your creative space are endless. Check out the best aesthetic extension for customization below.
Pastel New Tab Clock
Turn your new tab page into a minimalist clock! This simple extension randomly generates a new pastel background color for every new tab.
You can access all your favorite websites in the bottom left corner of the tab. Select any pastel colors using a color picker and pin your favorite shade to all tabs. Swap between two fonts and 12 or 24-hour clock formats.
Features and highlights
Transforms new tabs into a minimalistic pastel clock
Fully customize your pastel color palette with a color picker
Switch between 2 fonts and different clock formats
Access all your favorite websites and pin your favorite background colors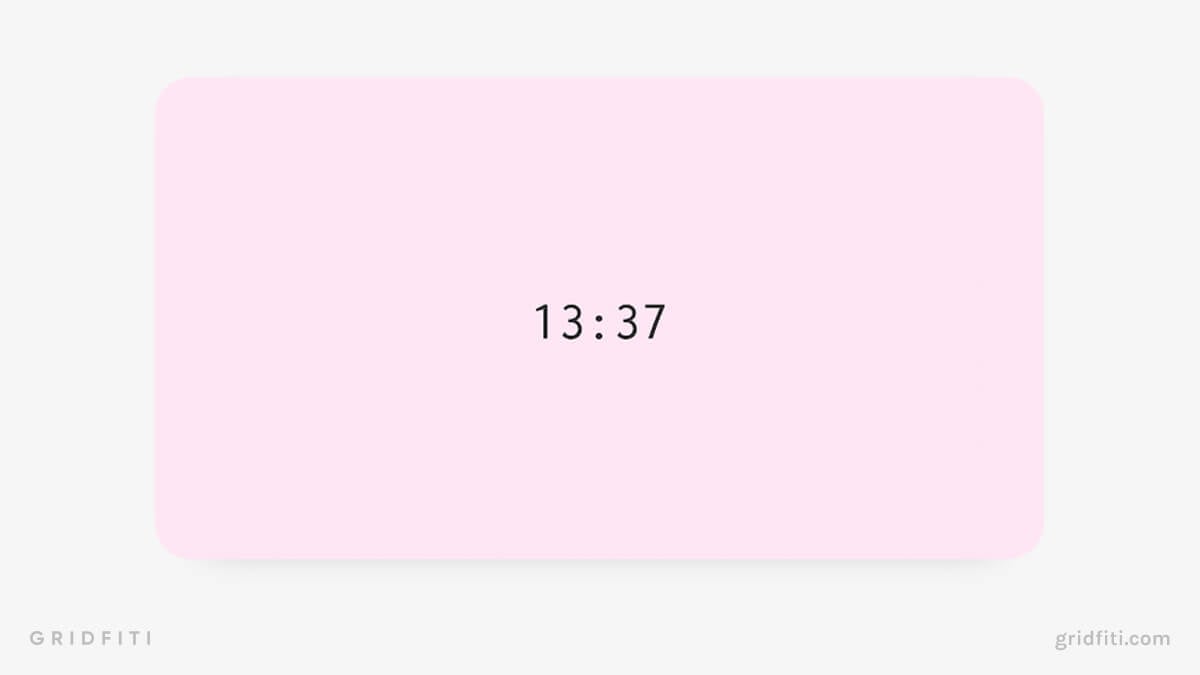 Kluk
We open new tabs hundreds of times a day – but what if instead of a blank window, we had a slick customized clock showing every time? With 8 clock themes inspired by galaxies and orbits, start every window off on the right foot with Kluk extension.
Features and highlights
A unique galaxy-inspired clock replaces the new tab screen
Pick from 8 different clock styles
Swap between 12 and 24-hour clock formats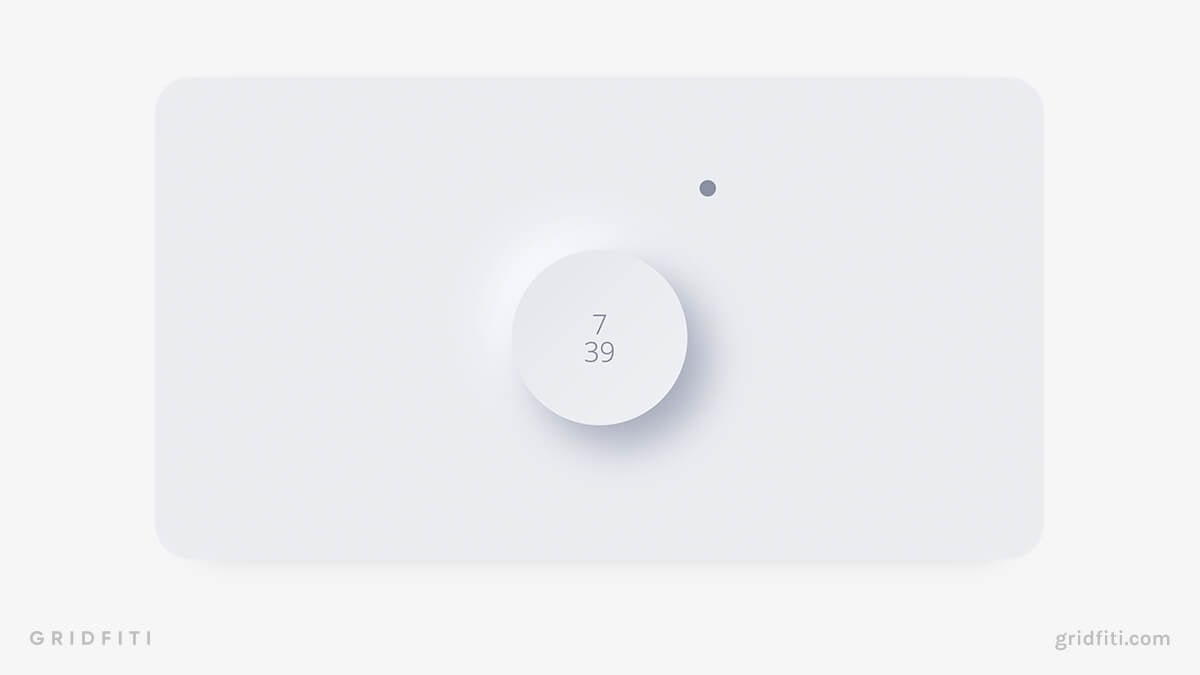 uTab
Offering a slew of customization options, uTab allows you to overhaul new tabs and create a dashboard that fits both your needs and your aesthetic.
Change web app and website icons and names, customizing them with pictures saved and downloaded to your computer. Adjust the new tab page layout and separate bookmarks into folders to supercharge your dashboard organization.
Change background colors and images, adding custom pics, videos, and sliders. You can even add clock, date, and weather widgets.
Features and highlights
Separate bookmarks into separate personalized folders
Add custom names and images to your bookmarks
Change your dashboard background to custom pics, vids, and sliders
Import images directly from Unsplash
Add a variety of custom weather, date, and clock widgets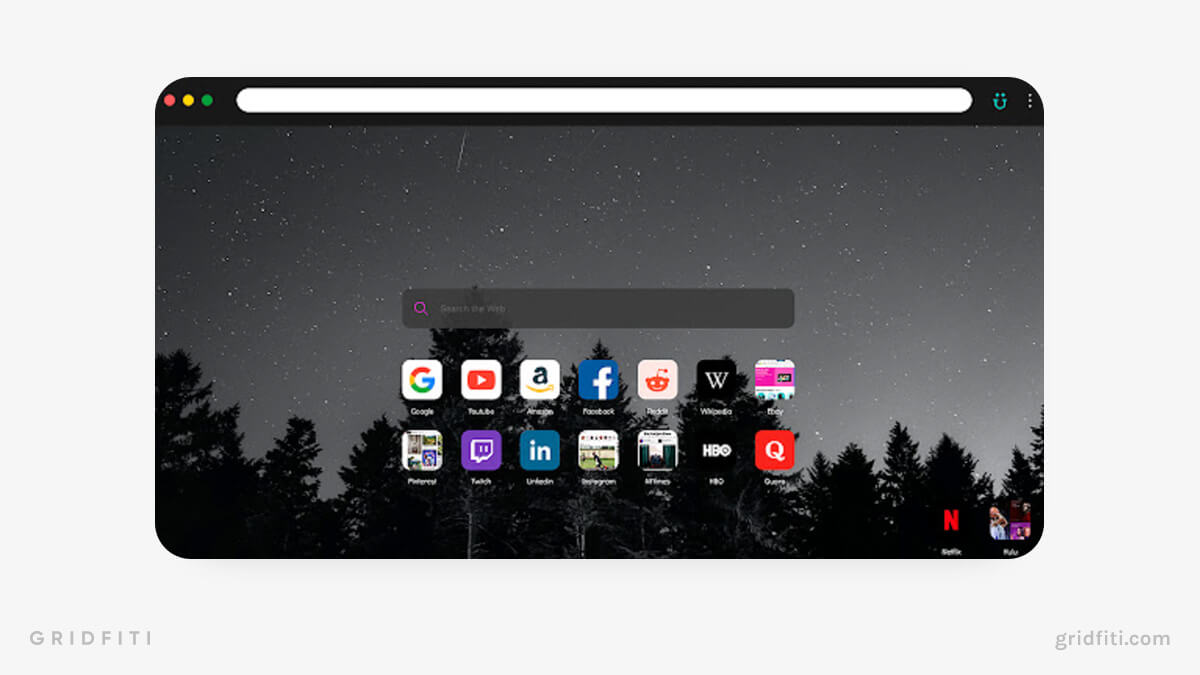 Custom Progress Bar for YouTube
Ditch the classic red and fully customize your YouTube video progress bar with this extension! Pick from fun icons and colors, and even trending themes to reskin your video's progress bar.
The possibilities are endless, with over 30 colorful progress bars and over 1,000 custom bars available for download. Have pop-culture icons like Pikachu, Garfield, and Naruto track your YouTube video progress with this aesthetic extension. Or, flex your artistic muscles and create your progress bar with the constructor feature!
Features and highlights
Replaces the standard YouTube progress bar with a colorful custom option
Choose from over 1,000 custom icons
Create your own YouTube progress bar with the constructor feature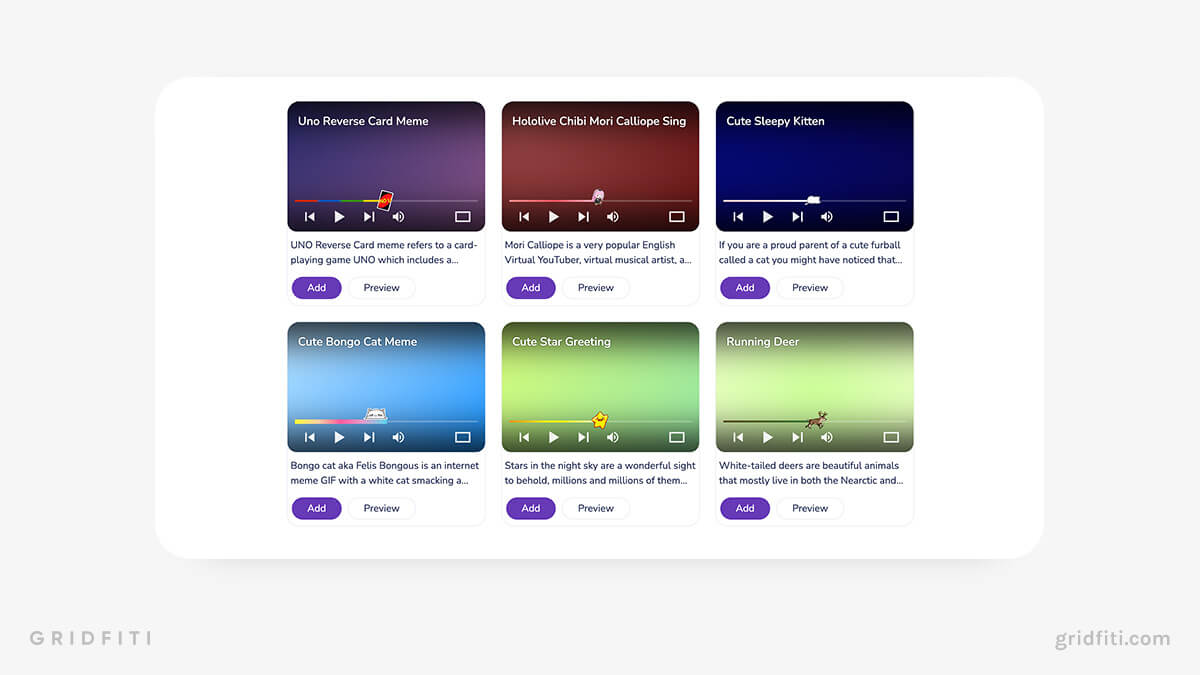 Tabby Cat
Make a new friend in every tab! Every time you open a new tab in Chrome, a new cute animal appears with Tabby Cat. Not a cat lover? Choose from dogs, penguins, bunnies, pigs, and more. Tabby cats behave just like real pets – they blink, sleep, and even let you pet them.
Features and highlights
Replaces the new tab screen with an interactive virtual pet
Choose between cats, dogs, bunnies, pigs, penguins, and more
Each pet moves around, lets you pet them, and even leaves you presents
Take snapshots of gifts and share them with your friends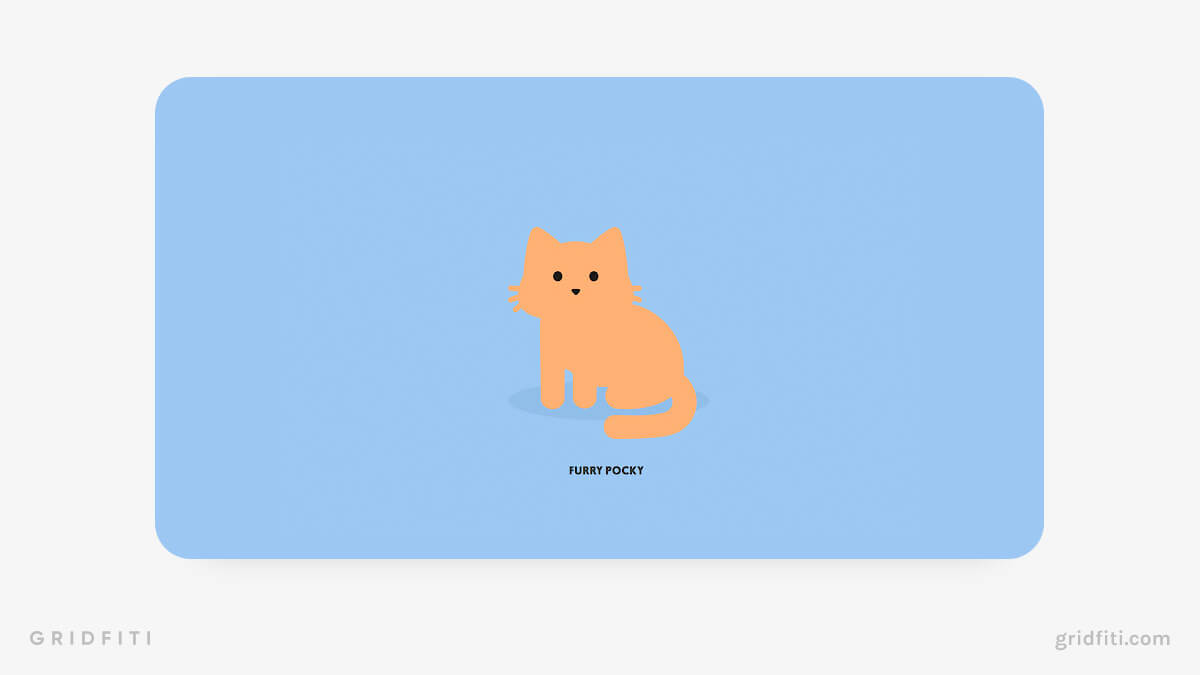 Cute Cursors – Aesthetic Google Chrome Cursors
Replacing the default cursor with cute, trendy, and funny designs, Cute Cursors takes the boring black-and-white pointer and lets you completely personalize it.
Pick from hundreds of cursors ranging from kawaii characters to franchise favorites, add certain cursors as favorites, and even upload your own cursor for maximum customization.
Features and highlights
Replace your standard cursor with a colorful custom design
Add cursors to favorites for future use
Upload your own custom cursor for a personalized aesthetic
Infinity New Tab
Tired of your dull old dashboard? Infinity New Tab lets you customize your bookmark icons and wallpapers to fit your aesthetic. Choose over 200 standard icons or select a custom design.
Randomize your wallpaper, or pick from hundreds of crisp HD images. Swap between standard and minimalist modes to switch up your aesthetic in a heartbeat. Plus, there's a built-in to-do list to keep track of your day-to-day.
Features and highlights
Personalize your bookmark icons with 200 standard designs or custom images
Swap between hundreds of HD wallpapers
Change font size and color
Quickly add popular websites to your favorites
Sync your data with cloud storage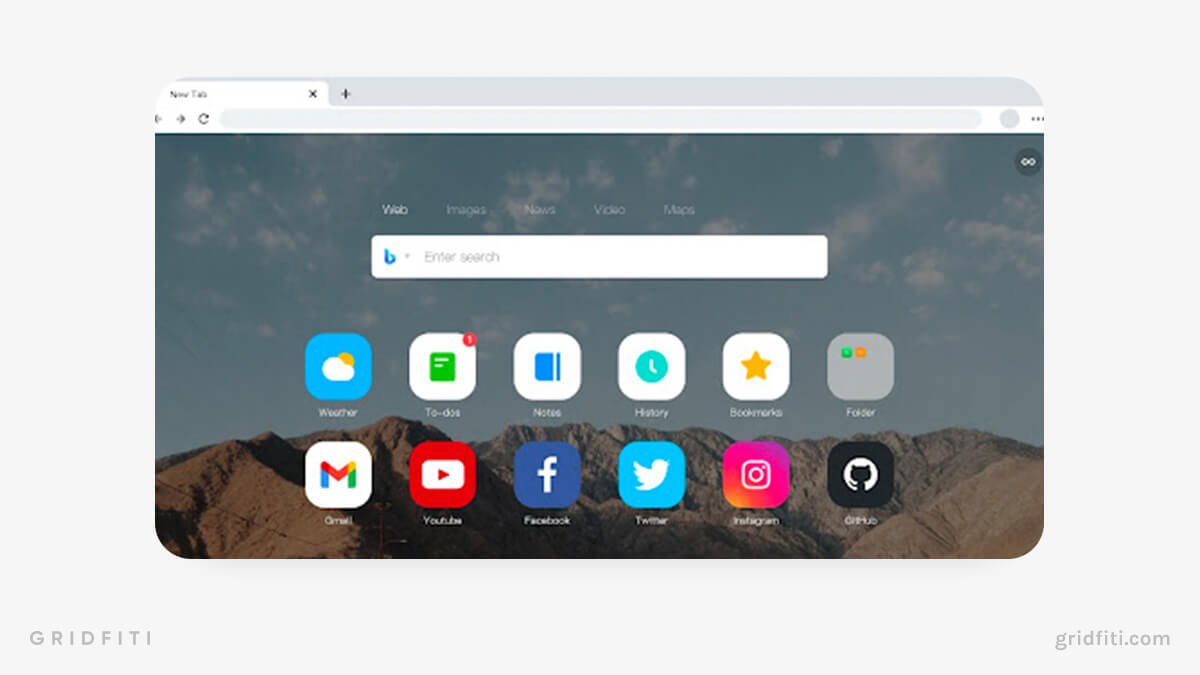 Asa – Minimal New Page Tab
Avid Redditors looking for an aesthetic dashboard extension will love Asa – Minimal New Page Tab. Asa displays the date and time, complete with a geolocated weather widget.
Scroll down, and you'll have a list of the day's most popular Reddit threads and what's trending on r/GlobalNews. Pick from 10 sleek and simple backgrounds, and customize your weather widget and clock.
Features and highlights
Change your dashboard into a minimalist theme with Reddit threads
Pick from 10 minimalist backgrounds
Stay ahead of the rain with a built-in geolocated weather widget
Switch between Fahrenheit/Celsius and 12/24-hour clocks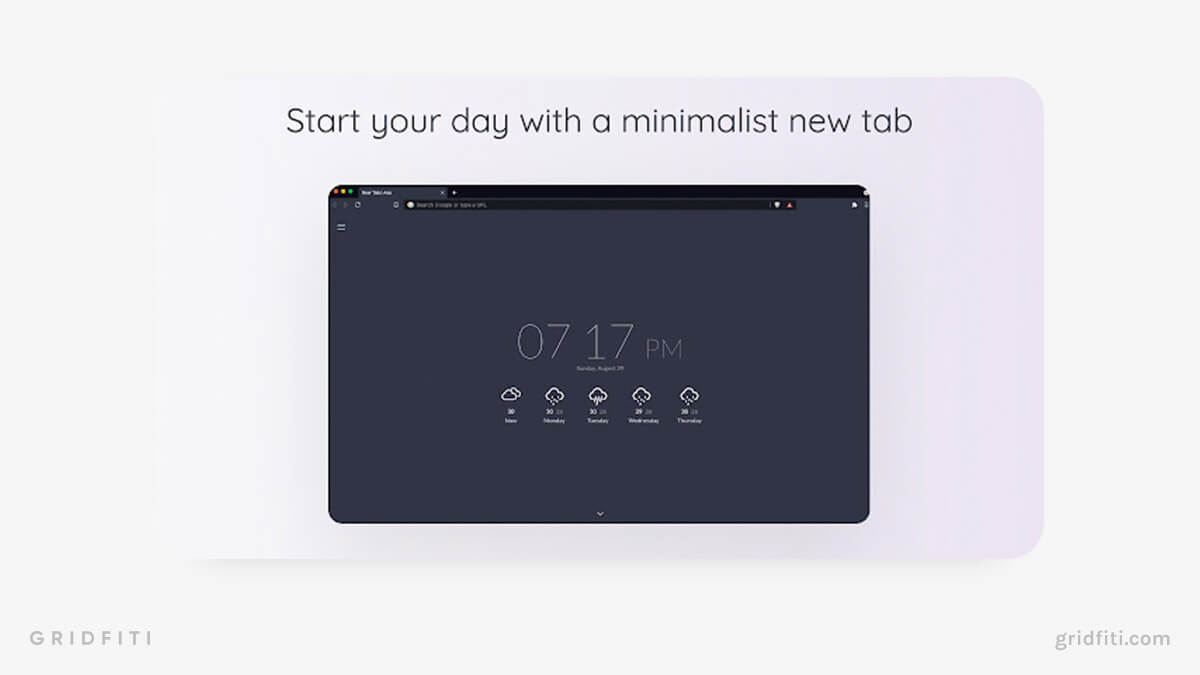 Aesthetic Extensions for Personal Use
Planning and managing your personal life can get in the way of your enjoying yourself to the max. These top aesthetic extensions for personal use take the humdrum out of your home life and hobbies so you can make the most of your downtime.
Locker
Make unnecessary bookmarks a thing of the past with the Locker extension. Ditch your crowded tab bar with the ability to save over 1,000 tabs directly to Locker.
Save tabs into collections, making assembling the perfect outfit a breeze. Or, share your "wants" with others so they know what to get you as a present. You can also share your tabs with your friend to let them know where they can pick up some great deals. Locker is perfect for shopping and can help you keep your browser from being overloaded with unnecessary tabs.
Features and highlights
Organize all your tabs into one place, complete with images to save on screenshots
Group tabs into collections for easy navigation
See what your friends are saving and share tab collections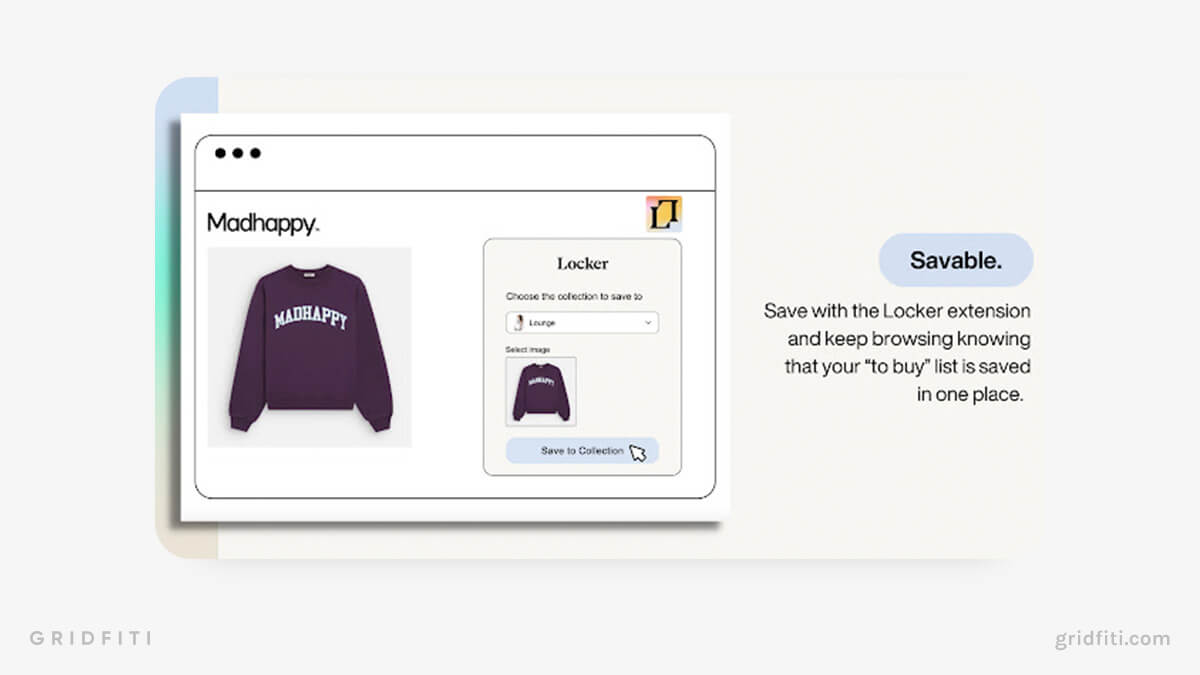 Notion Web Clipper
If you're a Notion nerd, you'll love the Notion Web Clipper. Save any website to Notion with just one click of the Notion Web Clipper icon.
Keep track of your saved websites by moving them into a designated workspace or assigning them to teammates. Notion Web Clipper works offline, so you can access articles and websites on the go and without the internet.
Features and highlights
Save websites to Notion with one click
Attach them to databases, group them with other websites, and assign them to teammates
Access saved page clips online or offline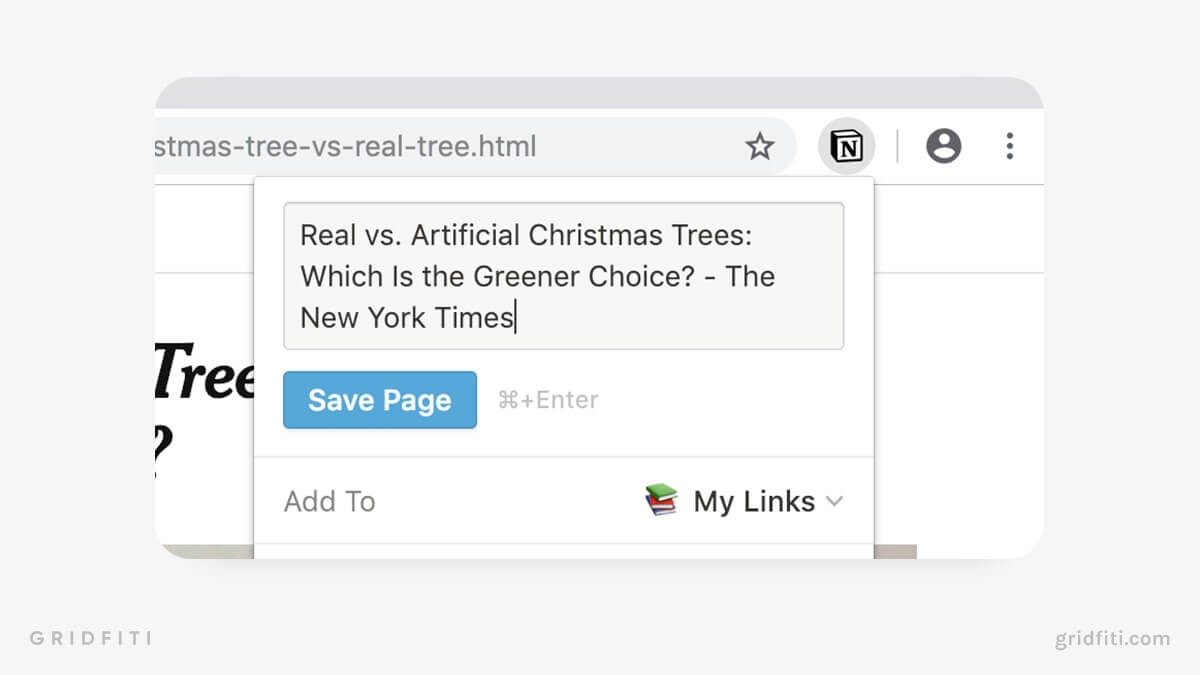 Save to Notion
An alternative to Notion Web Clipper, Save to Notion lets you bookmark and save websites and apply them directly to a Notion template. One great feature of Save to Notion is highlighting text on websites which saves you from having to skim text for the key talking points. Save emails, job ads, cooking recipes, and much more with Save to Notion.
Features and highlights
Save and bookmark websites to Notion
Apply saved sites directly to templates
Highlight text to save time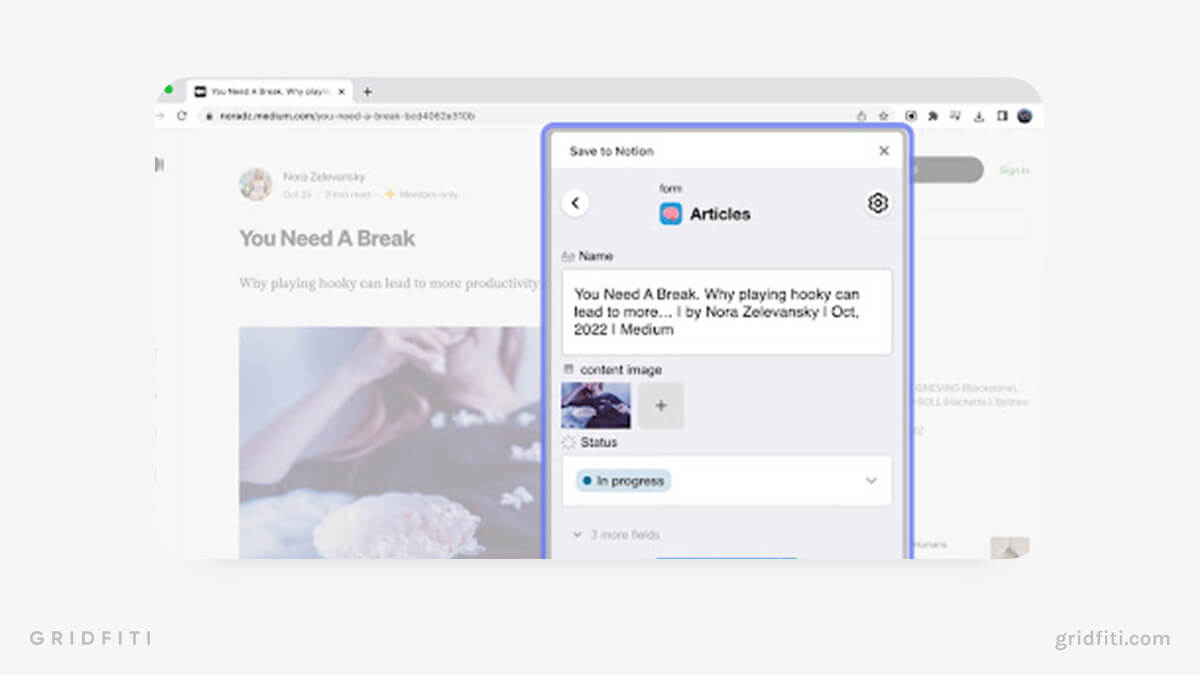 Days Until – Days Countdown
Days Until is a straightforward extension that does just that, helps you countdown the days until anything! Add the occasion and the date, and from there, you can monitor your countdown – it'll even update the 'days until' dynamically in the extension icon! Day Until syncs between different browsers, and you can even login on another computer and keep up with your countdown.
Features and highlights
Provides a simple countdown to an event in your extension bar
Dynamically updates daily
Name the event so you don't forget what your counting down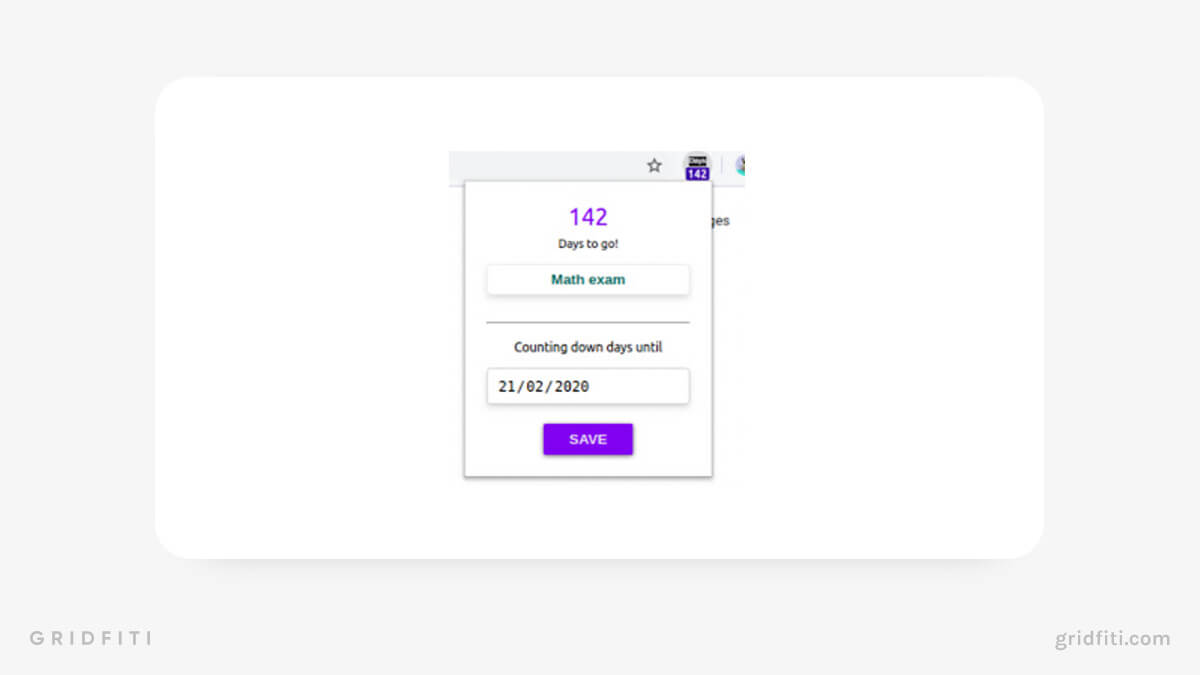 Vimium
Browse the web using only your keyboard with Vimium. Vimium's javascript provides several simple keyboard shortcuts so you navigate a page without your mouse.
For example, you can use "j" and "k" to scroll down and up. You can also click on links with Vimium — each link on a page is designated a series of letters you can type to click. No mouse? No problem with Vimium.
Features and highlights
Adds simple shortcuts so you can navigate the web with just your keyboard
Click links using a series of assigned letters
Quickly open your history, bookmarks, and search bar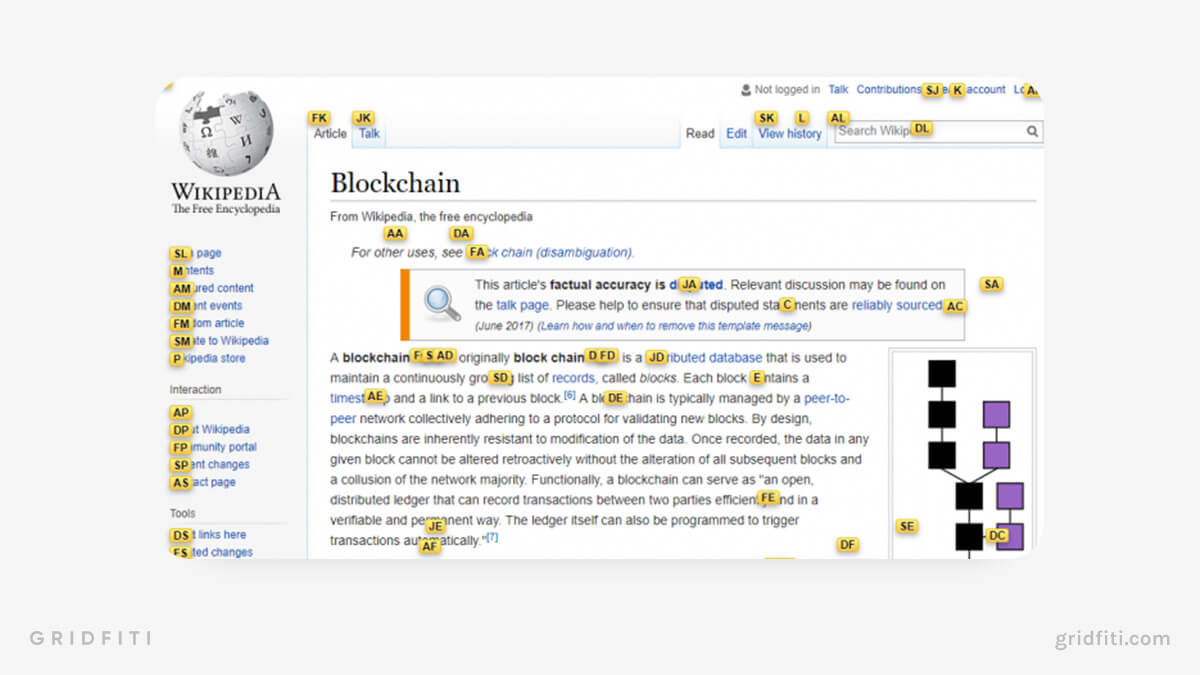 Gismeteo – Chrome Weather Extension
Make your local meteorologist obsolete with Gismeteo. As soon as you download this extension, you'll have access to your local area's weather forecast, complete with information on wind speed, pressure, and humidity.
Planning a trip? Use the search bar to access the weather forecast in a chosen city. Swap between metric and imperial measurements depending on your preference.
Features and highlights
Provides real-time weather forecasts for your locality and anywhere worldwide
Gain insights into humidity, wind speed, pressure, and more
Swap between imperial and metric measurements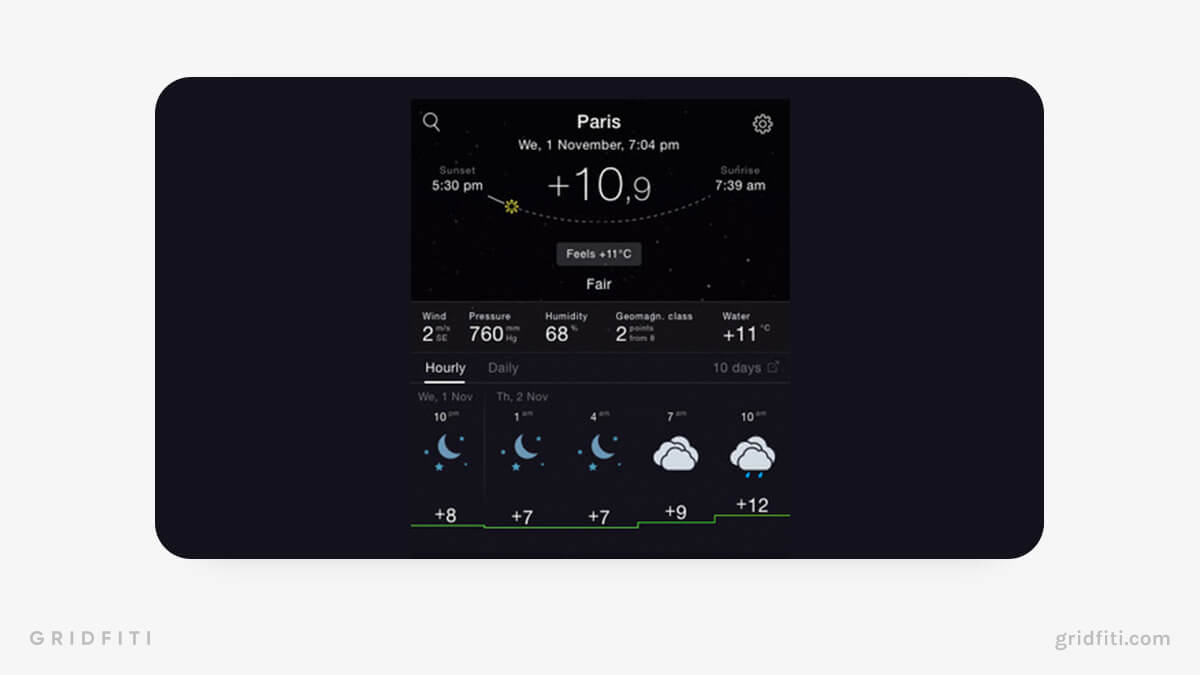 Save to Pocket
Pocket is a clear and concise method of saving and managing your bookmarks. Store pages, links, and articles with one click and view them in an uncomplicated folder. Tag pages to sort your bookmarks into groups. With Pocket Premium you can customize fonts, save unlimited websites, and use unlimited text highlighting.
Features and highlights
Clean and easy-to-use bookmark managing extension
Tag webpages to group articles and links
Customize fonts and receive unlimited access to saves and highlighting with Pock Premium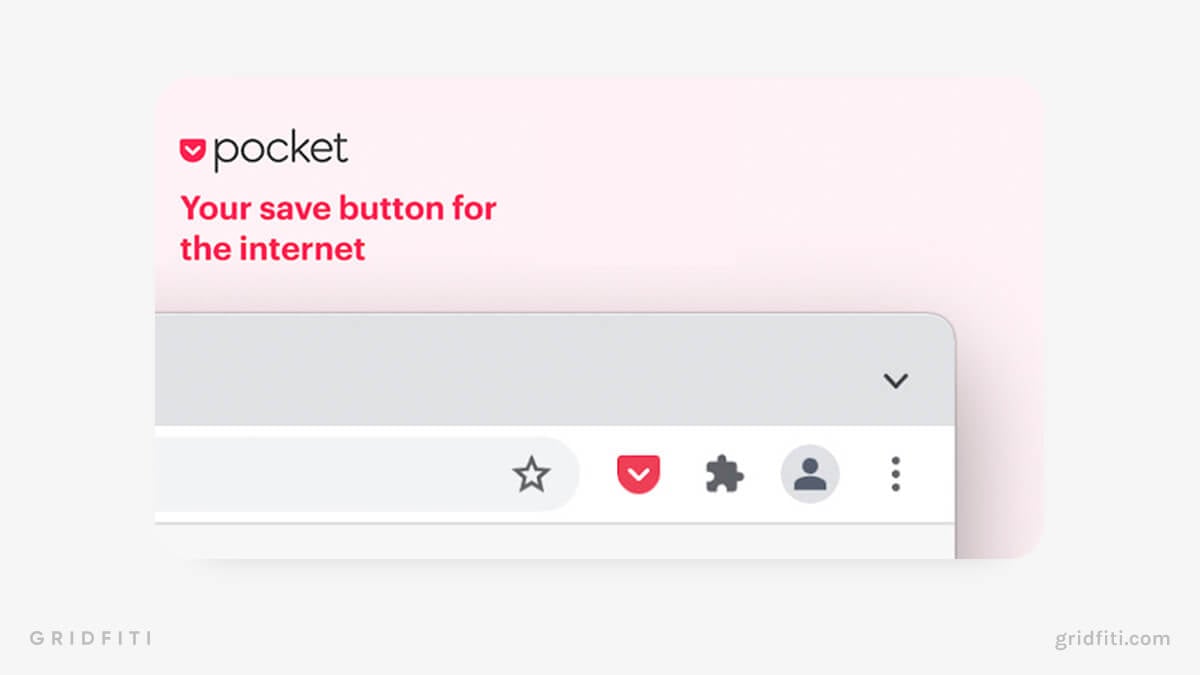 OneTab
Tidy up your messy tab bar with OneTab. OneTab changes all your open tabs into a stored list that can be recovered individually or simultaneously. OneTab is especially useful for reducing the amount of memory used by your browser. One downside of OneTab is you're unable to group tabs.
Features and highlights
Moves open tabs into an easily recoverable list
Drastically improves computer speeds by reducing memory used by browser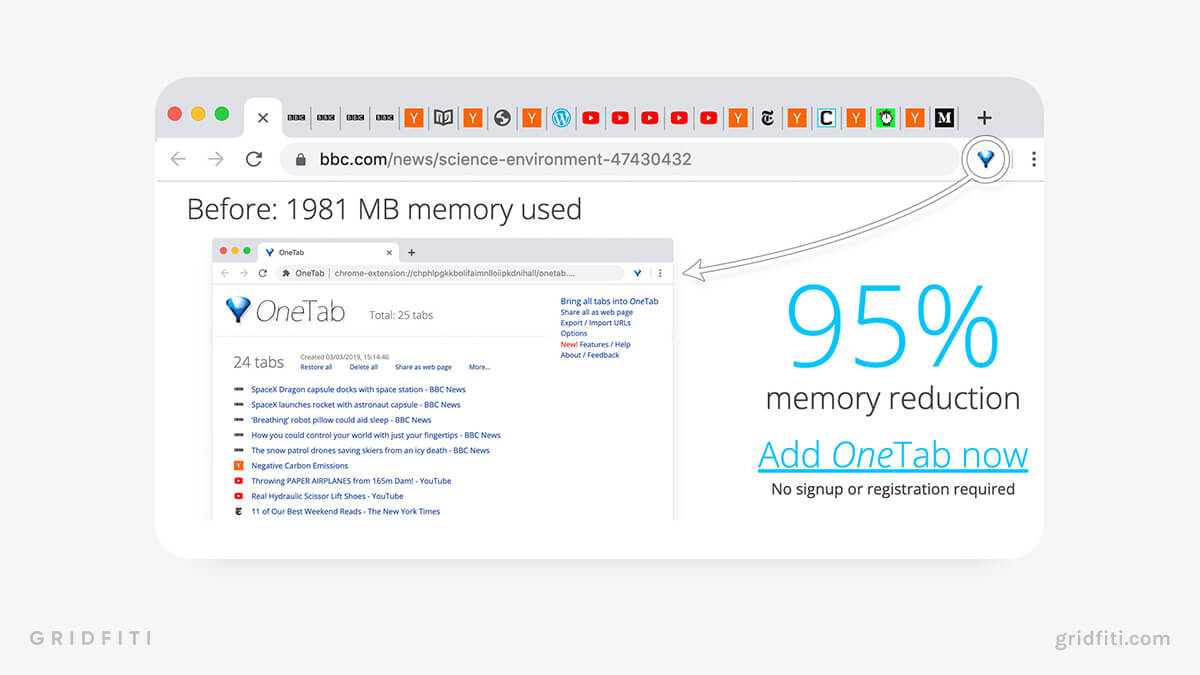 Vetted
With paid reviews and thousands of similar items, finding the best products online is tough. Vetted compares the top items based on reviews from trusted sources like Good Housekeeping, Wirecutter, and Spruce Eats.
Vetted uses over 10,000 factors when recommending items, from reviewer credibility to product performance. Track price changes and sales so you can get the best possible deal on your next purchase. Vetted even compares prices on Amazon with other stores like Walmart.
Features and highlights
Recommends the best products on Amazon with reviews from trusted sources
Recommendations are based on thousands of factors, including performance, review credibility, and brand reliability
Vetted tracks sales and price changes for the best deals
Regular product evaluations ensure you always get up-to-date suggestions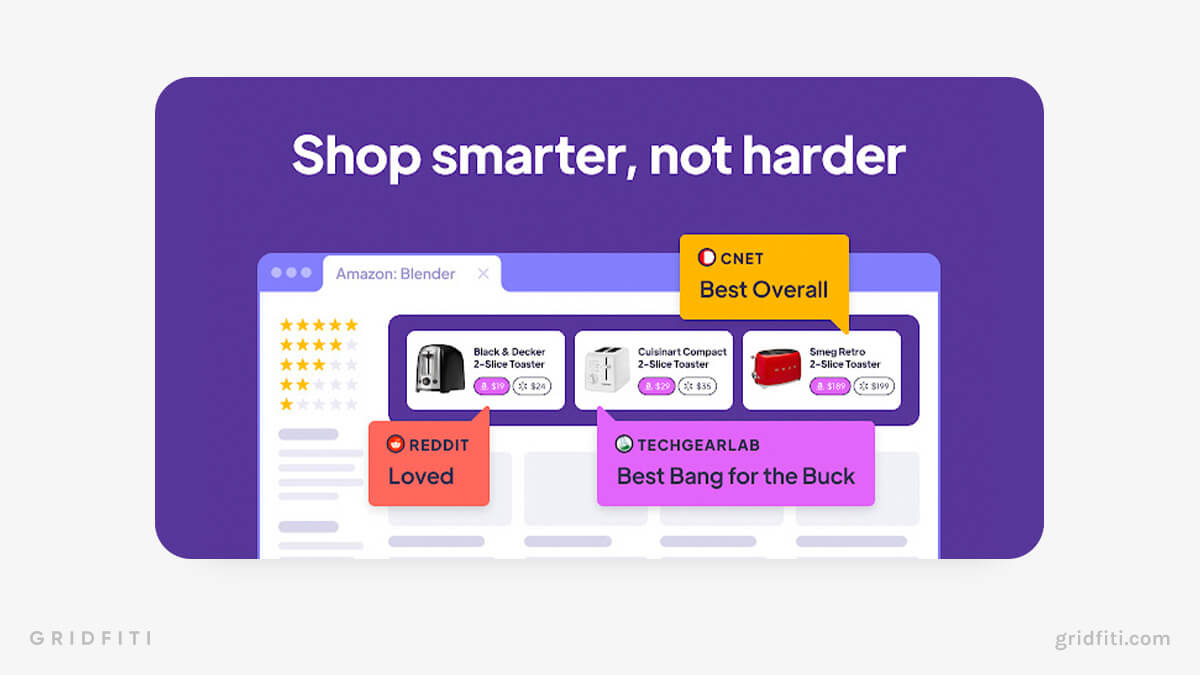 Pushbullet
Pushbullet means you'll never miss an important message again. Android users can get all messages from app like Messenger, WhatsApp, and Kik sent directly to their computer. Reply to messages and receive notifications from all platforms through the Pushbullet extension.
Your phone and computer become interconnected — dismiss a notification on your computer, and it'll go away on your phone. Plus, PushBullet offers end-to-end encryption to protect your privacy.
Features and highlights
Receive messages from various text apps in one place on your computer
Share links and files from your computer with your friends' phones
Get notifications from all text apps on your computer so you don't miss an important message
End-to-end encryption protects privacy
For Android only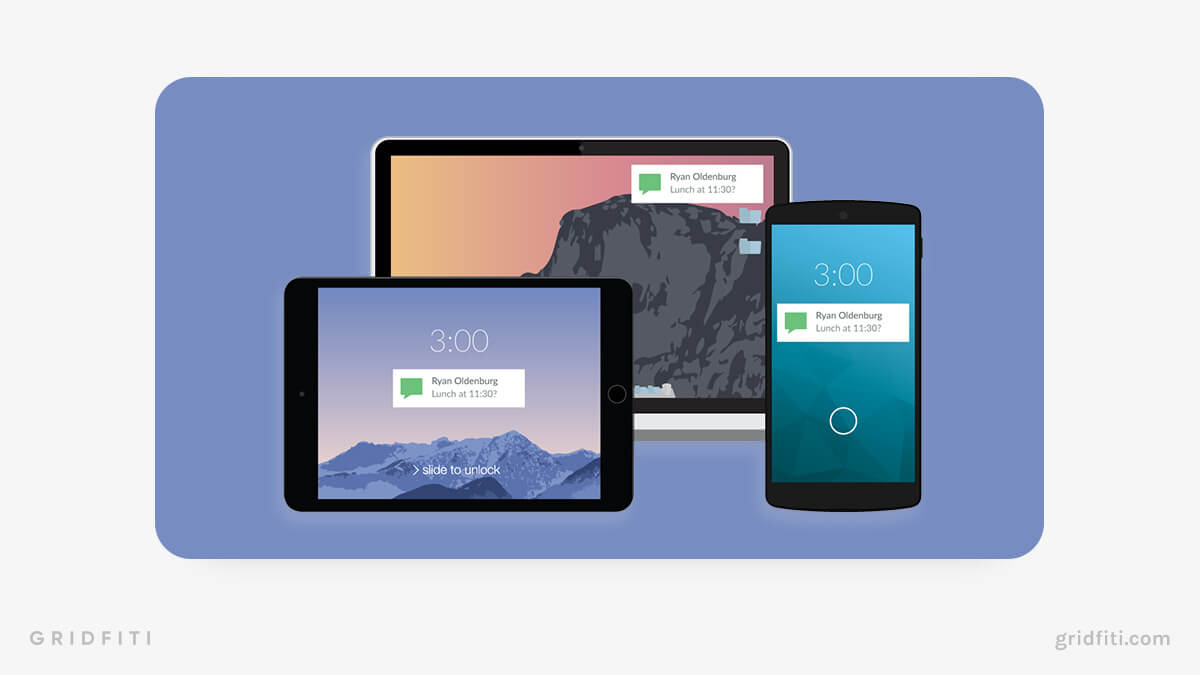 Cluster – Window & Tab Manager
Cluster is a tab management extension that shows all your open tabs in an easy-to-navigate list. Remove duplicates, search and filter for easy navigation, and use keyboard shortcuts to access your window manager instantly. Save and suspend windows for later to save memory to minimize load times.
Features and highlights
A tab management tool that displays your windows in a clear list
Suspend and restore tabs to reduce loading times
Remove duplicate tabs with one click
Search and filter your tabs to move to navigate your browser in seconds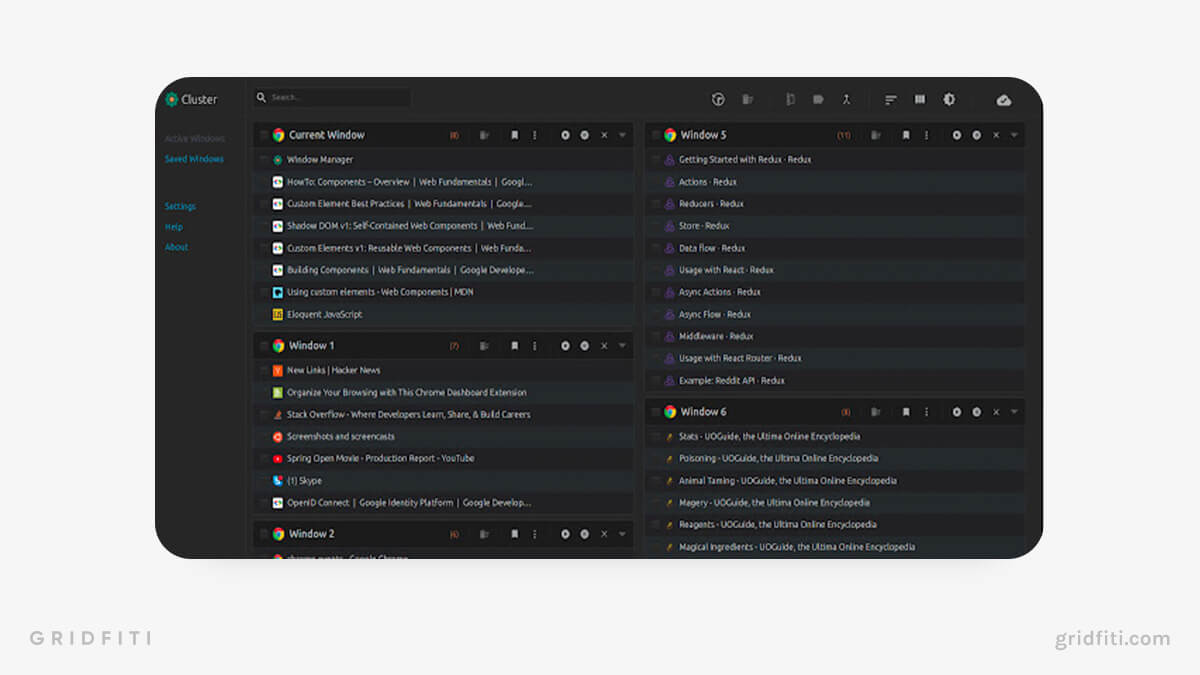 Tabs Outliner
Tabs Outliner sorts your tabs into tree-like drop-downs. Close out a tab you need for later and place it into nodes with similar tabs for easy access. Drag and drop tabs in the manager to create subnodes.
Add notes to your tabs to keep organized — any tab with a note attached will auto-save when closed. Tabs Outliner has a bit of a learning curb but once you get the hang of it's an excellent extension for organizing tabs.
Features and highlights
A tab manager with a tree/node system for organizing tabs into subsections
Add notes to tabs which save automatically upon closing
Saved tabs can be quickly opened but aren't active, saving memory usage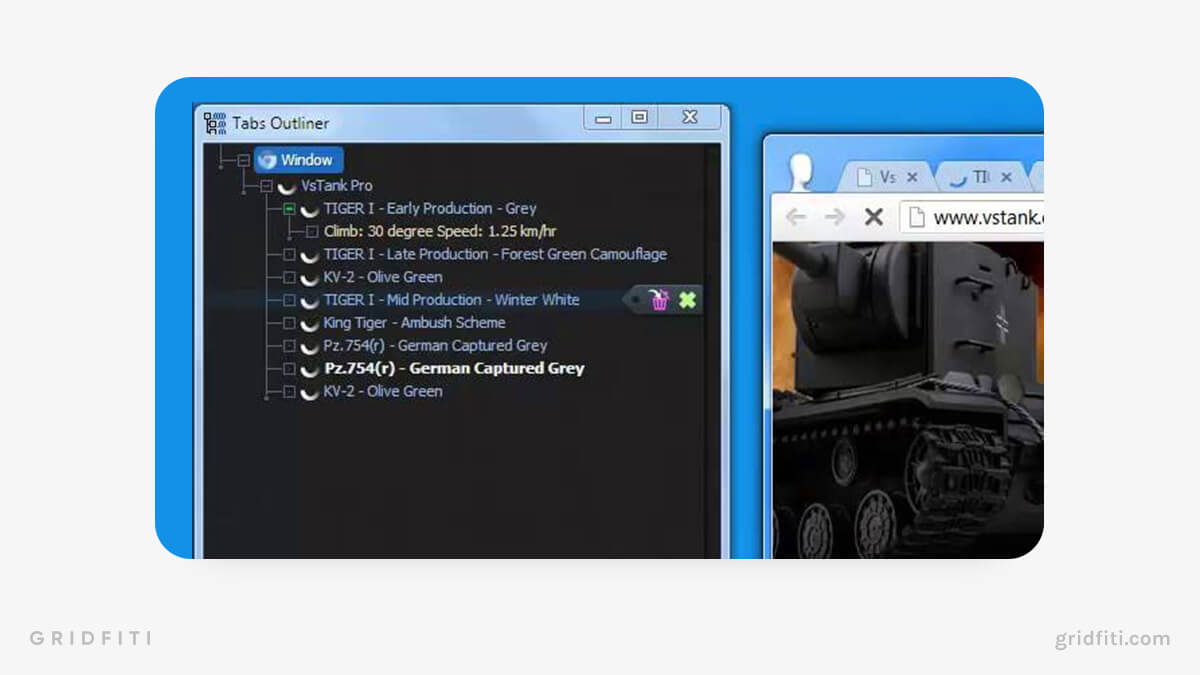 Are there any Google Chrome extensions that we're missing? Which other aesthetic Chrome extensions would you recommend? Let us know in the comments below!
Gridfiti is supported by its audience – when you buy something using the retail links in our posts, we may earn a small commission at no additional cost to you. Read more about our affiliate disclaimer.