From answering tough questions to generating content to analyzing code, ChatGPT has no shortage of uses. But what if utilizing this increasingly-popular AI language model was even easier?
Chrome extensions and web apps help you make the most out of ChatGPT, whether they're supercharging your search engine or providing pre-curated prompts. Scroll down to discover some of the best ChatGPT extensions to use for Chrome and web apps!
Looking for the best prompts to use? Check out our full round-up post that features the best ChatGPT prompts & ChatGPT examples. If you're looking to learn the ins and outs of ChatGPT, here are some of our favorite ChatGPT courses & guides!
Want more ChatGPT and productivity tips? Join our newsletter!
Merlin – OpenAI ChatGPT-Powered Assistant
Access ChatGPT instantly anywhere on the web with Merlin. Copy highlighted text directly to Merlin and provide ChatGPT with a prompt like "respond to this tweet." You can then copy ChatGPT's response to your clipboard for later. From writing professional emails and analyzing code, Merlin lets you interact seamlessly with ChatGPT.
Highlights and features
A UI extension that makes accessing ChatGPT easier
Press Cmd/Ctrl+M to open Merlin on any website
Generate social media responses, summarize articles, and copy ChatGPT's reply to your clipboard
Filter Google search results
Use Merlin to analyze code and master Excel formulas
Drawbacks and limitations
Only 11 daily queries without a Pro subscription
Merlin doesn't work on Bing or Edge
Pricing
Basic – Free
Starter – $19/month
Boost – $39/month
Elite – $119/month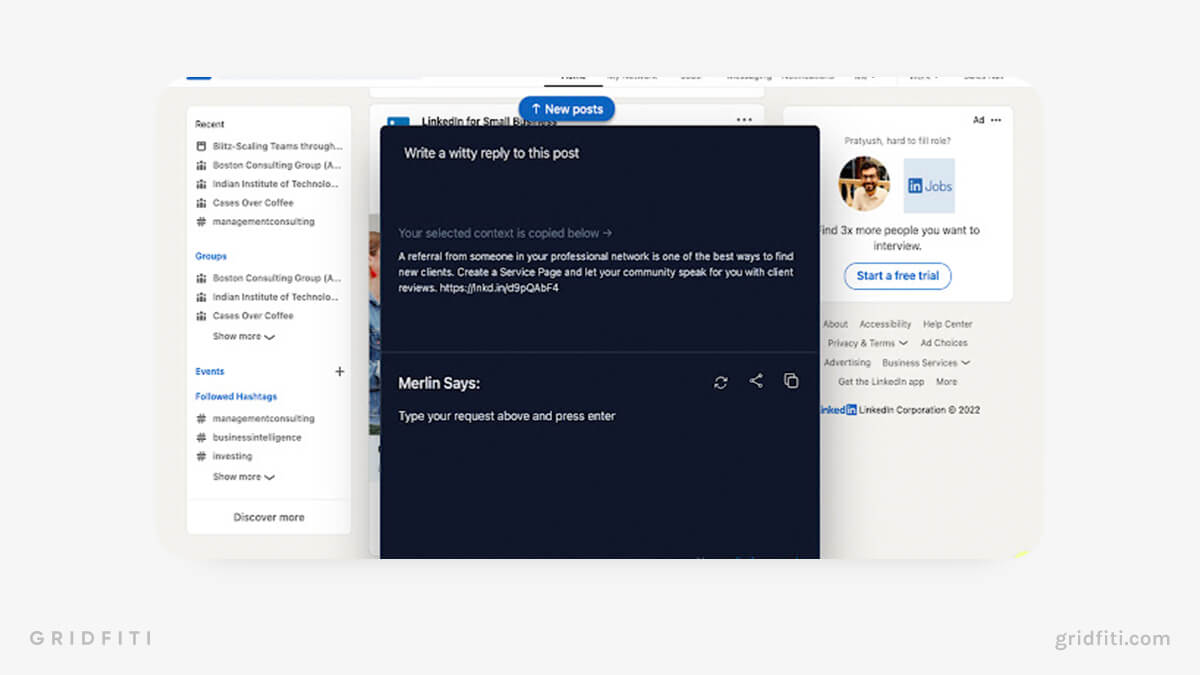 LINER – ChatGPT Google Assistant & Highlighter
Highlight text anywhere on the web and get AI-powered search results with LINER. This ChatGPT extension filters your search to show you the best possible results. LINER AI utilizes ChatGPT to get quick answers to queries from the best search results, complete with references.
One of the best features of LINER is the highlighting tool. Highlight text anywhere on the web (even videos) and save them to folders for later use. You can even annotate highlights with notes — ideal for writing essays or research papers.
Highlights and features
A ChatGPT search assistant that filters results
LINER AI scours the web for the best answers to queries and even provides references
Highlight text and save it for later, even on videos
Organize your highlighted websites into folders with annotations
Get recommended articles based on your saved highlights
LINER blocks ads across the web, including on YouTube
Drawbacks and limitations
UI can be clunky and unreliable
Pop-ups and privacy concerns mean some people find LINER intrusive
Pricing
Basic – Free
Premium – 119.99/year
Pro – $215.99/year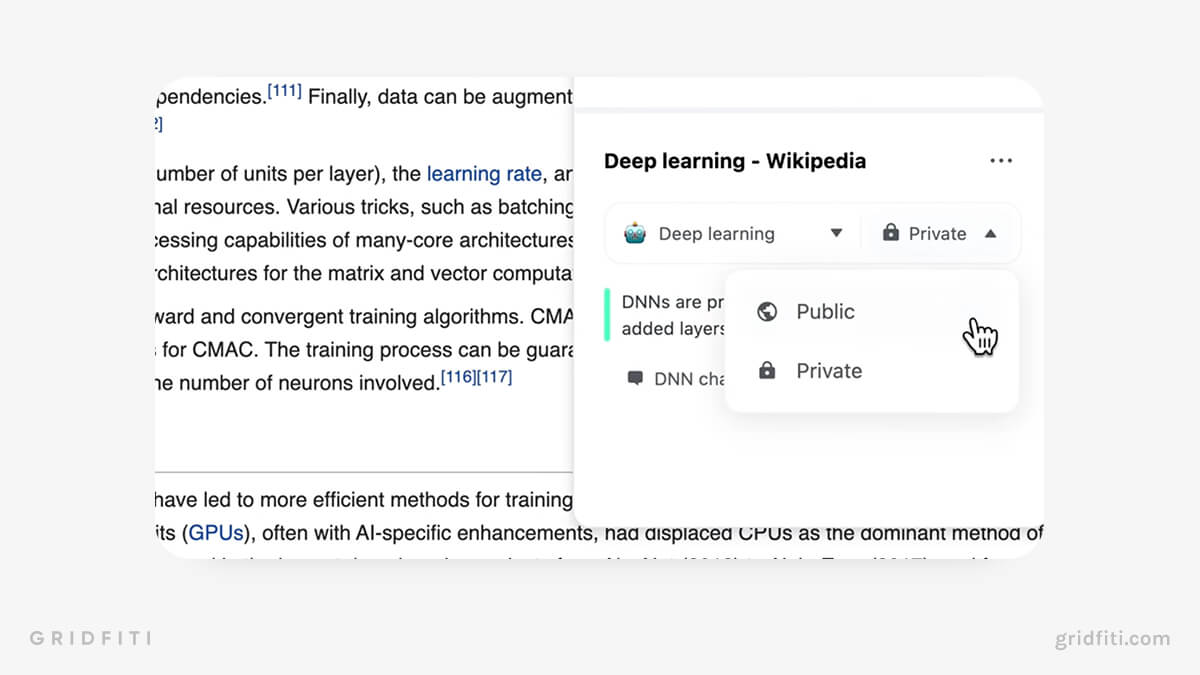 ChatGPT Writer – Write mail, messages with AI
Overcome writer's block when composing emails and messages with ChatGPT Writer. Generate responses to emails on any topic and any browser with this straightforward extension. Click the extension icon on any email and let ChatGPT Writer work its magic.
Highlights and features
Compose high-quality emails in seconds with ChatGPT
Supports all websites and languages
Drawbacks and limitations
Cloudflare security alerts make usage less intuitive
Pricing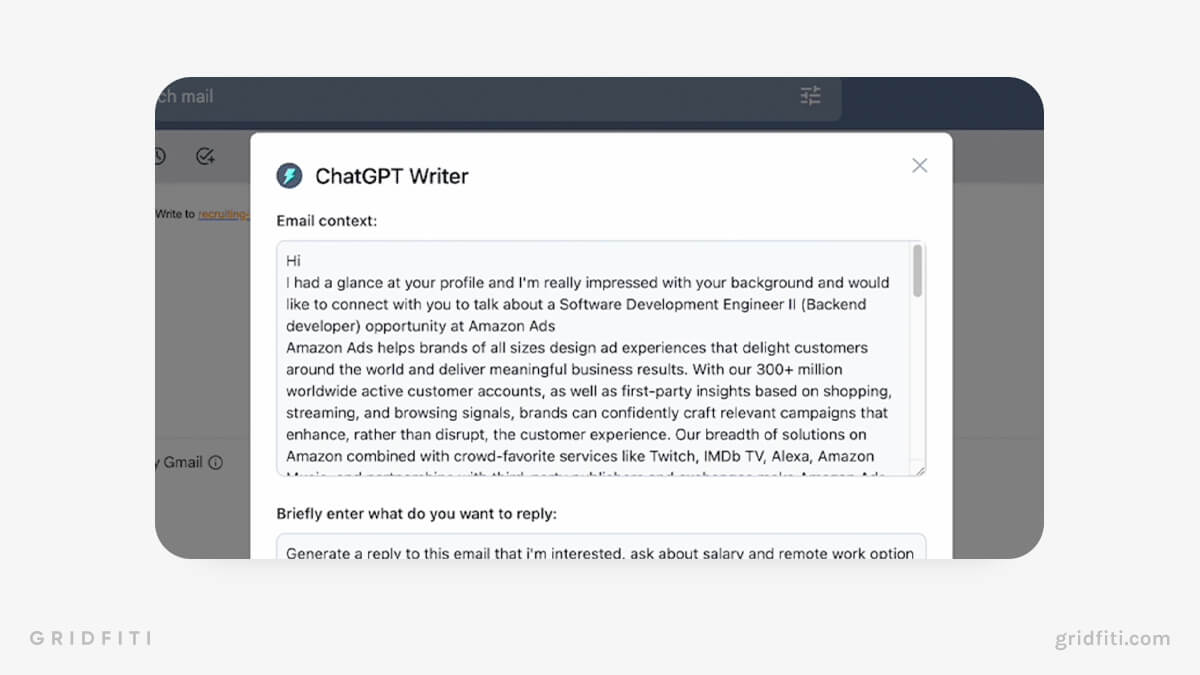 Engage AI – Smart comments on social networks
Craft witty responses on social media in seconds using Engage AI! Choose the tone of the content, whether it's friendly, congratulatory, or disagreeing. Or, personalize Engage AI to your brand voice.
Save time by copying a LinkedIn post's URL to generate social network content. Engage AI aims to help you engage with more leads and create touchpoints to build your audience and business.
Highlights and features
Generates meaningful social media content in different brand voices
Change the tone of responses to suit specific situations
Supports all languages
Drawbacks and limitations
Content sometimes sounds unnatural and needs editing
Pricing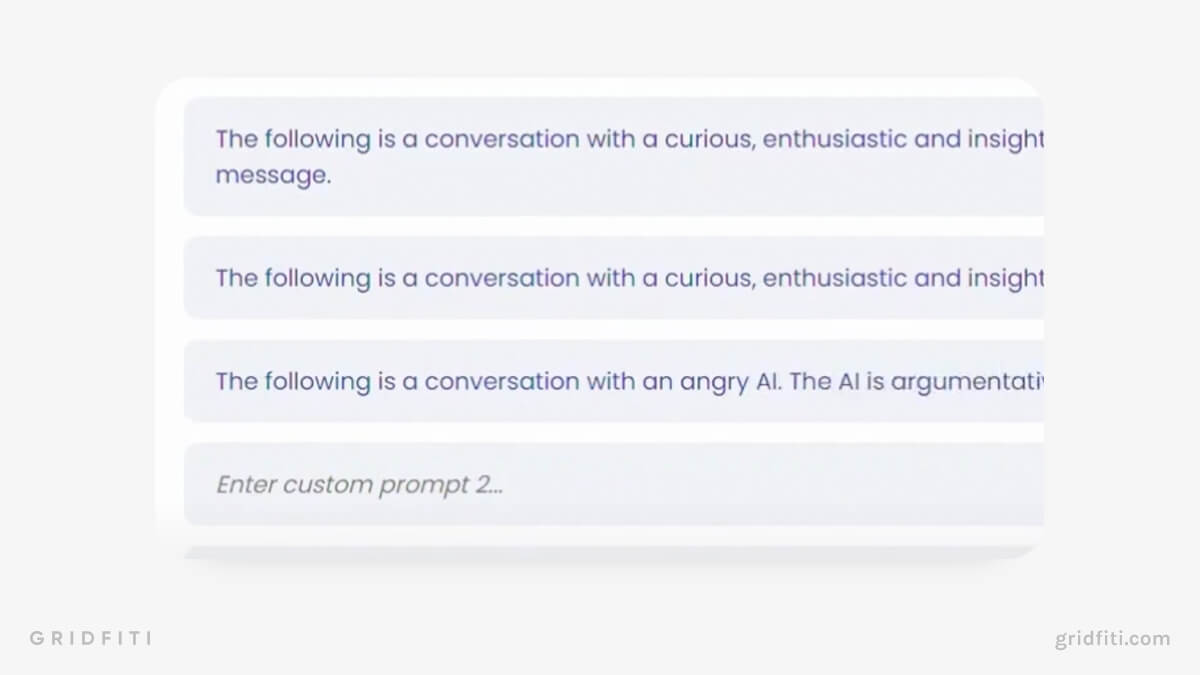 AIRPM for ChatGPT
AIRPM installs directly into ChatGPT, giving you countless pre-curated prompt templates at your fingertips. Community-created content means AIRPM's prompt collection is constantly expanding. Pick from different topics like SEO, SaaS, and DevOps.
Select the tone and style of ChatGPT's responses. Learn how to outrank competitor websites, ask Python Pro queries, or auto-correct your content. Save time writing prompts with the AIRPM extension.
On the lookout for more ChatGPT prompts? Check out The 100 Best ChatGPT Prompts to Power Your Workflow!
Highlights and features
Access hundreds of pre-curated prompt templates on a range of topics directly in ChatGPT
Choose the tone and style of responses
Rate and comment on user-generated prompts
Save your own prompts for future use
Drawbacks and limitations
Prompts don't always work as intended due to user errors
Repeated pop-ups to rate AIRPM become intrusive
Pricing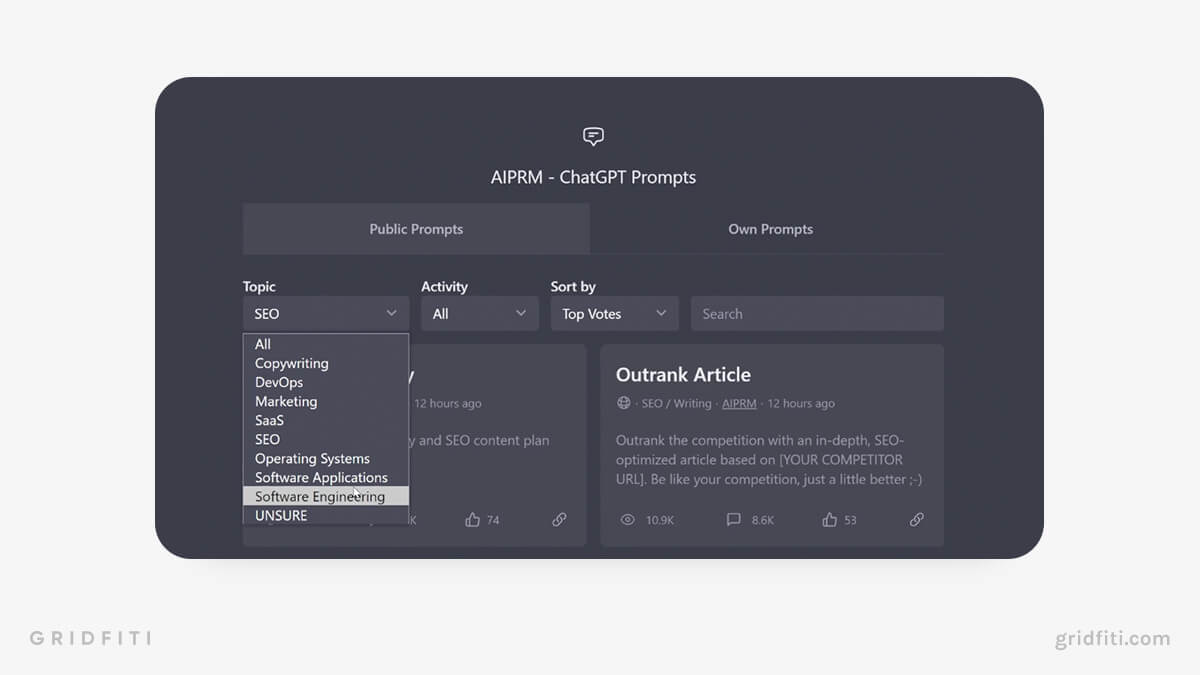 YouTube Summary with ChatGPT
YouTube Summary with ChatGPT does precisely what you'd expect — it uses ChatGPT to AI-generate transcripts for YouTube videos. After installation, a new drop-down appears to the right of videos with a transcript complete with time stamps.
Hit the icon above the transcript to copy and summarize the transcript in ChatGPT. Change the default wording of the "summarize" prompt and choose from over a dozen different languages in settings. Plus, you can save time by getting full summaries of videos by clicking the ChatGPT symbol in thumbnails.
Highlights and features
Creates transcripts of YouTube videos complete with timestamps
Summarize the entire transcript using a built-in ChatGPT prompt
Get full summaries of videos by clicking the icon in a video thumbnail
Generate YouTube summary prompts in 15+ languages
Drawbacks and limitations
Transcripts are sometimes incomplete and lack grammar, especially on longer videos
Pricing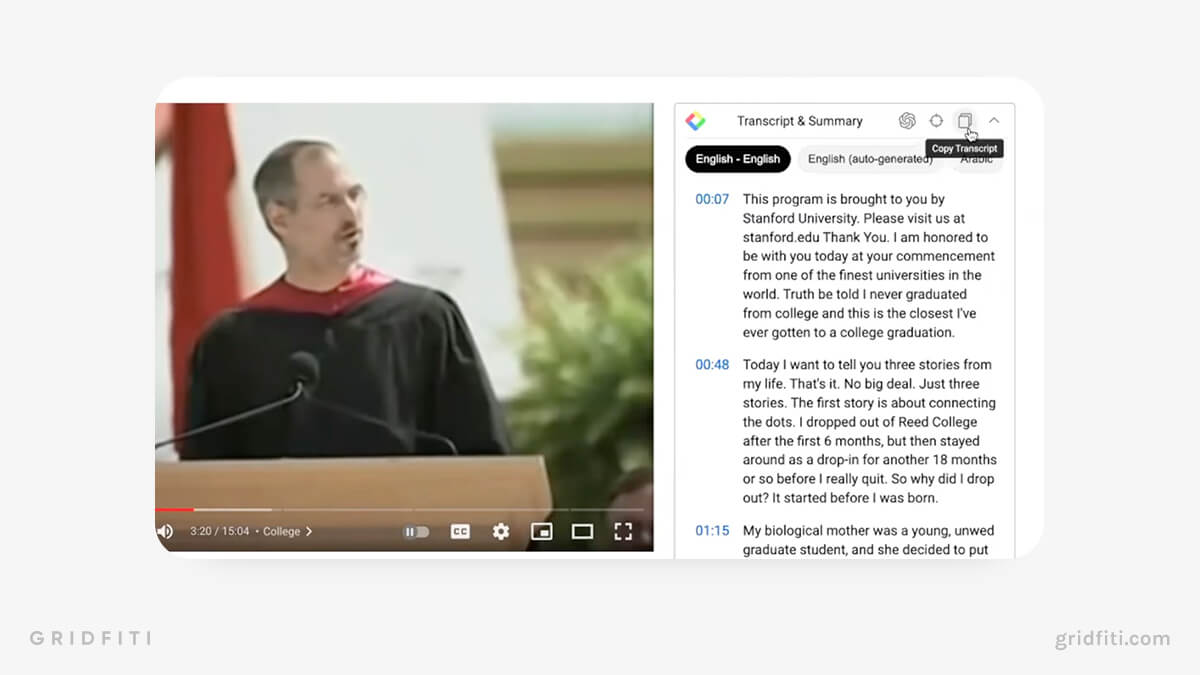 GPT for Sheets & Docs
GPT for Sheets & Docs allows you to use ChatGPT directly in Google Sheets. Just type "=GPT" to get responses to prompts in a single cell. Or, type "=GPT_LIST" to generate items in list form.
Create taglines, translations, and blog post ideas. Reference cells containing prompts to generate content in different cells. Adjust hyperparameters for ChatGPT's creativity and response length directly in Google Sheets.
Highlights and features
Receive ChatGPT prompt responses directly in Google Sheet cells.
Generate content ideas, summaries, translations, etc.
Edit hyperparameters to adjust ChatGPT response types and length from Google Sheets.
Drawbacks and limitations
Slight learning curve for anyone new to GPT for Sheets & Docs
Pricing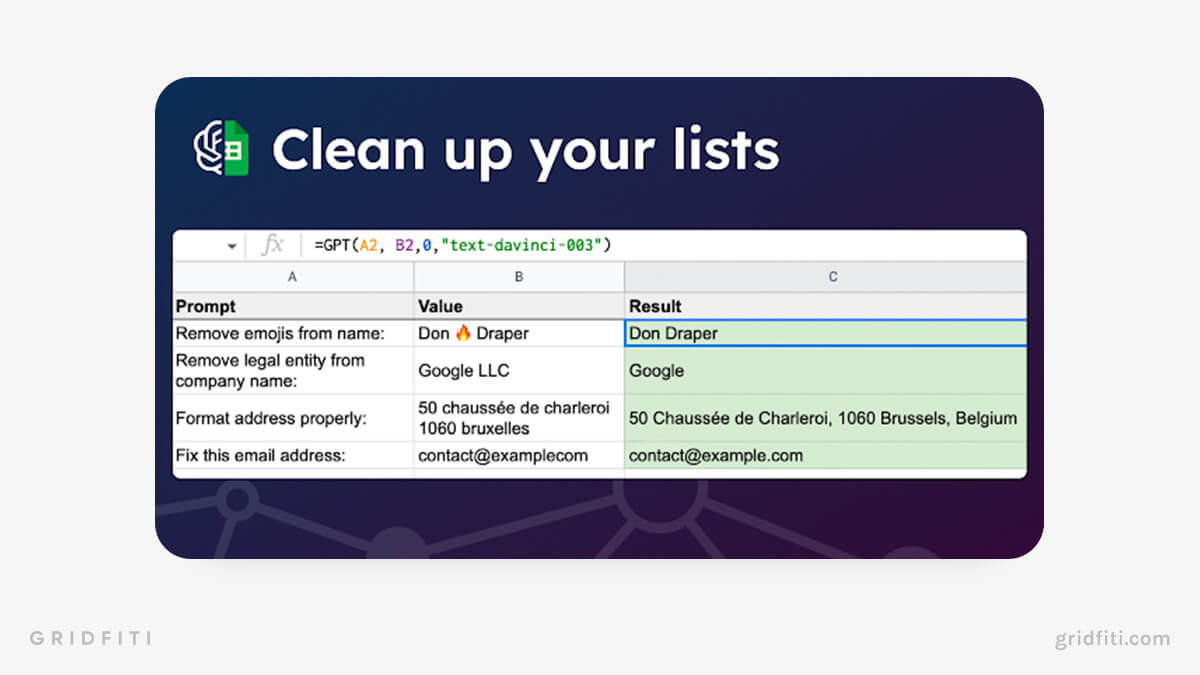 ChatGPT for Search Engines
ChatGPT for Search Engines creates GPT responses alongside search results on Google, Bing, and DuckDuckGo. One of the best features of this ChatGPT extension is you can choose when it triggers.
Only want ChatGPT responses when asking a query in your search bar? Pick between ChatGPT triggering always, manually, or when you type a question. Syntax highlighting makes understanding technical code a breeze. You can also right-click highlighted text and send it to ChatGPT as a prompt.
Highlights and features
Creates ChatGPT response alongside search results
Adjust trigger settings to receive ChatGPT answers on your terms
Syntax highlighting in code to make comprehending technical info easier
Drawbacks and limitations
Some reviewers report that ChatGPT for Search Engines isn't optimized for popular browsers including Firefox and Brave
Pricing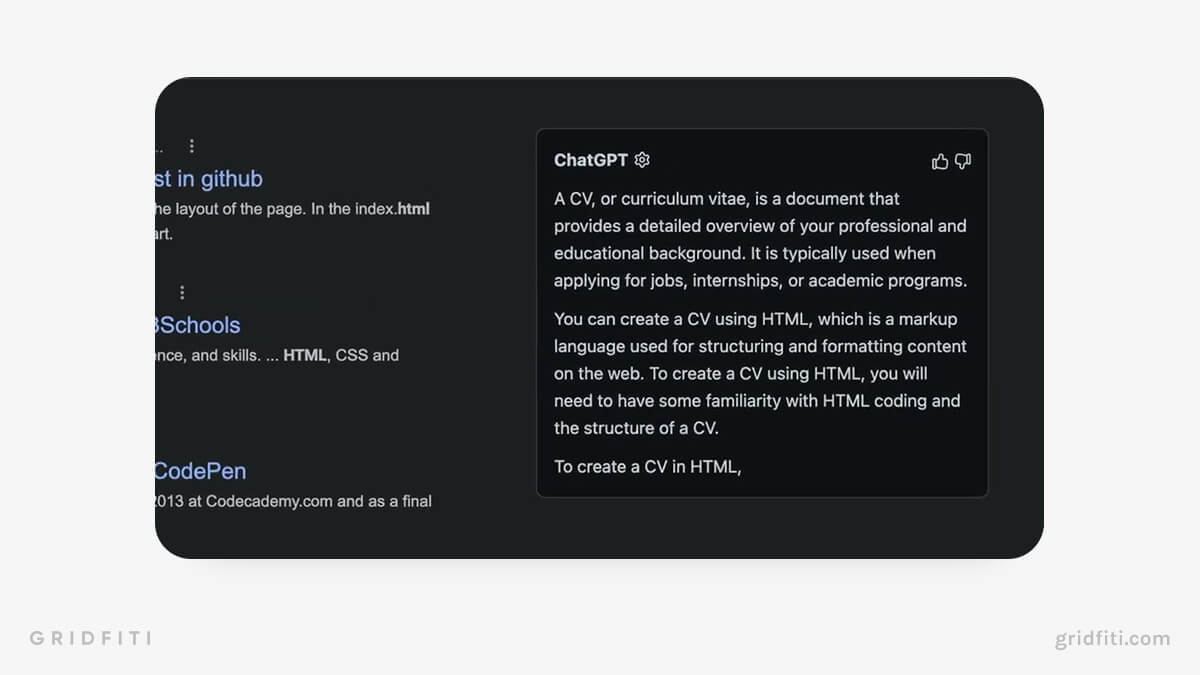 ChatGPT for Stack Overflow
Find answers to your most pressing programming questions in seconds with ChatGPT for Stack Overflow. This extension uses ChatGPT to respond to any question on Stack Overflow, even if it's yet to be answered. ChatGPT responses auto-generate when you click on any Stack Overflow query.
Highlights and features
Get ChatGPT response on any Stack Overflow question
Answers generate as soon as you click a Stack Overflow question
Drawbacks and limitations
ChatGPT doesn't always accurately answer questions related to code
Pricing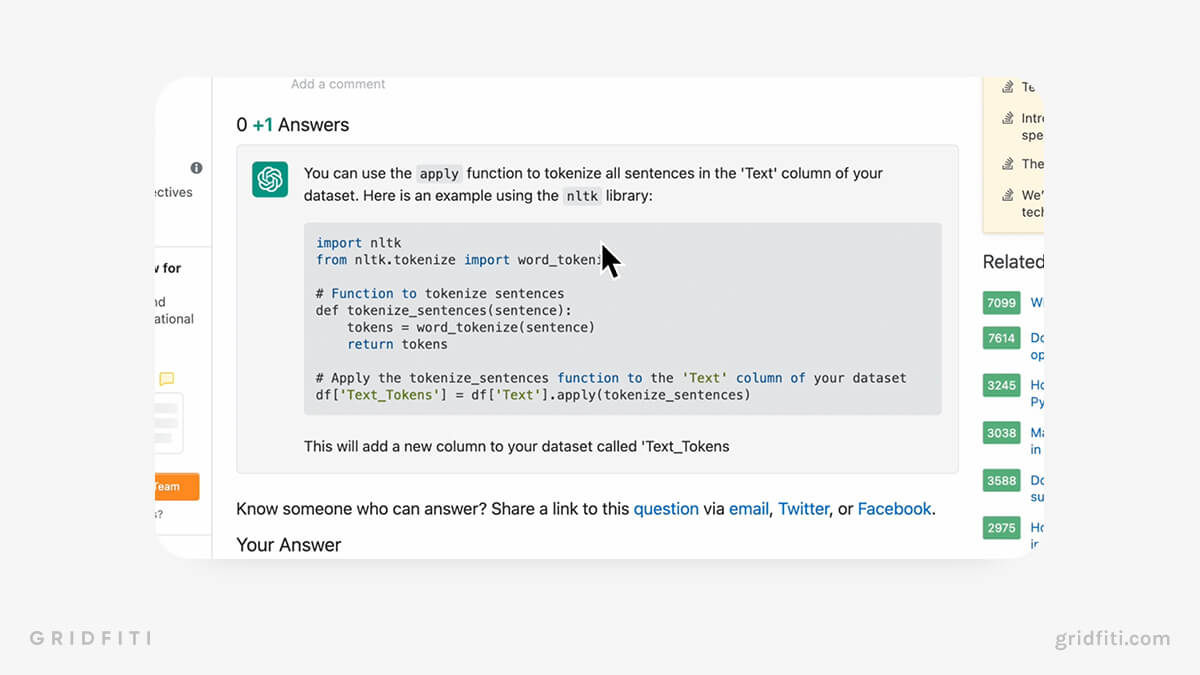 WebChatGPT: ChatGPT with internet access
Give ChatGPT the ability to search the web through WebChatGPT. This extension adds relevant search results to your ChatGPT responses, including references to the quoted webpage. You can toggle the extension on and off within ChatGPT. Choose the timeframe for the search and how many results to generate.
Highlights and features
Provides relevant search results alongside ChatGPT responses
Choose the search timeframe, your region, and how many search results are generated
Drawbacks and limitations
Saving and creating new prompts through WebChatGPT can be confusing
Pricing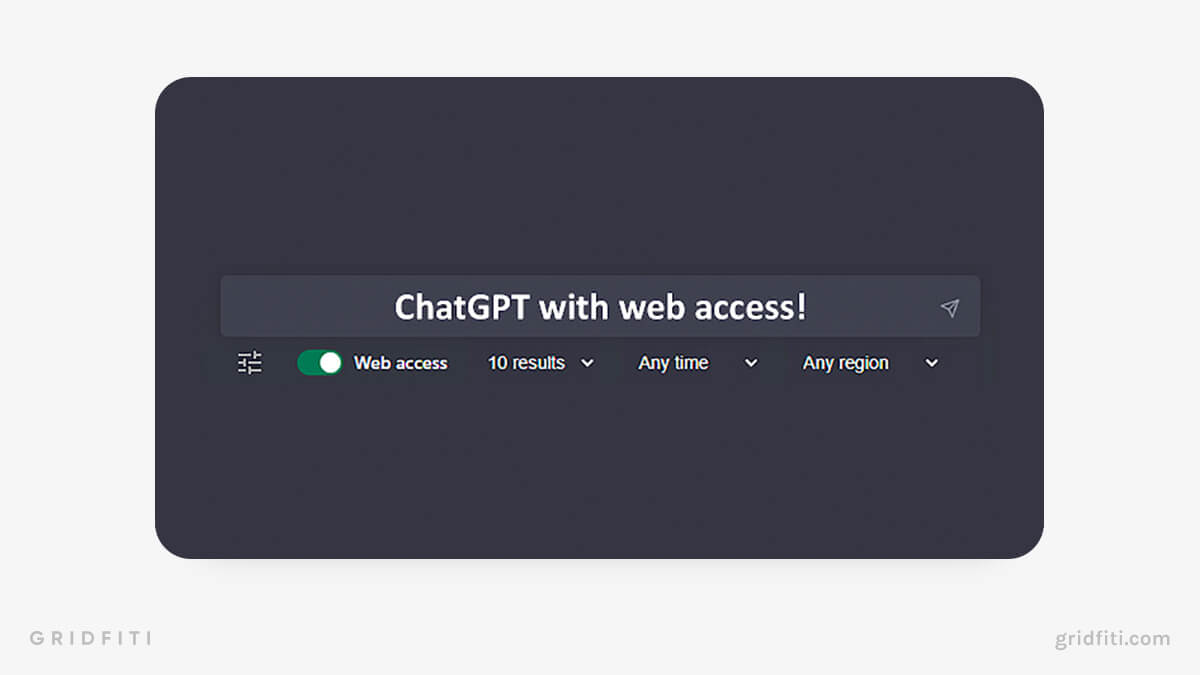 ChatGPT Prompt Genius
ChatGPT Prompt Genius lets you source, curate, and save ChatGPT prompts. Pick from dozens of curated and user-created prompts and save them to your ChatGPT Pormpt Genius dashboard. Categorize your prompts and stay organized.
Saving prompts is super simple with ChatGPT Prompt Genius — highlight and right-click to save text as a prompt. This extension saves past conversations so you can jump back in anytime, just as you would on ChatGPT.
Highlights and features
Source curated prompts and create your own prompt library
Source user-generated prompts
Import and export prompts and data from your computer
Save prompts to the extension by highlighting and right-clicking text
Drawbacks and limitations
User-curated prompts link to ChatGPT Prompt Genius subreddit instead of a built-in prompt bank
Pricing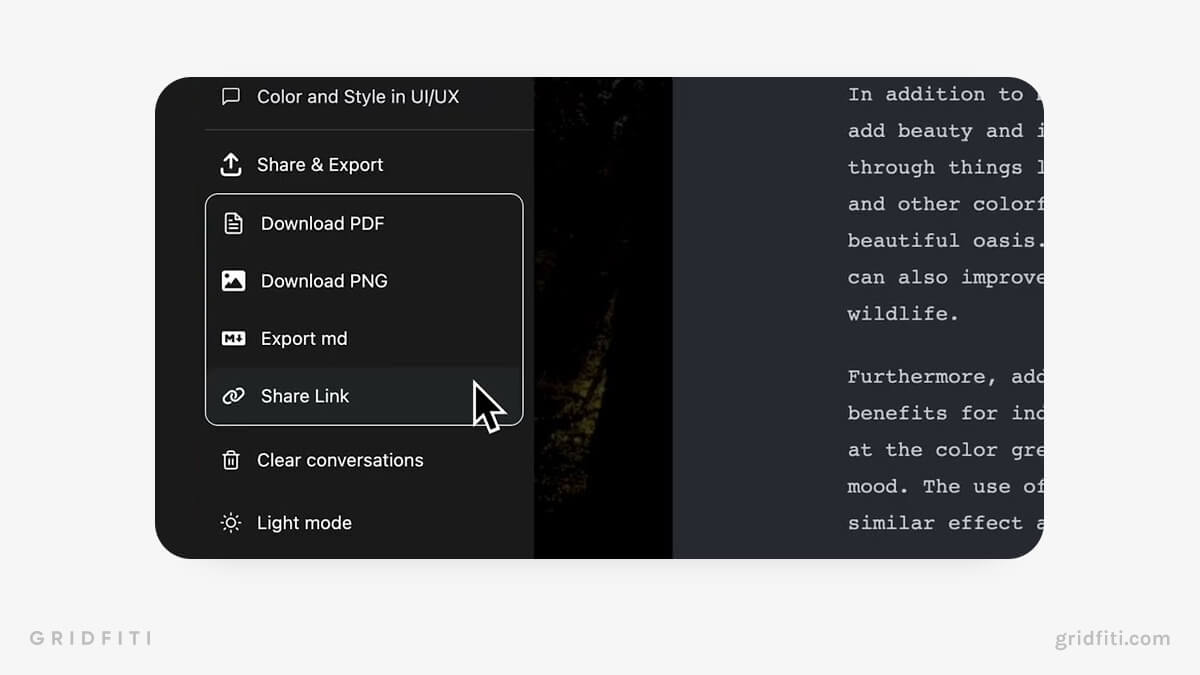 ShareGPT
ShareGPT provides a straightforward way to share your ChatGPT conversations with others. Hit "export" at the bottom of ChatGPT, and a new webpage will open with a transcript of your full chat that you can share.
Highlights and features
Provides an easy way to share ChatGPT conversations with others
Hit "export" and get a full transcript of chats in a new tab
Drawbacks and limitations
Potential privacy issues when sharing personal information on ChatGPT
Pricing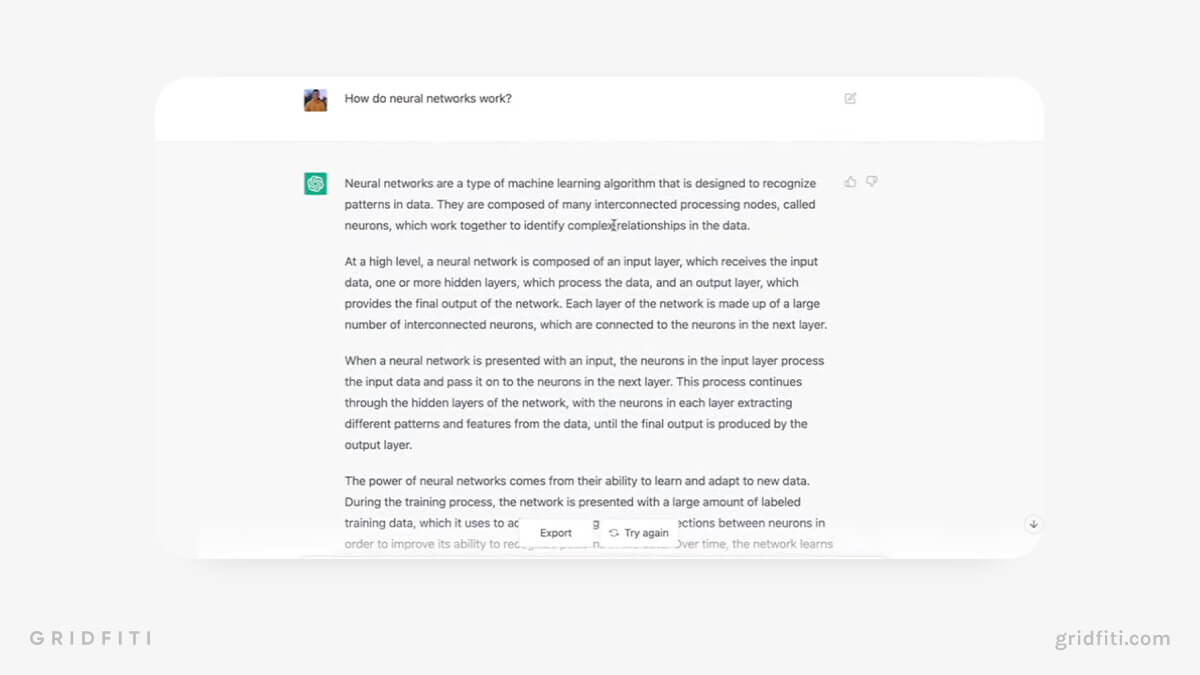 Udemy Summary with OpenAI
Give your Udemy lessons your full attention with Udemy Summary with OpenAI — no need to make notes summarizing your latest lesson anymore. This extension creates a full transcript summary of Udemy lessons which gets stored in the extension for you to review later.
Highlights and features
Summarizes Udemy lessons
Summaries are stored in the extension library
Drawbacks and limitations
Design is currently quite basic
Pricing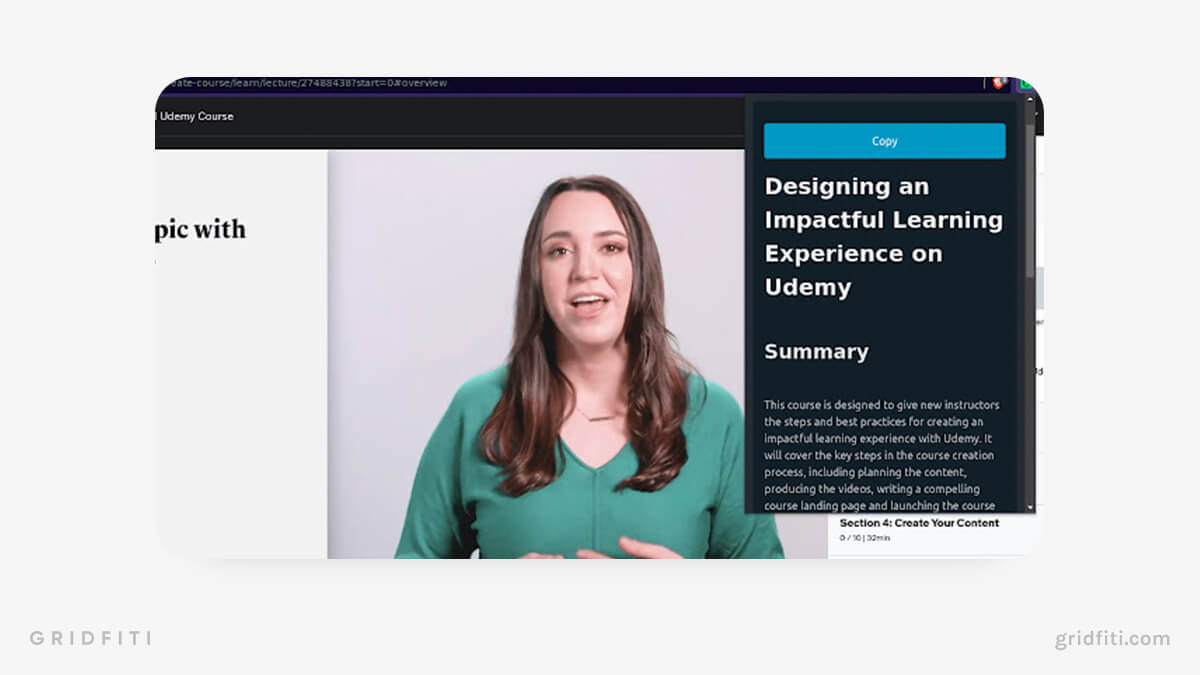 Which one of these ChatGPT extensions is your favorite? Let us know in the comments below!
Gridfiti is supported by its audience – when you buy something using the retail links in our posts, we may earn a small commission at no additional cost to you. Read more about our affiliate disclaimer.