Searching for innovative ways to use ChatGPT? Millions of people use ChatGPT to support their work and personal life, but many are unsure of the best way to utilize this powerful chatbot. We've rounded up ChatGPT examples, ideas, and use cases, so you can better understand how to operate one of the web's fastest-growing AI programs.
If you're looking for specific prompts to get the most out of ChatGPT, check out our full list of 100+ ChatGPT prompts – it includes prompts for over 15 different industries and uses!
Want more ChatGPT and productivity tips? Join our newsletter!
Summarize Long Documents or Articles
TL;DR? ChatGPT can sum up lengthy articles and documents, saving you precious time. Copy and paste the text you want to summarize to ChatGPT with a simple summary prompt, and let it do the rest. Or, just paste the URL of the article or document you want to summarize.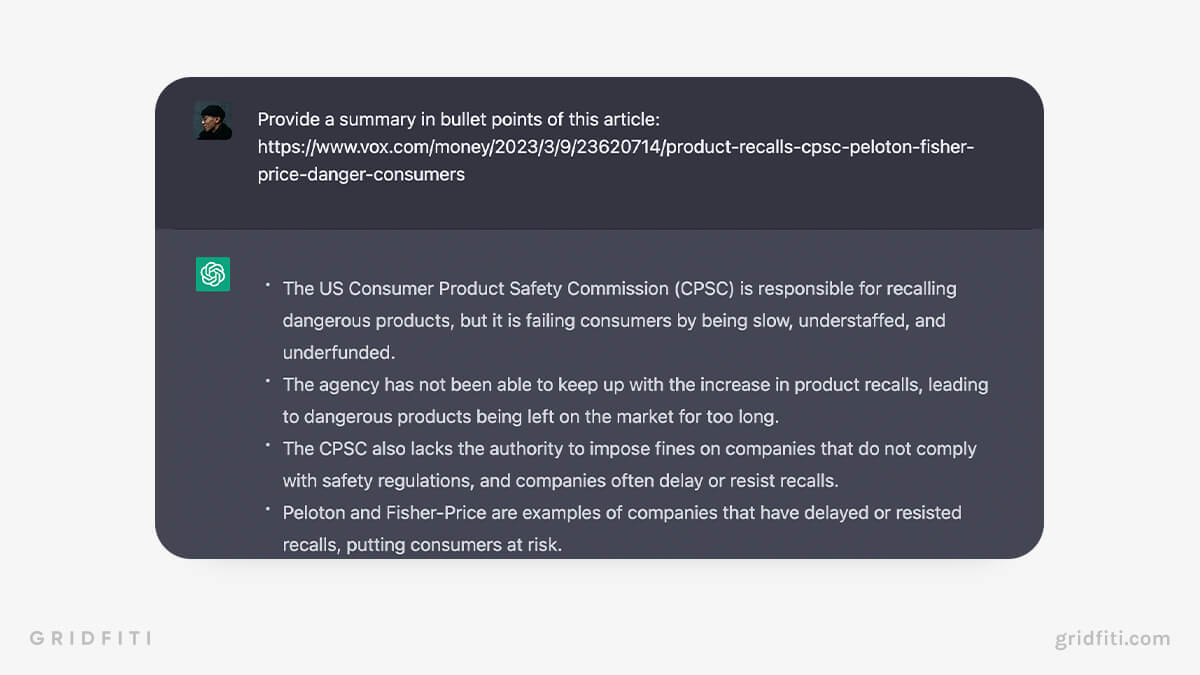 Example from Twitter
Recommend Movies, TV Shows & Books
Out of ideas on what to watch on movie night? Let ChatGPT provide personalized recommendations based on your watch history. Provide info on what you recently watched or your favorite genres, actors, and directors.
For the best possible recommendations, ChatGPT can access your viewing history on your favorite streaming services. It'll analyze any ratings and reviews and suggest content accordingly.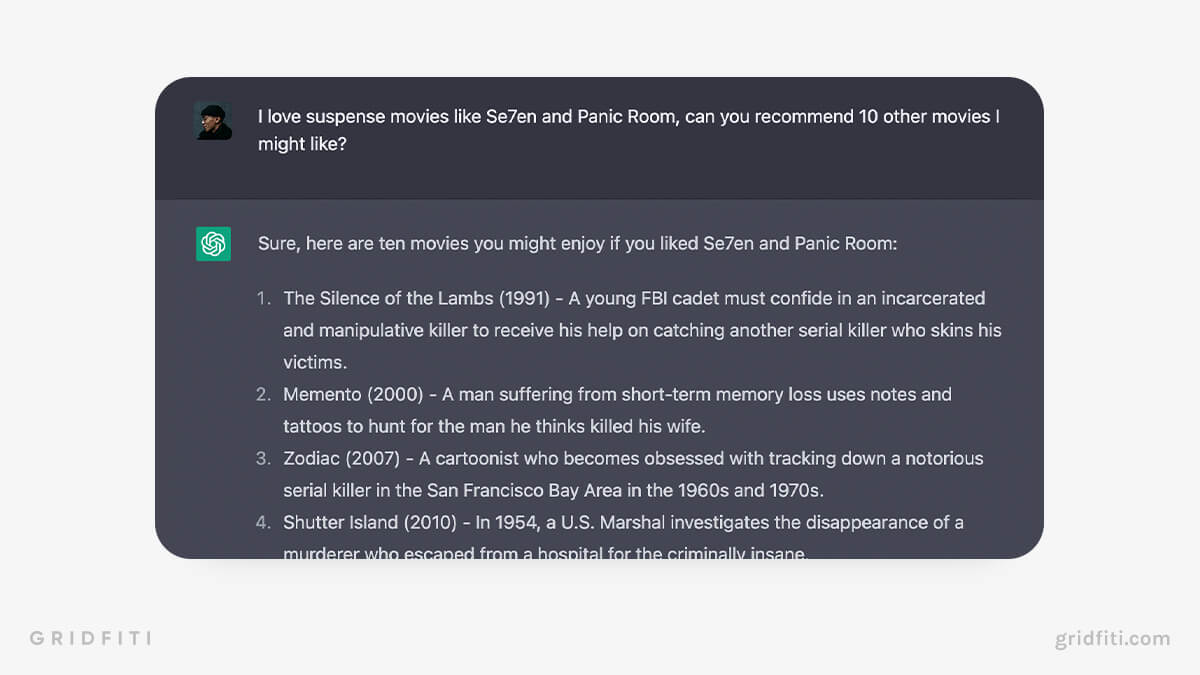 Example from Twitter
Create Meeting Minutes & Summary Notes
Summarizing thousands of words into a few short paragraphs can be tricky. ChatGPT can take a Zoom/Google Meet transcript and create bulleted meeting minutes. Or, make a template for meeting minutes based on a document, complete with an overview of the discussion and actionable items.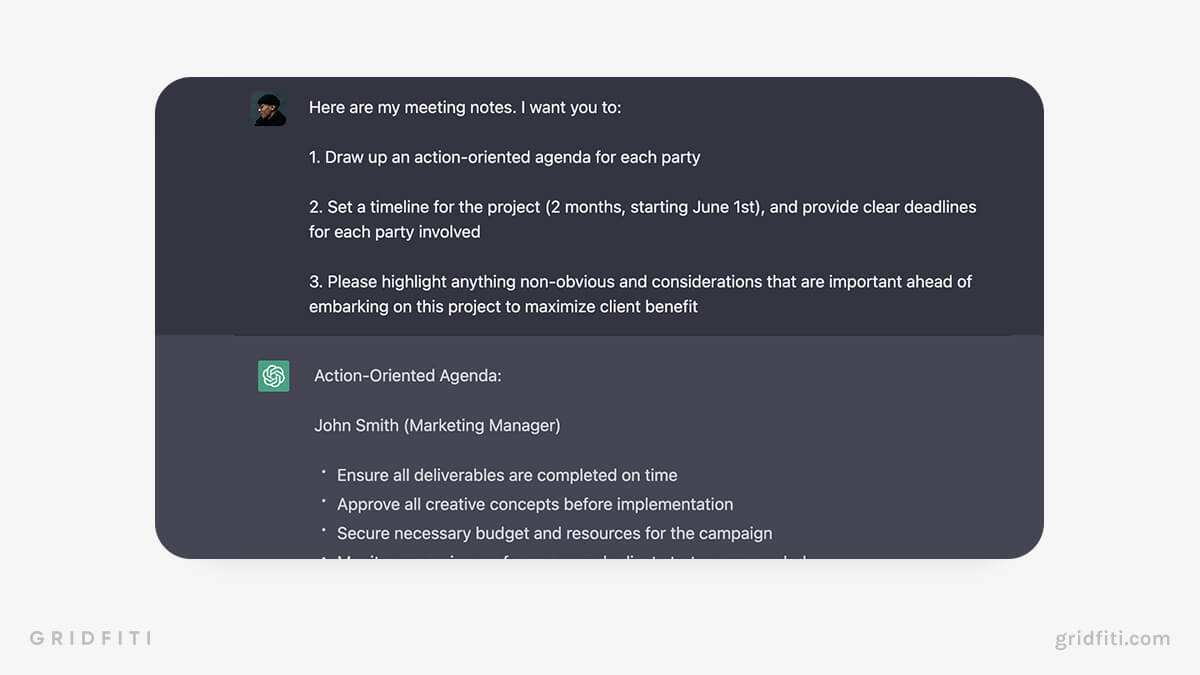 Example from Twitter
Personalize Workouts & Fitness Plans
ChatGPT is surprisingly accurate at creating workout routines. Provide some basic information like your personal records, fitness goals, available equipment, and workout length. This real-life example shows a completable workout routine for improving functional threshold power while cycling.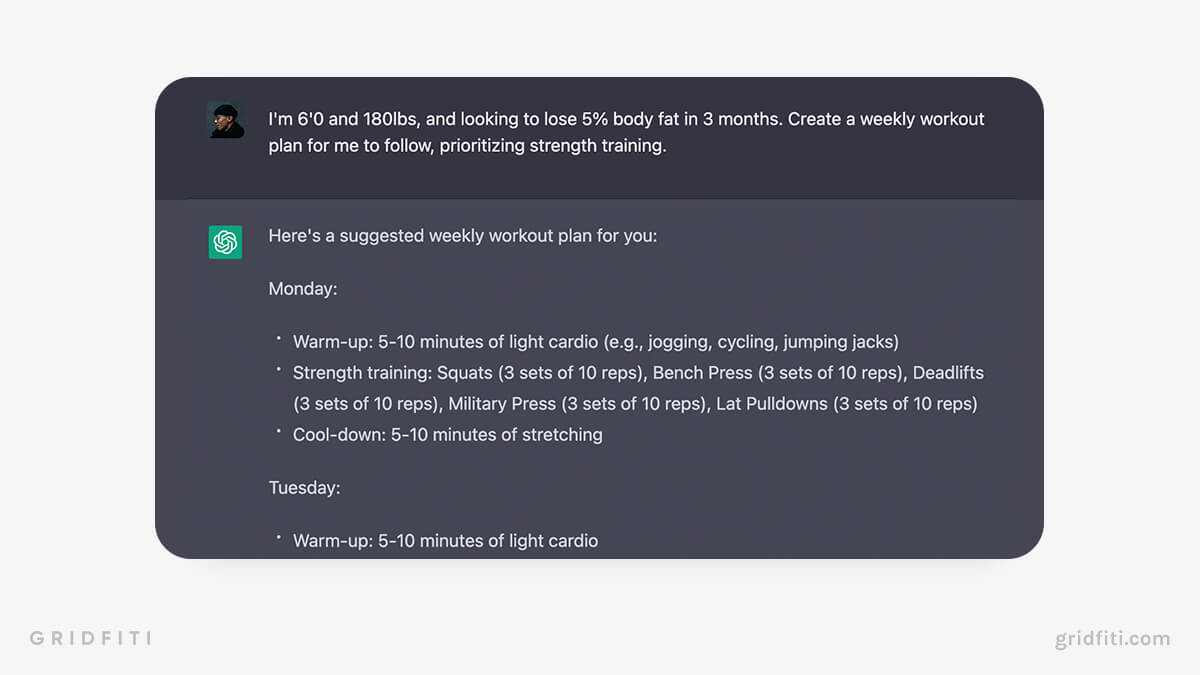 Example from Twitter
Learn a New Language
ChatGPT can help you master dozens of languages, from Urdu to Malayalam to Portuguese. It can check your writing for errors or teach you useful phrases through interactive exercises. You'll also receive cultural context and insights into customs and traditions. As an AI language processor, it will miss some mistakes in your writing, but it's a handy language-learning tool regardless.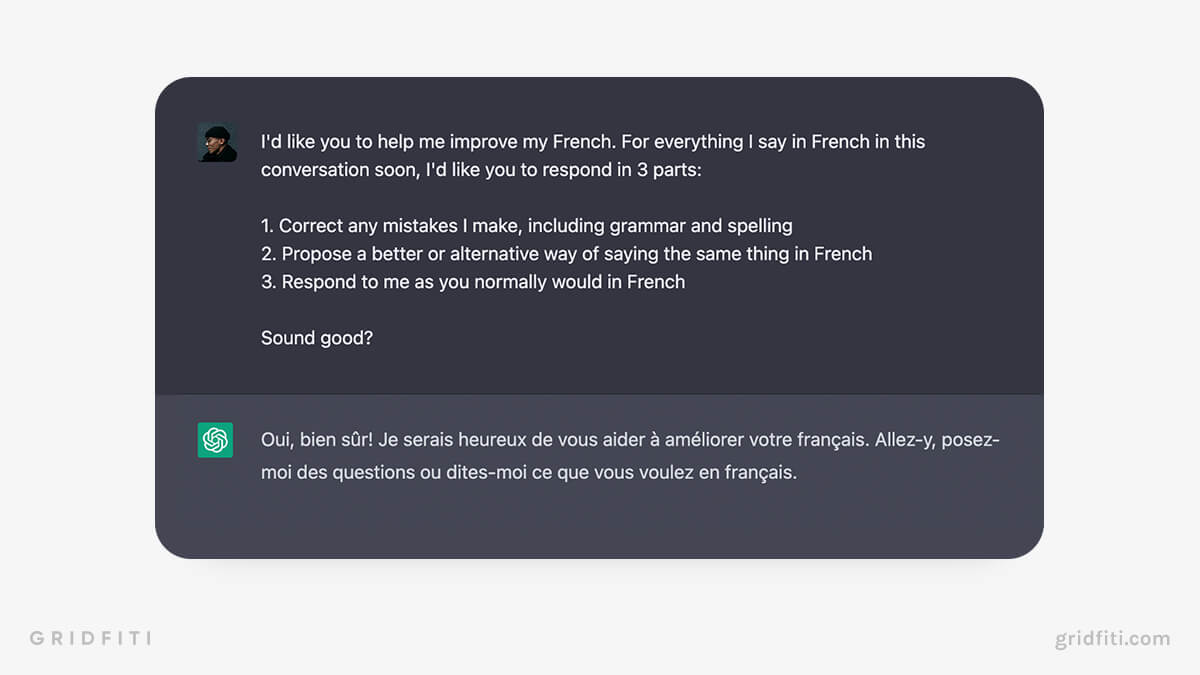 Example from Twitter
Get Fashion & Styling Advice
Never be unsure of what to wear on a night out again, thanks to ChatGPT. It can provide fashion and style advice, like makeup tips and outfit recommendations.
ChatGPT can even act as your personal shopping assistant. Let it know your size, body type, and the event you're attending, and ChatGPT will recommend clothing, shoes, and accessories based on your preferences and budget. It can even compare prices to ensure you get the best deal possible.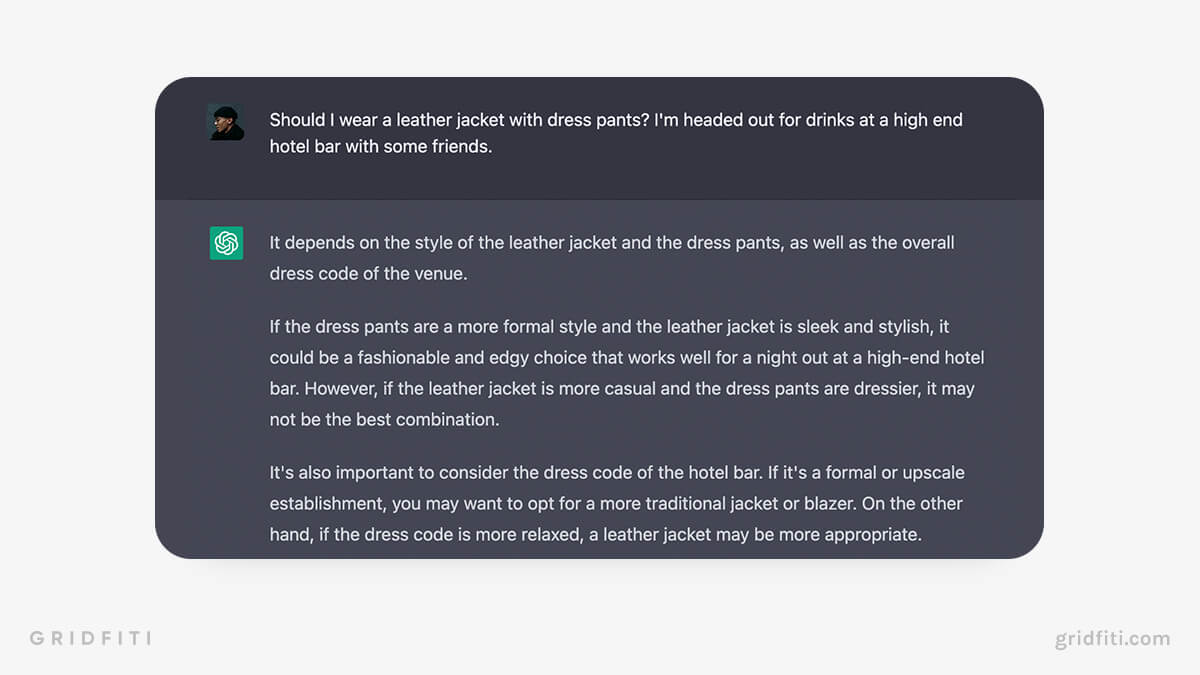 Example from Twitter
Receive Cooking & Recipe Recommendations
Keeping your meal plan interesting isn't always easy, but ChatGPT can help you come up with fresh ideas! Generate recipes based on the ingredients in your fridge or tips on the best cooking practices.
ChatGPT will go a step further and consider dietary restrictions or if someone is a fussy eater and doesn't like certain ingredients. You can also ask it to design a meal for a certain setting or occasion, whether you're sick or fancy dining alfresco on a summer's day.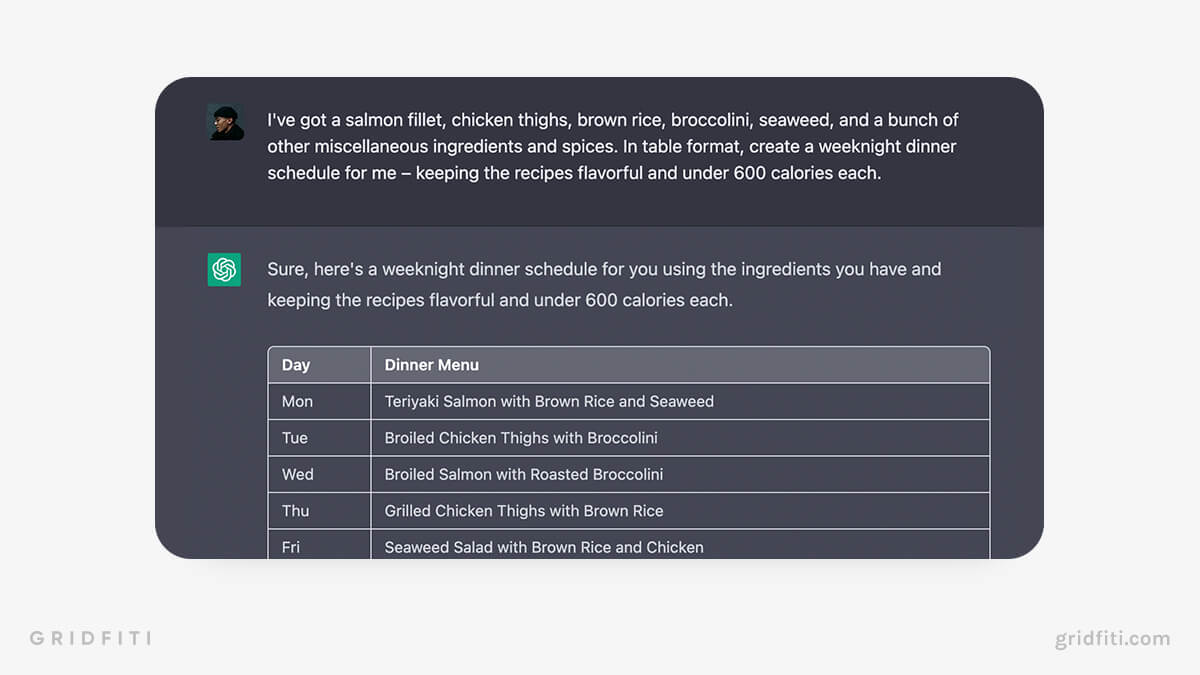 Example from Twitter
Plan Trips & Travel Itineraries
Design the perfect itinerary for your next big adventure with the help of ChatGPT. For the best results, provide how many days you're traveling, who you're traveling with, what type of vacation you like, and what you hope to get out of the place you're visiting.
Or, you could plan a vacation from scratch before knowing where you're going. Give ChatGPT info on your price range, vacation length, vacation preferences, etc., and it'll generate ideas for the best places to visit.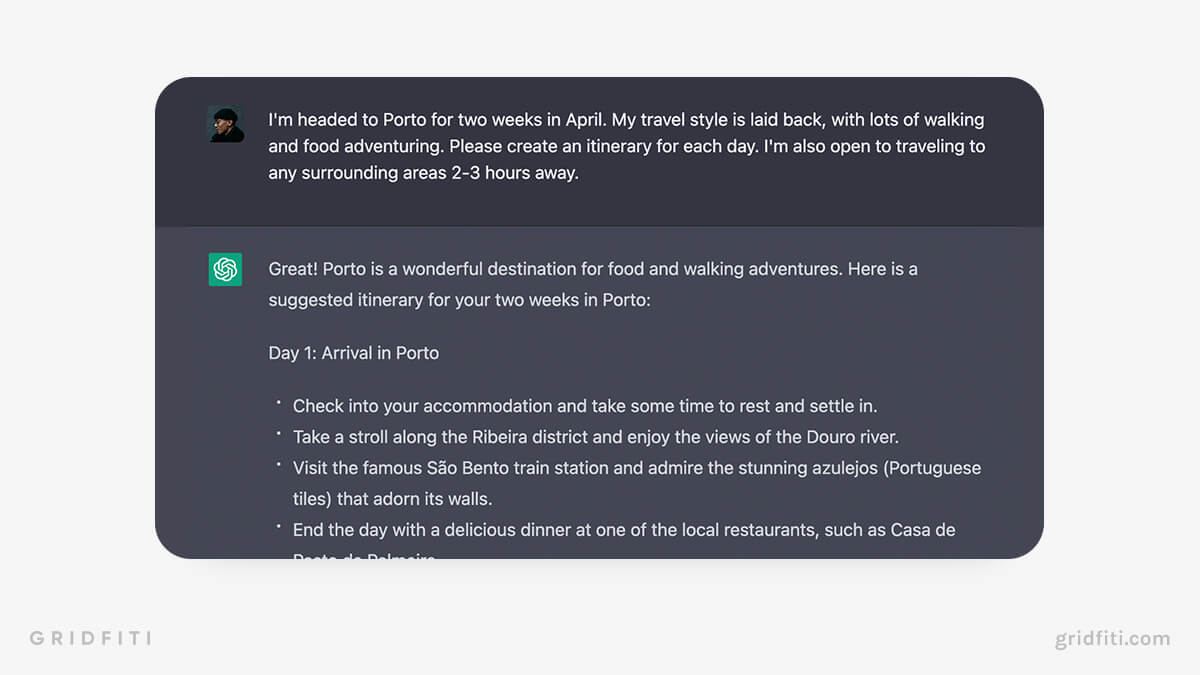 Example from Twitter
Translate & Localize Content by Context
Most people who've used ChatGPT agree that it's a superior translation tool to Google Translate. ChatGPT can make translations more natural-sounding, complete with local customs and greetings.
For example, ask ChatGPT, "I'm at a pharmacy in Vietnam right now, can you help me ask the pharmacist for ibuprofen?" and it gives you a response that adds all the proper greetings and niceties.
Another less used function of ChatGPT is localization. You can ask ChatGPT to localize content to a country, and it'll produce culturally appropriate content with the correct use of language. The following use case shows what will happen if you ask ChatGPT to localize content to a region — it'll change the content to feature names and locations from a specific country.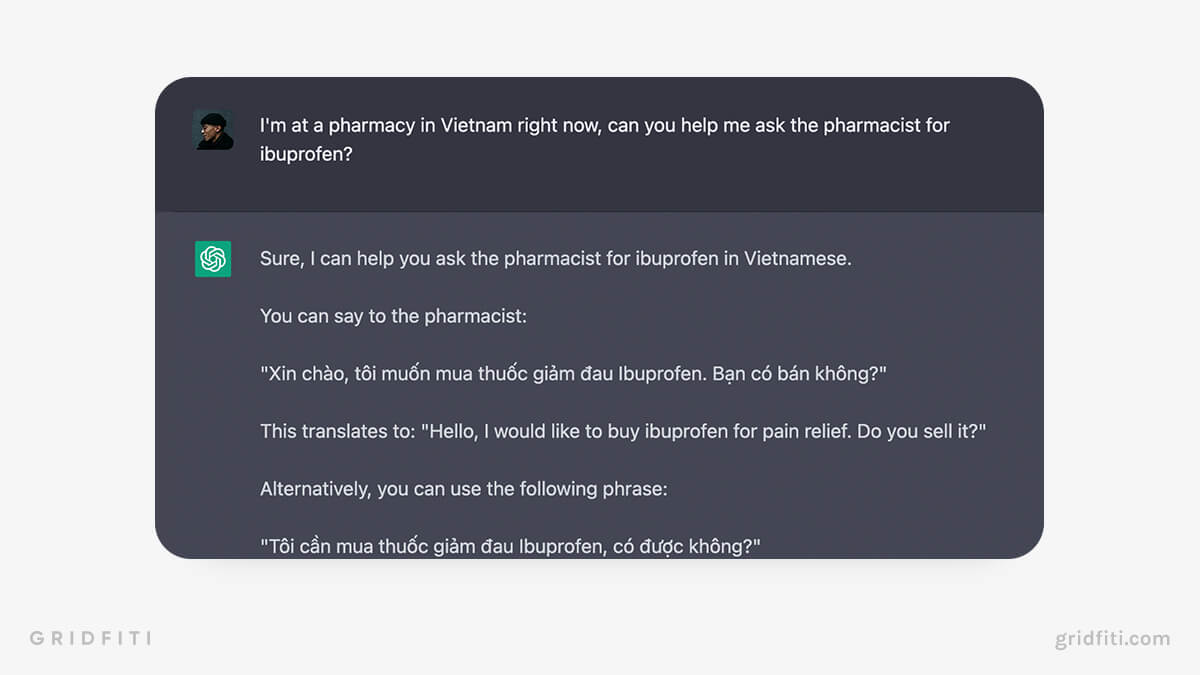 Example from Twitter
Improve Meditation & Mindfulness
Get extra mindfulness motivation through ChatGPT. Generate guided meditations and mindfulness exercises, breathing exercises, and relaxation tips.
Add preferences on your favorite type of meditation and breathing exercises for a personalized touch. Set up mindfulness reminders that suit your schedule and learn about mindfulness resources like videos and articles.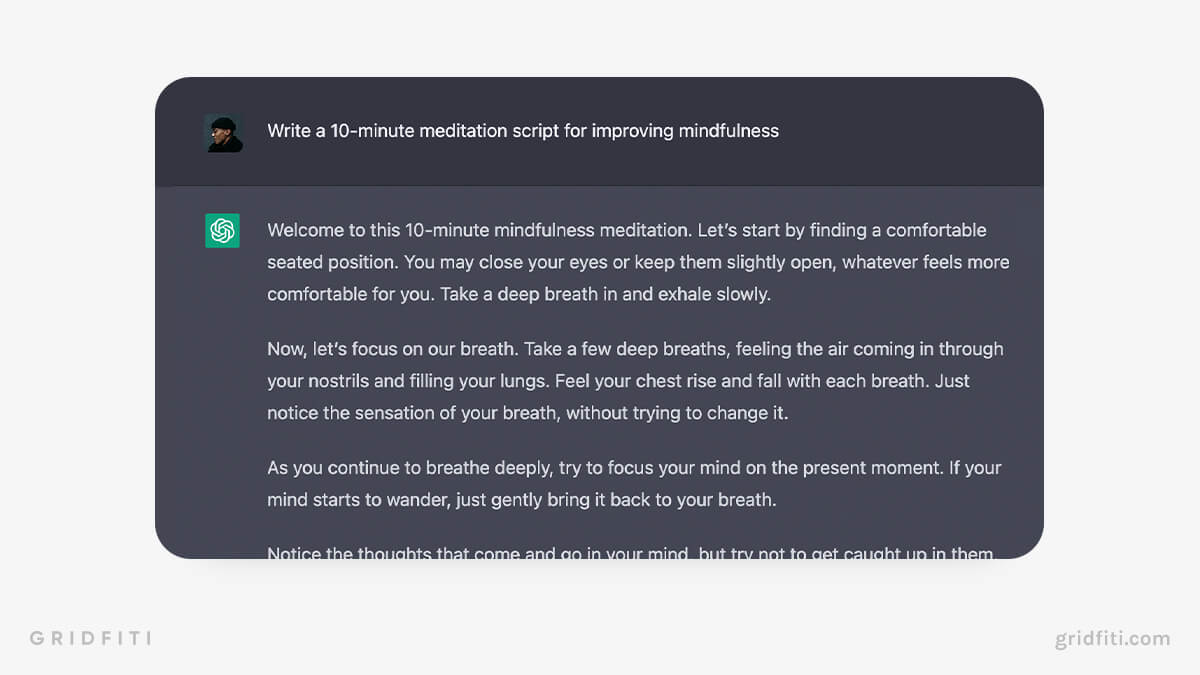 Example from Twitter
Get Mental Health Support
While you shouldn't use ChatGPT for sole therapy, it can offer plenty of mental health support. It'll participate in active listening and provide words of affirmation or create coping strategies for depression, stress, and anxiety.
Find resources on local mental health professionals and details about how to get started with therapy. Or, simply get information on mental health conditions and symptoms.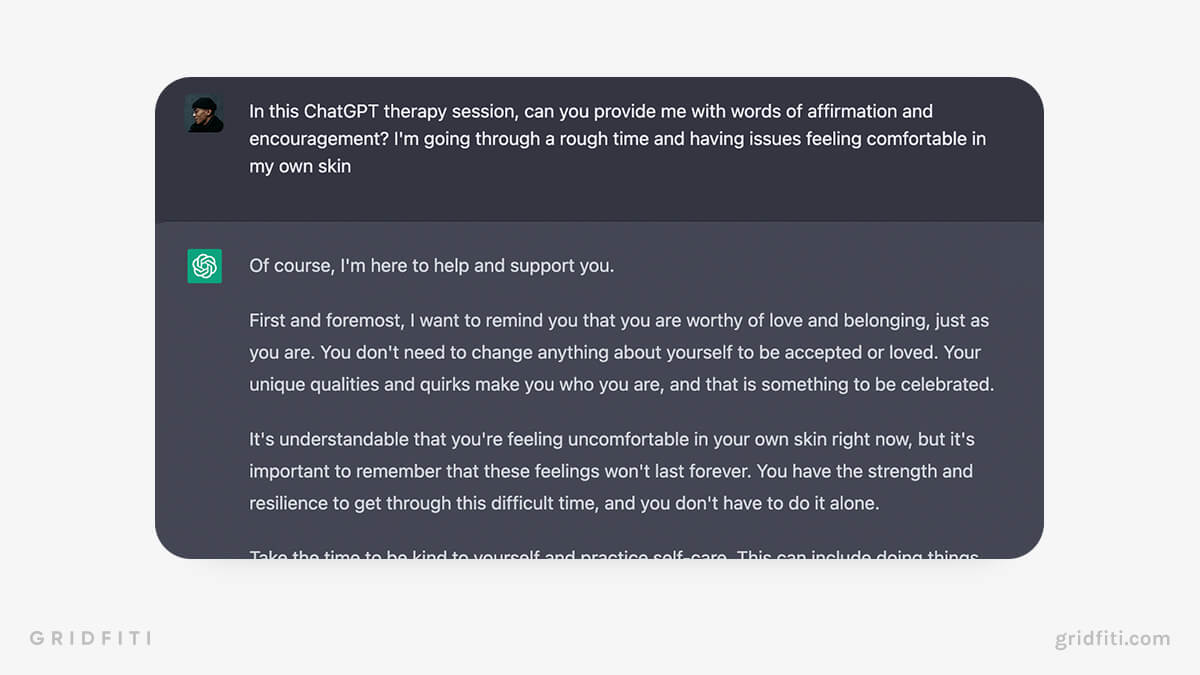 Example from Twitter
Manage your finances
Use ChatGPT to discover new ways of managing your finances. Get budgeting tools to track expenses, investment strategies for stocks and bonds, or tax planning strategies to reduce liability.
Receive guidance on managing your debt and how to negotiate with your creditors. In this use case where someone asks ChatGPT for general financial advice, it recommends measures like saving for emergencies and protecting your assets.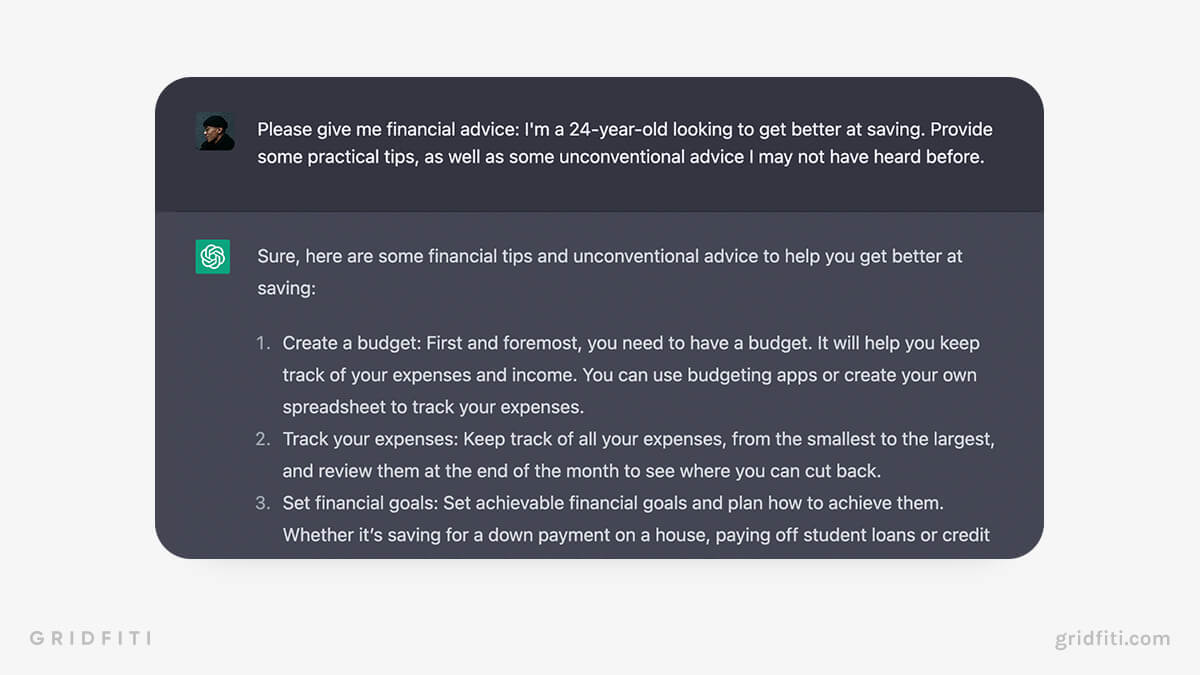 Example from Twitter
Write Real Estate Property Descriptions
ChatGPT can write creative, detailed descriptions of your for-sale properties. Write a basic description of your house, complete with features you want to highlight for the best results. Plus, ChatGPT can tailor the description to target a specific audience.
Optimize the description for search engines to make your property easier to find for potential buyers. If you've already written a description, ChatGPT can edit and proofread it to ensure it's ready to publish. This example description of a property in Portland highlights the number of bedrooms, the open floor plan, and cozy fireplace.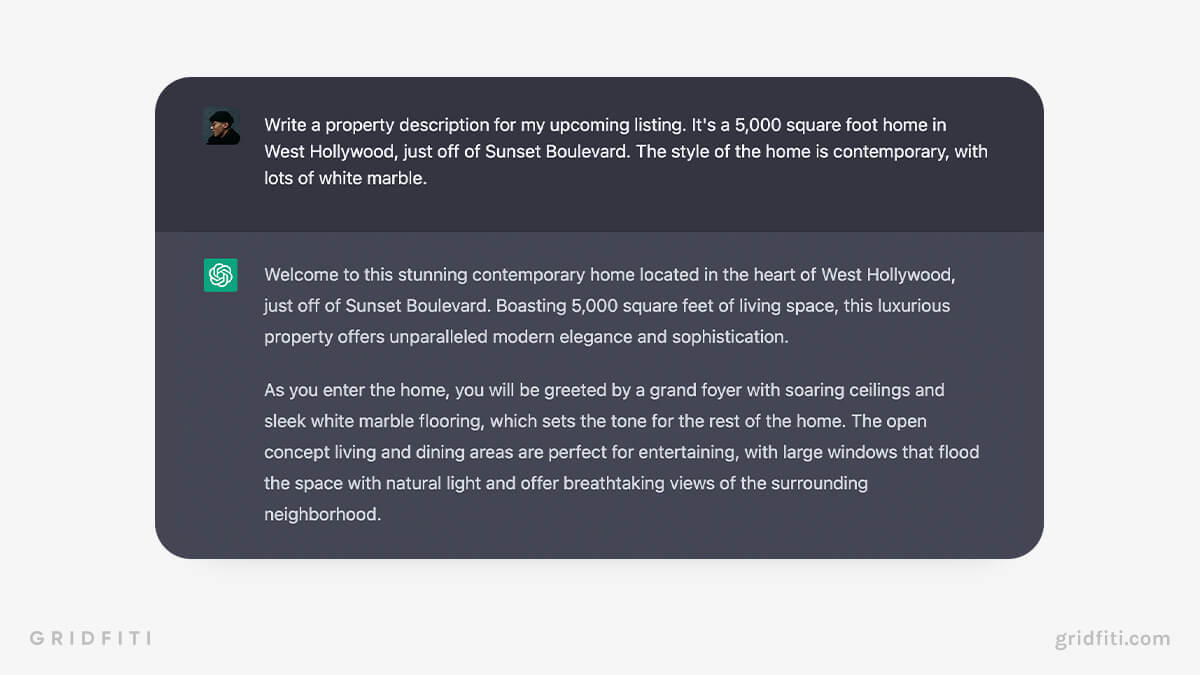 Example from Twitter
Prepare for Interviews
You'll find ChatGPT an incredibly useful resource for interview preparation. Generate practice questions and conduct mock interviews so you know exactly what to expect.
Or get dress code advice and body language tips to feel confident in the interview. For the best ChatGPT results, include information on the interview's topic and context, just like in the example below.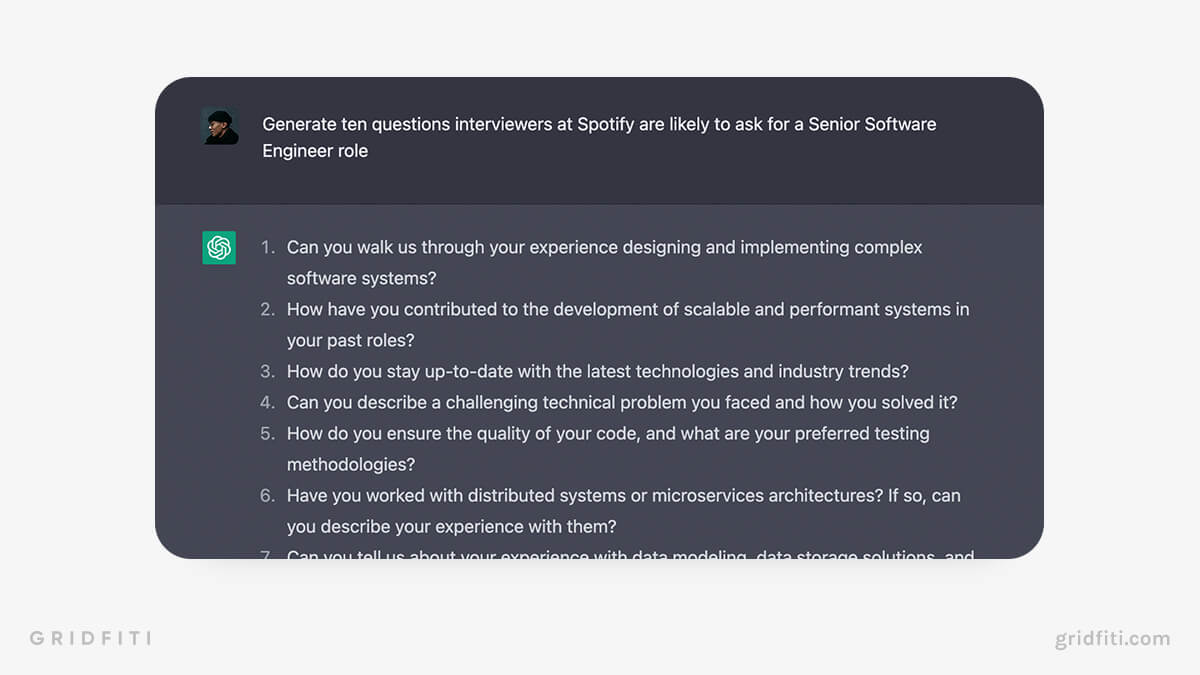 Example from Twitter
Optimize Websites & Content for Search Engines
Rise to the top of search engine rankings with ChatGPT. Get analytics on your website's SEO performance and decipher which areas need improving.
Identify opportunities on how to build more backlinks opportunities. Discover how to optimize your site structure, which can boost SEO. Or use it for basic SEO strategy like keyword research or meta descriptions, like in the example below.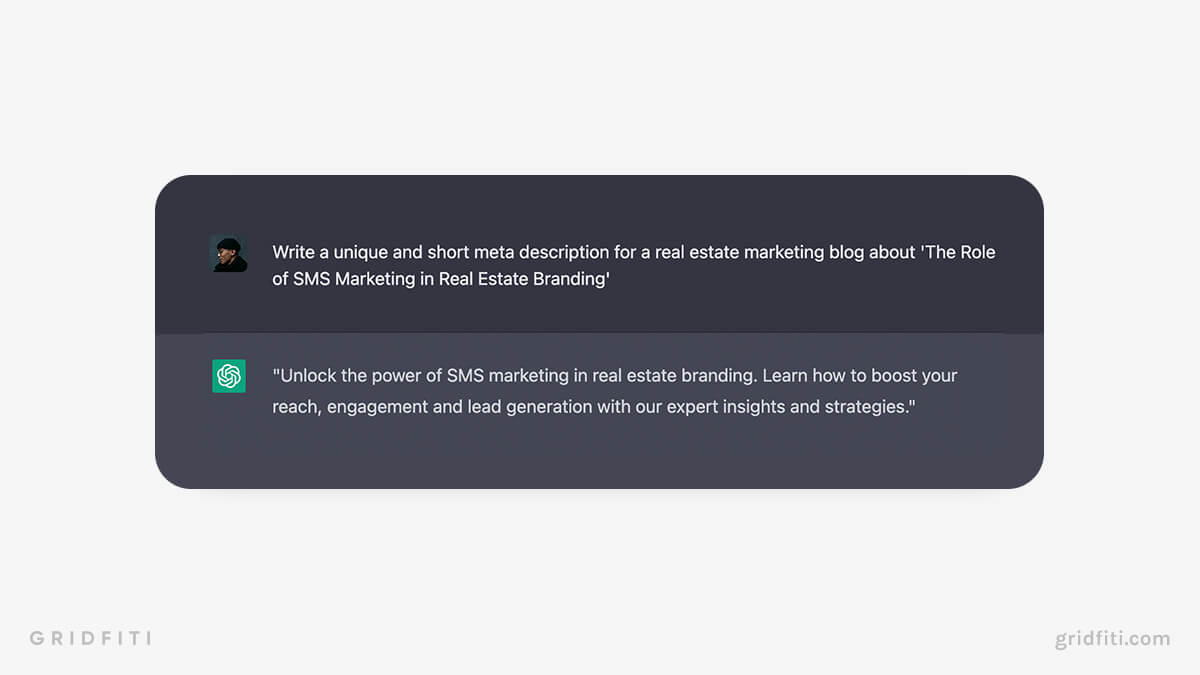 Example from Twitter
Be Your Video Game Sidekick
Level up your next gaming session by employing ChatGPT as your video game sidekick. Stuck on a boss? ChatGPT can help you progress with tips and walkthroughs.
Unsure which upgrade to pick? Have ChatGPT recommend the best upgrade so you're not left rueing your decision. And by creating personalized storylines based on your actions, ChatGPT can add another layer to your RPG experience.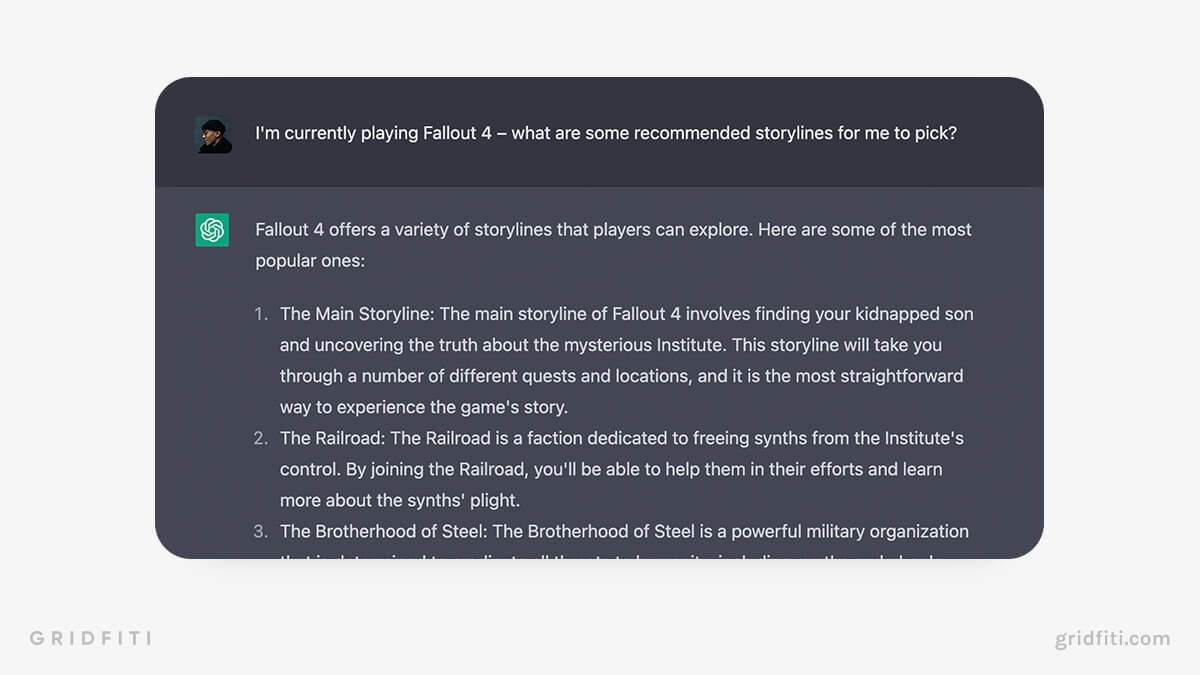 Generate Podcast Titles
ChatGPT can generate podcast titles that outperform ones written by humans. You can get high-quality results by inputting a short description of the podcasts, along with a bulleted list of the key talking points. Ask it to generate a handful of titles it thinks will have a high click-through rate, then cherry-pick your favorite, just like in the example below.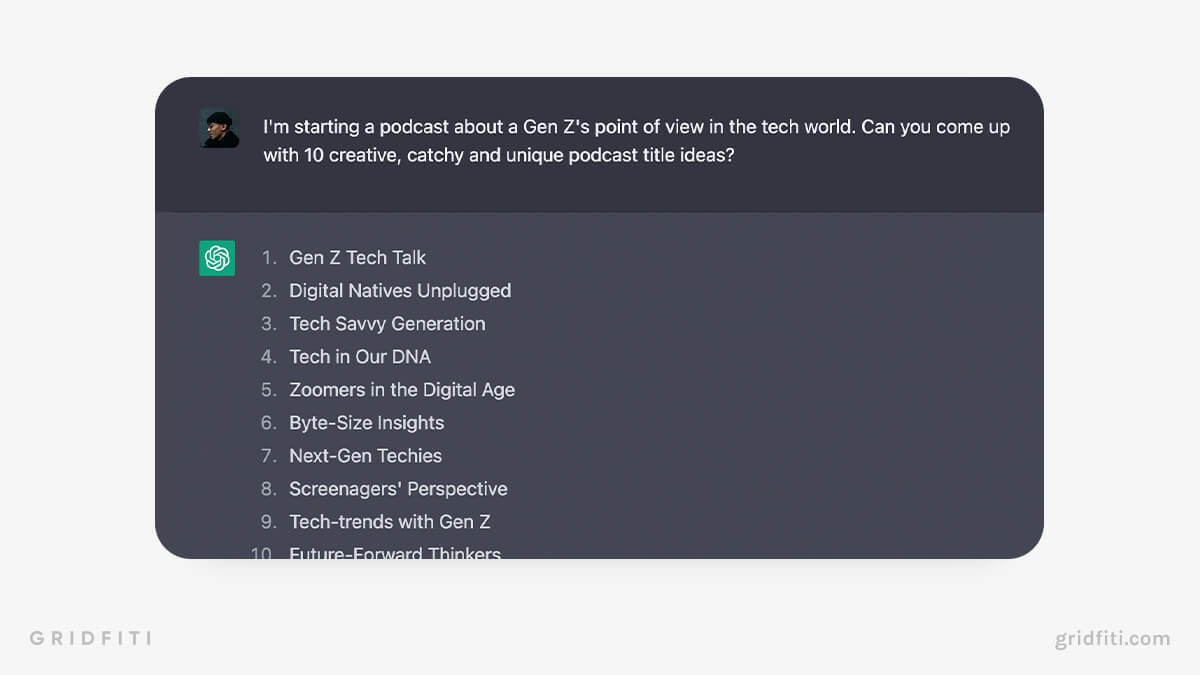 Example from Twitter
Craft Art & Midjourney Prompts
Curate prompts for AI drawing software Midjourney using ChatGPT. Instruct ChatGPT to brainstorm new ideas and prompt outlines. Plus, it can test your prompts and provide feedback on how to improve.
A fun and easy way to get Midjourney prompts and descriptions is to generate them with ChatGPT. Ask it to act as a Midjourney prompt generator, and write a brief description of the type of content you want it to write, complete with an initial prompt. The below example shows what happens if you ask ChatGPT to generate Midjourney prompts about a futuristic city.
If you're looking for more prompts, read our full guide on Midjourney prompts, examples, and settings here!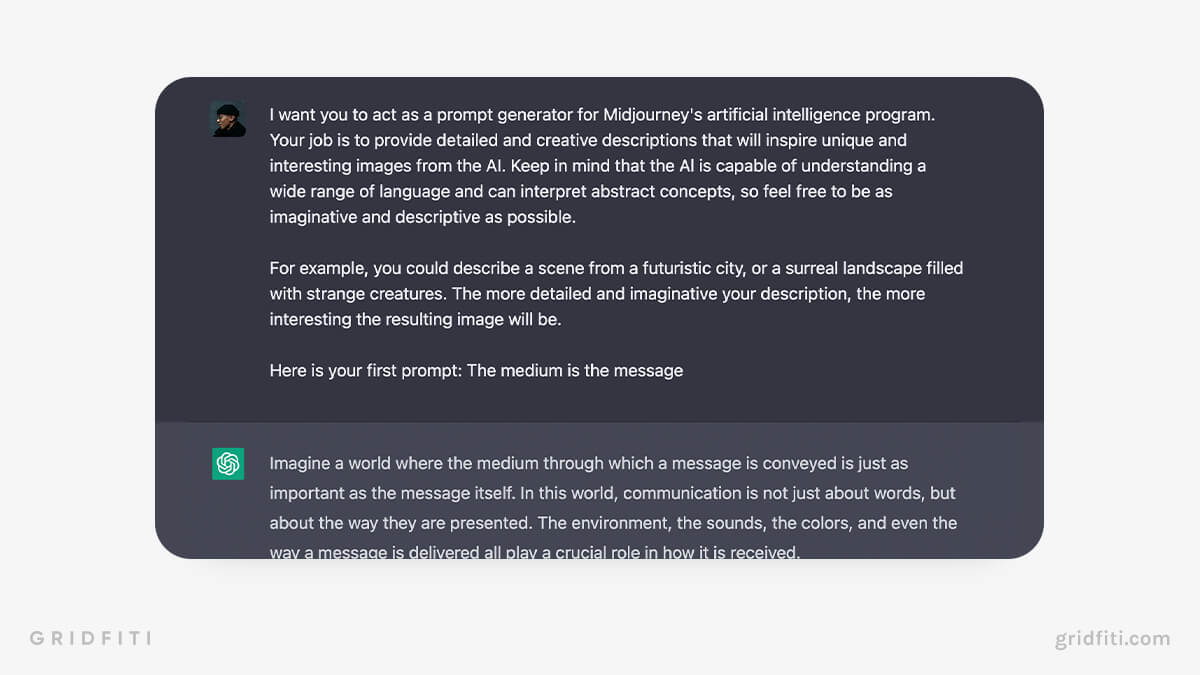 Example from Twitter here and here
Detect Vulnerabilities in Code
Whether you're using Java, Python, C++, Ruby, or SQL, ChatGPT can help detect vulnerabilities in your code. It can identify several types of vulnerabilities, like injection, XSS, and cryptographic vulnerabilities. However, ChatGPT is unable to test or execute code.
Just like in this ChatGPT use case, you can get high-quality results by instructing ChatGPT to tell you what the code is doing and if there are any vulnerabilities.
Example from Twitter
Draft a UGC Creator Contract
Avoid spending more money on contract templates by using ChatGPT to draft UGC creator contracts. ChatGPT can set out an agreement complete with deliverables, pricing, governing laws, and much more in a few seconds.
Just like in this use case, provide lots of details — like the scope of the UGC agreement, the pricing, and whitelisting period for paid ads — to avoid extensive editing afterward.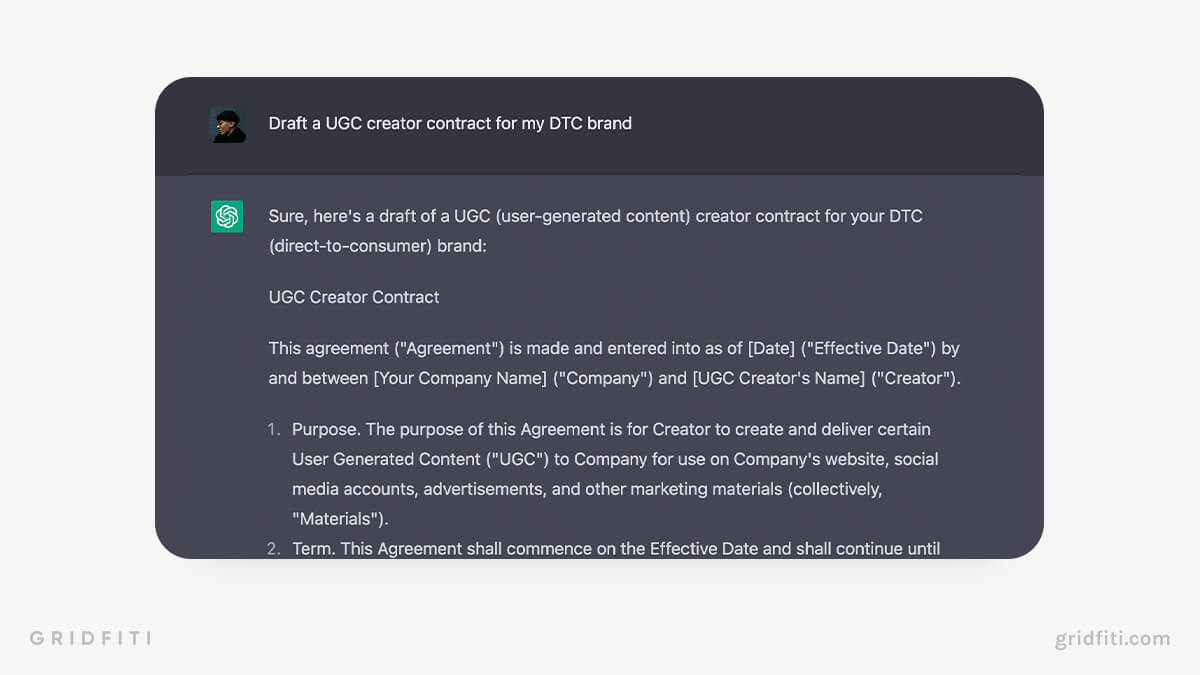 Example from Twitter
Outline Research & Seminar Papers
ChatGPT is on hand if you need help outlining your latest research or seminar paper. It'll quickly draw up a detailed outline complete with headings and topics relevant to the subject matter.
Feed ChatGPT as much information as possible to get a detailed outline. In this ChatGPT use case, it was given the topic, context, language, requirement, language, and tone, producing a comprehensive outline for a paper on Pakistan-US relations.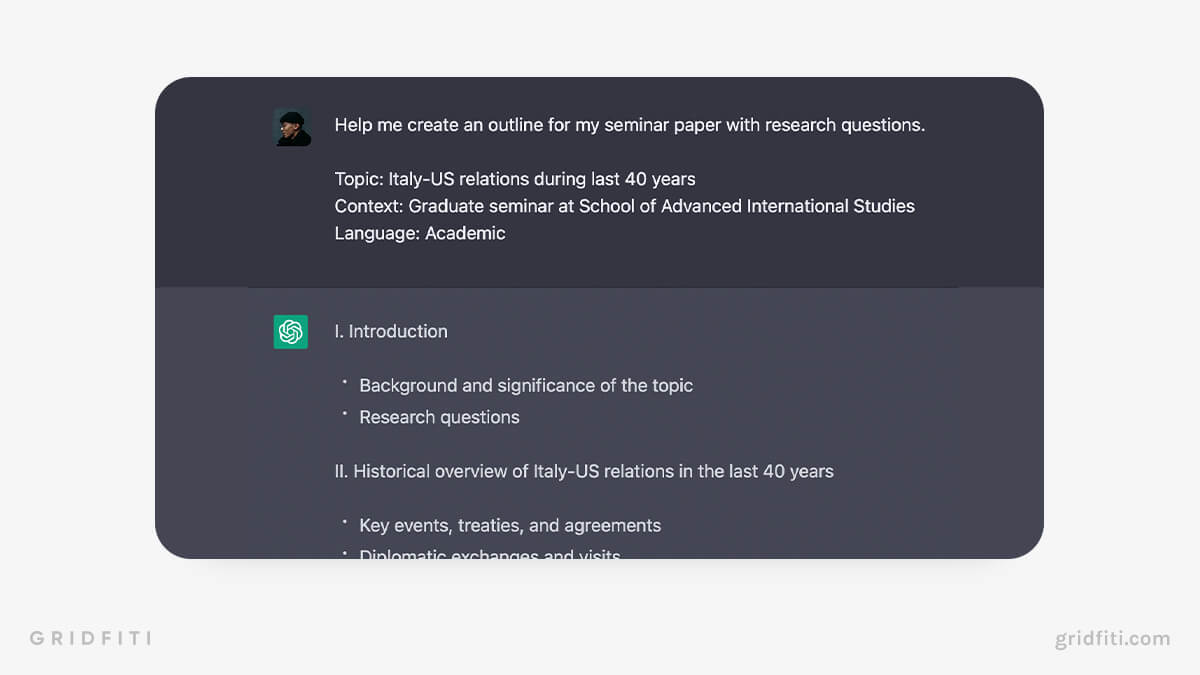 Example from Twitter
Coordinate School Group Projects
Seamlessly coordinate your next group project using ChatGPT. Get guidance on project management tools and problem-solving. Generate ideas on how to encourage collaboration and tips on communicating effectively.
Let ChatGPT manage your group by setting deadlines and assigning tasks. Unsure if your group's work is up to scratch? ChatGPT can give you feedback on grammar, spelling, and writing style.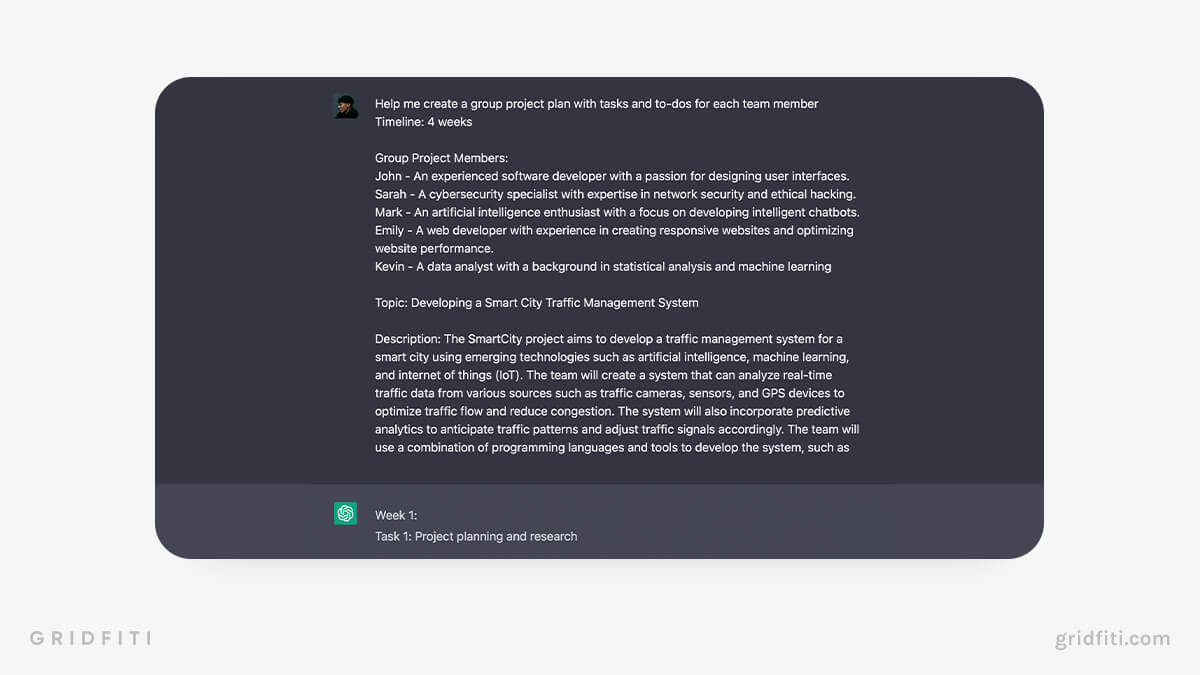 Brainstorm Startup or Domain Names
One straightforward use for ChatGPT is company name generation. Briefly describe your company, and ask ChatGPT to generate a list of names for your startup before singling out your favorite. You can also ask for it to create the name as a domain, like in this example — just make sure the domain isn't taken!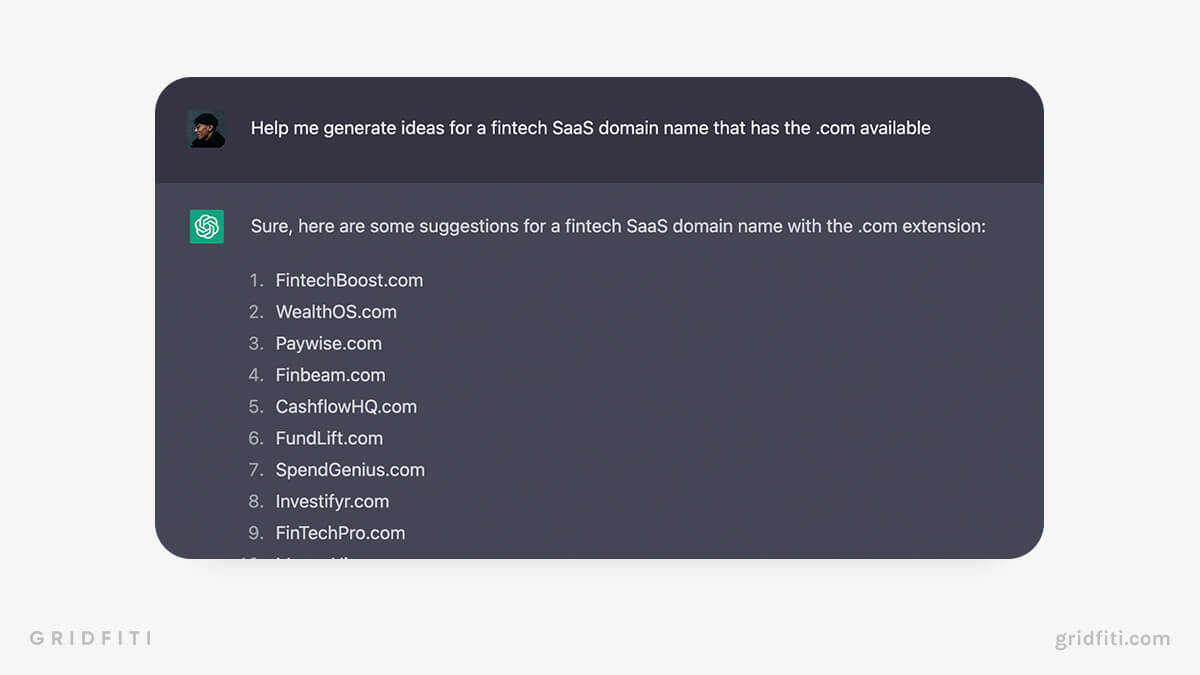 Example from Twitter
Improve Accessibility
Individuals with disabilities can utilize ChatGPT. Voice-based keyboard and mouse navigation, text-to-speech functionality, audio descriptions of visual content, and even sign language through avatars are all possible through ChatGPT.
ChatGPT can also help developers improve their website's accessibility. Get help optimizing your website's responsive design for easy usage across different devices. Ensure color contrast and image alt text are user-friendly for individuals with visual impairments.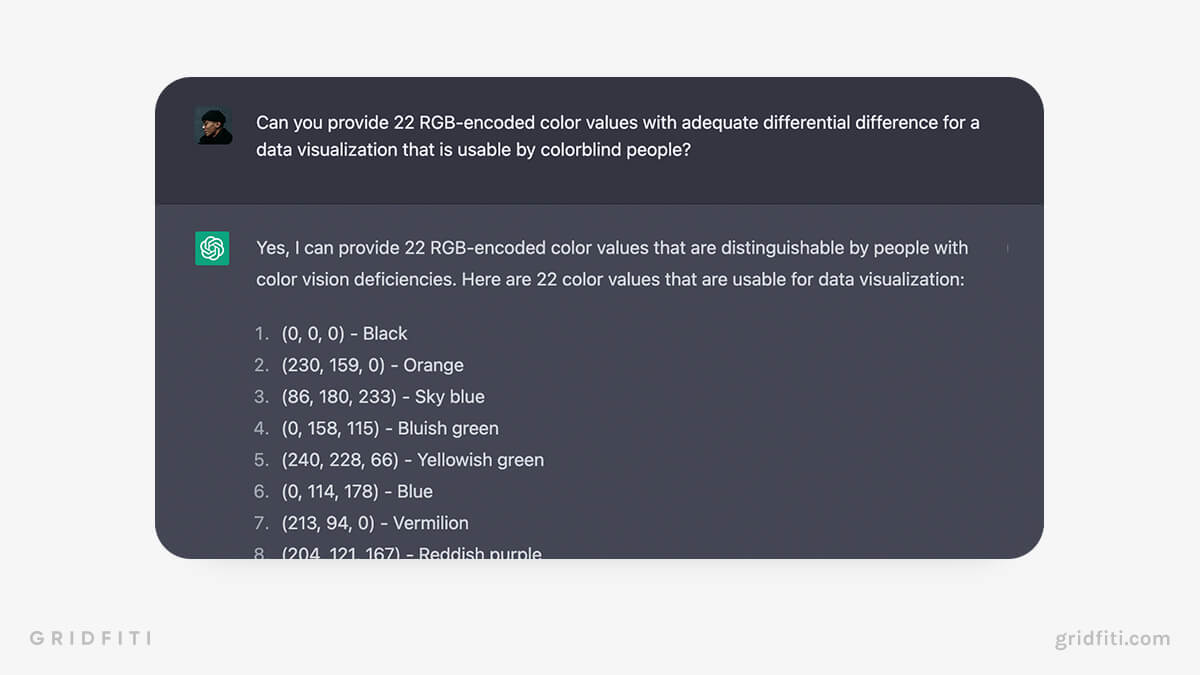 Conduct Market Research
Get help developing meaningful content, marketing strategies, and social media post scheduling. Conduct market research and track your marketing efforts with reports and analysis.
Or, get specific and ask ChatGPT to act as a marketing professional. Give it plenty of context and reach a consensus on the market share of a demographic.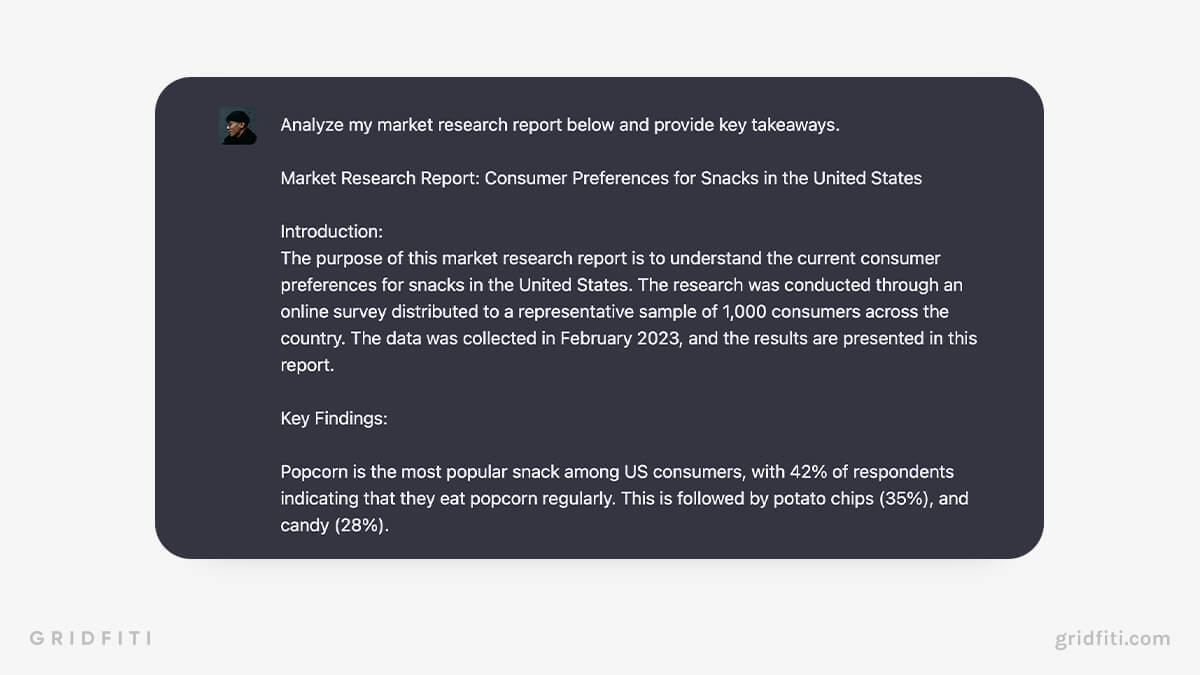 Example from Twitter
Compose Poems
Test out ChatGPT's creative writing prowess by asking it to compose poems. It'll quickly churn out stanzas on any topic, usually in an AABB rhyme scheme. It might not create abstract or uniquely written poetry, but it's a useful tool if you're searching for inspiration for your next masterpiece.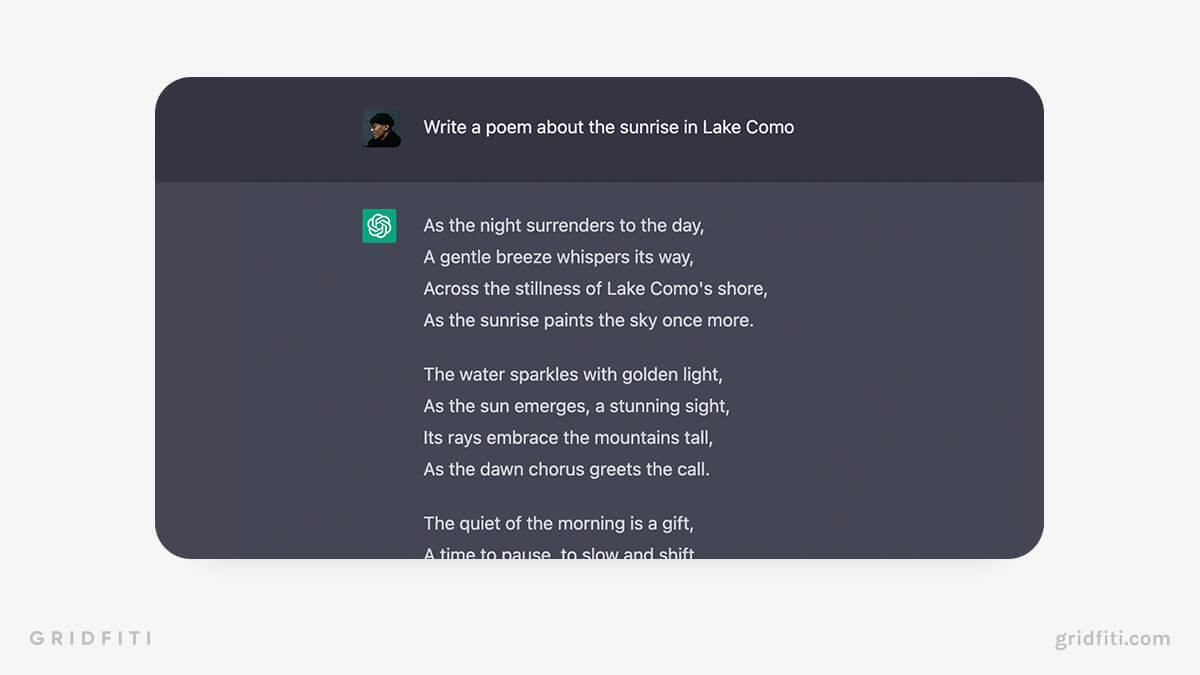 Example from Twitter
Craft Facebook Ad Copy
ChatGPT can help inspire your ad campaign on Facebook. Feed ChatGPT a brief description of your product and ask it to generate several versions of ad copy.
Depending on your product, you can ask ChatGPT to write in different tones and styles, from humorous to authoritative. Pick your favorite version of the copy, and then edit it to fit your voice.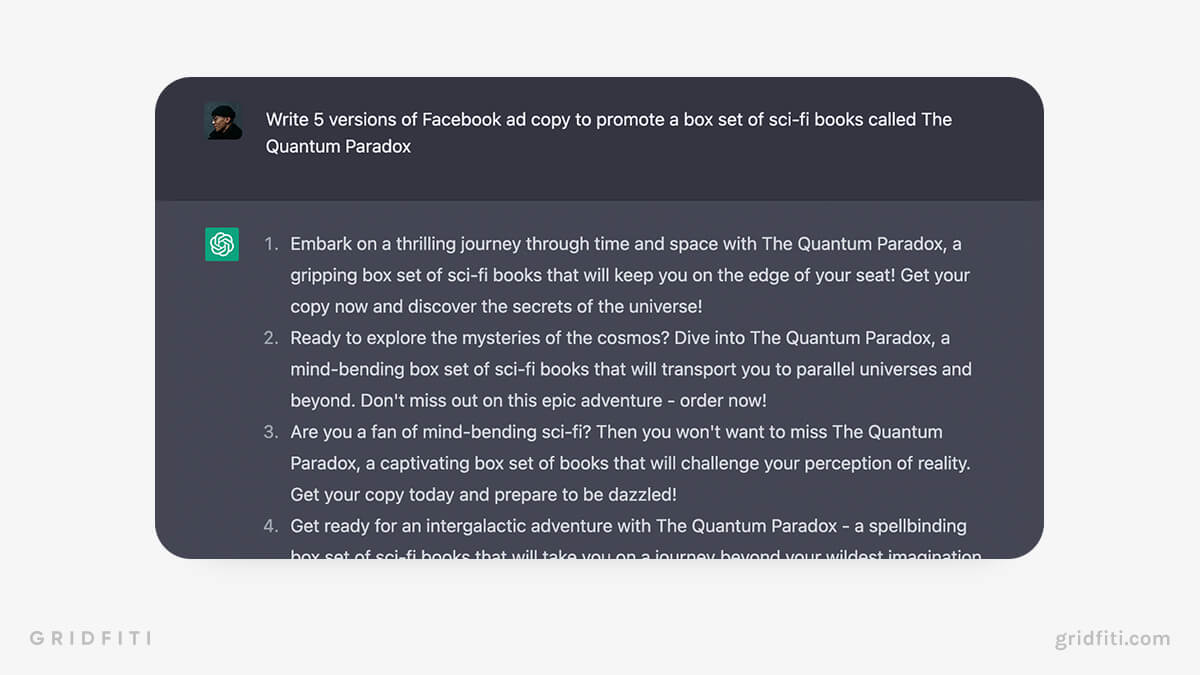 Example from Twitter
Compare Product Prices and Specs
Make the best purchase possible by getting ChatGPT to compare prices, specs, and brands. Describe the product you're after, the specs, and your price range, and ChatGPT will generate some of the best affordable options. It'll also give you the pros and cons of buying a specific model. If the information provided isn't formatted, instruct ChatGPT to input it into an easy-to-read table.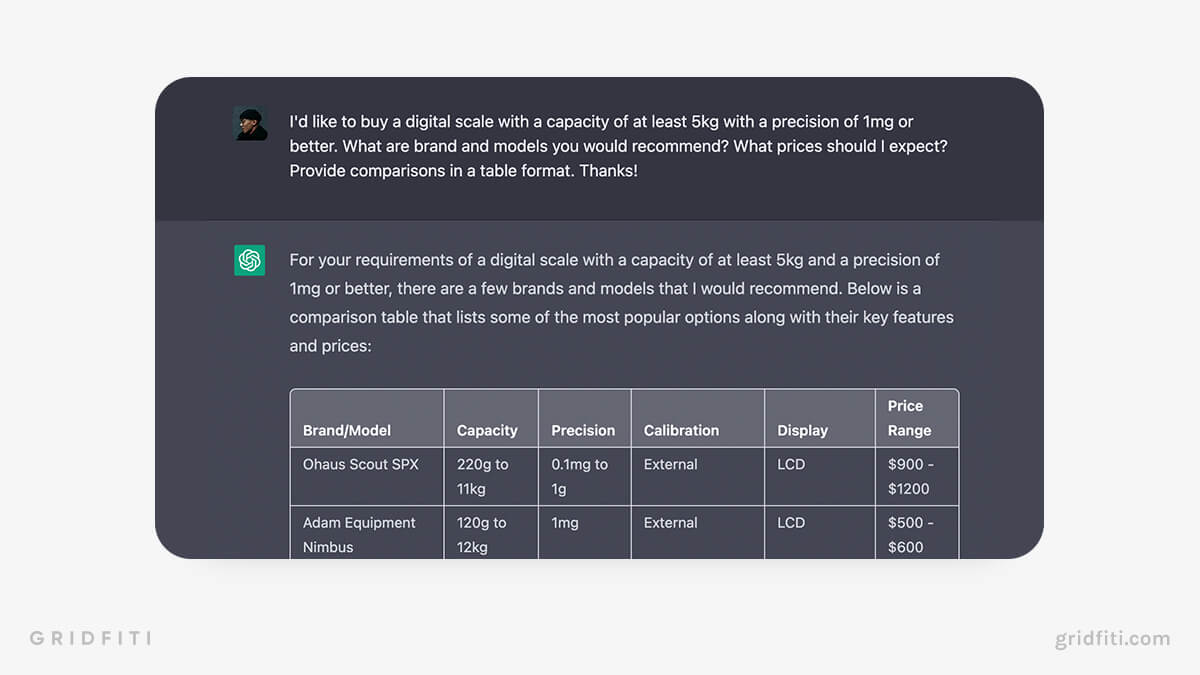 Example from Twitter
Write Jokes
Ready for AI-generated stand-up? Tap into ChatGPT's comedic side by asking it to write jokes. Give ChatGPT a topic to write about and even ask it to imitate the style of your favorite comedian.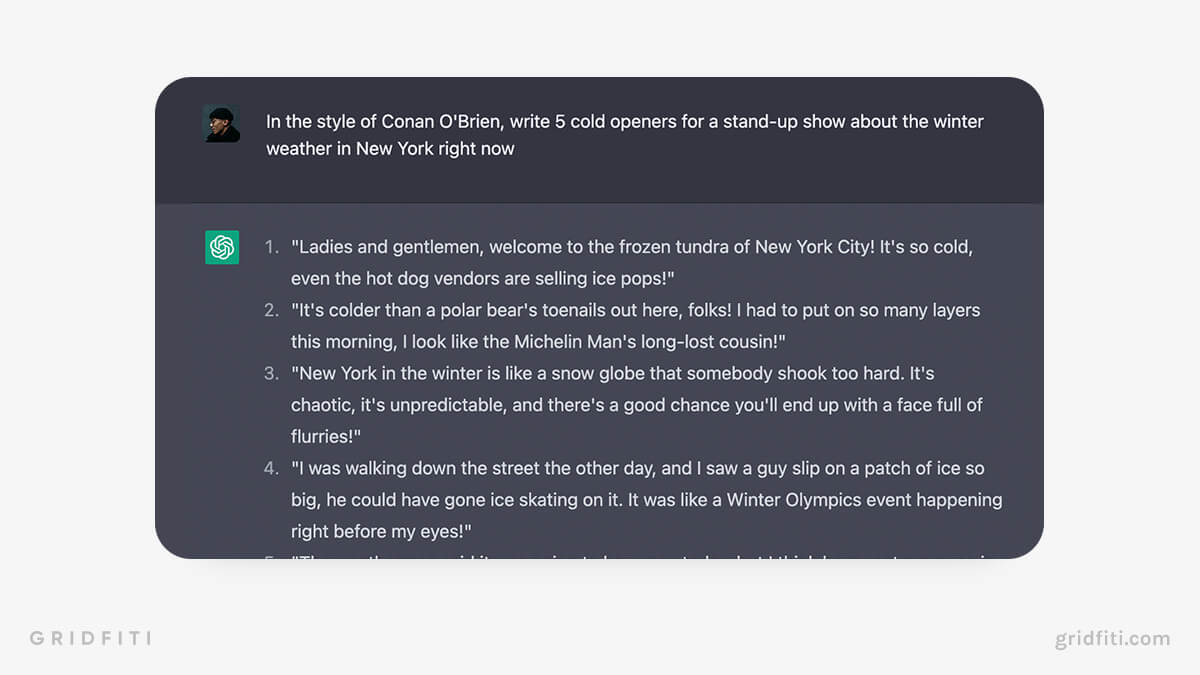 Example from Twitter
Rewrite & Paraphrase
Jazz up your content with rewrite and paraphrase prompts. Paste in the content you want to rewrite, and tell ChatGPT to write it in a different style or tone. Below is an example of content about video games being rewritten in a casual and convincing tone.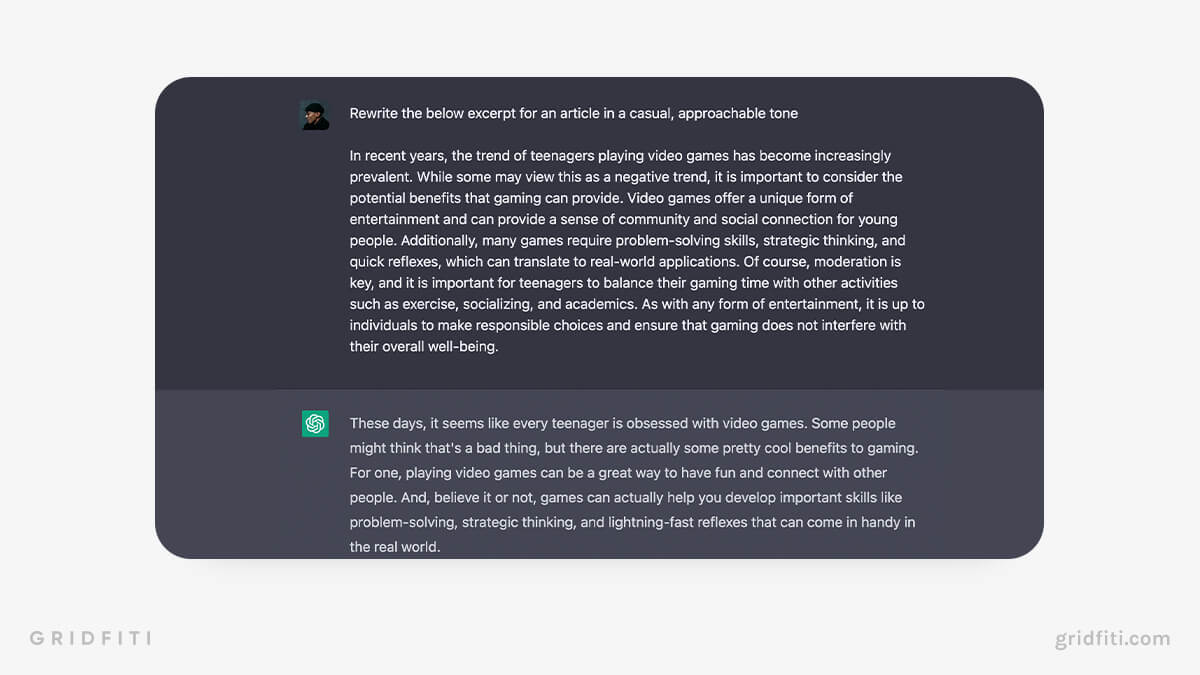 Example from Twitter
Create Customer Product Recommendations
ChatGPT can support you in creating product recommendations in several ways. Learn how to implement feedback loops, utilize machine learning algorithms, and stay up-to-date on industry trends. You even can have ChatGPT do the legwork by asking it to generate product recommendations based on past purchases.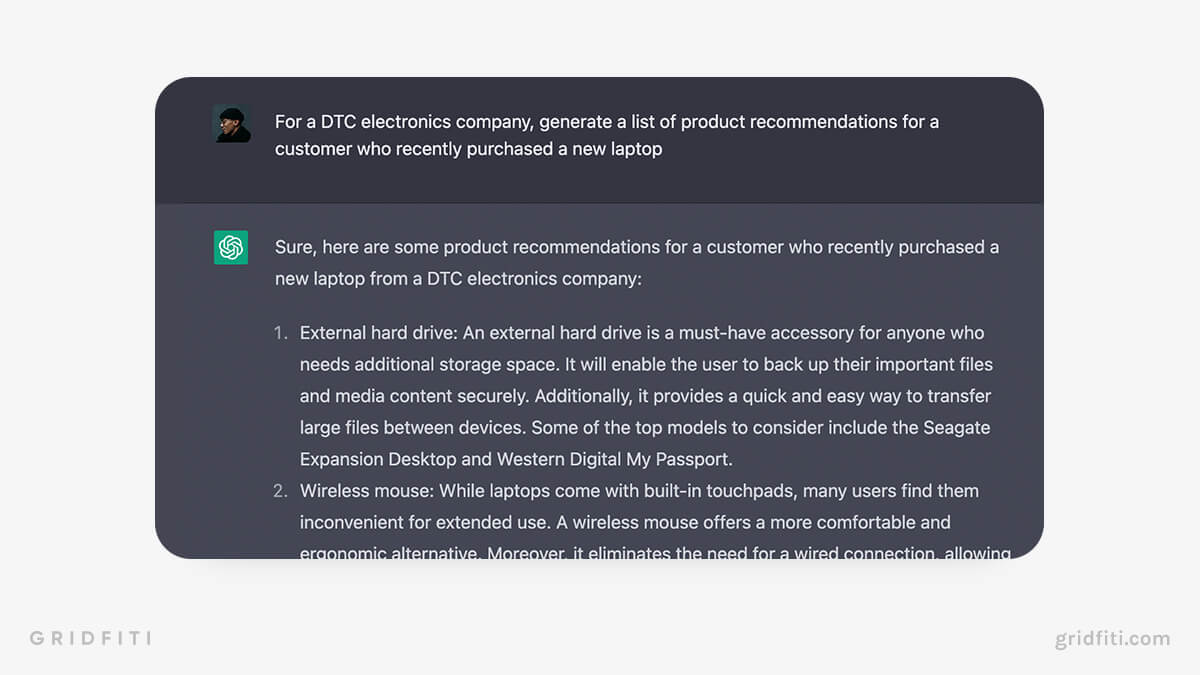 Example from Twitter
Receive Feedback on UI & UX Design
Have ChatGPT critique your website's UI and UX. Ask it for feedback on your website's overall design and offer possible ways in which you can improve its appearance and accessibility. For example, it might suggest that you increase the whitespace on your website to increase readability and add an animation or interactive element to increase engagement.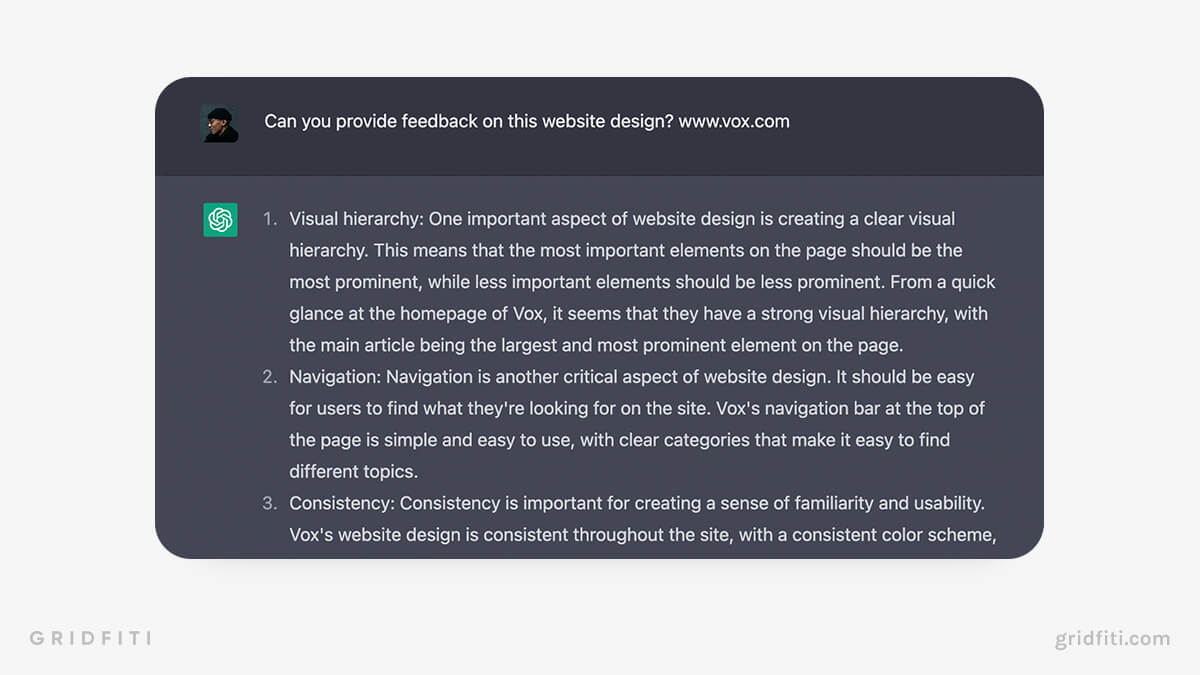 Example from Twitter
Know of any other inventive ways to use ChatGPT? Let us know in the comments!
Gridfiti is supported by its audience – when you buy something using the retail links in our posts, we may earn a small commission at no additional cost to you. Read more about our affiliate disclaimer.