If you've tried dozens of paper planners or apps with no success, Notion is well worth a look. This unique productivity app lets you create, store, and review your plans quicker than ever, using powerful database and automation features.
As daily users of the app ourselves for both work and personal needs, we love Notion for its customization capabilities. Not only can you sort, group, and filter your plans however you like, but you can also spruce up your setup with aesthetic widgets, page icons, covers, and more!
Whether you're new to Notion or just want to save time building your own setup, a Notion planner template lets you start planning right outta the box. Need help finding the right template? We've curated the best Notion planner templates to help you map out your days and make your best-laid plans a reality!
---
Looking for more productivity tips and tools? Subscribe to The Flow — our quick, snappy, value-packed focus and recharge newsletter. Also, don't miss our several other Notion template round-ups and guides!
---
Table of Contents
All-in-One Life Planner Notion Templates
Looking for a setup that lets you plan your days, weeks, months, and years from one comprehensive planner? Scroll down for some of the best all-in-one life planner Notion templates!
Related Post: Notion Life OS Templates & Dashboards
All-in-One Planner Template
The Ultimate Planner Dashboard is a robust, yet easy-to-use, planning dashboard designed to help you get organized and live more intentionally! With two central databases — planner and tasks — you can:
plan your days, weeks and months
map out your tasks each day or week by time and priority
stay motived with automatic productivity summaries and ratings
monitor your efficiency with automatic task progress bars
track your daily mood and habits
set daily affirmations
…and so much more!
You'll even get a high-level overview of how you're doing both productivity and mood-wise in a calendar and board view.
This template is all you need to plan your time and get more done!
Template Available Here | Get the Template Integrated with Life OS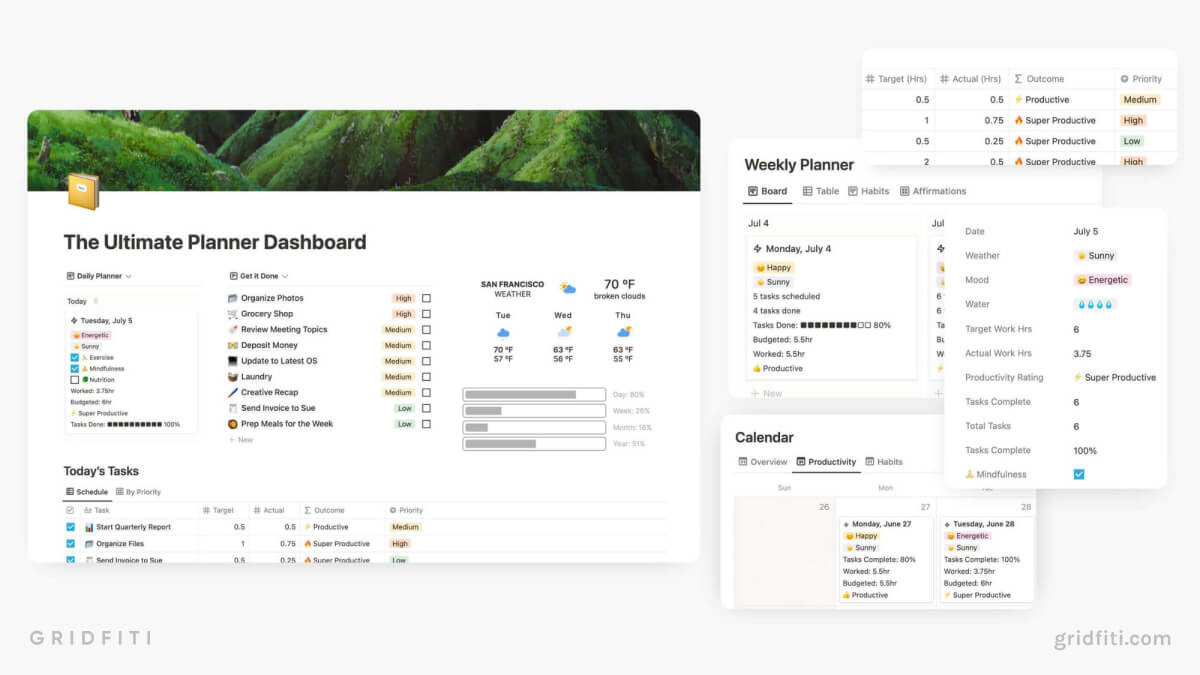 Super Life: Ultimate Life Planner Notion Template
Schedule your months and bring several aspects of your life together with the Ultimate Life Planner template! With this template, create tasks, add notes, track your health, build travel plans, bookmark links, and more.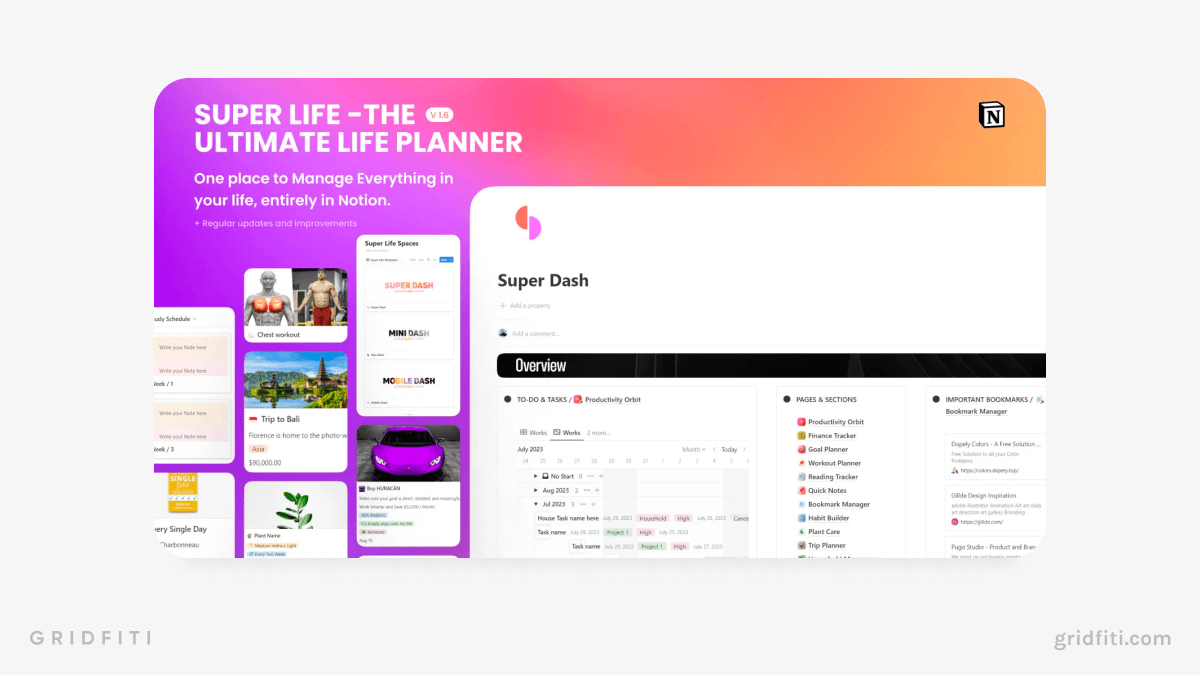 Notion Life OS: The Complete Second Brain
Plan and manage both your personal and work life with the Productive Life OS template! Use this Notion template to streamline your workflow to get more things done each day. Use the weekly scheduling system to map out your days, and the yearly planner system to review your year and plan the next!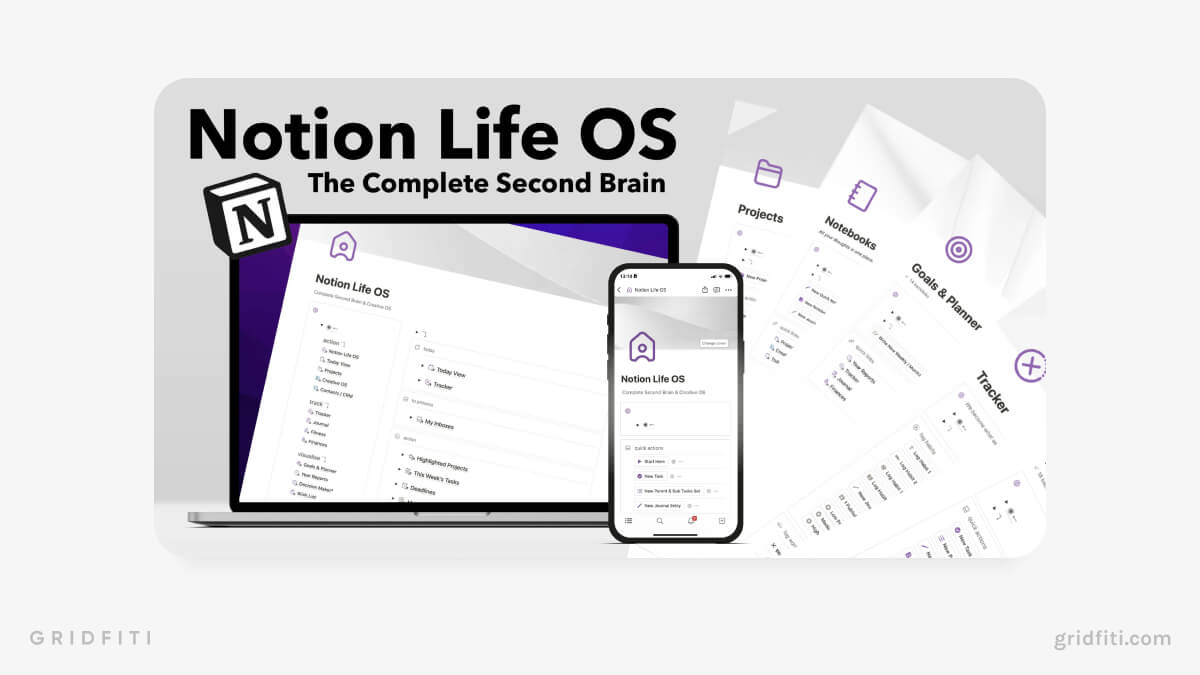 Nomad OS
Being able to travel while working is a luxury enjoyed by digital nomads around the world, but when you're always on the go, it's not easy to stay organized. Use the Nomad OS template to plan your travels, personal life, and work life in a digital workspace — and stay productive while you're jet-setting around the globe!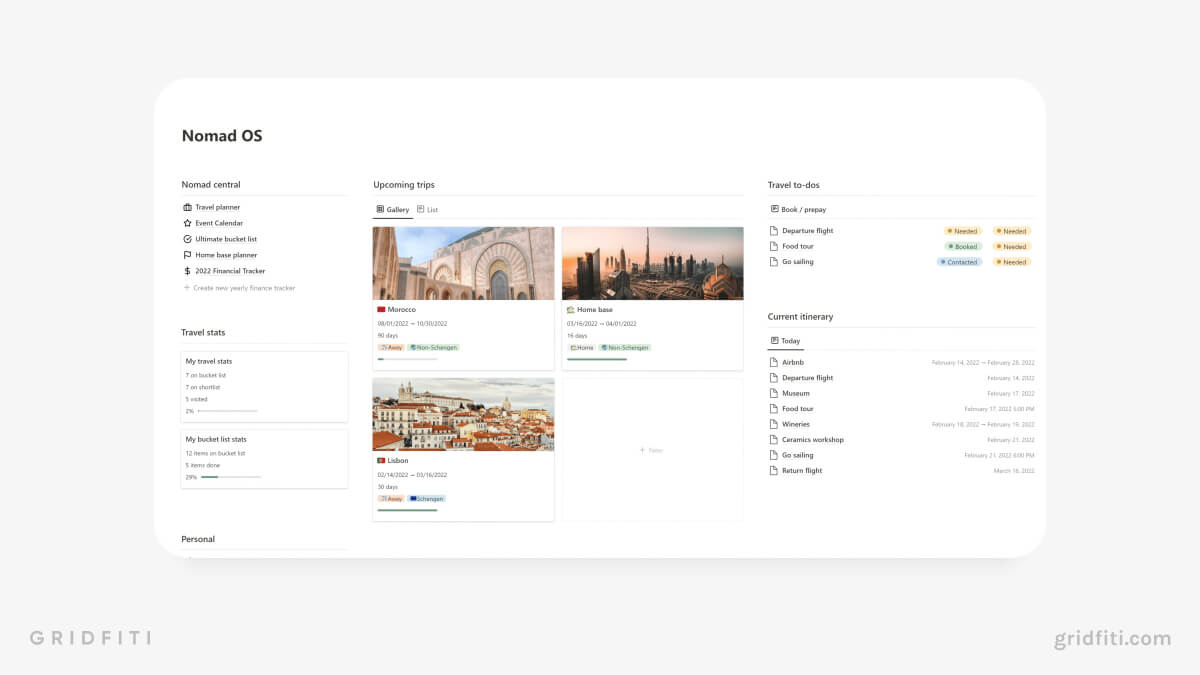 Simple Essential Planner Template Pack
This template pack has 3 separate planning systems in 1 to choose from based on your preferred planning style: by the day, week, or month! No matter which planning system you choose, this pack includes stylish minimalistic sheets ready to fill out with your schedule, prompts, intentions, and more. Add a new day, week, or month with the built-in template buttons.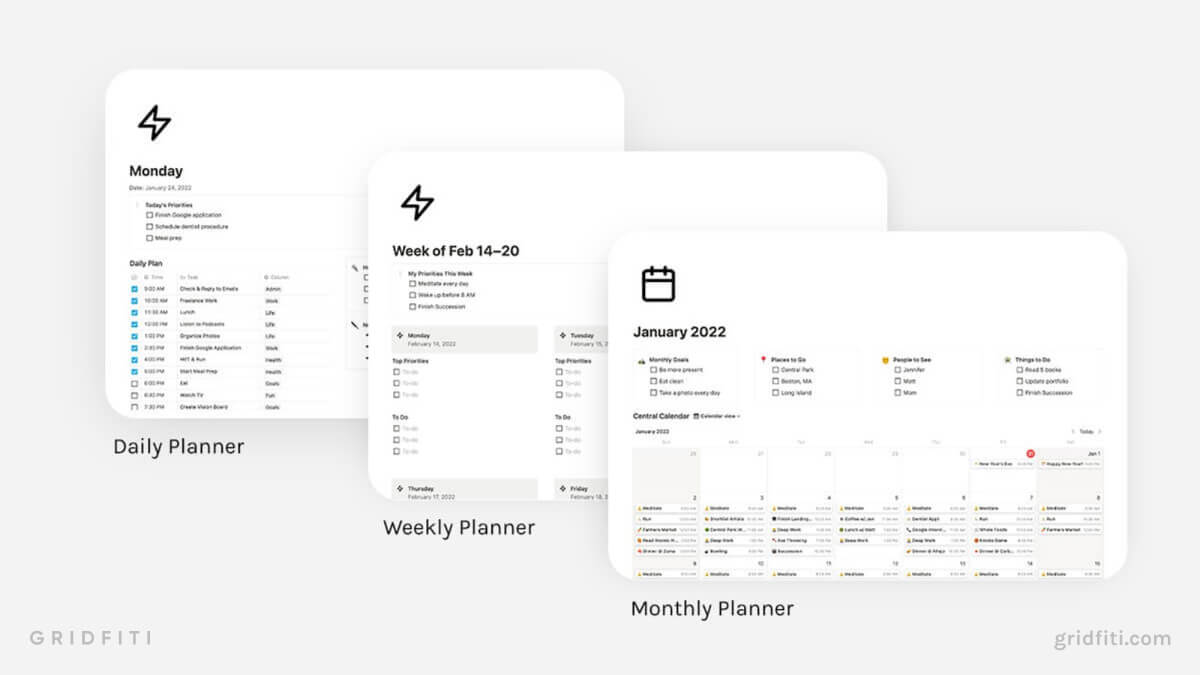 Aesthetic Notion Planner Templates
Searching for a Notion planner that matches your style? Scroll down for the best paid aesthetic Notion Planner templates!
Aesthetic Personal Growth Planner Dashboard
Kickstart your self-development journey and organize it all in one place with this aesthetic personal growth planner dashboard template. The all-in-one package includes a self-reflection journal, an automated purpose-driven Ikigai database, to-do list catered to your mood, and so much more!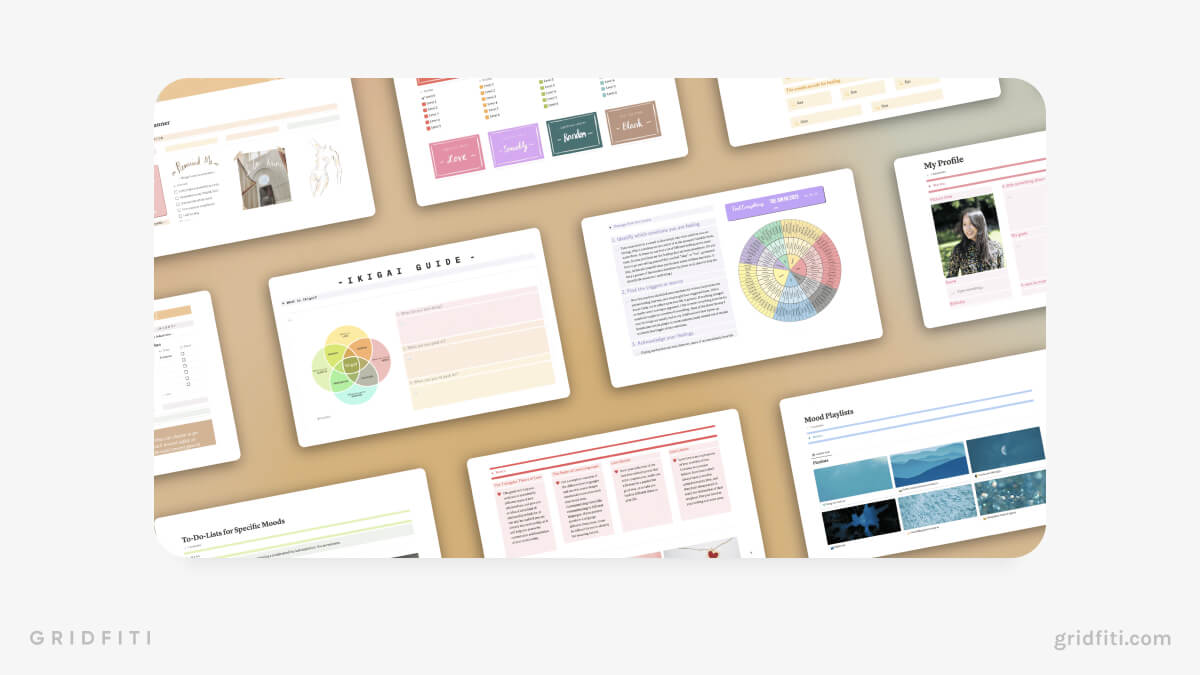 Green Notion That Girl Template
You'll love this aesthetic planner template if green is your go-to color. A stylish yet understated design makes it ideal for getting organized without feeling overwhelmed. From finance trackers to movie watch lists to work logs, this Notion planner template will help you prepare for anything life throws at you.
(For more templates like this one, check out our post curating the best 'That Girl' Notion templates!)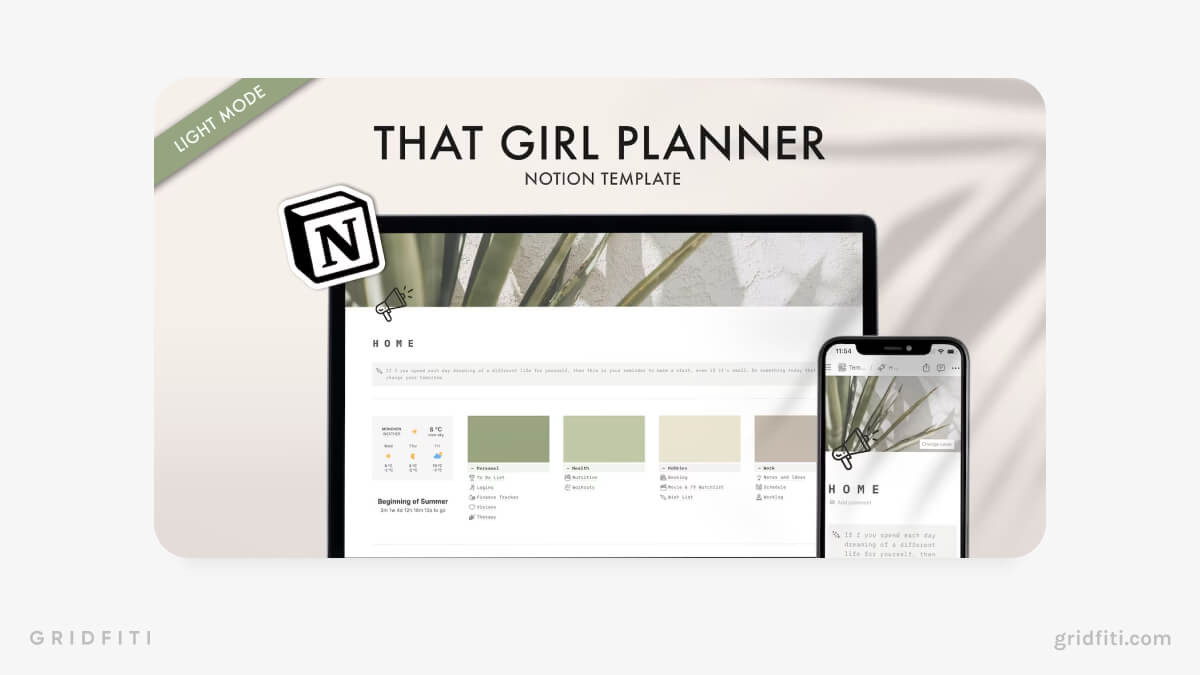 Dark Academia Dashboard
Check out the Dark Academia Dashboard if spooky study sessions are your ultimate aesthetic. This grand gothic planner template features spaces for your habits, hobbies, work, learning, and more. Set long-term goals, track your bookmarks, and manage contact info — all from your delightfully dark dash!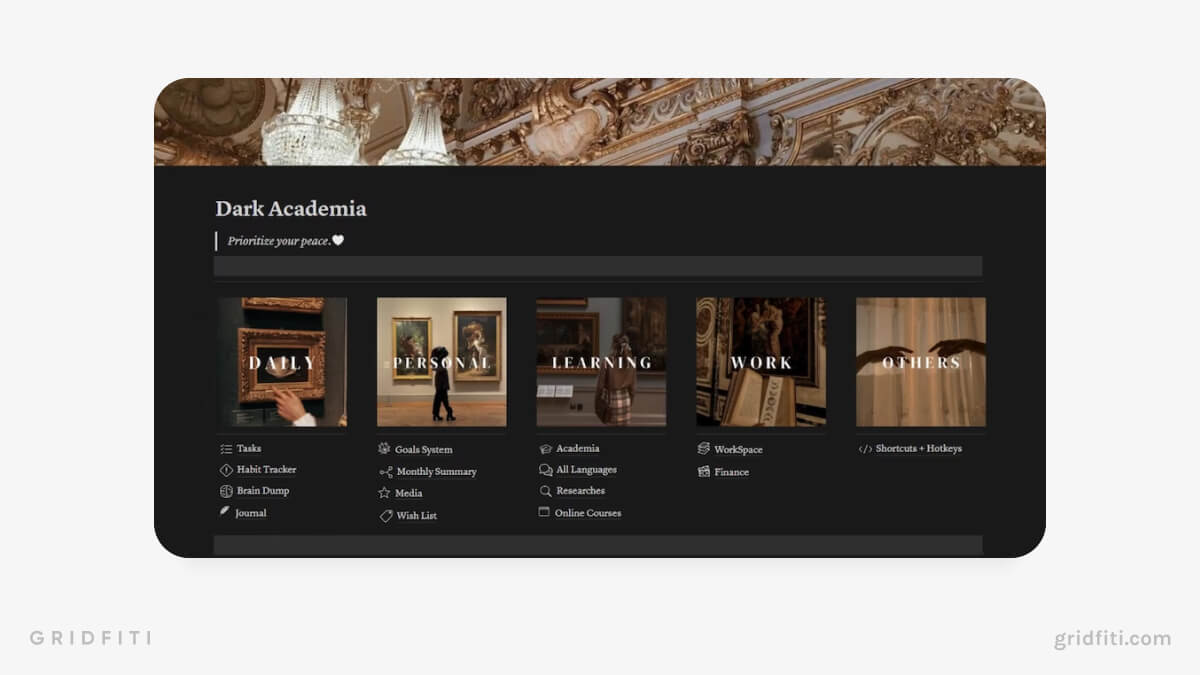 The Manifest Weekly Planner Template
Incorporating robust GTD and PARA methods, this template is designed to help you follow through on all of your weekly planning! With a daily planner, weekly/monthly/quarterly views, a journal, areas of life, OKRs, action items, documents, resources hub, document organizer, and more, there's no shortage of value in this template!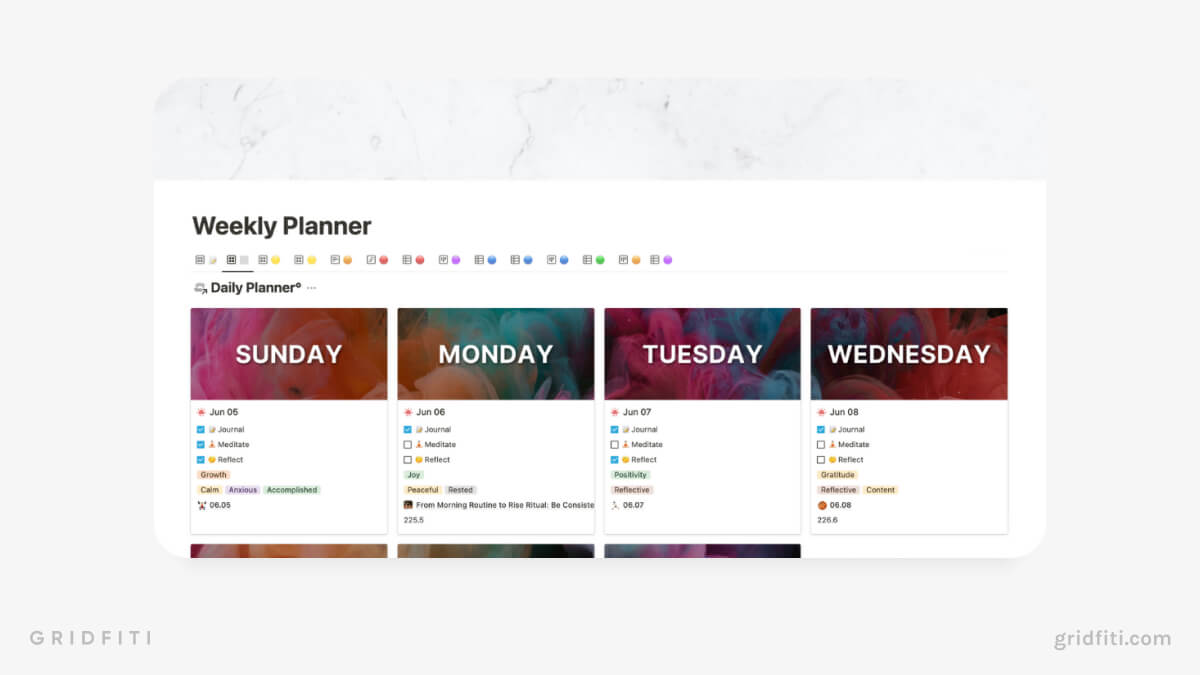 Notion Planner Templates for Students
Supercharge your study schedule with these paid Notion planner templates for students! (Want more? Check out our all-time favorite Notion templates for students.)
Student OS
Go back to school one step ahead thanks to Student OS! You'll find over 15 templates for your weekly timetables, upcoming exams, current reading list, and so much more! The Assignments & Deliverables database features an auto-grade calculator to check you're on the right track. A digital notebook that uses the Cornell Note-Taking System makes managing your lecture notes a breeze.
Student OS is just as helpful outside of class. The Student CRM keeps up with all your friends, study buddies, professors, and tutors. Track your extracurricular activities, college applications, and job applications. With dozens of functions, Student OS is one of the most comprehensive Notion templates for students on the market!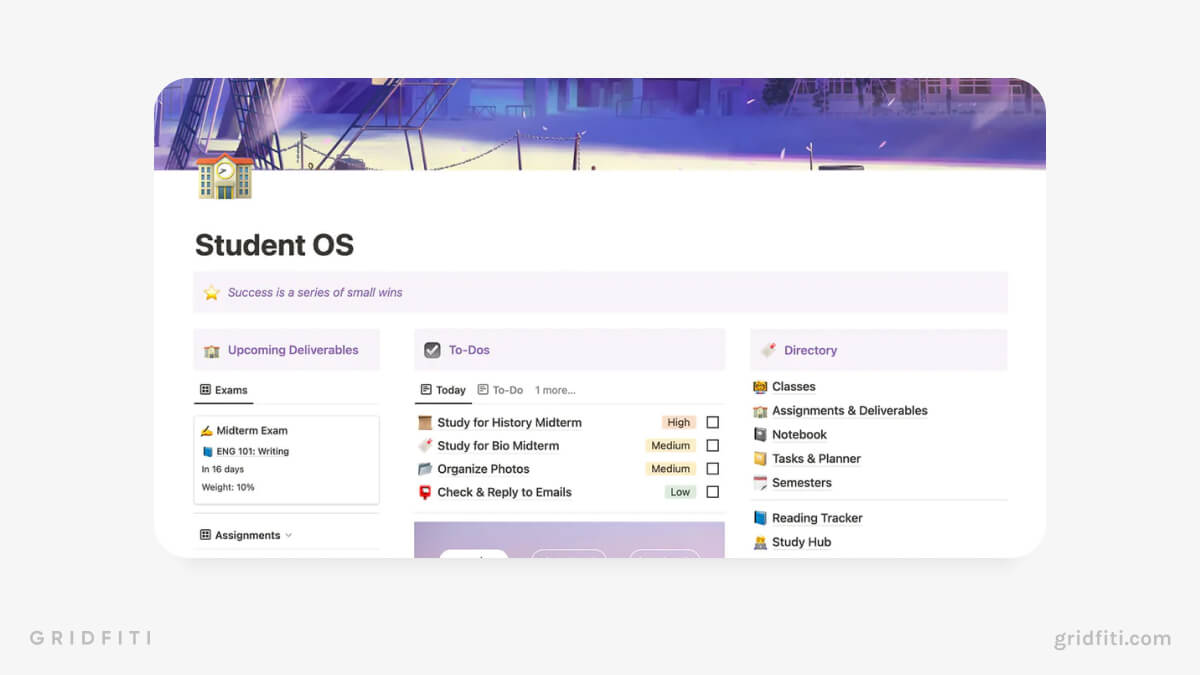 Students' Uni Hub Notion Template
Designed for college students, the Students' Uni Hub Notion Template features 5 main setups:
notes
assignments
exams
timetable
grade calculator
Made by a graphic design student, this minimalist templates omits distractions to help boost productivity. If you've never used Notion before, don't fret — the Students' Uni Hub Notion Template has a helpful how-to guide for beginners.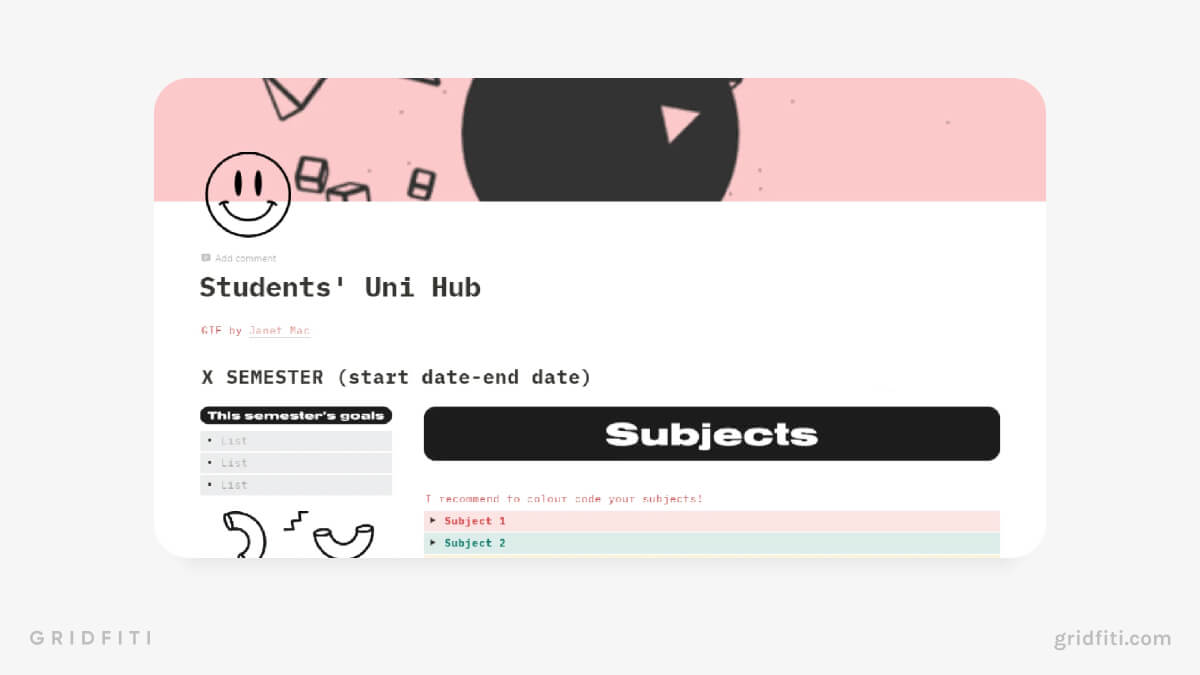 Aesthetic Student Dashboard – Semester Planner
If you're a student looking to get better grades by staying organized and planning out your semester, check out this student dashboard from The Notion Bar. It includes an aesthetic semester planner and tracker, so you'll never be caught off guard with an upcoming assignment or exam!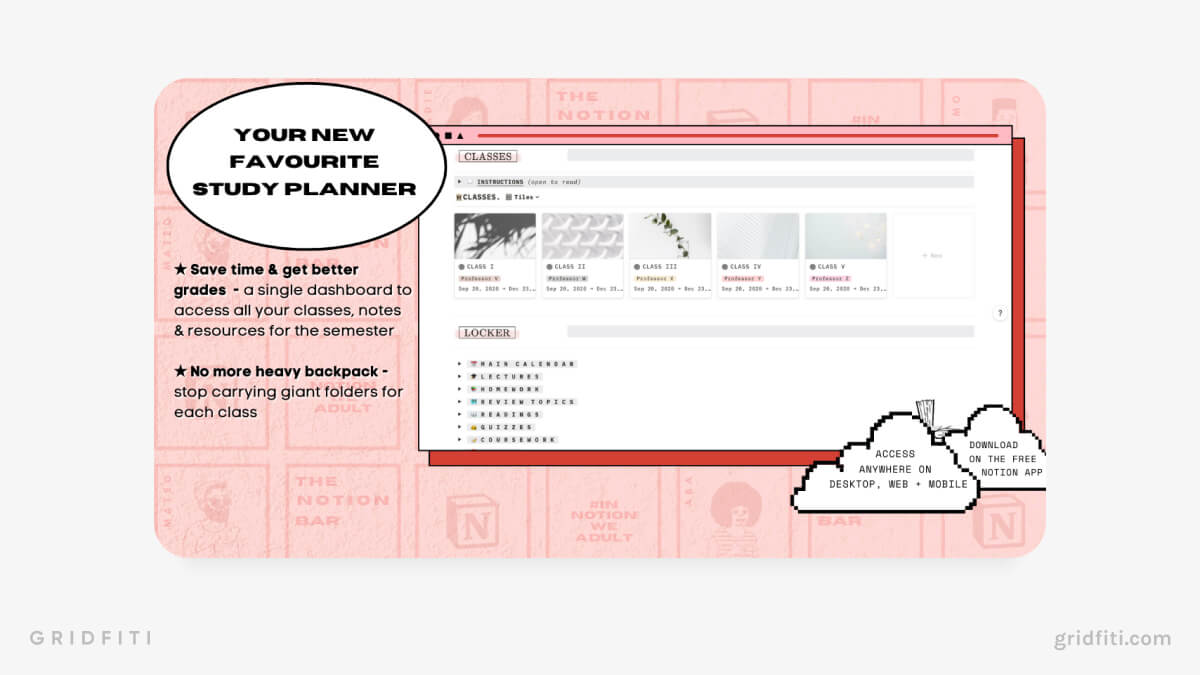 Notion Planner Templates for ADHD & Neurodivergent Users
The templates we've curated so far might work well for some students. But those who are neurodivergent or diagnosed with ADHD know that traditional productivity methods don't always work for everyone.
Looking for a template that will work with your brain (not against it)? We've rounded up some of the best Notion student templates for people who are neurodivergent!
Related Post: Best ADHD Timers (Pomodoro, Visual & More)
Notion ADHD Life Planner 3.0
One of our favorite ADHD Notion templates, Notion ADHD Life Planner 3.0 can help you laser in on important tasks. Avoid feeling overwhelmed by turning on "Focus Mode," which auto-hides tasks that aren't next on your to-do list.
A budget tracker with a recurring transaction feature allows you to stay on top of your finances. Build a routine, journal about your mental health, track mood swings, and more. As a bonus, you get 15 free eBooks with this template!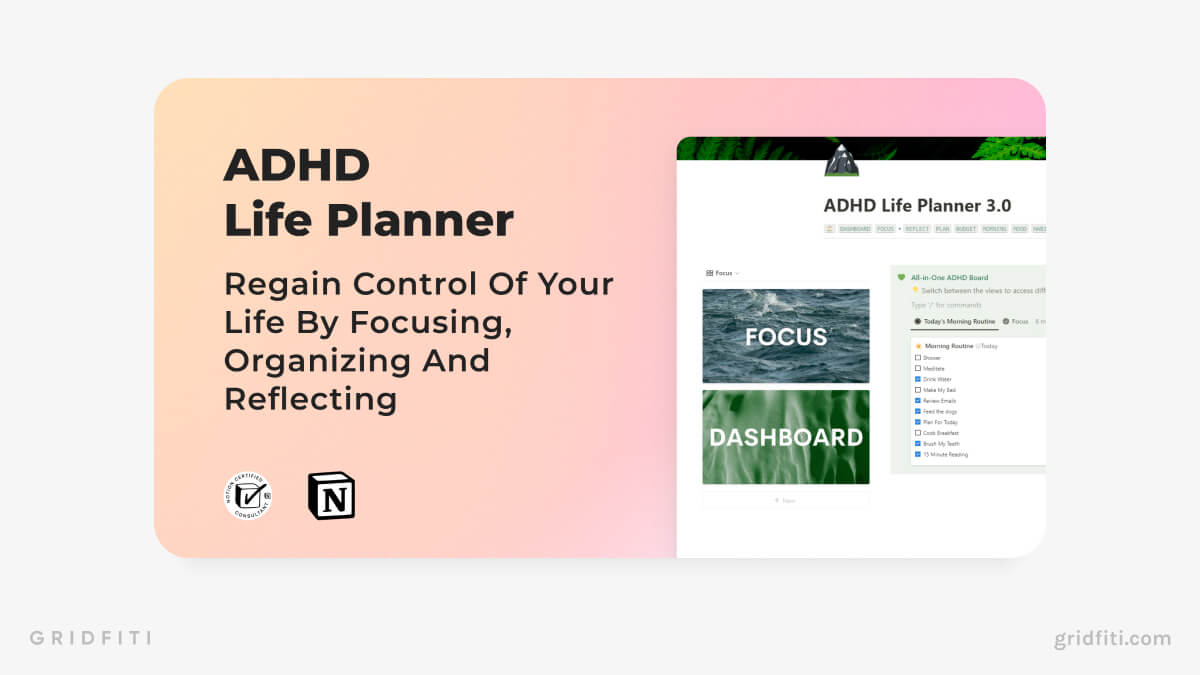 ADHD Notion Planner with Google Calendar Integration
Managing multiple organization platforms can cause a few headaches. The ADHD Notion Planner with Google Calendar Integration helps solve this problem by merging your Google Calendar and Notion planner.
As well as all the standard planner pages, this template boasts procrastination trackers, Pomodoro timers, anxiety level trackers, and an Eisenhower Matrix!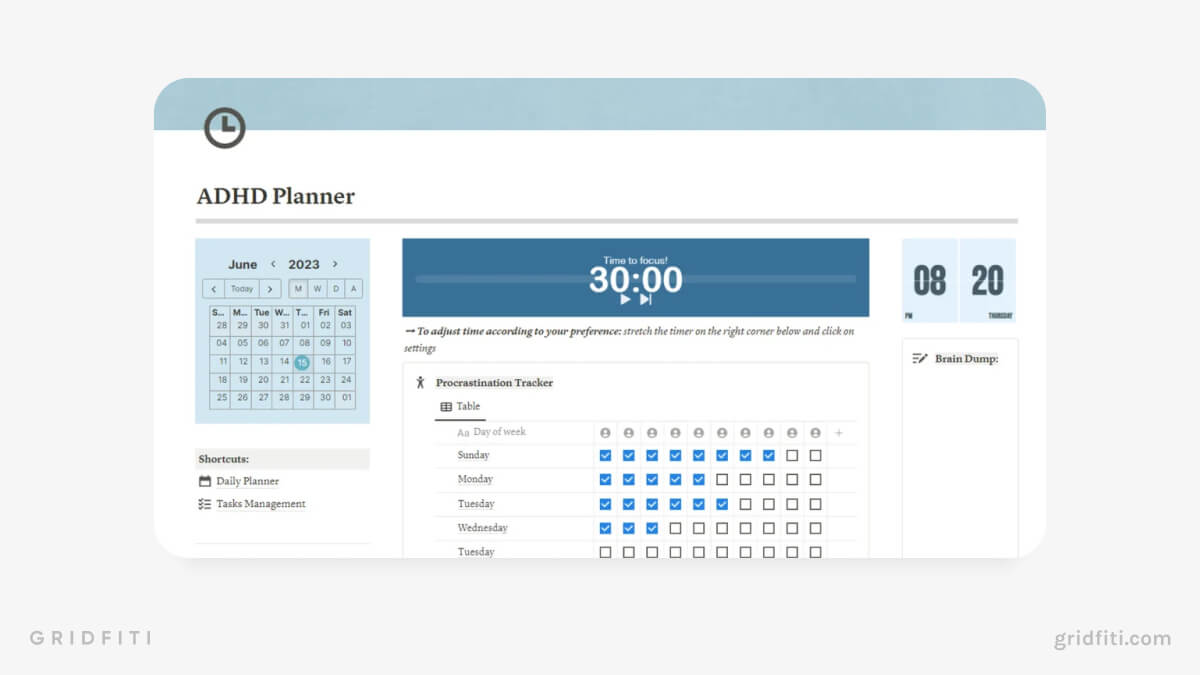 Free Notion Planner Templates
Want to start jamming in an online planner? Find out if Notion is the right app for you with these free Notion planner templates!
Barbie Themed Notion Planner Template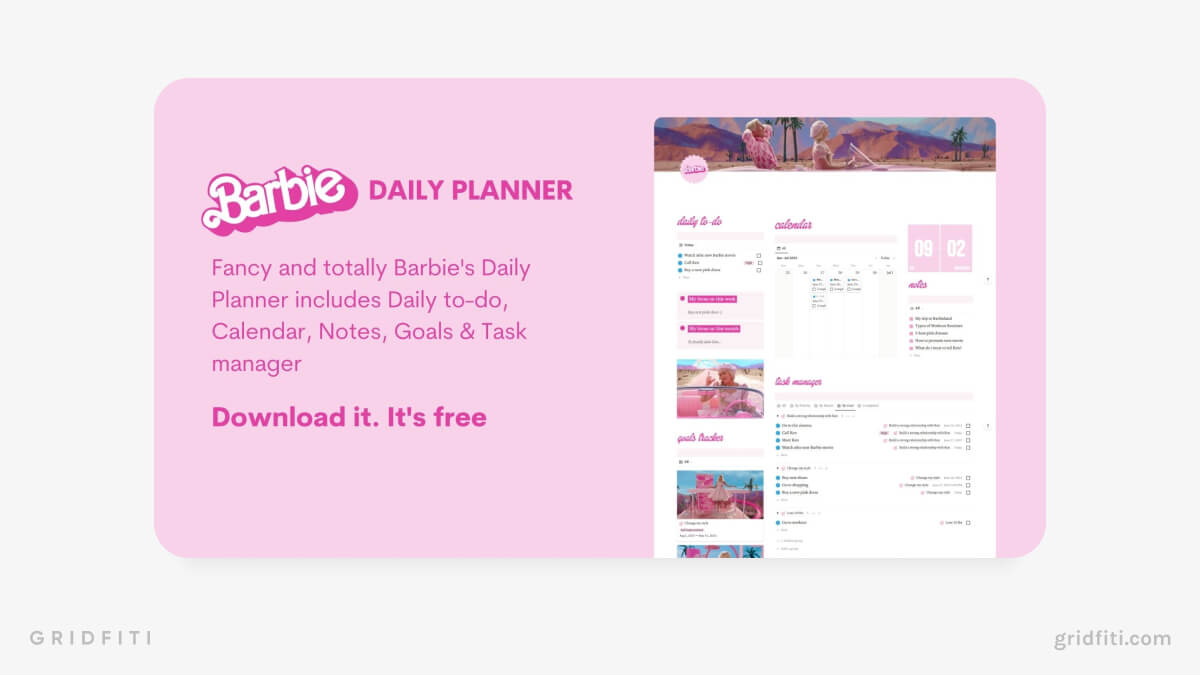 Aesthetic Matcha Student Planner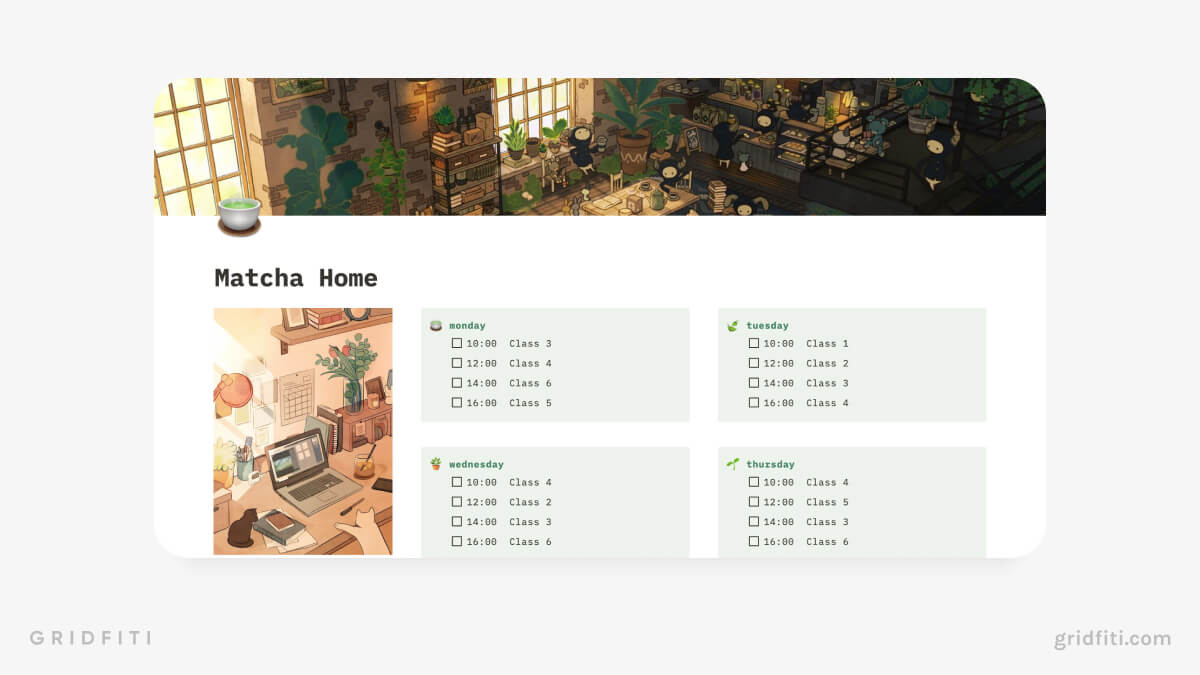 Template by The Matcha Vibe
Life Planner – Time Blocking, Journal, Goals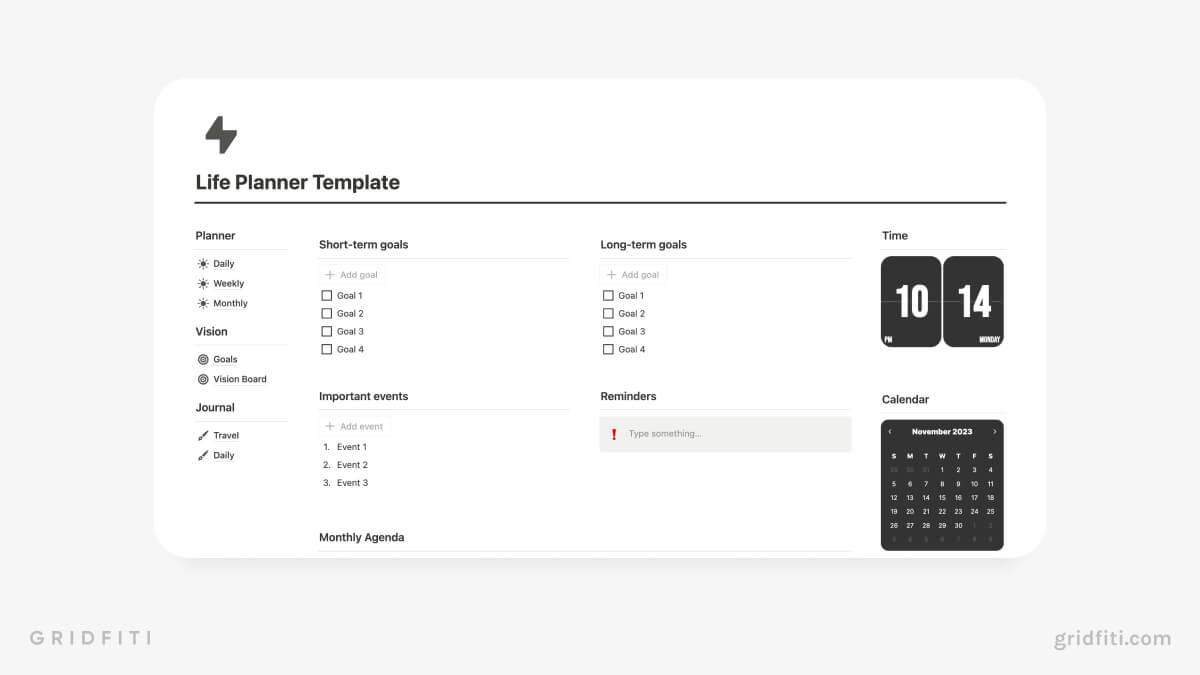 Template by Edward Alonzo
Weekly Planner for Creators and Business Owners
For more like this, don't miss our full round-up of the best Notion business templates!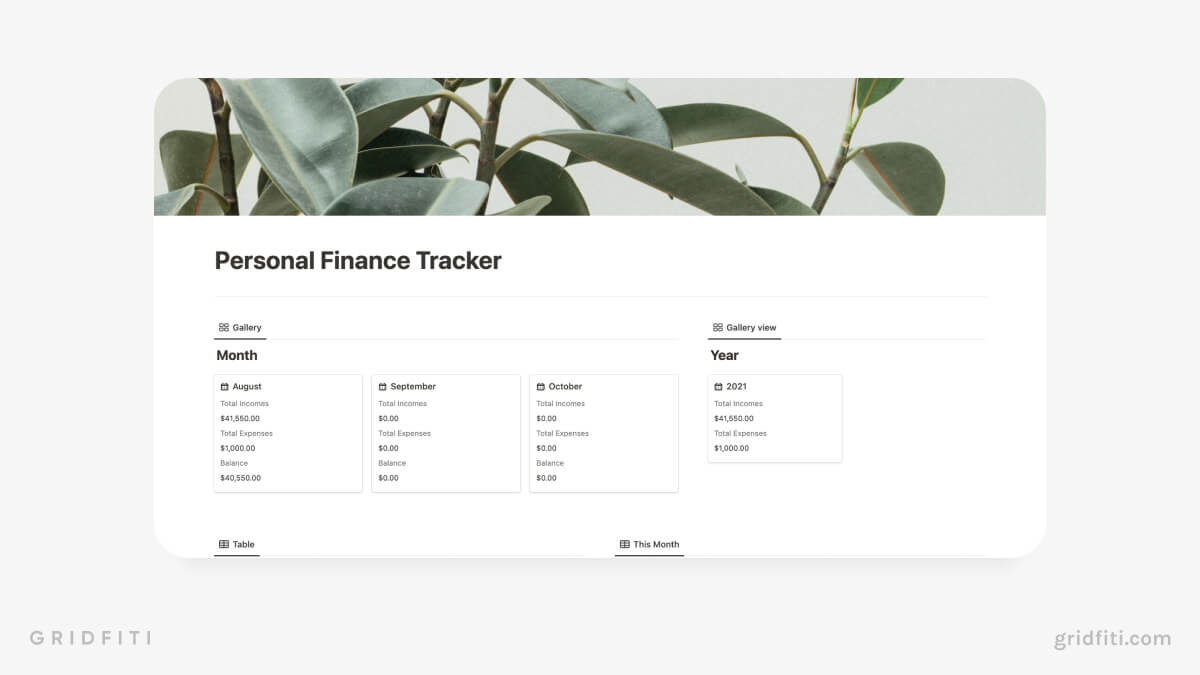 Template by Notion Nifties
Cotton Candy Clouds Weekly Planner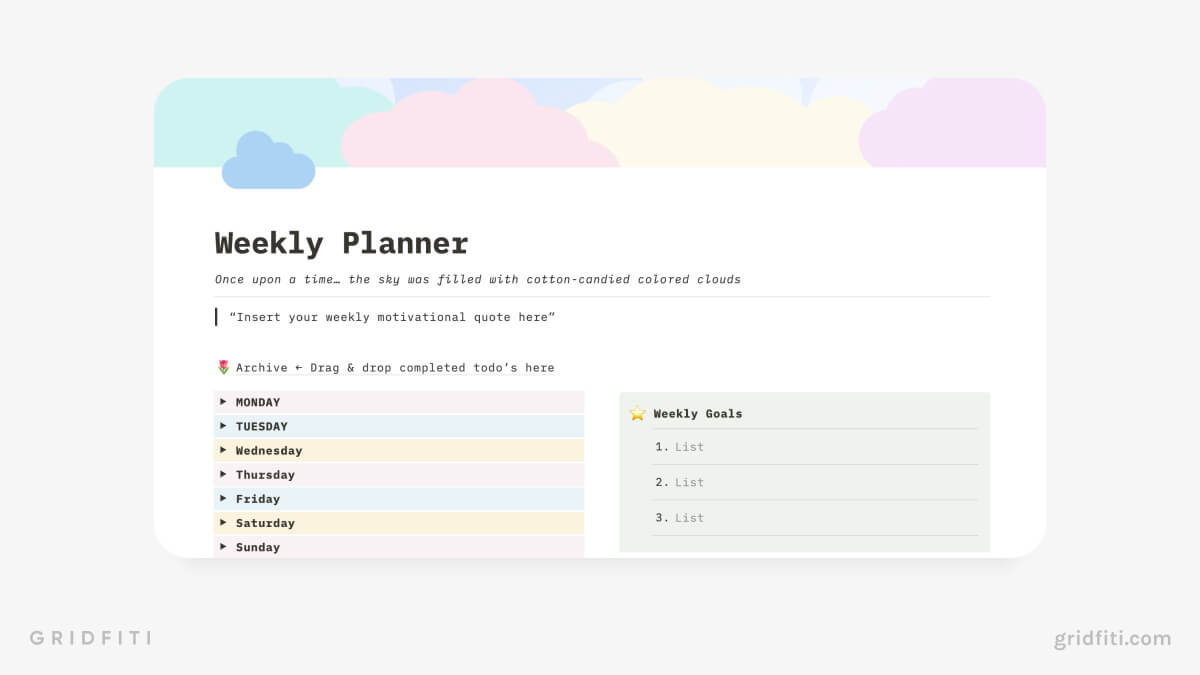 Template by Sweet Notion
Weekly Matrix Planner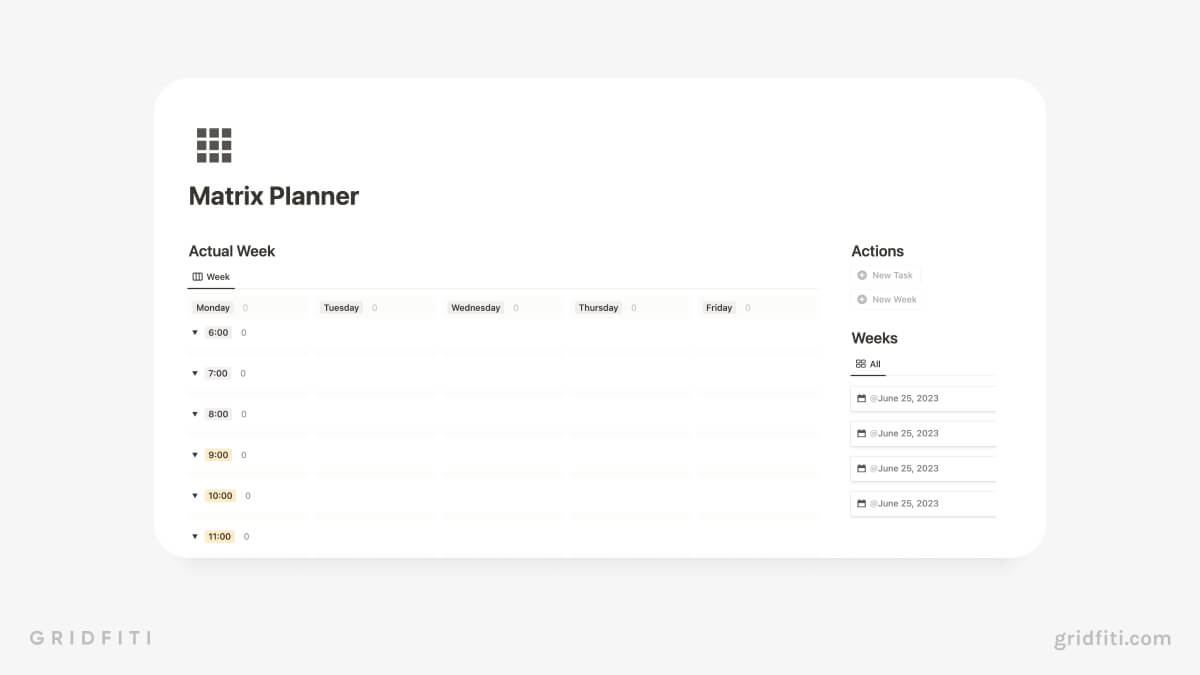 Template by Solt Wagner
12 Week Year Planner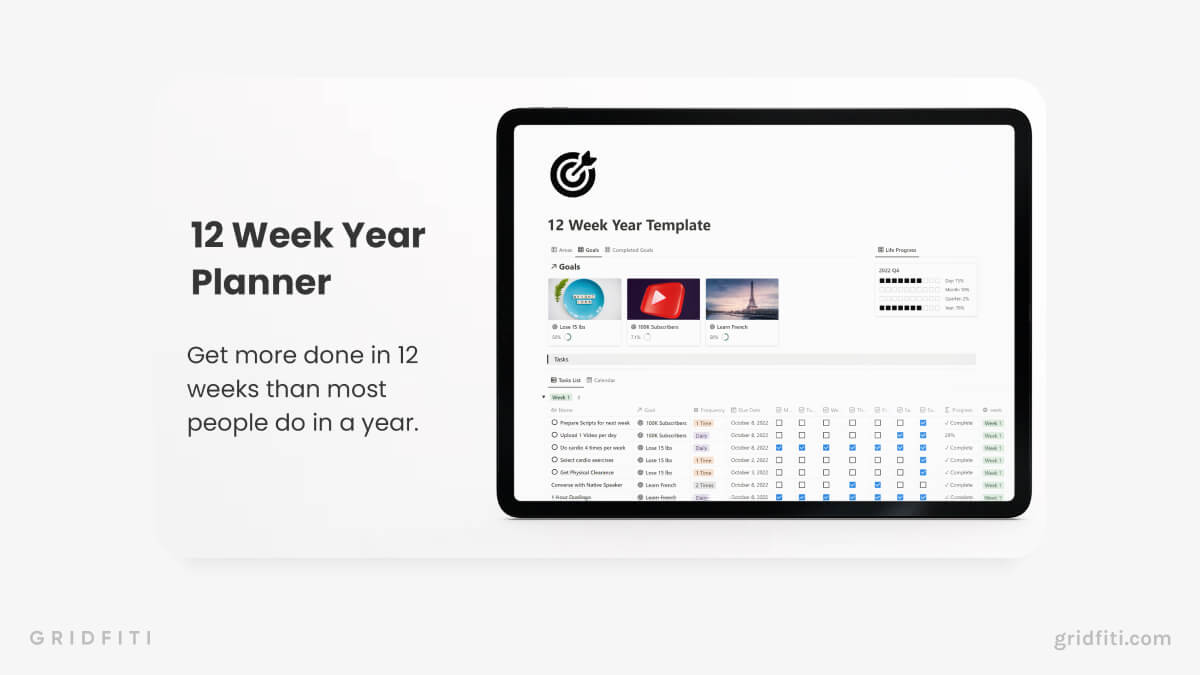 Daily Planner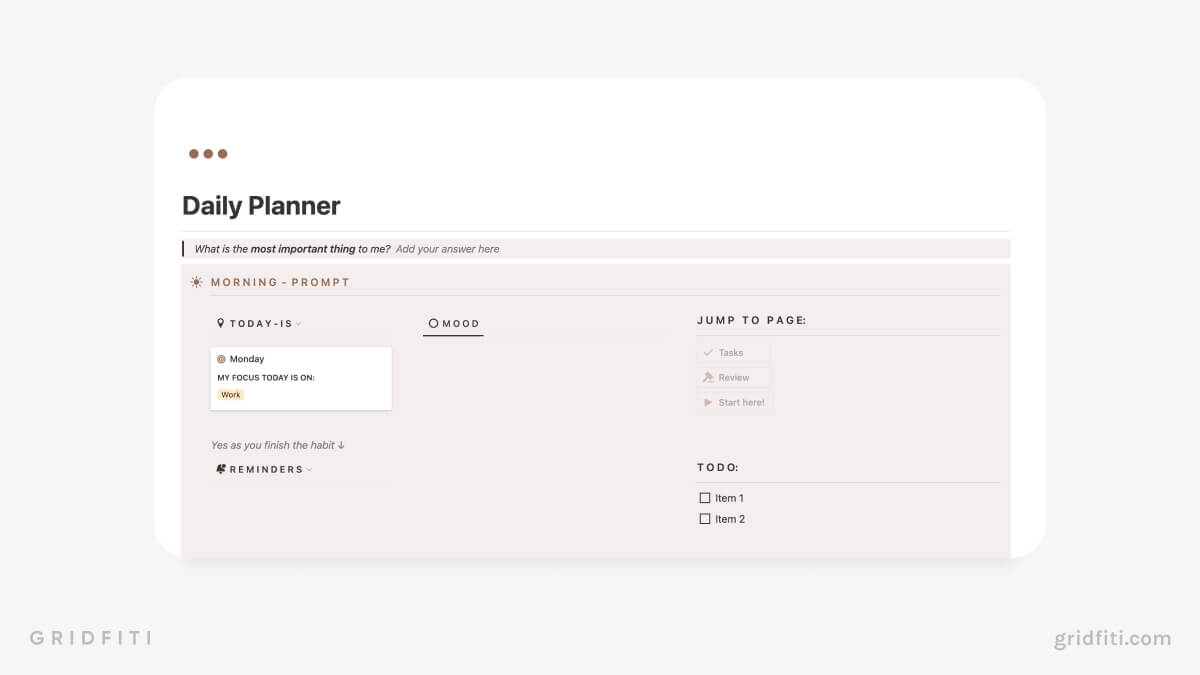 Template by Kavisha
Productivity Planner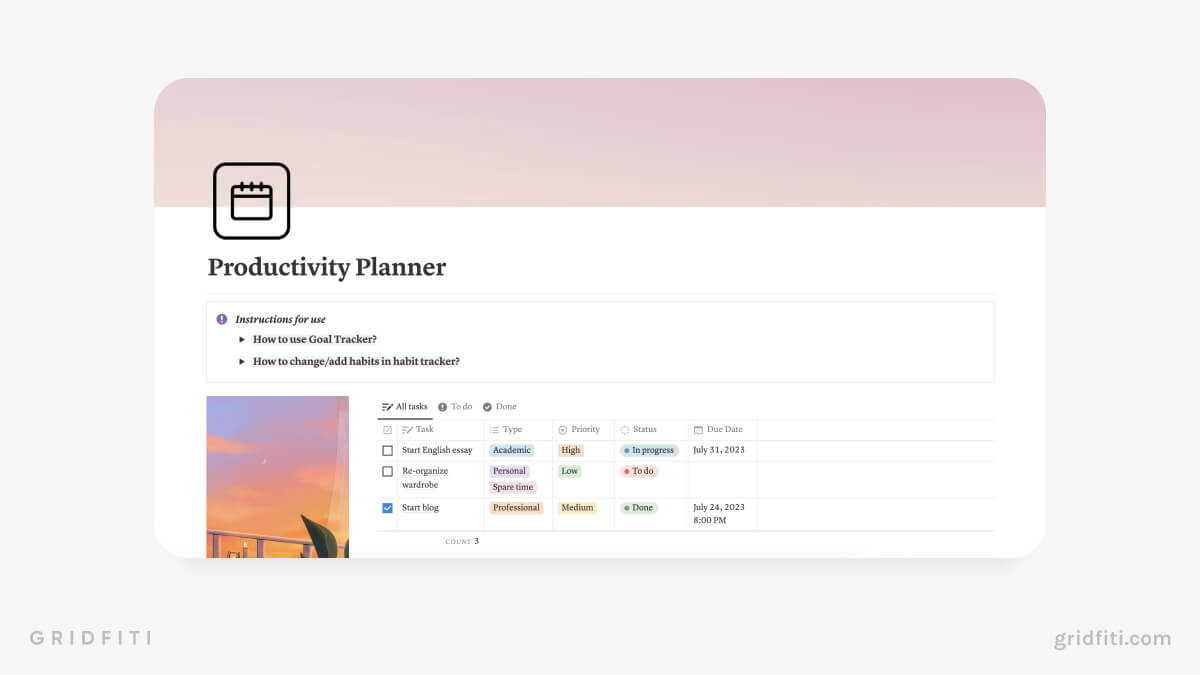 Template by Kelsey S
Which Notion planner template are you using? Do you have any other recommendations for Notion planners or agenda templates to use? Let us know in the comment section below.
Gridfiti is supported by its audience – when you buy something using the retail links in our posts, we may earn a small commission at no additional cost to you. Read more about our affiliate disclaimer.