Between your personal life, work, school, and everything else, staying focused on everything going on around you is a challenge. Staying organized is key, and one of the best ways to do that is to digitally manage and track all things in your life with a Life OS (operating system) template!
A Life OS template or all-in-one life dashboard can help you build better habits, track your progress and goals, journal your thoughts, have a to-do or planner, track content you consume, organize your finances, and practically everything else!
Using Notion as a life dashboard is incredibly valuable. The all-in-one workspace makes it easy for you to combine all aspects of your life into a single app, which you can bring with you everywhere while you're navigating your days.
There are many different Notion life operating system templates for you to choose from, but we've simplified the list down to the top Notion life OS templates and life dashboards designed to make you more productive, self-aware, and fulfilled – so check them out below!
Want more Notion templates and updates? Join our mailing list, and check out our several other Notion template round-ups!
Life OS: All-in-One Notion Template
The all-in-one Life OS Notion template by yours truly includes over 20 templates for all aspects of your life. Featuring templates for daily, weekly and monthly planning, habit tracking, daily routines, journal, mood tracking, finances, goal-setting, note-taking, meal planning and recipes, fitness and workouts, chores, content queue, travel planner, restaurants and cafes, wishlist, TV and movies, reading, and so much more.
All of these templates are integrated and work together seamlessly, and bring all your information together into a live, dynamic homepage dashboard to get your most timely information – whether it be your plants to water, friends with upcoming birthdays, and anything in between.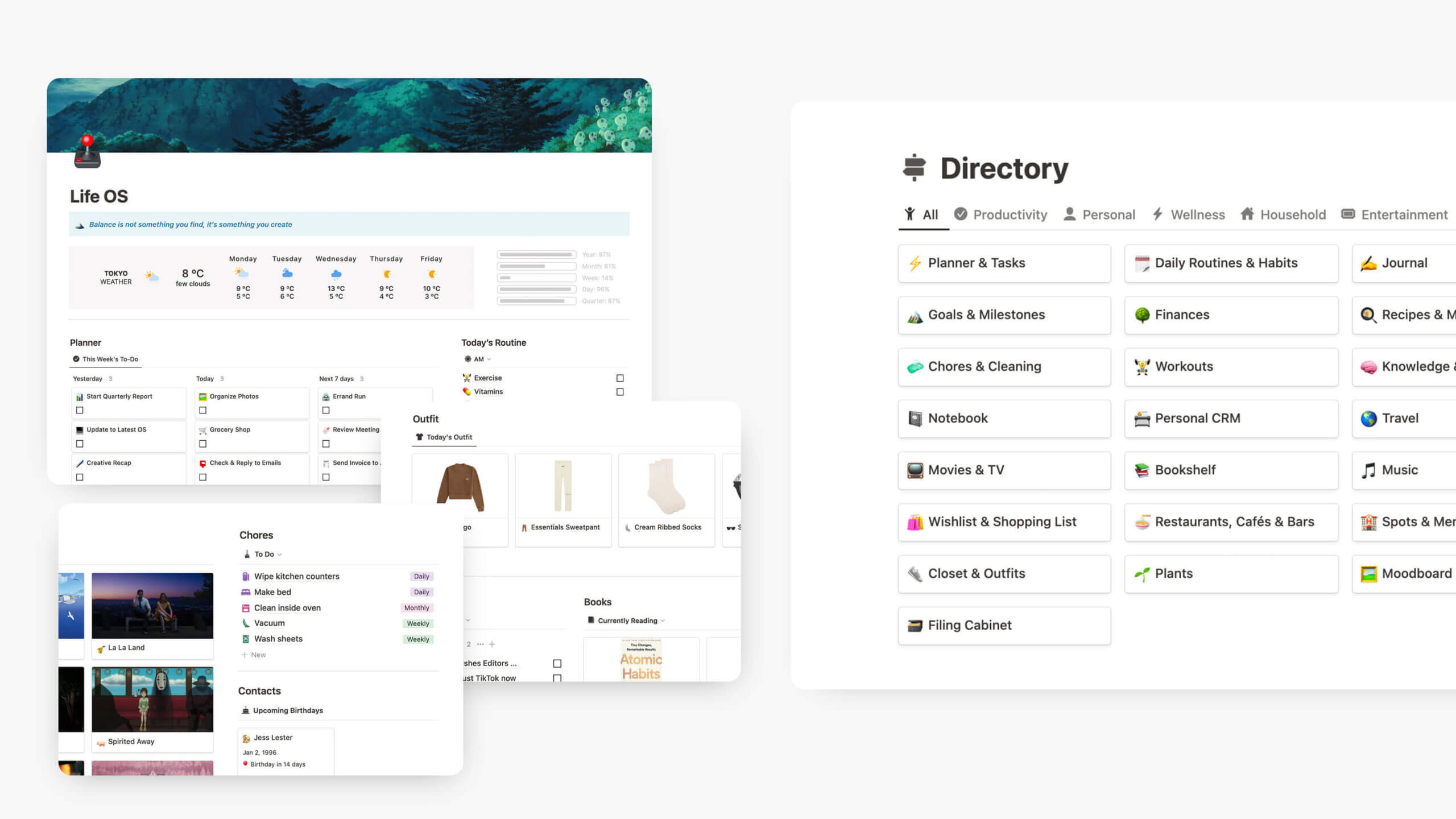 AlignOS: Maximizing Potential
Designed to provide clarity of purpose, mind, and action, the aptly named Align OS will help you build a fulfilling life right in Notion. Built on the foundation of a habit tracker, daily and weekly planner, goal setter, journal, self awareness exercises, and more, AlignOS is your starting point to building the life you want to live.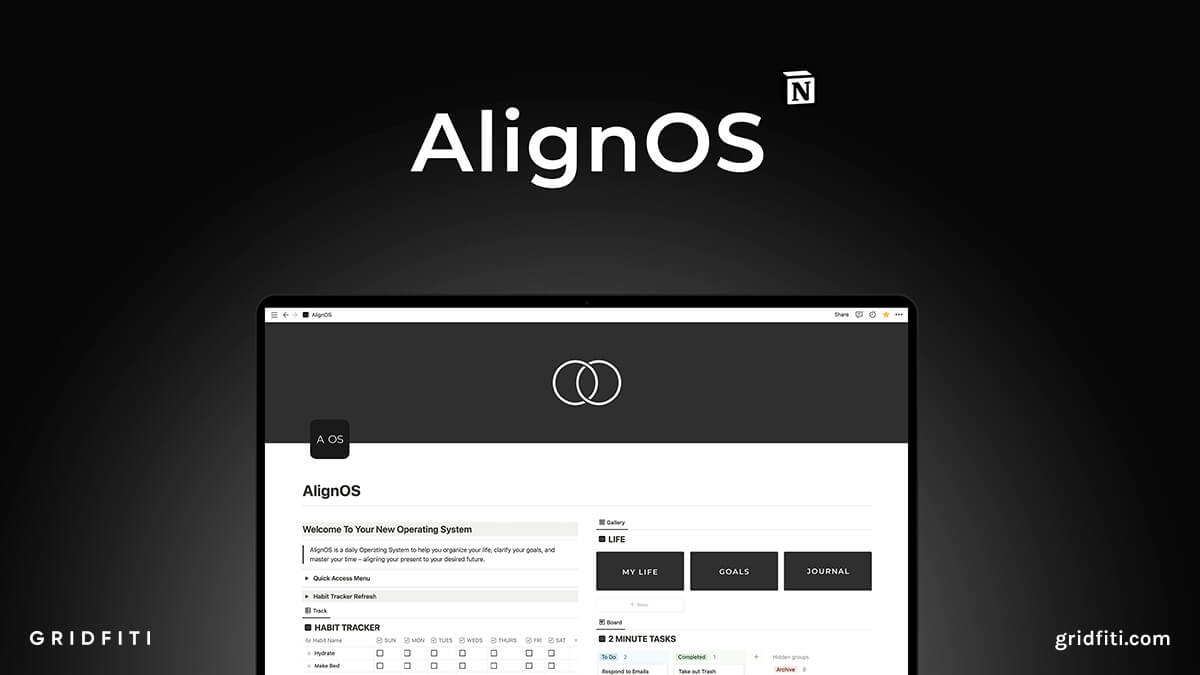 Stoic Life OS Template
Whether you're new to stoicism, or want to incorporate it into your lifestyle, Stoic Life OS is a singular system to manage all aspects of your life in Notion! With over 25 templates included – from workout plans, to journals, to-do lists, notes, wikis, and lots more, get everything right at your fingertips and start living your best stoic life with this OS.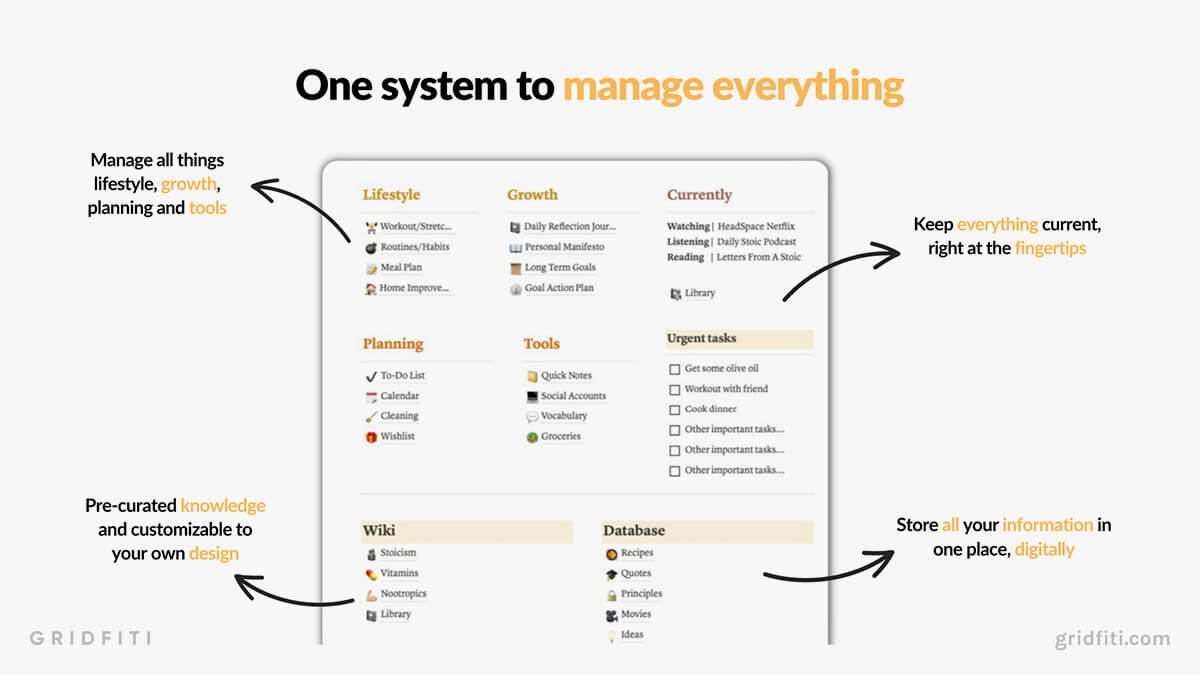 Life OS Dashboard
Featuring a second brain, finance tracker, CRM, OKR goal tracker, fitness planner, bullet journal, and so much more, Chris' Notion OS Dashboard is a singular destination to feed your focus and build your life management system! We love how this template has a visuals-first dashboard, with a clock widget and habit tracker at the forefront – yet there's still so much packed behind the hood. The template also comes in a variety of themes for you to pick from, with 5 light mode and 5 dark mode options.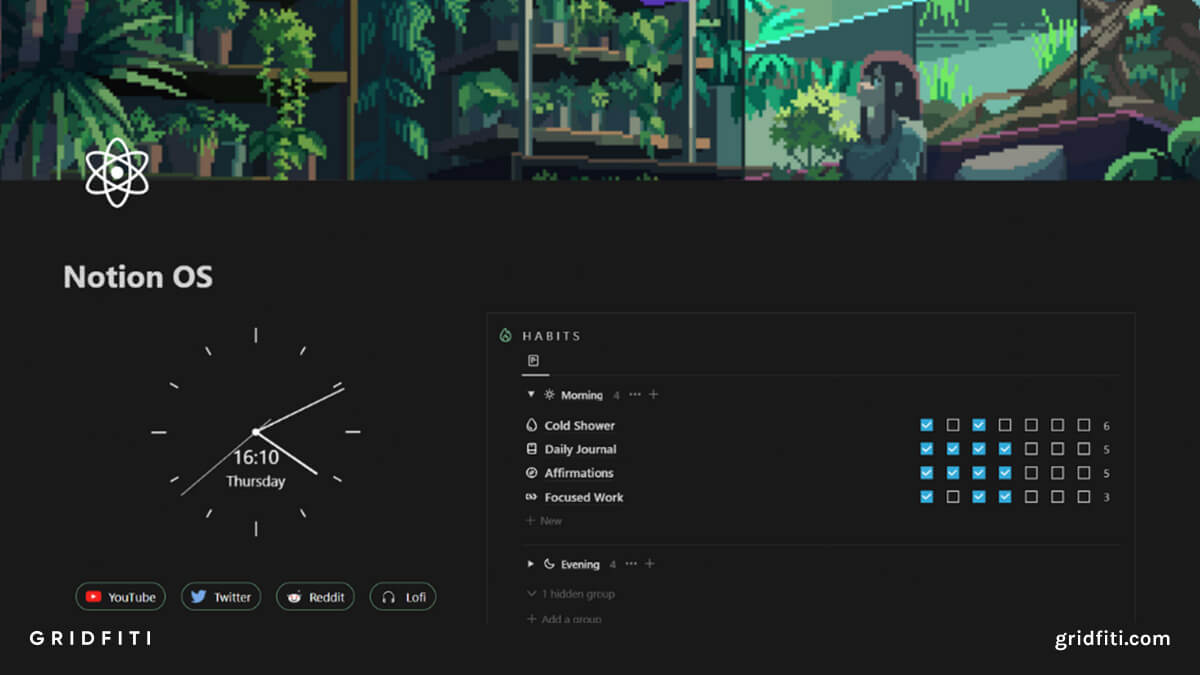 Notion Student Life OS
Student OS is the ultimate all-in-one workspace for everything you need for your academic life – both in and out of the classroom! With 15+ templates in a centralized dashboard, track your classes and assignments, organize your tasks, journal your days and mood, track job and college applications, and so much more.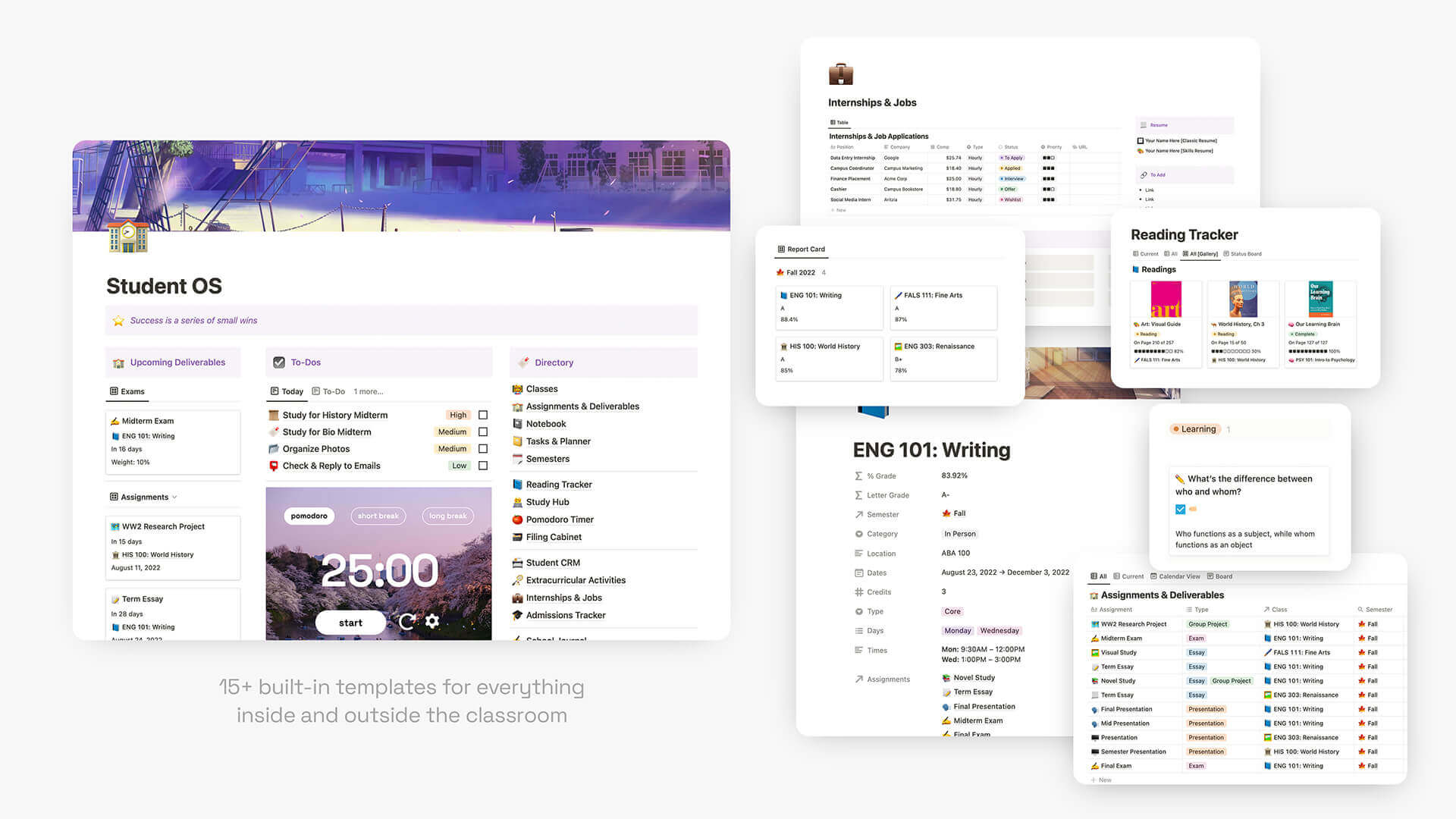 Notion Life OS Starter Pack
If you're still familiarizing yourself with Notion and don't have time to build your system from the ground up, Notion Life OS by Severin is the perfect starter pack for any newcomer! This value-packed Life OS includes a GTD (getting things done) system, knowledge bank, expense tracker, project manager, habit tracker, planner, bucket list, and so much more.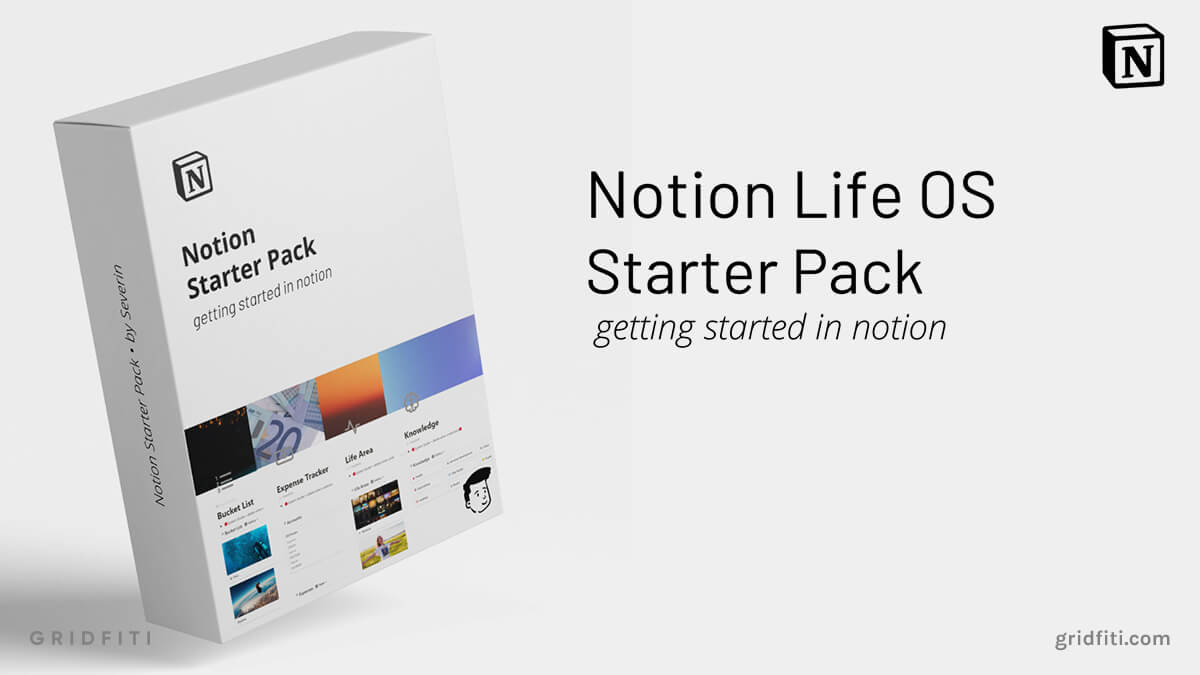 Minimal Notion Life Design OS Template
The Life Design OS template is the ultimate Notion life OS designed for beginners and advanced users to help build a more productive and organized life. The purpose of the Notion Life Design OS is to help you learn more about yourself – by defining a clear vision and setting clear plans and goals for your future! With both light and dark mode options, its minimalist design allows you to customize the life dashboard to your liking.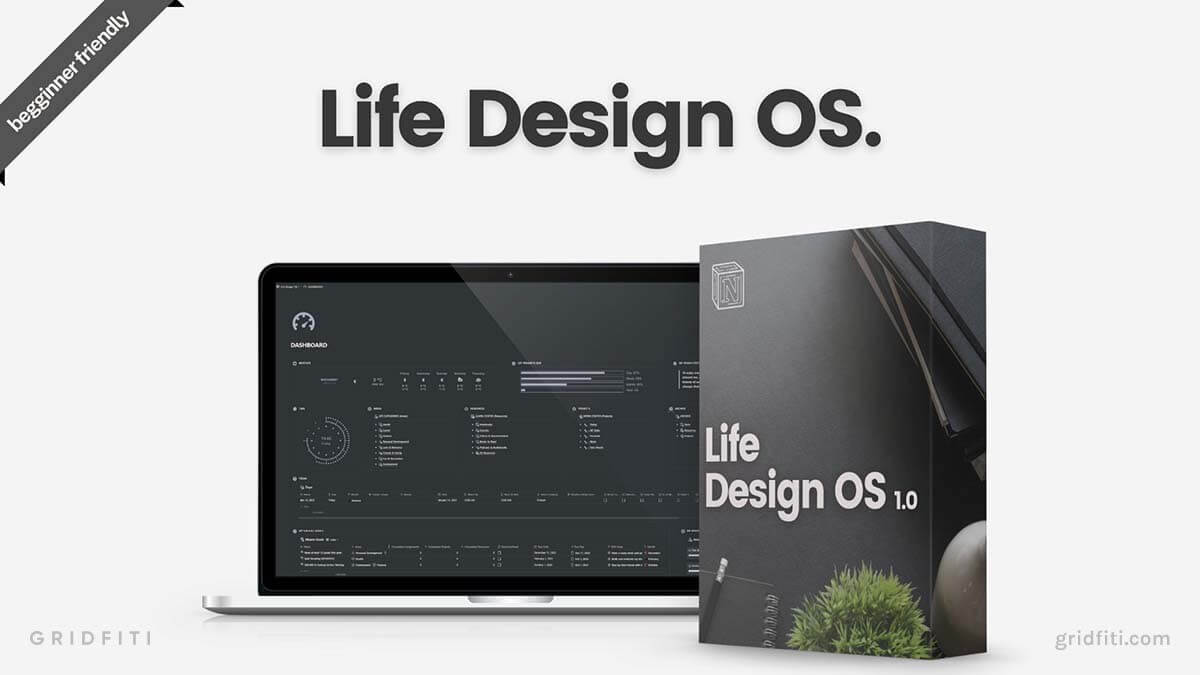 Obsidian Life OS – Notion Operating System Template
Start spending your time more intentionally and break the mold in a world where busyness is often glorified. The Obsidian Life OS makes it easier for you to focus on the things you need to accomplish, and is designed as a unified all-in-one personal workflow Notion system. Obsidian Life OS's goal is to provide a Notion operating system that helps you understand your life, and gives you actionable steps to cut out the clutter and make positive changes!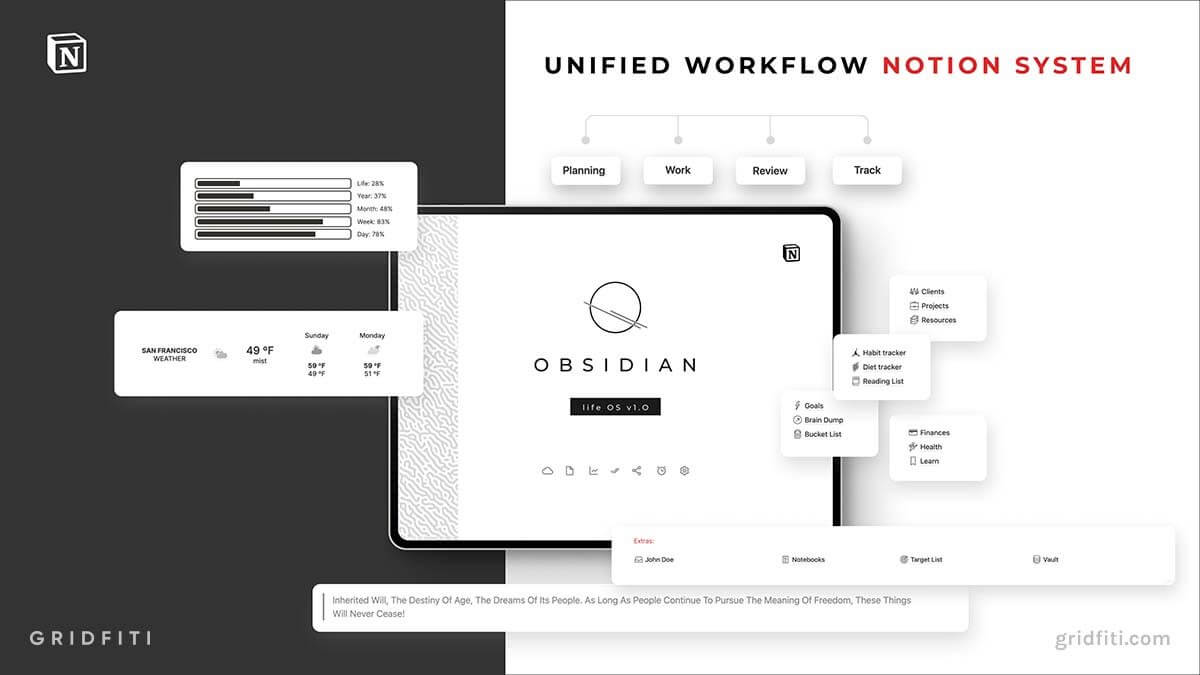 Aesthetic Life OS Dashboard Templates
Have everything for your life in one place with the all-in-one life dashboard by yours truly. With 15+ pre-designed templates, you can organize almost every aspect of your life from your daily habits, groceries, watch and reading list, goals and milestones, travel planner, journal, and so much more! We even have a full Notion template bundle which includes more in-depth, robust templates for several aspects of life.
Templates Available Here: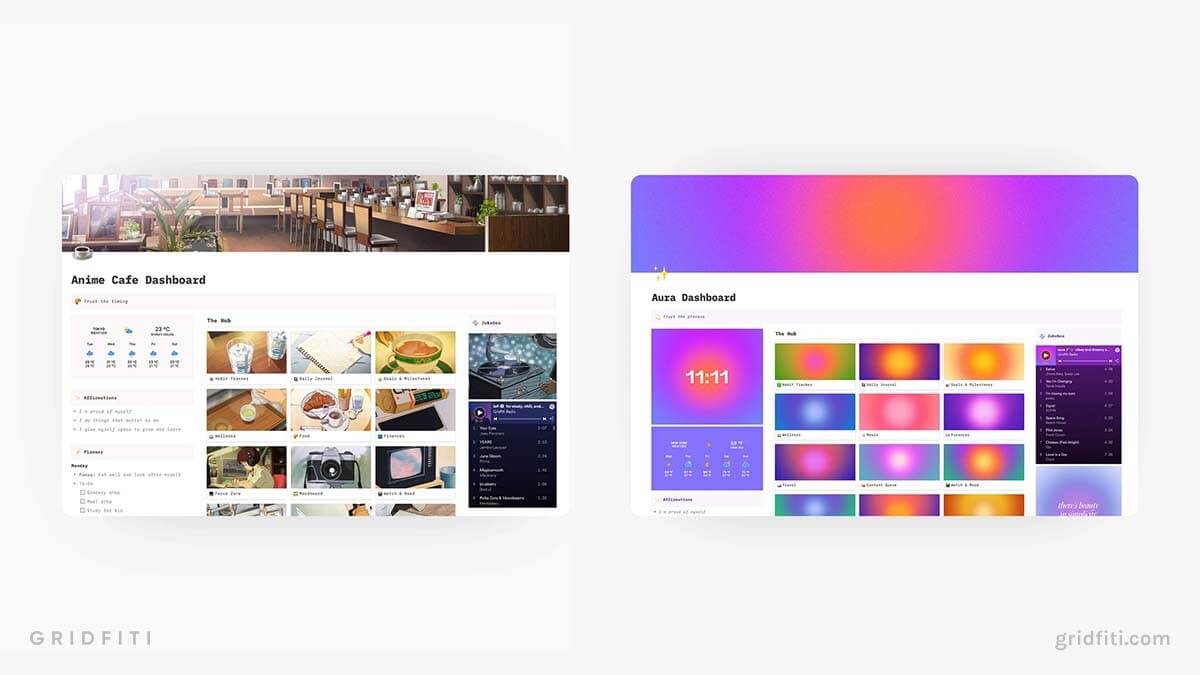 Life Operating System in Notion V2
This Life OS dashboard is a holistic Notion operating system to structure your life, track growth, and accomplish your goals to achieve your desired results – featuring 8 main dashboards to help you capture ideas, journal your routine, build habits, track actions, and lots more!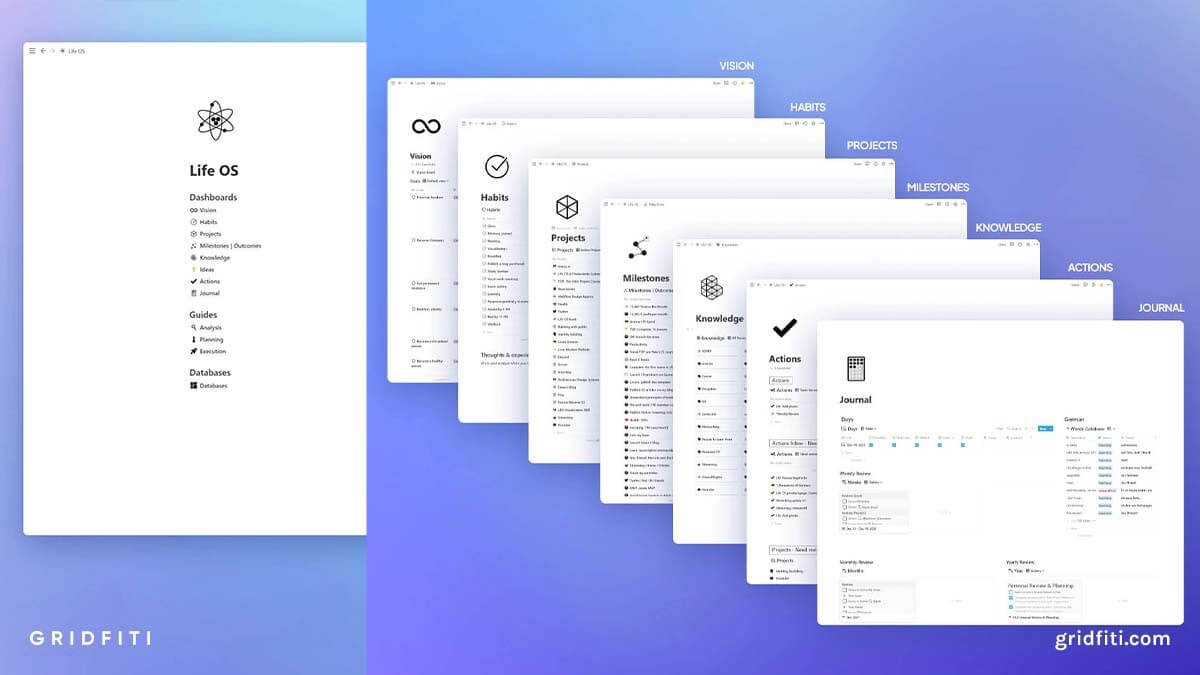 Balance OS – Integrated GTD, PARA & Goal Setting
Life is all about balance. The Balance OS for Notion is designed as an all-in-one life management system to help you organize and align all different areas of your life – from work, to personal.
The template uses the GTD system, the PARA method, a life balance journal, and a goals dashboard to encourage you to review and reflect on your life and your future. The template is available in both a minimalist and an aesthetic theme – so you can choose one based on your personal taste!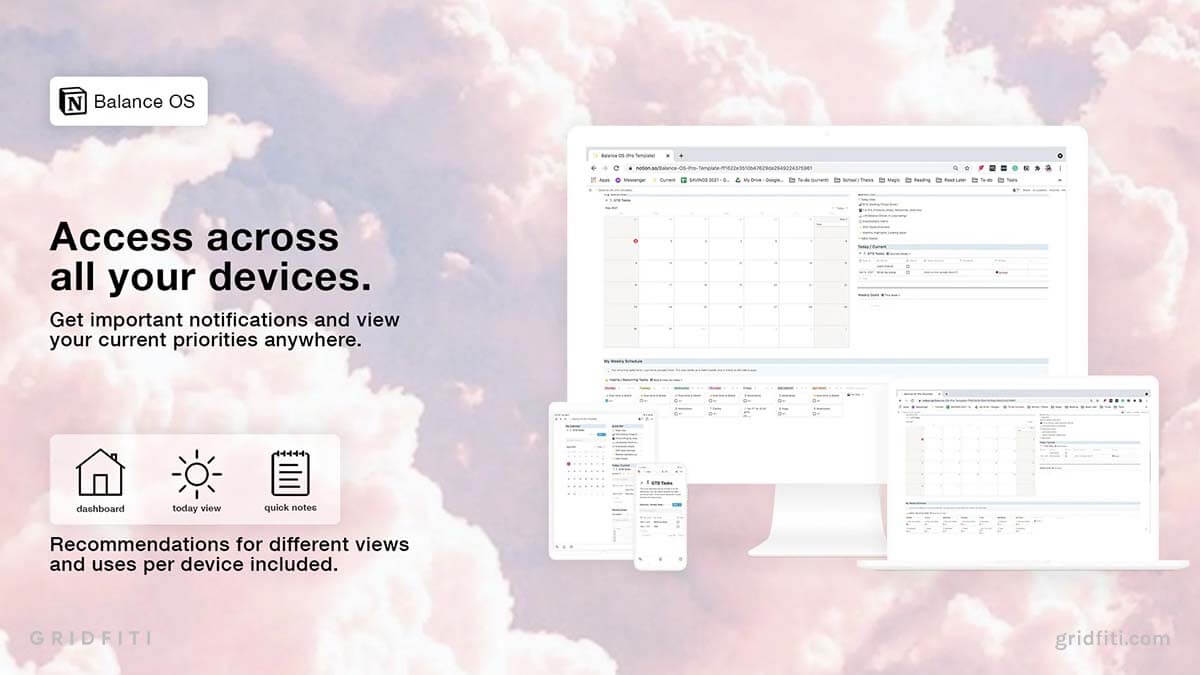 Manifest OS – A Mindful Productivity System in Notion
Build a system to get 1% better everyday with the Manifest OS Notion template. Use this operating system to monitor your progress, build healthy habits, and accomplish more with less stress!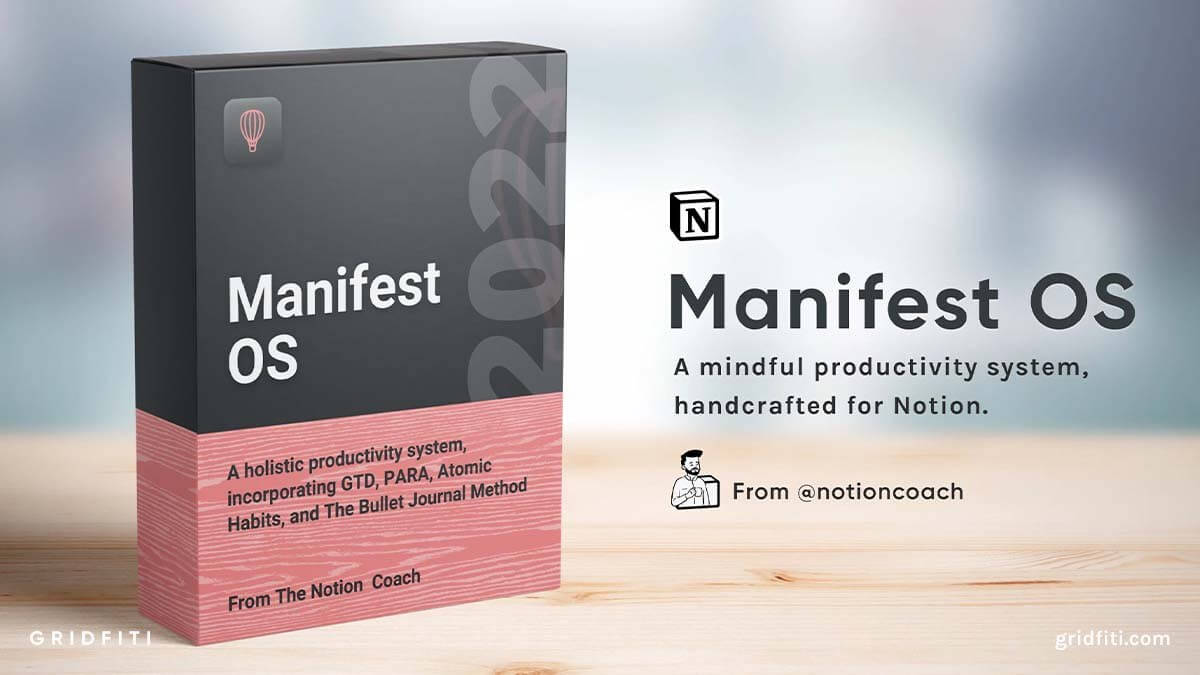 Health Hub OS for Notion
Health is wealth. In order to live a productive and happy life, it's important to make sure your physical and mental health are in check – which is just what the Health Hub Notion OS is built to do!
With this health operating system, you'll be able track everything health-related with 15 unique templates and 10 health trackers. Use the check-in system and the daily logs to monitor your health, and use the pre-designed databases to build a strong routine.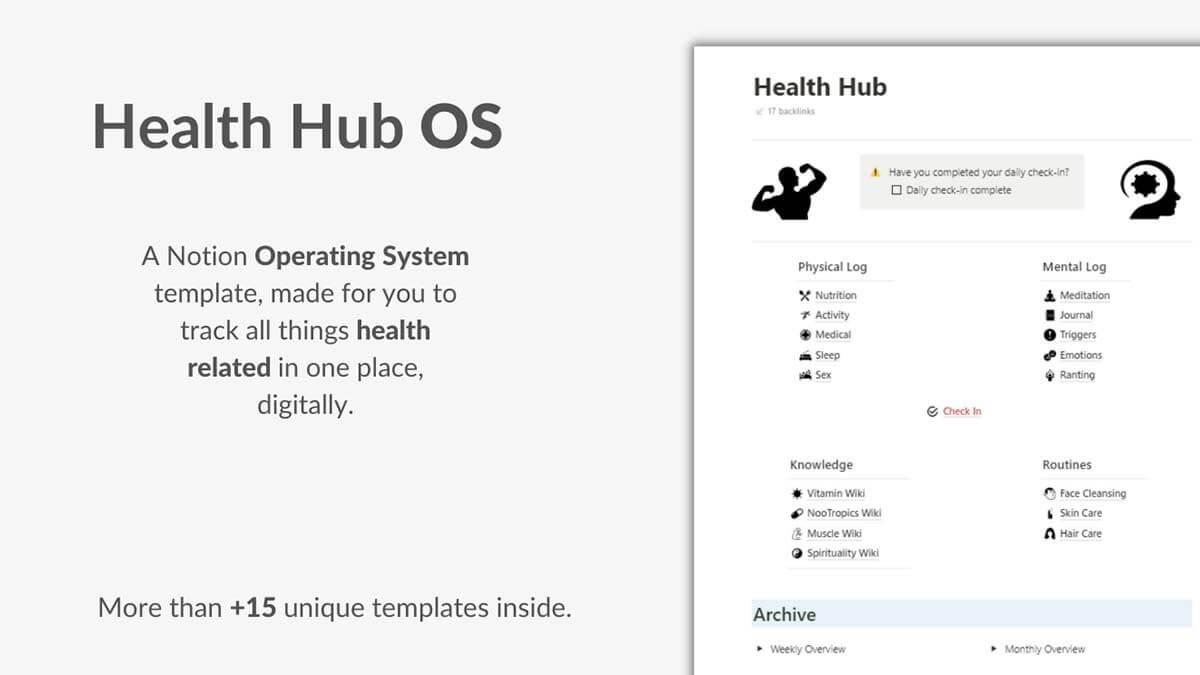 Notion Business OS Templates
You came here for Life OS templates, but what if you want an OS for all things related to your business too? Thankfully, several Notion template creators have taken the OS dashboard blueprint and built some great systems to centralize all things for your company or company-to-be. For some work-life OS balance, check out these templates!
Related Post: The Best Notion Business Templates
Templates Available Here: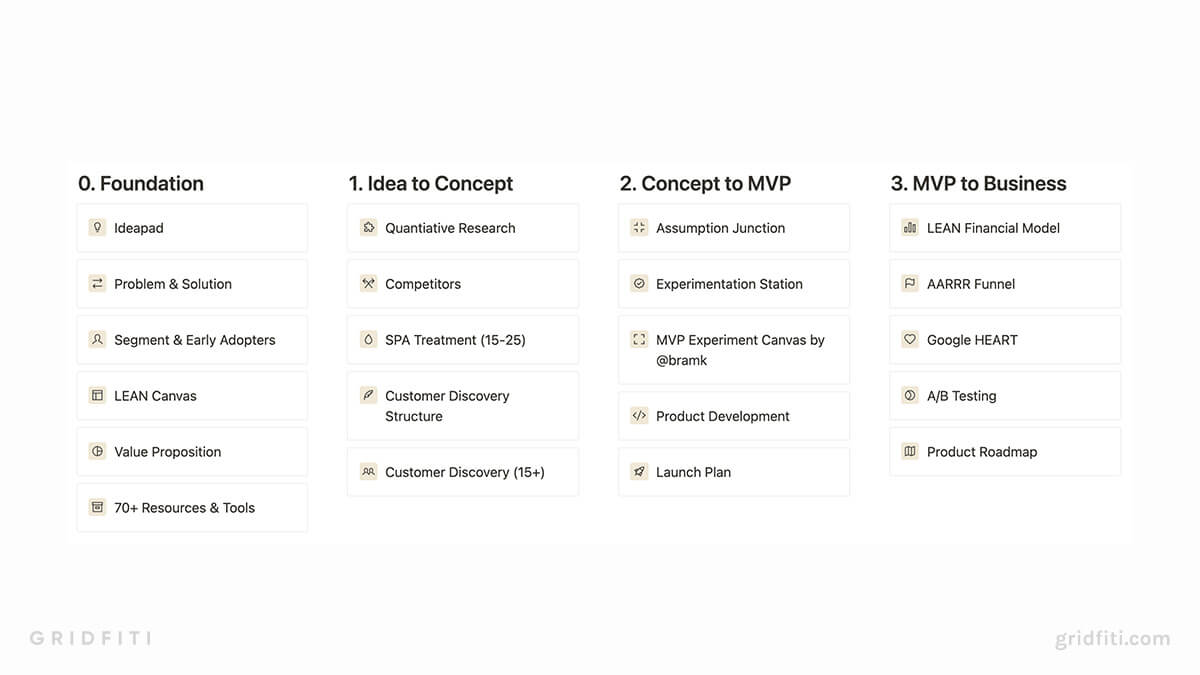 Which Notion life operating system templates do you use the most? Do you have any other Notion life OS dashboards to recommend? Let us know in the comments below!
Gridfiti is supported by its audience – when you buy something using the retail links in our posts, we may earn a small commission at no additional cost to you. We only recommend products we would use ourselves and recommend to our friends and family. Read more about our affiliate disclaimer.