With so much going on in our day to day, it's a real task to keep track of all our thoughts and daily happenings. A daily journal can help you organize your thoughts, reflect on your days, and change your mindset for the better.
If you're looking to journal daily but don't know where to start, we've curated a list of the best Notion daily journal templates so you can jump right into journaling.
Want more Notion tips, tricks, and templates? Join our Notion mailing list below and check out our several other Notion guides and round-ups!
Journal & Mood Tracker in Life OS Template
The Journal & Mood Tracker inside the all-in-one Life OS template is here to help you capture all the little moments that make up your day! With the journal, you can easily record your daily happenings, emotions, and thoughts along with prompts to guide you along the way. You can even tag each journal entry with friends and family from your personal CRM and get an aggregated list of memories for each person in your life.
Get your recent journal entries and even moods automatically served up in your home dashboard for easy access – and always staying in touch with how you're feeling!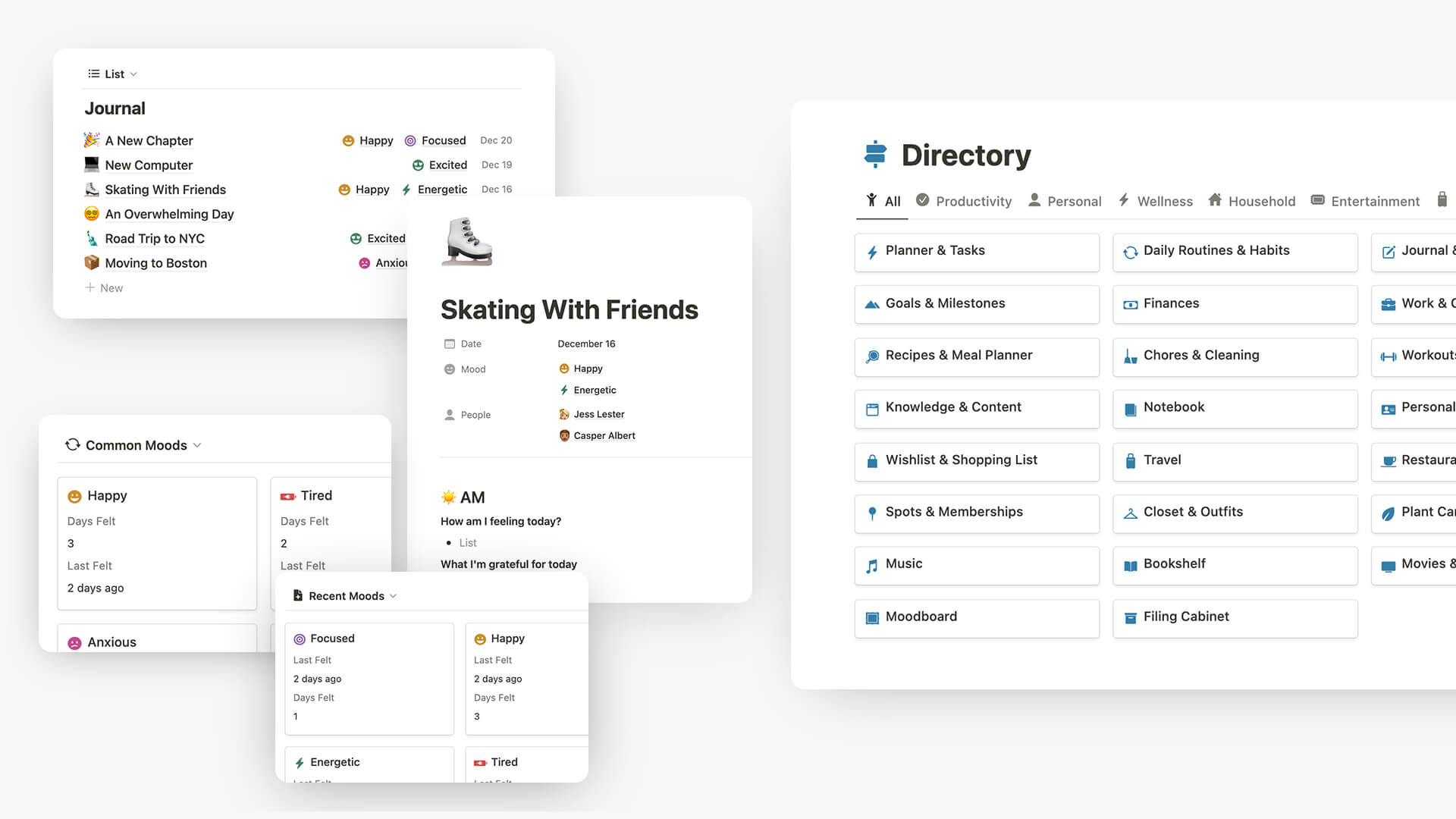 Notion Daily Journal & Diary Templates
You can experience and feel so many things in a single day. Through the highs and lows, log your daily happenings and feelings all in one place – and come back to them any time.
All-in-One Minimal Notion Journal Dashboard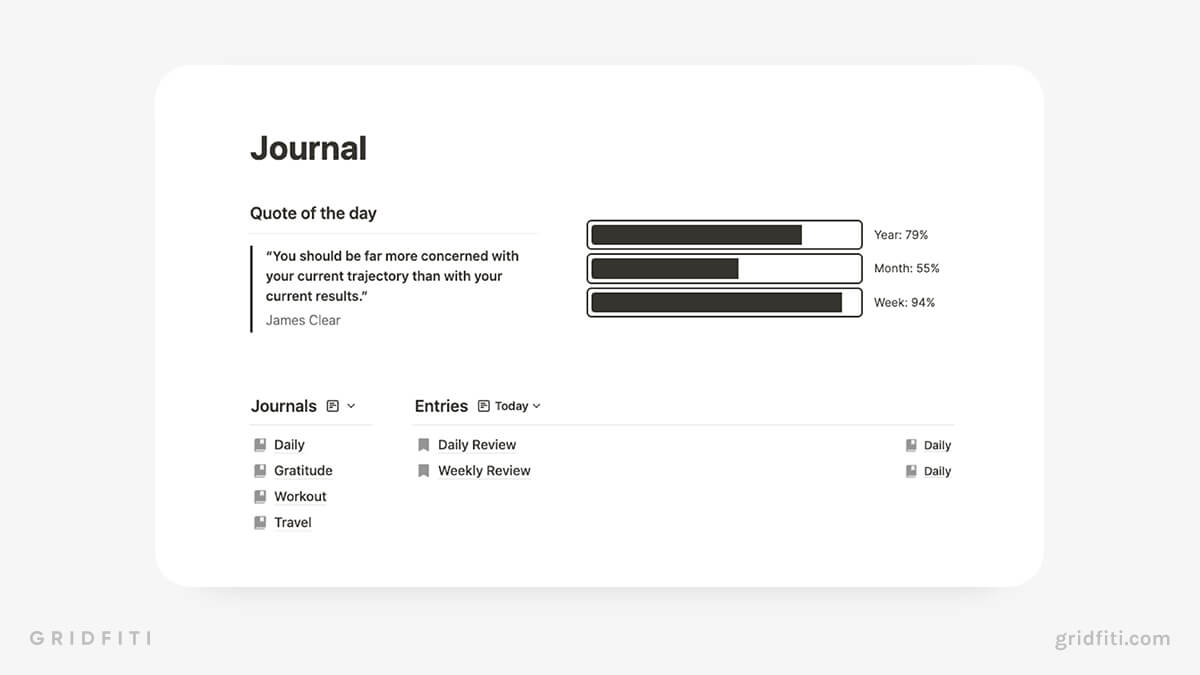 Mindful Journal – An Advanced Notion Diary Template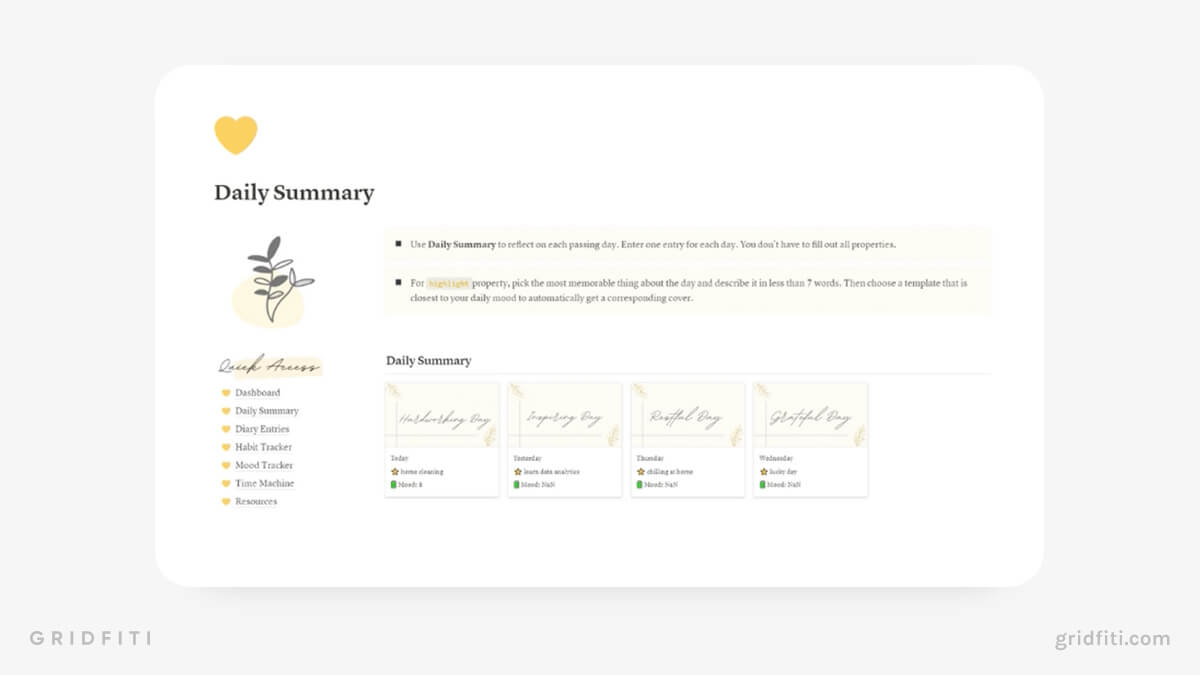 Stoic Life Journal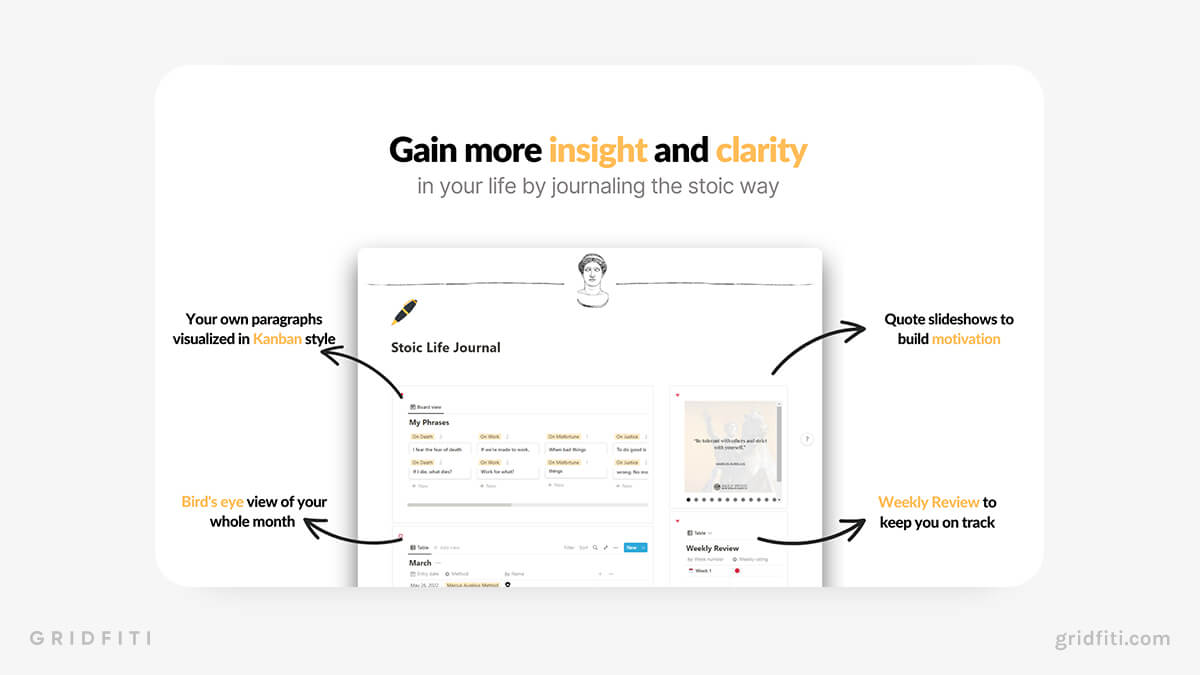 Kaizen Notion Daily Journal Template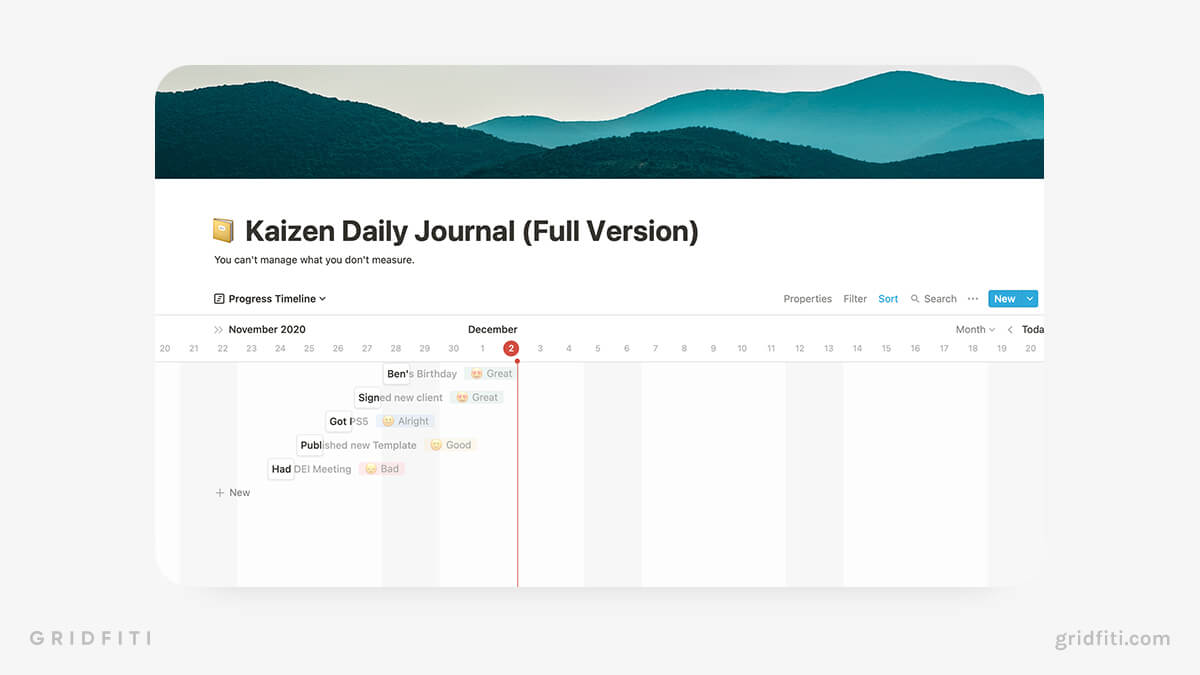 Complete Life Planner with Journal Outlines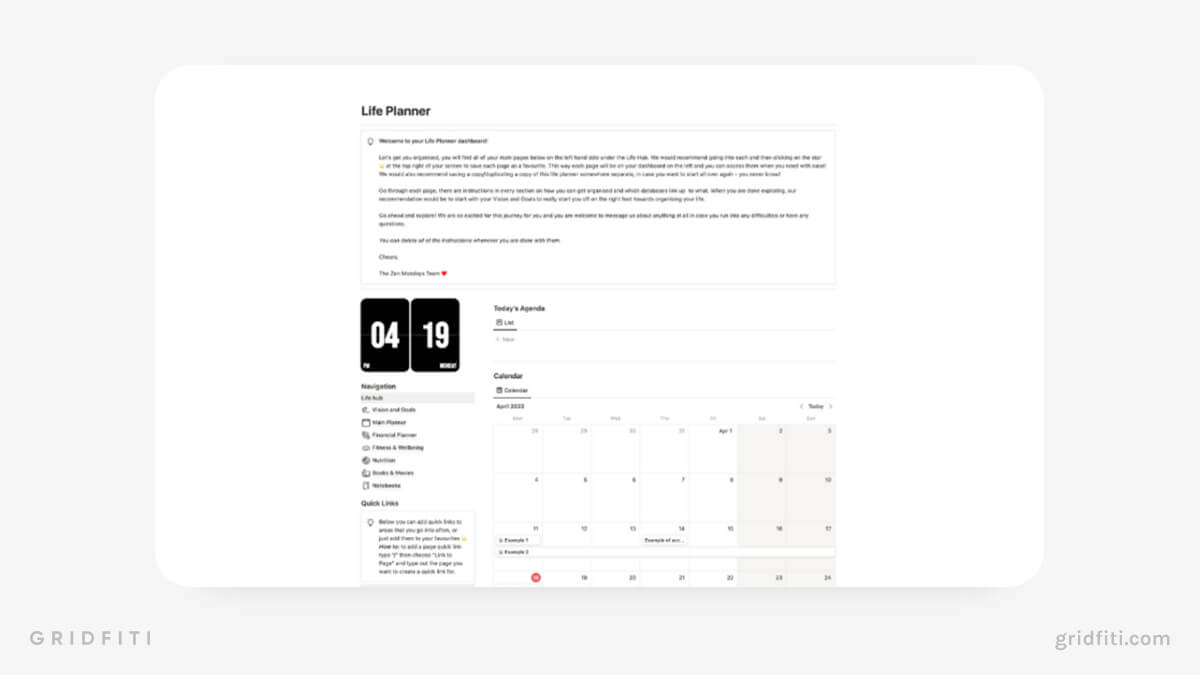 Notion Ultimate Journal Template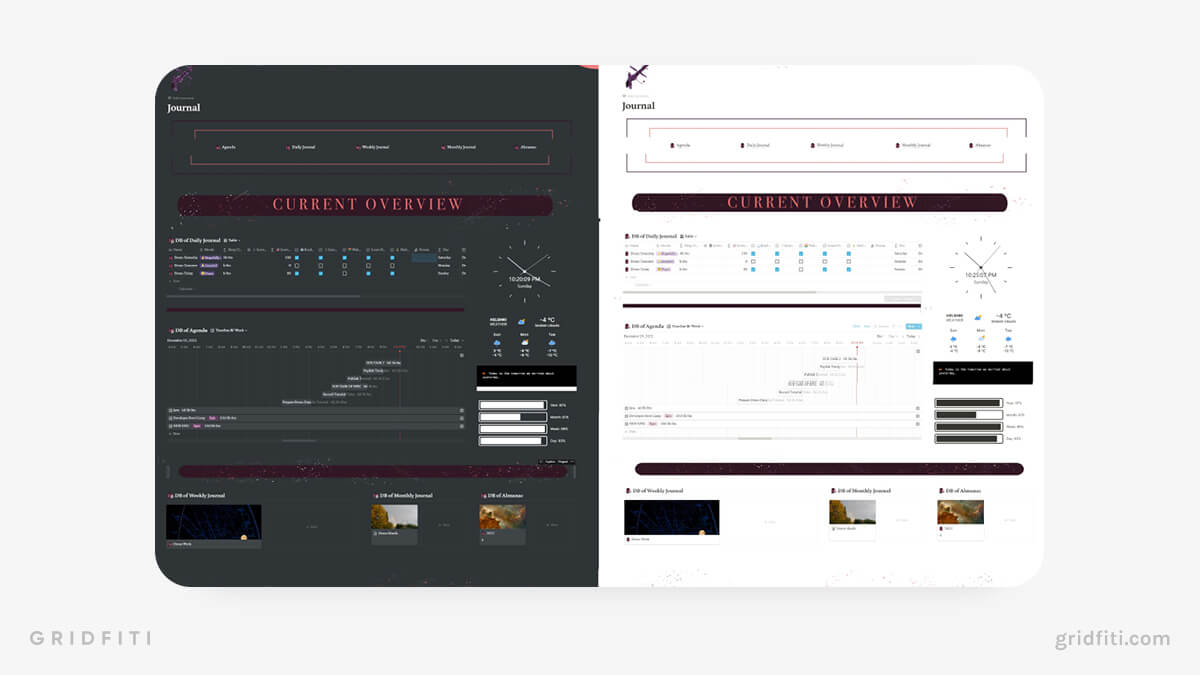 Notion Mindfulness & Gratitude Journal Templates
Counting your blessings does wonders for your morale and mental health. No matter where you are in your life, log what you're thankful for – both big and small – digitally with a Notion gratitude journal template!
For more templates, check out our blog post featuring the best Notion gratitude templates!
Templates Available: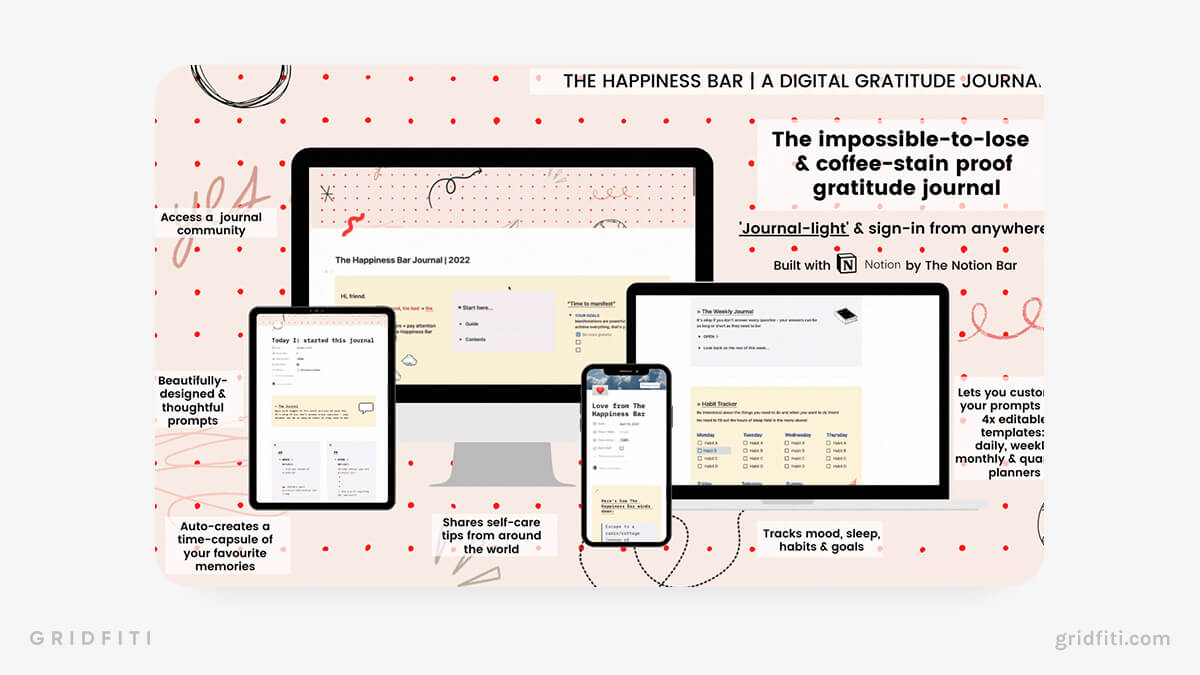 Notion Self-Reflection Journal Templates
Gain more self awareness, improve your emotional intelligence, and build confidence all with the right self-reflection journal! With a reflection-focused Notion journal template, easily fill out prompts and track your personal progress all in one place.
Templates Available: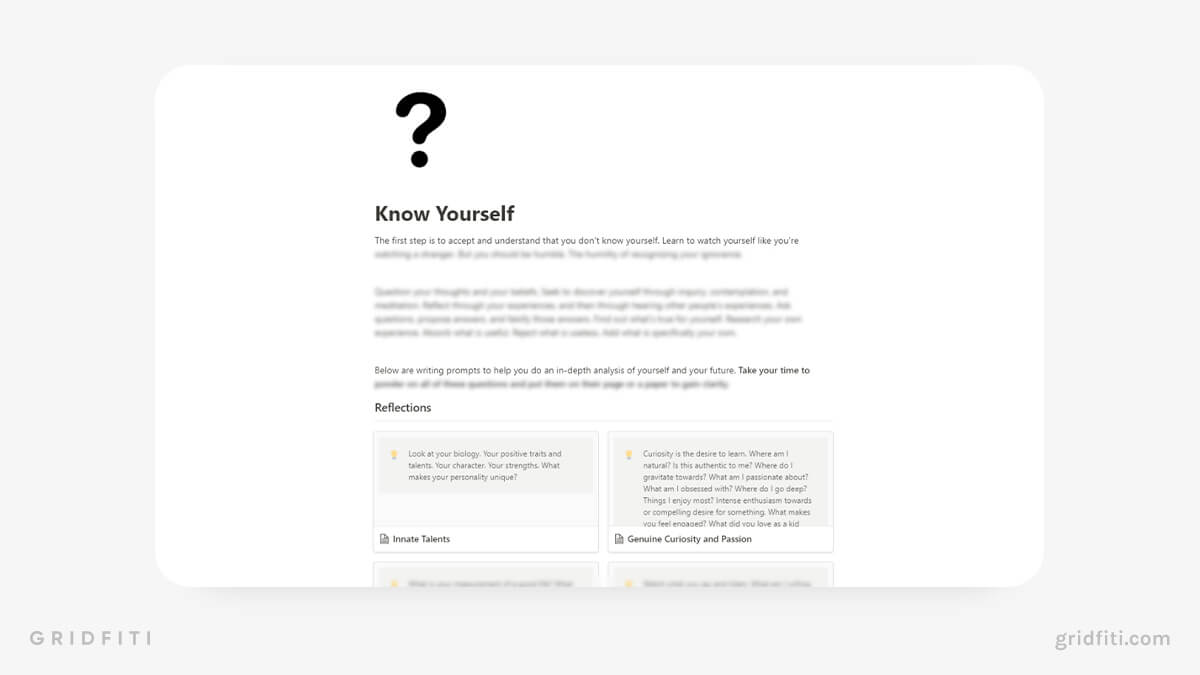 Notion Bullet Journal Templates
Bullet journals are perfect for simplifying the concept of journaling – making it feel like less of a daunting task, and encouraging you to just jot down what you're thinking about or feeling. Take the convenience and flexibility of bullet journals up a notch with the right Notion bullet journal template!
Related Post: Notion Bullet Journal Templates
Templates Available: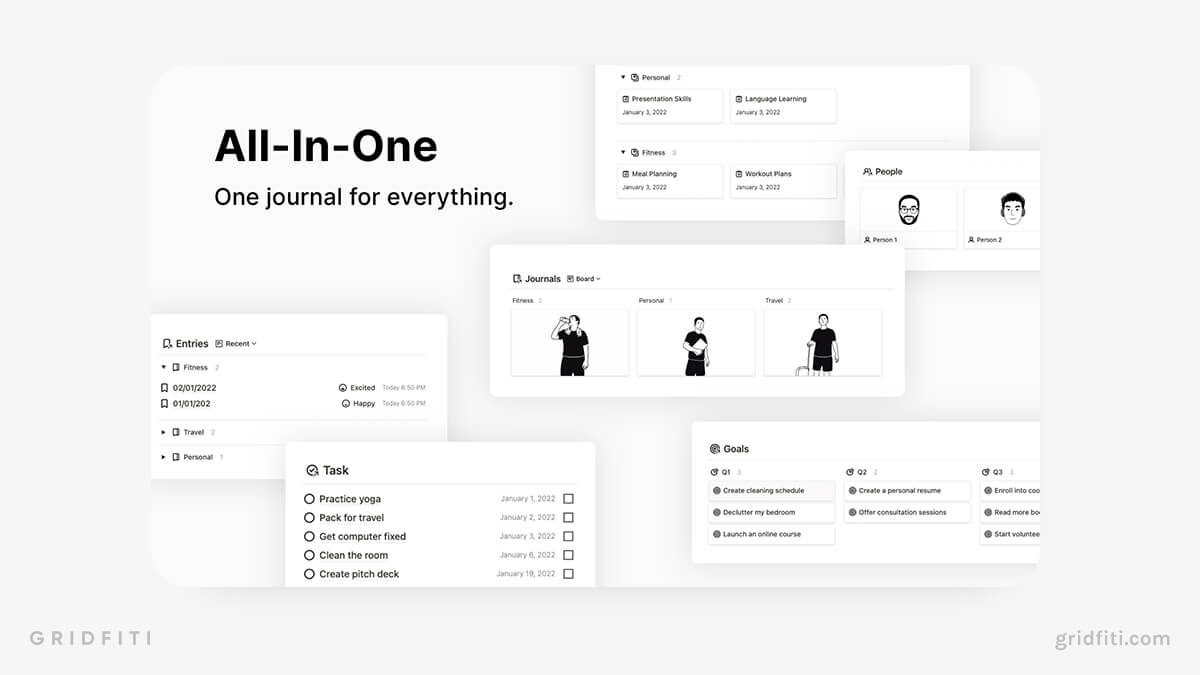 Notion Health & Wellness Journal Templates
Journaling your progress on your health and wellness journey can do wonders. From logging your workouts, to keeping a food diary, become more intentional with your wellness with one of wellness Notion templates with a journal component!
Templates Available: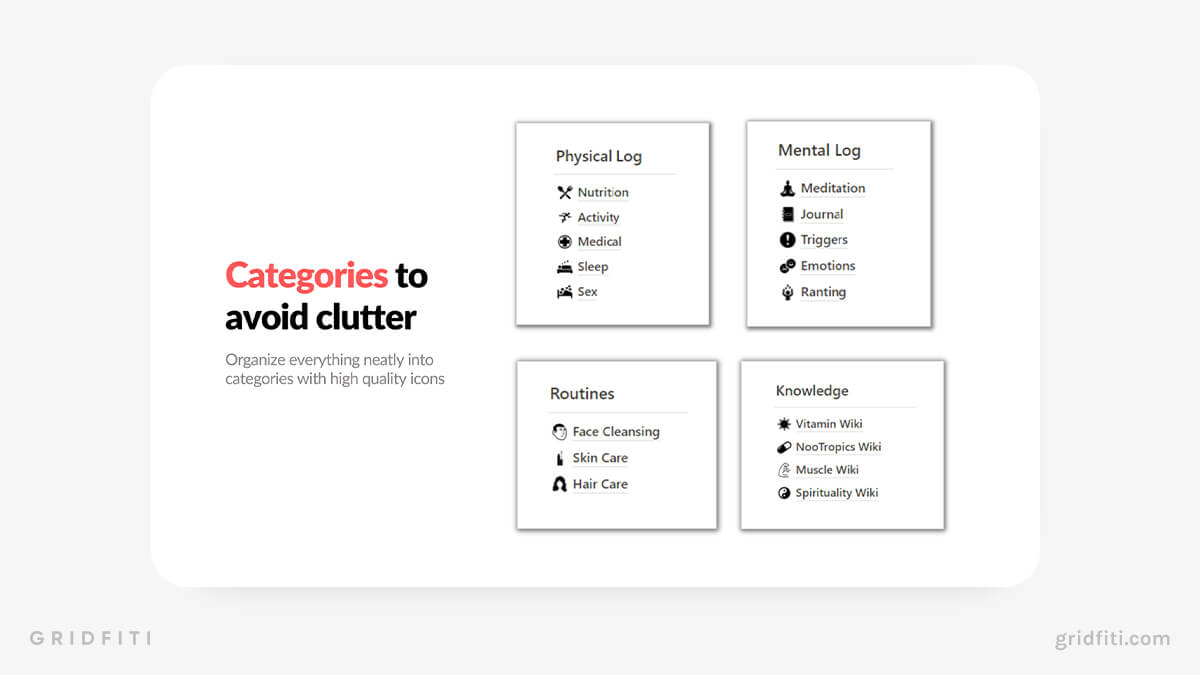 Notion Work Journal Templates
Most of the time when we think about journaling, we think about logging our personal feelings and progress – but what about logging what goes on at work, or while building a side hustle? With one of these work-focused journal templates, you can do just that!
Templates Available: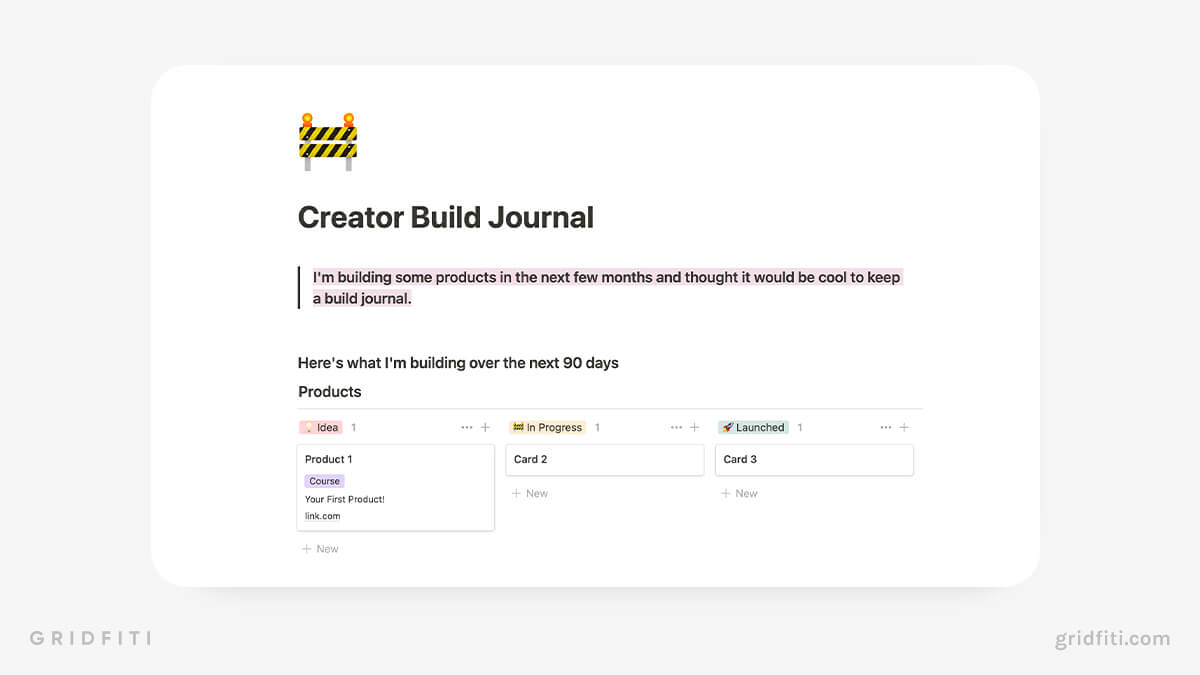 Aesthetic Notion Journal Templates
If you're journaling every day, why not do so in a beautiful workspace? There are so many aesthetic journal templates out there for Notion – here are some of our faves.
Related Post: Aesthetic Notion Templates
Templates Available: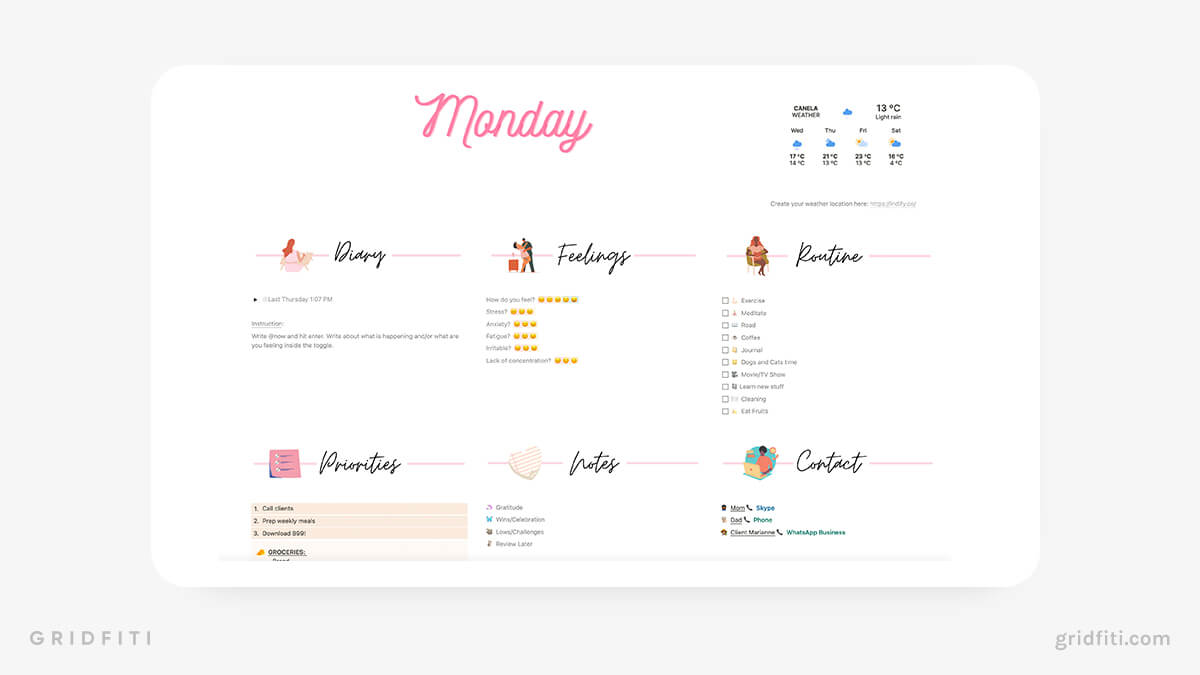 Free Notion Journal Templates
So many journal templates are worth paying for with robust features – but if you're looking to try a more simple template for your journaling needs, we've gathered some great free options here!
Related Post: Free Notion Templates
Templates Available: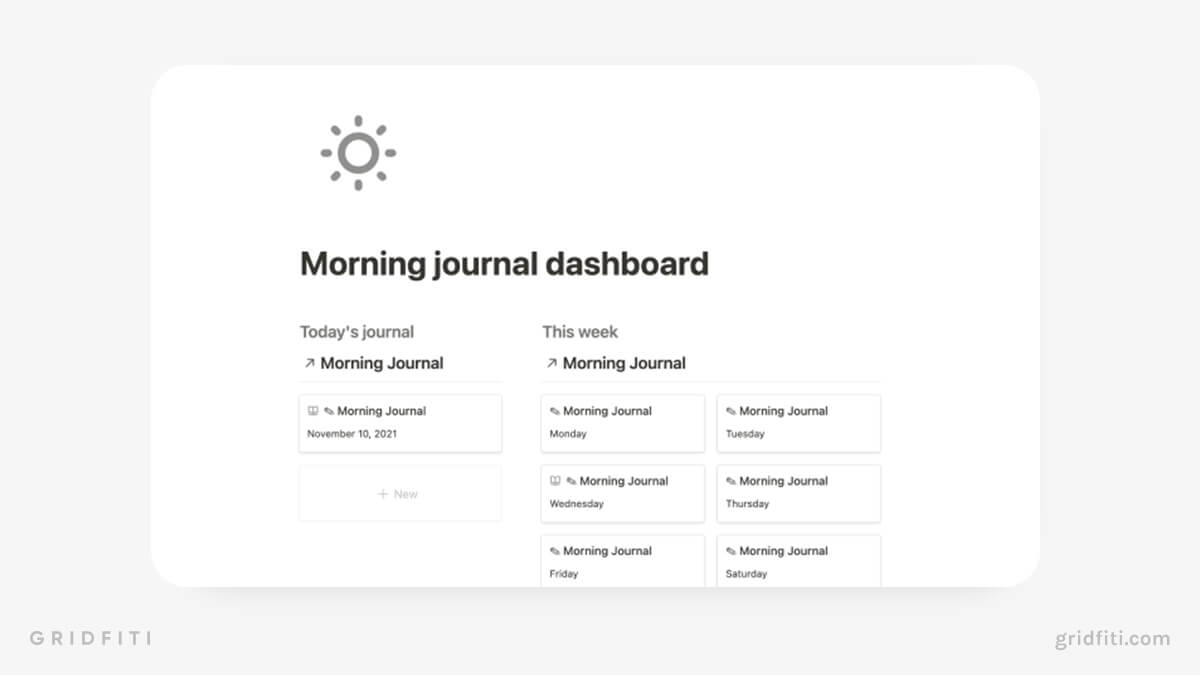 Which Notion journal templates are you using? Have any suggestions for daily journal templates to use? Let us know in the comments below!
Gridfiti is supported by its audience – when you buy something using the retail links in our posts, we may earn a small commission at no additional cost to you. Read more about our affiliate disclaimer.