Whether you're looking to be more productive, more self-aware, or more organized in your everyday life, there's a Notion bullet journal out there for everyone.
To help you pick the right one, we've curated the best Notion bullet journal templates for you to choose from! Looking for more daily journals? Check out our post featuring the best Notion journal templates!
Want more Notion templates and updates? Join our mailing list, and check out our several other Notion template round-ups!
Bullet Journal & Mood Tracking in Life OS Template
The bullet journal and mood tracker inside the all-in-one Life OS template is here to help you capture all the little moments that make up your day! Easily record your daily happenings, emotions, and thoughts in bullets with the built-in prompts to guide you along the way. You can even tag each of your journal entries with friends and family from the personal CRM, and get an aggregated list of memories for each person in your life!
See all your recent journal entries and even recent moods automatically served up in your home dashboard for easy access – and to always stay in touch with your feelings!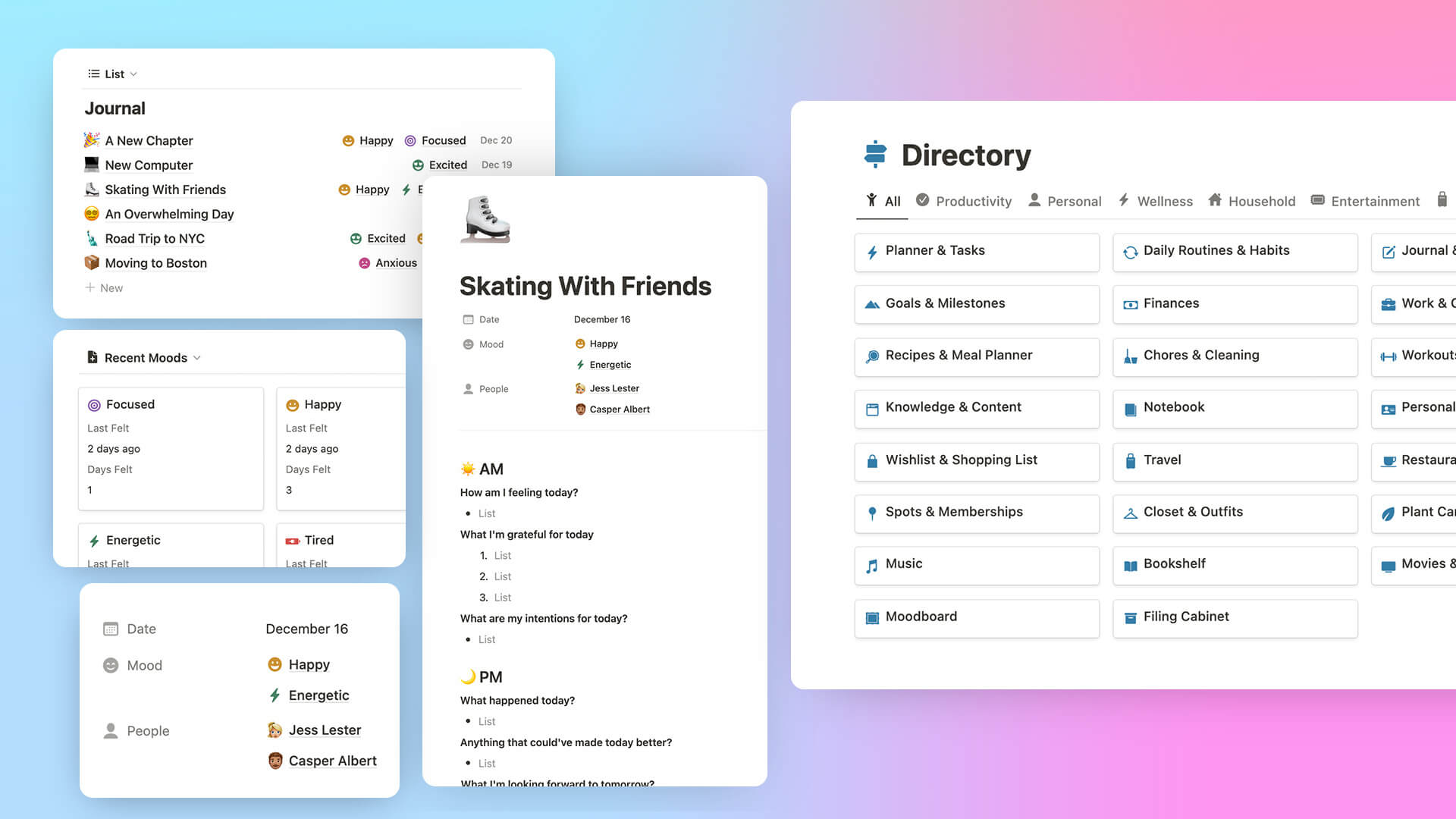 Minimalist Notion Bullet Journal Template
The ultimate bullet journal to help you become more productive in your work and personal life – this minimal Notion bullet journal will help you organize your life by logging your mood, creating daily tasks, taking notes, setting goals, and more!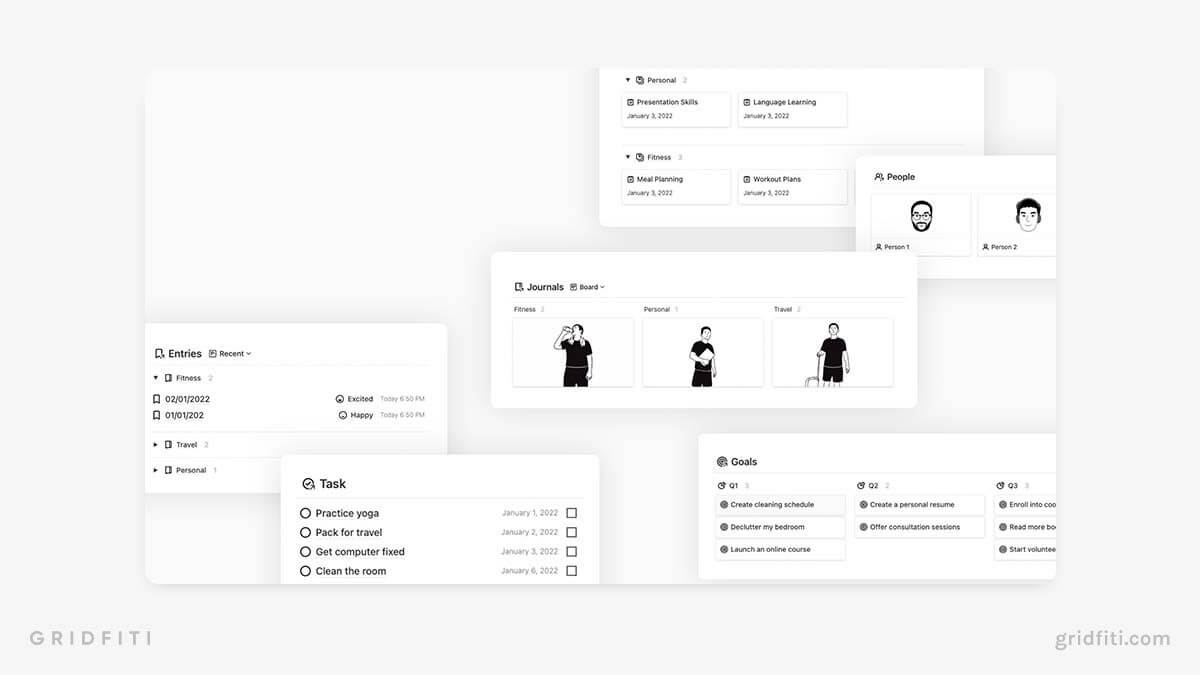 Super Bullet Journal Template for Notion
Plan your day, month, and quarter with this comprehensive Notion bullet journal template! This template allows for you to set goals, create and track new habits, log your days, and create quarterly reviews to see how you're progressing.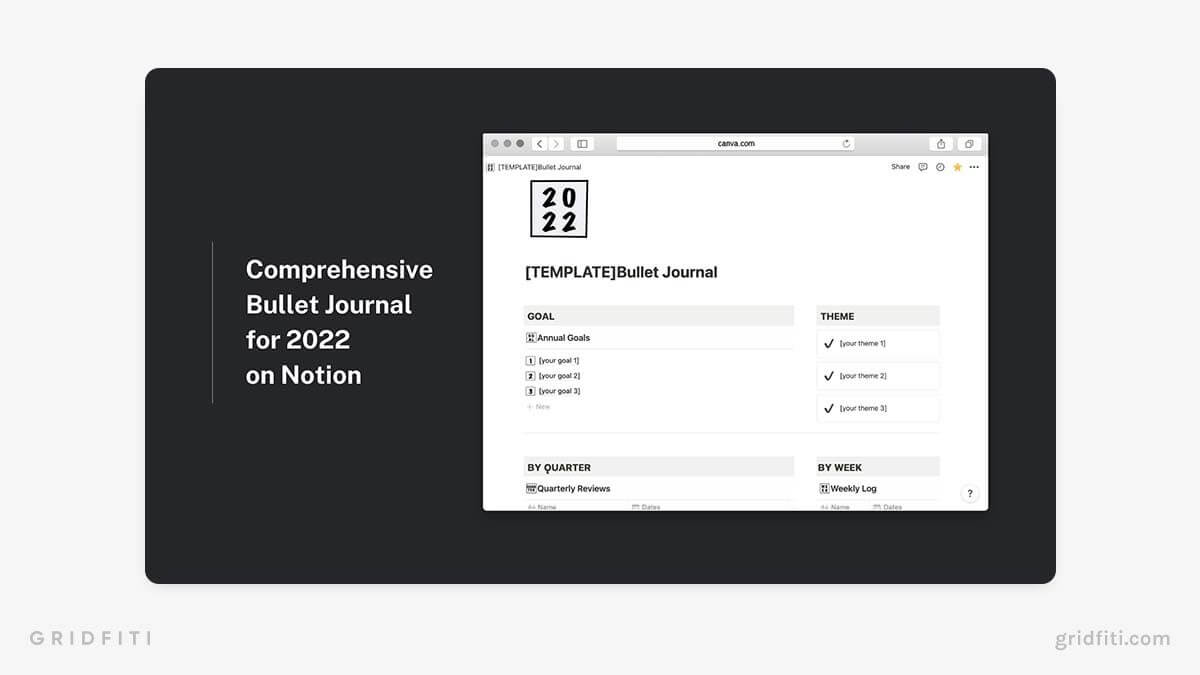 The Happiness Bar – Gratitude Bullet Journal Template
More than just a journal, The Happiness Bar is a community of those looking to improve every aspect of their lives. Use The Happiness Bar template to manifest your goals, set intentional habits, plan your days, track your mood, practice self-care, and so much more!
Looking for other gratitude templates? Visit our round-up post where we curate the best Notion gratitude journal templates!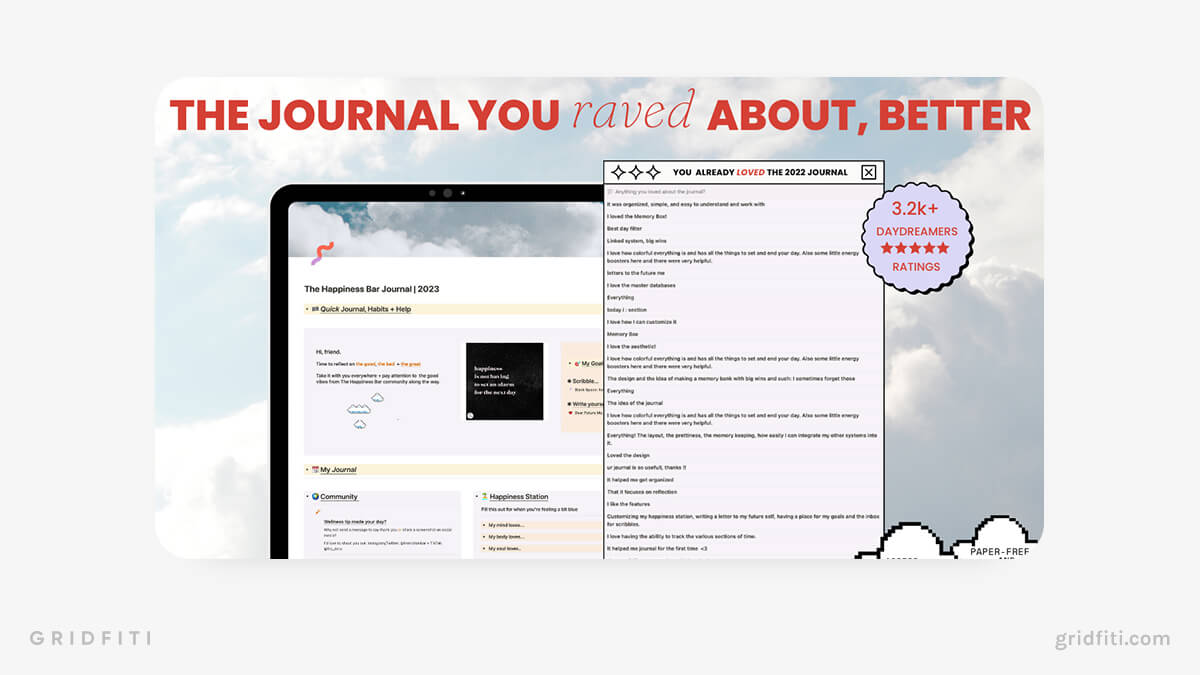 Personal Growth Planner – Notion Reflection Bullet Journal
Looking to start your self-development process and understand yourself better? The Personal Growth Planner is the Notion bullet journal template for you. With over 250+ questions in the self-reflection journal, you can get to know yourself better and become more self aware.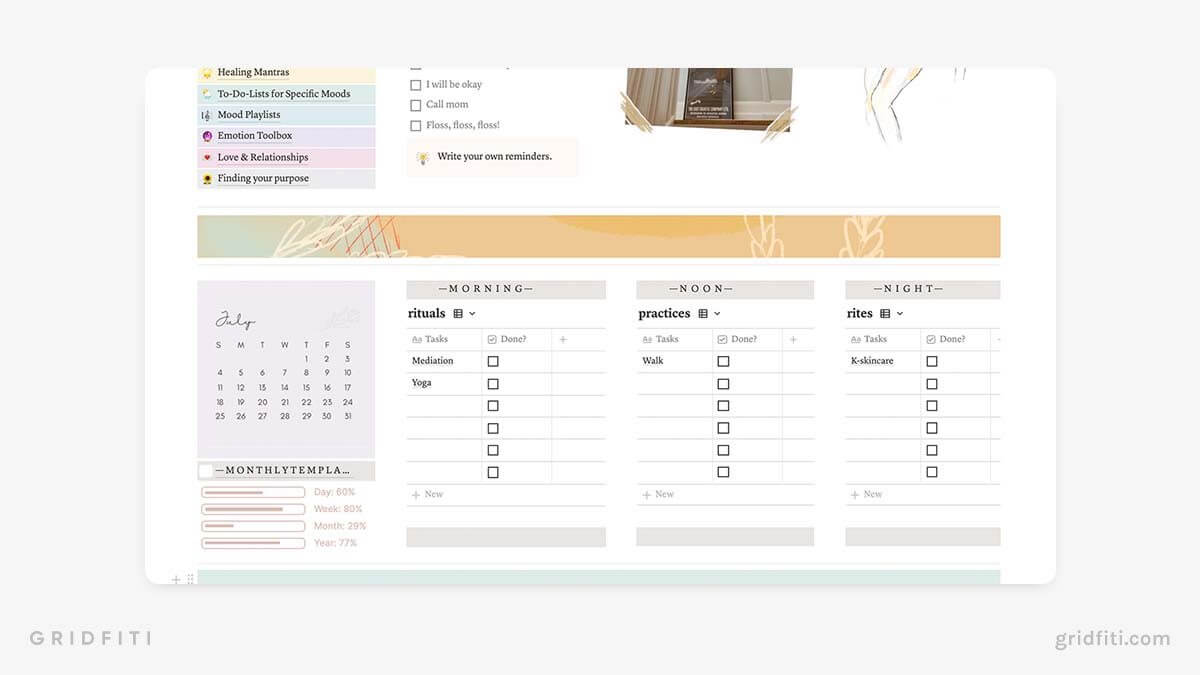 Manifest OS – Notion Bullet Journal Method
Get 1% better every day with Manifest OS! This Notion template incorporates the most actionable parts of PARA, GTD, Atomic Habits, and the Bullet Journal Method by using a TAPAS Framework (Track, Action, Projects, Areas, Systems) – so you can stay as mindful and as productive as possible!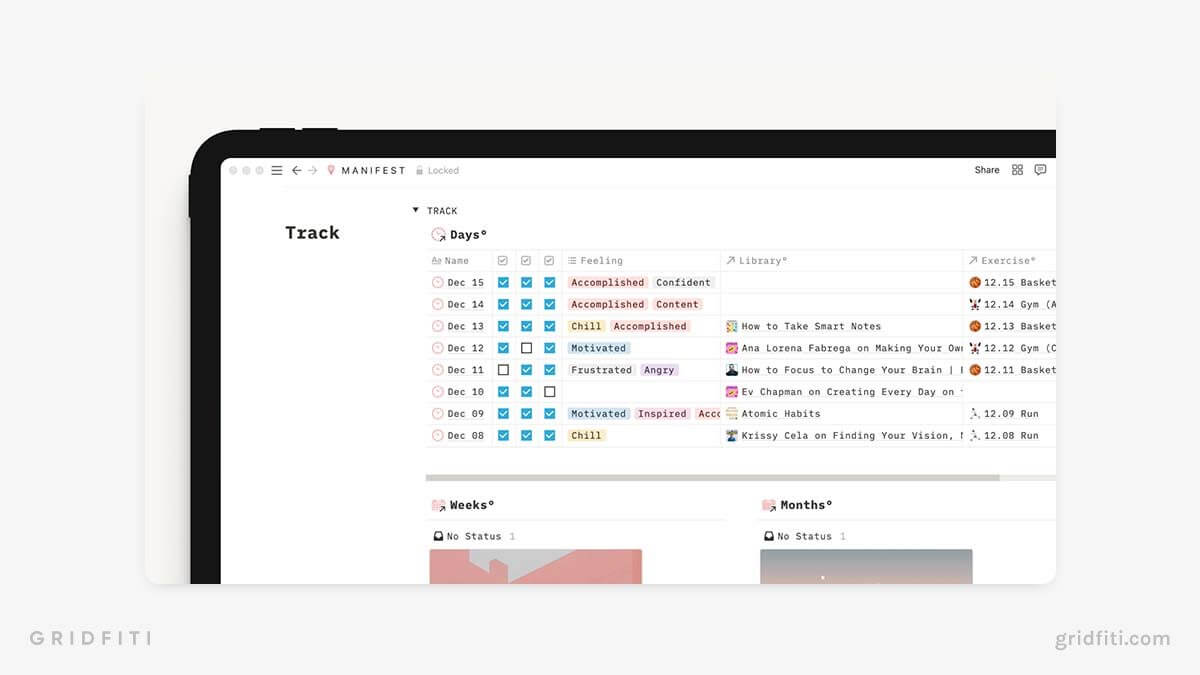 Aesthetic Digital Bullet Journal Template
In this aesthetic planner template, you'll find a bullet journal designed to increase your productivity by tracking your habits, planning your days, and setting goals.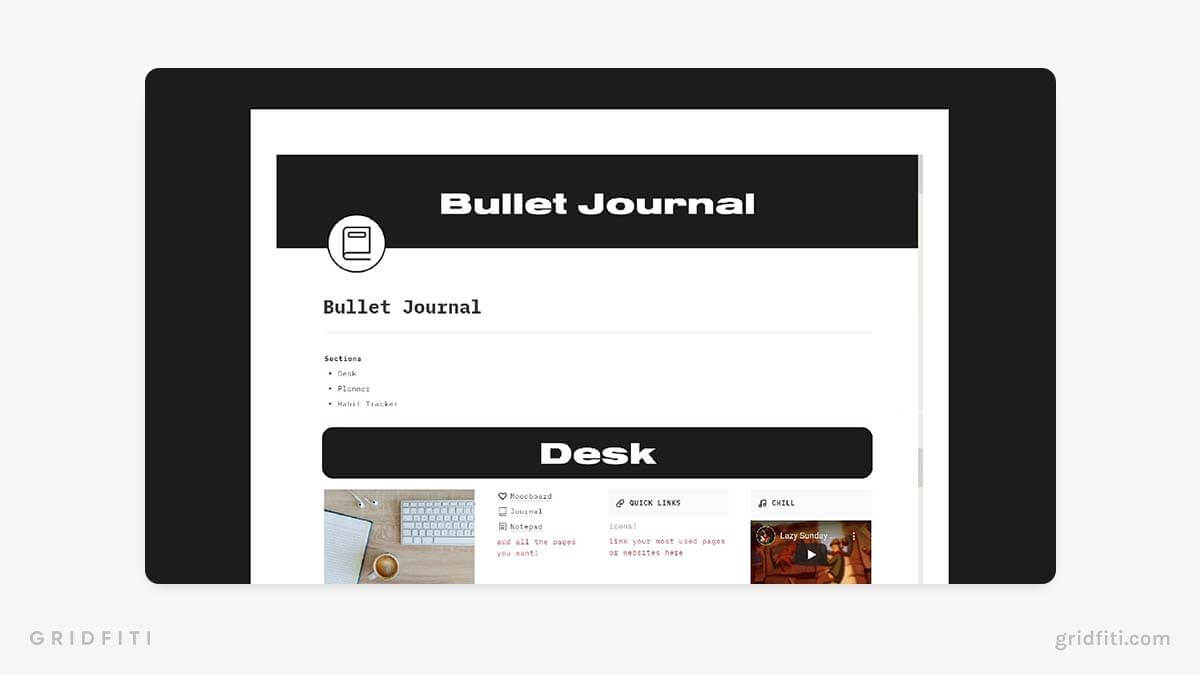 Which Notion bullet journal template are you using? Do you have any other bullet journals for Notion to recommend? Let us know down in the comments below!
Gridfiti is supported by its audience – when you buy something using the retail links in our posts, we may earn a small commission at no additional cost to you. We only recommend products we would use ourselves and recommend to our friends and family. Read more about our affiliate disclaimer.