The garage – what was once solely a household utility to store your car is now converging into an extension of your home's style. Gone are the days of garages sitting filled with stained boxes, to now, being a beautiful space for you to display your automotive passions, coupled with your eye for art and design.
Garage decor ideas can stem from your love for automotive history, design, motorsport, furniture, and more – the bounds of your garage decor setups are limitless!
Whether it be lighting fixtures that accentuate the angles the cars that sit under them, tasteful wall art, or rugs that bring out the best of your space altogether, check out some of these unique garage decor ideas.
Want to discover more ways to rep your automotive love through decor? Don't miss our round-ups on Porsche decor and BMW decor!
For more automotive decor ideas and inspiration, join our automotive mailing list 📮
Garage Lighting Setups
Let's start with one of the most crucial fixtures in any garage: lighting.
Light fixtures have come a long way from incandescent bulbs and fluorescent tubes – and thanks to LED technology, there's an array of light fixtures you can install within your garage. Beyond lighting a space with an even spread of light and offering different color options – going LED can also accentuate the design of your car: its color, materials, and design.
Where to start: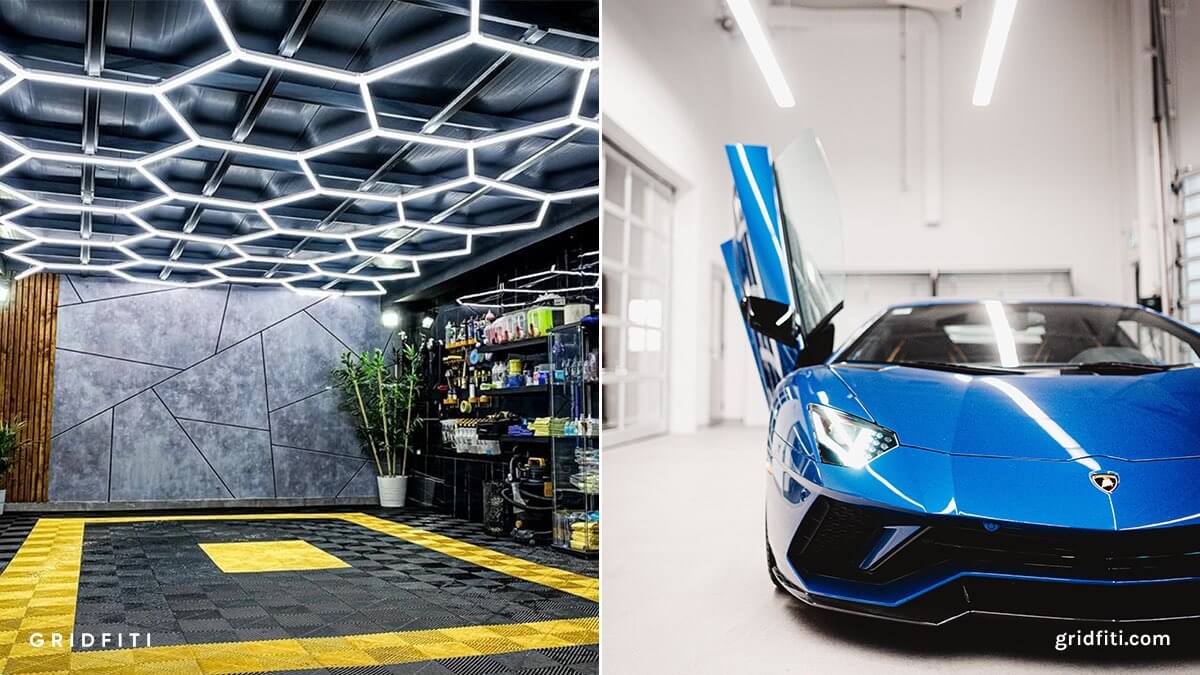 Images by EkoDesignCo on Etsy and @say_rez
Aesthetic & Vintage Automotive Rugs for Your Garage
You'd never think to take rugs out of the home, but believe it or not, they can really bring a modern garage setup together.
Not only can rugs soften your space, protect your surfaces, and help reduce echo – they can add texture, color, and pattern to your garage. Incorporating these rugs in your garage's space will create both a personalized and cozy environment, in a space that's otherwise known to be cold and bleak. You can even match your garage's rugs to your colorful cars – or treat them as a colorful accent piece amongst any monochrome vehicles!
Where to start: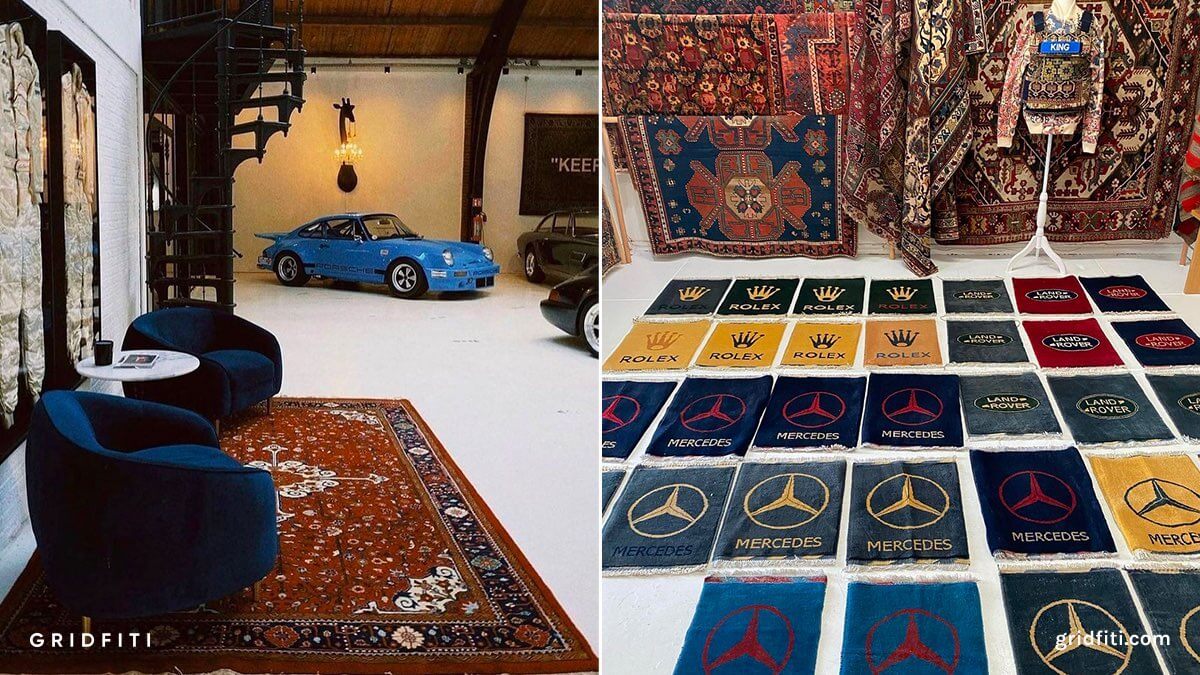 Images by @kingkennedyrugs
Garage Wall Art
As you're evolving your garage into a highlighted design space, why not spice up those walls with wall prints? Anything from motorsport prints, to graphic artwork, car-themed movie posters, vintage car ads, or even tasteful pieces completely unrelated to cars – there are so many options for outfitting your garage's walls!
Where to start: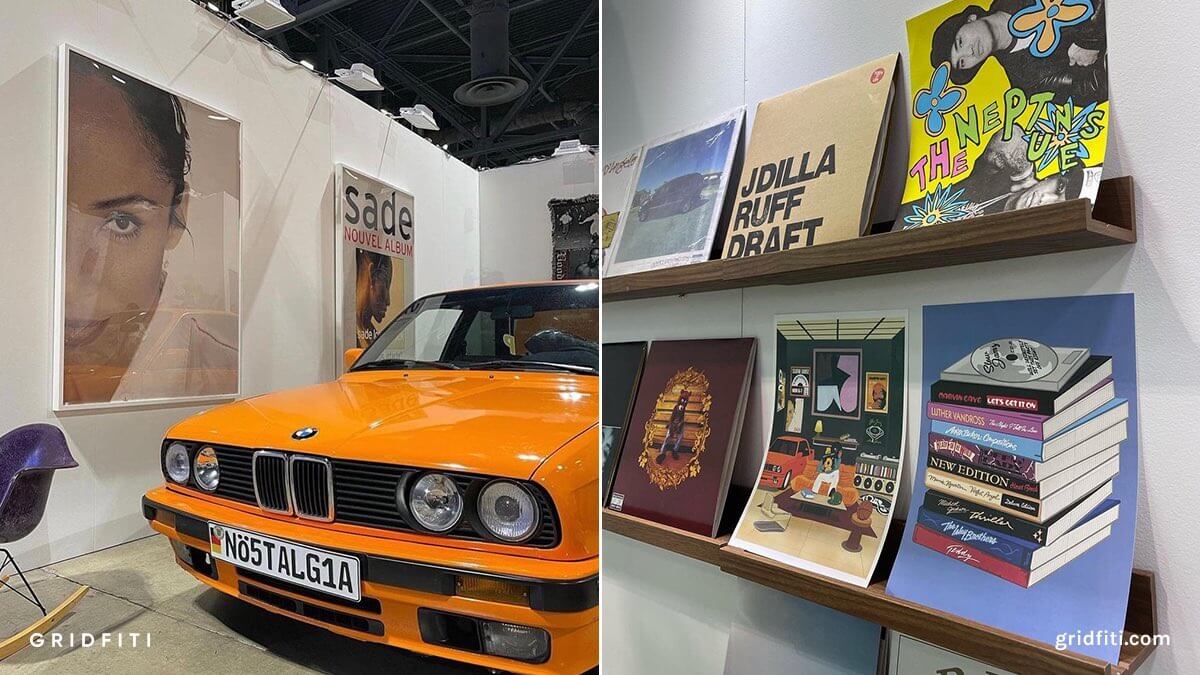 Images by @slowjamz.co
Car-Themed Skateboard Wall Art
Skateboards have become a unique form factor to fixate artwork to your walls – and that doesn't stop at garages! Skateboard wall art can feature anything from iconic race cars, to notable graphic artist pieces, textures, patterns, and more. Add an edgy appeal to your garage with one of these unique wall-mounted decks.
Where to start: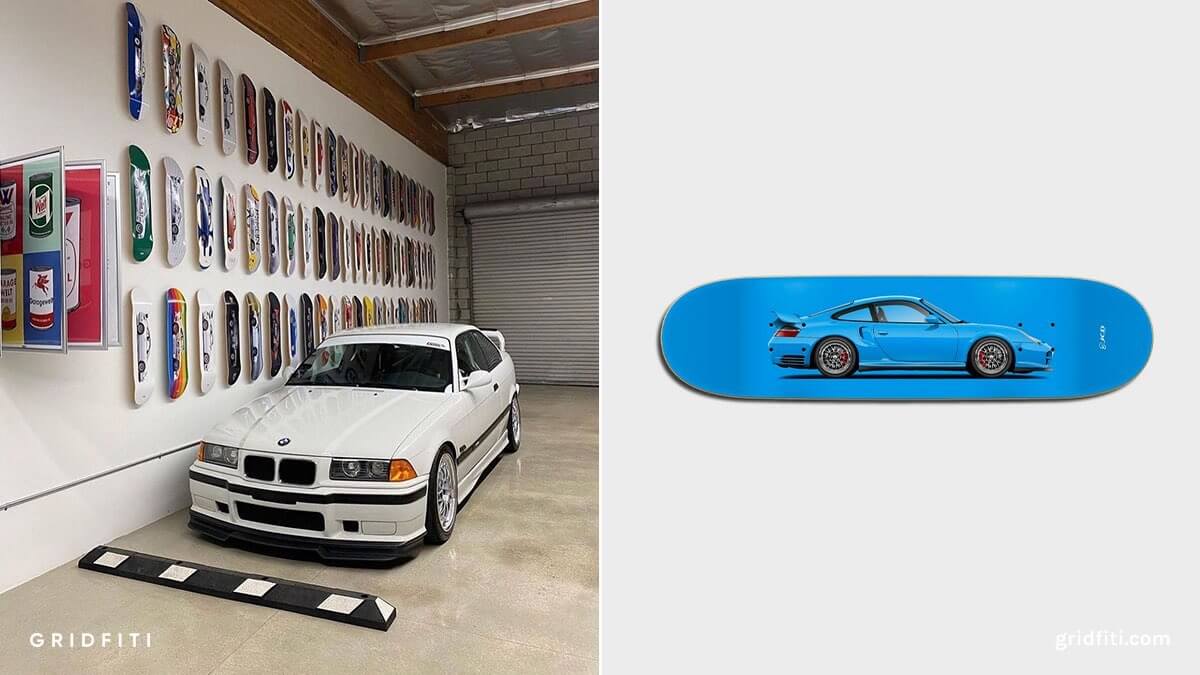 Images by @chlolani and JCDRACING on Etsy
Automotive Neon Wall Art
Several creators have taken it upon themselves to build neon lights in all sizes, colors, and designs – creating perfect fixtures for your garage! With automotive themes emulating the neons of different cities, to racetrack art, and so much more, there are a ton of options for illuminating your garage's walls.
Where to start: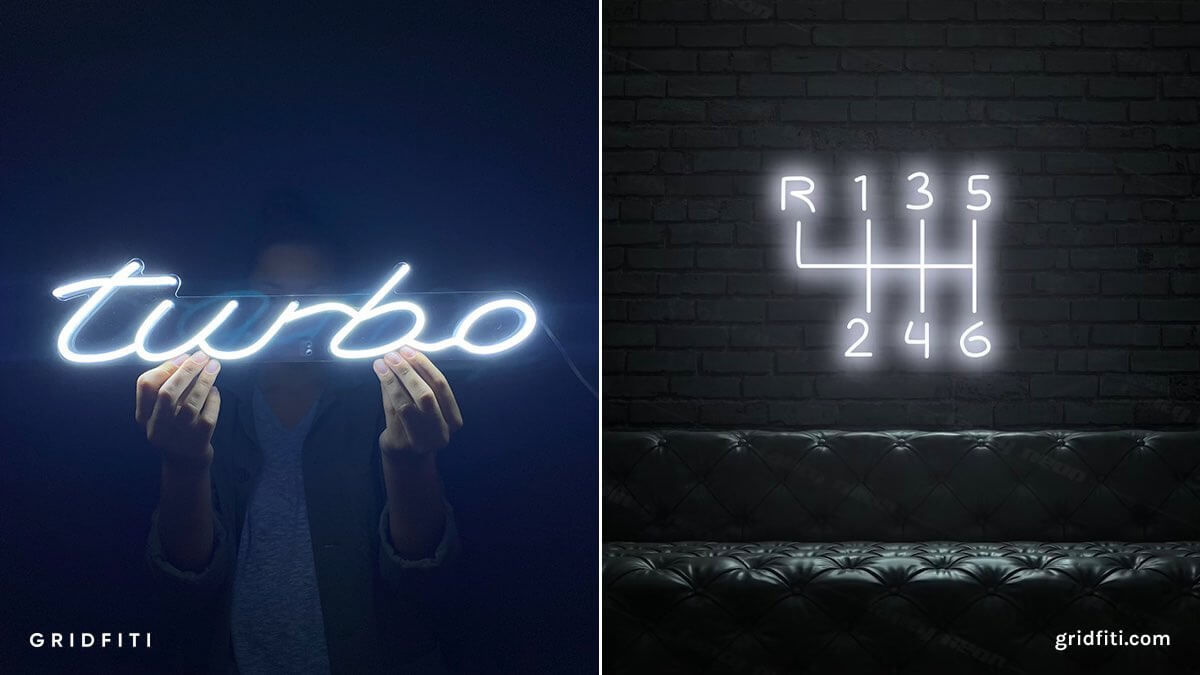 Images by FancyNeon on Etsy
Racetrack Wall Art
The racetracks of the world are crafted from their geographical surroundings, whether it be the hills and forests that mold them, or the city streets that engulf them. Thanks to this, these racetrack layouts and shapes double as beautiful, minimal wall art pieces that can display your love of motorsport!
Where to start: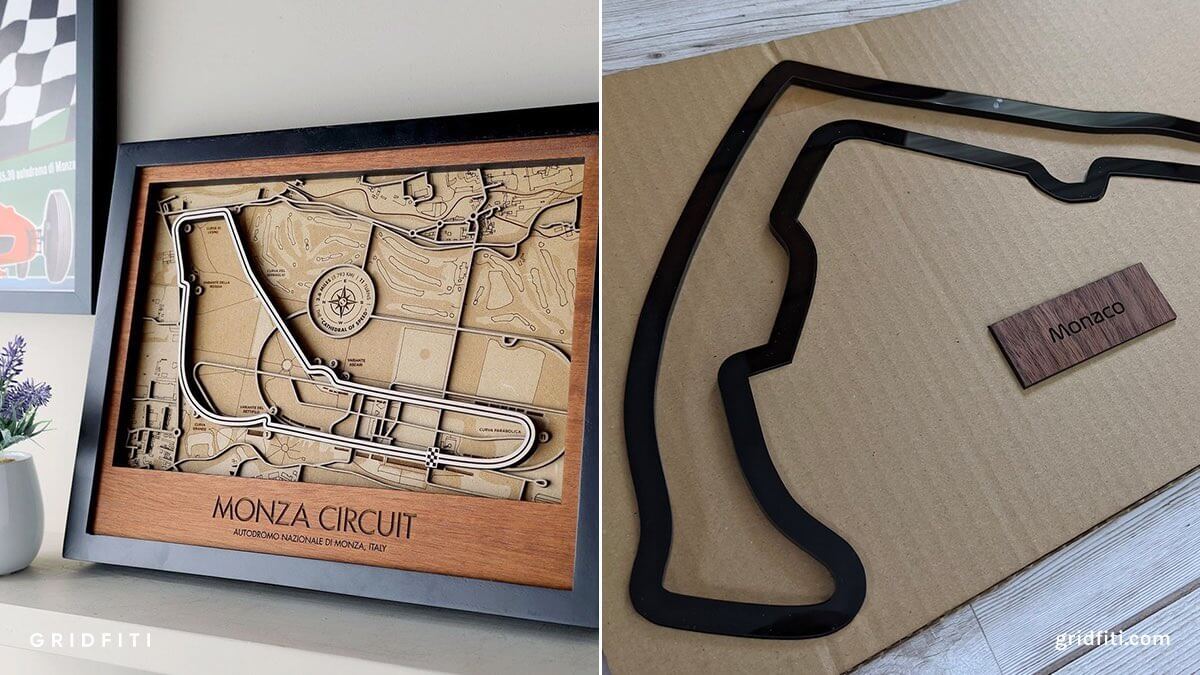 Images by KartaTrek and RoRCrafts on Etsy
3D Racing Helmet Wall Art
From Senna to Lauda, these textured 3D helmet wall art pieces will display your love for the racing greats through the helmets they sported on the track! From the blues of Alonso, to the reds of Schumacher – check out these 3D helmet wall art pieces to outfit your car-themed desk setup or garage.
Where to start: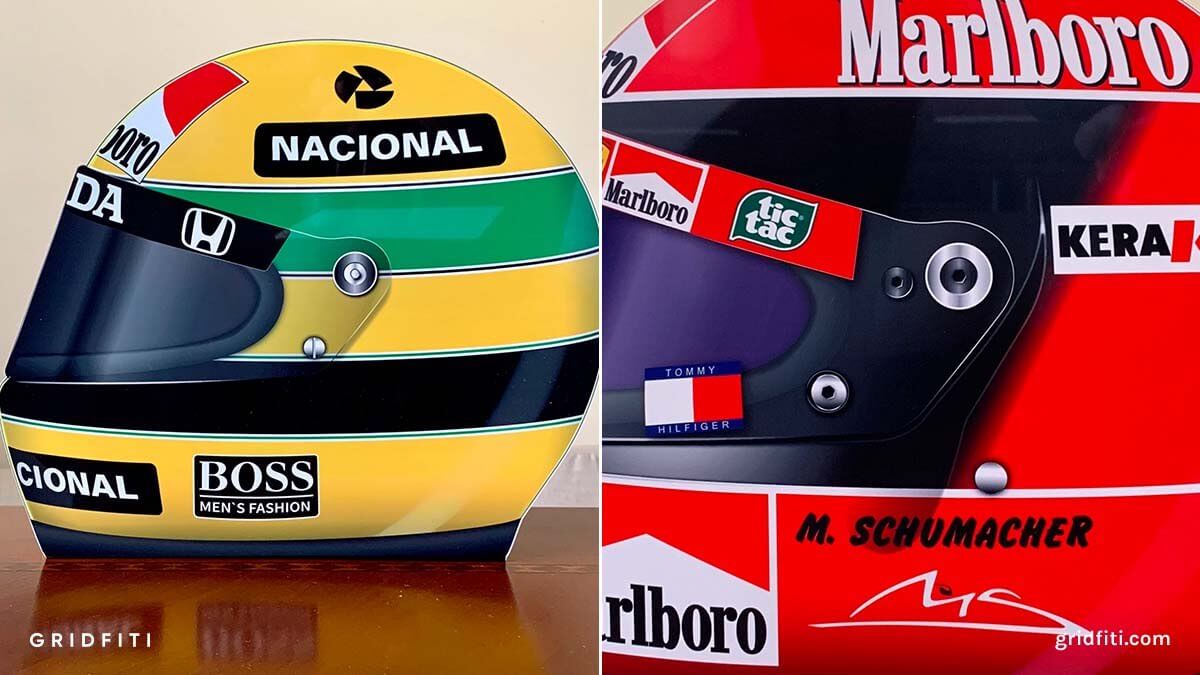 3D F1 Car Body Wall Art
Pair your helmet art with these unique race car body panel pieces! From the noses of vintage and modern F1 cars, to side panels of old GT racers – the colors, typography, and textures these body panels offer are sure to be great pieces for your garage decor.
Where to start: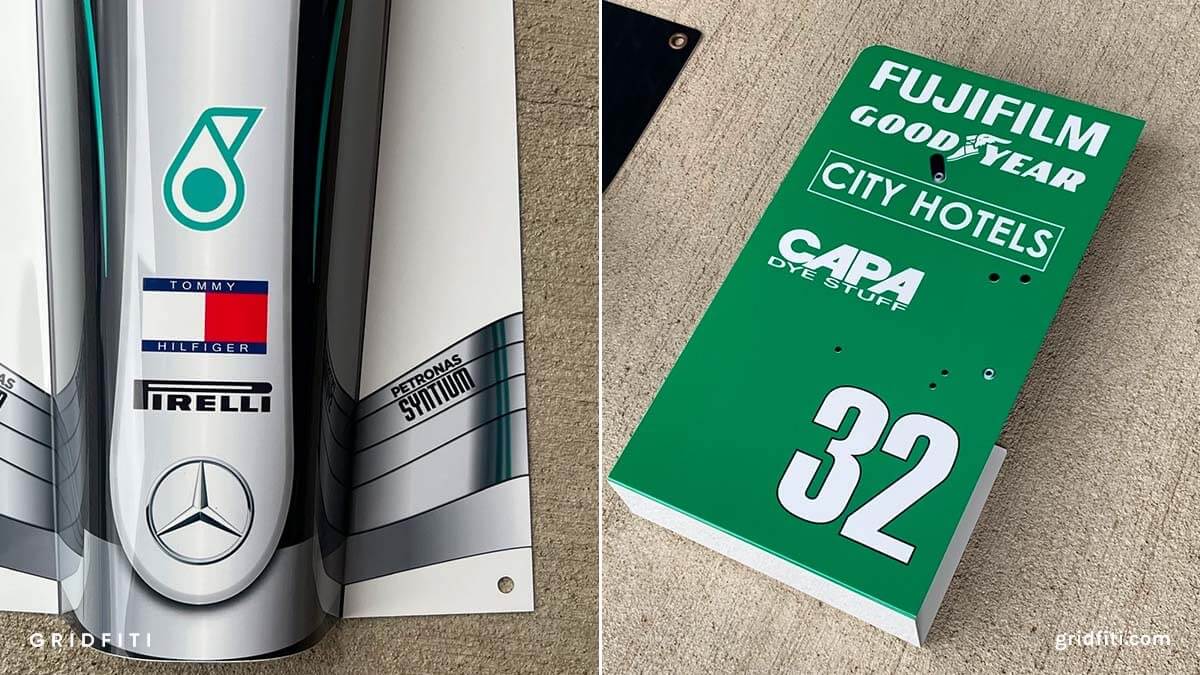 What's your favorite garage decor piece? Are there any other garage decor items we're missing? Let us know in the comments, and show us your car desk setup by tagging us on Instagram @gridfitiauto!
Gridfiti is supported by its audience – when you buy something using the retail links in our posts, we may earn a small commission at no additional cost to you. We only recommend products we would use ourselves and recommend to our friends and family. Read more about our affiliate disclaimer.