Long before you'd see an Instagram story of a BMW, talk to Mercedes on Twitter, or watch an influencer (who couldn't tell you the difference between horsepower and torque) talk to you about a Porsche, car companies doubled down on creating visually aesthetic and compelling print advertising.
Before we all had advertising machines in our pockets in the form of smartphones, Car advertisers needed to grab your attention about their latest models and provide just the right amount (or a huge amount) of information as you're zipping through a magazine or walking by a billboard. On-location photos, hand drawn renditions, beautiful studio film work; all remnants of a bygone era of incredible advertising. Buckle in and check out some of the best vintage car ads.
Want more creative x automotive content? Check out our roundup on iconic automotive brand fonts, and join our mailing list to get the latest car content straight to your inbox 📮
Nobody's Perfect Retro Porsche Ad
Porsche was a dominant force in the 80s for the 24 Hours of Le Mans Endurance races. One US dealer took it upon themselves to pull a humble brag and display all of the top positions that Porsche held for the 1983 Le Mans results. All the positions are taken by a Porsche with the odd one out being Sauber/BMW at 9th place. Talk about a STATEMENT from a superbly simple ad (and some sarcastic fine print).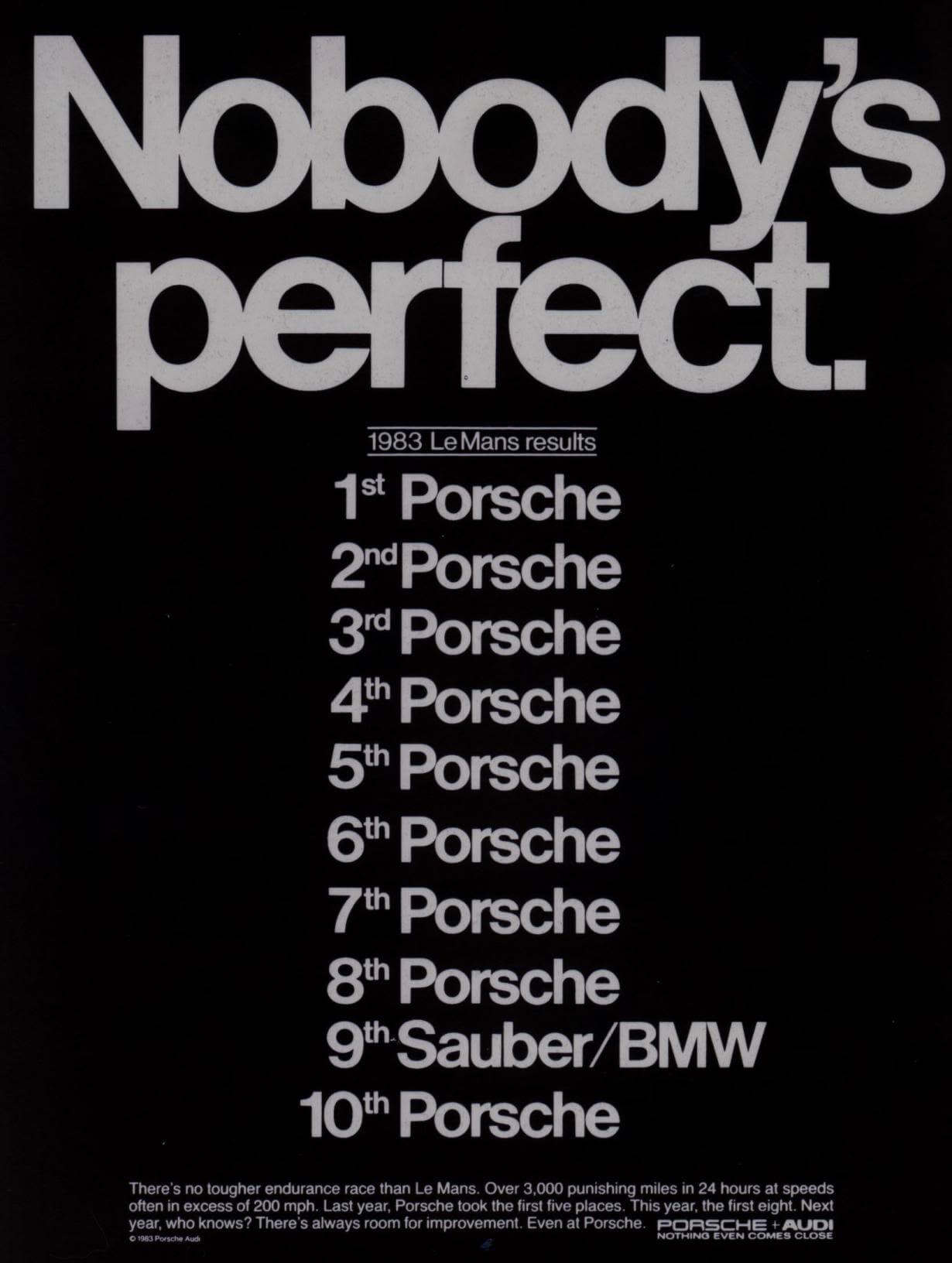 Porsche Dreaming Vintage Car Ad
If we were talking in modern day terms, there's nothing wrong with sporting a Nissan R34 GT-R or a Mitsubishi EVO. We're talking about the 80s here, where the Porsche 964 owned the sports car landscape. We love the outward confidence that this vintage car ad goes with – just a basic, bold statement on a white backdrop and a front 3/4 view of the iconic Porsche.
If you're looking to get some vintage Porsche wall art ideas for your home, check out our round up post on Porsche decor accessories!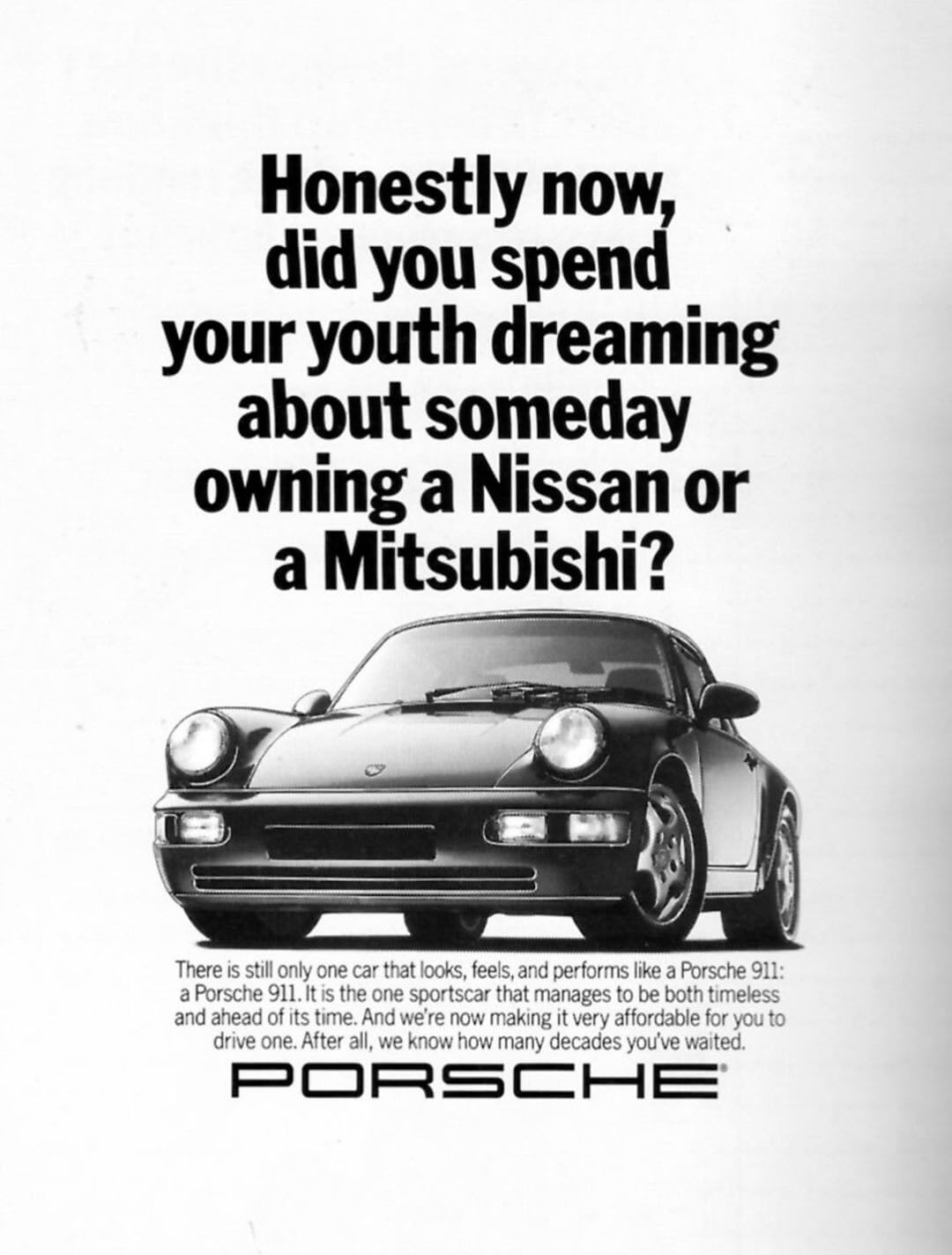 Ferry Porsche's Perfect Automotive Ad
Ferdinand Porsche founded the Porsche car company in 1931. He was revered as a top German engineer and innovator, essentially birthing the supercar as we know it with the first Porsche 911. What better way to showcase automotive passion in a car ad than to take an excerpt from the Porsche man himself and apply it to 'the perfect car'.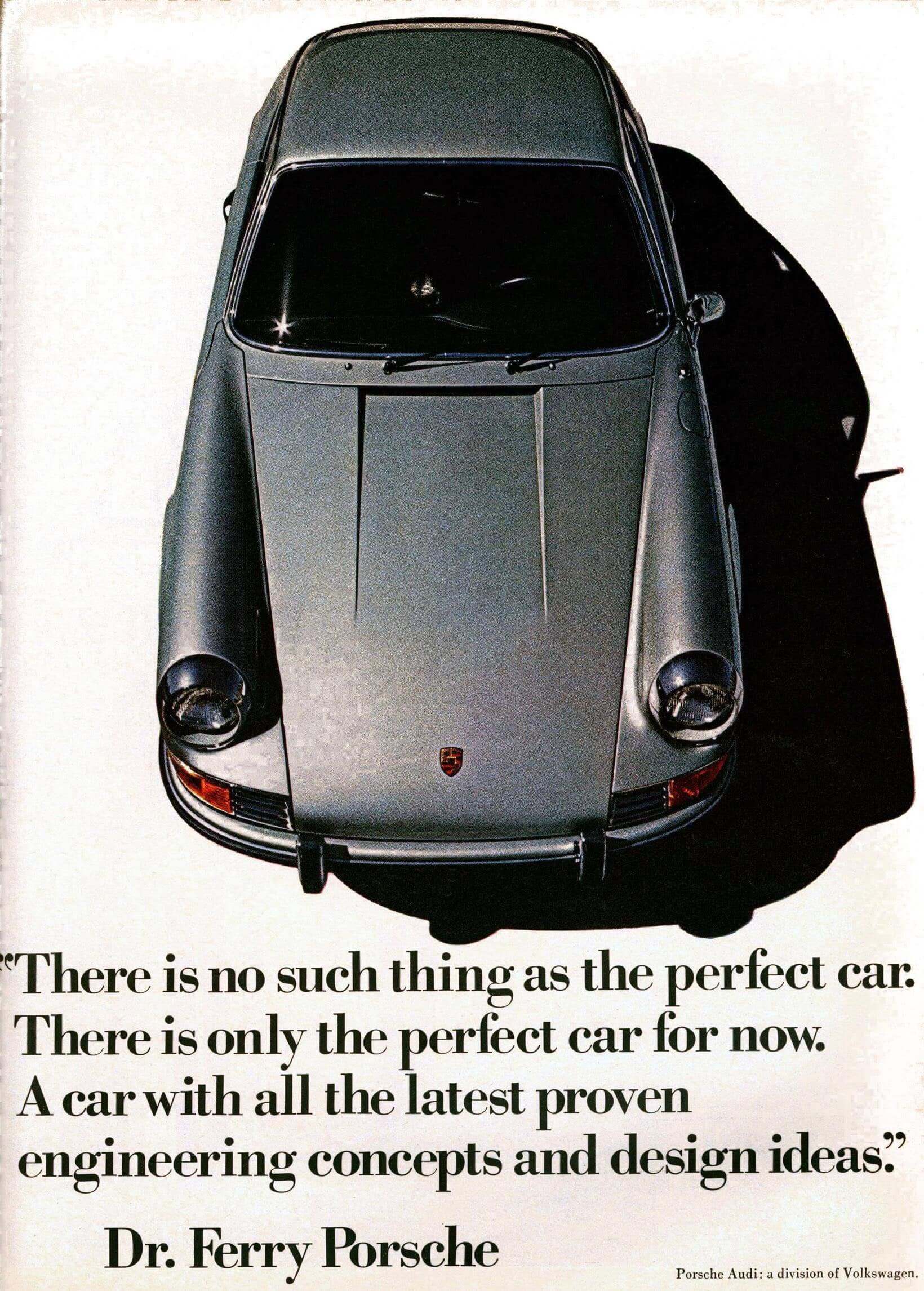 Volkswagen Lemon Vintage Car Ad
Famously known as 'the ad that changed advertising'. The famous Volkswagen Beetle was a commercial success in Europe, but the task of bringing it over to America was challenged with advertising it properly. The usual car ads of the time would include a ginormous American car parked on a beach and family full of happy faces standing around the car accompanied with text on text on text.
The appointed agency, DDB, employed a sans serif Futura font (sans serif was sacrilege in car ads of the day). They would use jokey statements that depended on the intelligence of the reader to put together – such as "lemon" and "think small". The small VW budget only allowed the ads to be in black and white but that created an everlasting timeless look to the ad. This style of ad has gone on to become synonymous with Volkswagen's brand even to this day.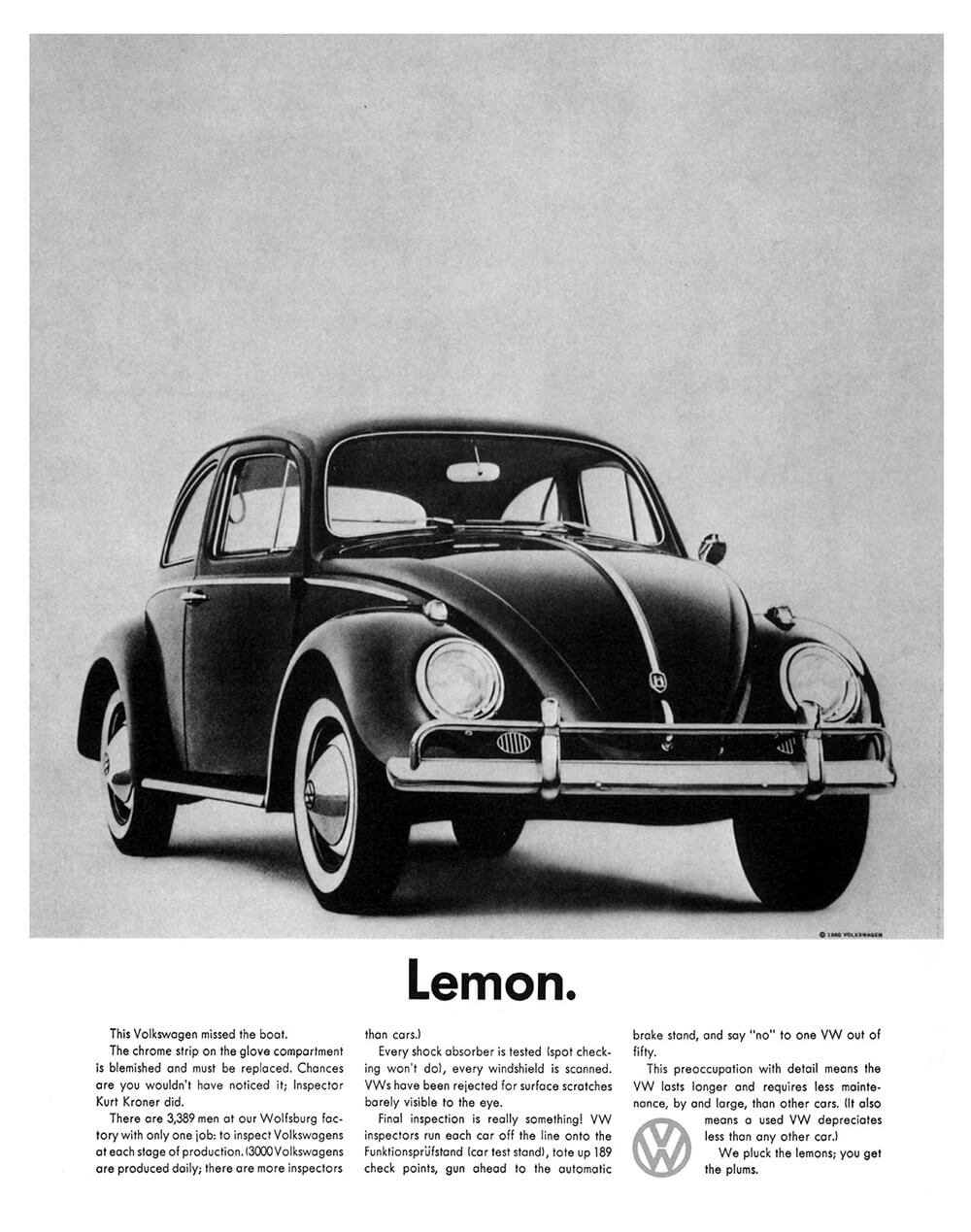 BMW E30 M3 – Refined for the Streets Retro Car Ad
You may recognize the iconic BMW E30 M3 adorning the cover of Frank Ocean's Nostalgia Ultra, or in the catalogue of Kith's latest BMW collab. The E30 M3 comes from a rich heritage of Group A racing, featuring an energetic punchy little 2.3L inline 4 engine. Unlike most BMW sports cars today which are made for the road and then integrated into racing, the E30 M3 was built for racing and then slowly turned into a road car variant. The header text in this vintage ad translates to "Refined for the Street". Just perfectly complimenting a car whose genesis was on the race track.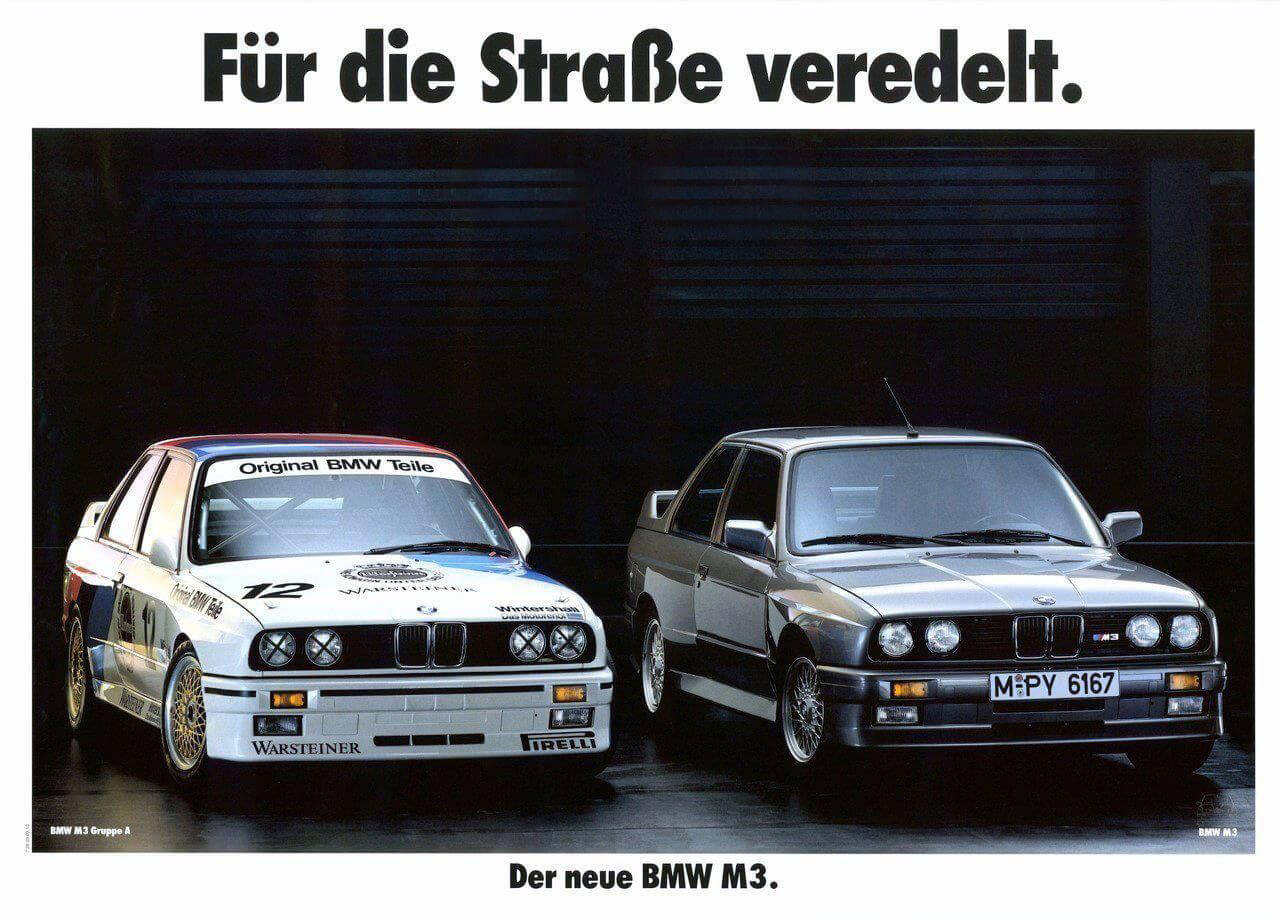 The McLaren F1's Mighty BMW Engine Car Ad
The McLaren F1 is one of the greatest cars of all time – there's no denying this! The entire carbon fiber body, center seat position and holding the Fastest Production Car title for a long 12 years… all being powered by a beastly naturally aspirated BMW V12 engine producing 618 horsepower. So you could imagine that BMW, being the engine supplier of this legendary car, had to capitalize. Upon the release of their new E36 M3 in 1993, what better way to showcase their engine innovation than to put it up against a horsepower/litre comparison to the mighty McLaren F1?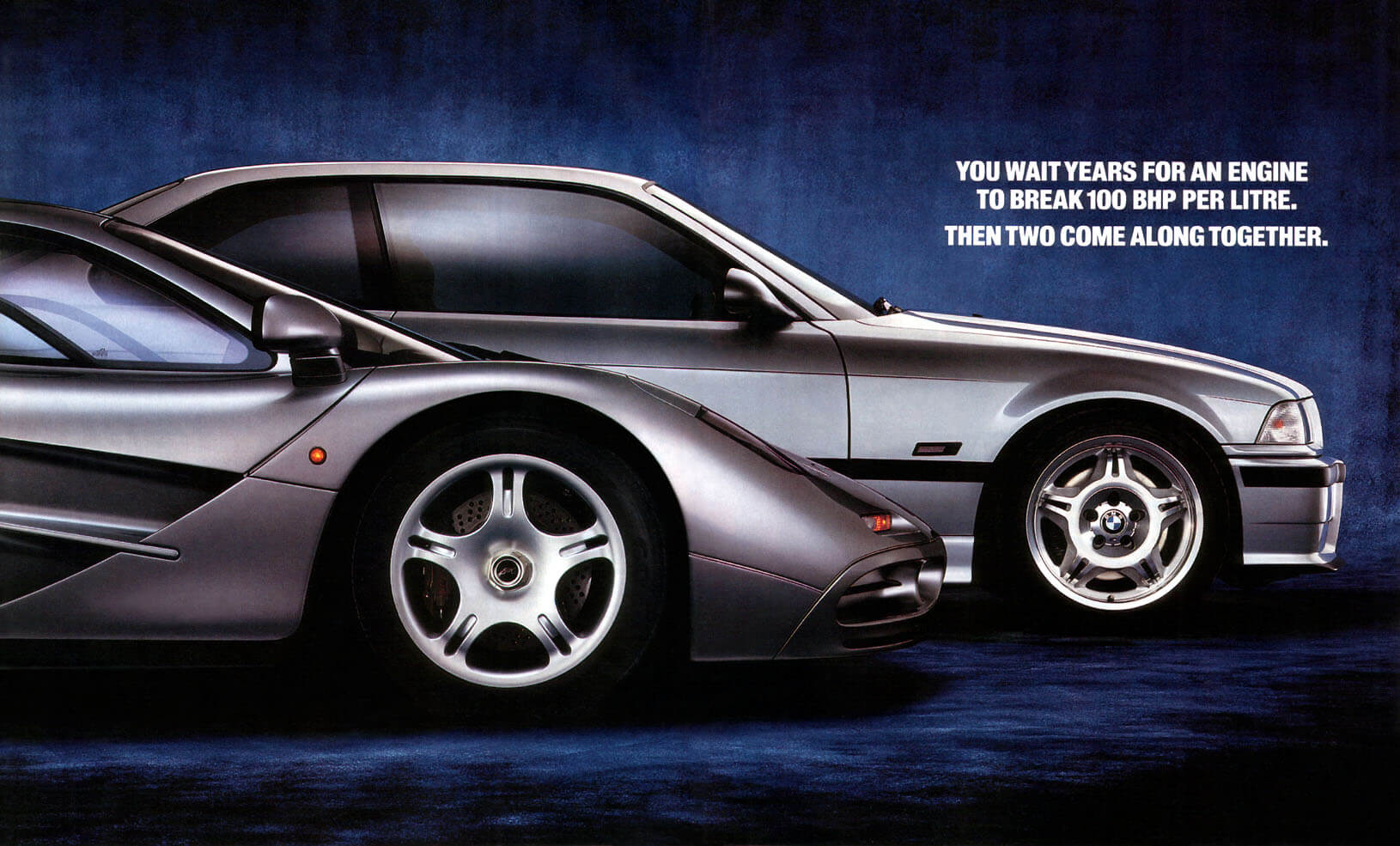 Pirelli's Lamborghini Countach Flight Retro Car Ad
These next few ads from Pirelli are honorable mentions that had to be included on the list. Pirelli commissioned the promotion of their tires in the 80s by partnerships with sports car manufacturers.
When you think of a super car that screams the 80s, what else other than the one postered in every boy's bedroom at the time – the legendary Lamborghini Countach. Responsible for the wedge Lamborghini shape which has been adapted in the Diablo, Murcielago, Gallardo, Aventador and Huracan. Resembling something that would be better suited in aerospace, the text reading "certain flights of fantasy are performed exclusively on Pirelli" could not be a more fitting compliment for the super car.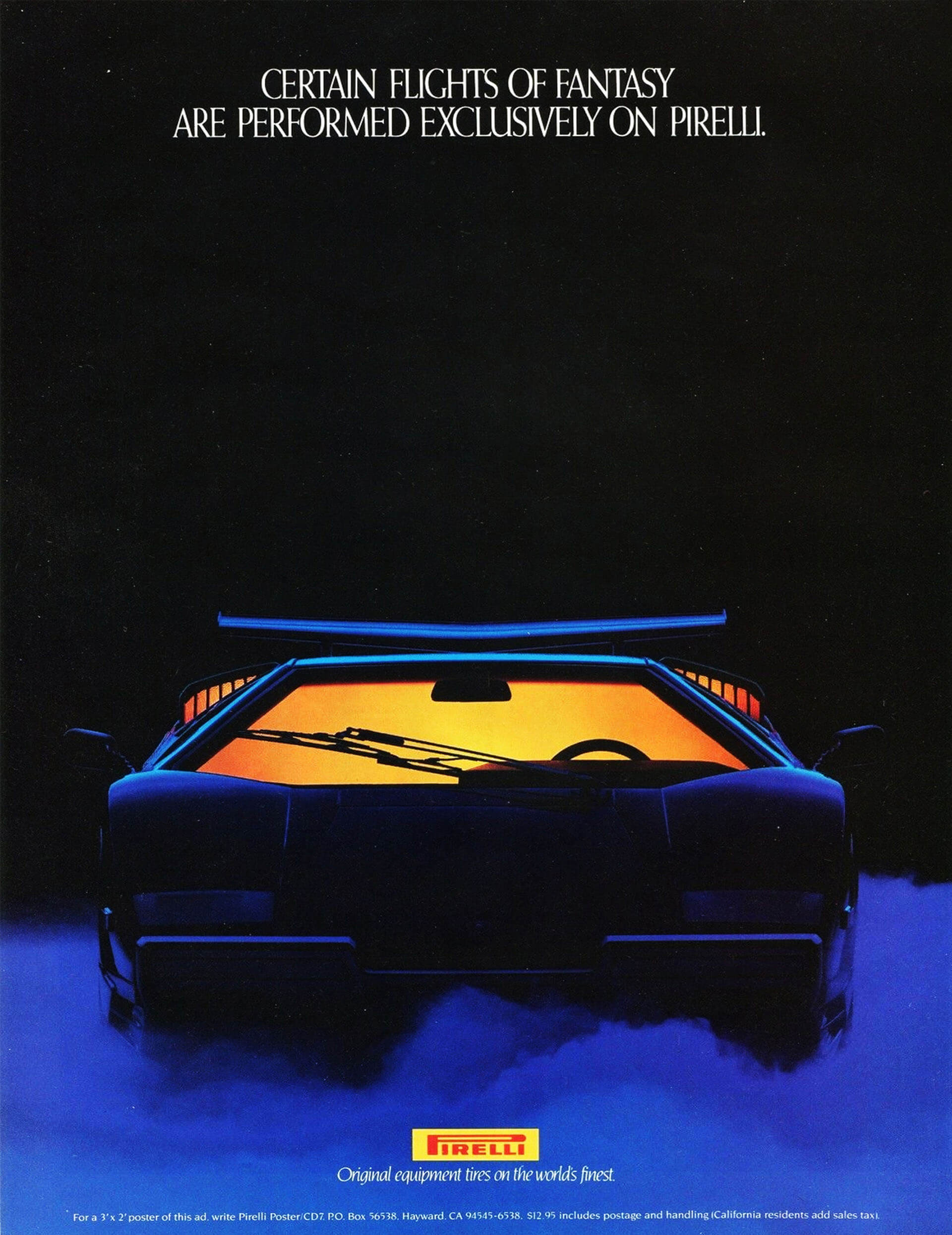 Pirelli Performing Arts F40 Automotive Ad
If the Lamborghini Countach wasn't postered on every boy's bedroom wall, then it was most definitely the Ferrari F40. A car responsible for a rich lineage of halo cars giving birth to the likes of the F50, Enzo and Laferrari. A true work of art, so it made sense for Pirelli to emphasize the car as a "performing" piece of art in this vintage car ad.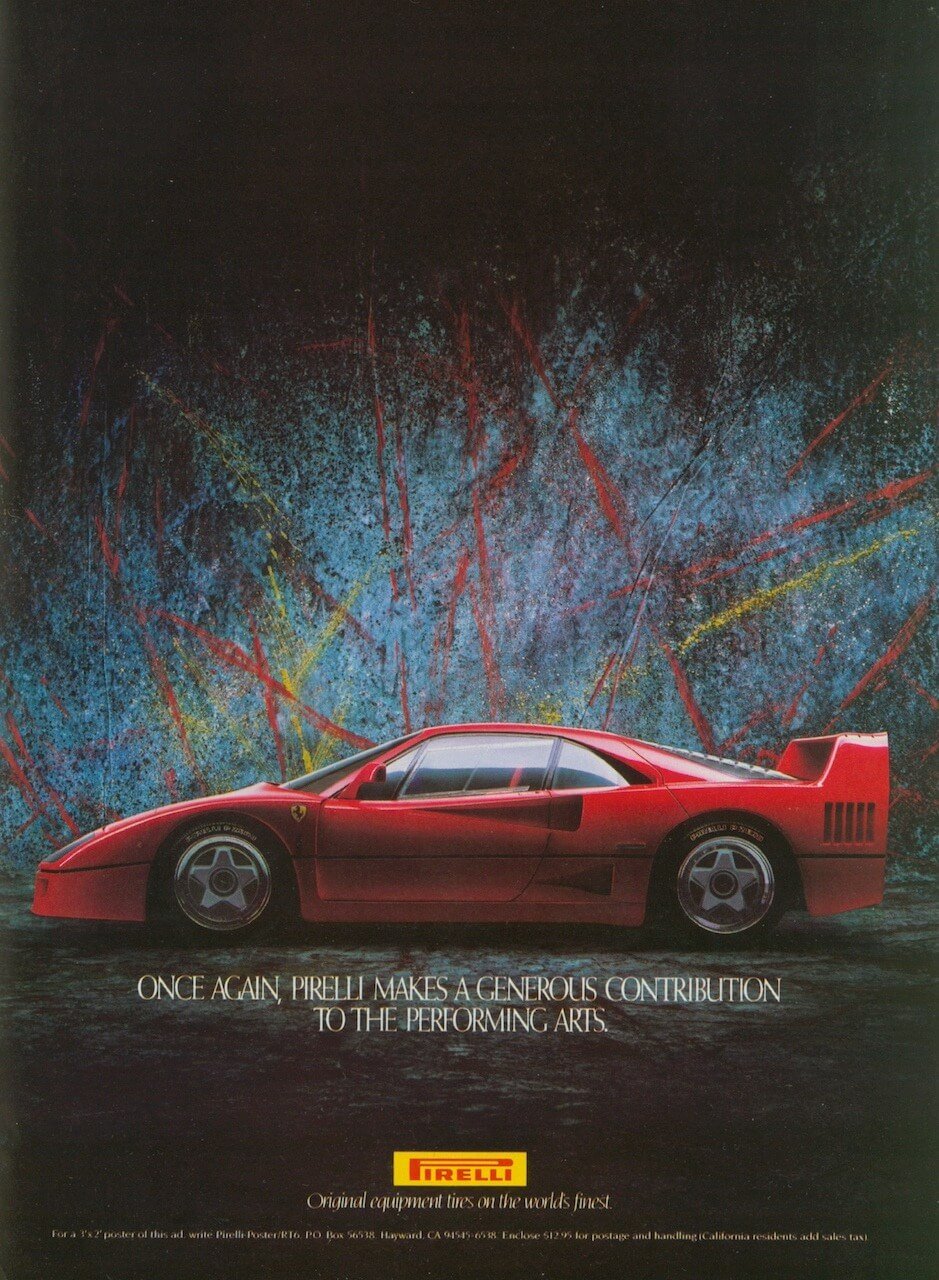 BMW x Pirelli Retro Car Ad
Last but not least of the Pirelli vintage car ads would have to be this super cool BMW E12 M5 that just screams the retro aesthetic. Seemingly a graphic rendition, the ad features a floating M5 pointing to the fact that its perfectly engineered inline 6 engine can make it fly – it'll be the Pirelli tires that keep it stuck to the ground. Another fine ad by the folks over at Pirelli in the 80s.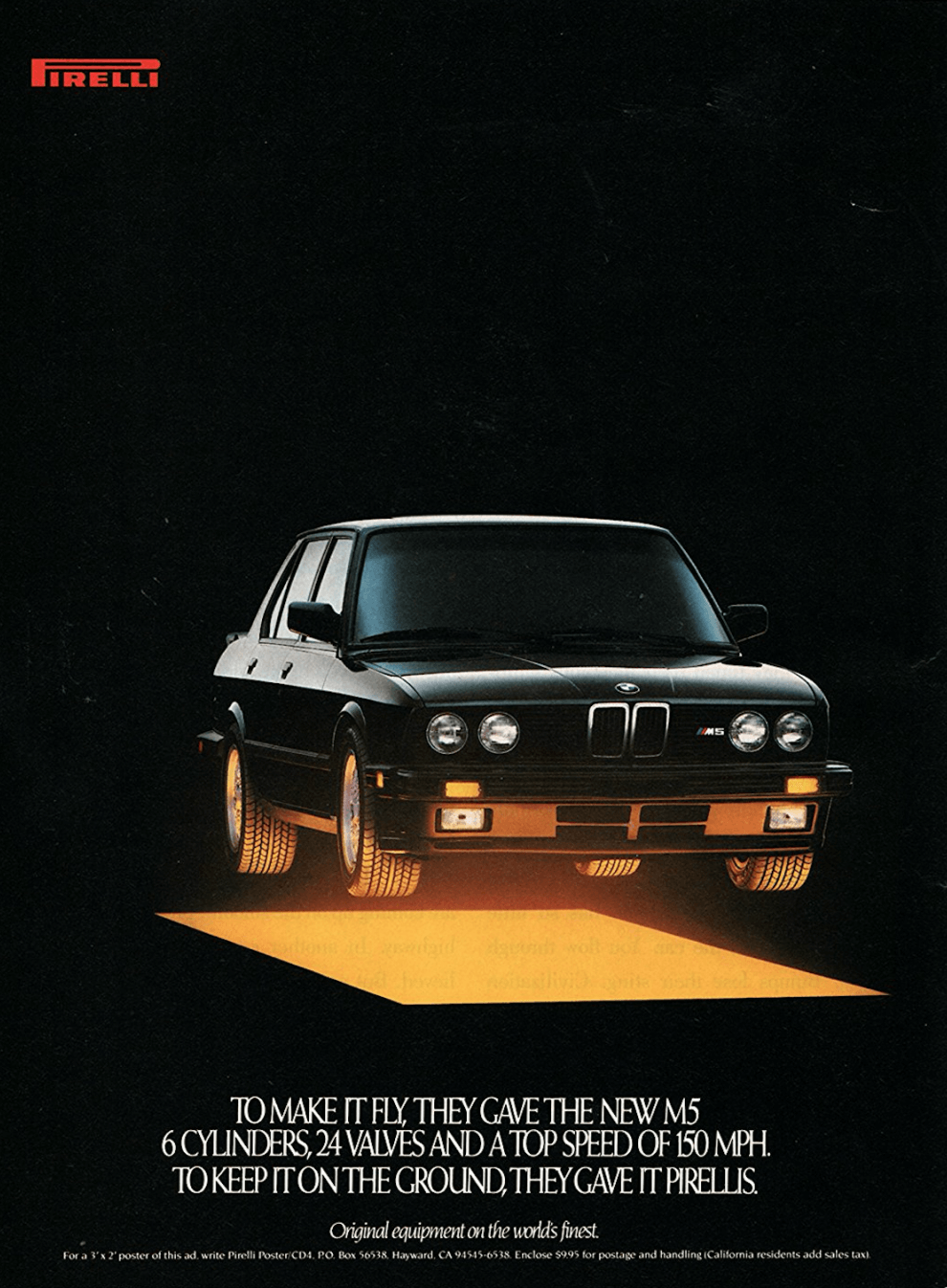 Audi Quattro Vintage Car Ad
If the BMW E30 M3 dominated the racetracks of touring races in the 80s, then the Audi Quattro most definitely dominated the rally circuit. Today, all Audis feature the famous Quattro all wheel drive system but it all started with their origins in rally racing with the original Quattro racer. Innovating an all wheel drive system that would earn Audi 8 World Rallies throughout the 80s, the technology started to find its way to the consumer cars, with the 4000S Quattro being one of them. A car ad as simple as contrasting the 4000S up against its Quattro racer counterpart was enough to get the message across of Audi's dominance in all wheel drive performance for the road.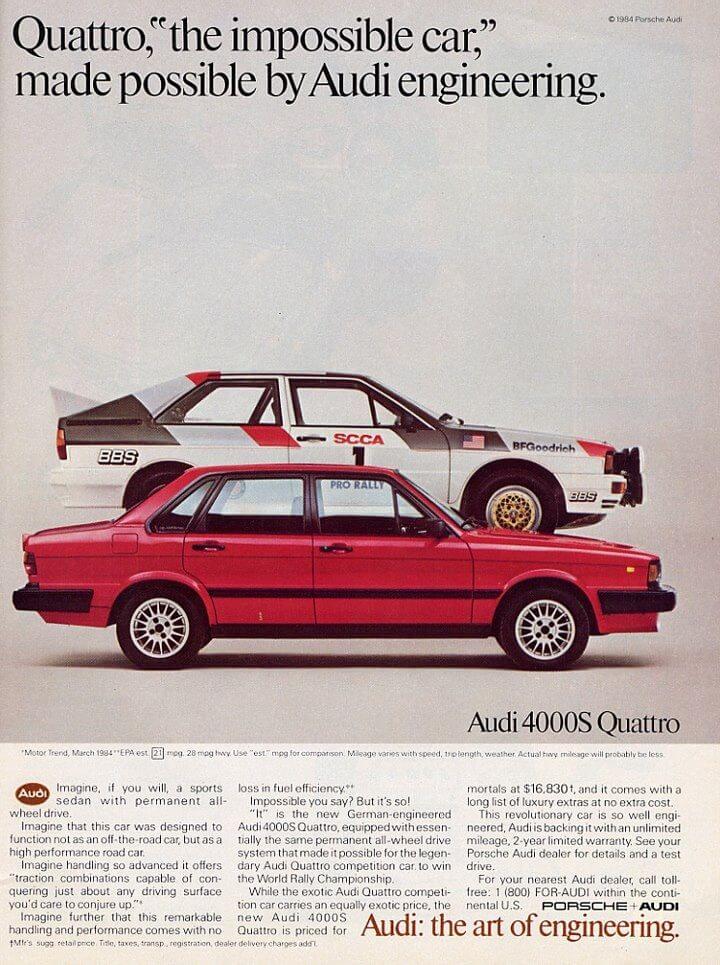 Which one of these vintage car ads were your favorite? Any legendary print pieces that should be on the list? Let us know in the comments below, and make sure to follow our Instagram and Pinterest to keep up with more automotive content.