One of the most renowned vloggers on YouTube, David Dobrik brings his hilarious, quirky, prank-ridden vlogs to us through capturing his daily life. Whether it's goofing around with his famed Vlog Squad, doing the wildest of science experiments, or giving back to his community and followers in need, David has a way with how he captures his life.
One thing we can appreciate is his simplistic approach in his vlogs. We've seen the fancy vlog setups and high production approaches out there, but when it comes to David, he employs simple capturing methods with cameras and equipment that are accessible to everyone!
The main priority of his vlogs is to capture the moment, no matter how raw, how messy, how hilarious, or how heartfelt it can be. Check out our guide for David Dobrik's vlogging camera and gear!
Want more gear guides for your favorite creators? Join our mailing list 📮
What Camera Does David Dobrik Use?
David Dobrik's vlogging camera is the Canon EOS 80D DSLR.
If you were to ask any modern vlogger what camera they use, they'd jump right to a Sony A7S III like Casey Neistat, or a Canon M50 like Emma Chamberlain. David has remained loyal to his old 80D which sports a swivel screen, 24.2MP sensor, and a 45-point autofocus system. His content lends itself to capturing the moment as raw as possible, and we can't help but love that he captures his vlogs on such a simple camera.
We're sure that after years of using this camera, it's become an extension of his own body to the point that he's familiar with exactly where the every button is and how it works!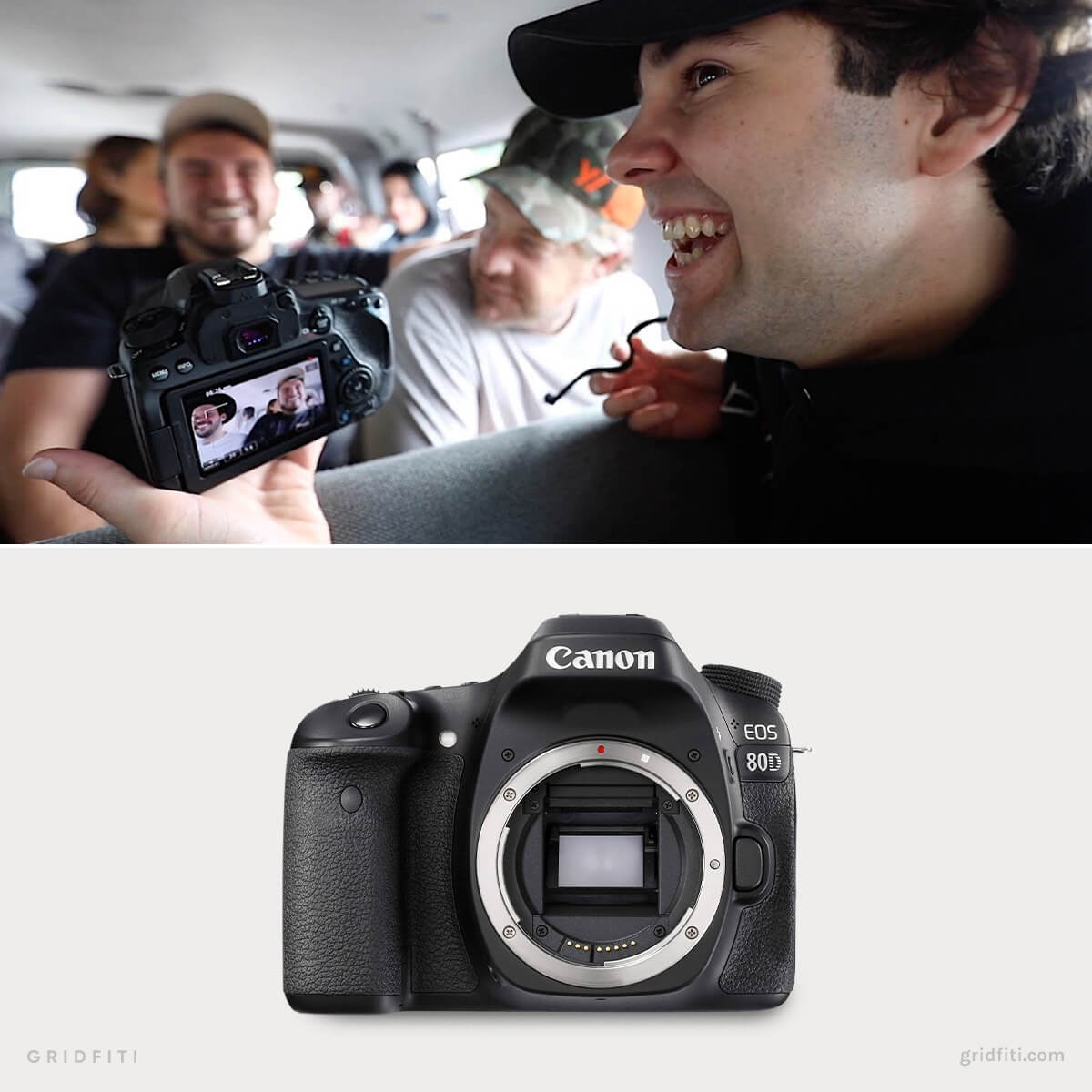 David Dobrik's Vlogging Lenses
Kit Lens – Canon 18-55mm
If you thought the Canon 80D was a simple setup, David rocks the kit lens that comes with it as well! The Canon EF-S 18-55mm f/3.5-5.6 IS II lens comes in the box for all of Canon's crop sensor cameras, and is also one of David's go-to lenses for his vlogs.
It's a kit lens due to its versatility, and it does the job in capturing his run-and-gun life. The wide 18mm focal length and the portable build of the lens is perfect for David to easily carry around his setup, whether it be around LA, in his Tesla, or in and around his house.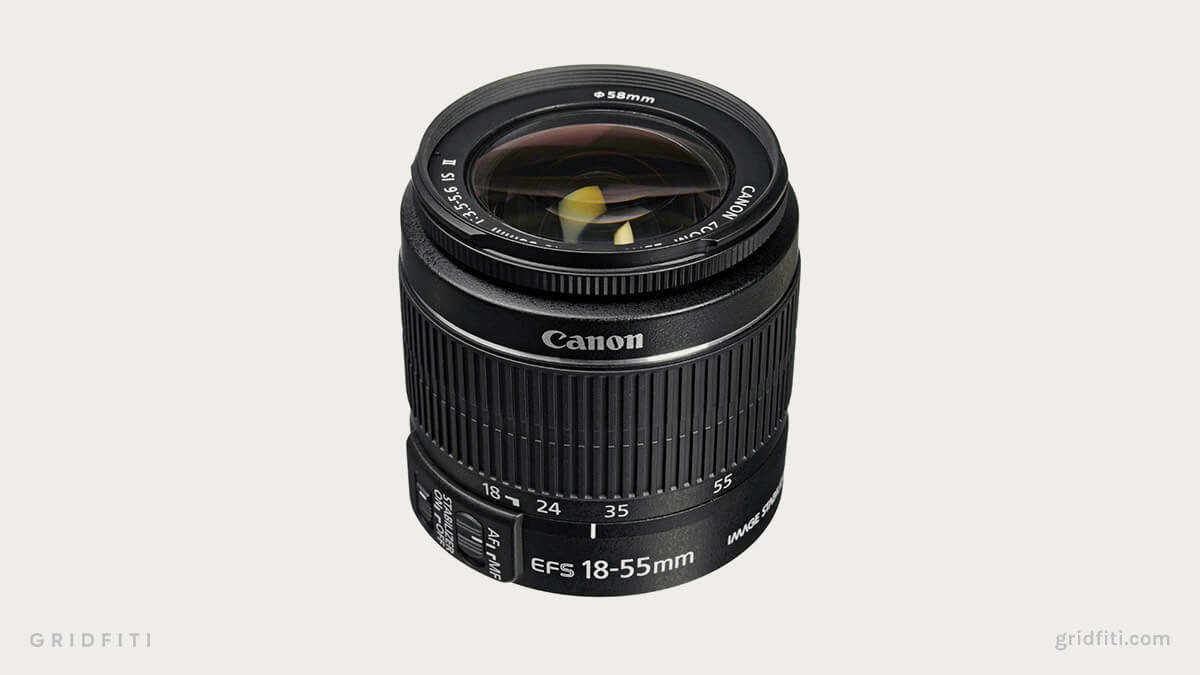 All Purpose Lens – Canon 18-135
Probably the more prominently used lens, David's Canon EF-S 18-135mm f/3.5-5.6 IS lens allows for that same simple capture that the 18-55mm does, but with some extended reach allowing David to zoom in to 135mm. This lens gets you an extra 80mm of focal length, and features image stabilization which helps David capture smooth video for those dynamic bits and montages.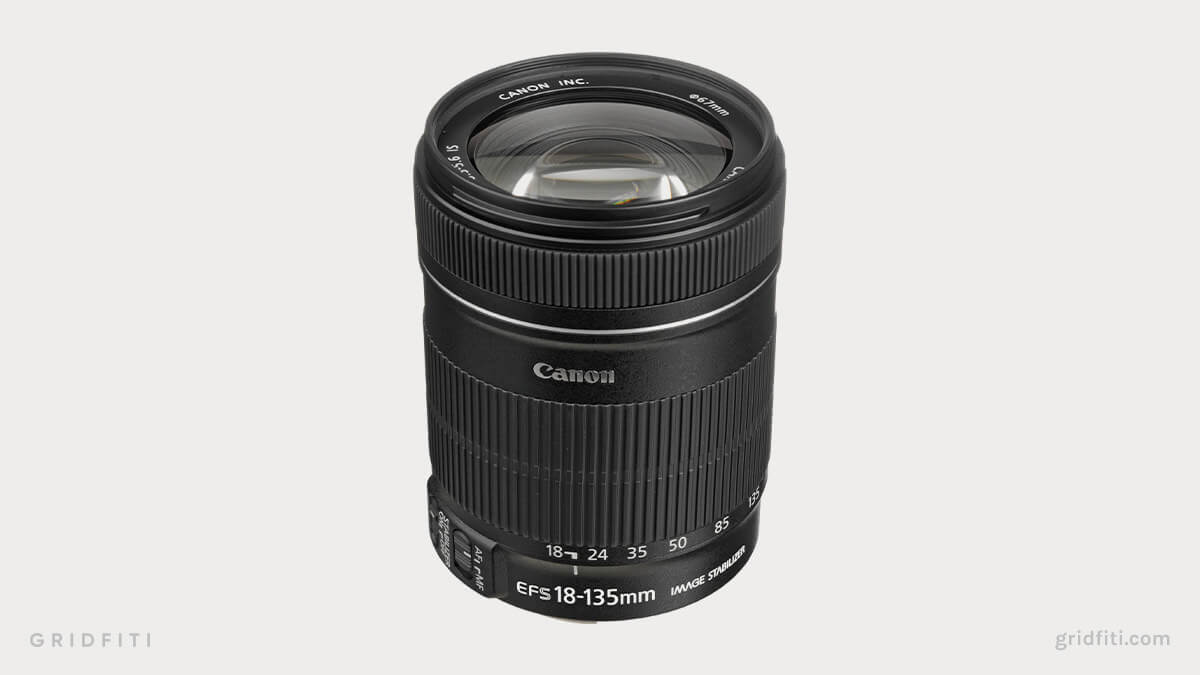 David Dobrik's Disposable Camera – Fujifilm QuickSnap Flash 400
Plain and simple, the Fujifilm QuickSnap disposable camera captures life in its essence – and that's exactly what David uses it for! With this very camera, David's captures everything from his everyday adventures with friends, to celebrity encounters with the likes of Beyoncé, Leonardo DiCaprio, Howie Mandel, and many more.
This disposable has 27 exposures of 400-speed Superia X-TRA film and a 10ft built-in flash, and is ready for any candid snap both indoors and outdoors. It's no wonder this camera is David's go-to disposable, even leading to the creation of the Dispo app.
Get the Fujifilm QuickSnap Disposable Camera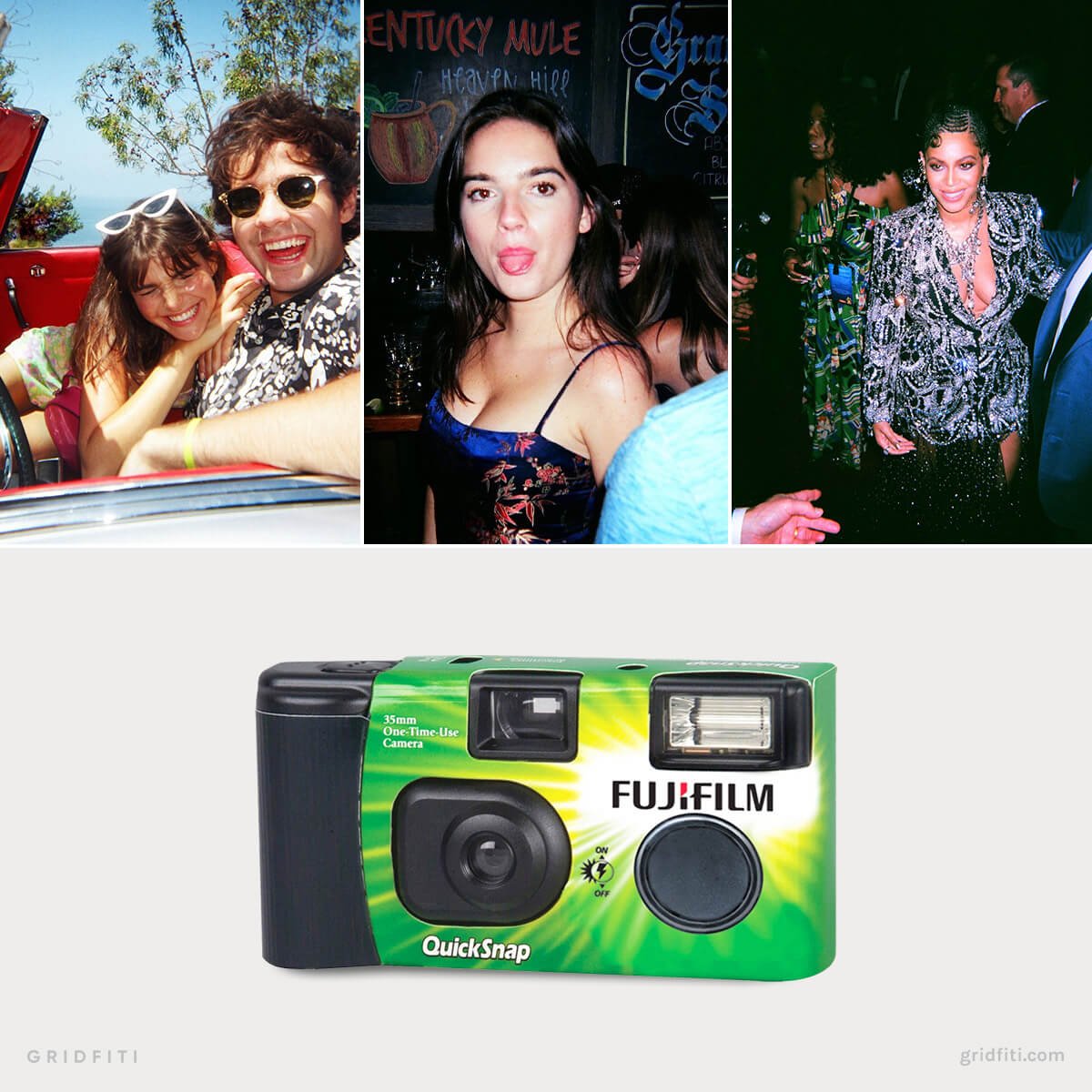 Images by @davidsdisposable
Notice any updates to David Dobrik's camera gear? Any other vlog equipment that he's added to his vlog setup? Let us know in the comments below!
Gridfiti is supported by its audience – when you buy something using the retail links in our posts, we may earn a small commission at no additional cost to you. We only recommend products we would use ourselves and recommend to our friends and family. Read more about our affiliate disclaimer.