Whether you're finishing your home office, or looking for living room art ideas – complete your space and give it that extra punch with some standout skateboard wall art decor! Skateboard wall art adds a unique touch to any room, and the canvas of the deck gives so much room to express yourself.
Ranging from retro colorful decks, all the way to simple aesthetic quotes, we've curated the best skateboard wall art themes for you to choose from!
Tip: The easiest way to mount these decks is with a skateboard wall mount kit.
Want more aesthetic wall art decor ideas & inspiration? Join our mailing list 📮
Campbell's Soup Pop Art Skateboard Wall Art
Deck out your room (literally) with these Warhol-inspired retro colored Campbell's soup can skateboard decks. Choose from retro or pastel colorful designs, or a minimalist look.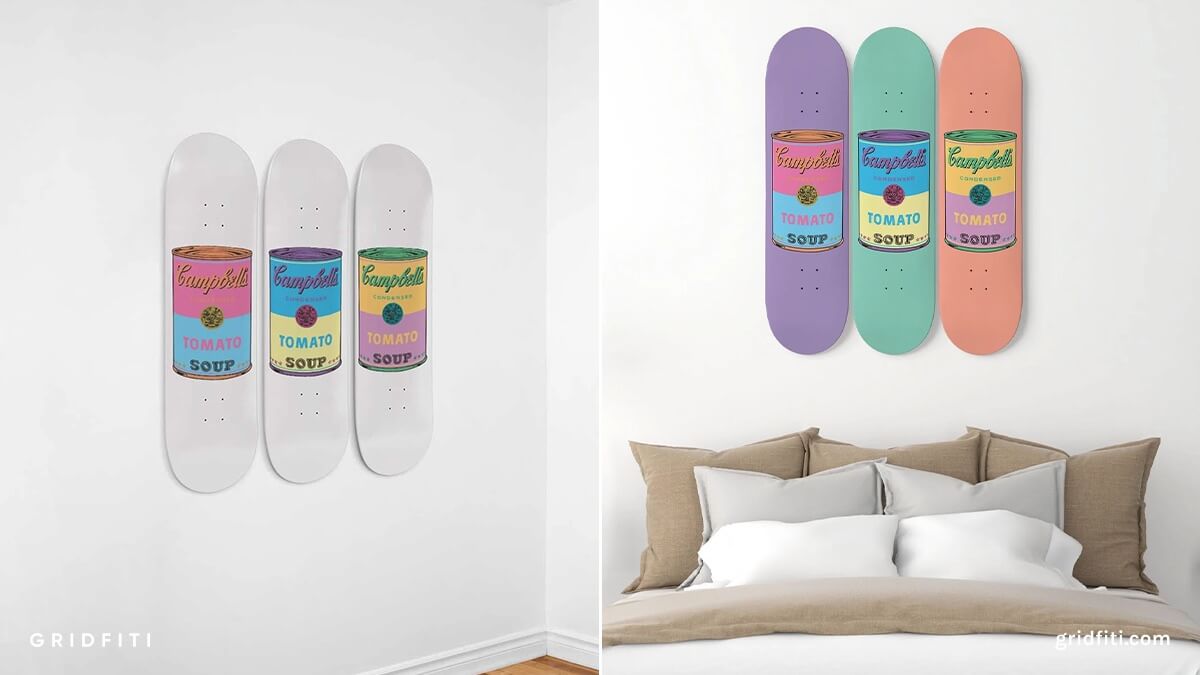 Images by skateboardartsy on Etsy
Takashi Murakami – Flower Skateboard Decor
Bring some of Murakami's world-renowned designs to your room with a few of his most popular creations in the form of skateboard wall art decor!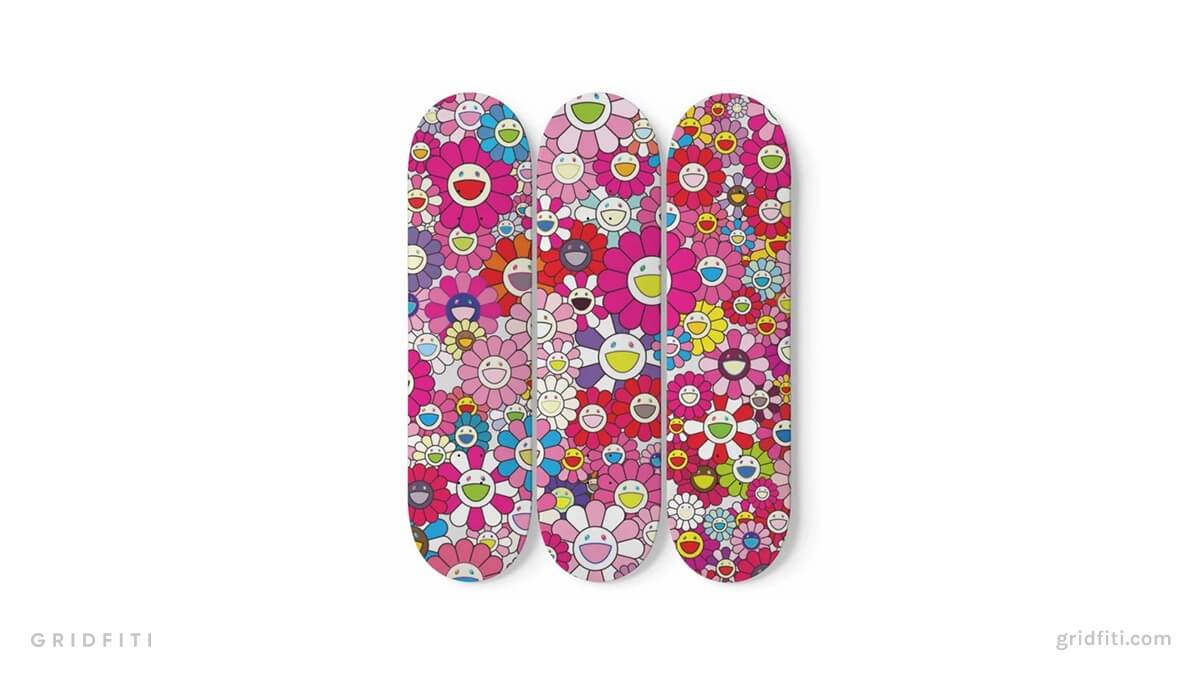 Images by skateboardartsy on Etsy
Anime Skateboard Wall Decor
If you're an anime lover, then this is the decor piece your setup's been craving. Pick from classic anime-inspired designs like Dragon Ball Z and Sailor Moon, to more subdued and introspective visuals.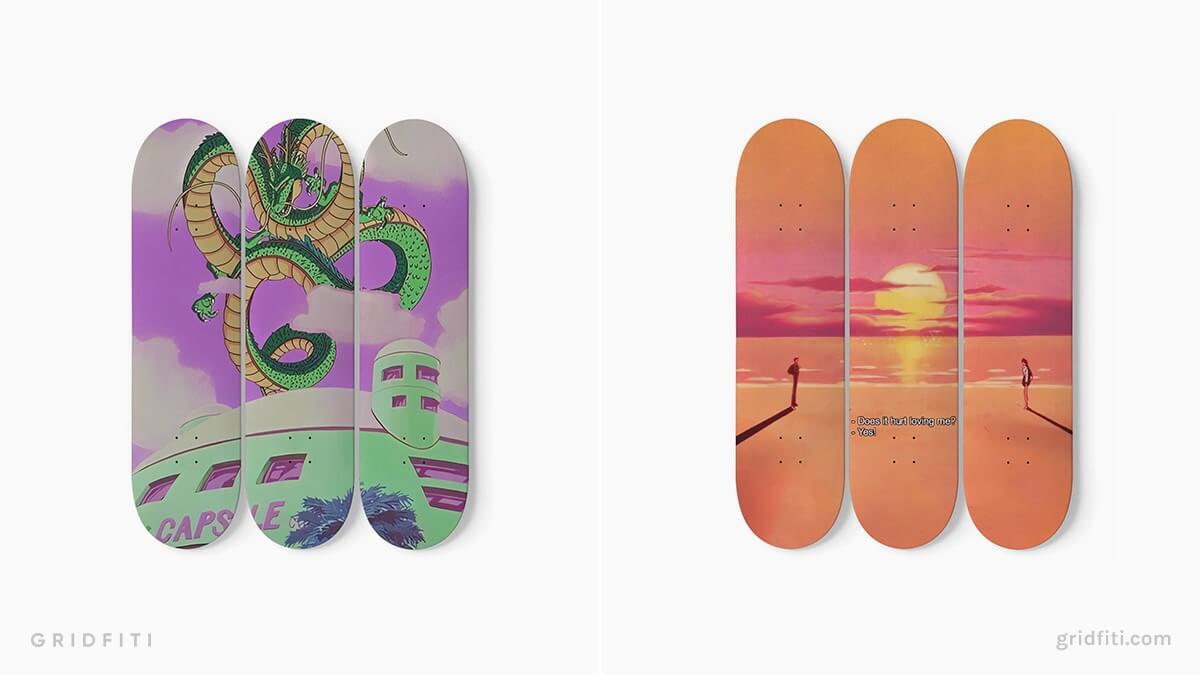 Images by CapsuleCloset on Etsy
Iridescent & Holographic Skateboard Wall Decor
Who doesn't love the iridescent look? Elevate any living space with these holographic skateboard decks on your walls.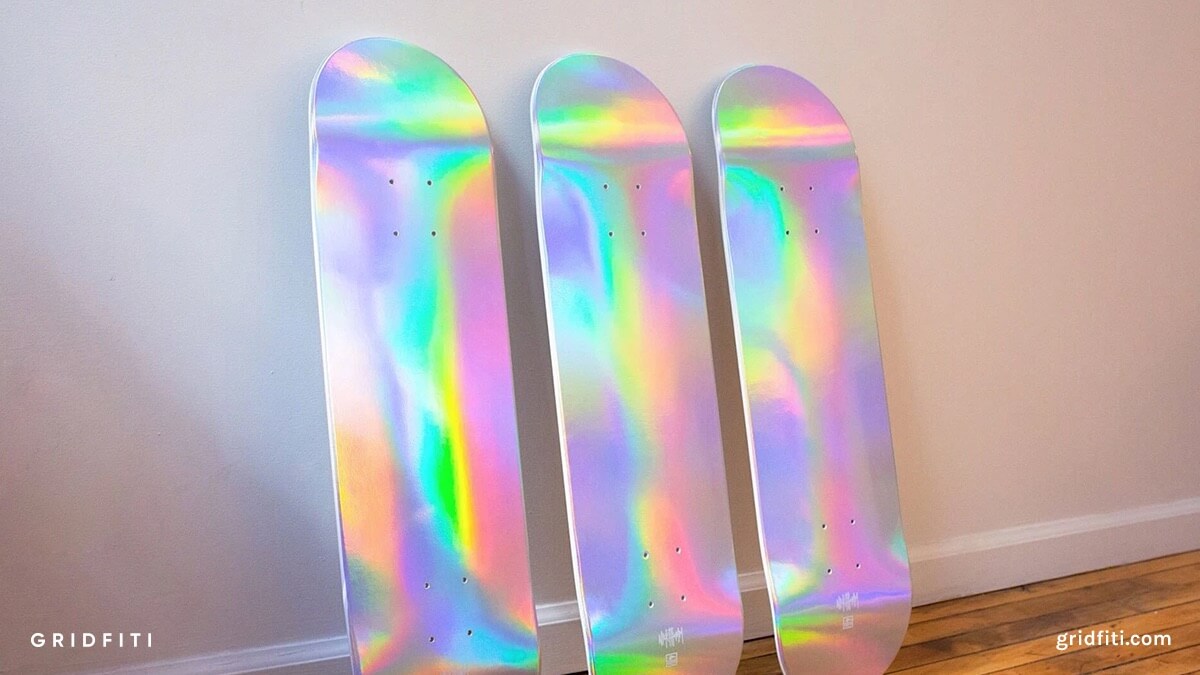 Image by Nick Thomm
Vaporwave Skateboard Wall Art
If you love all things vaporwave, one of these skateboard wall art deck sets will complete your room's vaporwave palette.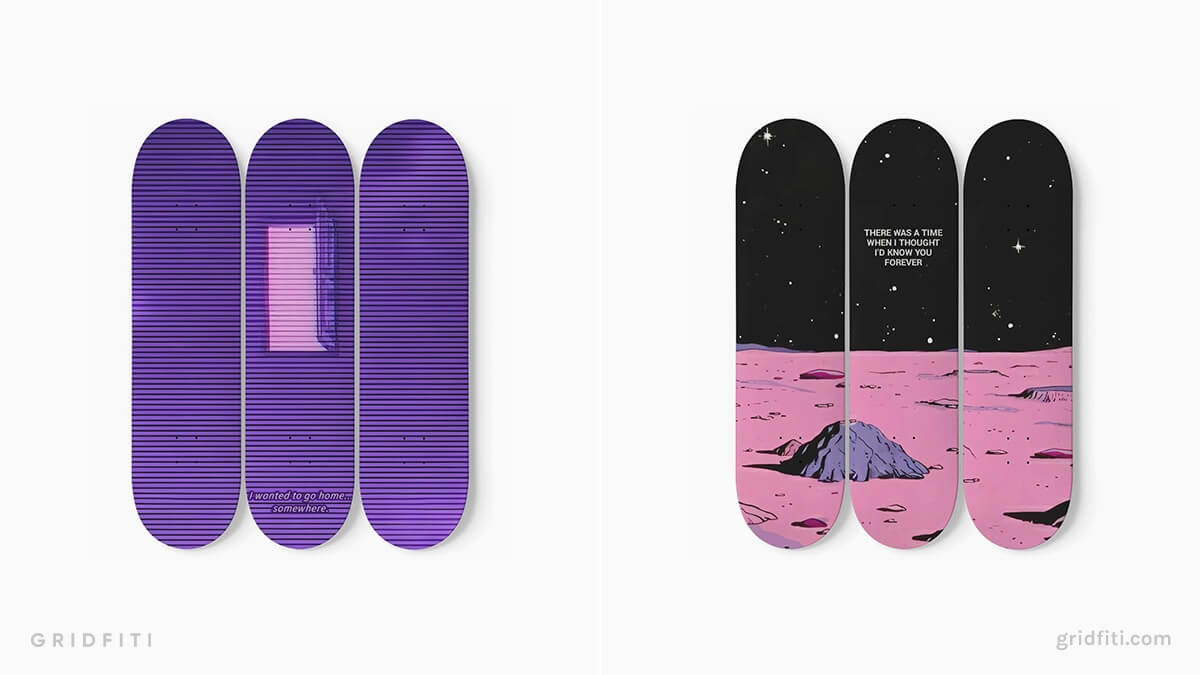 Images by CapsuleCloset on Etsy
Automotive-Themed Skateboard Decor
Are you a car lover looking for car-themed home decor? Here are a few classic BMW and Porsche skateboard wall art pieces that will really showcase your passion for all things automotive.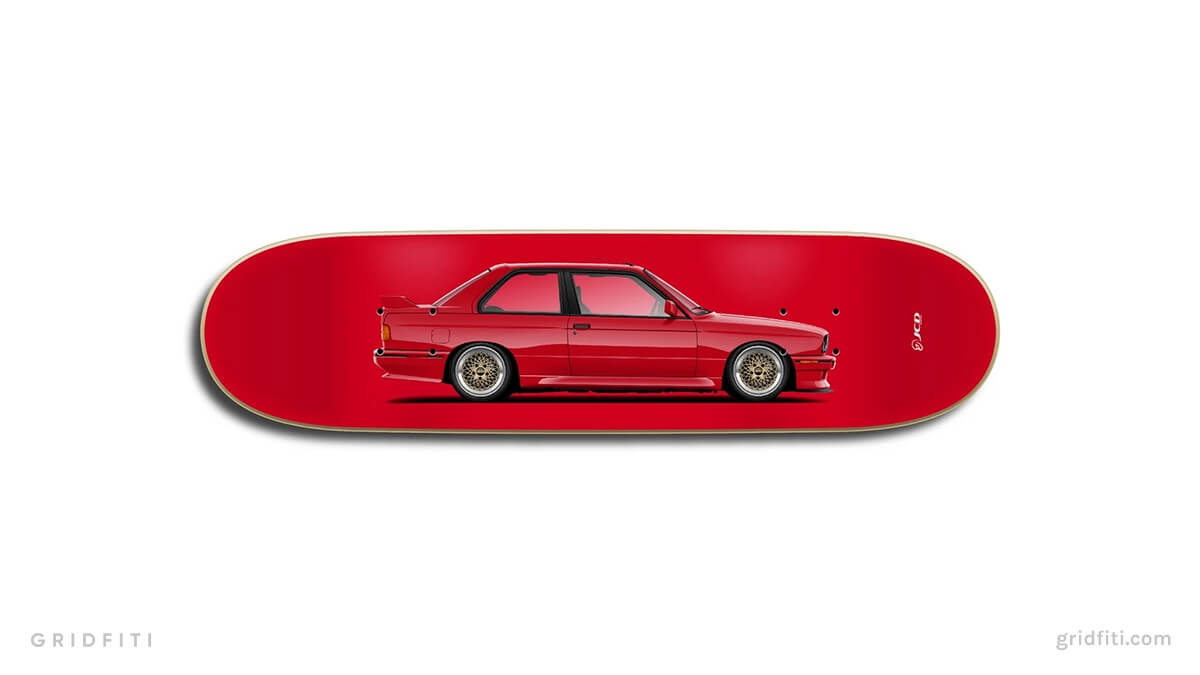 Images by JCDRACING on Etsy
Aesthetic Quotes Skateboard Wall Art
A good quote just hits home, but also lives perfectly in your home. Express your personality or even manifest your dream life in the form of skateboard decks on your walls!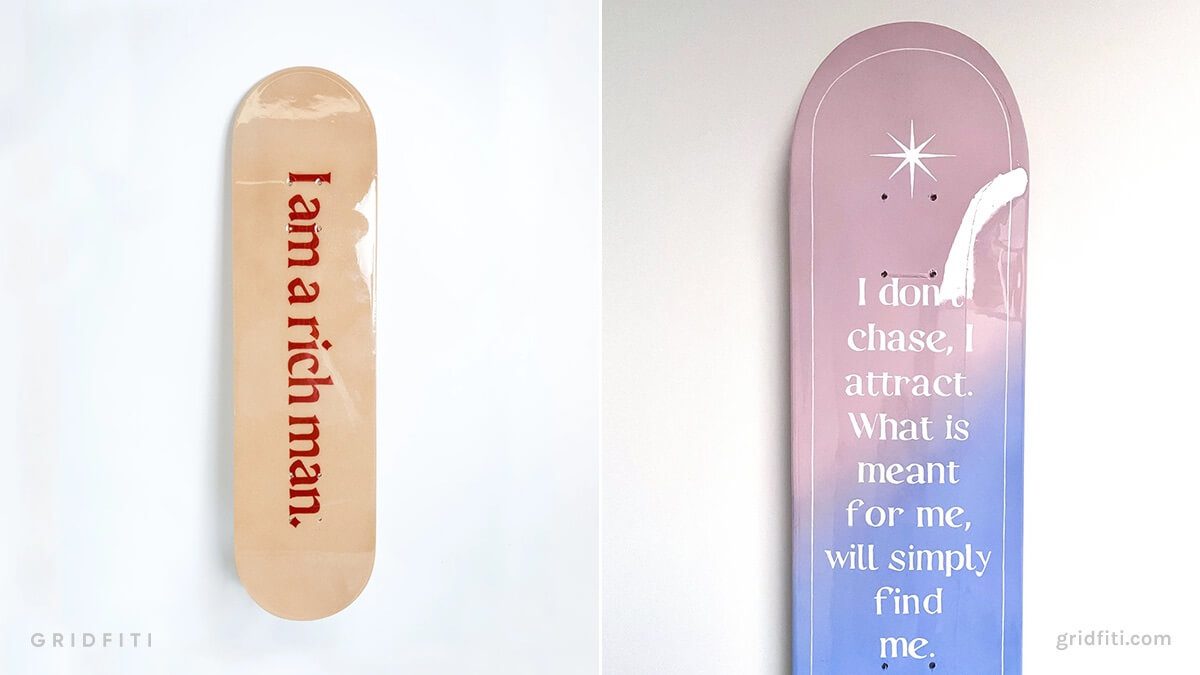 Images by LVSTUDIOAU on Etsy
Keith Haring Skateboard Wall Art
Instead of the played-out Keith Haring wall prints, switch things up and add some character by mounting some Keith Haring skateboard wall art in your space.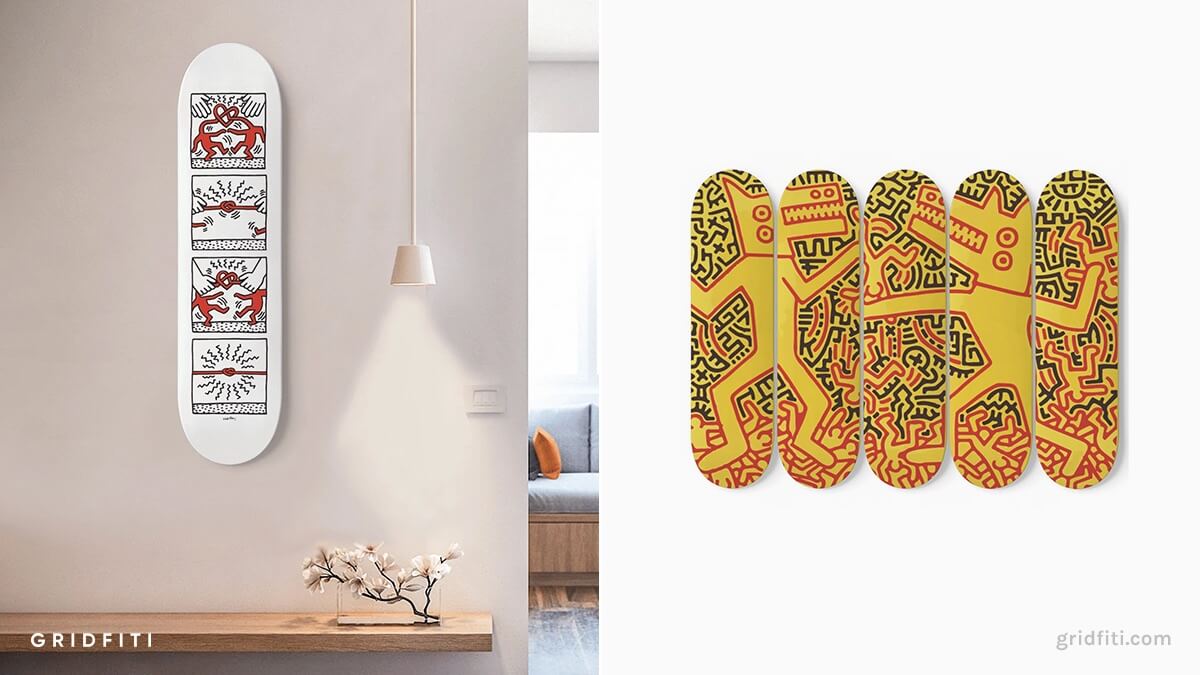 Images by SkateDeco and skateboardartsy on Etsy
Pantone Skateboard Wall Art – Blank Solid Color Decks
Keep things minimal while adding a pop of color to your space with Pantone or solid color skateboard decks! Simply pick your favorite colors to mix and match in a set, or play off of your room's existing color scheme to bring everything together.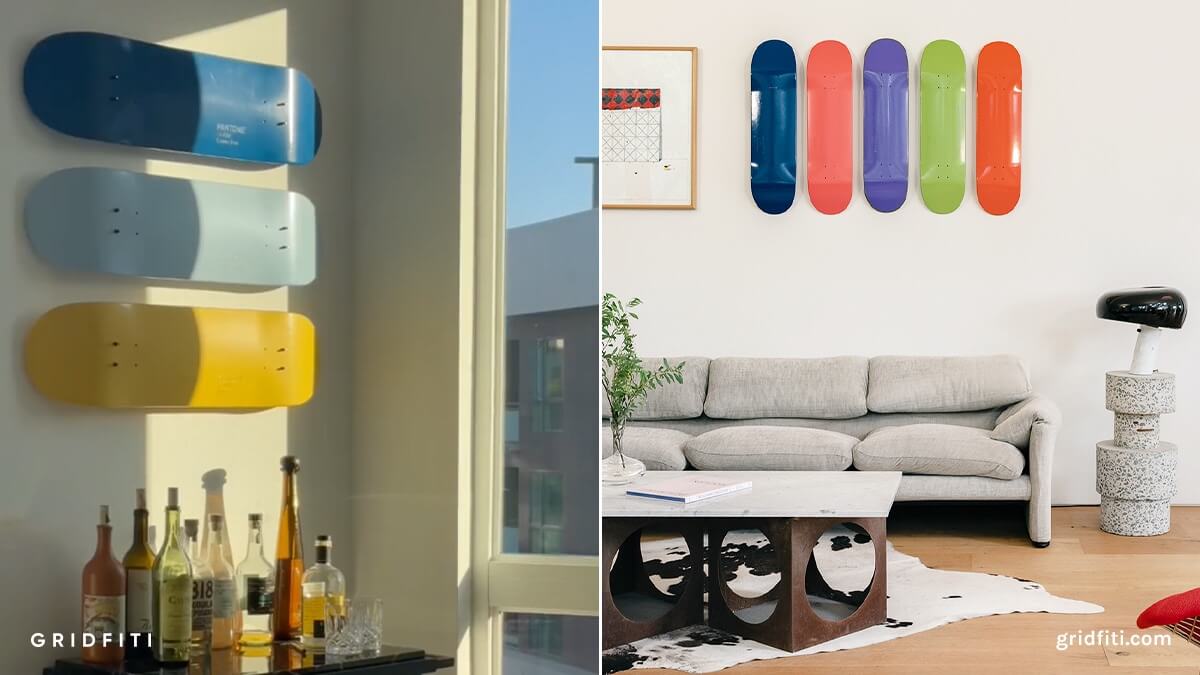 Images by @jvstxxn and Globe Brands
Cherry Blossom Skateboard Wall Art
There's nothing like the springtime cherry blossoms in Japan. Bring this beauty to your walls with a set of three or five skateboard decks.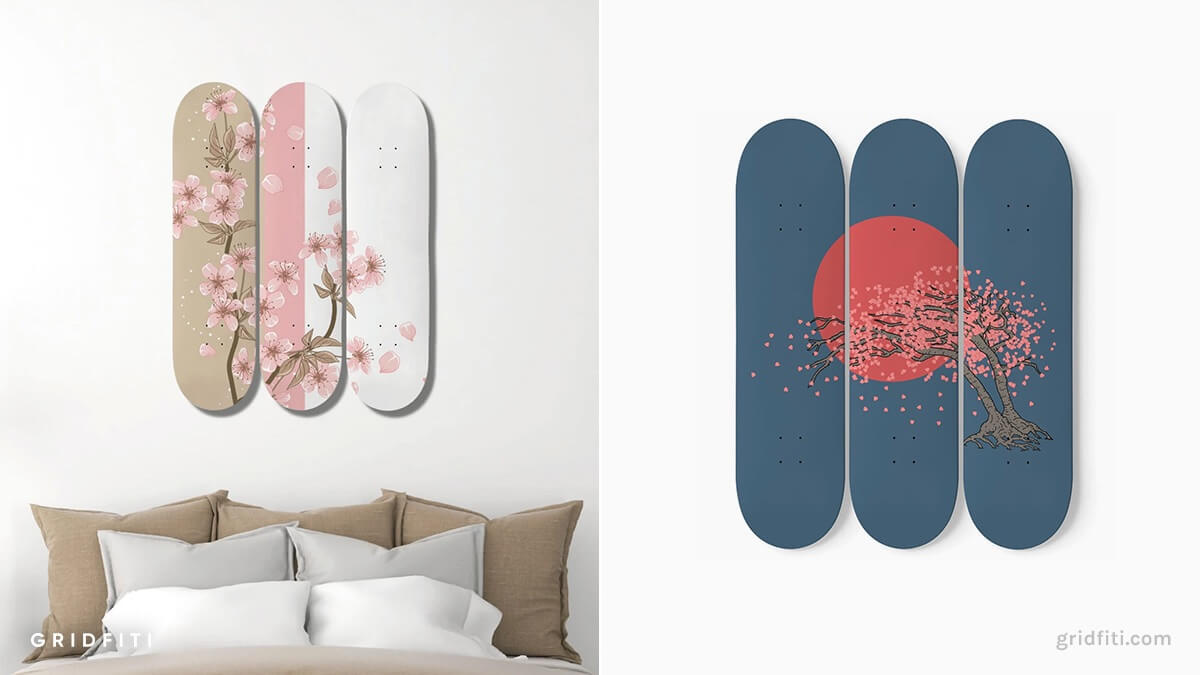 Images by SkateDeco on Etsy
Jean-Michel Basquiat Skateboard Wall Art
Jean-Michel Basquiat's work is seen all over the world, and can now be seen in your living room, too! Choose from some of his most popular pieces designed on skateboard decks, and turn your room into a mini gallery.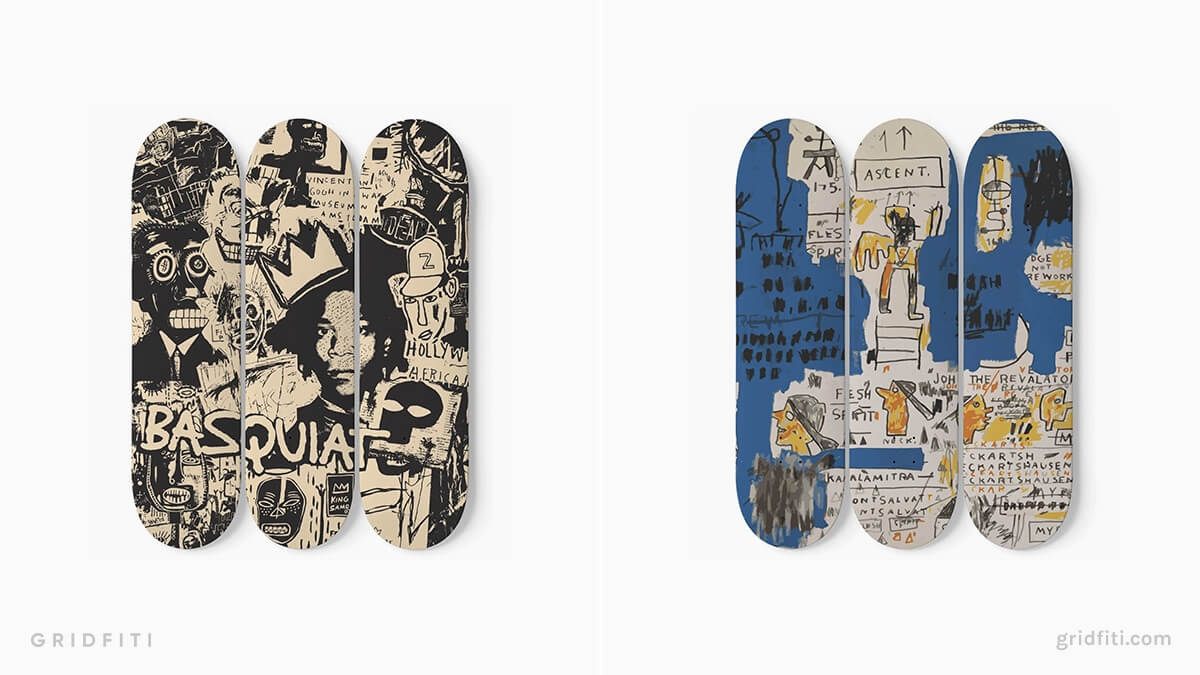 Images by skateboardartsy on Etsy
Hypebeast & Streetwear-Inspired Skateboard Wall Decor
Streetwear-inspired skateboard decks made perfect for any hypebeast or sneakerhead. Complement your shoe collection and other hypebeast room essentials with designs ranging from KAWS, to Sean Wotherspoon-inspired illustrations, and more!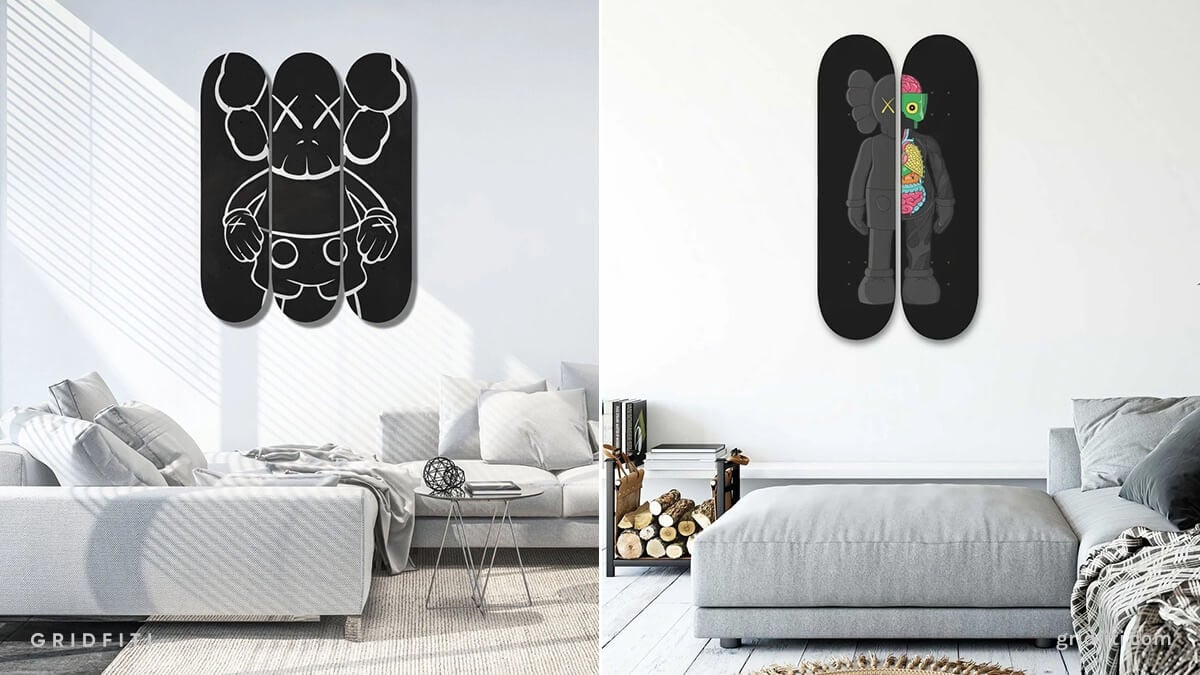 Images by SkateDeco and YFOSARTshop on Etsy
Pop Art Lips Skateboard Art
Add some color to any room with these pop art, Rolling Stones-inspired decks. If you've got a bare room on your hands, these vibrant, poppy decks will be sure to spice it up!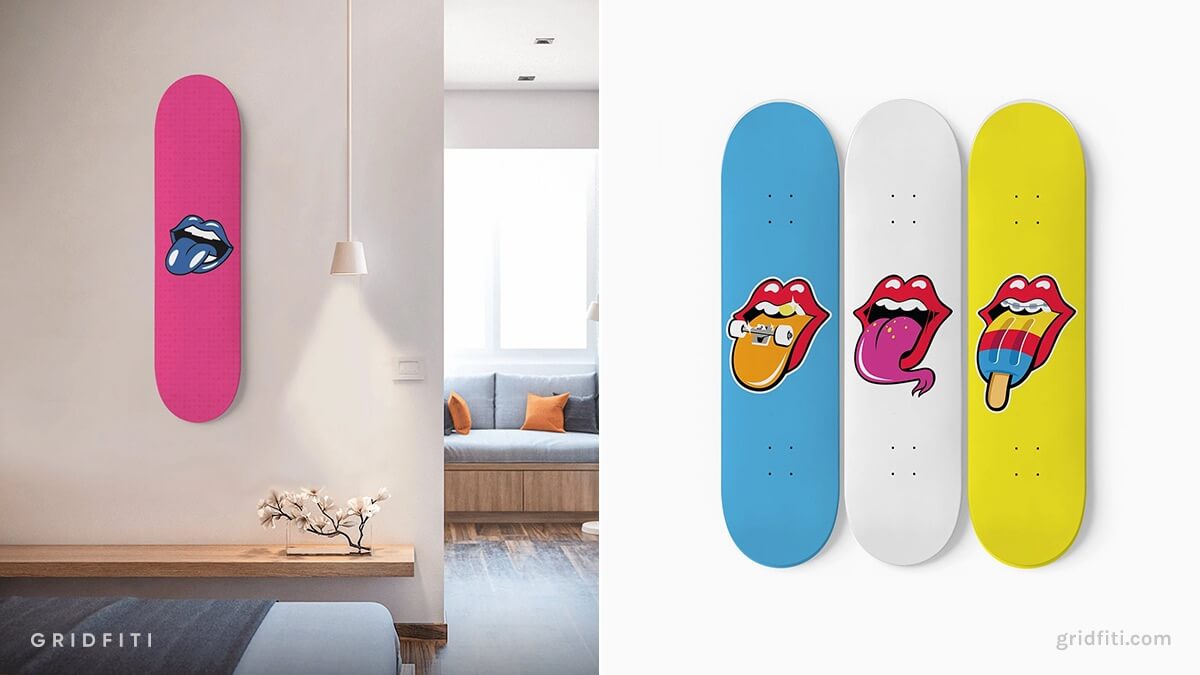 Images by SkateDeco and MayTheSkateBeWithYou on Etsy
Gaming Skateboard Wall Art
Bring some life into your gaming setup with these gaming-themed skateboard wall art decks. Pay homage to both the classics and the new age, with designs ranging from Super Mario, to Nintendo Switch, SNES controllers, and more.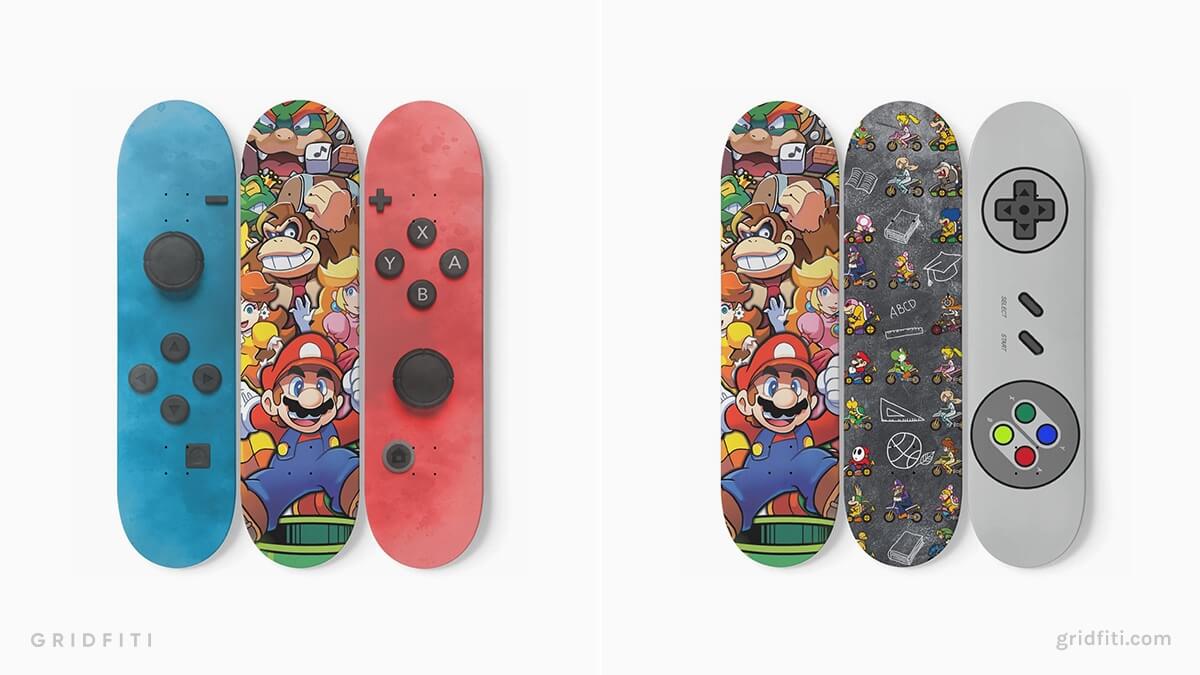 Images by skateboardartsy on Etsy
Marble Skateboard Wall Art
Keep your living space minimal and aesthetic with a simple marble skateboard design. Choose from different marbled colors and textures like amethyst, atlantis, evo, and more!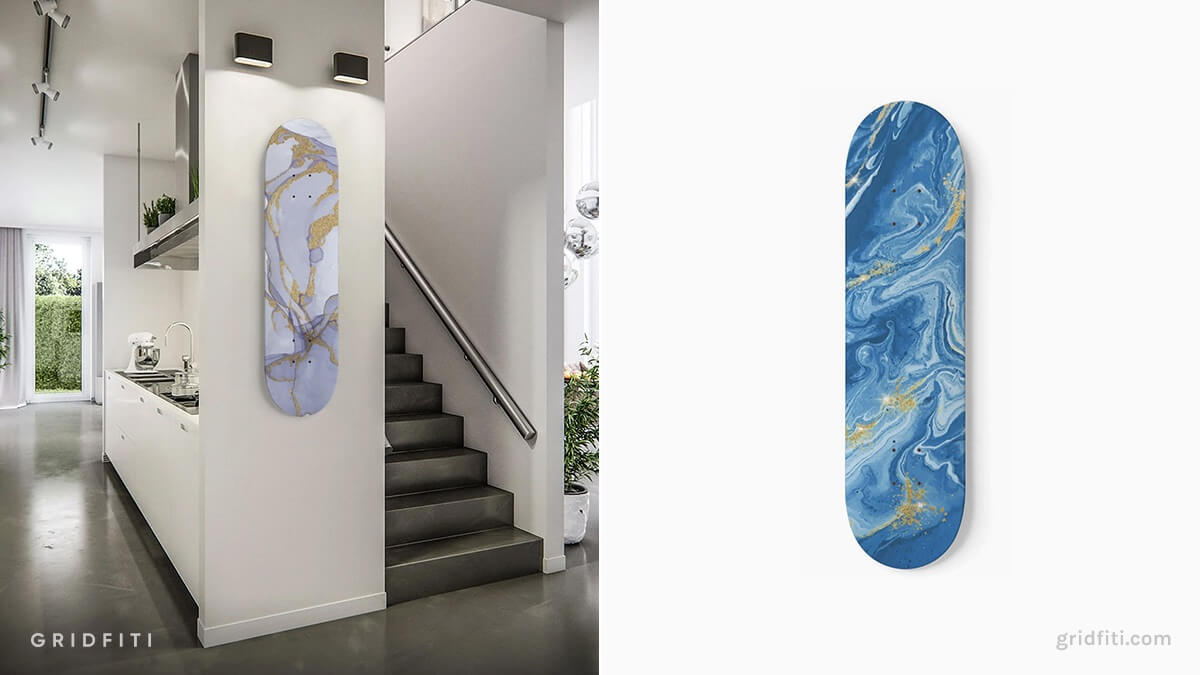 Images by skateboardartsy on Etsy
Music-Themed Skateboard Wall Decor
Great tunes and great wall decor makes the perfect combination for a relaxing evening at home. Complete your music-themed room with music-themed skateboard wall art – with designs inspired by your favorite artist or album!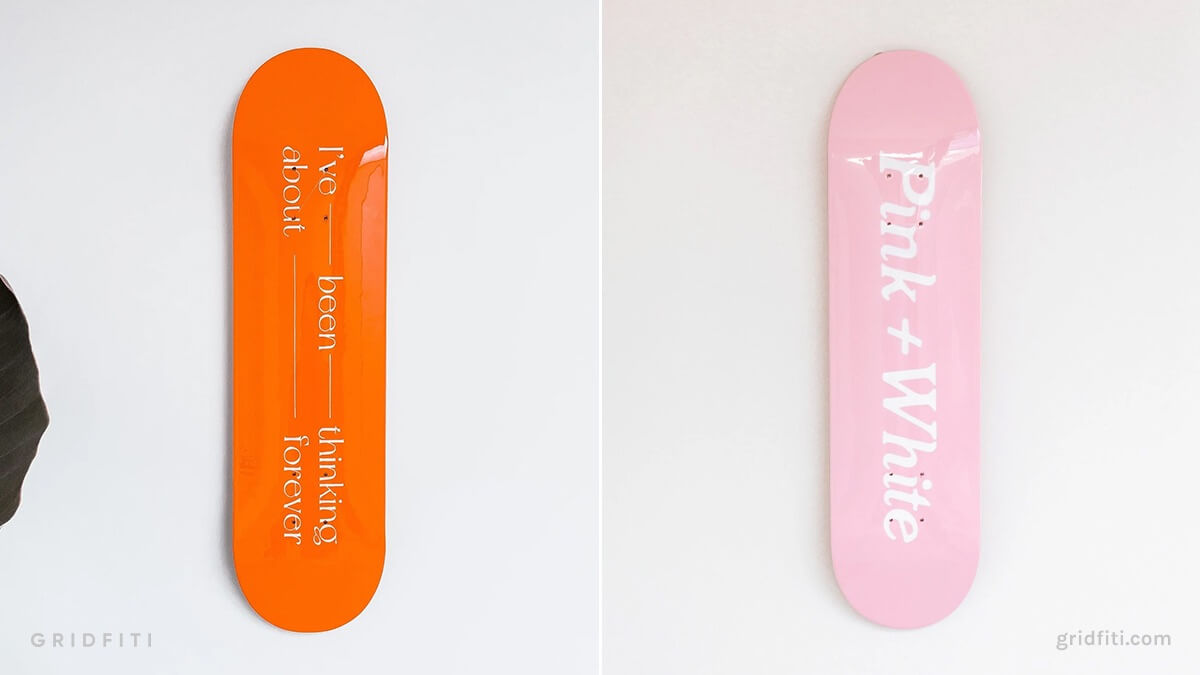 Images by LVSTUDIOAU on Etsy
Banksy Skateboard Wall Art
Banksy is one of the most iconic artists not known to man. The anonymous artist has created pieces across the world and is continuously making headlines – now you can bring these infamous pieces right to your home. Choose from some designs inspired by Banksy's popular pieces, all on skateboard decks!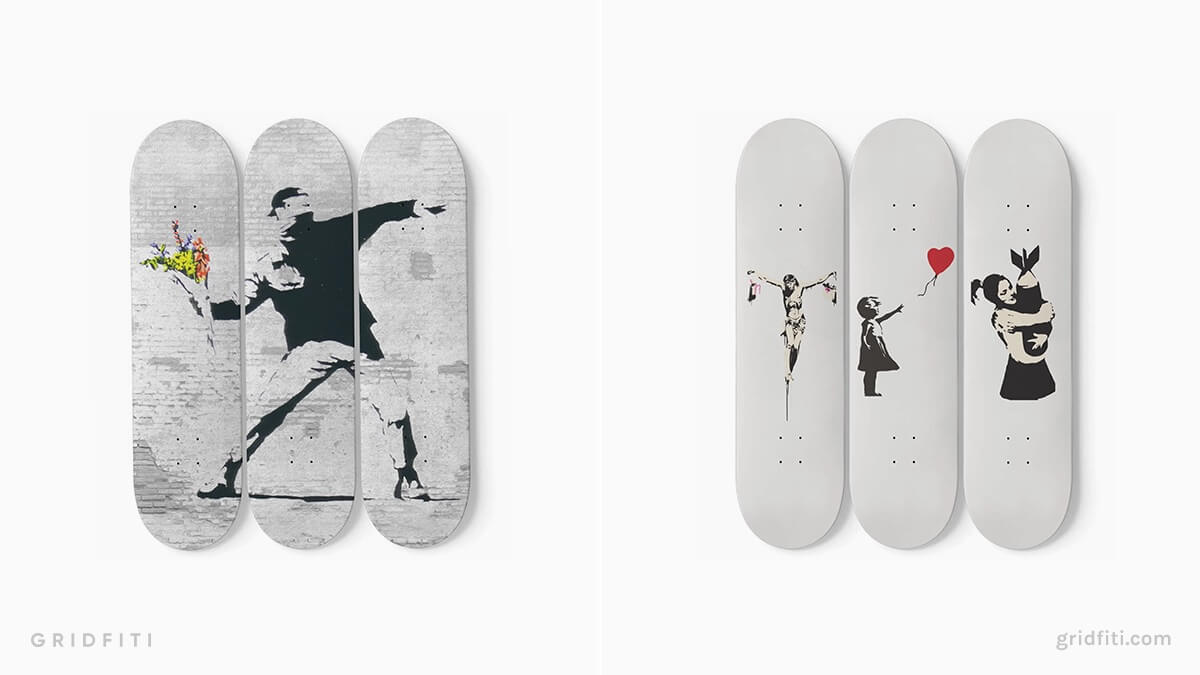 Images by skateboardartsy on Etsy
Smiley Face Skateboard Decor
Looking to add some positive vibes to your space? These smiley skateboard decks on your walls will remind you to look on the bright side each day.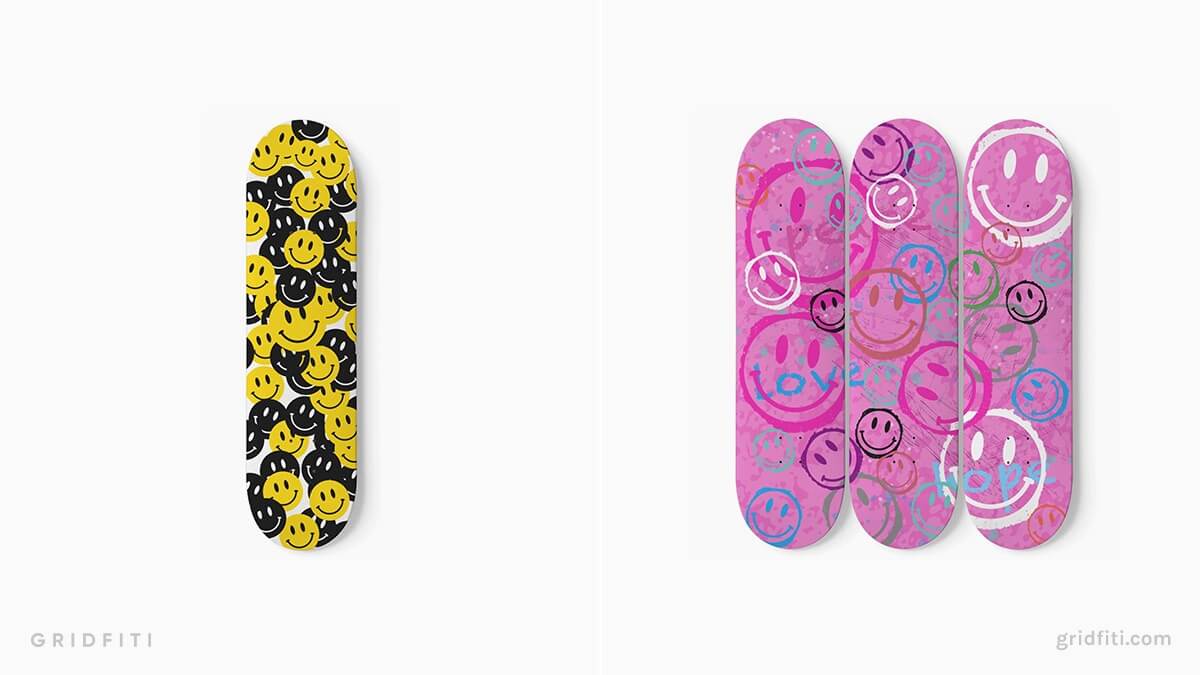 Images by SkateDeco on Etsy
Do you have any other skateboard wall art ideas? Let us know down in the comments below!
Gridfiti is supported by its audience – when you buy something using the retail links in our posts, we may earn a small commission at no additional cost to you. We only recommend products we would use ourselves and recommend to our friends and family. Read more about our affiliate disclaimer.