The automotive, fashion, and art worlds have been converging before our eyes, and we're loving what these colliding worlds have been creating. From designer and streetwear kingpins collaborating with iconic sports car brands, to top F1 racers dropping lines of their own clothing, to even conceptual artists incorporating automotive lore into their work – we can't get enough of the automotive fashion, style, and decor that's being given to us!
From head to toe, to shelves, to interiors – check out some of our picks of the most recent works in the automotive world.
Quick Links
Want more updates on automotive culture? Join our mailing list! 📮
Automotive Fashion & Decor Collaborations
The automotive world and fashion world aren't too far off from each other. More often than not, these worlds are constantly colliding. Throughout history, we've seen fashion and art outlets work with automotive manufacturers to design pieces that reflect both worlds – a lifestyle around dressing well, and decorating your space with your love for the automotive world. We're now seeing more modern and streetwear outlets and artists lend their design teams to creating pieces around some of the car greats of all time. Check them out!
Car Hoodies
As fashion and streetwear outlets are collaborating with iconic sports car brands, we're seeing an emergence of some great pieces allowing you to showcase your love of sports car classics. Two notable crossovers we'll keep bringing up ('cause they're just too great not to mention) are the KITH x BMW collection, and the Aime Leon Dore collaboration with the Porsche 911SC.
KITH's focus on the BMW E30 M3 and the M badge's tri-colors, and ALD's emphasis of the classic Super Carrera have resulted in great pieces built around the heritage of these cars and their design languages. Check out some of the hoodies that have come out of these collections!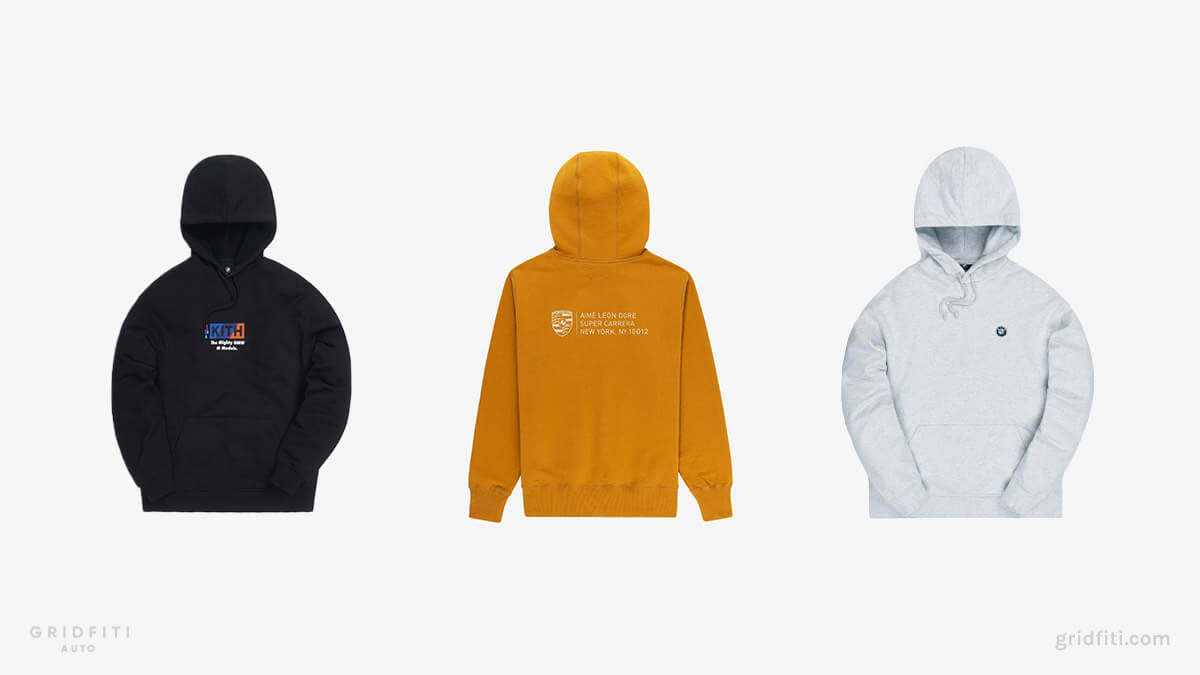 Images by Kith and Aimé Leon Dore
Car Apparel Crewnecks
While we're in the sweater world – every wardrobe needs some crewnecks. What better way to express your hybrid love of cars and fashion than by copping a KITH x BMW E30 sweater, ALD 911SC Crewneck, and more.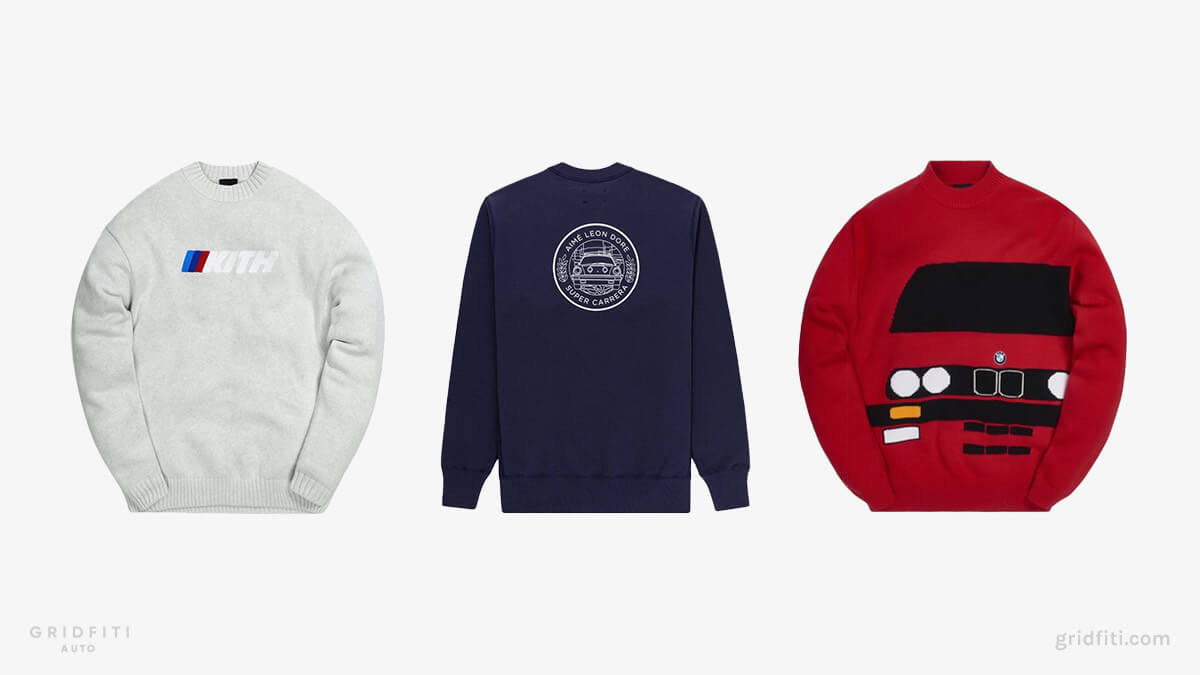 Images by Kith and Aimé Leon Dore
Automotive Jackets
Jackets are where we're really seeing the use of materials and patterns inspired from automotive interior design, or traditional race wear materials. From quilt patterned Supreme x Lamborghini, to paddock mechanic-inspired designs, check out these select automotive-themed jackets.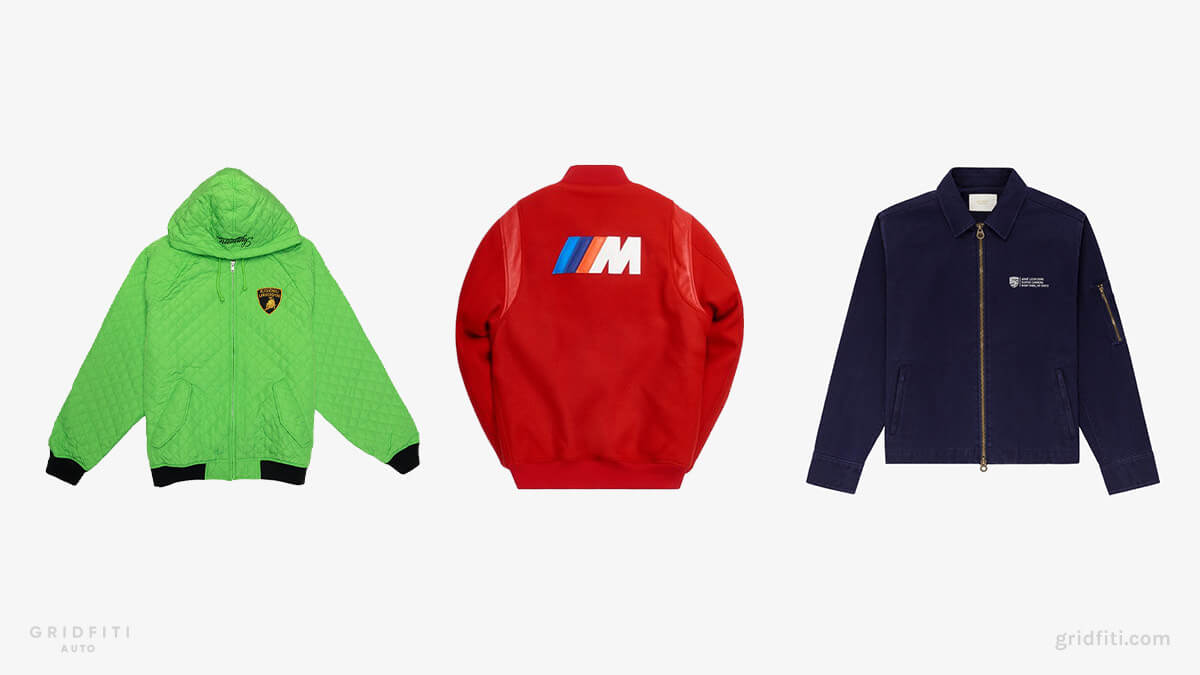 Images by Supreme, Kith, Aimé Leon Dore
Automotive Tees
Sport an automotive tee made by your favorite streetwear or lifestyle brand while wearing your love for sports car classics. Find the bespoke Porsche 911SC on Aime Leon Dore's Tees, or blueprints of the race spec BMW E30 M3 or M badge tri-color accents on any of KITH's collection with BMW!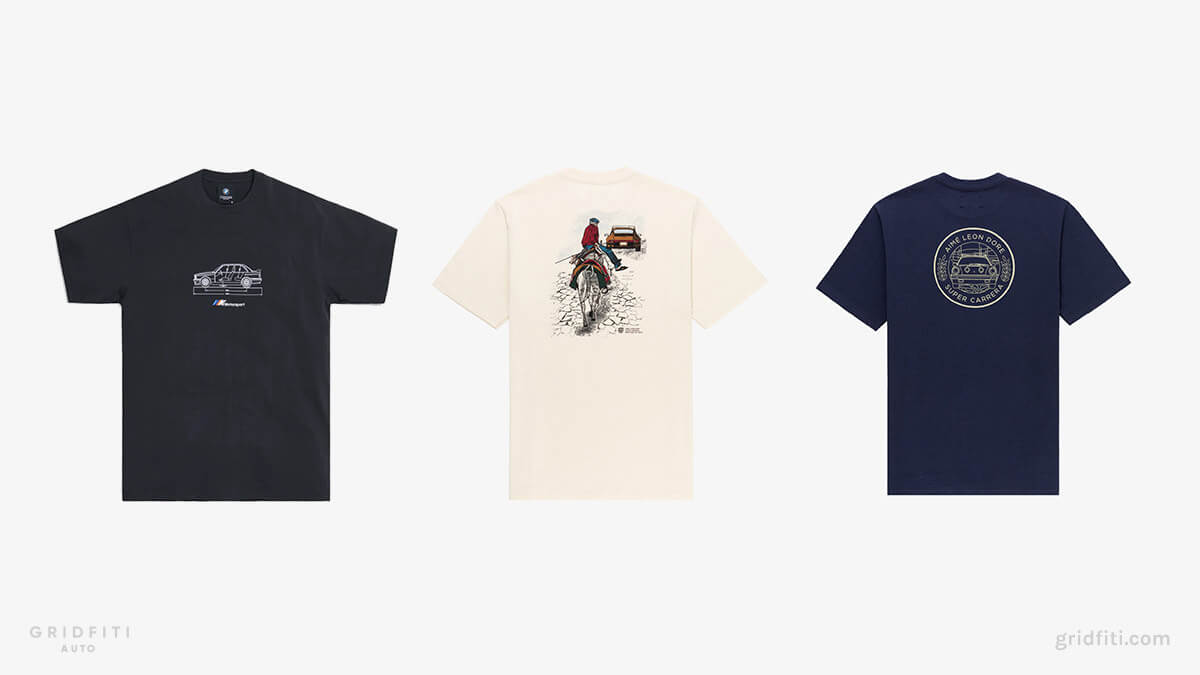 Images by Kith and Aimé Leon Dore
Automotive Pants & Shorts
Whether you want to complete a full automotive outfit, or still rep your love for cars while wearing a plain tee or sweater – check out what the automotive fashion has to offer for pants and shorts!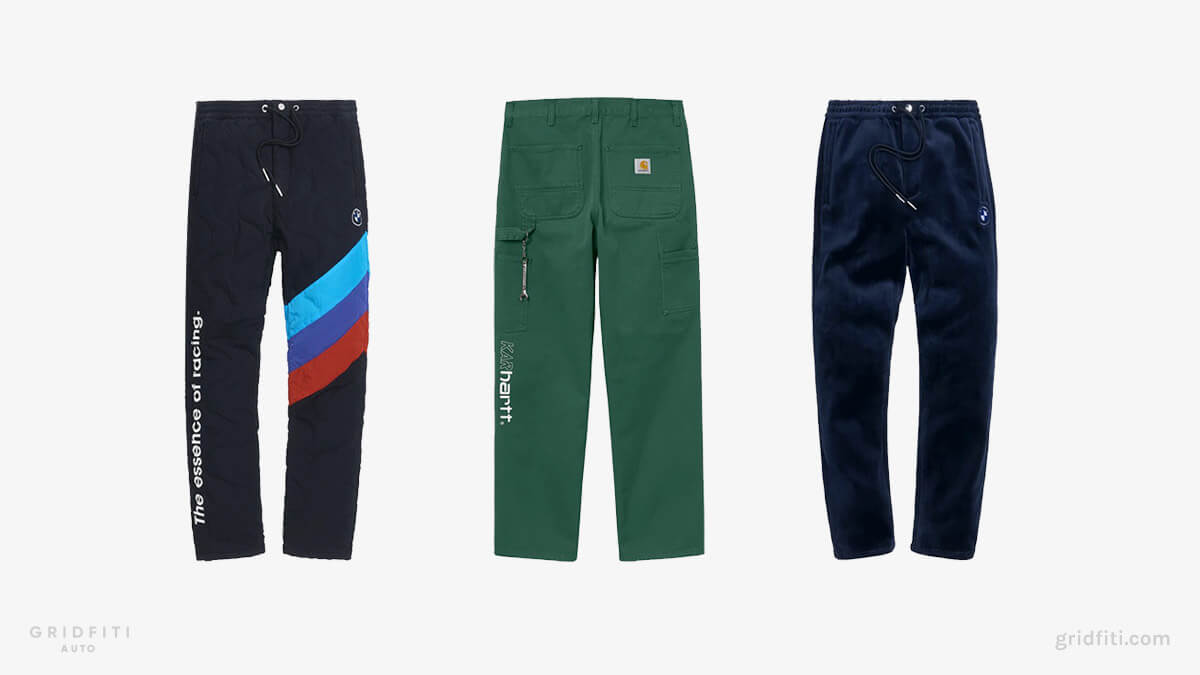 Images by Kith and Carhartt
Driving Gloves
Picture this, you're sitting on your porch in your old age, staring at your vintage Jag E-Type, with a pair of aged driving gloves hanging on the steering wheel. These gloves have been with you through drives around the world, touching the steering wheels of cars from all eras.
We like to think of driving gloves being a crucial accessory for drivers and car lovers alike. Pick up a pair of timeless leather driving gloves that are sure to last a lifetime through drives on all your grand tours.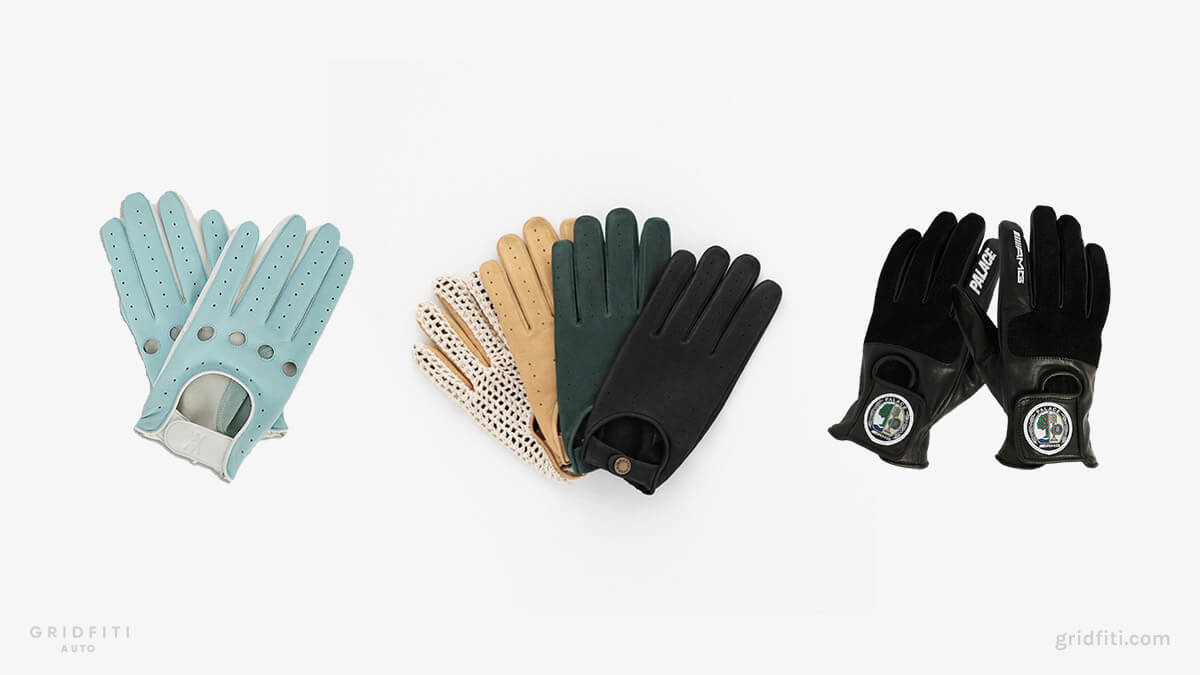 Images by Selfridges, Aimé Leon Dore, Palace
Automotive Hats
Add some automotive inspiration to your headwear with automotive hats ranging from regular visored hats to beanies with materials of all kinds. Whether it be for a walk in the park or a walk through a racing paddock, these automotive hats will keep your admiration for automotive culture top of mind.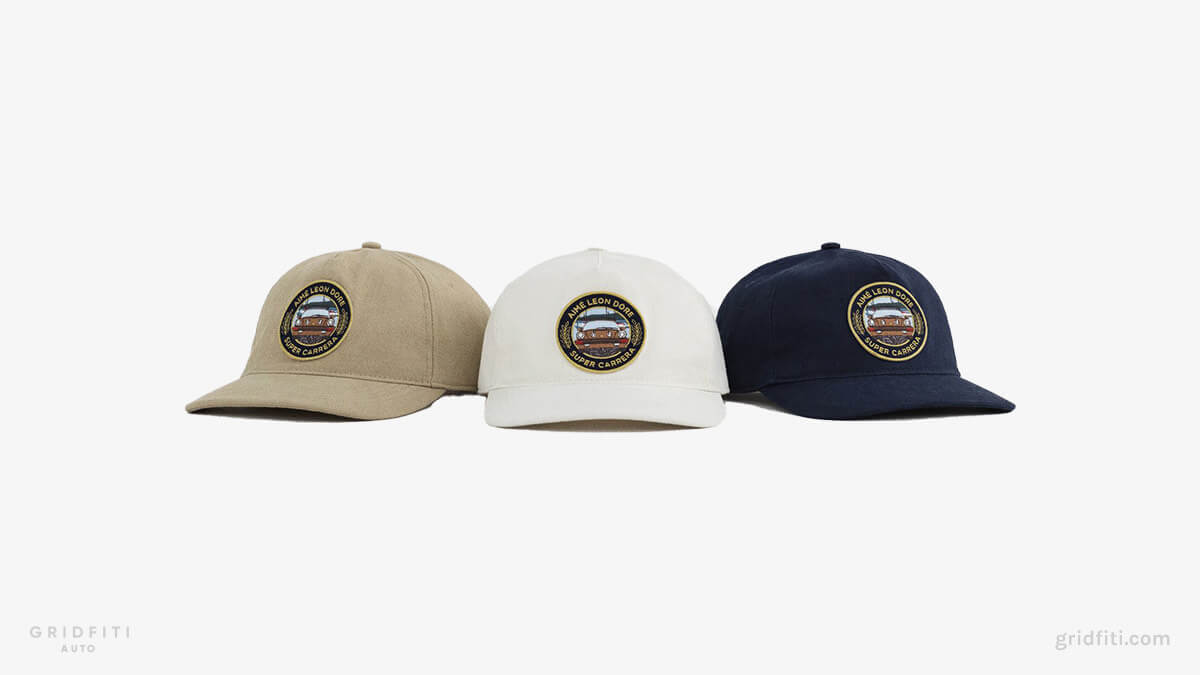 Image by Aimé Leon Dore
Automotive Sneakers
Most automotive shoes we have today are derived from functionally purposed racing shoes. Puma and Adidas are familiar names in the motorsport game for designing optimal, breathable shoes that allow for racers to feel feedback from tracks, and work those race car pedals like magic. Instances of these shoes have made their way into lifestyle automotive shoes as well! Check out a few from Puma and Adidas.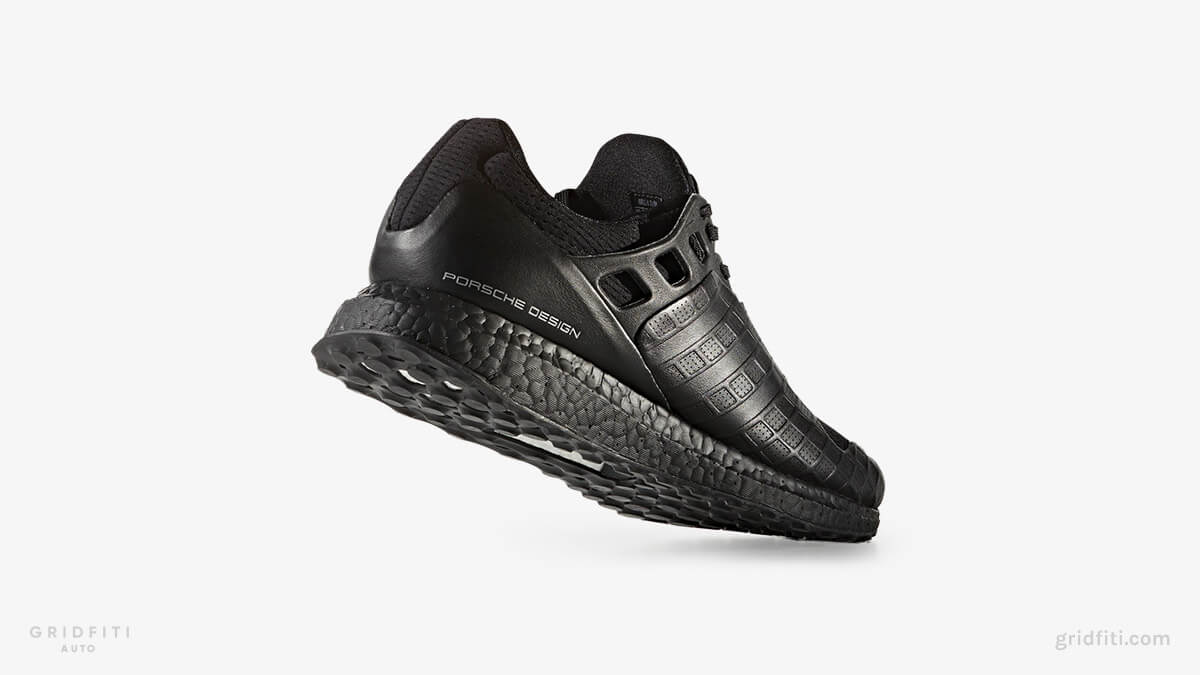 Image by adidas
Automotive Accessories
From umbrellas and keychains to leather pouches and lanyards, accent your life with the automotive accessories from these collaborations between fashion outlets and automotive brands.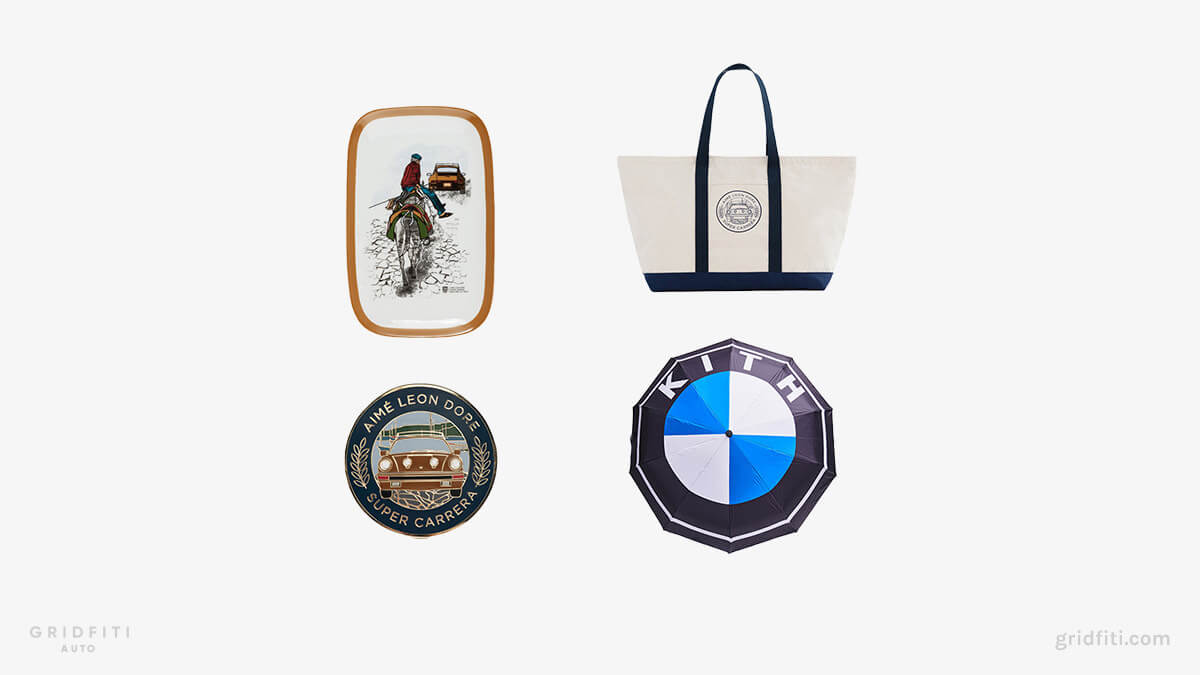 Images by Aimé Leon Dore and Kith
Automotive Home Decor
With car designs spanning different countries, time periods, cultures and philosophies, it's no surprise that conceptual artists from all over want to pay homage to the great car designs of time. From the indistinguishable Daniel Arsham eroded Porsche 911s to Virgil Abloh's different racing inspired G-Wagon and more – there's a lot of automotive decor out there to show your love for the art and car world.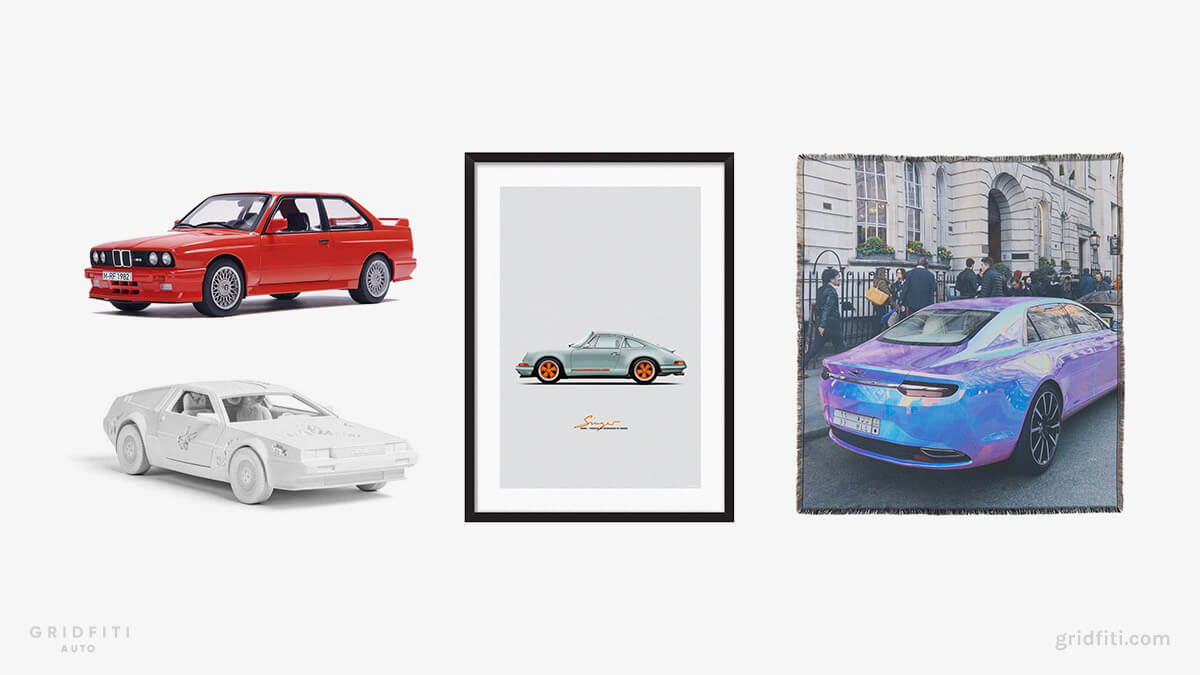 Images by Kith, Daniel Arsham Studios, Revolicius, Curves by Sean Brown
Manny Khoshbin's Hermès Hyper Cars
California-based real estate magnate and YouTuber Manny Khoshbin has been bestowing us with his deep love of cars on YouTube for years. From Bugattis to McLarens and Paganis, Manny has worked hard to build the hyper car collection that he has now. He's gone a step further to build 3 one-of-one luxury hyper cars outfitted and designed with Hermès.
Manny worked closely with the brand to develop one-off iterations of his Bugatti Chiron, Pagani Huayra, and McLaren Speedtail – all featuring full finishes of Hermès leather interiors, exterior Hermès accents, and custom Hermès bags made for each of the cars. We can't get enough of Manny's love for the Hermès brand and his cars – check out each of the bespoke Hermès cars for yourself.
Hermès Bugatti Chiron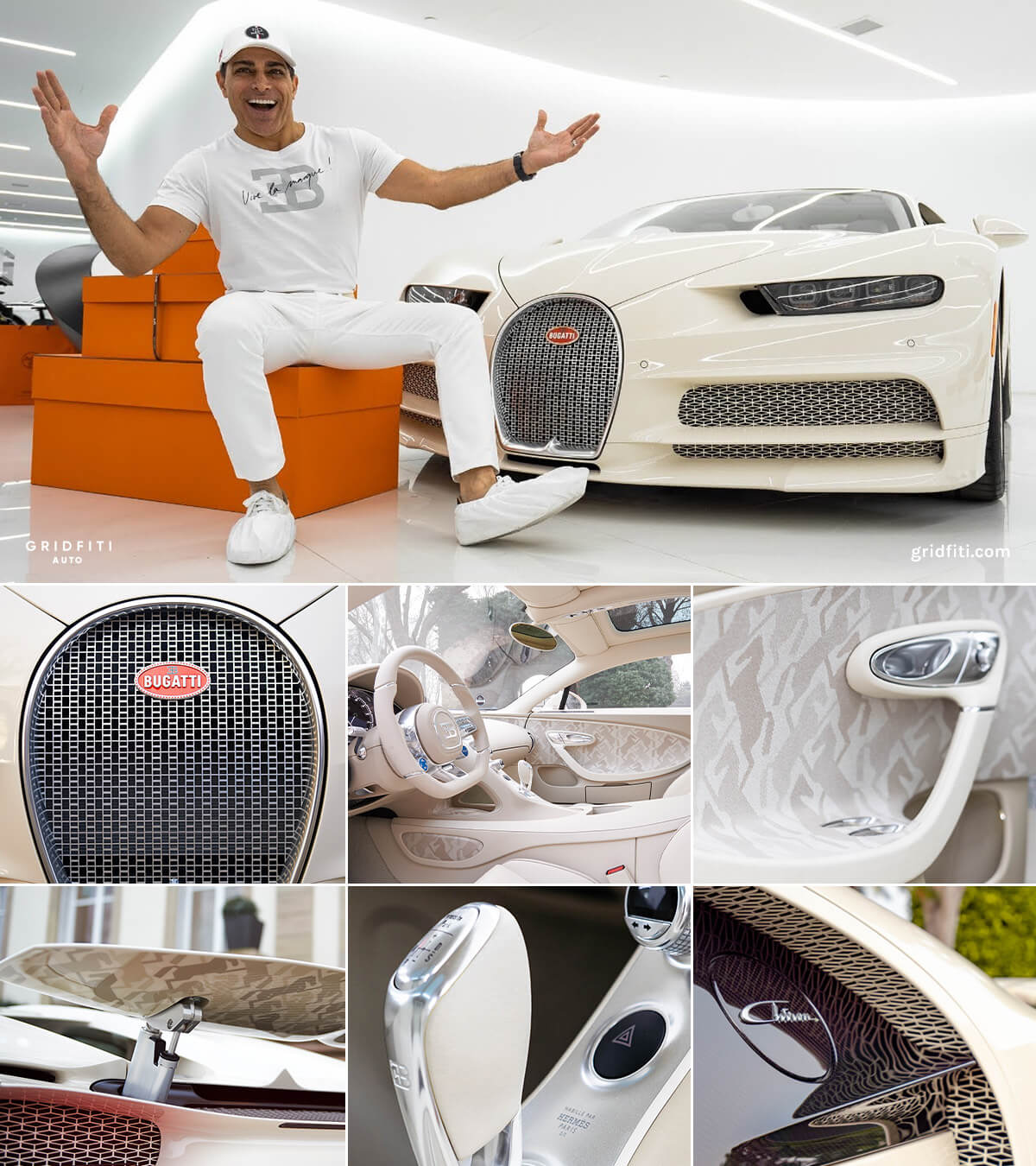 Images by Manny Khoshbin and Bugatti
Hermès Pagani Huayra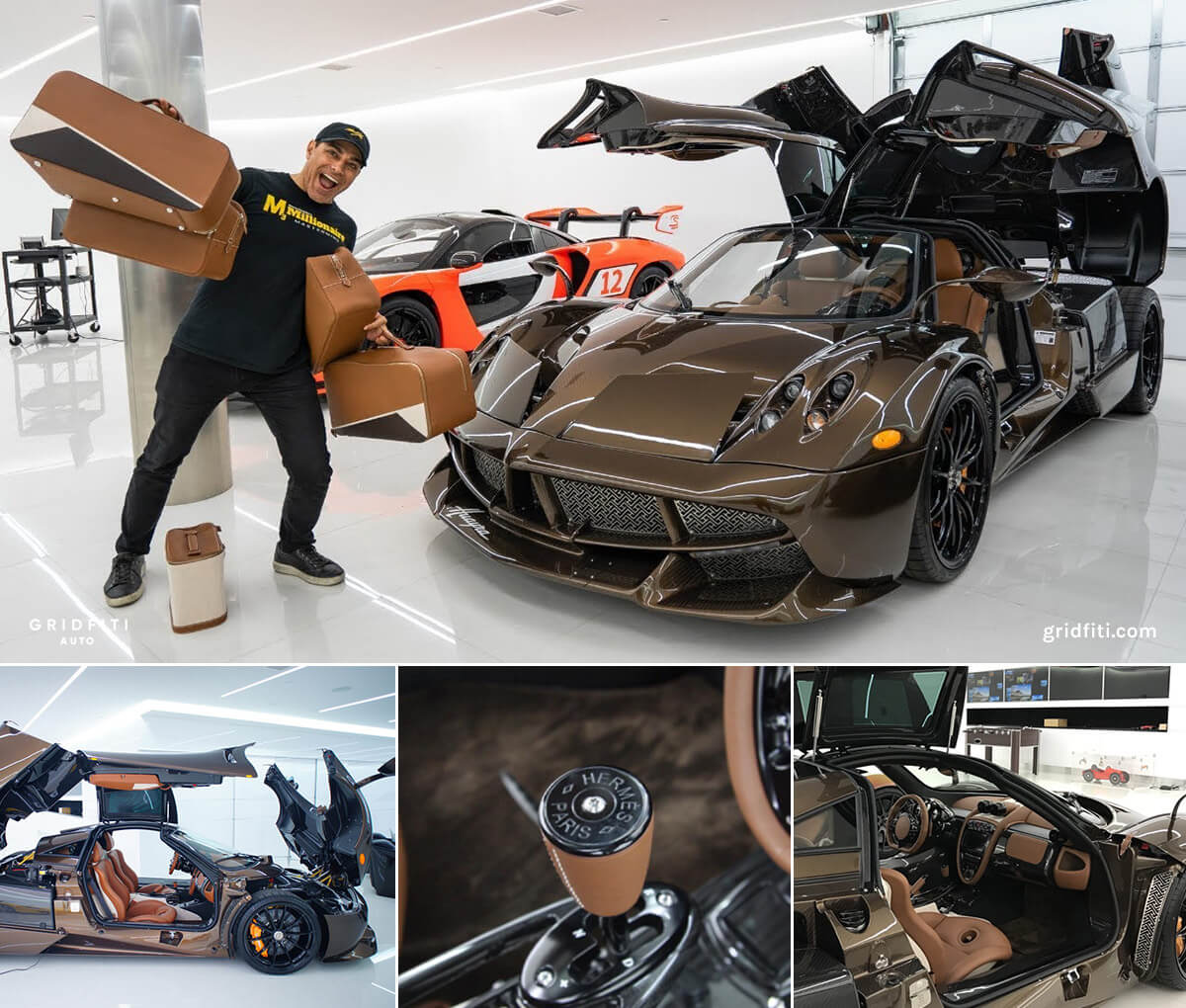 Images by Manny Khoshbin
Hermès McLaren Speedtail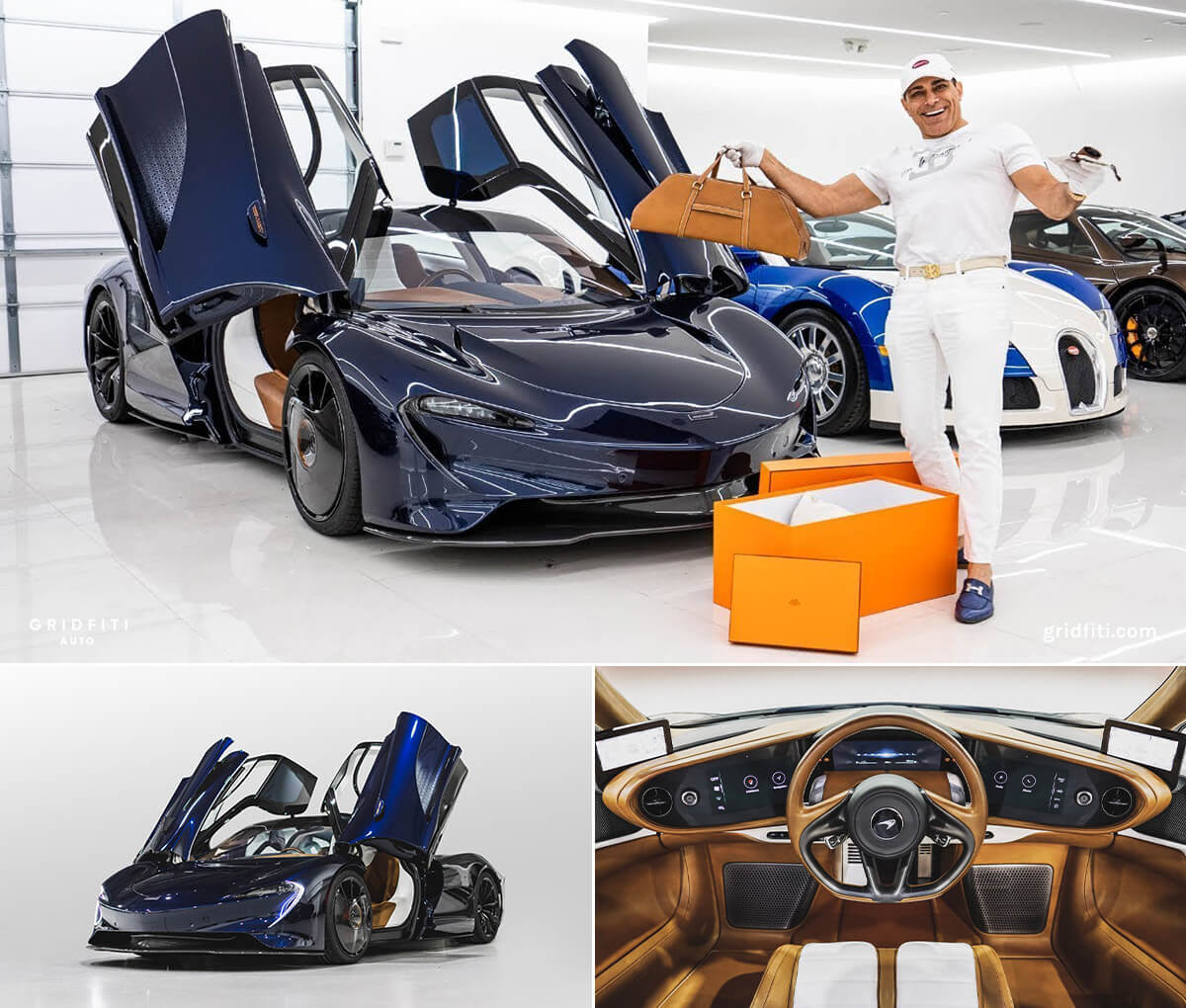 Images by Manny Khoshbin
F1 Collaborations and Merch Lines
From world champs, to up-and-coming points-scoring rookies, F1 drivers and F1 racing teams are dabbling into the fashion arena as well. Outfitters are finally catching onto the incredible design work coming out of F1 cars, along with the international jet-setting lifestyle that a 23-race F1 season brings. As a result, we're seeing fashion lines dropping, taking inspiration from the lifestyle and designs of Formula 1 racing.
TOMMYXLEWIS – Lewis Hamilton x Tommy Hilfiger
Where do we even begin? 7 world champions (and counting?), over 90 race wins, poles, and more? Lewis is the undisputed GOAT of Formula 1, besides his incredible resume on the racing grid, Lewis' contribution to bring more diversity to the sport, emphasis on a vegan lifestyle, and passions for art, fashion and music is bringing F1 to a new age and new audiences from all over. His recent collaboration with Tommy Hilfiger expresses just that. A fresh take on fashion from the eyes of Lewis himself, in collaboration with R&B singer H.E.R. – check out his LEWISxTOMMY pieces!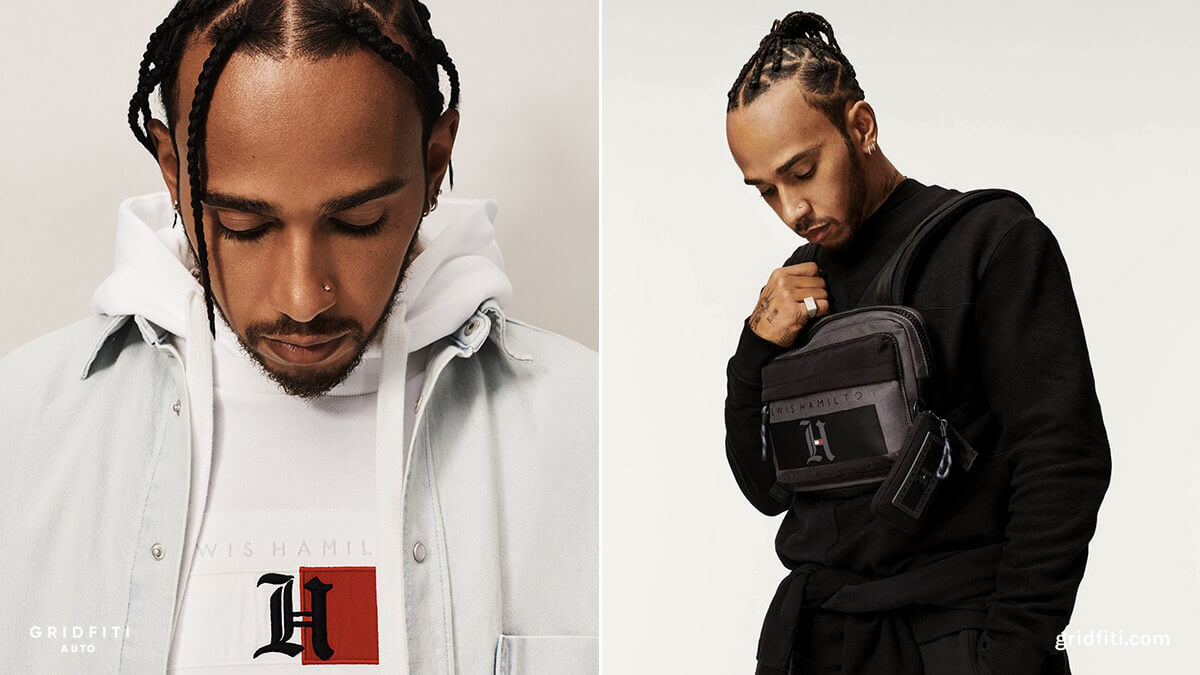 Images by Tommy Hilfiger
R H U D E x McLaren
Rhude's collaboration with McLaren Racing aims to pay homage to Bruce McLaren and McLaren's illustrious history, emphasizing the vintage designs of their old race cars with a modern twist. RHUDE Founder & Creative Director, Rhuigi Villaseñor, aims to create unique pieces that sees McLaren's history through a modern luxury lens while incorporating in his own respect for the sport of Formula 1.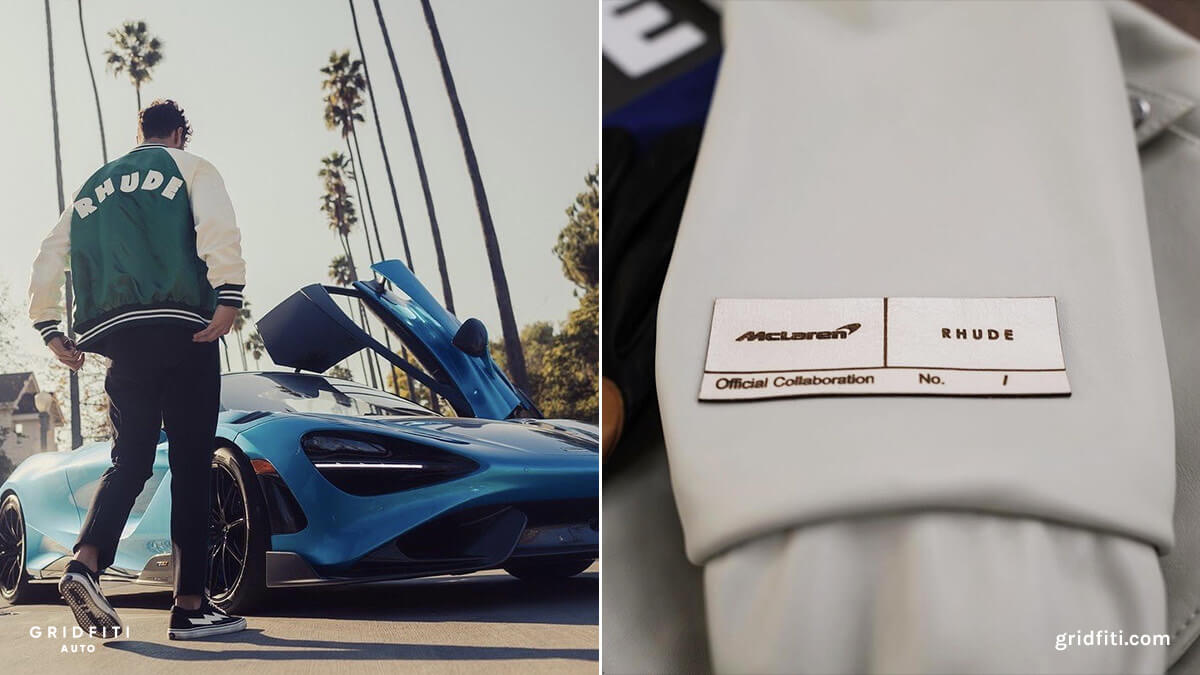 Images by Rhude
RIC3 – Daniel Ricciardo's Merch Line
The Honey Badger, Shoey connoisseur, 7-time F1 race winner himself has dropped his own merch line! Daniel Ricciardo has got to be one of the most loveable F1 personalities on the grid. In his 12th year of racing, and his first for McLaren, Danny's Merch Line RIC3 (made up of his name and racing number) explores his lifestyle, tastes, and personality, featuring simple designs and comfortable wear with unique colors. His recent Enchanté collection is dedicated to the lifestyle of the French Riviera, Monegasque lifestyle – which in his own words is a sense of 'upper class elegance, from a lower class bandit". Check out Daniel Ricciardo's clothing collection!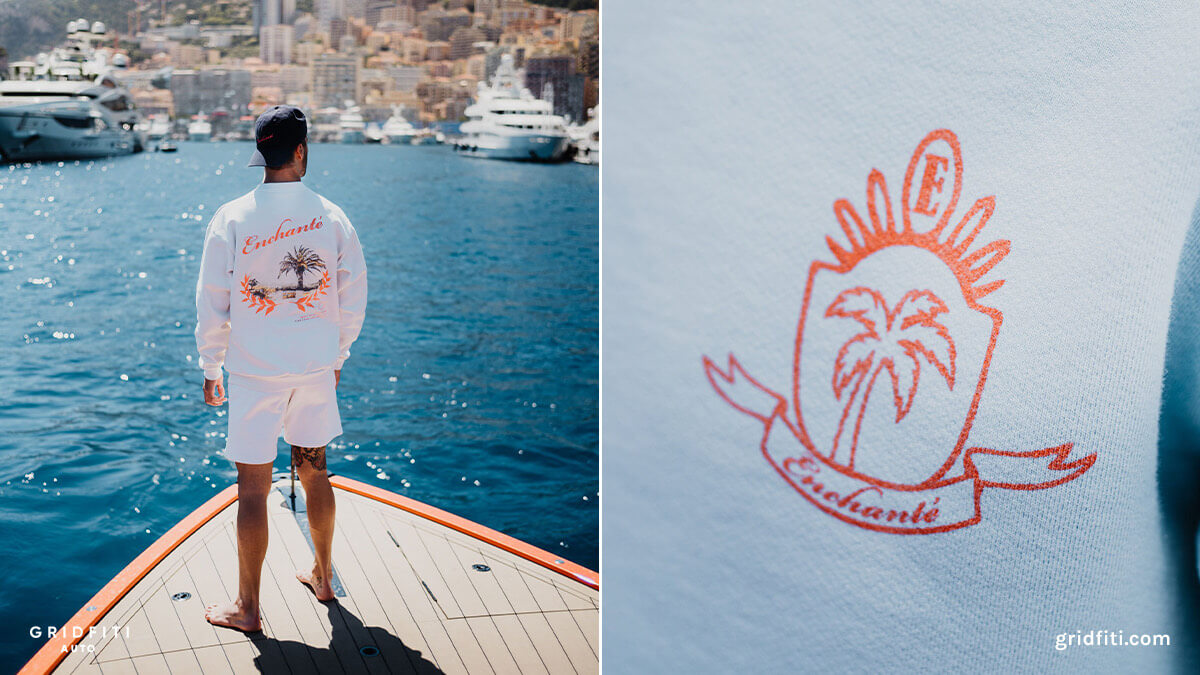 Quadrant – Lando Norris' eSports Merch Line
Lando Norris has done nothing but prove himself in his McLaren seat. Being the only racer to score points in every race in the 2021 season so far, we can't wait for what Lando's future has in store. Lando's presence online in both eSports and on YouTube has been introducing F1 to new fans from all over. His brand Quadrant is, yet again, another example of how he's innovating the reach of the sport of F1. Along with posting on YouTube and streaming on Twitch, Lando also drops merch collections tied to the Quadrant name. Check out a few of his pieces!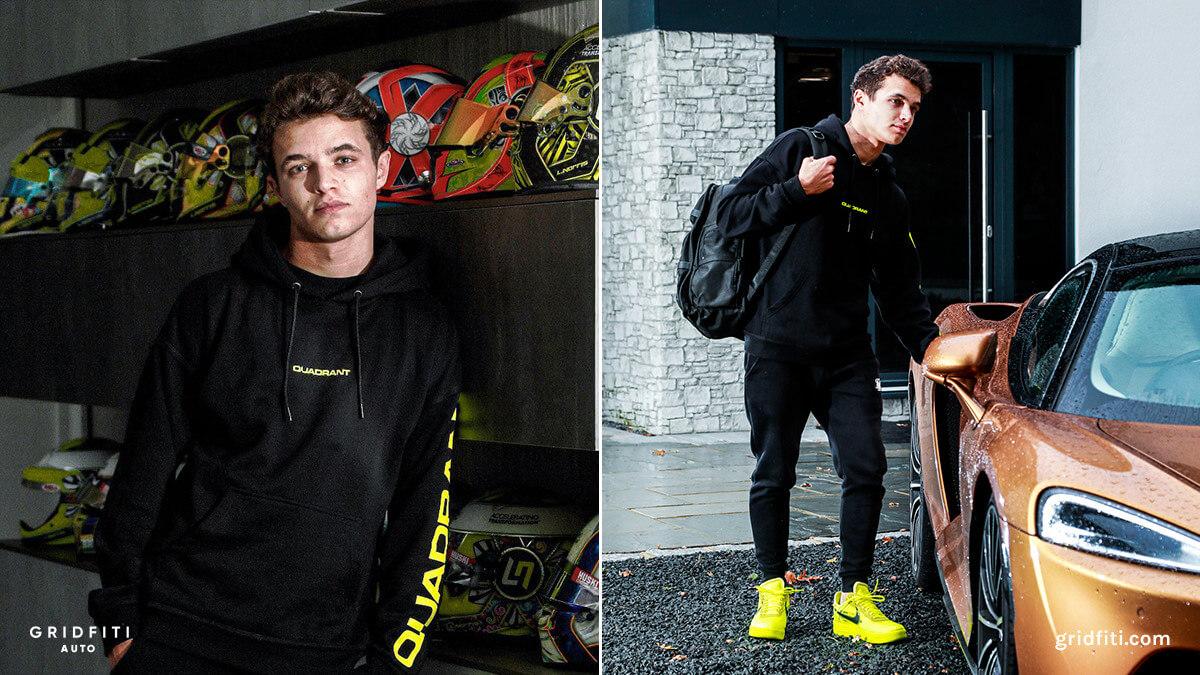 Are we missing any automotive fashion, lifestyle or decor pieces or collabs? Let us know in the comments below! Don't forget to follow us at @gridfitiauto to keep up with cars x culture.
Gridfiti is supported by its audience – when you buy something using the retail links in our posts, we may earn a small commission at no additional cost to you. We only recommend products we would use ourselves and recommend to our friends and family. Read more about our affiliate disclaimer.