With the fast-paced student lifestyle, iPads are the perfect device to build your school setup around. iPads create a ton of flexibility to pick up your setup and bring it along with you to class, the library, or even on a trip.
iPads are becoming the go-to device for students to tackle their semester, allowing you to do it all – from note-taking, to readings, studying, journaling, daily planning, and so much more.
While portability's one of the iPad's best features, building a personalized desk setup around it as your home base will set you up for success all semester.
To give you some more #studyspo, we've gathered the most aesthetic iPad setups across different themes to help you build the study workspace of your dreams.
Want more desk inspo and ideas? Check out our aesthetic desk ideas and aesthetic desk decor guides, and join our mailing list 📮
Soft Aesthetic iPad Setup
Keep your setup tranquil and airy with light and pastel tones. Easily achieve this by incorporating some soft wall decor and desk accessories to bring comfy and cozy vibes to your workspace.
Where to start: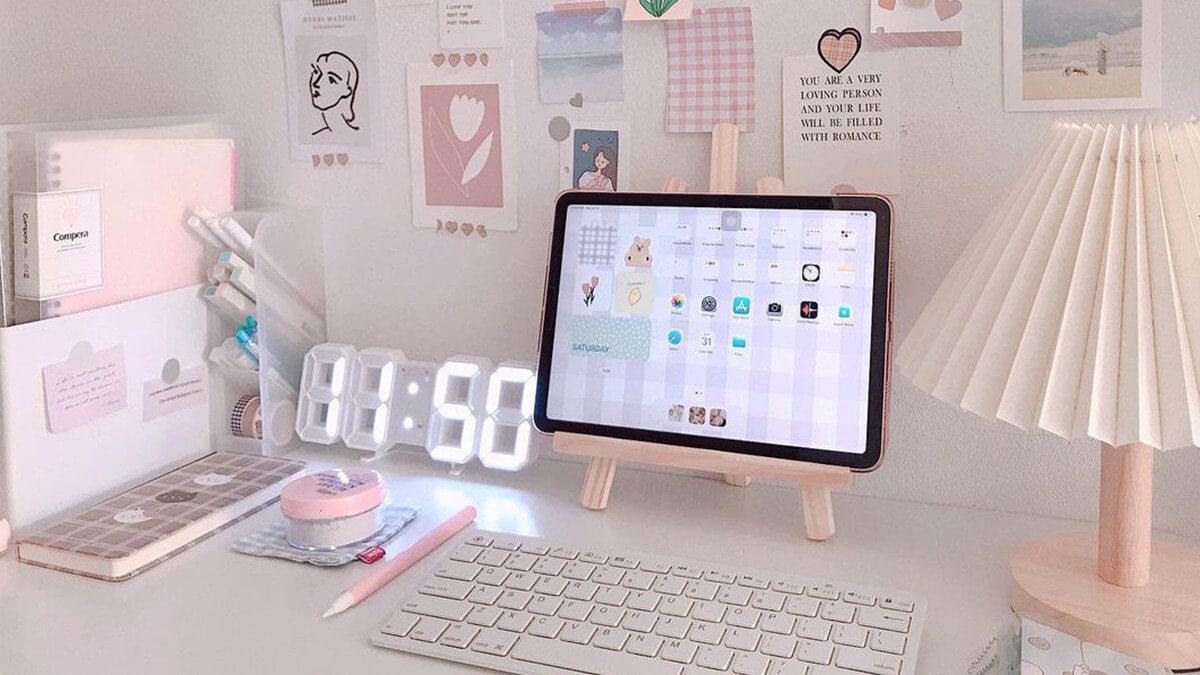 Image by @studyytinn
Using iPad to Display Aesthetic Visuals
Whether you want to save screen real estate on your primary display, or just use your iPad as a digital picture frame – use your iPad to display your favorite YouTube lofi playlists in the background, or even just a static image to complement your theme.
Looking for the perfect ambient backdrop? Check out our roundups on the best aesthetic study websites and the best study with me videos!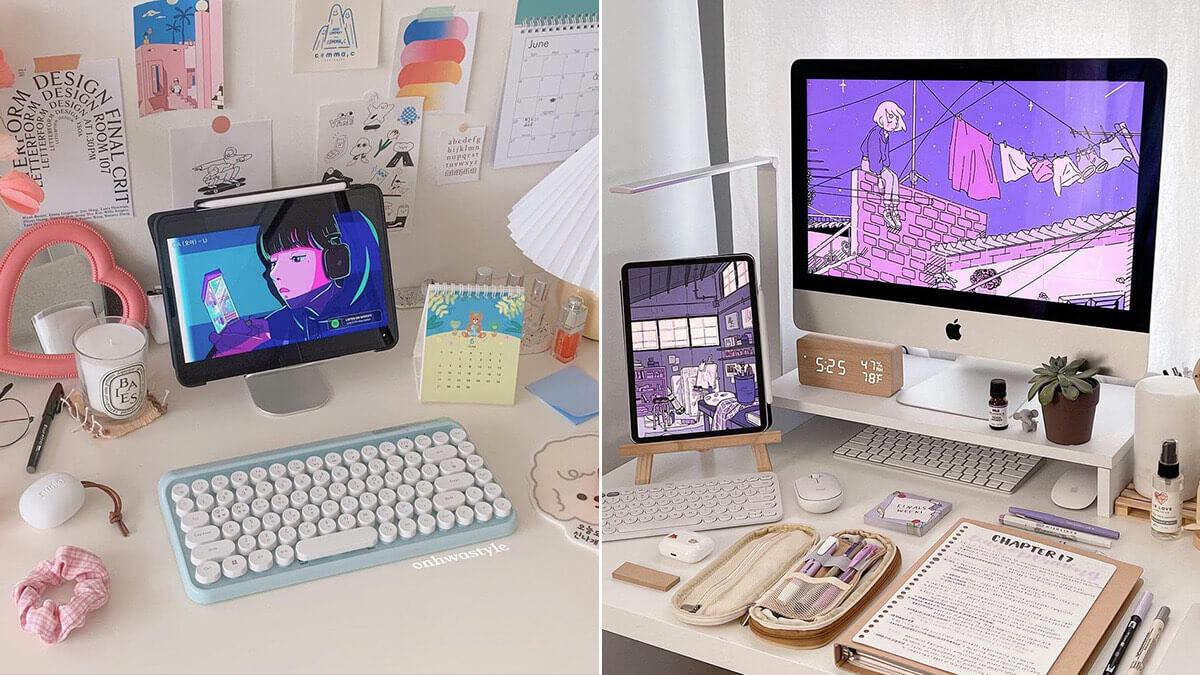 Images by @onhwastyle and @c.anela__
Unique Transparent iPad Setup
Keep your aesthetic setup minimal and chic with a transparent iPad holder to let the space around your desk do the talking. You can even add an acrylic dry erase board for your to-do lists to complete the transparent look.
Where to start: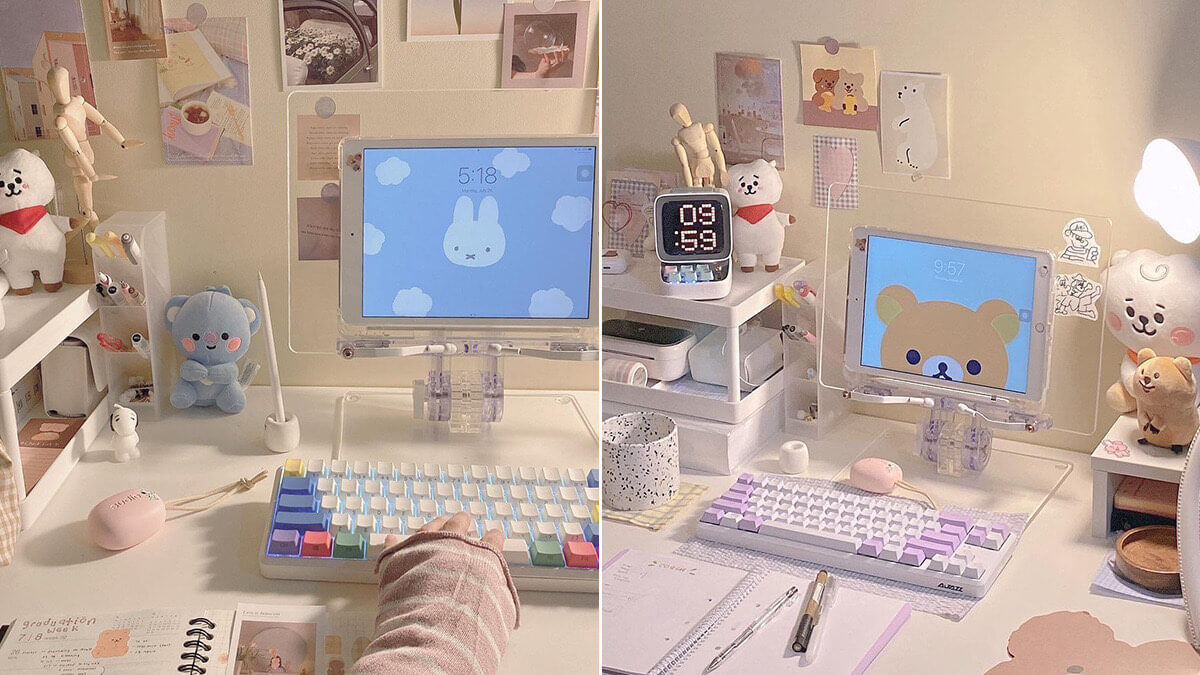 Images by @_coffeeegram
Color Theme iPad Setups
Bring some life to your iPad desk setup by going with a dedicated color palette. You can match your colorful iPad and iPad stand to your aesthetic iPad home screen, keyboard and mouse, while also adding some colorful digital decor to tie it all together.
Pink Theme iPad Setup
Where to start: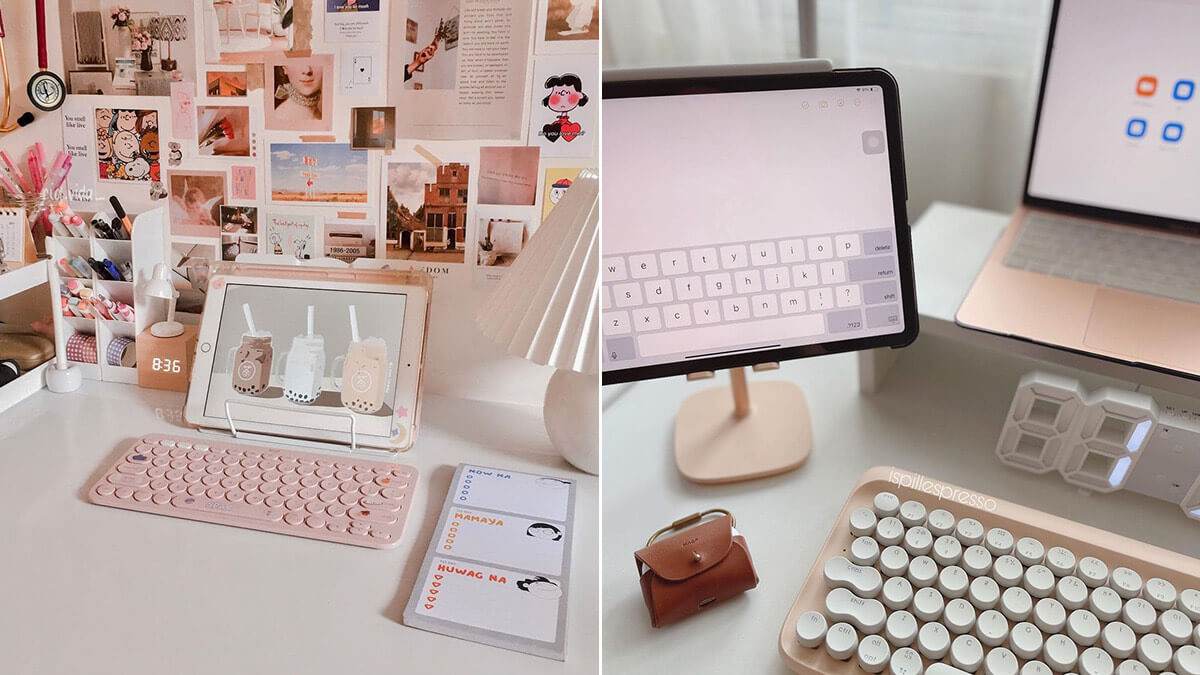 Images by @ria.vida_ and @ispillespresso
Yellow iPad Setup
Where to start: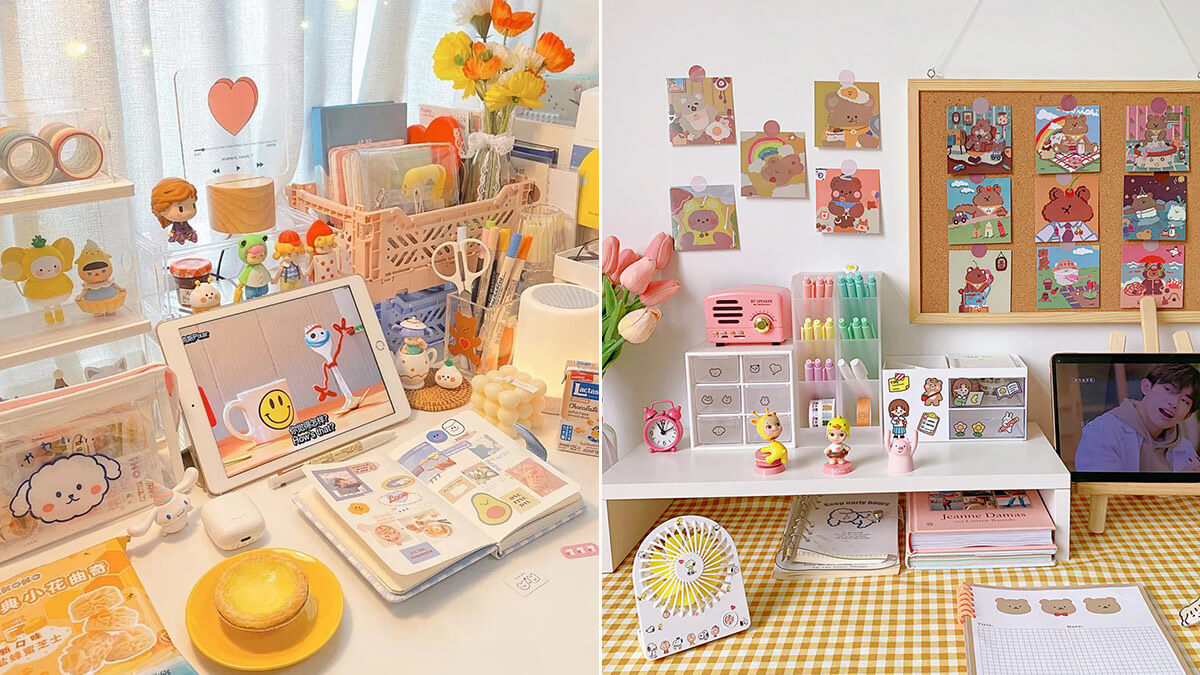 Images via Pinterest
Green iPad Setup
Where to start: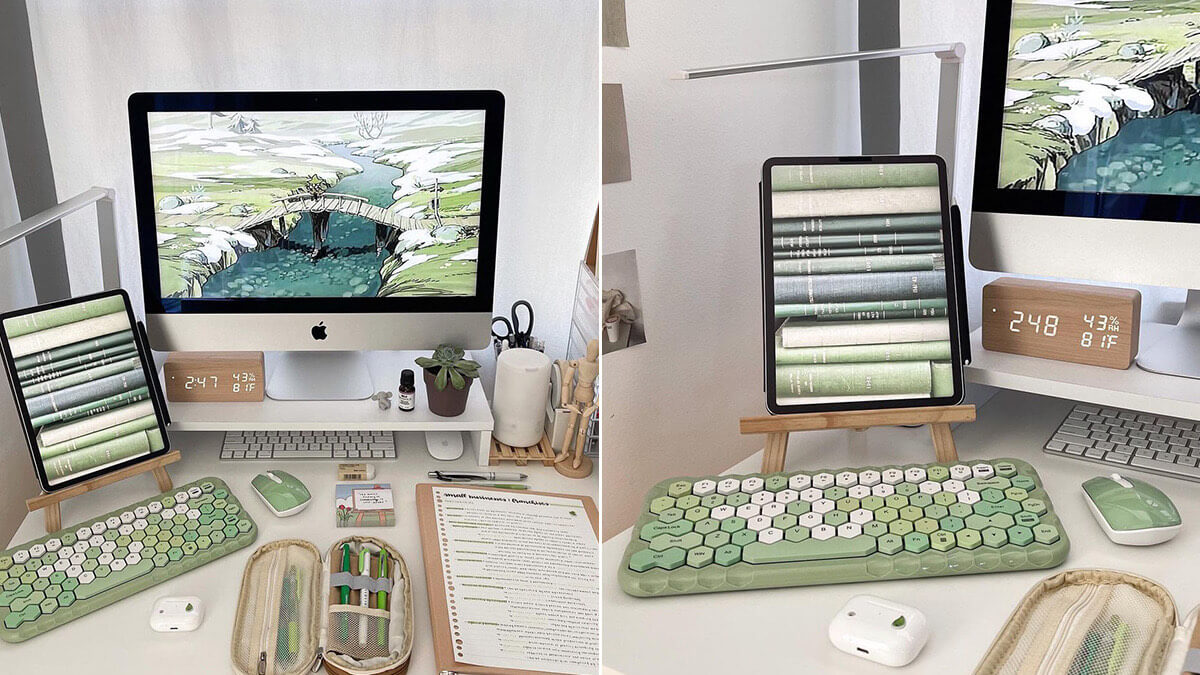 Images by @c.anela__
White iPad Setup
Where to start: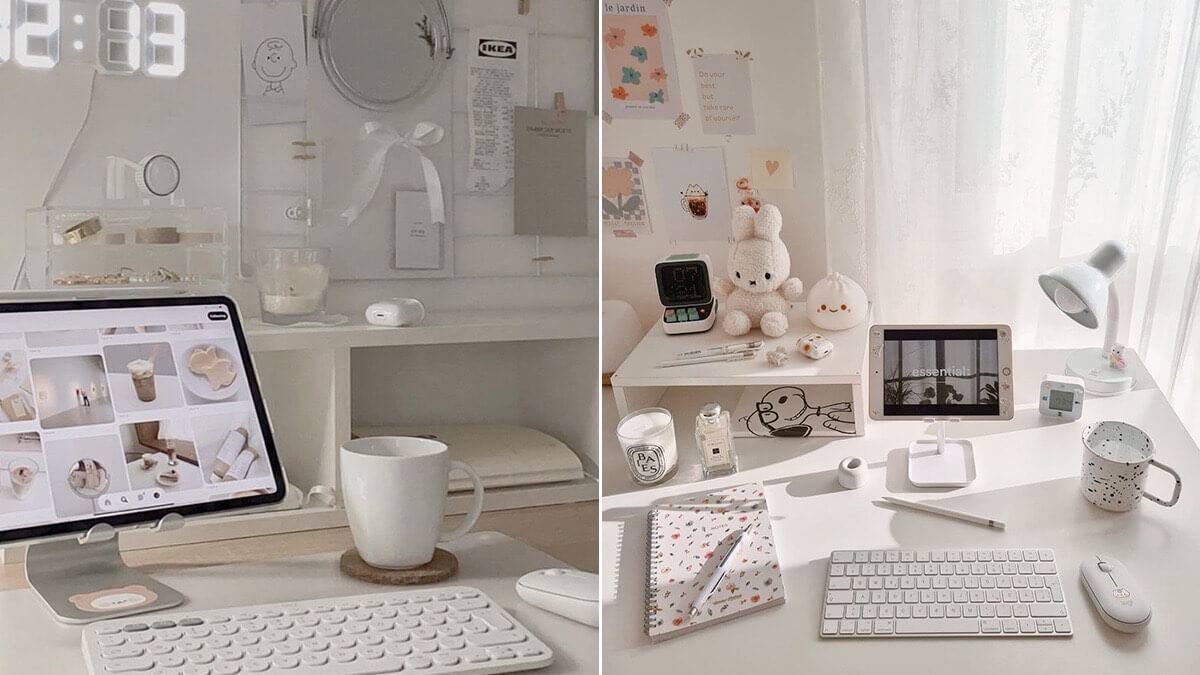 Images by @ggukoh and @bearable_studying
iPad Digital Planner Setup
If you love digital planners, it makes total sense to use an iPad setup and to plan your days and weeks. With the proper iPad stylus and Notion digital planner template, you'll be able to stay productive – while maintaining an aesthetic setup.
Where to start: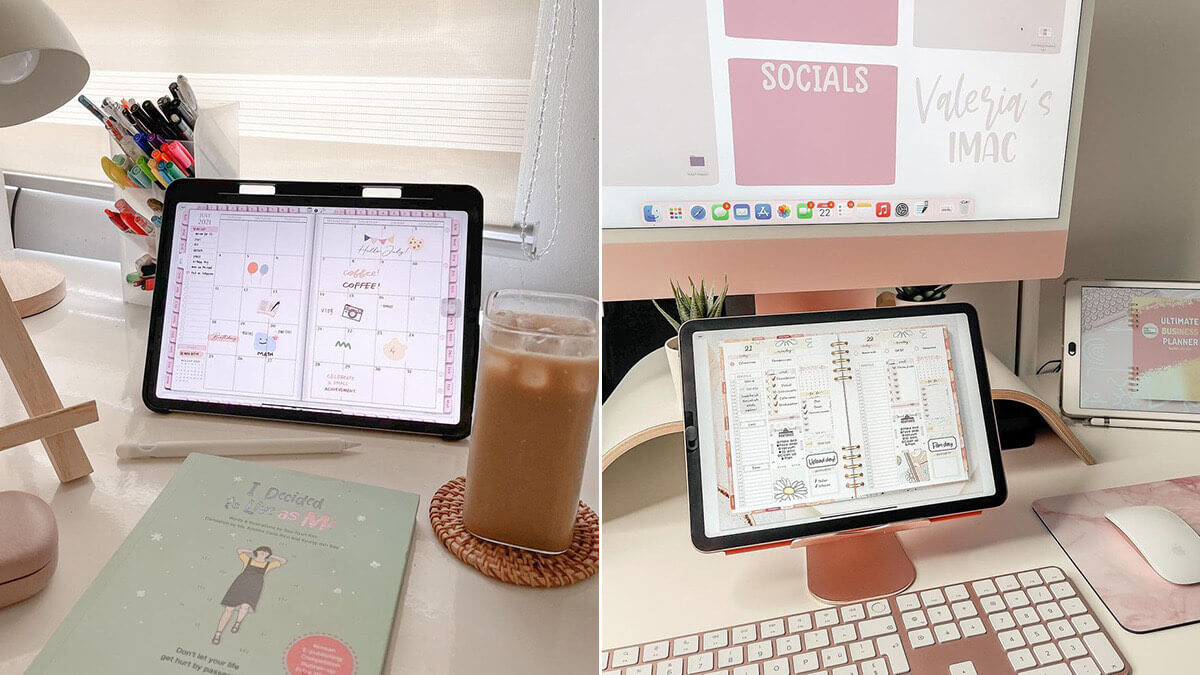 Images by @sun.daze18 and @digital.planning
Aesthetic Notion iPad Setup
What's an iPad setup without a Notion setup? Notion works incredibly well on iPad, making minimal compromises from the desktop app. Here's what you need for the perfect Notion setup.
Where to start: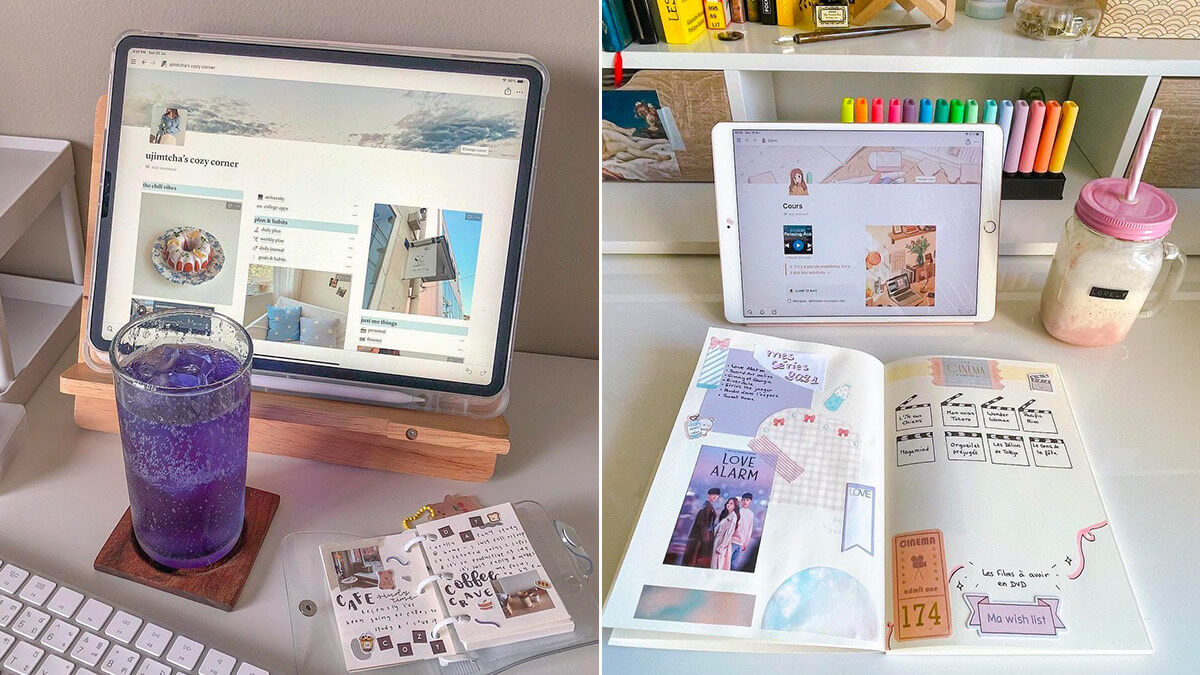 Images by @ujmtcha and @rosilize
Kawaii iPad Setup
Fulfill all of your Kawaii aesthetic dreams with the right decor for your desk setup. Decorate your iPad workspace with Kawaii-themed goods and colorful desk accessories to complete the setup.
Where to start: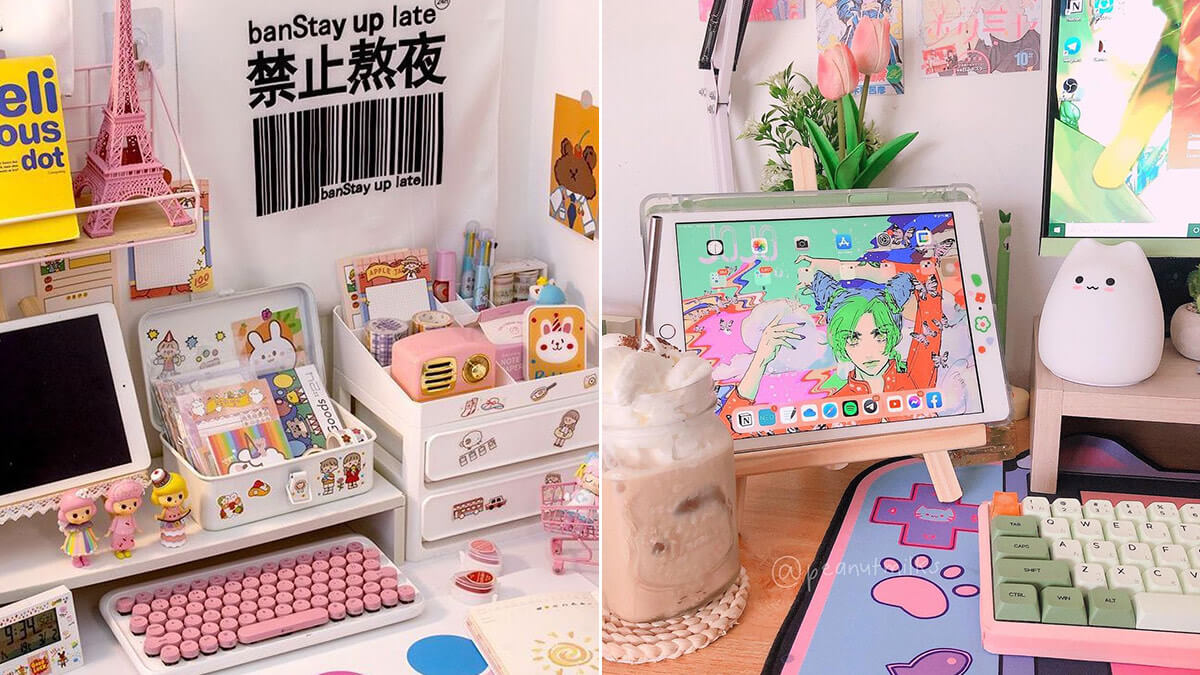 Images by YesStyle and @peanutmilks
Wall Collage iPad Setup
With an iPad being smaller than a typical monitor, you might find you need more to fill in your setup and make it feel complete. Bring it all together with a wall collage kit that matches with your personal style and study aesthetic.
Where to start: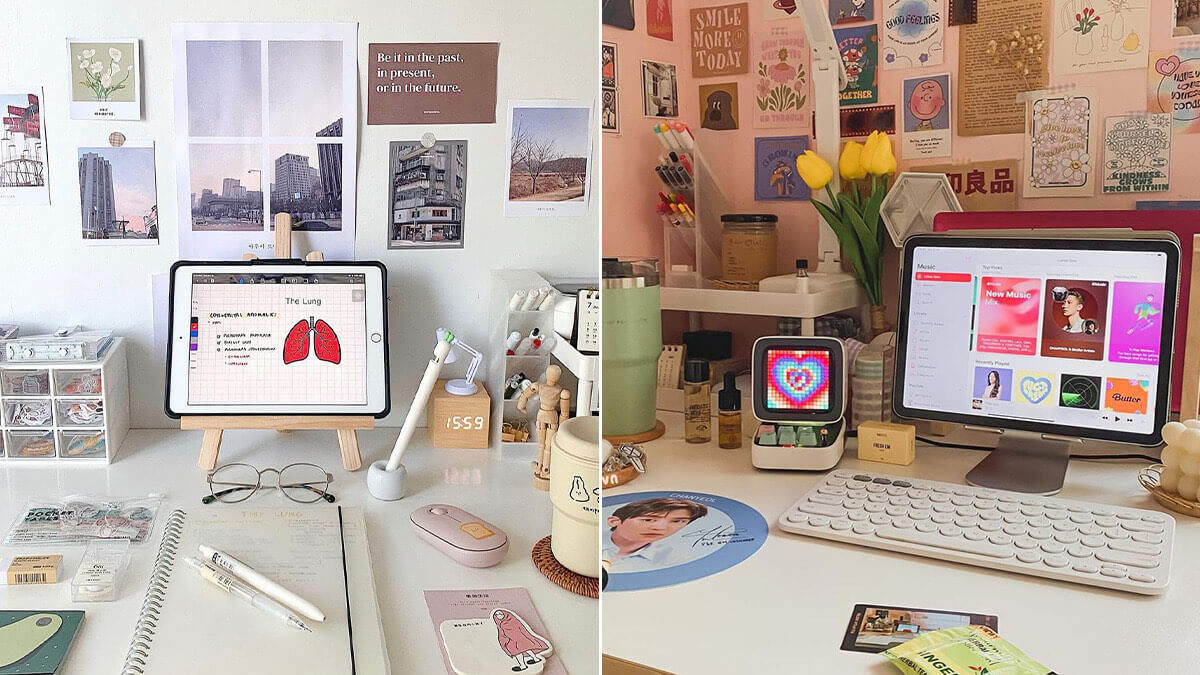 Image by @annieyong.__ and @airstheticgtvn
iPad Setup Essentials & Accessories
Now that you've got some ideas for the iPad setup of your dreams, let's quickly run over the staple pieces that make up the core of every aesthetic iPad setup. Here are our recommendations!
iPads
iPad Keyboards & Trackpads
iPad Stands
iPad Mounts
iPad Cases & Covers
iPad Stylus Pens
Desk Clock
Are we forgetting any aesthetic iPad setup study essentials? Have any other iPad desk setup ideas? Let us know in the comments below!
Gridfiti is supported by its audience – when you buy something using the retail links in our posts, we may earn a small commission at no additional cost to you. We only recommend products we would use ourselves and recommend to our friends and family. Read more about our affiliate disclaimer.