Having a clean and stylish workspace can do wonders for your productivity. "Look good, feel good" is no exception in your home office – choosing an aesthetic desk setup can help you feel more comfortable in your day-to-day, whether it's studying, working, or even casual browsing.
To help you complete the workspace of your dreams, we've created a full guide with product and aesthetic desk decor recommendations, along with aesthetic desk ideas for you to choose from.
To help level up your setup, here's a detailed blog post we wrote on how you can make your Mac more aesthetic!
Want more desk setup and workspace ideas? Join our mailing list to get inspo straight to your inbox 📮
Aesthetic Desk Essentials
Here are all the components you need for your aesthetic desk setup. For a moodboard of more inspo, check out the aesthetic desks ideas section below!
Aesthetic Desks
The best place to start with a desk setup is, well, the desk. Pick from a variety of aesthetic styles – ranging from more timeless mid-century modern looks, to something that makes a little bit more of a statement, like a colorful desk.
Where to start: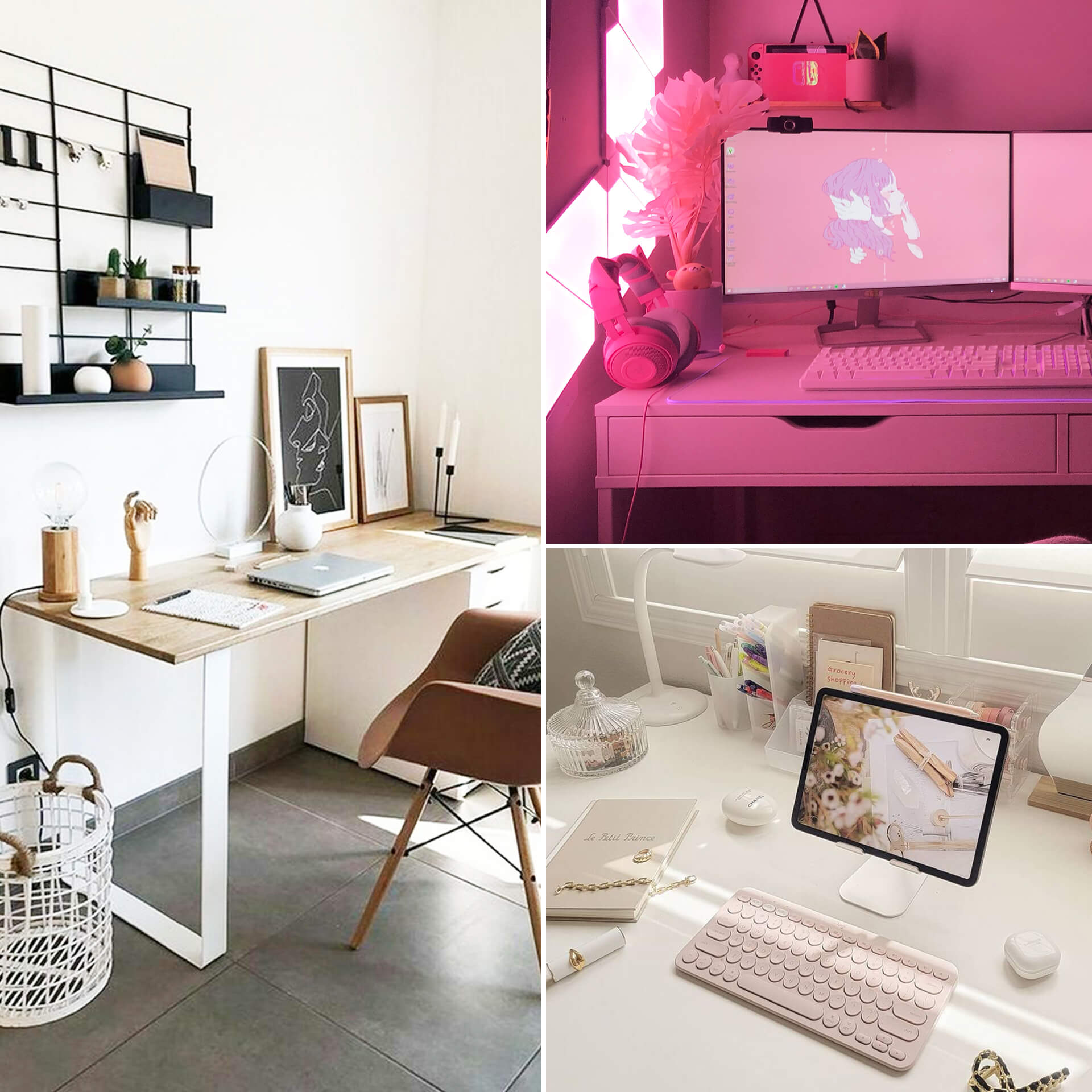 Images via Pinterest, u/cinna_bun_, and @itsangelaslife
Aesthetic Desk Chairs
Next up is a chair that matches your setup's look, without compromising comfort. There are a ton of different racing-style gaming chairs to pick from, or if you're looking for something a little more simple and timeless like a mid-century modern chair, there's that too!
Where to start: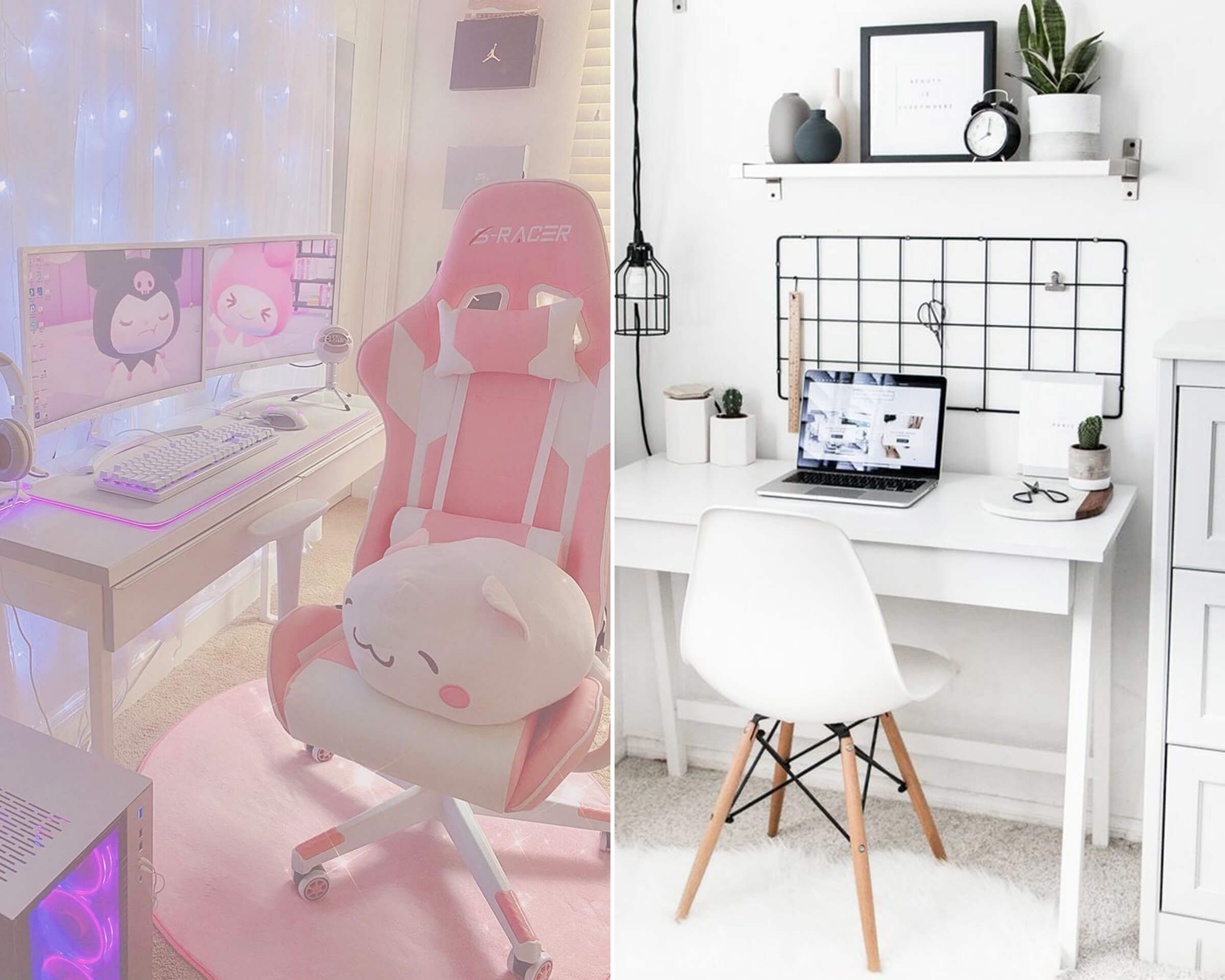 Images via @imbabygamer and Apartment Therapy
Aesthetic Keyboard & Keycaps
Ditch the conventional keyboard and step up your setup with an aesthetic keyboard or custom keycaps for your mechanical keyboard. Choose from a variety of different themes, colors, and RGB backlights.
Where to start: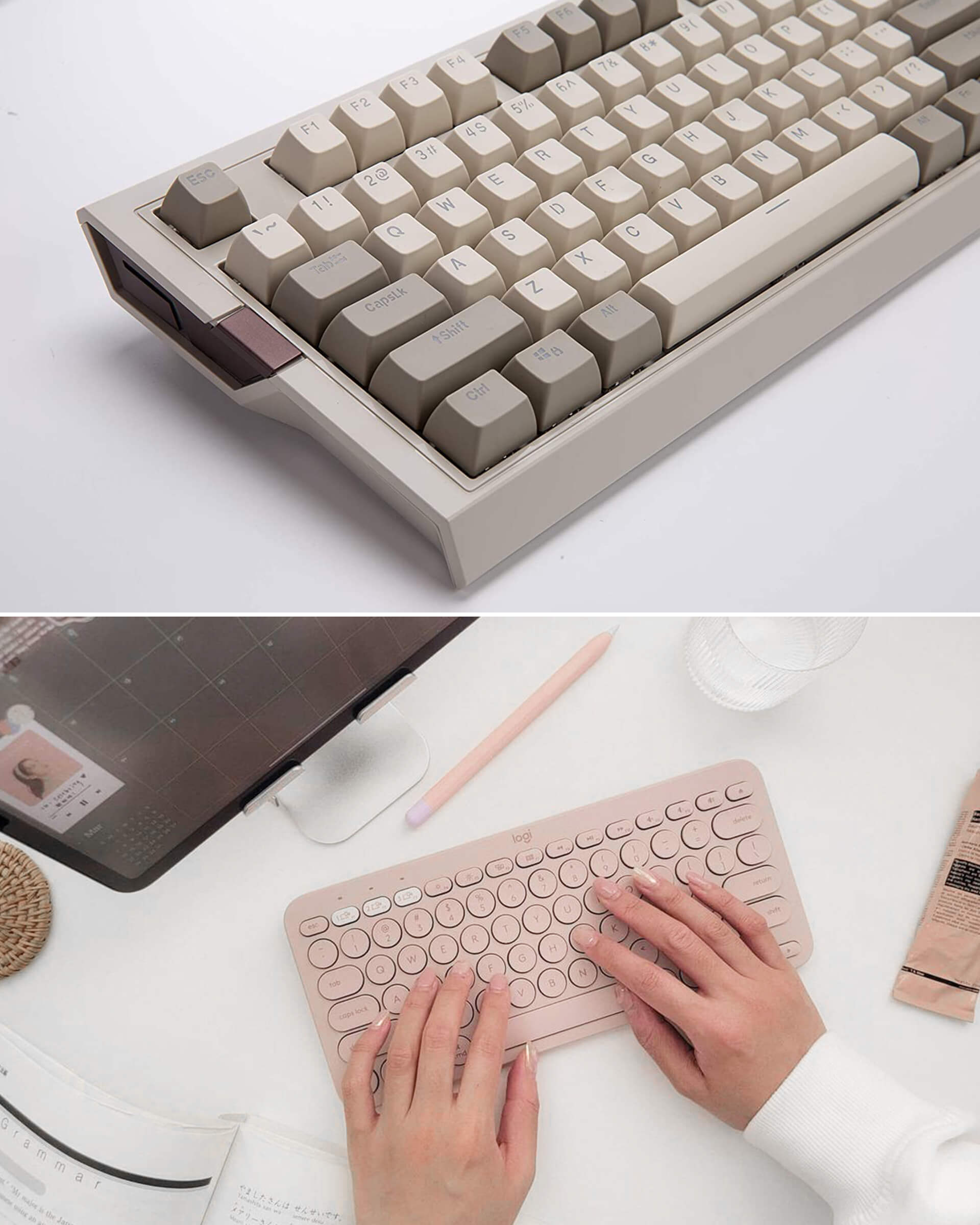 Images by Ajazz and @itsangelaslife
Aesthetic Mouse
Whether you keep it simple with the Apple Magic Mouse, or pick a more robust mouse to match your color aesthetic, there are a ton of options to match your aesthetic.
Where to start: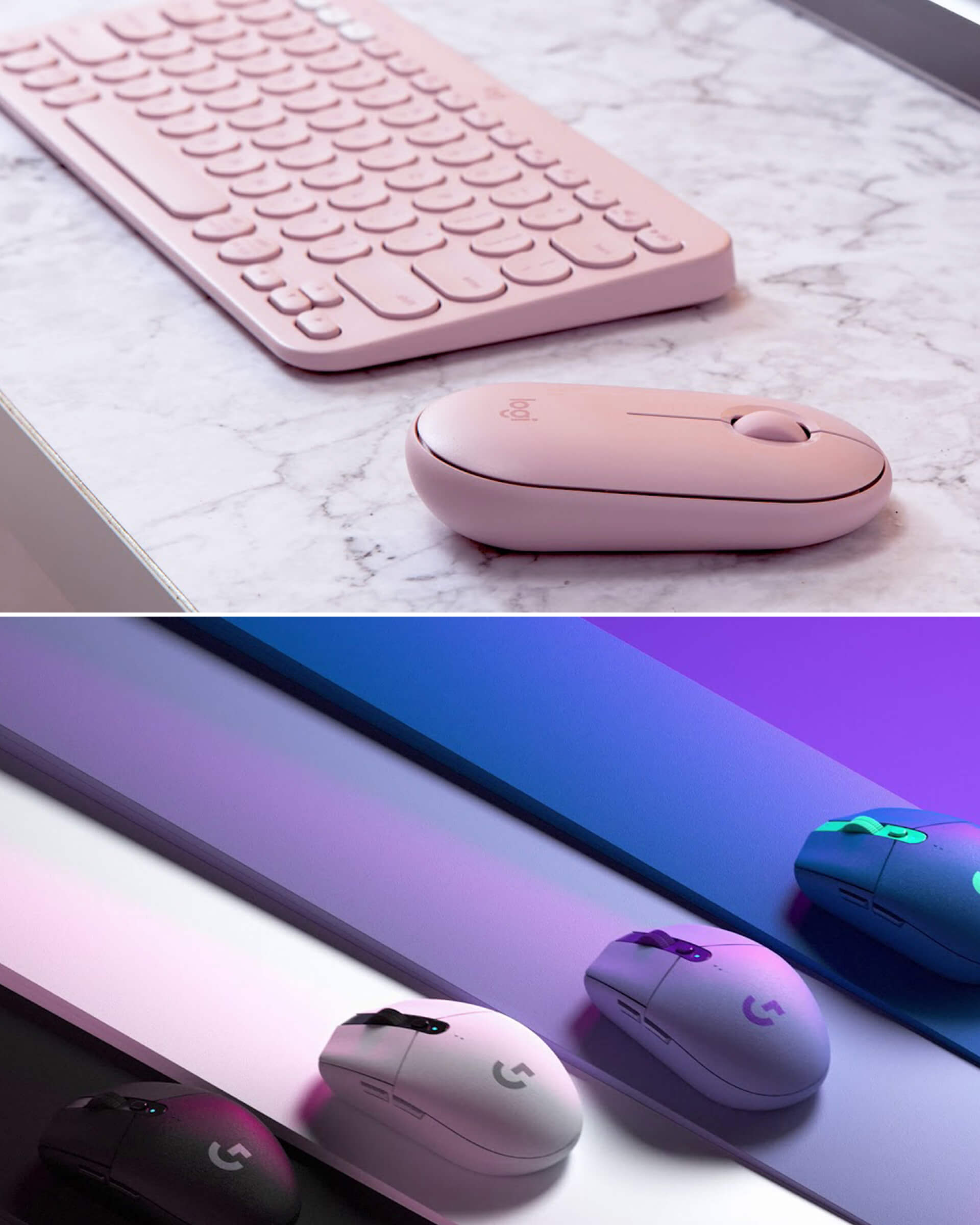 Images by Logitech
Aesthetic Monitor Display
You might be wondering if there's even such thing as an "aesthetic monitor" since most displays are pretty generic and give off a tech-y feel. The key is to use a more minimal monitor, along with a monitor arm. White monitors tend to work for most aesthetic setups. You can even paint your monitor to match your color aesthetic – tutorial for that here.
Use this monitor to display anything from aesthetic study websites, to the best study with me videos!
Where to start: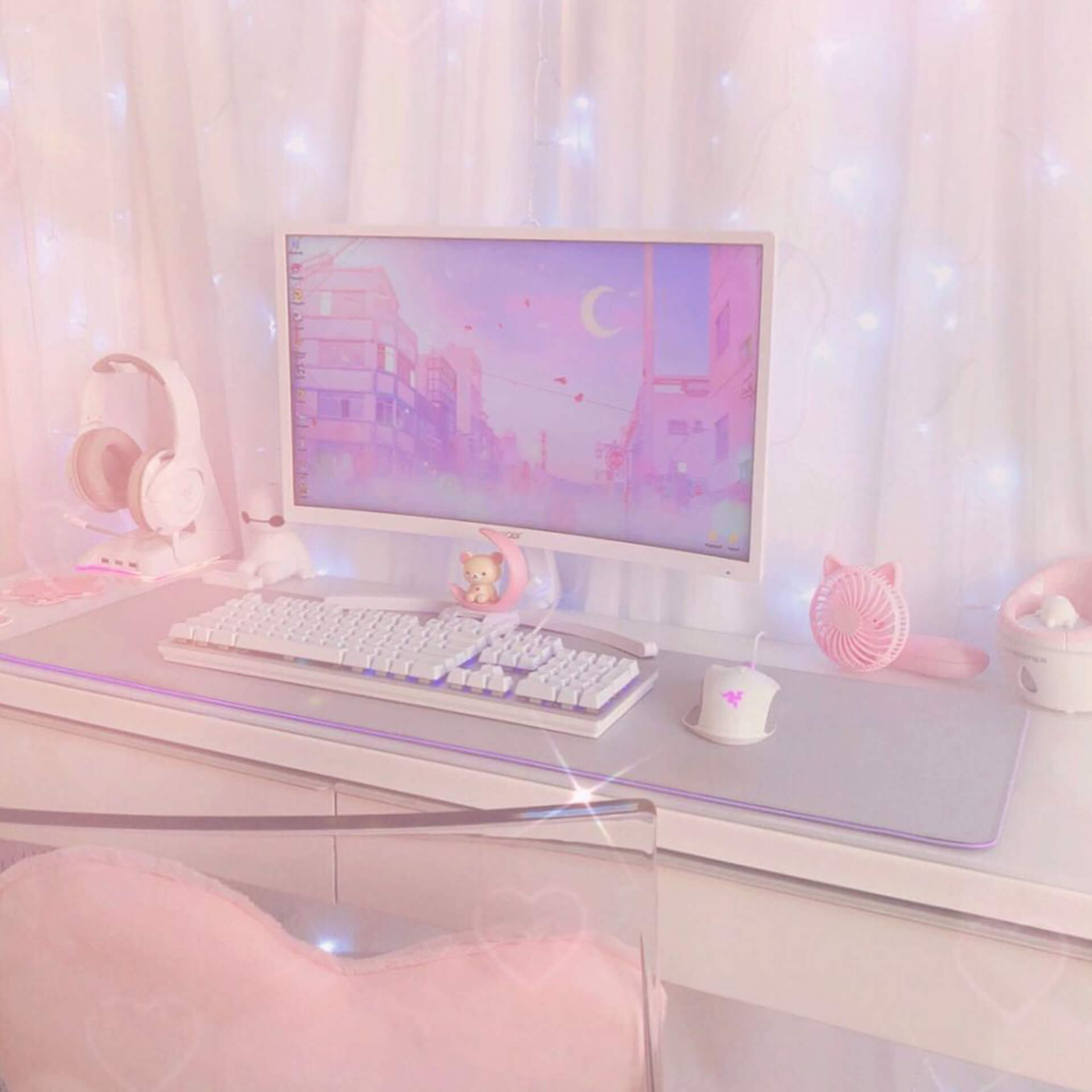 Image by @imbabygamer
Aesthetic Wallpapers & Screensavers for Laptop / Desktop
With an aesthetic setup also comes aesthetic digital decor. Follow our aesthetic wallpapers and screensavers Pinterest board to keep up-to-date with the latest aesthetic wallpapers and screensavers!
Where to start:
Aesthetic Wallpapers
Aesthetic Anime Wallpapers
Screensavers
Ambient Aesthetic Websites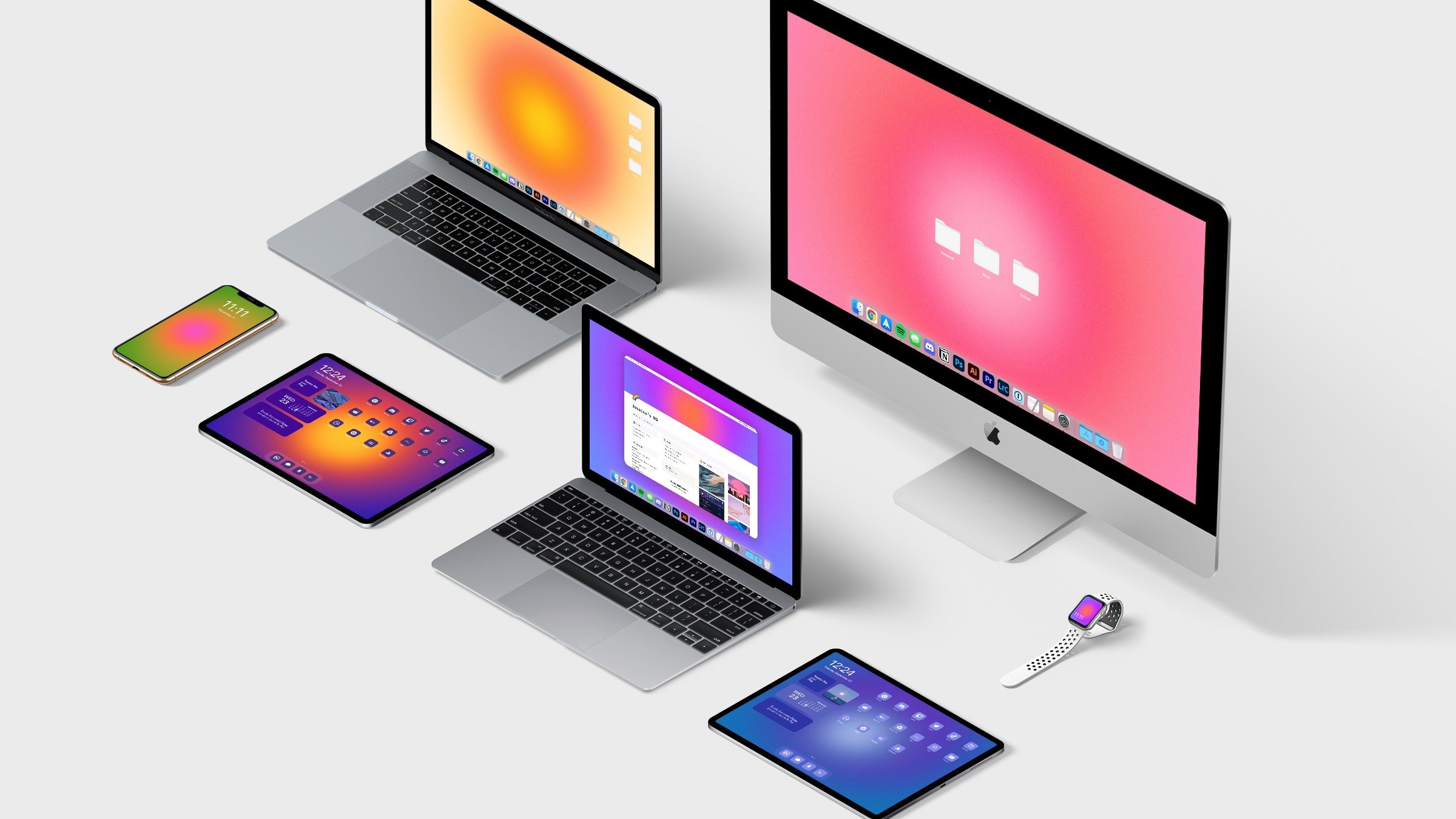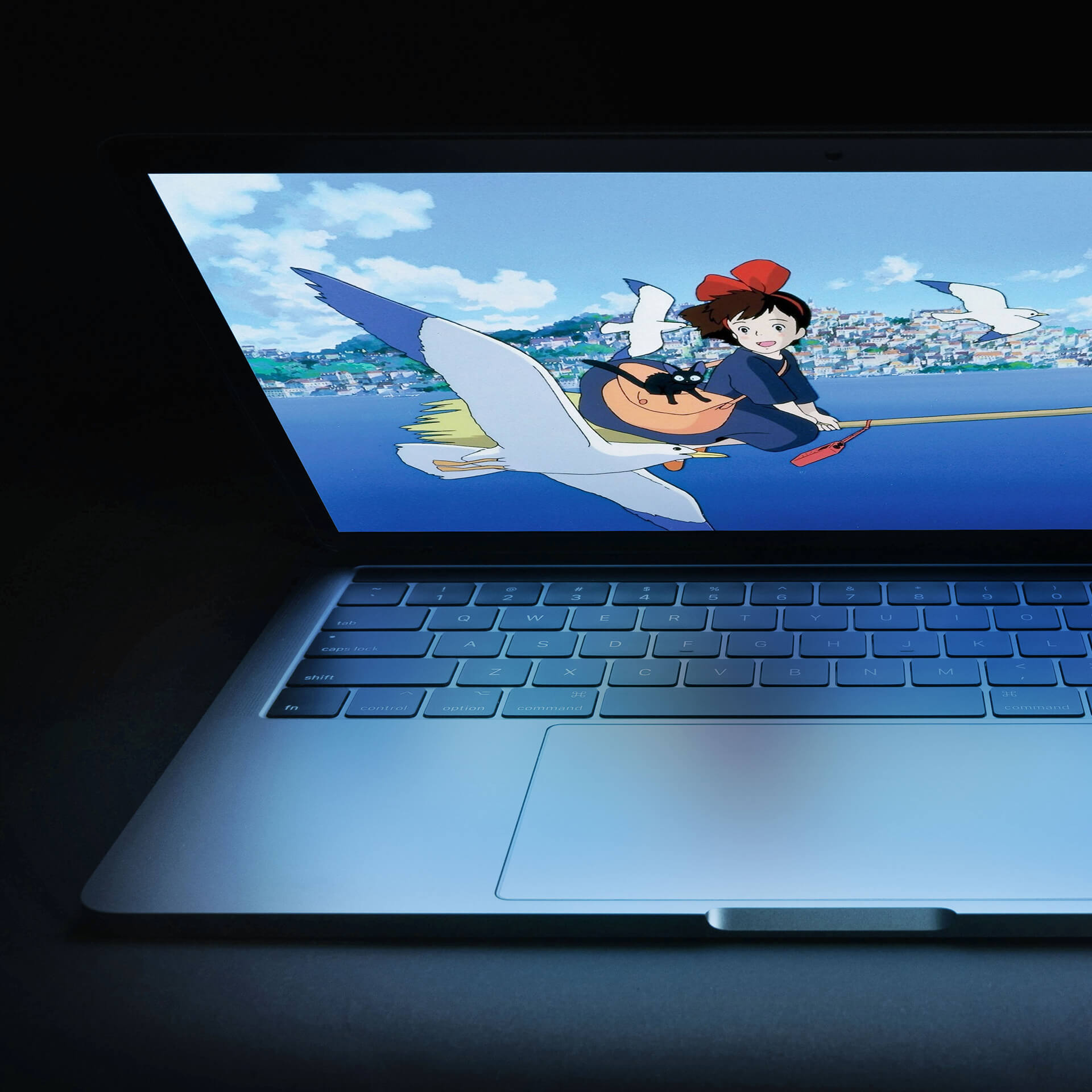 'Kiki's Delivery Service' is property of Studio Ghibli and Toei Company
Aesthetic Desk Pads
All while protecting your surface, desk pads are the cherry on top for an aesthetic setup, and often an overlooked aspect of the desk. If you're wanting more inspo here, check out our desk mat ideas post.
Where to start: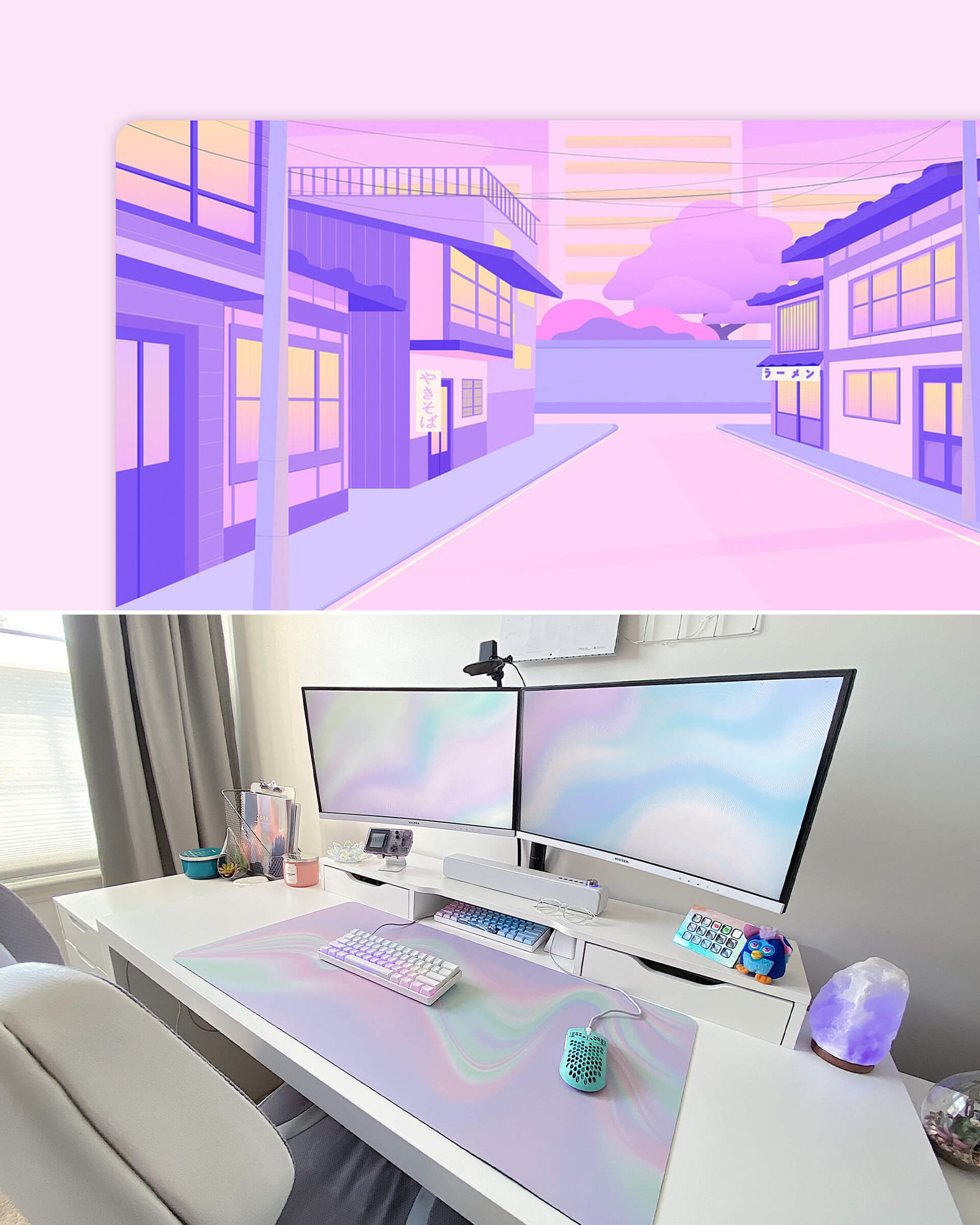 Aesthetic Desk Organizers
Put that desk clutter in its place, while also complementing the rest of your desk setup's look. From wire grid organizers, to catchall trays and beyond, there are a ton of options to organize your papers, stationery, and more.
Where to start: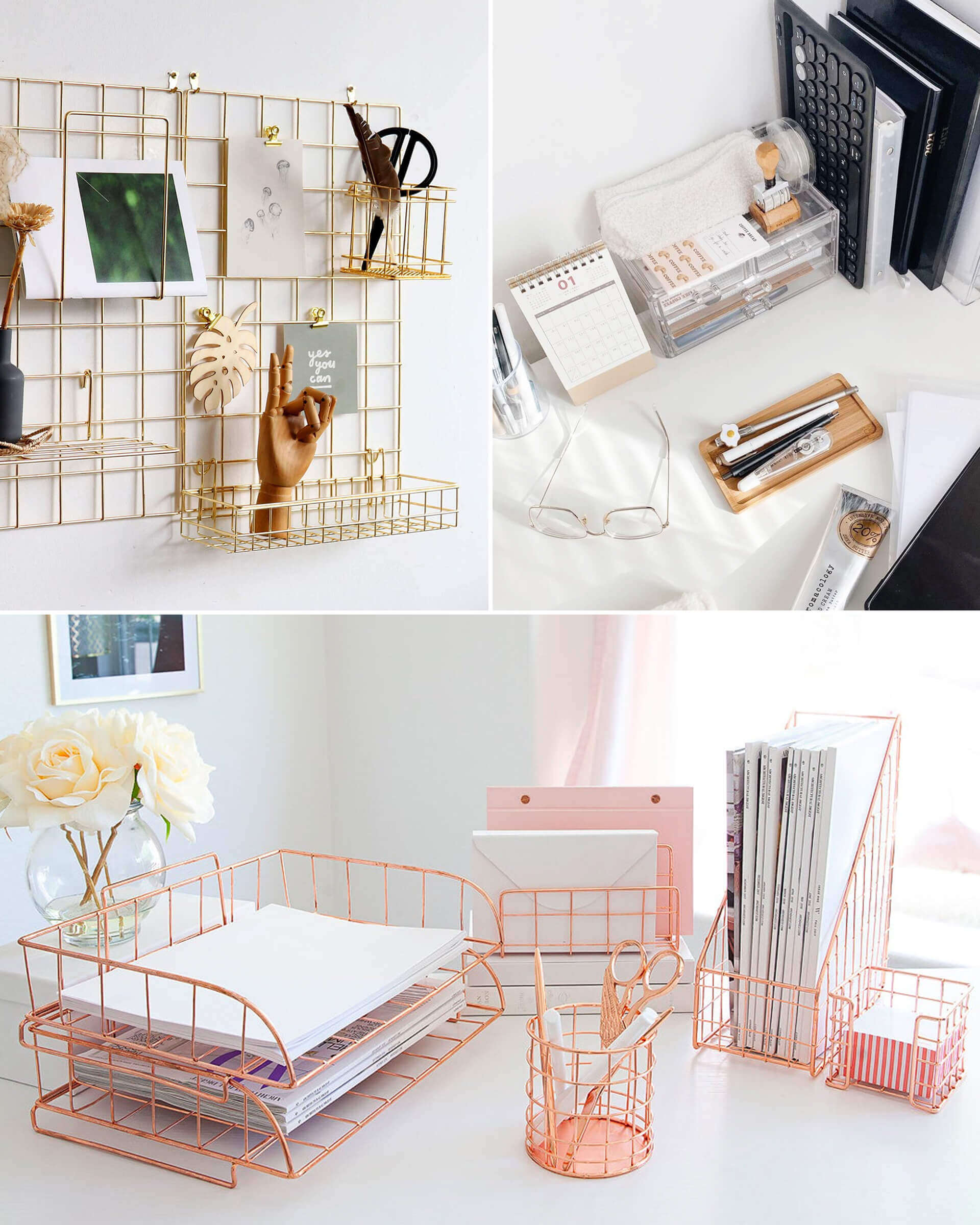 Images by FRIADE, @honibee__, and Blu Monaco
Aesthetic Headsets & Mics
Communicate with your friends and fam in style. Whether you're watching your favorite YouTuber, chatting with your friends on Discord, or even streaming on Twitch, these aesthetic headsets and microphones offer great audio quality, while completing your desk aesthetic.
Where to start: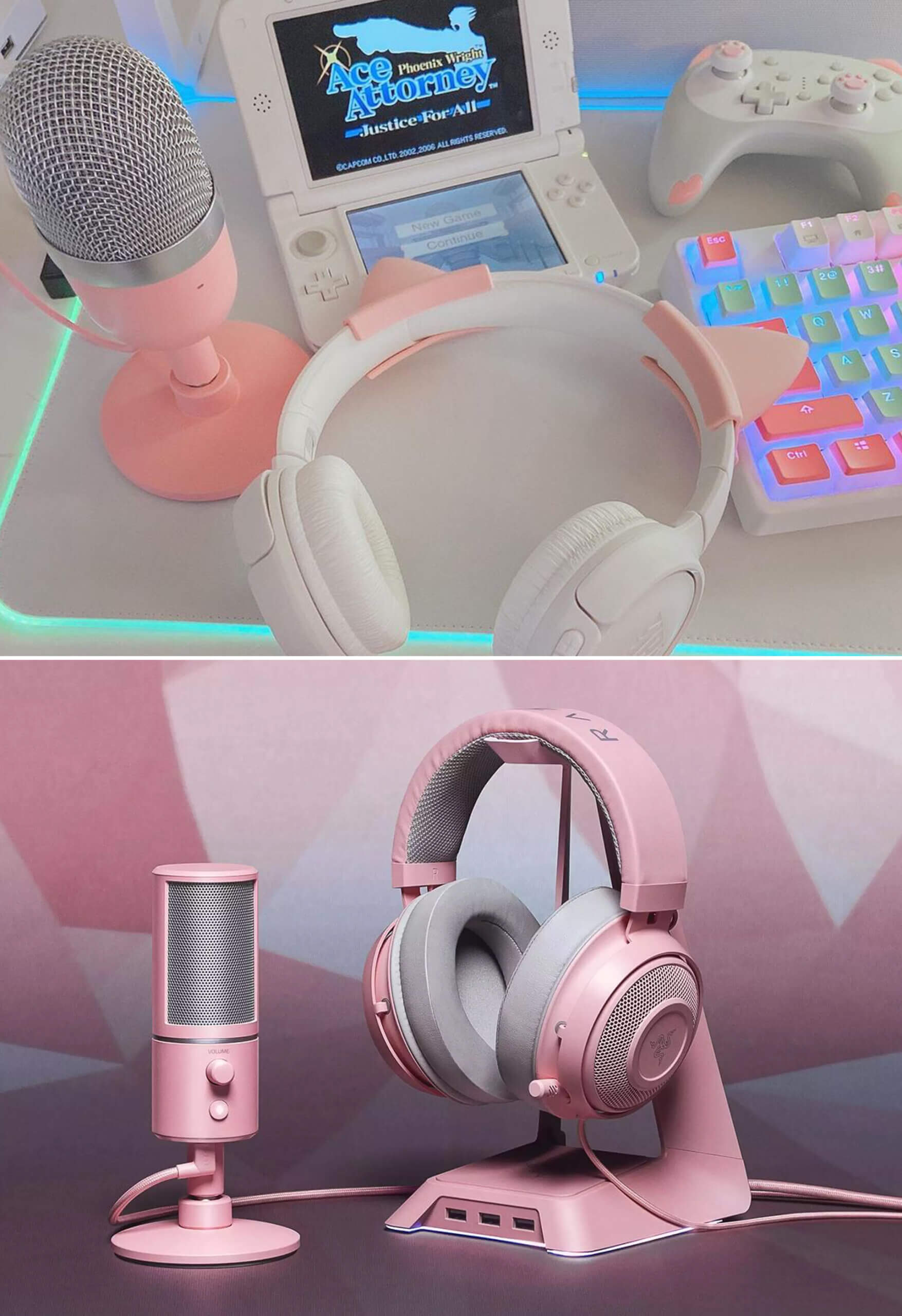 Images by @fawnprincex and Razer
Aesthetic Speakers
Make sure you're getting the best sound quality when listening to your favorite lofi playlist with these aesthetic speakers. Ranging from retro vinyl record-inspired styles, to modern Bluetooth speakers in various colours – your speakers can sound amazing, and look even better.
Where to start: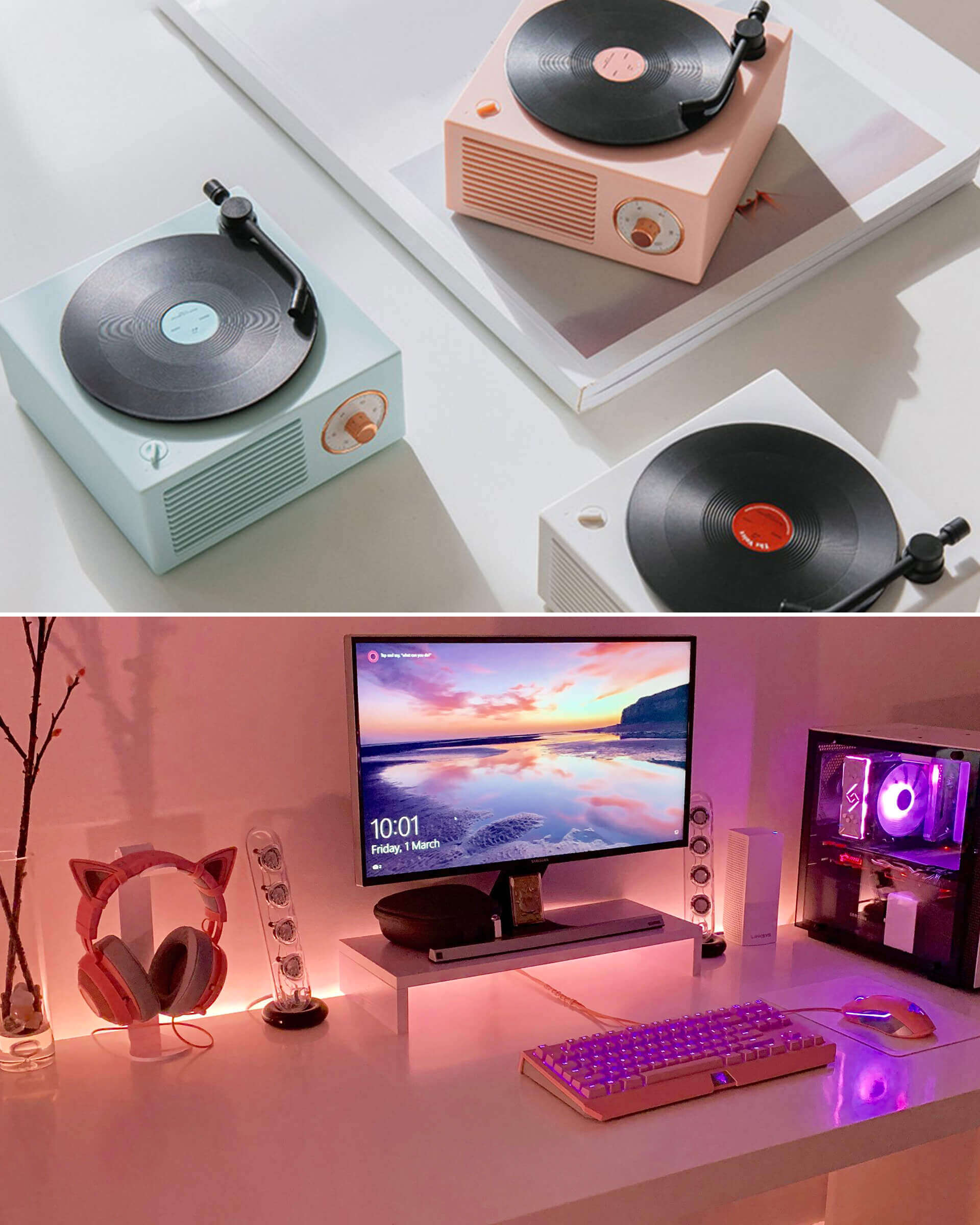 Images by Wetocke and u/asehen
Aesthetic Desk Accessories
Desk accessories play more of a supporting role in a setup, but these small items can play a big role in your day-to-day, and really add to your visual theme.
For more aesthetic desk decor recommendations, check out our full roundup post on cute desk accessories!
Where to start: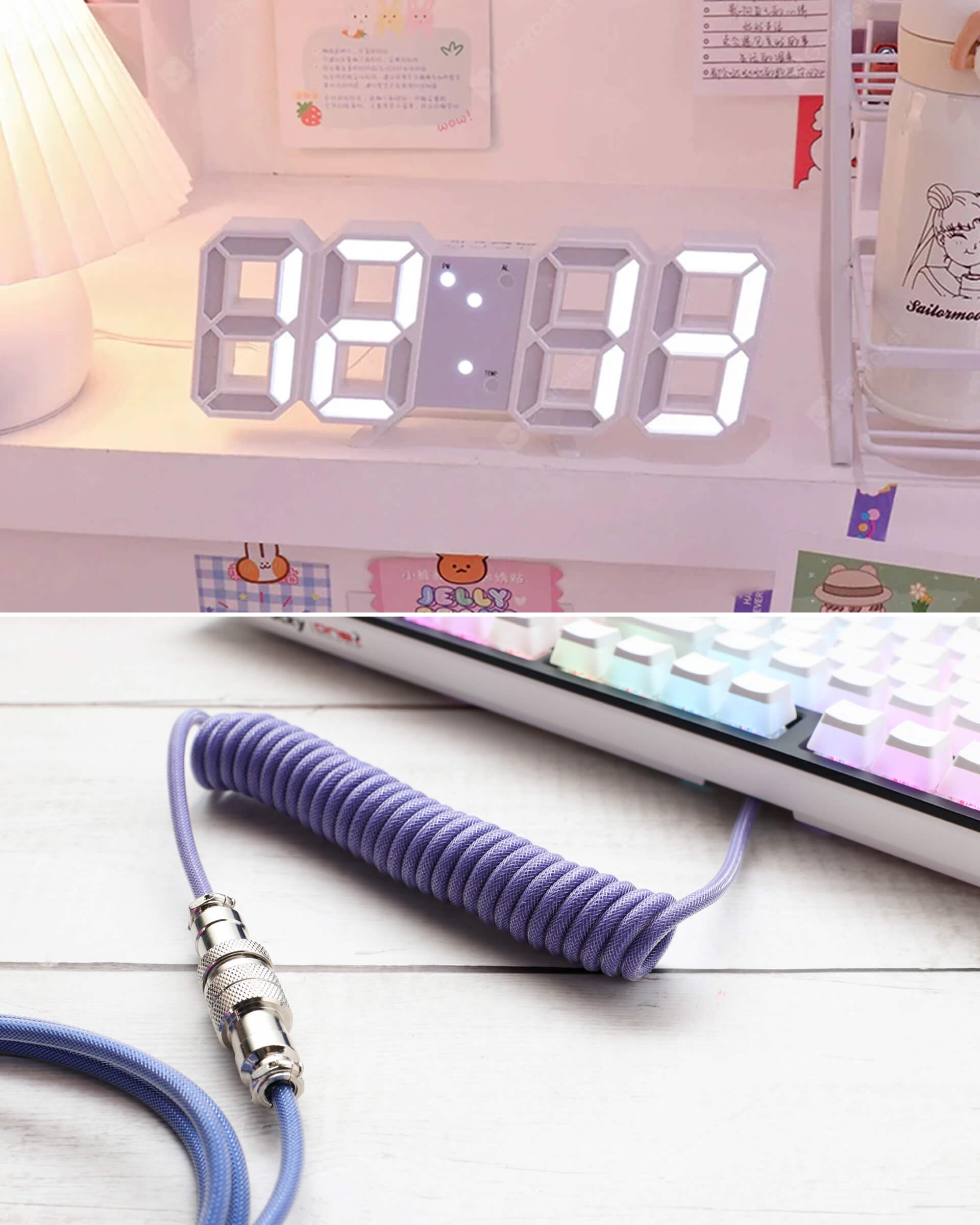 Image via Pinterest and Mechanical Keyboards
Aesthetic PC Case
With the amount of RGB parts and accessories you can get for your gaming rig, why not get the appropriate case to show it all off? Whether clear or colorful, here are some aesthetic PC cases which will complete the overall look of your setup!
Where to start: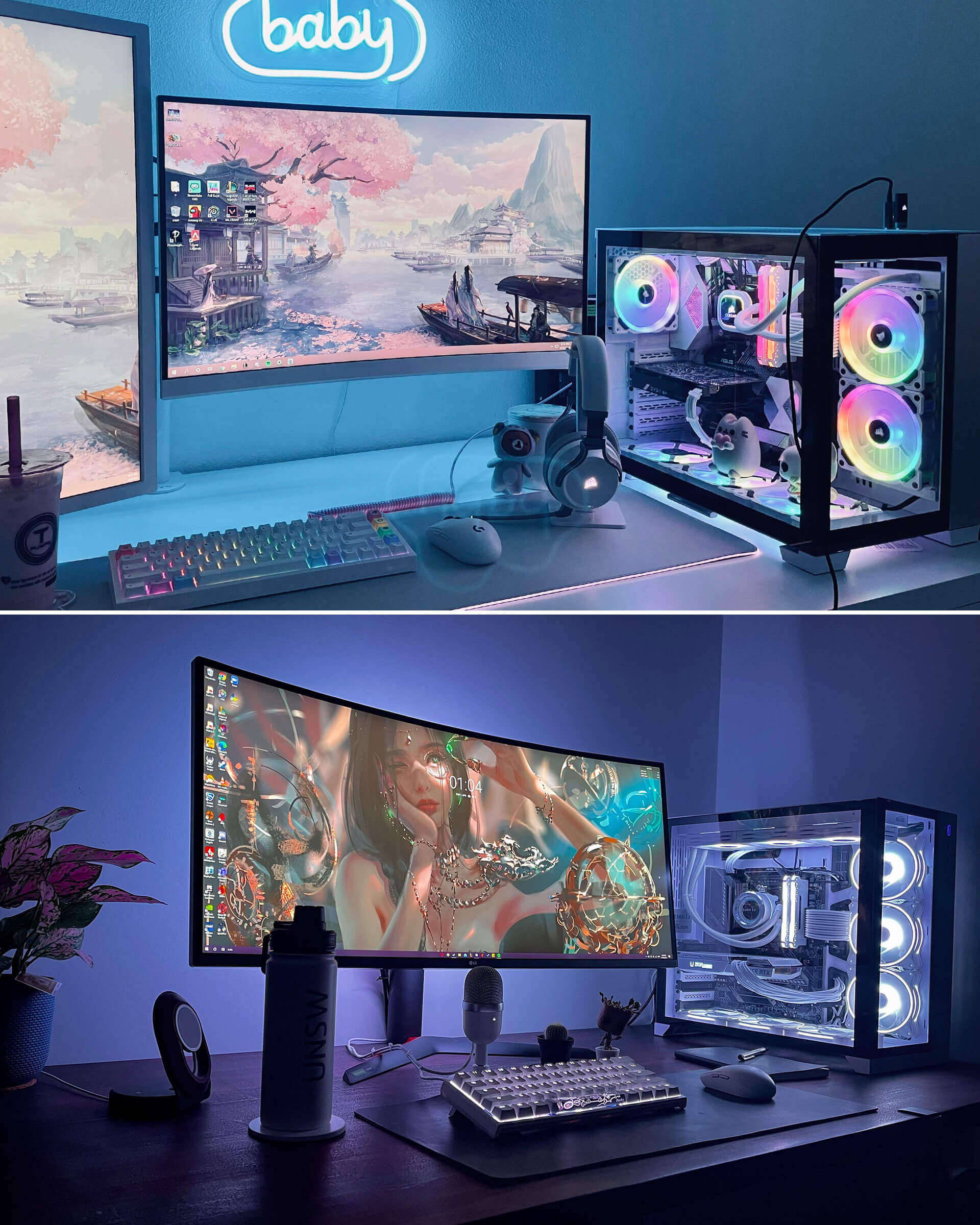 Images by u/helenadang and u/bobert1902
Aesthetic Desk Lighting
Lighting will bring your setup to the next level – whether it's LED strips, fairy lights, or more. Looking for more desk lighting ideas? Check out our post on desk backlighting and LED strip ideas.
Where to start: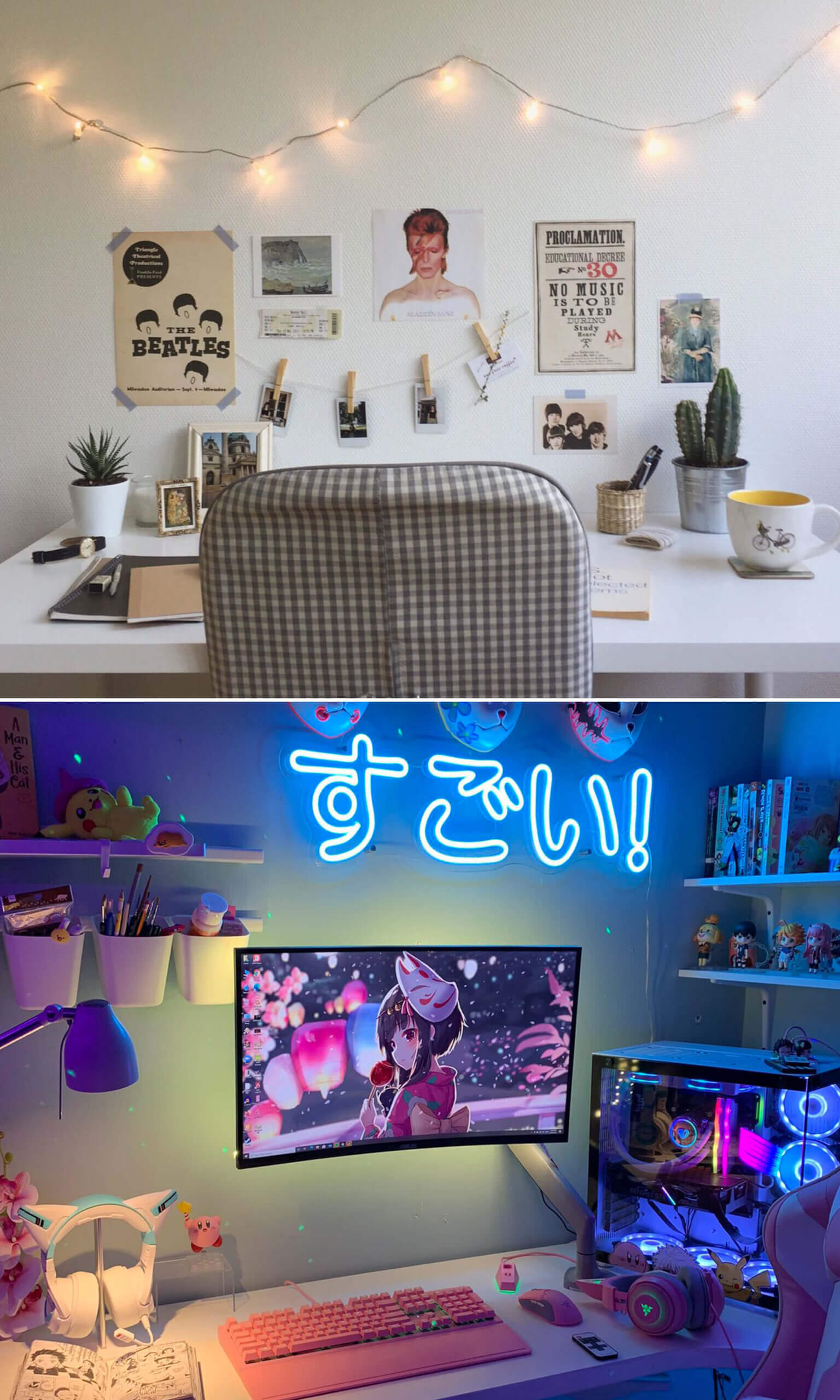 Images by Pinterest and @shryma
Aesthetic Desk Wall Art & Décor
The possibilities are endless when it comes to wall art and decor. For a more minimal look you can keep it blank, but you also have the option to deck out your wall space with prints, accessories, collage kits, and much more – to suit your personal workspace aesthetic.
Where to start: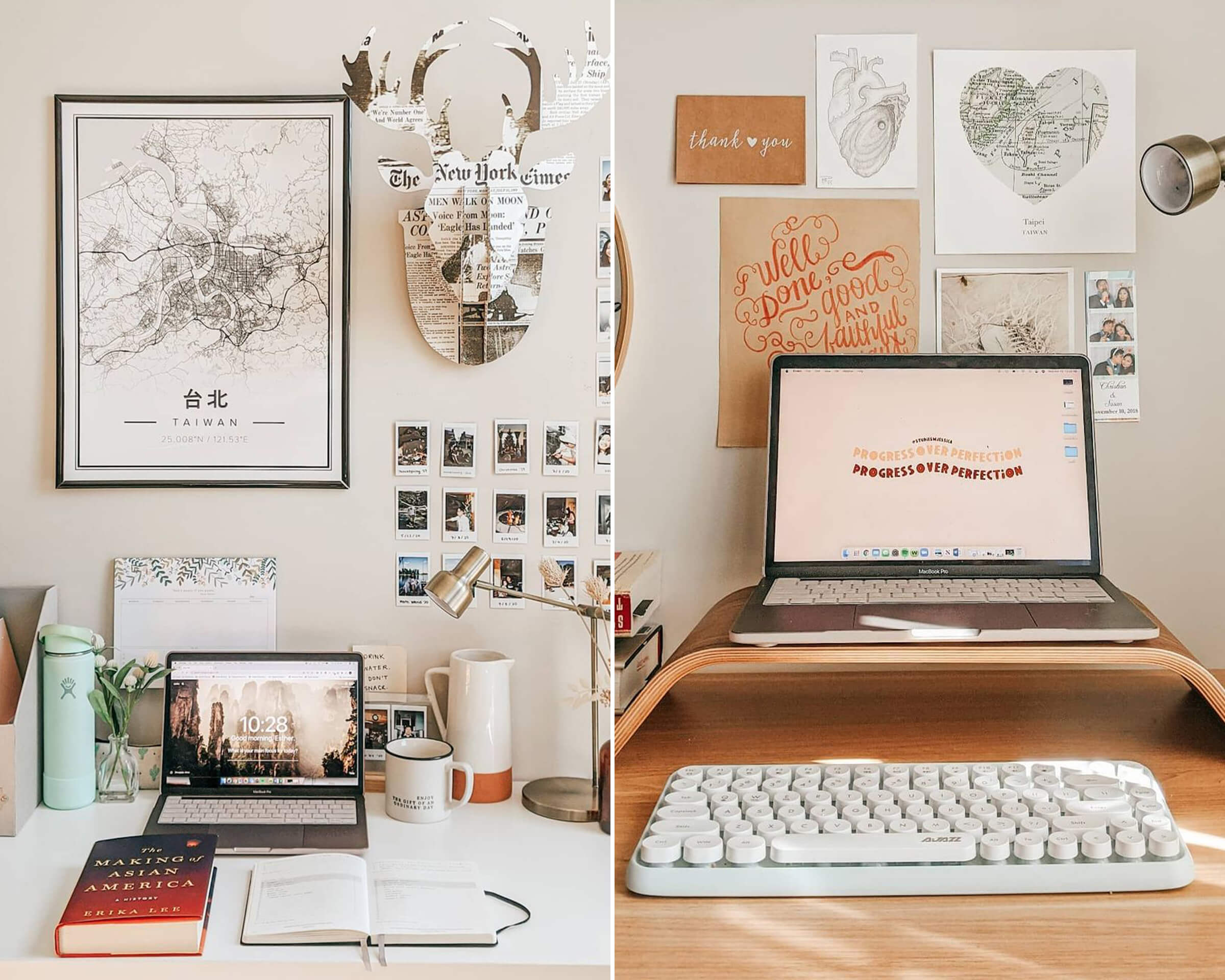 Images by @estherhfung
Aesthetic Desk Ideas & Inspiration
Now you know all the components that make up an aesthetic desk setup, here are some ideas to get you started.
Neutral Aesthetic Desk Setup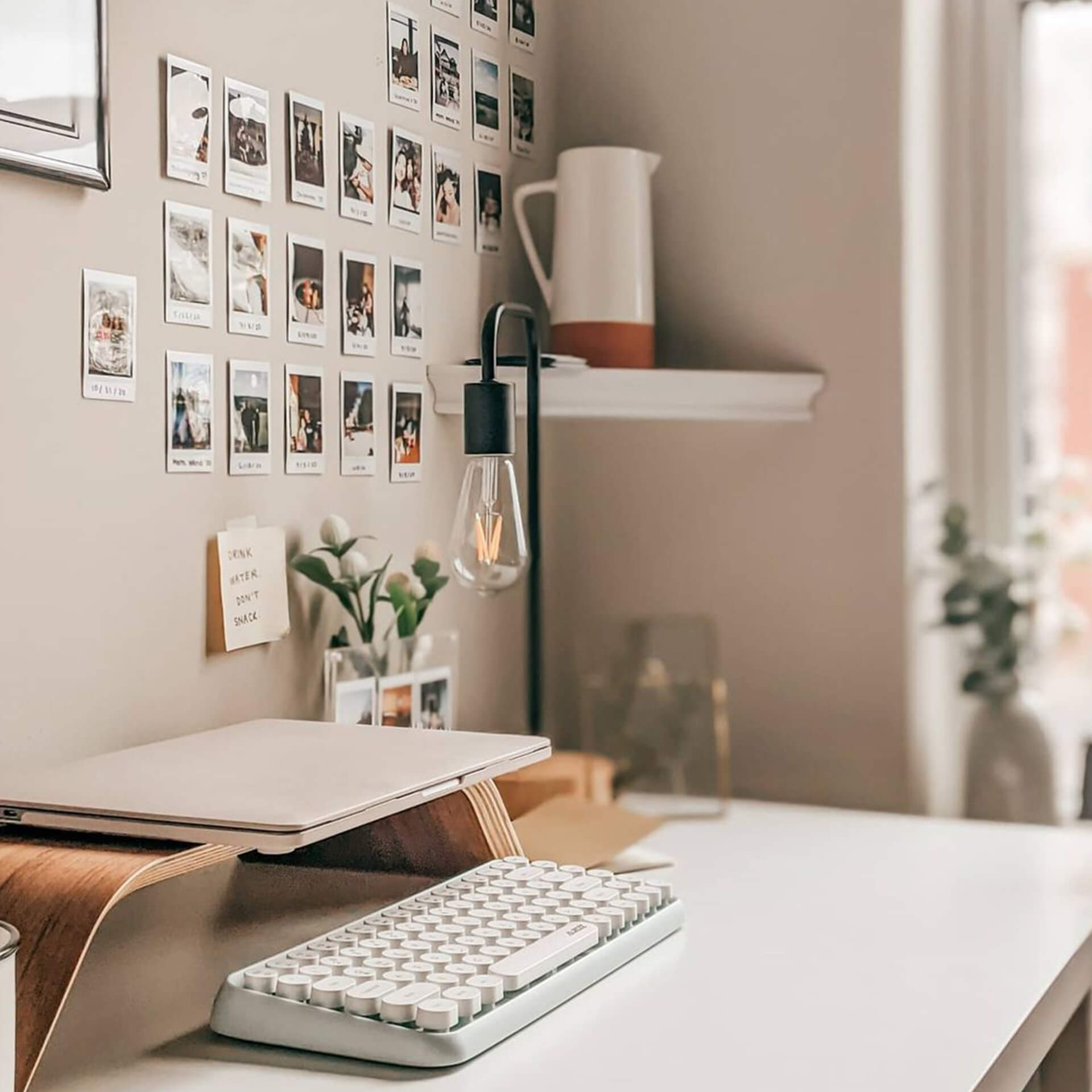 Image by @estherhfung
Cozy Aesthetic Desk Setup with Plants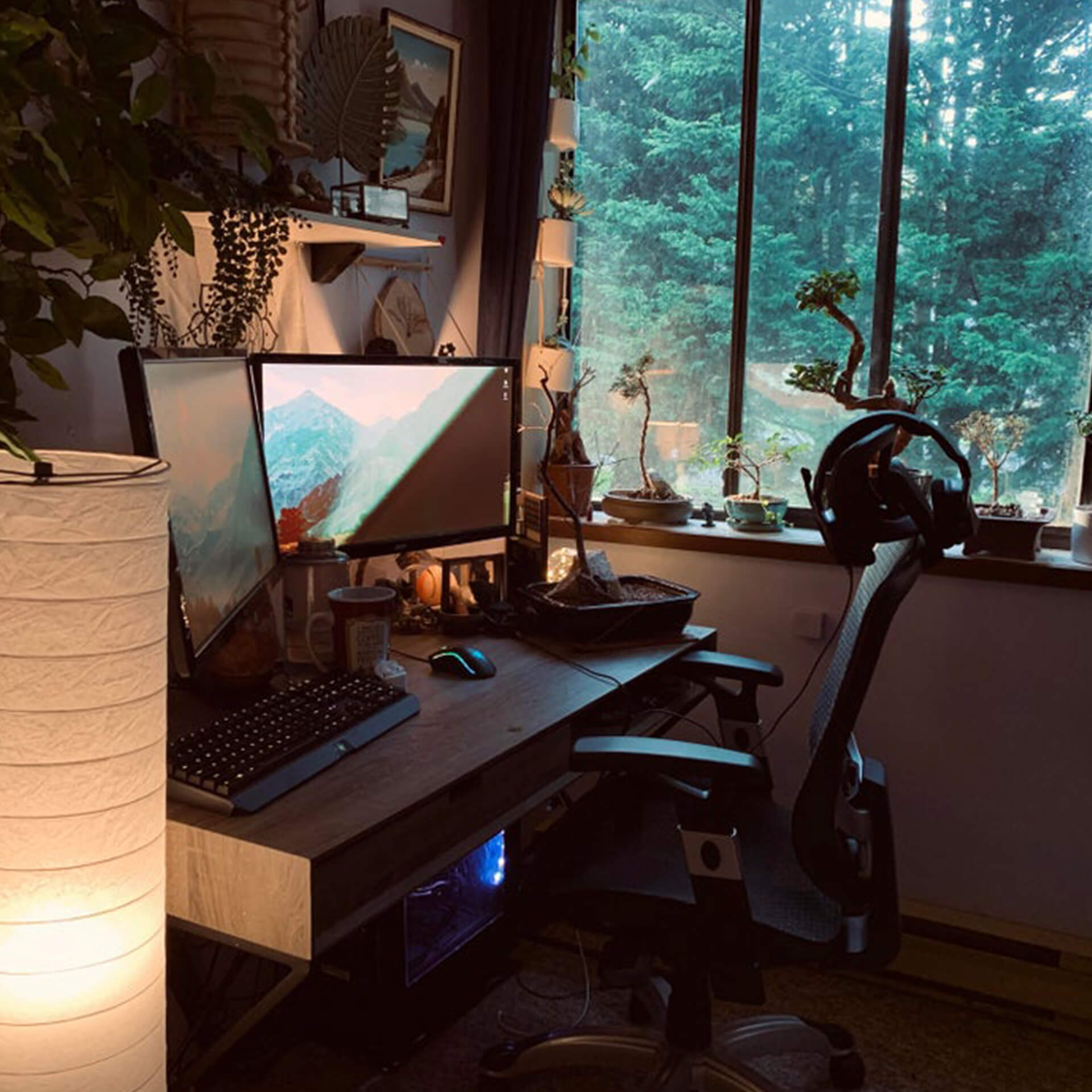 Image by u/seanBCi
Study Aesthetic Desk Setup
The best of #studytwt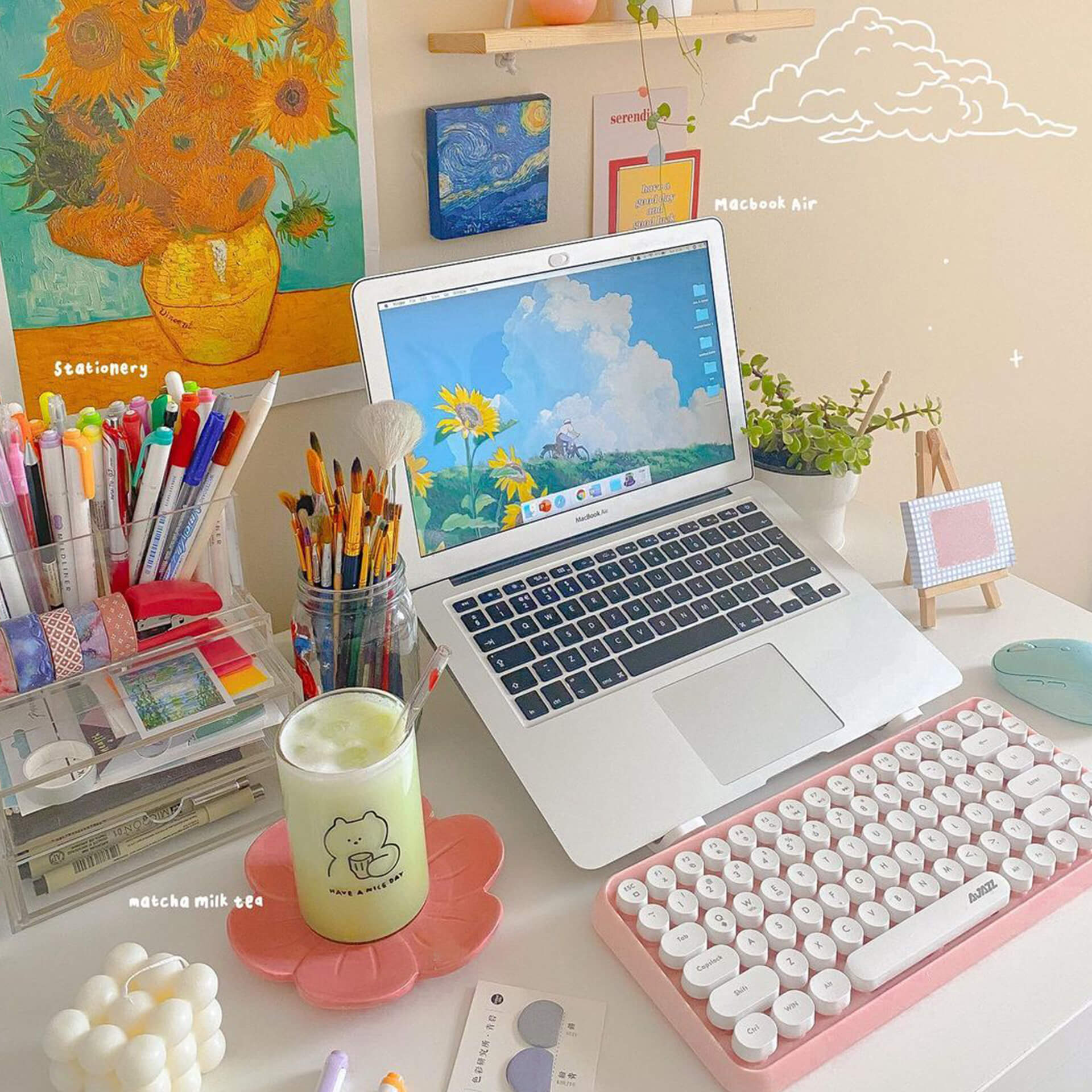 Image by @bana_vu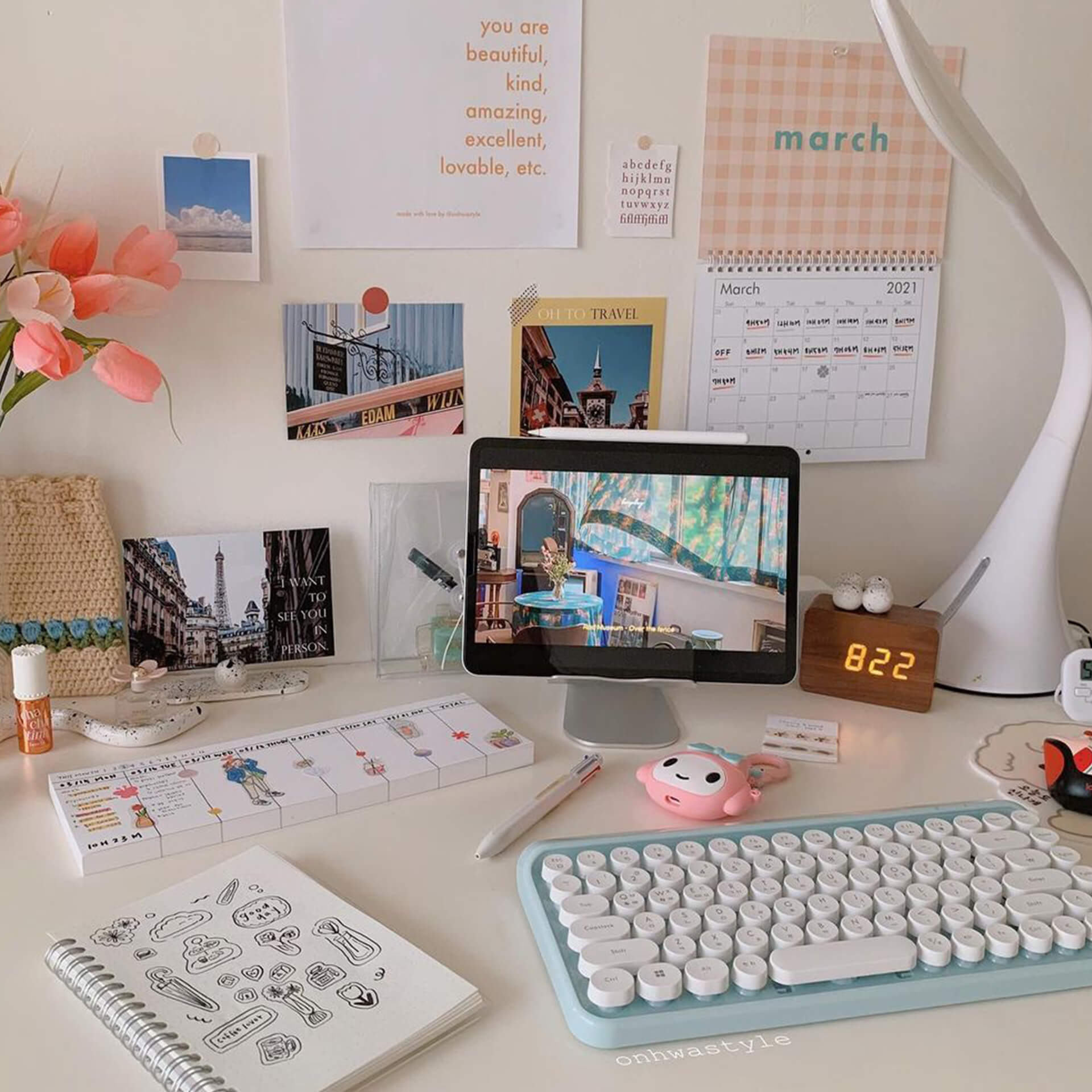 Image by @onhwastyle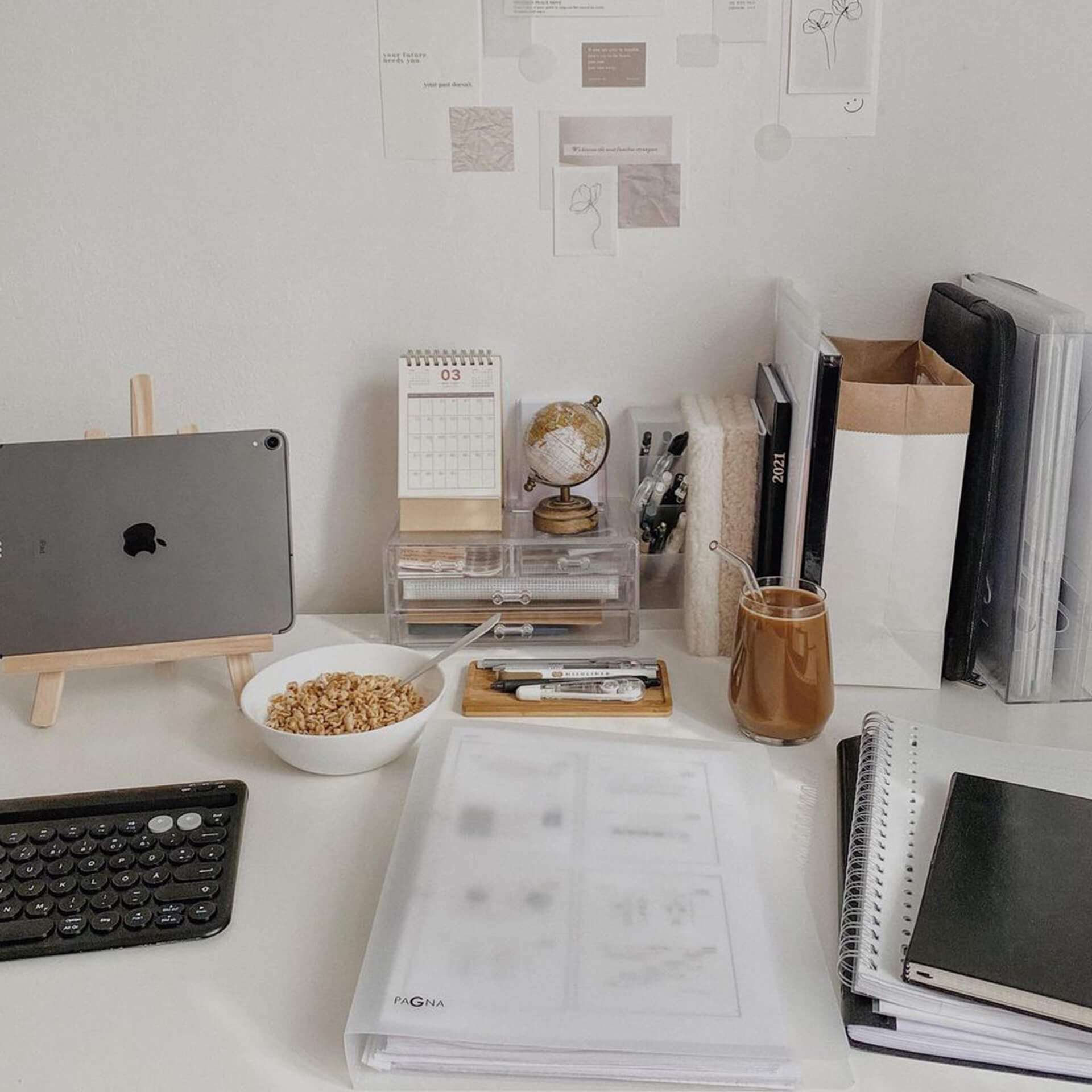 Image by @honibee__
Pink Gaming Aesthetic Desk Setup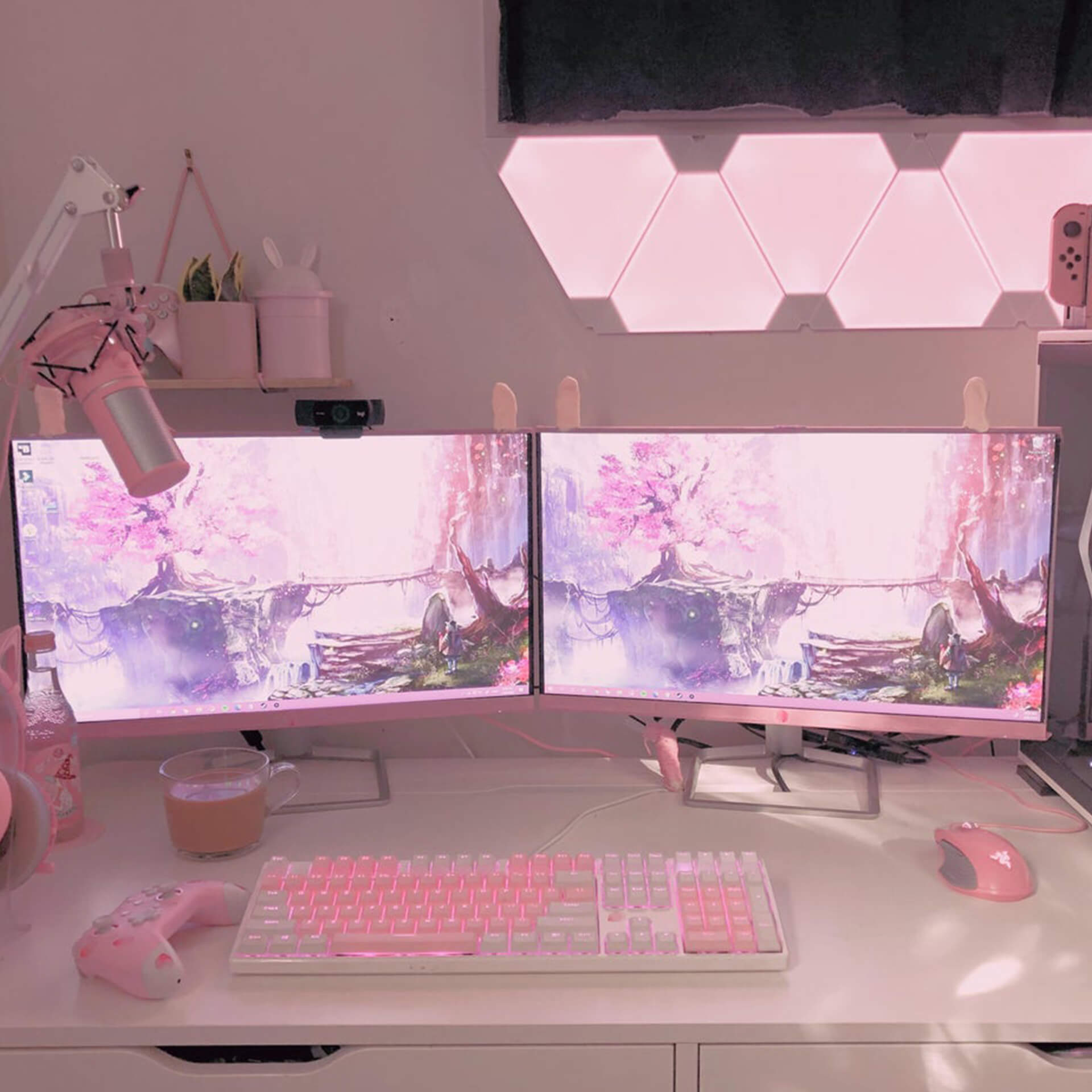 Image by u/cinna_bun_
Neon Aesthetic Desk Setup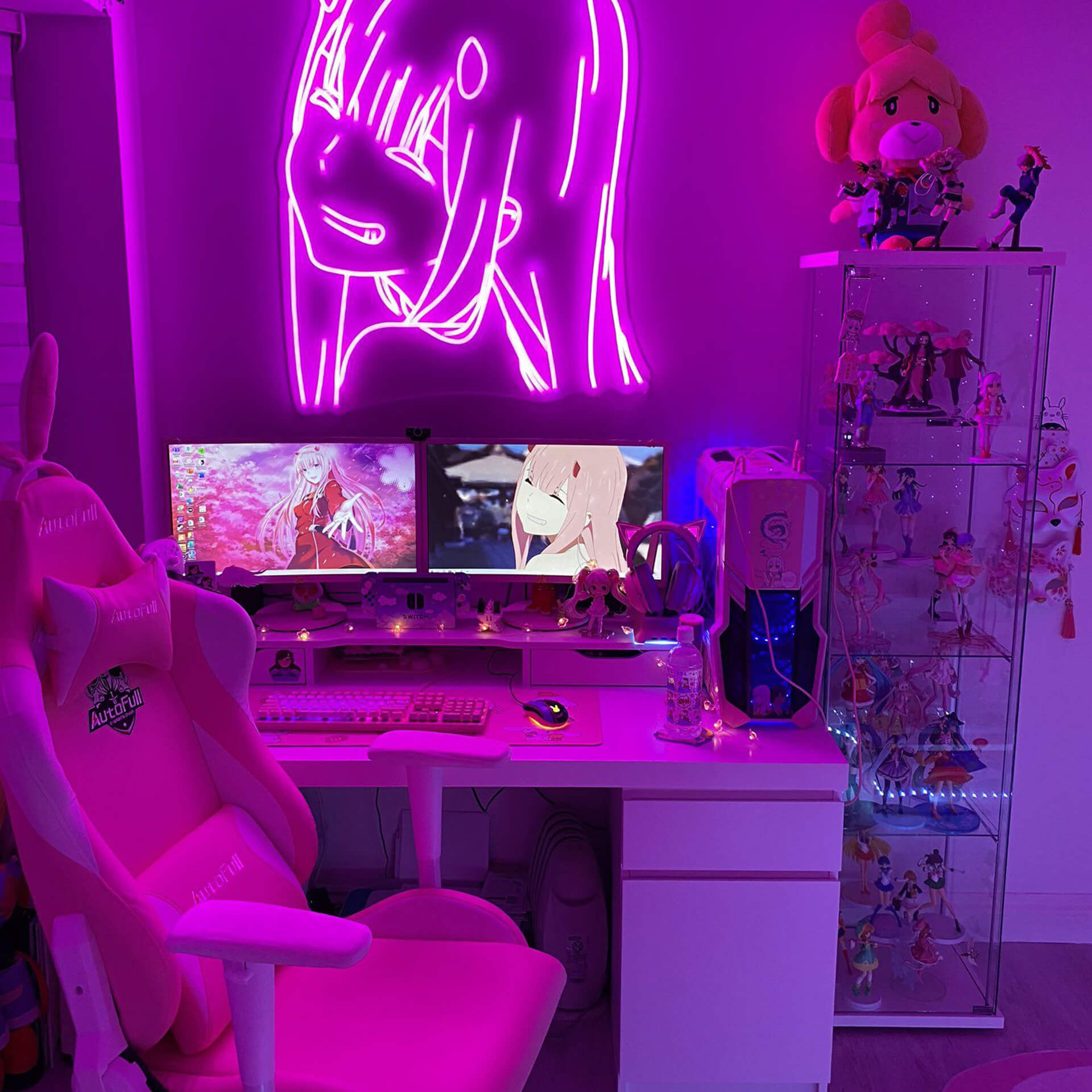 Pink Pastel Aesthetic Desk Setup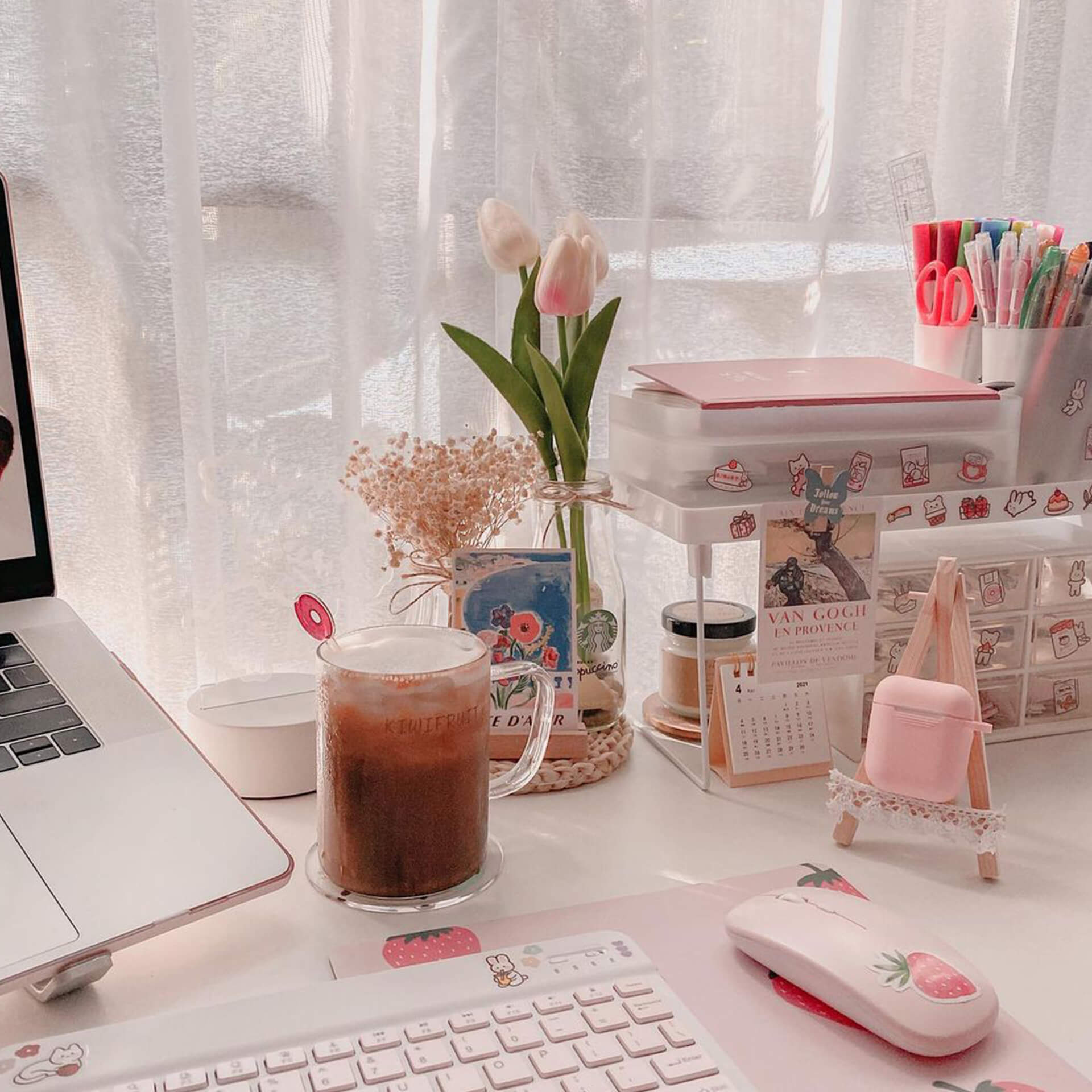 Image by @j.ustcoffee
White Aesthetic Desk Setup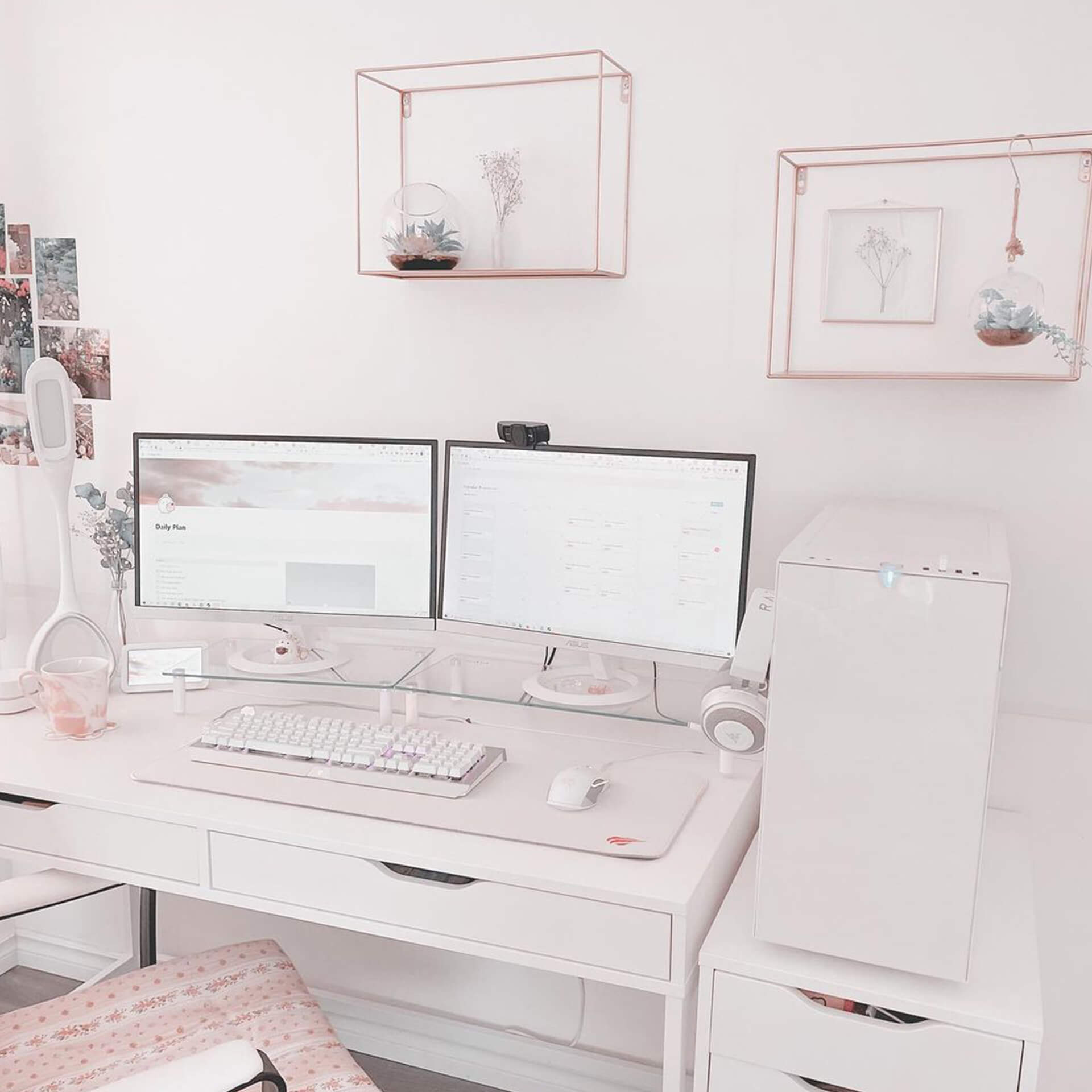 Image by @xjettreviveme
Vaporwave Aesthetic Desk Setup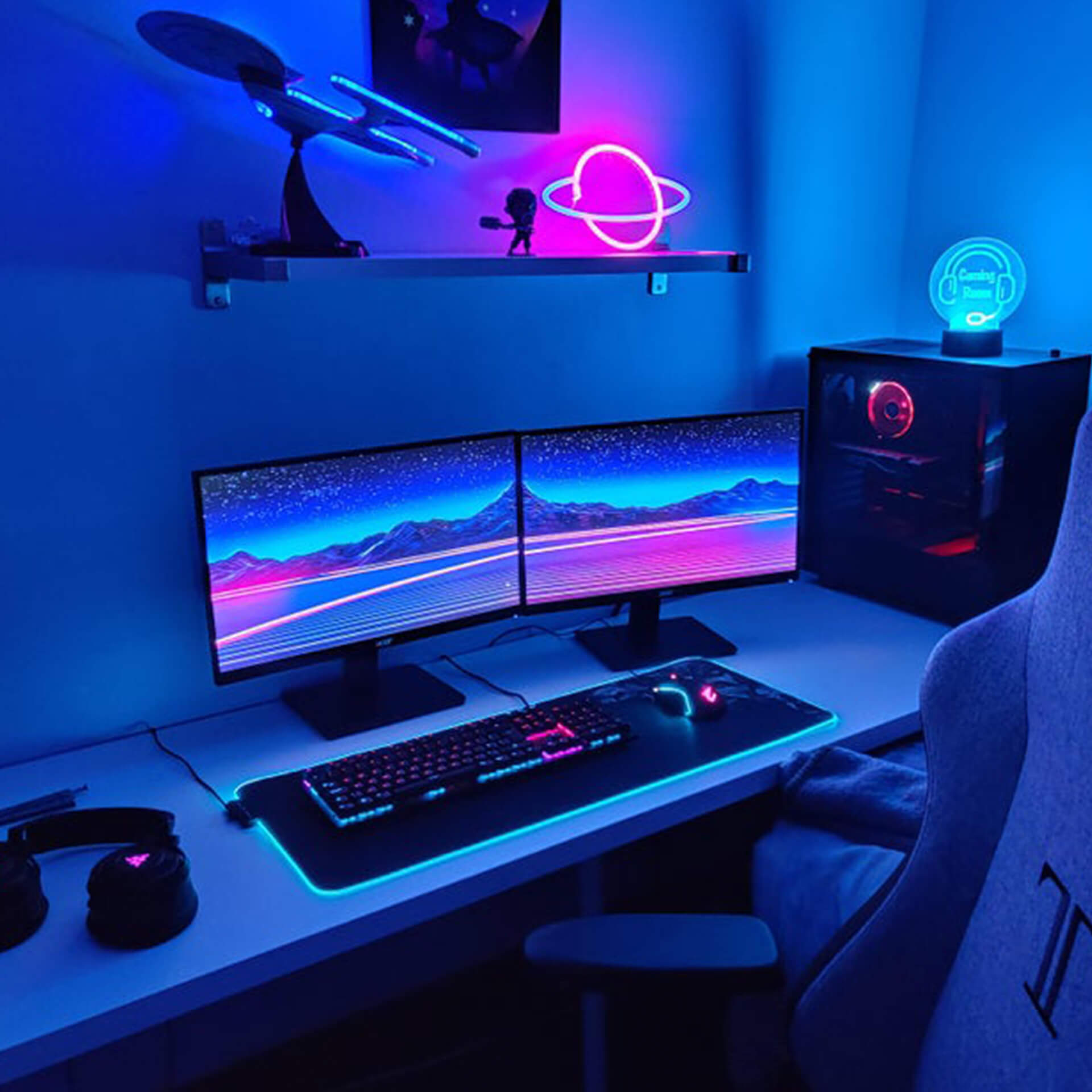 Image by u/SHB20
Gallery Wall Aesthetic Desk Setup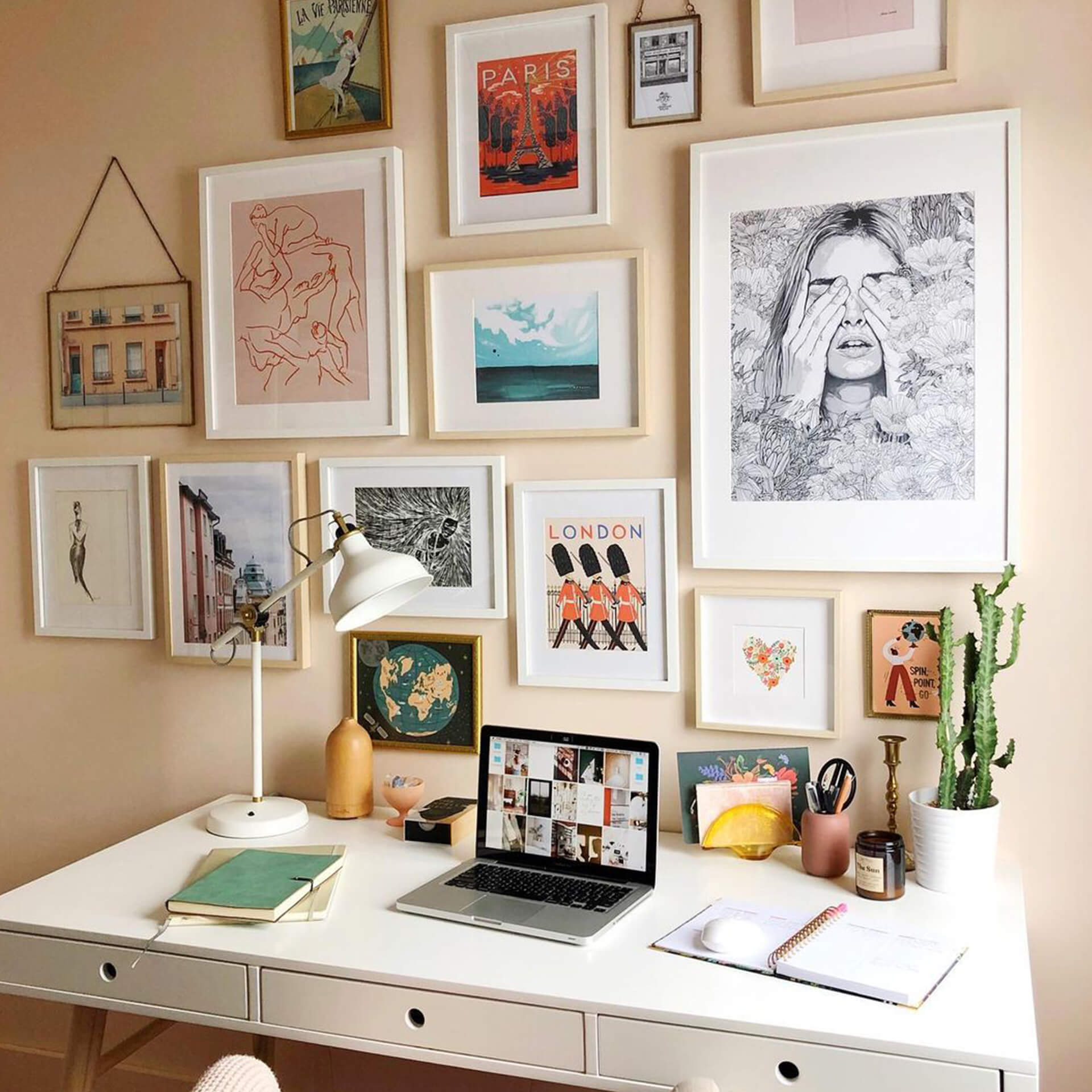 Image by @rowanmorrissy
iPad Aesthetic Desk Setup
Don't miss our full guide on aesthetic iPad setup ideas!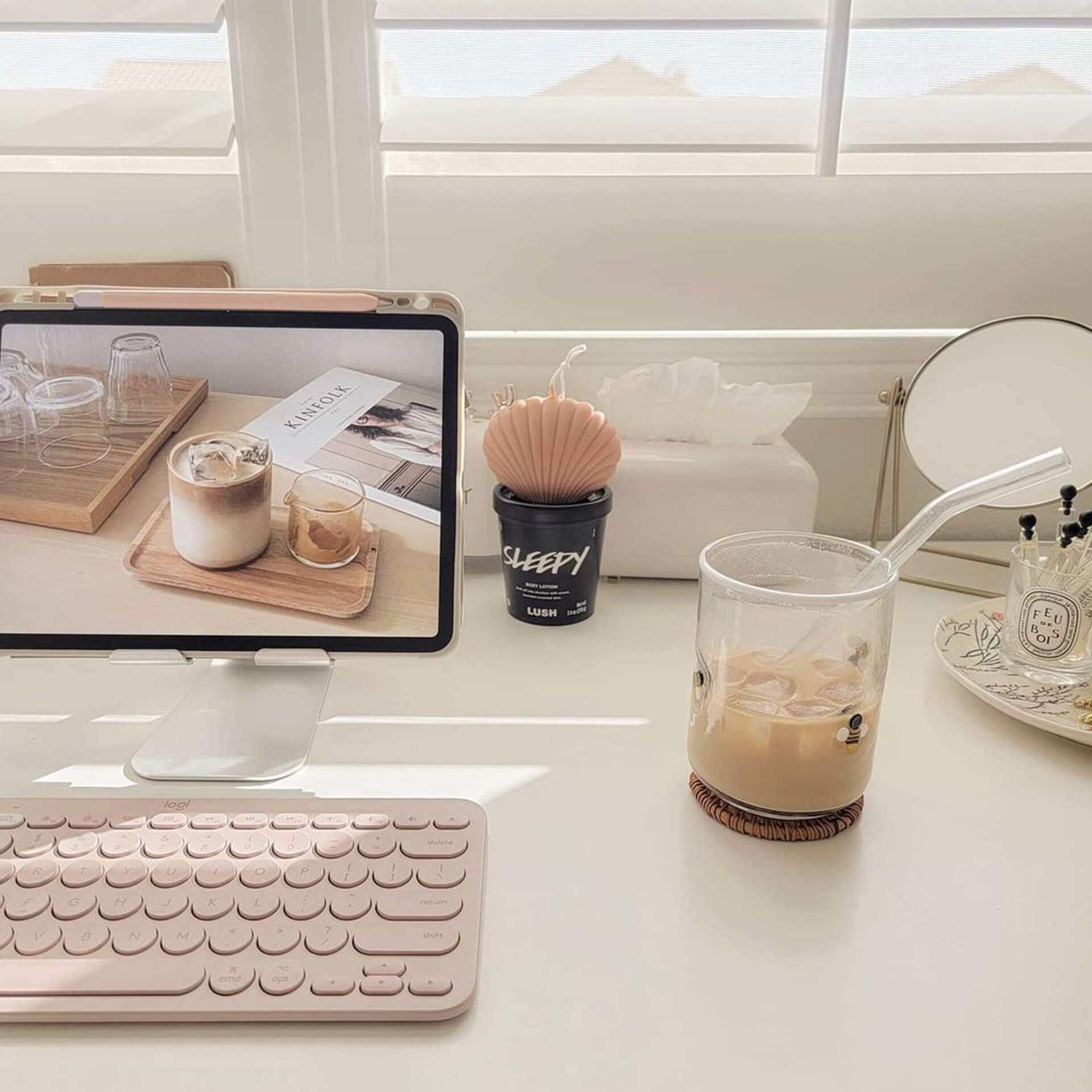 Image by @itsangelaslife
Natural Lights & Plants Aesthetic Desk Setup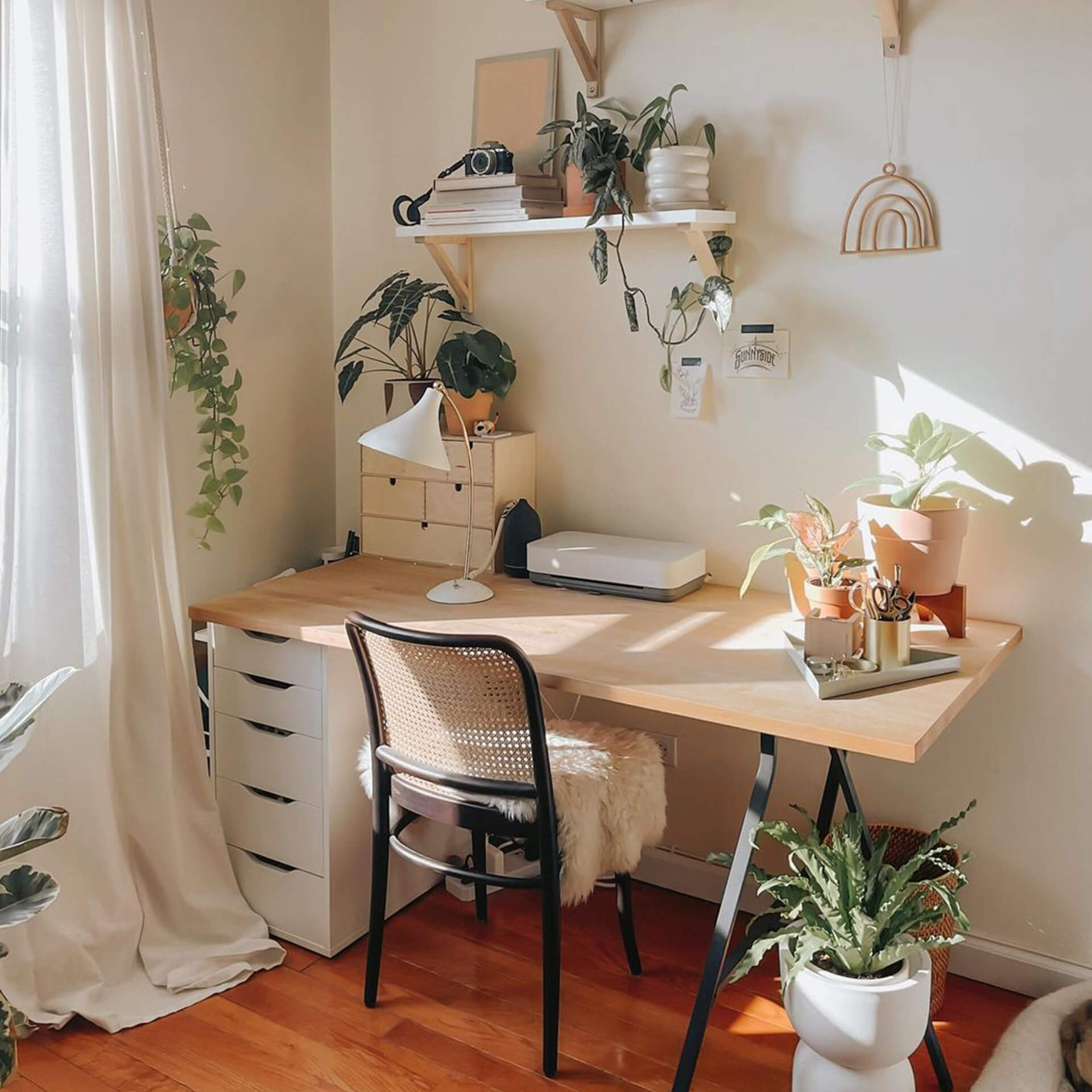 Image by @kitmanlucia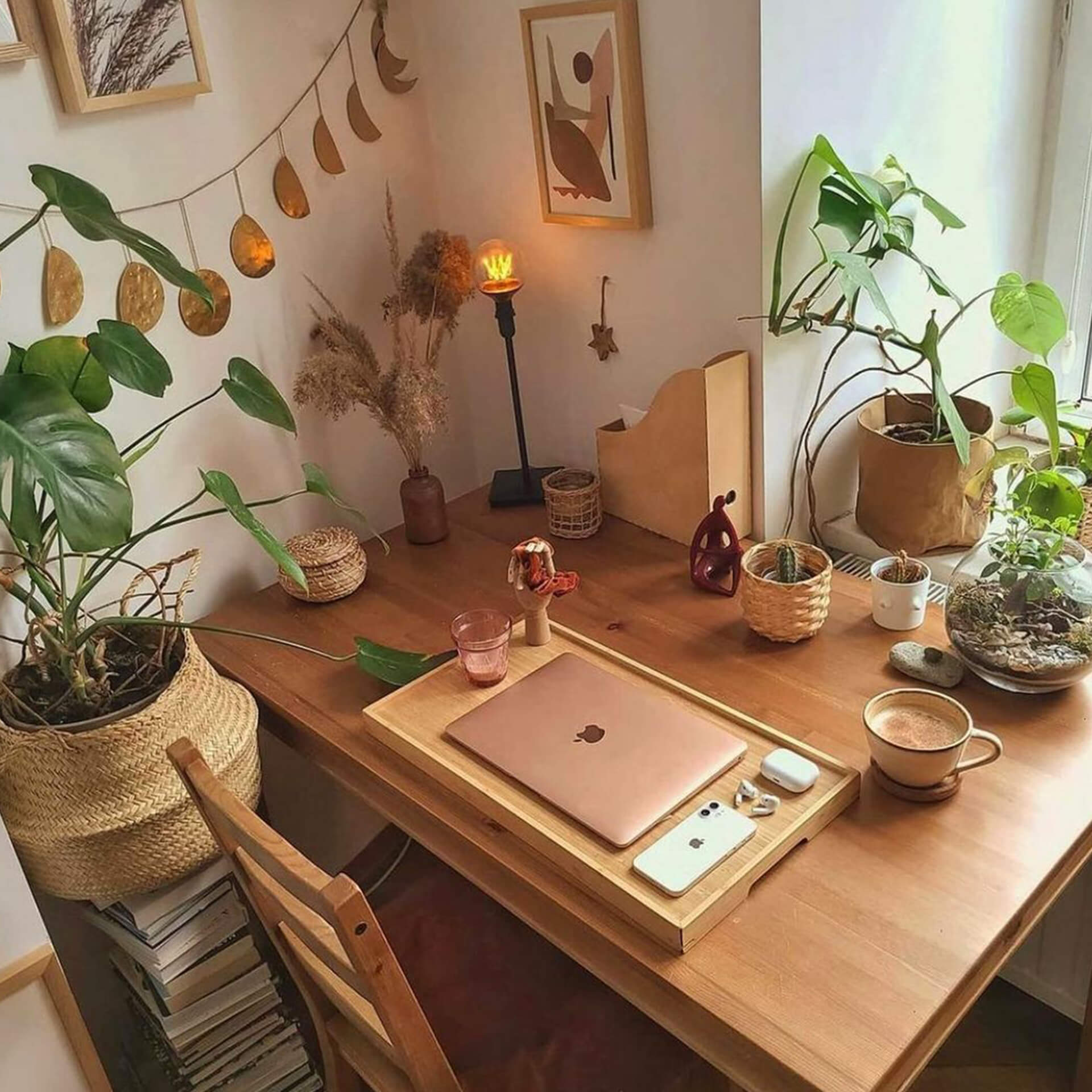 Image by @interioryesplz
What aesthetic do you lean towards when it comes to your workspace? Let us know in the comments below! If have an aesthetic workspace you want to share, tag us at @desktours and @gridfiti on Instagram! For more inspo, follow our home office ideas Pinterest board.
Gridfiti is supported by its audience – when you buy something using the retail links in our posts, we may earn a small commission at no additional cost to you. We only recommend products we would use ourselves and recommend to our friends and family. Read more about our affiliate disclaimer.