Whether in your gaming entertainment center, outdoor space, or bedroom – colorful LED lights are slowly taking over the home, and that's no exception for the home office and desk setups. The notion of incorporating LEDs in your setup is nothing new, but as time goes on there are more and more types of lights that make their way in the market, and with that comes more desk lighting ideas.
There are a ton of different ways to outfit your desk setup with backlighting and LED strips, and we're here to help narrow it all down – covering the different types of LED strips and desk backlighting options available, as well as a moodboard of unique lighting ideas for your desk setup.
Want more desk setup and home office ideas? Join our mailing list to get inspo straight to your inbox 📮
Types of LED Desk Light Strips & Desk Backlights
Here's a breakdown of all the types of colorful LED lights you can get, and ways to apply them to your setup! Check out the desk lighting ideas section below for more inspo.
LED Lighting Strips – Solid & Gradient
LED strips are, without a doubt, the first and best place to start when giving your desk its literal glow-up. They're most people's "gateway light", and are flexible enough to incorporate in various parts of your setup – whether behind your monitor, behind your desk, under your desk, and more (keep scrolling for more inspo on that). LED strips come in all sorts of features and prices – with lower end models often displaying single colors at a time, or having limited brightness, while the higher end models offer more robust features like multicolor options, themes, scheduling, higher brightness, and more. Check out our picks for your desk setup below!
Also, from our experience, the adhesive on these strips don't last the longest – so we recommend grabbing some strong tape to make sure your LED strip stay up strong on your monitor or desk!
Where to start: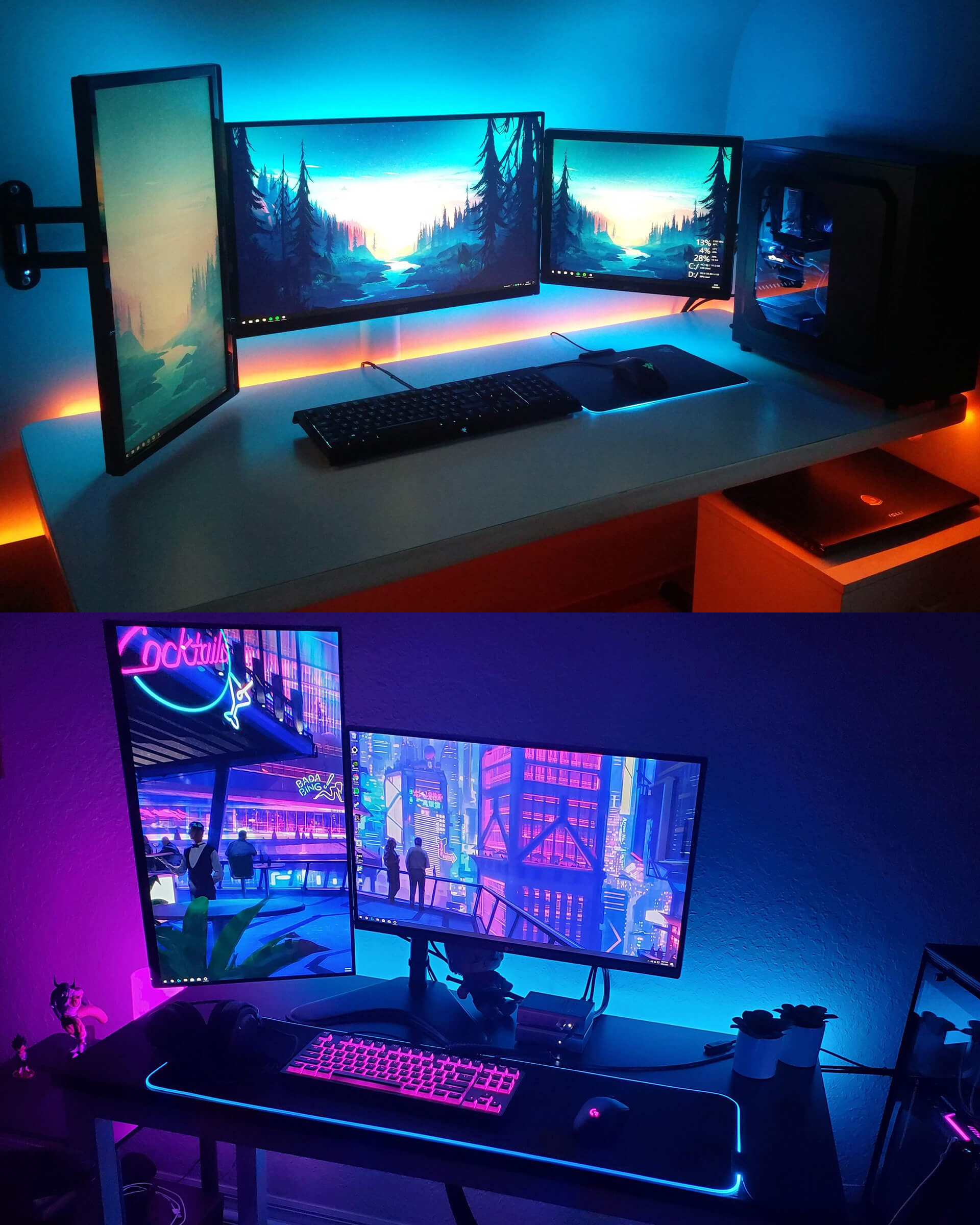 Images via Pinterest
Nanoleaf, Geometric & Hexagon Lights
Besides illuminating your setup, these iconic geometric panels can double as works of art for any desk setup wall. Nanoleaf products come in all sorts of configurations, and are extremely customizable to match your color aesthetic. Beyond Nanoleaf, there are a few alternative brands that also carry similar shape-themed lights.
Where to start: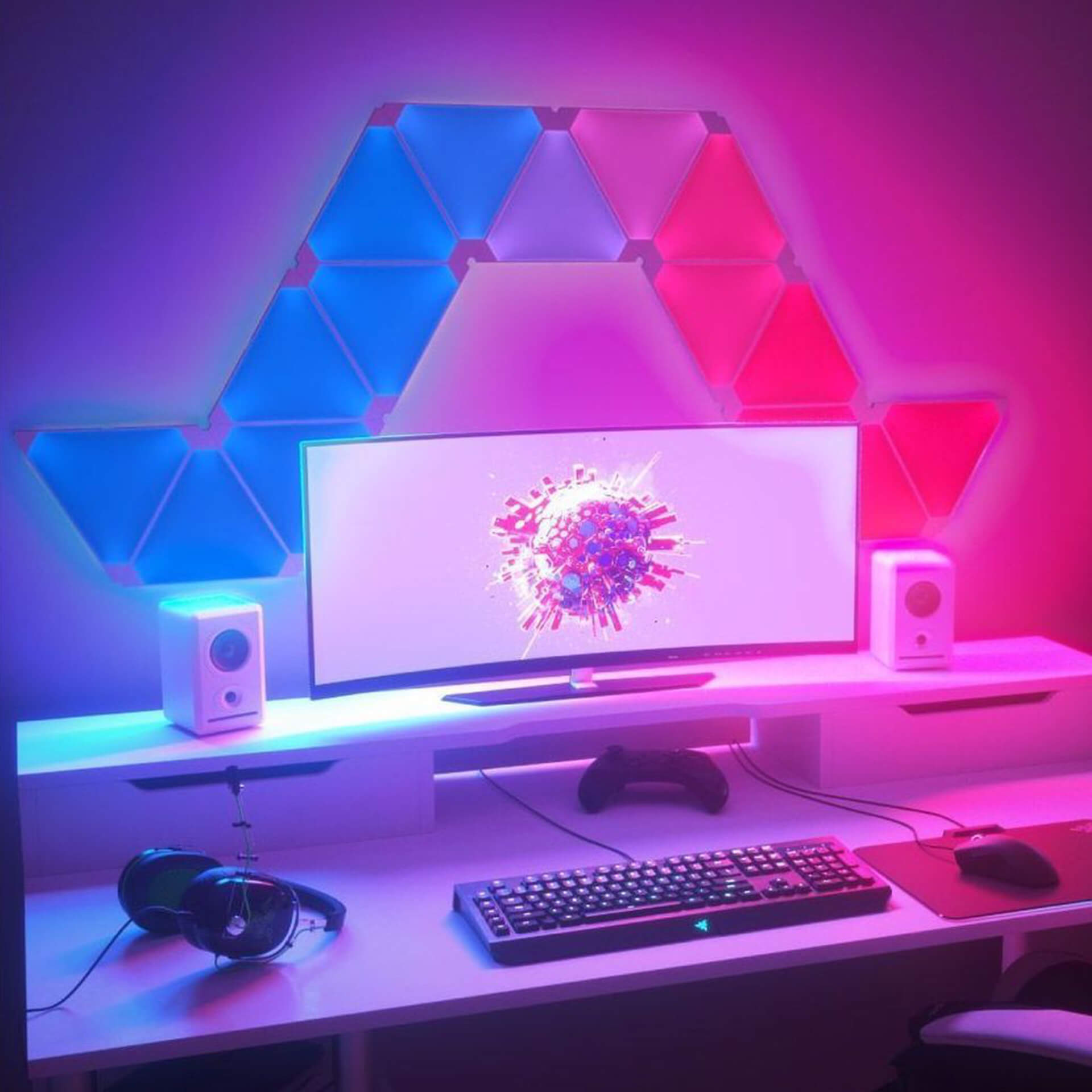 Image by Nanoleaf
LED Color Bulbs & Desk Lamps
A simple way to add some vibey lighting to your setup is grabbing some color LED bulbs and putting them in lamps you already own. If you're wanting to freshen things up even more, pick up some new lamps to match your aesthetic – we've included our picks below! Tip: make sure to check the type of bulb your lamp takes before pulling the trigger.
Where to start: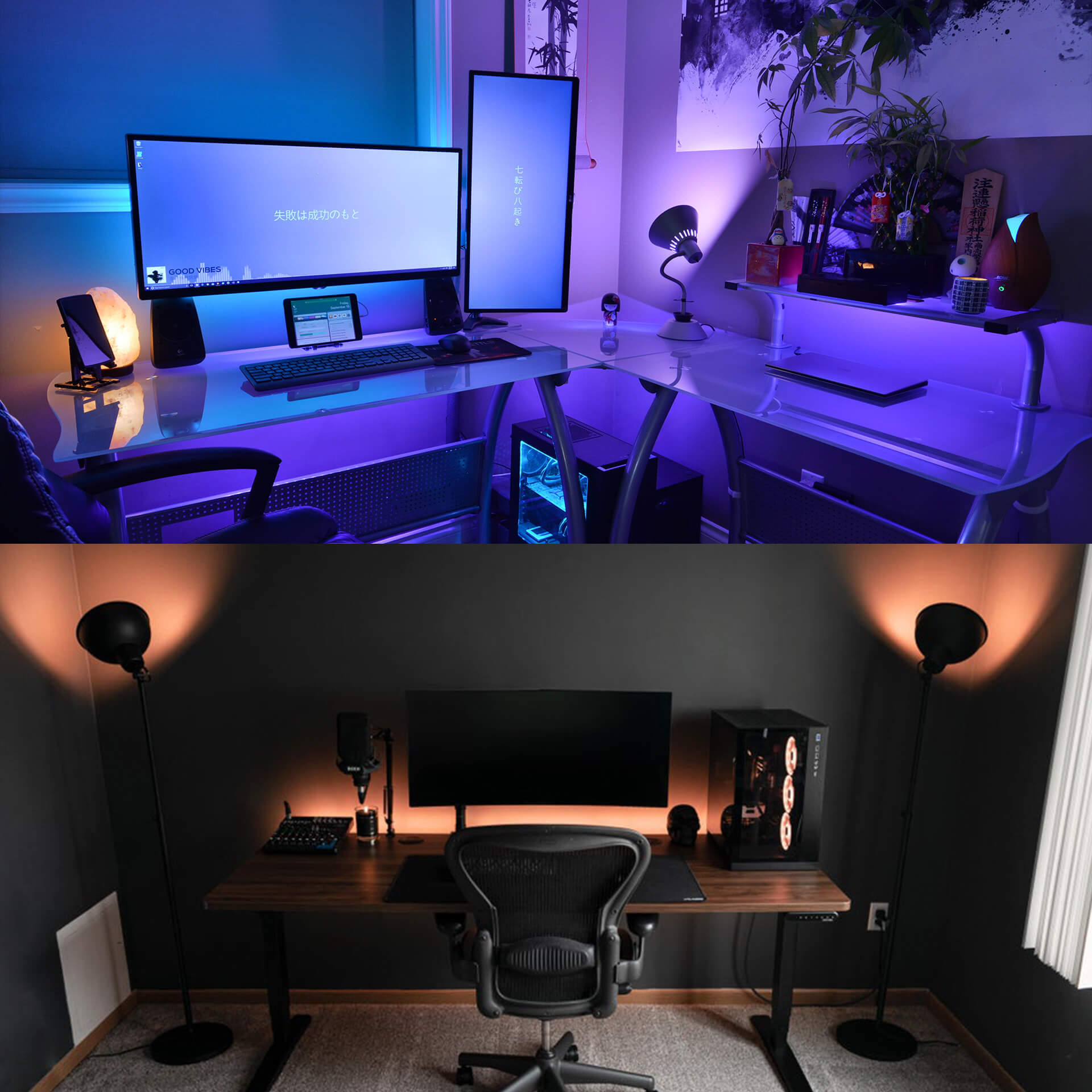 Image by u/maxrip
Color Light Bars & Light Beams
LED color bars or beams are another great, and lesser-known, way to enhance your desk lighting setup. Whether you wall mount them (e.g. LIFX Beam), or place them at the back of your desk (e.g. Hue Plays), you're bound to take things up a notch by incorporating light bars or beams into your setup.
Where to start: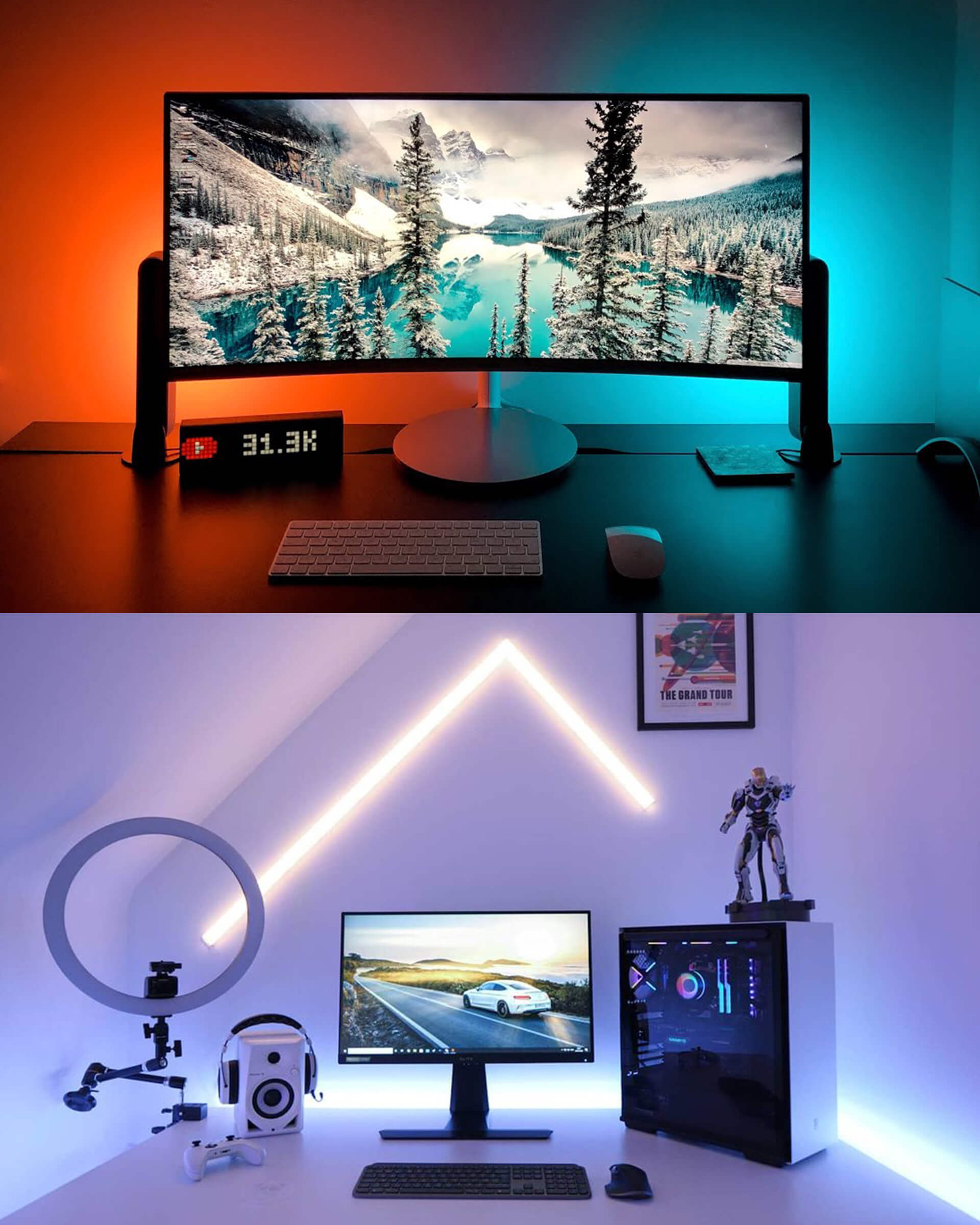 Images by Stef ABtv and @techtesseract
Star Projector / Galaxy Projector
From TikTok, to someone doing a shameless plug after landing a viral tweet, star projectors have exploded on the internet the last couple years – and for good reason. Whether you're Drake or not, give your desk setup some magical ambience with some dreamy lights.
Where to start: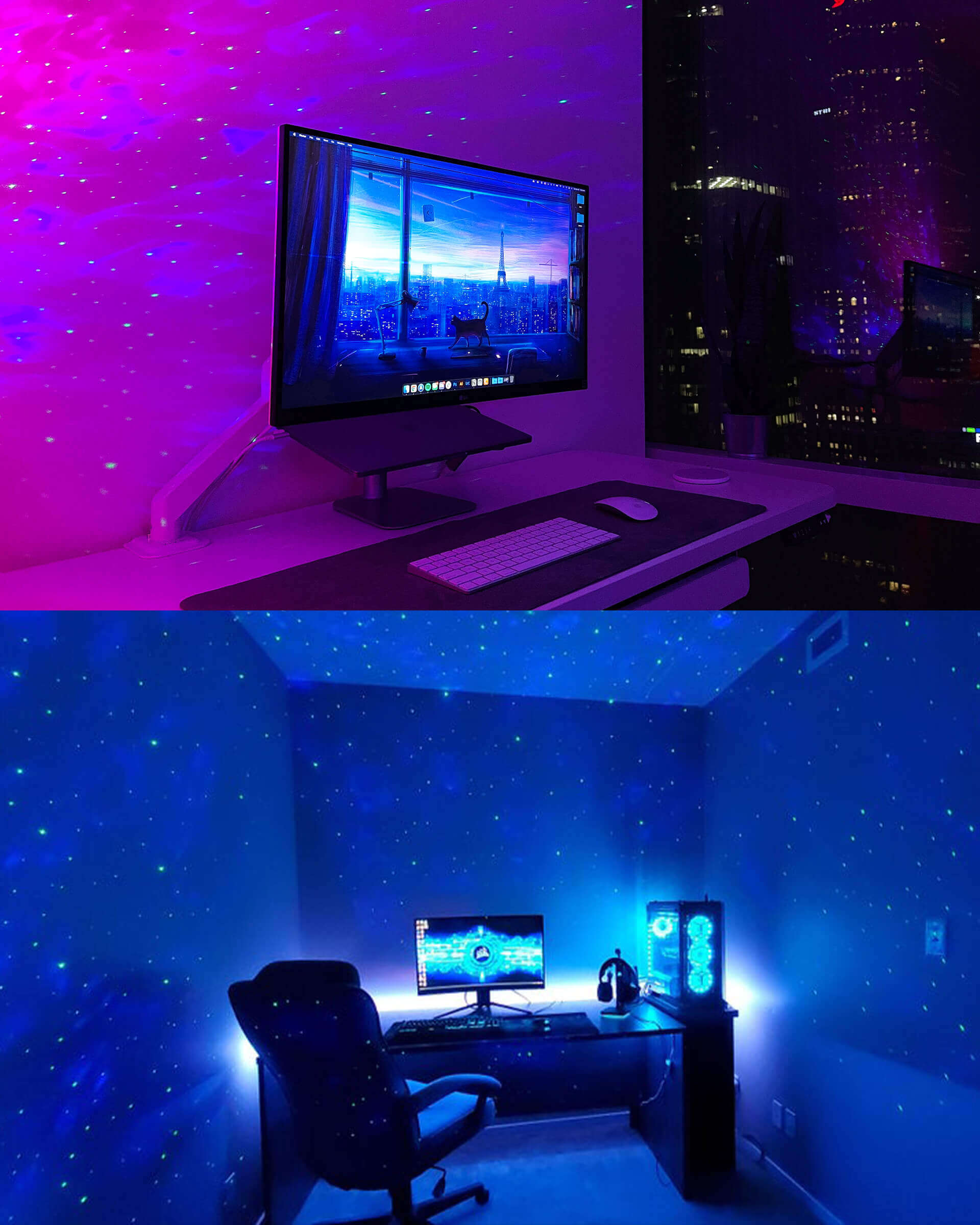 Image #2 by u/Langfoo69
Neon Desk Lights
Lean into cyberpunk vibes and add some of your own personality with a glowing neon sign! There are lots to pick from, both wall-mounted or lamp style, whether it be a simple symbol, quote, and beyond.
Where to start: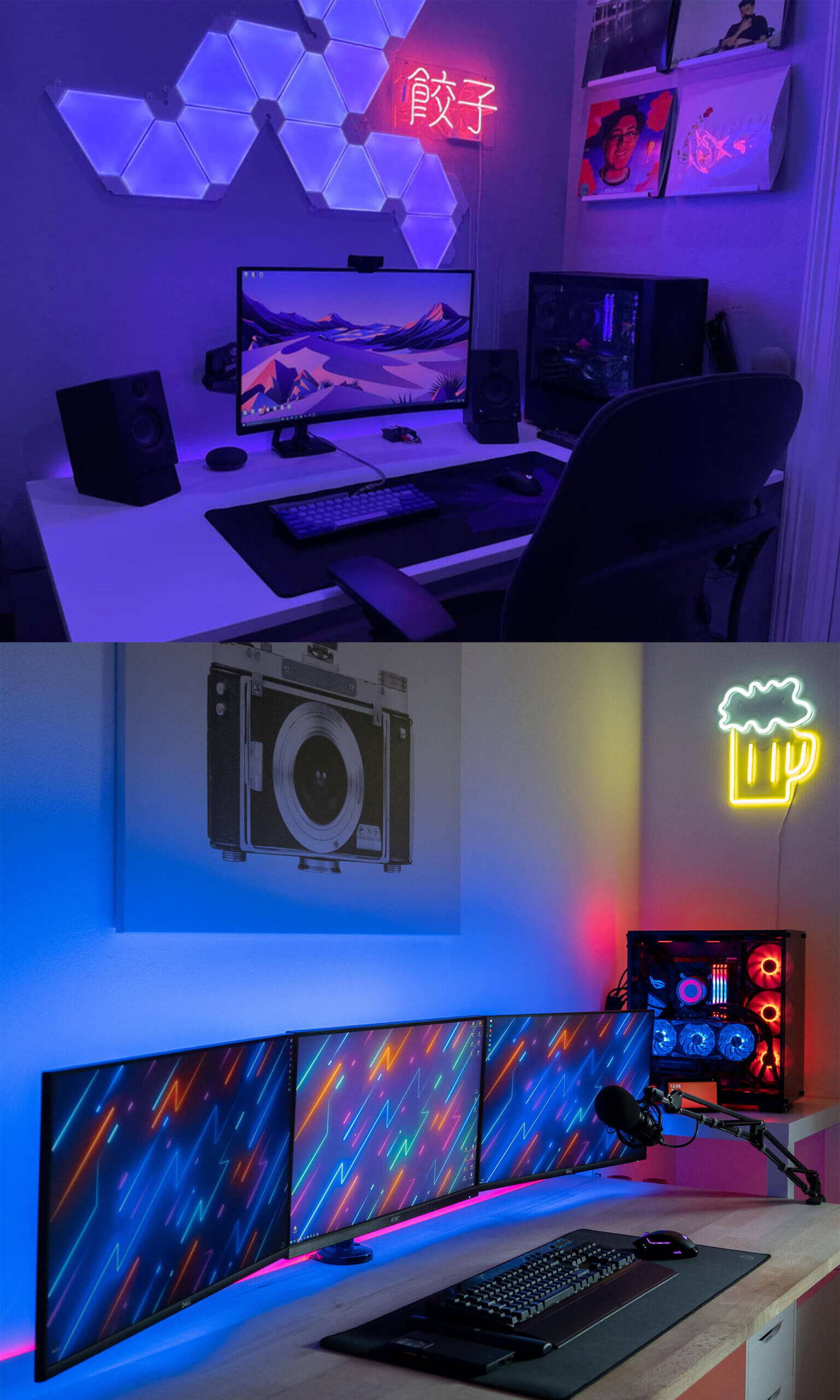 Image by u/finnytom and u/jockl-tactical
Desk Lighting Ideas & Inspo
Now that we've covered all the different types of lights and how they can fit in your setup, let's see how that comes together with different desk lighting ideas!
All-White LED Desk Backlighting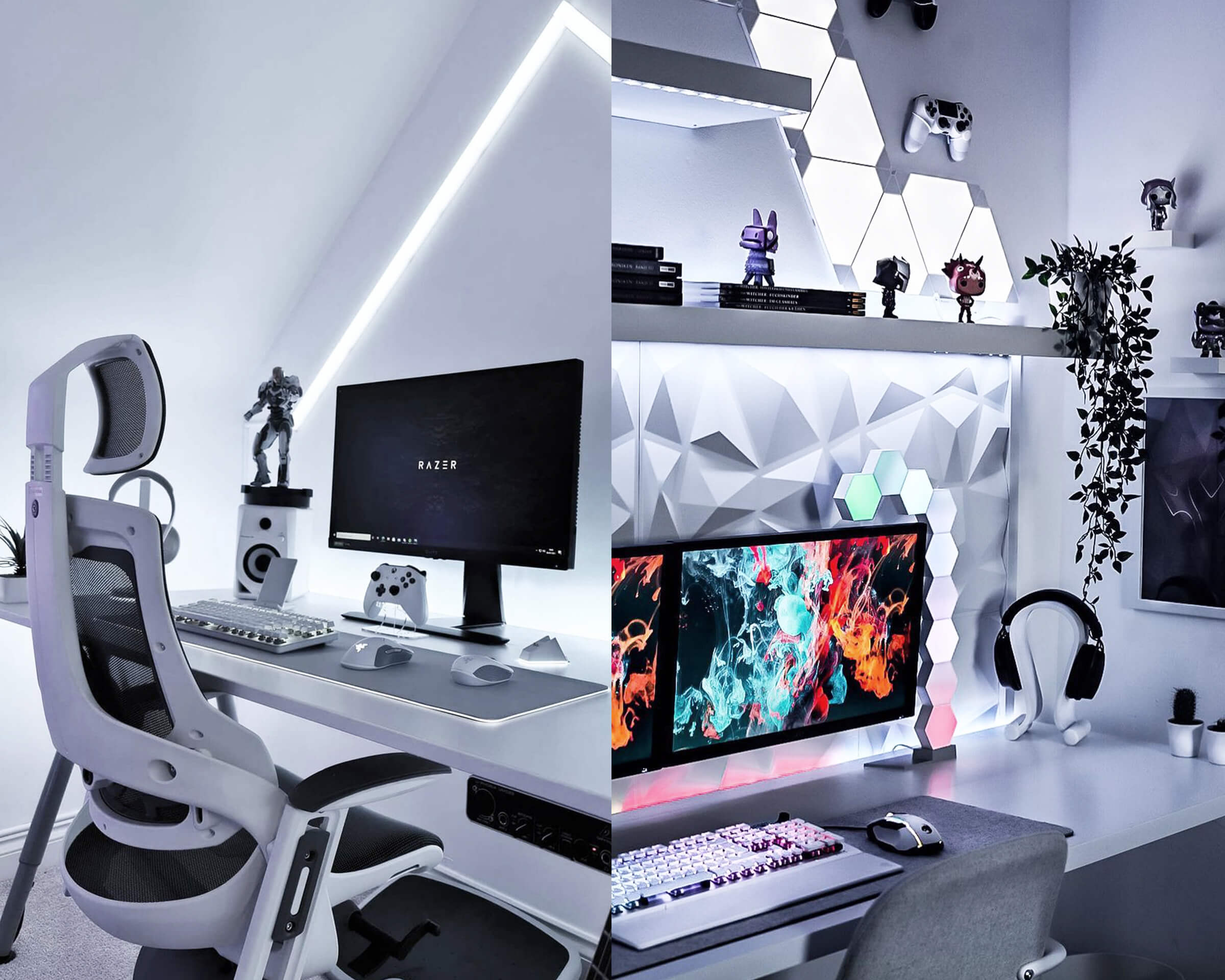 Images by @techtesseract and @vantablack.wolf
Warm Neutral Desk Lighting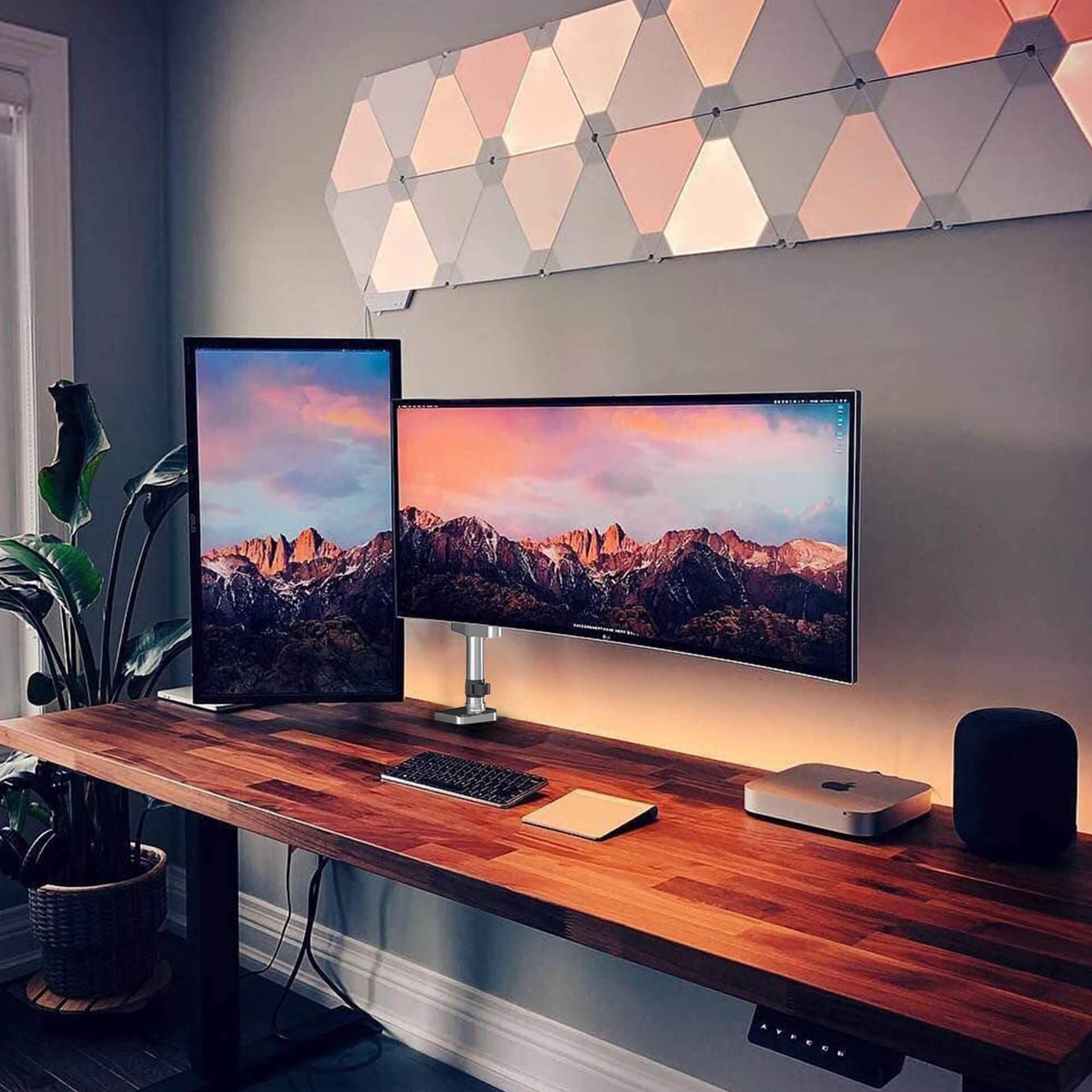 Image by Putorsen
Pink Pastel Desk Lighting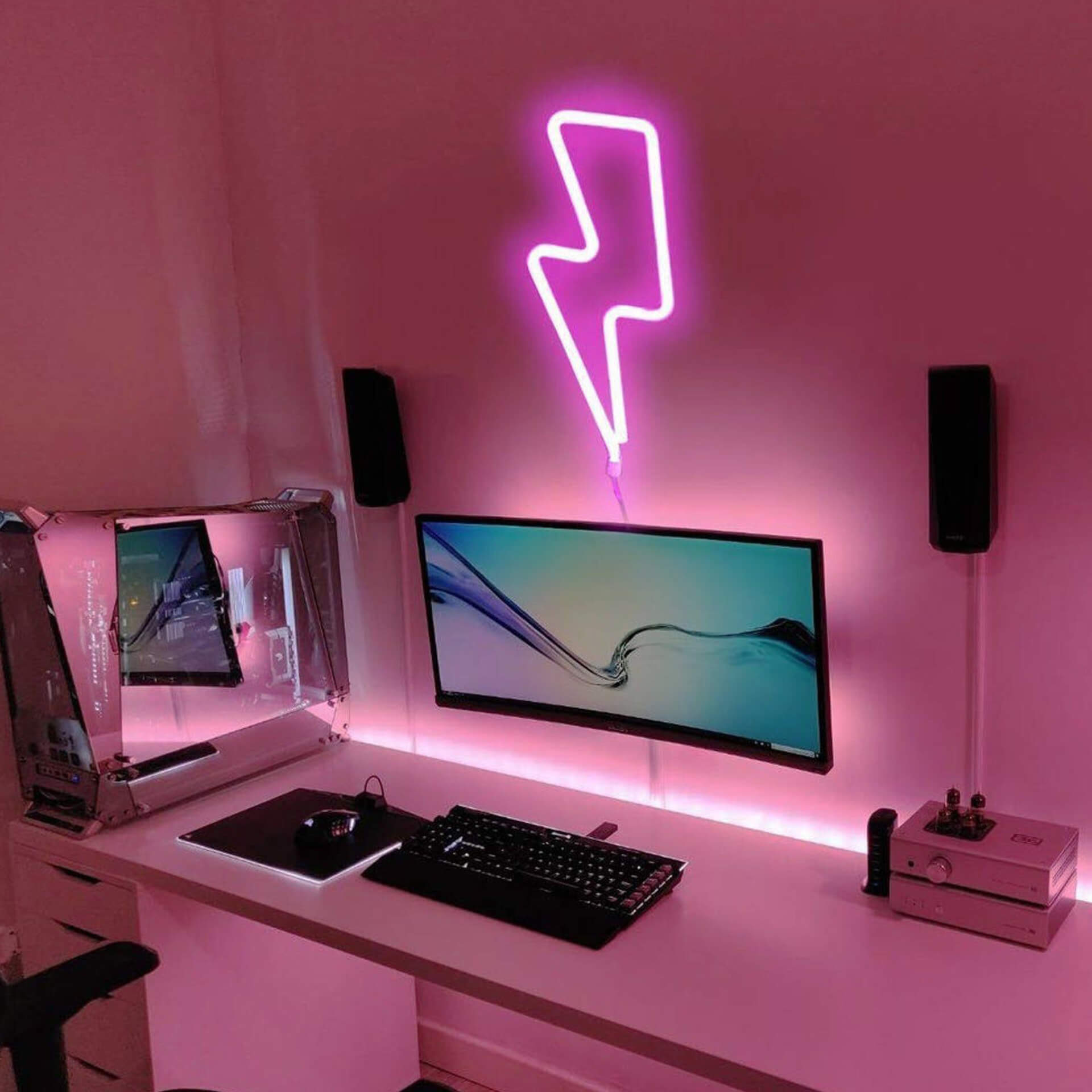 Image via Etsy
Gradient & Multicolor LED Desk Backlighting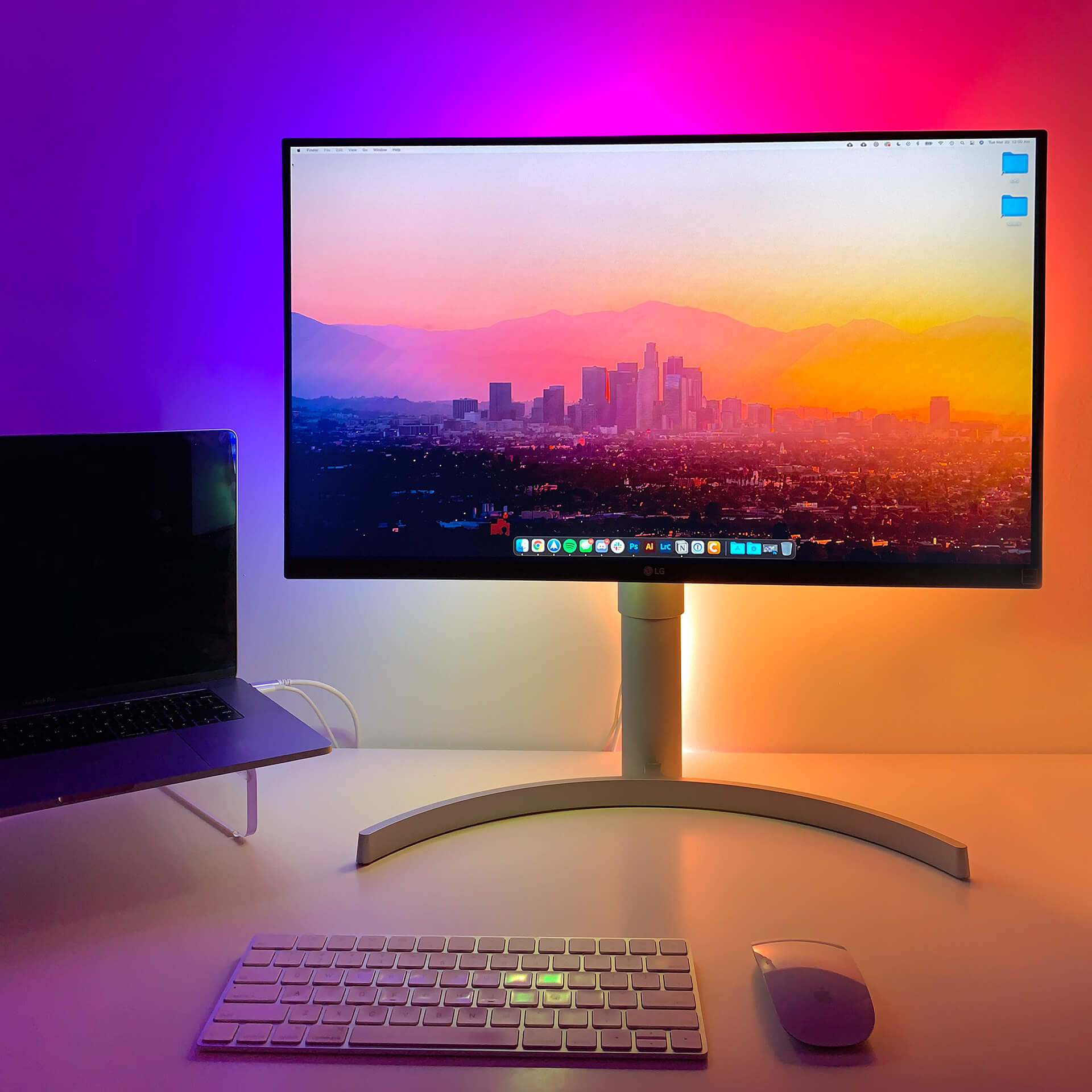 Red vs. Blue Desk Lighting
Add even more glow with a lava lamp.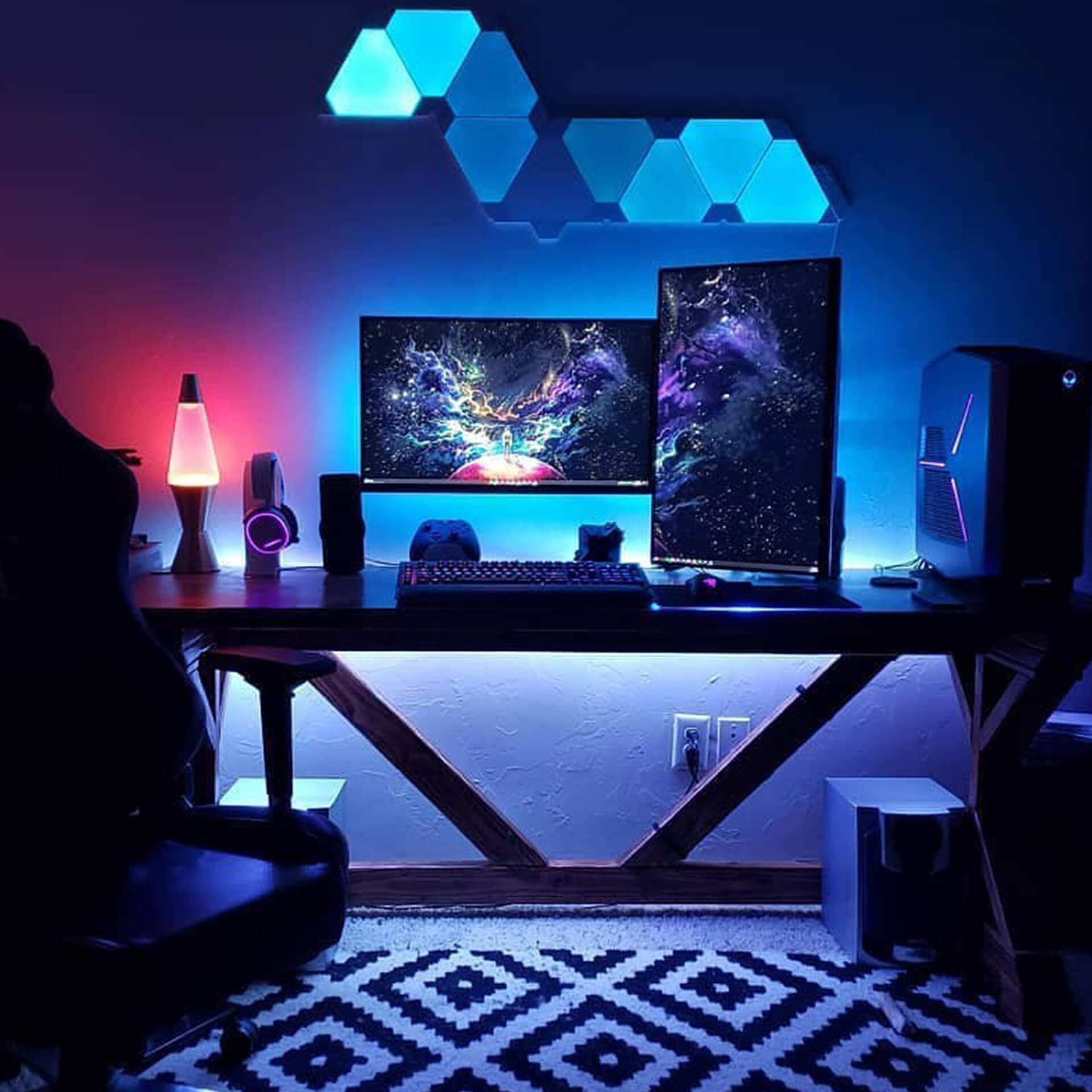 Image via Pinterest
Outrun Aesthetic LED Desk Backlighting
Want ideas for which colors to blend? We've got you with some aesthetic color palettes.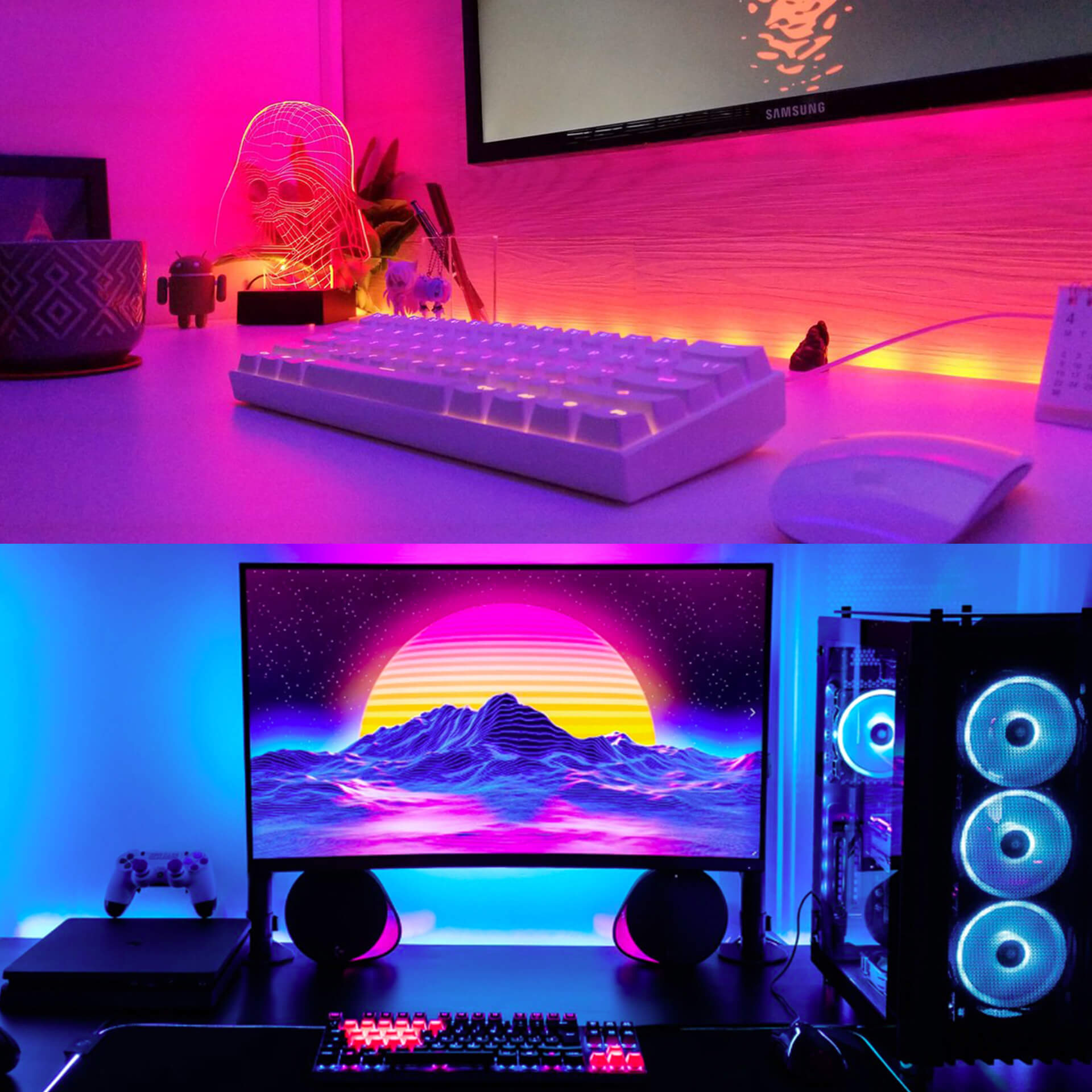 Images by u/dogofpavlov and Kontrol Freek
Blue / Cool Tones LED Desk Lighting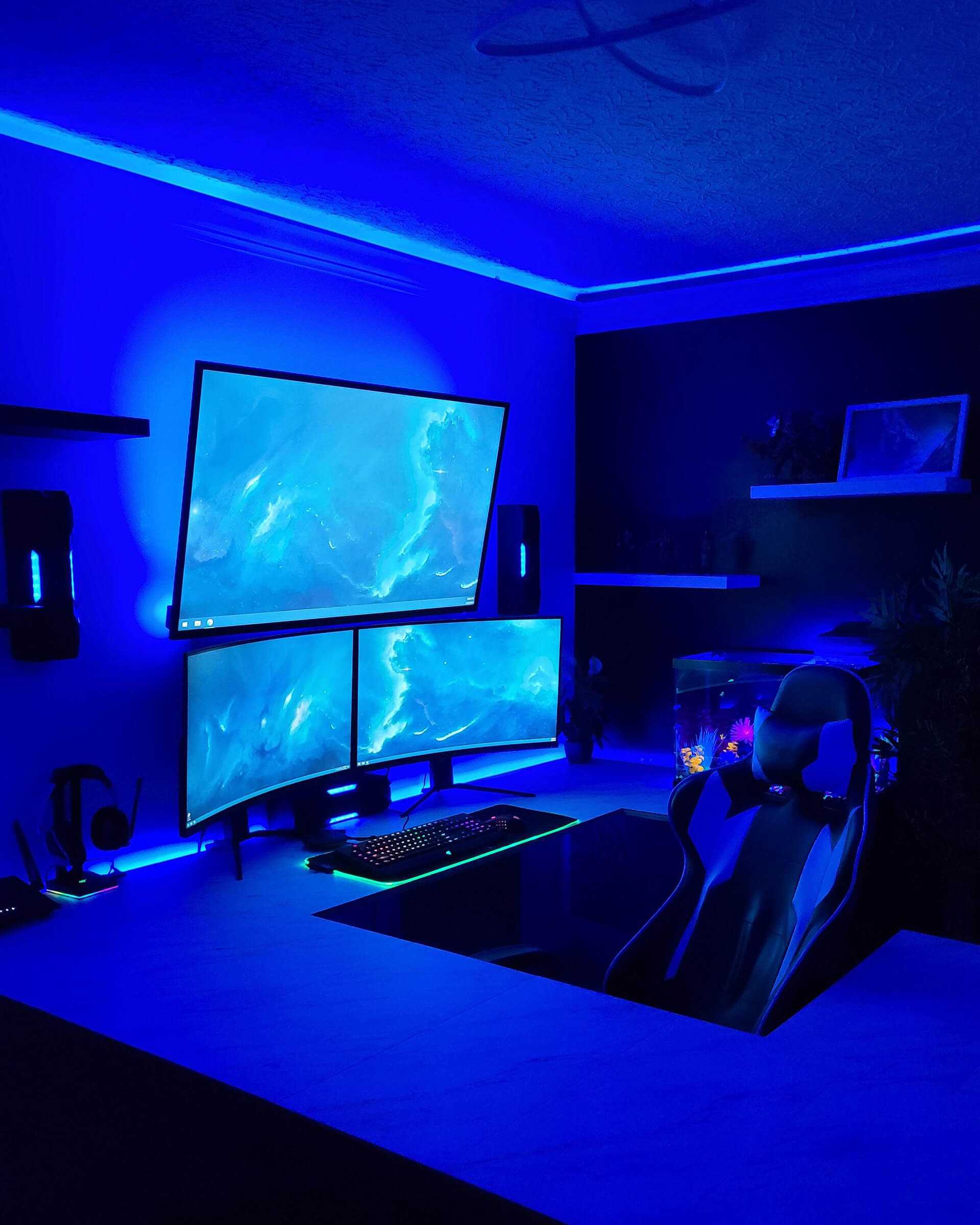 Image by u/Cautious105
Vaporwave Aesthetic LED Desk Backlighting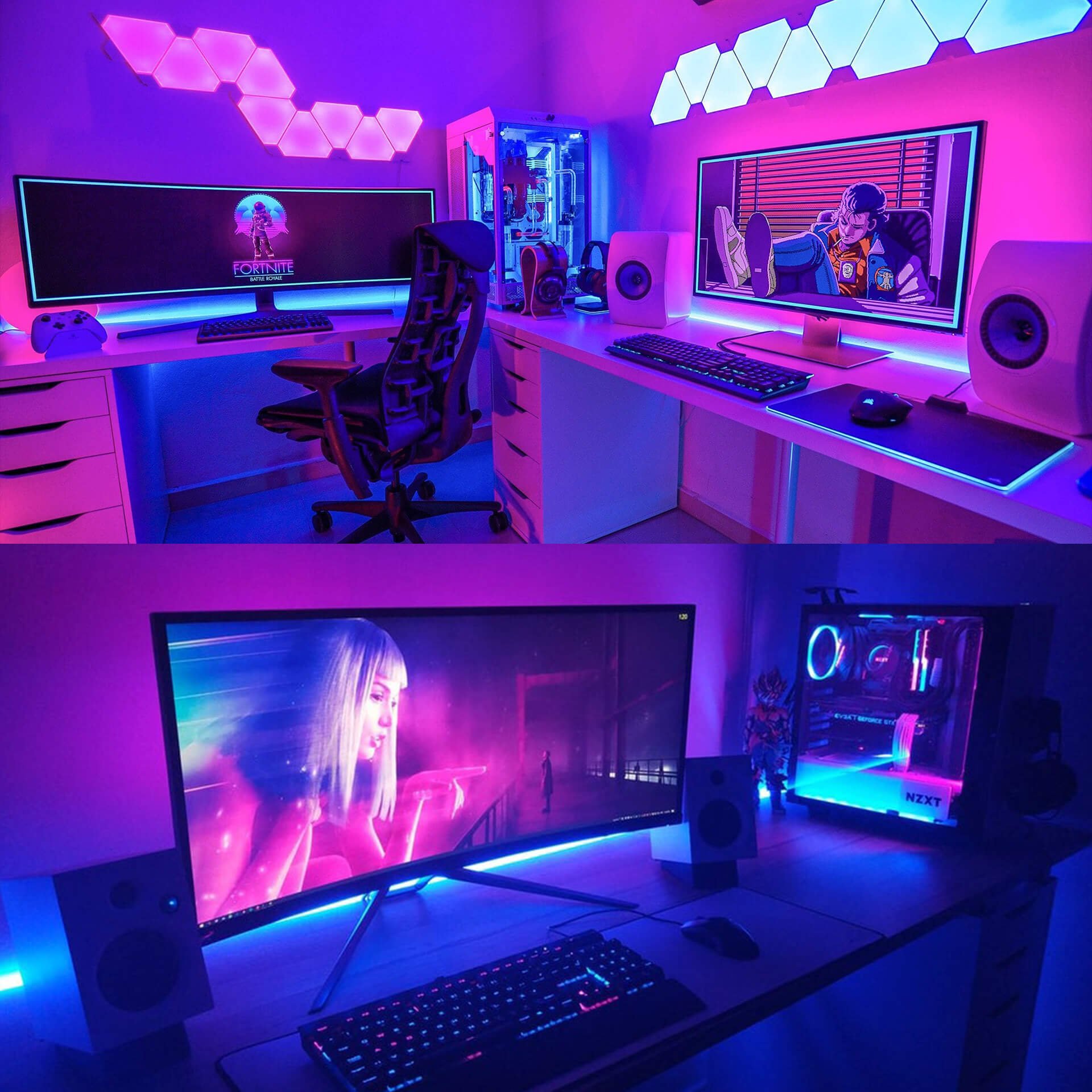 Image by @chromann
Minimal LED Light Accent Wall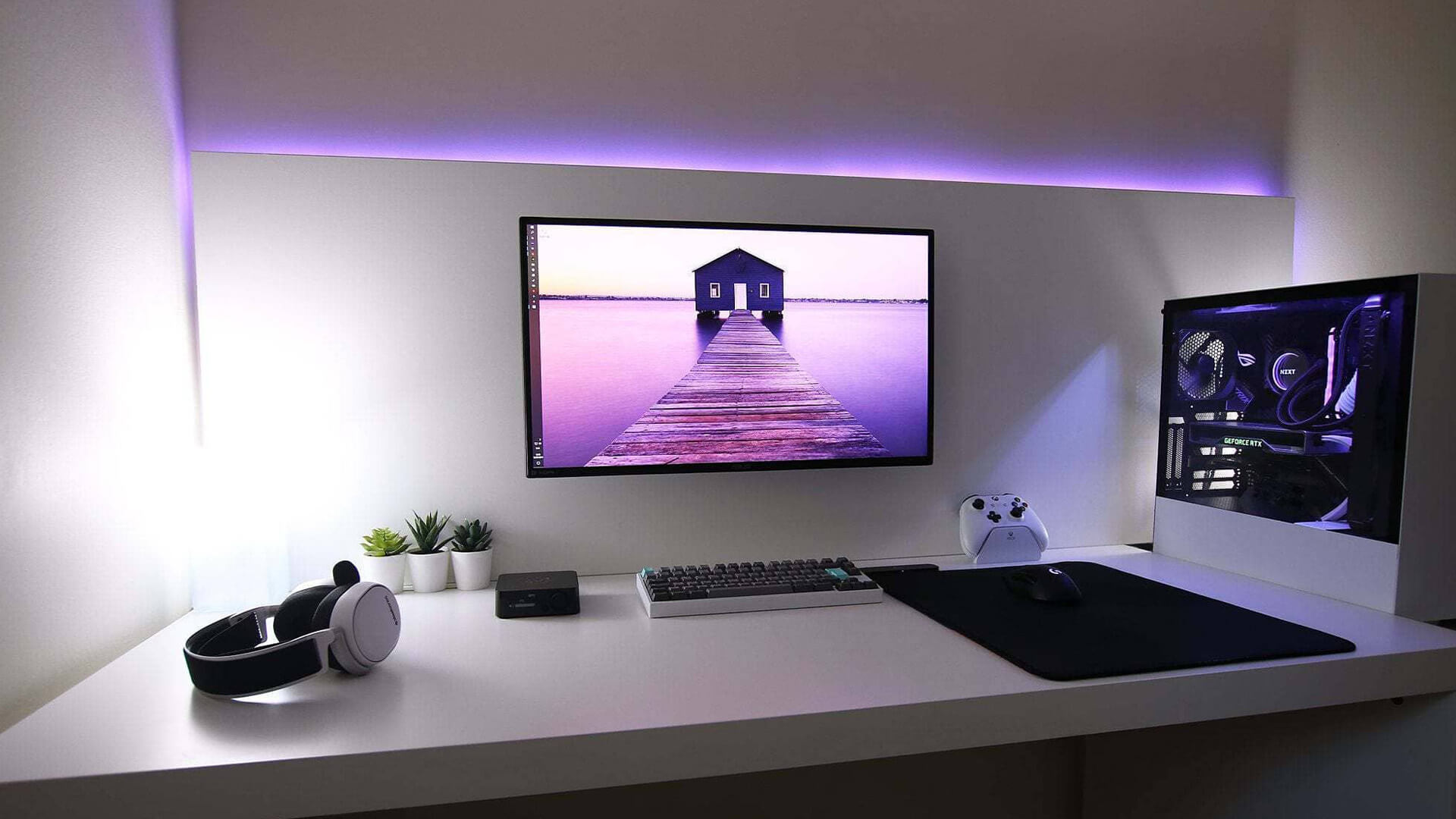 Image by u/Will_26
Subtle Desk Lighting
If you want to add some lighting to your setup, but don't want to lean too hard into the RGB world, a lighting setup like this is perfect for you.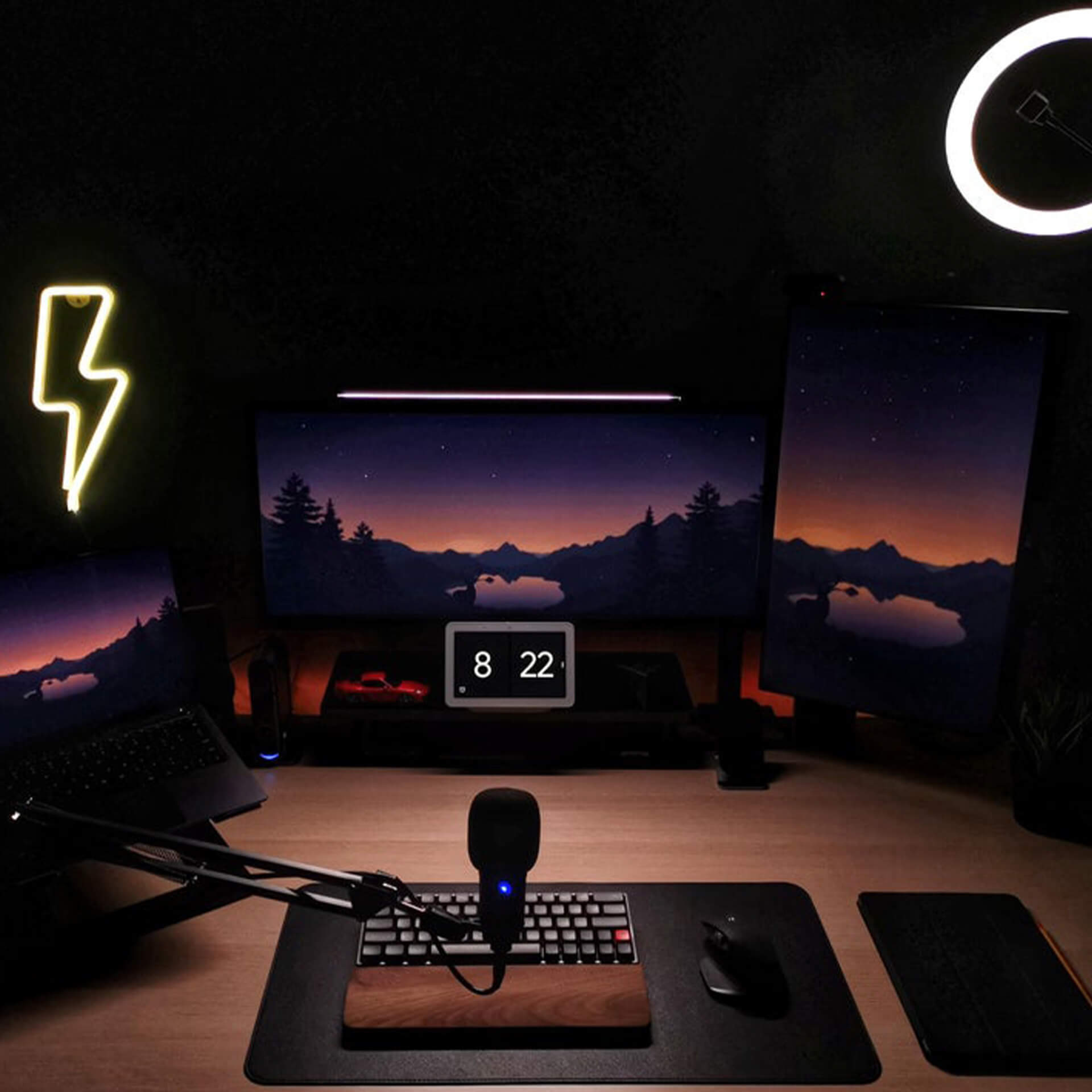 Image by u/GrandeNJR
Going All Out: LED Desk Light Strips, Star Projector, Nanoleaf, Light Beam, and Neon Lights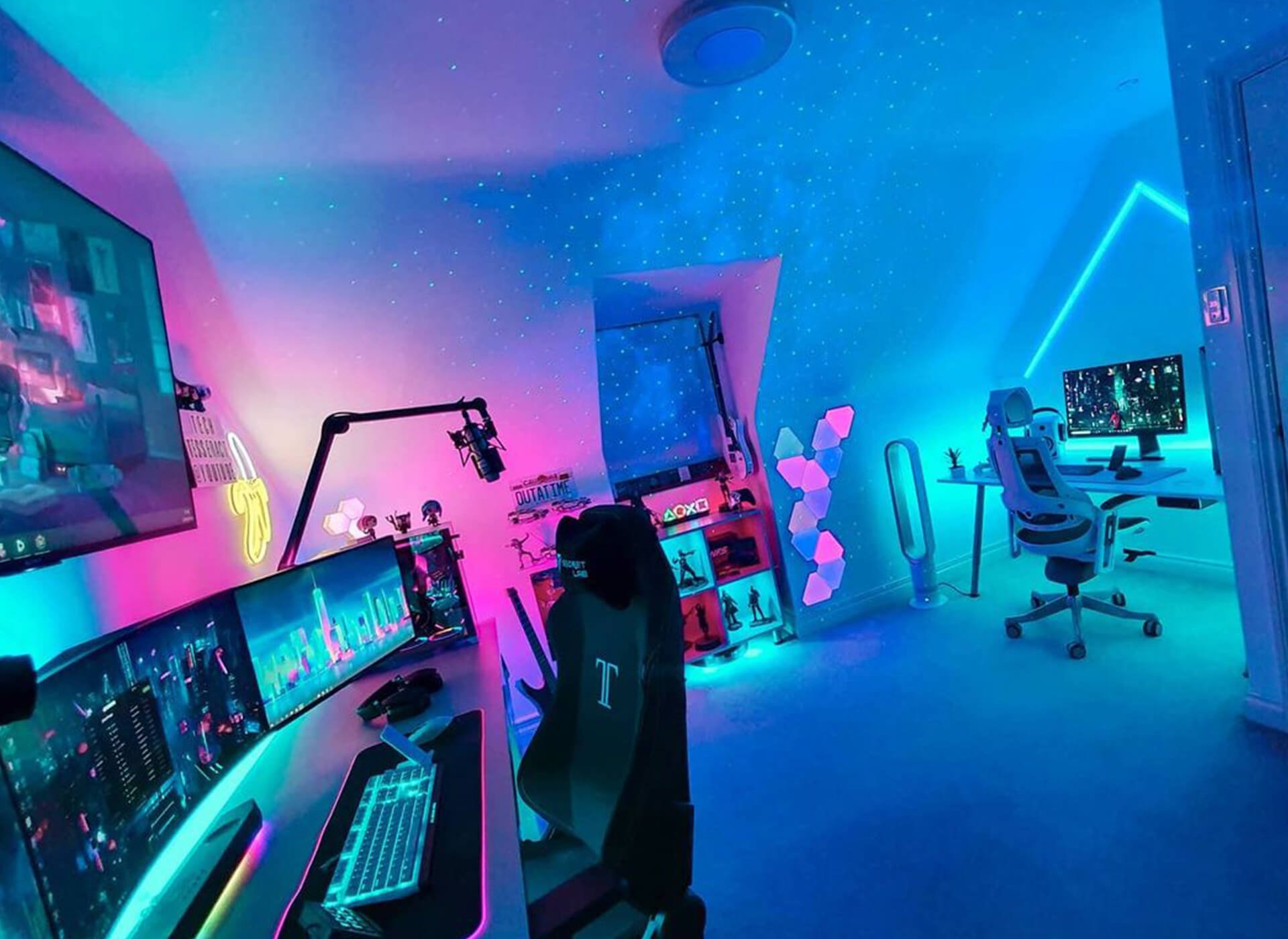 Image by @techtesseract
Star Wars Theme Backlit Desk Setup
You can even grab RGB LED lightsabers to take it all to the next level.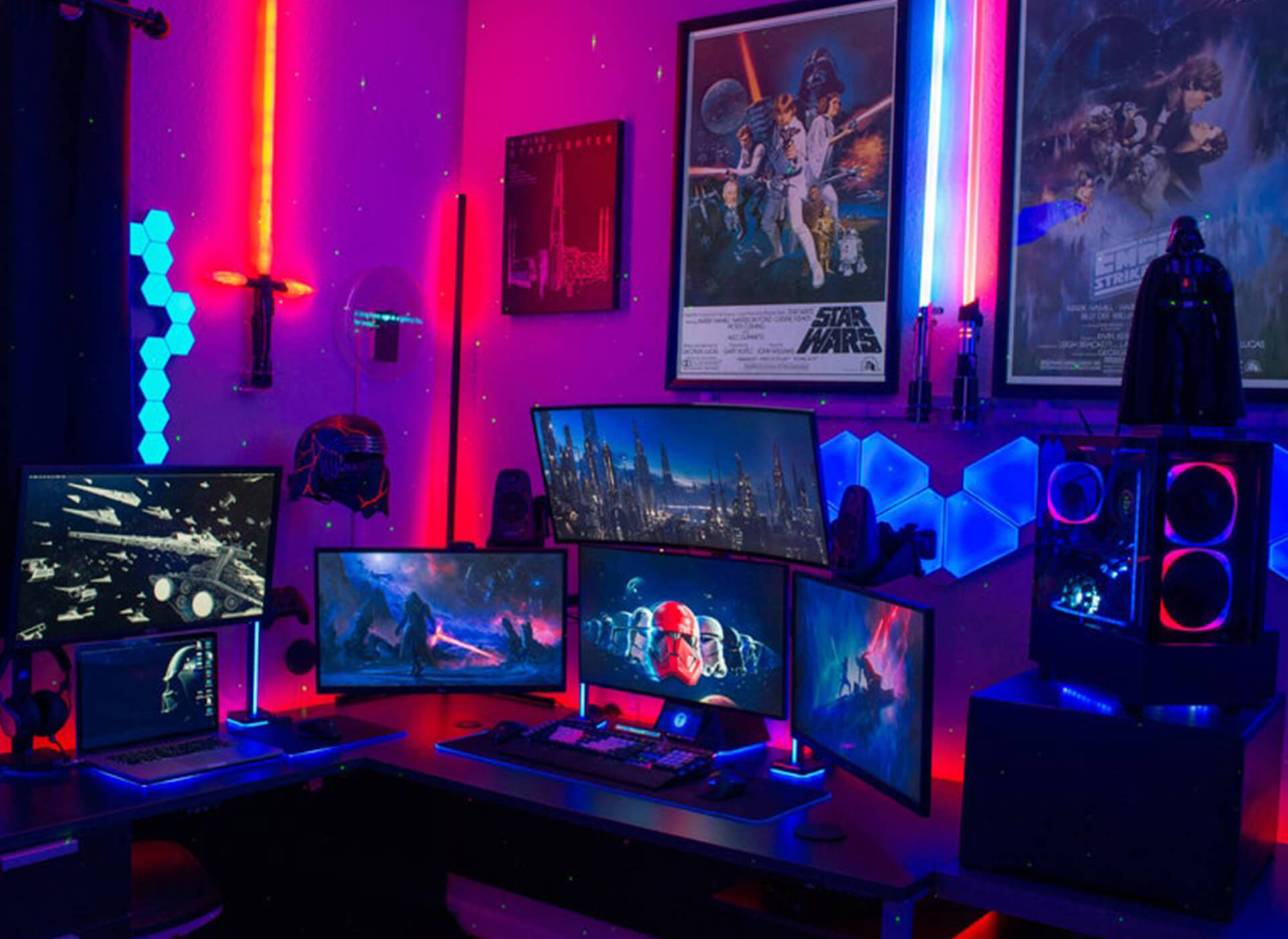 Image by u/dogofpavlov
Red & White Home Office Lighting Theme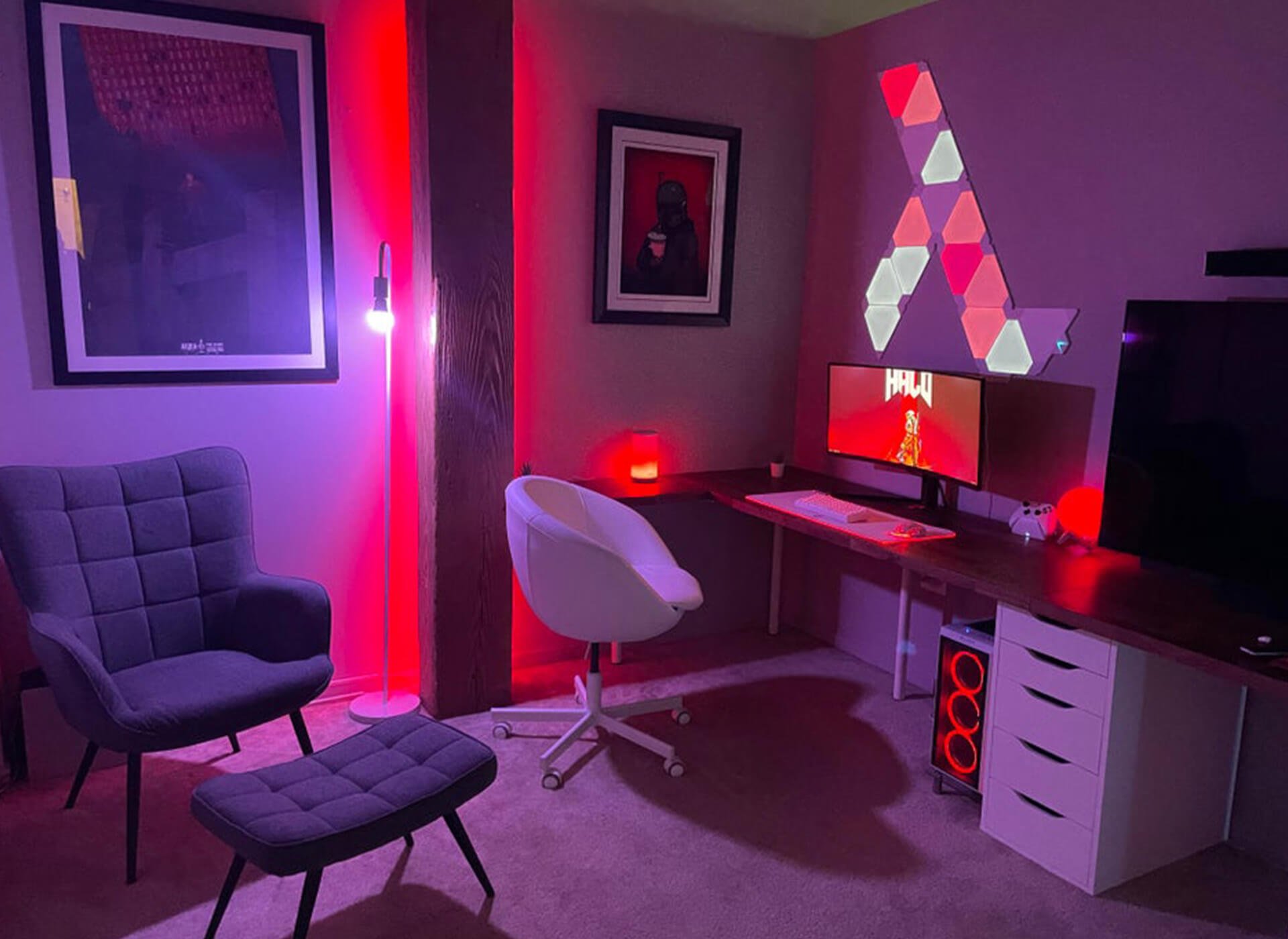 Image by u/Significant_Crow7120
Monochrome Desk Lighting Setup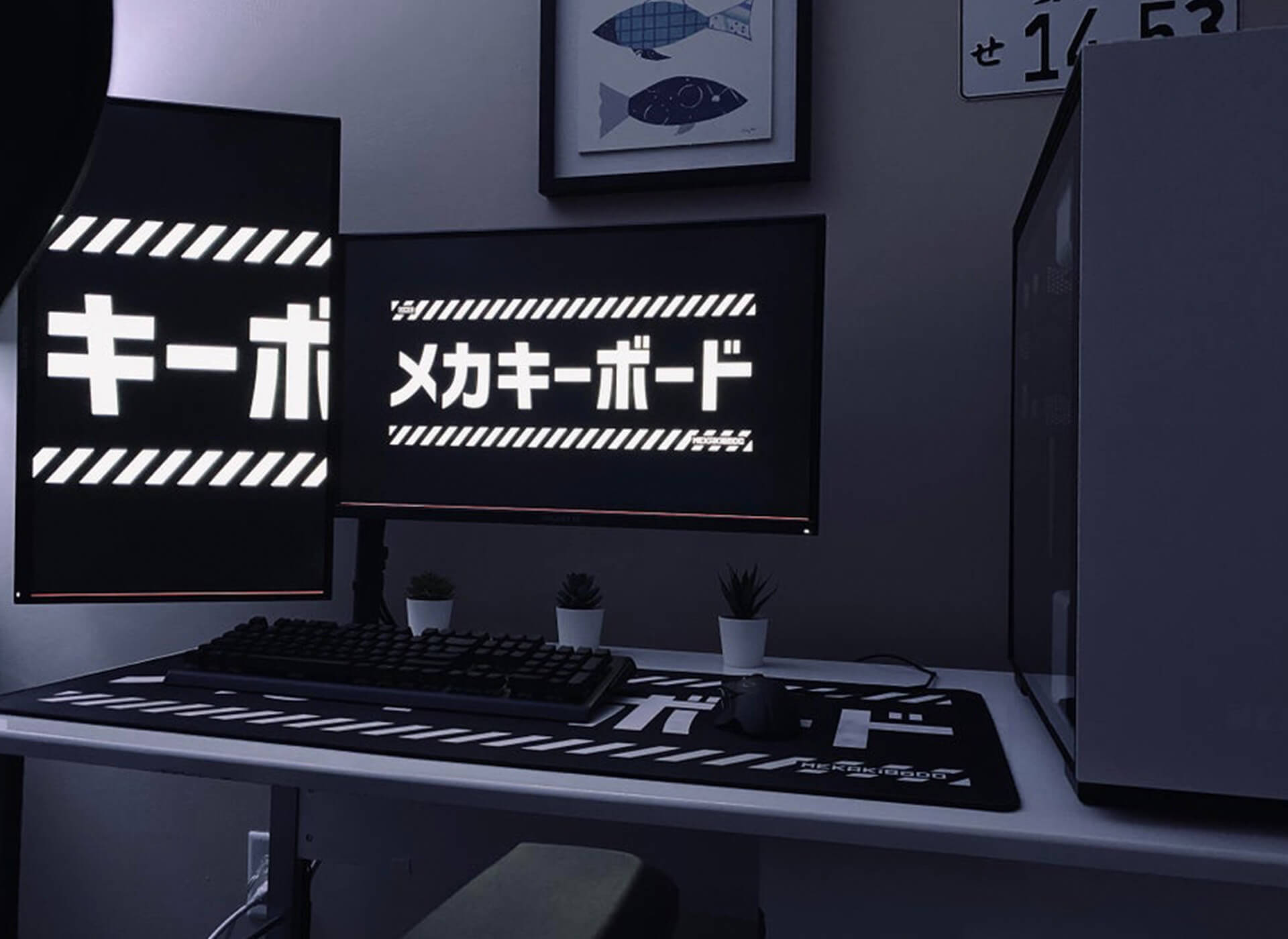 Image by u/Pocketputin
Colorful Neon Lights Desk Setup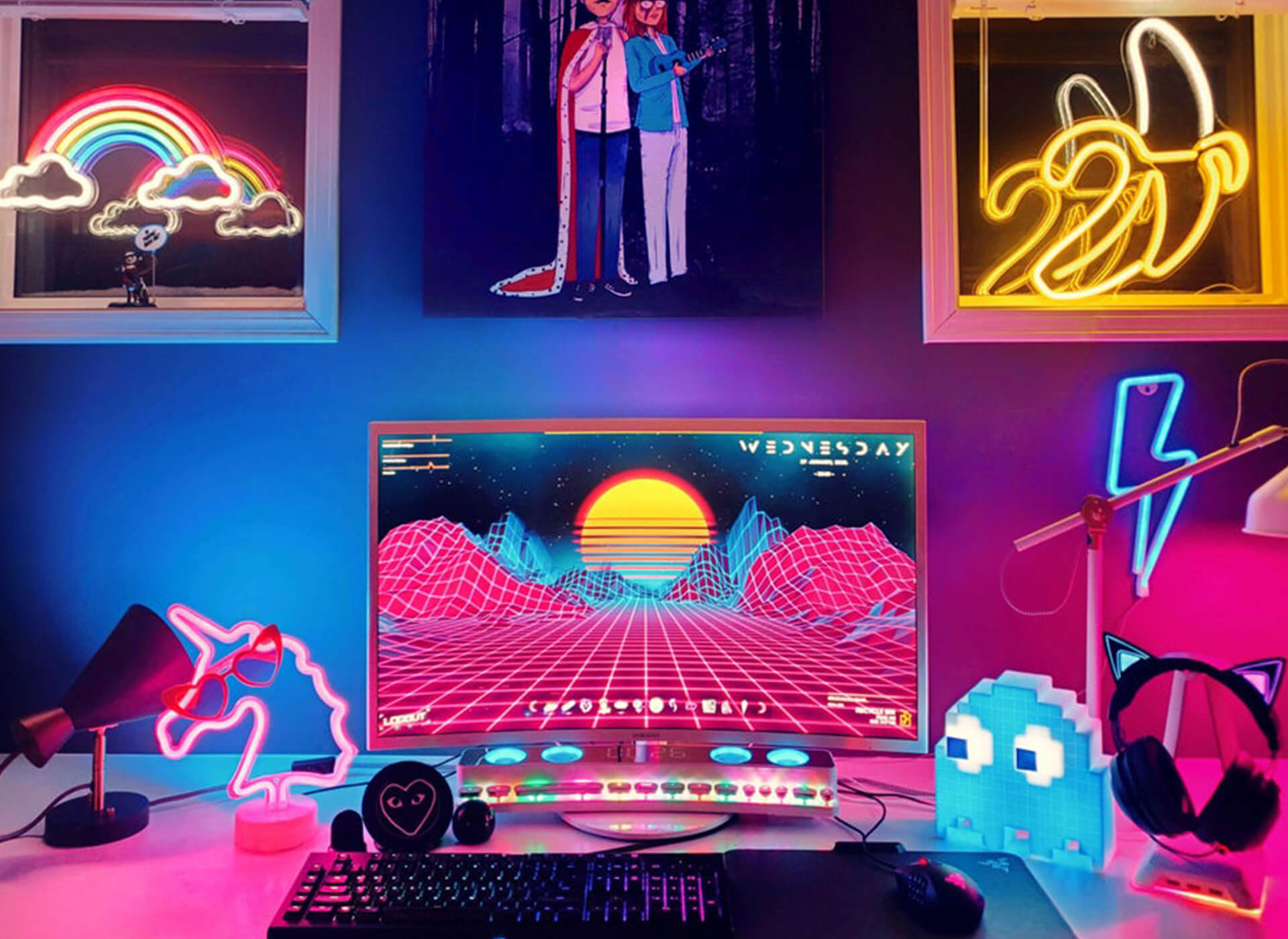 Image by u/Dxtr24
Feeling inspired? Have some more colorful desk lighting ideas yourself? Either way, let us know in the comments below! If you've got a lighting setup of your own you're wanting to show off, make sure to tag us at @desktours and @gridfiti on Instagram! For more desk lighting inspo, follow our home office ideas Pinterest board!
Gridfiti is supported by its audience – when you buy something using the retail links in our posts, we may earn a small commission at no additional cost to you. We only recommend products we would use ourselves and recommend to our friends and family. Read more about our affiliate disclaimer.