From playing Halo at a friend's house, to battling it out in Mario Kart with your siblings, video games have always brought the energy and memories to any living or media room. While we've outgrown the N64s and PS2s, consoles are a household mainstay – and now more than ever are deserving of complementary tech and decor.
Entertainment centers are used on the daily for anything from catching up on YouTube videos, to watching visually stunning movies, but there are components to bring it all up a notch, making your setup feel just right for gaming.
Whether you're starting from scratch and building your entertainment center from the ground-up, or if you're looking for smaller tweaks and ideas to spruce up your existing setup, we've put together a full-on guide covering the essentials you need for your setup, as well as a whole moodboard for unique gaming entertainment center ideas and inspo.
Gaming Entertainment Center Essentials
Struggling to figure out where to start? We got you! There are so many components that make up a great gaming entertainment center, but let's cover the essentials. To help you figure out exactly what products are needed for your console setup, we've outlined all of the main components that make up an entertainment center, along with curated products for that added inspiration.
Check out the gaming entertainment center ideas section below for more inspo for your new setup!
Best TVs for Gaming
What's an entertainment center without something to display the entertainment? TVs can range from the hundreds to the thousands of dollars, but a good TV is a worthy investment.
If you've got a next gen console or are considering getting one, strongly consider a 4K @ 120Hz TV that will let you get the most out of your system – letting you game in 120fps. All the TVs listed below vary in price (and thus features and quality), but offer 120 Hz so you're not missing out on those sweet, sweet frames.
Another thing to look for is vibrant colors and deep blacks. We've personally tested the Samsung QLED Q80T for ourselves and can attest to its gorgeous picture quality. If LG or TCL is more your thing, several users on Reddit have vouched for them too!
Get Started: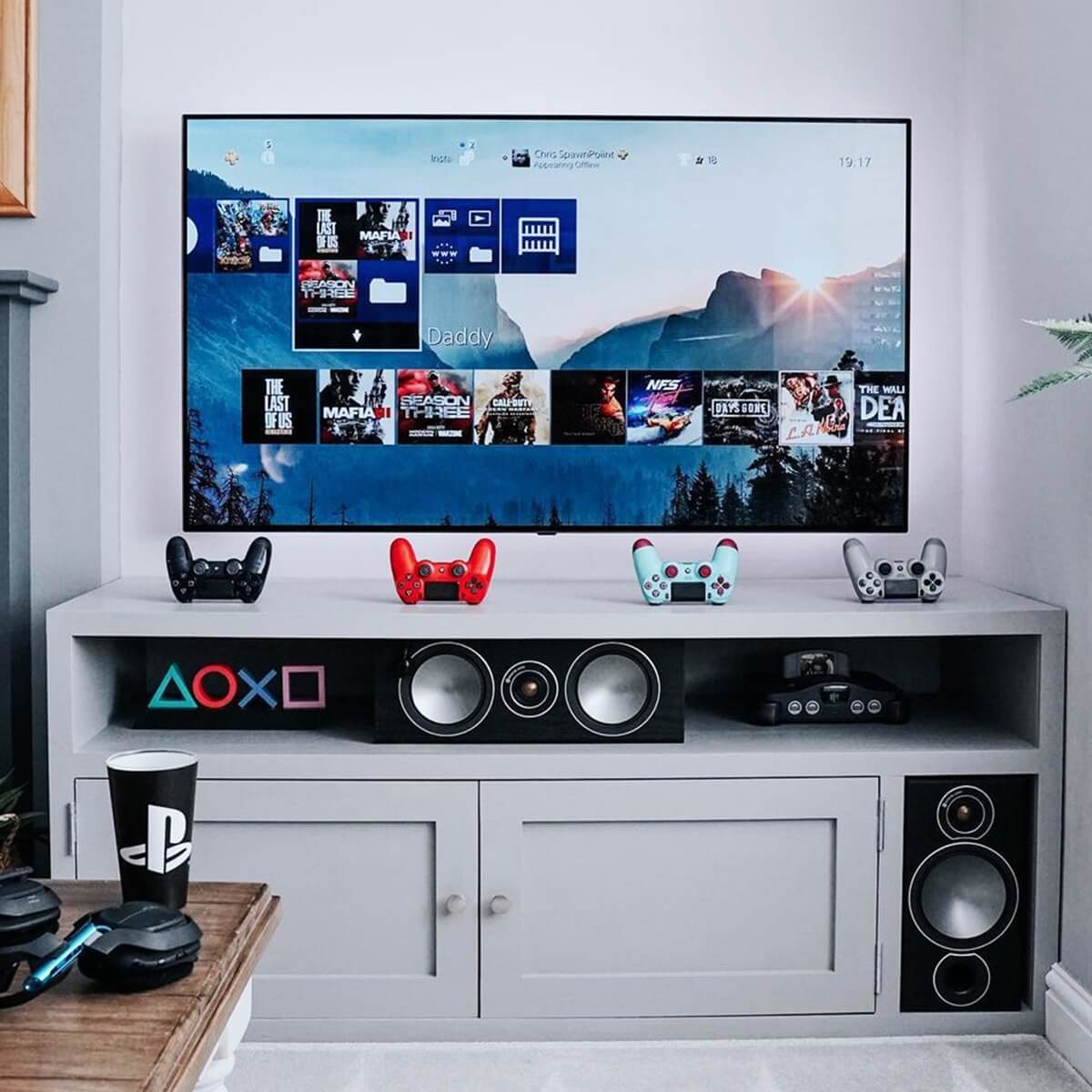 Image via @spawnpoiint
Best TV Stands & Cabinets for Your Entertainment Center
TV stand, TV bench, TV console, TV cabinet, entertainment unit – no matter what you call it, it's one of the most important pieces for your gaming entertainment center, housing all your tech and components. Whether you're looking for a farmhouse TV stand or something more minimal, there are hundreds of options – here are some of our picks:
Get Started: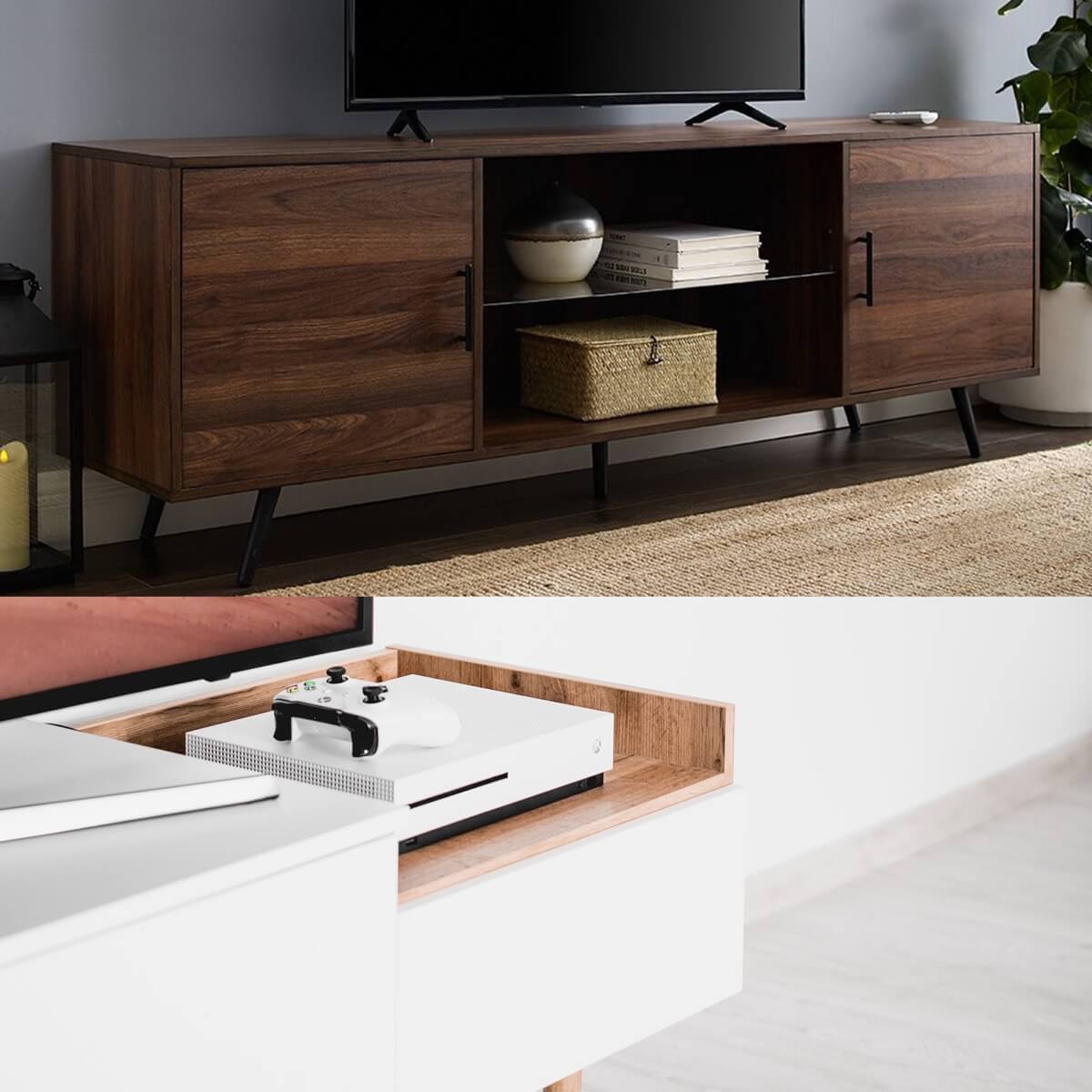 Images via Walker Edison and Alexandru Acea
Video Game Storage & Gaming Shelves
Keep your entertainment center stylish and functional with some minimal gaming shelves and video game storage ideas. With the proper storage unit, you can easily display your favorite console games without adding clutter to your setup.
Get Started: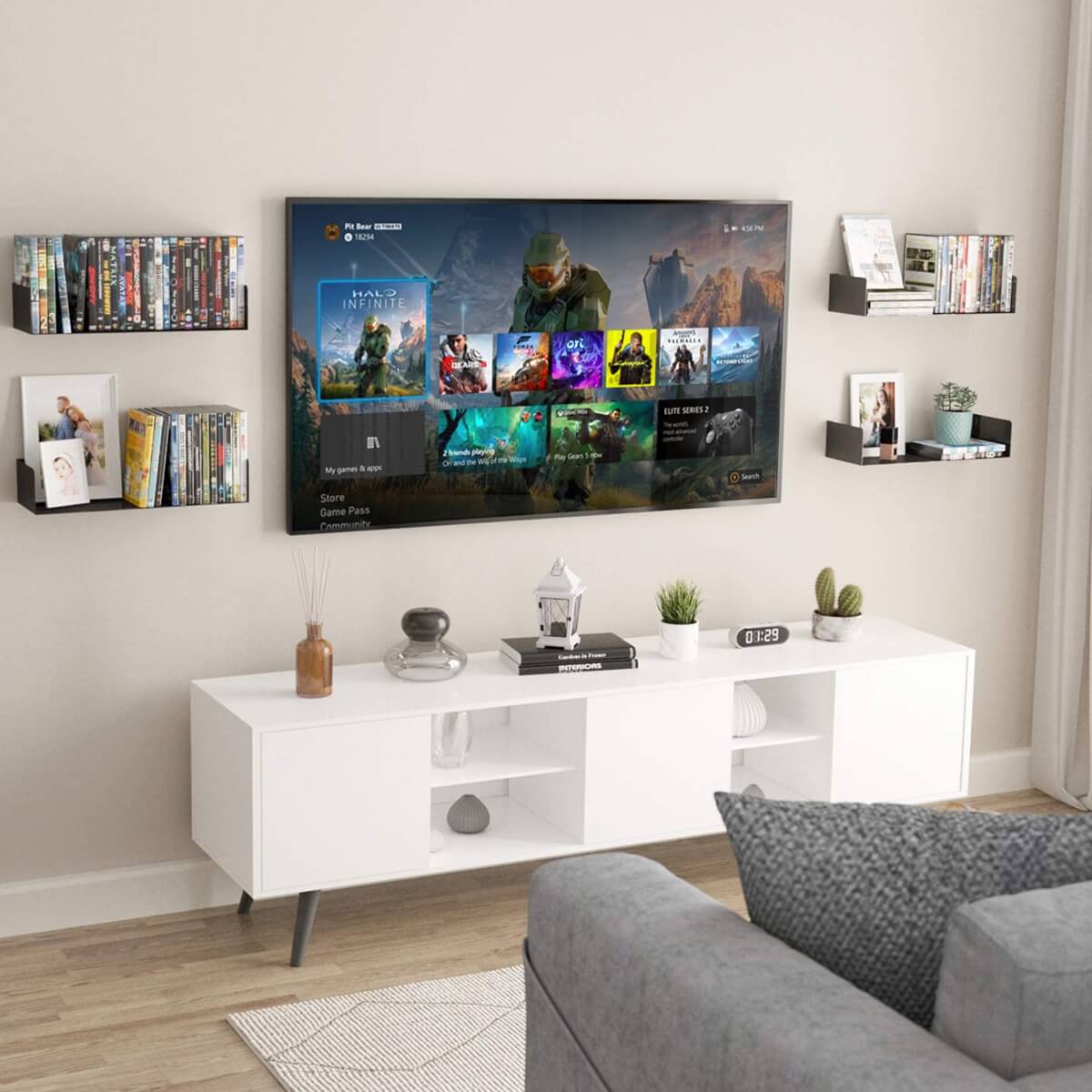 TV Accessories
Operating mostly behind the scenes, great accessories make for a great entertainment center. Don't forget these accessories that'll keep things running as smoothly as possible – HDMI cables, power strip, and even a TV wall mount!
Get Started: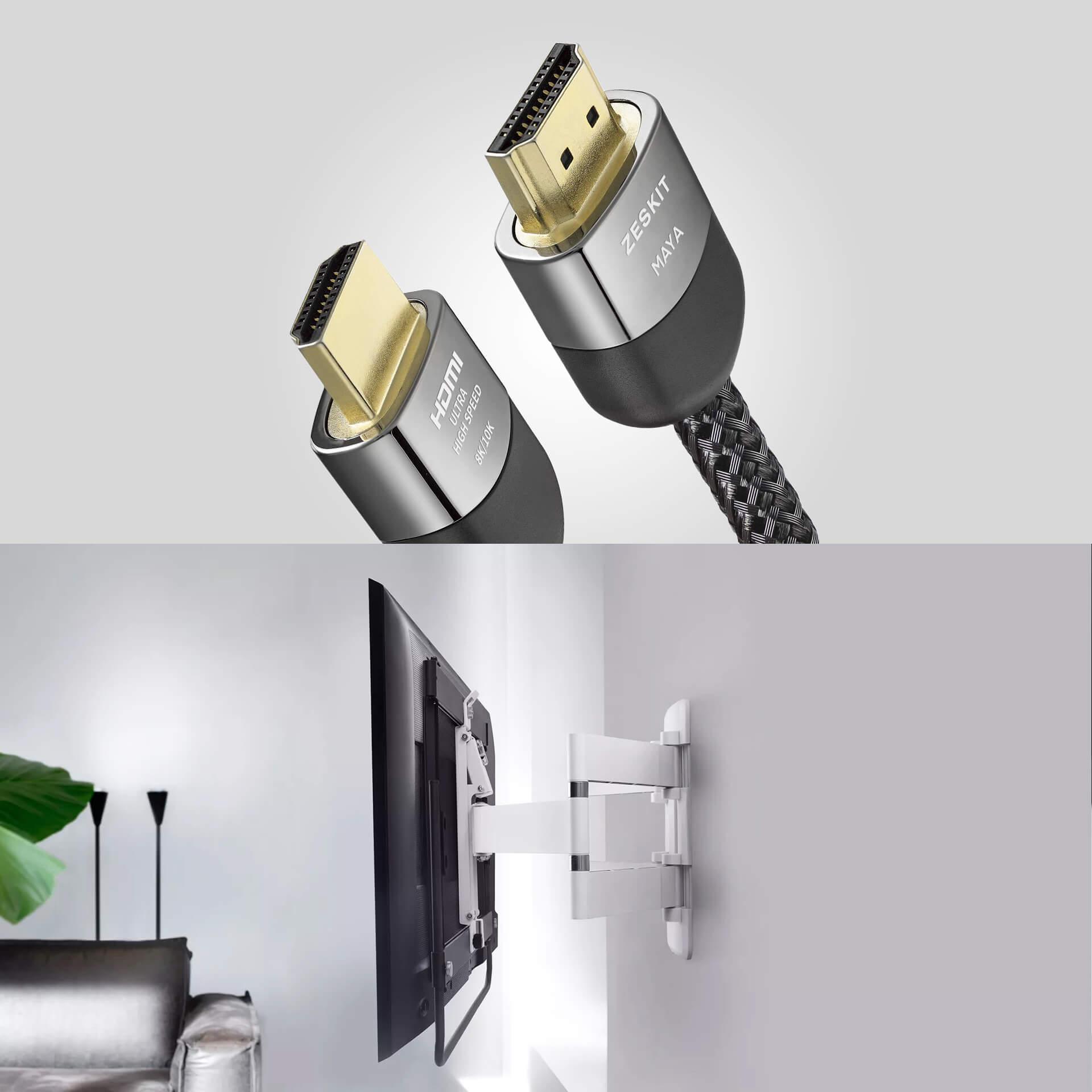 Images via Amazon and One For All
Streaming Devices & Smart Assistants
Most TVs nowadays are smart, with several built-in streaming services and apps, but why not make your setup even smarter? With either a streaming device or a smart assistant, you can easily use voice commands to queue up your favorite YouTube videos, songs on Spotify, or Netflix shows without having to reach for your remote.
Get Started: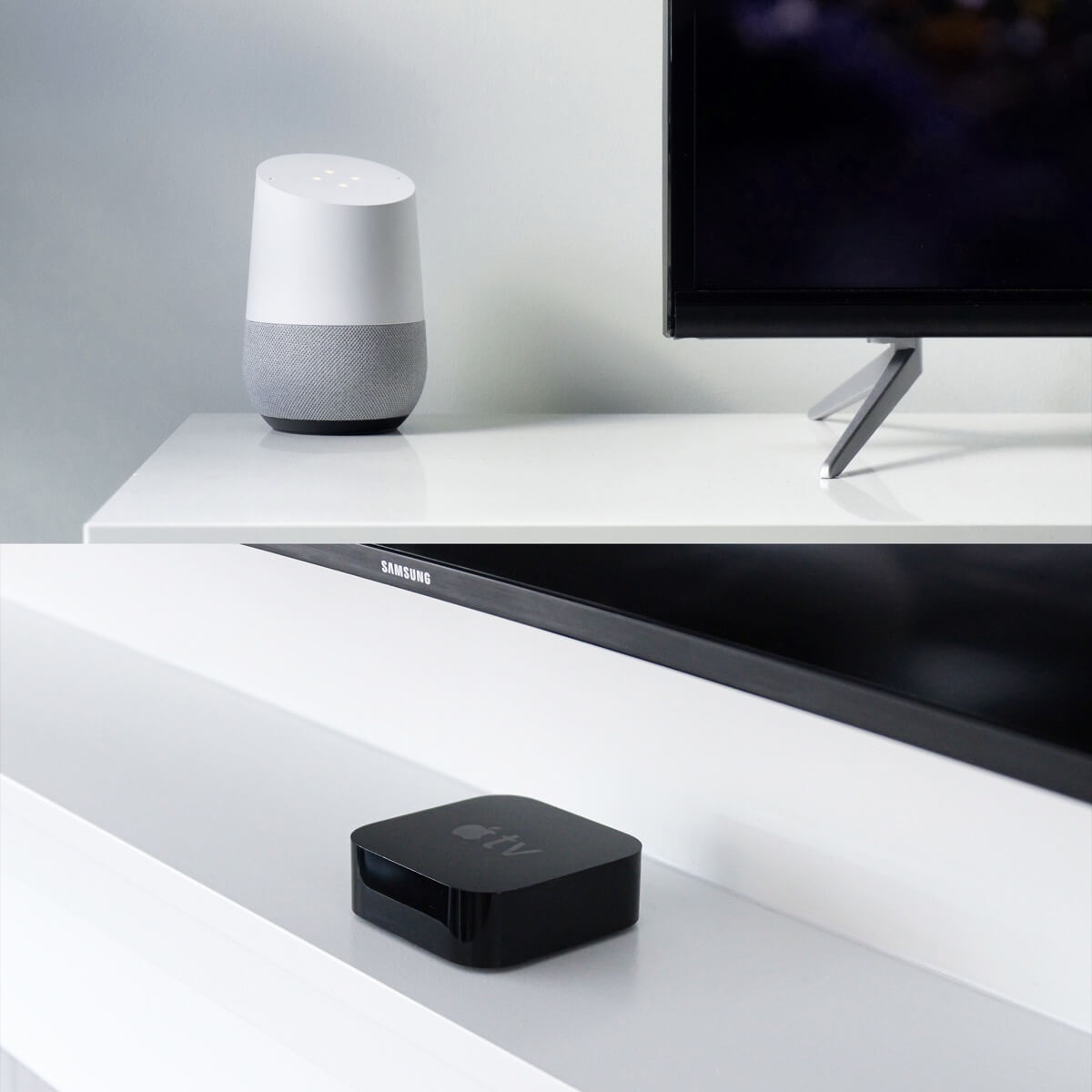 Images via Kazden Cattapan and Brandon Romanchuk
TV Sound Systems
Whether you're a sound bar fan, or want to go all out with surround sound, a quality audio system is crucial to get closer to the action for gaming, movies, and TV.
There's a range of options depending on your budget and what makes the most sense for your setup – if you're in a smaller space or just want to keep things minimal, a sound bar is probably your best bet. If you're an audiophile and have the space to get a bit more of an immersive experience, check out options for a surround system!
Get Started: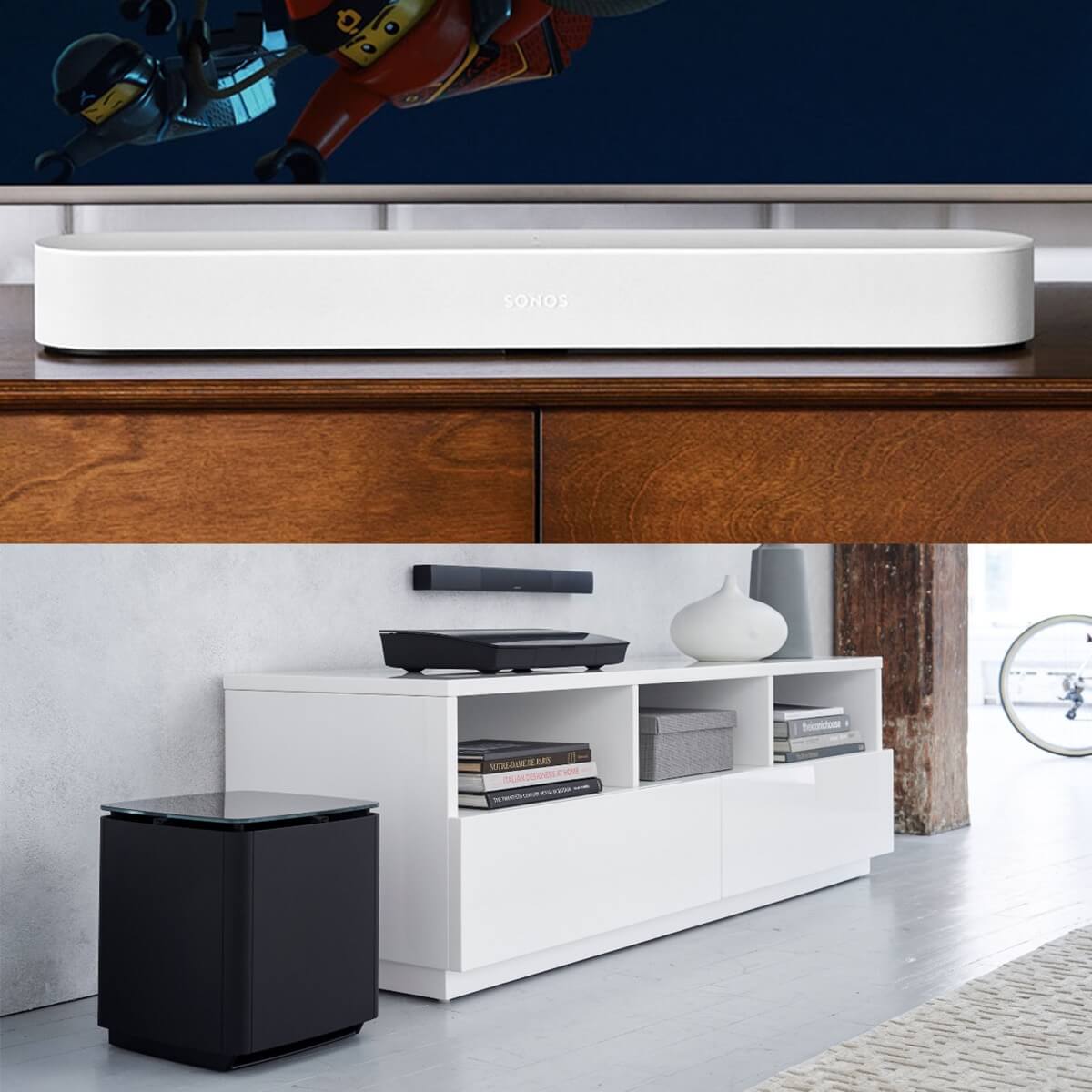 Images via Sonos and Best Buy
TV Backlighting & LED Light Strips
Looking to spice up your console setup? Adding colored LED lights are a great way to bring your entertainment center to life without taking up too much space. There are so many different gaming lighting ideas, but using LED wall light strips or a Nanoleaf for your TV backlighting are the best place to start. Want to give other parts of your home a literal glow-up? Check out our post on desk backlighting and LED light strip ideas!
Get Started: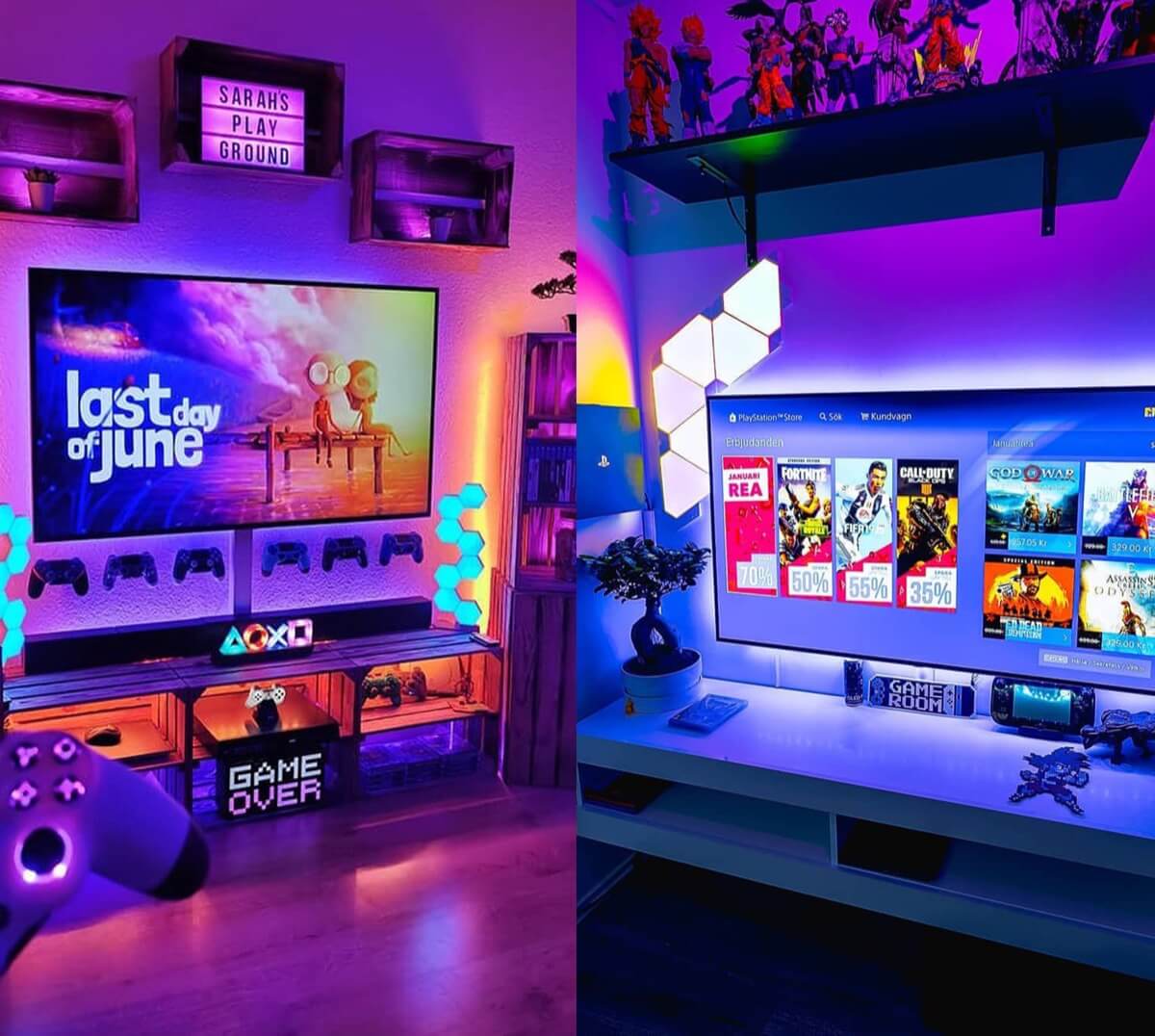 Images by @iknow.mp4 and @justacasualgamer
Gaming Consoles & Accessories
Thankfully, console designs have evolved in recent decades to the point where they can actually be a centerpiece on your TV stand. To match the look of your console and keep your aesthetic consistent, throw in some gaming accessories to complete the setup.
Get Started: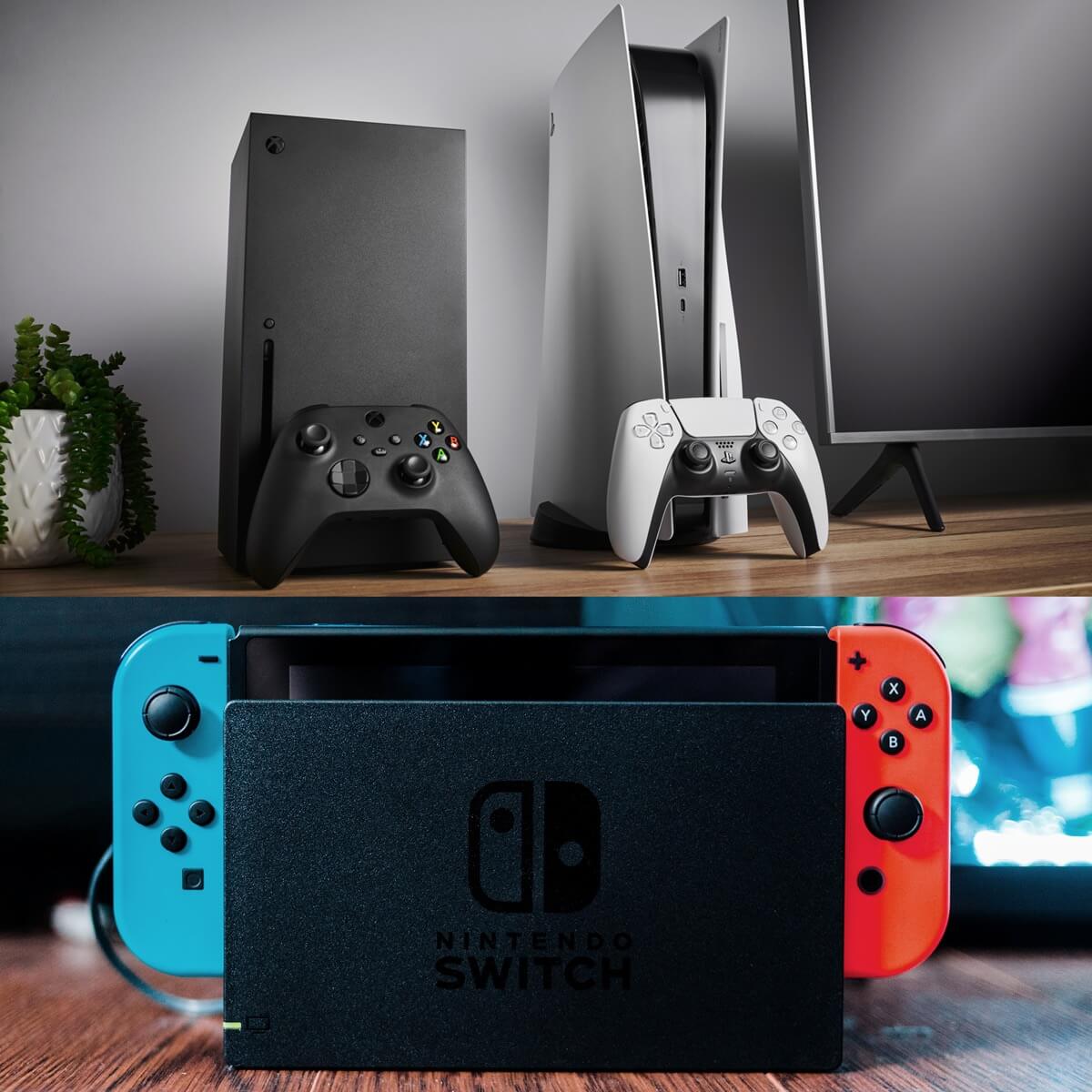 Image via GamesRadar and Erik McLean
Gaming Decor
If you want to go the extra mile and show your love for gaming, check out console-themed decor, lights, and toys – all of which are an easy add to put the "gaming" in your gaming entertainment center setup.
Get Started: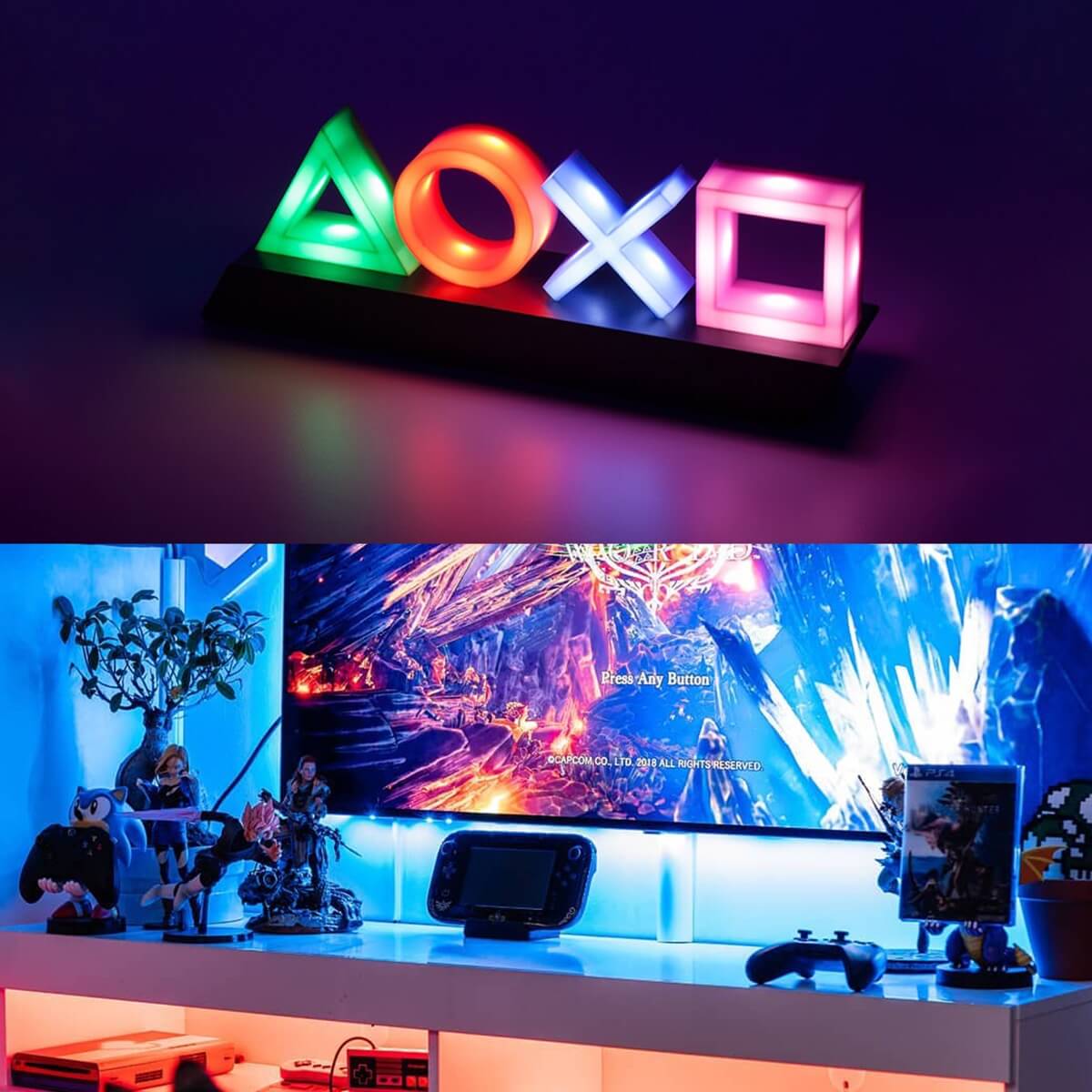 Images by Amazon and @justacasualgamer
Gaming Entertainment Center Ideas & Inspo
Minimalist Gaming TV Stand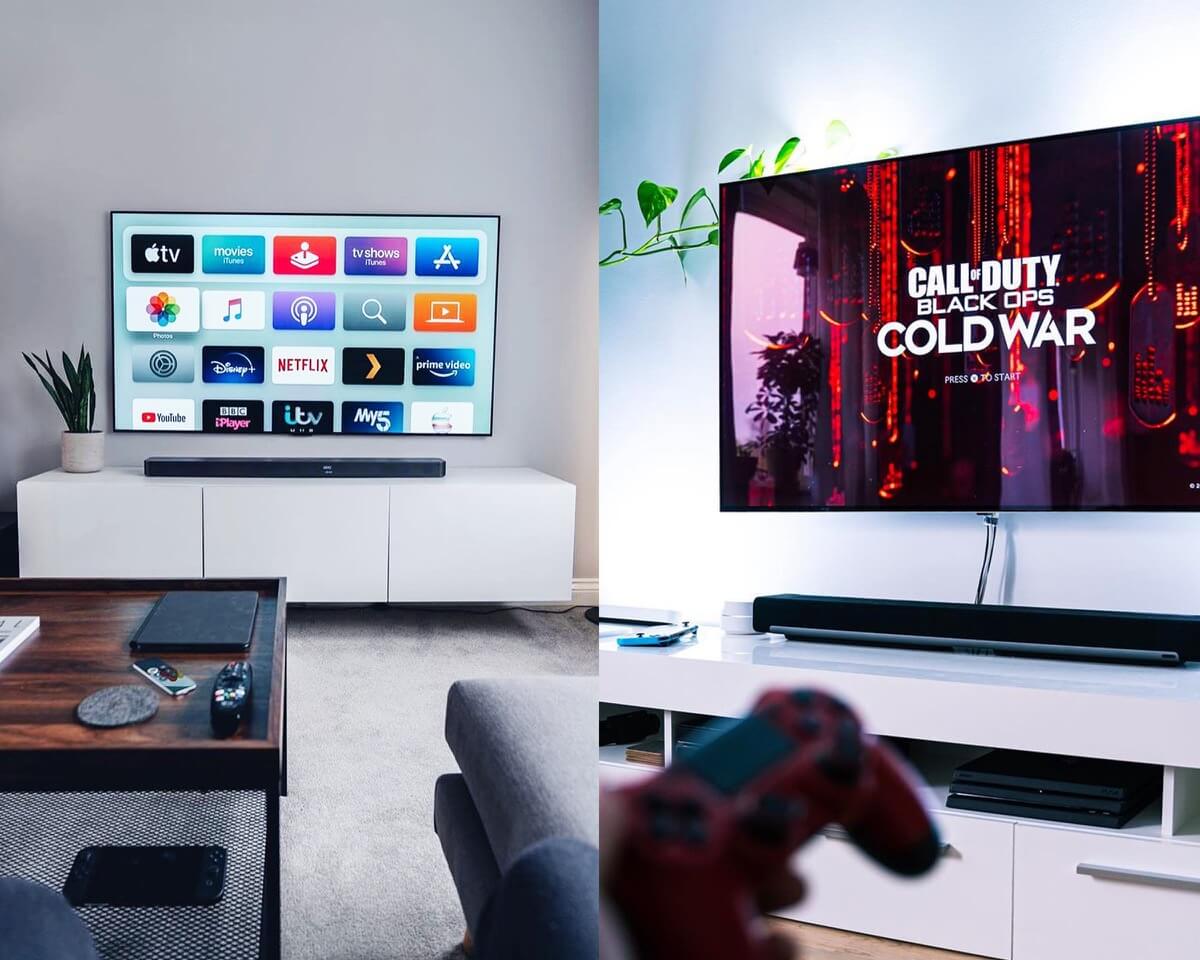 Images by @ultralinx and @justacasualgamer
Video Game Storage & Colorful Lighting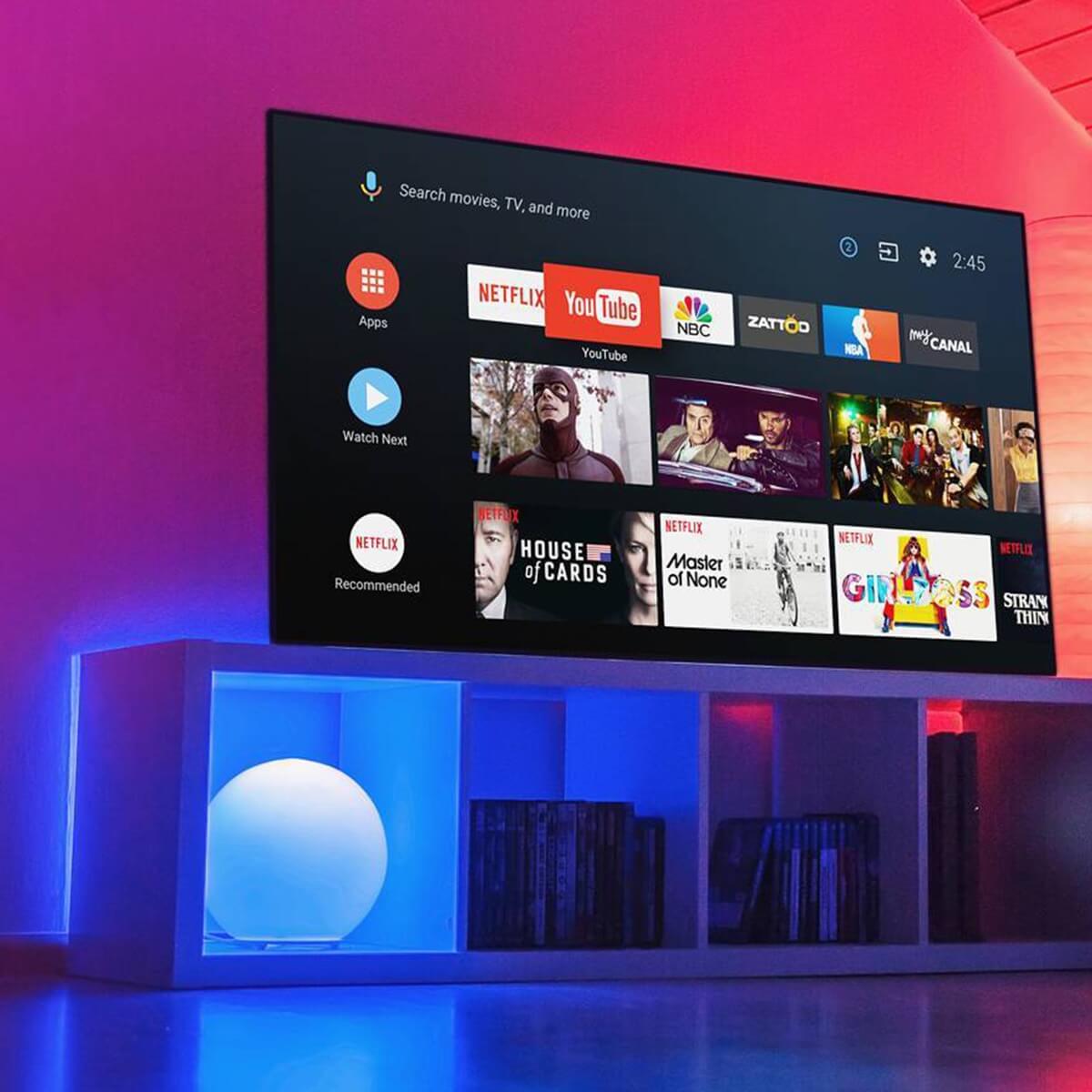 Images by Amazon and @iknow.mp4
Hypebeast Entertainment Gaming Center
Take a break from building your shoe collection and step-up your entertainment center. There are tons of Hypebeast essentials you can use to add to your gaming setup to make it look great.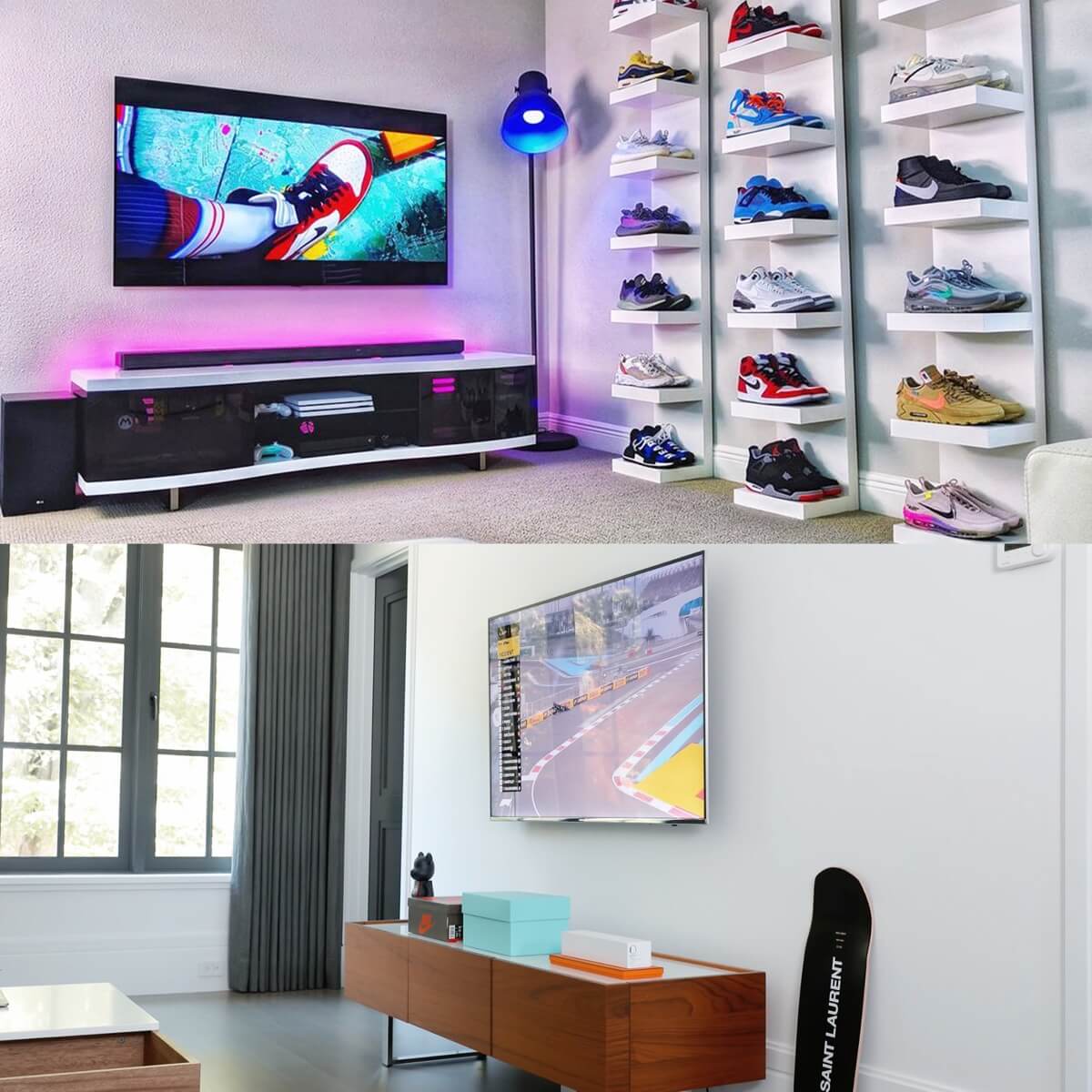 Images by @superscientific and Justin Tse
All Black Gaming TV Stand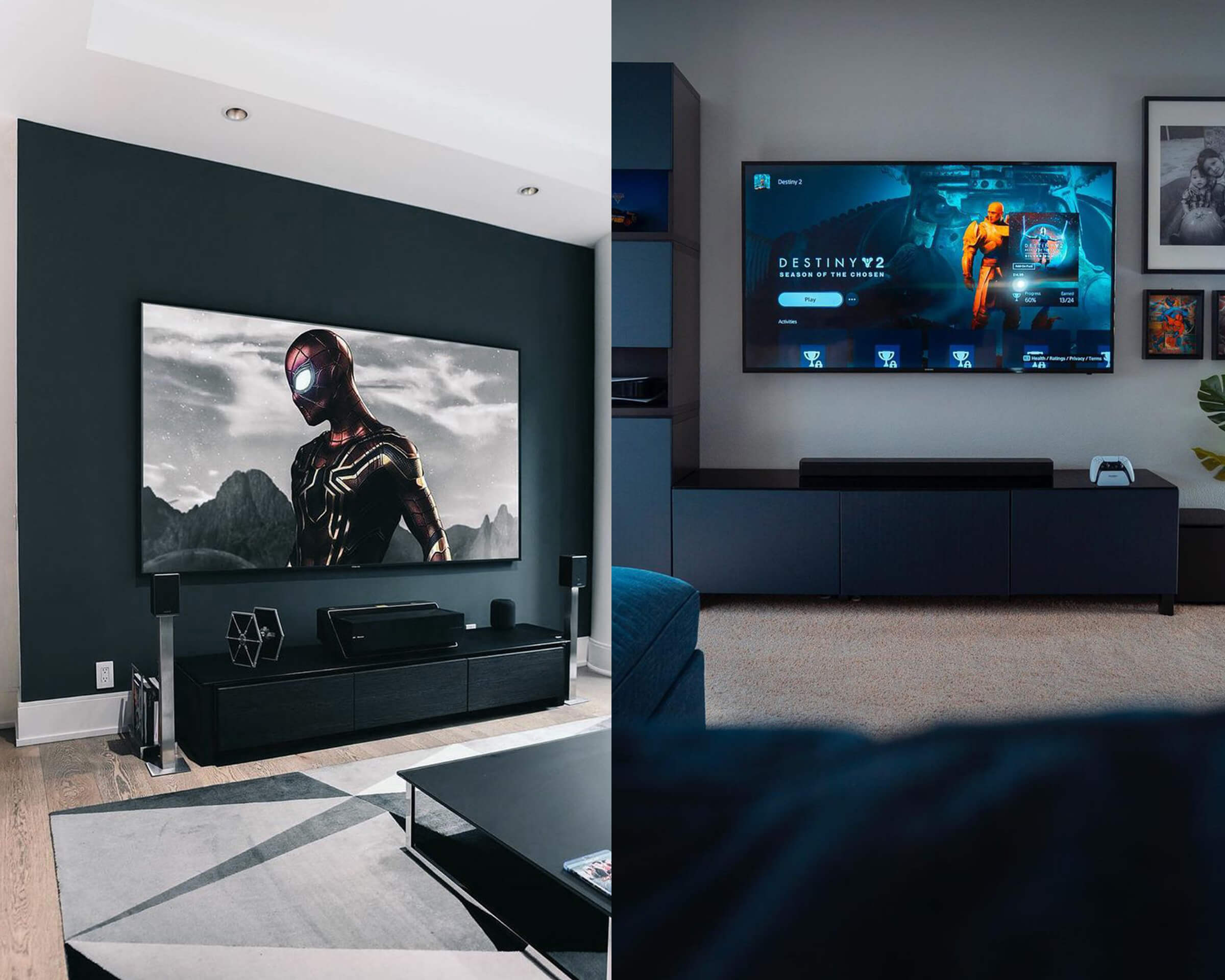 Images by @karlconrad and @michsoledesign
Aesthetic TV Stand Gaming Setup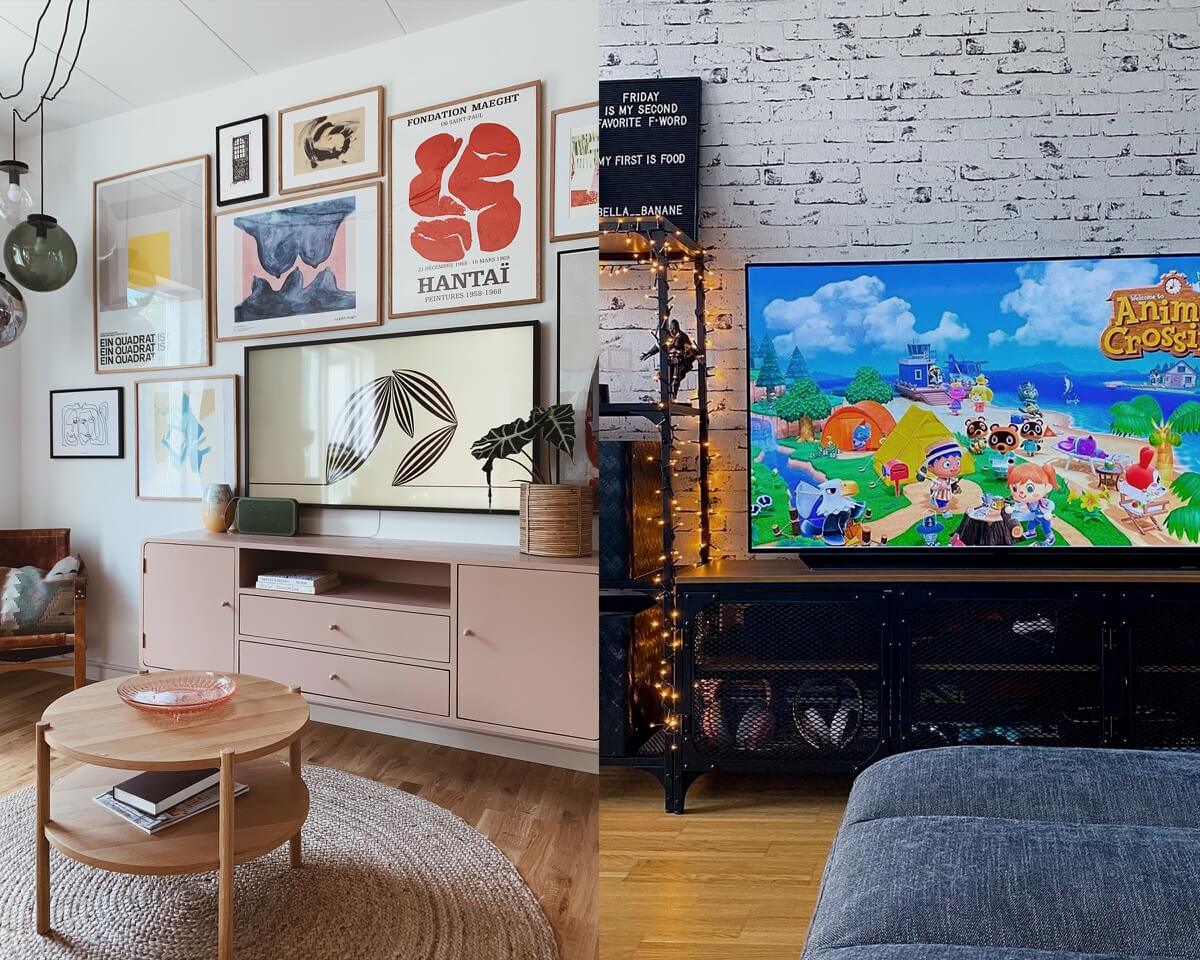 Images by Katrine Desirée Oddvik and @bella__banane
Hybrid Gaming Entertainment Center & Desk Setup
For more gaming rig ideas and recommendations, check out our full guide on minimalist gaming setups.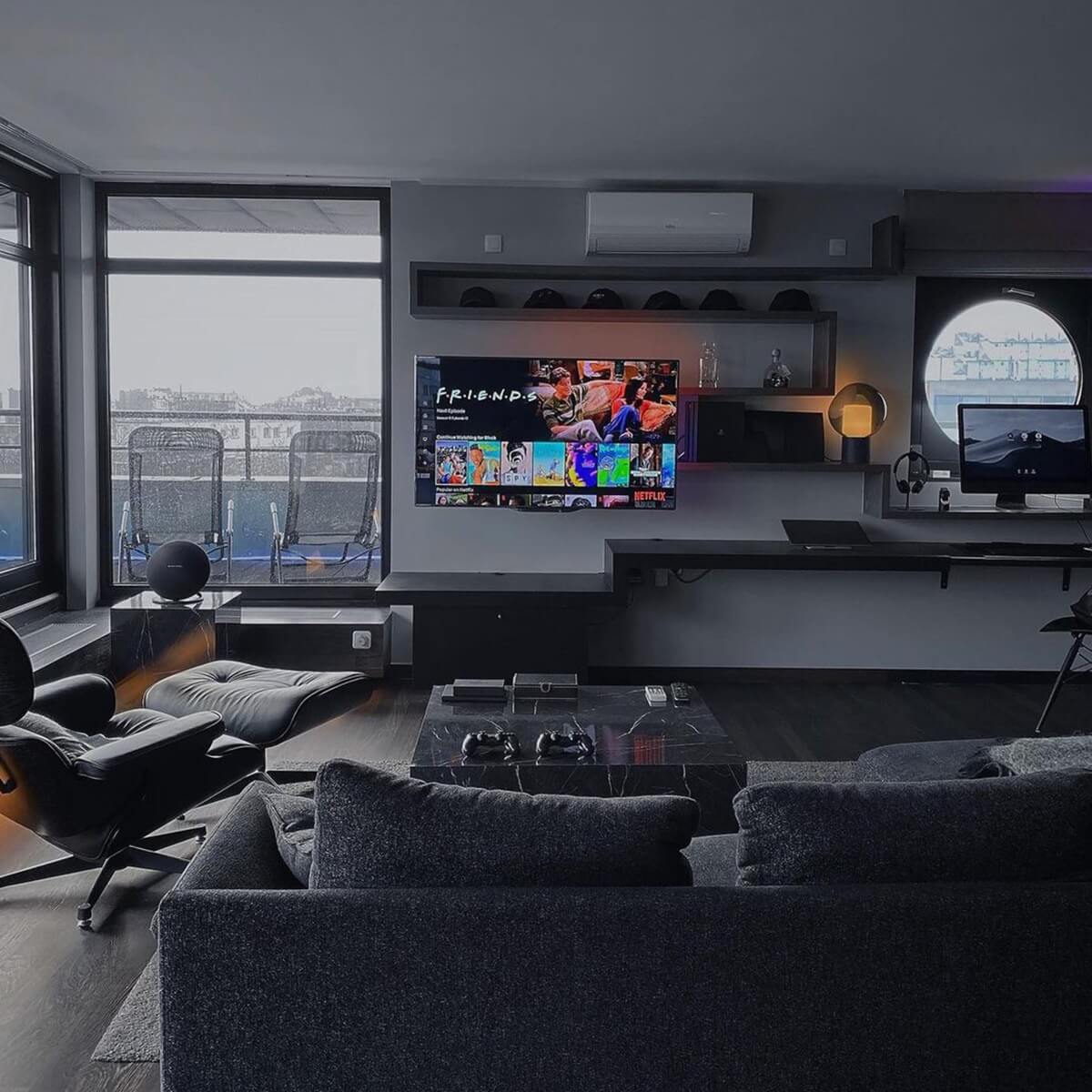 Image by @anckor
Wood TV Stand for Gaming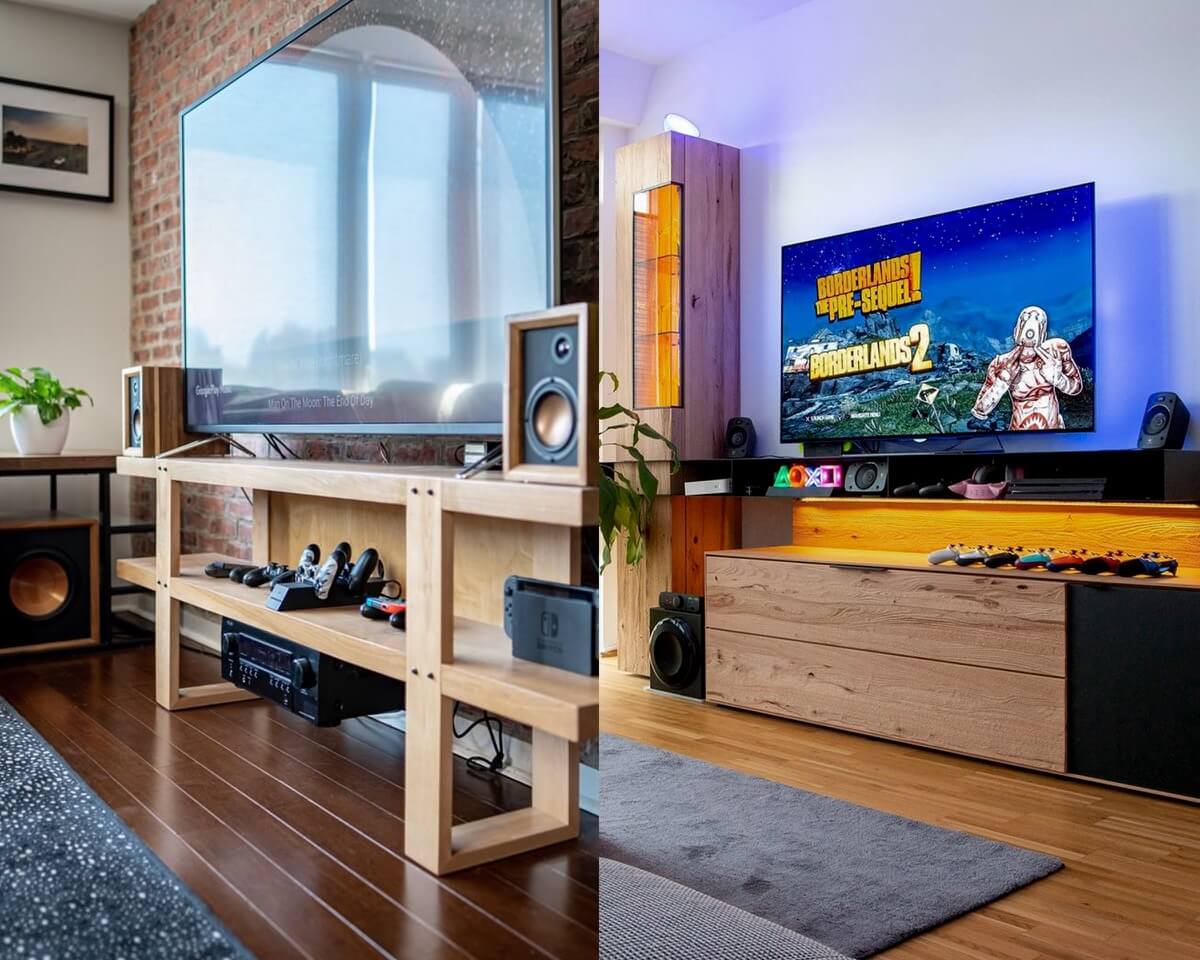 Images by @zacbuilds and @bella__banane
Colorful LED Gaming Entertainment Center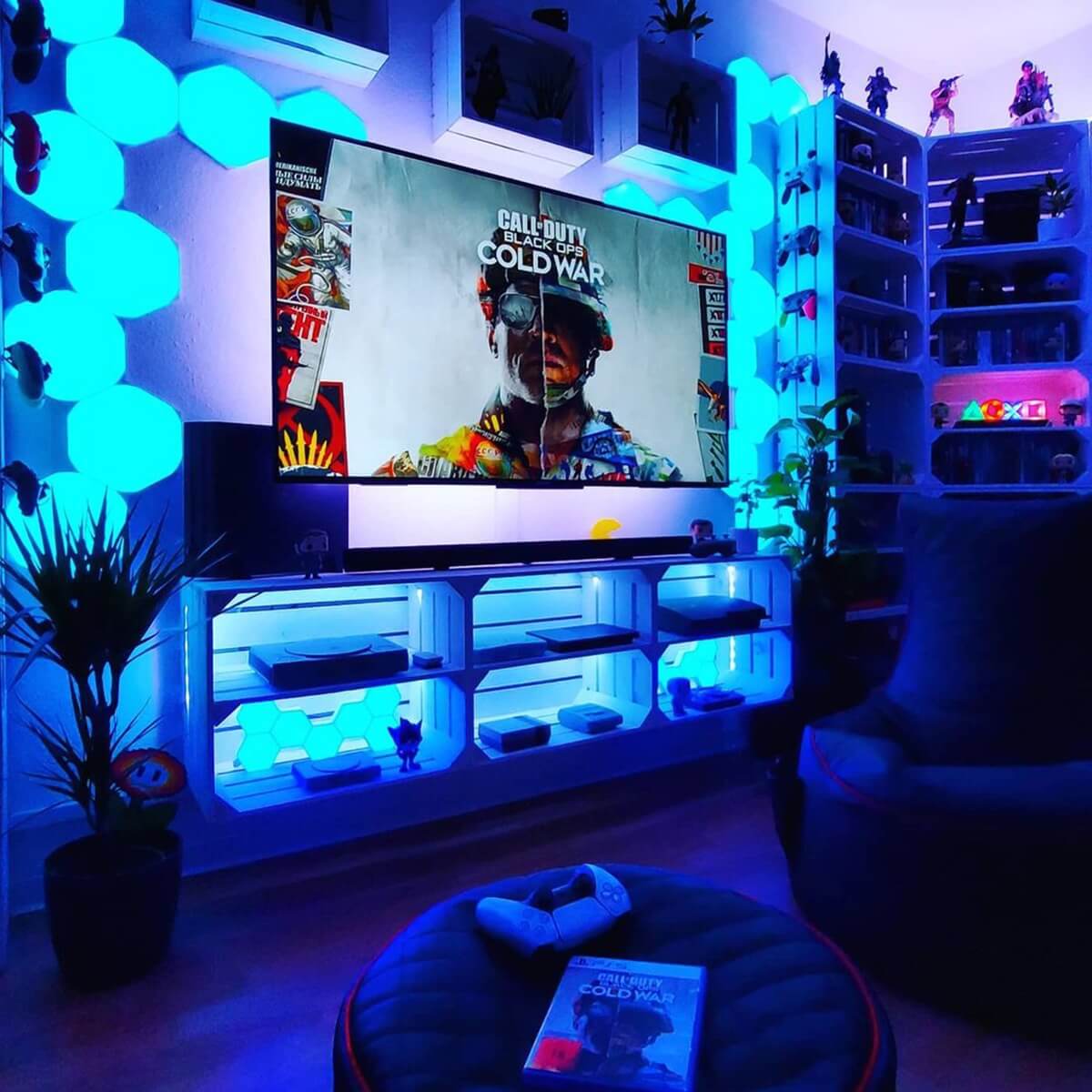 Image by @kuestennerd
Compact Entertainment Center for Gaming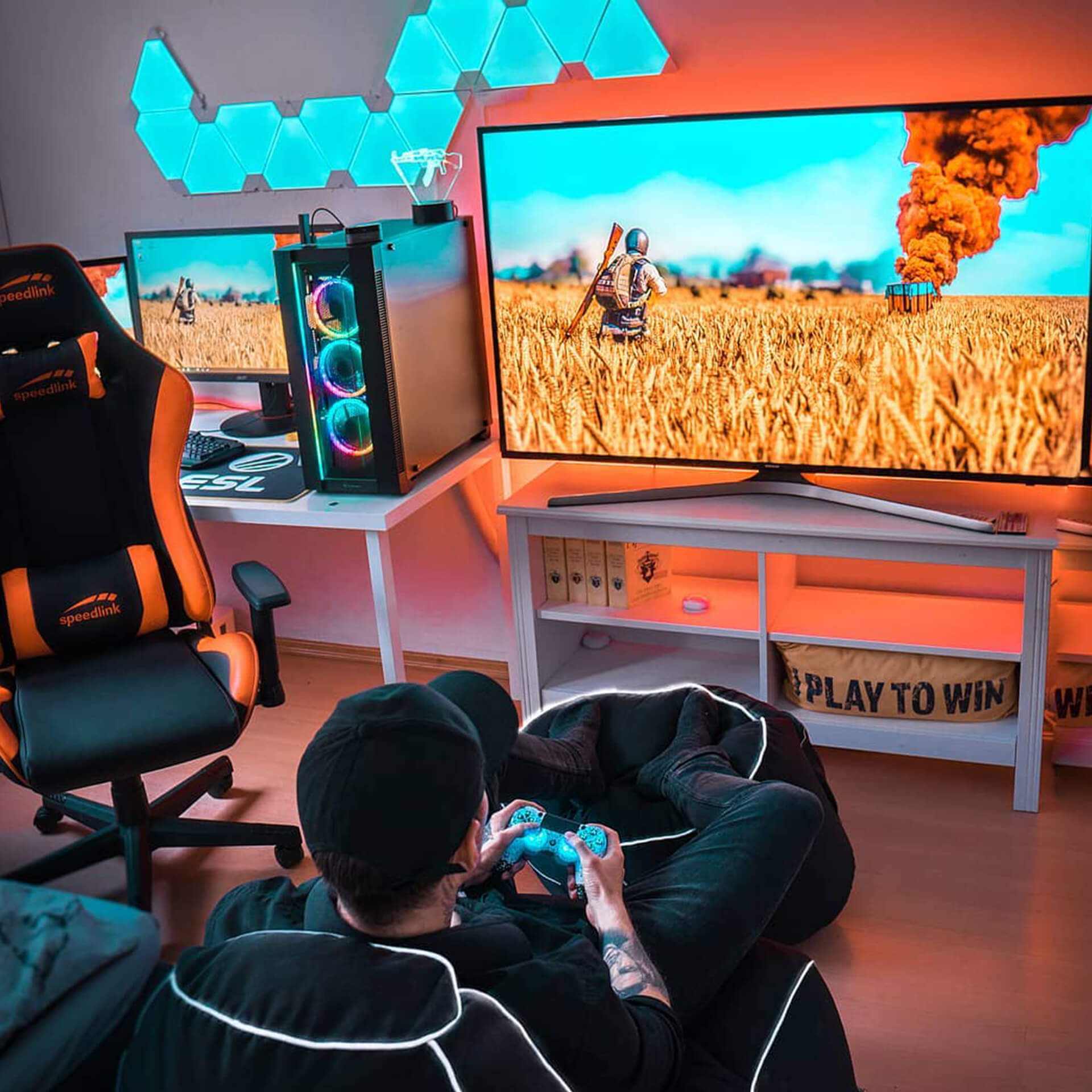 Image by @damagertv
Monochrome TV Stand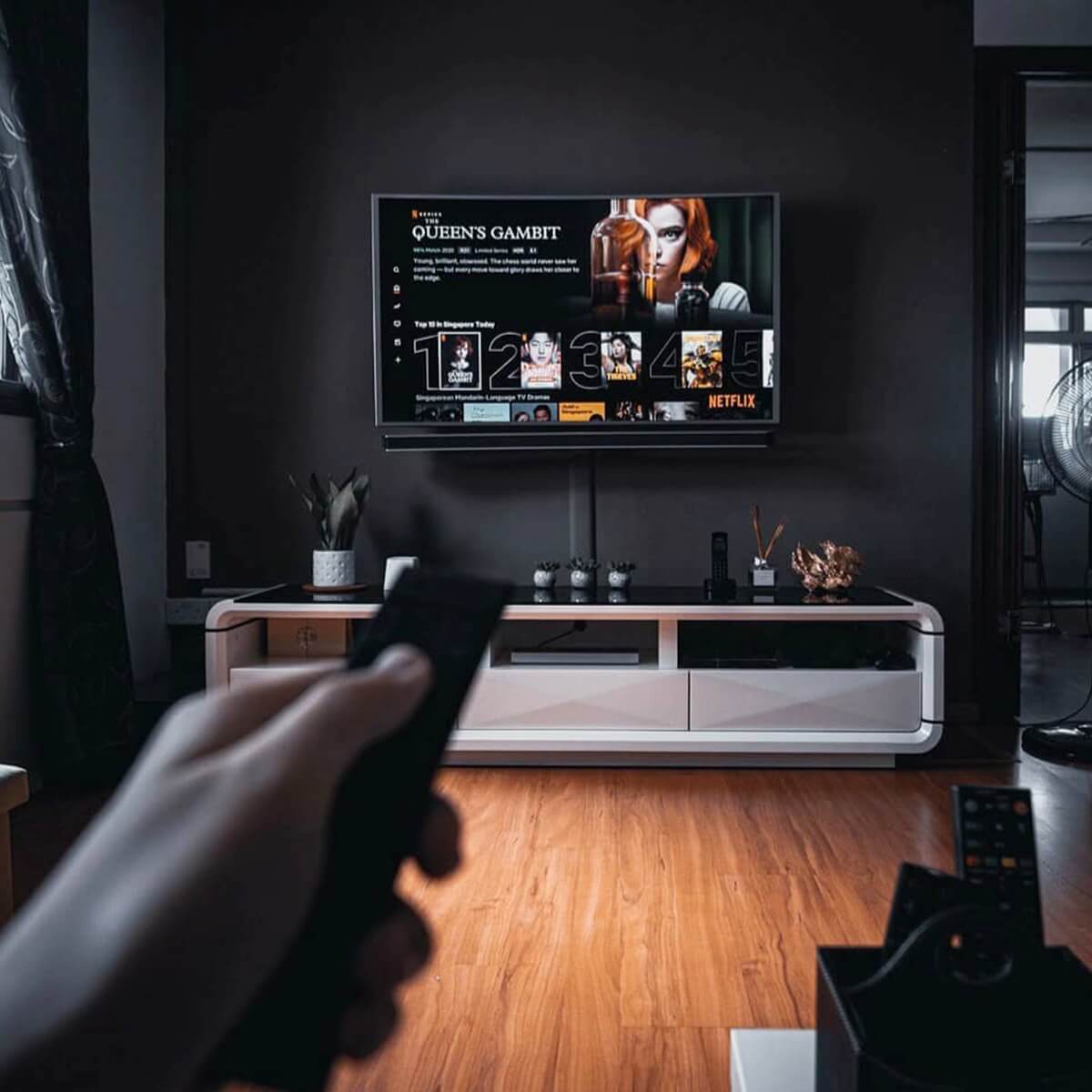 Image by @thericebucket
Wall-Mounted Entertainment Center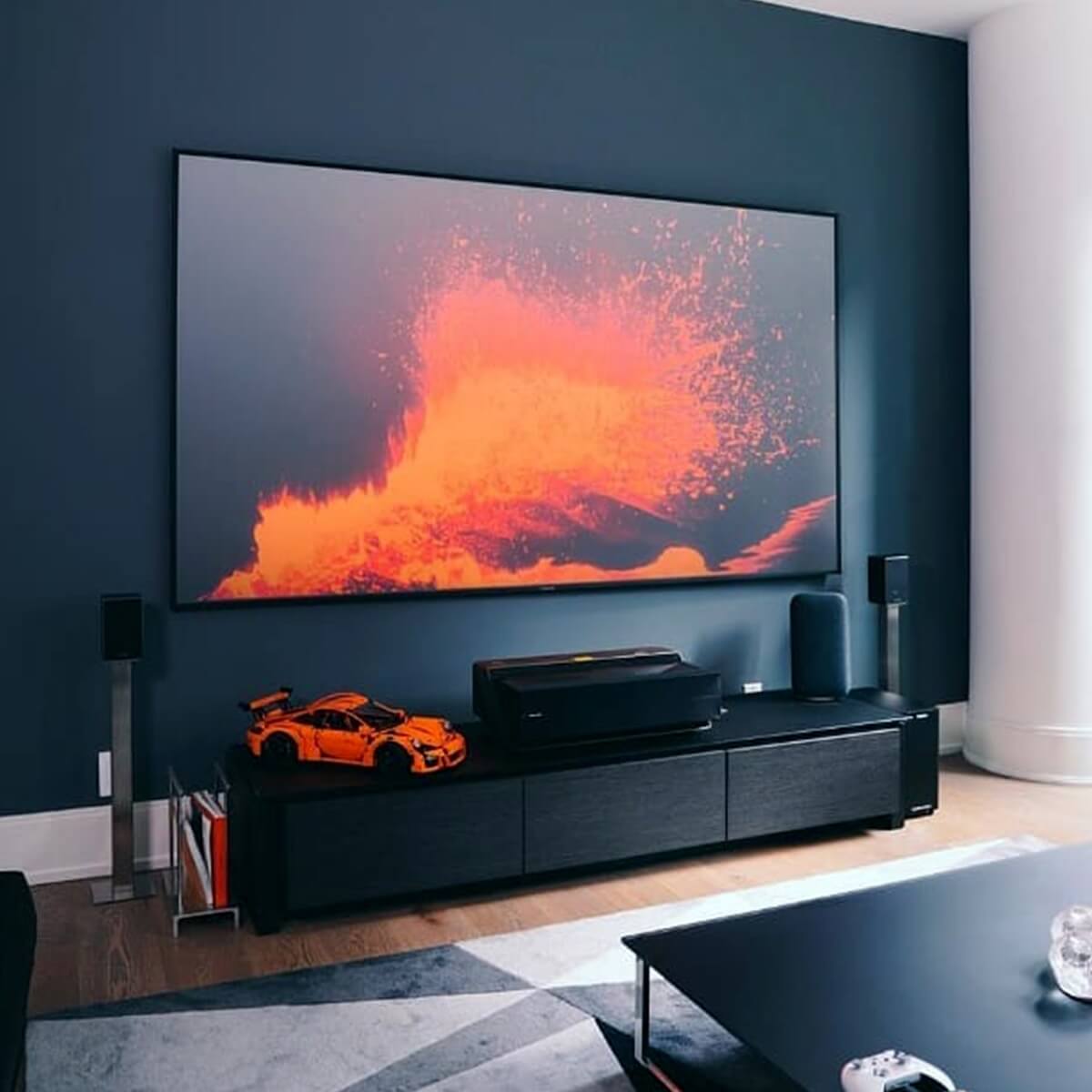 Image by @karlconrad
Playstation Themed Console Stand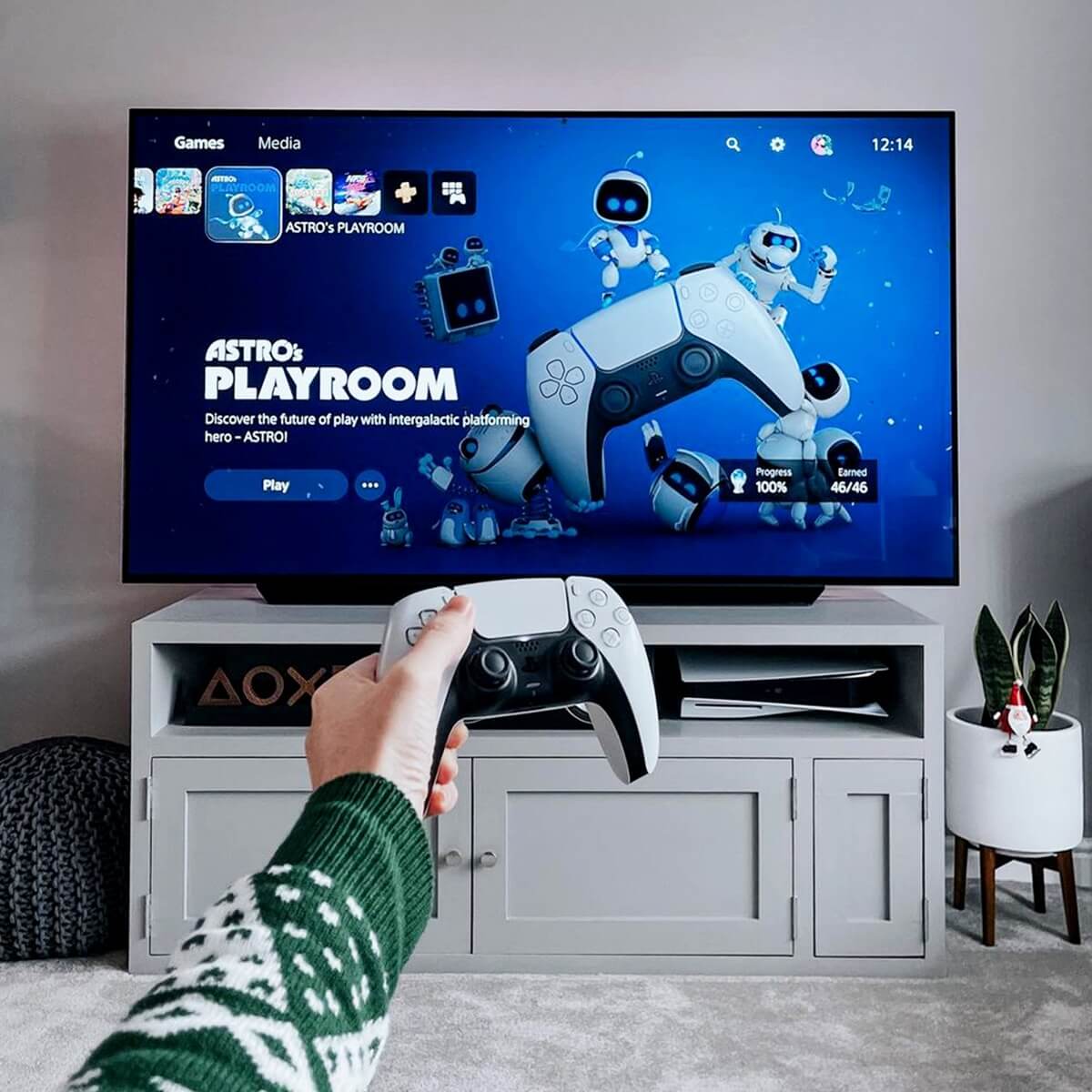 Image by @spawnpoiint
Which gaming entertainment center here is your favorite? Do you plan on revamping your existing setup, or are you starting from scratch? Let us know in the comments below! If you want to show off your gaming entertainment center, make sure to tag us on Instagram at @gridfiti to be featured!
Gridfiti is supported by its audience – when you buy something using the retail links in our posts, we may earn a small commission at no additional cost to you. We only recommend products we would use ourselves and recommend to our friends and family. Read more about our affiliate disclaimer.