NFTs have taken the internet by storm the last few months, a technology that's going to change the face of so many different industries over time. NFTs make the future for the creator economy a little brighter, allowing artists to monetize their work by selling to eager collectors, while also collecting due royalties upon future resales of their works.
The NFT art space is still incredibly new, and totally different from everything we know about selling and monetizing our work.
Many people have already done a great job at explaining what NFTs are at their core, and assuming you already know the basics, choosing a marketplace to list your work on is the next step to get started.
It can be daunting to figure out where to start when it comes to selling (also known as minting) your art and photography on the blockchain – we're here to boil it all down to the top NFT art marketplace sites for you to start, and choose which works best for you to monetize your art!
If you're looking for some NFT artists and photographers to get some inspiration from, check out our list of up-and-coming NFT artists!
OpenSea
OpenSea touts itself as the largest marketplace in the creator-owned digital goods wave, sporting a whopping 4+ million items and 200 categories. A big standout for this marketplace is its easy-to-follow onboarding experience for users who are new to the crypto space – equipped with tutorials on how to pick the best crypto wallet, how to navigate the marketplace, and more. Additionally, OpenSea offers sellers the ability to create a storefront to show off their pieces – something that has yet to be seen on a lot of other NFT marketplaces. With such volume on OpenSea, it could be hard to stand out in the crowd, but with that presents an equal opportunity of lots of eager collectors looking to purchase your work!
On the seller side, OpenSea offers a very reasonable fee structure: you only pay a one-time fee for listing your piece, and transaction fees from there are on buyers.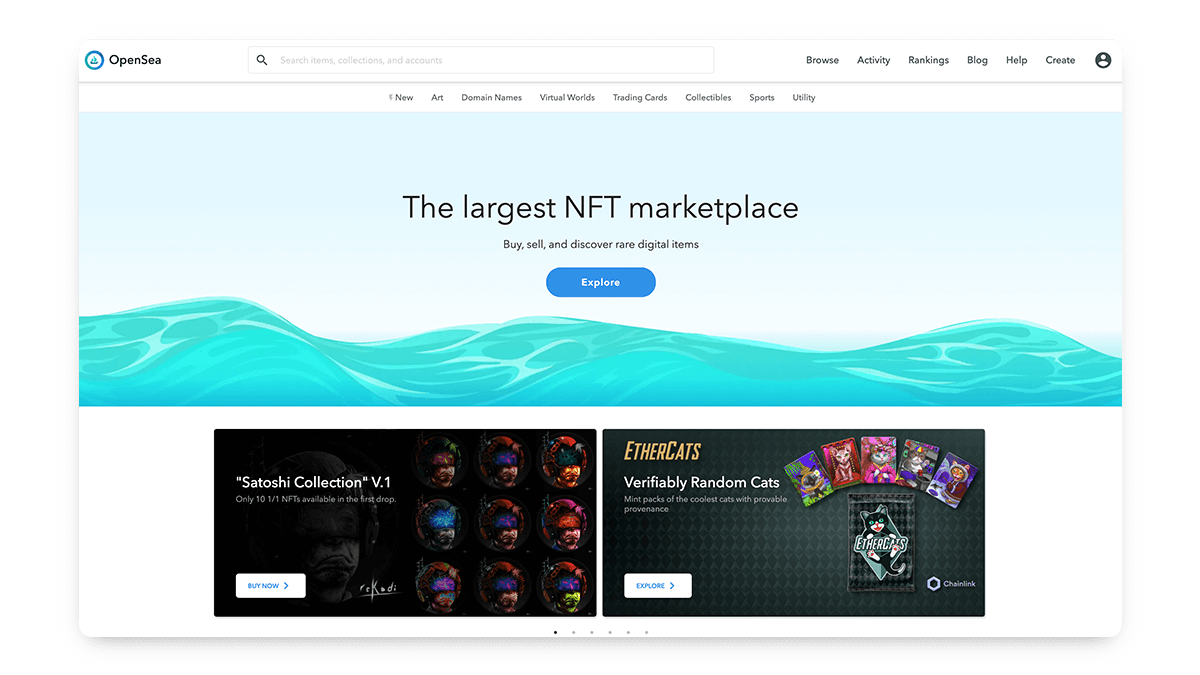 Rarible
Founded in early 2020, Rarible is a community-governed marketplace that focusses on art collectibles. While Rarible does provide a nice onboarding experience, the platform feels more catered to crypto-experienced users, and isn't quite as intuitive for novices as say, OpenSea's. Additionally, fees can also be pretty hefty on Rarible on the seller side – bearing both the burden of the gas fees for each bid received, as well as a gas/transaction fee every time a piece is sold.
All that said, Rarible is one of the top markets for NFT art with a large volume of users and pieces, and isn't gatekept with an application process or being invite-only. With top sellers on the platform, your work is bound to be surrounded by the greats in the space.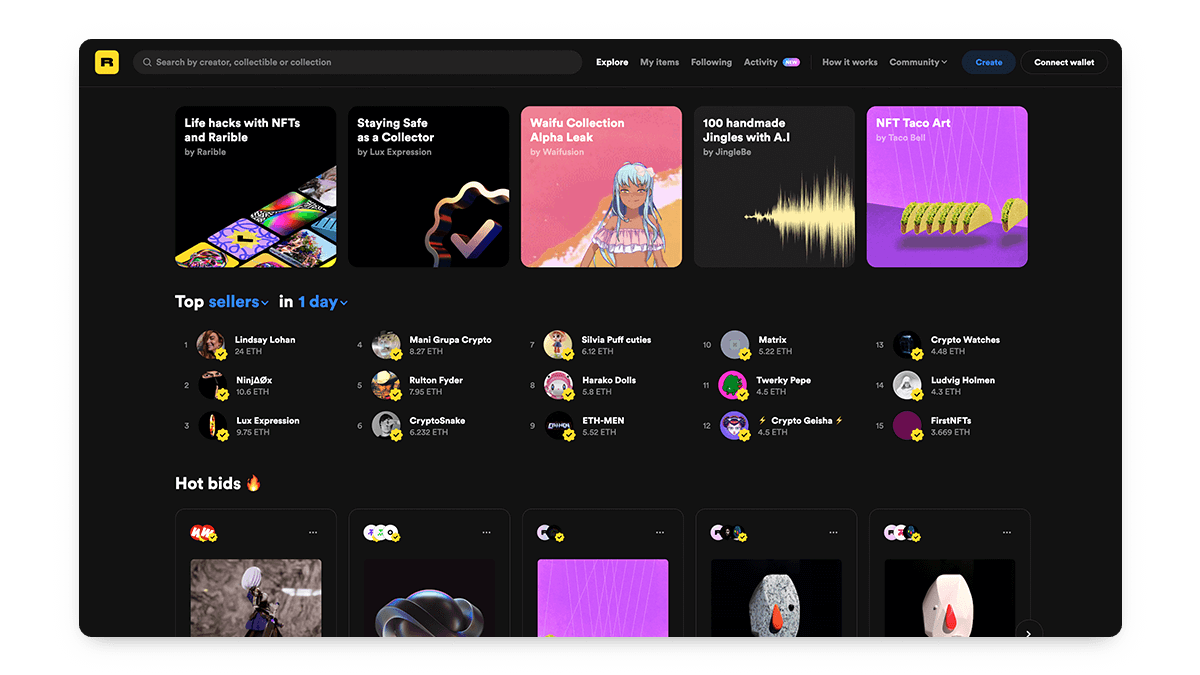 SuperRare
Vetting artists through an extensive application process, SuperRare is the premier destination in the NFT art space. Aptly self-described as Christie's meets Instagram, SuperRare is a highly curated marketplace focussing on quality over quantity. Transactions on the platform are smooth, and their fee structure is simple – fees are 3% for all purchases, and paid by the buyer. If you're lucky enough to get accepted to SuperRare, you can't go wrong minting pieces on here.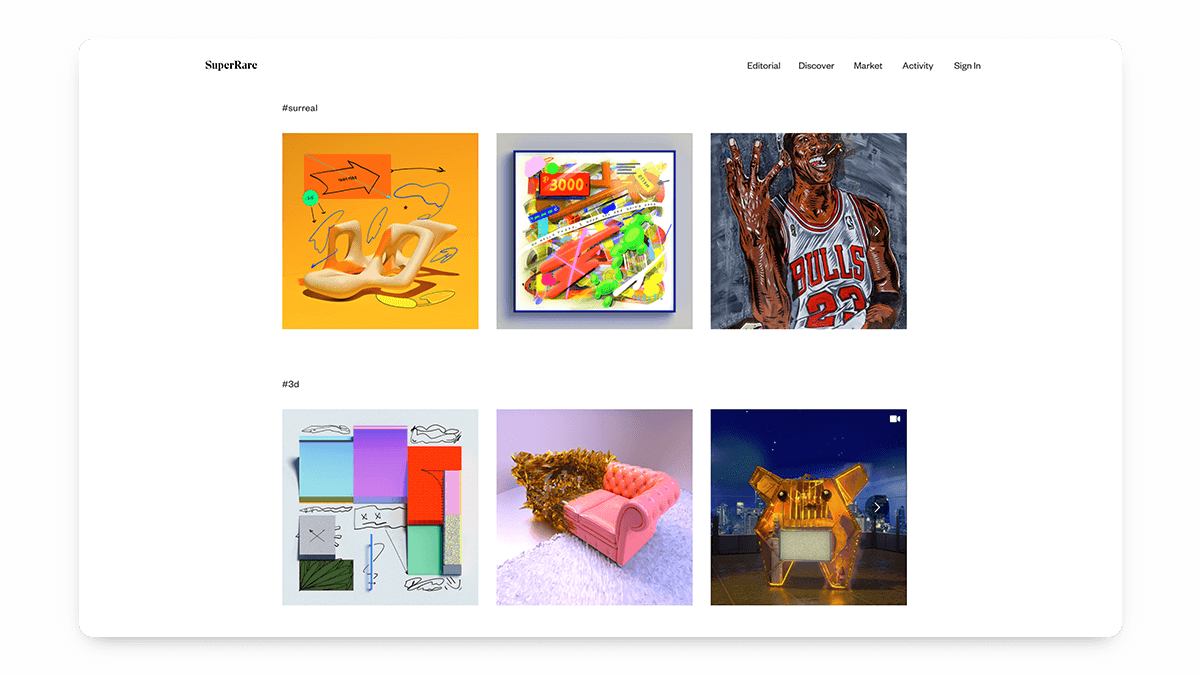 Foundation
Foundation is a community-curated NFT marketplace focusing on digital artists. The growth of the community is in the hands of the creators, needing to send creator invite links for others to join. Setting up a Creator Profile is as easy as getting an invite link, connecting your Digital Wallet (in Foundation's case, MetaMask), and then start running auctions yourself on the platform.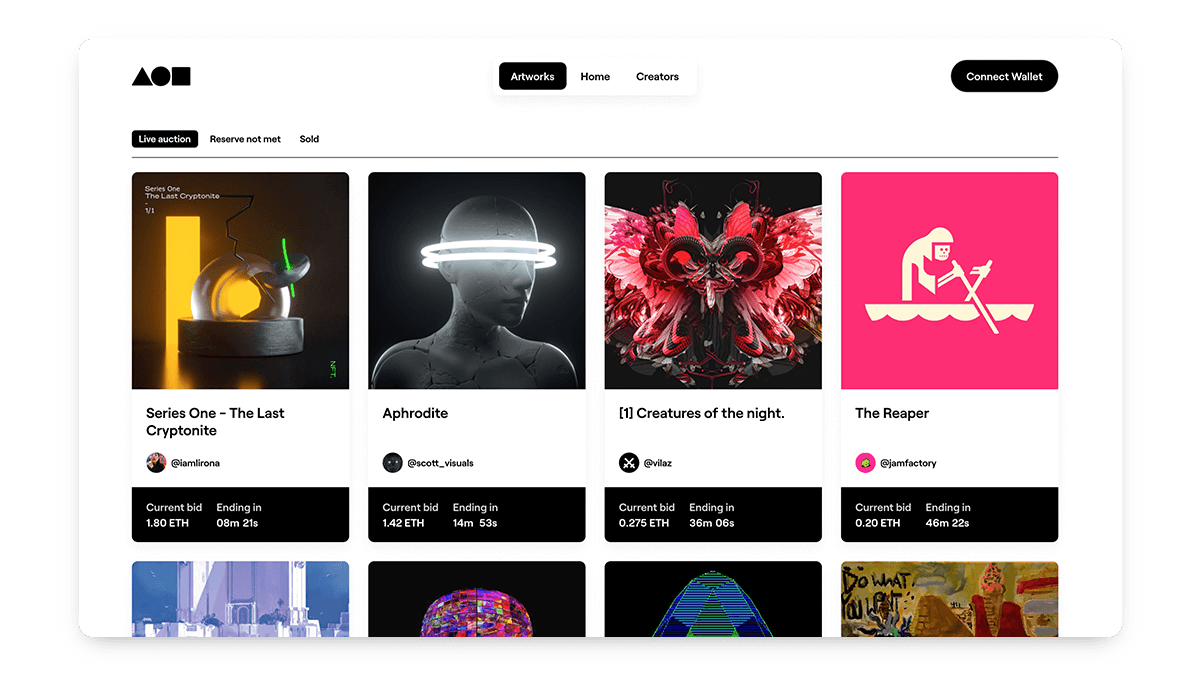 Portion
Once again, Portion allows creators to sell their art and retain 100% of the proceeds, while ownership is tracked on the Ethereum blockchain, and are automatically transferred with no middlemen. Portion's mature community of collectors are sure to take an interest to the many creators and their pieces on the platform. Joining Portion as a creator involves an application process to showcase your portfolio. Getting into Portion allows you more equal exposure among the rest of their approved creators to fairly tenured collectors. Also, we just have to point out how unique and ornate Portion's landing page design is – kudos to the team!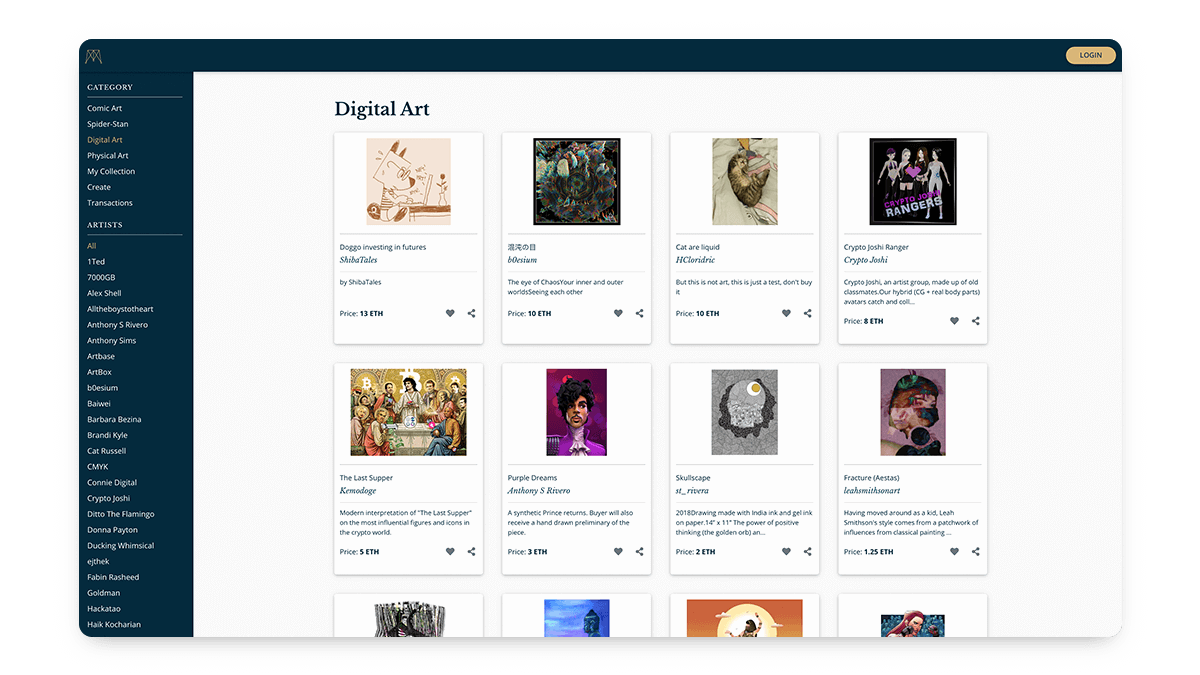 Zora
Zora is another invite-only NFT marketplace that follows the same tokenizing structure to add value to your art through cryptocurrencies. Their ease of use comes from the simple UI that they employ on the site, as well their attentive support. Zora also has a Discord community where you can build connections with other NFT artists, and get an idea of how to navigate the NFT marketplace. Once again, Zora is a marketplace with no fees for buying or selling. The only cost comes from gas fees when listing your artwork.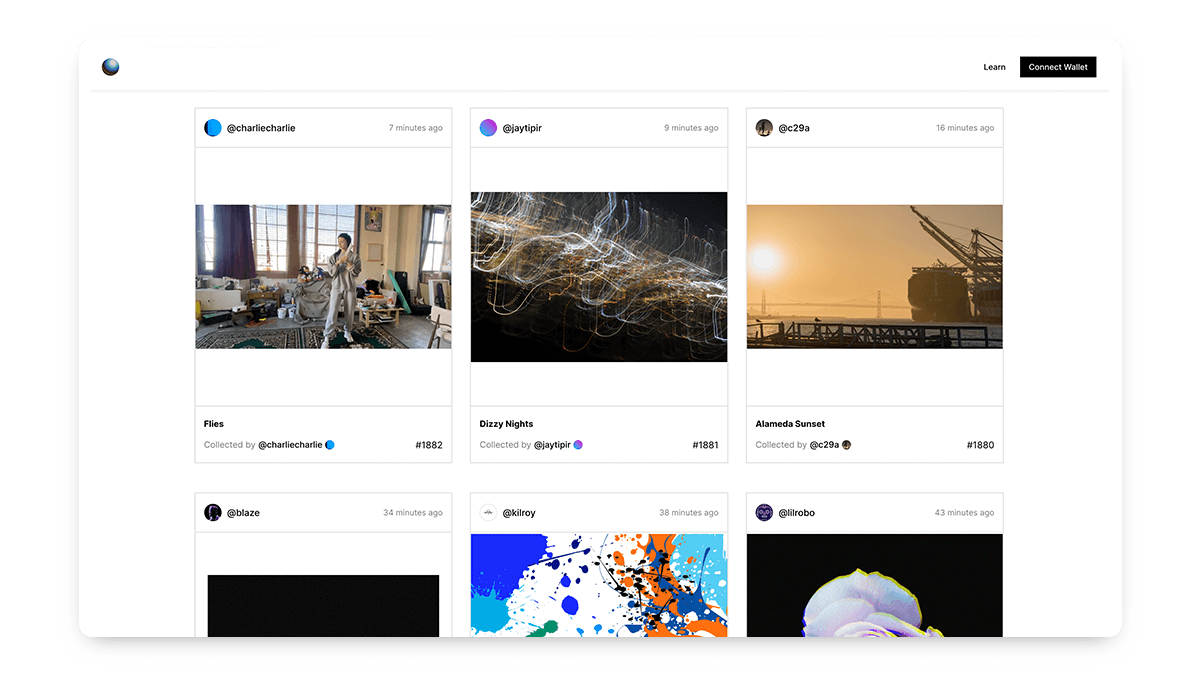 Nifty Gateway
The Nifty Marketplace is an invite-only marketplace whose mission is to make NFT art accessible to everyone. They're known for the way they create excitement and hype around limited edition drops for the artists on their marketplace – doing drops every 3 weeks, selling out consistently. They also allow artists to partake in a secondary marketplace and set up royalties easily.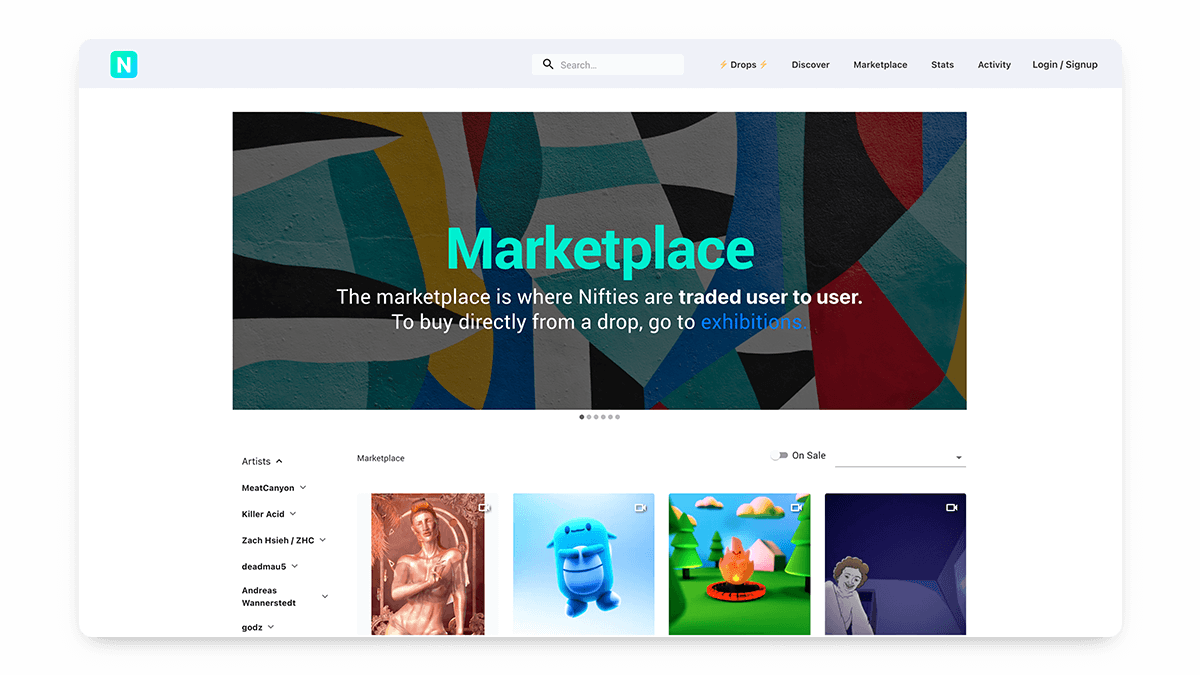 NFT Artists & Photographers to Follow
If you're looking for some inspo as you begin your crypto art journey – whether it's ideas for types of pieces to mint or how to lay out your profile and listings, check out these breakthrough artists and photographers pioneering the crypto art wave: