Automotive art has taken shape in many different forms, and the artists who capture or design our favorite car visuals continue to push the boundaries of what can be created.
Instagram has birthed a new era of automotive creatives – from the adventure-style automotive photographers capturing a Porsche winding around a mountainside road, or even digital artists rendering a classic cars into physics-bending situations. These accounts provide us a window into the worlds of these auto photographers, designers and creatives, and here are some of our favorite car Instagram accounts to follow for daily in-feed inspiration.
If you're thinking of diving into the world of automotive photography, make sure to check out our top picks for the top automotive cameras & best car photography lenses.
Want more automotive inspo? Join our mailing list to get the latest car content straight to your inbox 📮
Aaron Brimhall | @aaronbhall
From clouds of dirt flying up from the rear wheels of a Safari Porsche 911, or a classic 911 situated perfectly in front of the Eiffel Tower – Aaron Brimhall's automotive photography has become synonymous with capturing action and dynamic movement. Known for his mesmerizing dust clouds being captured in the Utah or Arizona desert, or a sunset softly lighting the silhouette of a dirt bike on a dune, Aaron is never afraid to dive into the action to capture the perfect shot.
Check out @aaronbhall on Instagram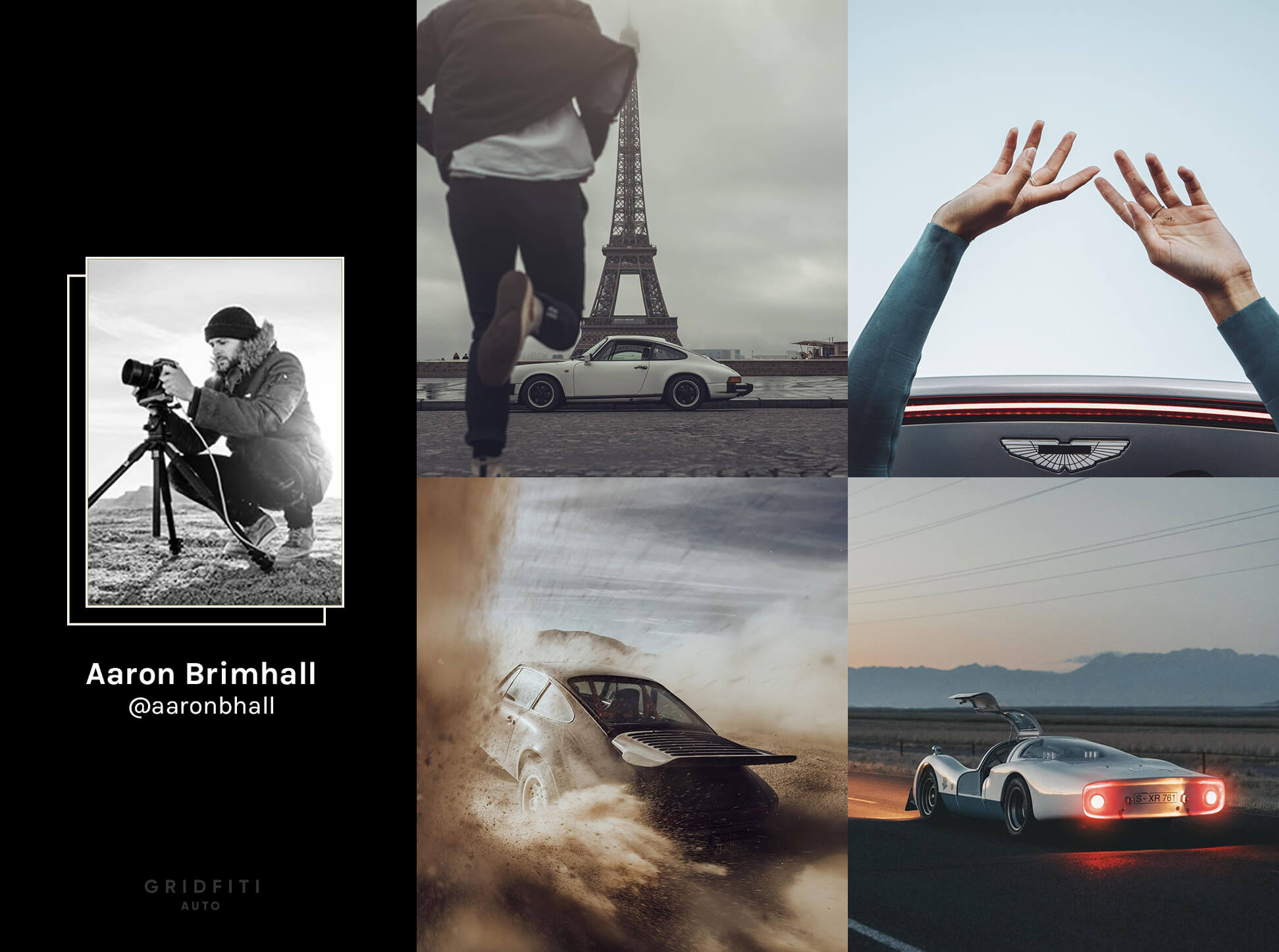 Amy Shore | @amyshorephotography
Amy Shore started her career as a wedding photographer, but having a lifetime of being surrounded by cars – she combines these experiences to capture not only the stories of cars, but the owners behind them too. From the intimate moment of an owner walking to their car after an afternoon tea, or a sub-framed shot of a mechanic looking into the hood of his AC Cobra, Amy's ability to capture candid moments through her photos will have you appreciating the stories beyond just the car. She's also probably the only photographer on this list who races too!
Check out @amyshorephotography on Instagram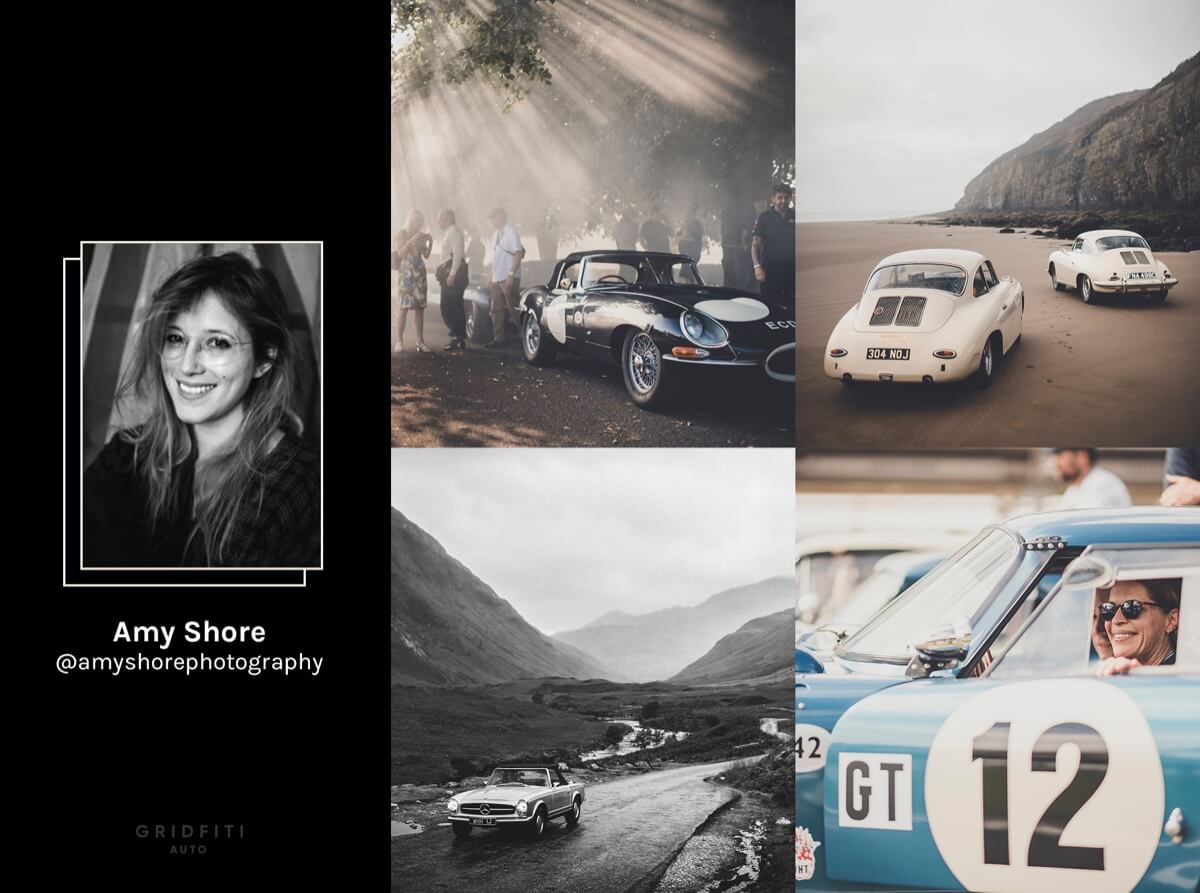 Brandon "954mm" | @954mm
Brandon aka "954mm" captures warm, Miami tones with his automotive photography like no other. Brandon has an eye for the details, and that really comes through in his use of angular shadows, leading lines, emphasis on the detail of interiors, and retouching his photos to perfection. See for yourself!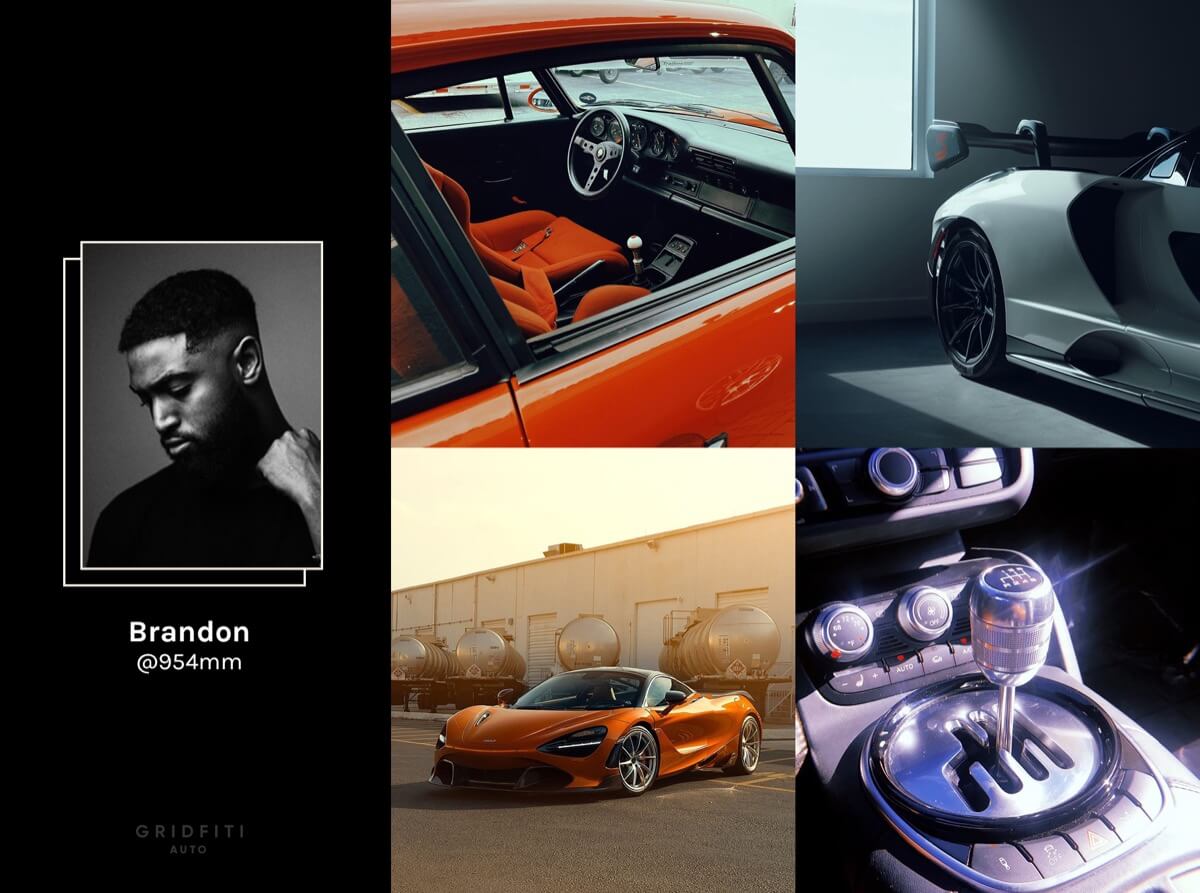 Stephan Bauer | @stephan_bauer
Exotic locations around the world coupled with some of the most exclusive cars from every era you can think of – Stephan Bauer has captured everything from LaFerraris, F40s and 959s, to Countaches and 300SL Gullwings. Like scenes out of a film epic, Stephan captures the grandeur of the surrounding environment and has you feel like you're on the best road trip of your life.
Check out @stephan_bauer on Instagram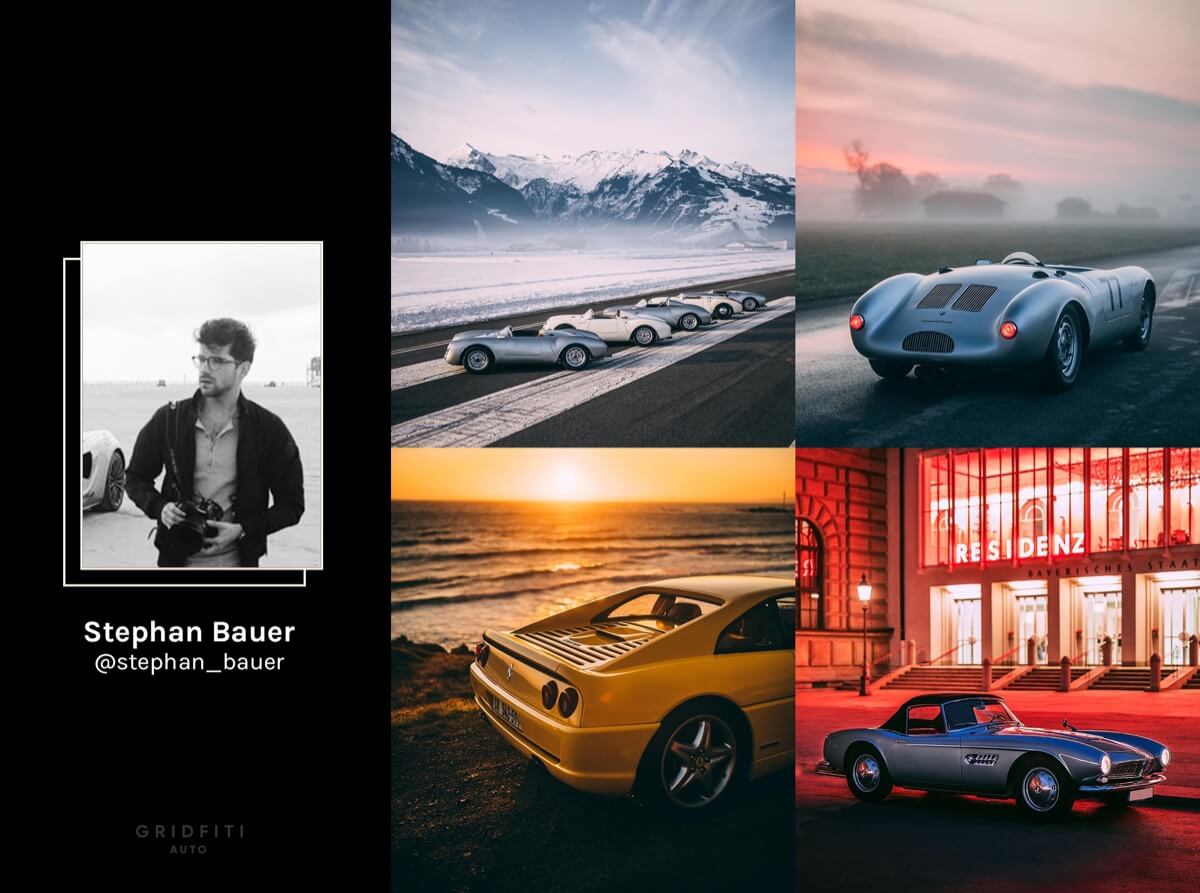 Rosario Liberti | @royale77
Milan-based photographer Rosario Liberti will take our favorite supercars and enhance them with the best composition and location selections – whether it be Northern Italian mountains, an old Fiat Factory that has a test track on its roof, and more. We're suckers for photography that showcases a car complemented by its surroundings, and Rosario accomplishes just that!
Check out @royale77 on Instagram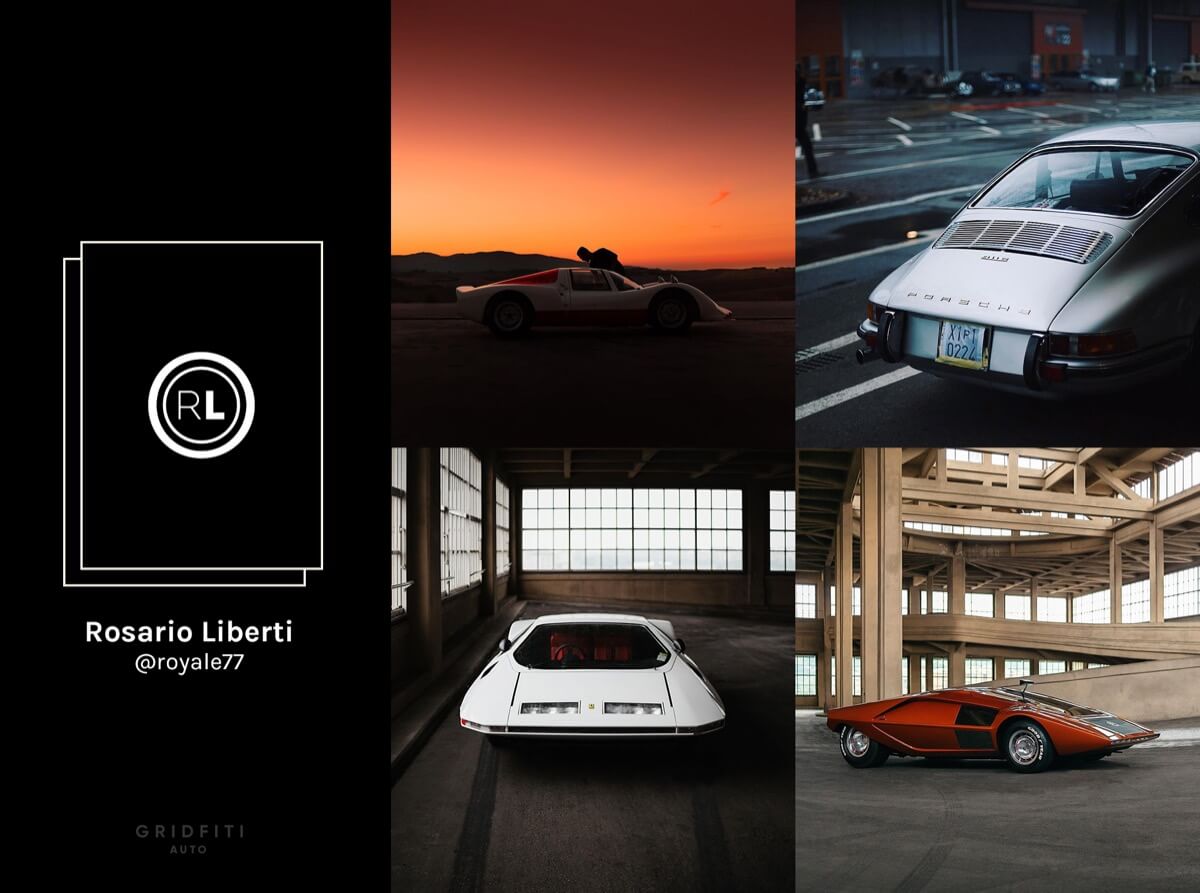 Type 7 | @type7
In 2018, Porsche teamed up with enthusiast and automotive photographer Ted Gushue to launch Type 7, a digital magazine curating all things Porsche, design, architecture, and adventure! They even have coffee table books for any automotive and design lover, too.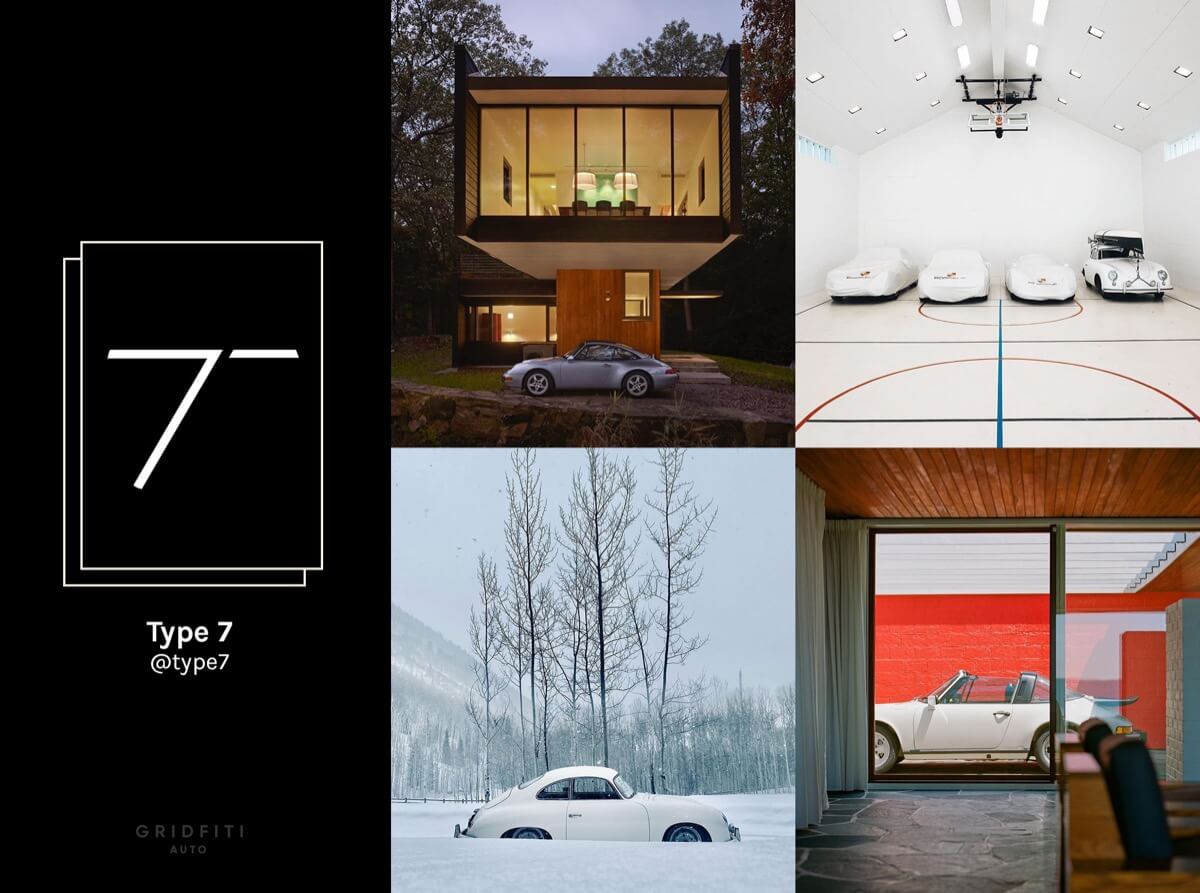 Gridfiti Auto | @gridfitiauto
It's us! Gridfiti Auto is where automotive meets culture – in the past, present, and future. This moodboard is a true display of how cars fit in everyday lifestyle, history, and pop culture. If you dig this post, follow along on IG for some more automotive inspo in your feed.
Check out @gridfitiauto on Instagram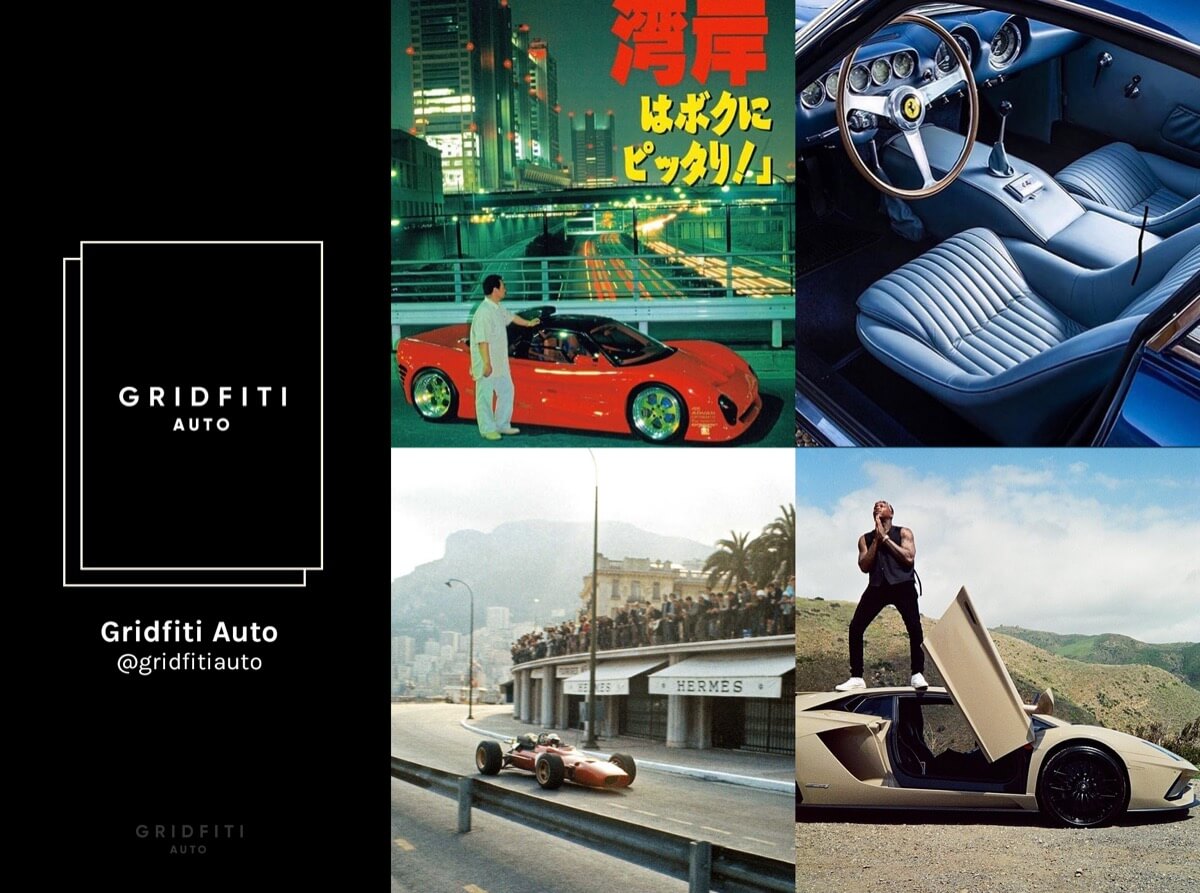 Vikram Thomas | @thiccram
Vikram is a Vancouver-based automotive photographer and digital artist. The clean look to his automotive photography, adorning BMWs and other vintage treasures, is also recreated beautifully within his digital renderings. Taking inspiration from vintage car ads or even creating a chromatic digital world of his own from scratch, immerse yourself in Vikram's world. To top it all off, he has his own brand Cozy Technica, and is also the co-founder and has served as the art director for Horizon Drivers Club!
Check out @thiccram on Instagram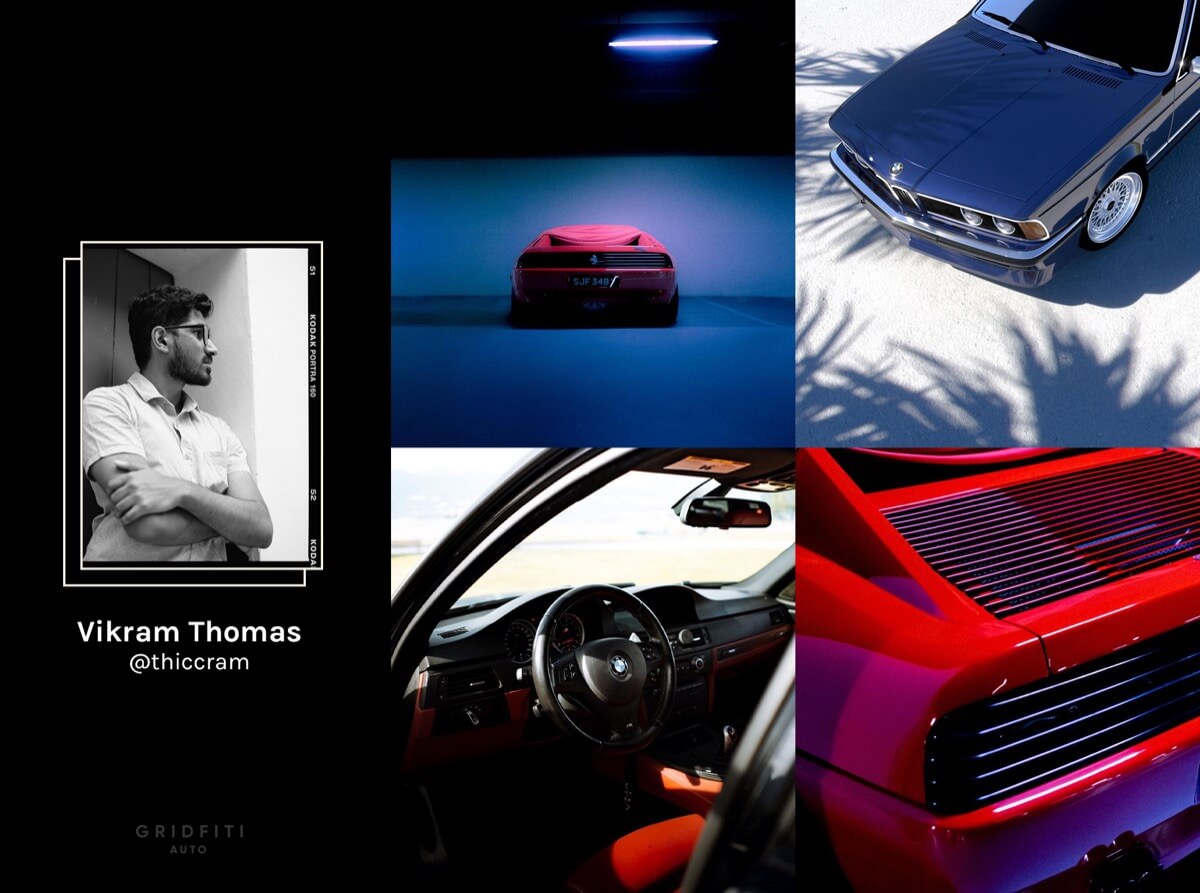 Tomek Sarna | @tomeksarna
Founder of online visual magazine ROADFLAVOR, Tomek Sarna has developed a nuanced style and uses that to pair cars with fashion and model work. His experience curating visuals for his magazine definitely comes through in his photography style.
Check out @tomeksarna on Instagram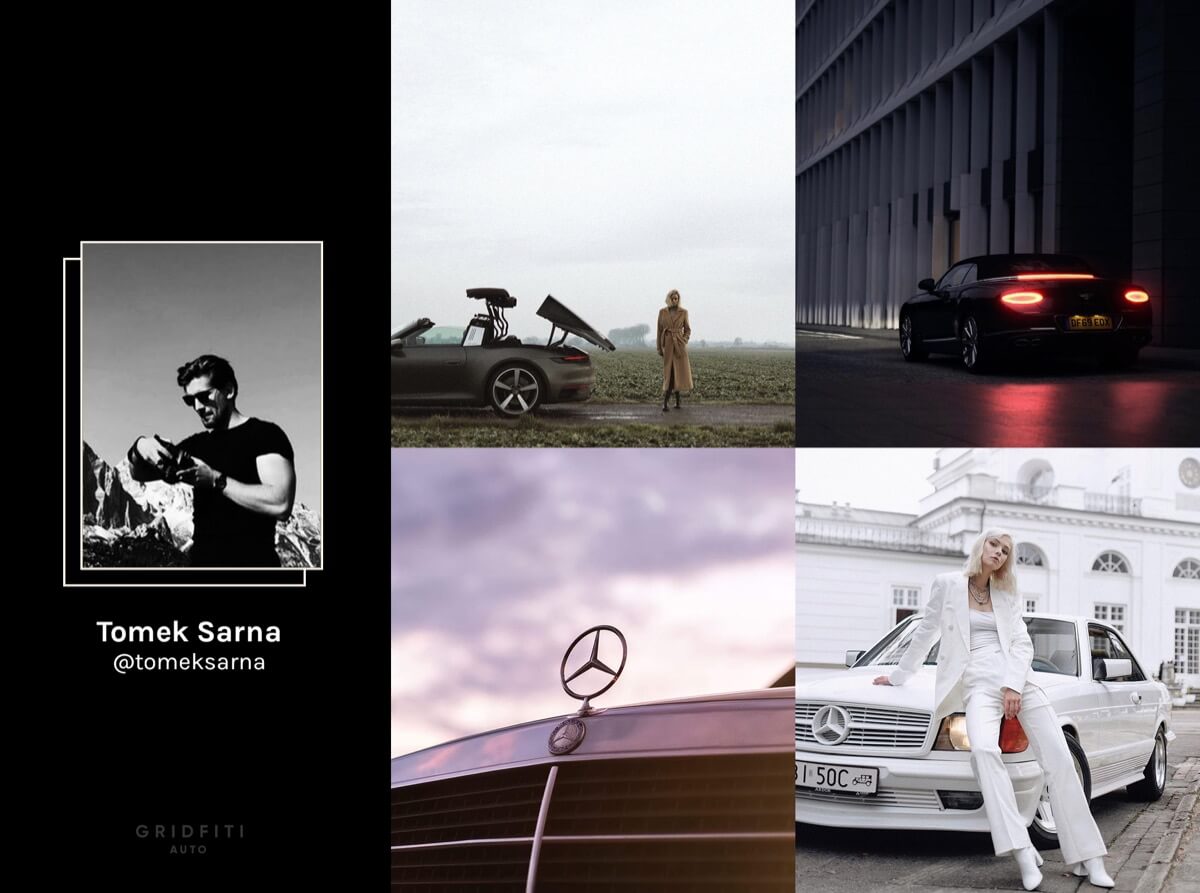 Olgun Kordal | @carsandcolor
Olgun Kordal's feed of digital automotive art employs never-before-seen, paradigm-shifting images of BMWs, Porsches, Bugattis, Ferraris and more in geometric settings, colorful mirror halls, and just about any other physics-bending situation you can think of. Not only do we love his ability to render these impossible settings, but also his use of vibrant and contrasting colors. We're thankful for artists like Olgun for showing us what's possible beyond just capturing cars IRL.
Check out @carsandcolor on Instagram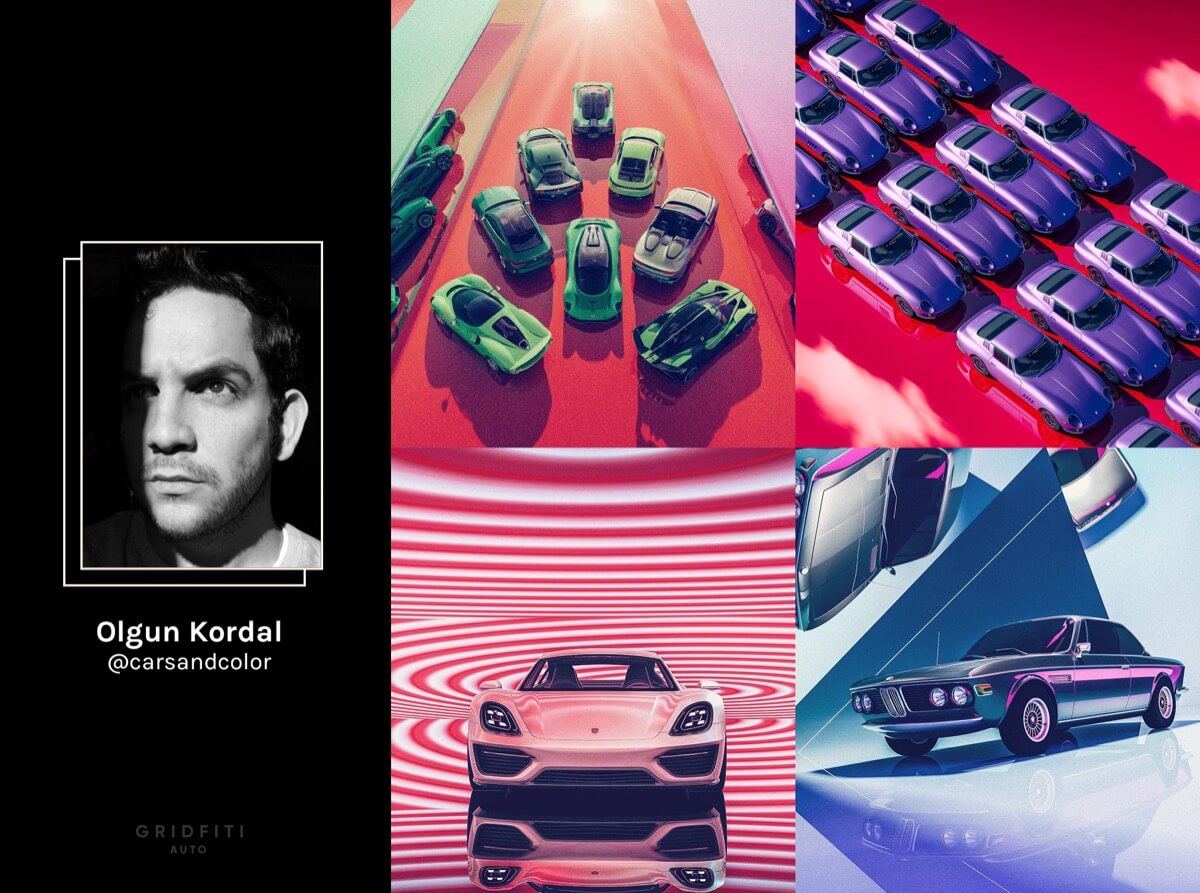 Tom Kahler | @tomkahler
Tom Kahler is a UK-based photographer who combines the genres of automotive, adventure and lifestyle photos. He's worked on global campaigns for leading brands around the world such as Aston Martin, Bentley, Porsche and so much more. Isolated landscapes with an Aston Martin DBX or the Scottish highlands being scaled by a 911. Get a taste of the beautiful roads of the world being driven by the best supercars through Tom's work:
Check out @tomkahler on Instagram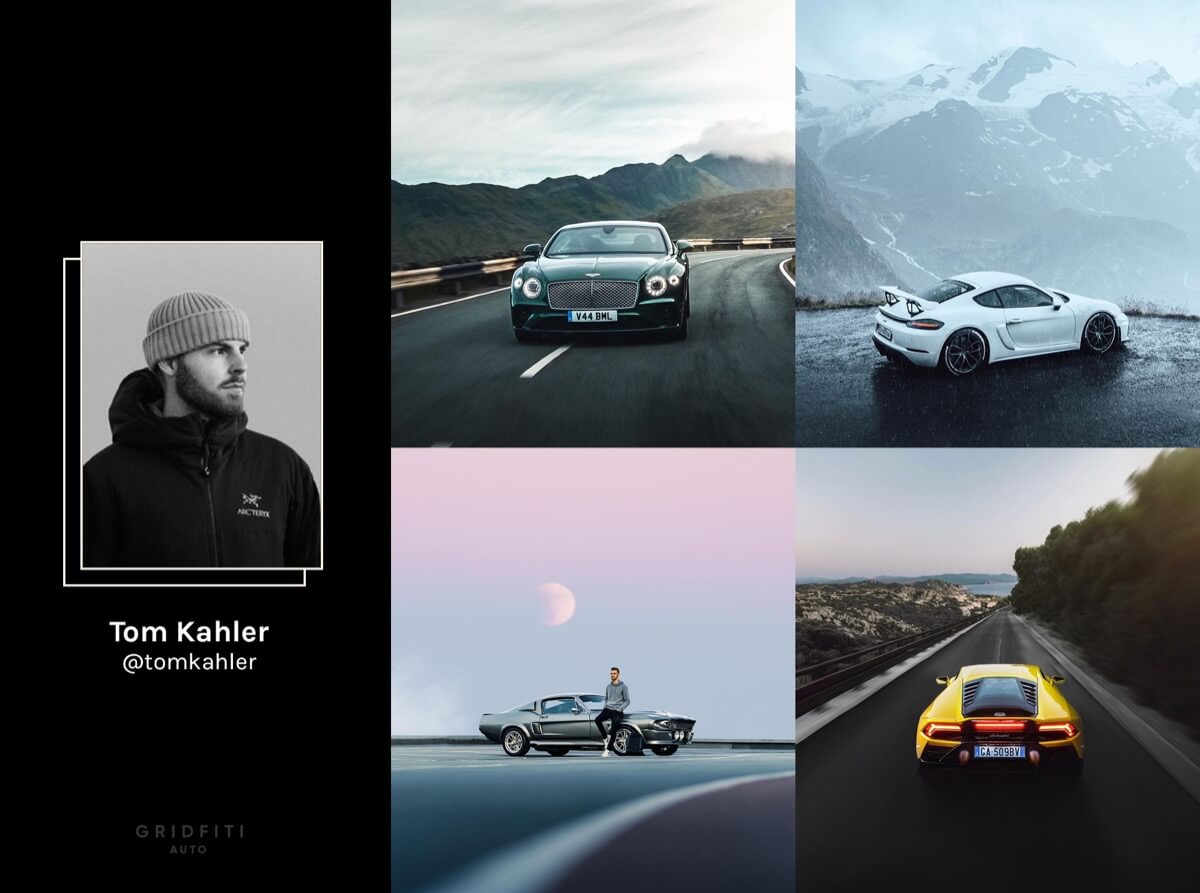 Chris Labrooy | @chrislabrooy
We can't get enough of Chris Labrooy's digital automotive art. Wielding the laws of physics in his hand, Chris will fold, twist and bend a vintage 911, or even submerge one in an infinity pool. He'll melt a colorful Lamborghini Diablo and turn old Mercedes cars into pool floaties. Chris' imagination is what distinguishes him from other automotive creatives.
Check out @chrislabrooy on Instagram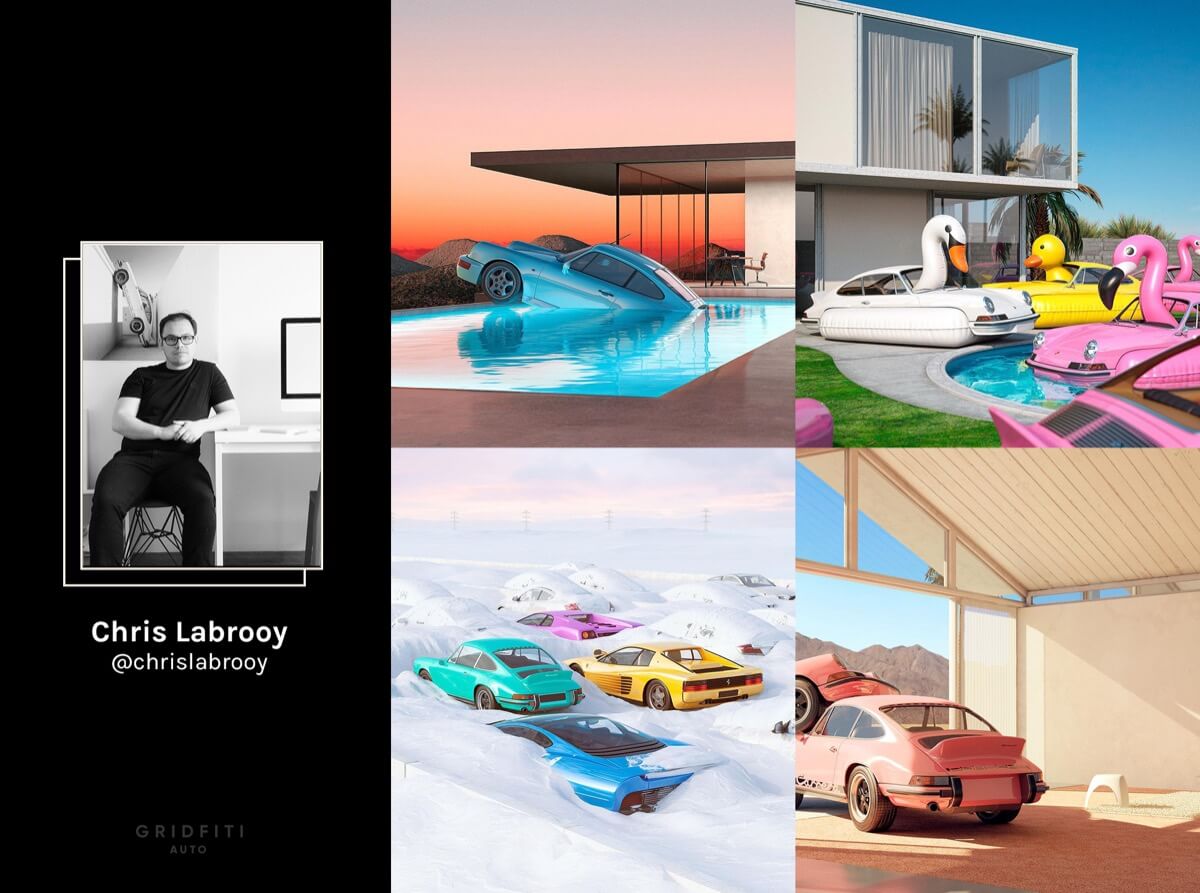 Sayem Reza | @say_rez
Mixing his love of cars, travel, cinema and shows like Top Gear and the Grand Tour, Sayem thinks up automotive photography inspired by these elements and more. A Nissan GT-R in Hakone Japan, a Ferrari Portofino in Tuscany or even an Aston Martin DBS in a secret agent elevator shaft. Sayem's work captures cars in settings around the world and adds a cinematic, art inspired touch to it.
Check out @say_rez on Instagram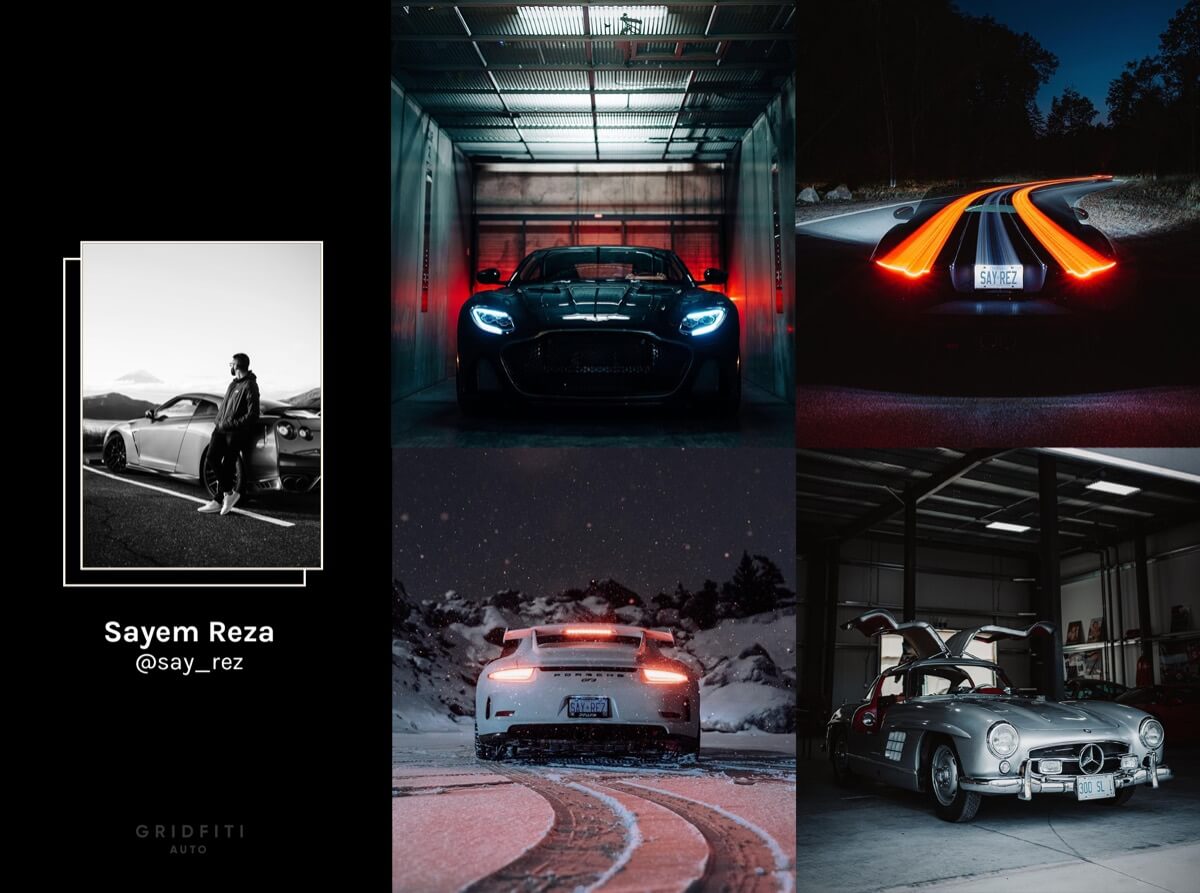 Jack Schroeder | @jackschroedercreative
Jack's automotive photos (specifically those of Porsches, old and new) exude this atmospheric vibe that so effortlessly displays these cars in their best light. His ability to capture every part of a car and its nooks and crannies from creative angles will have you discovering a car you think you've known, all over again.
Check out @jackschroedercreative on Instagram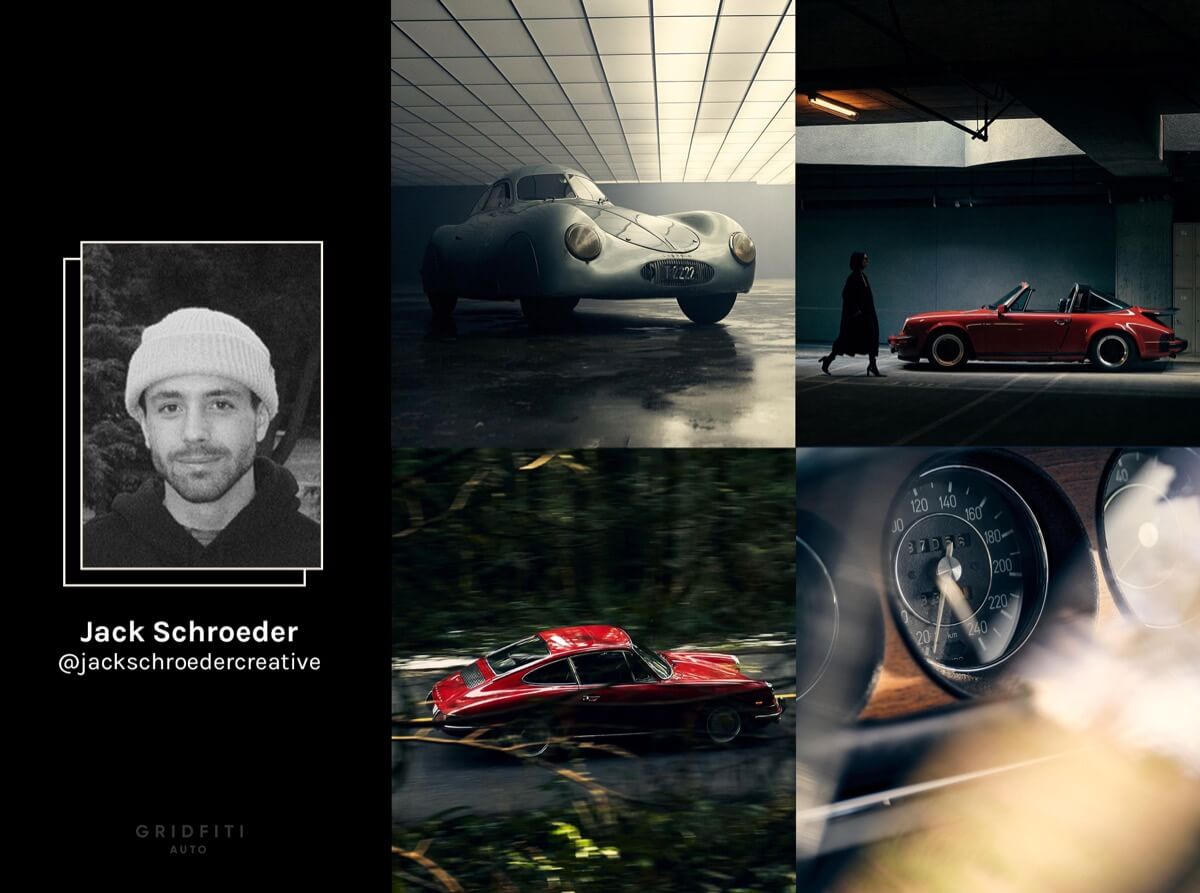 Which one of these automotive creators is your fave? Are there any other artists we should add to the list? Let us know in the comments below, and be sure to follow our Instagram and Pinterest to keep up with more automotive content.