We all put so much thought into customizing and personalizing everything around us to fit our personal taste, aesthetic, and theme: our living spaces, wardrobe, phone accessories, and everything in between. Our Macs are with us all day everyday for work, school, and our personal lives – and customizing them can do wonders for making our setups truly ours.
From adding custom screensavers and wallpapers, to completely overhauling the accent colors of the macOS UI, we've gathered every aspect for making your Mac aesthetic – complete with tips and tutorials. Get scrolling and get customizing!
For more Apple customization tutorials, check out our other posts!
Want more digital decor ideas? Check out our iOS and Mac blog posts and join our mailing list!
Aesthetic Mac Screensavers
When creating an aesthetic Mac setup, a custom screensaver is a digital decor must-have. It's the perfect visual to keep your setup visually appealing while you're AFK or even capturing your setup. Check out these aesthetic Mac screensavers to level up your setup, and bring some life to your workspace!
Tip: go to System Preferences → Screen Saver → Hot Corners button bottom-right to have your screensaver appear on command.
For more aesthetic Mac screensavers, check out our round-up posts featuring the most popular Mac clock screensavers and aesthetic screensavers!
Aura Screensavers
Bring color, energy, and serenity to your setup with a vibrant Aura Clock Screensaver for your Mac. Apply one of the many different color options, or even the Hearts edition!
Get started: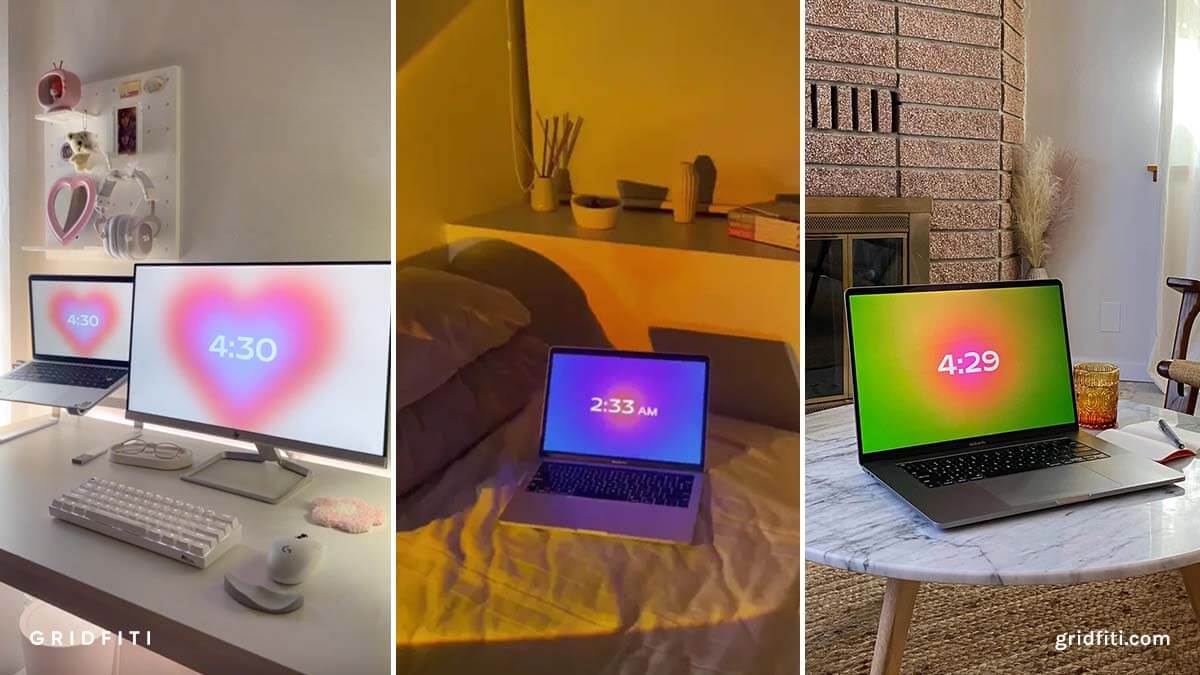 Setups by @kqena and @augustjae_ on TikTok
Flip Clock Screensavers
A timeless classic – a flip clock screensaver offers a modern take on the retro flip clock design, ready to instantly add style to your setup.
Get started: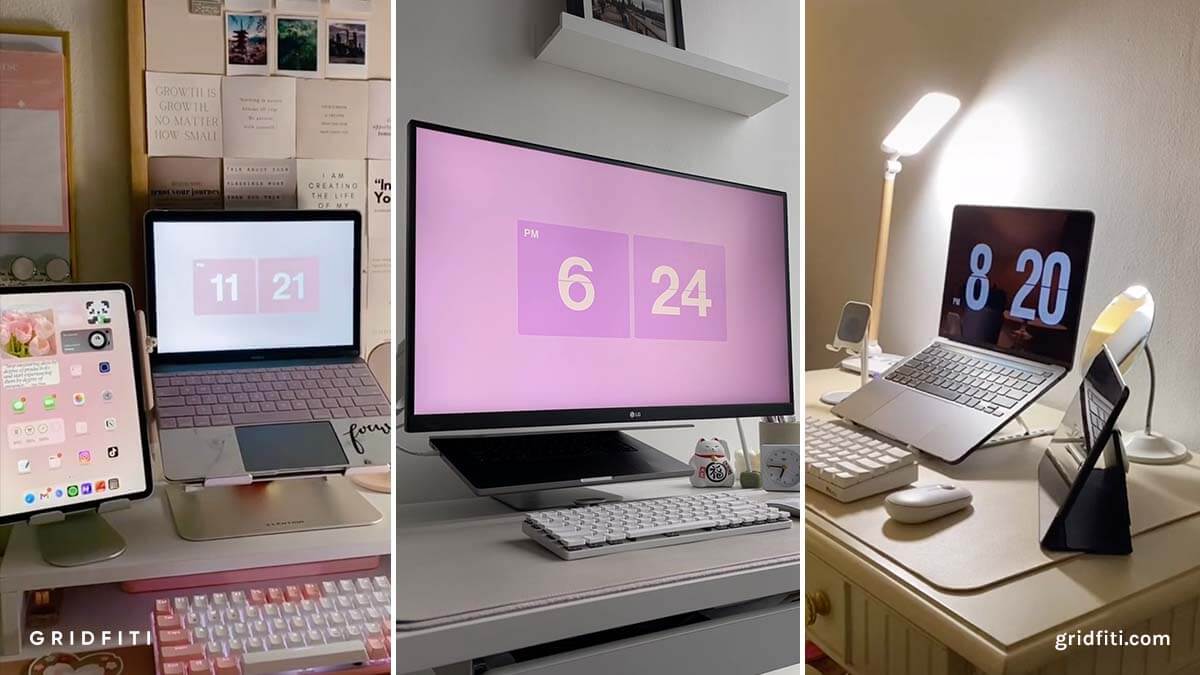 Setup by @nursejas.studies and @krishabala on TikTok
Anime Clock Screensaver
There's something so calming and tranquil about anime scenery and visuals. Bring this to your setup with an anime-inspired clock screensaver.
Get started:
Retro Anime Desk Clock Screensaver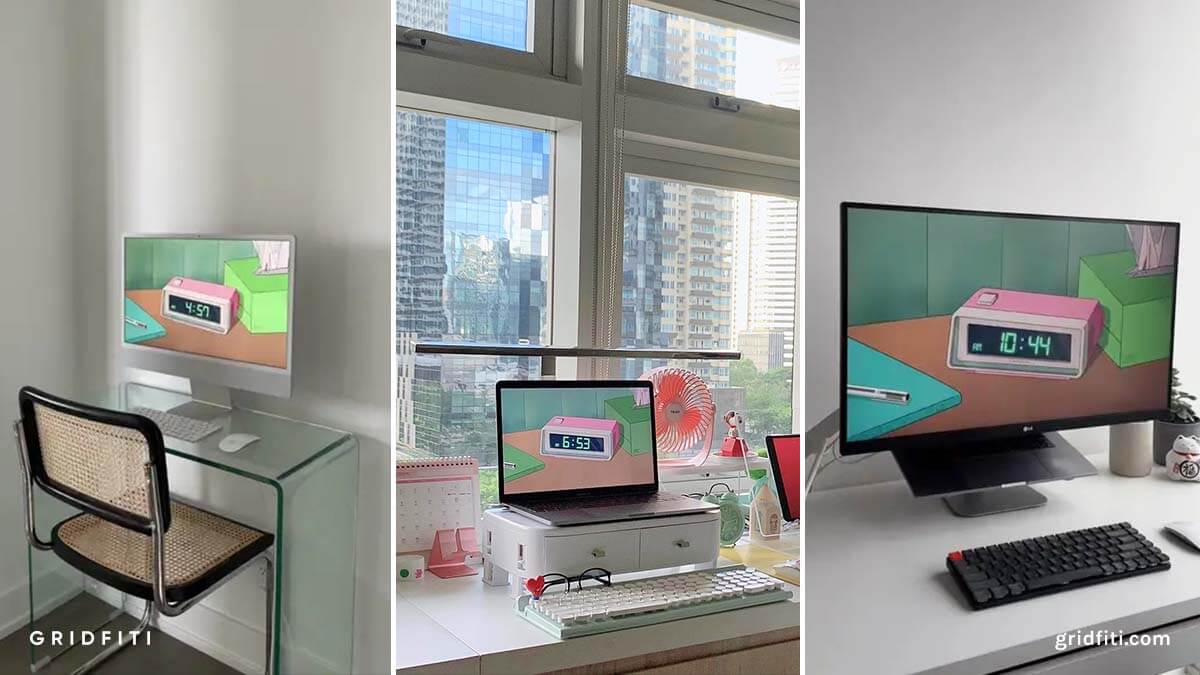 Setups by @babyatl on TikTok and @katstudying on Instagram
Minimal Clock Screensavers
Keep it simple and clean with a minimal clock screensaver for your setup! This one's an even better option if you've got a black and white or minimalist desk setup.
Get started:
Minimal Clock Screensaver (Web Version)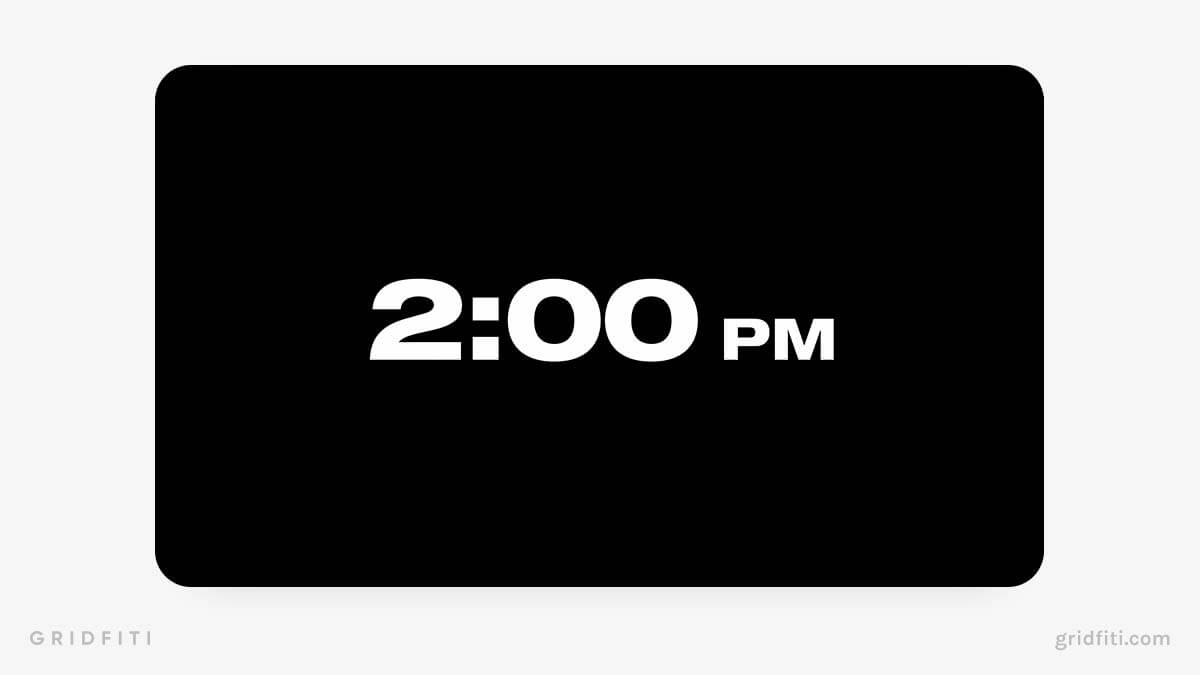 Aesthetic Mac Backgrounds & Wallpapers
Your wallpaper is the foundation of your digital setup – and it's one of the easiest ways to make your Mac aesthetic with the click of a button! Check out some of our picks to get started.
Aura Gradient Wallpapers
If you love the aura aesthetic and want to bring that to your desktop background, look no further than colorful aura gradient wallpapers.
Get started: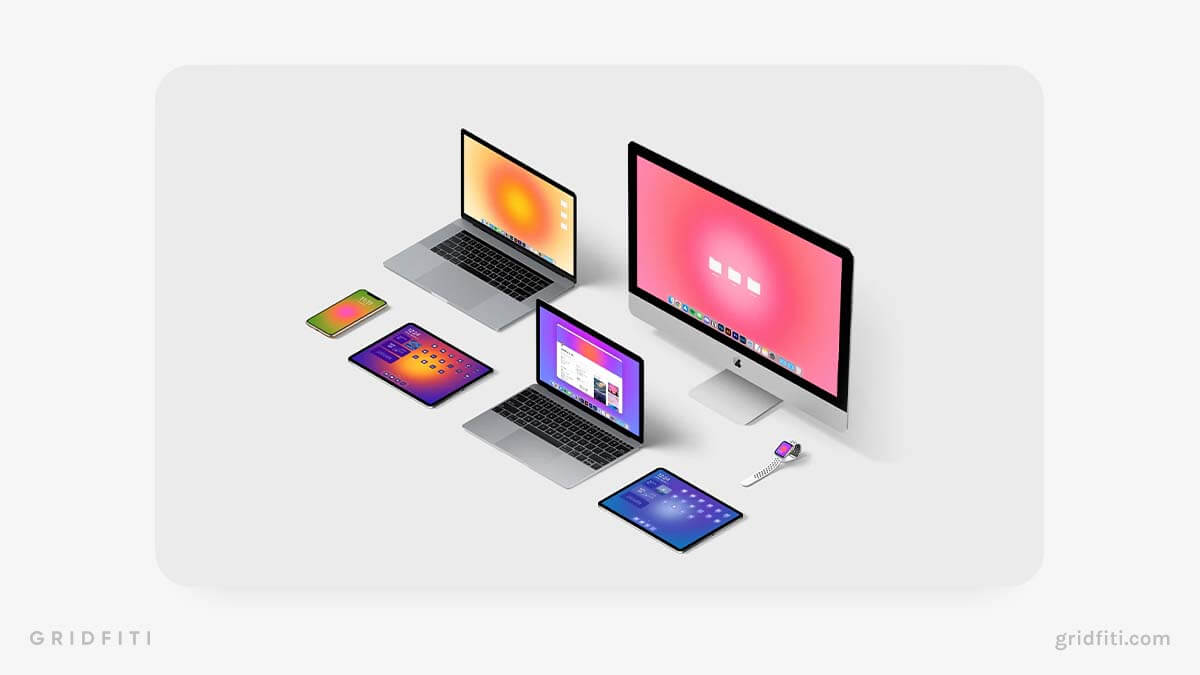 Collage Wallpapers
Can't decide on a single visual for your wallpaper? Use an aesthetic collage wallpaper to have a moodboard right on your desktop.
Get started:
Related Post: 20+ Aesthetic Collage Wallpapers & Backgrounds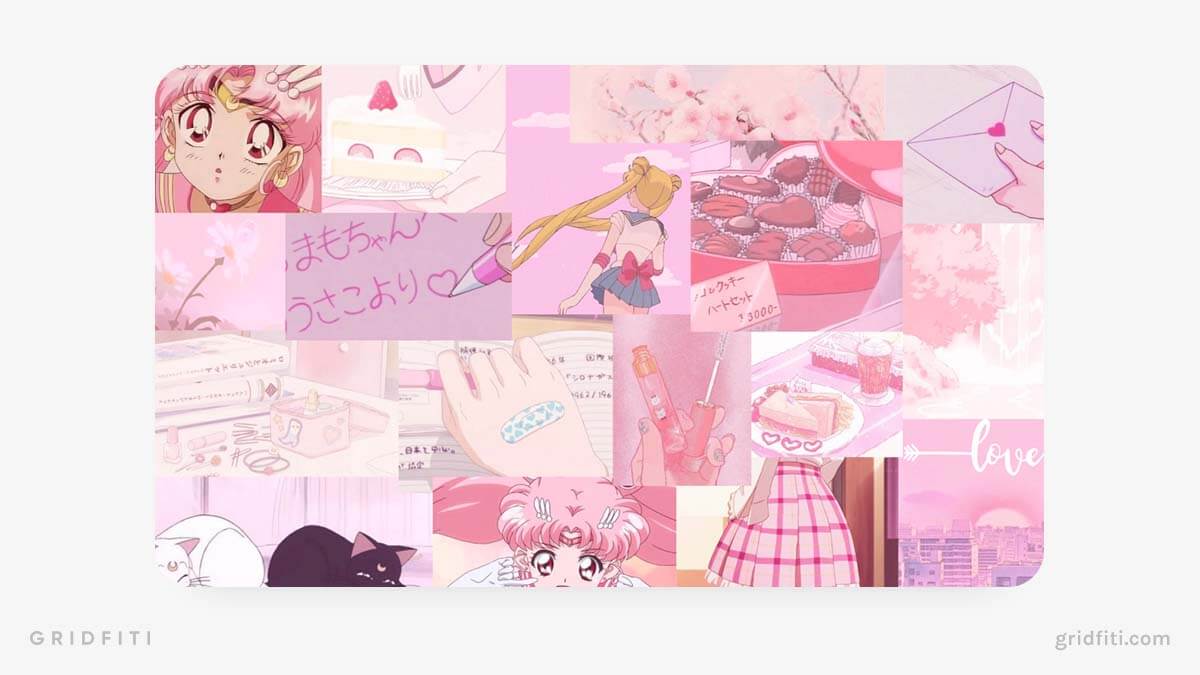 Quote Wallpapers
If you're looking to add some personality or inspiration to your Mac setup, adding a quote wallpaper to your desktop will do just that. From motivational to witty quotes – there are a ton of options out there!
Get started:
Desktop Quote Wallpapers on Pinterest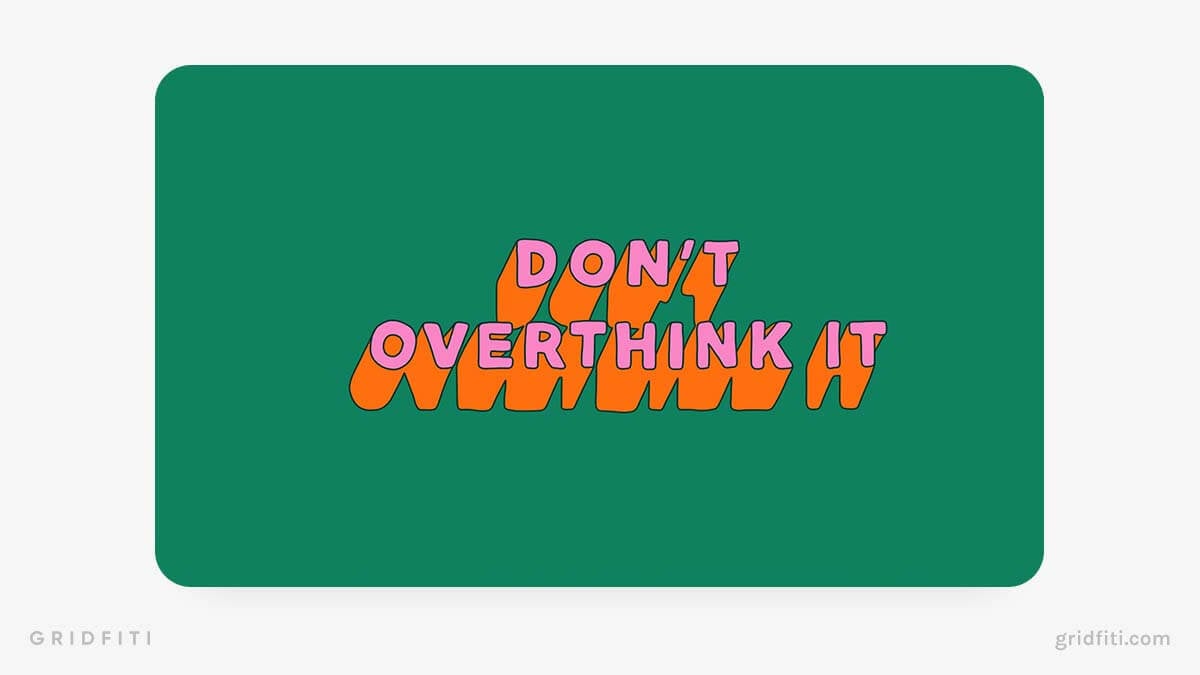 Designs by Poppy Deyes
Aesthetic Desktop Organizers
Desktop organizer wallpapers are as functional as they are aesthetic! Compartmentalize all of your folders, documents, and stickies (more on those soon) right on your desktop with pre-organized areas for to-dos, personal, work, school and more.
Get started:
Related Post: 12+ Aesthetic Desktop Organizer Wallpapers & Backgrounds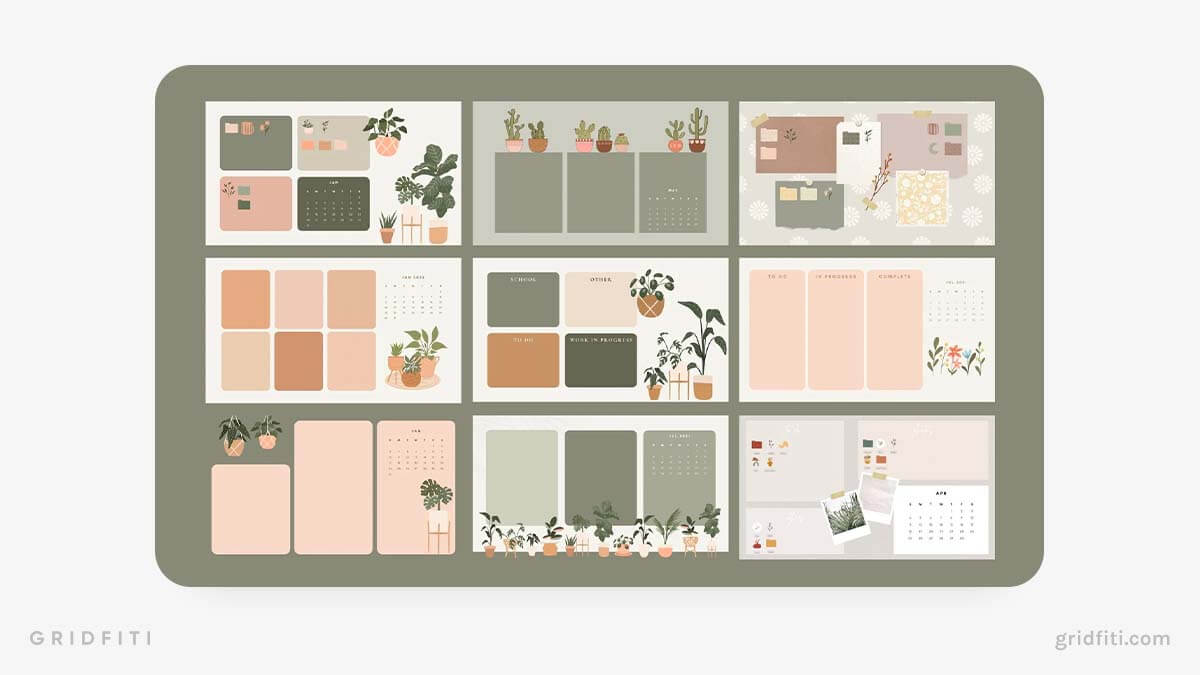 Calendar Wallpapers
Calendar wallpapers are another form-meets-function way to make your Mac aesthetic! Never lose track of the days again, and get an overview of the month right on your desktop. Some calendar wallpapers even include built-in desktop organizers too.
Get started:
Related Post: 15+ Aesthetic Calendar Wallpapers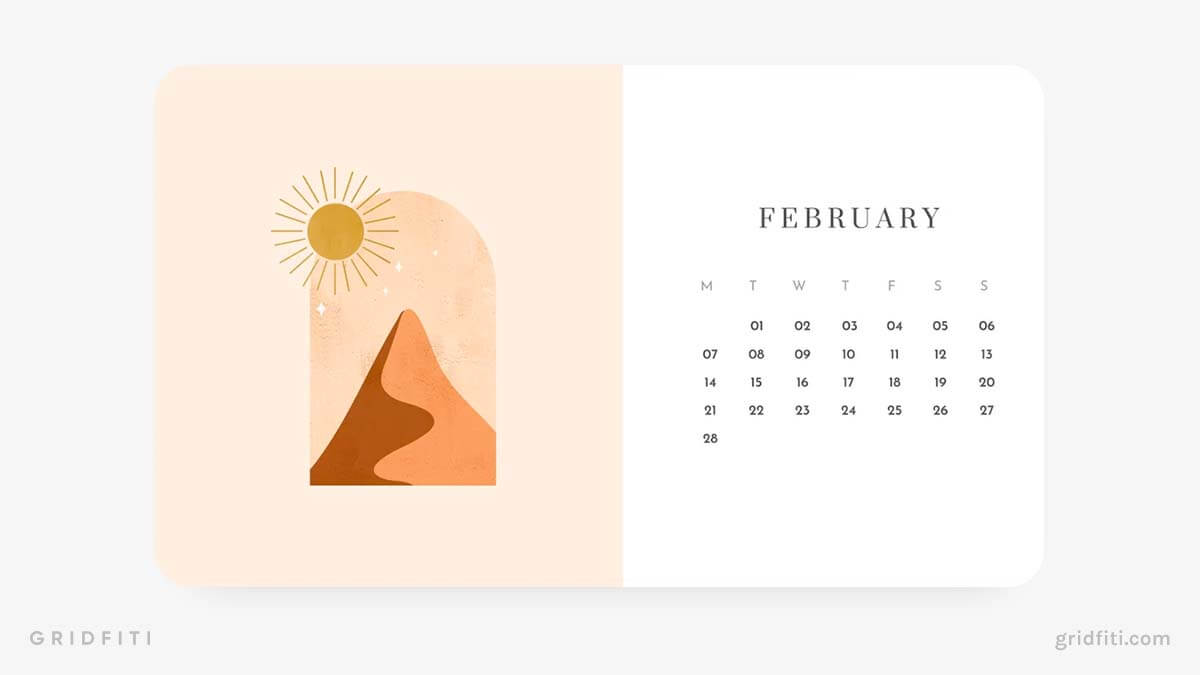 Custom Mac Color Themes
Did you know there are a few simple ways to make your Mac aesthetic right in System Preferences? Check out these adjustments to customize your Mac aesthetic in minutes.
Accent Color & Highlight Color
Do you love pink? Obsessed with green? You can bring your love for these colors to your Mac with the click of a button for both the accent color (which is the general interface color, especially in Finder) and highlight color (color that appears when selecting text).
To customize these colors, go to System Preferences → General, and at the top of the window, you'll see options to make customizations for both the accent color and highlight color. For the highlight color, you can even select 'Other' at the bottom of the dropdown menu and pick your custom shade – whether with a color picker, or by entering the custom color code!
If you need color palette inspo, don't miss our post on aesthetic color palettes — complete with hex codes.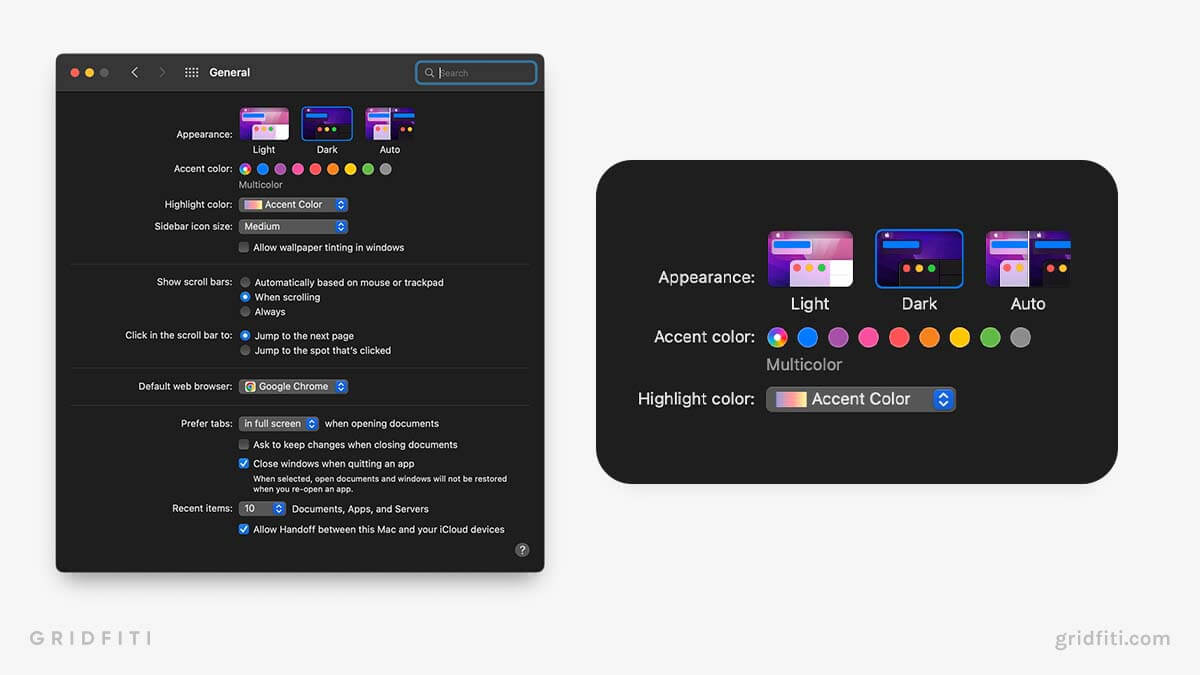 Custom Mac Cursor Color
Take your Mac theme color to the next level by customizing your cursor color too! If your system is updated to macOS Monterey or newer, head to System Preferences → Accessibility → Display → Pointer tab, and from there, you can customize both the cursor's fill color and outline color.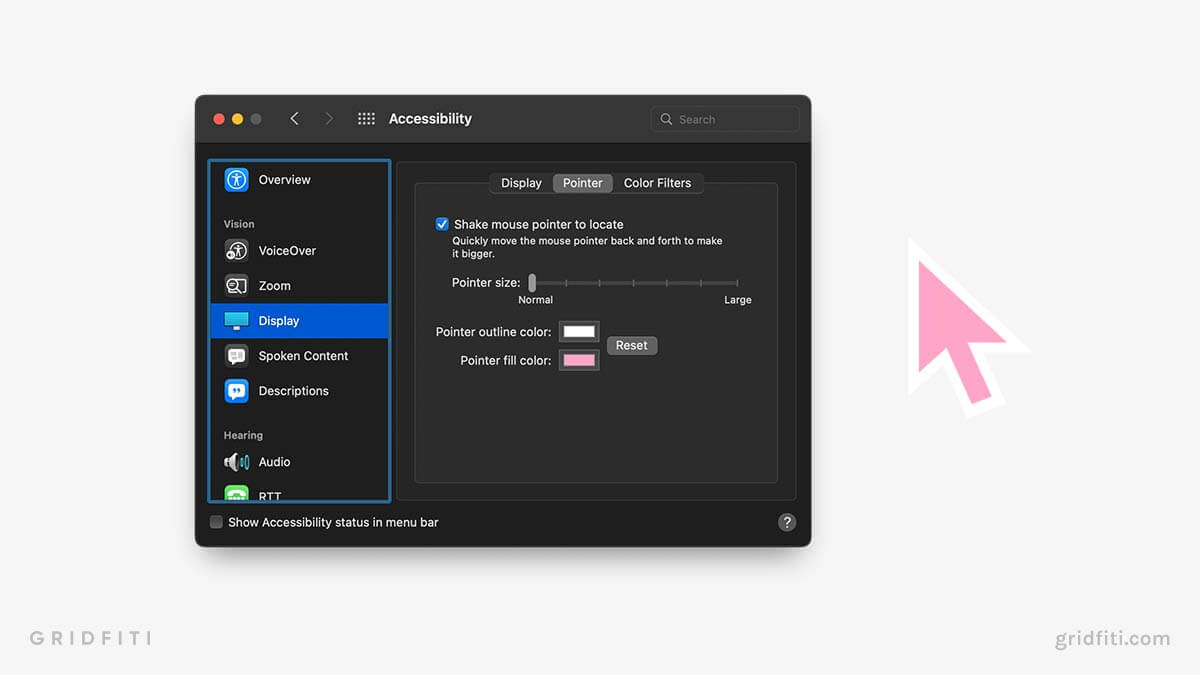 Custom Mac Menu Bar
Another easy way to personalize your Mac is customizing your menu bar! Check out these tips to do just that: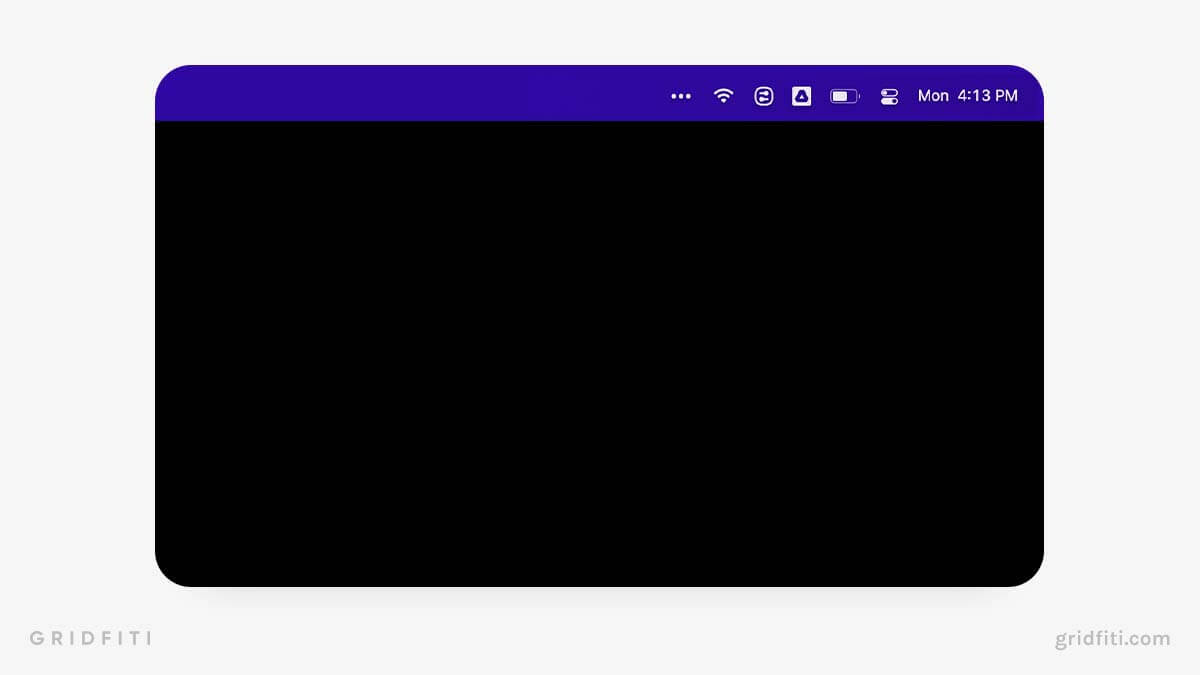 Aesthetic Mac Icons
You've probably already heard of customizing your iOS icons, but did you know you can customize your Mac icons too? You can customize both your macOS app icons, as well as any folder icons on your system. Check out some of our picks, as well as quick steps for changing the icons below!
Aesthetic Mac App Icons
What's an aesthetic Mac theme without consistent app icons? Default app icons often have different styles and colors, so changing them up is a quick and easy way to complete your cohesive Mac theme – especially since apps sitting in your dock are always visible. Check out some of these Mac app icon packs, and steps for installing them below.
Get started: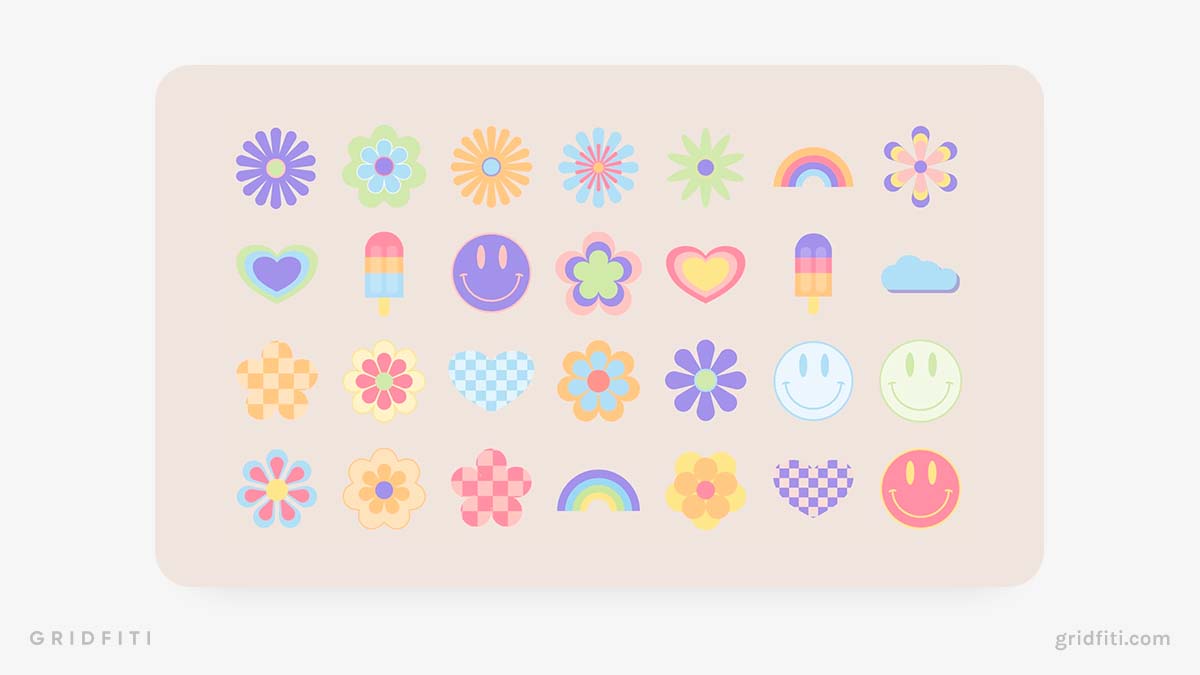 How to Customize Mac App Icons
Here are some quick steps for setting up your custom app icons:
Open your desired icon in Preview (or any image processing app) and hit ⌘+A (or Edit → Select All), then ⌘+C (or Edit → Copy) to copy it to your clipboard
Open up your Apps folder in the Finder to see all of your macOS applications
Select the app you wish to customize, and hit "⌘+I" (or File → Get Info)
Select the app's icon in the top left, you should see a blue highlight surrounding it
Then simply paste your icon (⌘+V, or Edit → Paste), and you're done!
If you don't see the changes applied immediately to apps in your dock, hold the Cmd key (⌘) and click on the app in the dock, and this should refresh to the latest app icon change you've made!
Aesthetic Mac Desktop & Folder Icons
Ditch the boring blue default folder icons in the macOS system and fully customize your folder icons to fit your aesthetic or color theme! Not sure how to change your folder icons? Check out the quick tutorial right below.
Aesthetic Folder Icon Packs
Related Post: Aesthetic Folder Icons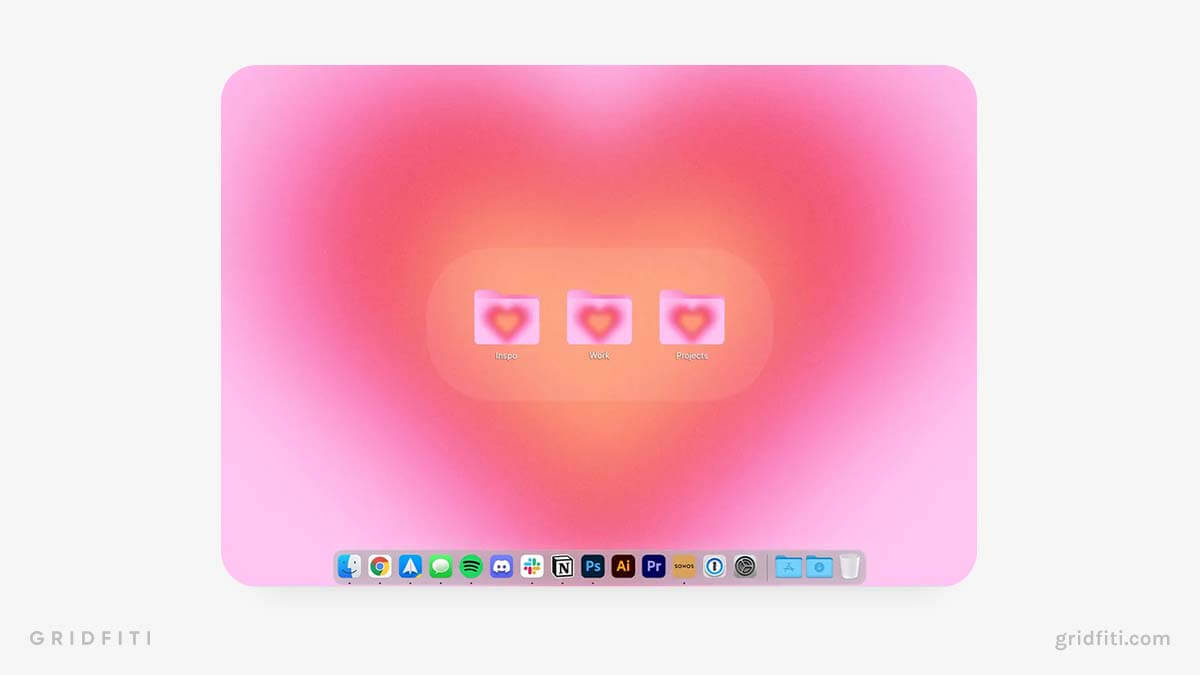 How to Customize Mac Folder Icons
Go to the folder you would like to customize
Follow the same steps as above for app icon customization!
Tip: If you want to use the same folder icon for multiple folders, change the icon on one empty folder, and duplicate the folder as many times as you'd like.
Aesthetic Mac Widgets
Build both a stylish and functional dashboard right on your Mac desktop by adding in the right widgets! Check out some of these aesthetic widget options.
Note: these widgets appear in the macOS notification center. To access widgets on your Mac, click on your clock top-right of the menu bar – or by dragging two fingers across your trackpad from the right side! To edit and add new widgets, scroll down to the bottom of your notification center, and select 'Edit Widgets'.
Get started: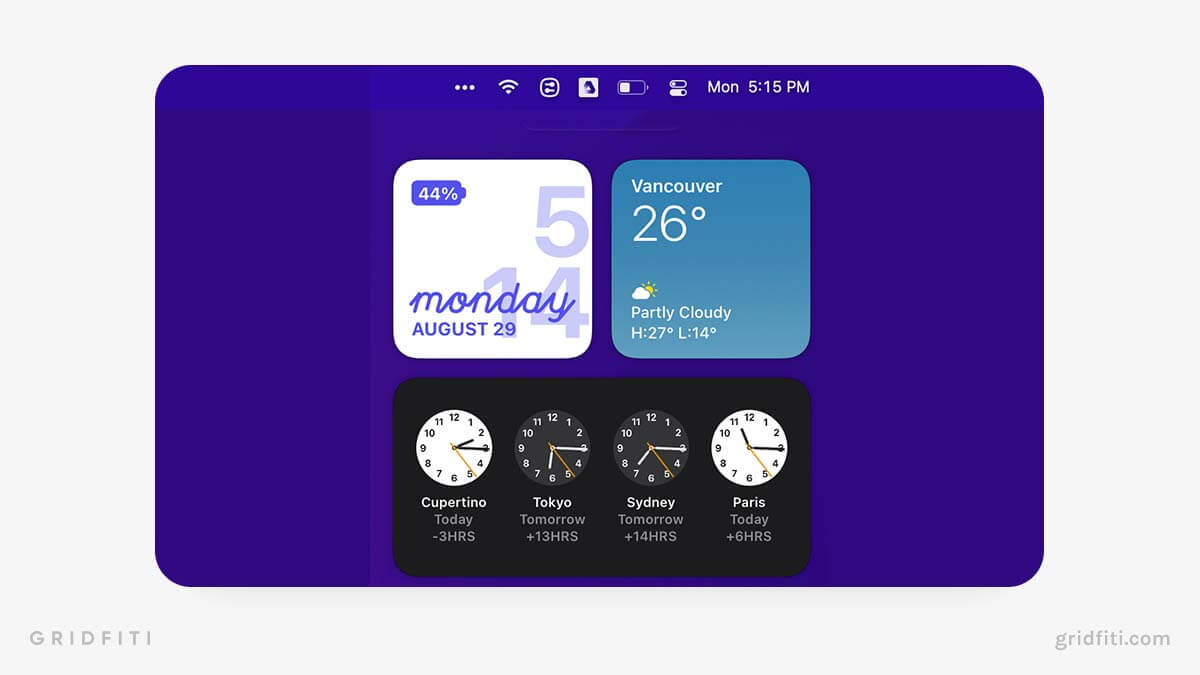 Aesthetic Mac Lock Screen
Your Mac lock screen is the first thing you see when you open up your computer – so why not make it match your theme? Your Mac lock screen consists of a round profile picture in the center of your screen, and whichever aesthetic wallpaper and background you applied to your desktop.
Tip: choose a background without busy graphics in the middle to avoid an overlap between your PFP and wallpaper.
To go to your lock screen on command, click the Apple logo () top-left, and select Lock Screen.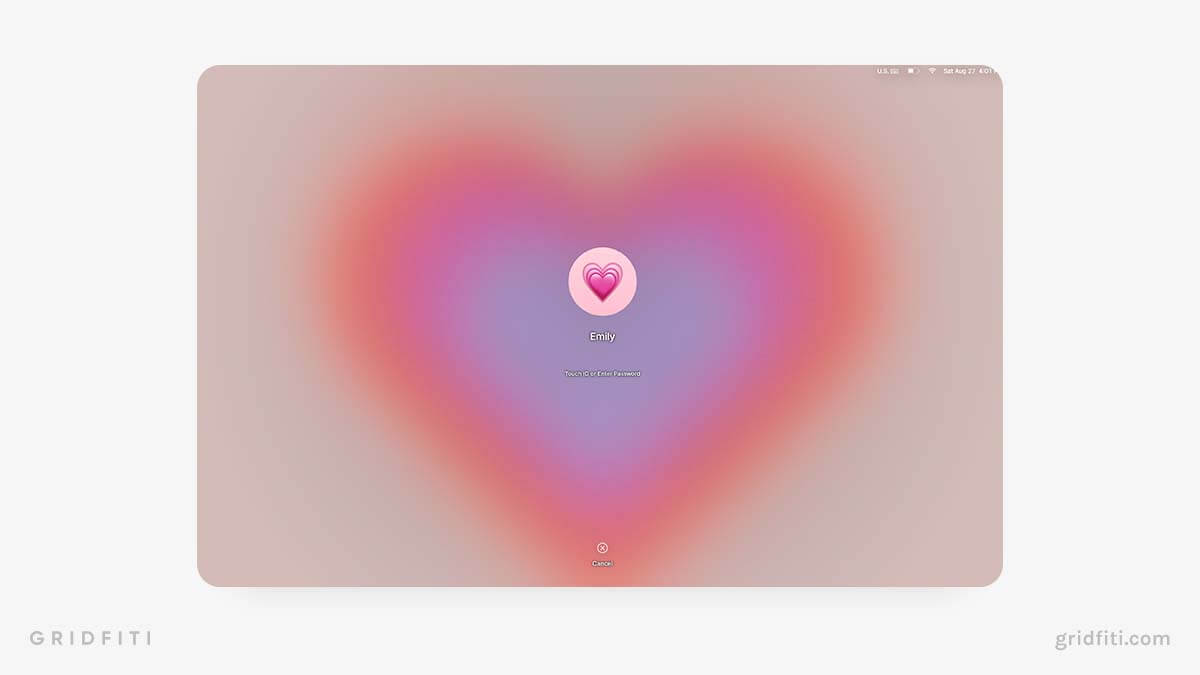 Aesthetic Mac Profile Pictures
If you're torn on what profile picture to set for your Mac and you're not looking to add a photo of yourself, worry not – there are a ton of options to make your profile photo and lock screen aesthetically pleasing.
To change your Mac lock screen's profile picture, just head to System Preferences → Users & Groups → hover on the existing photo, and select 'Edit' at the bottom. From there, you can select from built-in emojis (and even customize the color background), or upload your own image by dragging it into the preview area. If you want a custom image, here are a few fun Mac PFP ideas to get inspired.
Get started: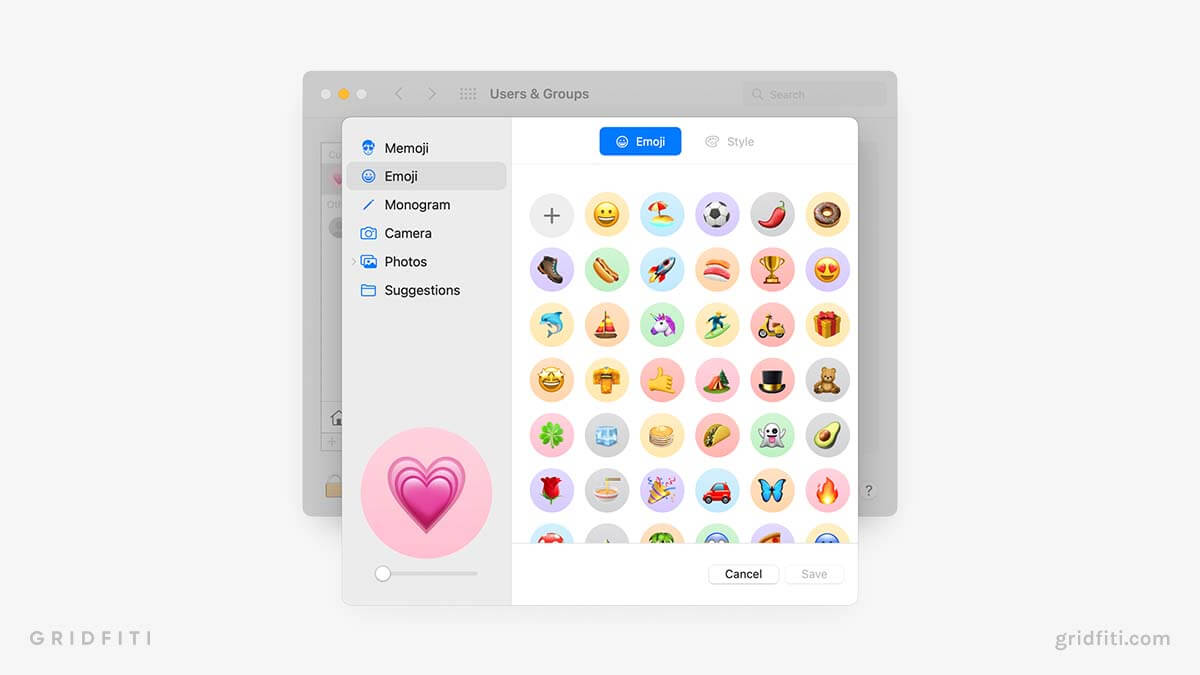 Aesthetic Mac Apps & Menu Bar Apps
Making your Mac aesthetic doesn't mean it can't be functional too – check out some of these Mac apps to both customize your system's appearance, and up your productivity game.
Aesthetic Mac Apps for Customizing Appearance
First off, you can use apps to customize the appearance of your Mac by curving the corners of the display, or even hide the polarizing notch if you're on an M1 or M2 MacBook. With these apps, you can put together a more sleek and minimal look for your Mac's screen!
Get started: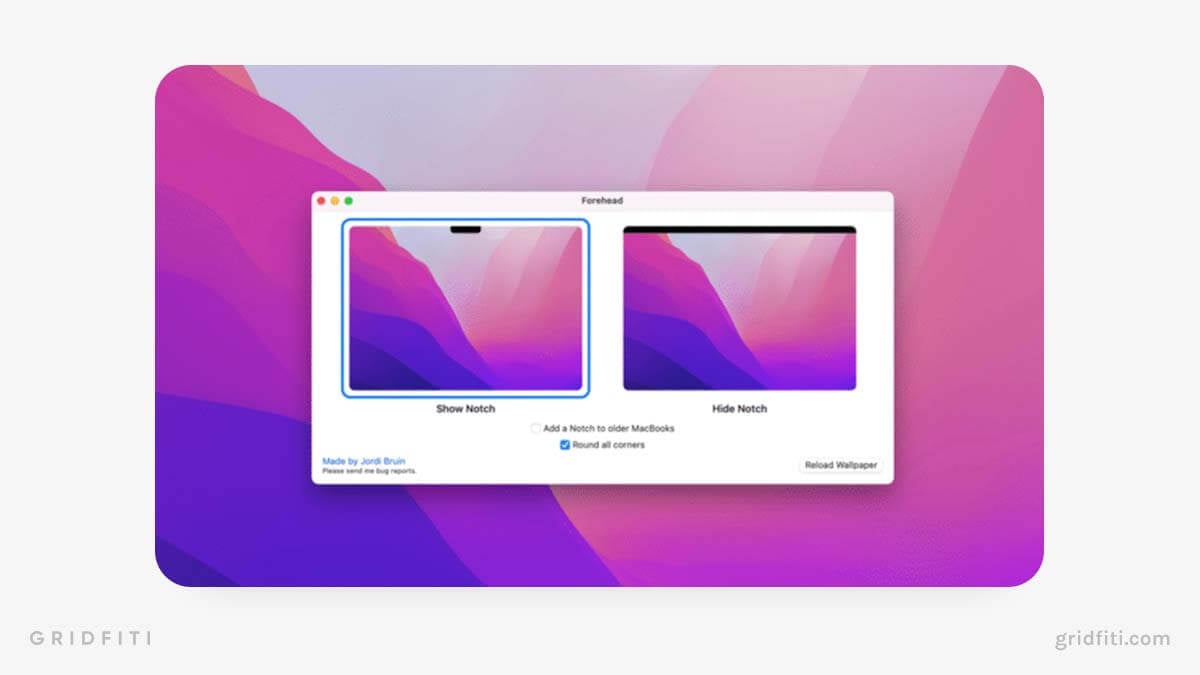 Aesthetic Music Apps
You probably have Spotify or Apple Music on your Mac, but if you want to take your music-listening to the next level – while adding some style – check out some of these aesthetic mini music players.
Get started: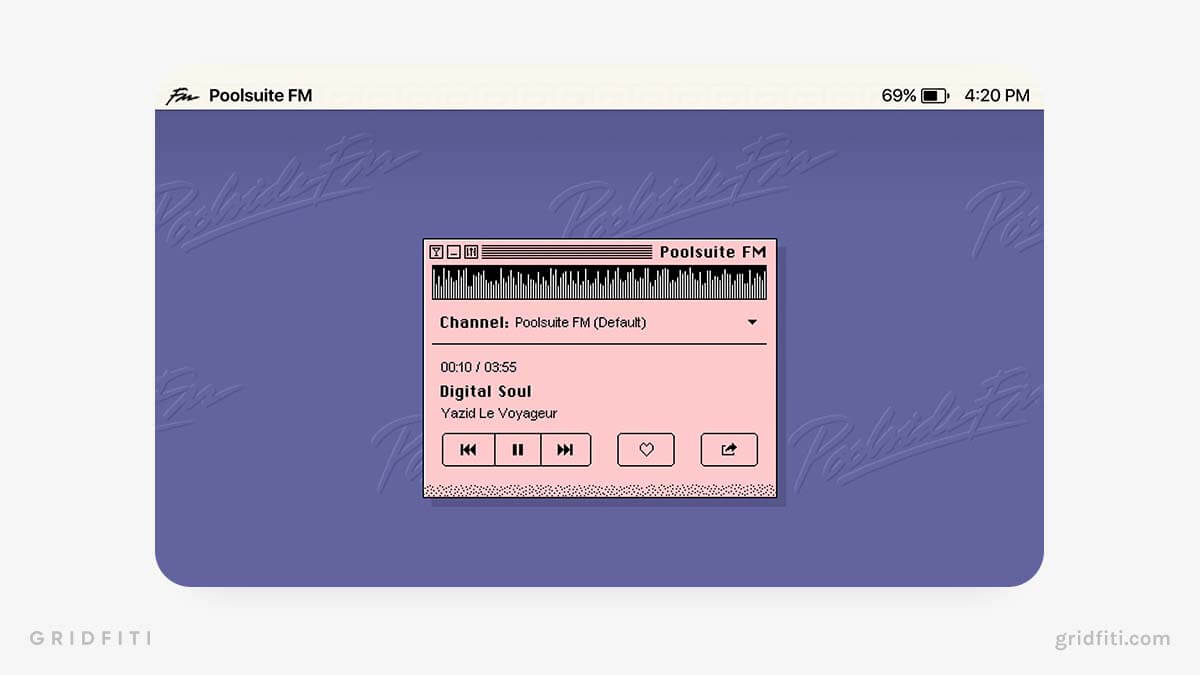 Aesthetic Mac Clocks & Timers
Stay focused, punctual, and make sure you never miss another meeting or deadline again with an aesthetic timer or clock for your Mac. Use a dedicated Mac app or web app to complete Pomodoros for more productive work and study sessions!
Mac Clocks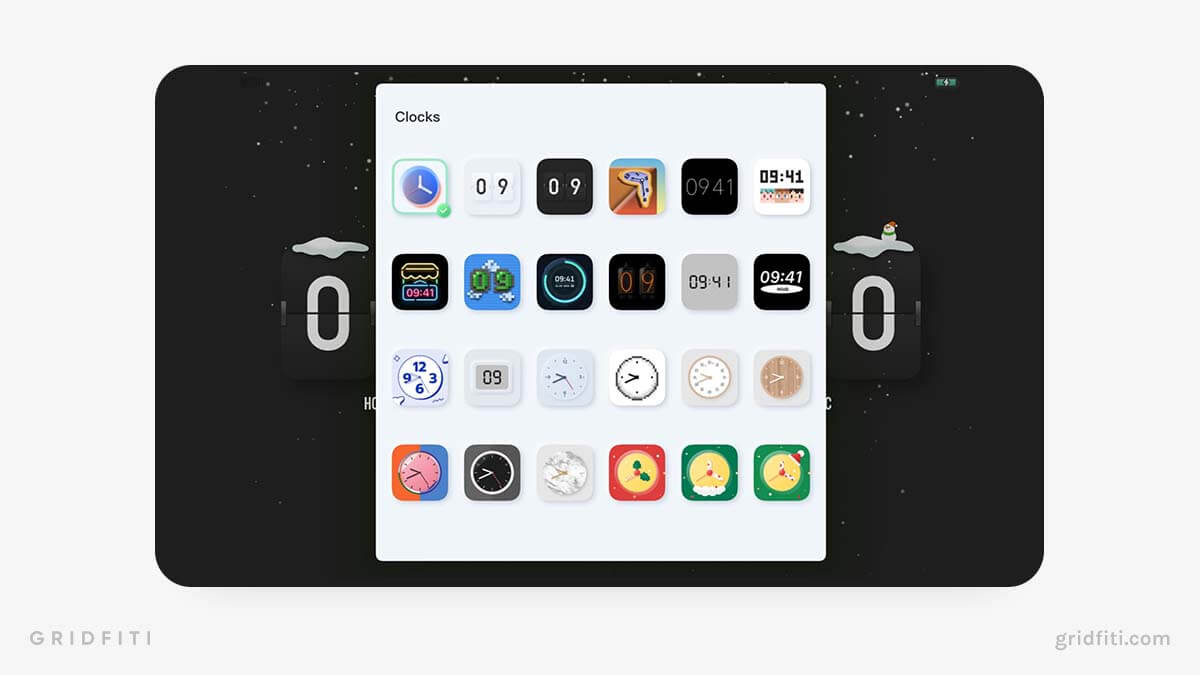 Mac Timers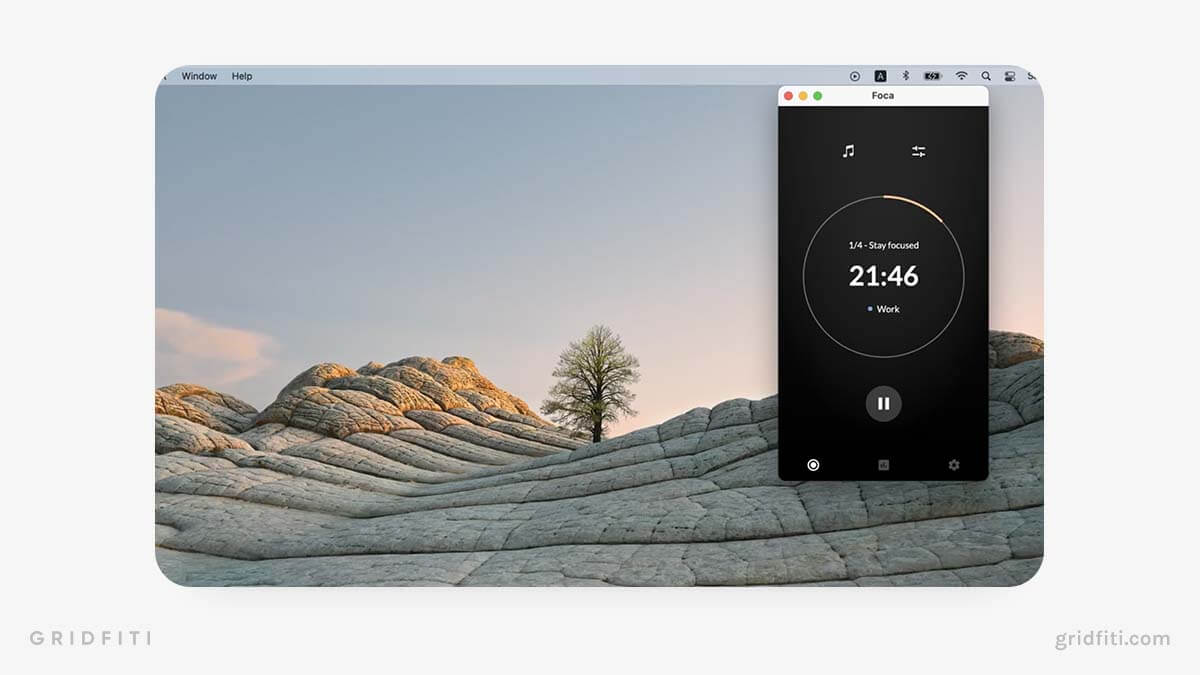 Aesthetic Sticky Notes Apps
Need to jot down something quick? Want a simple space to store your daily to-dos? Do it all without sacrificing your aesthetic with the right sticky notes apps. Check out these apps and tips to get started: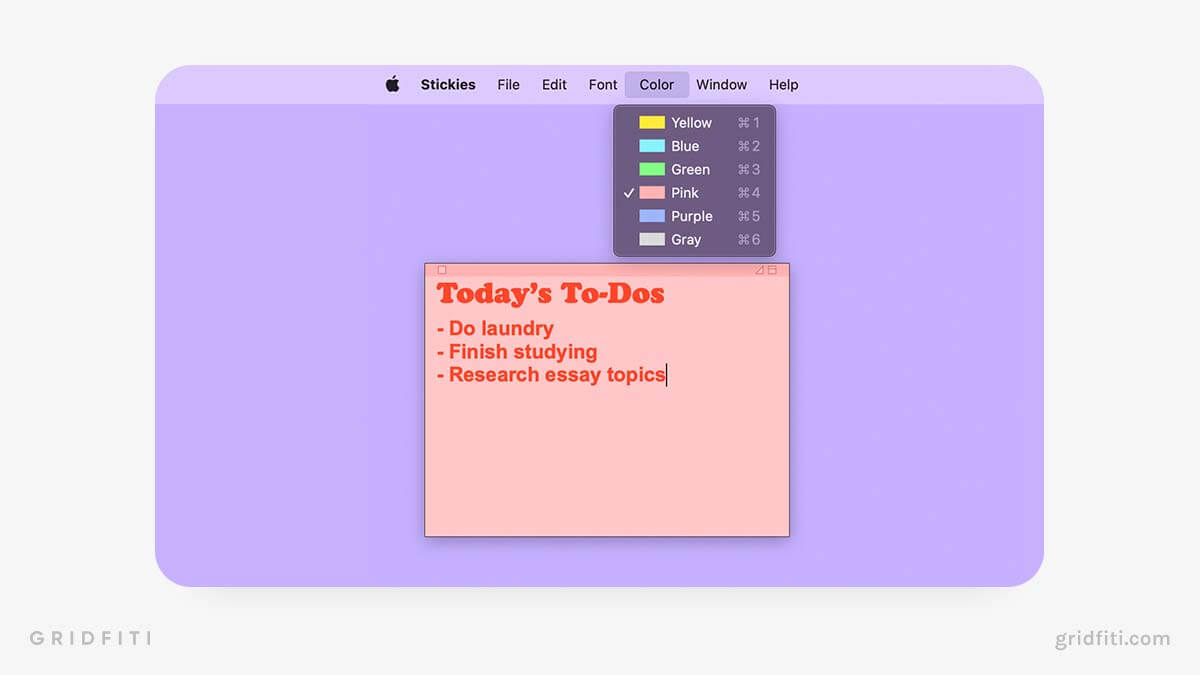 Aesthetic Mac Dock Customization
With the current macOS, there aren't any major customization options for the dock – however, here are a couple minor adjustments you can make to personalize it to your liking: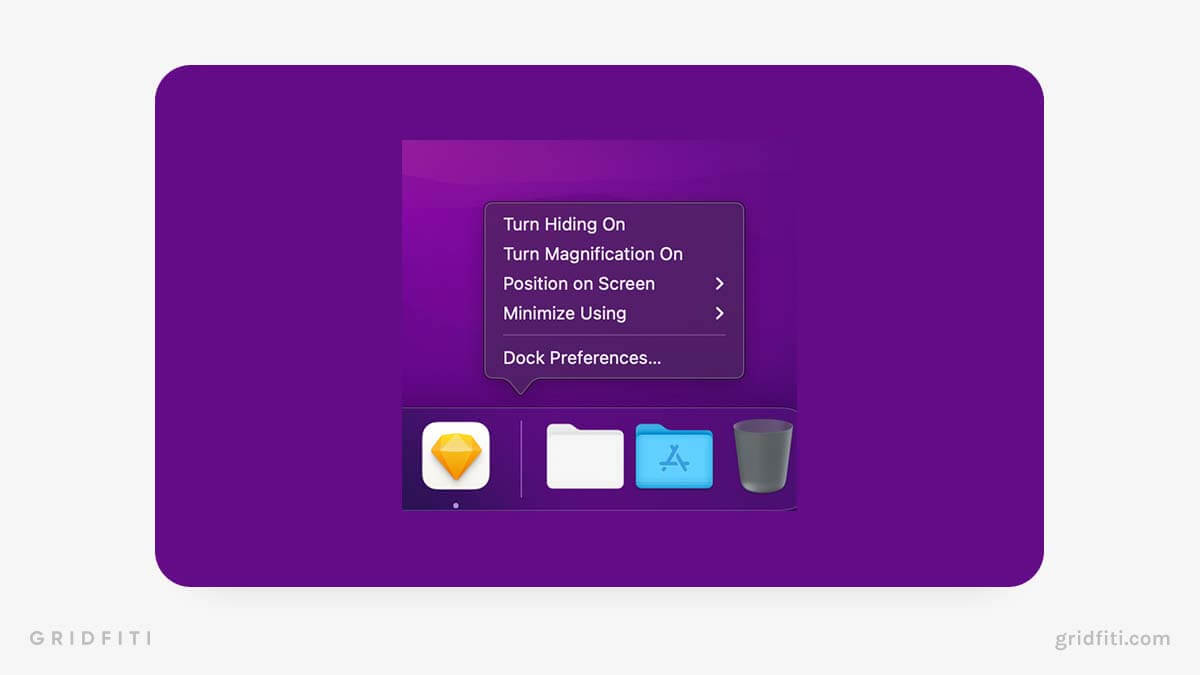 Aesthetic Chrome Browser for Mac
Finished customizing your macOS? Now you can customize your Chrome browser to match your new digital aesthetic too! Create a stylish Chrome theme by customizing your browser 'new tab' background, and adding different functional and aesthetic extensions to enhance your browsing experience.
For more browsers, check out our list of the most aesthetic browsers!
Aesthetic Chrome Extensions
Make your browsing experience more aesthetic and even more productive with the right Chrome extensions.
Get started: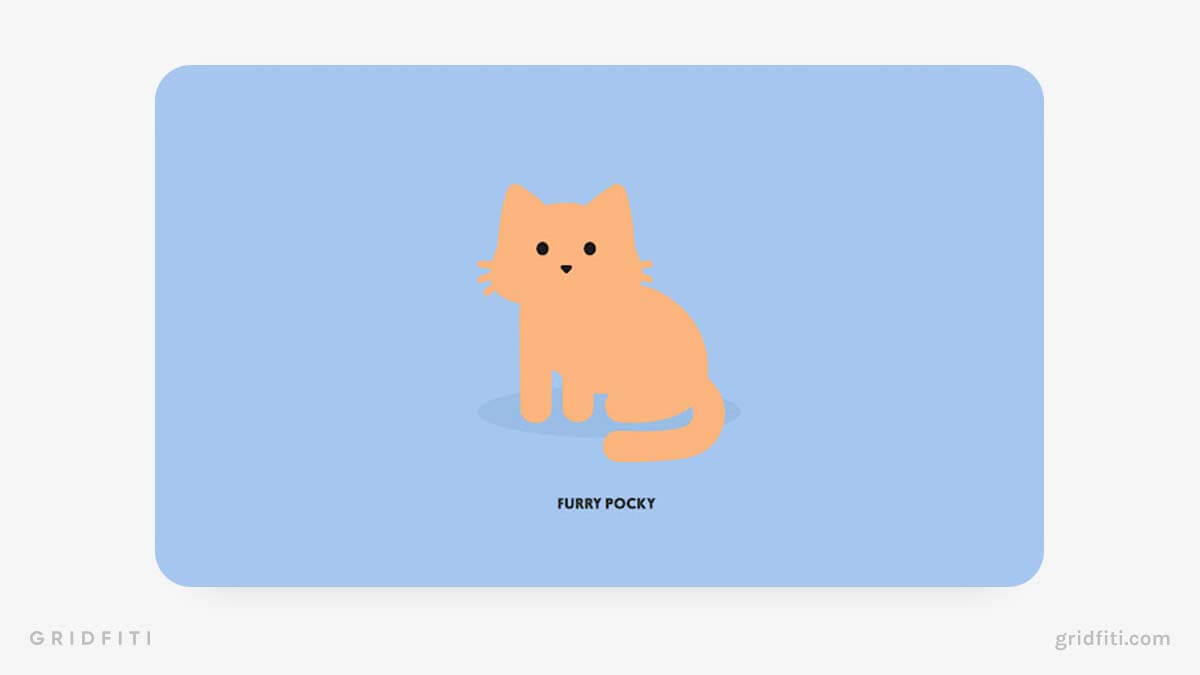 Aesthetic Chrome Theme Backgrounds
Just like customizing your Mac background, you can also customize your browser background to match your personal aesthetic. This background will appear every time you open a new Chrome window or tab.
To change your Chrome theme background, open a new window in Chrome, and click the pencil icon at the bottom-right of the window. From there, you can upload your own image, or select from pre-made themes to pop up every time you open a new tab or window!
For more themes, check out our full round-up list of aesthetic Chrome background ideas!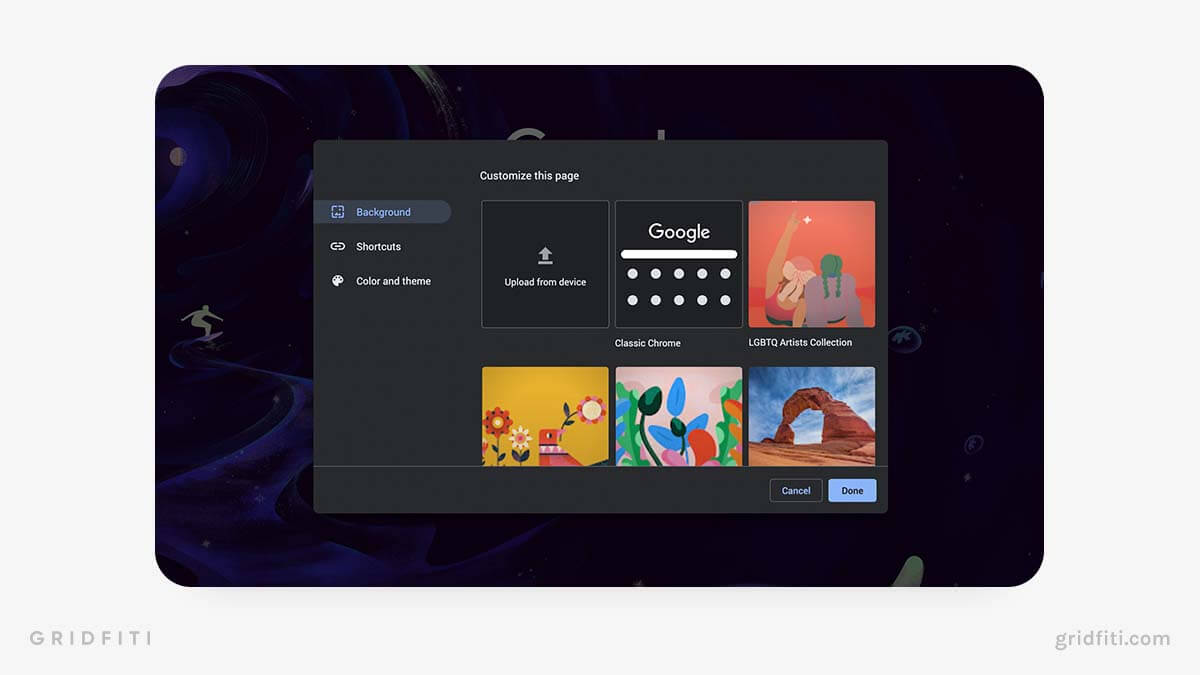 Aesthetic Custom Browser Cursor
Customize your mouse cursor right in Chrome to sport playful designs, franchise characters, cute animals, or anything in between with this browser extension!
Get started: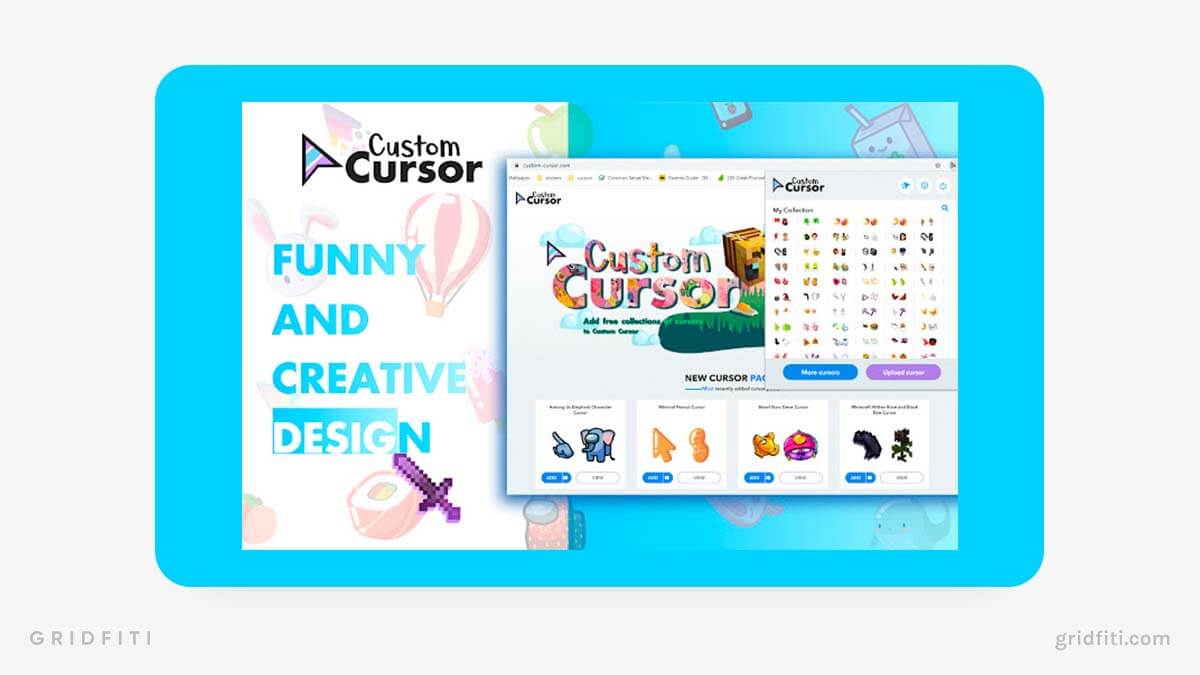 Are we missing any Mac customizations to make your computer more aesthetic? Which tip here is your favorite for customizing? Let us know in the comments below!
Gridfiti is supported by its audience – when you buy something using the retail links in our posts, we may earn a small commission at no additional cost to you. Read more about our affiliate disclaimer.