Customizing your Google Chrome to make it more aesthetic is a great way to add a splash of color and fun to your workday. Scroll on for some ideas, tips, and tricks for customizing Google Chrome and making it aesthetic!
Want more productivity and digital decor inspo? Join our newsletter!
Chrome Extensions
While Google Chrome offers some customization options, browser extensions take it to the next level. Here's a sneak peek at some of our favorite Chrome extensions. (To see the full list, hop over to our round-up of the best aesthetic Chrome extensions!)
Otto
This Chrome extension is a gamified Pomodoro timer and website blocker all in one. Otto is a cute tamagotchi sprite, and his health depends on your productivity! If you visit blocked websites, Otto's health takes a hit. To regenerate Otto's health, complete Pomodoro sessions and avoiding visiting blocked sites. Download the Otto extension to add a dose of fun and cuteness to your workday!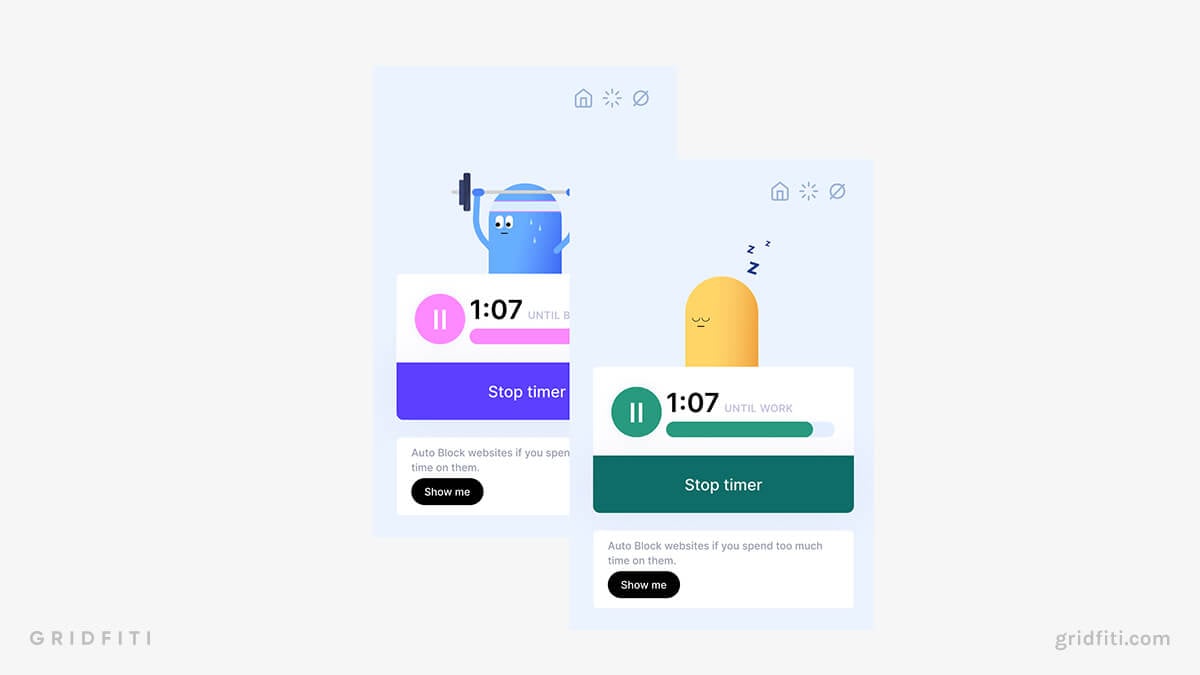 Noisli
Noisli is a soundscape extension that adds a dash of soothing background music and noise to your workday. Mix and match Noisli's background sounds to create a brain-boosting combo that's unique to you. In addition to a range of playlists designed to boost productivity, Noisli offers a timer and a text editor where you can quickly jot down thoughts without breaking your flow.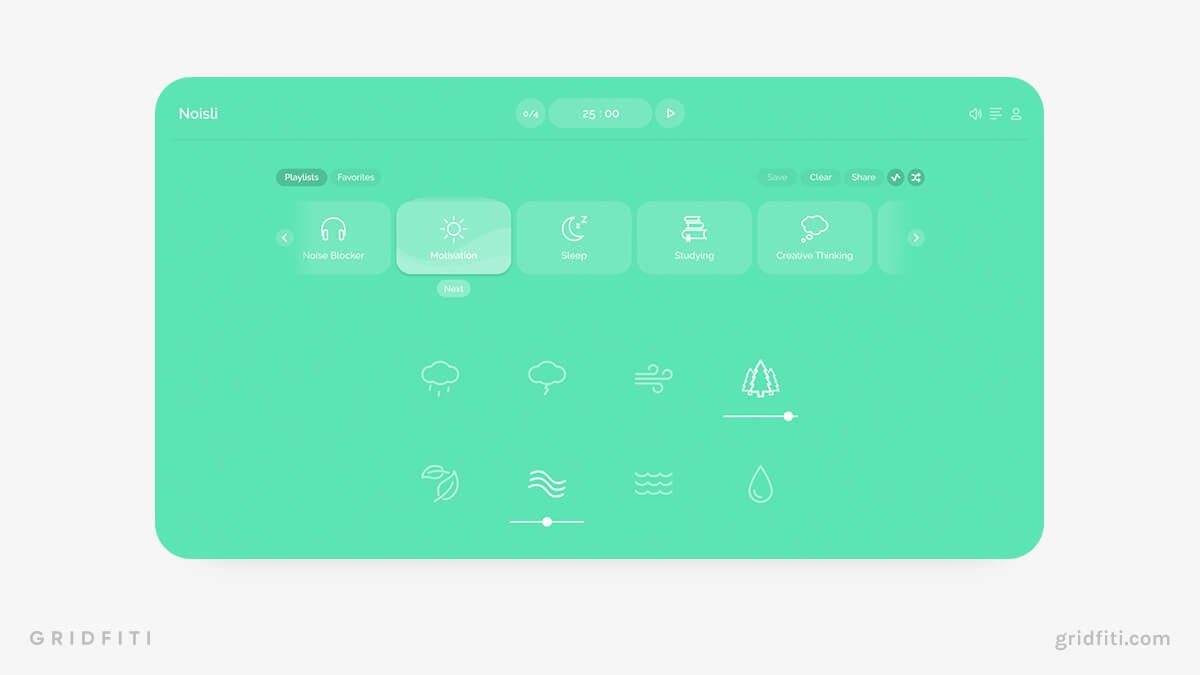 Coffeelings
Java lovers, rejoice! Coffeelings is a super cute journal and mood tracker Chrome extension that lets you track your moods and jot down your thoughts and emotions. Choose from 1 of 5 "roast" options to set your mood. Coffeelings also lets you see your moods in a year-in-pixels style grid and change your theme to suit your style.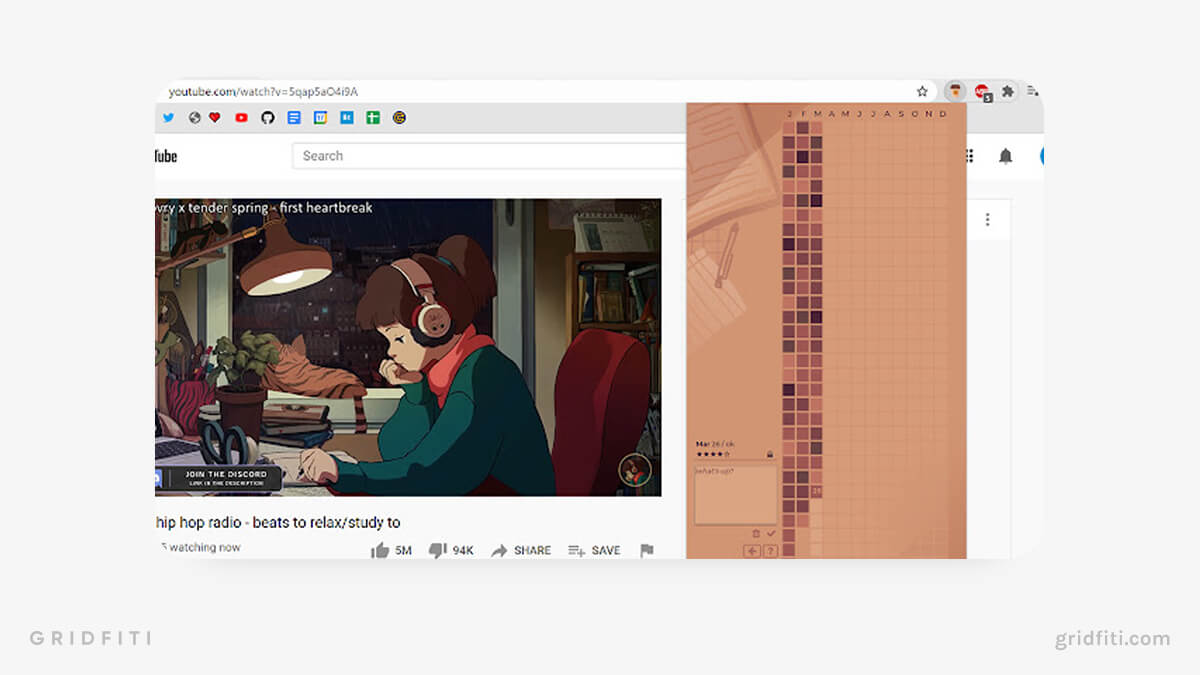 Angry Study Helper
Picture this: You're trying to study, but you're feeling unmotivated, and you'd rather be watching YouTube or scrolling social media anyway. So you open a new browser tab — only to get yelled at and told to get back to work!
That's exactly what this extension does. This hilarious extension is perfect for anyone who simply can't resist distractions while working or studying. Just turn it on during a heads-down study session, and whenever you open a new tab, you'll see a video of the extension's grumpy developer telling you to stay focused!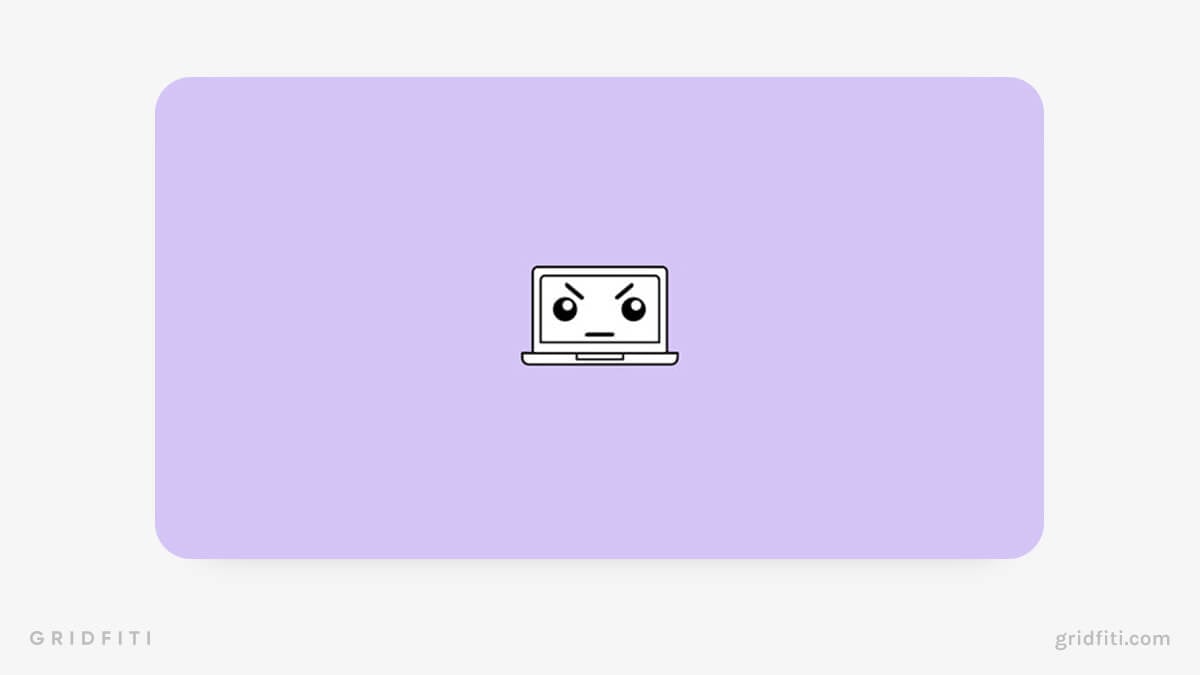 Backgrounds & Themes
In addition to the color schemes you'll find in your Chrome settings, you'll find more custom themes in the Chrome Extensions store. Here's a sneak peek of our favorite aesthetic backgrounds for Google Chrome. (For the full list, check out our round-up of aesthetic Google Chrome themes!)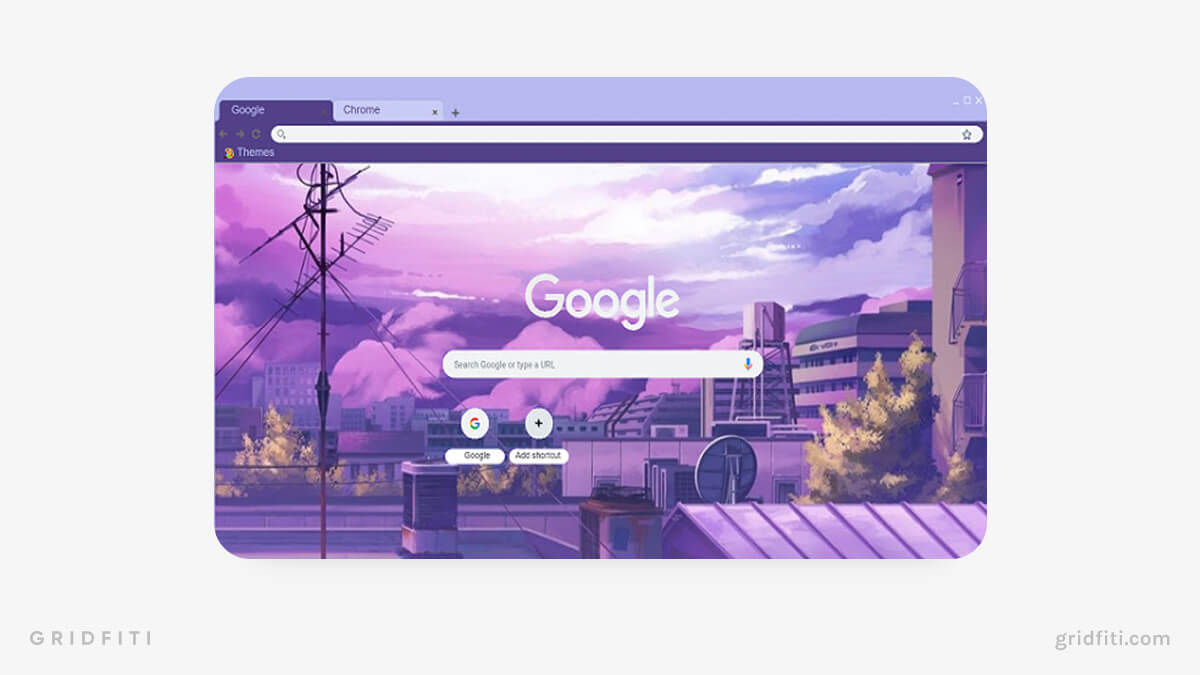 New Tab Page
No aesthetic Google Chrome setup is complete without a new tab extension. New tab extensions change the appearance of each new tab you open. Whether you're looking for motivational content or just a way to customize your bookmarks and favorite apps, here are a few of the best new tab Chrome extensions.
Momentum
Open a new tab with Momentum enabled, and you'll be greeted with a soothing nature picture and motivational quote. You can also jot down what you want to focus on each day so you can keep your daily goals front and center while working. Customize your dashboard with quick links to your favorite sites, a to-do list, a Pomodoro timer, a local weather widget, and more.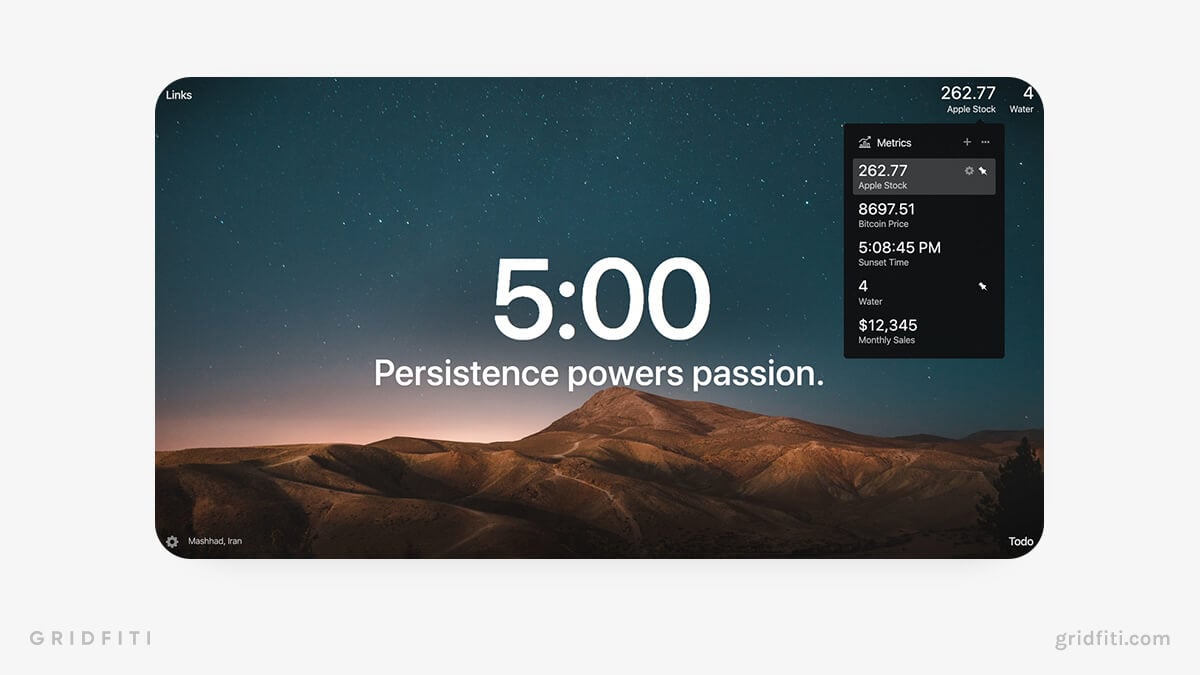 Tabby Cat
Kawaii-ify your browser with Tabby Cat! With this extension installed, you'll see a cute drawing of a different animal against a colorful background. The cutest part? You can pet your animals, watch them sleep, and even receive goodies from them! As well as cats, Tabby Cat also includes other cute critters like dogs, bunnies, and pigs.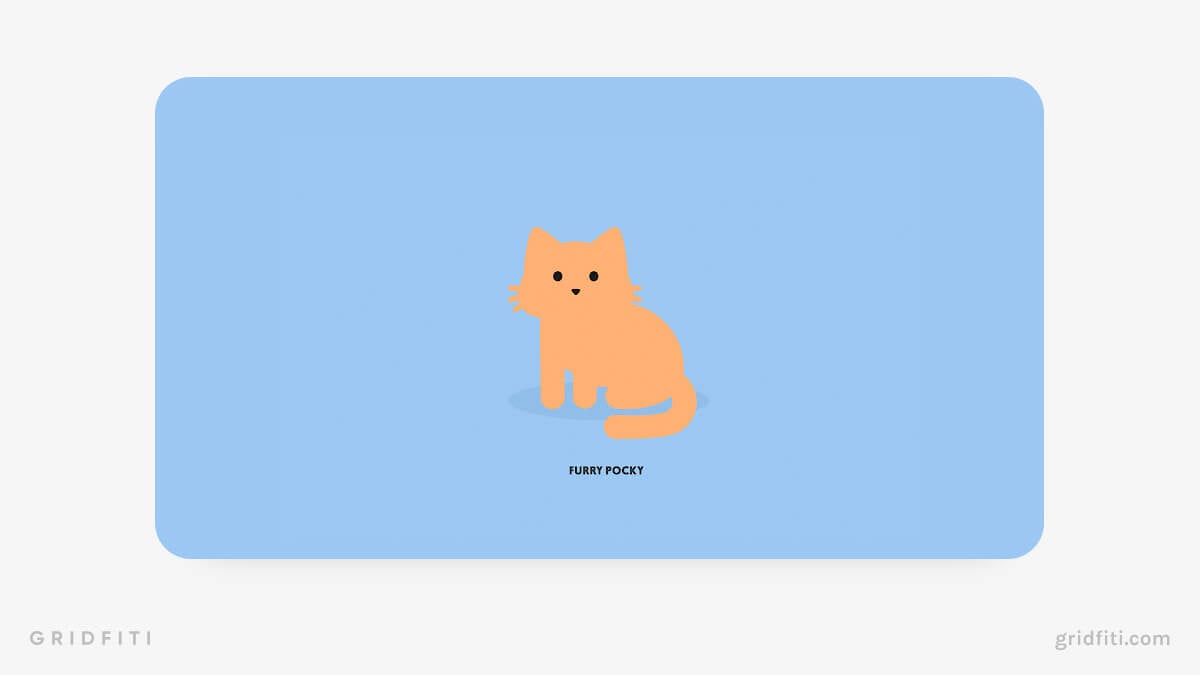 uTab
uTab is the perfect Chrome extension for organizing your bookmarks in an aesthetic way. Create unlimited bookmark folders, customize your background, and even add clock widgets for up to 10 time zones. With uTab, you can also add and customize the layout of your most-visited sites and apps.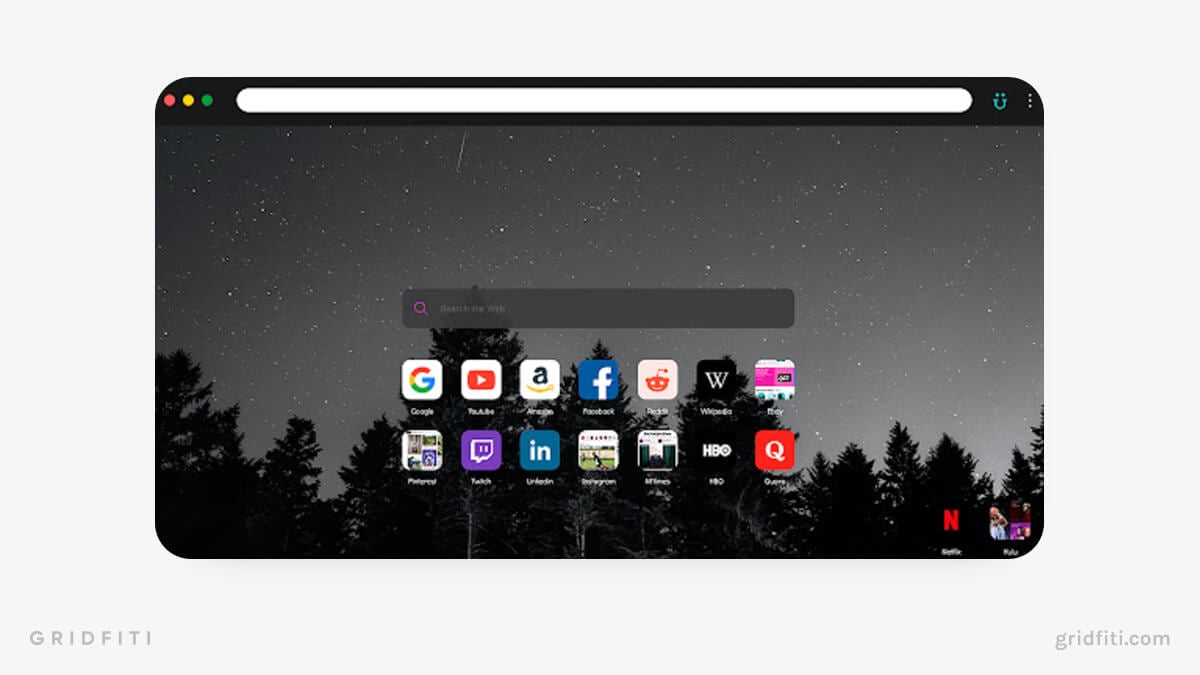 Pastel New Tab Clock
If you're a fan of the minimalist aesthetic, you'll love the Pastel New Tab Clock extension. It does what it says on the tin — adds a basic clock with a pastel background to each new tab you open. You can also customize Pastel New Tab Clock to change the font and show or hide your most-visited websites.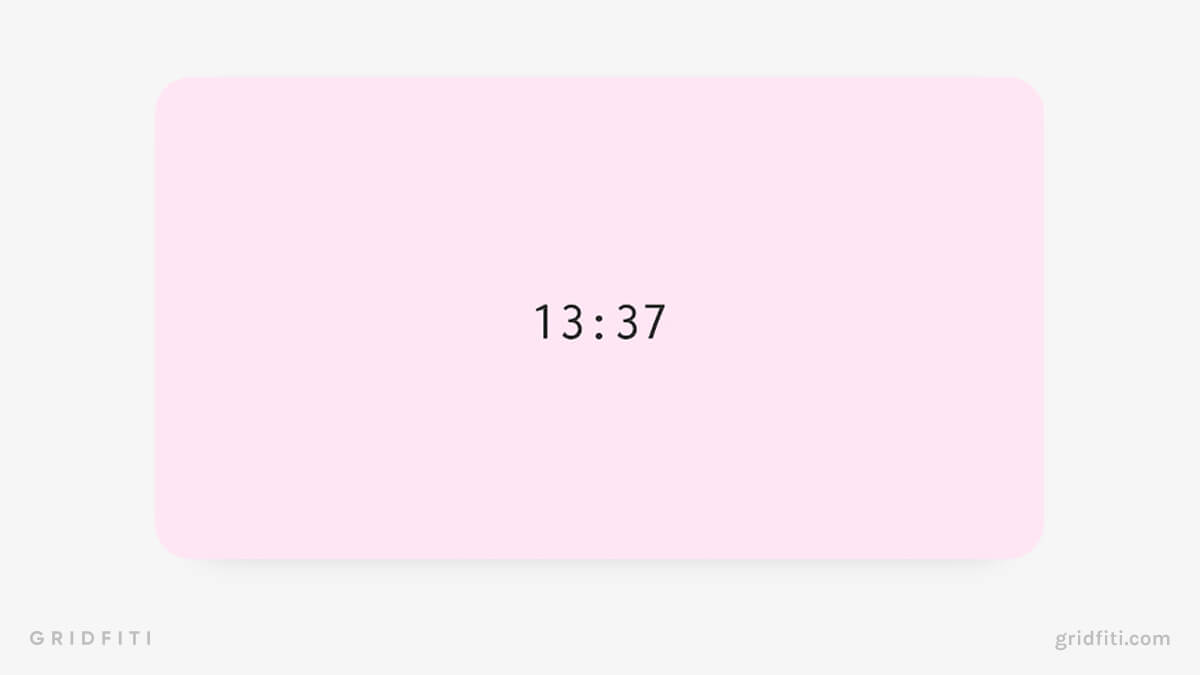 Google Chrome Profile Pictures & Avatars
If you've signed into your Google account to use Chrome, you'll see your profile picture in the top right corner of your browser. It'll automatically show your default profile picture — but you can customize your avatar in your Google Chrome settings.
Chrome offers a selection of cute and colorful avatars. To change your Google Chrome avatar:
Click your profile picture in the top right corner of your browser.
Click the pencil icon.
Scroll down to Pick an avatar.
Click an avatar to update it.
Alternatively, to use your own custom image as your avatar, update the profile picture of your Google account. Just be aware that this photo is public and will show up in all your Google apps, including Gmail, Calendar, Keep, and others.
If you're looking for ways to level up your calendars, check out our full guides on how you can turn your Google Calendar aesthetic!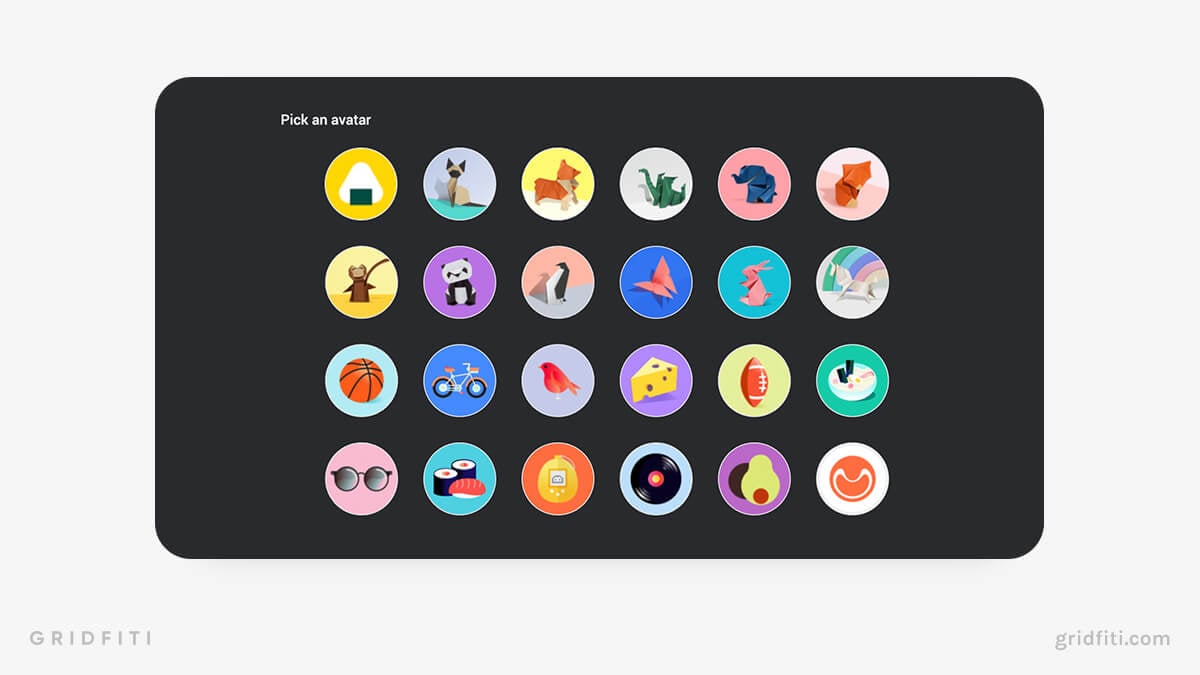 Color Schemes
You can change the color of your browser in your Chrome settings. Google offers a range of different colors, or you can use your own by clicking the color picker.
To change the color of your Google Chrome:
Click your avatar in the top right corner of your browser.
Click the pencil icon.
Scroll down to Pick a theme color.
Select one of Chrome's pre-set colors, or click the eyedropper icon to enter your own HEX code.
Note that you'll only be able to choose one main color — Google will automatically select a softer accent color based on the HEX you add.
Want to ensure your Google Chrome matches your existing aesthetic, or need some inspiration for a custom Google Chrome color? Check out our round-up of aesthetic color palettes! If you prefer to install a pre-set color theme, check out the Color Chrome Themes section of our aesthetic Google Chrome themes post!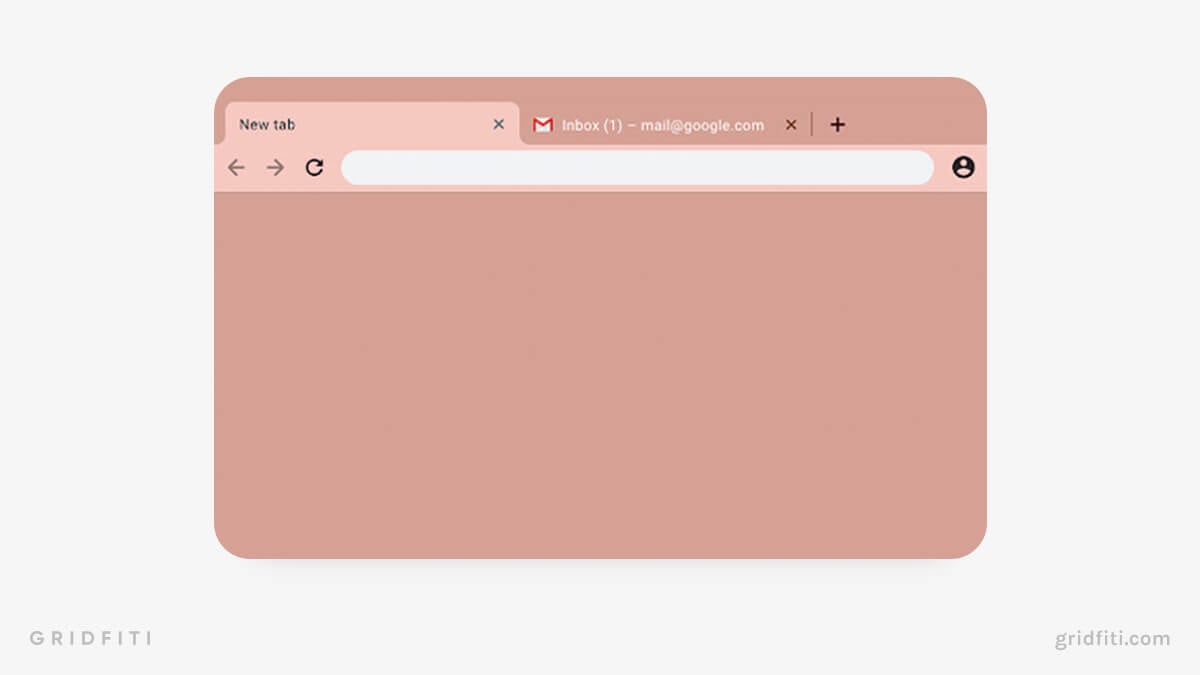 Chrome Toolbar Organization
If you use Chrome's toolbar to organize your bookmarks and extensions, it can get messy pretty fast, even with folders.
If you have hundreds of bookmarks, organize them in folders. In the toolbar, you can drag and drop folders and bookmarks to the left or right to reorder them. To show or hide your bookmarks bar, simply use this keyboard shortcut: Cmd/Ctrl + Shift + B.
Save space in your toolbar by hiding extensions and bookmarks you don't access very often. Or, only add extensions with icons that fit your aesthetic to your extensions bar.
Custom Cursor
To complete your aesthetic browser, add a custom cursor. You'll find a range of custom cursor extensions that let you choose from a range of free cursors. Alternatively, upload your own icon for a truly unique look. (Note: Custom cursors won't appear on the Google Chrome store or Google homepage.)
Here are a few of our favorite custom cursor extensions for Google Chrome: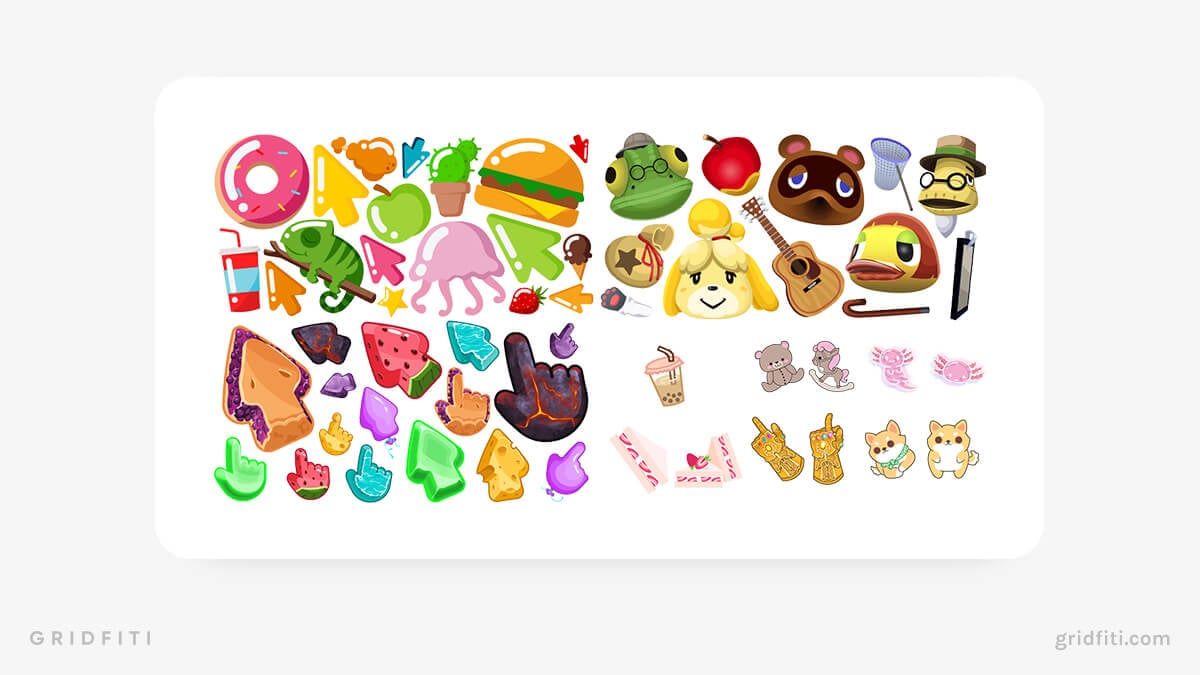 Bookmarks & Shortcuts
We briefly talked about organizing your bookmarks toolbar above, but now we're going to take a deeper dive into how you can make all your bookmarks and shortcuts aesthetic in Chrome.
Our first tip? Use emojis or symbols as the "names" of your bookmarks and folders! This will save tons of space in your bookmarks toolbar, allowing you to display more individual bookmarks. Just make sure you know which emoji goes with which link or folder!
While you can't customize the icons of the shortcuts that appear on new tabs in Chrome, you can install a browser extension to customize the look and feel. Extensions like uTab let you reorder your shortcuts in a custom pattern on your new tab page.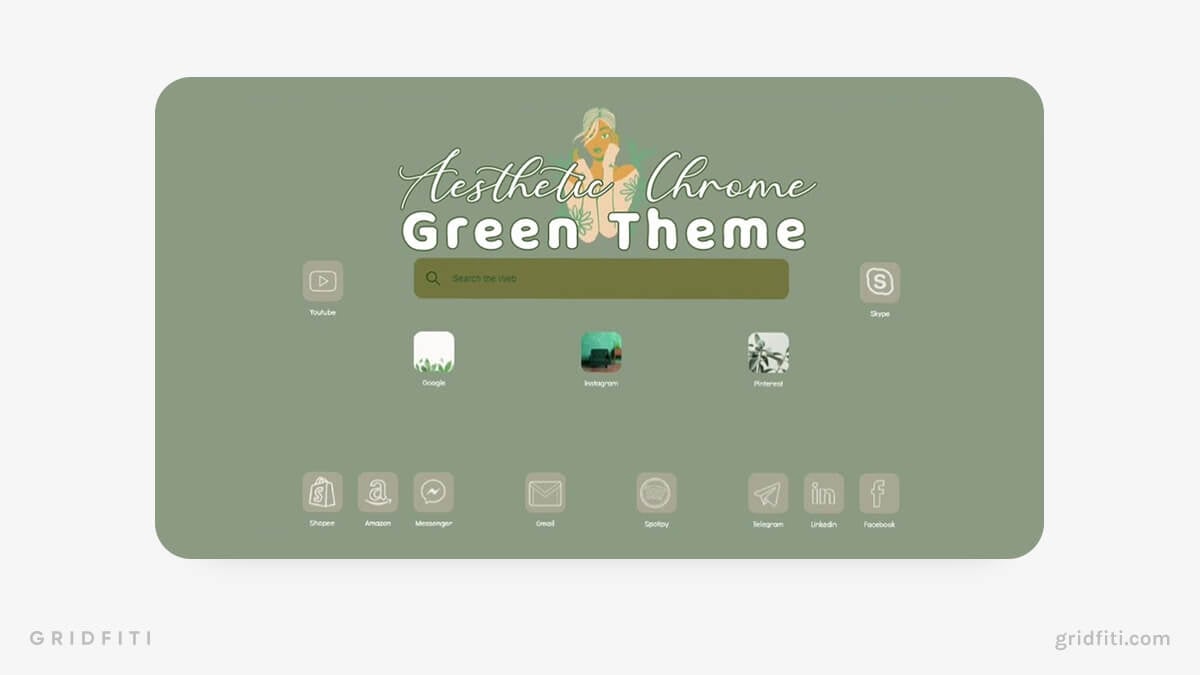 Image via TriviaVid
Custom Chrome App Icons
You can change the Google Chrome app icon on your computer — this is especially handy if you've got an aesthetic desktop. Changing the icon will update the icon you see in your app drawer (or Start menu if you're using Windows).
You can upload any image file as your new Chrome app icon – and even pick from a library of macOS-ready icons (just search 'Chrome'). Want a matching set of icons for all your apps on your iOS devices? Check out our custom icon packs, available in a wide range of colors from monochrome to pastel!
How to change your Google Chrome app icon on Mac:
Open the Google Chrome app.
From your dock, right-click the app, hover over Options, then click Show in Finder.
Right-click the app in Finder, then click Get info.
Open the folder where your new custom icon is located.
Drag the icon file to the small Google Chrome icon in the top left corner of the Get info window until you see a green plus sign icon.
You may need to wait to restart Chrome to see the change take effect, or ⌘-click on the icon in your dock to update it.
How to change your Google Chrome app icon on Windows:
Search for Google Chrome in the Start menu.
Right-click the Chrome app and Open file location.
In the Programs folder, right-click Google Chrome.
Click Properties.
Click the Shortcut tab.
Click Change icon.
Click Browse.
Search for the image of your new custom app icon and select it.
Click OK.
Click Apply.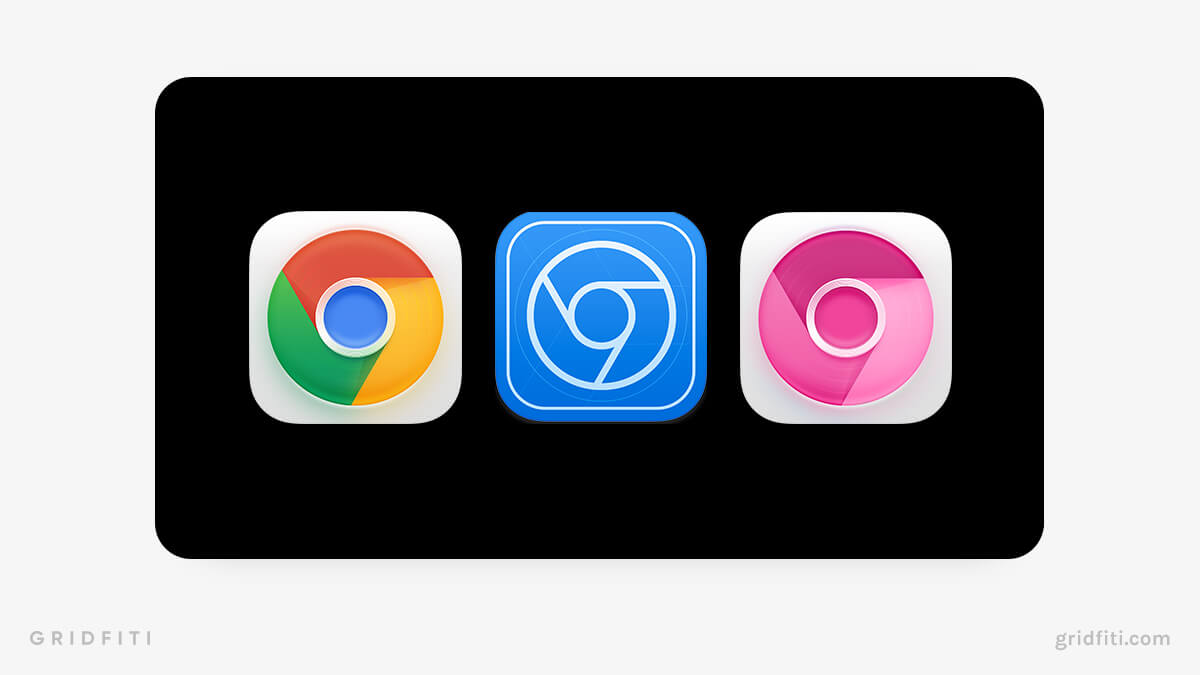 That's a wrap on how to make your Google Chrome aesthetic! What's your favorite way to customize your browser? Got any tips or tricks we didn't cover? Drop 'em in the comments!
Gridfiti is supported by its audience – when you buy something using the retail links in our posts, we may earn a small commission at no additional cost to you. Read more about our affiliate disclaimer.