Our devices are the tools for all things work and play – and with that, digital decor is becoming just as important as the decor we carefully craft for tangible aspects of our lives.
From app icons, to the wallpapers those icons live on, to even playlist covers and pfps, there's opportunity to decorate just about every aspect of our digital lives and express ourselves.
We've curated the best in class for every type of digital decor, and for all devices from phones, to tablets, to computers. Get scrolling and get inspired to deck out your devices and make them feel perfectly yours!
For more aesthetic ideas for your Mac setup, check out our full blog post outlining the different things you can do to make your Mac more aesthetic!
Want more digital decor ideas? Join our mailing list! 📮
Aesthetic iPhone Digital Decor
We spend so much time on our phones, so it only makes sense we make them look just the way we want them to. You can easily customize everything from your wallpaper, widgets, and thanks to recent updates, app icons. Let's go through the best you can get.
iPhone Wallpapers
Ditch the generic stock wallpapers and make the backdrop for everything that goes on your device look and feel just right. From quote wallpapers, aesthetic calendar wallpapers, aesthetic collage wallpapers to soothing cloud wallpapers, there's so much to pick from.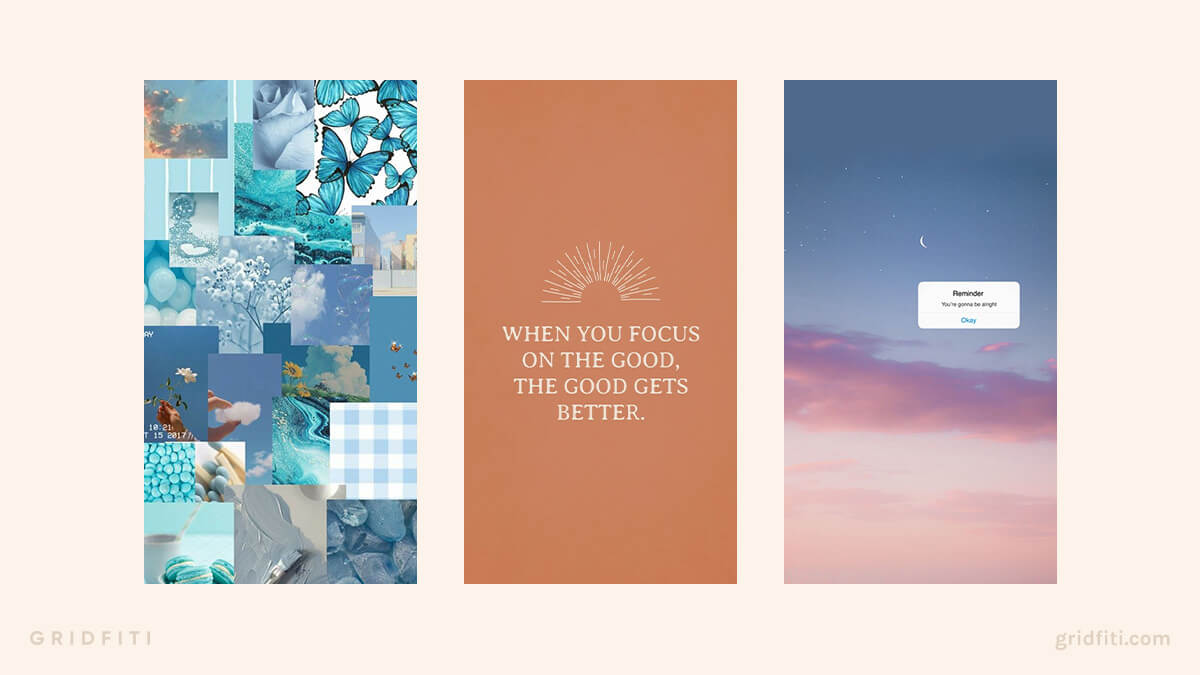 iOS App Icons
To complement your new wallpaper, make your home screen pop with app icons of all colors and aesthetics to pick from. We've got roundups of several app icon ideas and packs to pick from!
Where to start: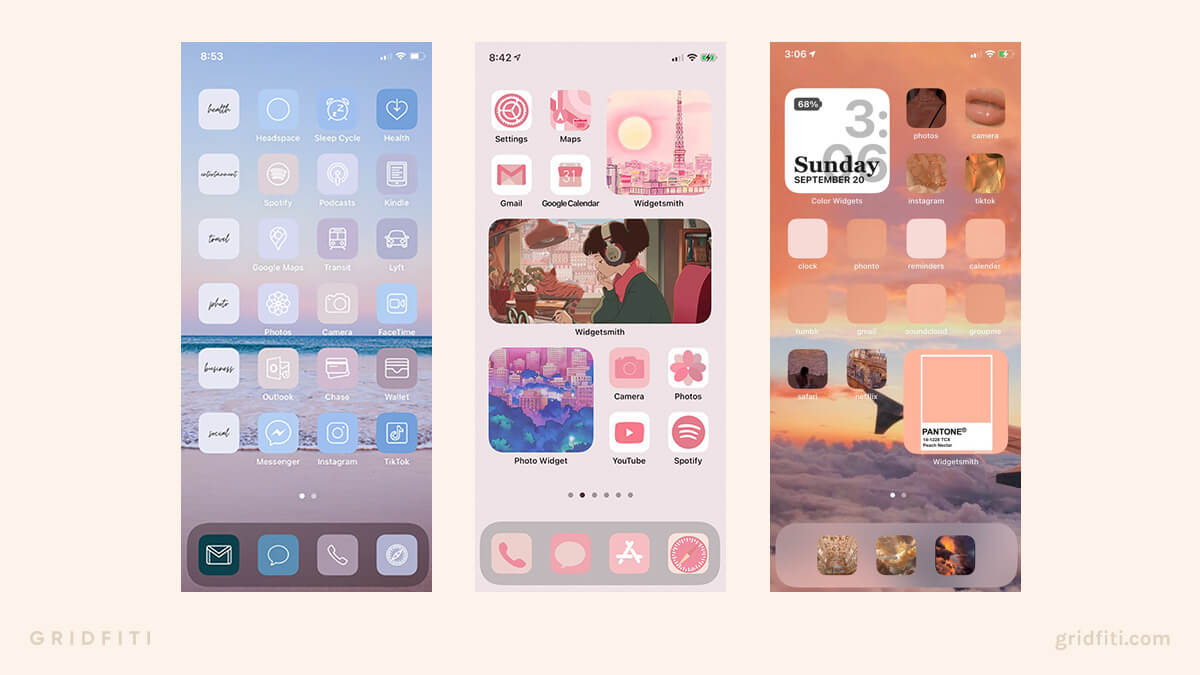 iOS Widgets
Whether you want to personalize your home screen with a photo widget, or add some more functional widgets for weather, calendar, Notion, and more – there are just so many to work into your home screen. We've rounded up the best ones to incorporate in your setup!
Where to start: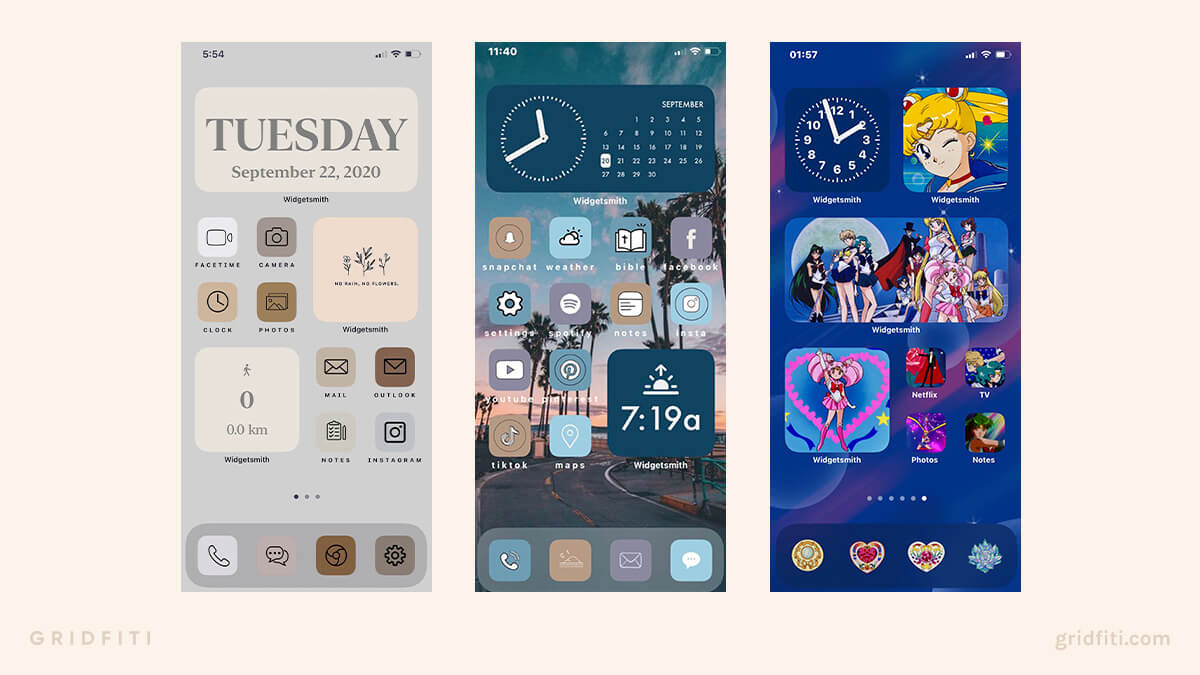 Aesthetic Desktop Digital Decor
Get excited to work the moment you lift your laptop screen or wiggle your mouse. Here's everything you need to get your desktop looking amazing.
Desktop Wallpapers
From minimal, to colorful, to collages, and everything in between – there are so many different aesthetic wallpaper themes to choose from to match the rest of your setup.
Where to start: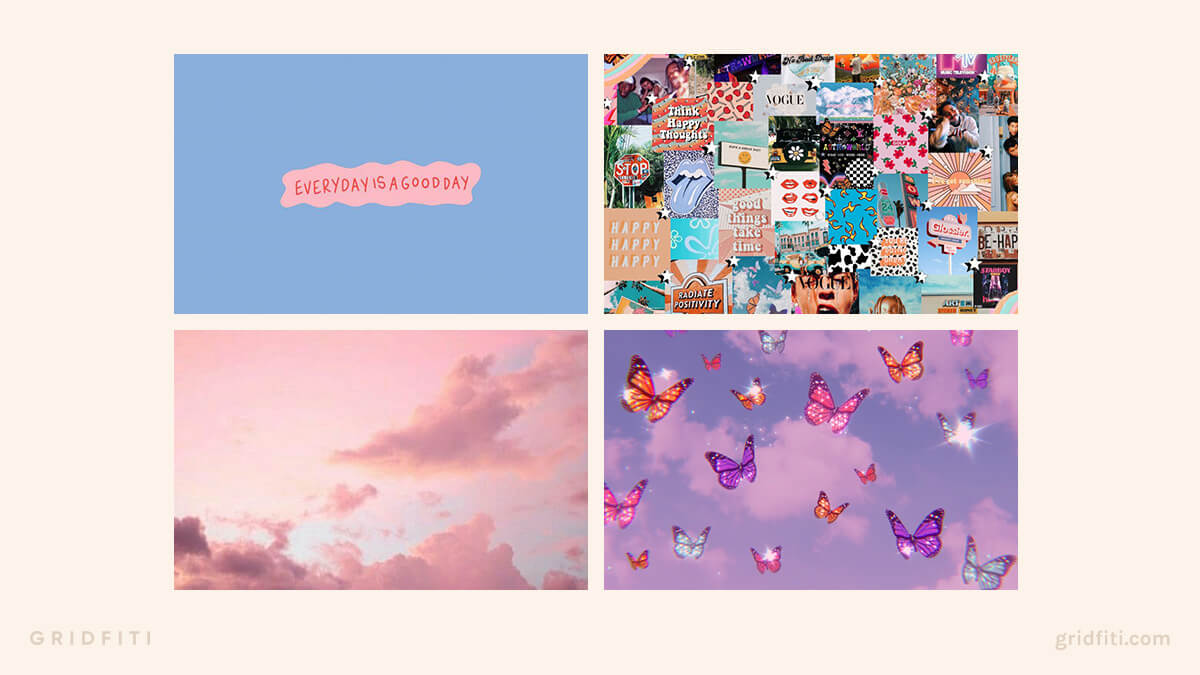 Desktop Organizer Wallpapers
Another desktop essential? Desktop organizer wallpapers. These functional wallpapers turn your desktop into your own personal dashboard – you can compartmentalize your folders and apps, and display calendars, quotes, and reminders, in the most stylish way possible.
Where to start: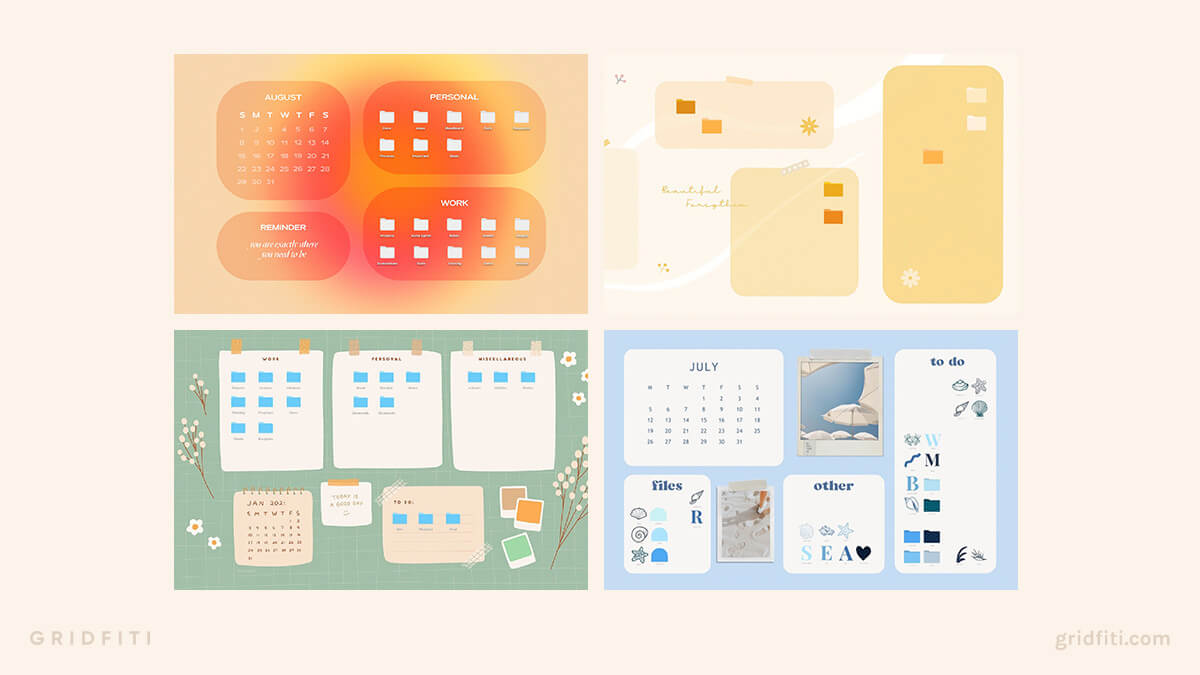 Aesthetic Screensavers
Tired of black and white numbers? Add some life to your desktop setup with an aesthetic screensaver or a Mac clock screensaver. Even when you're afk, your setup will become a functional showpiece in itself.
Where to start: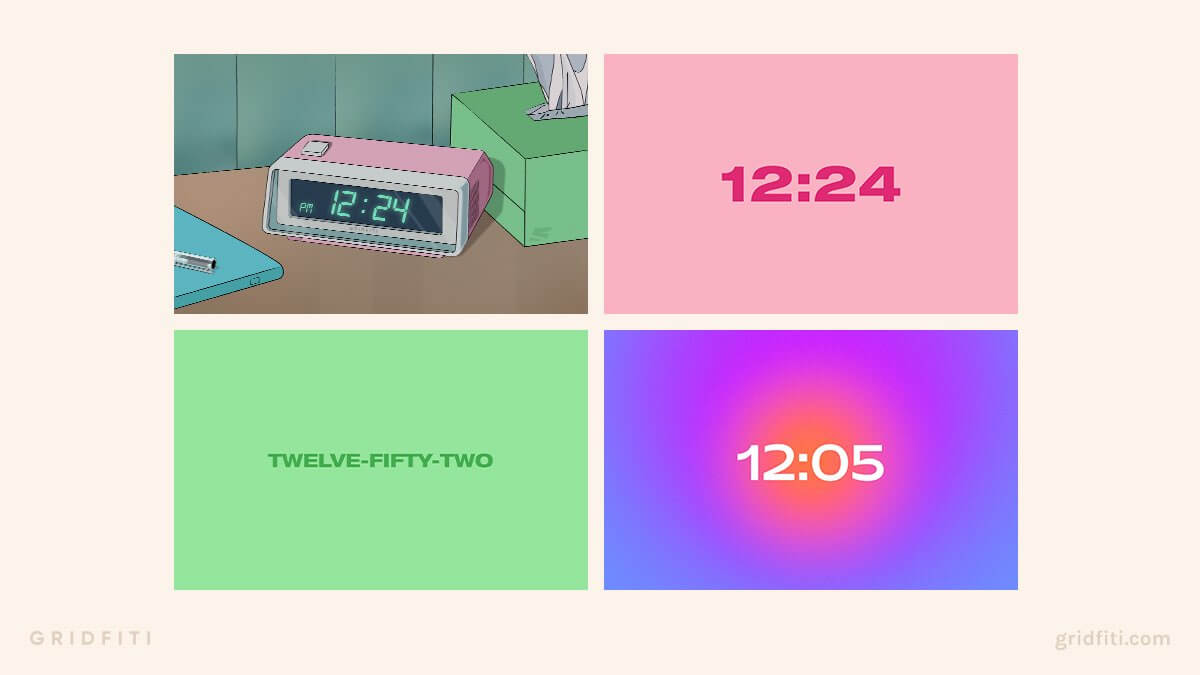 Desktop Folder Icons
Easily customize your files to match your wallpaper with these aesthetic folder icons. Choose from a variety of different colors and organize your folders based on different use cases such as work, school, inspo & more!
Where to start: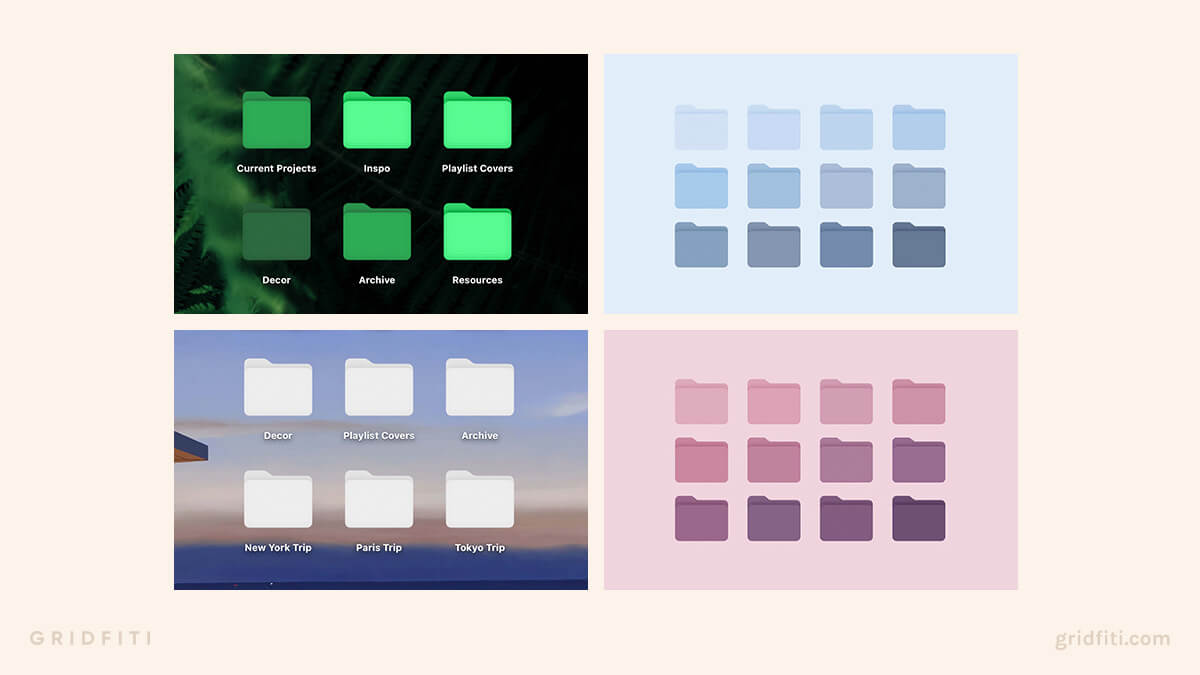 Aesthetic iPad Digital Decor
Complete the devices holy trinity by decking out your iPad with the digital decor it deserves. PS: The same app icons and widgets above for iPhone are made for iPad, too!
iPad Wallpapers
Whether you're rocking a serene cloud wallpaper, or an encouraging quote one, match your iPhone and computer's theme with your iPad's wallpaper, too!
Where to start: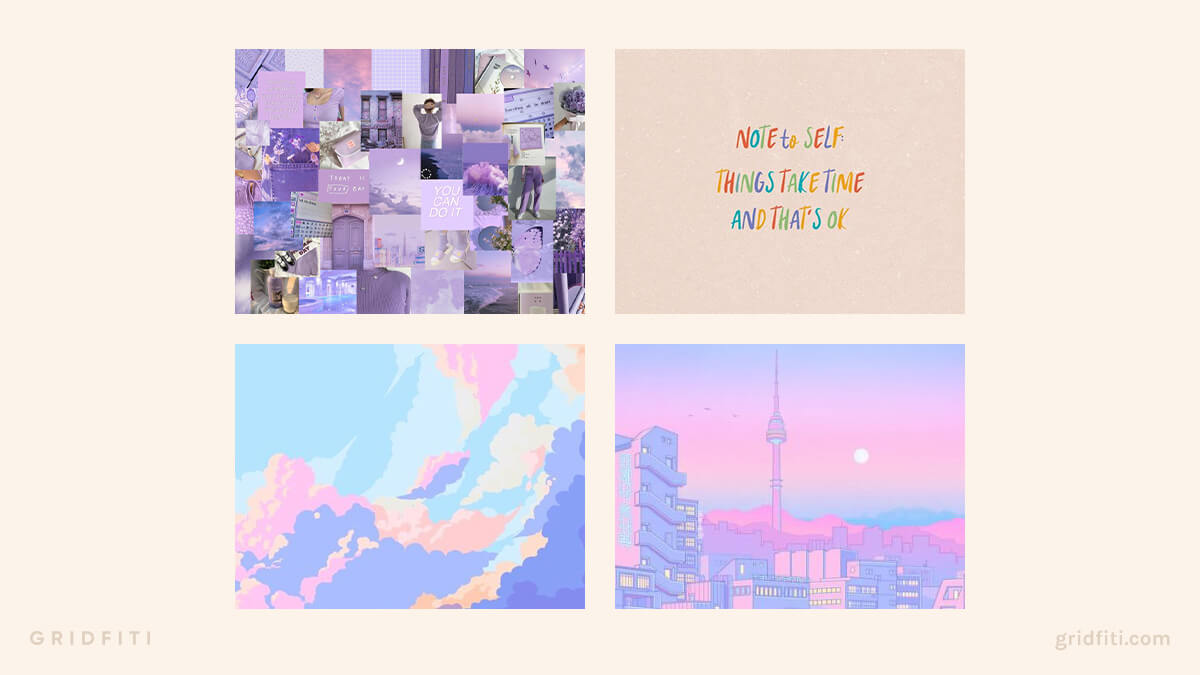 Digital Stickers for Planners & GoodNotes
If you've decided you want a digital planner vs. a paper one, you'll be glad to know that you can add digital stickers to your electronic planner! Use these aesthetic digital stickers to help plan out your days, and even make your study notes something you want to look at.
Where to start: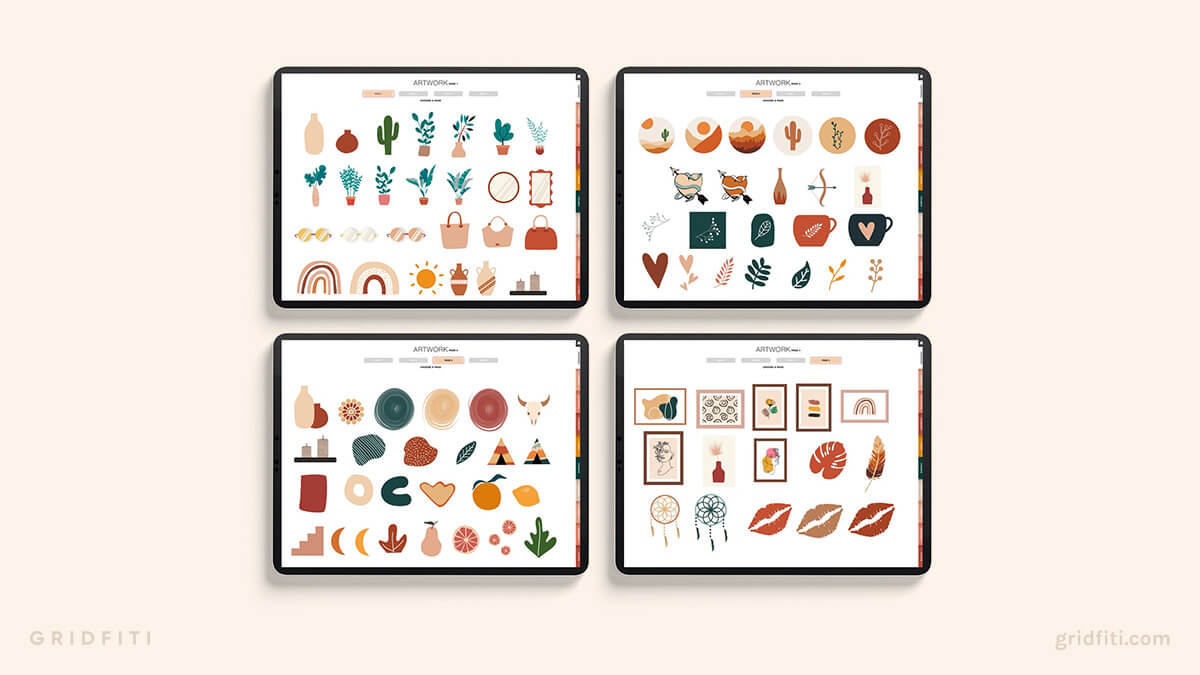 Aesthetic Social Media Digital Decor
The visuals on your social profile are a great way to showcase who you are to your friends, and ultimately everyone around the world. There are two main visual elements that you can customize on most social pages: your profile picture and your header photo. They don't always need to be photos of you, and you can personalize them to suit any aesthetic.
Aesthetic Profile Pictures (PFPs)
Thankfully we're out of the headshot photo era, and we can rock with whichever profile picture best suits our aesthetic. Rep your favorite artist, cartoon character, or even a gradient – there really are no limits to what your pfp can be.
Where to start: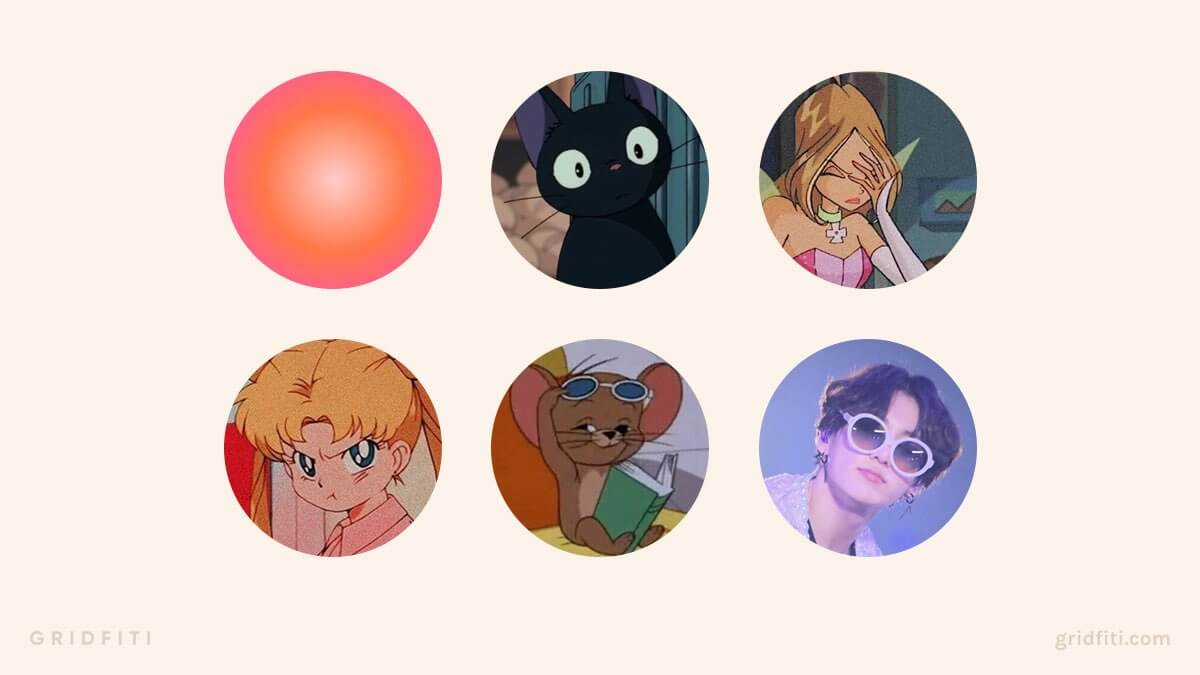 Aesthetic Cover & Header Photos
What's an aesthetic profile without an aesthetic header to kick it off? From quotes, to gradients, vintage visuals, and more, there are so many themes to choose from to express yourself on social.
Where to start: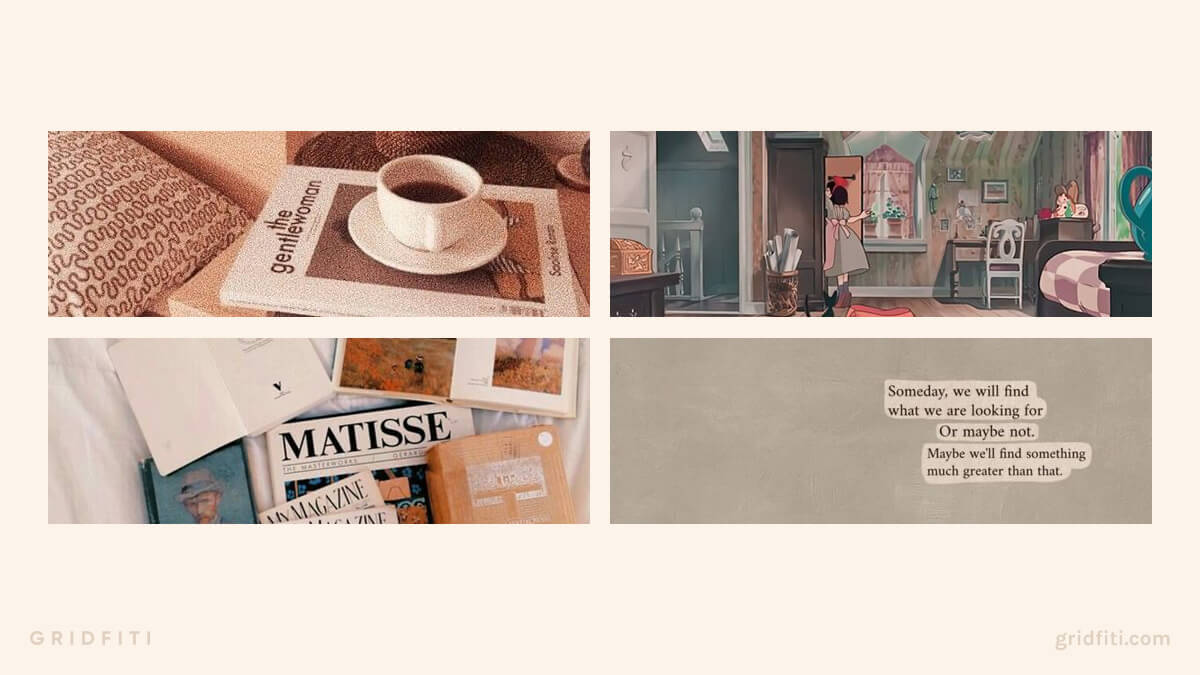 Notion
Notion's the all-in-one app that helps you stay productive and accomplish tasks for just about anyone in just about any industry. Whether you're a student planning out your semester or an entrepreneur running your own business, choose from a variety of templates, icons, widgets, and covers to personalize your digital workspace.
Notion Templates
Creating a Notion template from scratch can be super time consuming, especially if you're new to the platform. With the ability to replicate other users' Notion pages, you can choose from a variety of templates to accomplish what you need to in your day-to-day.
Whether you're looking for an aesthetic Notion template, or a more function-focused one, we've rounded up the best Notion templates in several of our Notion blog posts.
Where to start: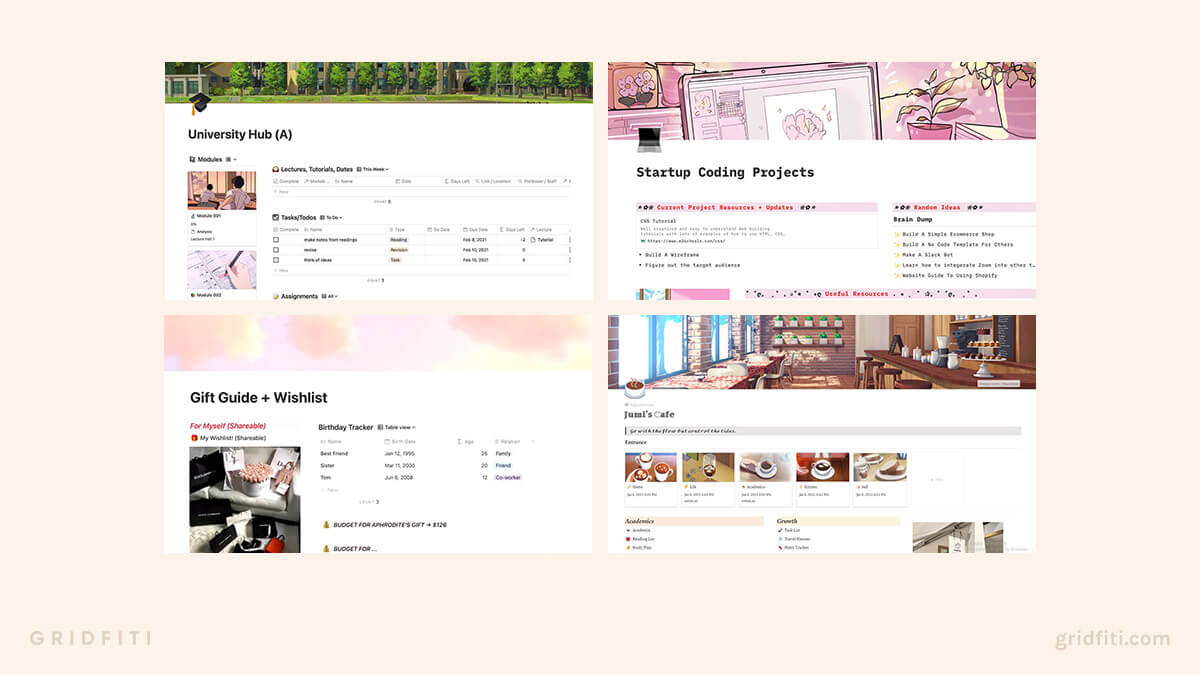 Notion Widgets
Being able to integrate widgets into your Notion workspace really drives home the all-in-one aspect of the platform. With embeddable widgets, you never need to leave your dashboard to check the weather, use a calculator, tell the time, and so much more. With Notion widgets, there's also no need to sacrifice visuals for function, with so many of them being beautifully designed.
Where to start: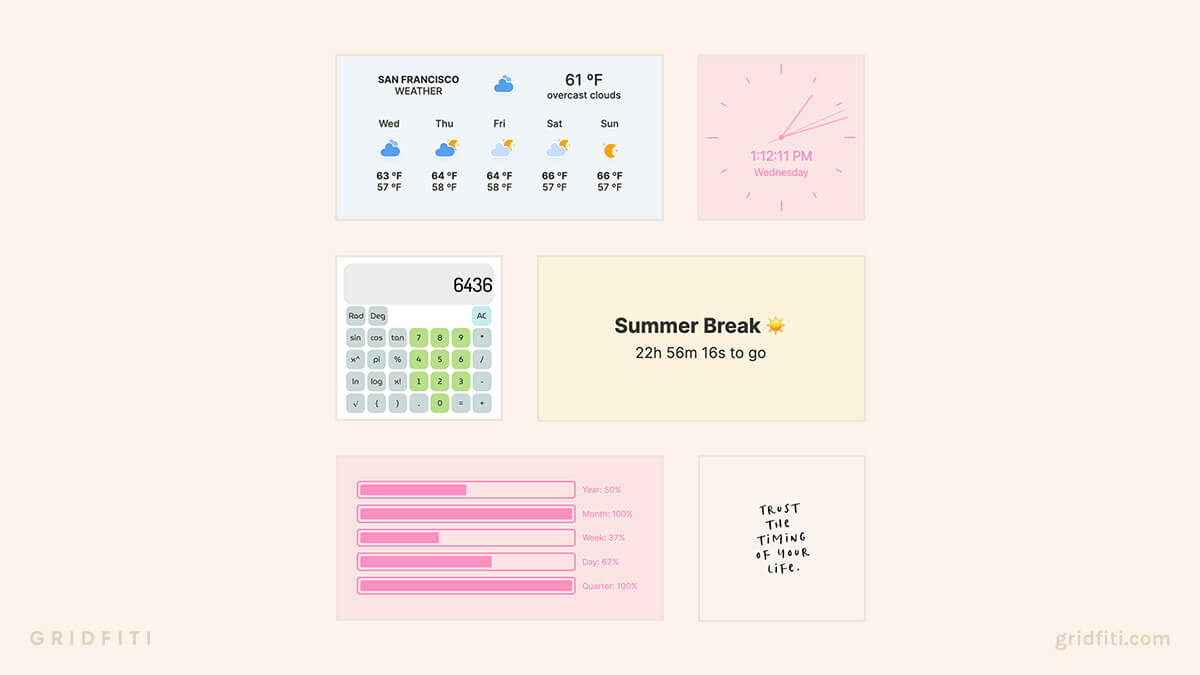 Notion Icons
With Notion, you're able to customize your icons by simply uploading any JPGs, PNGs, or even GIFs. Breathe life into your pages and complete your setup by incorporating the perfect icon set into your workspace.
Where to start: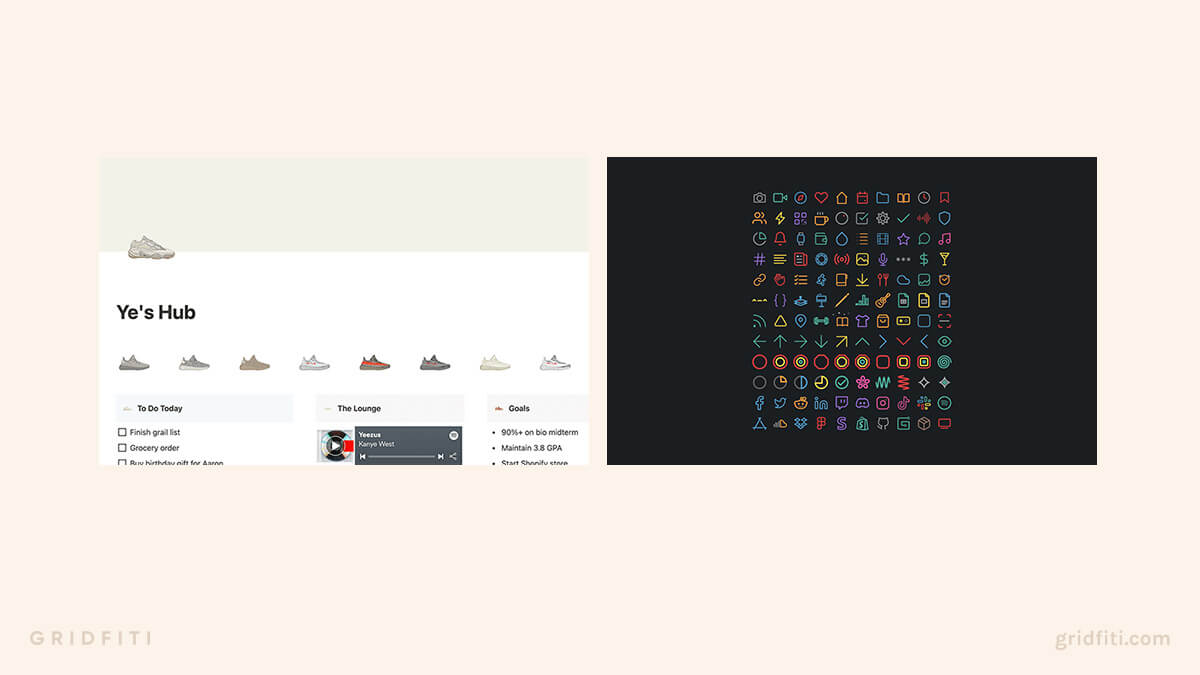 Notion Covers
Just like any social media platform, Notion cover photos are a great addition to beef up your pages and add some character. There's a broad range of cover styles to pick from, check them out!
Where to start: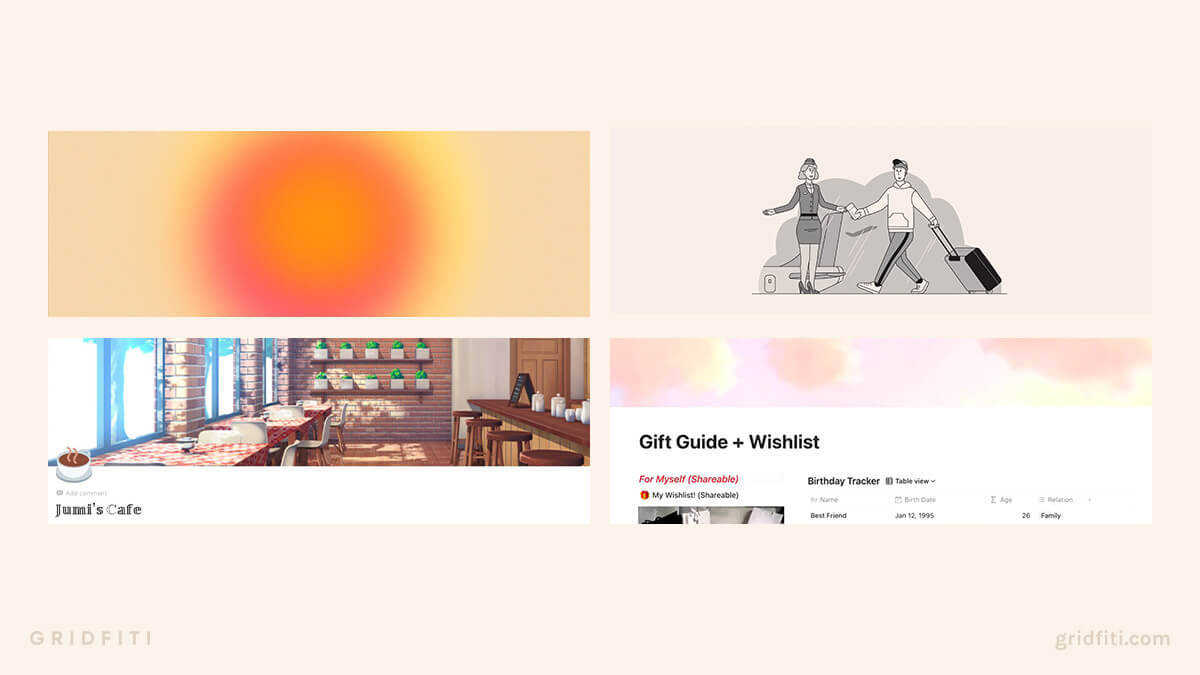 Aesthetic Playlist Covers
Is it really a great playlist if it doesn't have a cute playlist cover to go with it? Set the vibe right with the perfect aesthetic playlist cover to establish a theme on your Spotify or Apple Music profile. You can pick a color theme for all your covers, have multiple colors by mood, or even just pick a similar image style across the board to make it all cohesive. There are a ton of options!
Where to start: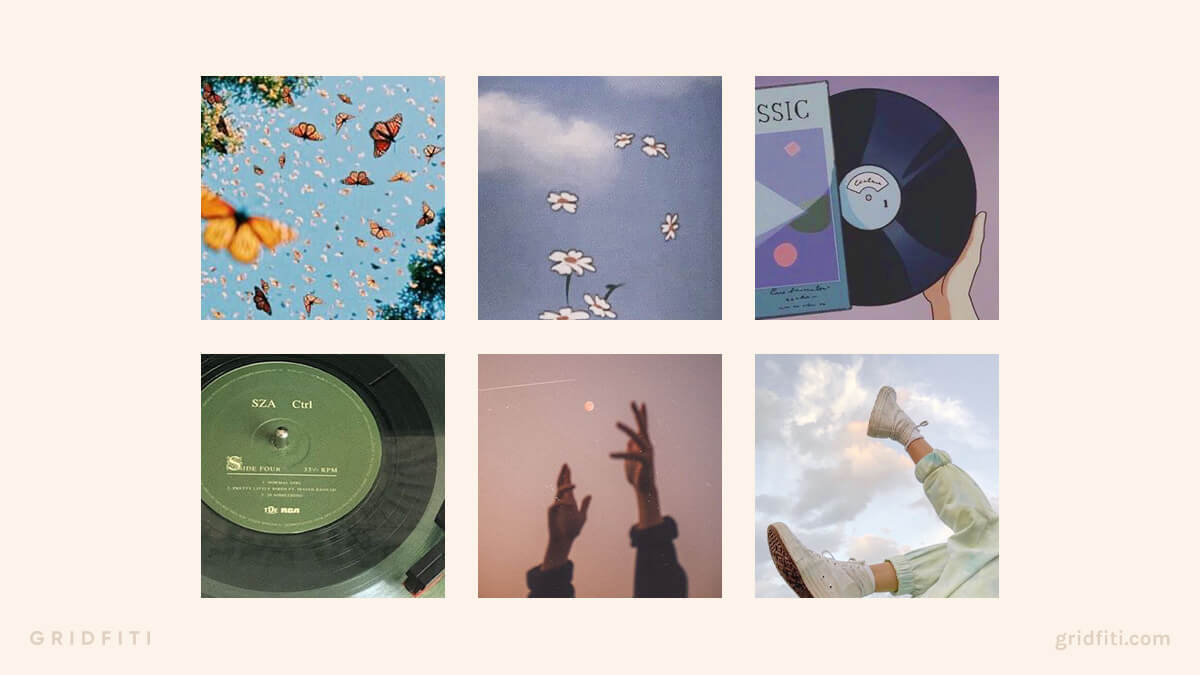 Have any other aesthetic digital decor ideas to include? Let us know in the comments below!
Gridfiti is supported by its audience – when you buy something using the retail links in our posts, we may earn a small commission at no additional cost to you. We only recommend products we would use ourselves and recommend to our friends and family. Read more about our affiliate disclaimer.