Retro Anime Clock Screensaver
Introducing the first-of-its-kind: the Retro Anime Clock Screensaver! Featuring anime-inspired hand-illustrated artwork by Nate Felipe of Vectored Soles, the Retro Anime Clock Screensaver will display the live time while serving up ambient visuals to your setup.
Setup Guide & FAQ below!
→ Get Retro Anime Clock Screensaver
Join Our Discord Community!
Join our new server on Discord to show off your Anime Clock setup, chat with other aesthetic digital decor fans, make requests, and more!
You'll even get exclusive early access to our future screensavers, Notion templates, and more.
🌟 Join the Gridfiti Discord Server
Features
macOS screensaver with live clock display (Windows & iPad waitlist)
Custom high-res anime-inspired illustration
12-hour, 12-hour (with AM/PM), and 24-hour clock options available
Priority customer support
Supports macOS Version 10.14 (Mojave) and up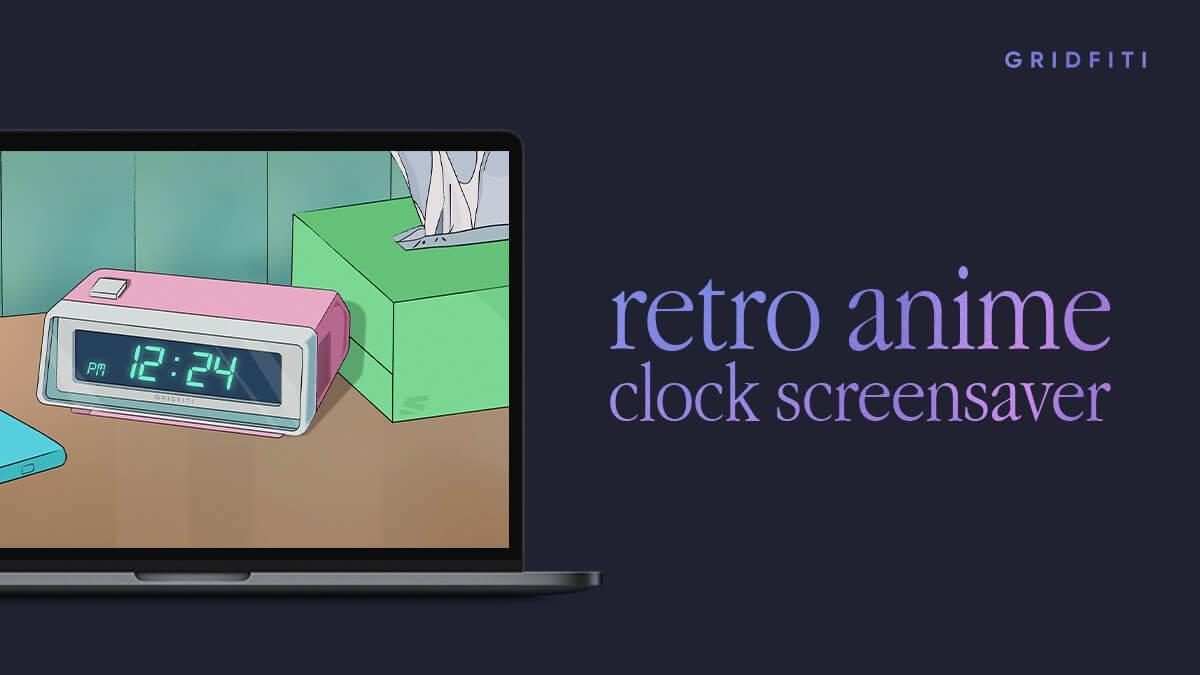 Setup Guide
Retro Anime Clock Screensaver Setup
Download the .zip via the link on the order confirmation page, or in your confirmation email.

On your Mac, open up the .zip file, then the .saver file inside. This will automatically launch System Preferences into the Screen Saver section.

Restart System Preferences, enter the Screen Saver section, select Retro Anime Clock – and you're done!
Tips & Troubleshooting
To do an instant preview of the screensaver, hover over the large thumbnail on the right-hand

 

side and click "Preview" 

[1]

. You can also set up Hot Corners to make the screensaver appear on command in the future, no matter which app you're in

(Hot Corners Guide)

 [2]

To set the time the screensaver appears after your computer goes idle, pick from the dropdown at the top of the System Preferences window

 [3]

Change between 12-hour (with AM/PM), 12-hour, and 24-hour clock views by clicking "Screen Saver Options…" underneath the right-hand side thumbnail

 [4]

Make sure "Show with clock" at the bottom of System Preferences window is not checked to prevent macOS's default gray box clock from showing on top of the screensaver

[5]

If you're experiencing issues changing your options, restart System Preferences

Make sure your Mac is on a recent operating system (Mojave or newer)
💌 Still need help? Reach us at [email protected]!

FAQs
Is there a Windows or iPad-compatible screensaver coming?
Yes! In the meantime, sign up for the waitlist to be the first to know when the web-based version of Retro Anime Clock releases:
Why do I need to enter my billing address on Gridfiti Shop for Retro Anime Clock Screensaver if it's free?
This is a requirement on Shopify's end and we'd love to remove it, but we can't! Rest assured you will not be charged, and you don't need to enter your credit card or any payment info. If you're not comfortable including your address, you can checkout via our Gumroad store which only requires entering email address (just enter $0 for order value)
Where can I share my setup photo with Retro Anime Clock?
We'd love to see it! Tag us in your Aura setup with #animeclock and @gridfiti on IG, TikTok & Twitter!
I have feedback or a feature request, who should I contact?
We'd love to hear from you, contact us at [email protected]!
I'm a media publication and would love to feature Retro Anime Clock
Contact us at [email protected] for any media inquiries!