There's an endless amount of ideas when it comes to iOS 14 home screen themes. Once you've figured out what theme you like, the next step is to find the perfect icons pack and aesthetic widget idea so you can begin to customize your app icons to seamlessly work with your iPhone or iPad layout.
We've come across so many icon designs, but we've only found a handful that are really aesthetically pleasing when fully set up. After days of researching and testing, we've compiled a list of the most aesthetic iOS 14 app icons based on different theme ideas! We've even included some alternative icon cover packs for you to choose from.
For more aesthetic iOS app icons, subscribe to our email list below to be the first to know about any icon pack releases! 📮
Black and White iOS 14 App Icons
After seeing the mockup for this black & white iOS home screen all over Twitter, we knew that we had to buy it. This has to be one of our favorite iOS 14 packs because of how sleek and minimal the designs are, but also the full support from the creator who is constantly giving updates to the pack with the most requested icons.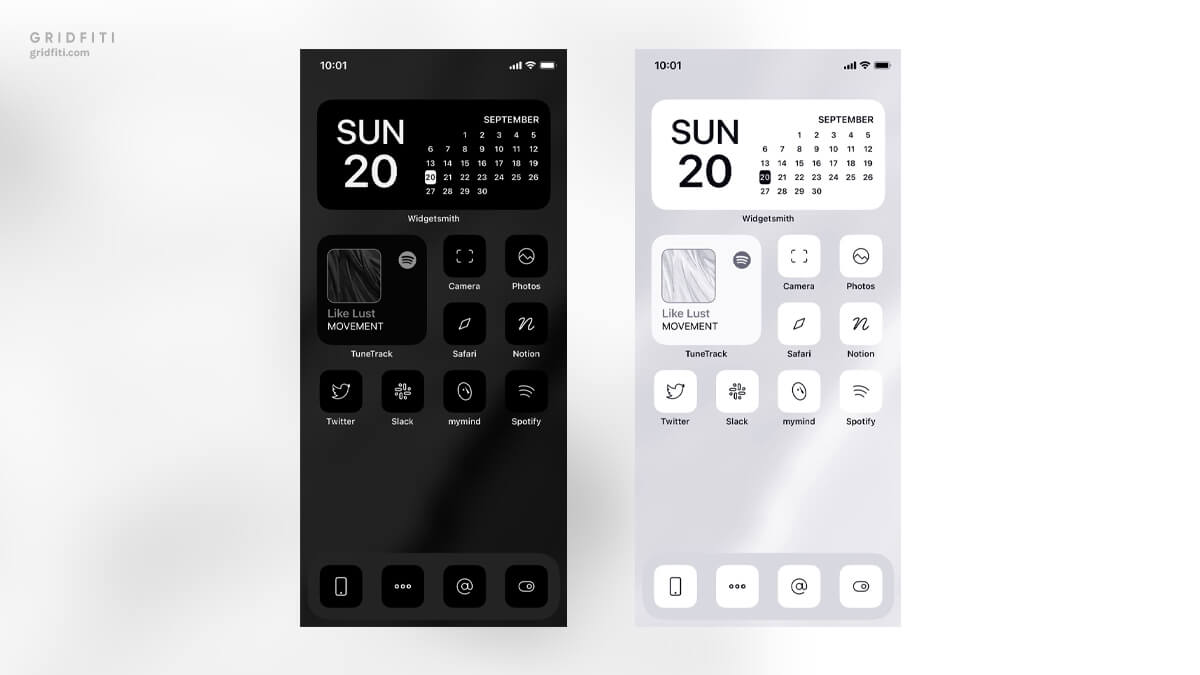 Sneaker App Icons Pack for iOS 14 (Widgets & Wallpapers)
Turn your iPhone home screen into the hype sneaker wall of your dreams with this Air Jordan icon pack. It comes with 150+ hand-illustrated Jordan sneaker icons in three different color themes, as well as cool wallpapers and streetwear-inspired widgets for the complete set.
Jordan Sneaker Icon Pack Available Here | Yeezy Sneaker Icon Pack Available Here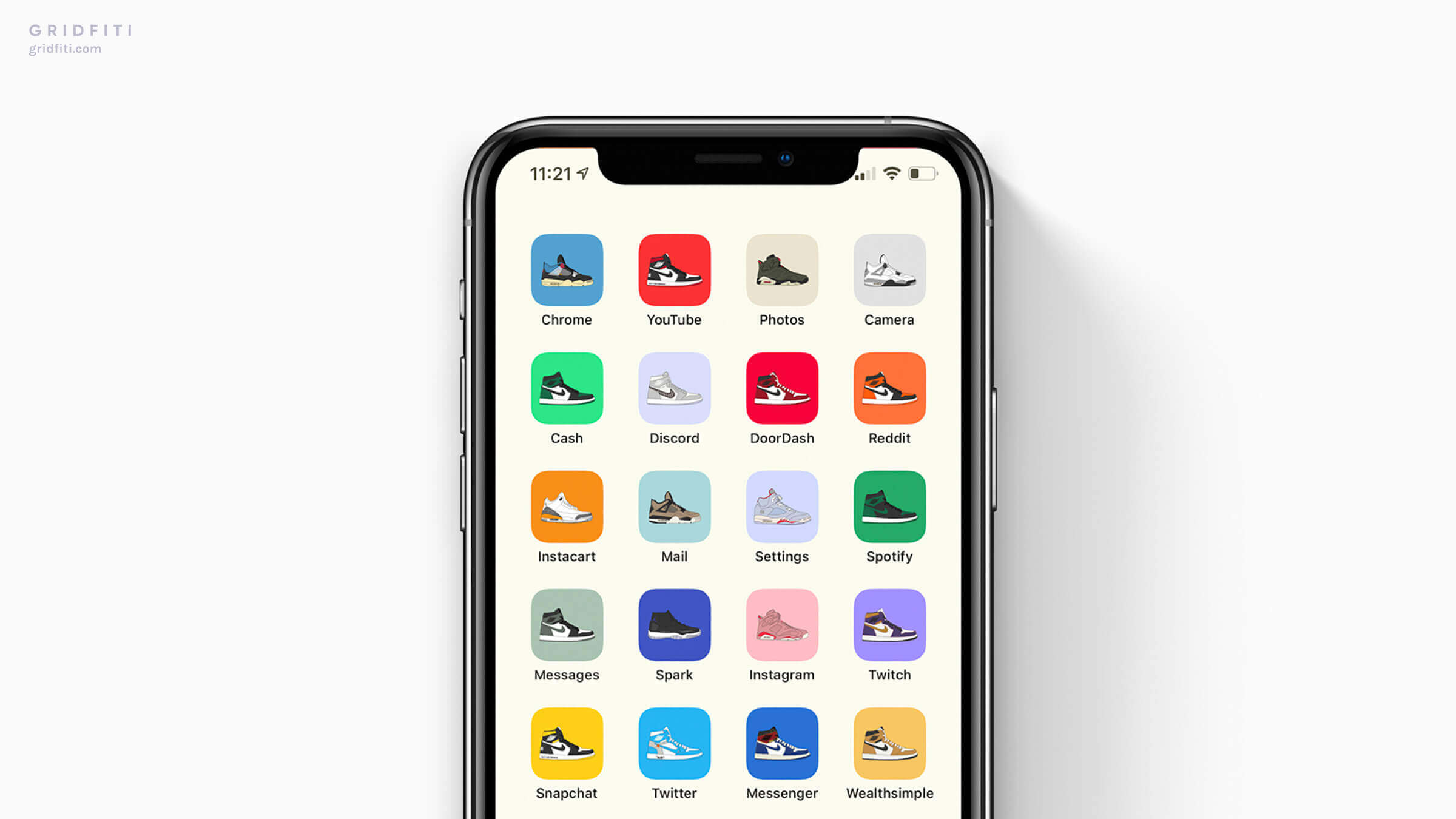 Minimal Aesthetic iOS App Icons (Pastel, White, Nude & More)
Whether you're wanting a mix of bright pastels, beige tones, or other mix of aesthetic tones, Amanda's aesthetic icon sets are just for you.
Neon App Icons for iOS 14
This Tokyo-inspired neon app icons pack for iOS 14 creates a night vibe like no other for your iPhone or iPad. These neon app covers are available in both colorful and dark themes.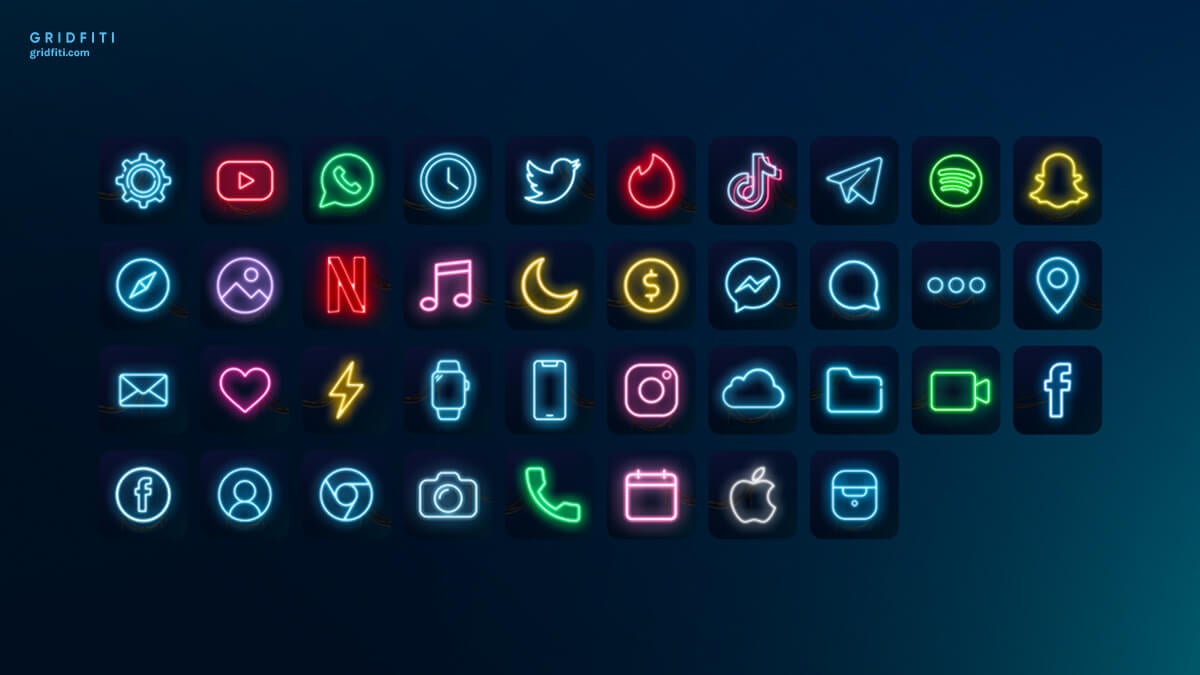 Minimal Gradient iOS 14 App Icons
A minimal icon pack that offers a colorful approach with these gradient-designed icons for your apps. If you're looking to keep your home screen low-key, but still want a splash of color, this icon pack is the one for you!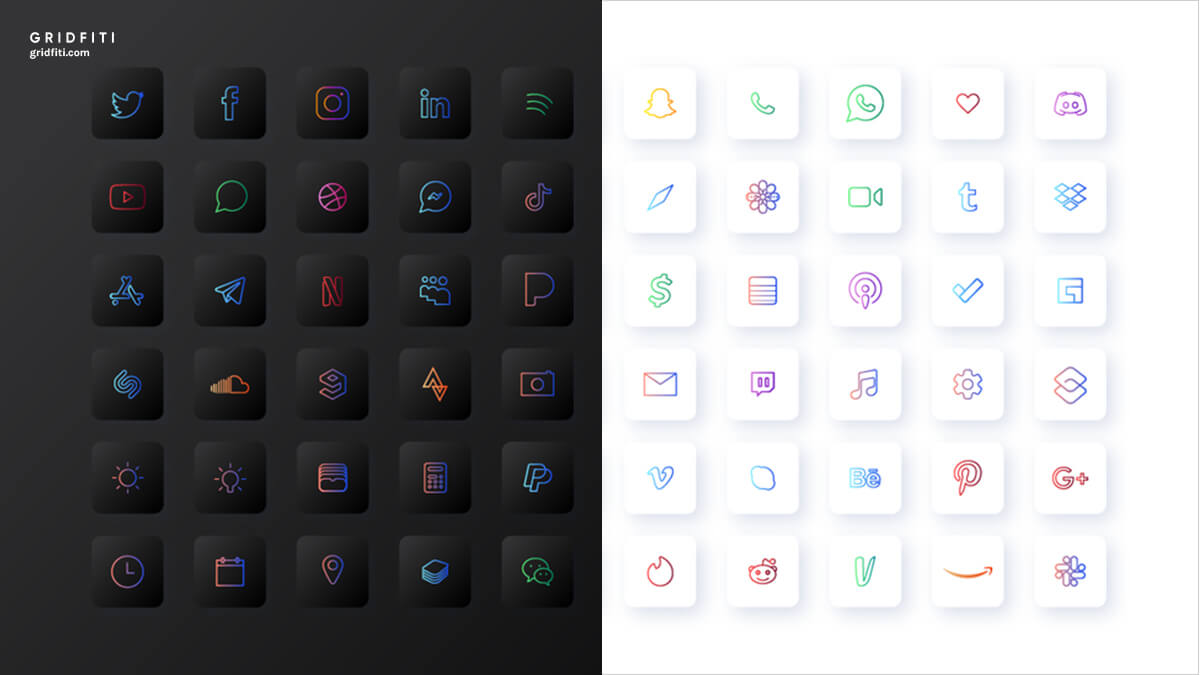 Limitless – Minimal Colored iOS Icon Set
Colored app icons that offers versatility a modern look to any home screen. The set is packed full of value with several color alternatives to suit your personal preference. With so many colors and icons, you could say it's… limitless…
Modern Colored Aesthetic Icons – Over 200+ icons where you can choose from black, white, brown, or even customizee your own color with the top tier app icons pack.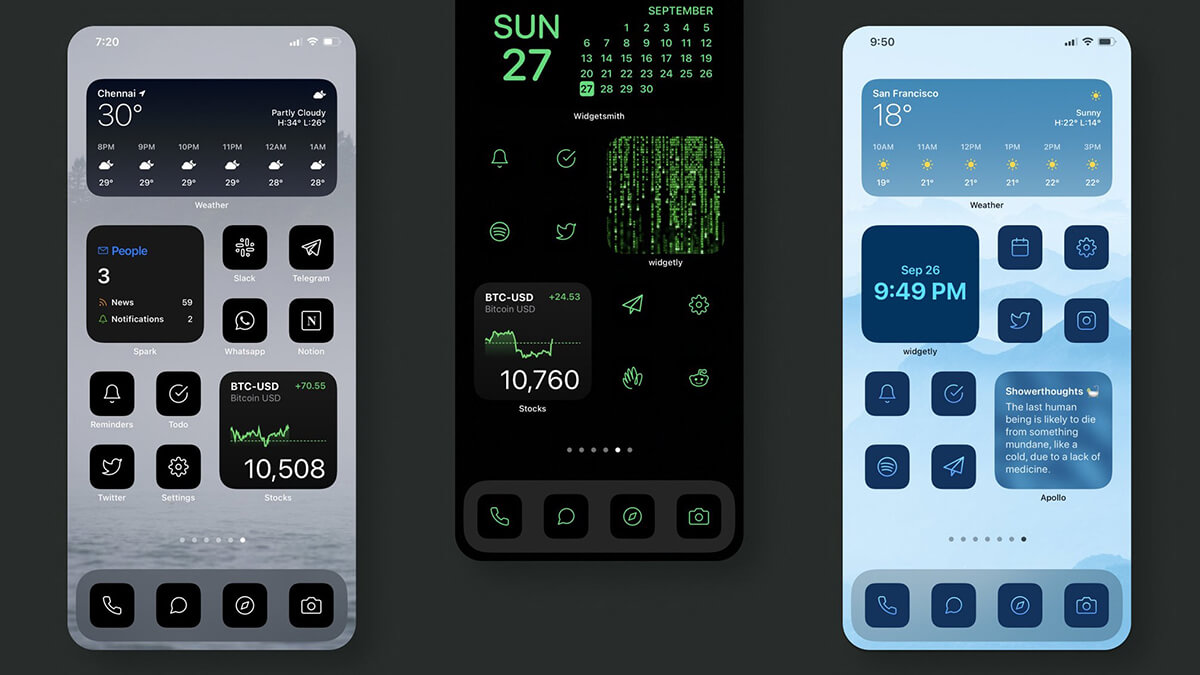 Minimalist Pastel Aesthetic – Choose from pastel, beige, ocean, summer, or brown color palettes.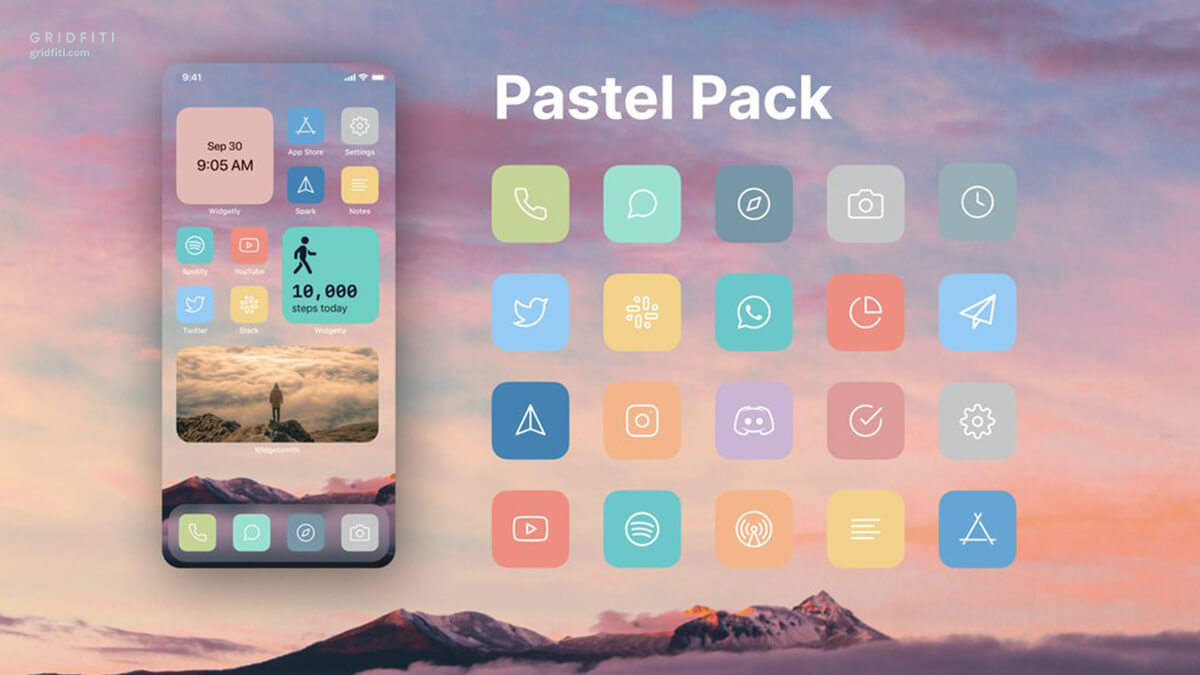 Light & Dark Themed App Icons
A simply designed pack that offers white and black icons in over 500+ different applications.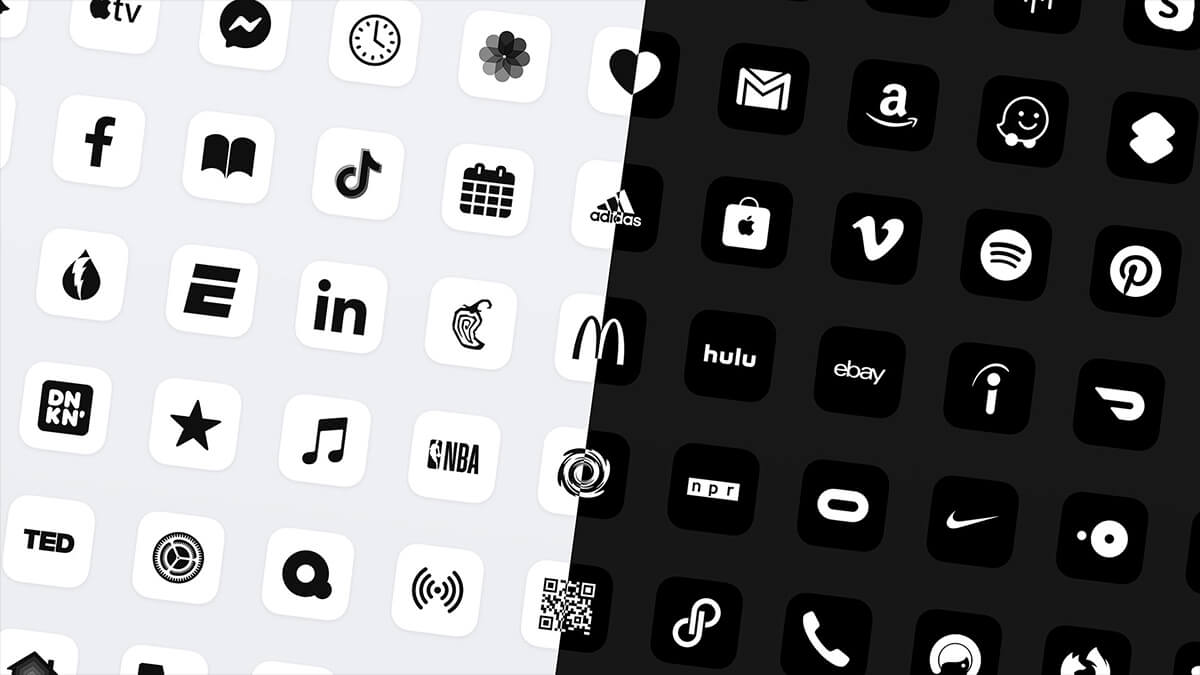 Digging the design, but looking to add more color to your home screen? Check out the gradient color pack that includes app covers for almost every app icon you can think of.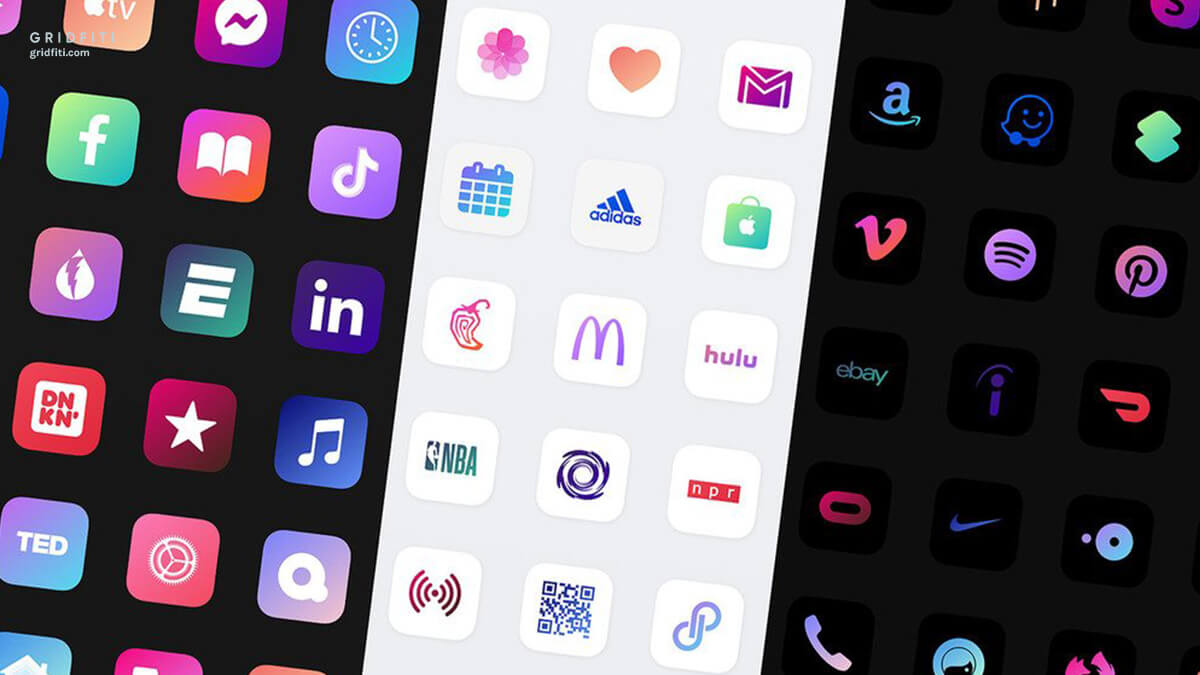 Illustrated Pastel Icon App Packs for iOS 14
These illustrated color icon packs are perfect if you're looking to keep your colored aesthetic. The icon designs are hand-illustrated and offer a playful look to any home screen.
With colors like pastel pink, yellow, baby blue, purple, peach, nude, and even some fall themed app icons, you'll be able to find a pack that will suit your style!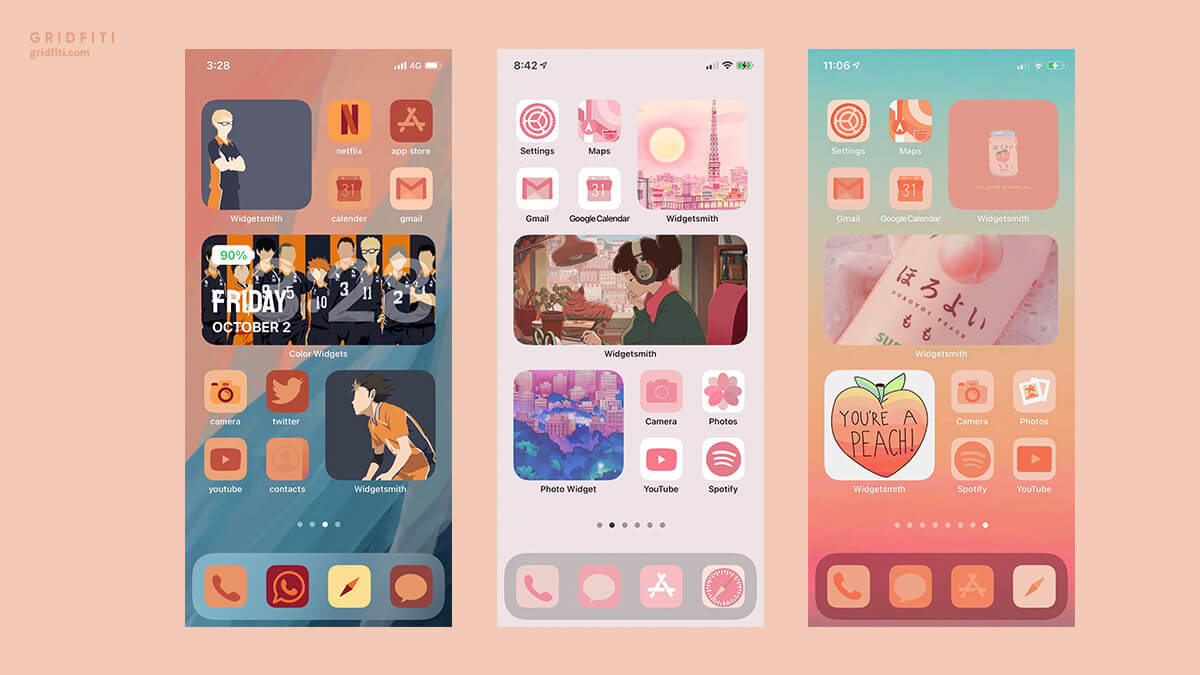 Minimalist App Icons for iOS 14
These app icons go the extra minimalist mile with their outline design – creating a light and airy feel. We love the use of navy blue for dark mode, too.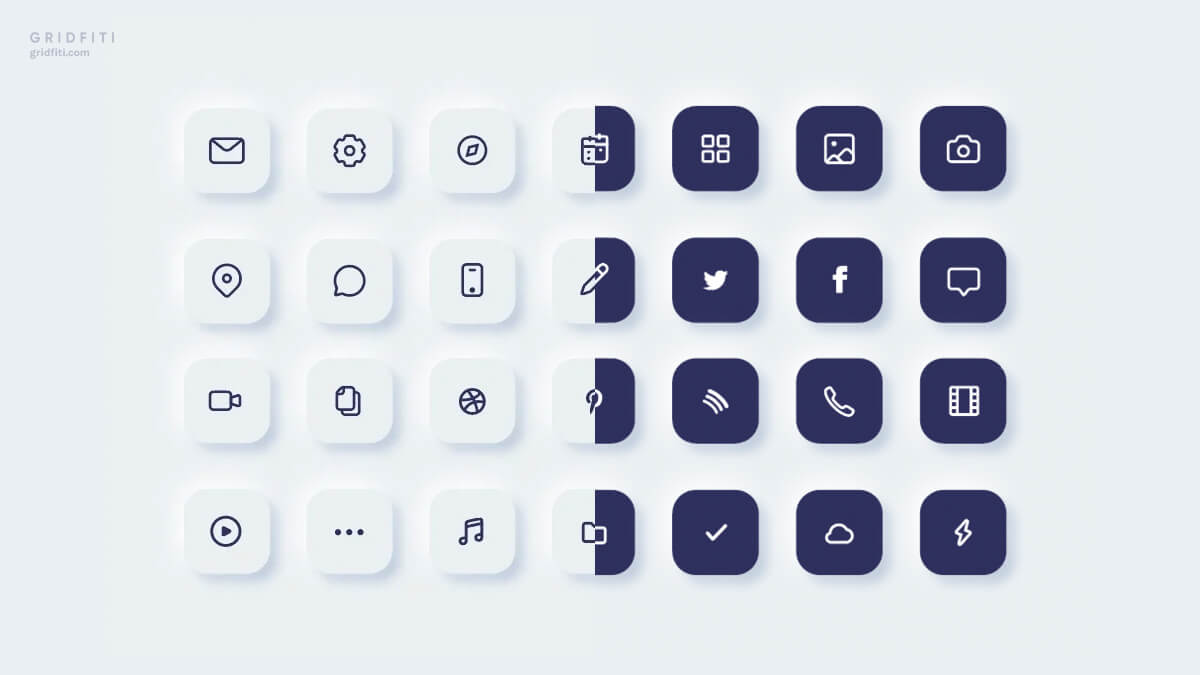 macOS Big Sur Icons for iOS 14 Apps
The upcoming macOS Big Sur update brings a fresh "neumorphic" facelift to MacBook and iMac users. With Levi's Color & White Icon set, get ready to match your iPhone and iPad to Apple's latest release.
Simple Colorful App Icons for iOS 14
These colorful icons deserve a home on anyone's home screen. The hit of gradient, use of whitespace and tastefully sized icons make for a clean, understated appearance.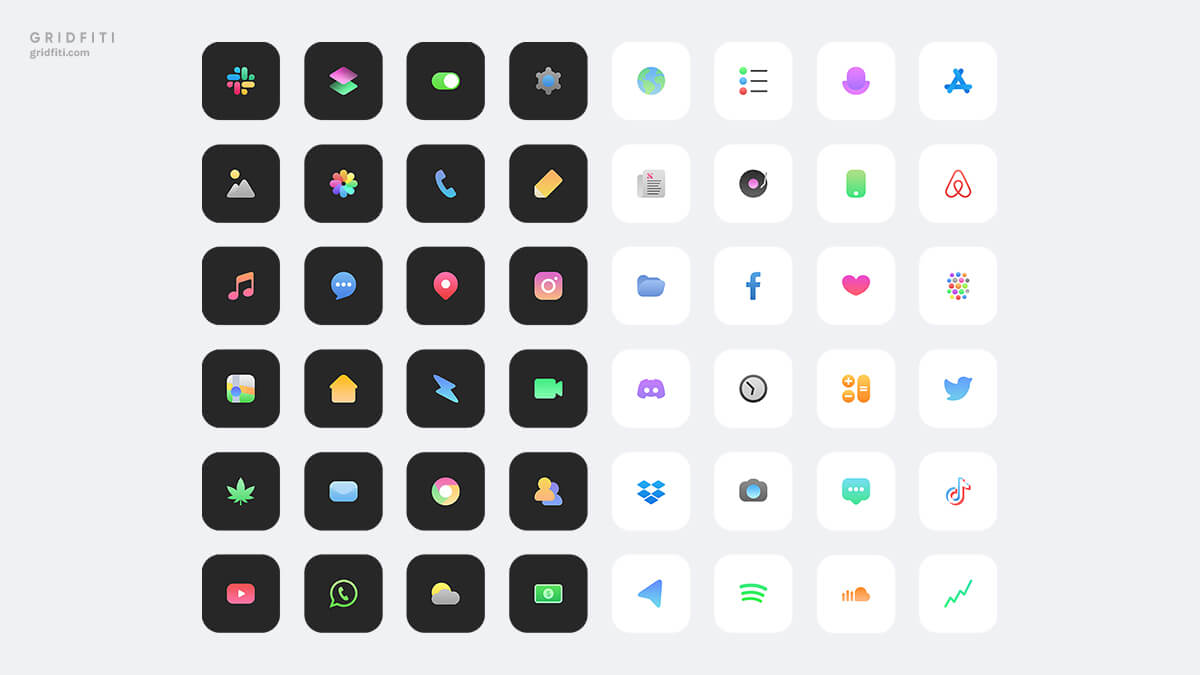 Aesthete Pack: Flat Abstract & 3D App Icons
Whether you're a lover of flat minimal design, or "neumorphism" 3D, the Aesthete Pack's got something for you. The set includes both a Flat Abstract set and 3D Gradient set, making it great value with different options.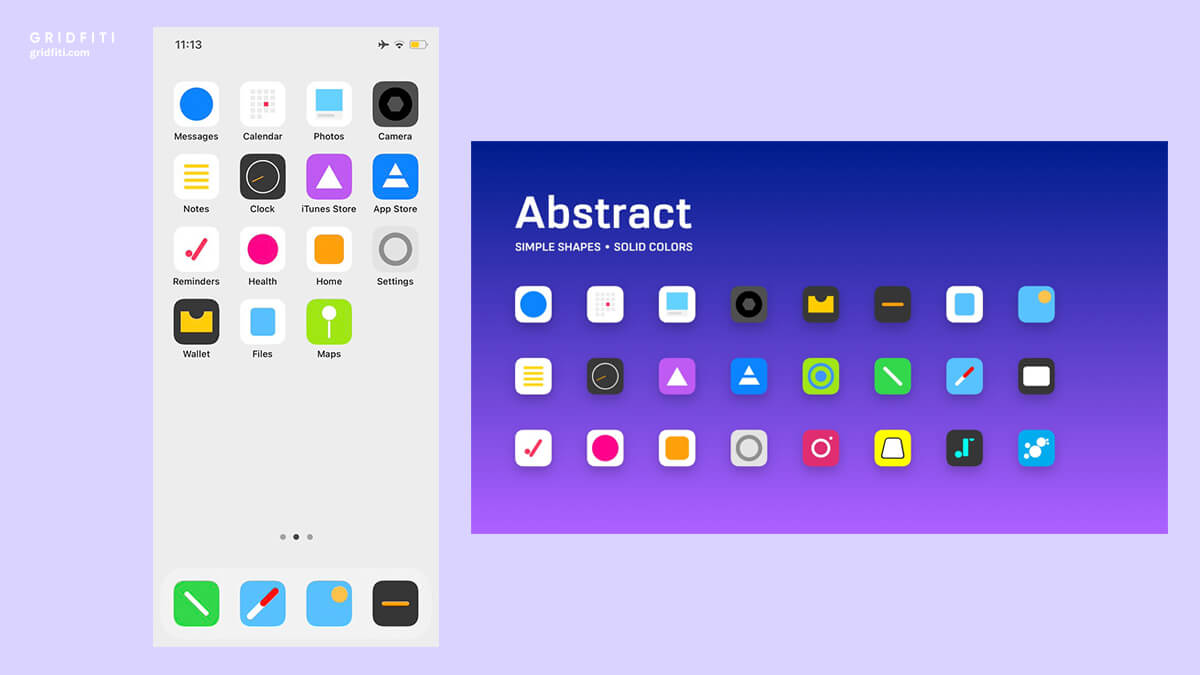 Pixel Art Retro App Covers for iOS
Bring some nostalgia back to your phone or tablet home screen with this retro icons pack. These pixelated designs are each individually designed and the pack offers over 1100+ icons which you can use for your iOS 14 app customization.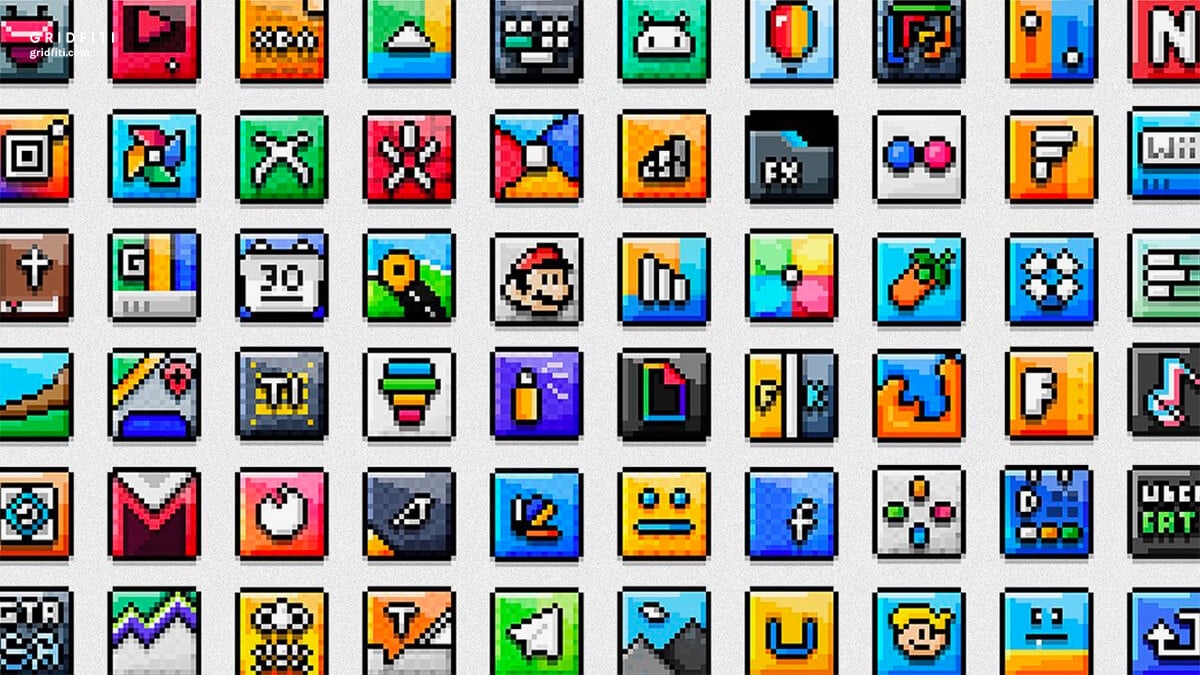 Beach Pastel Aesthetic iOS 14 App Icons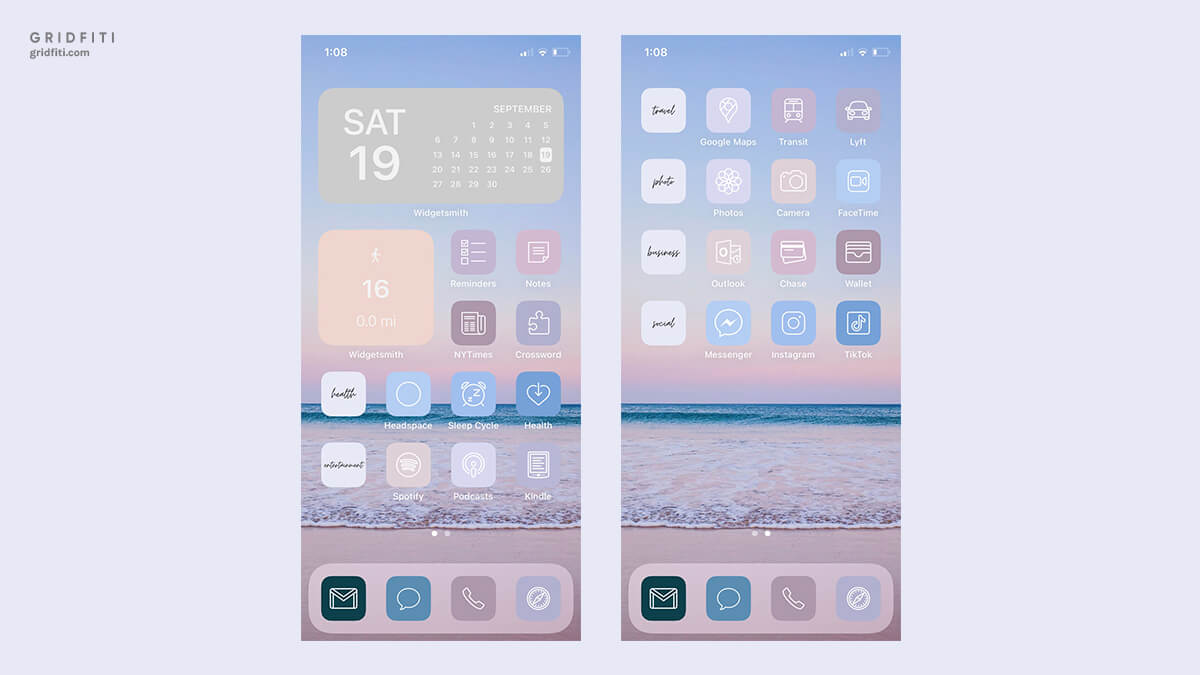 Fall / Autumn Aesthetic Icon Packs
Get in the season with some cool fall app covers and autumn colors to deck out your home screen. We couldn't choose just one, so we highlighted three of our favorites. The first option offers themed widgets and backgrounds for your iPhone and iPad.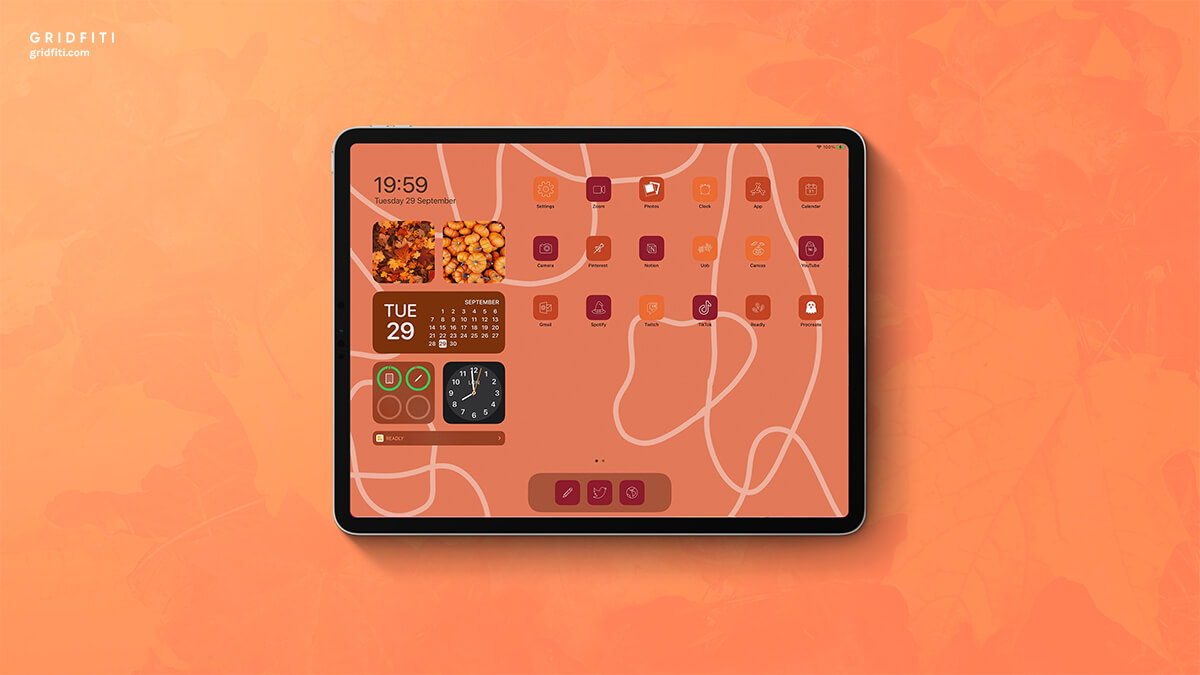 Light Pastel Fall Aesthetic – Icon Pack Available Here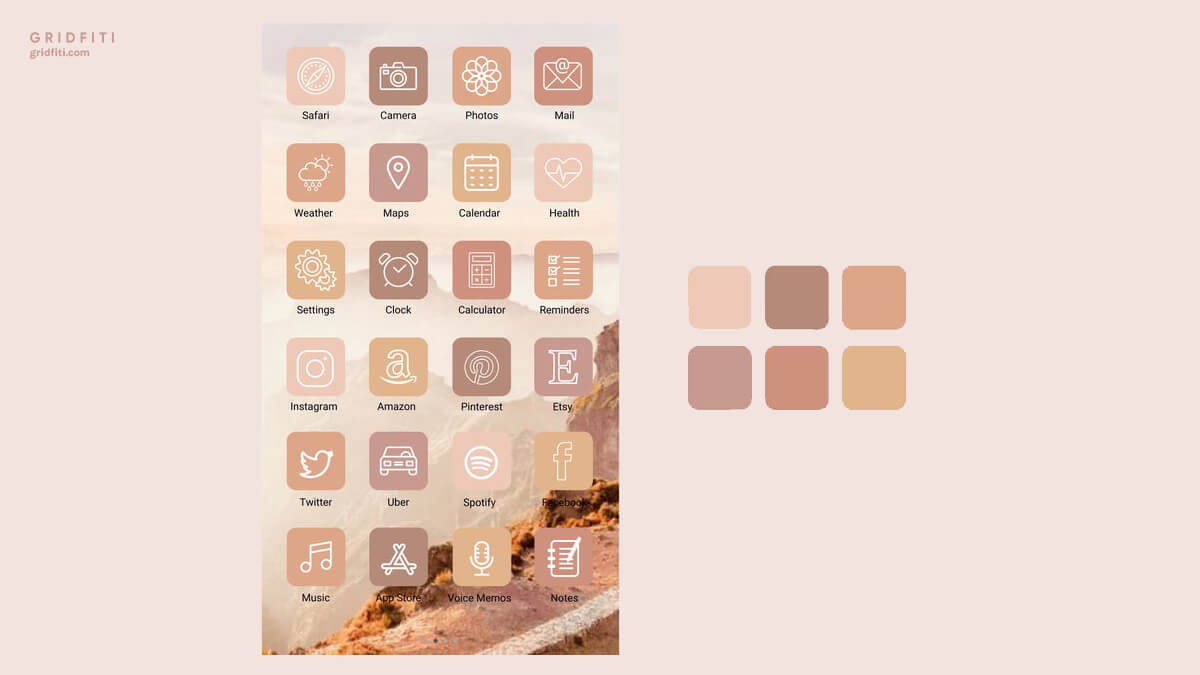 Moody Fall Aesthetic – Icon Pack Available Here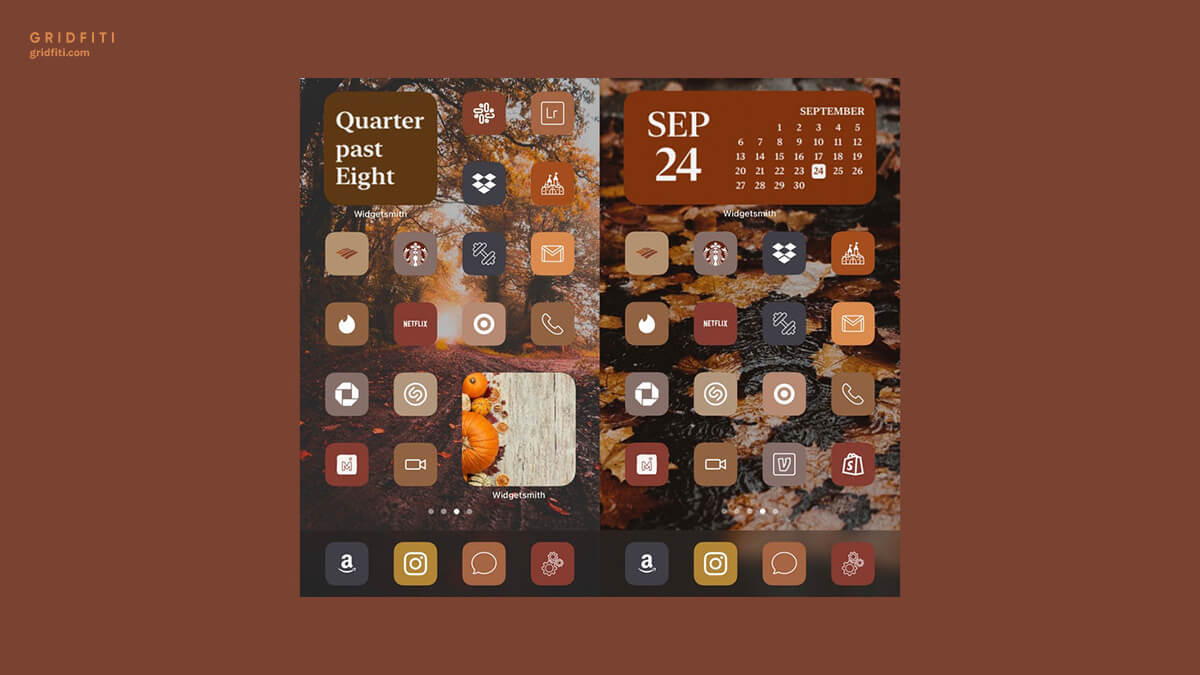 Among Us – iOS 14 App Cover Design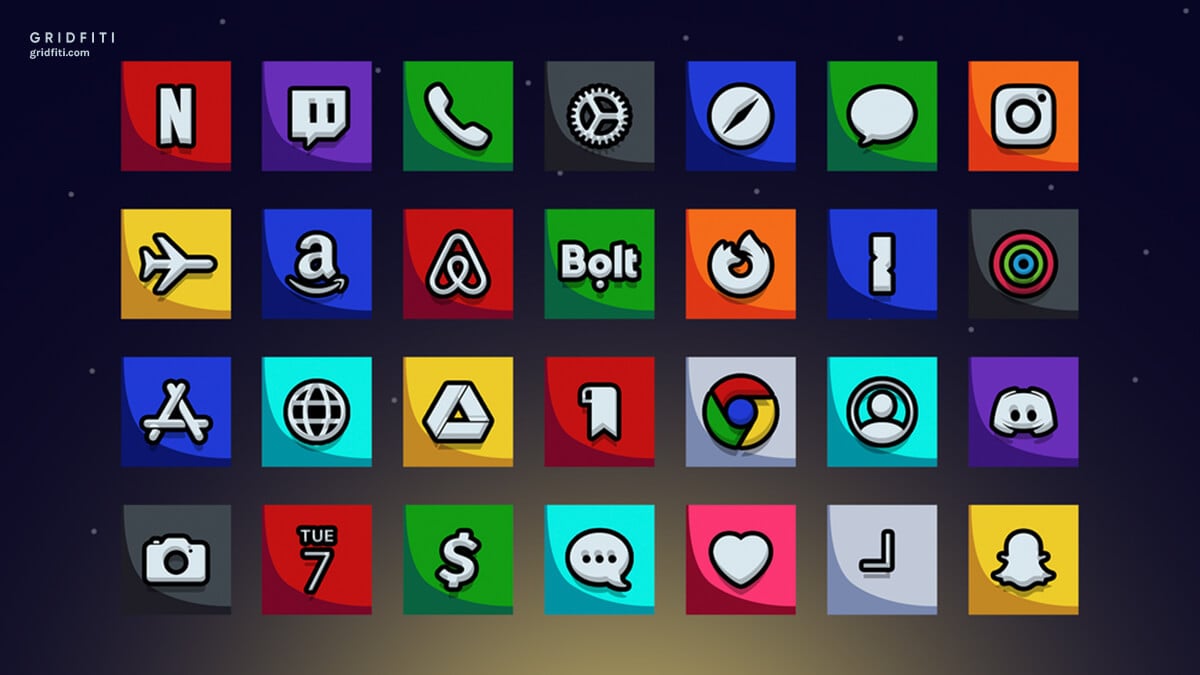 Universal iOS 14 Icon Set (Grey, White, Black)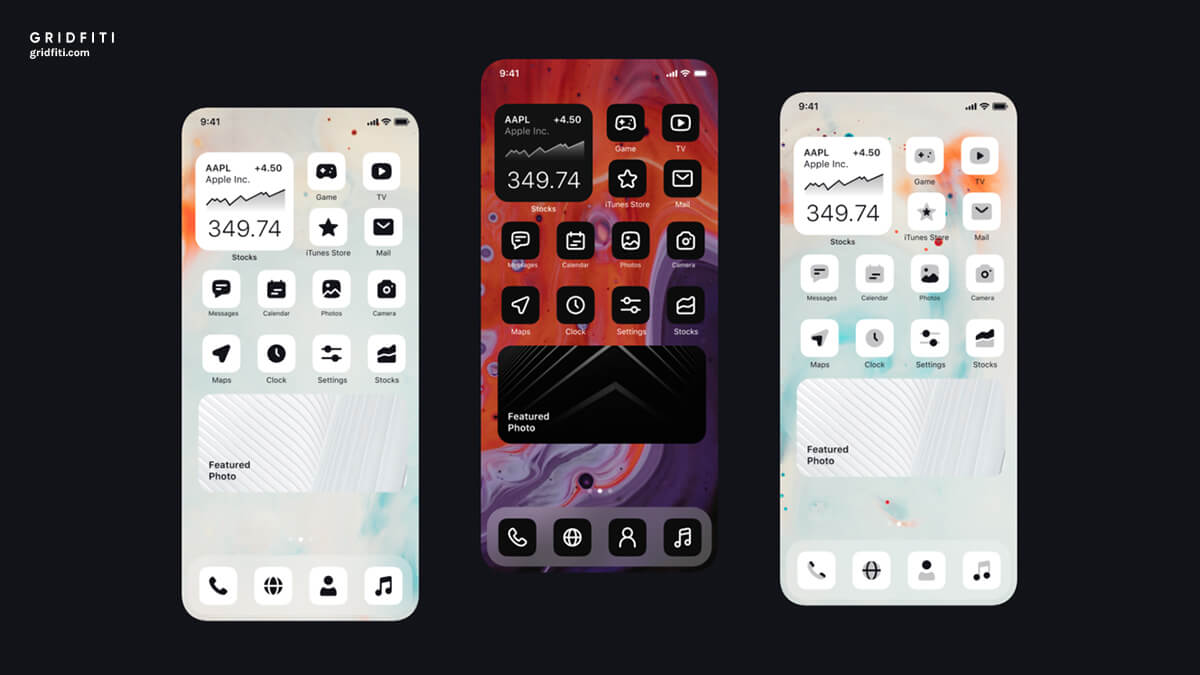 Flat Design Minimalist App Icon Set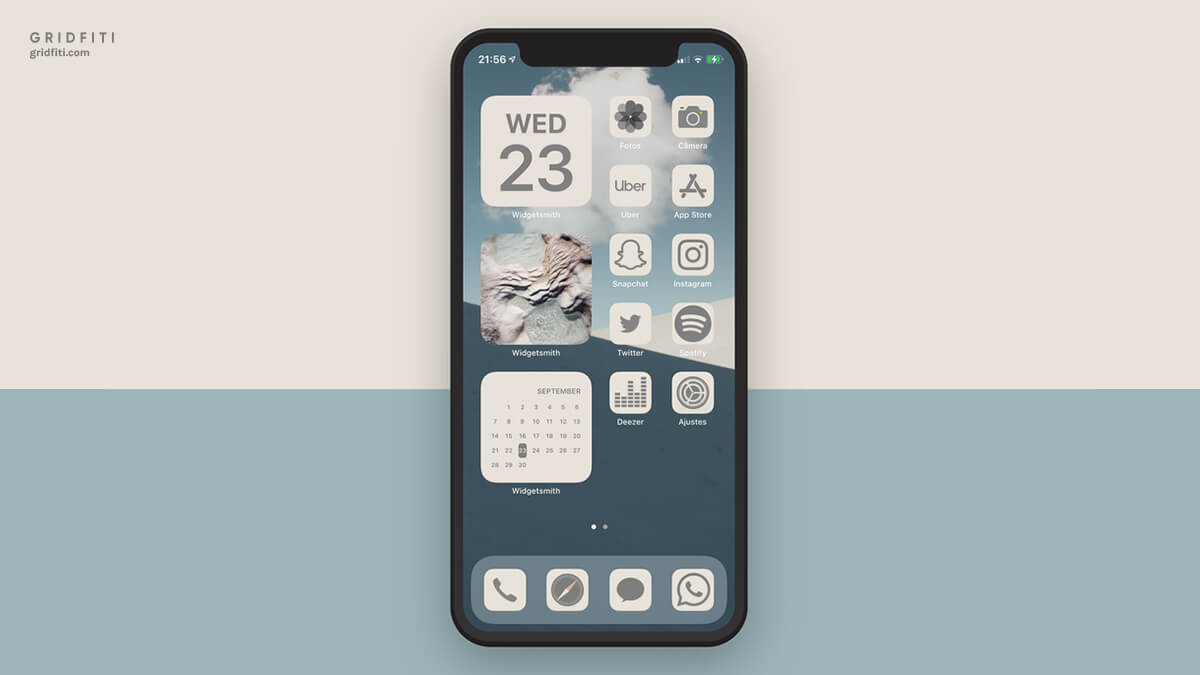 Animal Crossing (Custom ACNH App Icons)
Icon Pack Available Here | Expansion Pack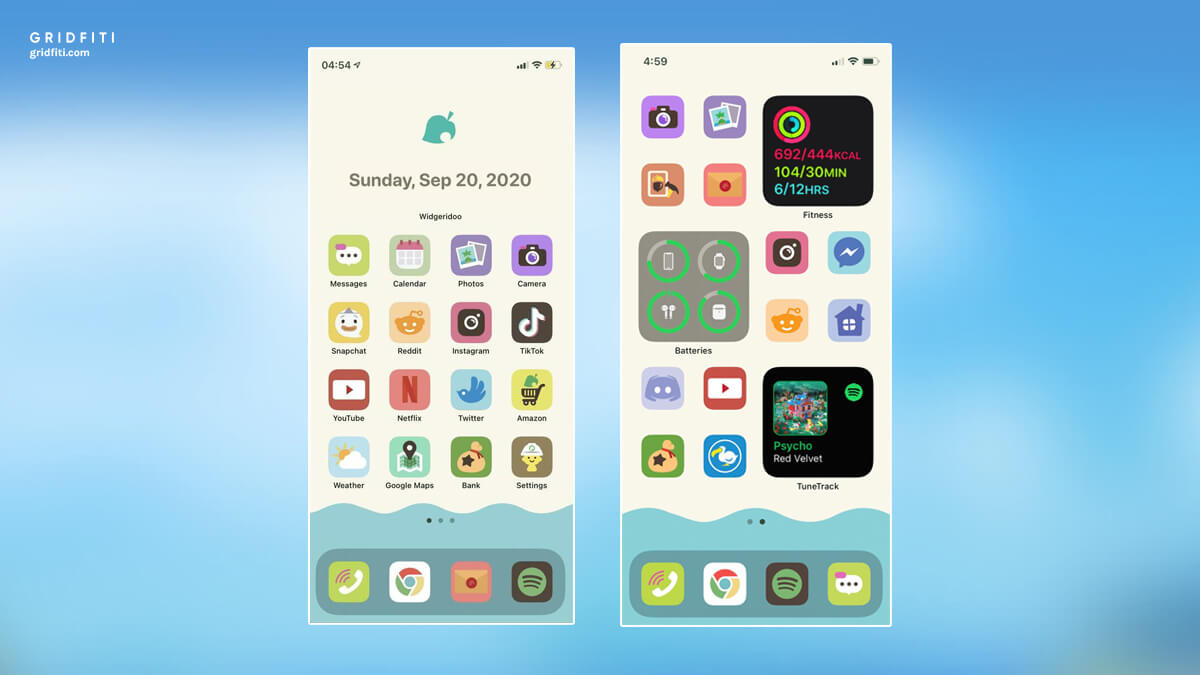 Monochrome App Icon Pack for iOS 14 (White, Grey, & Black)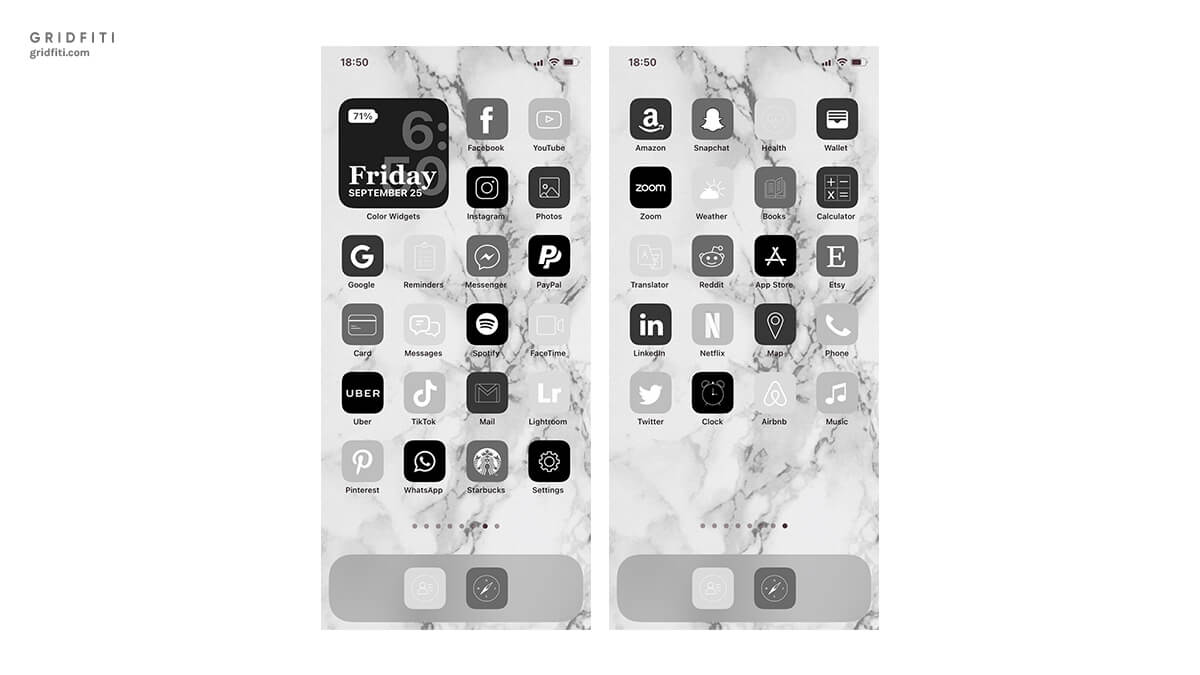 Hand-Drawn Doodle Theme App Icons for iOS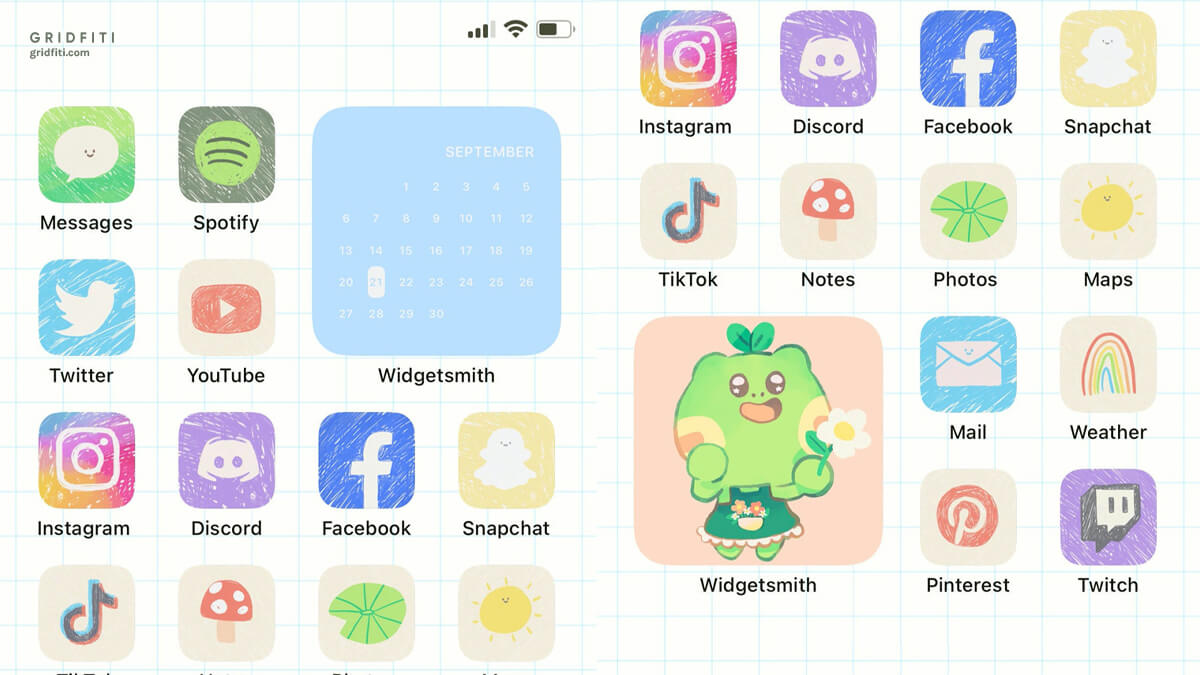 Pink Baby Aesthetic Themed App Cover Set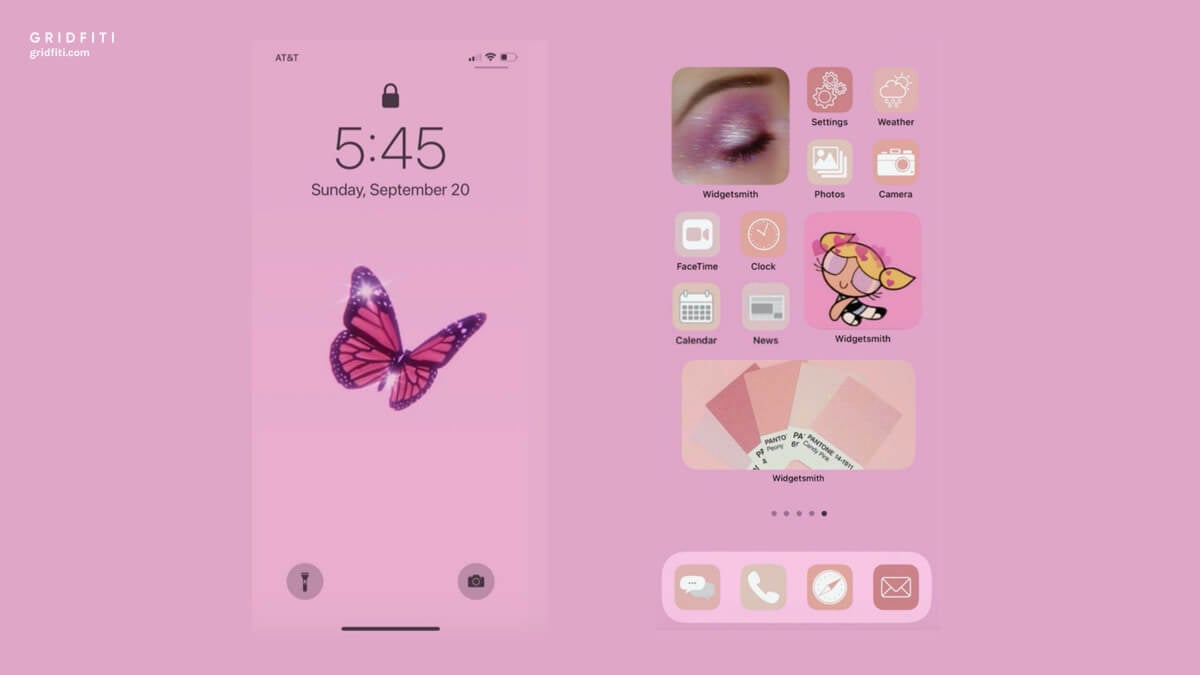 Neutral Tone iOS App Icon Packs
Minimal Cream & Beige Icons – Icon Pack Available Here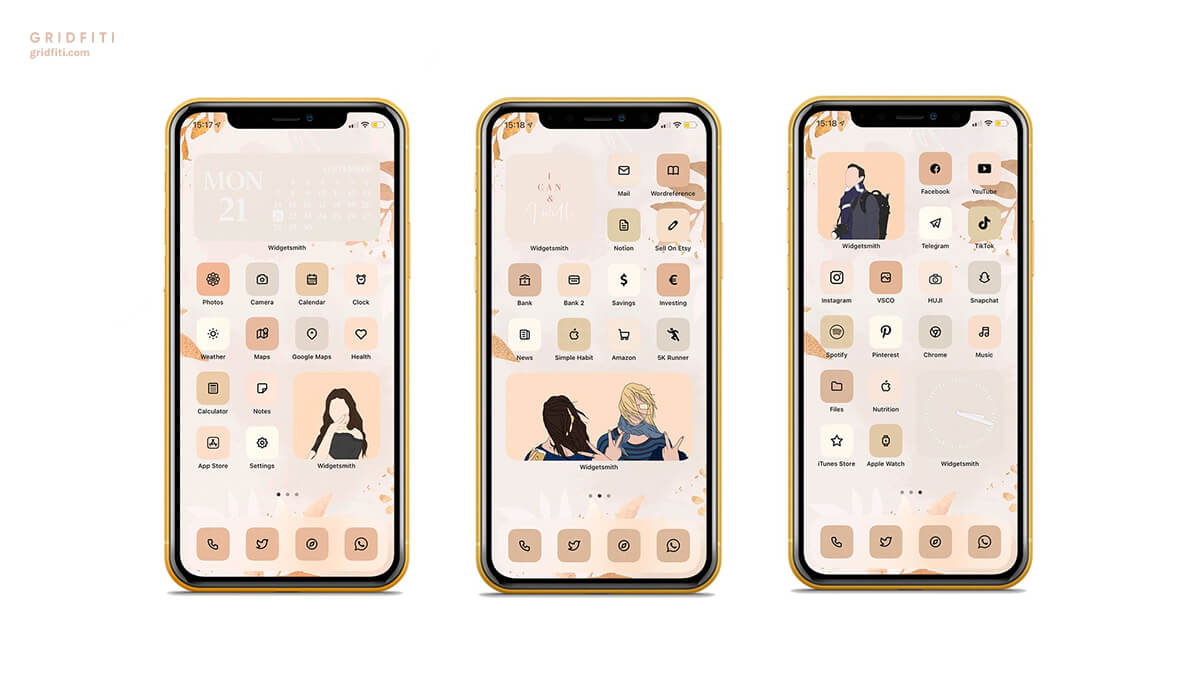 Neutral Grey Icons – Icon Pack Available Here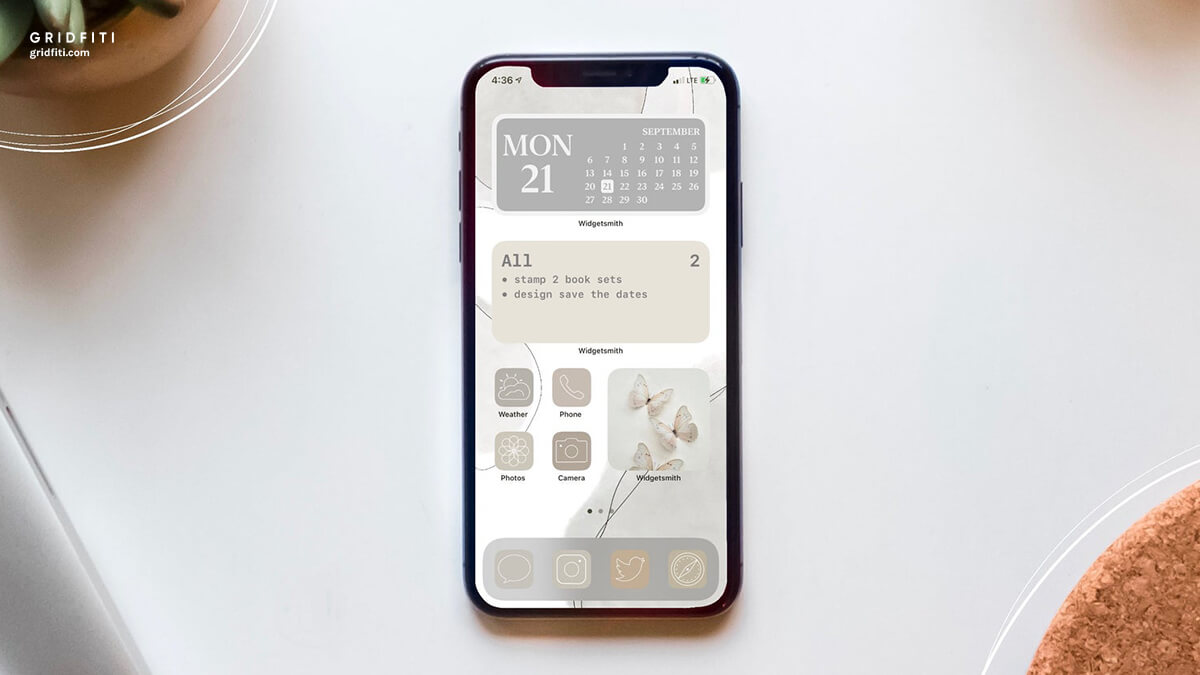 Beige Neutral Icons – Icon Pack Available Here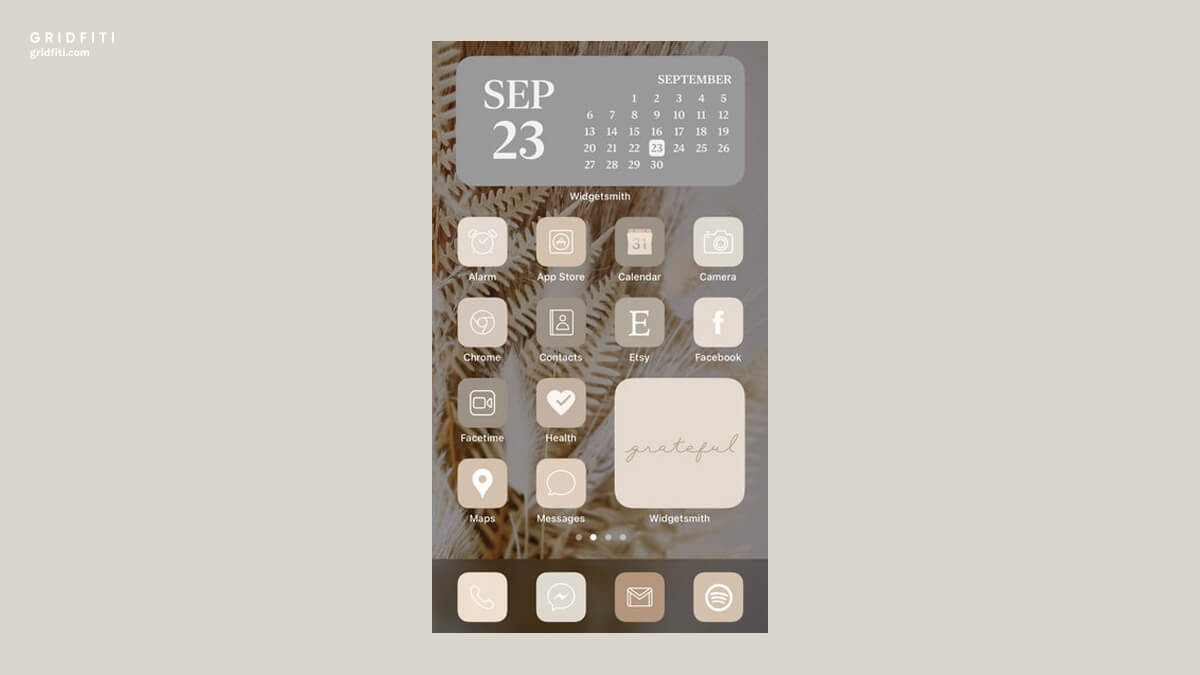 Pink Pastel iOS 14 App Cover Ideas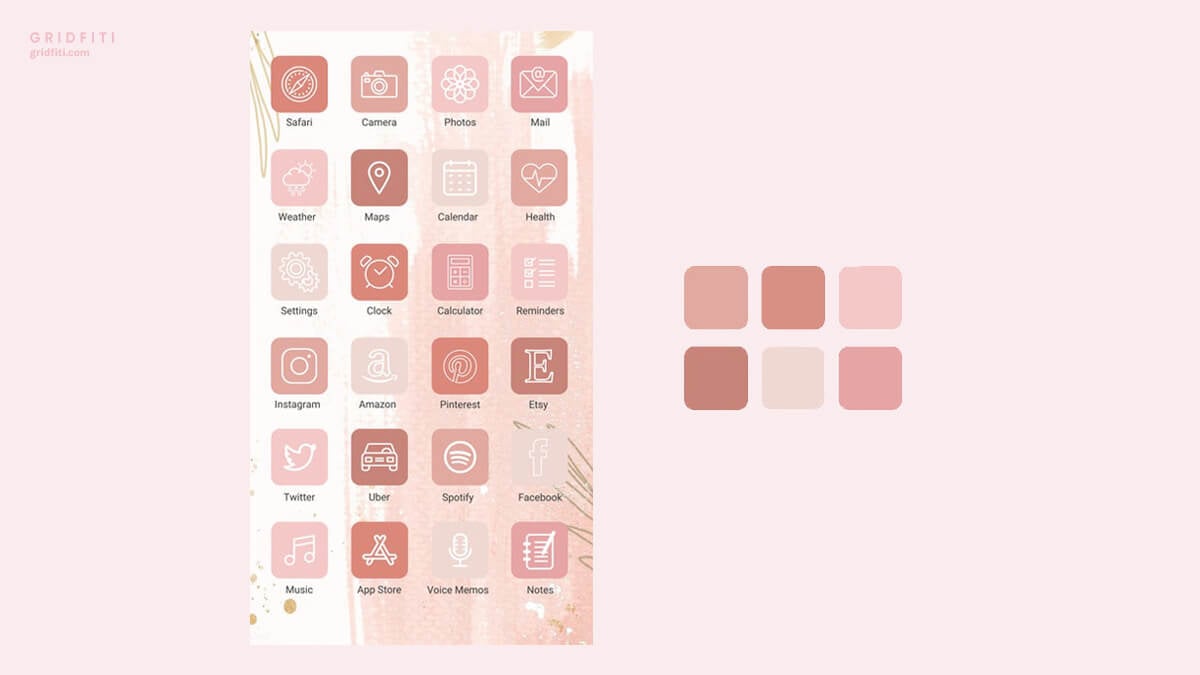 Cute Animated Icon Pack for iOS 14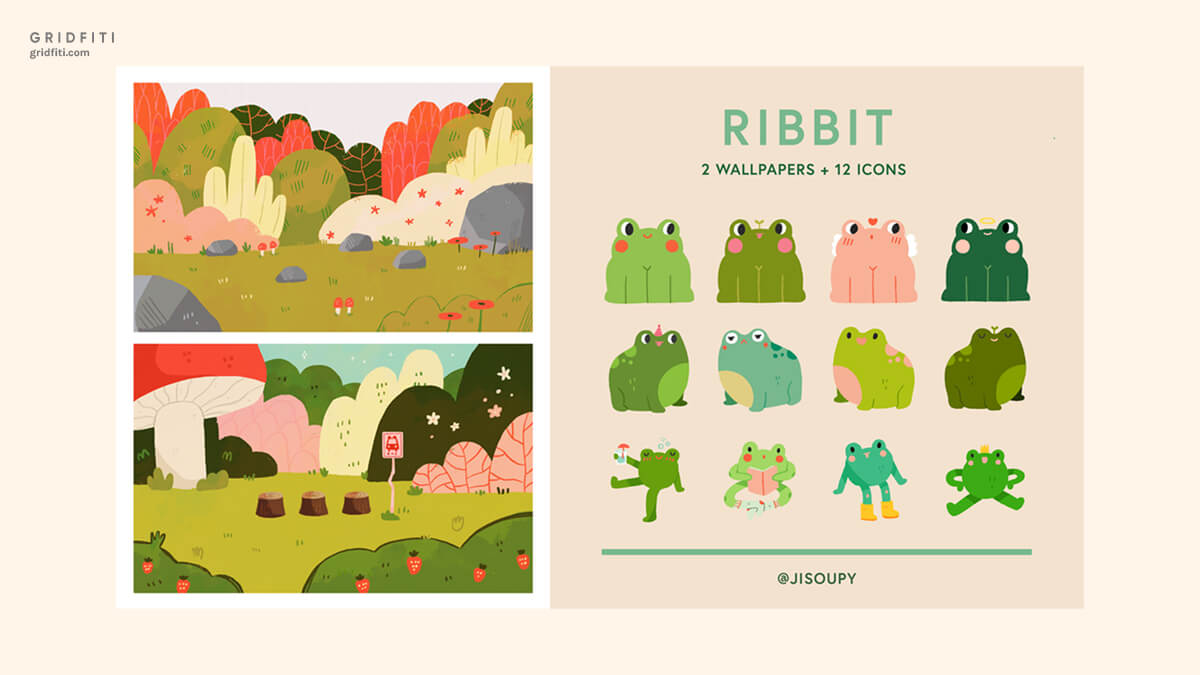 Which aesthetic iOS 14 app icons are your favorite? Do you have any other iOS app icon ideas for iPhone or iPad? Leave a comment down below and let us know! If you're looking for more app cover designs for your iPhone or iPad, follow our board on Pinterest!
Gridfiti is supported by its audience – when you buy something using the retail links in our posts, we may earn a small commission at no additional cost to you. We only recommend products we would use ourselves and recommend to our friends and family. Read more about our affiliate disclaimer.