In fall 2020, Apple broke the internet (and Pinterest) when they provided users the ability to update their iOS app icons and home screens in a whole new way. Fast forward 2 years later, Apple is blessing us yet again with a fully customizable lock screen.
With iOS 17, users can overhaul their lock screen in ways never seen before — with customization options for the custom font styles, colors, and widgets to pair perfectly with your wallpaper.
With so many new customization options, you might be wondering where to start — but you've come to the right place! From anime-inspired designs, to minimalist themes, we've rounded up dozens of different aesthetic iOS lock screen ideas to inspire your next iPhone makeover. Let's jump in!
Looking for other ways to make your phone aesthetic? Check out some of our custom app icon packs — available in a range of color themes and aesthetics!
Looking to add widgets to your lock screen? Read our full guide and check out our blog post where we feature the most aesthetic iOS 17 lock screen widgets!
Want more iOS and digital decor content? Check out our round-ups on iOS home screen ideas, iOS app icon packs, and iOS widget ideas – and join our digital decor mailing list below:
Aesthetic Lock Screen Layout Ideas & Inspo
With iOS 17, there are so many new customizations you can make to your lock screen. To help you get started, we've created and curated a collection of aesthetic lock screen ideas – check them out!
Gradient & Aura Lock Screen
Gradients bring a vibe to any setting – they're the perfect balance of contemporary and colorful, without the clutter. Give your lock screen an instant aesthetic boost with a gorgeous gradient theme. To take your gradient game up a notch, add an Aura gradient wallpaper from the collection inspired by our iconic Aura Clock Screensaver.
Wallpapers available: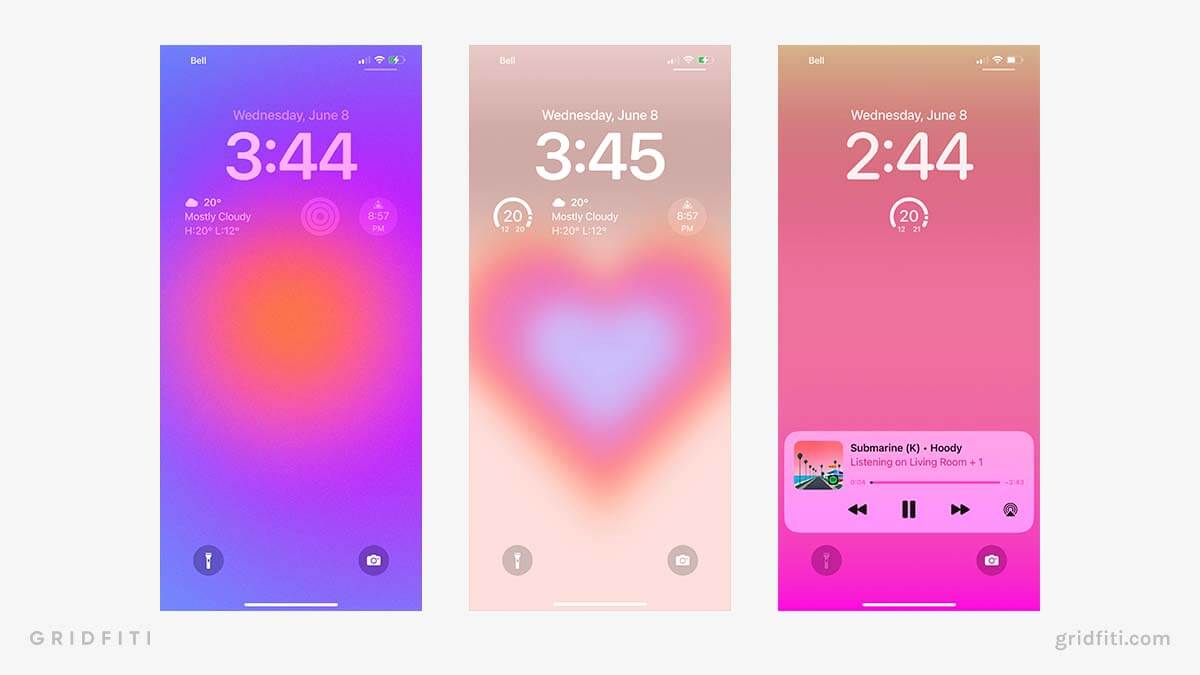 Anime-Themed Lock Screen
Some of the most aesthetically pleasing home screens we saw with iOS 14 revolved around beautiful anime scenery and frames. From Studio Ghibli, to Sailor Moon and beyond, bring anime classics to your lock screen – now with the ability to customize your font and colors to perfectly blend into the scene.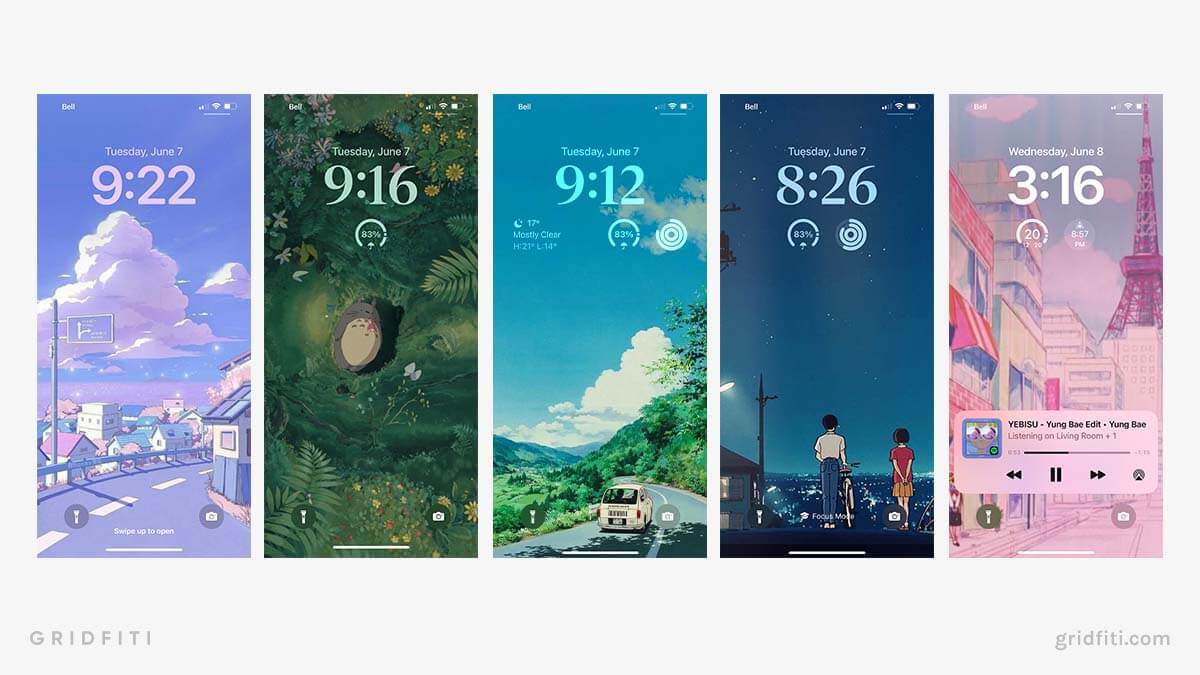 Travel & Wanderlust Lock Screen
Changing your current location isn't always easy, but changing your lock screen is. If you're missing your favorite place, you can feel a little closer to it by customizing your lock screen with iOS 17's new features!
Add a wallpaper with your favorite place, and even incorporate a Clock app widget for the city's local time to fulfill your wanderlust until you can jet off again. Have a trip already planned? Add widgets from the Calendar and Weather apps to be prepared for your travels.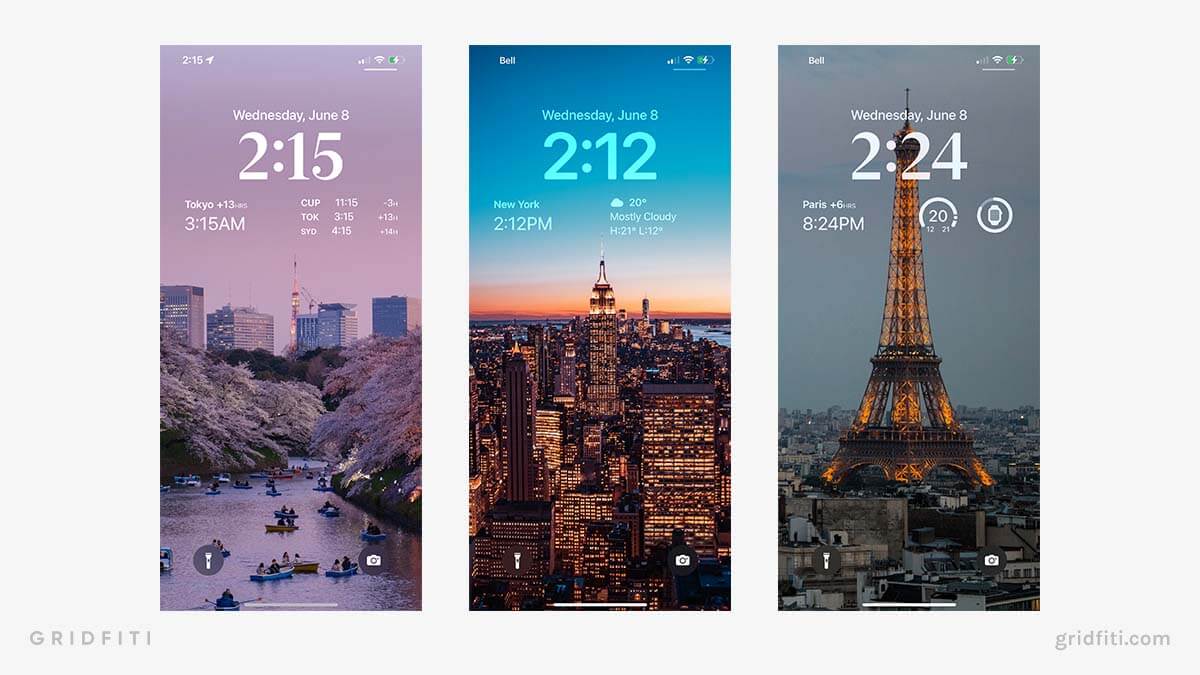 Textured Wallpaper Lock Screen
Whether you want to build a luxe look with marble, or a mesmerizing iridescent-induced design, incorporating a textured background is an easy way to start putting together your aesthetic lock screen.
Marble Lock Screen
Iridescent/Holographic

Lock Screen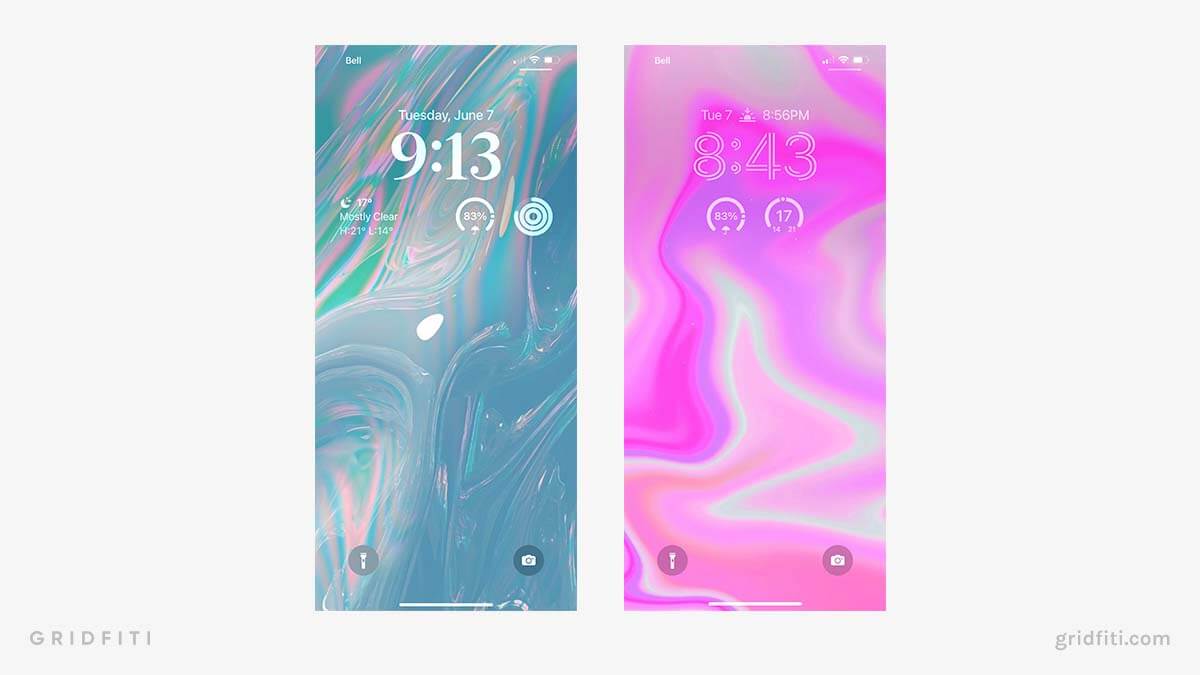 Minimalist Lock Screen
Keep your lock screen clean with a minimalist theme. Whether you want to go with a solid color, or a tranquil image for your wallpaper – add a contrasting color for the clock and widgets, and you're good to go! We recommend adding no more than 1 widget to keep the simplicity intact.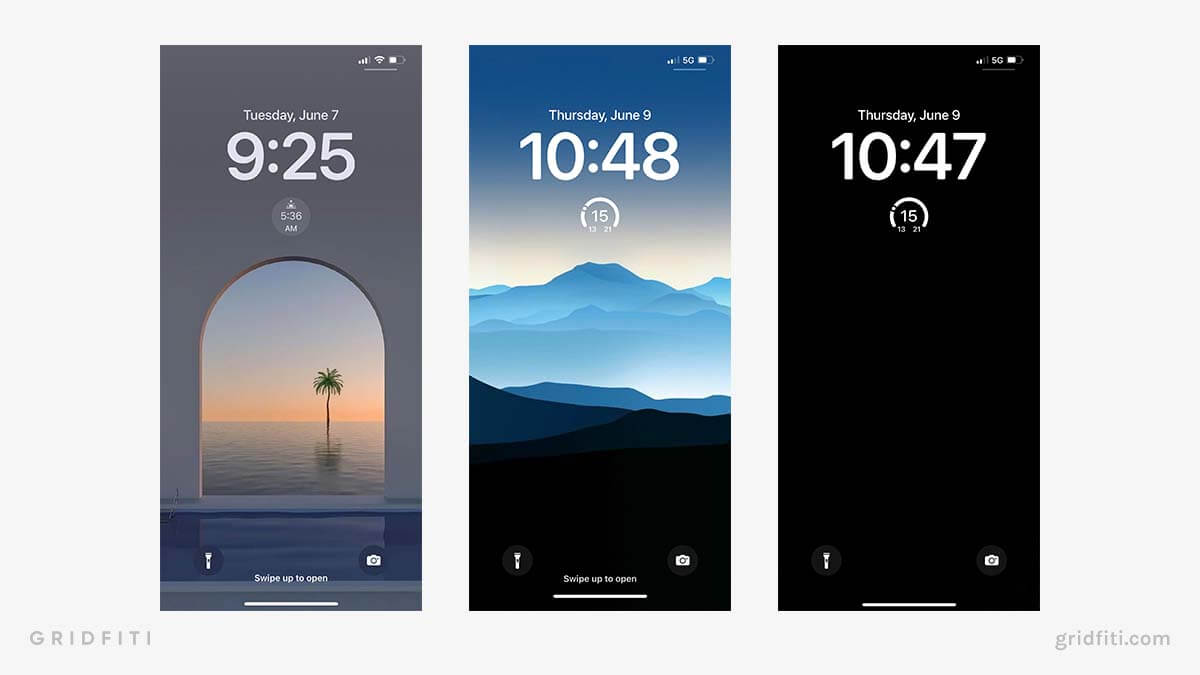 iOS Lock Screen Slideshow with Photo Shuffle
Why pick one wallpaper when you can have several? Keep things dynamic and re-live some of your favorite memories by setting a slideshow for your lock screen – thanks to iOS 17's new Photo Shuffle feature! You can even customize shuffle frequency to pick how often you want to switch things up.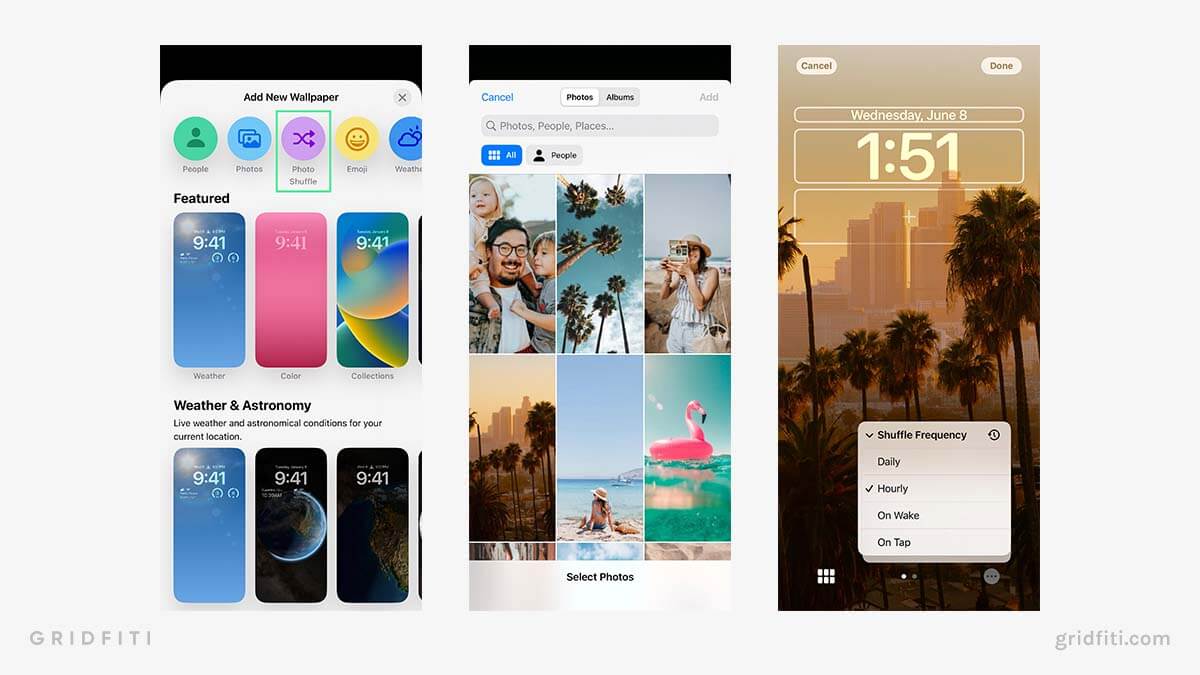 Plant-Themed Lock Screen
Let your green thumb rub off on your iPhone with a therapeutic plant-themed lock screen!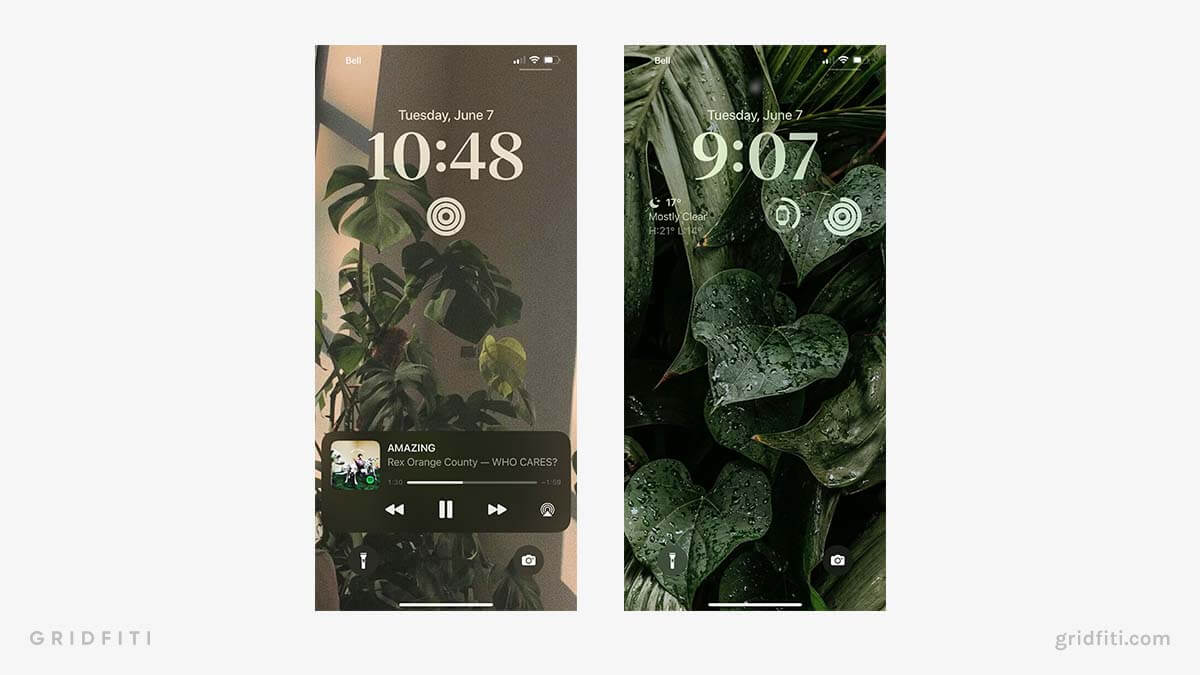 Emoji Patterned Lock Screen
Looking to make your lock screen playful and fun? The new iOS update has an easy emoji patterned wallpaper builder! Put together any combo of emojis (up to 6), and let iOS do the rest – laying them out in a variety of different pre-set patterns to choose from: spirals, grids, and more. You gotta love some organized chaos.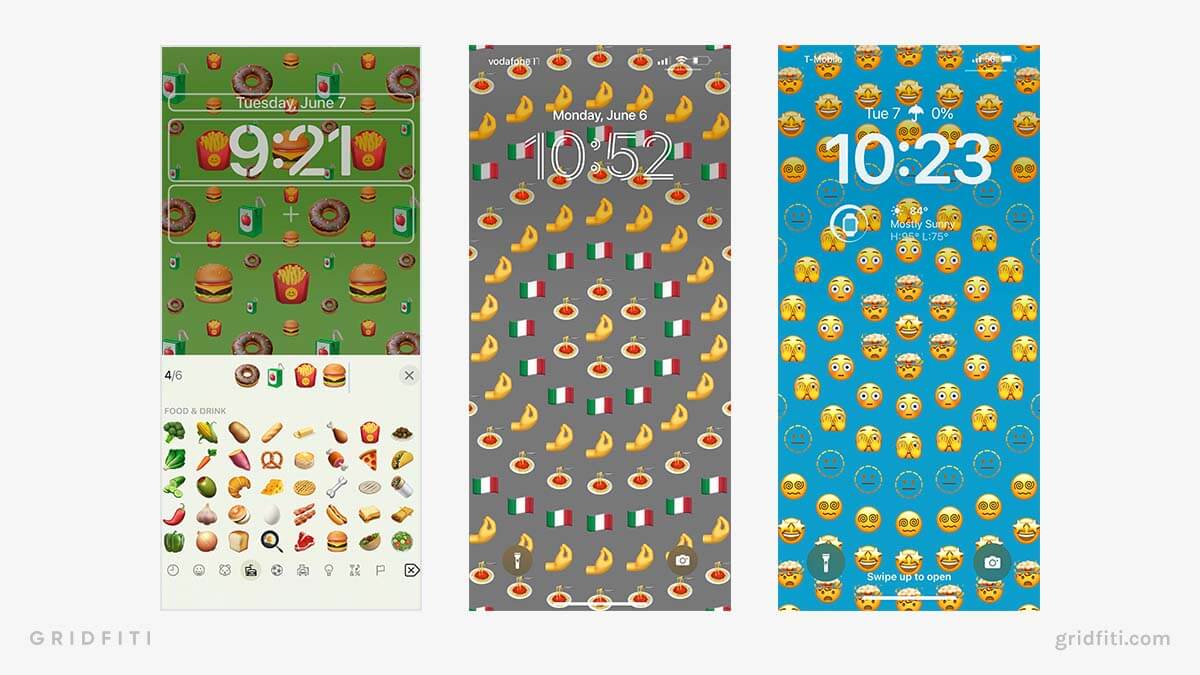 Lock screens by @saidshkh, @viticci, @noblelife570
3D Foreground Lock Screen with Depth Effect
One of the coolest features of iOS 17's lock screen update is the introduction of the Depth Effect. Thanks to fancy AI algorithms, iOS's Depth Effect automatically pulls the subject from your images and separates it from the background, seamlessly integrating the clock into your wallpaper image – no Photoshop required. For this effect to work best, pick an image with a clear, defined subject and a background that's not too busy – then watch iOS do its magic!
Looking for Depth Effect wallpapers to get started? Check our our full post of handpicked iOS 17 Depth Effect wallpapers for inspo and download links!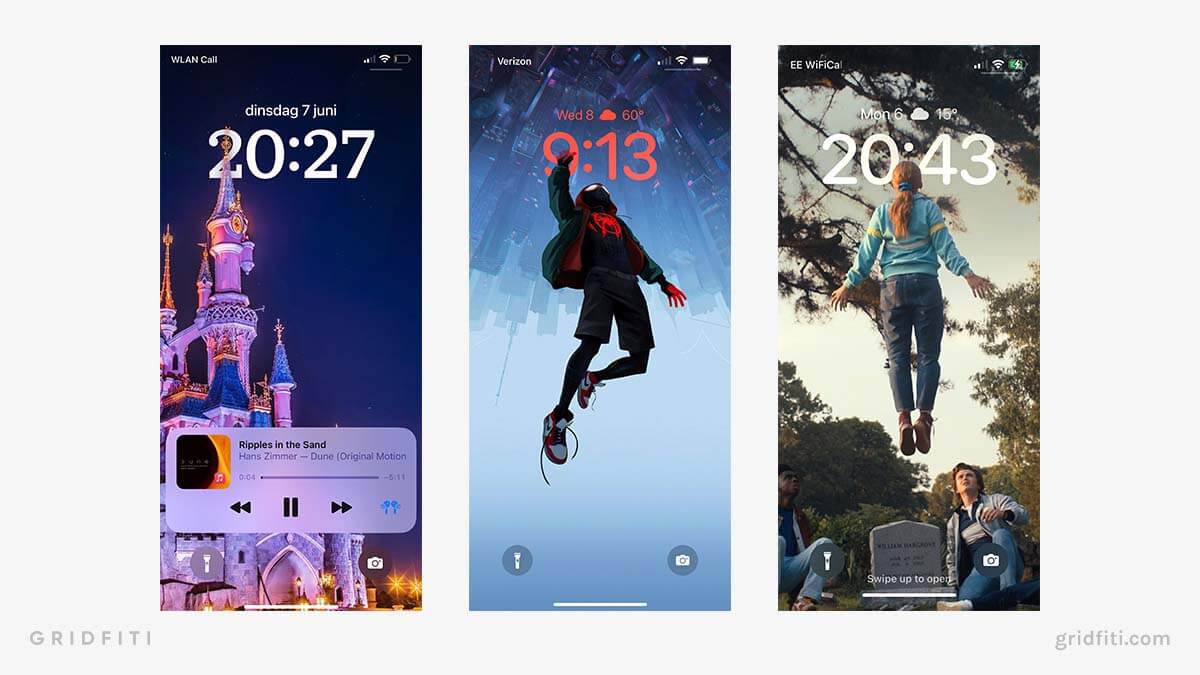 Editorial Theme
Pair a well-shot portrait with the serif font option, and thanks to the new Depth Effect, you've got yourself a mini version of Vogue right on your lock screen!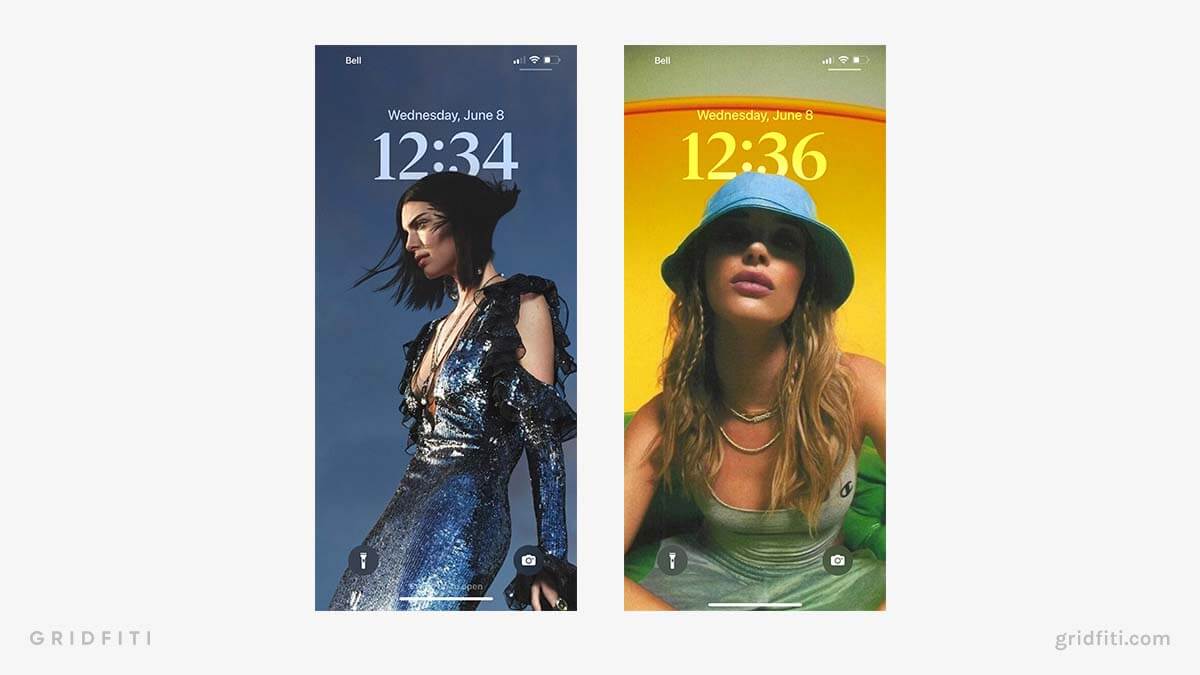 Boho Theme Lock Screen
Incorporate neutral, earthy tones in your wallpaper and clock/widget accent color, switch up the font to the built-in serif option, and you've got yourself a chic Boho lock screen!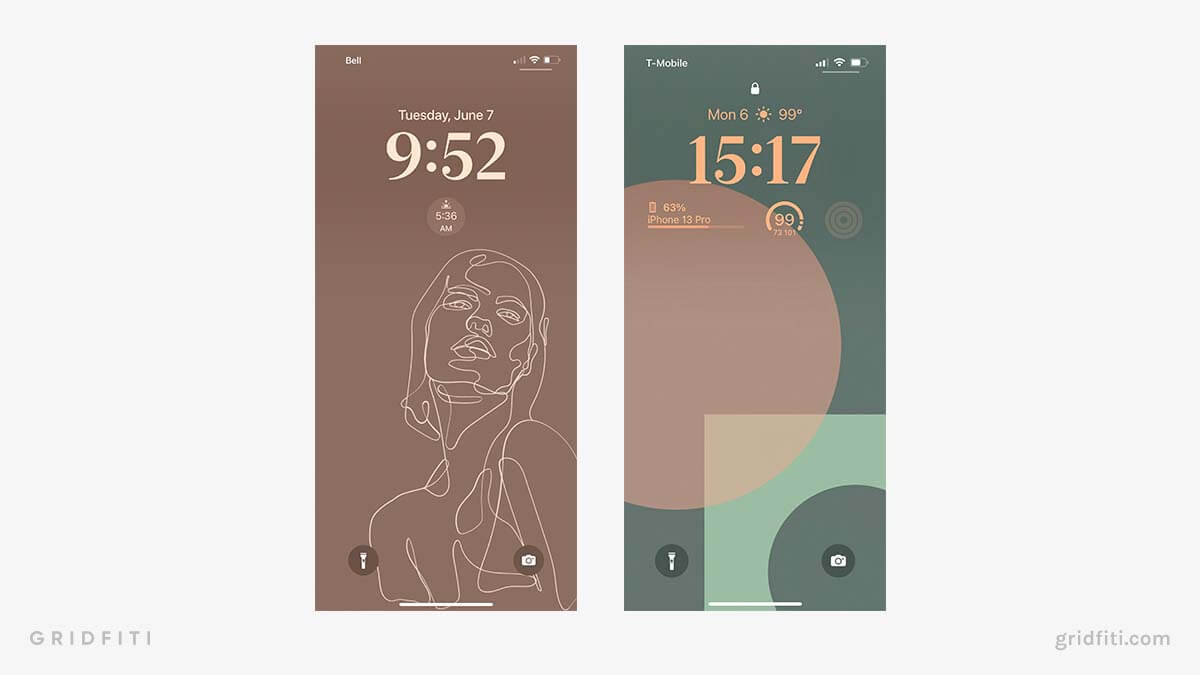 Lock screen 2 by @victorm95673613
Quote Lock Screen
What better way to personalize your lock screen than adding your favorite words to live by? Whether you want sayings that are motivational, self care-focused, humorous, and beyond – incorporating a quote wallpaper as the centerpiece of your lock screen design is a quick and easy way to make your phone, yours!
Looking for quote wallpapers to incorporate in your lock screen design? Check out our full round-up of aesthetic quote wallpapers for iPhone.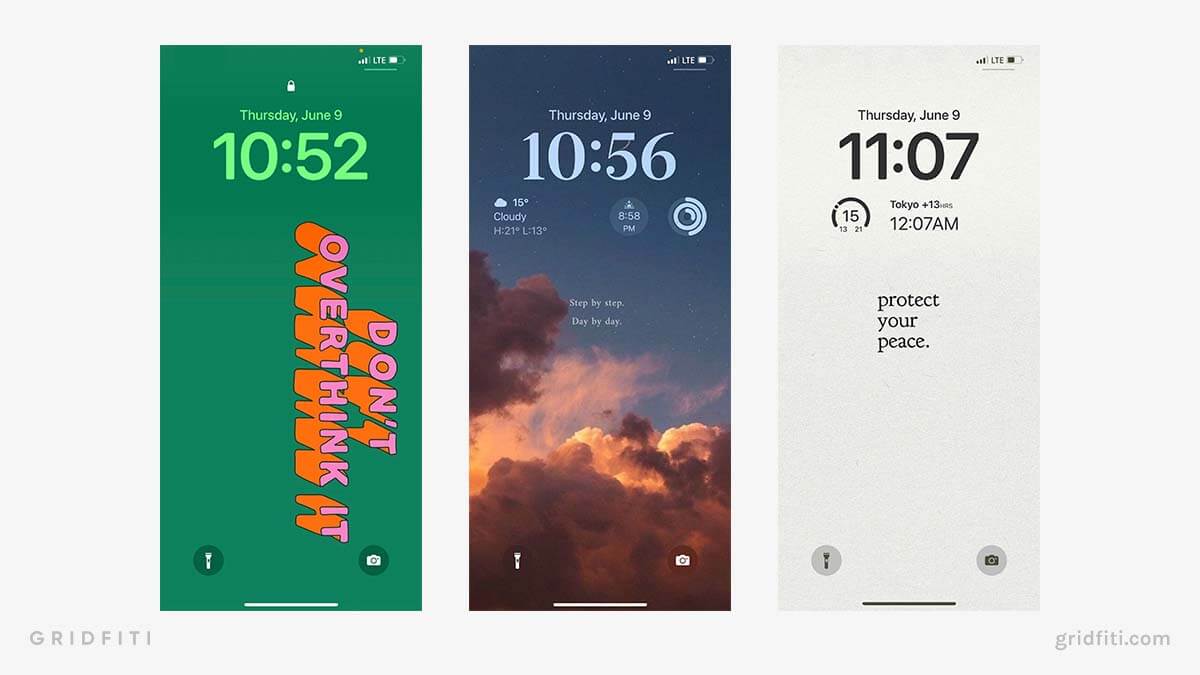 Fitness & Activity-Focused Lock Screen
Aesthetic meets function with these setups: if you have an Apple Watch, fuel your motivation and put your Activity rings front and center with the new ability to add Fitness app widgets to your lock screen! Beyond getting a visual of your rings, you can get metrics to track your progress for daily calories, activity minutes, and stand hours. Incorporate the perfect palette with some inspo below, and you're good to go!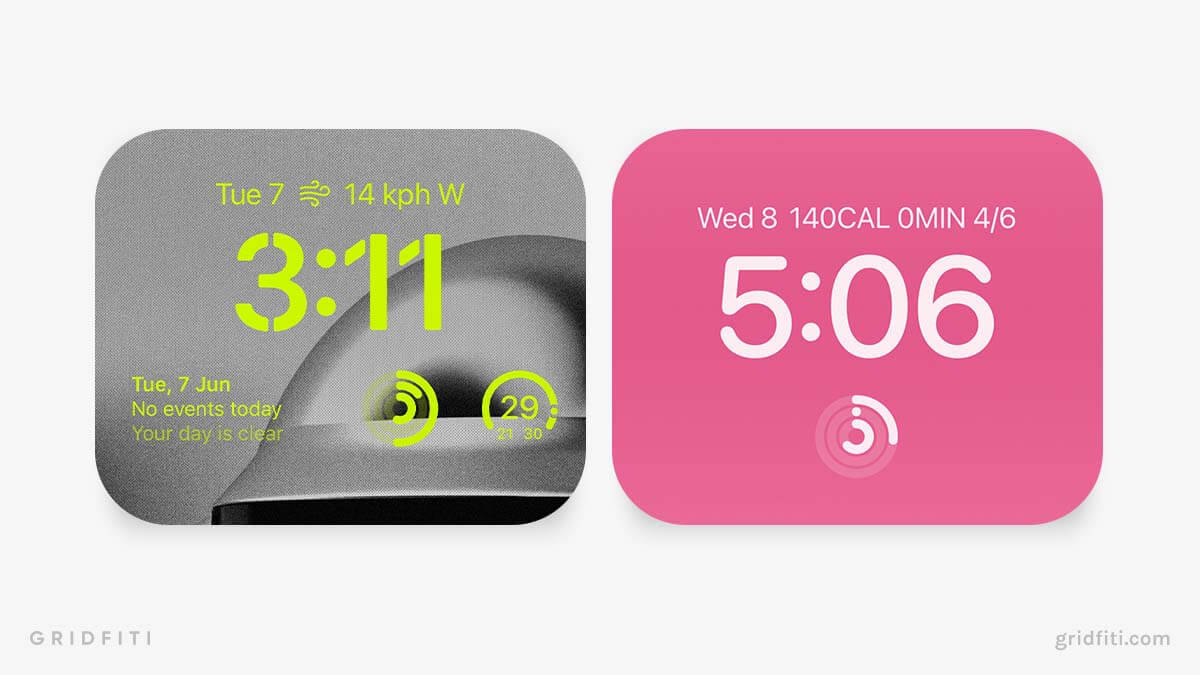 Lock screens by @beurskcin, @frankefoster, @ishanagarwal24
Retro & Vintage Lock Screen
Just because you have the latest iOS doesn't mean you can't throw it back with nostalgic visuals. Grab a retro-inspired wallpaper image, use the pre-set block serif font, pick a subdued color for your accents, and you've got yourself a classic lock screen theme.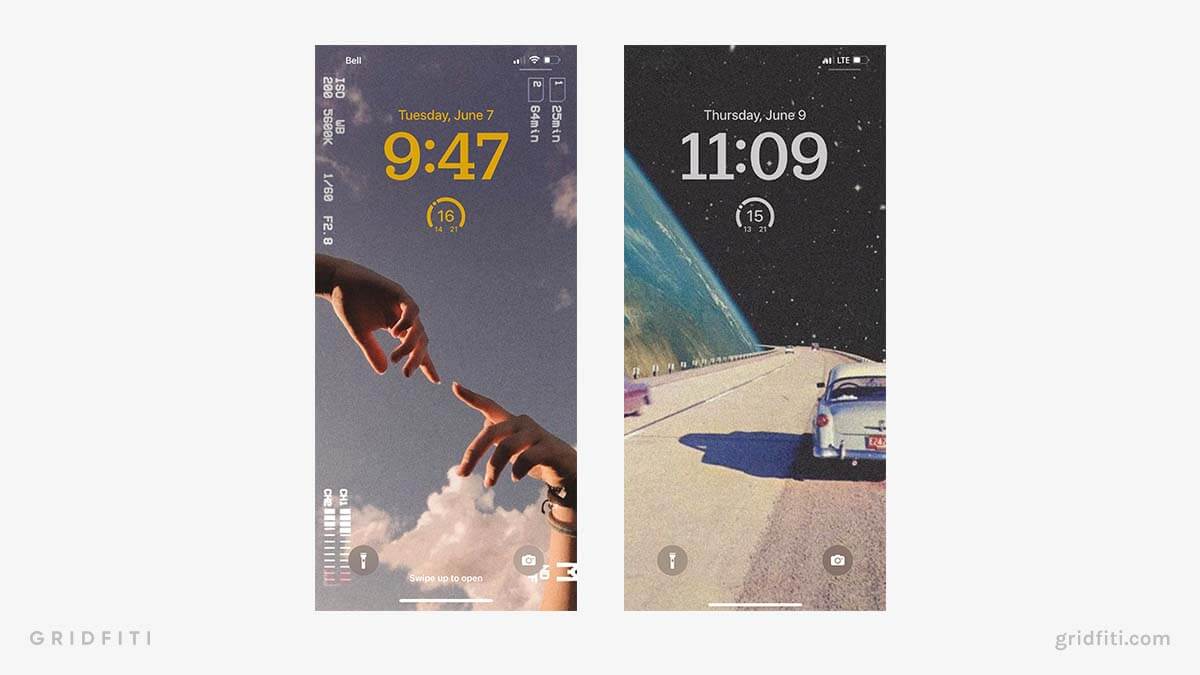 Y2K Aesthetic Lock Screen
Throw it back to the 90s and early 00s right on your lock screen! Grab a Y2K-inspired wallpaper – whether a frame from your favorite 90s cartoon, or a VHS-inspired image, set your lock screen's font and colors to match the vibe, and you've got yourself the perfect Y2K theme.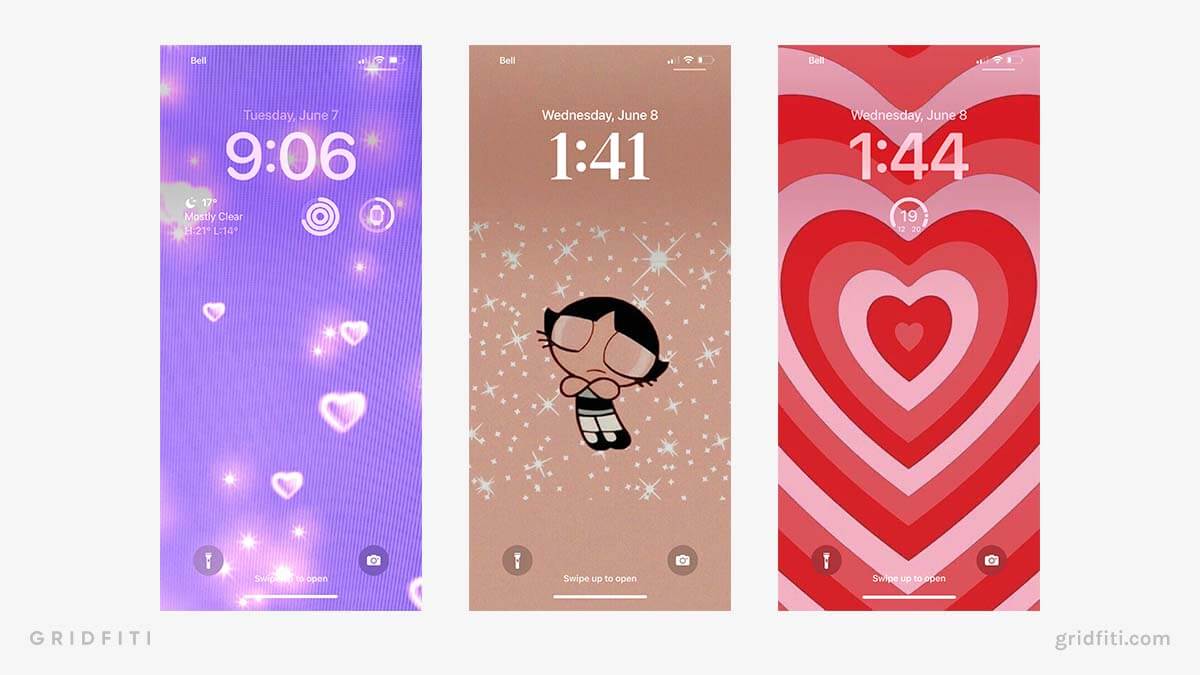 Astrology & Horoscope Lock Screen
If you're intrigued by zodiac signs, star signs, moon energy, and all things astrology – this is the theme for you! Until iOS allows third party widgets on the lock screen for horoscopes, you can use the built-in moon events widget from the Weather app to go with your perfect astrology wallpaper.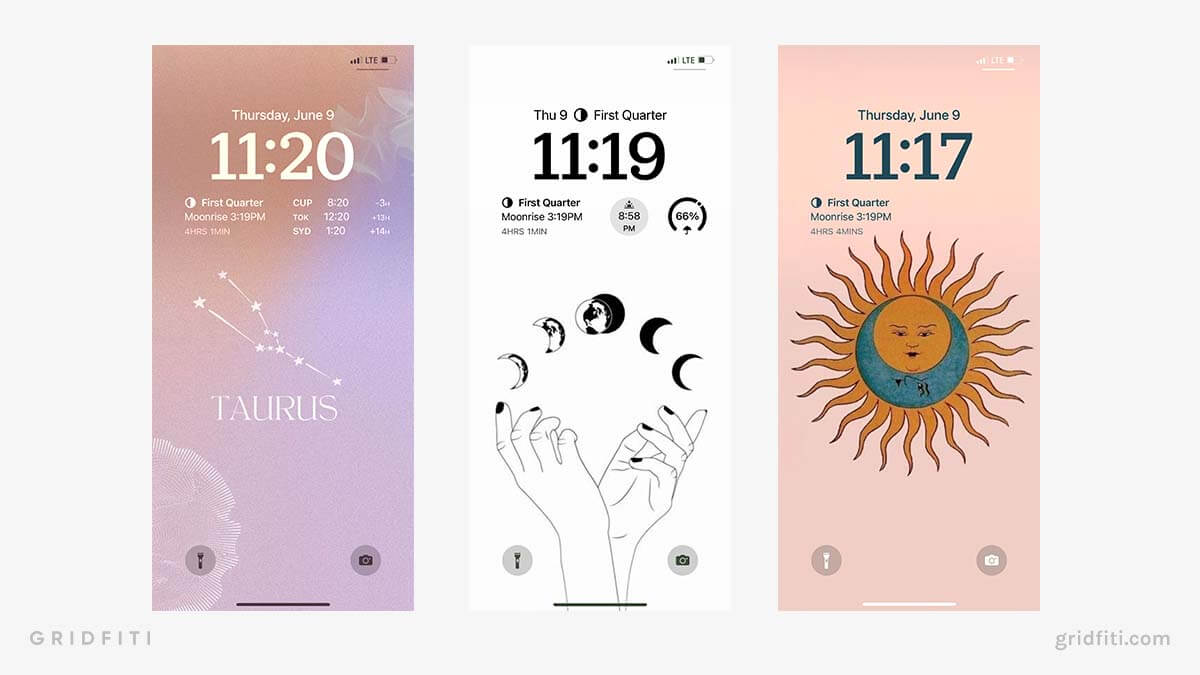 Landscapes & Nature Lock Screen
Are you an outdoors enthusiast or a nature lover? Whether it's an aerial shot over an autumn forest, or a breathtaking mountain in the clouds, put together the perfect nature-themed lock screen by pairing up your favorite vistas with fonts and colors that match the scene.
Want to take it up a notch? Add weather widgets to your lock screen – like precipitation, sunset and sunrise times, and more to prep for your next outdoor adventure.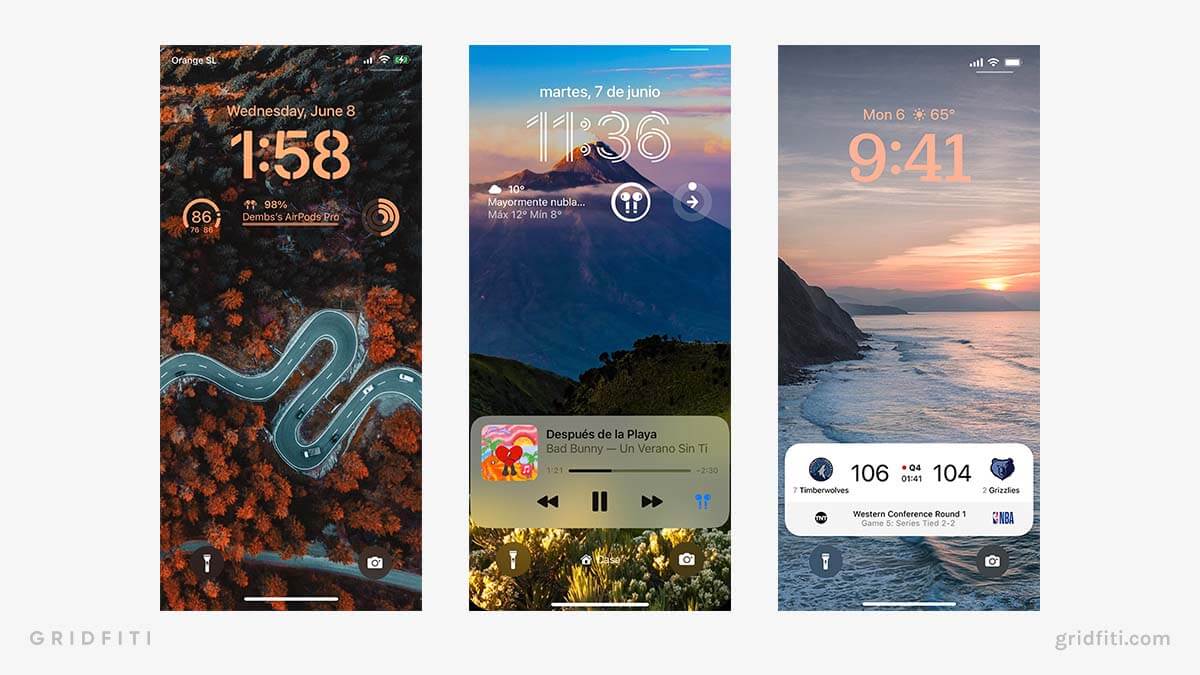 Dynamic Weather Lock Screen
Check the weather without having to open the Weather app! A fan favorite from the beta release, Apple has introduced a dedicated weather lock screen theme to visualize the current conditions in your area. The full screen weather animations, paired with detailed weather widgets, will ensure you're always heading out prepared.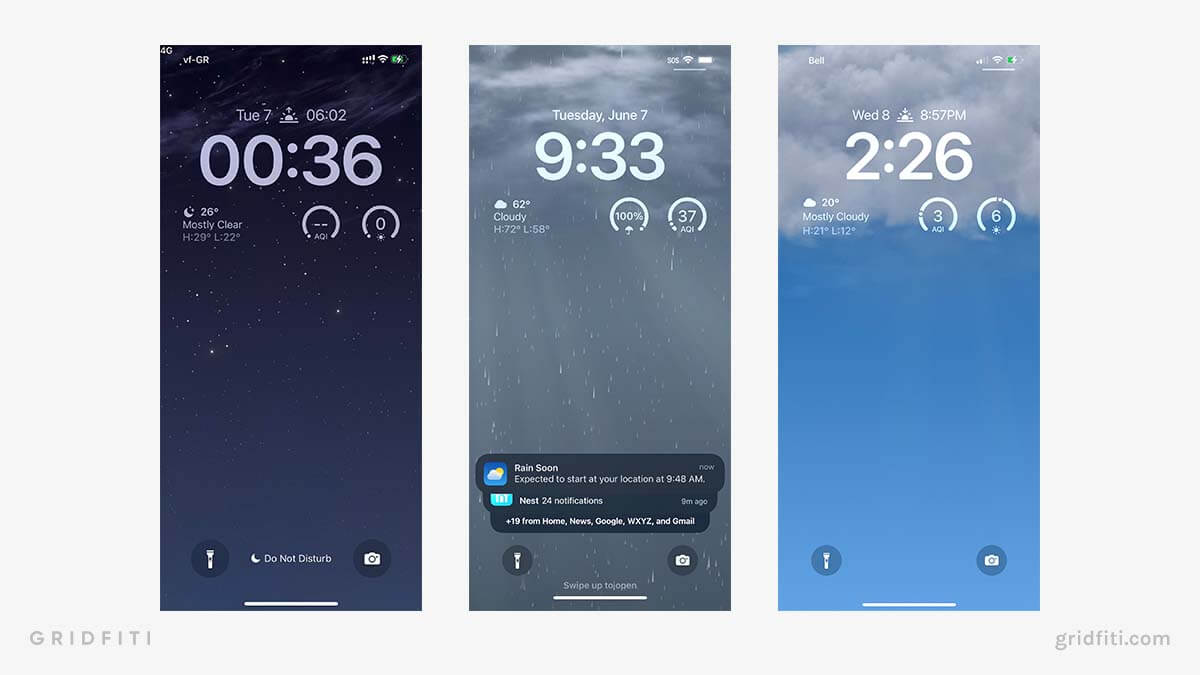 Lock Screen 1 and 2 by @iDominikos and @DetroitBORG
Lock Screen with a Portrait or Loved One
Whether it's a photo of a loved one, a furry friend, or hey – even yourself, set a portrait as your lock screen visual to personalize your phone. Thanks to the new Depth Effect, they'll practically pop right out of your screen!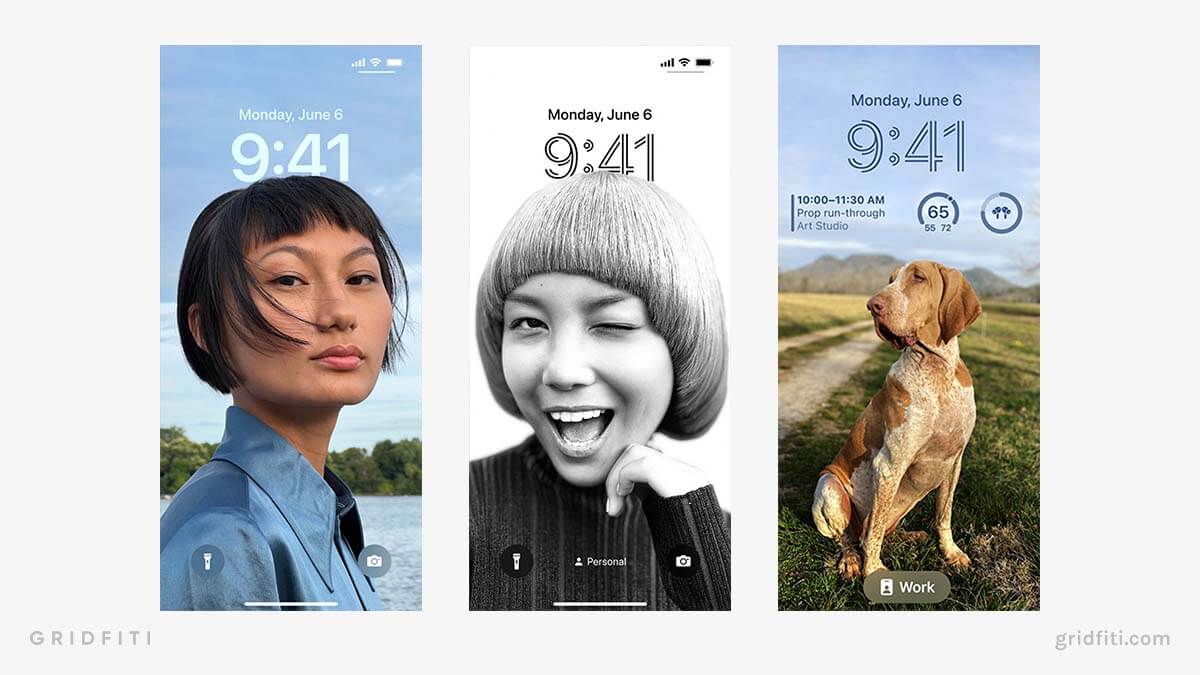 Franchise Themed Lock Screen
Celebrate your favorite video games, shows, and movies better than ever before. Whether you're Animal Crossing-obsessed, wanting to feel the Pokémon nostalgia, or even binging Stranger Things, theme up your lock screen to show your love for these franchises with a font and color to complement the wallpaper. The options are endless!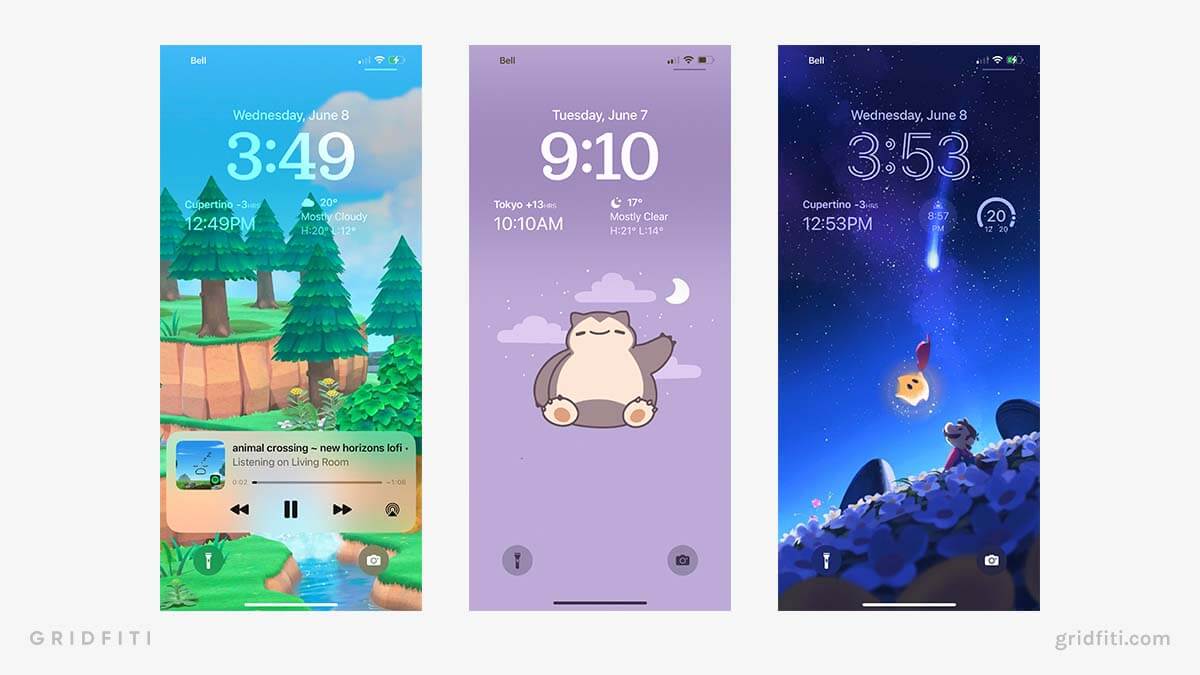 Color Themed Lock Screen
It's no secret that the easiest way to pull together a theme is matching the colors with a set palette – and these themes do just that. Create a cohesive theme with your lock screen by simply matching your wallpaper with your custom text and widget colors!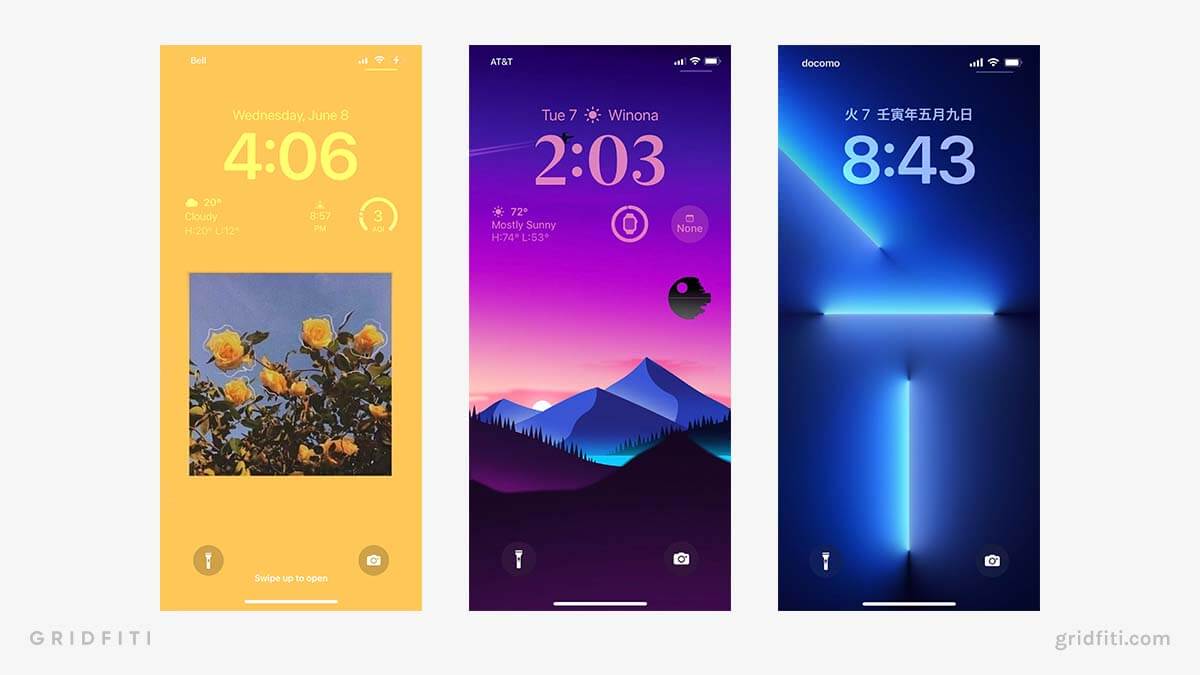 Lock screen 2 and 3 by @AmosSZN and @Kanjo
Neon Themed Lock Screen
Give your iPhone a literal glow-up by customizing your lock screen widget, font, and colors to a vibrant neon theme. Use the built-in retro multiline font option and add dark, neon-themed background to complete the look!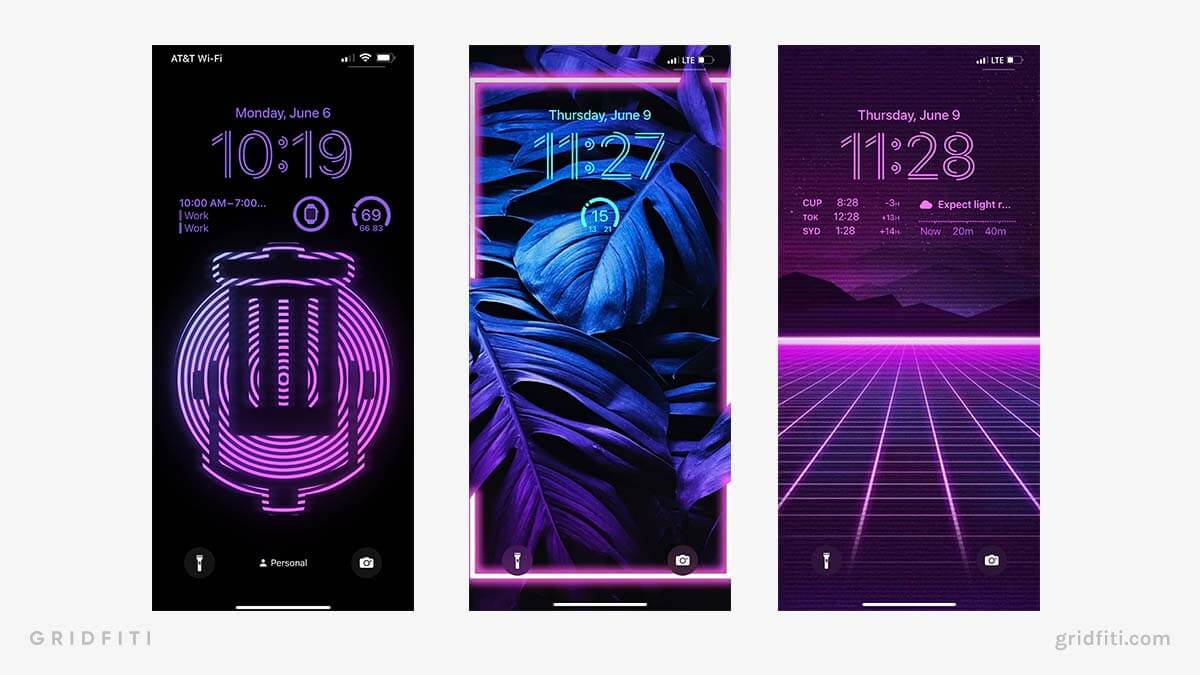 Lock screen 1 by @BrownBelpois
Holidays & Seasons Lock Screen
Get into the seasonal spirit and use your lock screen to rep your love for your favorite times of year! In addition to a themed-up wallpaper, incorporate matching fonts and colors – and even add a widget from the Calendar app to remember important upcoming holidays.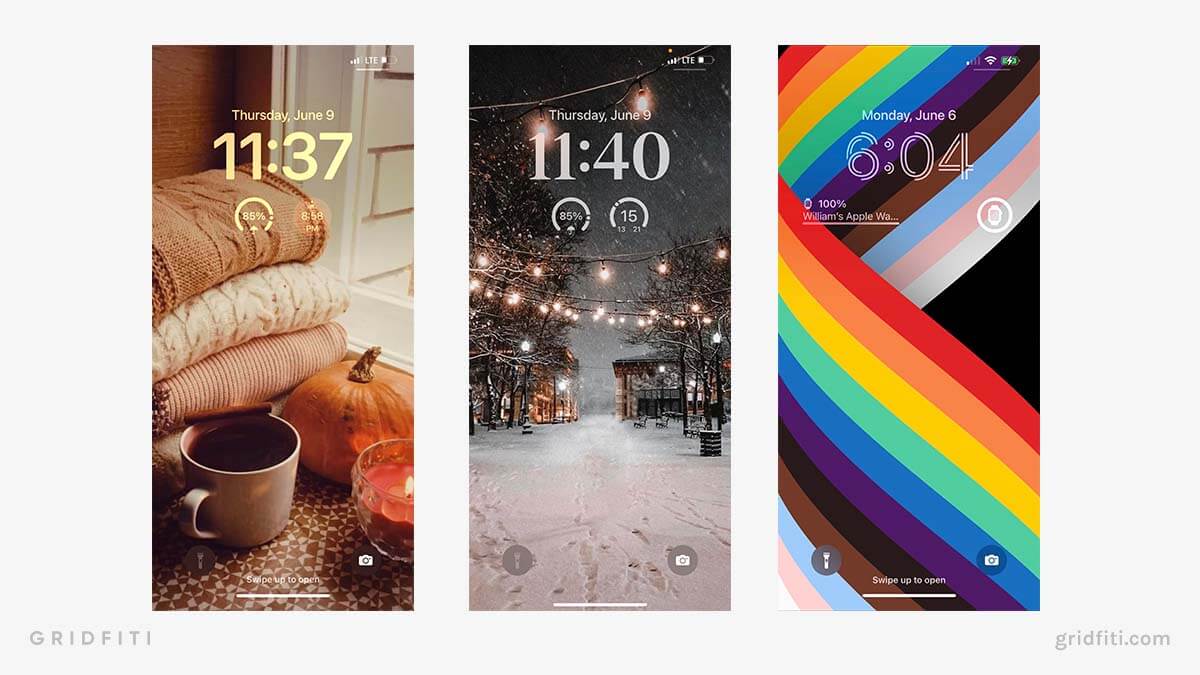 Lock screen 3 by @JustGurgleUwU
iOS 17 Lock Screen Widget Ideas
Once you've customized your lock screen and picked the right font, colors, and wallpaper – you can choose from a ton of aesthetic iOS 17 lock screen widgets. With the sheer amount of widgets available, here are a couple lock screen widgets to pick to level up your digital setup!
For more widgets to pick from, check out out full blog post featuring the most functional & aesthetic iOS 17 lock screen widgets.
Top Widgets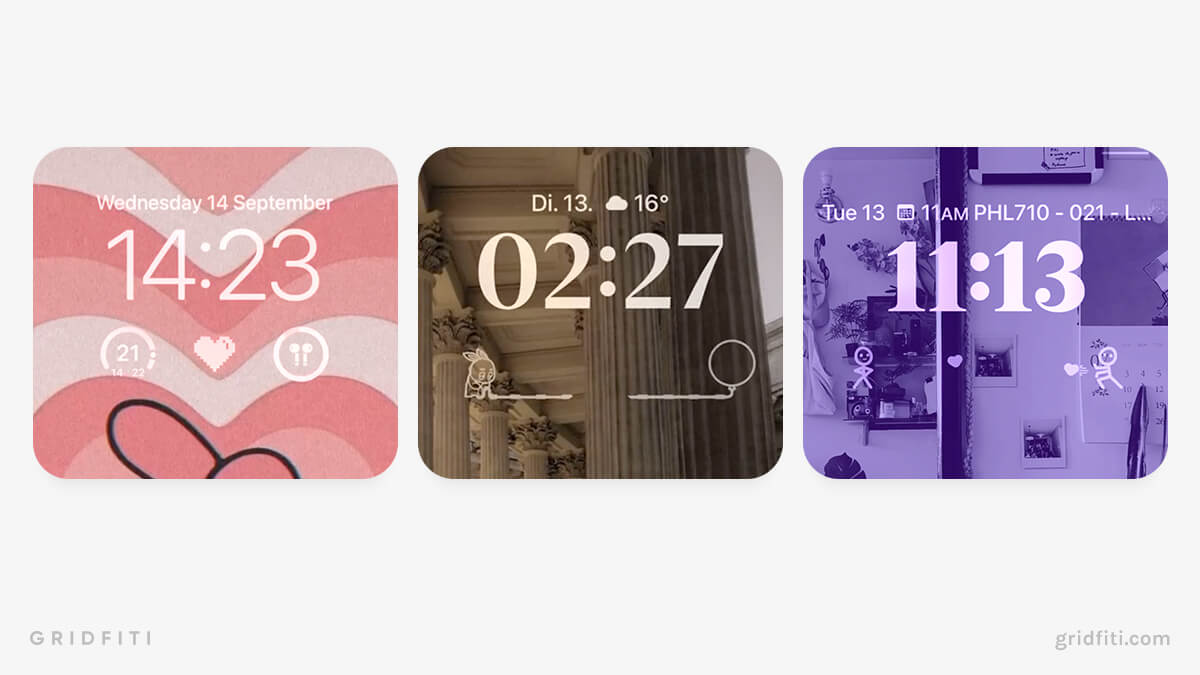 Fantastical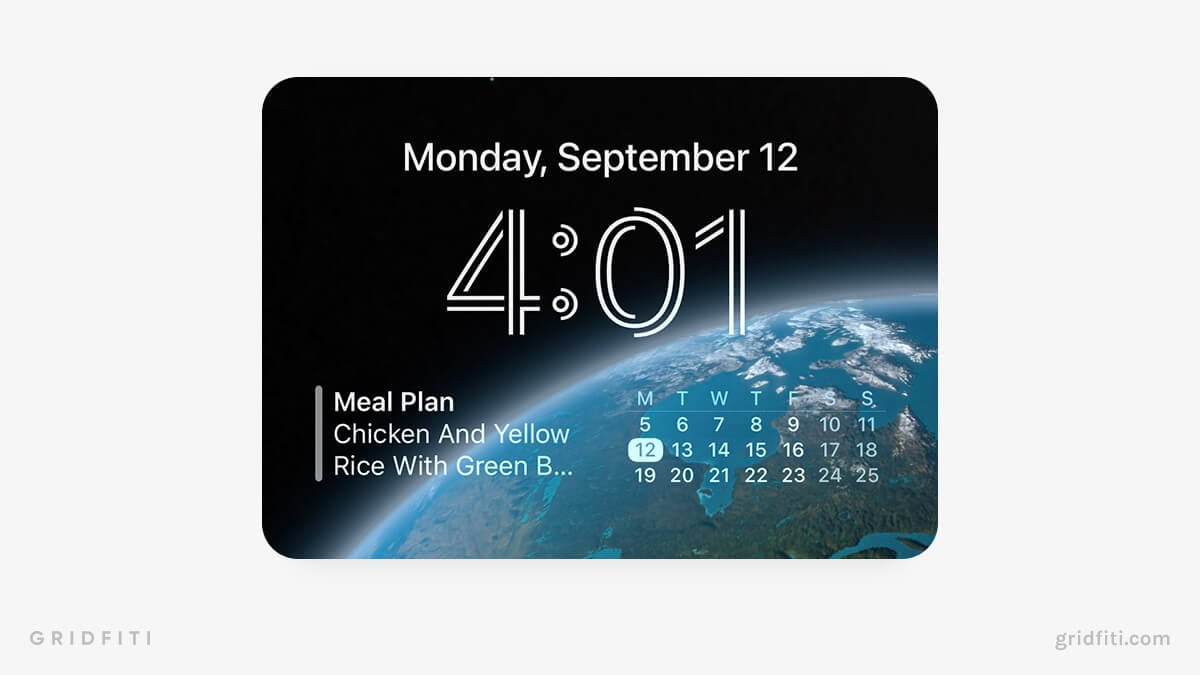 Widgetsmith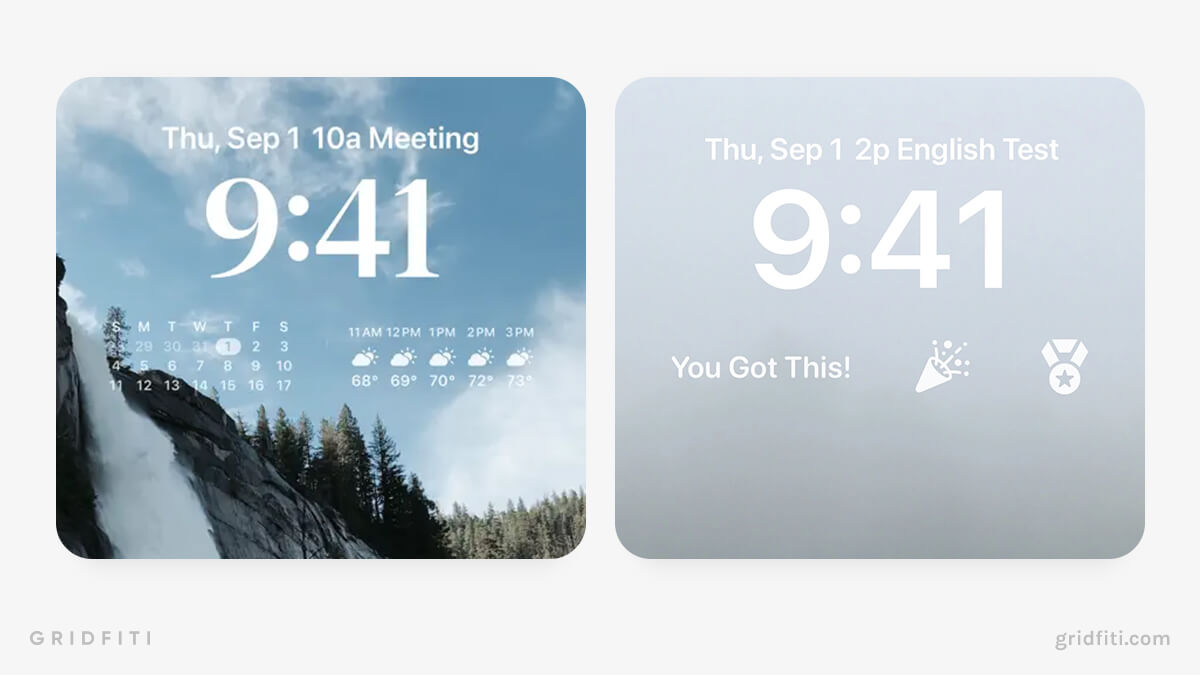 I am – Positive Affirmations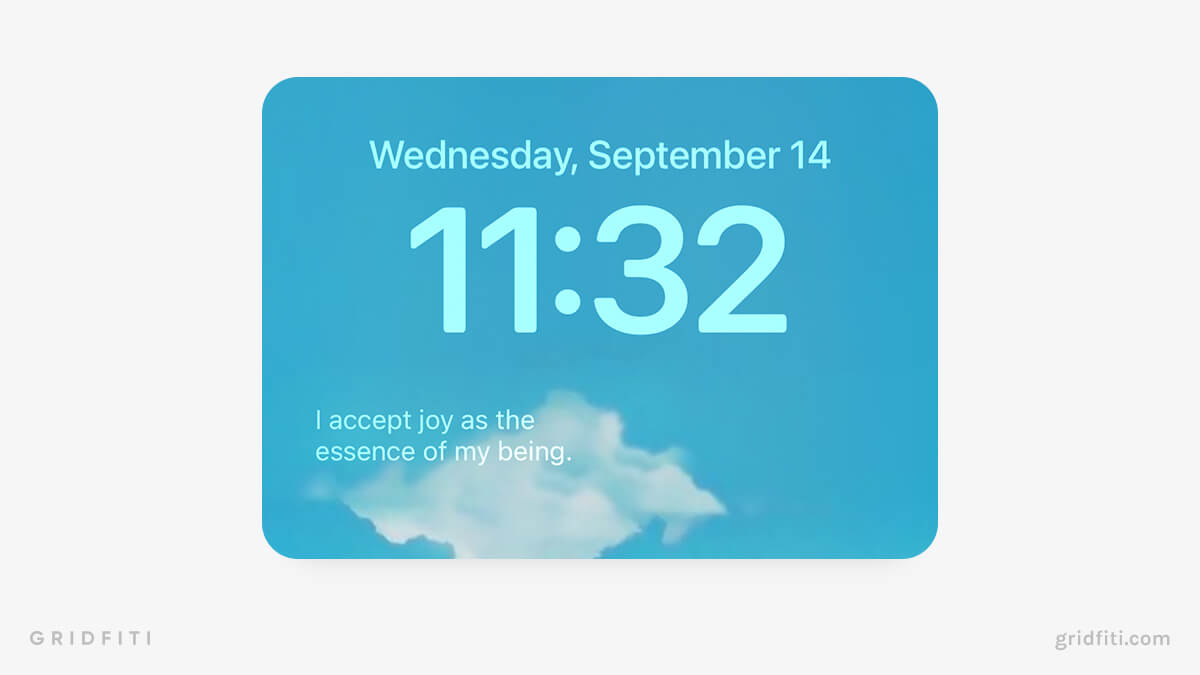 Dark Noise
WaterMinder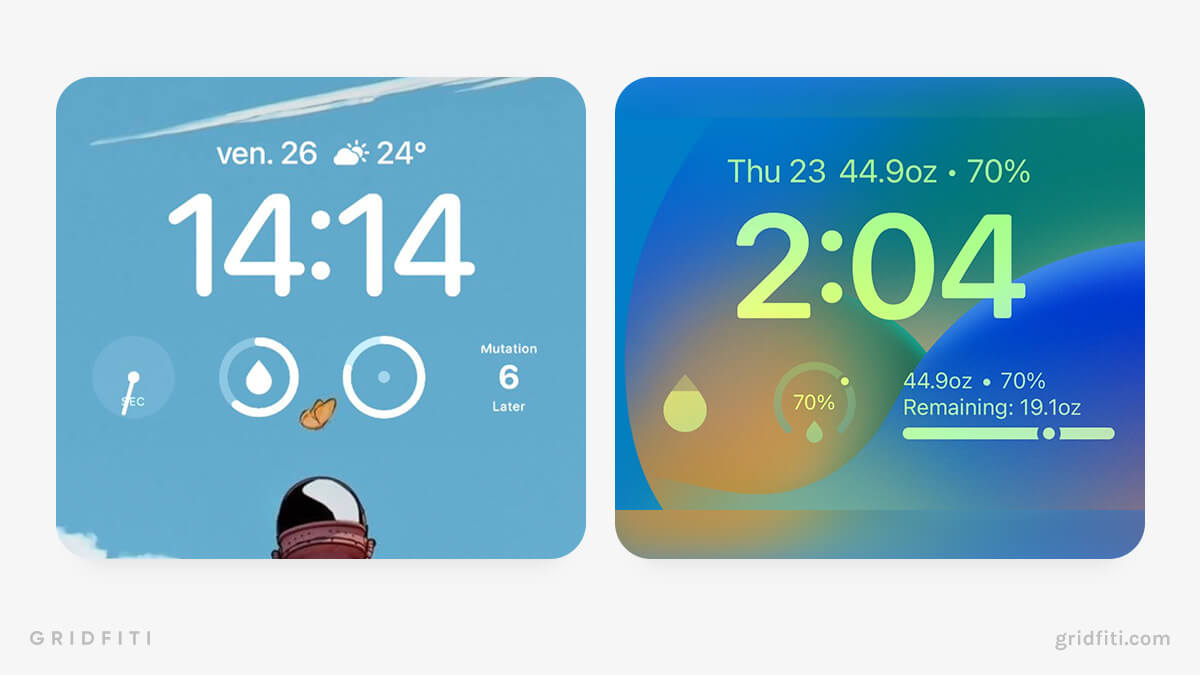 Are we missing any other aesthetic iOS lock screen ideas? What other lock screen themes should we share for iOS? Let us know in the comments below!
Gridfiti is supported by its audience – when you buy something using the retail links in our posts, we may earn a small commission at no additional cost to you. Read more about our affiliate disclaimer.