Without a doubt the hottest feature of Apple's iOS 14 is the ability to customize your own home screen. You now have the ability to create widgets, customize app icons, edit font styles, and much more.
Many users are losing their minds with the latest update and it seems like everyone is rushing to share their creative home screen ideas all over social media. We've seen some amazing theme ideas and layouts across Twitter, TikTok, YouTube, and Reddit.
With thousands of different themes possible – from minimal designs, to franchise-themed screens like Animal Crossing's Nook Phone – we've compiled a list of the 30+ most aesthetic iOS home screen ideas to inspire your own iPhone layout.
Note: To achieve some of these looks, especially the cool iOS 14 widget ideas, you'll need some third party apps such as Widgetsmith, Color Widgets, and Photo Widget.
If you're looking for some icon cover sets to complete your home screen, check out our latest round-up of the most aesthetic iOS 14 app icons!
For more aesthetic iOS home screen theme ideas, subscribe to our email list below to be the first to know about any new updates and icon pack releases! 📮
Black & White iOS Home Screen
Available in dark mode and light mode. These sleek app Icons are available here.
Credit: @traf
Minimal Aesthetic iOS Home Screen Ideas
These home screen themes are offered in black & white, colored pastels, and in neutral colors. The Icon packs are available here.
Sneakerhead iOS 14 Home Screen Ideas
Using custom sneaker icons, mix and match your app covers to create the sneaker wall you've always wanted – without paying resell. These packs include sneaker shelf wallpapers, custom widgets, and more!
Jordan Sneaker Icon Pack Available Here | Yeezy Sneaker Icon Pack Available Here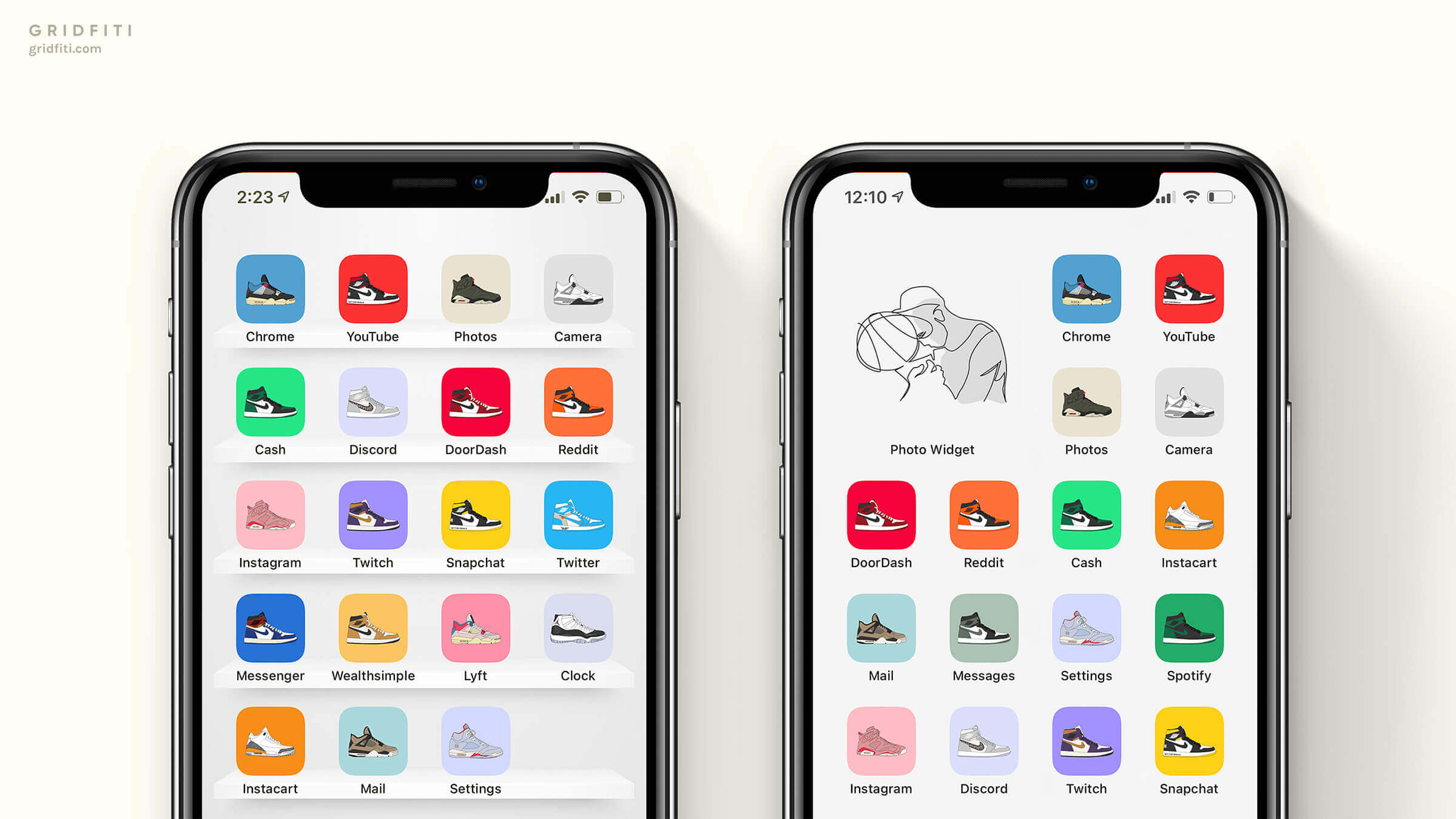 Colorful Modern Home Screen Layout
If you're interested in this theme and the colorful app icons, they are available here.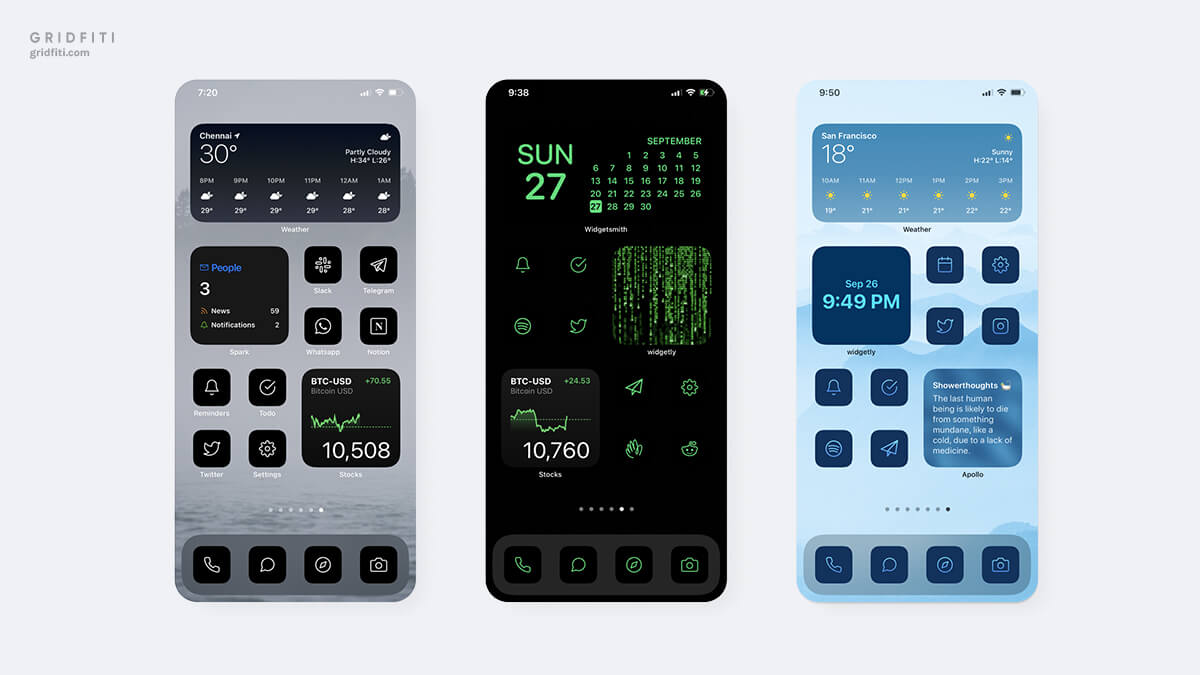 Monochrome iOS 14 Home Screen
If you're digging this theme, grab the white and black app icons that are available here.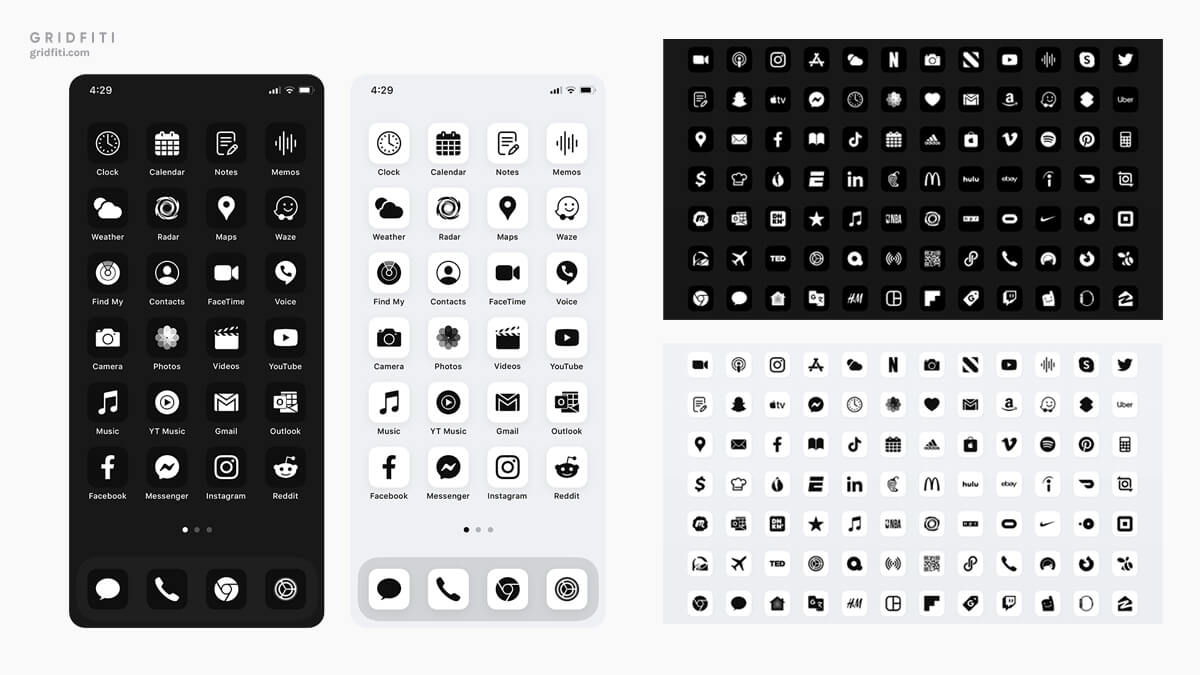 Hand-Illustrated Aesthetic Color Themes for iPhone & iPad
If you want your iOS 14 home screen to feel a bit more artistic, using hand-illustrated icons are a great way to achieve that.
Illustrated Icon Packs Available Here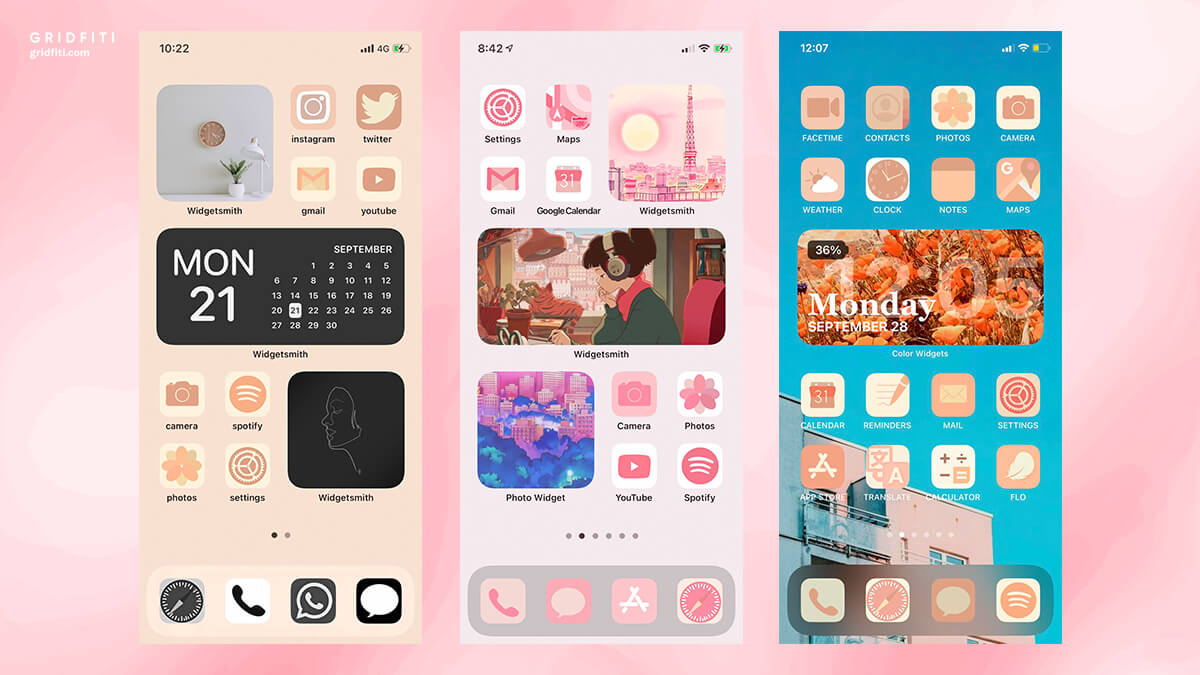 iOS 14 Neon Theme & Cyberpunk Layout Ideas
Turn your home screen into a cyberpunk dreamland with a dark neon lights theme. You can go for a more minimal neon theme with a simple background, or you can spice up your cyberpunk layout with a more intense graphic as your background.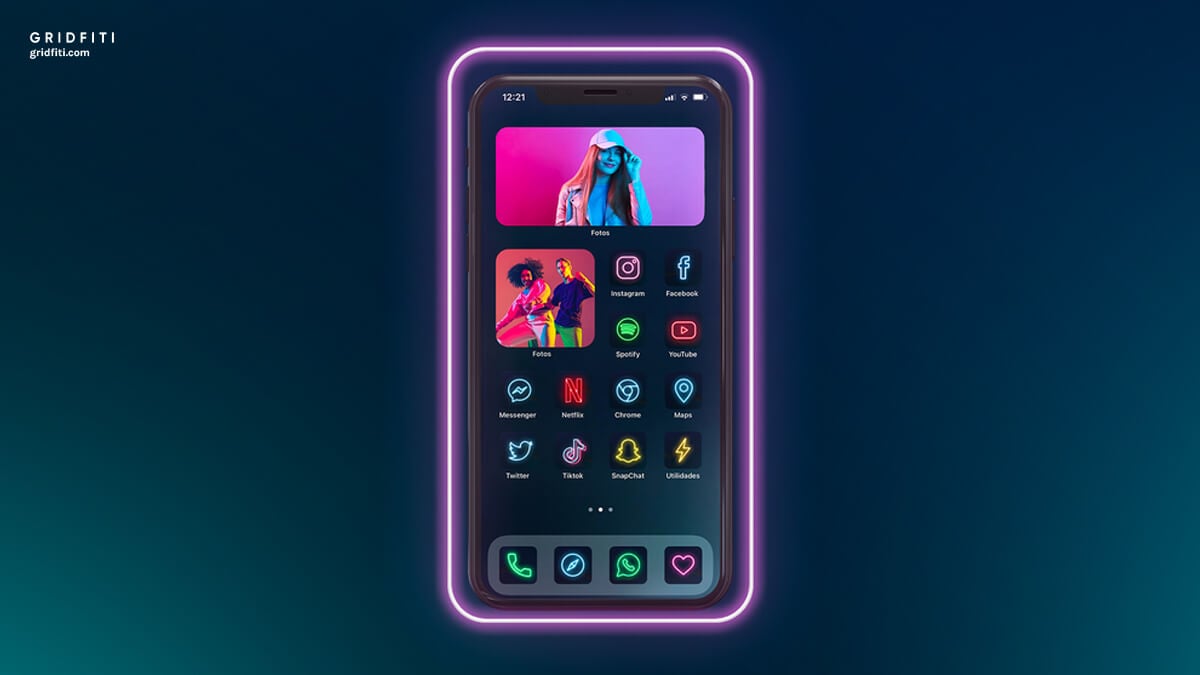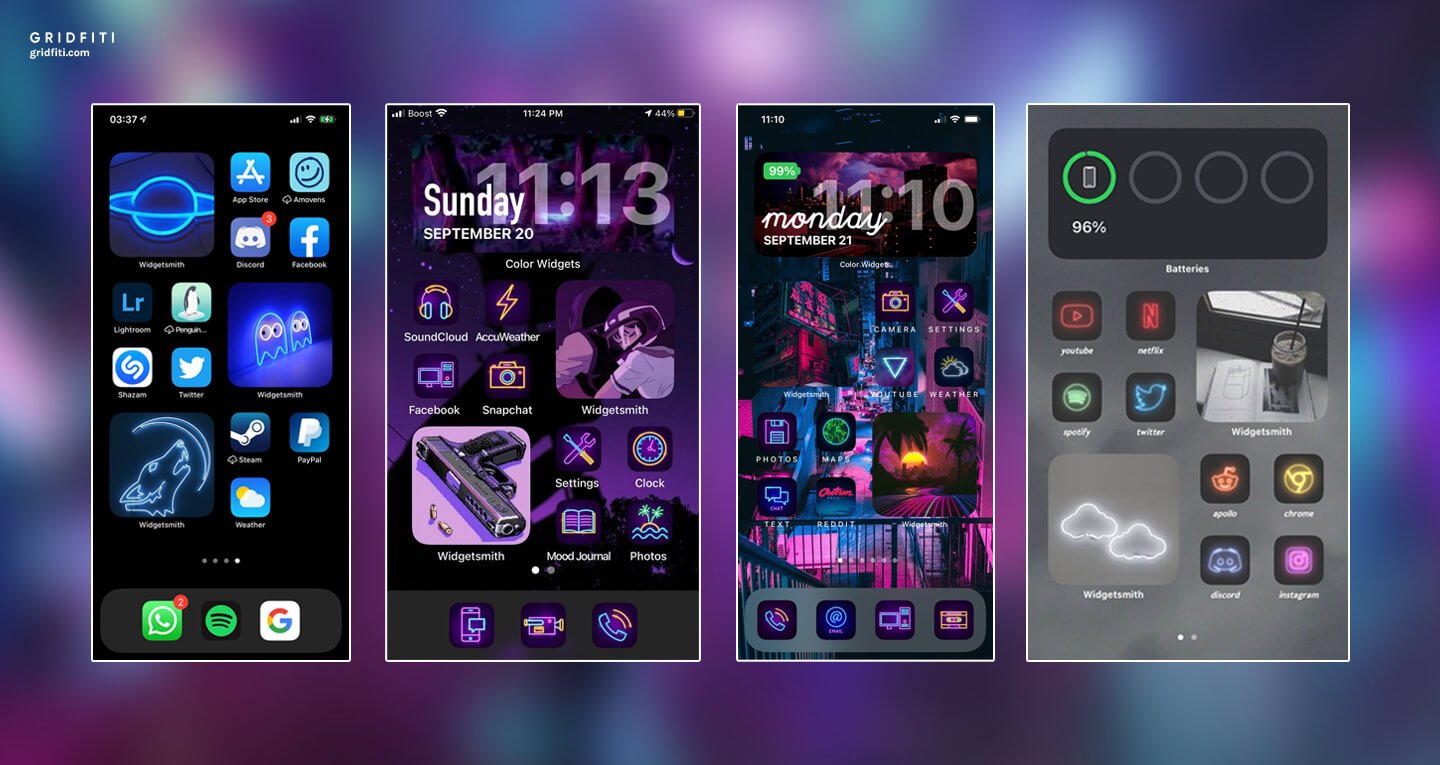 Credits: @hughmenick, @WalterInPain, @GabeMartinez47, u/cherrycolaking4
Animal Crossing Home Screen – Nook Phone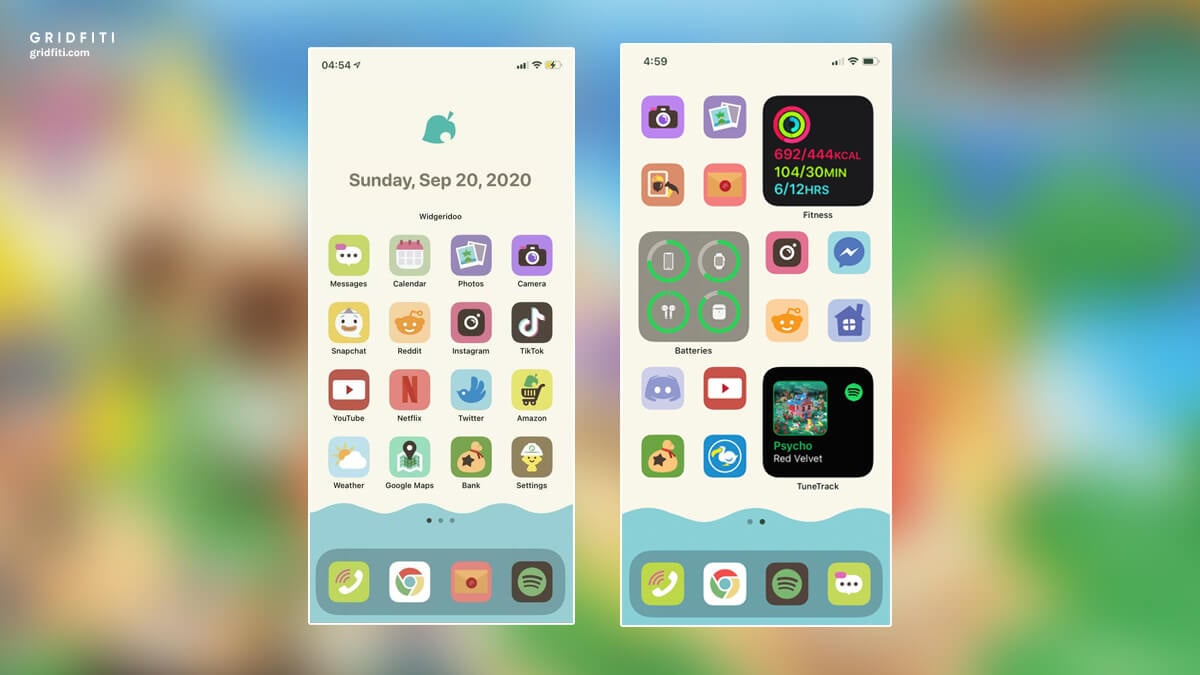 Anime iPhone Home Screen Ideas
Studio Ghibli theme, Sailor Moon, Boku No Hero Academia, and more. Get started with some app icons here and here.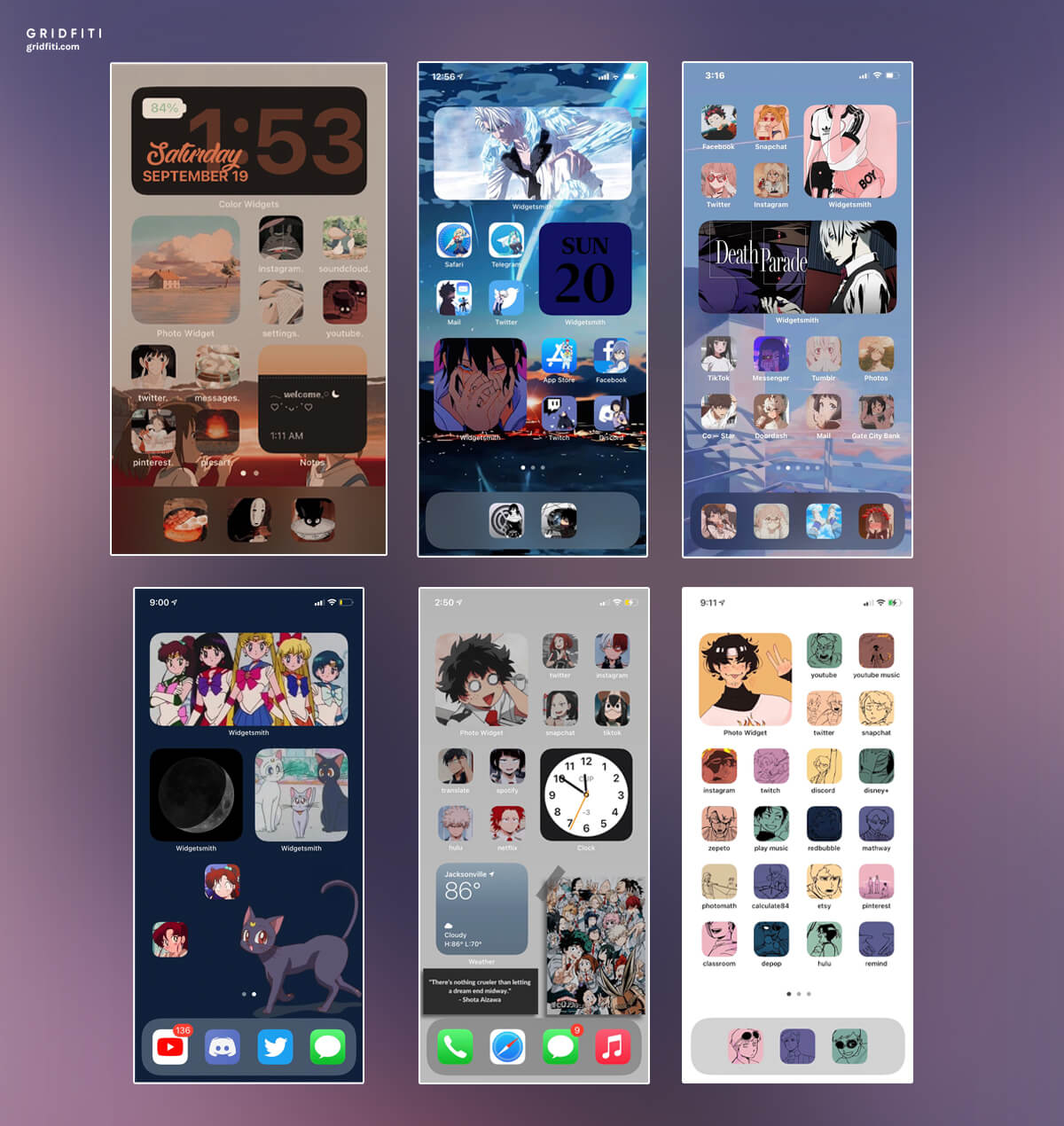 Credits: @monokecenter, @ilfyans, @hyakukisses, @_dullcet, @thechickbethany, @lilacruins
Color Palette Aesthetic Layout Ideas
If you need aesthetic color ideas and hex codes for this minimal look, check out our aesthetic color palettes.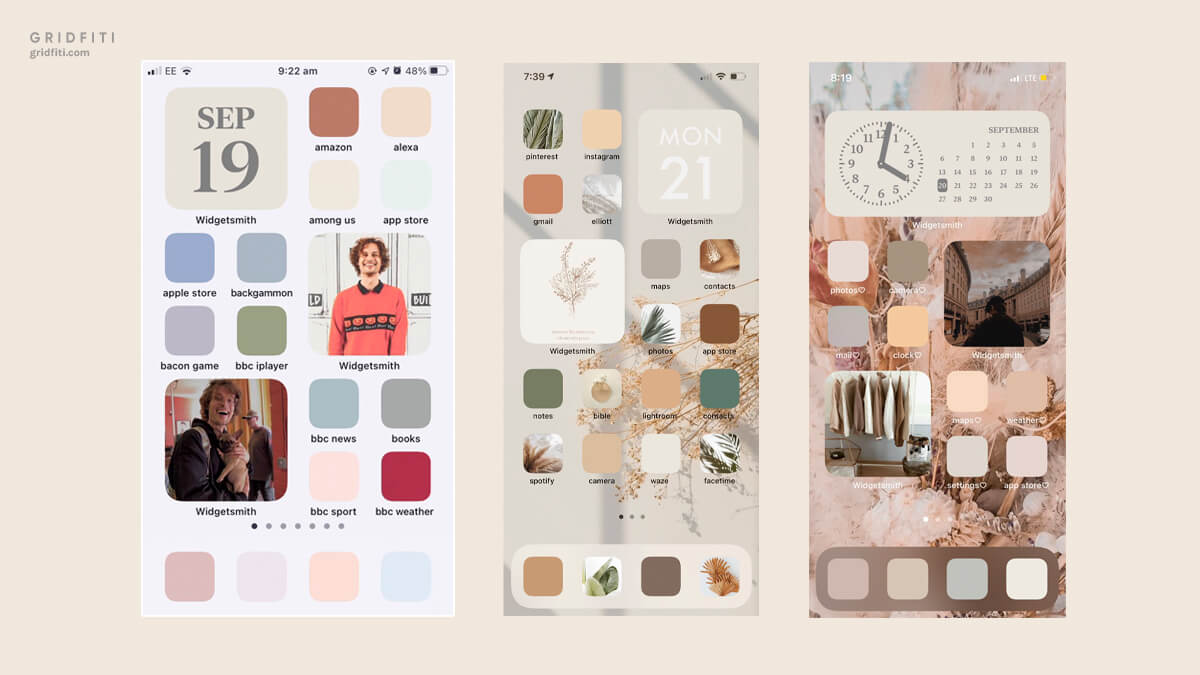 Credits: @ryoyotsu, @nadialthomas, @iamjukie
Cloud Aesthetic iPhone Home Screen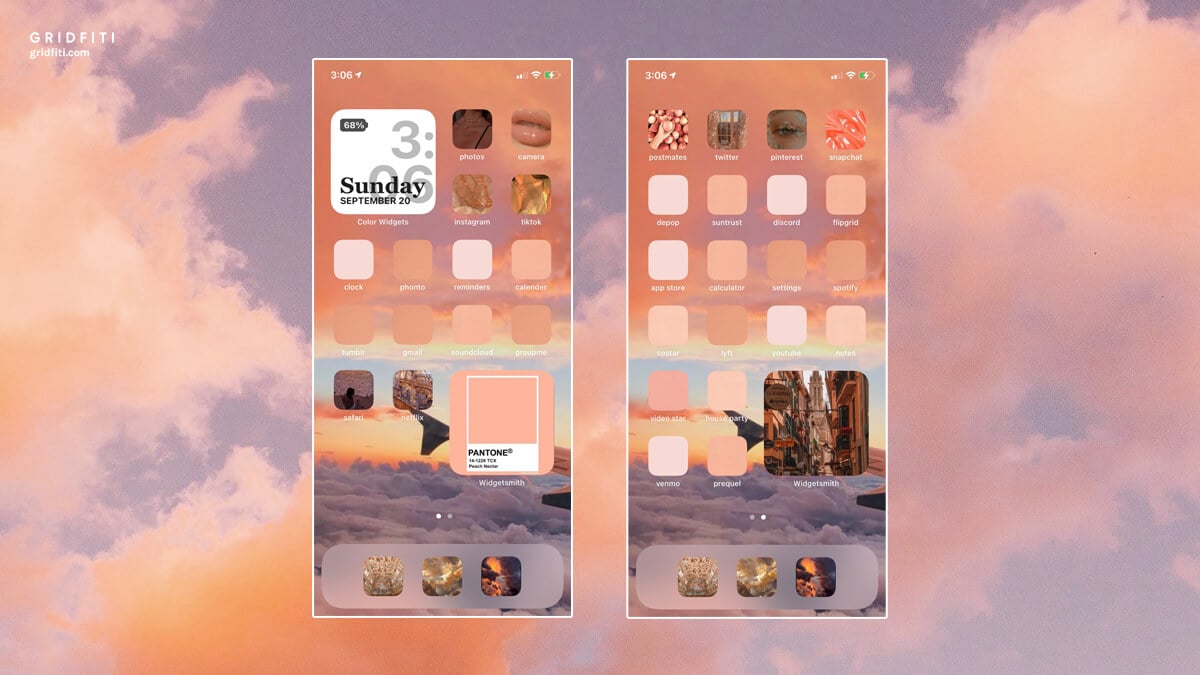 Credit: @katesarvady
Split Colored Wallpaper Home Screen Layout
A popular layout idea for iOS 14 home screens is the use of split backgrounds. Using colorblocked wallpapers, this look separates app icon and widgets to create a clean and organized appearance.
Left image: these 3D app icons along with split wallpapers are all included in a pack available here.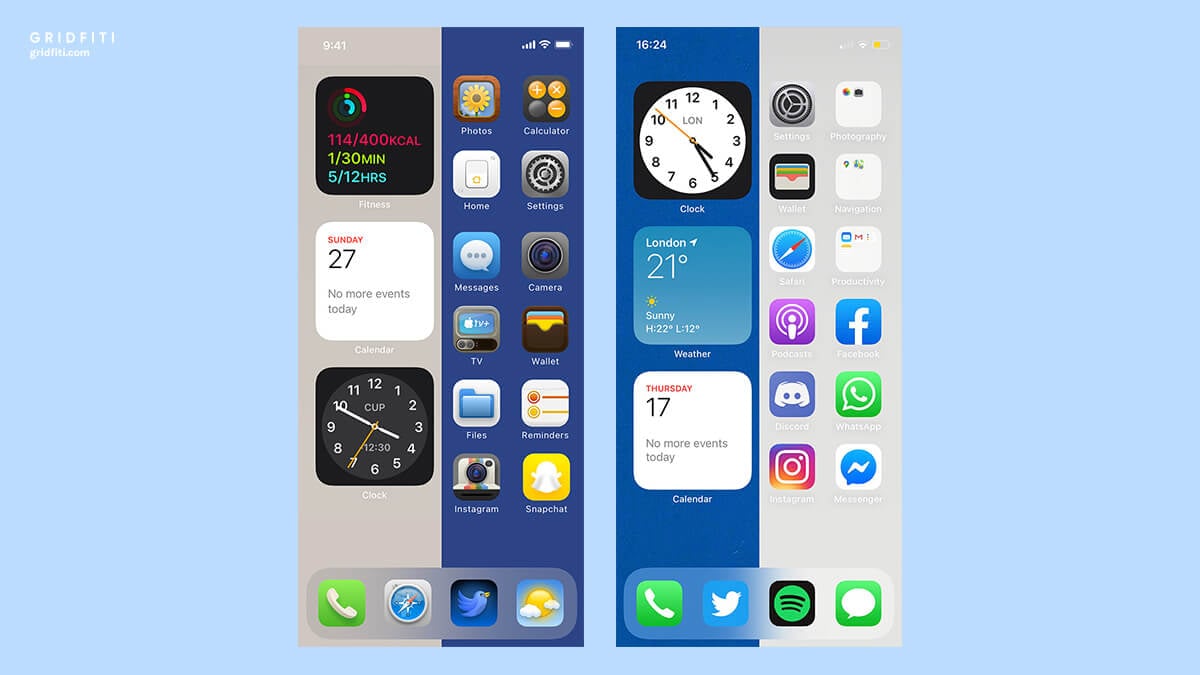 macOS Big Sur Inspired Home Screen Idea
If you're looking to match your iPhone and iPad icons to your Mac – with Apple's upcoming macOS Big Sur, – check out Levi's Color & White set.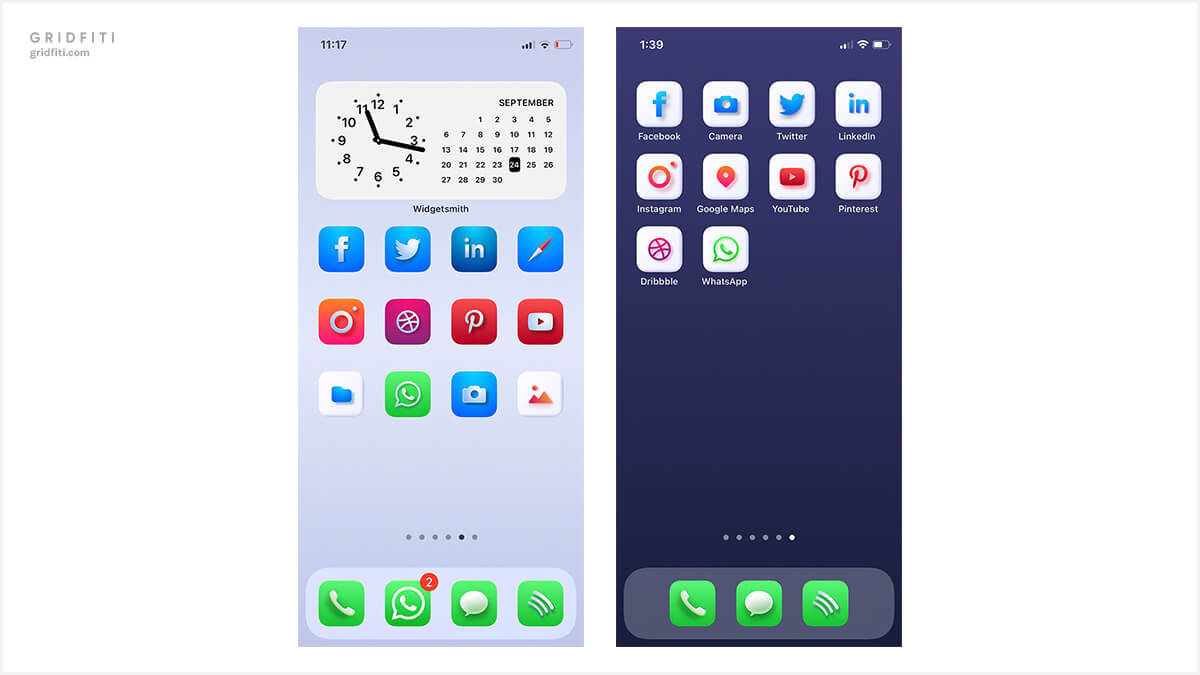 Kawaii iOS Widgets & Home Screen Ideas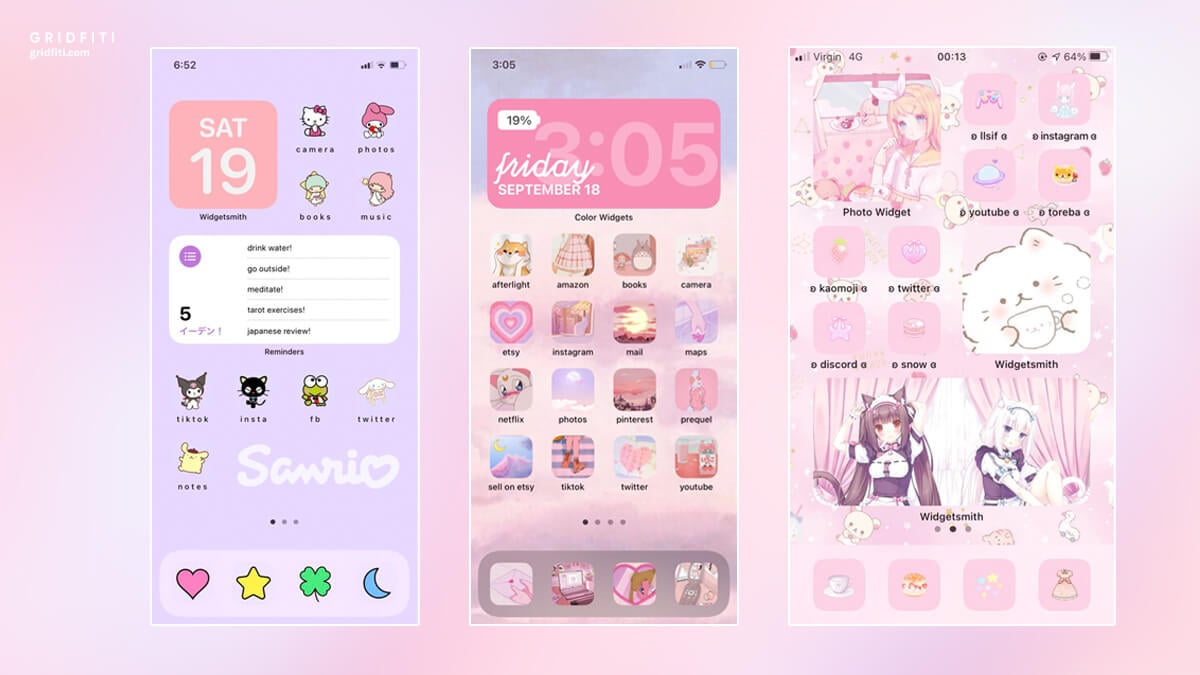 Credits: @edenamarosa, @nicolexsolero, @omoonbunnyo
Pastel Aesthetic iOS Layouts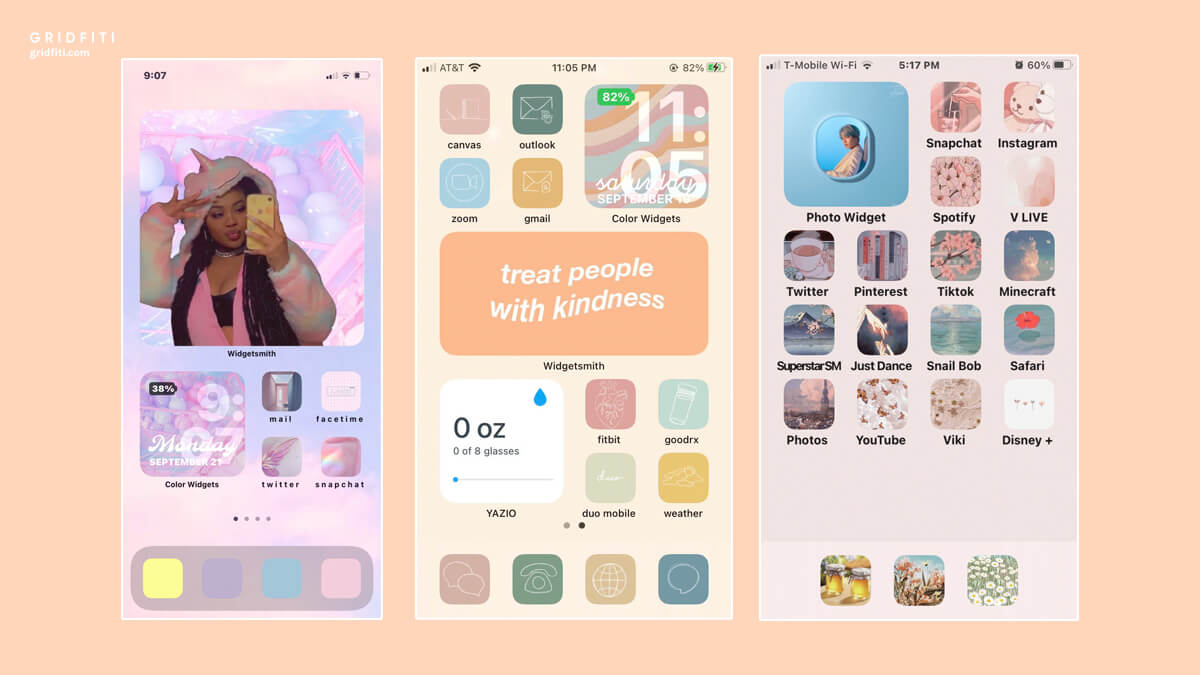 Credits @markleetightass, @alyssawtm
Soft Aesthetic iOS Home Screen Layout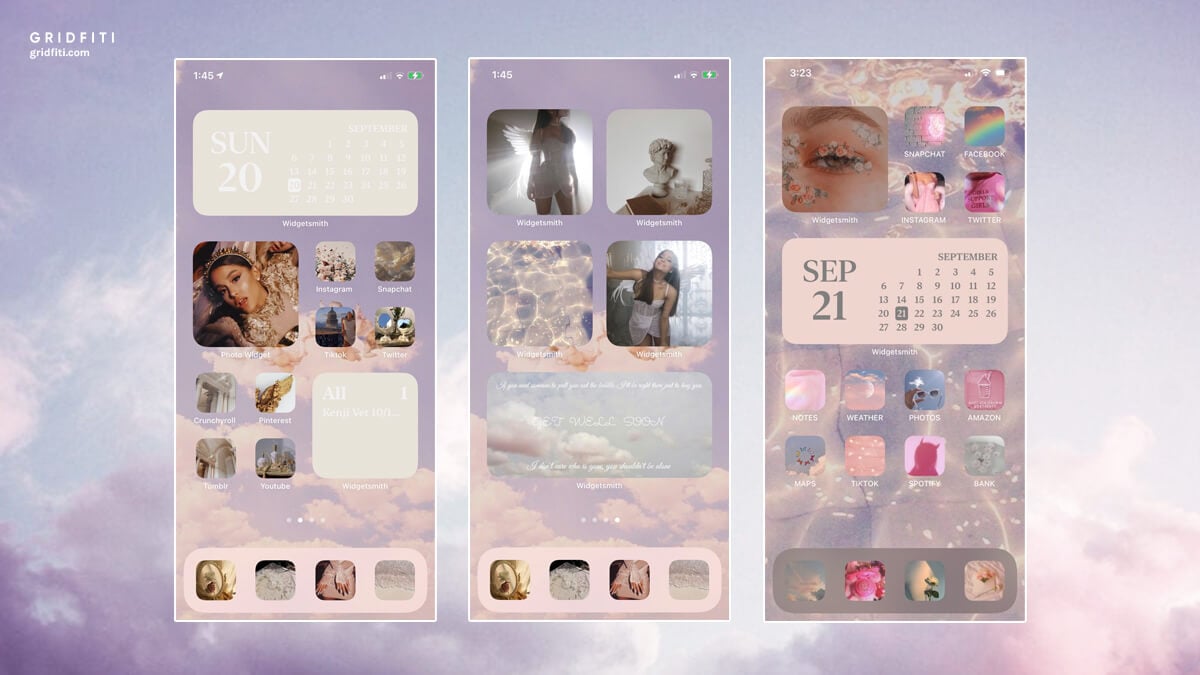 Credits: @akutagawasbebe, @casper_megan
Cottagecore iPhone App Icons & Layout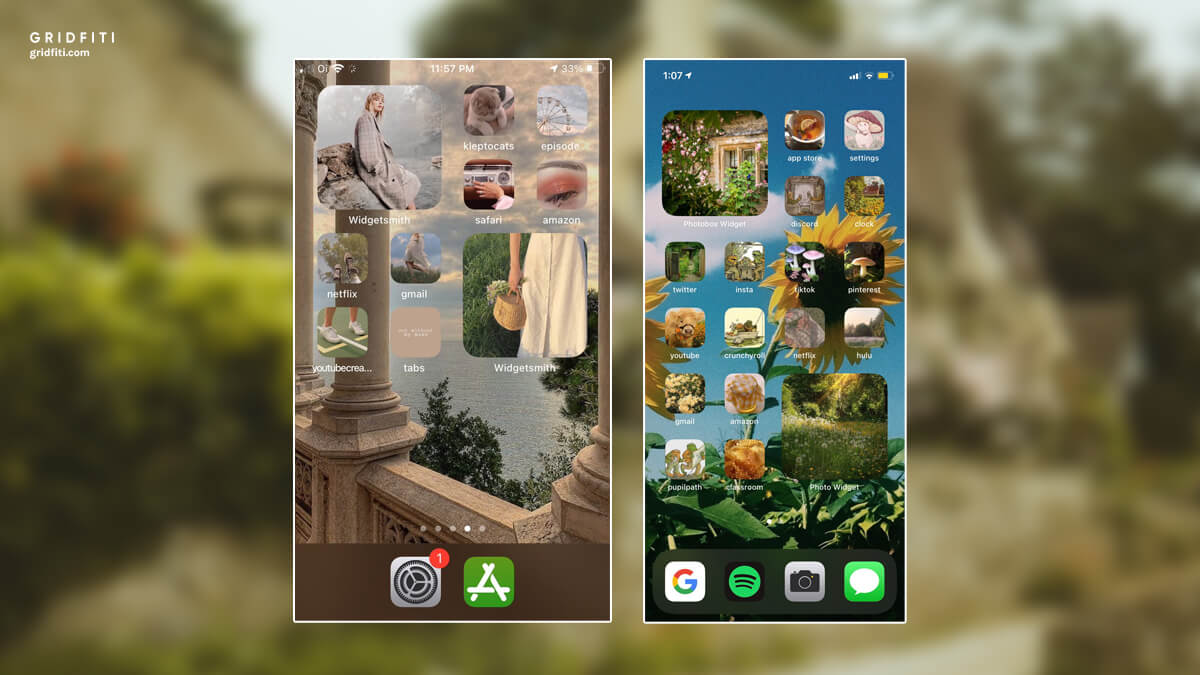 Credits: @new_user_needed, @izziemarcondes
Tumblr Aesthetic iOS Home Screen Ideas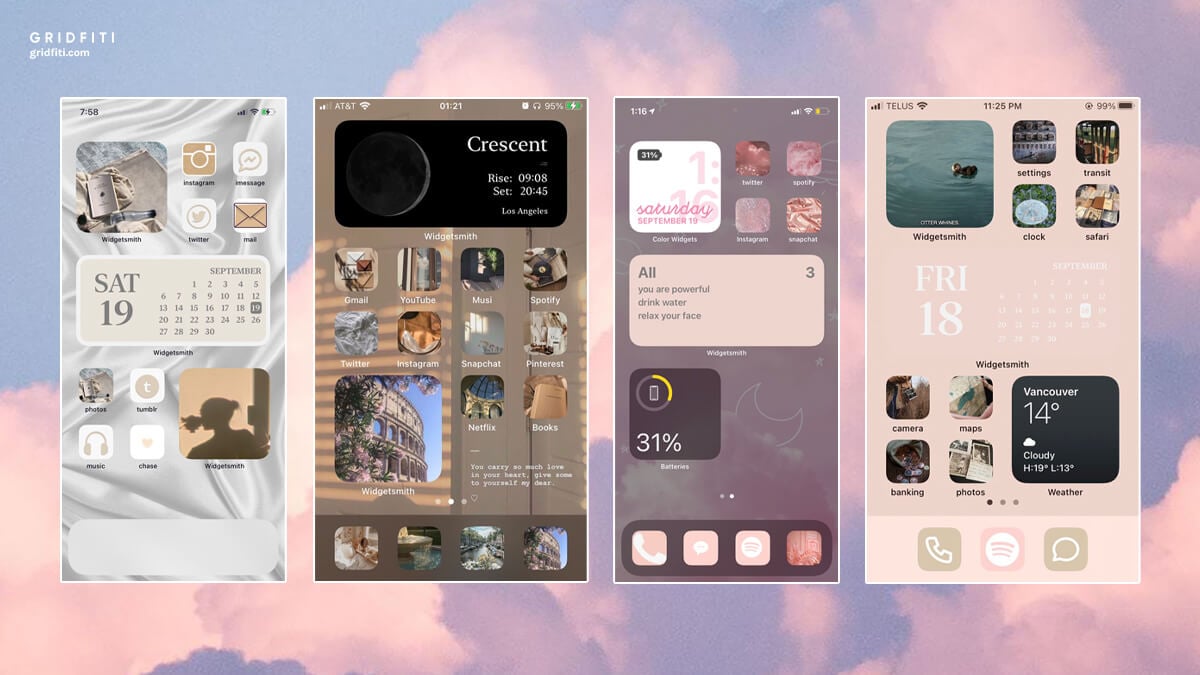 Credits: @jcxx_k, @gyubaii, @Kaylasfro, @baybeepeachz
Ocean / Beach Aesthetic iPhone Layout Ideas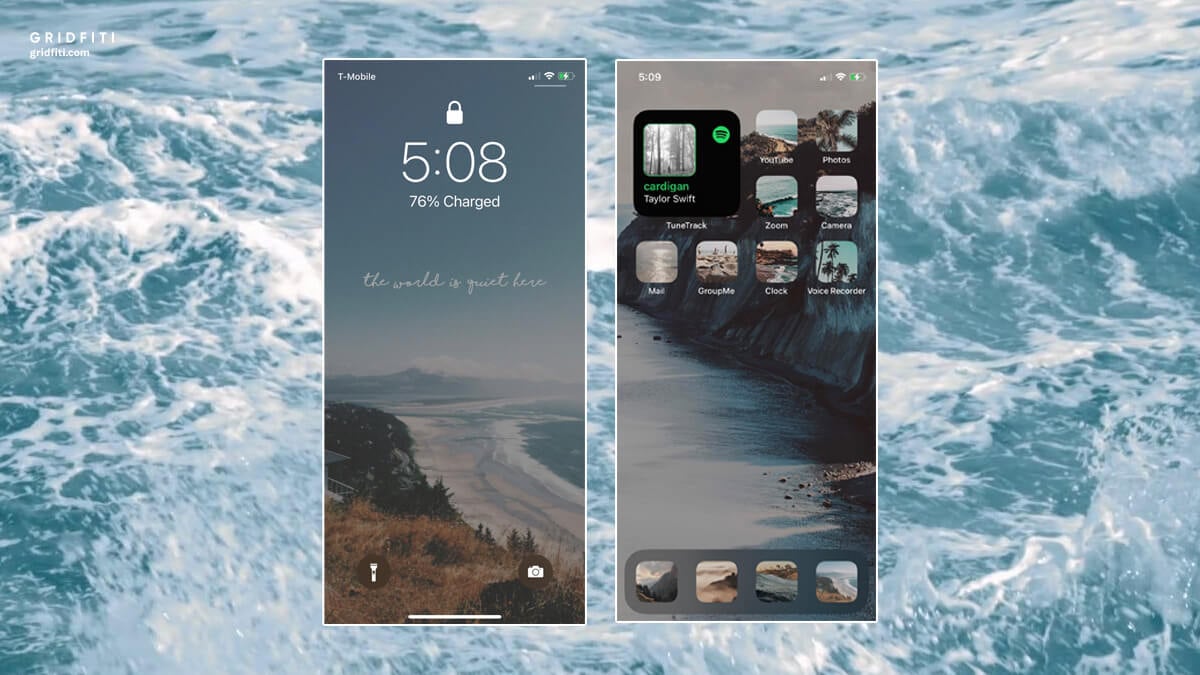 Credit: @deadringer123
Minimal iOS 14 Home Screens & App Icon Ideas
For custom minimal icons, check out our iOS 14 app icons pack list!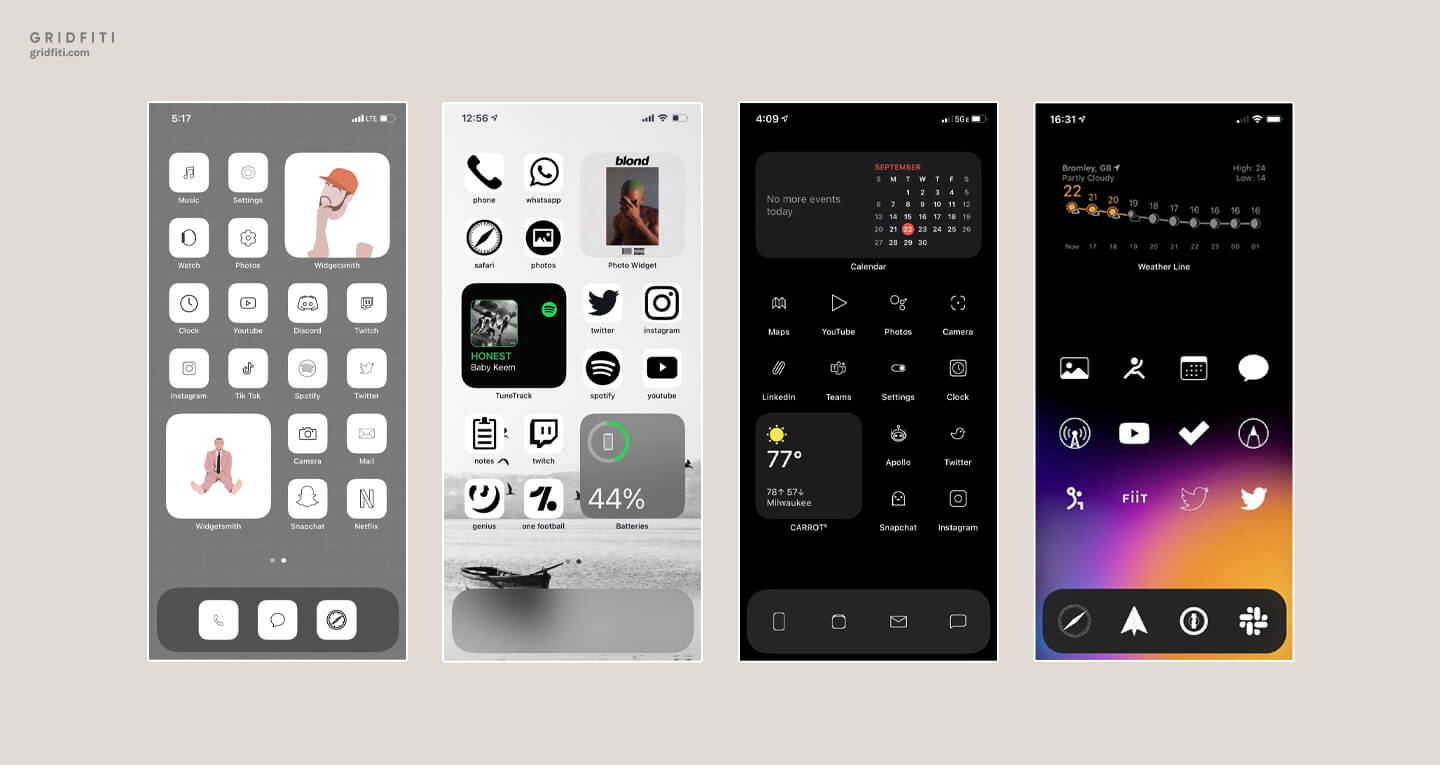 Credits: u/peamonster123, @therapagenda, u/Jawzzz24, u/darkejon
Space / Galaxy Aesthetic Home Screen Layouts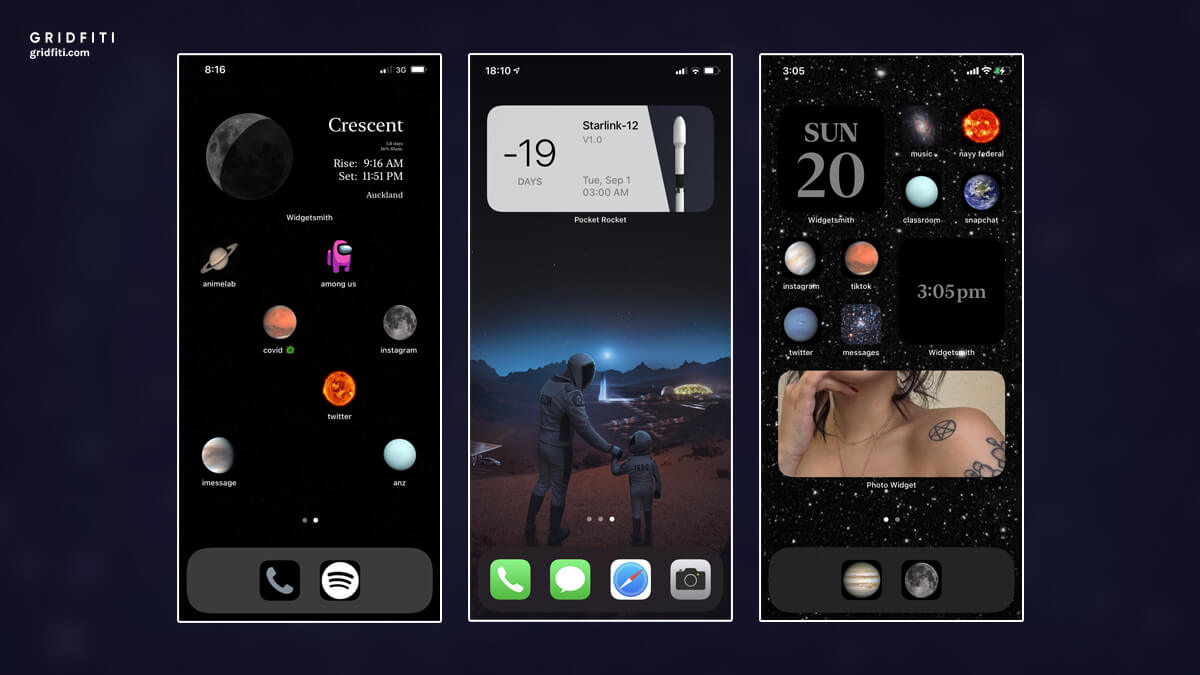 Credits: @pissgf, @cosmintrica, @clikkietylerr
Halloween / Fall iPhone Layouts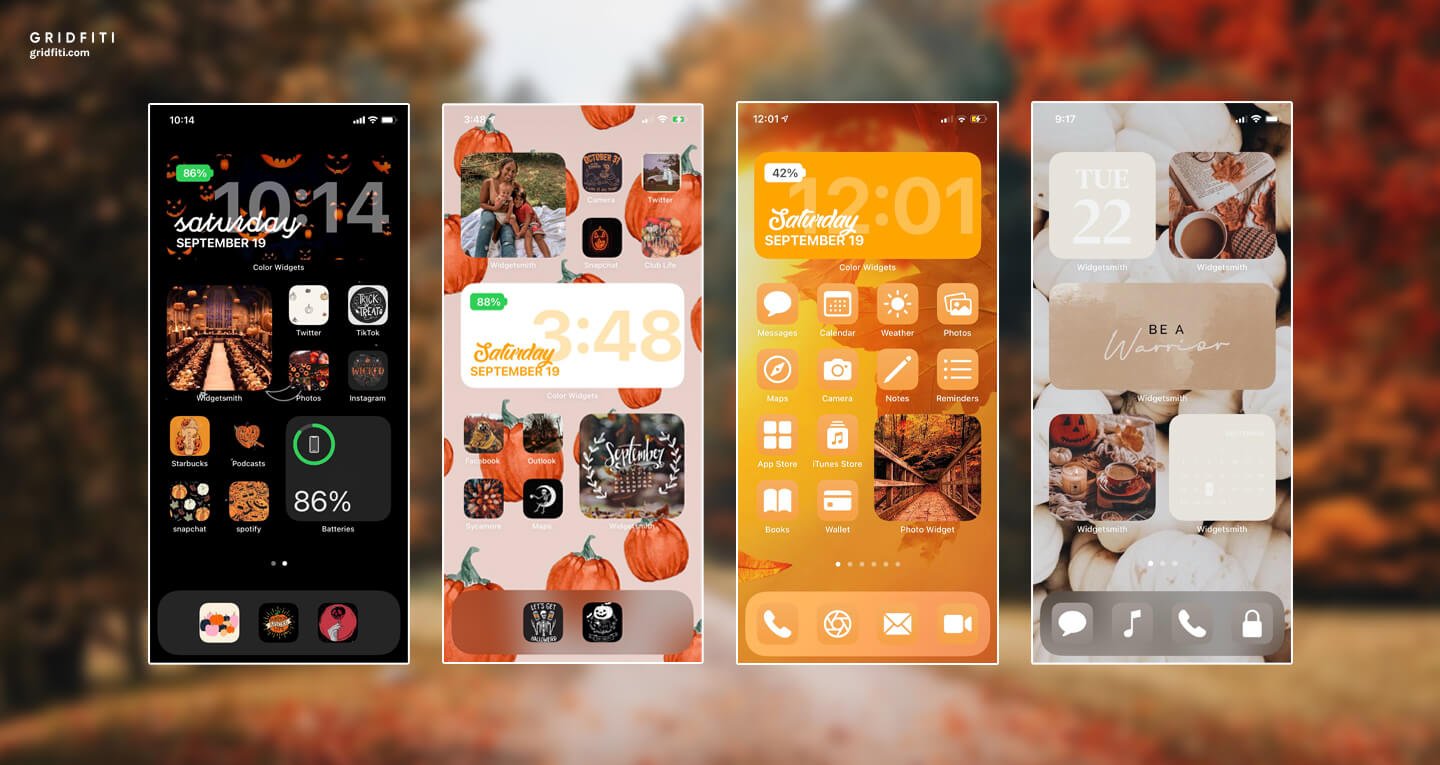 Credits: @omgfaiza, @selena_houston, @ffiondraws, @SarahTwloha
Retro Pixel Art Home Screen Design
If you grew up playing games on older consoles like the SNES or even on a Gameboy, then you'll enjoy this retro home screen. The layout brings back every ounce of nostalgia with the pixelated widget and app icon designs.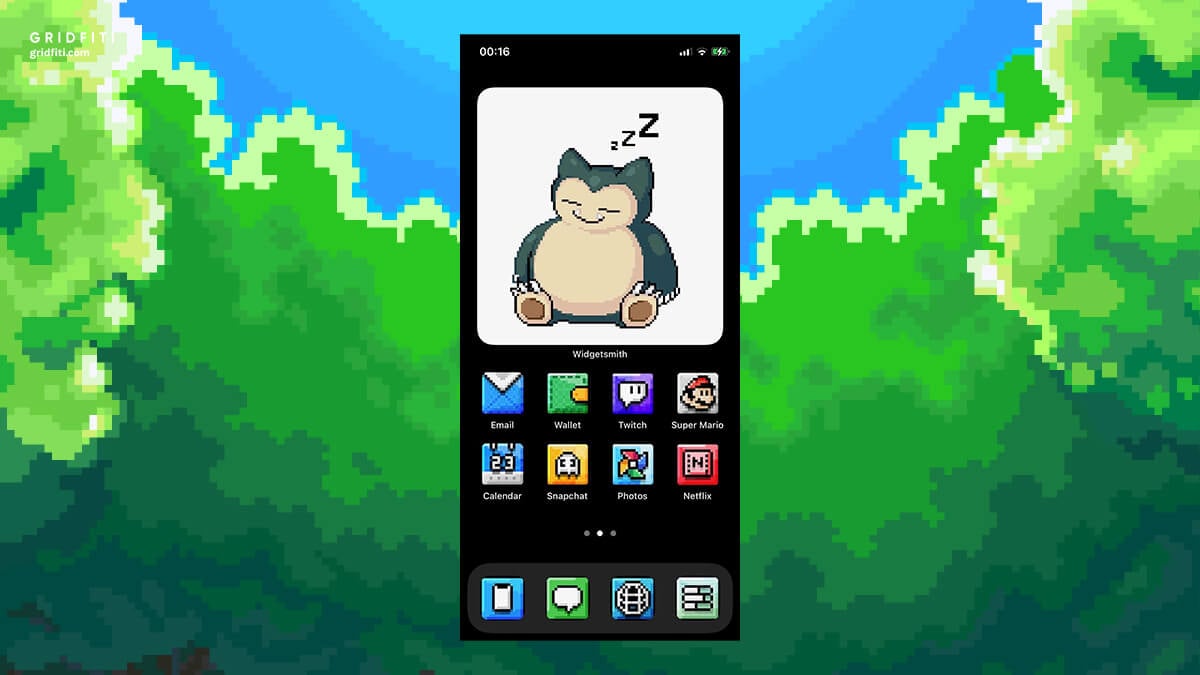 Franchise Themed iOS App Layout Ideas
Pokémon, Spongebob Squarepants, and Harry Potter franchise themes.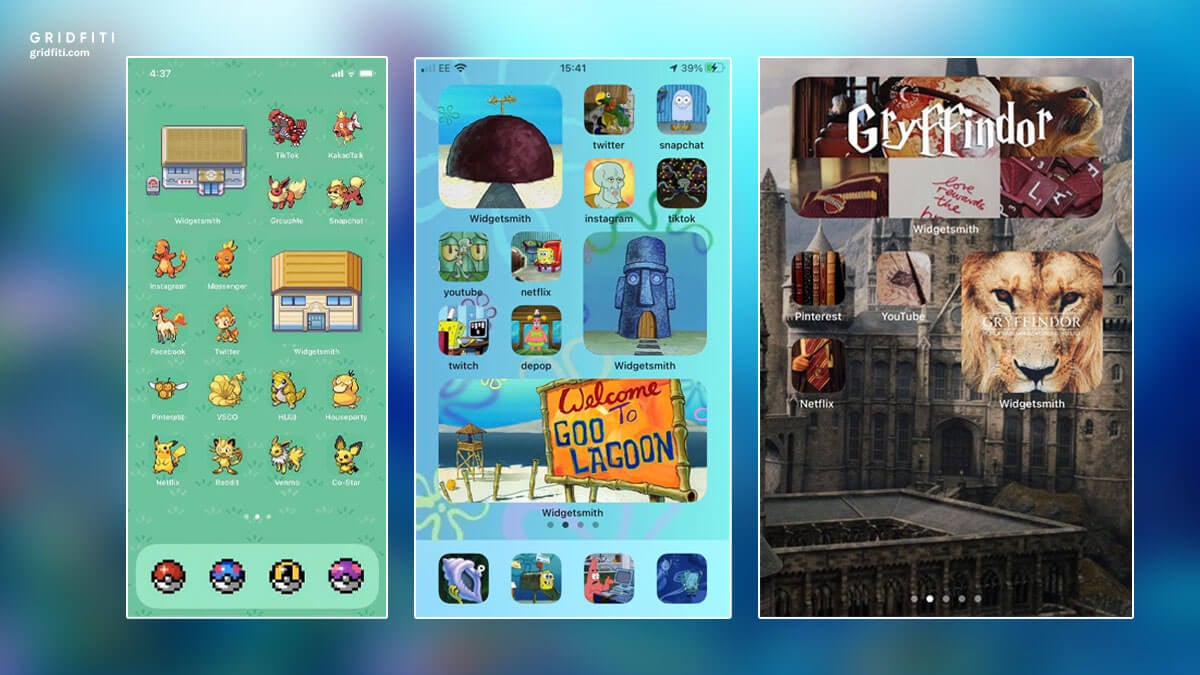 Credits: Lena Srun, @luigikartds, @90seditss
Gaming iPhone Home Screen Ideas
Super Mario, Minecraft, Zelda, and Fall Guys home screen theme ideas.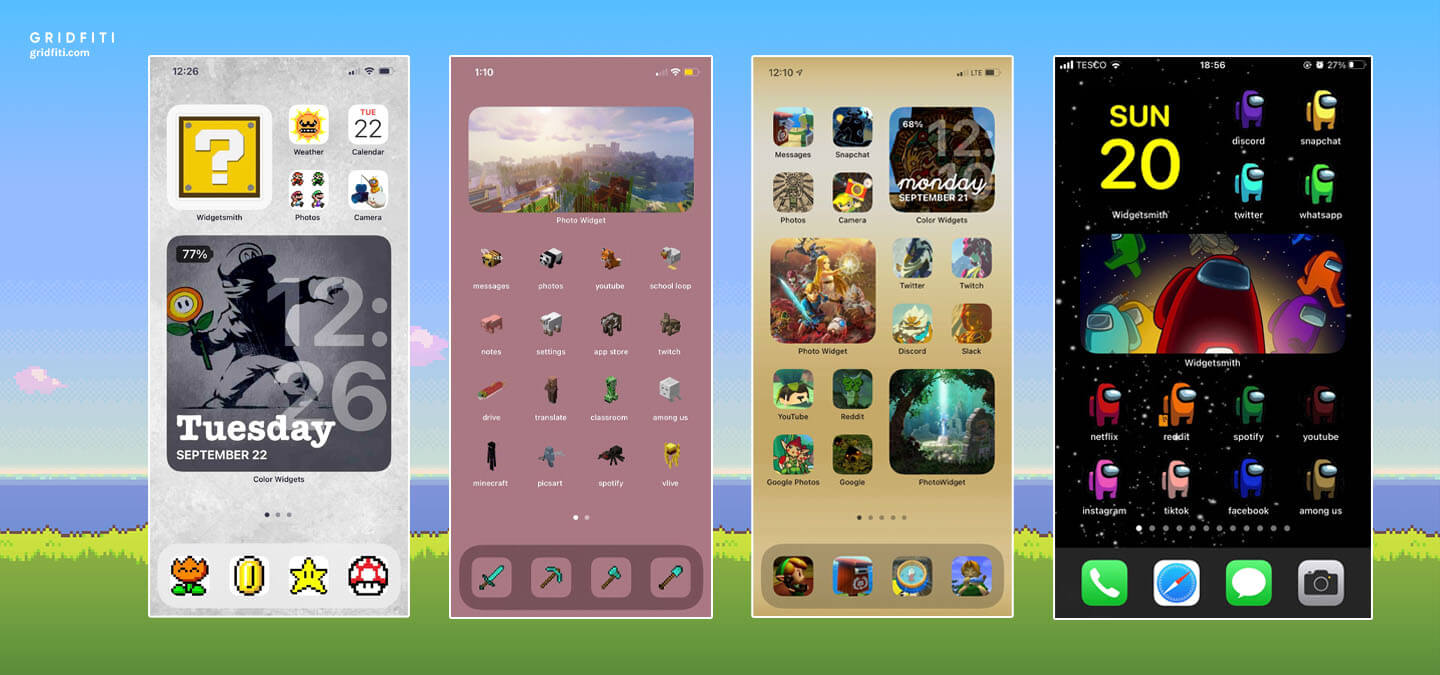 Credits: u/h4gy, @nikknotfound, @forestminish, @polarrr14
Among Us – iOS 14 Layout Design
With the popularity of the game "Among Us" it was hard for us not to include. You can even grab the themed icons here.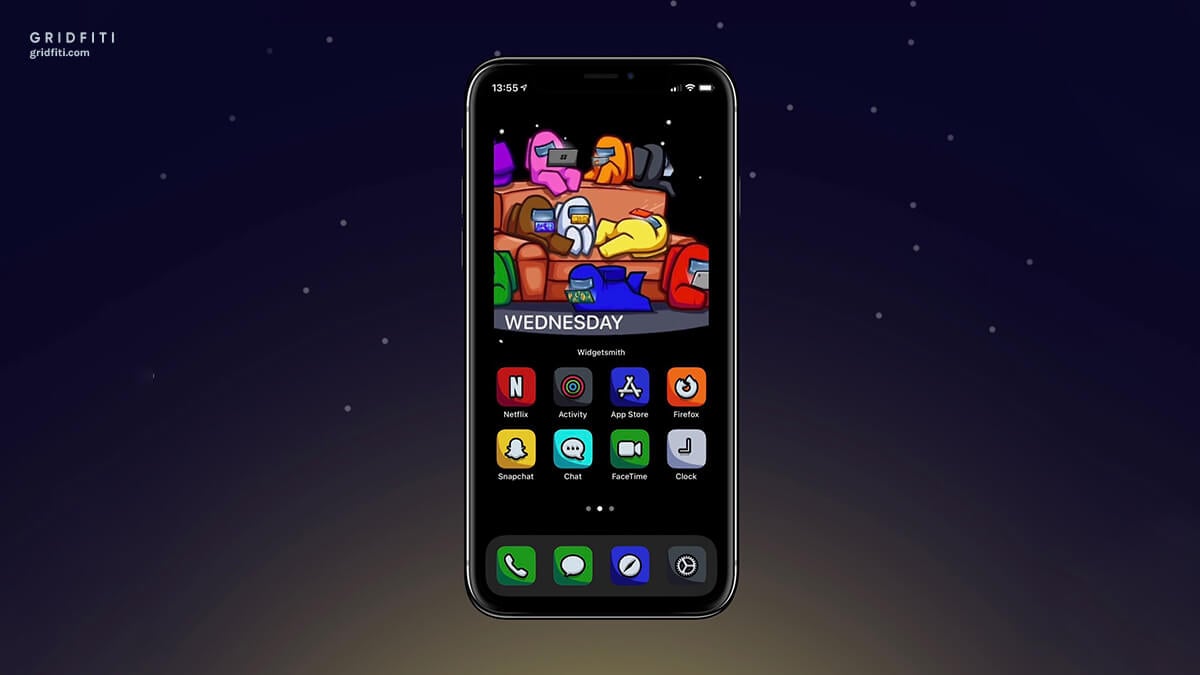 Nostalgia iOS iPhone Layout Ideas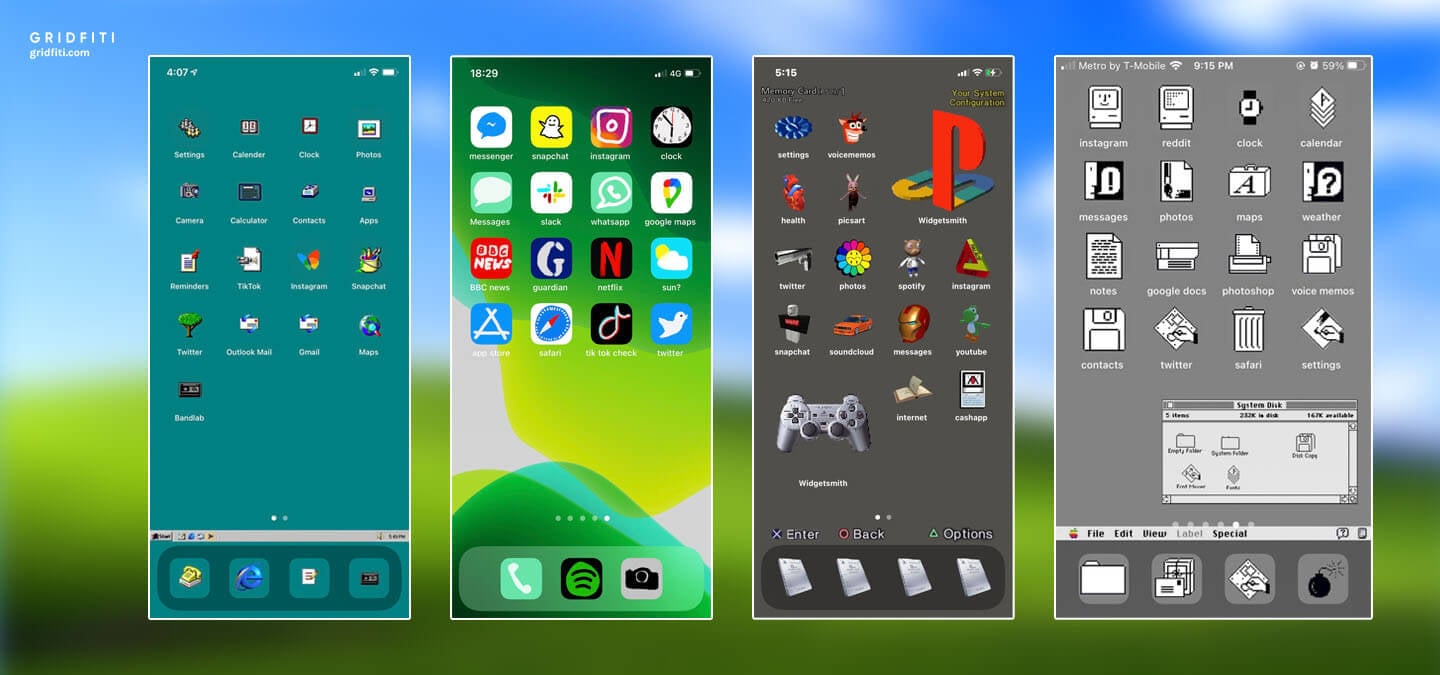 Credits: @kyleschroeder, @olima, @wholelottajenni, @_cl0utchaser_
What home screen theme is your favorite? Let us know in the comments below! If you've got an iOS 14 home screen you want to share, tag our sister account @hellojenesais on IG and we'll feature some of our favorites! We're constantly updating our Pinterest with the latest and greatest home screens we find, so make sure to follow the board to keep up to date.
Gridfiti is supported by its audience – when you buy something using the retail links in our posts, we may earn a small commission at no additional cost to you. We only recommend products we would use ourselves and recommend to our friends and family. Read more about our affiliate disclaimer.