With the new iPadOS, you're now able to add widgets right to your iPad's home screen. This game-changing feature allows you to completely customize your home screen setup to create both an aesthetically pleasing and functional dashboard every time you unlock your iPad.
We've curated the very best iPad widgets of each kind to make your home screen work and look just the way you want it to.
Want more setup tech and iPad ideas? Join our mailing list 📮
Weather Widgets
Make sure you're dressed just right before you step out with a weather widget for your iPad. With a widget like Hey Weather, you can customize the colors, information you want displayed, and more. With Weather Fit, you can even create a virtual avatar of yourself (choosing from different characters and outfits) to get weather-dependent clothing hints before you leave the house!
Widgets: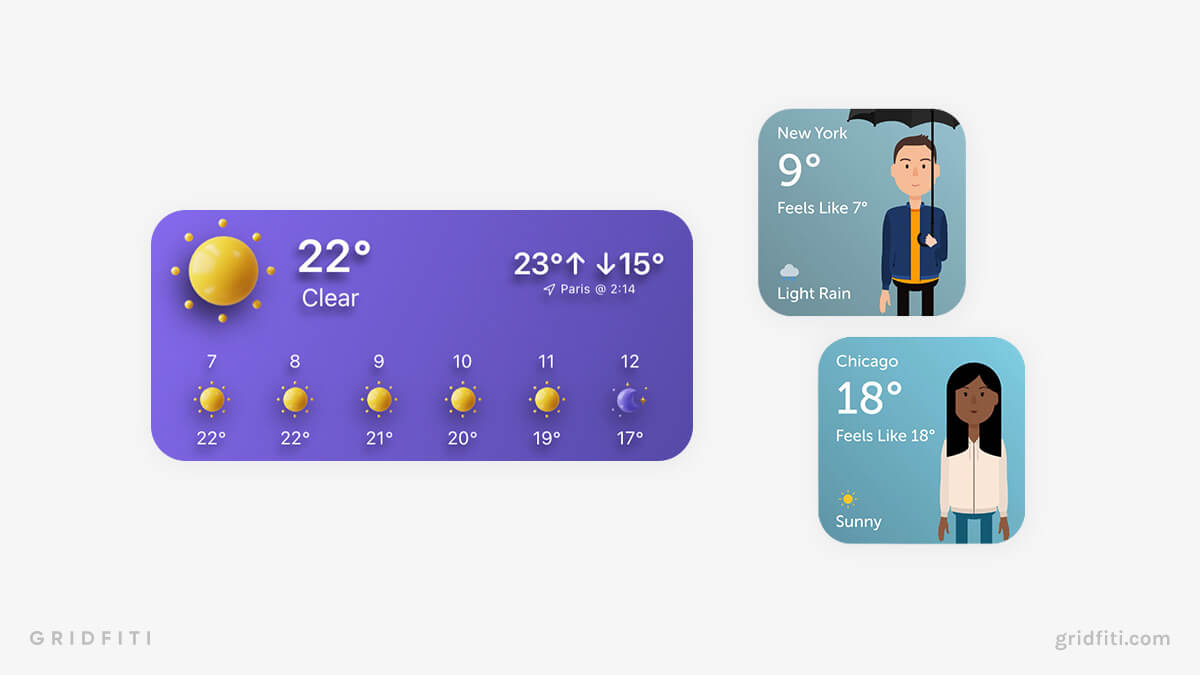 Clock Widgets
Whether you want to stay punctual for that workout or Zoom meeting, or just like to keep an eye on the time, you can do it all right from your iPad home screen, thanks to a clock widget. There are tons of options to pick from – ranging from flip clocks, to minimal clocks, to world clocks, and more.
Widgets: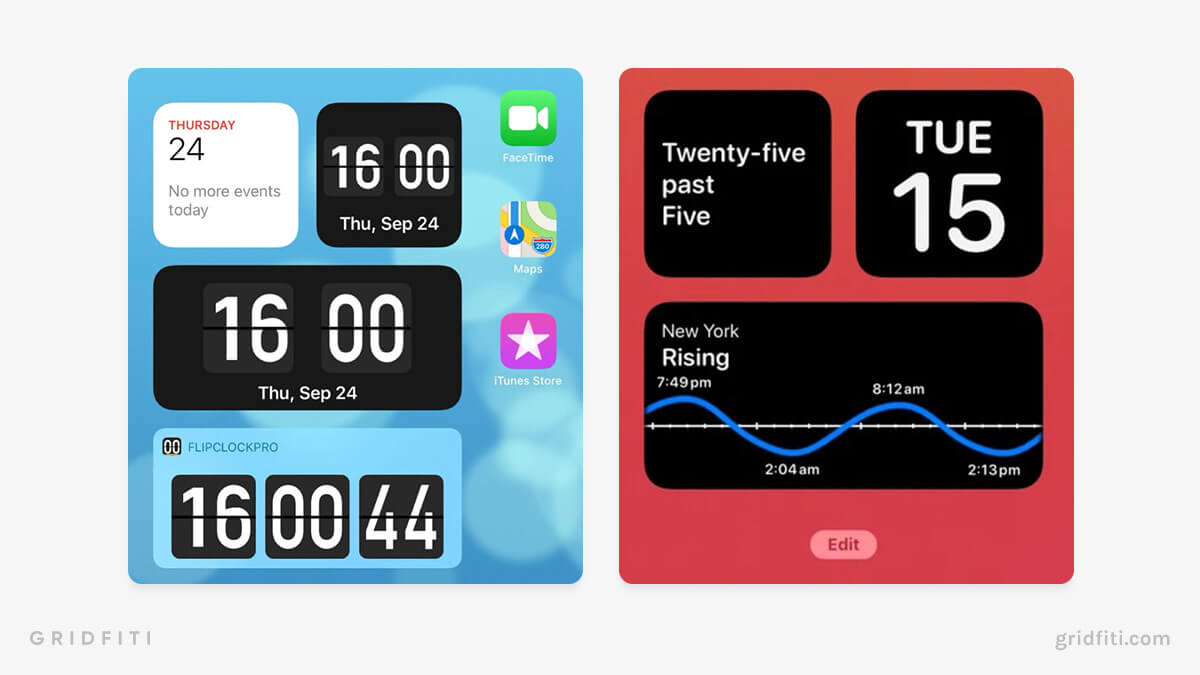 Calendar Widgets
Make the most of your days and keep track of your daily events with an iPad calendar widget. The best part? With most apps, you can customize the colors and text to match the rest of your home screen's aesthetic.
Widgets: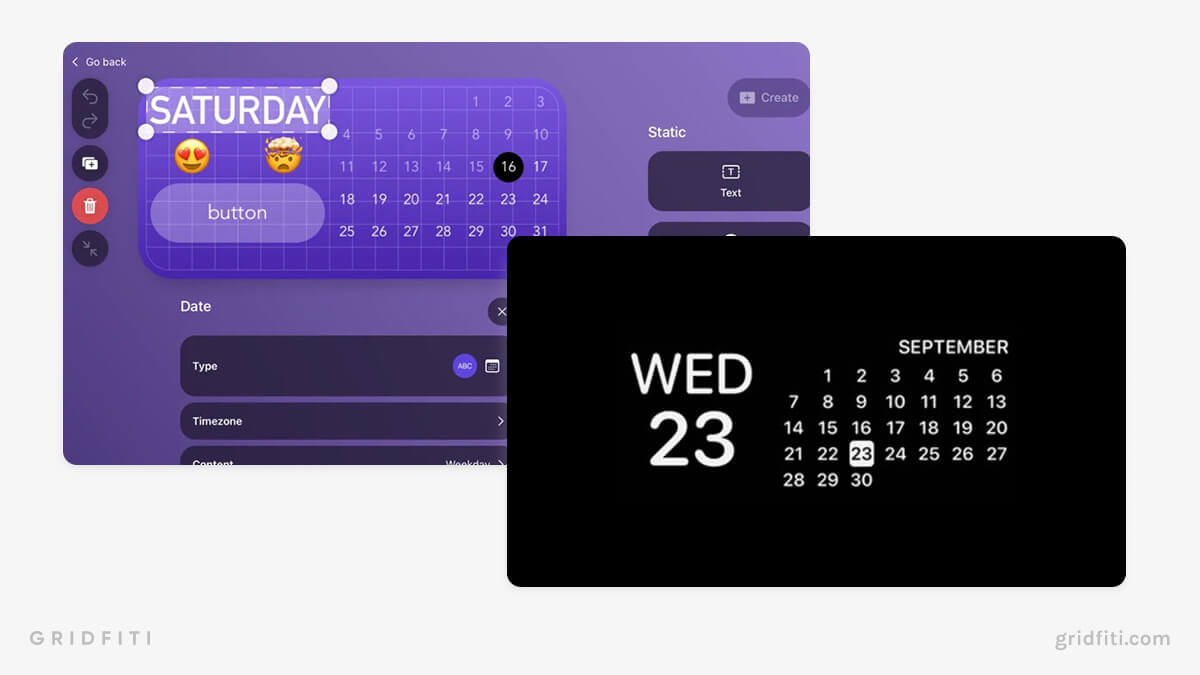 Photo Widgets
Display your favorite memories and aesthetic visuals right on your iPad's home screen with a photo widget. You can upload images you took on your tablet and smartphone, or even create a design within Procreate and match your image to your iPad's theme.
Widget: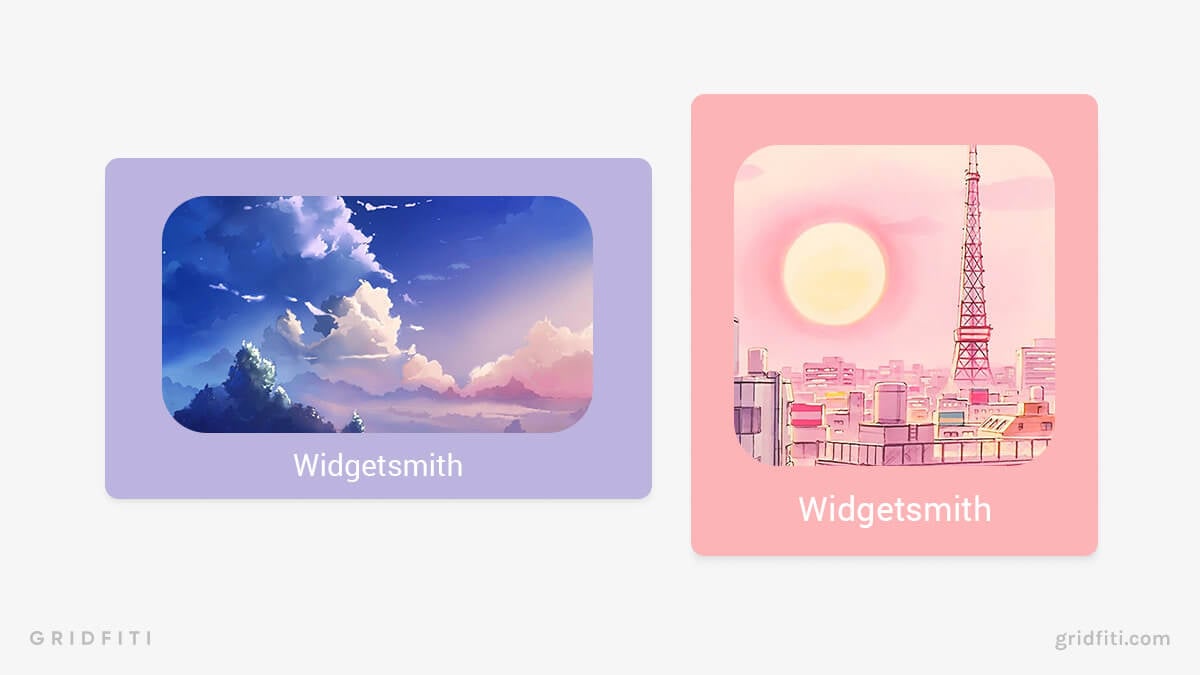 Music Player Widgets
Turn your iPad home screen into an easy access DJ booth by adding a widget from your go-to music streaming app. Quickly jump to your favorite playlists and display some of your beloved cover art right from your home screen!
Widgets: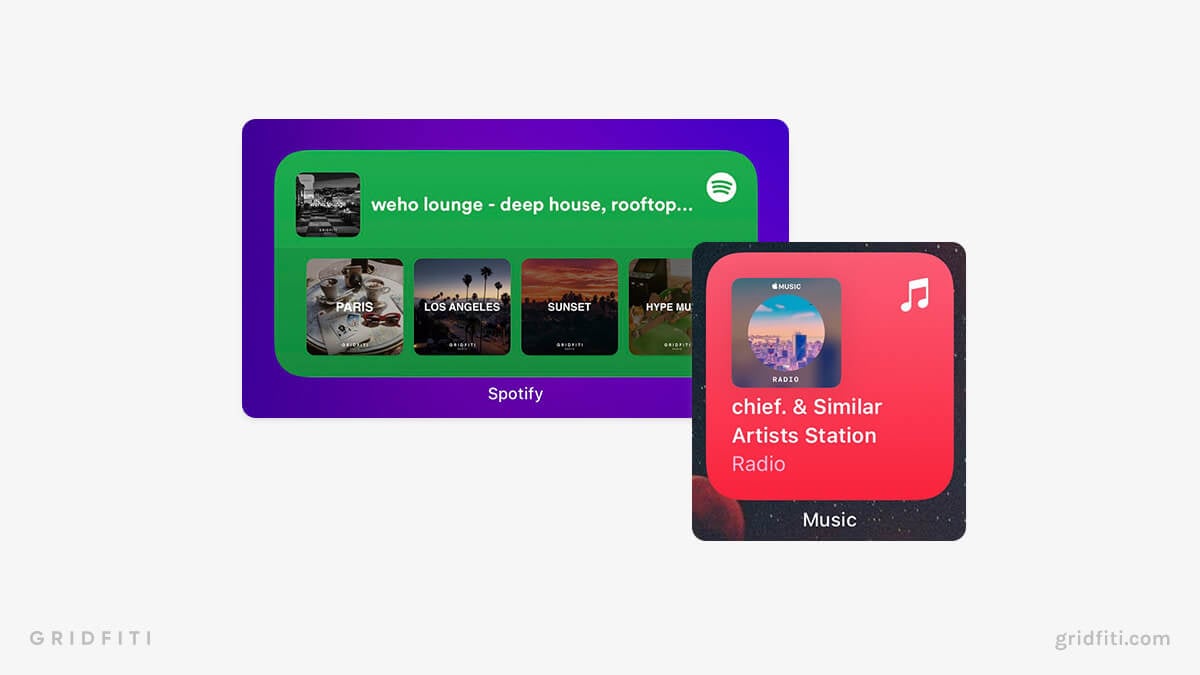 Utility Widgets
The last thing you want to do is leave your house with your tablet at 5% and your storage space almost full. Monitor your battery and storage usage with these utility widgets for your iPad.
Widgets: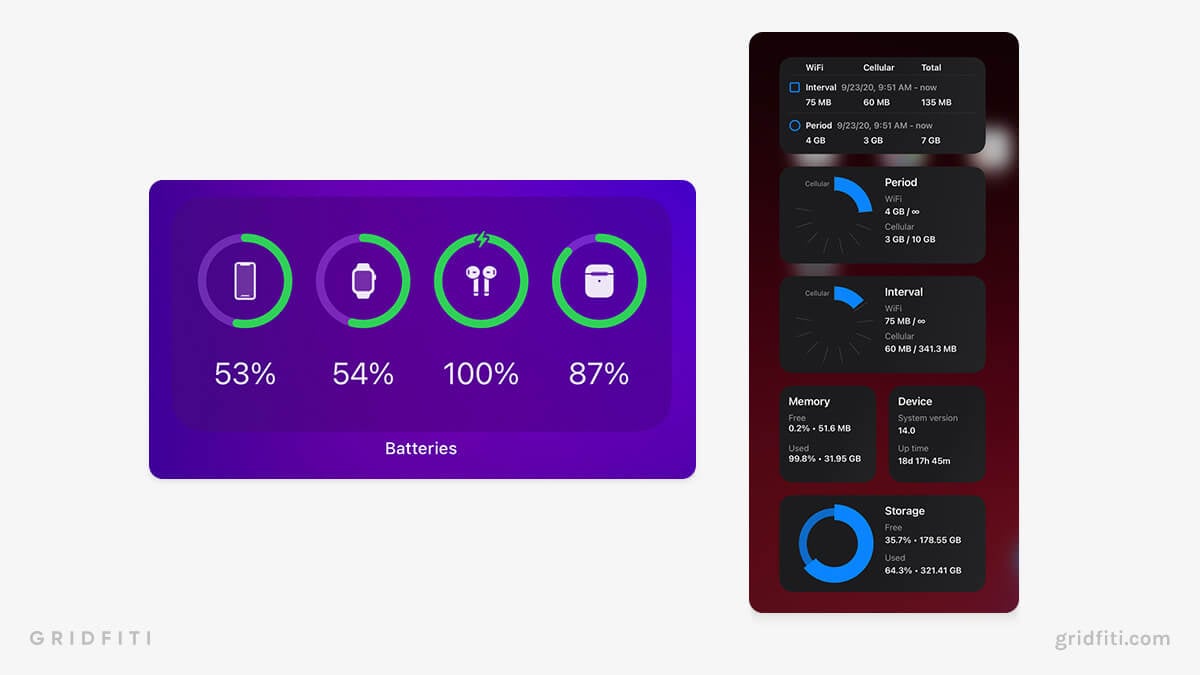 Productivity Widgets
Whether you're in school, are employed, an entrepreneur, or just looking to build productive habits – stay on top of your daily tasks and emails with the top productivity iPad widgets for your home screen.
Widgets: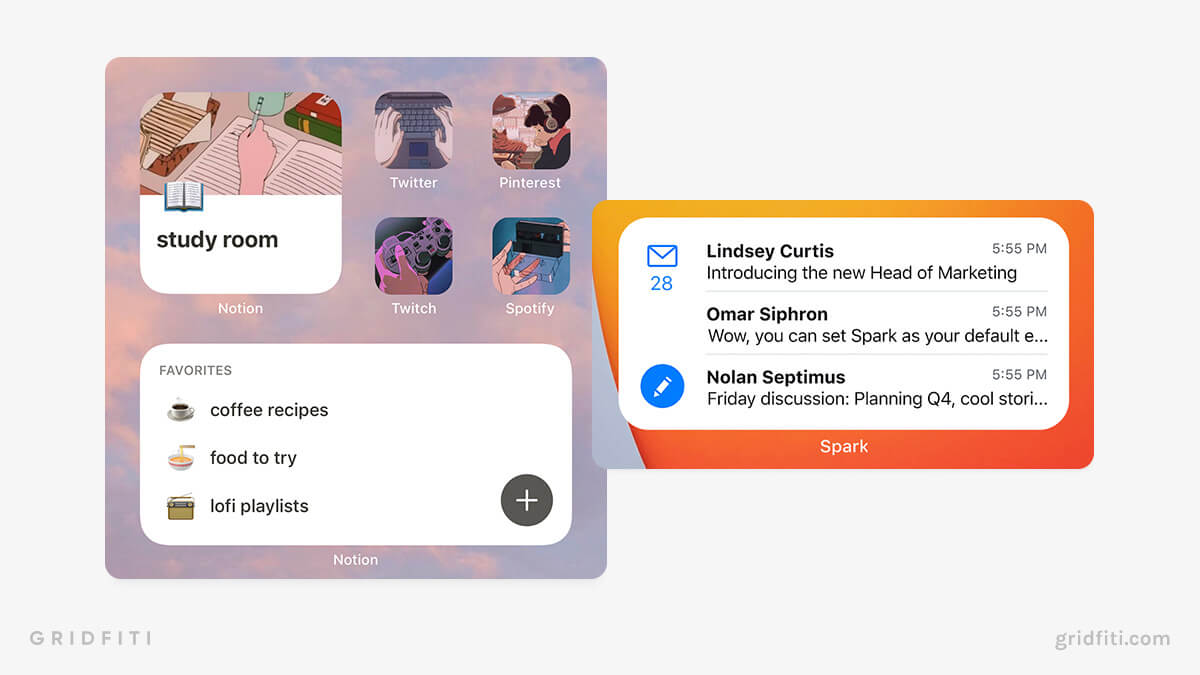 Quotes Widgets
Open up your iPad home screen to a new quote to stay uplifted and motivated amongst all your functionality-centric widgets.
Widgets: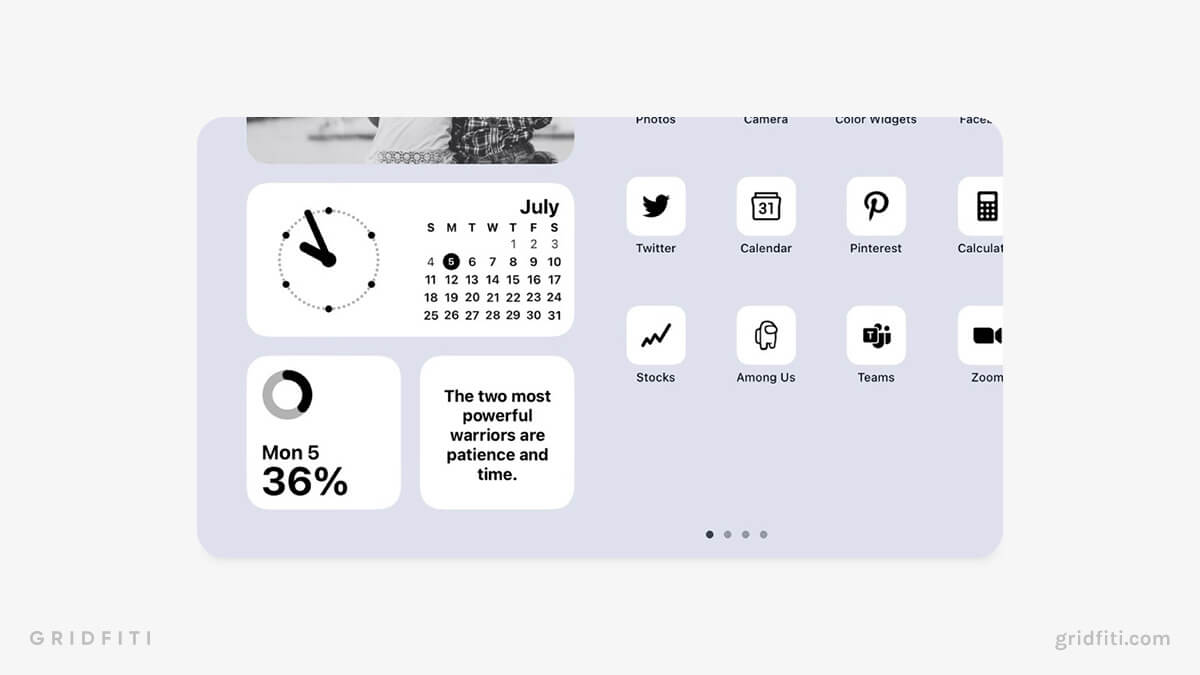 Apple Widgets
Apple's product designs are some of the best out there, and their widget designs are no different. Most of the stock apps by Apple that come with your iPad have widgets too – which work like a charm if you're not too picky about customization, or are simply an Apple lover.
Widgets:
Calendar
Weather
Clock
Stocks
Photos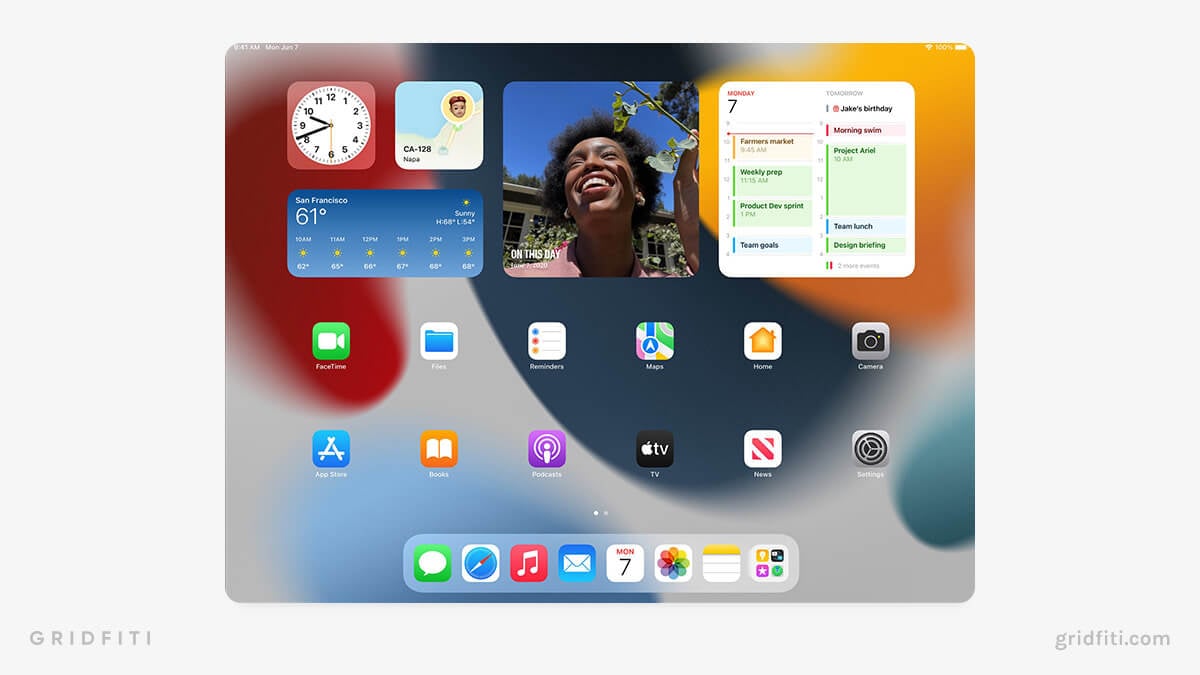 Are we forgetting any essential iPad widgets? Got any creative or unique iPad widget ideas? Let us know in the comments below!
Gridfiti is supported by its audience – when you buy something using the retail links in our posts, we may earn a small commission at no additional cost to you. We only recommend products we would use ourselves and recommend to our friends and family. Read more about our affiliate disclaimer.