When putting together a standout setup, what's on your screen is just as important as what's off it. Whether you want to capture killer setup content, or are just looking to complete your your aesthetic desk setup, the perfect screensaver or wallpaper is a digital decor must-have.
Ranging from functional clock screensavers, to visual-heavy picks, check out these aesthetic screensavers and wallpapers for your setup!
Looking for more ideas for how to level up your Mac setup? Check out our detailed guide on how to make your Mac aesthetic!
For more types of ambient visuals, check out our round-up of YouTube video screensavers.
Want more aesthetic digital decor for your devices? Join our newsletter!
Aesthetic Screensavers for Mac & Windows
Aura Gradient Clock Screensaver
If you're looking to add some vibrancy and serenity to your setup, our Aura Clock Screensaver's the perfect pick for you!
Available in several colors to match your mood, theme, or even the season. A social media favorite, Aura displays the live time against a pleasing and calming gradient backdrop, in 12-hour, 12-hour (with AM/PM), and 24-hour clock options.
Get for macOS | Aura Clock for Web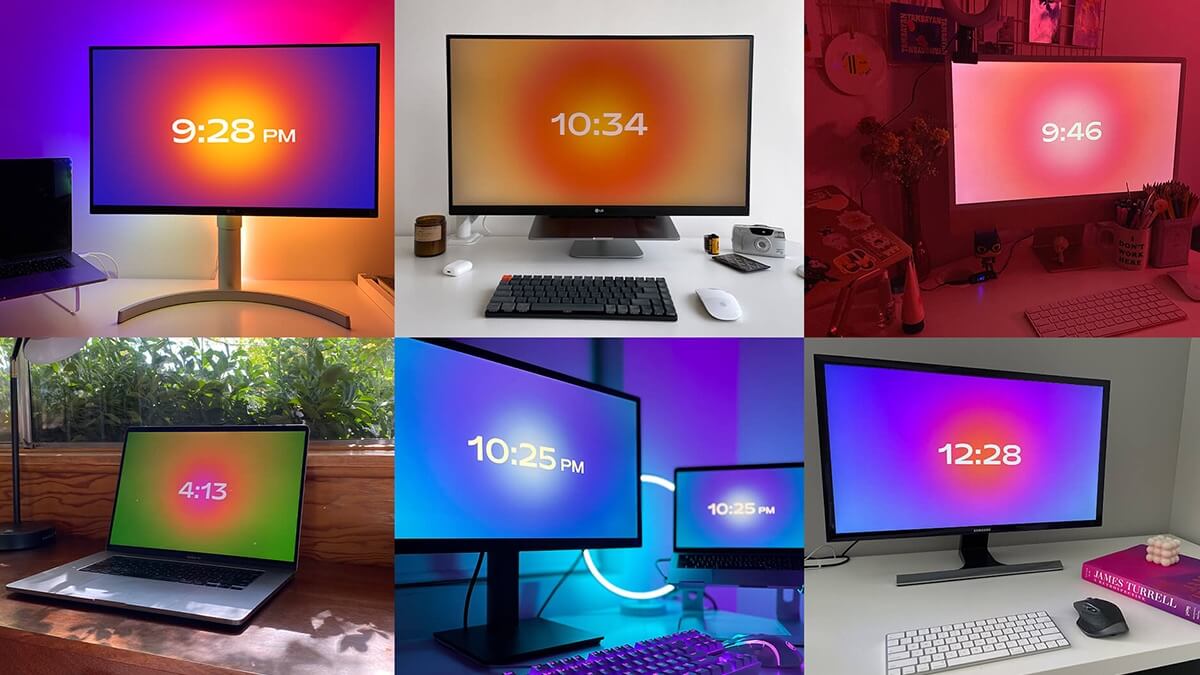 Aura Heart Gradient Clock Screensaver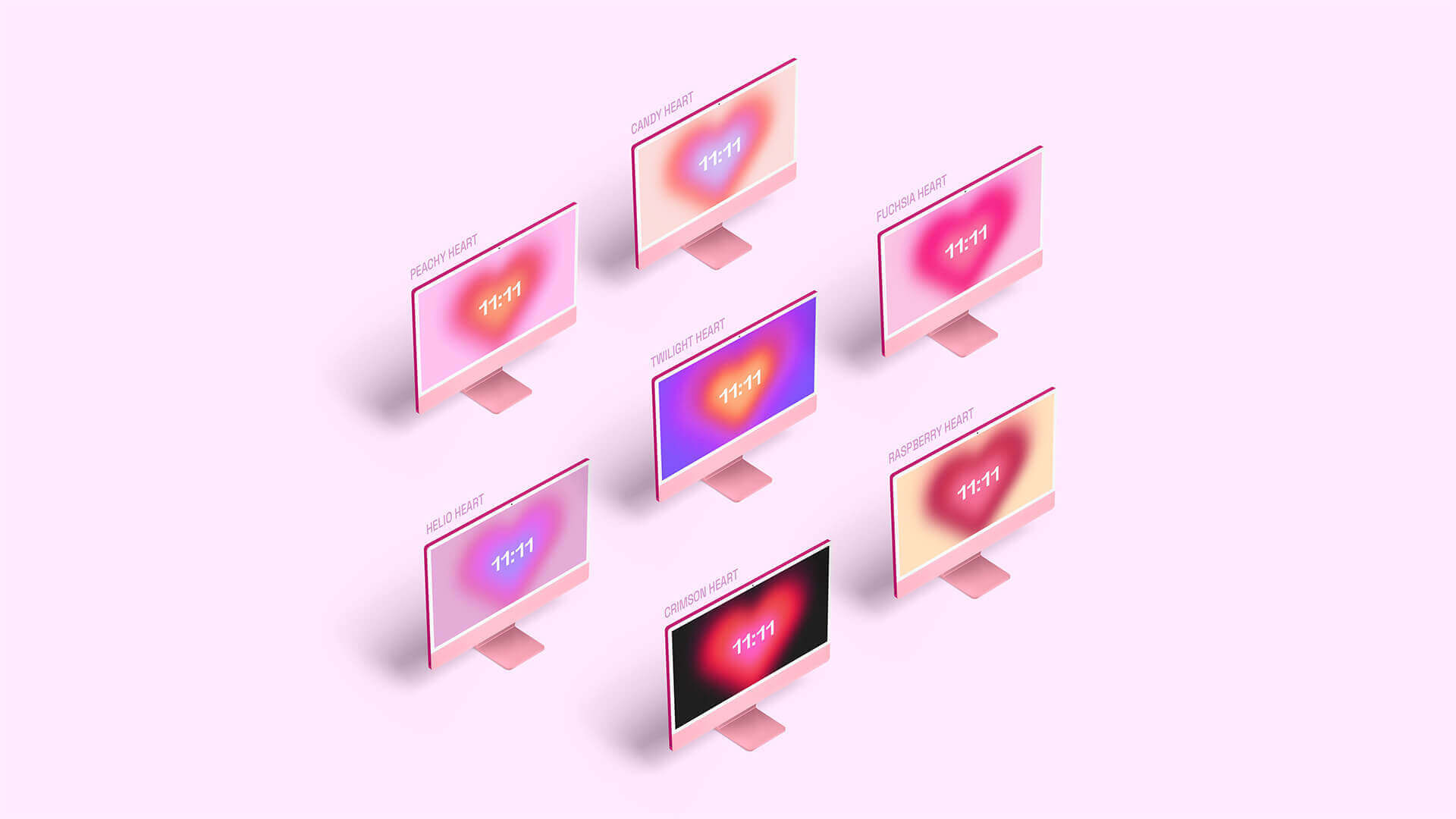 Retro Anime Clock Screensaver
If you're an anime fan, or simply appreciate the visuals, this is the screensaver for you! The Retro Anime Clock Screensaver displays the time on a classic digital clock, and offers 12-hour, 12-hour (with AM/PM), and 24-hour clock options.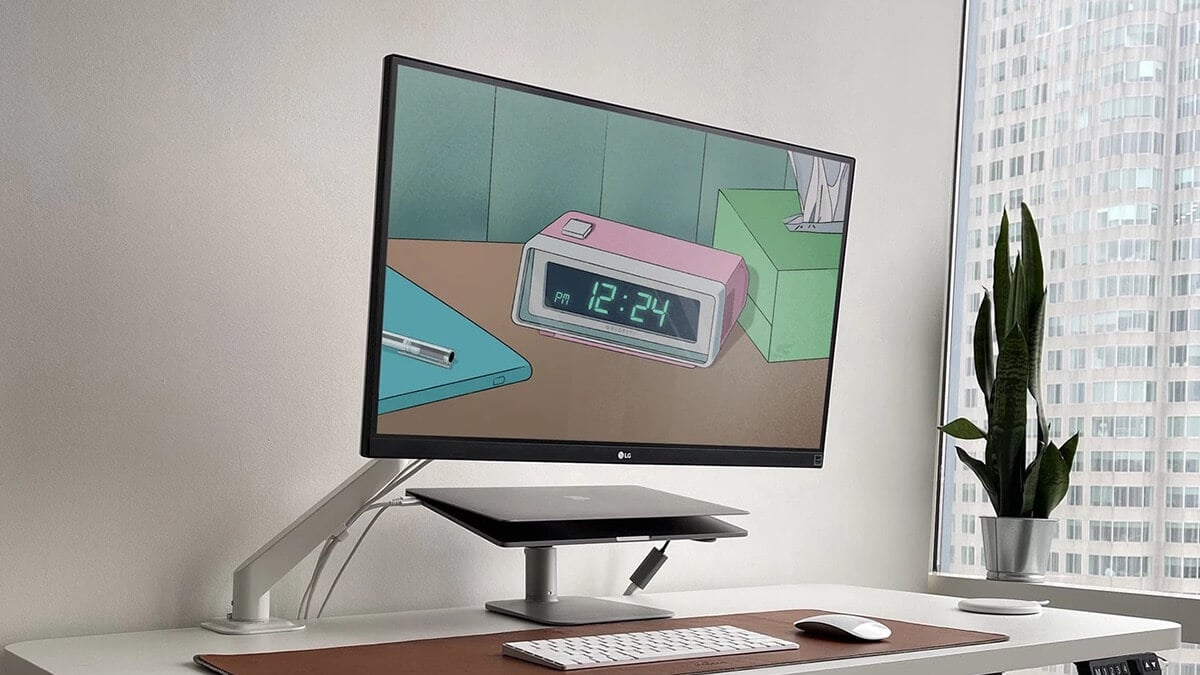 Fliqlo – Retro Flip Clock Screensaver
Fliqlo is a long-standing classic, featuring a retro black and white theme. The large text makes it easy to read from afar, and the flip animation adds a nice subtle detail to your setup.
Get for macOS | Get for Windows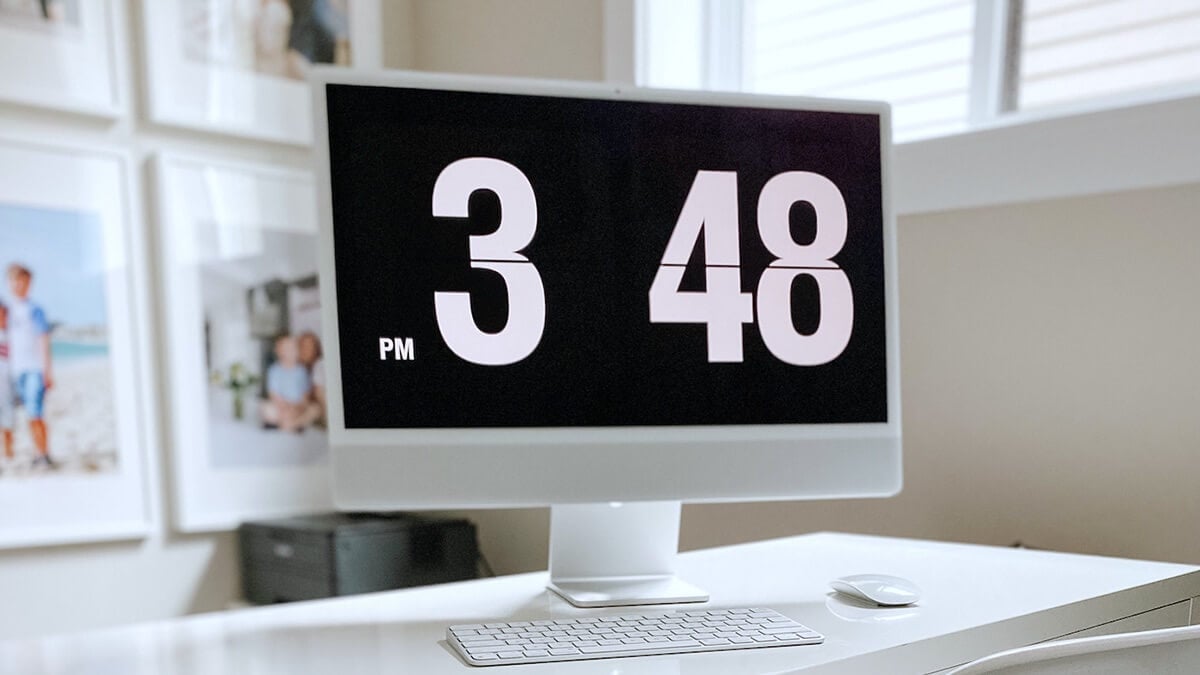 Image by One Smiley Monkey
Hello MacOS Screensaver
Available with the new MacOS Big Sur 11.3 update, Apple introduced a minimal and colorful screensaver that displays "Hello" in different colorways, animations, and languages.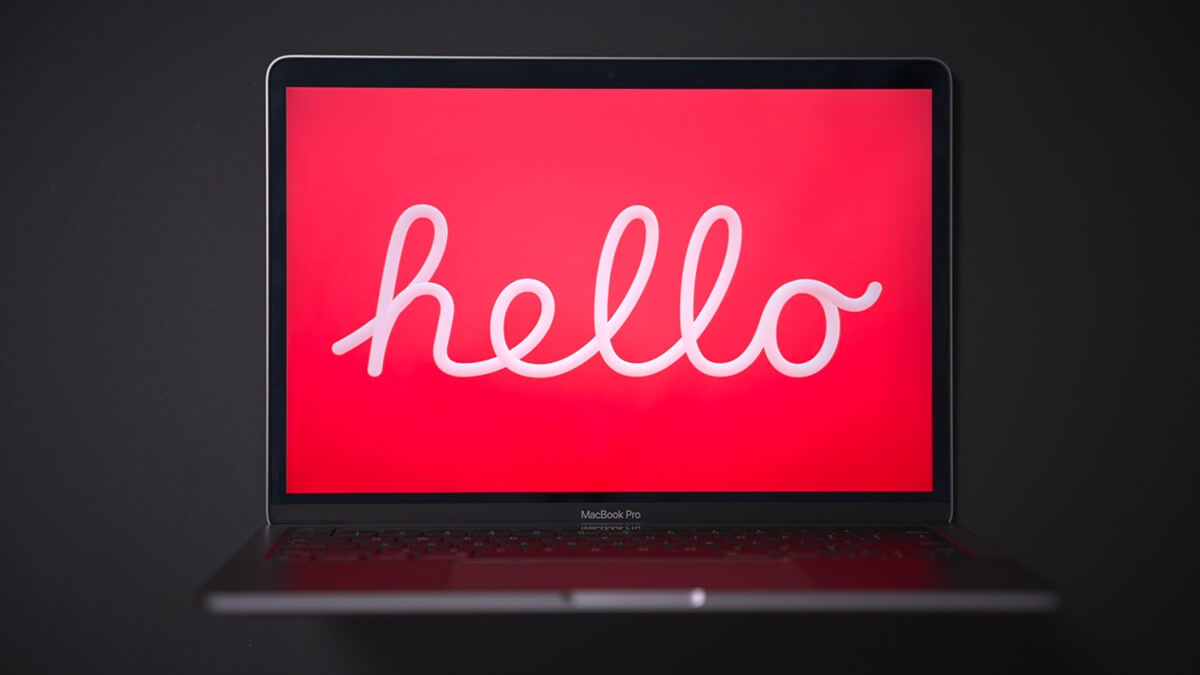 Flix – Aesthetic Colorful Flip Clock Screensaver
A modern and aesthetic take on the retro flip clock design, Flix flip clock screensaver will instantly add style to any setup. Flix Free includes a slick black theme, and Flix Plus includes all 9 beautiful color themes ready to go with any setup or mood – including ivory, lofi, matcha, cream, sakura, peach, and more.
With a smooth flip clock animation and multiple clock mode options, add some dynamism and color to your setup with Flix by yours truly.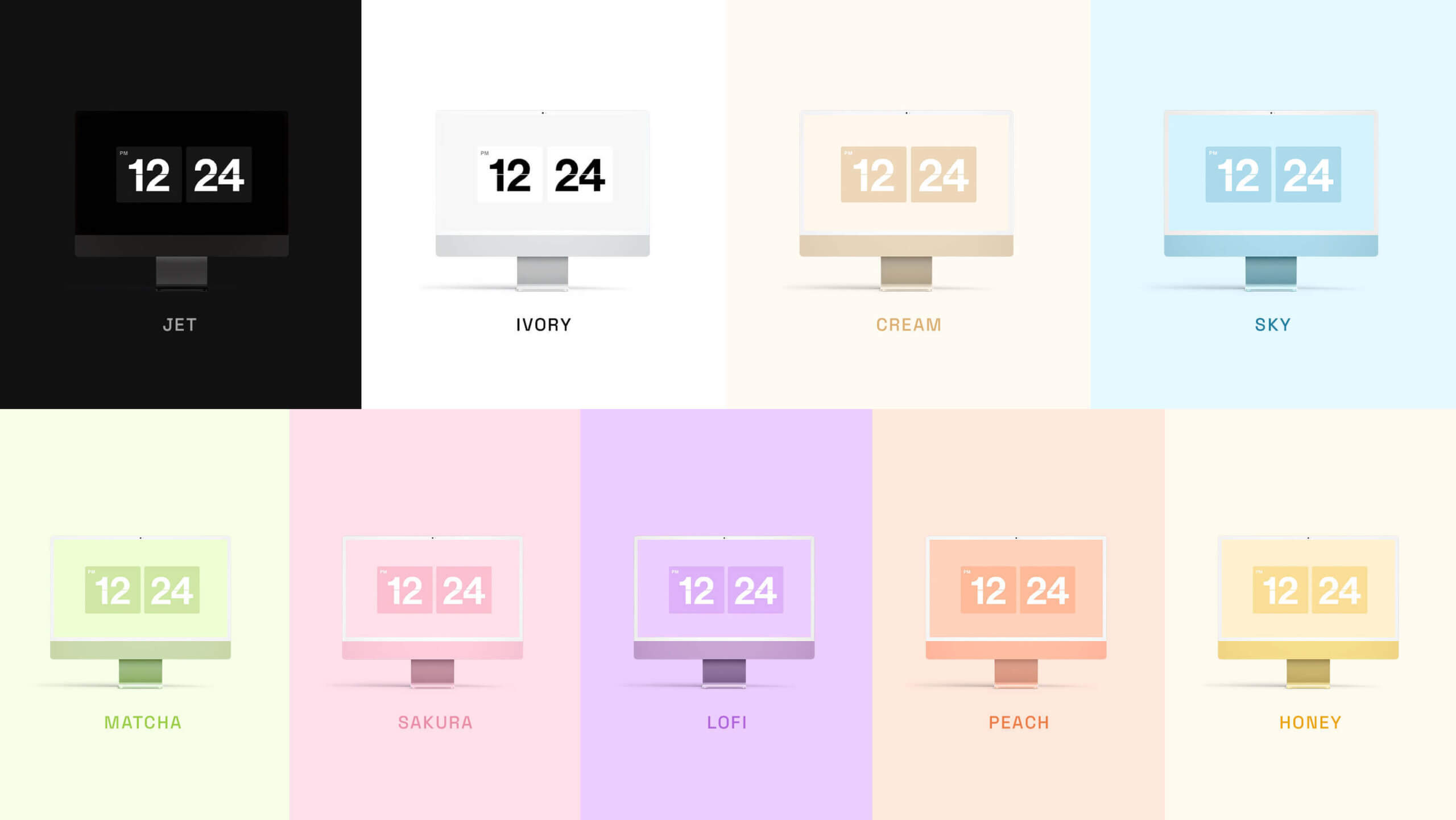 Aerial Screensaver
Bring stunning scenic visuals to your laptop or desktop with an aerial screensaver. Choose from views over Catalina Island, fields in Gunnision, and several other locations – all in a Mac screensaver!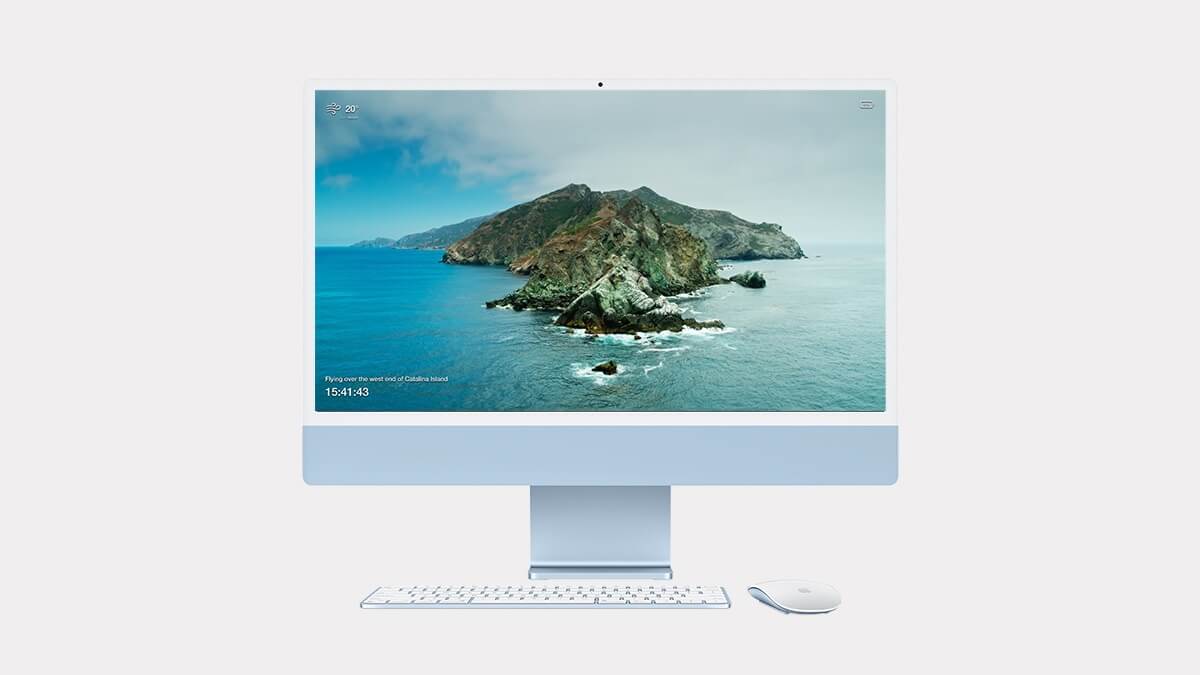 Neon Genesis Clock Screensaver
An anime-inspired clock screensaver based on the series Neon Genesis Evangelion, the neon clock screensaver is perfect for any gaming setup or aesthetic desk space.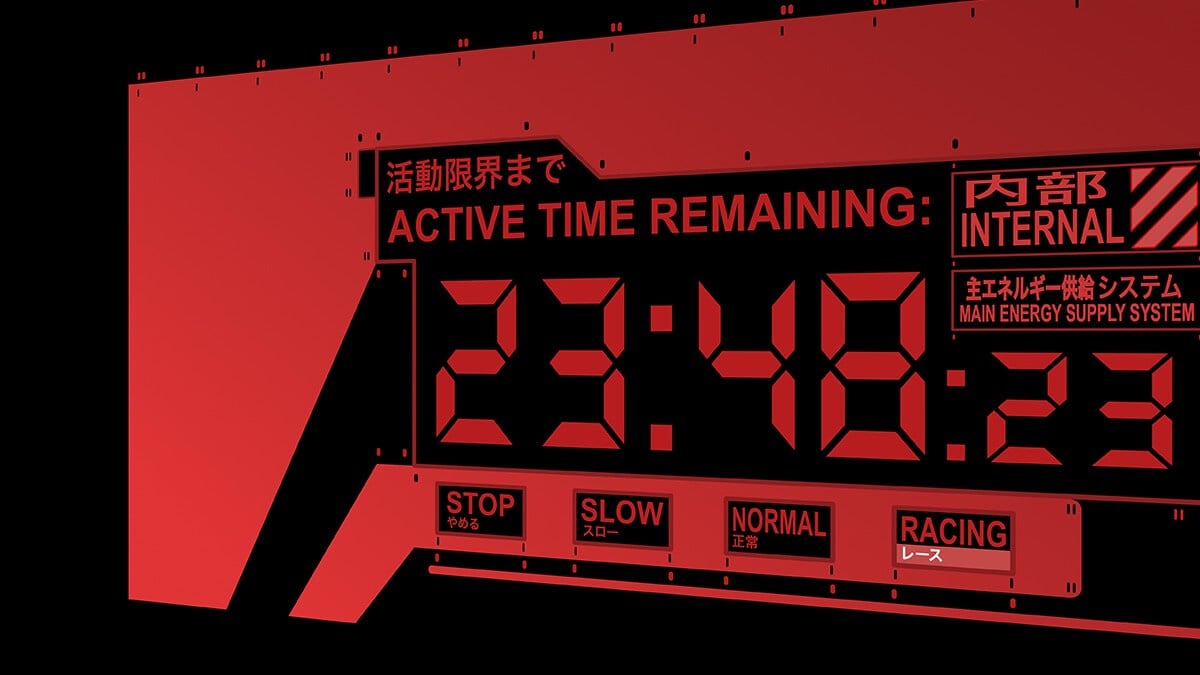 Minimal Aesthetic Screensaver
Keep your desk setup minimal and sleek with this simple black and white aesthetic clock screensaver.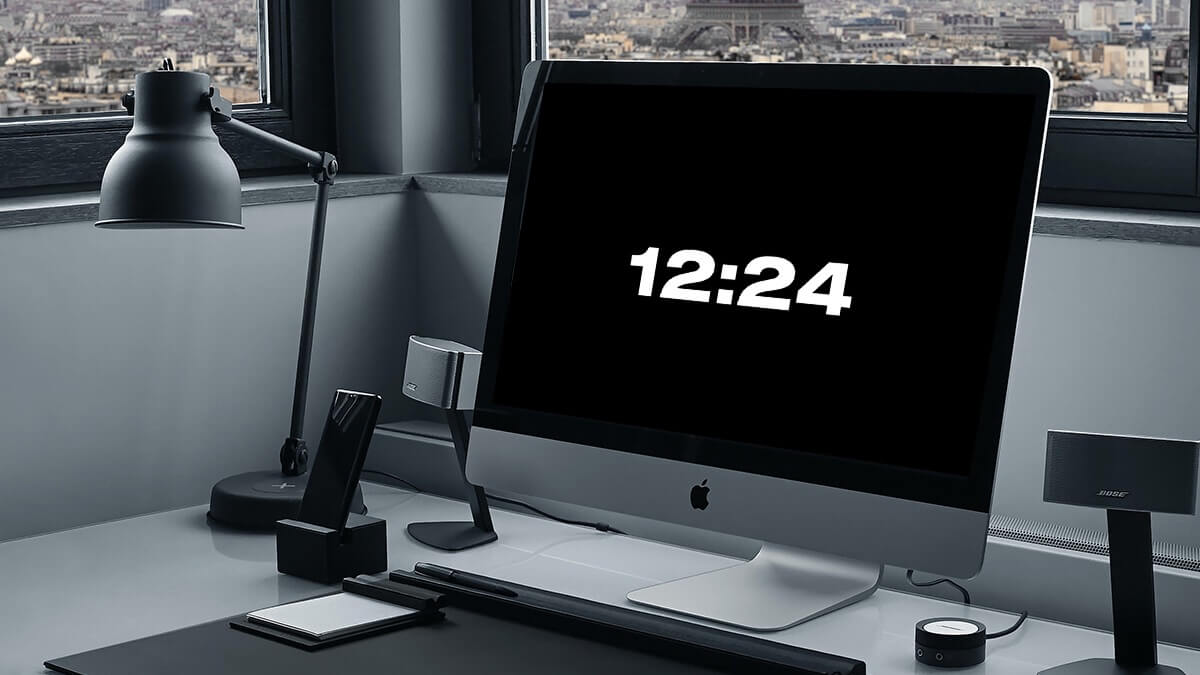 Colorful Aesthetic Screensaver
A funky, colorful clock screensaver perfect for spicing up any setup – a unique font paired with aesthetic color combos makes for a great addition to your workspace.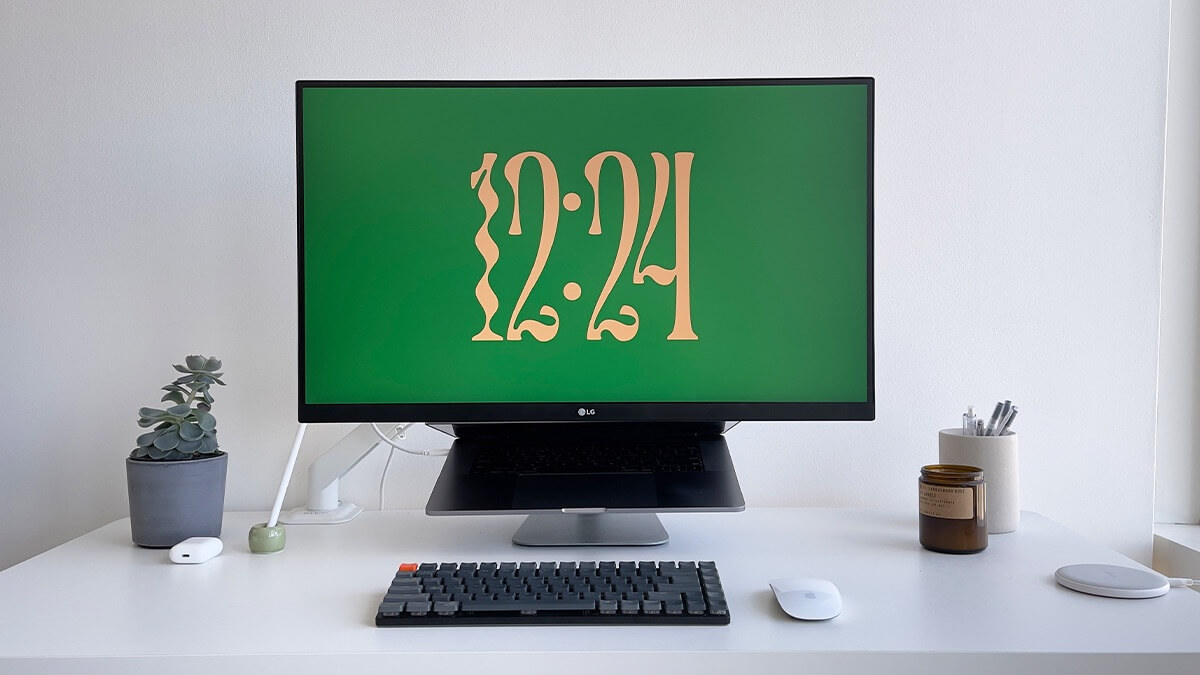 Aesthetic Web-Based Screensavers
If you're looking for a screensaver that's compatible with any OS, that you can also keep running in the background without waiting for your computer go idle, web-based screensavers are the way to go! Check out some of our picks for aesthetic web-based screensavers that offer beautiful visuals, ambient sounds, and functional features to shake up your workspace.
Flocus – Your Aesthetic Dashboard for Focus & Ambience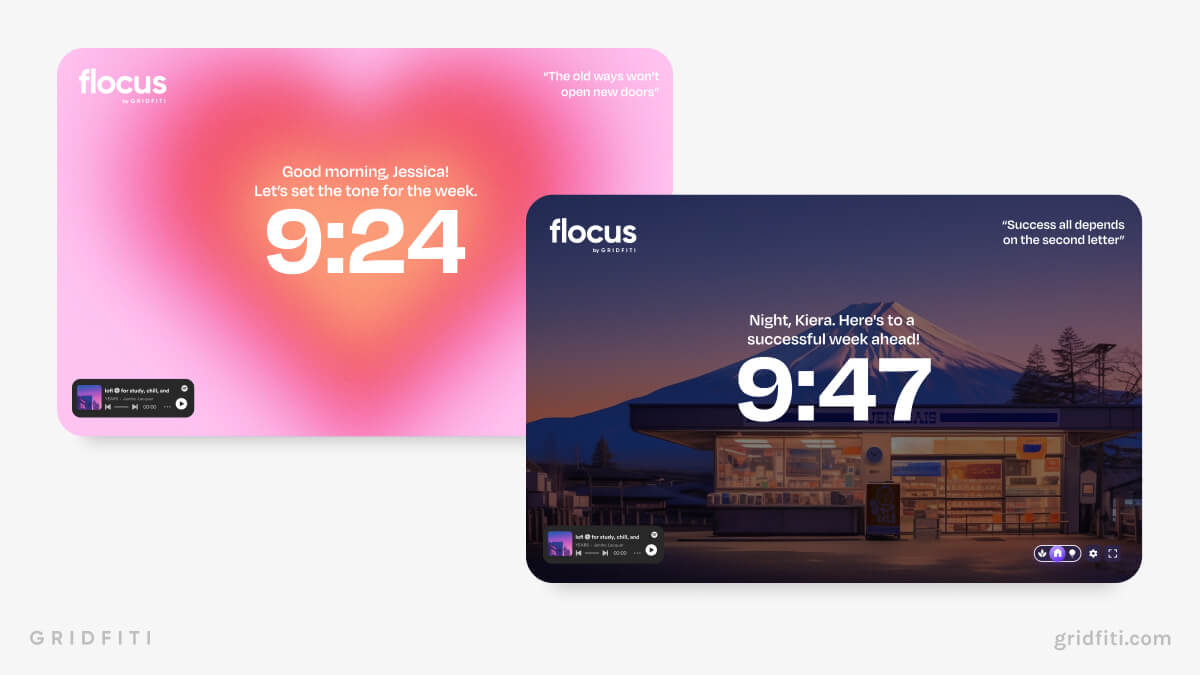 LifeAt.io – Virtual Spaces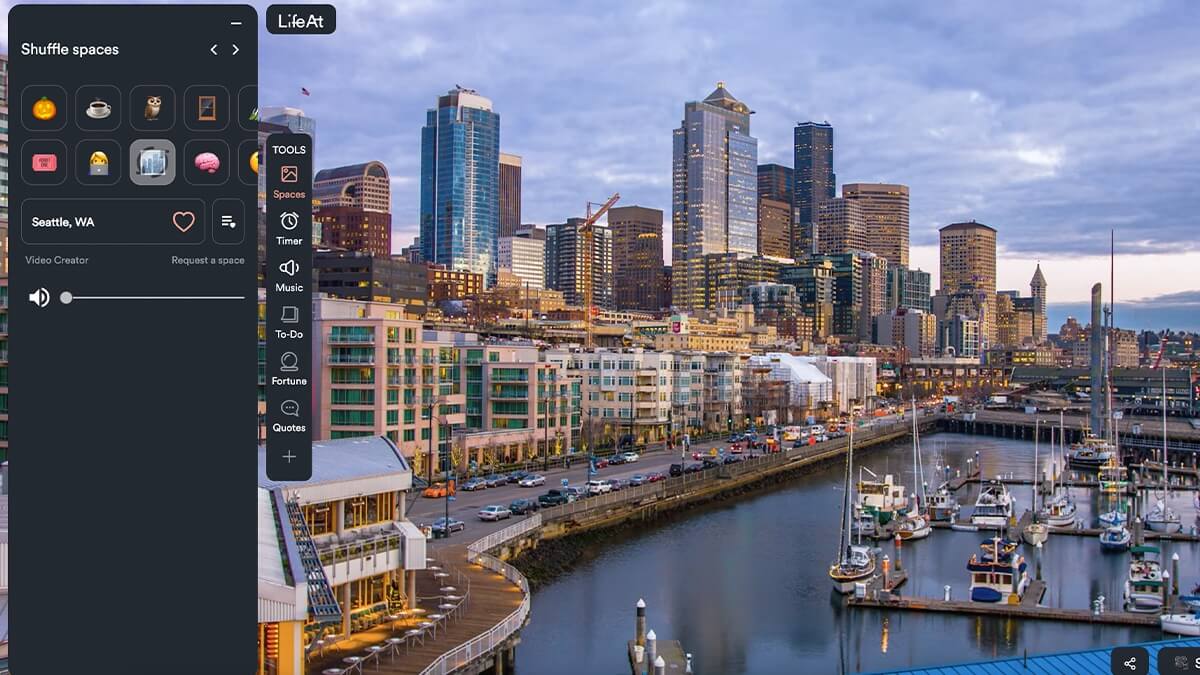 StudyWithMe.io – Aesthetic Pomodoro Timer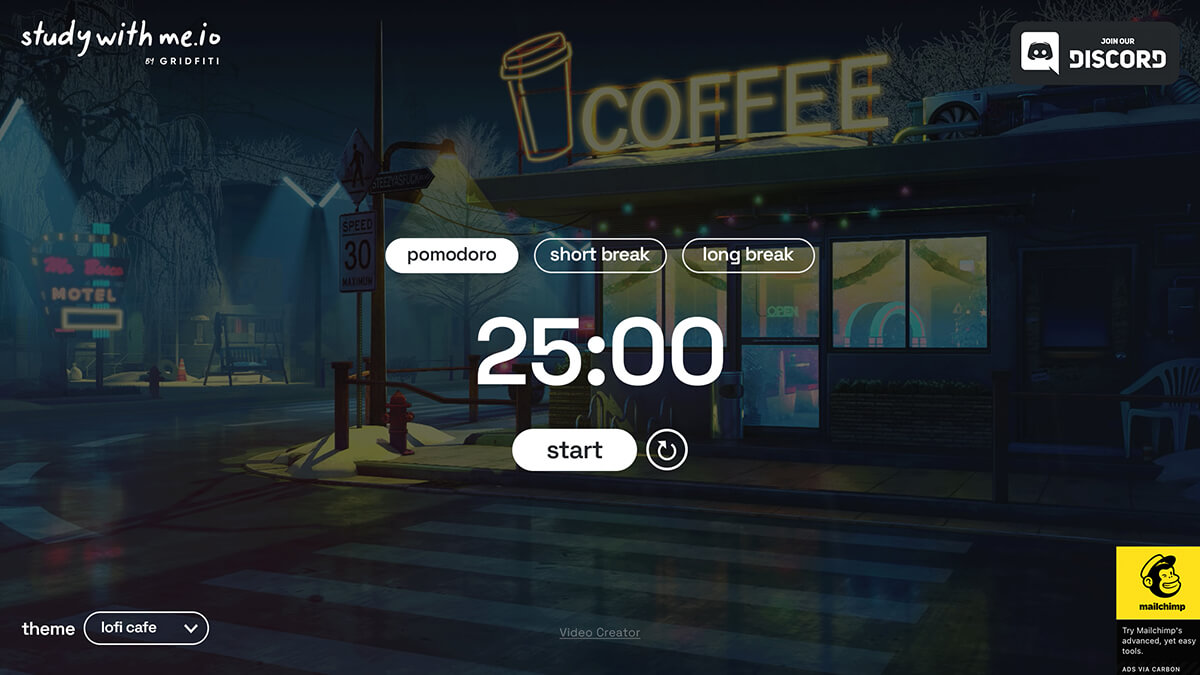 Momentum Dash – Chrome Extension
For more extensions like Momentum Dash, check out our round-up post featuring the most aesthetic Chrome extensions and the best Momentum alternatives!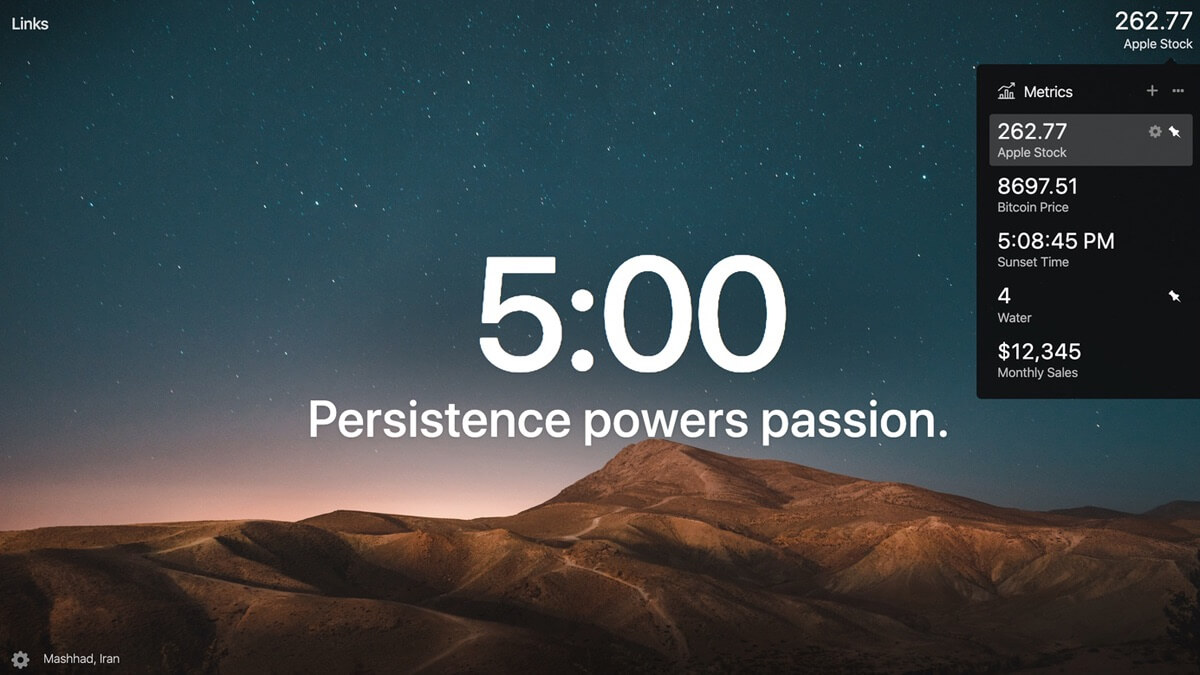 Aesthetic Wallpapers & Backgrounds for Mac & Windows
Aura Gradient Wallpapers
Attract positive energy to your workspace with the Aura Wallpaper Pack – featuring the 6 popular color themes from Aura Plus pack! Includes wallpapers for your phone, tablet, desktop, and even Apple Watch!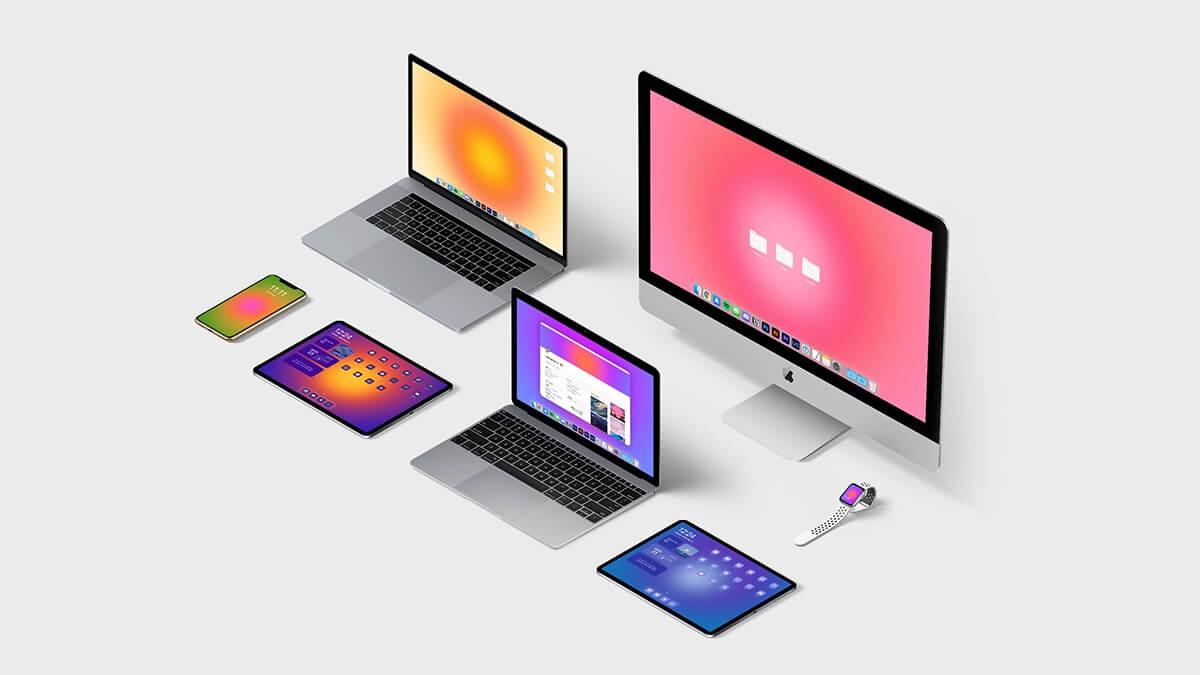 Aesthetic Collage Wallpapers
Create your very own moodboard for your computer's background with an aesthetic collage wallpaper! You can either purchase a readymade collage wallpaper, or use Pinterest to curate images and piece them together using an app like Snappa or Canva!
Get the wallpapers: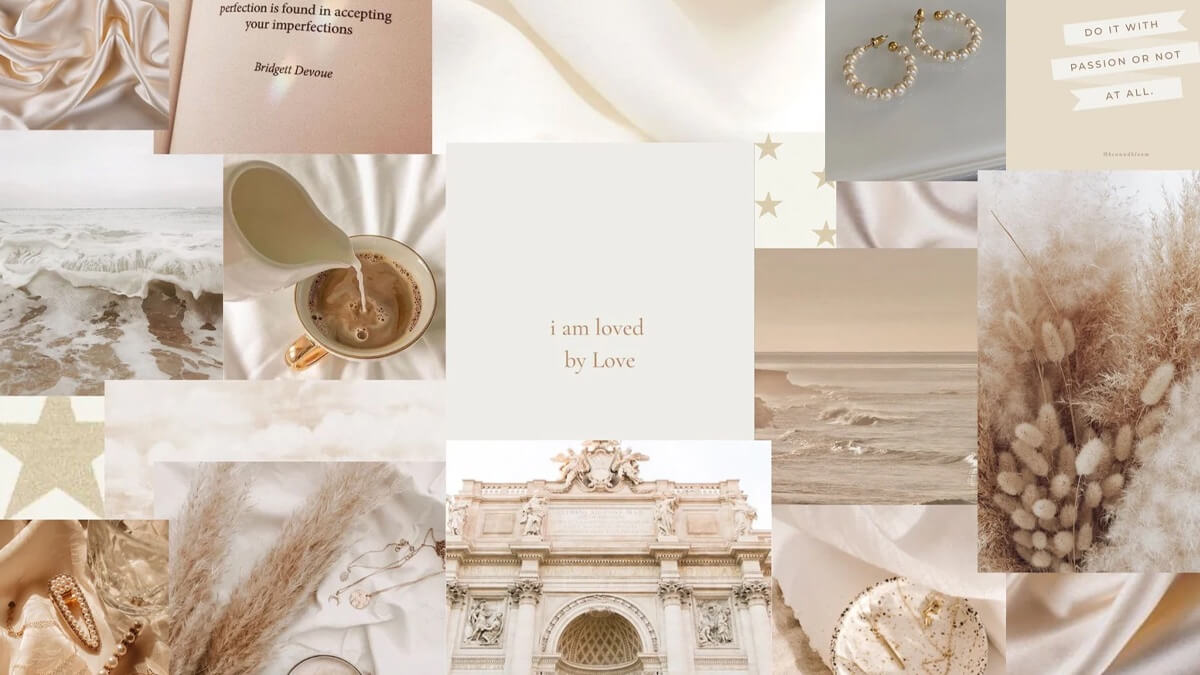 Image by ThePeelandStickCo on Etsy
Aesthetic Quote & Motivation Wallpapers
Bring some inspiration and motivation to your day with an aesthetic quote wallpaper. Choose from a variety of different quotes to brighten your mood every time you look at your desktop.
Get the wallpapers: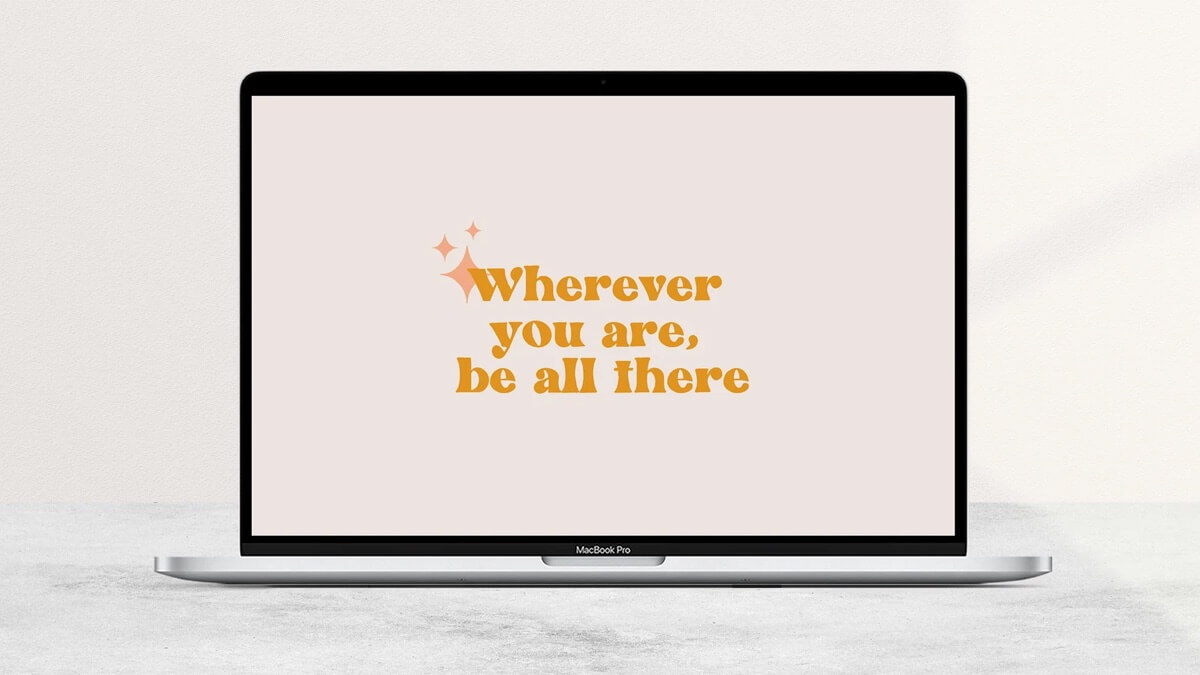 Image by LongNightsCo on Etsy
Aesthetic Monthly Calendar Wallpapers
Make your desktop both functional and beautiful with an aesthetic monthly calendar wallpaper. Choose from different themes and visualize your month the moment you turn on your screen.
Get the wallpapers: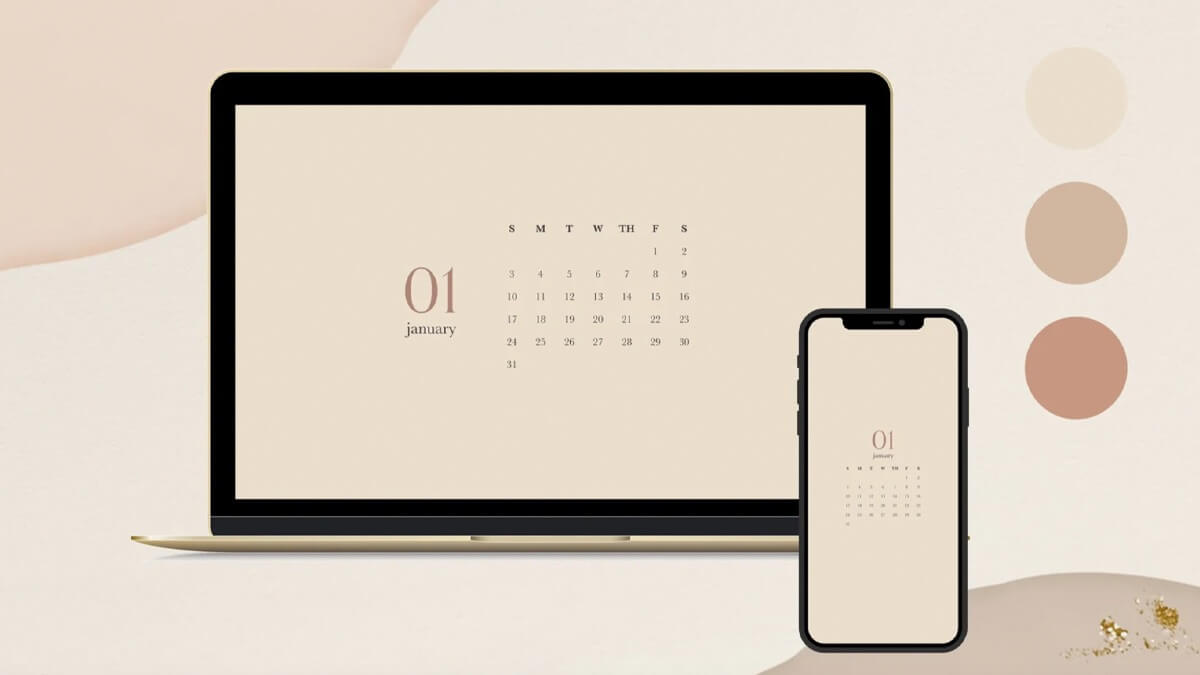 Image by skimstudio on Etsy
Aesthetic Desktop Organizer Wallpapers
Give your computer a digital cleanse by organizing your folders and files with an aesthetic desktop organizer wallpaper. You can sort through and separate your apps and folders by category based on your personal life. For more desktop organizer wallpapers, check out our full round-up post here!
Get the wallpapers: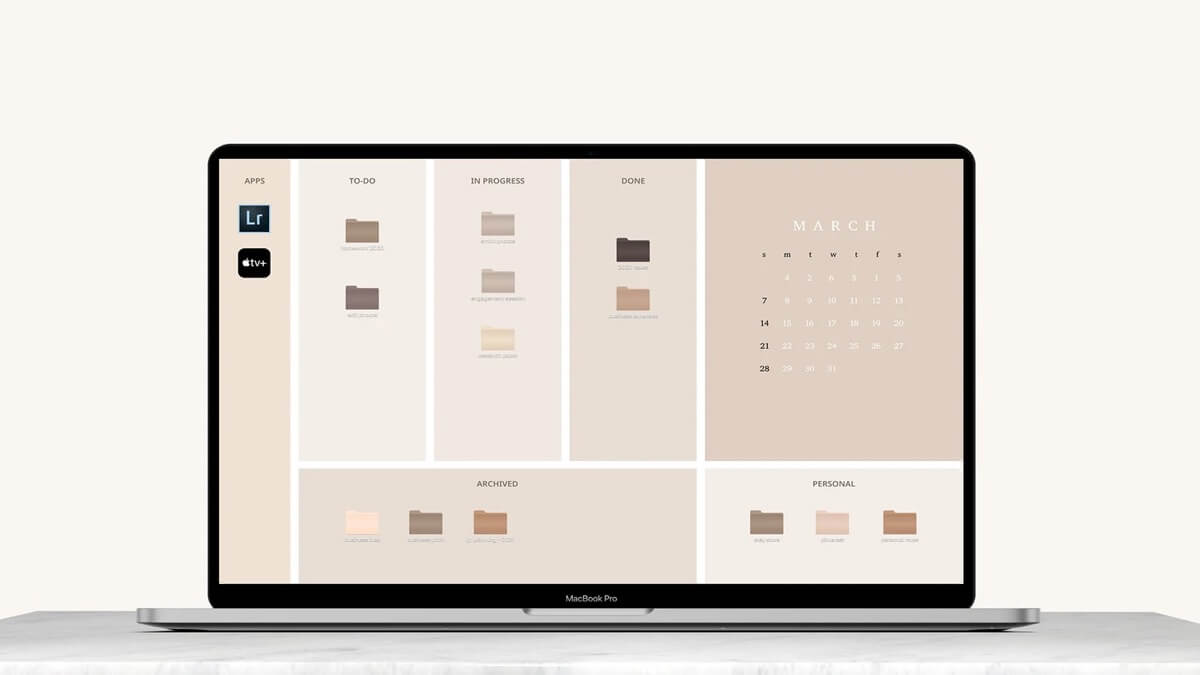 Image by SYMBLS on Etsy
Cloud Aesthetic Wallpapers
Complete your aesthetic desk setup with a gorgeous illustrated cloud wallpaper! This pack by MySweetChubs features multiple cloud designs that all work with desktop, tablet, and mobile.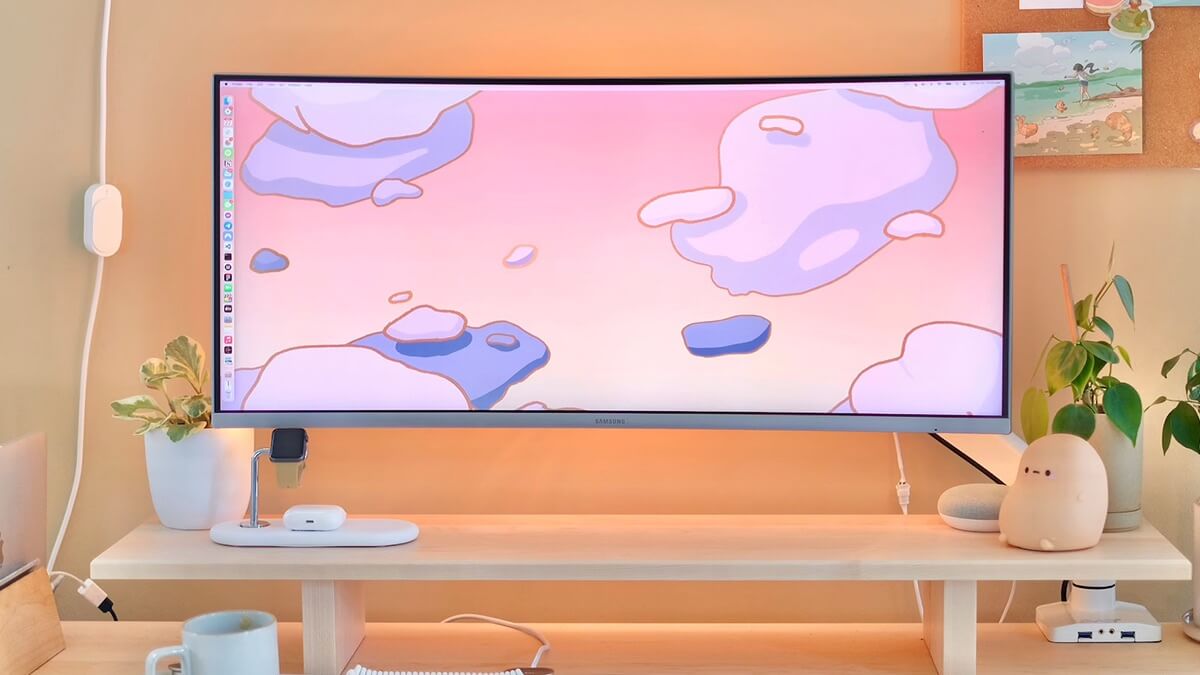 Anime Wallpapers
Pair your Retro Anime Clock Screensaver with one of these anime-inspired wallpapers that will complete your digital aesthetic.
Get the wallpapers: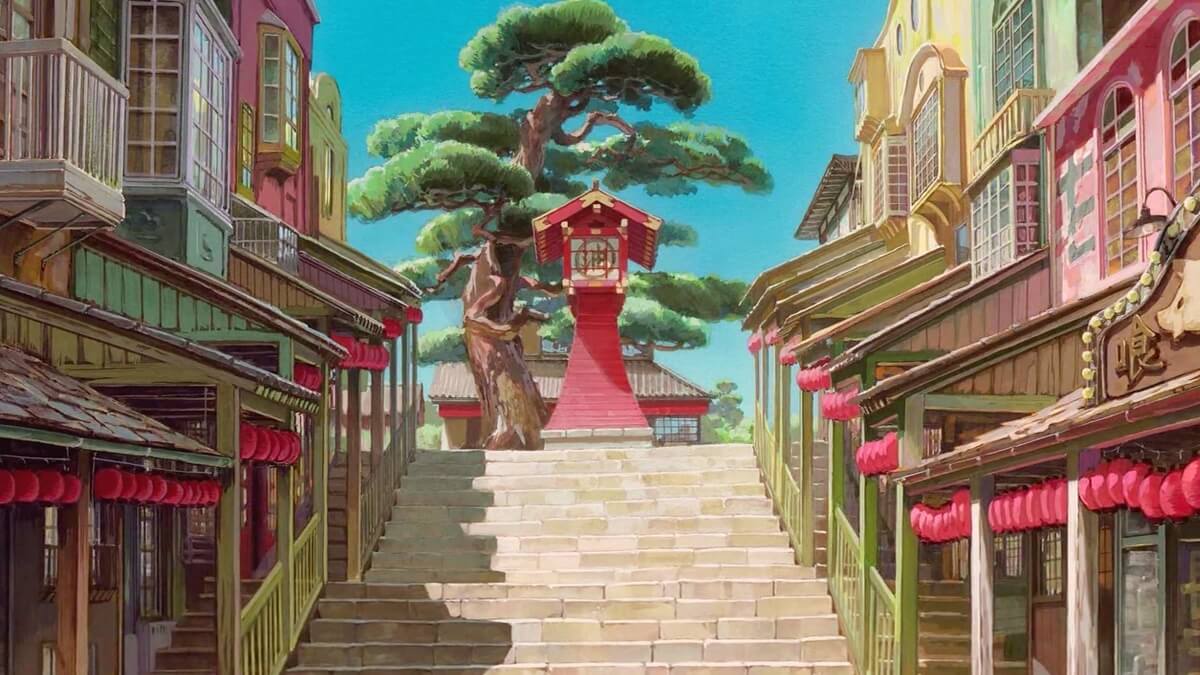 Kawaii Wallpapers
Add some cuteness to your home office with a kawaii wallpaper background. Choose from a variety of colorful aesthetic kawaii wallpapers and match your desktop background to your favorite kawaii desk decor to complete the look.
Get the wallpapers: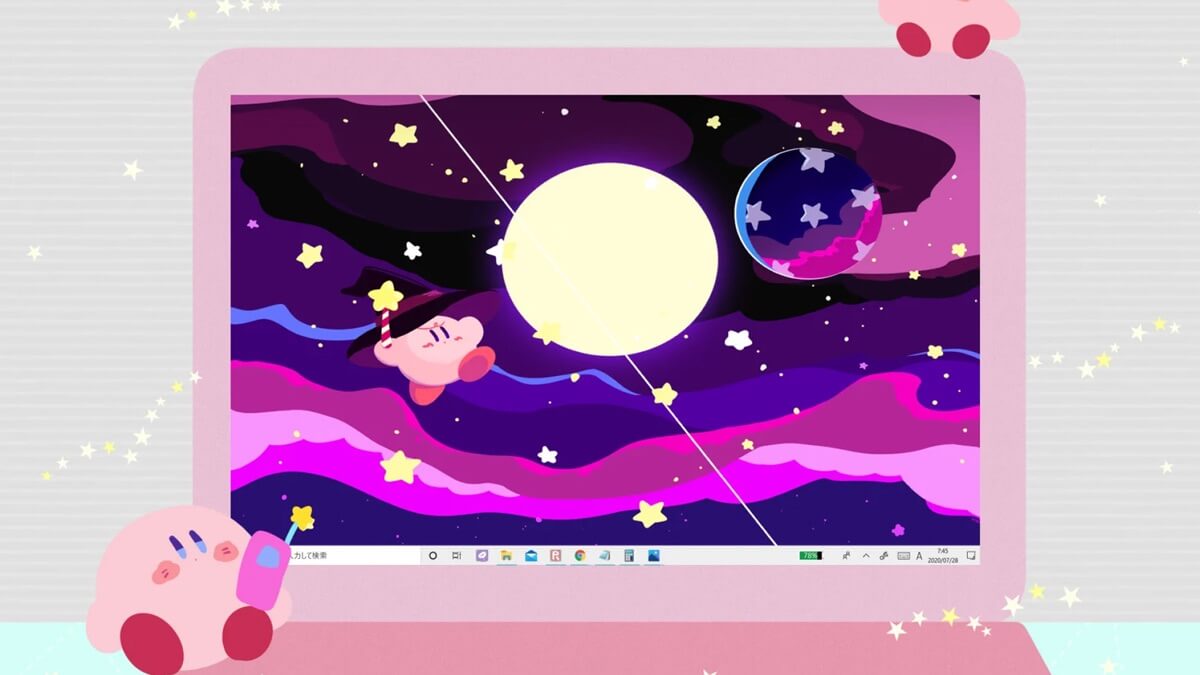 Image by HIKIPopArt on Etsy
Are we missing any aesthetic screensavers or wallpaper backgrounds? Do you have any other screensavers to recommend? Let us know in the comments below!
Gridfiti is supported by its audience – when you buy something using the retail links in our posts, we may earn a small commission at no additional cost to you. Read more about our affiliate disclaimer.