Nothing is more satisfying on the eye than seeing a clean minimalist desk setup. I've enjoyed looking at minimal desks so much that I curate different workspaces and the best desk setups on Instagram.
While picking out the best work stations across Instagram to post, I've come across some of the most minimal desks across the world. I've curated a list of some of the best ones and showcase the most popular minimalist desks in hopes that you gain some home office inspiration for your desk setups! Along with the workspaces, I've included and linked some of the minimalist desks & accessories below to help you decide on the right table for your needs!
1. The Minimalist IKEA Desk Setup
From all of the photos I've seen of minimal desk setups, the IKEA table top and table leg combo is by far the most popular. Both affordable and comes in a variety of different colors and styles, IKEA has made it a no brainer for desk junkies to choose this minimalist desk. Here are two of my favorite setups from James and Stephaen.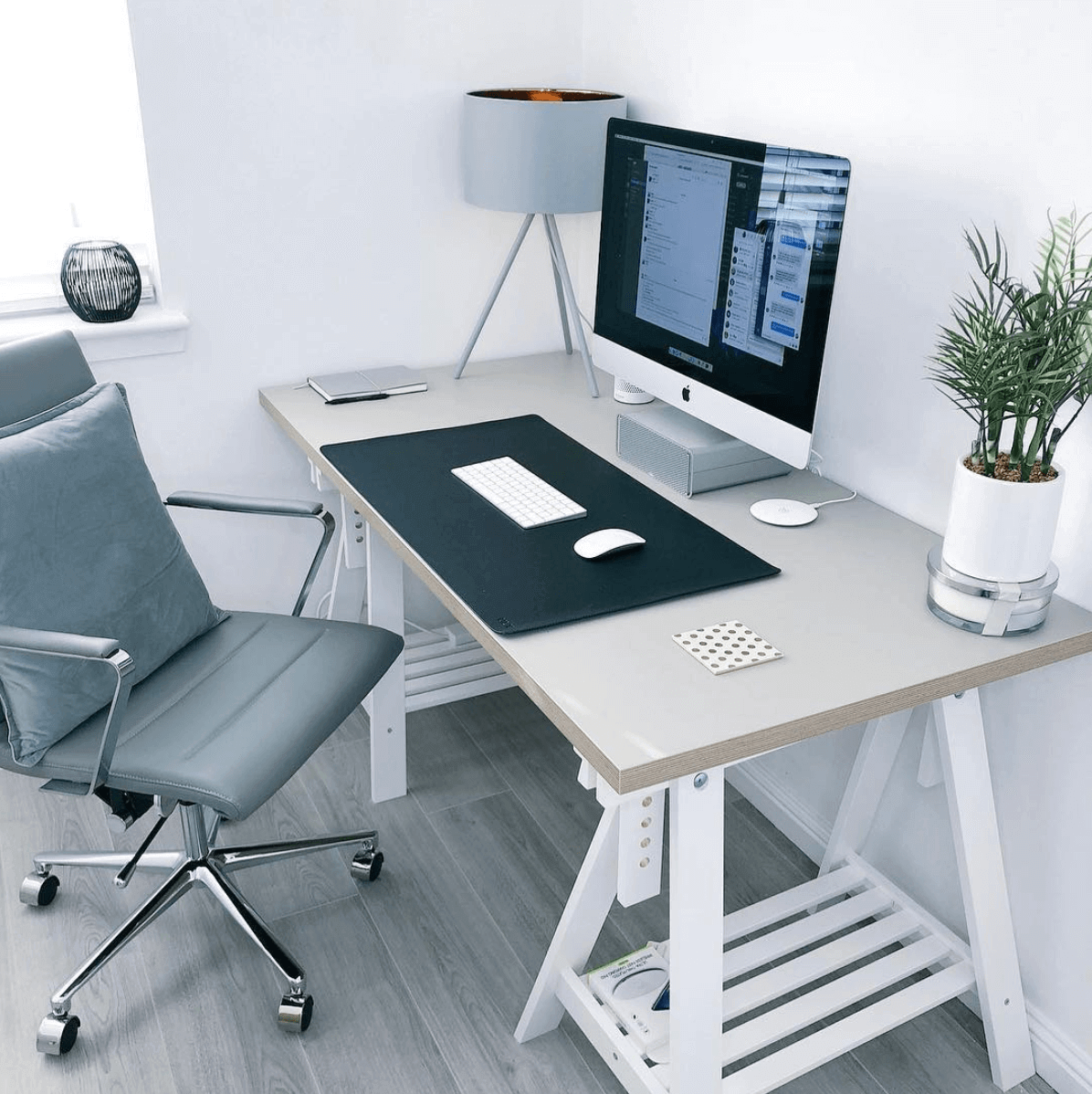 Setup by: @__jamesmcdonald
Here is a similar desk setup from Stephen Proctor who describes his setup as a clean and breathable workspace. Stephen has since updated his setup slightly by adding in a couple new desk accessories and setting his laptop on a Twelve South MacBook stand. A space grey Magic keyboard and a Magic mouse were also added to his desk. Check out his Instagram for more photos!
Table Top: IKEA
Table Legs: IKEA
Chair: Poly & Bark
Lamp: Southern Lights Electric in Nashville
Plant: Succulent which was a gift from friends
Desk Accessory: Zen Garden with black sand from Iceland & Maui
Computer: 15 inch MacBook Pro (Space Grey)
Monitor: 30 inch Thunderbolt Display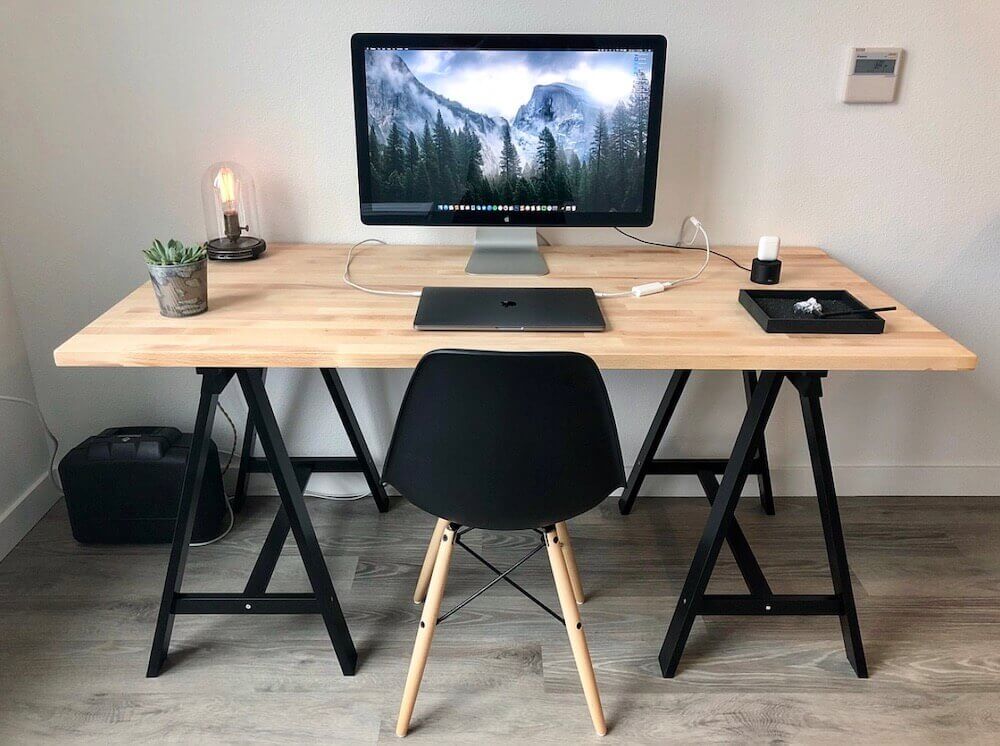 Setup by: @sproctor
2. The Photography Desk Setup
Landscape photographer and tech head Jorge Powell gives us an inside look at his simple desk setup and work station that helps him get stuff done. The perfect balance of monochrome with a natural wood finish on his desk shelves, Macbook stand, and monitor stand. Jorge does a great job at reducing clutter and having the Macbook as the main force for his work helps keep his space simple.
Desk: IKEA
Chair: IKEA
Speakers: Logitech MX Sound 2.0
Keyboard: K2 Keychron Mechanical Keyboard
Trackpad: Apple Magic Trackpad 2
Computer: 13 inch MacBook Pro
Desk Monitor: 27 Inch Dell S2781D LED Monitor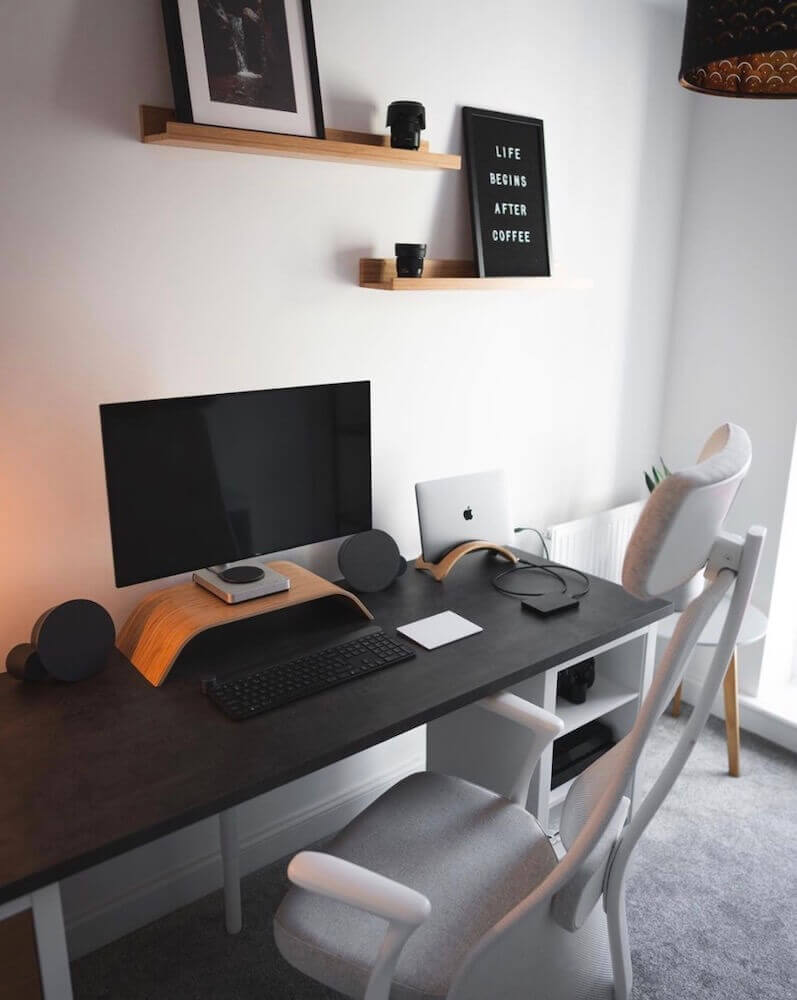 Setup by @jorgeypowell
3. The Ultrawide Monitor Workspace
Alex is a developer from Romania and his desk setups are perfect. The balance between aesthetic perfection and functionality. Using the IKEA setup we mentioned earlier, he replaces one of the sides with a table drawer. Instead of a monitor holder, he uses a minimal drawer to hold up the ultrawide LG monitor. Alex's setup is the right combination between the IKEA setup and the minimal ultrawide setup.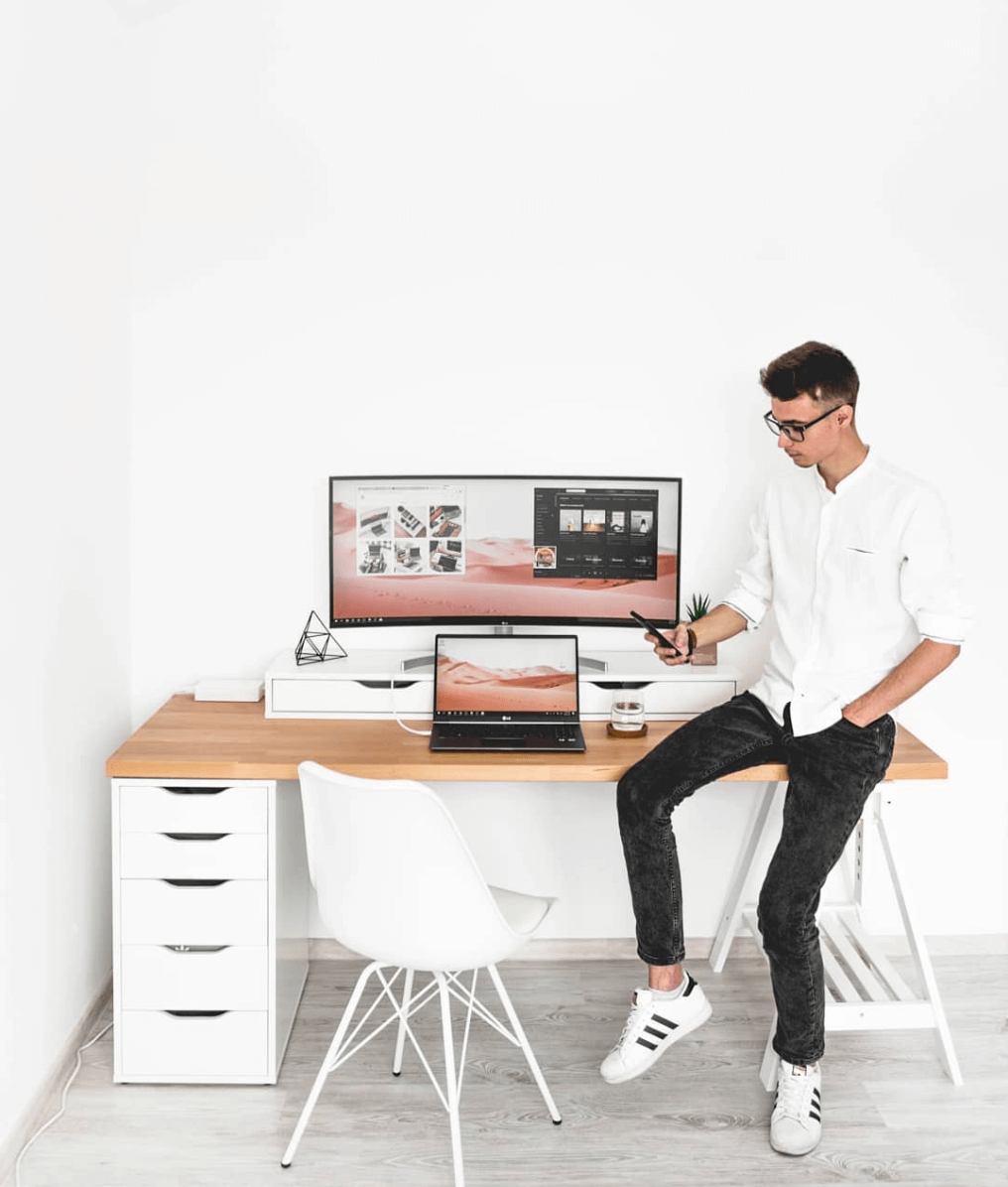 Setup by: @alexacea
4. The Filmmaker's Desk Setup
This is another favorite desk setup of mine. Different from the other ones because it looks like the perfect night owl setup. I'm personally more productive at night and I love the addition of the neon lights here which add such a cool vibe to the whole home office.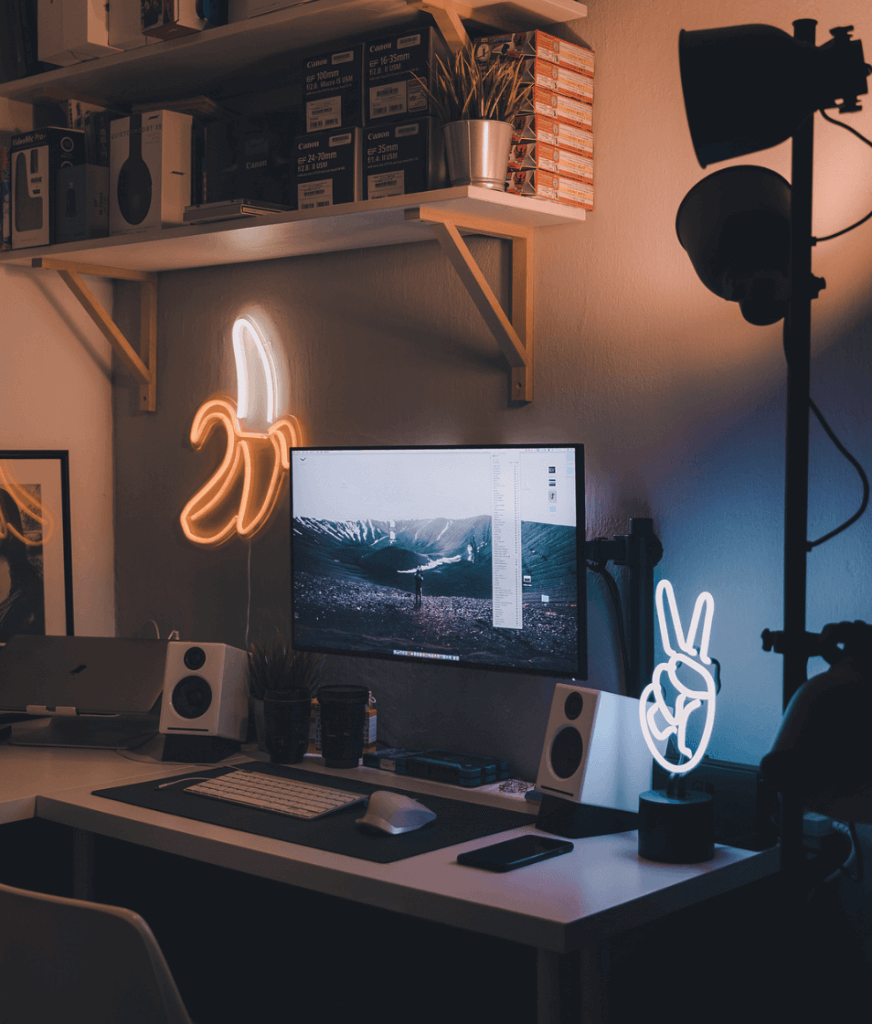 Setup by: @dsonlch
5. The Designer's Minimalist Desk Setup
I loved this minimal desk setup from Marcelo because of how designer like it was. I'm no professional designer, but it seems like such a perfect setup for a designer. The use of brown to compliment the white setup and the minimal desk accessories is very nice. Are you really a designer without design templates on your screen and design sketches on your desk?
Office Chair: West Elm
Computer: iMac
Earphones: AirPods
Mouse: Apple Magic Mouse
Keyboard: Apple Magic Keyboard
Speaker: Apple HomePod
Monitor Stand: Grovemade
Wooden Desk Accessories: Handmade by Grovemade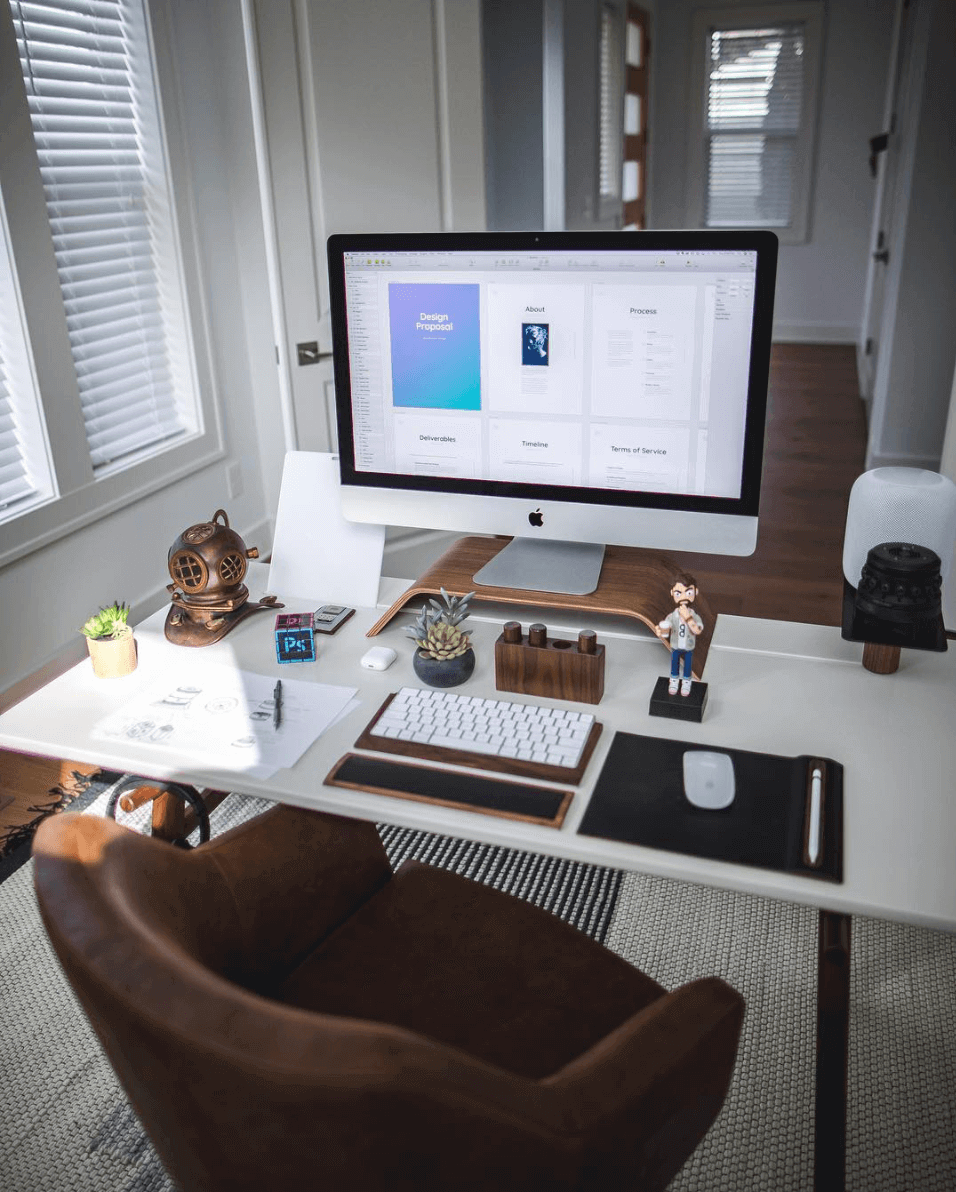 Setup by: @marcelo14silva
6. Minimalist Desk With a Window View
The third desk setup I chose is one with a nice large window and luckily a beautiful view. The glass desk makes it perfect for the glass window view and I love the use of space. Books, laptop, and other desk accessories are stored under the glass table top and all of the essentials are placed where they need to be on top of the desk. The symmetry of the desk aligned with the window is also a nice touch!
Speakers: Bowers & Wilkins
Desk: John Lewis
Chair: Herman Miller
Desk Calendar: John Lewis
Mousepad: Grovemade
Lamp: IKEA
Pencil Cup: Amazon
Laptop: 13 inch MacBook Pro 2015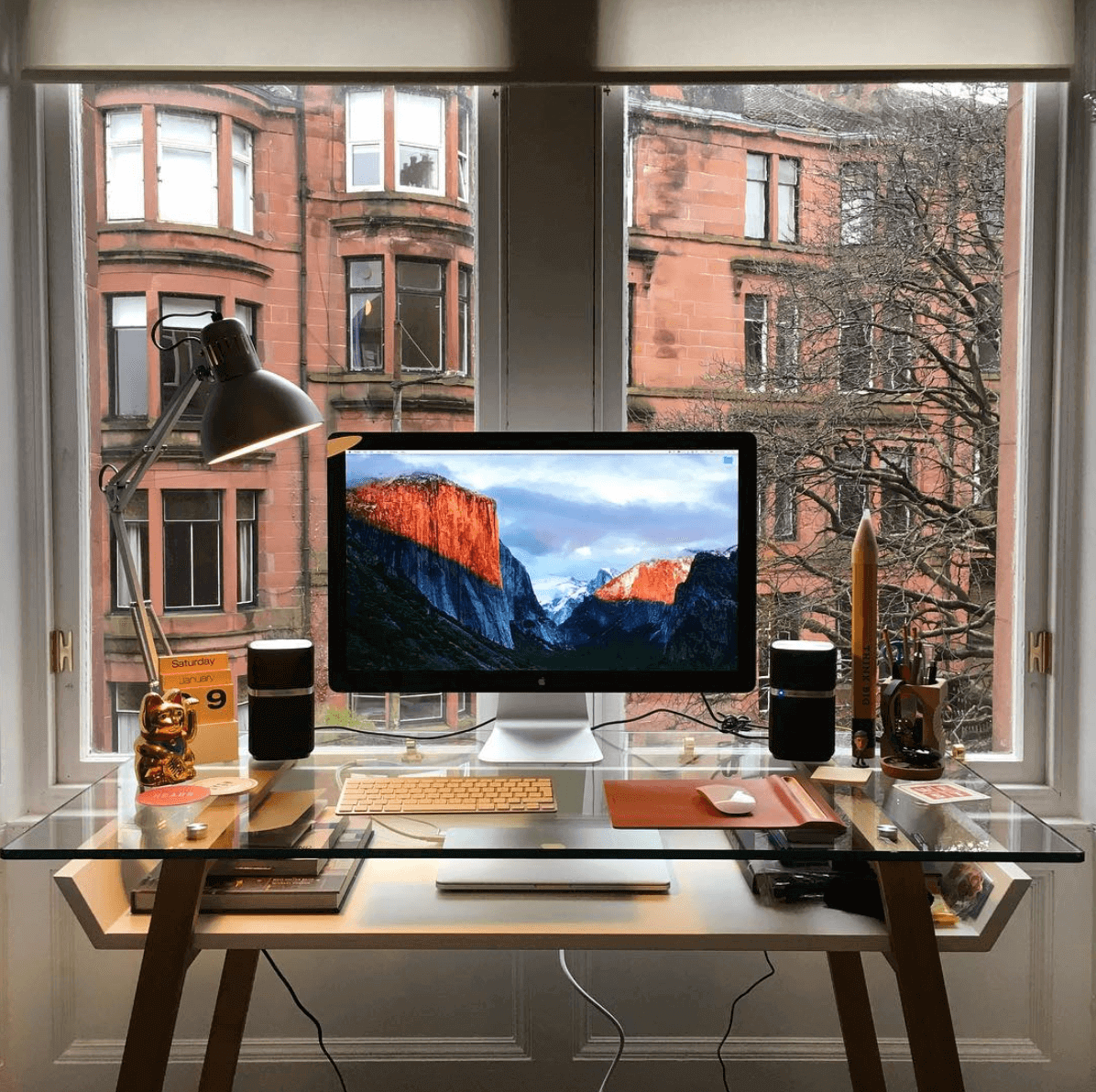 Setup by: @gr8scott_90
7. The Minimal Ultrawide Monitor Macbook Setup
The ultrawide monitor workspace has to be one of the minimalistic desk setups and personally my favorite. Gabriele does it just right by keeping the desk simple with two simple Bose speakers, using one of the best desk covers on the market, and minimal cord usage. The MacBook Pro and ultrawide monitor combo seems like the way to go if you're looking to keep the clutter low.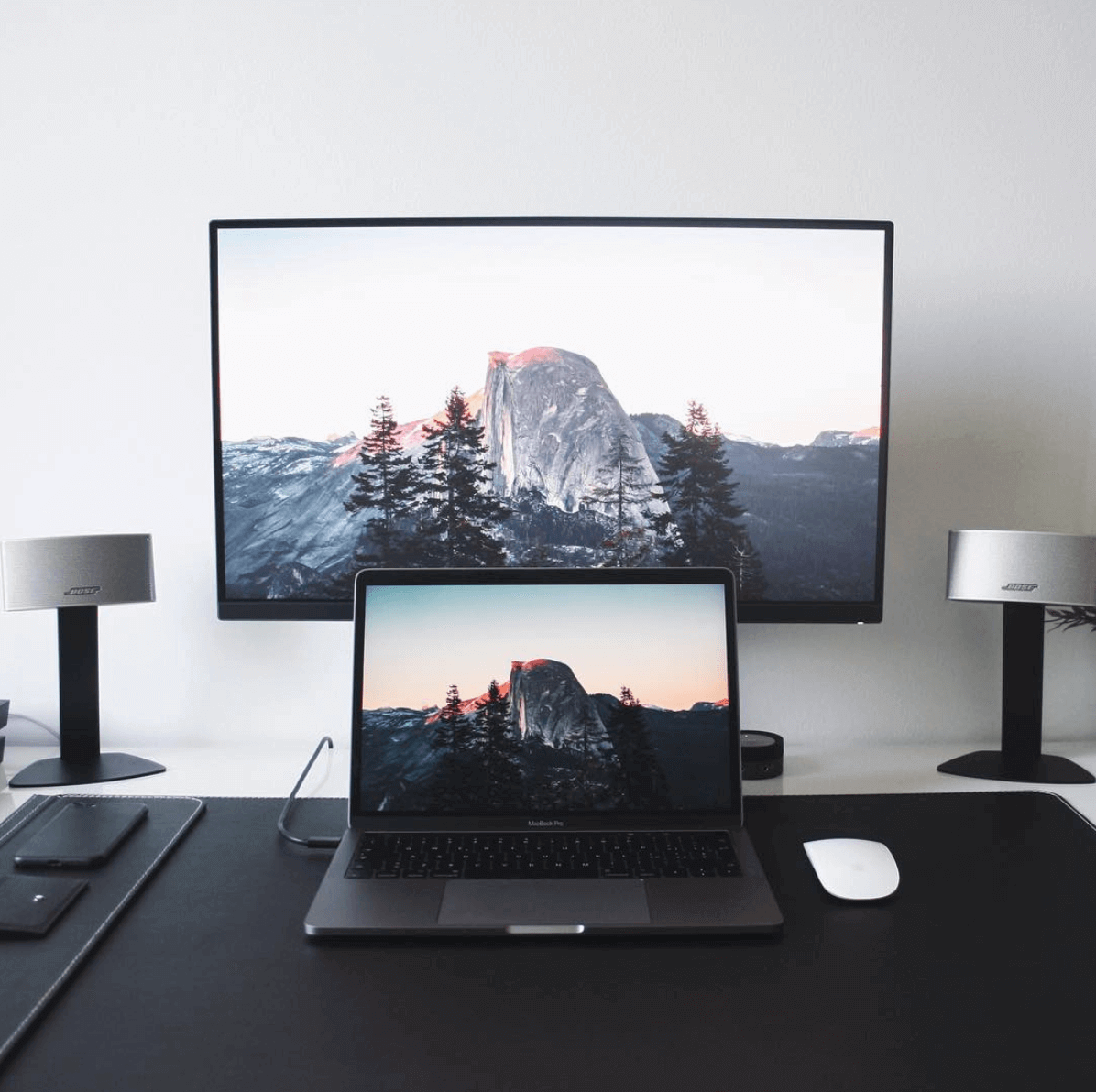 Setup by: @gabrieledsgn
8. The Photographer Apple Desk Setup
The moment I see a Lacie Rugged Hard Drive, I just think photographer or videographer.  This desk setup looks like the content creators workspace. The minimal Mac clock screensaver and simple MacBook accessories creates the perfect productive environment.
Hard Drive: Lacie Tech
Desk Mat: Amazon
Laptop: MacBook Air
Monitor: Apple Thunderbolt Display
Mouse: Apple Magic Mouse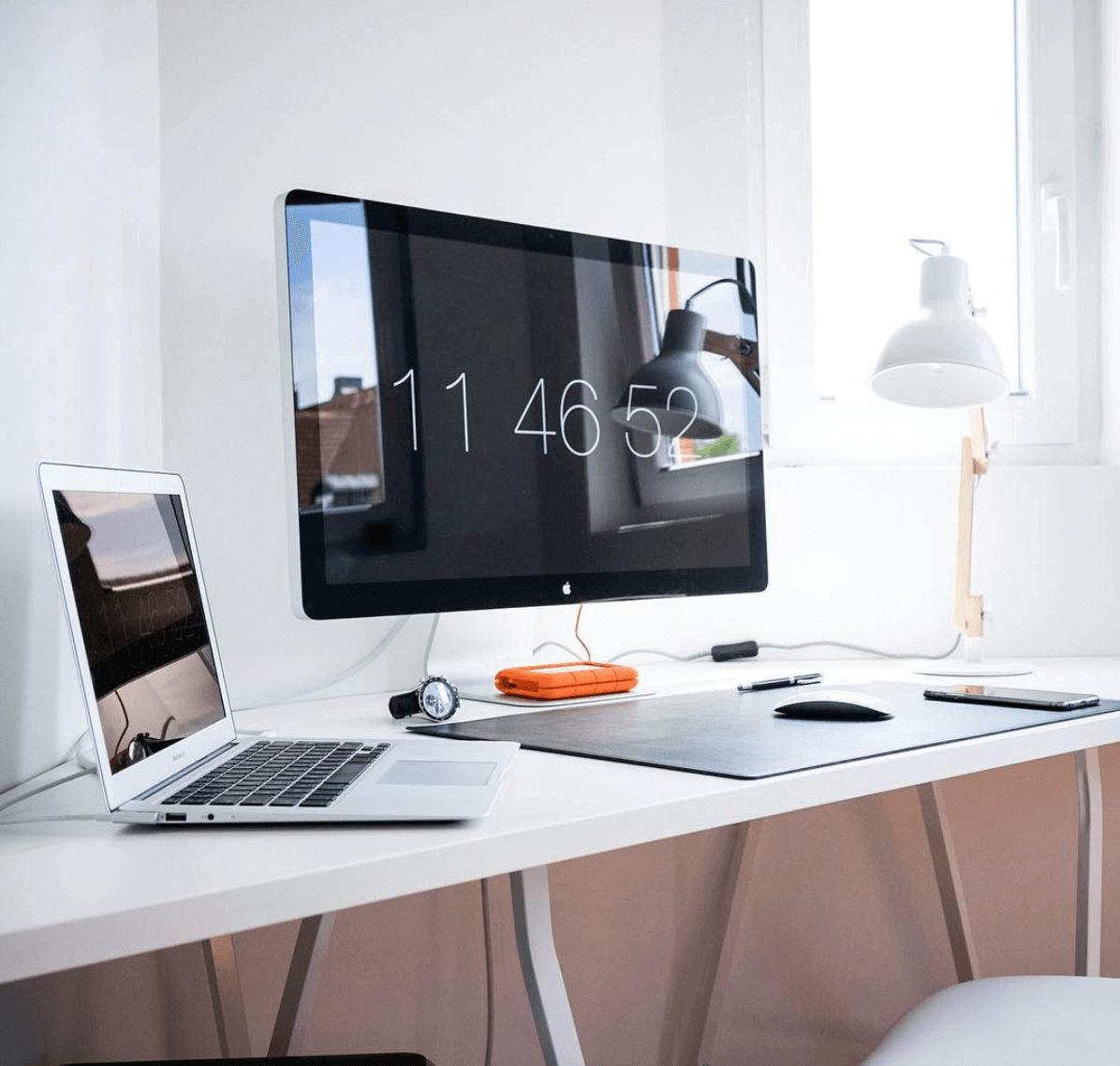 Setup by: @pierreetienneferraro
9. Modern Home Office Desk Setup
Nothing beats having a cool home office workspace to be productive in. I look forward to having my morning coffee and getting settled into my desk before beginning the day. One of my favorite modern desk setups is by Michael Soledad who continuously shows us his clean home office work station on Instagram.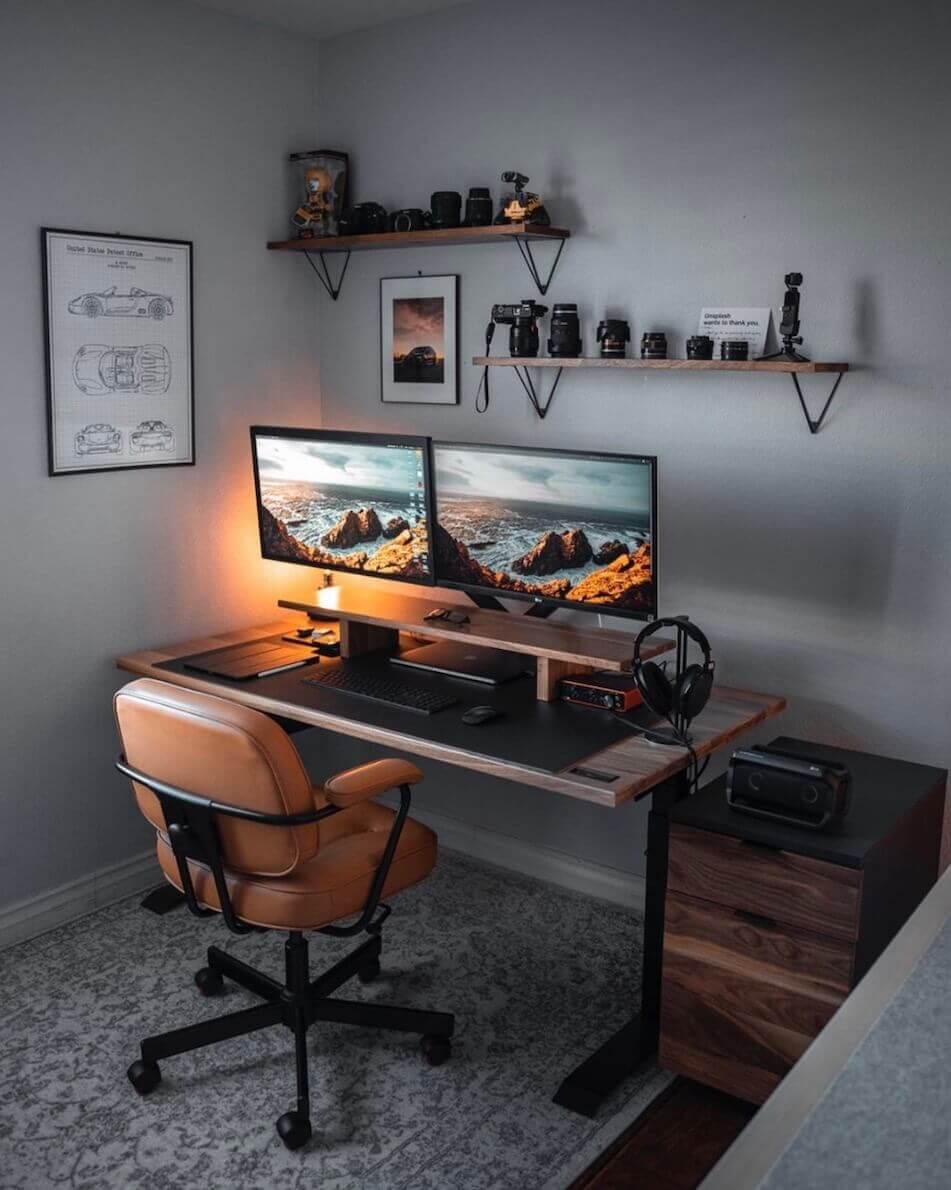 Best Workspace Desk Setup Ideas
Haven't found a desk setup or minimal workspace that you like? Check out our Pinterest board on minimalist desk setups for more ideas and inspiration. We update it regularly with some of the best workspaces from around the world.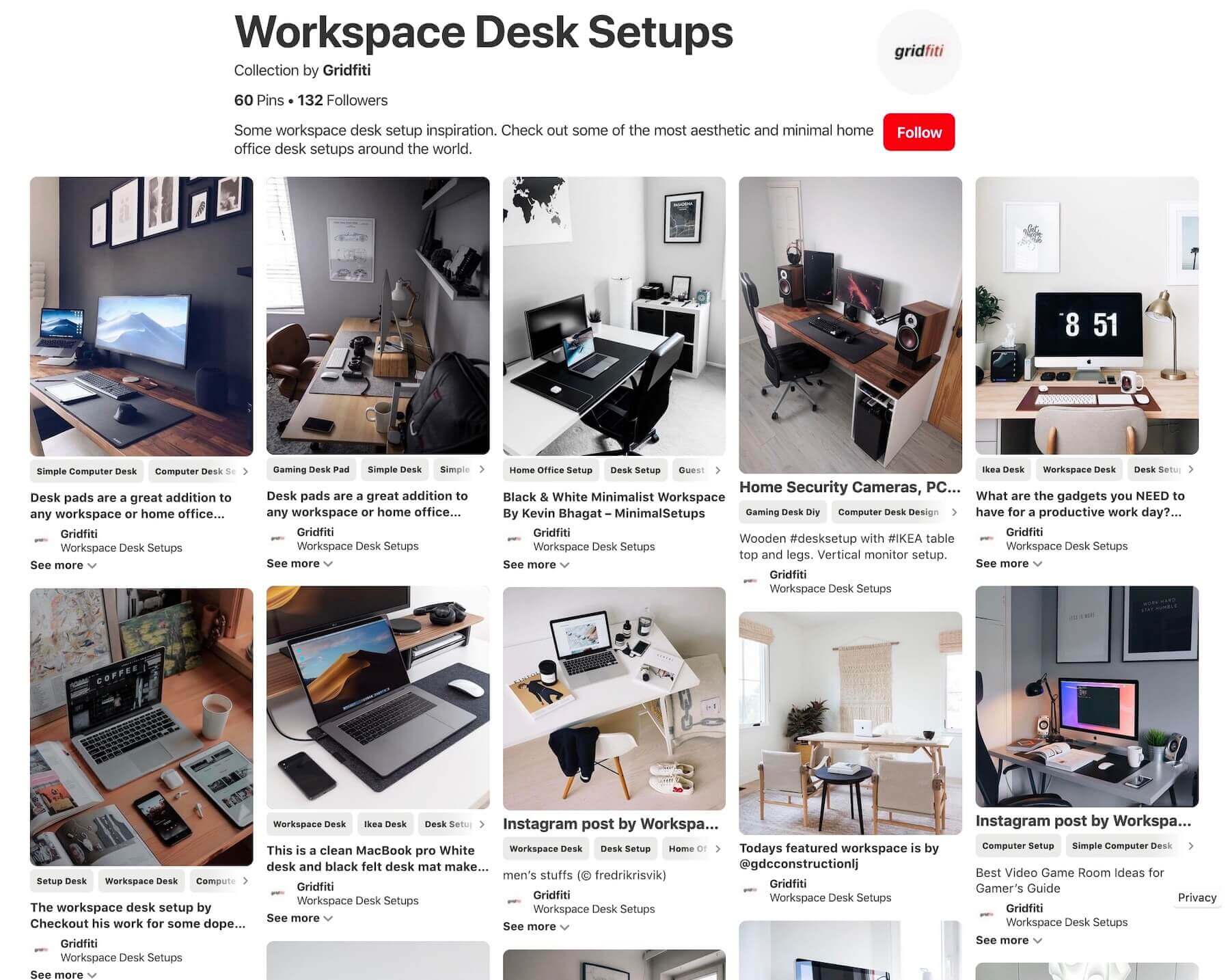 Which one is your favorite minimalist desk setup? Let me know down in the comments below. Also if you have any minimalist desk photos, feel free to submit them by emailing nick@griditi.com.