Putting together a clean, minimalist desk setup is one of the best things you can do for your home office. A simple workspace can help increase productivity and improve your day-to-day by focusing on what adds to it, and getting rid of what clutters it.
Not everyone works the same way and there's no one-size-fits-all approach. Some need a desk setup for casual browsing, while others' setups are their work-from-home office. Whether you're a full-time professional, gamer, photographer, college student, or anything in between – a minimal setup is for all. We're always curating the best desk setups across the web, from Instagram to Reddit – and have done just that, complete with full-on product guides to help you pick the right desk, chair, tech, and décor for your minimal setup. Get scrolling and get inspired for your 2021 home office setup!
Want more desk setup and home office ideas? Join our mailing list to get inspo straight to your inbox 📮
The Designer's Minimalist Desk Setup
For designers, it's important a workspace is as clean and aesthetically pleasing as their work. We love the white and wood accent combo for a designer setup, along with decor pieces like plants, or even a Pantone book.
Where to start: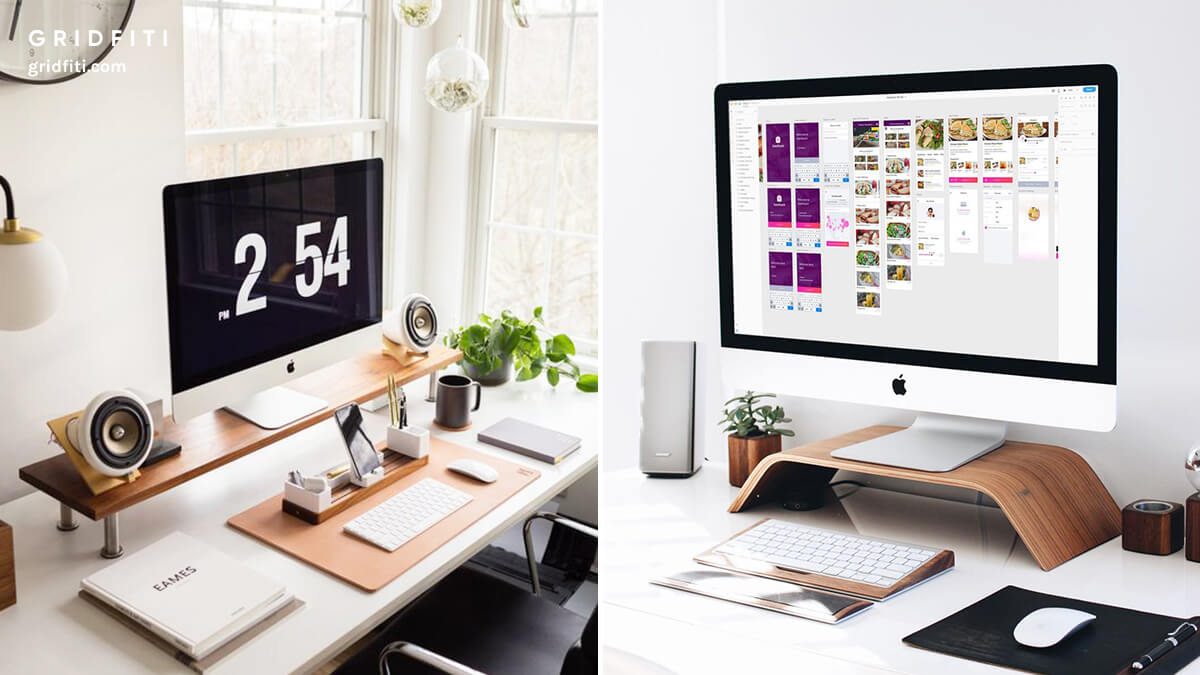 Photos by @ugmonk and @marcelo14silva
Colorful Home Office LED Light Setup
If you find yourself working late into the night, stay focussed and add some ambience with LED office lighting. The most popular use for LED desk light strips is behind your monitor to create a nice glow and backlight, which will also help reduce eye strain for those long working sessions. If you want to go all out, add some LEDs under your desk, and even a NanoLeaf or galaxy projector! Better yet, no matter what your budget, all of the LED strips and bulbs below are smart home-ready for Google or Alexa.
Where to start: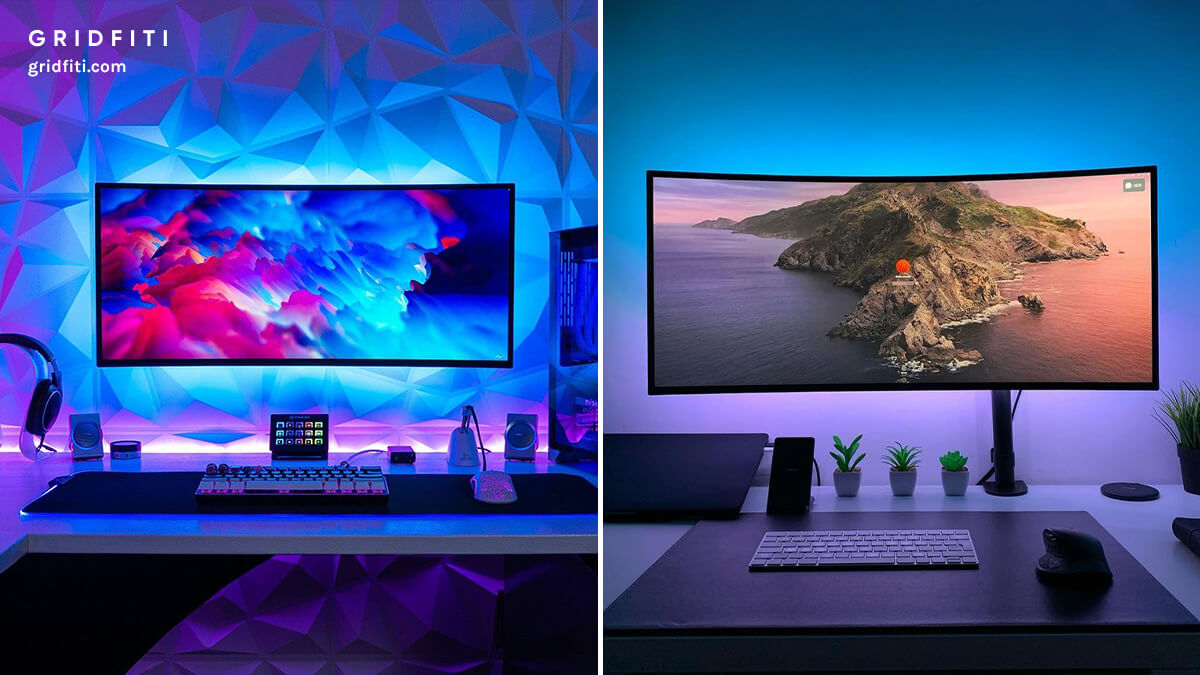 Photos by PC Battlestations and @ahmxd94
The Minimalist Wood Top IKEA Desk Setup
With all of the minimal setups we've seen, IKEA desk setups are by far one of the most popular – and probably one of the easiest and most affordable places to start. IKEA carries tabletops and legs separately, giving you lots of flexibility to mix and match. For a setup with a little more function, many opt for an under-desk drawer unit, doubling as support and storage for your desk. IKEA even has a desk planner tool that lets you preview tabletop and leg combos!
Looking for more IKEA setup ideas? Check out our full guide on IKEA gaming desk setups!
Where to start: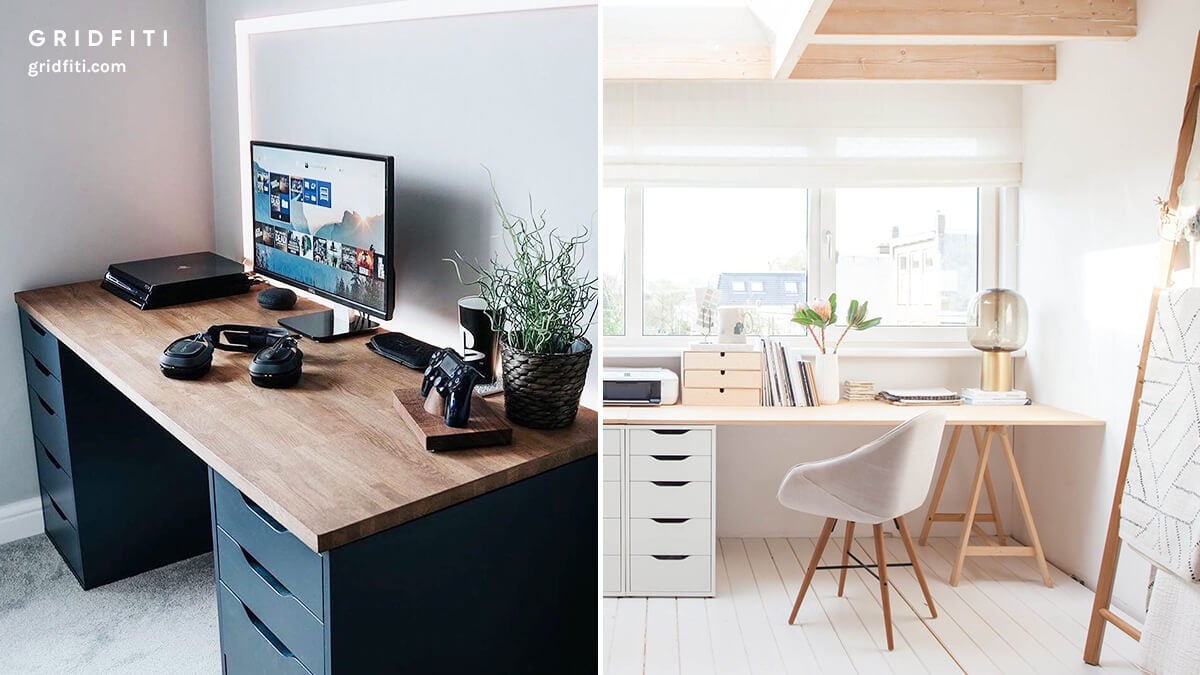 The Night Owl Desk Setup
Whether you operate better at night, or just need to pull long hours – crafting your setup to cater to the night owl lifestyle will help you make the most of those late night sessions.
The key here is lighting – not only to stay alert and focused, but to create a cozy, inspiring atmosphere that will motivate you to keep going.
Mounting a light bar on your monitor is a great place to start. Monitor light bars illuminate your workspace, all while de-cluttering (great for small surfaces) and reducing eye strain. BenQ's ScreenBar Monitor Light is great for illuminating your setup, freeing up space on your desk, and maintaining a minimal look with an all-matte black design. It even has auto-dimming and a patented design to ensure zero screen glare off your monitor.
In addition to a monitor light bar, incorporating LED desk backlighting, candles, and even a notebook to journal those late night thoughts will create the perfect environment ready for any night owl's late grind.
Where to start: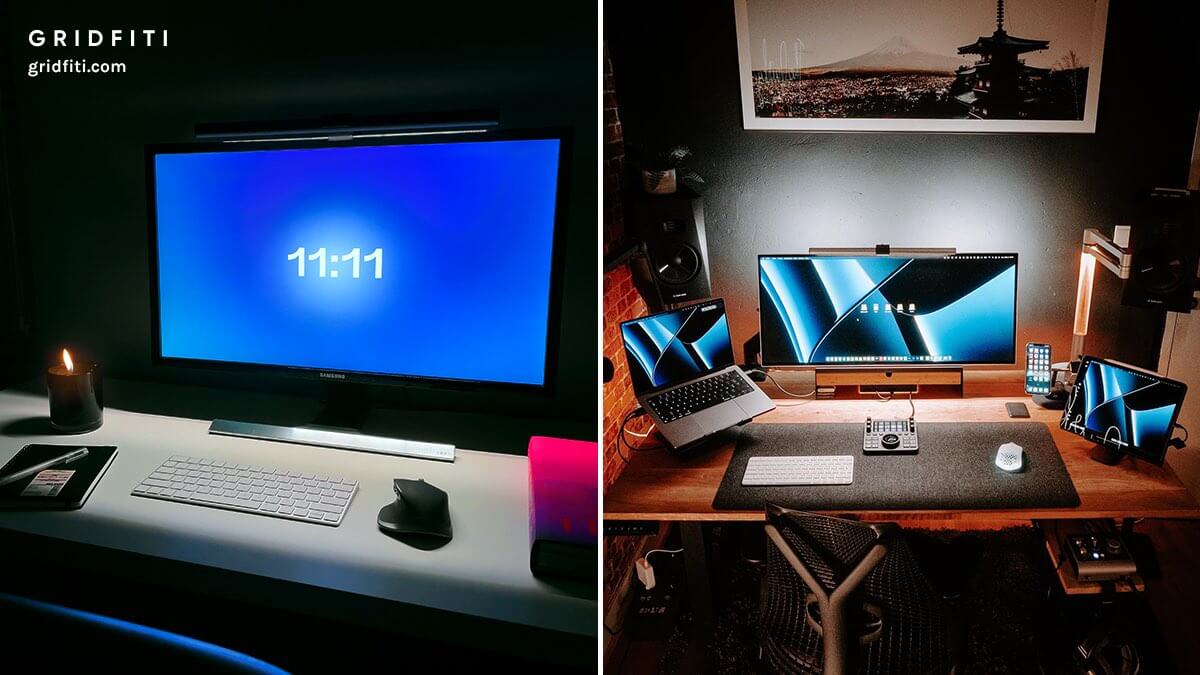 Photo #2 by @jeremie_thequirky
All-White Desk Setup
There's nothing more minimal than going all-white everything. It's as simple as picking a white desk, along with your favorite white accessories and décor to accompany. If you want take it to the next level, you can even opt for white colorways for your devices
Where to start: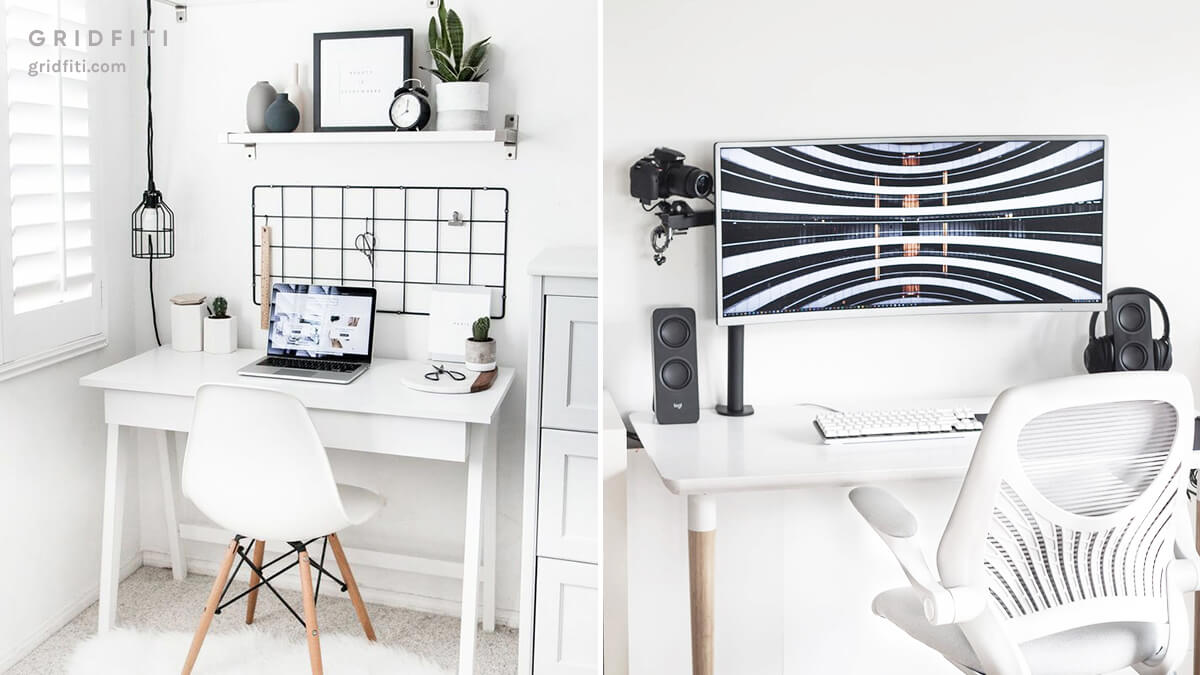 Photos by Apartment Therapy and @ldmartin
All-Black Desk Setup
For some people, black is a lifestyle. If you want to make a bit more of a statement while keeping a consistent color scheme, an all-black setup may be for you.
Where to start: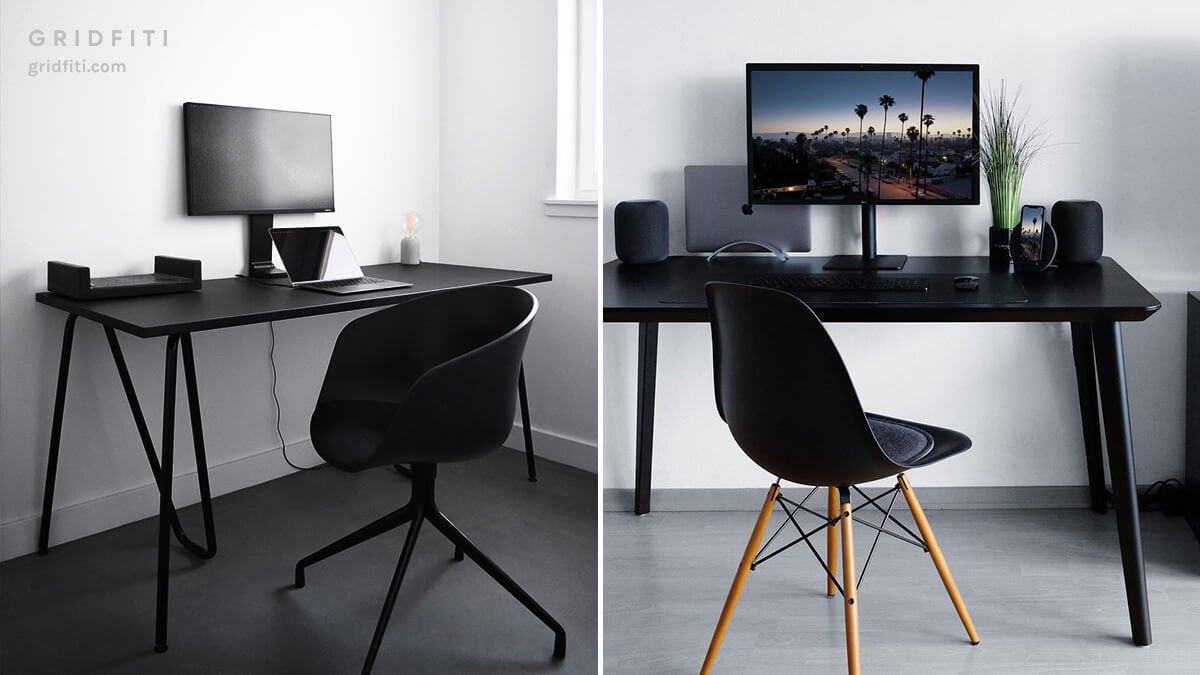 Photos by @carlbarenbrug and @maxrusso.design
Monochrome Desk Setup
Can't pick a lane for a single-color theme? Well, you can have both! A monochrome desk aesthetic looks great, and is pretty easy to achieve – all you need to do is mix and match different white, black, and gray desk components and tech. Tip: pick a white or black desk, then go with the inverse color for your accents. For example, for a white desk, go with black desk legs, a black chair, and black desk cover – and vice versa.
Where to start: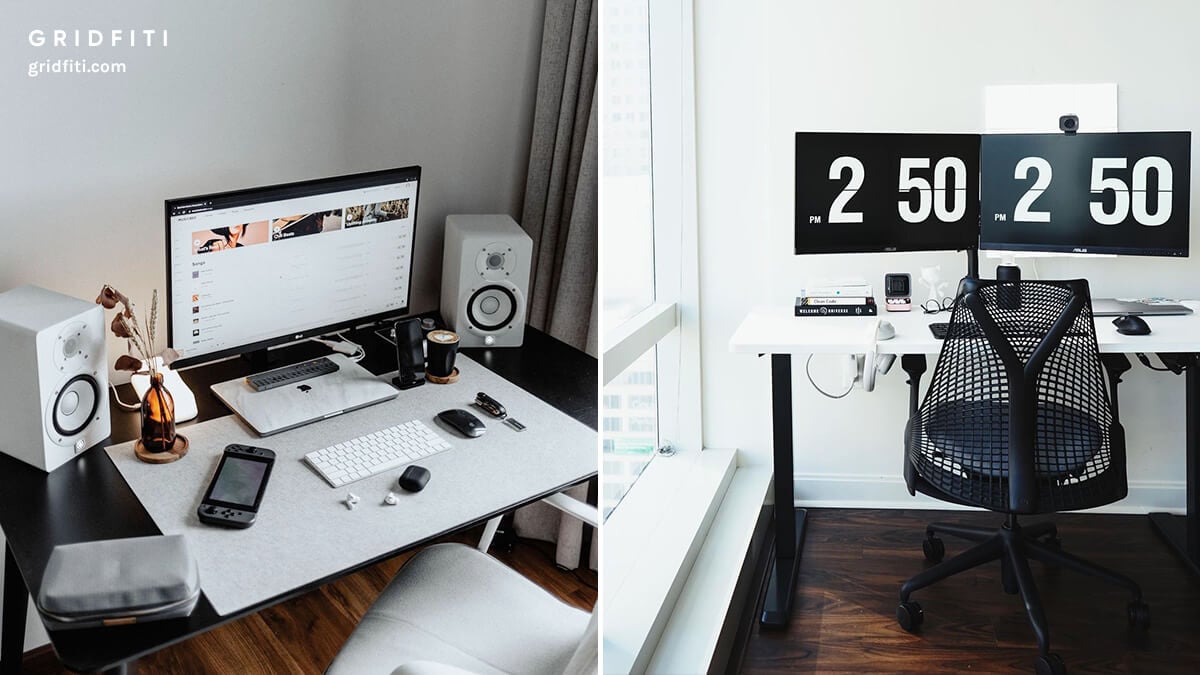 Photos by @minonearth and @morgan.codes
Modern Minimal Battlestation Gaming Setup
In a world of extravagant battlestations, minimalist gaming setups often fly under the radar. Whether you're team RGB or RGB-free, get inspired by these understated battlestations that make a statement.
Looking to amp up your gaming setups in other parts of the home? Check out our full guide and moodboard for your gaming entertainment center.
Where to start: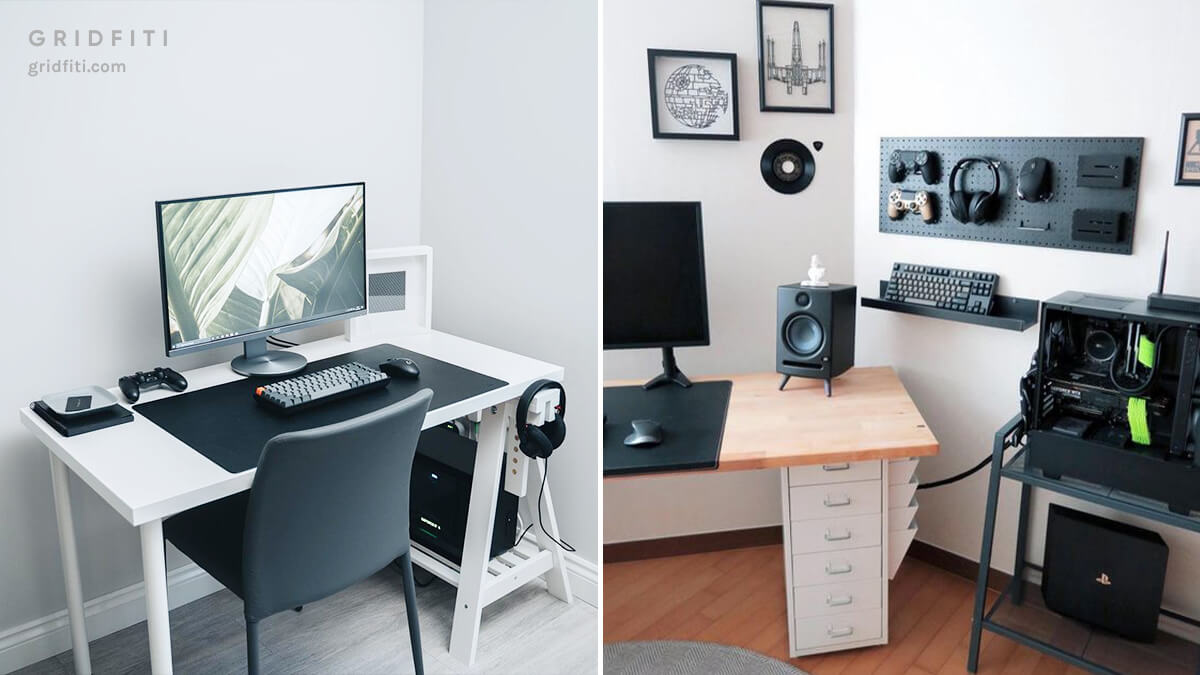 Photos by @ultralinx and u/gr1zbot
The Photographer's Desk Setup
Why use lens mugs when you can show off your own lenses? Store and show off your hard-earned gear while keeping it clean – floating shelves and pegboards are perfect to keep your workspace clutter-free, while adding some personality to your workspace. For wall art, what better images than ones you've taken? You can print your own photographs easily thanks to services like Posterjack!
Where to start: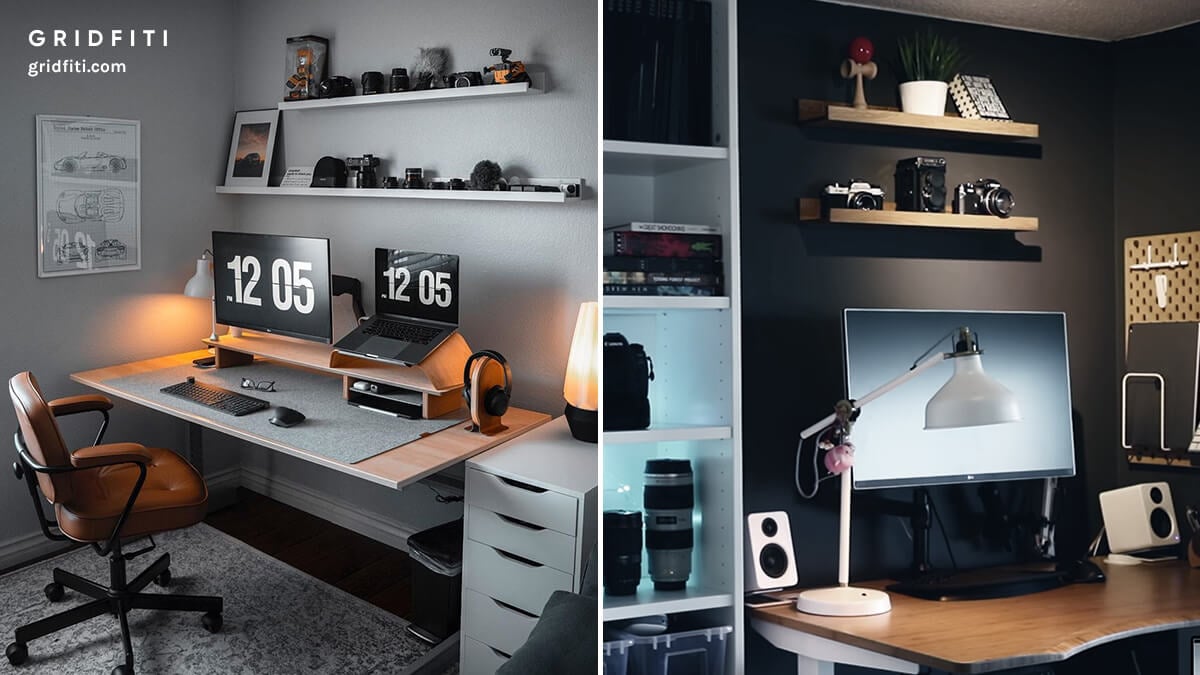 Photos by Michael Soledad and Justin Henton
The Filmmaker & YouTuber Desk Setup
Between shooting b-roll and meticulous color sessions, filmmakers need a workspace that accommodates their busy lifestyle and long hours. Make your setup feel like home by decking it out with comfort and late-night ambience in mind. Also, incorporating lights and a mic for last minute footage and V/O is never a bad idea.
Where to start: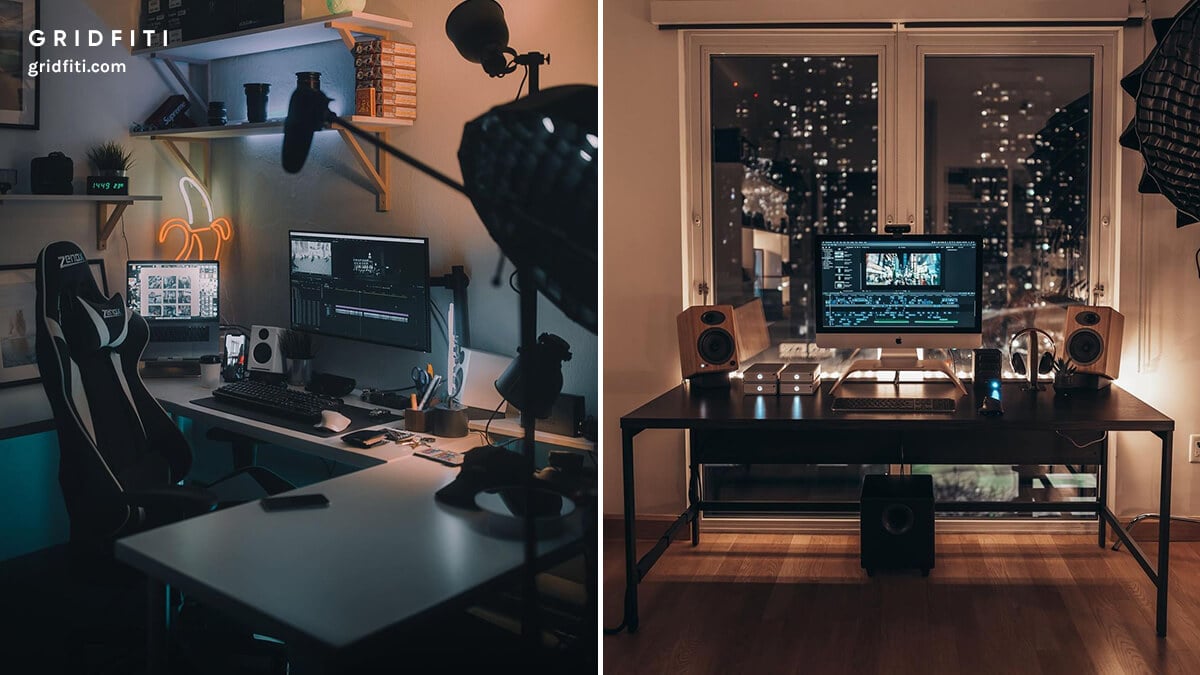 Photos by @dsonlch and @andyto
The Transparent / Glass Desk Setup
A transparent setup goes a long way, opening up your home office, and keeping it bright and airy. Clear furniture (glass or acrylic) goes with any style or aesthetic, making this a versatile pick for your home office. To keep it bright and airy, go with white or light decor and tech. A desk cover is also a good idea to avoid any scratches on the desk.
Where to start: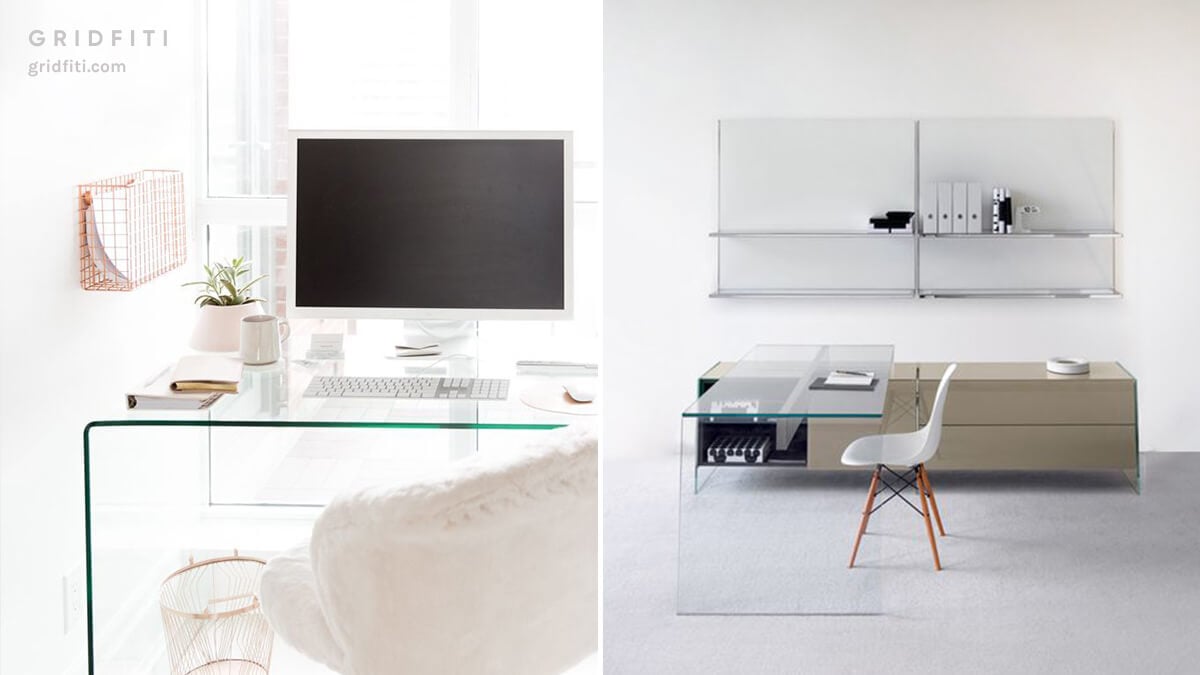 Photos by Stephanie Sterjovski and Decoredo
Developer & Programmer Desk Setup
Get your setup cleaner than your code. To minimize any distractions while programming, best to get your desk organized and clutter-free. Any developer's workspace should also offer enough screen real estate with either dual monitor setup or an ultrawide monitor – whether you want multiple windows up in your code editor, or see the backend side-by-side with the frontend.
Where to start: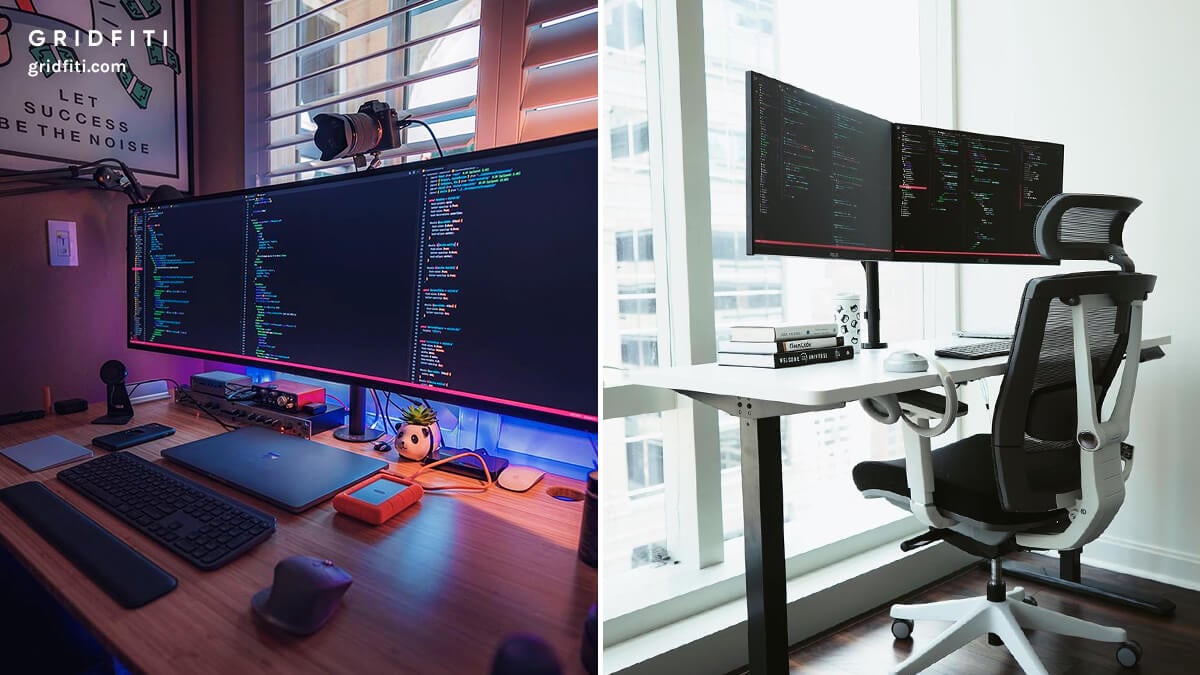 Photos by @chau_codes and @morgan.codes
The Ultrawide Monitor Desk Setup
Even with a minimalist setup, you can still be a maximalist when it comes to screen real estate. Besides being a productivity-booster, an ultrawide monitor is a great upgrade if you currently have a dual-monitor setup, and are just wanting to clean up your setup.
Where to start: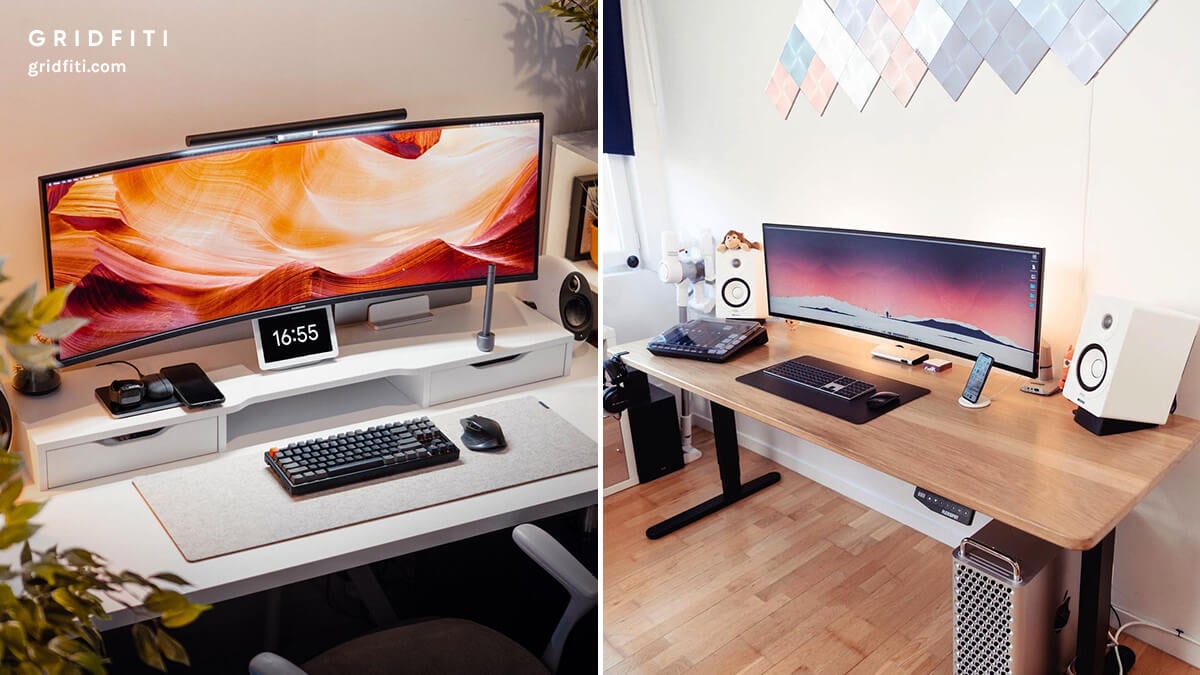 Photos by @feriktantomi and @quentincougniot
Productivity Desk Setup
Who doesn't want to get more done in less time? From reducing clutter, to adding a second monitor and desk clock – up your productivity game with a few simple modifications to your setup.
Where to start: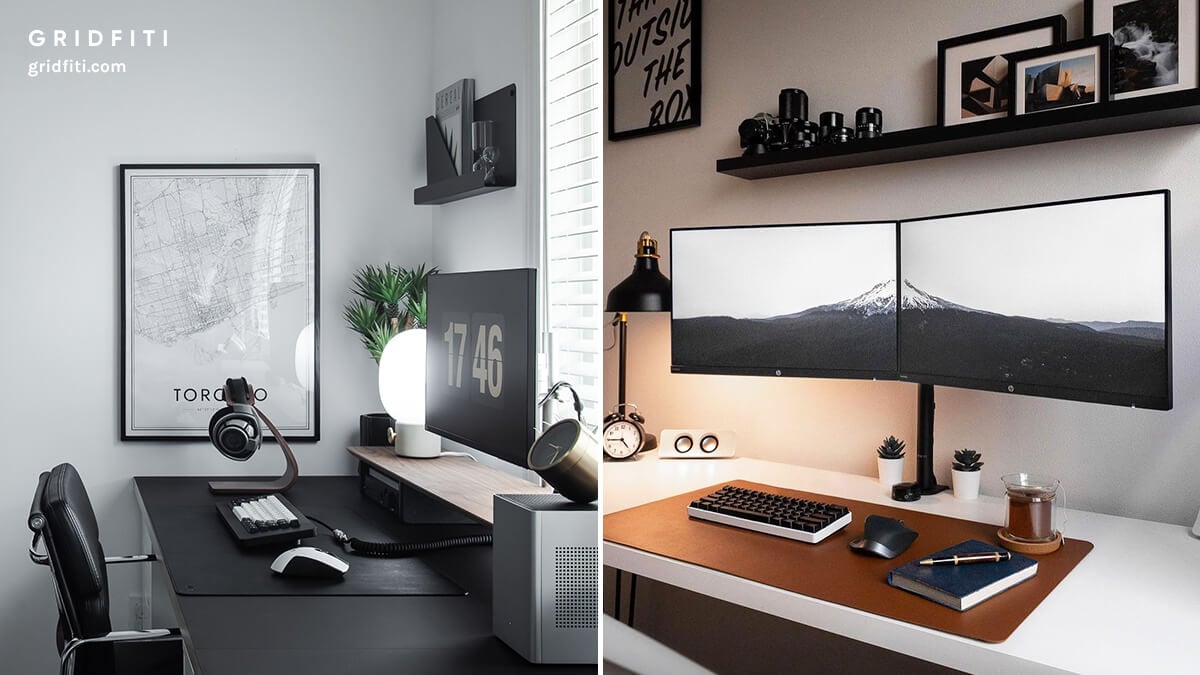 Photos by Ultralinx and @justinnngyn
Plants & Natural Theme Desk Setup
We couldn't ignore the fact that several the top desk setups on Reddit featured copious amounts of plant life. Whether you want plants that thrive in light, are low-maintenance, or better yet: no-maintenance, get inspired by these oxygen-filled setups.
Where to start: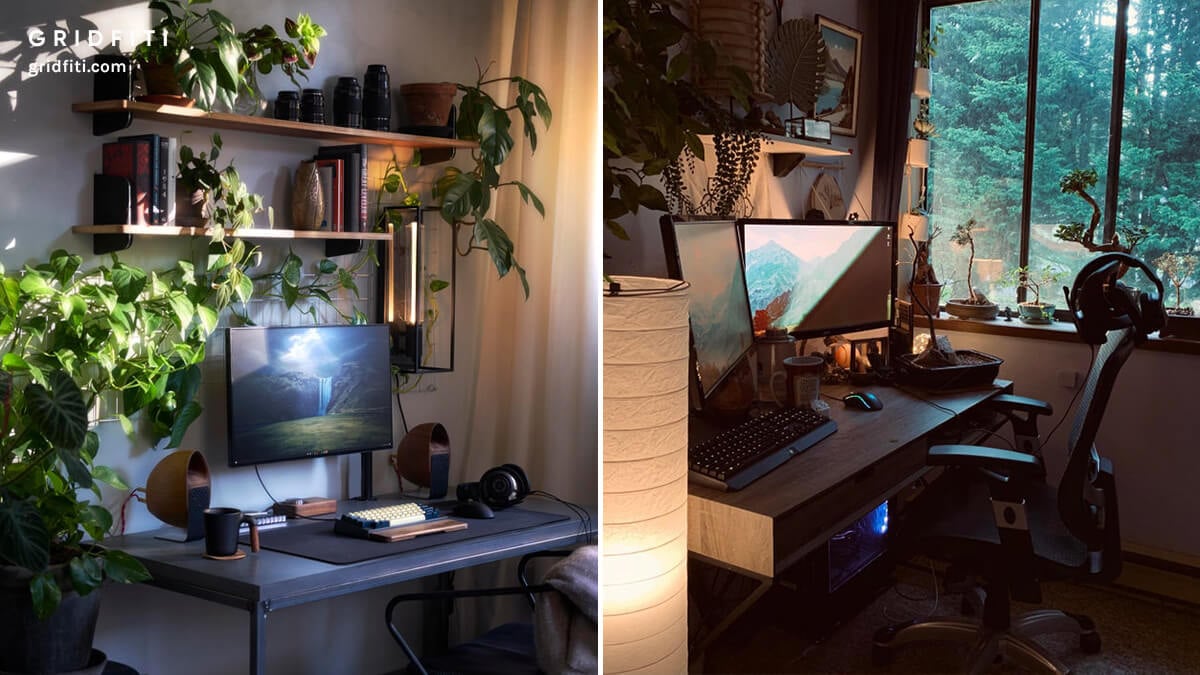 Photos by u/daphenejtor and u/seanBCi
College Student Desk Setup
College rooms are typically small to begin with, especially if you live in a dorm or have multiple roommates. When setting up a college student desk setup, you'll want to make sure your space is used efficiently by utilizing shelves, pegboards, drawers to help organize your school supplies and textbooks. If you're in a dorm setting, covering up that dreary concrete wall makes a world of a difference.
Where to start: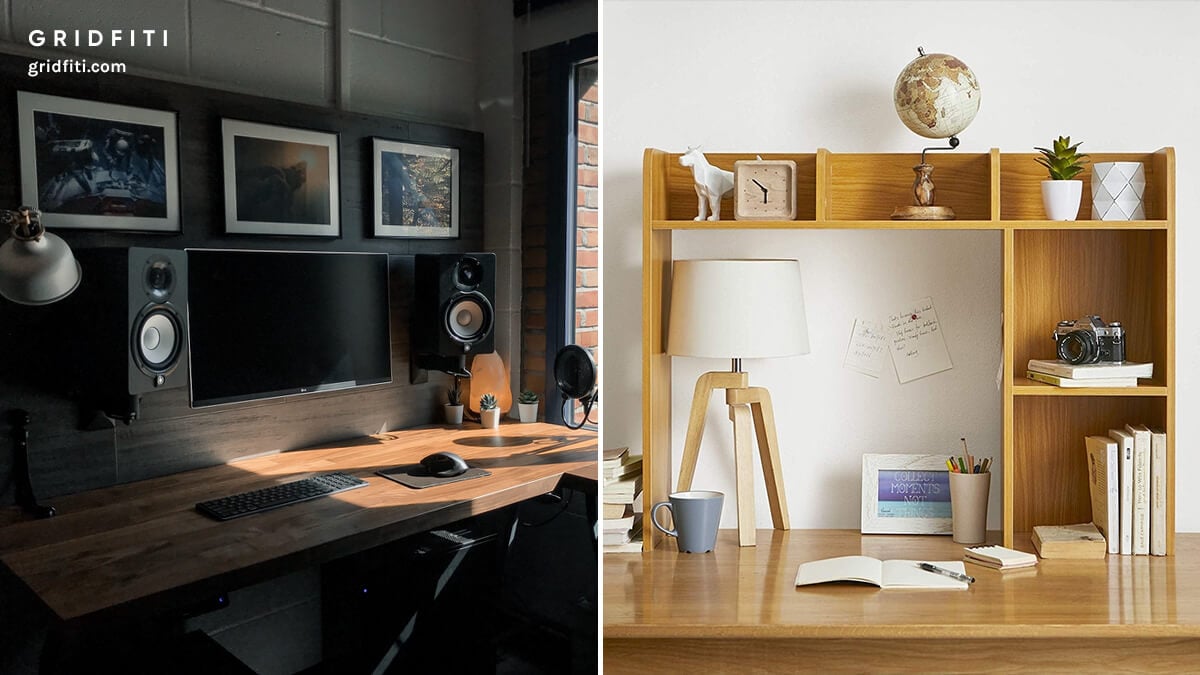 Photos by u/lucas_talbert and Overstock
Small Desk Setup & Compact Workspace
Whether you're in a small space, or just want your workspace to have less of a footprint, you can still house all the essentials with minimal square footage. To no surprise, a compact desk is the best place to start. From there, simple modifications like mounting your monitor and switching to a 60% keyboard will help free up as much space as possible.
If all you need is your laptop, you can save even more space with a folding desk or ladder desk!
Where to start: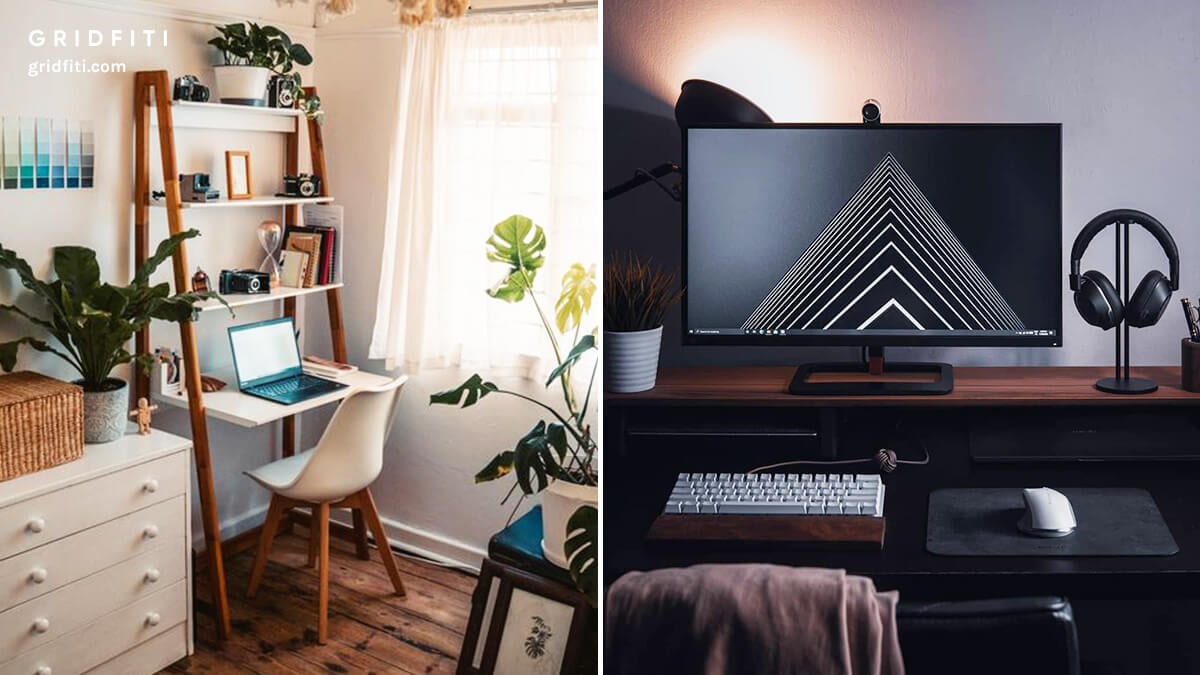 Photo by @thericebucket
Aesthetic Desk Setup
Make your workspace a vibe with an aesthetic desk setup with cute desk decor to match. You can't go wrong with neutral or warm tones to create a calming atmosphere. And of course, the brighter the better — parking your desk by a window to take advantage of any natural light will instantly make your setup look and feel great.
Where to start: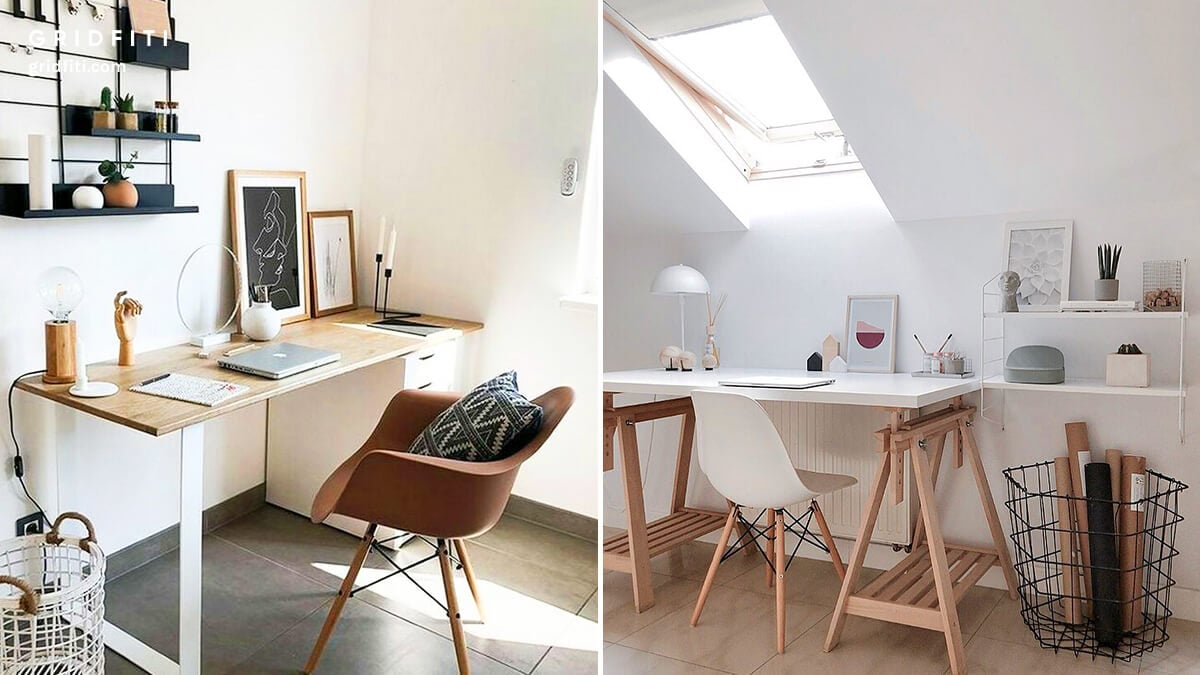 Photo by @taannamadwochsynow
Dual Monitor Setup (Multiple Monitor Desk Setups)
Gone are the days of day traders and developers being the only ones rocking a multiple monitor desk setup. Monitors have evolved to take on a smaller footprint on your desk and have become more slick, and less intrusive – making the multiple monitor setup more and more common. You can free up even more desk space by using monitor arms.
Where to start: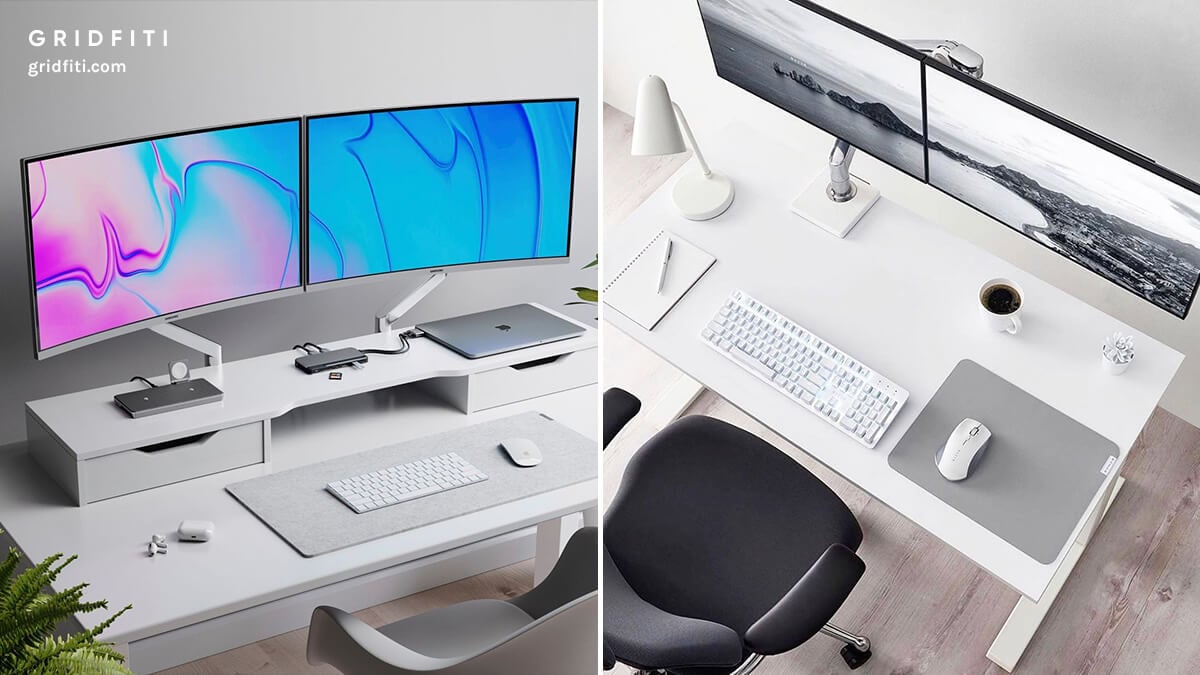 Photos by @alogiccorp and @gku_aus
Standing Desk & Ergonomic Home Office Setup
In the age of sedentary work, standing desks are a great way feel a little more active throughout the day. With a sit/stand hybrid desk setup, you can adjust the height of your desk for more mobility and avoid sitting for long periods of time.
Cushioned anti-fatigue floor mats are also an essential for a standing desk setup, keeping you comfier on your feet for longer. To go the extra mile for your ergonomic setup, adding a comfortable desk cover will keep your wrists padded throughout the day.
Where to start: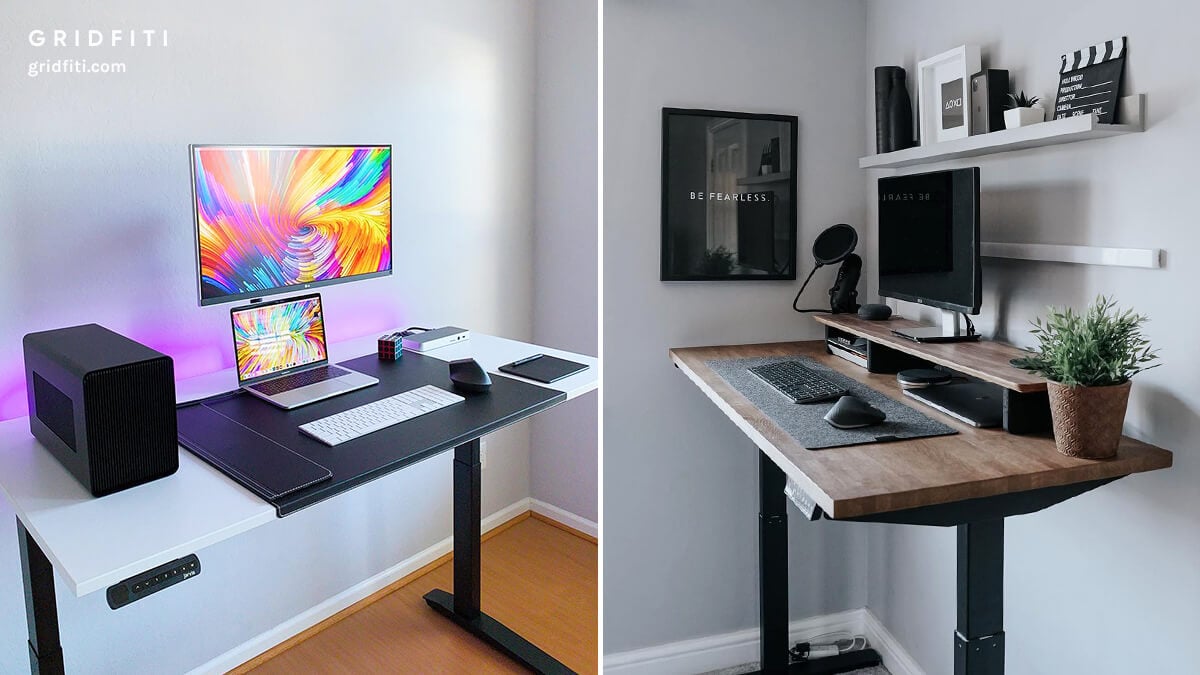 Photos by @haversnail and @spawnpoiint
Minimal Hypebeast Desk Setup
No hypebeast room is complete without a desk setup to go with it. From adding Bearbricks and KAWS figures, to hypebeast wall art and rugs – there's lots that can be done, while still keeping it clean and minimal. For more ideas for your hypebeast room, check out our full guide on must-have hypebeast essentials.
Where to start: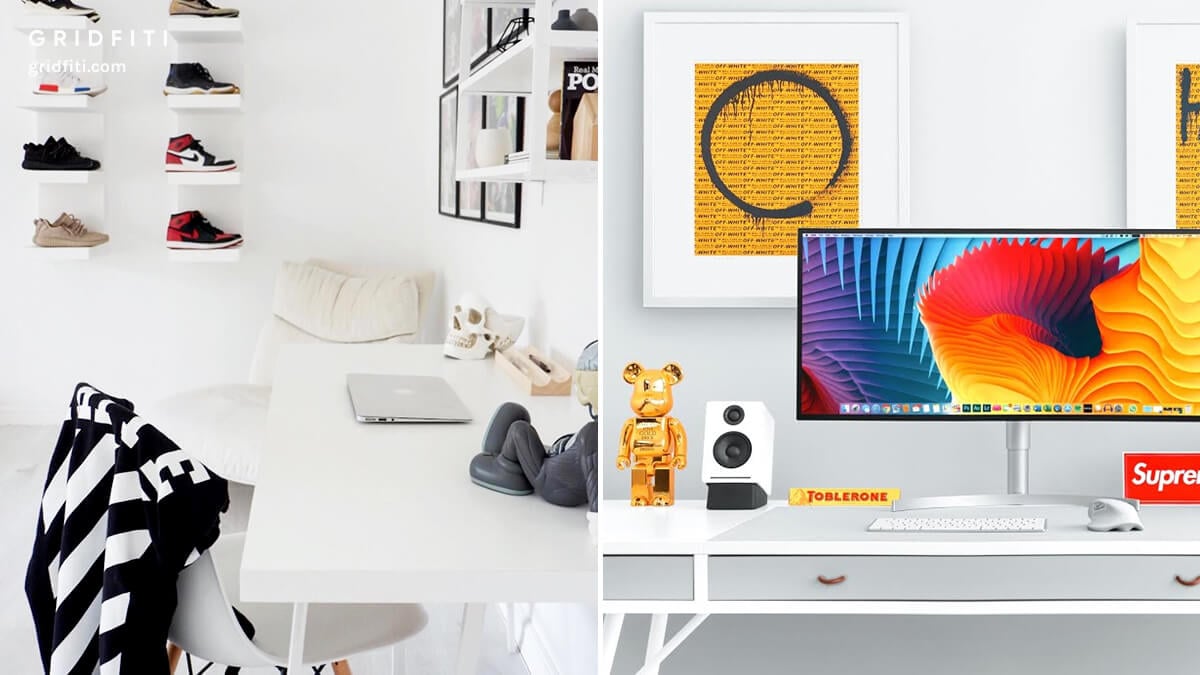 Photos by HYPEBEAST and Justin Tse
More Modern Home Office Desk Setup Ideas
Want more minimal workspace inspo? Check out our minimalist desk setup Pinterest board for more home office ideas and work-from-home inspiration – updated regularly with some of the best workspaces from around the world.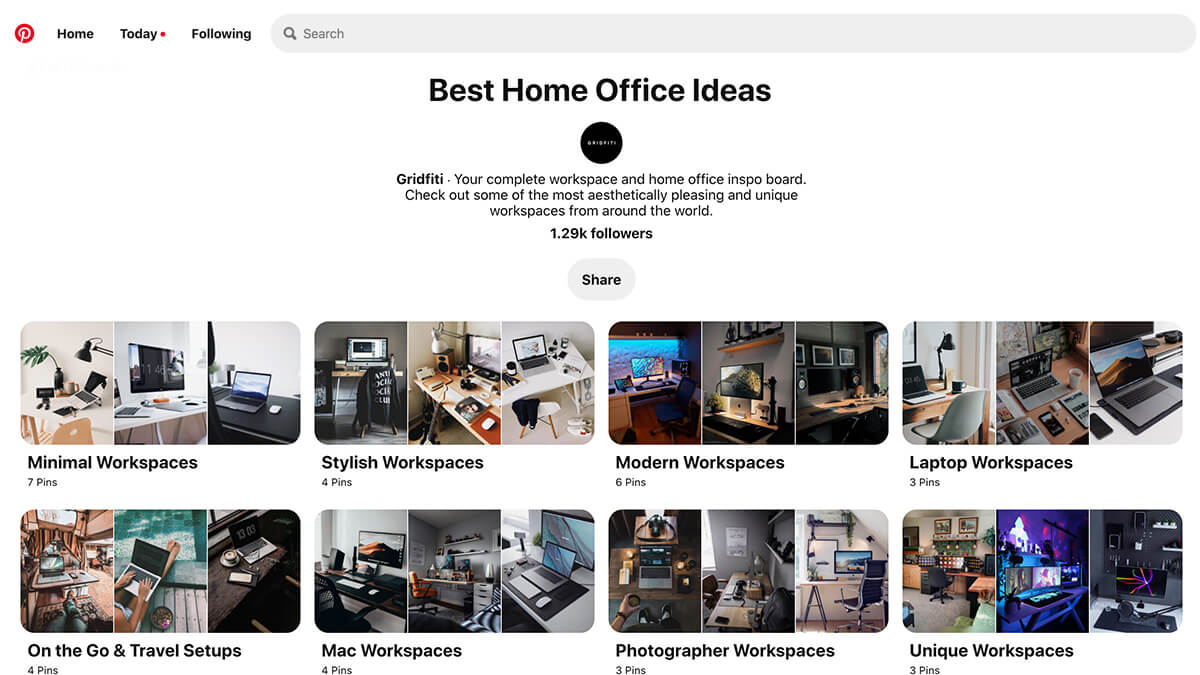 Which minimalist setup is your favorite? Do you plan on doing a home office overhaul this year? Let us know in the comments! If you want to show off your minimal setup this year, make sure to tag us on Instagram at @desktours and @gridfiti to be featured!
Gridfiti is supported by its audience – when you buy something using the retail links in our posts, we may earn a small commission at no additional cost to you. We only recommend products we would use ourselves and recommend to our friends and family. Read more about our affiliate disclaimer.