Believe it or not, some of the most popular gaming desk setups are built from none other than the Swedish furniture giant, IKEA. With affordable pricing and modern minimal pieces, you can customize an IKEA gaming desk for a fraction of the price compared to big box retailers.
The ability to customize each individual desk component is IKEA's biggest advantage. To help you build the perfect IKEA gaming desk setup, we've got a full guide for you that outlines each individual desk component, so your minimal battlestation looks great and doesn't cost you an arm and a leg.
Want more desk setup guides and ideas? Join our mailing list to get the latest straight to your inbox 📮
IKEA Gaming Desk Tabletop
The two most popular IKEA tabletop choices for a gaming desk setup use either the Linnmon tabletop or the Karlby desktop.
Linnmon Desk Setup
The Linnmon tabletop comes in 3 different color options: white, black, and dark gray. At such an affordable price, the Linnmon is one of the most popular choices for an IKEA desk setup.
If you're looking for a lightweight and minimal surface, the IKEA Linnmon desk setup is the one to go for.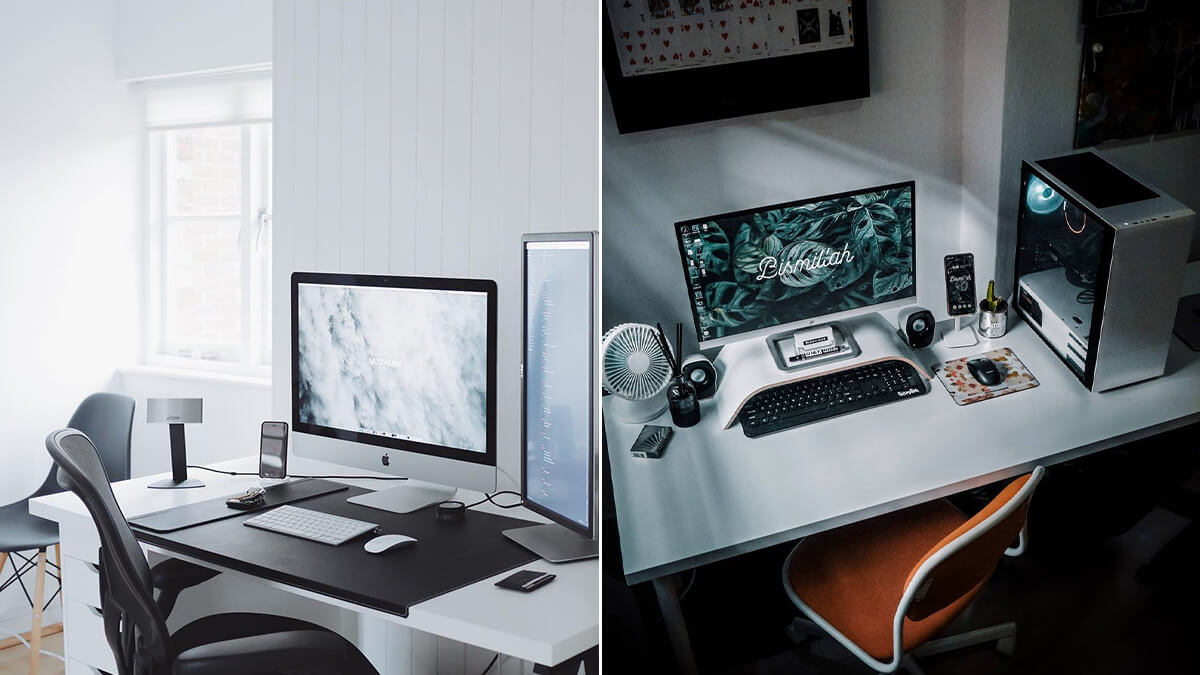 Images by @ultralinx and @adhwhasif
Karlby Desk Setup
Karlby has a heftier price tag than Linnmon's, but you get what you pay for with this rock-solid wooden tabletop. Karlby offers a natural look to add warmth to any setup, with finishes available available in oak, birch, and walnut. It's worth noting though that these beautiful finishes do require some extra care to ensure they last for years.
This setup is a great option if you're looking for a stable, ultra durable setup – allowing everything from secure monitor mounting, to shake-free camera captures for your videos or streams.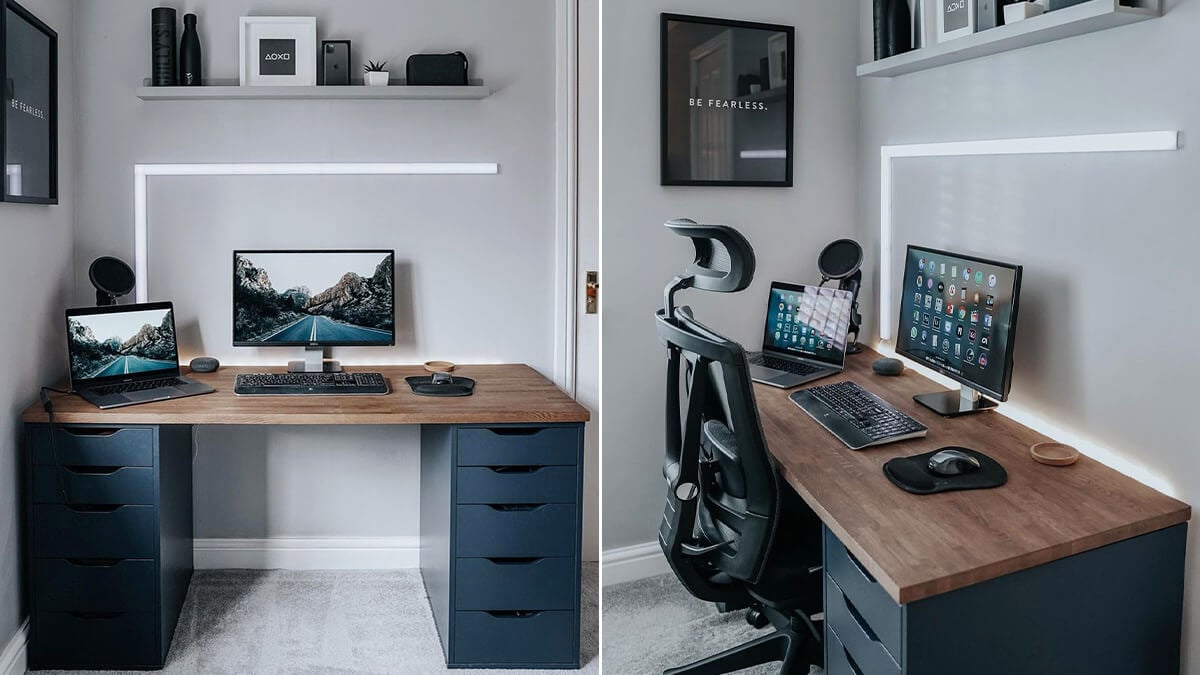 Images by @spawnpoiint
IKEA Gaming Desk Legs
One of the most customizable components of an IKEA gaming desk setup is the ability to mix and match desk legs. You can choose between the simple Adils desk legs, the functional Alex drawers, or even the more unique Mittback trestles. They also all come in a variety of different colors to suit your personal aesthetic.
Adils Desk Legs
If you're looking for simple desk legs for your setup, the Adils table legs are the way to go. At 27½ inches, the Adils legs are perfect for both the Linnmon or Karlby tabletops. For mixing and matching your gaming setup, they pair perfectly with any of the other leg options – the Alex drawer or the Mittback trestle.
Get the Adils Desk Leg | Adjustable Olov Desk Leg
Images by @ultralinx
Alex Drawer Unit
The Alex drawer unit offers the signature "IKEA look" with the minimal drawer handles. It's an incredibly popular option in the desk setup world, and for good reason. They're the best desk leg option to store your items and keep your tabletop clutter-free, while offering a stylish, non-intrusive appearance to keep the focus on your gaming setup. This drawer unit is offered in white, turquoise-grey, and black-brown to fit any theme.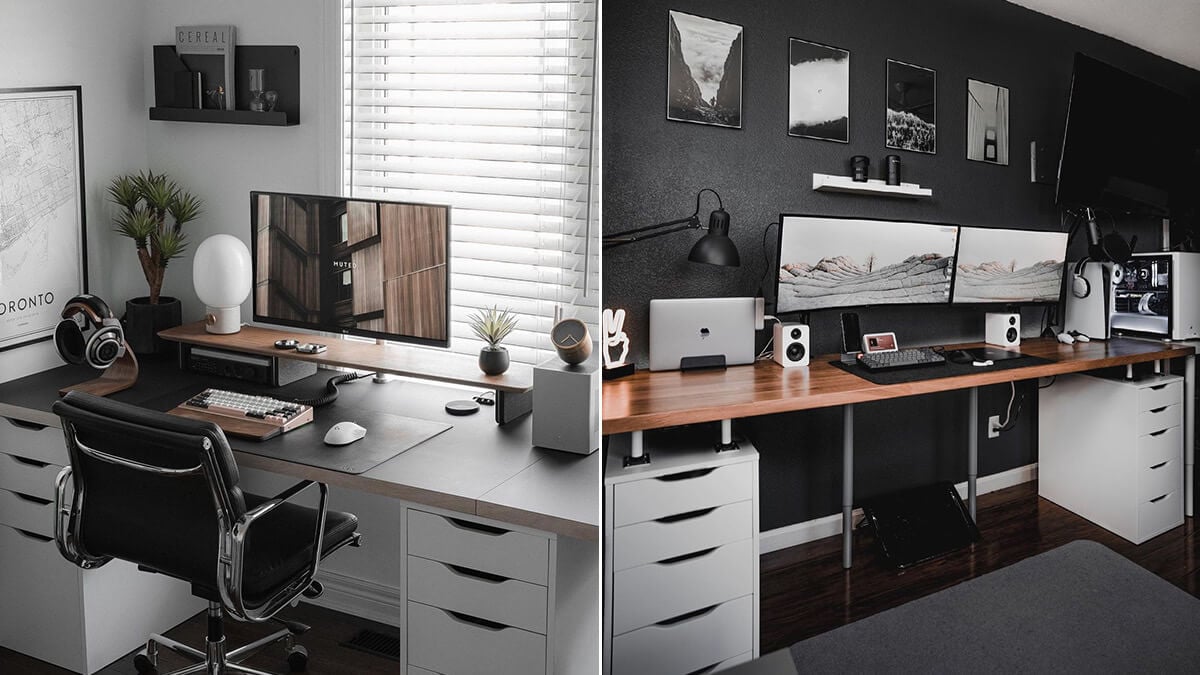 Images by @mekunotech and @dryden.nagtalon
Mittback Trestle
To make your gaming desk stand out from the crowd, IKEA offers the Mittback trestle. We've seen these legs do it all, from connecting multiple tabletops, to housing your desk mainstays – whether it's a small PC case, or a stack of books to display. For any minimalist gaming setup, the Mittback trestle looks great paired with the Alex drawer unit, offering even more storage space for your games, headsets, and anything else you want at the ready.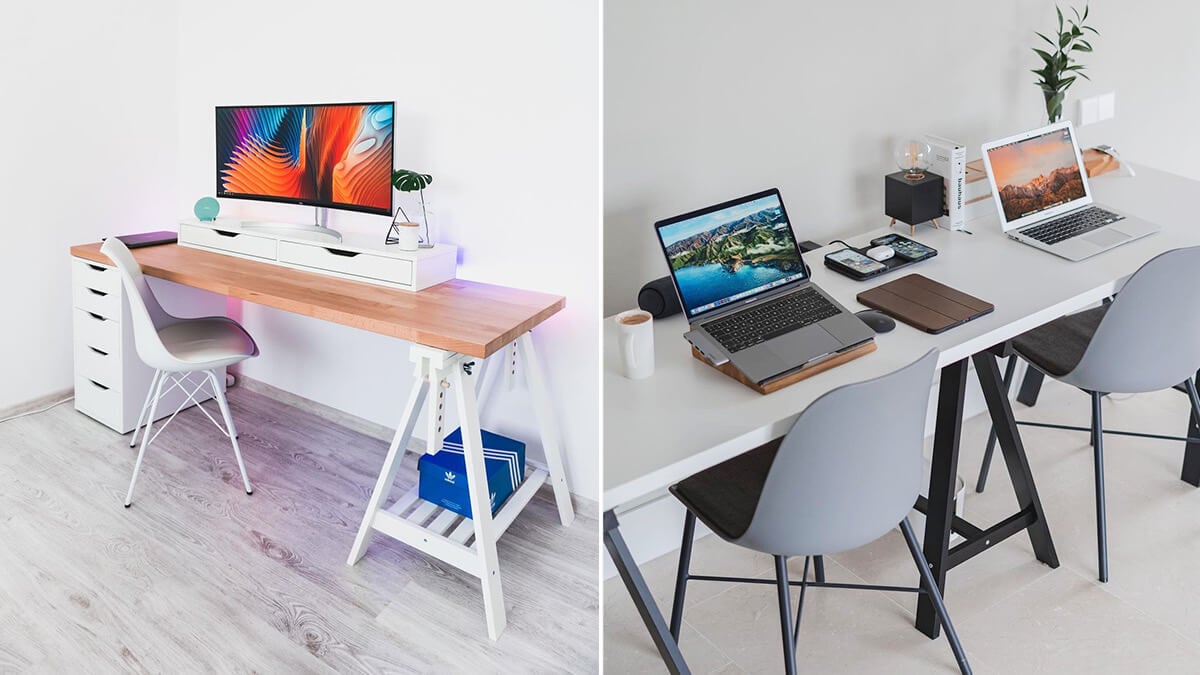 Images by @alexacea and @b.arroso
IKEA Gaming Desk Decor Ideas
The complete IKEA gaming desk setup doesn't just stop at the tabletop and legs – you can also step up your battlestation with some IKEA desk and wall decor. Here are a few ideas to get you started!
Gaming Pegboard Wall Organizer – Skadis
If you have a lot of tech, gear, or gaming accessories, you can declutter your desk and clear up some space with a pegboard wall organizer. You can even use these pegboards to mount your mechanical keyboards and headsets – see it all in our pegboard desk ideas roundup!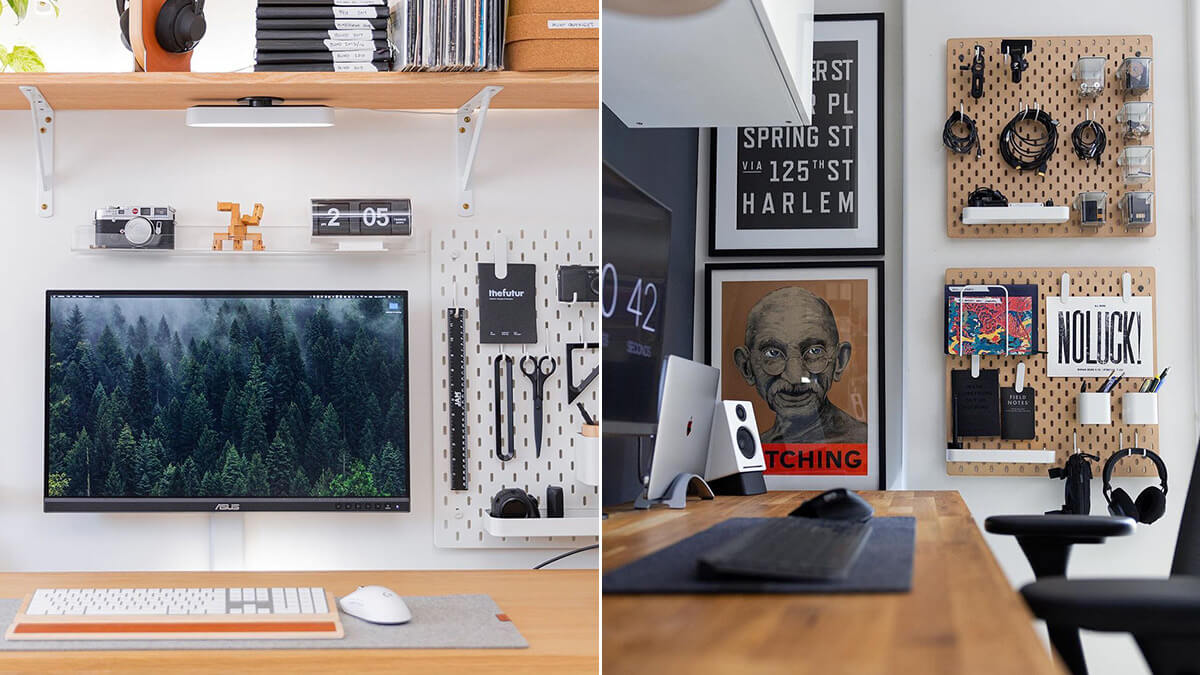 Images by @mod.musings
Desk Shelves – Ekby Ale
Whether you're looking to add some more storage space to your gaming setup, or just some height to your monitor, this IKEA desk shelf is the way to go. It also pairs perfectly with the Alex drawer unit with its matching cutout handles!
Get the Ekby Alex | Elloven Monitor Stand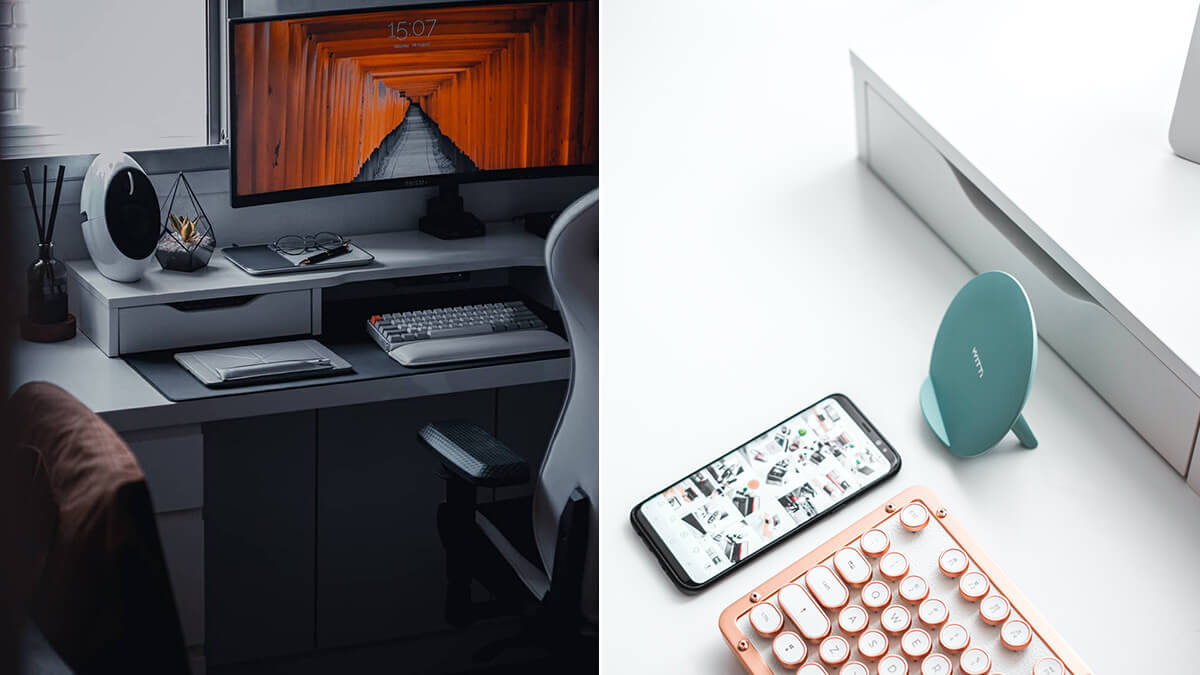 Images by @thericebucket and Alexandru Acea
Minimalist Frames – Ribba
Display your favorite gaming prints with these minimalist frames from IKEA. Offered in black and white, you can showcase some of your favorite wall art easily and really make your IKEA gaming desk setup stand out with a few photos and designs. There's no shortage of gaming wall art and posters to pick from on Etsy. For more setup inspiration, check out our post on home office wall decor ideas!
Get the Ribba Frames – Black | White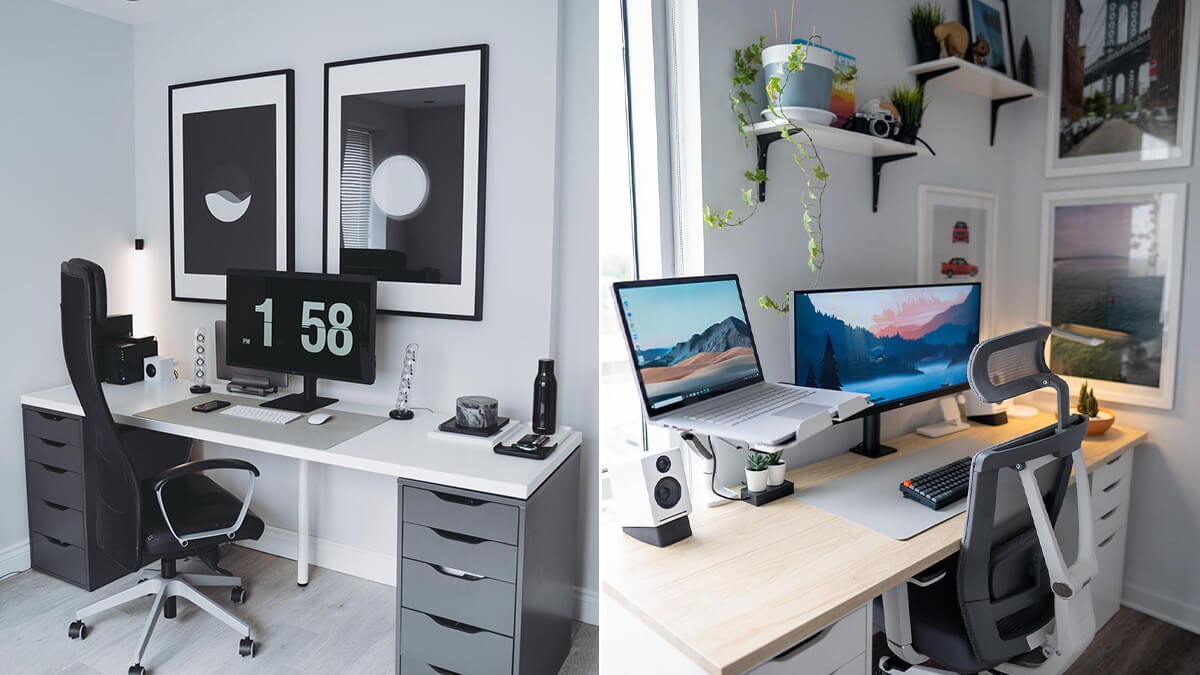 Images by @ultralinx and @gyasilinje
IKEA Gaming Desk Accessories
Under-Desk Cable Management Tray – Signum
Not many people think "IKEA" when it comes to cable management. There are dozens of great ways to manage your desk cables with several accessories from Amazon, but in the IKEA world, you want Signum to tid up the cords that power your gaming setup.
Get the Signum Cable Management Tray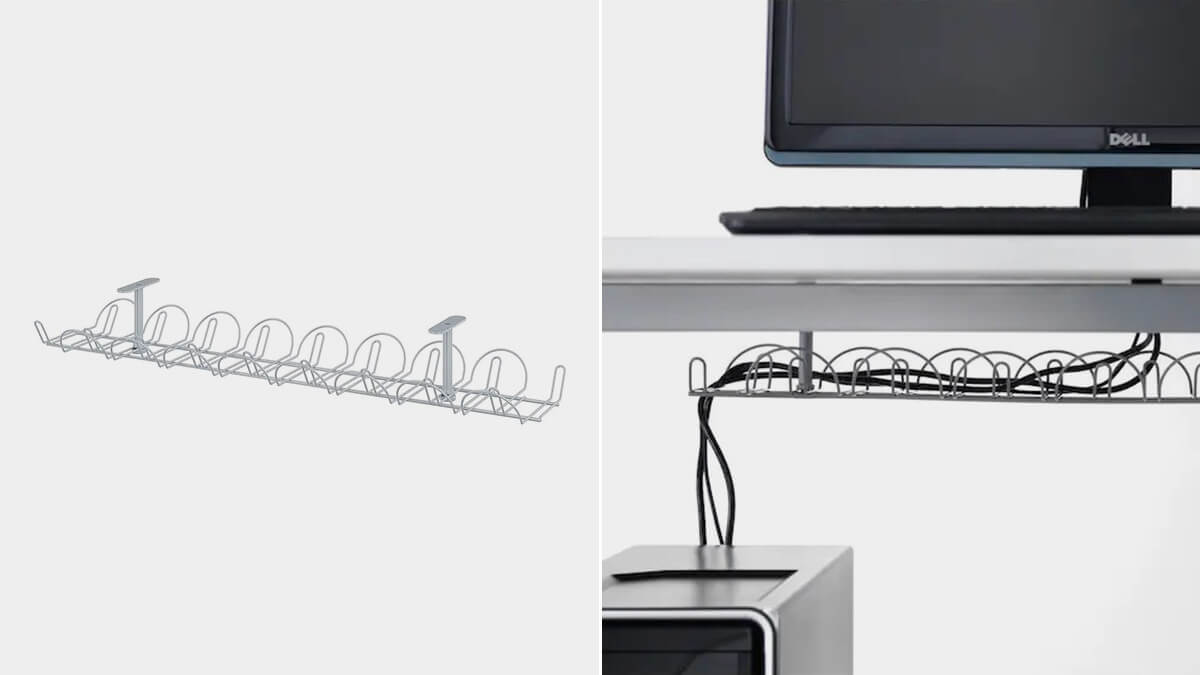 Images by IKEA
IKEA Desk Pad – Rissla
We've gone over the different desk cover ideas you can use for your setup, and IKEA doesn't disappoint in this department either. IKEA's Rissla desk edge pad protects your desk, and creates a smooth, cushy surface for mouse movement and wrist comfort.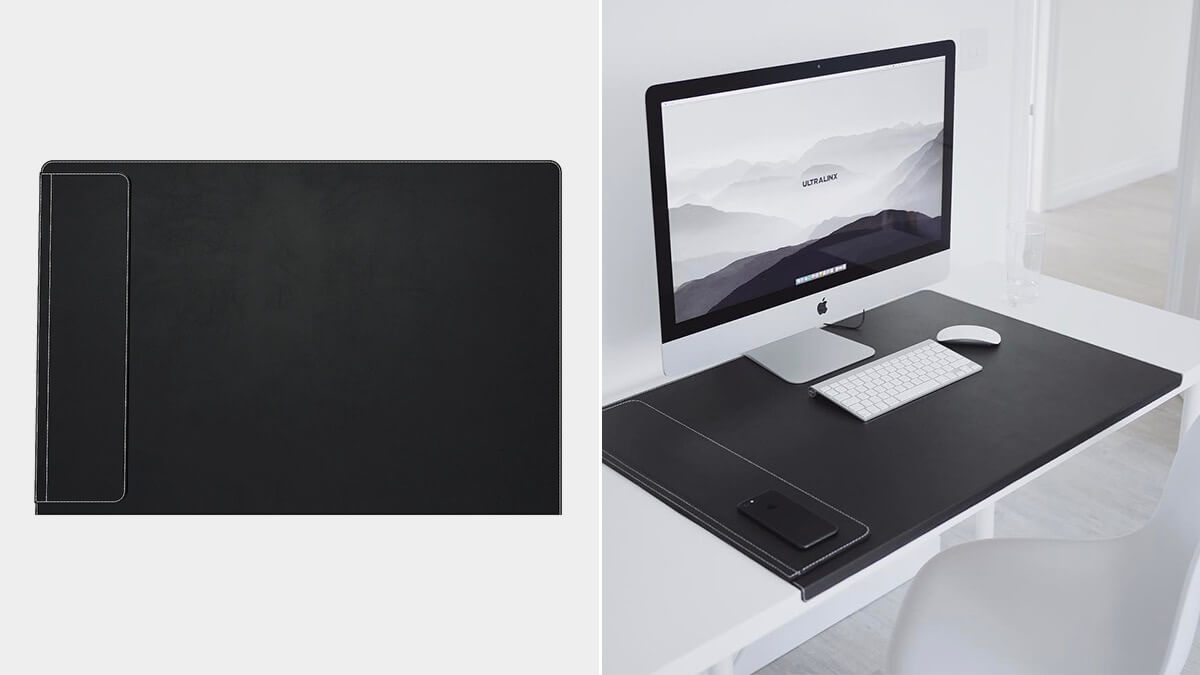 Images by IKEA and @ultralinx
IKEA Gaming Desk Chair – Markus
When it comes to gaming chairs, people often recommend investing in higher end options from brands like Herman Miller or Secret Lab – but if you're looking for a more affordable alternative, the IKEA Markus office chair is a great option, with solid support for those long hours of playtime.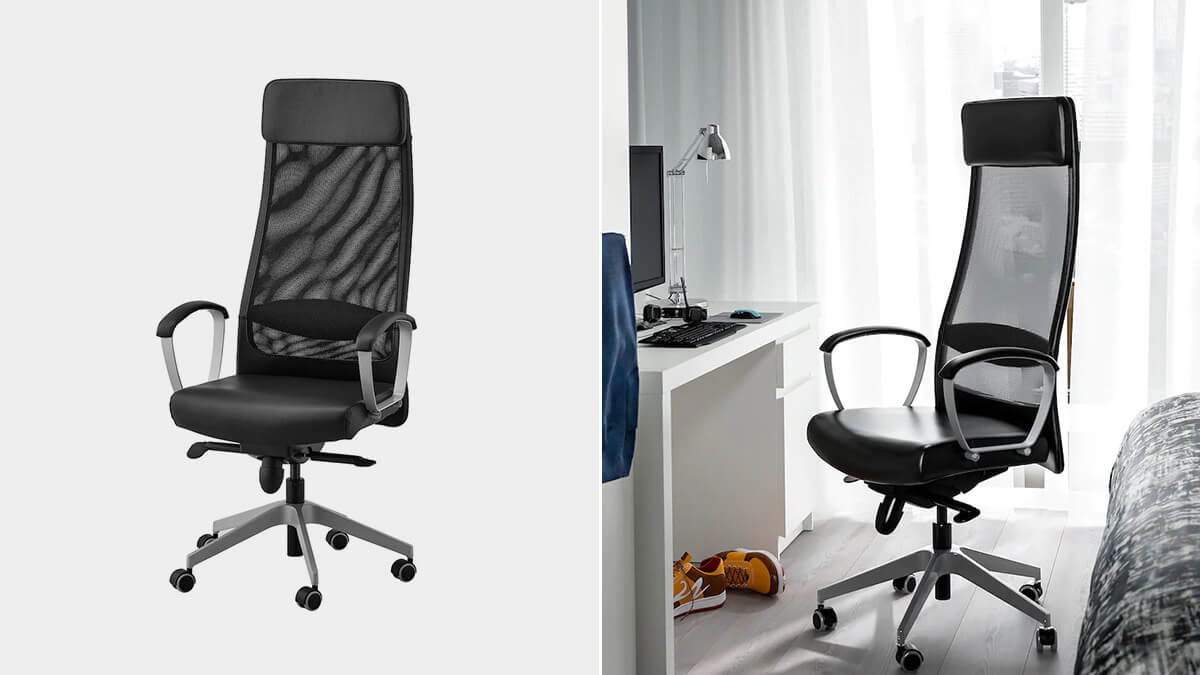 Images by IKEA
IKEA Desk Lighting – Dioder
We've got a full guide outlining the best LED light strip options on the market, but if you're looking to stick with an all-IKEA gaming desk setup, they offer an LED light strip set to light up your home battlestation.
Get the Dioder LED Light Strip Set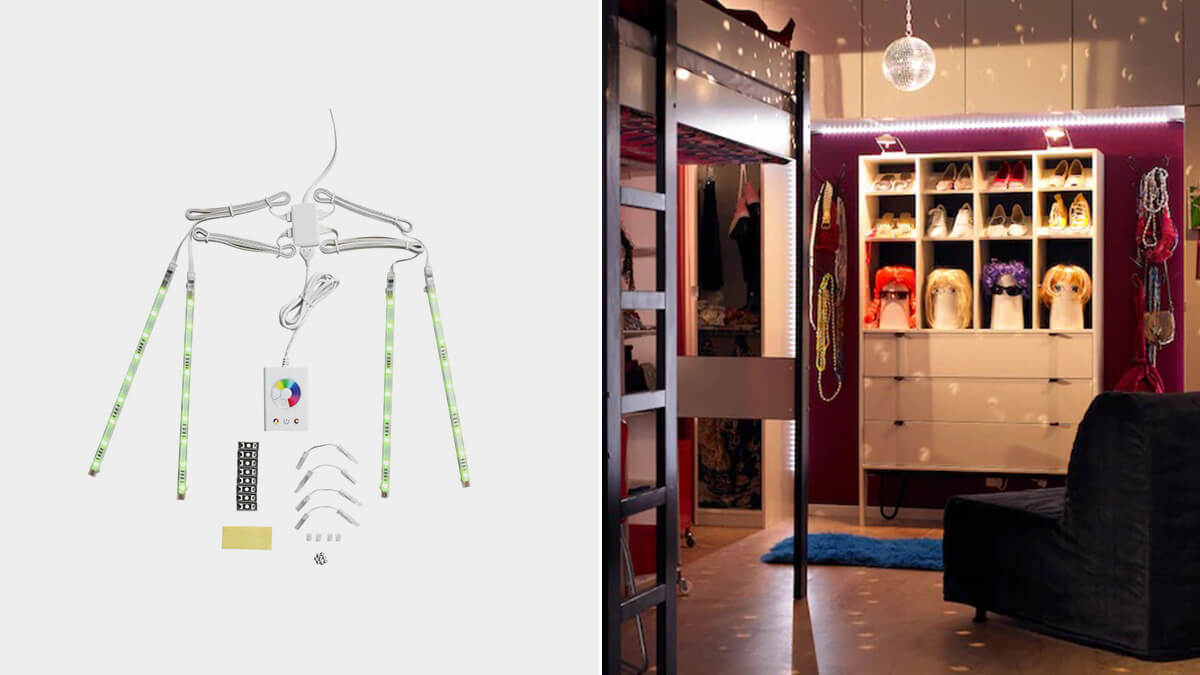 Images by IKEA
Have any other IKEA gaming desk setup ideas or recommendations? Let us know down in the comments below!
Gridfiti is supported by its audience – when you buy something using the retail links in our posts, we may earn a small commission at no additional cost to you. We only recommend products we would use ourselves and recommend to our friends and family. Read more about our affiliate disclaimer.