Both stylish and functional, a pegboard home office organizer is incredibly versatile and goes with just about any desk setup. You can use these nifty organizers to mount anything from wall decor, to lights, plants, books, and even tech accessories.
With dozens of configurations and setups, the pegboard world is your oyster – and we've curated the best of them. Jump in and get some inspo for how to best use a pegboard for your desk setup!
Want more ideas for your home office? Join our desk setup and tech mailing list 📮
What You'll Need for Your Pegboard Setup
Before we jump into the ideas, here are the pegboard essentials to get you started!
Double Pegboard Home Office Organizer
The beauty with pegboards is that they're incredibly modular, and you're never limited to just the one board. Add another board, or as many as you'd like, for maximum functionality in your home office.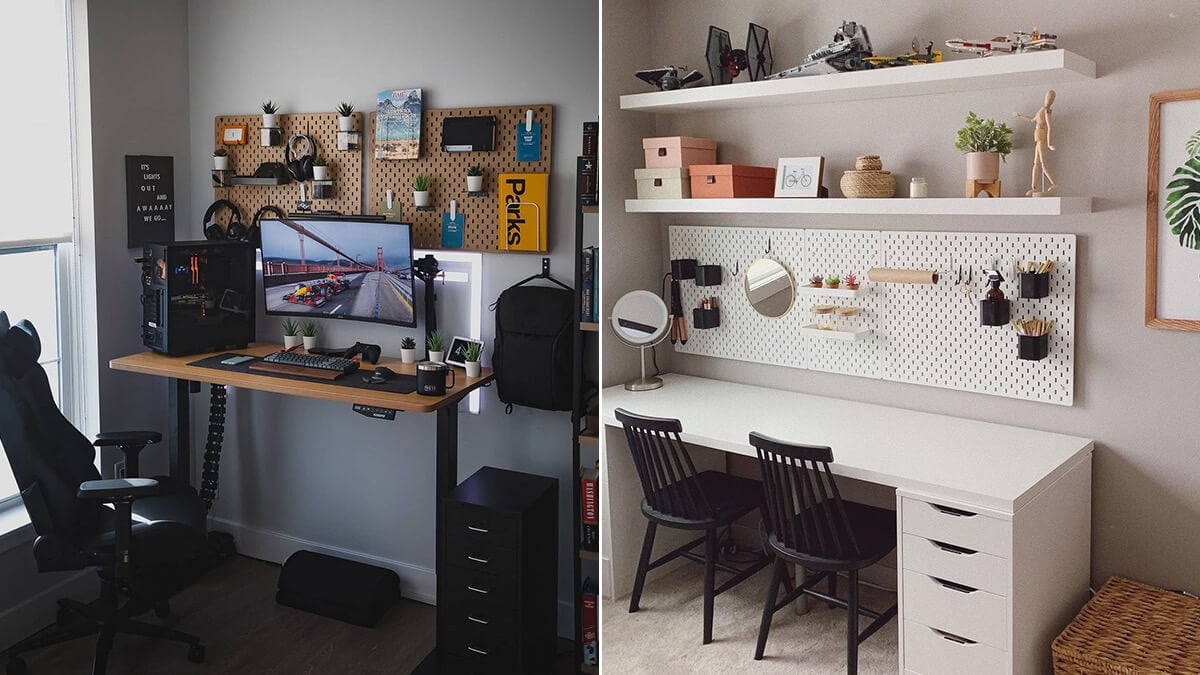 Images by @camdiceccatech and @_sydneydawn
Aesthetic Pegboard Wall Desk Setup
What's an aesthetic desk setup without an aesthetic pegboard setup to go with it? To get the look, start with a white pegboard, and incorporate pastel bins and accessories, like pink or blue. Adding colorful gel pens and Washi tape rolls are also a sure fire way to add that aesthetic boost.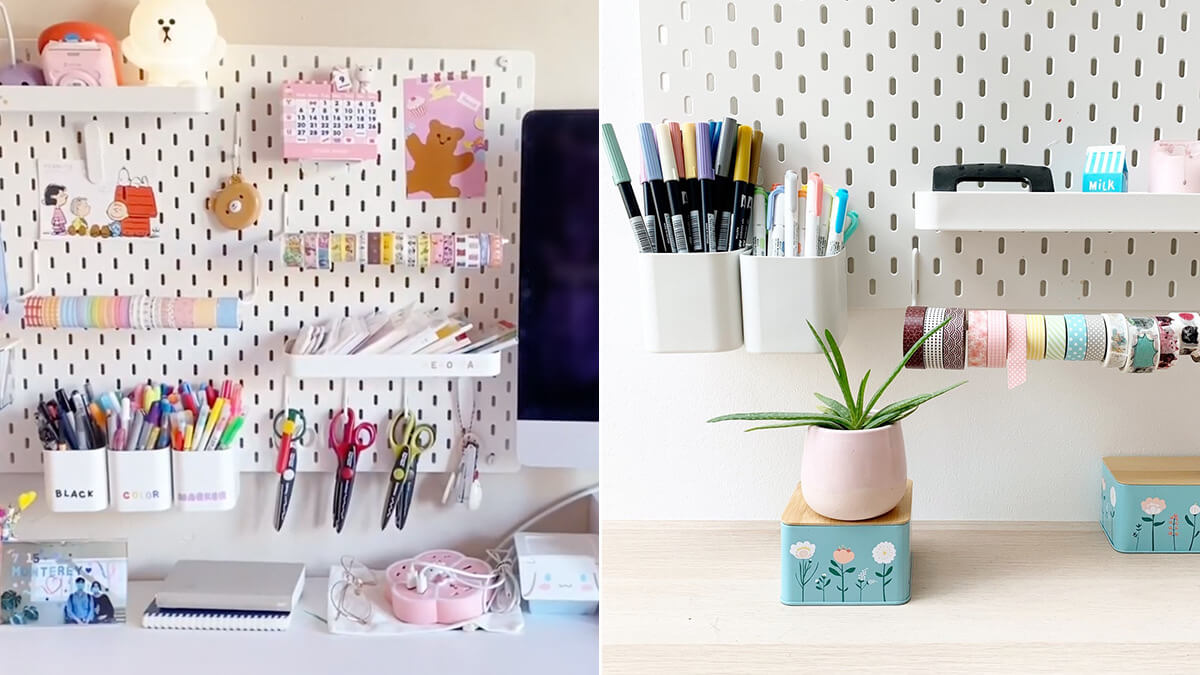 Images by Ecru 에크루 and stellastudiesart
Neon & LED Desk Light Pegboard Organizer
If you're looking to add some colorful desk backlighting to your home office, illuminating your setup is as easy as mounting a neon light to your pegboard, or even an LED strip around the back edges!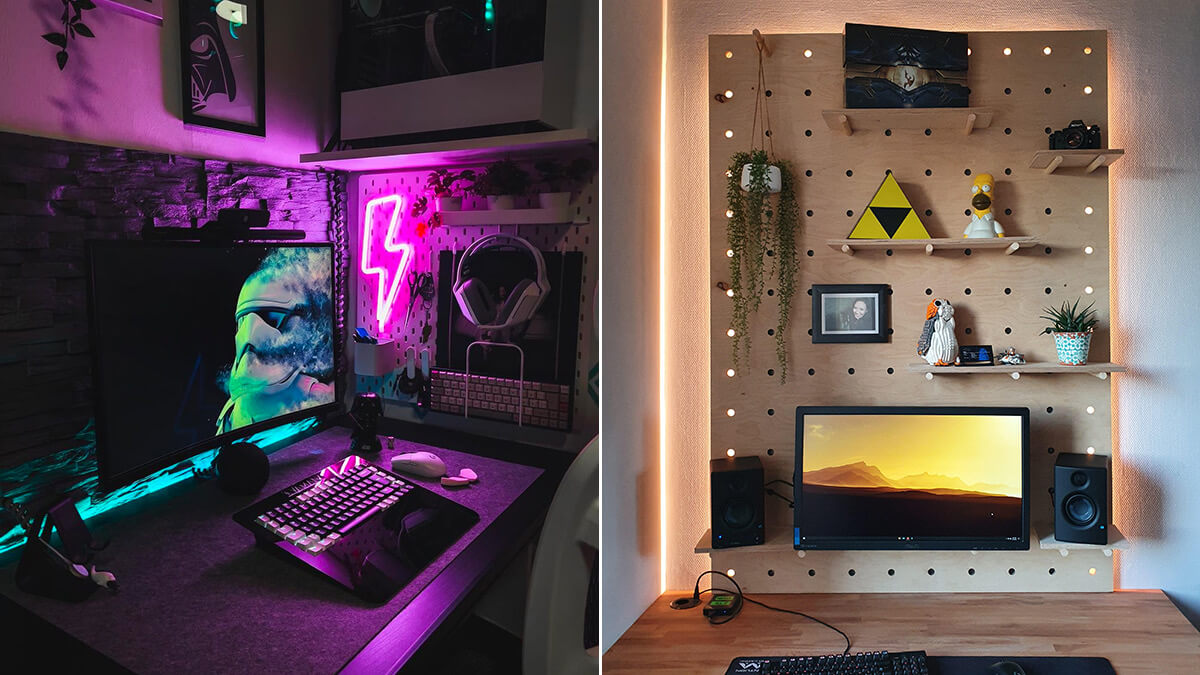 Images by @chantyvv and u/tommyintheair
Minimal Pegboard Desk Wall
Just cause your pegboard can house dozens of items, doesn't mean it has to. If you're wanting to keep your office space simple, keep your pegboard configuration simple too – storing limited essentials like keys, AirPods, or even a small plant. No matter what your configuration is, making sure you have a good amount of space between your items will get you the minimal look in no time.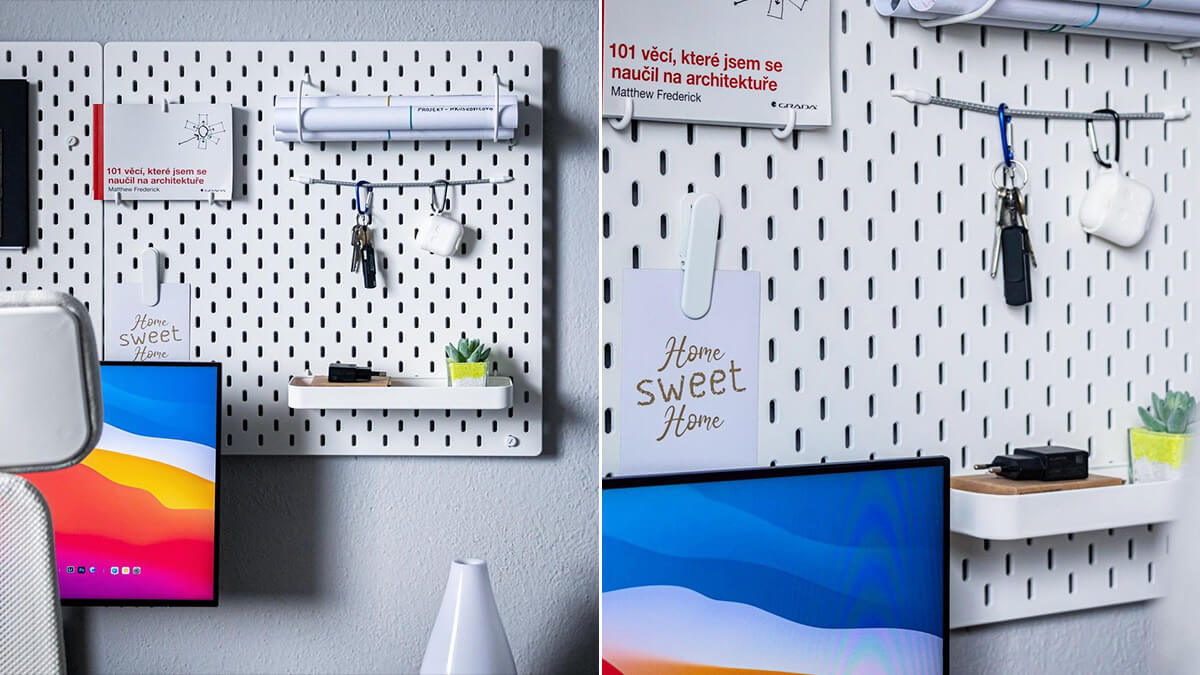 Images by @matgocman
Mechanical Keyboard Pegboard Display
From displaying your prized colorful coiled USB-C cables, to organizing custom keycaps for easy access, and even hanging your compact mechanical keyboards, pegboards are the perfect place to store and show it all.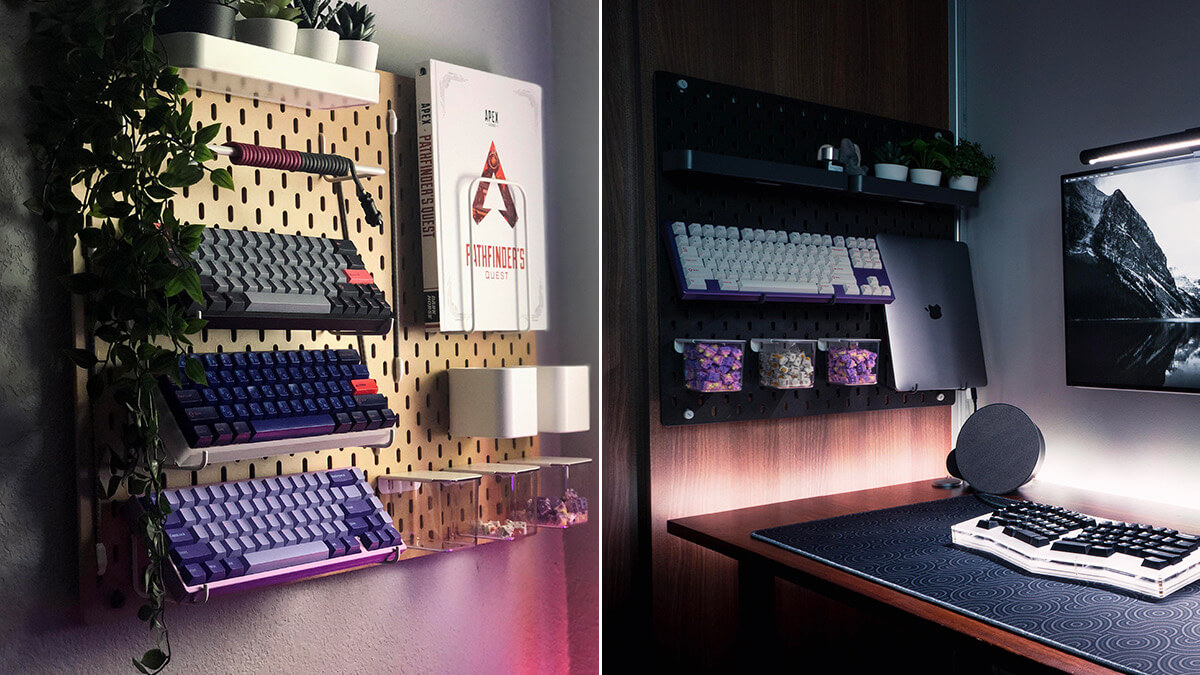 Images by u/ItsMehRuby and u/carrotcakeblack
Tech Accessory Pegboard & Charging Station
Give your home office a sleek minimalist look with a blacked out pegboard wall setup, and all-black accessories to go along with it. Under the hood, you can even connect your chargers and power bars to fuel up your electronics straight from your setup.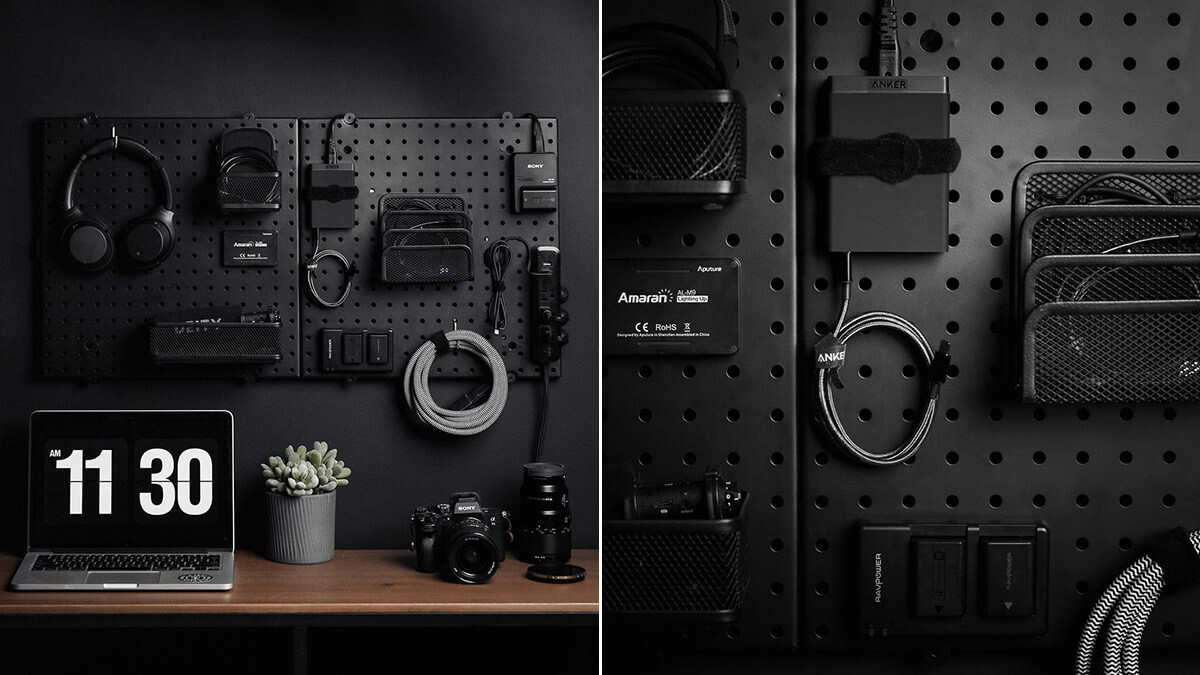 Images by @beckiandchris
Full Home Office Pegboard Wall
Take function to a whole new level by dedicating an entire wall to a pegboard setup! You can add shelves to hang your clothes, mount your wall art, display your electronics or even store your tech bag.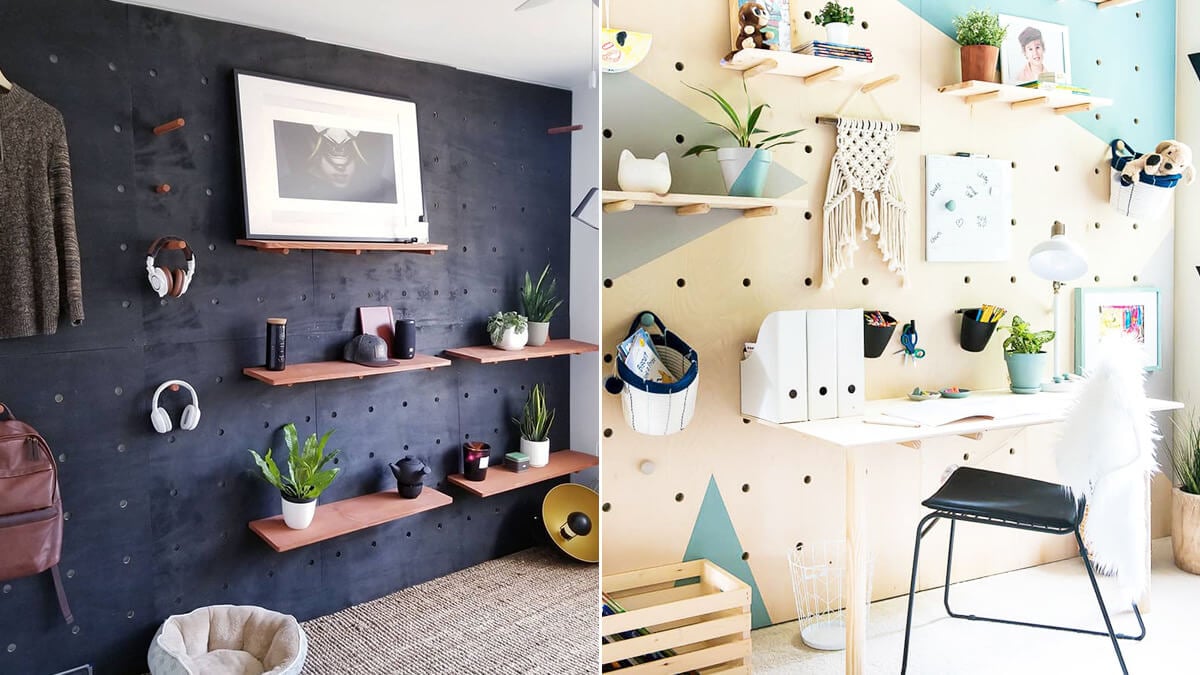 Images by @imzenko and Place of My Taste
Gaming Pegboard Wall Organizer
Lock and load your battlestation with a pegboard to organize and display everything from your controllers, keyboards, extra batteries, and even your console!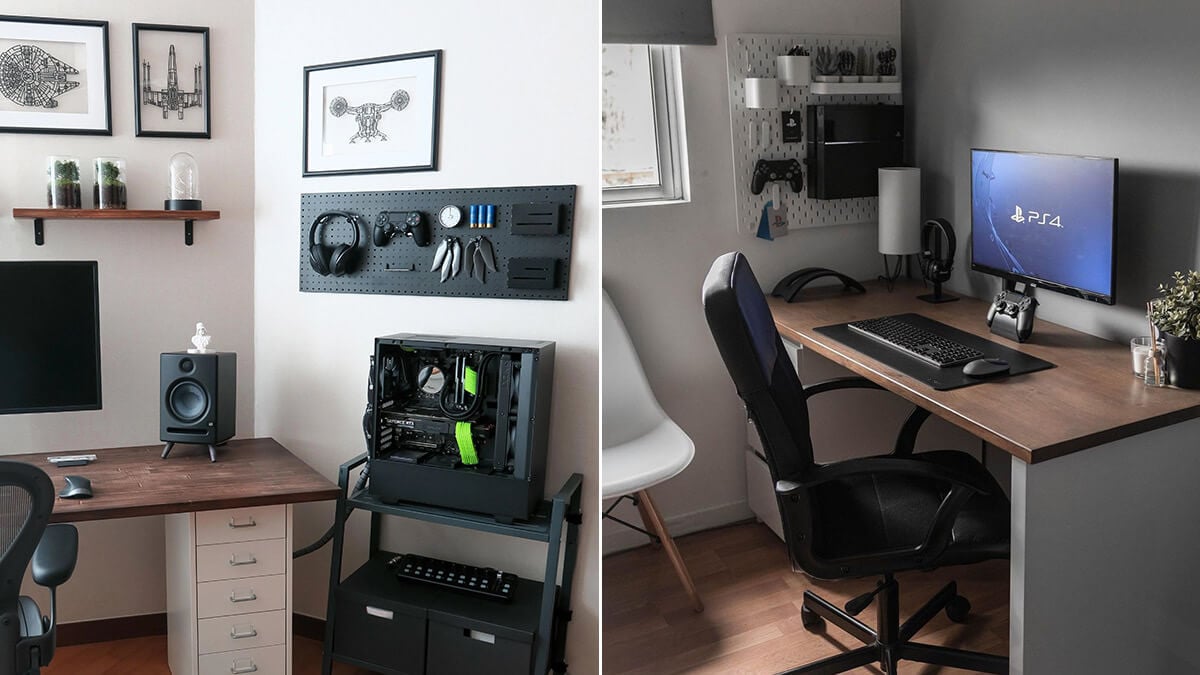 Images by u/gr1zbot and @ratolagamer
Pegboard Desk Wall Decor Idea
Add a bit of personality and color to your workspace by working in some decor! From concert tickets, to flags, to surfboards: pegboards are truly a blank canvas to display your favorite showpieces.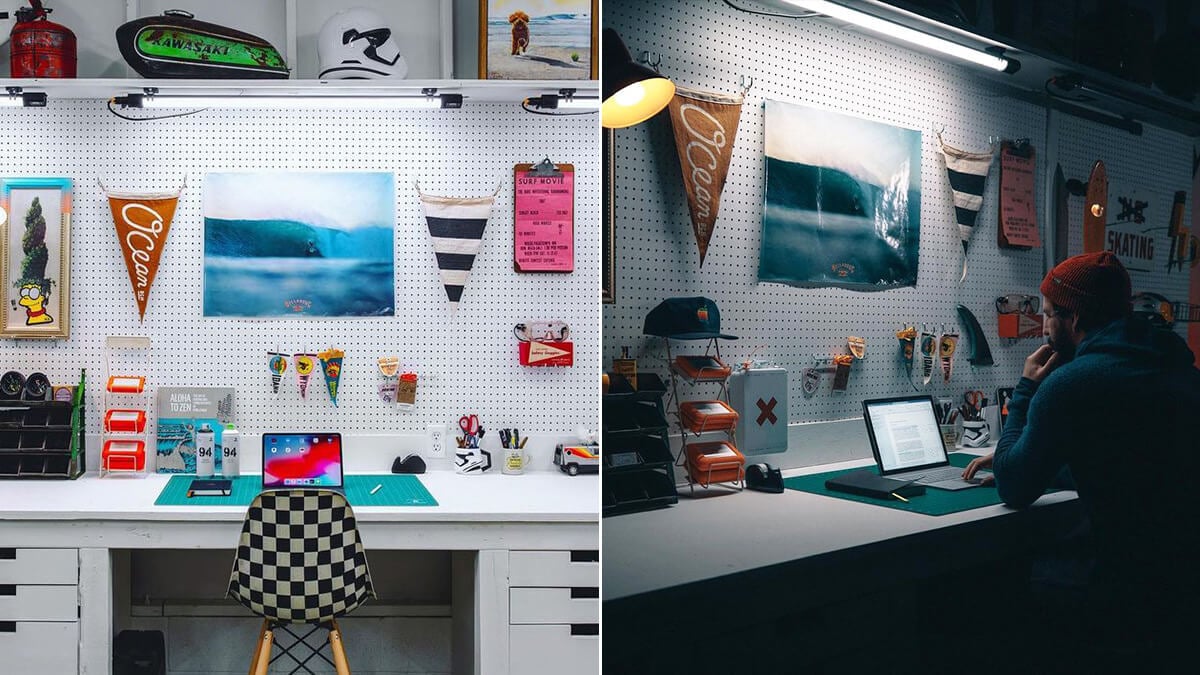 Images by @dannpetty
Monochrome Pegboard Wall Organizer
A pegboard can be yet another extension of your monochrome theme – it's as simple as going with a black or white pegboard wall organizer, and adding complementary bins. Or even mix and match them!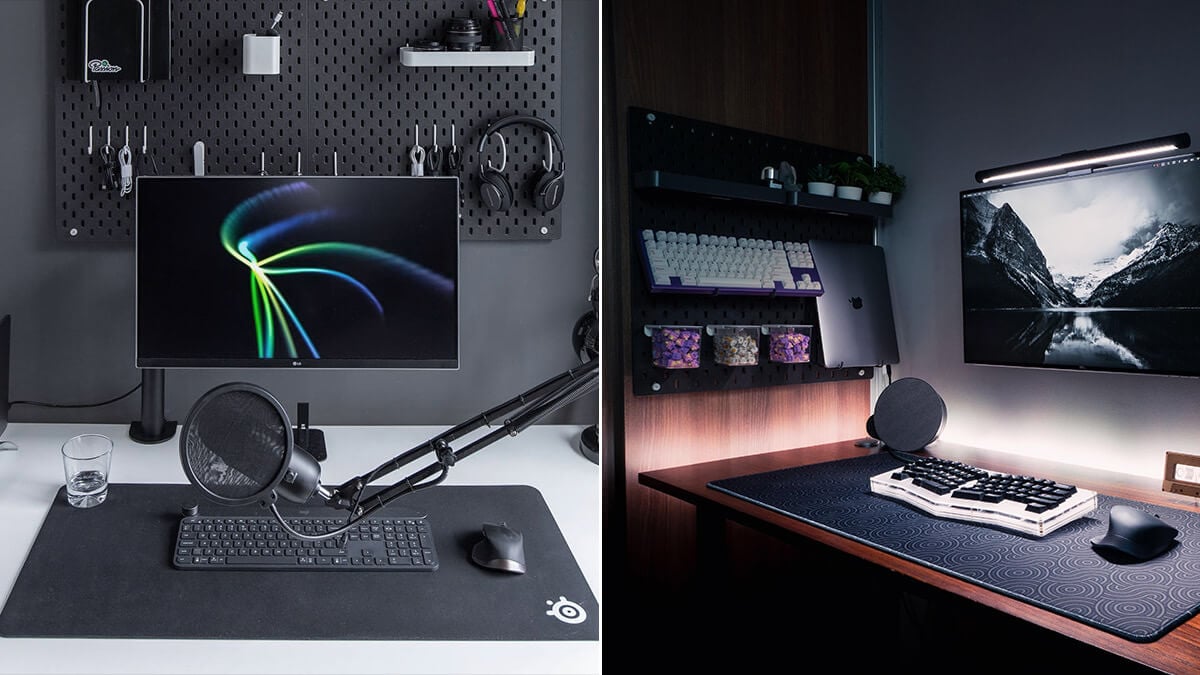 Images by @tomkoszyk and Rich Bustos
Have any other pegboard desk ideas? Let us know in the comments below!
Gridfiti is supported by its audience – when you buy something using the retail links in our posts, we may earn a small commission at no additional cost to you. We only recommend products we would use ourselves and recommend to our friends and family. Read more about our affiliate disclaimer.