It's no secret that Tyler, the Creator and Frank Ocean both have a deep love for cars, but we can't get over their love for specific 80s, 90s, and 2000s European cars with roots in racing. Cars that have adorned the racetracks, podiums and vintage car ads of past decades, from touring and rallying to endurance racing.
Make no mistake, musicians showcasing their favorite cars is no new feat, but there is a common underlying theme to the cars that Tyler and Frank display in their music and artwork. Acting as representations for moments in their lives, every one is used as vehicles (no pun intended) for storytelling – often referring to emotions, people, places and self. The legendary BMW E30 M3 for Frank's 'Nostalgia, Ultra' cover, the plethora of European Le Mans racers in Frank's video for 'Nikes', or even the resurgence of Italian rally racers in Tyler's videos for his latest album 'Call Me If You Get Lost'.
A quick listen to both of their discographies will reveal generous references to cars from Bimmers and Jags, to McLarens and Ferraris.
Dive into the minds of these avant-garde artists, and learn about the iconic Euro cars that Tyler, the Creator and Frank Ocean call their own.
Want more content between the automotive and art world? Join our automotive mailing list 📮
What Car Does Tyler, the Creator Drive?
Tyler loves cars, but we love the attention that he's been giving to the classics. The rollout of videos for his 'Call Me If You Get Lost' album have featured some Italian gems that you wouldn't find in your average music video. Check out some of our favorite classic Tyler, the Creator cars featured in the videos so far: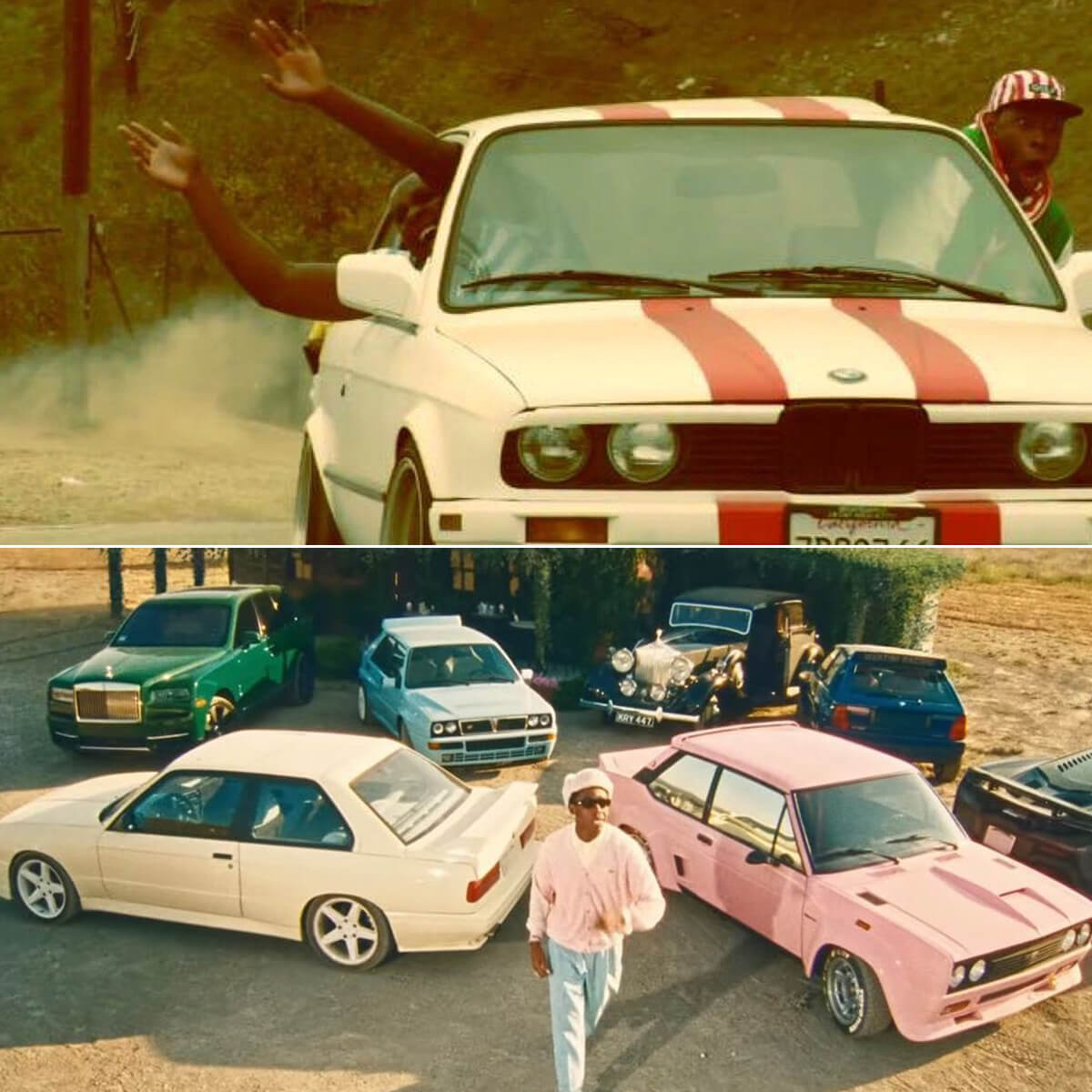 Fiat 131 Abarth
Tyler teased his 2021 album 'Call Me If You Get Lost' by initially placing simple billboards across the country with a phone number plastered across them. What followed was a 43-second teaser video title 'SIDE STREET' of Tyler leaning on a pink Italian Fiat 131 Abarth while he kisses someone else's girl. Another similar video was tweeted showing the rear of the car while Tyler hangs out the driver window while still kissing the same girl.
One thing that stands out is that despite the Abarth with its rich, aggressive rallying history and designed boxy-hard edges, it's covered in a bright pink – a tasteful choice by Sir Baudelaire himself.
Years Produced: 1976-1978
Country of Origin: Italy
Racing Involvement: Group 4 Rally Racing
Engine: 2.0L in-line 4cyl engine producing 140 horsepower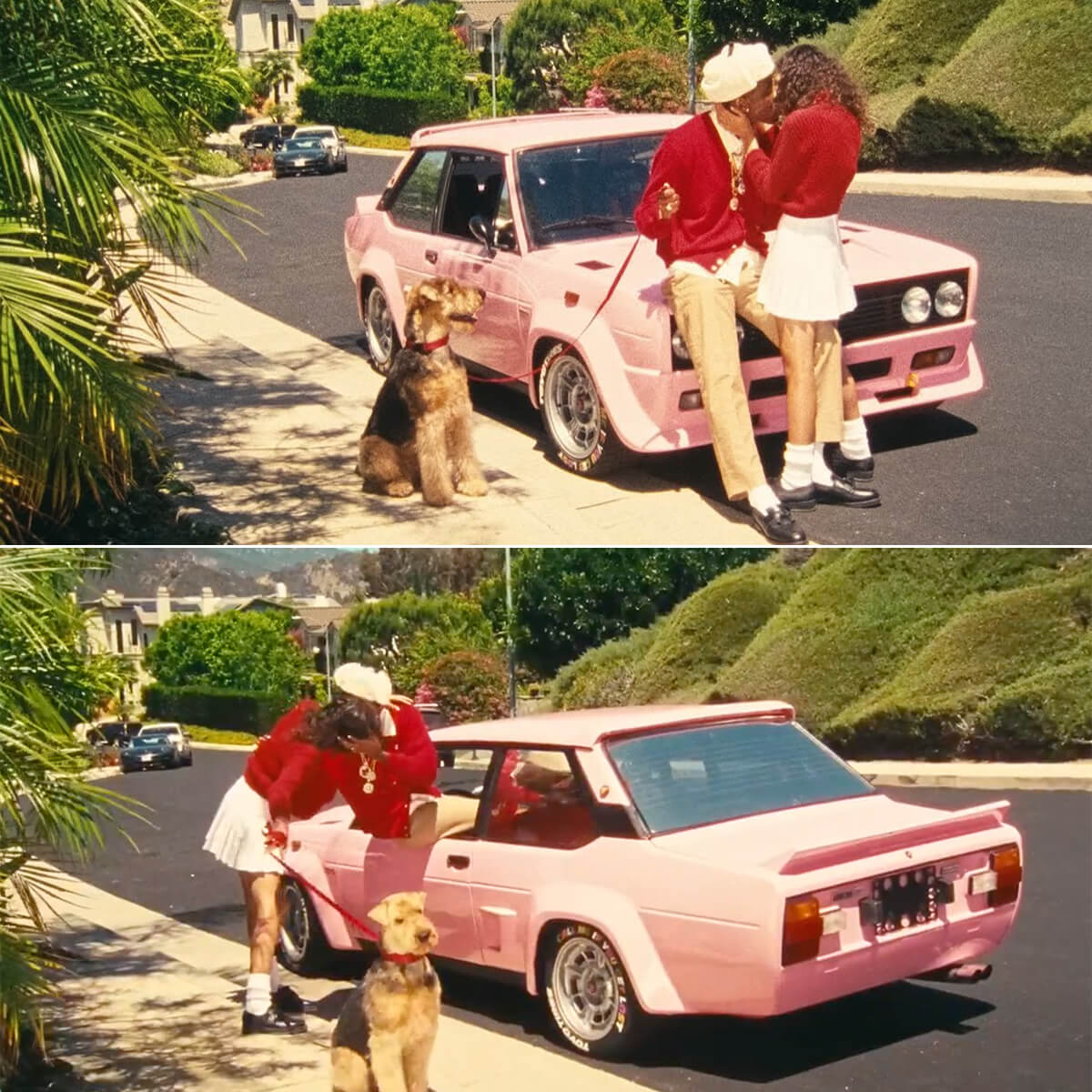 Lancia Delta HF Integrale
The Lancia Delta, simply put, is an IYKYK kind of car. Famously known for sporting a Martini livery and competing in Group B rally car racing until the Group B class was disbanded, this small Italian rally car packed a punch with its small in-line 4 engine producing 212 horses and sending them to all four wheels.
The Lancia is seen in the beginning of Tyler's video for WUSYANAME, driving through the California desert, mountains and even next to the ocean. Tyler remarks that in California, you spend most of your life in cars, moving and traveling – referring to his life and the constant evolution and uncertainty it brings. The song is about him falling in love with a girl in a short period of time, only to find out that she's taken. It's the same girl seen in his 'SIDE STREET' video with the pink Fiat 131 Abarth.
Years Produced: 1979-1994
Country of Origin: Italy
Racing Involvement: Group B Rally Racing
Engine: Turbocharged 2.0L in-line 4cyl engine producing 212 horsepower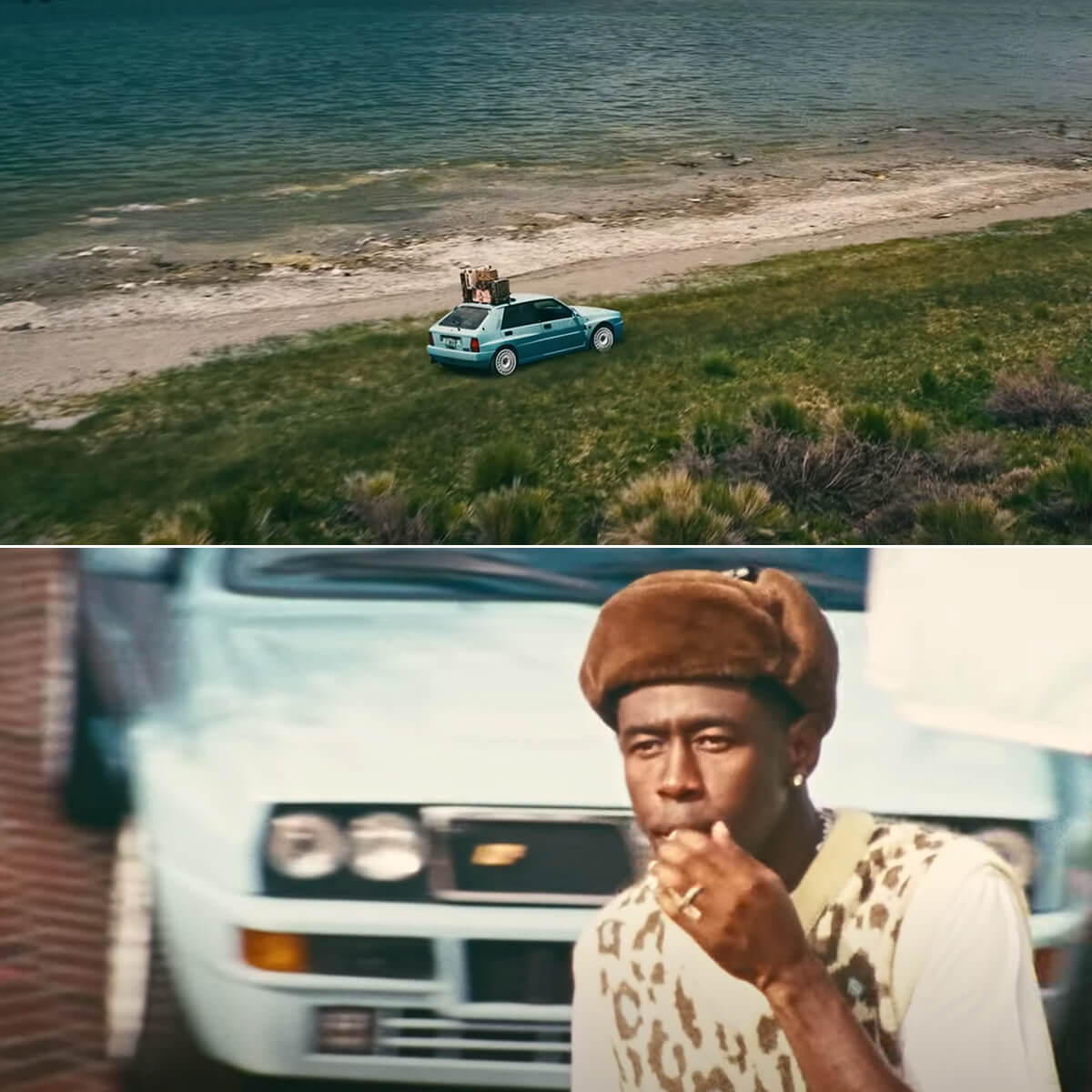 What Car Does Frank Ocean Drive?
A lot of our first exposures to Frank Ocean's cars were through his 'Nostalgia, Ultra' mixtape, which namedrops several cars in the lyrics — and even has one front and center on the mixtape's cover. Here are the cars owned by Frank himself.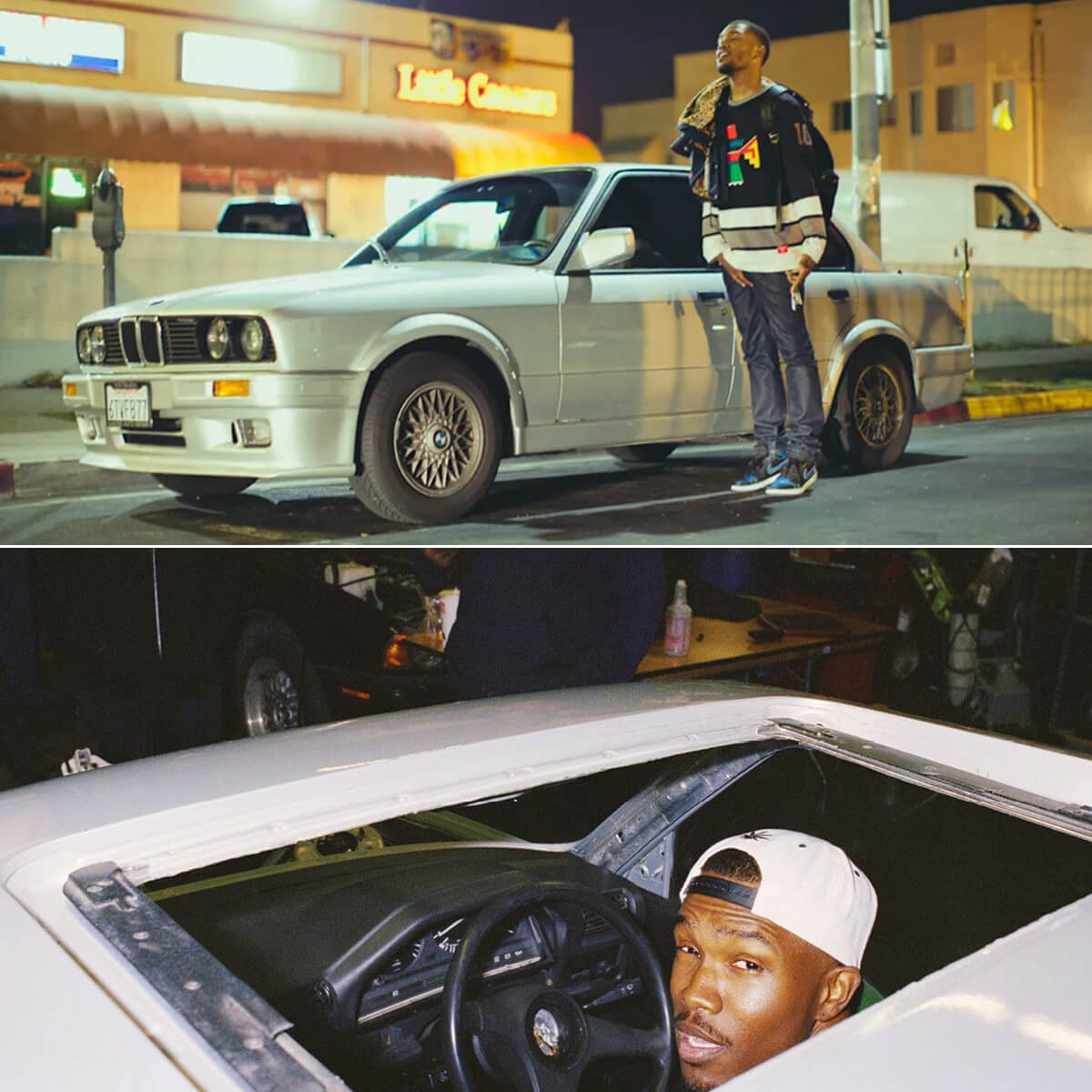 BMW E30 M3 – The Nostalgia, Ultra Car
Where do we even begin? The BMW E30 M3 has become synonymous as "the Frank Ocean car" — appearing in everything from the iconic 'Nostalgia, Ultra' mixtape cover, to countless Tumblr posts, and in his video for 'You're Not Dead'. The original Nostalgia cover image is sourced from a 2009 used E30 ad posted by a user named Driceburg, but that didn't stop Frank from getting a beastly orange BMW E30 for himself years later.
The E30 M3 comes from a rich heritage of Group A racing, featuring an energetic, punchy little 2.3L inline 4 engine. Unlike most BMW sports cars today, which are made for the road and then integrated into racing, the E30 M3 was built for racing, and then slowly turned into a road car variant.
A car that's close in age to Frank, and which he owns multiple variants of now, we like to see the E30 M3 as the symbolic representation of Frank himself — appearing in videos driving, wandering through deserts, and parked still in city streets. The car has been famous to racing and BMW fans alike, but there's definitely been an uptick in popularity due to Frank's influence. Even Tyler has a cream colored E30 – in his own words: "a lot of trunk space, the perfect two seater".
Years Produced: 1986-1991
Country of Origin: Germany
Racing Involvement: Group A Touring Racing
Engine: 2.3-2.5L in-line 4cyl engine producing 200 horsepower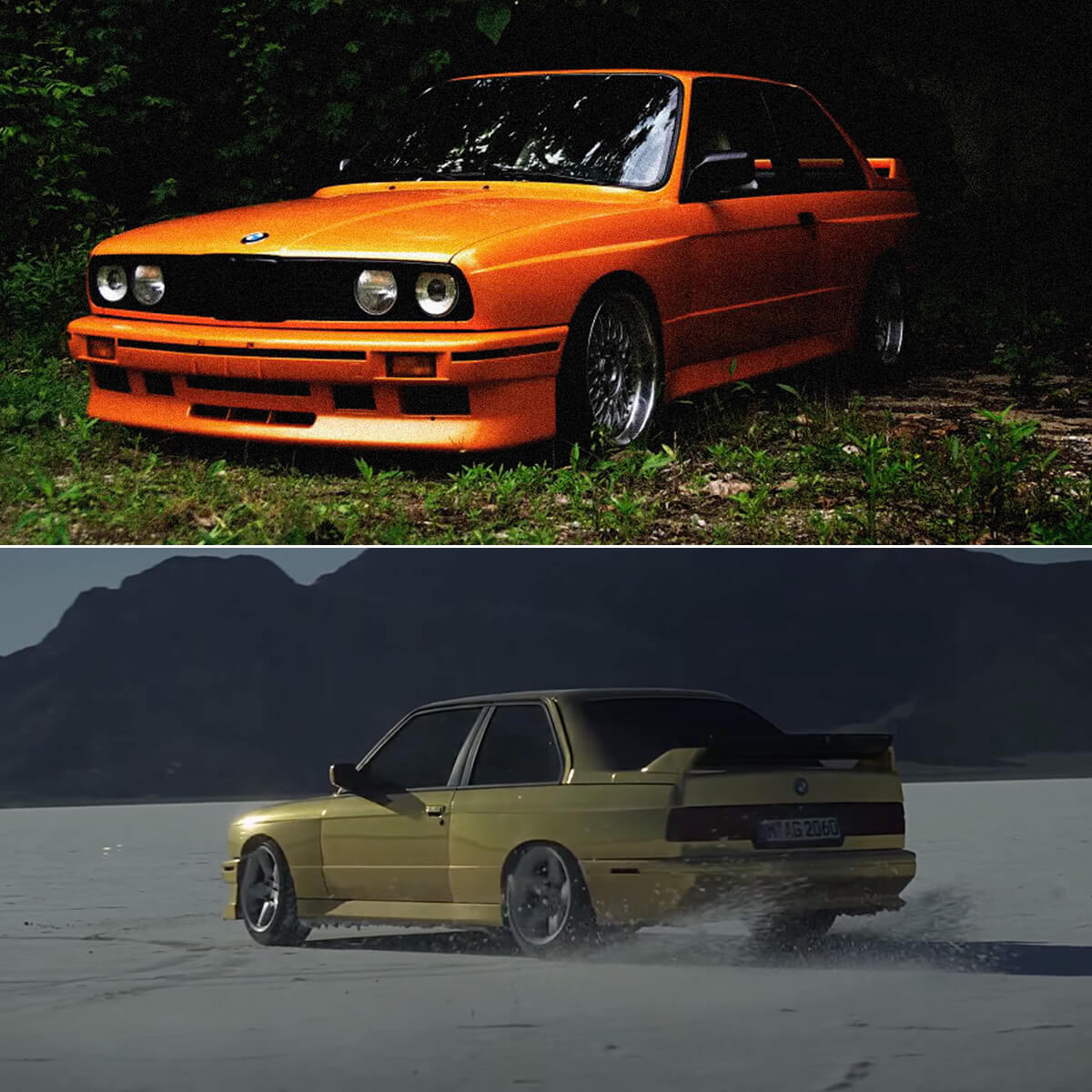 BMW E39 Touring
The year is 2012. You just spent a year listening to Frank's 'Nostalgia, Ultra' and are excited by the thought of an impending Frank debut studio album. Lo and behold, an announcement video for his new album 'Channel Orange' appears on his Tumblr, featuring a clean BMW E39 Touring. Life is good.
Diving deeper into his devotion for BMWs, Frank's endorsement of this classic Bimmer is an ode to wagon lovers everywhere. Built to haul your squad on the Autobahn, the E39 Touring is yet another unique car selection that signifies his 'Channel Orange' era.
Years Produced: 1995-2004
Country of Origin: Germany
Engine: 2.8L in-line 6cyl engine producing 193 horsepower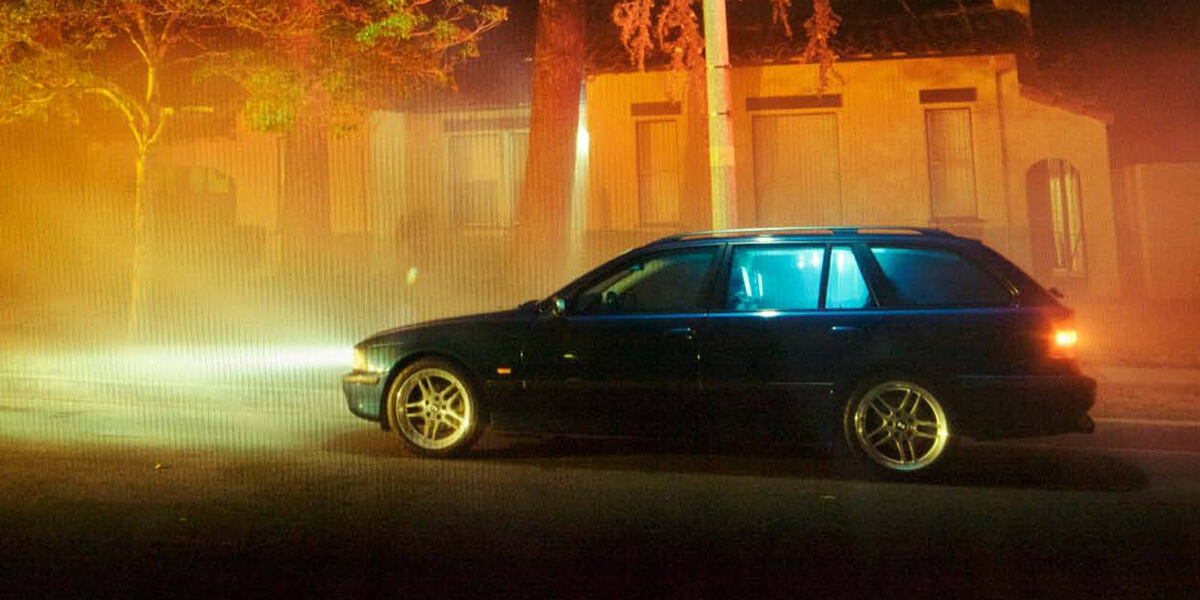 The Cars of 'Nikes'
Frank may not own all of these, but we had to give a special mention to the collection of iconic endurance racers that Frank gave us in his ever-so-opulent music video for 'Nikes'. The song's theme touches on the pursuit of materialistic hedonism, with Frank sitting in a quaint yard surrounded by upwards of $20M in cars — yet still feeling unfulfilled. This achievement in materials (aka world champion winning priceless endurance racers) is juxtaposed against his emotions of not feeling accepted or loved, supports this theme of hedonism throughout the video.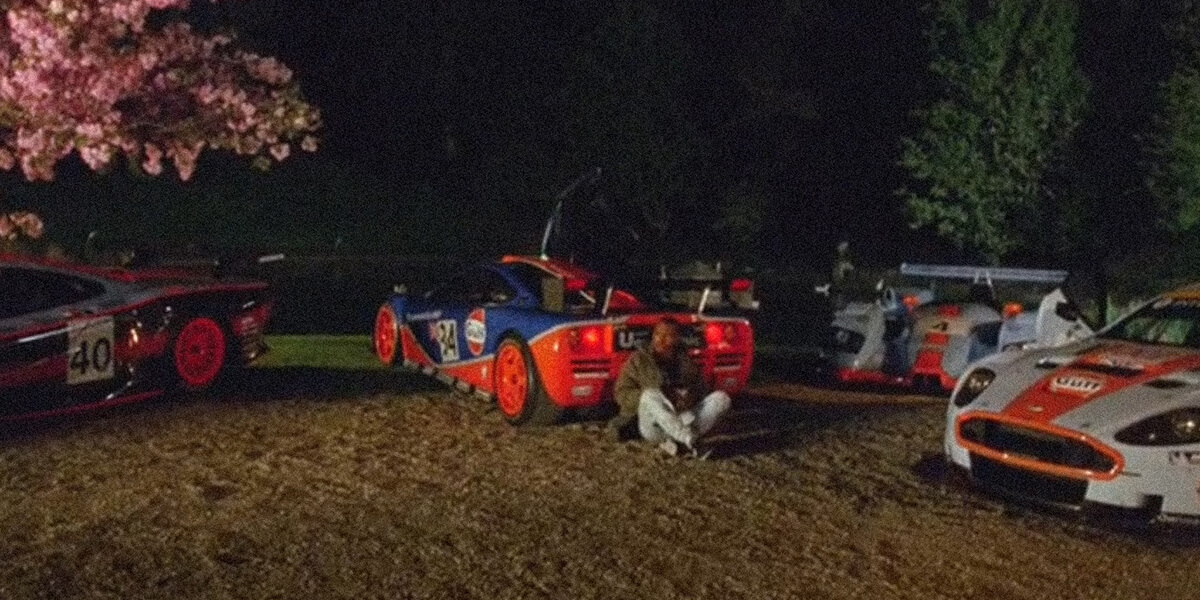 Nike BMW E30 M3
'These b*tches want Nikes' is the opening line to the song followed by 'they lookin for a check', which references the Nike swoosh logo, and literal checks (the money kind). The line expresses how Frank needs to confront relationships, being mindful that people eye him for his money. One of Frank's E30 M3s is a physical representation of this lyric. A black Bimmer with the white Nike check painted to the sides, resembling Nike sneakers.
The Nike E30 M3 serves as another Frank Ocean car that signifies this specific period in his life.
Years Produced: 1986-1991
Country of Origin: Germany
Racing Involvement: Group A Touring Racing
Engine: 2.3-2.5L in-line 4cyl engine producing 200 horsepower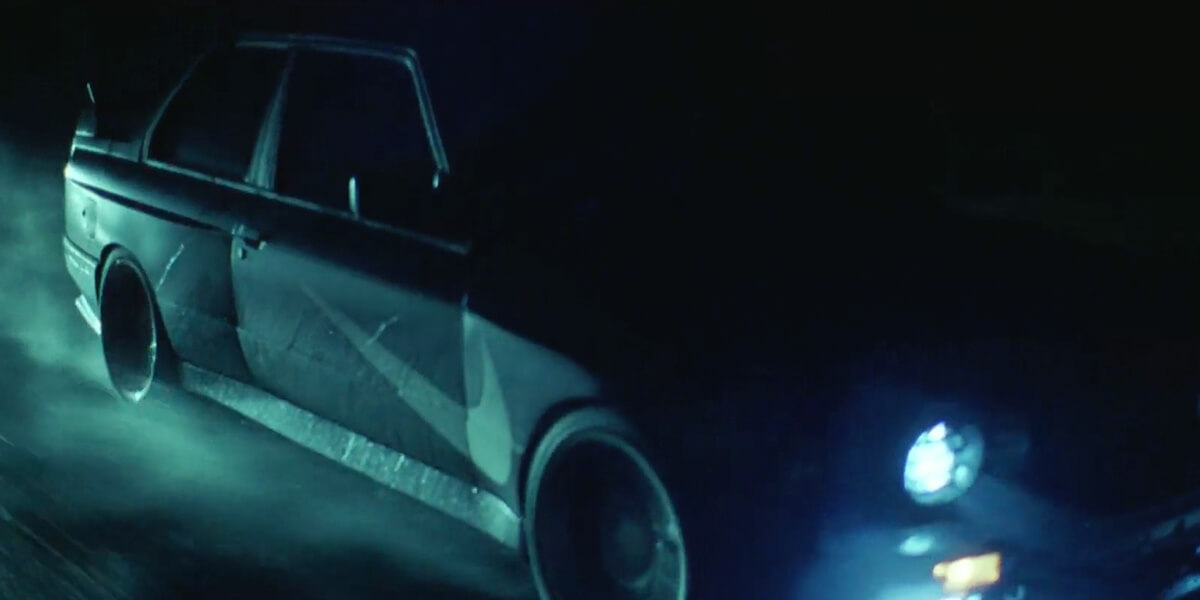 McLaren F1 GTR (Ueno Clinic Gulf Livery)
We are talking endurance racing and overall automotive royalty when we talk about any McLaren F1 GTR. In the yard of endurance racers, this specific Ueno Clinic spec McLaren is the one Frank is leaning back on as he sips from his cup.
Gordon Murray set out on creating the fastest car in the world when he designed the F1 for McLaren in the 90s. The GTR variant went on to win several endurance races including the famously-won 1995 24 Hours of Le Mans (where it won against faster purpose-built prototypes).
Leaning up against a car with such accolades while Frank is in his head, ties this visual back to the themes of materialistic hedonism that 'Nikes' speaks to.
Years Produced: 1995-1996
Country of Origin: United Kingdom
Racing Involvement: Grand Touring Racing, Endurance Racing
Engine: 6.0L BMW V12 engine producing 618 horsepower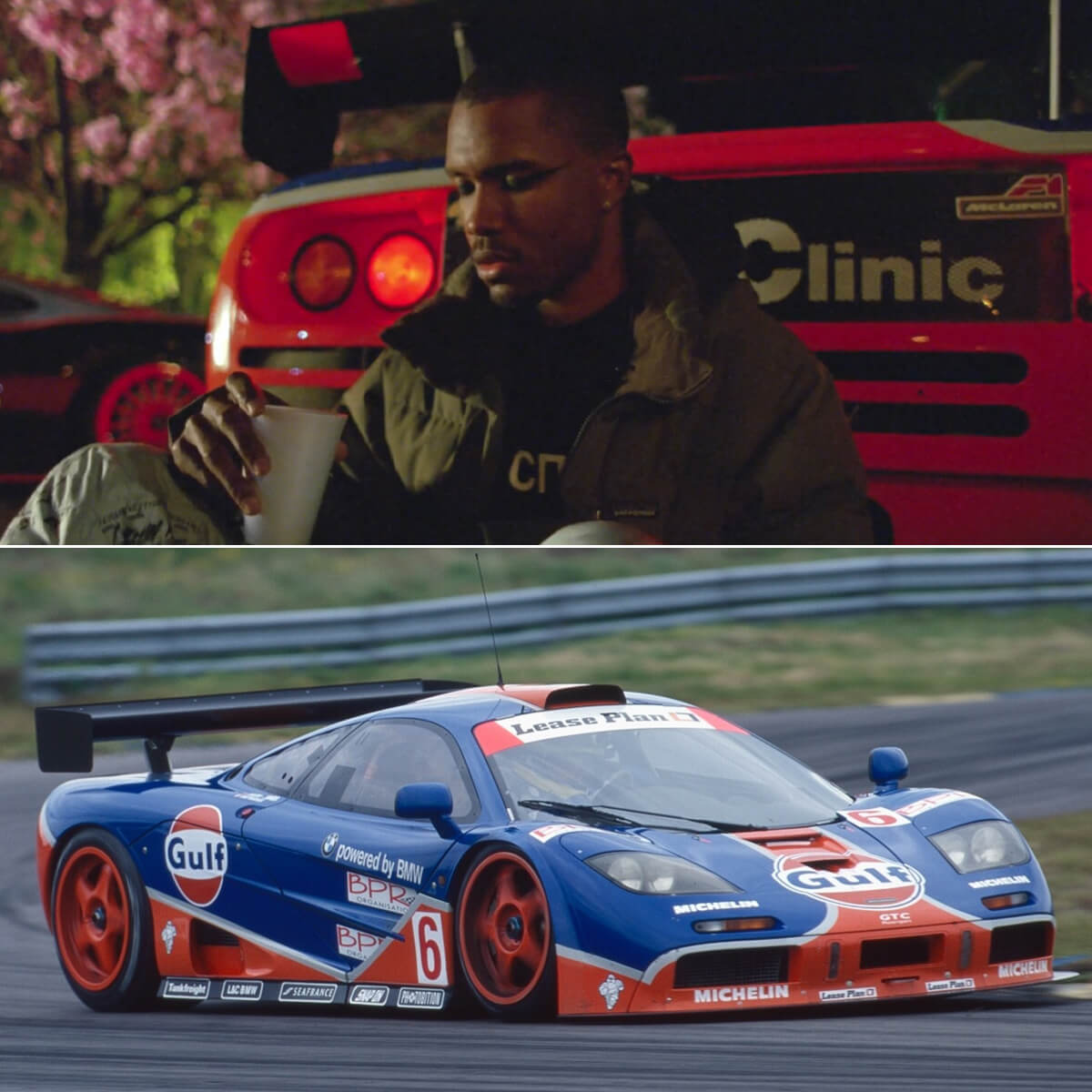 McLaren F1 GTR Longtail (Ueno Clinic Gulf Livery)
To the left of the F1 GTR that Frank is leaning on, you'll find its bigger brother, the F1 GTR Longtail. Boasting 671 horsepower (50+ more than the GTR) and valued at over $15M, Frank's selection of endurance racing royalty is still evident.
Another thing to note is the beautiful (possibly) pink Sakura tree standing tall above the Longtail. In fact, this whole scene of this quaint, beautiful garden can be interpreted as a clash between the natural/ethereal and the unnatural/materialistic. In this case, cherry blossoms vs. logo laden racecars.
Years Produced: 1995-1996
Country of Origin: United Kingdom
Racing Involvement: Grand Touring Racing, Endurance Racing
Engine: 6.0L BMW V12 engine producing 671 horsepower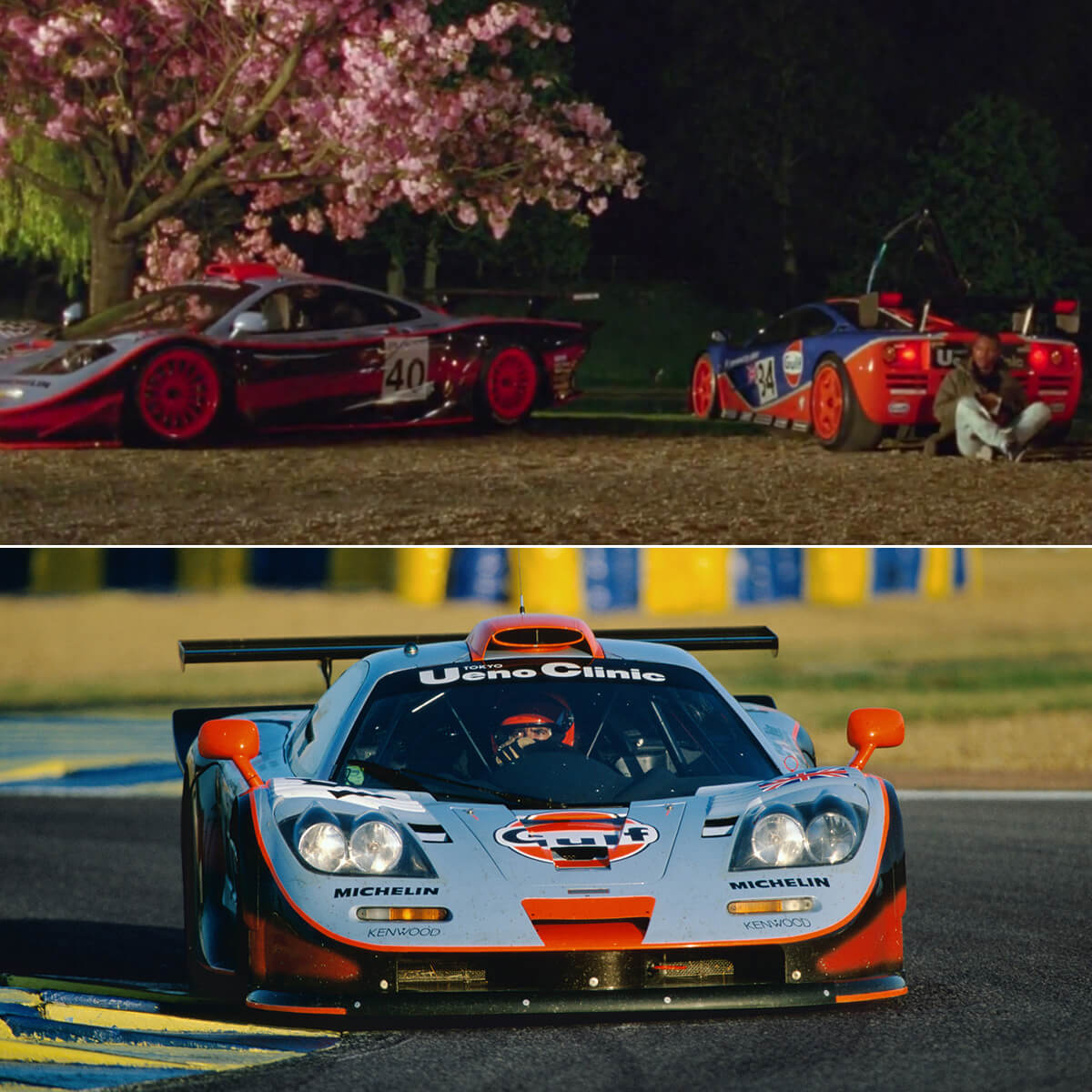 Aston Martin DB9R (Gulf Livery)
The Aston Martin DB9R is based on the road going DB9 Grand Tourer. Using the same V12 engine, the rest of the car is re-engineered for high performance competition use. Taking two LMGT1 wins at the 24 Hours of Le Mans in 2007 and 2008, it rightfully joins the list of endurance race winners in this yard with Frank.
There is an overarching theme of duality throughout the 'Blonde' album. From the 'two versions' line in the video, to the two Virgin Mary statues in the back of his Nike E30 to images of couples. One visual that sticks out is when Frank is set fire next to the DB9R. The video flips between footage of him laying to rest while on fire, to a theater stage with him laying in a regal white outfit. This acts as a reference to the duality between hell and heaven, or in this case, Frank's inner battles between his decisions and instincts.
Years Produced: 2005-2011
Country of Origin: United Kingdom
Racing Involvement: Endurance Racing
Engine: 6.0L V12 engine producing 625 horsepower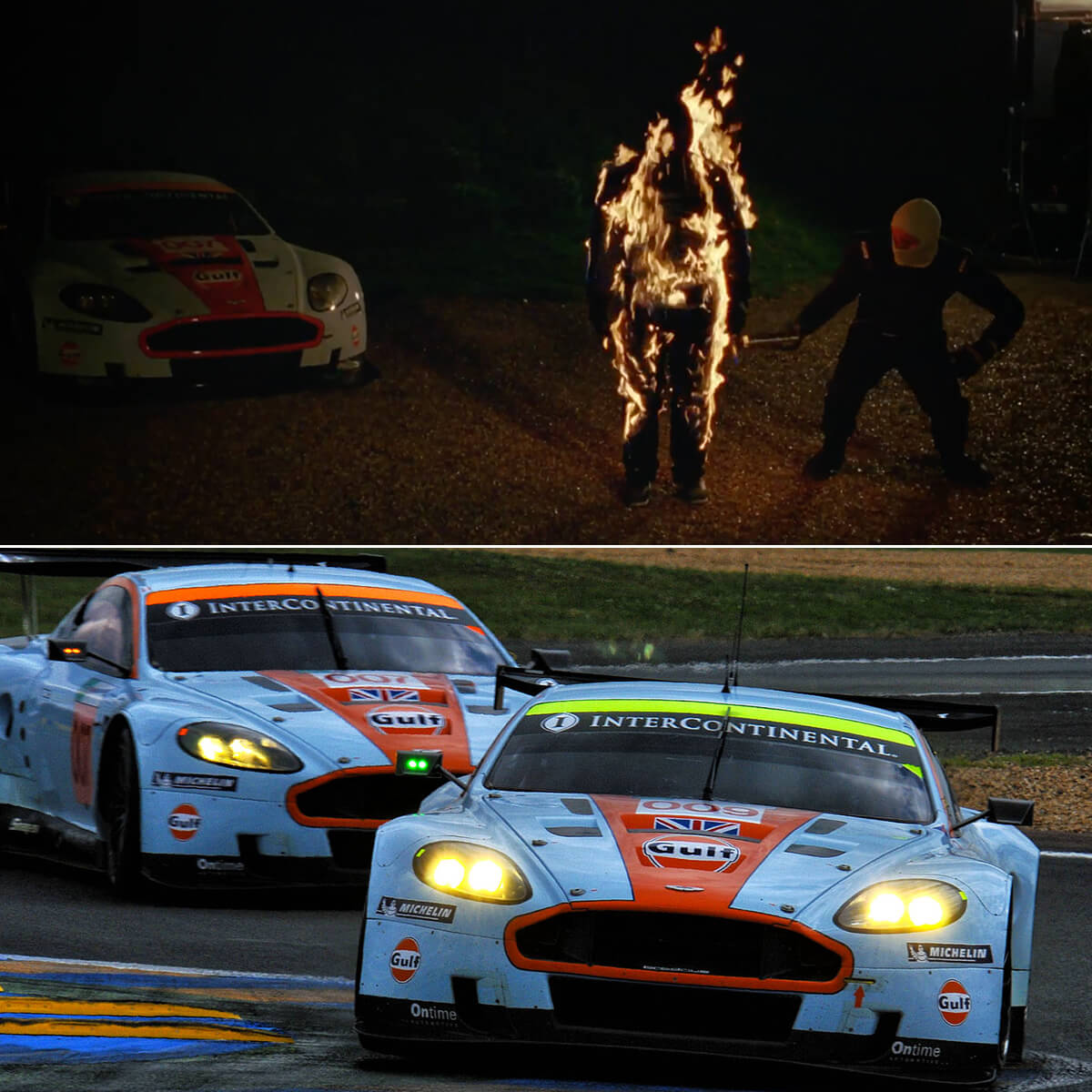 Audi R8 LMP
Last but not least, let's dive into the last of Frank's endurance racers, with one of the most successful racing cars, having won five of the six years it competed in the 24 Hours of Le Mans: The Audi R8 LMP. A full body constructed from carbon fiber, with a 670 powerhouse of a high performance V8 engine, the R8 LMP can be seen tucked behind the DBR9 and F1 GTR in the video.
Years Produced: 2000-2005
Country of Origin: United Kingdom
Racing Involvement: Endurance Racing
Engine: Twin-turbocharged 3.6L V8 engine producing 670 horsepower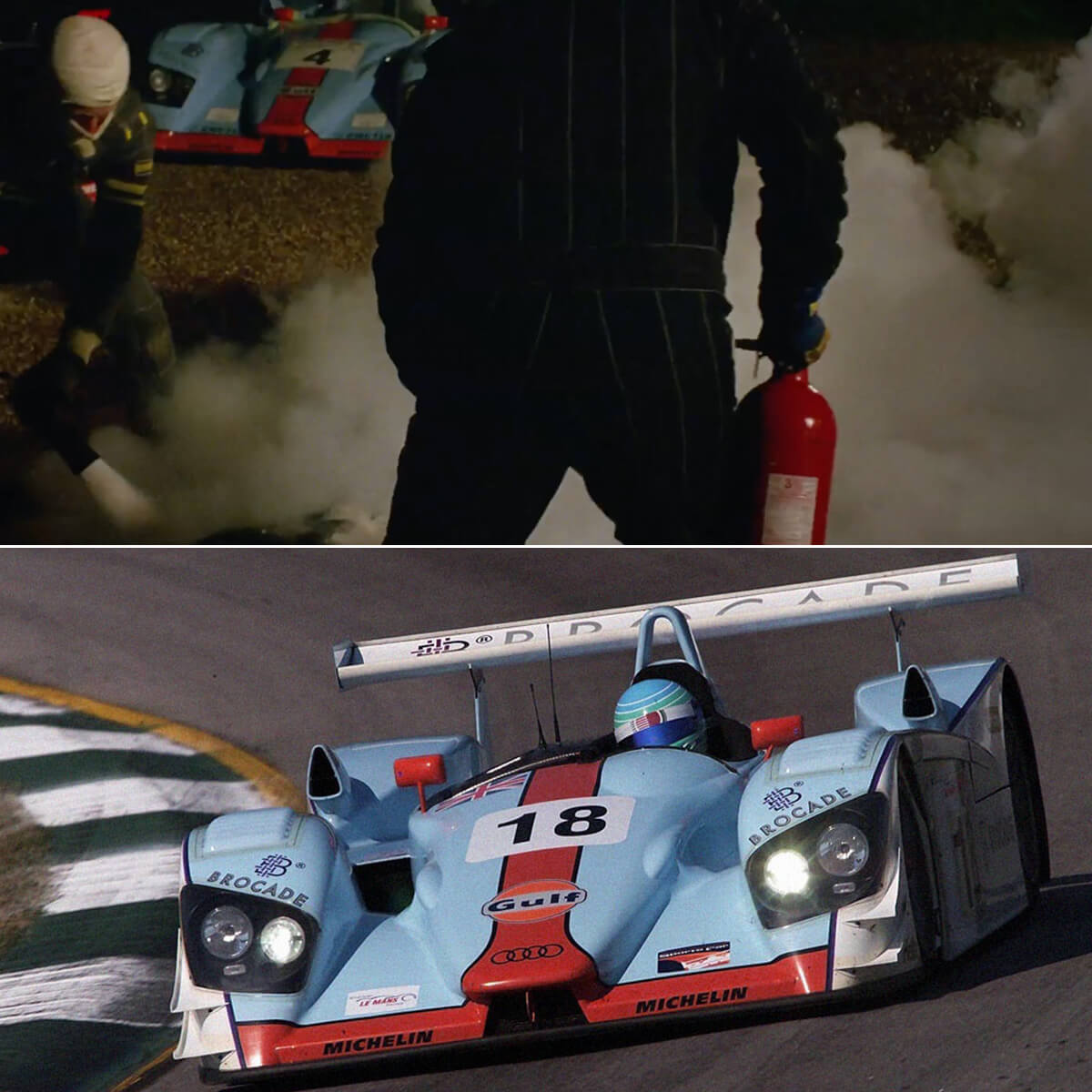 Which one of these Tyler, the Creator and Frank Ocean cars are your favorites? Are there other non-European gems that you loved? Let us know in the comments below, and make sure to follow us on IG @gridfitiauto!
Gridfiti is supported by its audience – when you buy something using the retail links in our posts, we may earn a small commission at no additional cost to you. We only recommend products we would use ourselves and recommend to our friends and family. Read more about our affiliate disclaimer.