When it comes to designing your home office, there's so much you can do to make your workspace truly yours. One of the best places to start is your home office wall – it's a blank canvas, and the opportunities to add that personal touch and creative flair are endless.
You can add some style to your desk wall with large bold prints, or even some functionality with utility-focussed decor like a pegboard organizer or desk shelving – but it doesn't stop there. Get scrolling and get inspired by these easy, but effective, home office wall decor ideas!
Looking for more wall art inspo? Check out our round-up on skateboard wall art ideas!
Want more home office ideas? Join our setups mailing list! 📮
Wall Art for Desk Setups
Bring your home office to life with wall art that goes with your personal aesthetic. If you're going for a monochrome look for your setup, there are a ton of black and white wall art pieces to pick from. On the other hand, if you're looking to add a splash of color to your setup, grab (you guessed it) some colorful prints. You can even go as far as adding multiple prints together to create a gallery wall, if you have the wall real estate.
Wall Prints
Where to start: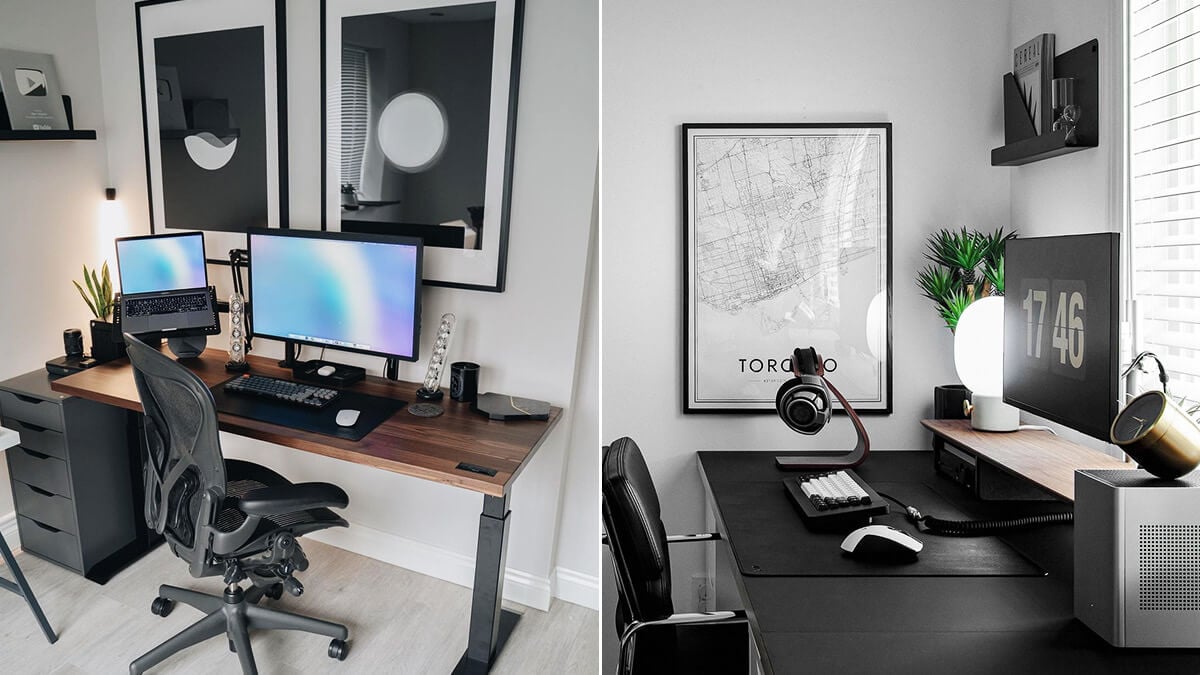 Images by @ultralinx and @mekunotech
Gallery Wall
Where to start: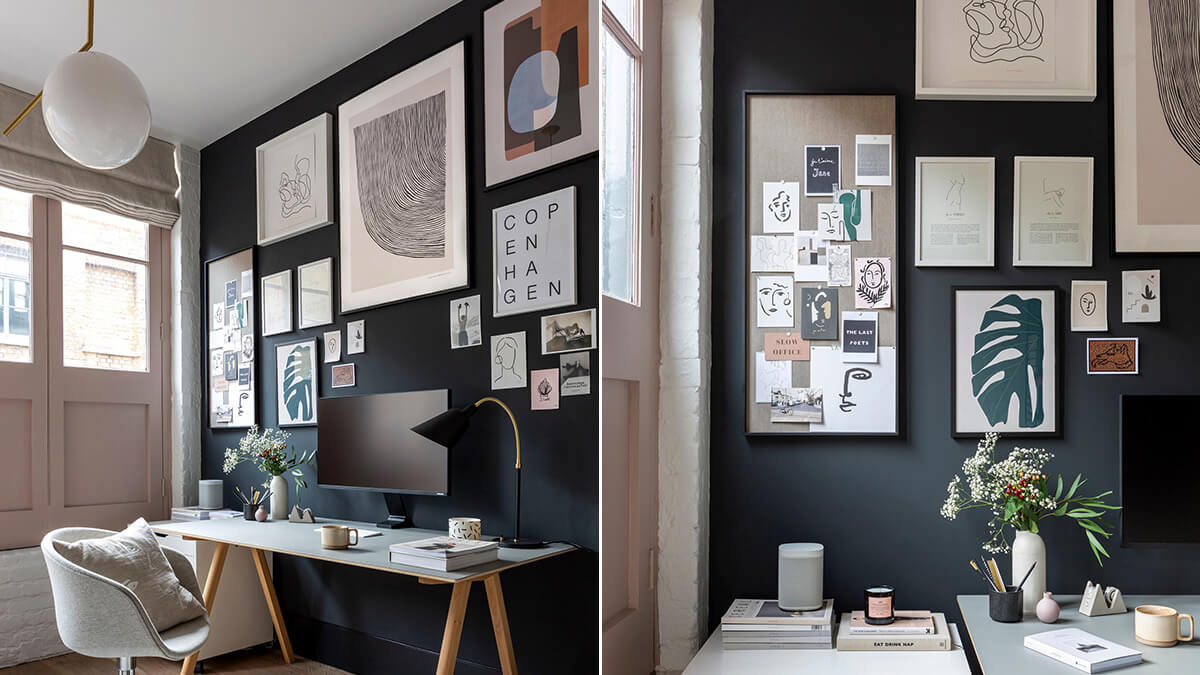 Images by @catesthill
Desk Shelves & Bookshelf Ideas
Adding shelves to your desk setup is a simple, versatile way to display different artifacts of your life – whether it's books, memorabilia, prints, plants, tech accessories, and so much more. You can pick from different styles of shelves (floating vs. mounted) to complete the look you're after. The best part? If you ever want to change up your theme, it's no sweat to switch showpieces in and out.
Where to start: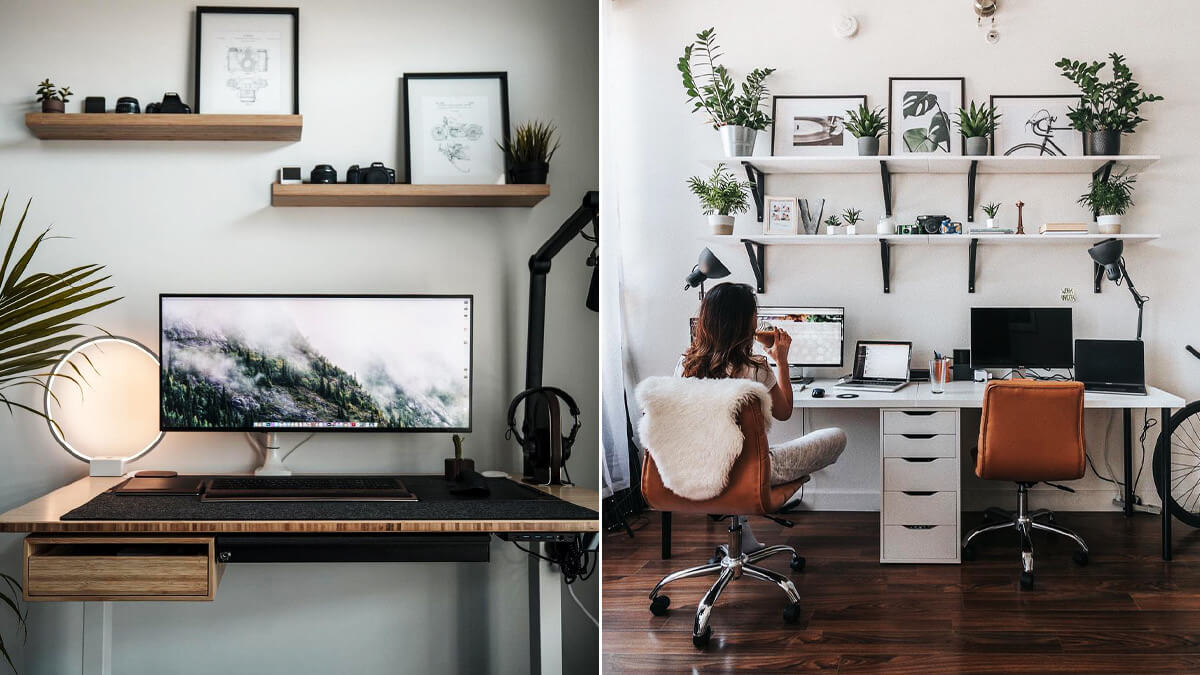 Images by @hussaintausif and @valezrina
Neon Sign as Home Office Wall Decor
Neon signs are the perfect addition for any night owl looking to add some light, color, and personality to their space. You can get pre-designed lights, or even design your own custom one thanks to dozens of Etsy creators.
Where to start: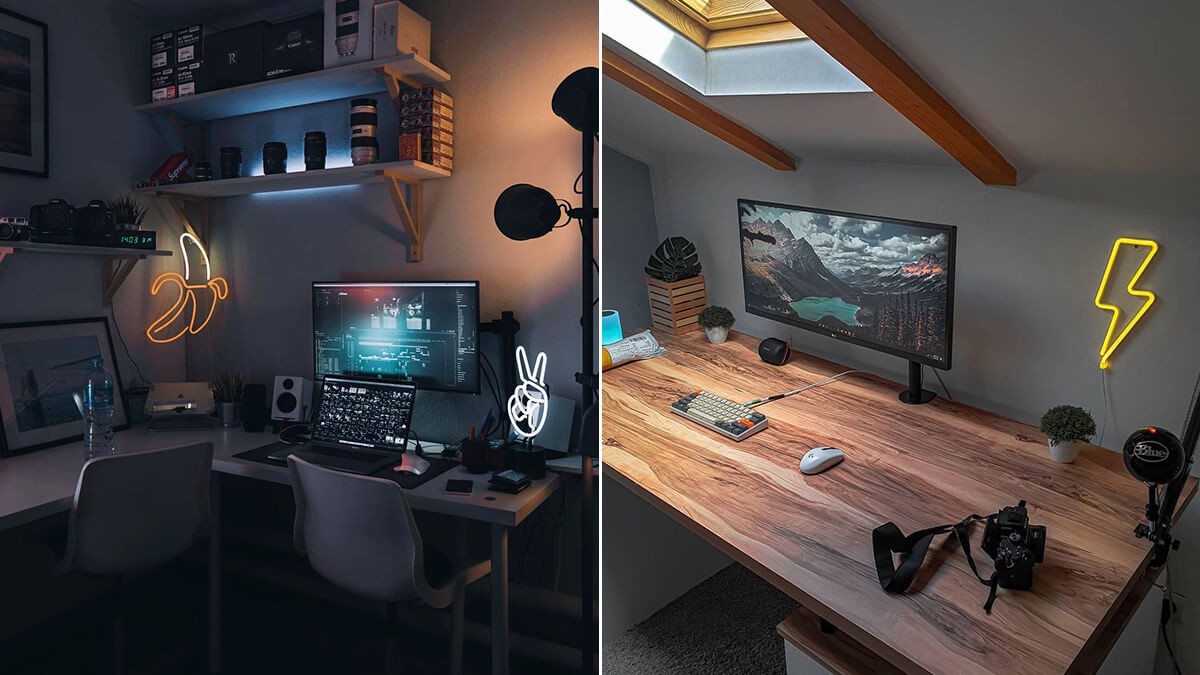 Images by @hussaintausif and @valezrina
LED Wall Lighting Ideas
Another way to illuminate your desk space is by adding some snazzy desk backlighting to your walls. Wall mounted LED light panels are an easy way to make your setup stand out, not to mention being that light source to help you get sh*t done.
Where to start: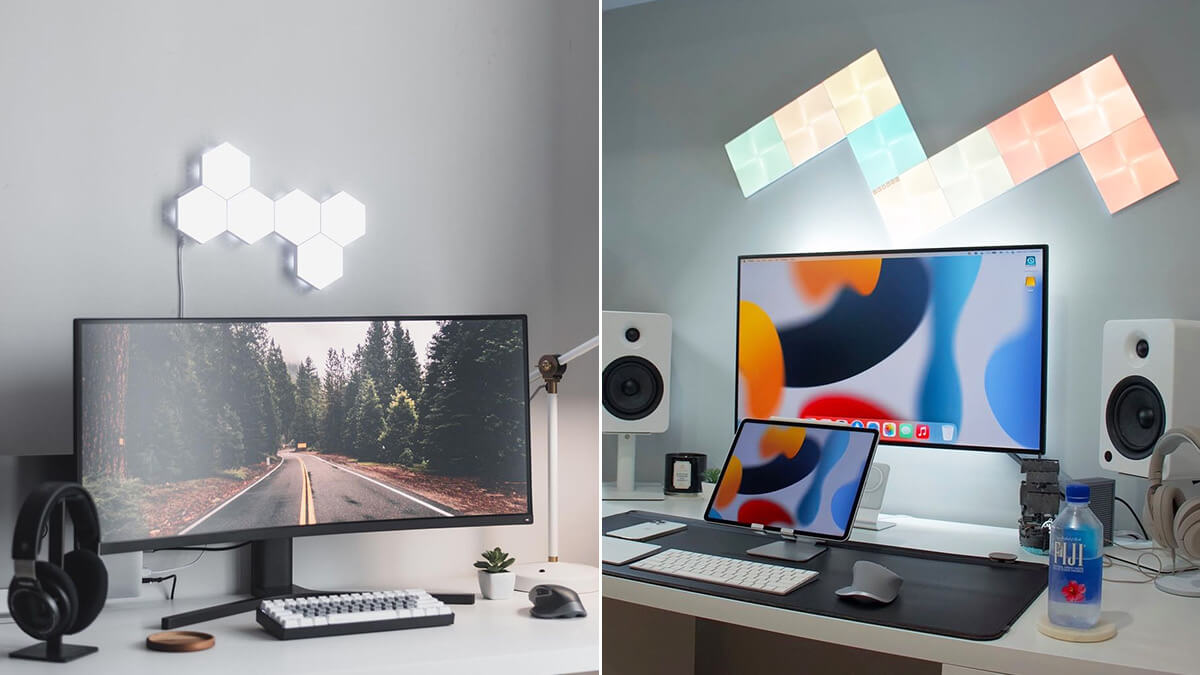 Images by @ochaxt and @conorbutkovic
Letter Board Desk Setup
A few words can go a long way. Add some character to your setup with a minimal letter board, and dress it with a motivational quote or reminder to keep you going.
Where to start: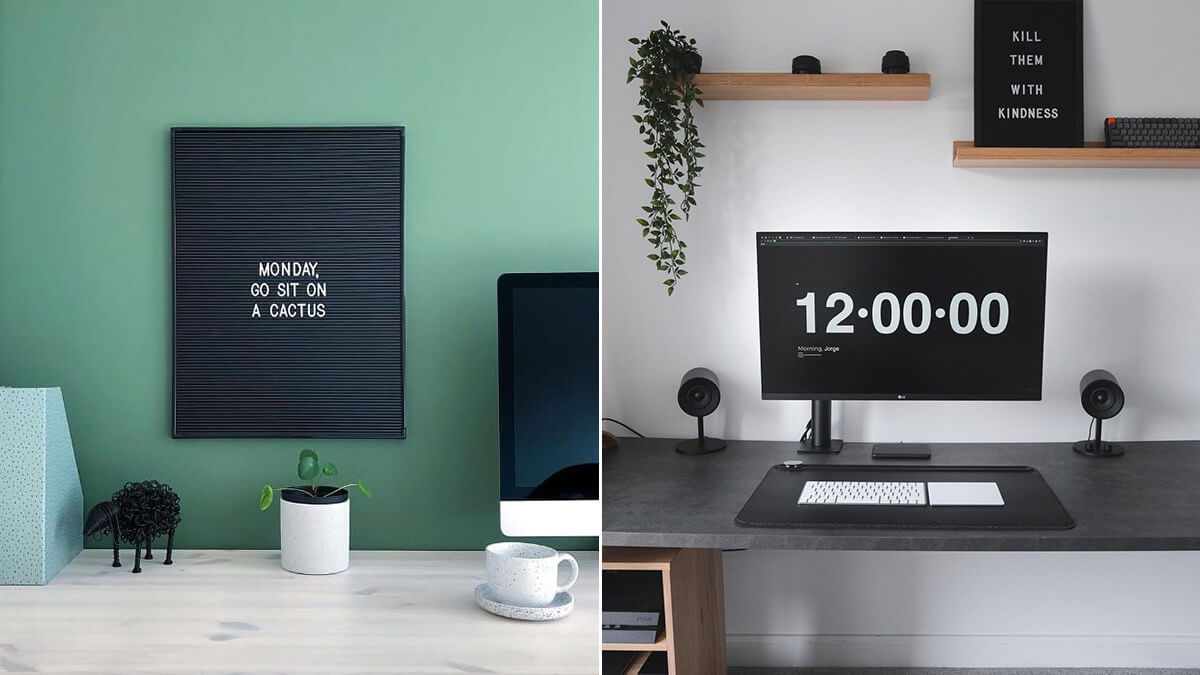 Images by @karoline_nilssen and @jorgeypowell
Pegboard Wall Organizer
Declutter your desk with a pegboard wall organizer for your home office. Mount anything from tech accessories, to notebooks, tools, and everything in between, right to your desk wall. We've got a full guide outlining the best pegboard desk ideas to help get you started.
Where to start: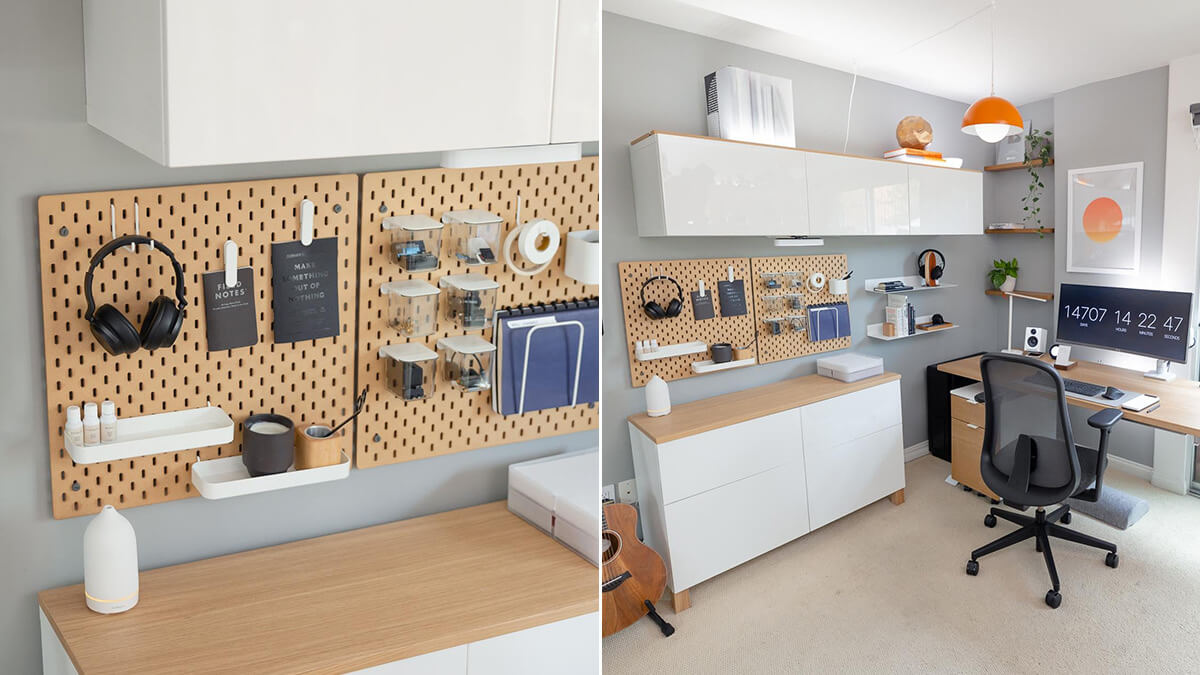 Images by u/matthewencina
Vestaboard
Similar to the letter board, a Vestaboard can add a modern touch of creativity to your home office wall. Instead of manually changing each letter and quote by hand, you can easily program the Vestaboard to display custom text, or even personalize each square with colors and patterns of your choice.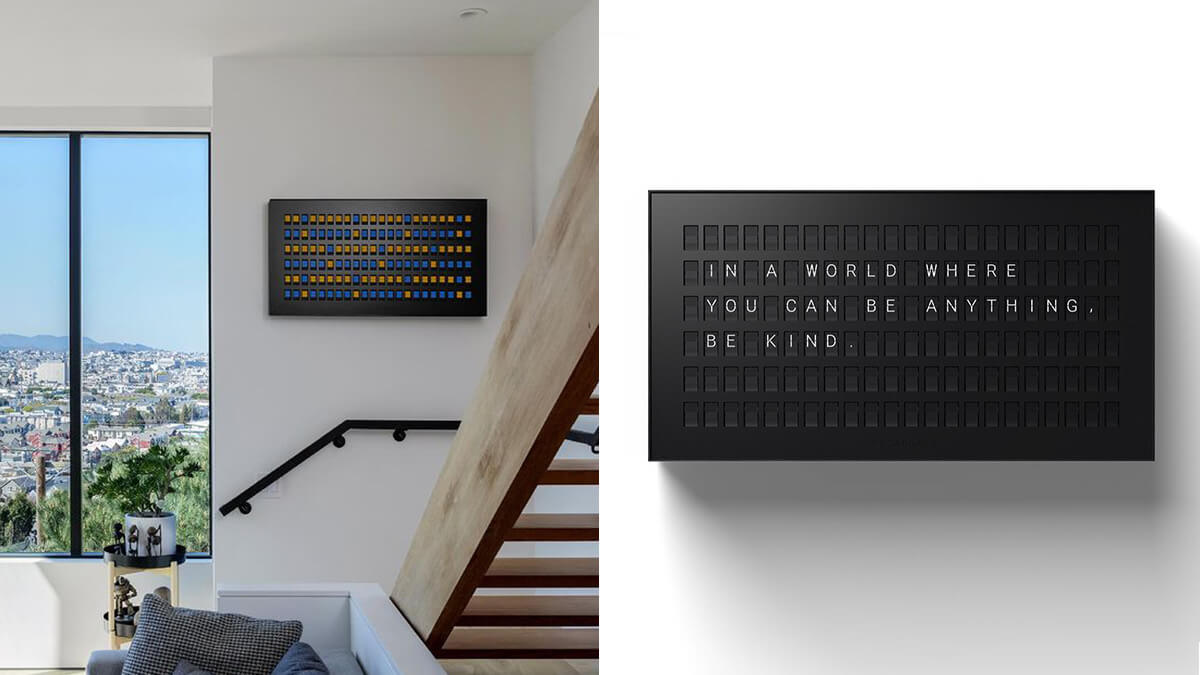 Images by @vestaboard
Aesthetic Wall Collage Idea
Bring inspo from your screen straight to your walls with an aesthetic wall collage. Gather your favorite photos to create a physical moodboard or vision board – and simply piece them all together for your own unique vibe. Get creative with the different collage layouts! We've got a full guide on aesthetic desk ideas if you're looking for more inspo.
Where to start: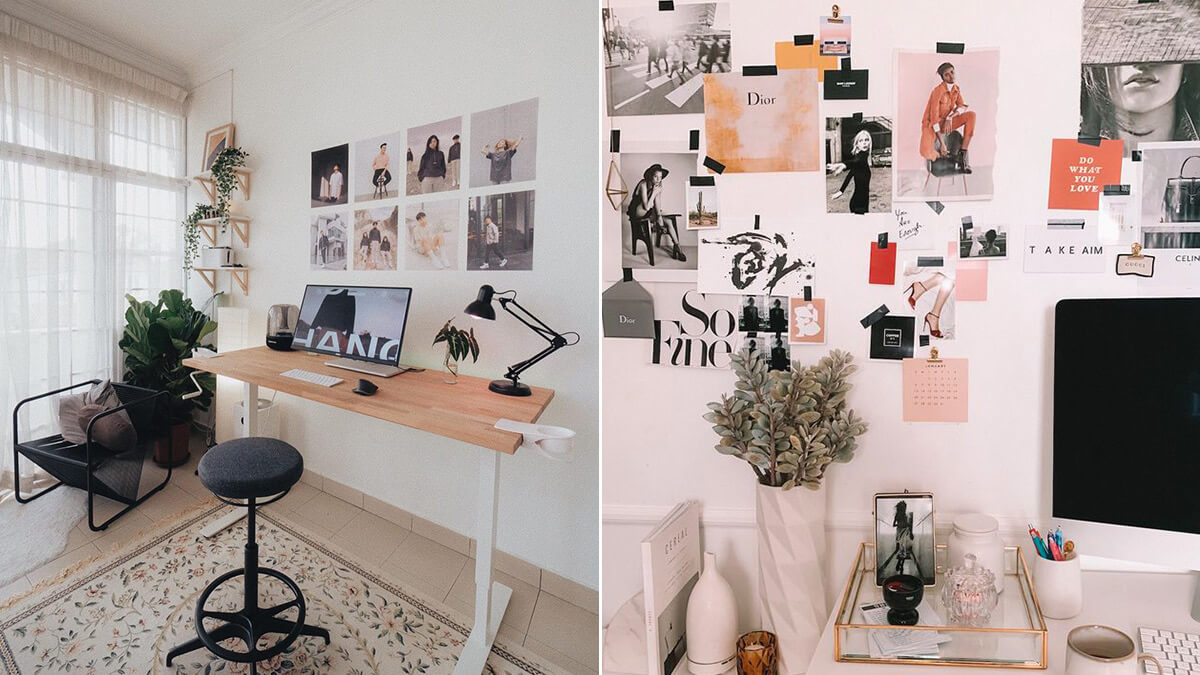 Images by @iamchrisyap and @michelletakeaim
Have any other recommendations for home office wall decor ideas? Let us know in the comments down below!
Gridfiti is supported by its audience – when you buy something using the retail links in our posts, we may earn a small commission at no additional cost to you. We only recommend products we would use ourselves and recommend to our friends and family. Read more about our affiliate disclaimer.