Contact Posters let you customize the look and feel of your outgoing calls and text messages in iOS 17. Create your very own calling card with color and photo backgrounds, Memojis, and more!
With your Contact Poster, you can customize the font color and style of your name, add a Memoji or monogram, and even change the background to a color or photo.
Want to make your iOS Contact Poster more aesthetic? Or just looking for a tutorial on getting set up? Scroll on for everything you need to know about this fun iOS 17 feature!
In iOS 17, a new feature called StandBy Mode has been introduced. Explore our blog post showcasing the best iOS StandBy Mode ideas!
Want more iOS and Apple ideas? Join our newsletter below and check out our several other blog posts about iOS!
Table of Contents
Aesthetic iOS Contact Poster Theme Ideas
Sure, some people will be content to upload a selfie from their last vacay as their contact poster and call it a day. But not you! You're on the hunt for something more fun.
Who says you need to stick with Apple's solid colors and Memojis? We've got you covered with some of the best aesthetic design ideas to create a personalized iOS contact poster that's just so you.
Gradient & Aura
By default, Apple only allows solid color backgrounds — but that doesn't stop you from adding your own gradient flair! If you don't have time to DIY your own, check out our Aura Heart wallpapers, or the full Aura wallpaper bundle, available in a range of colors to suit every aesthetic!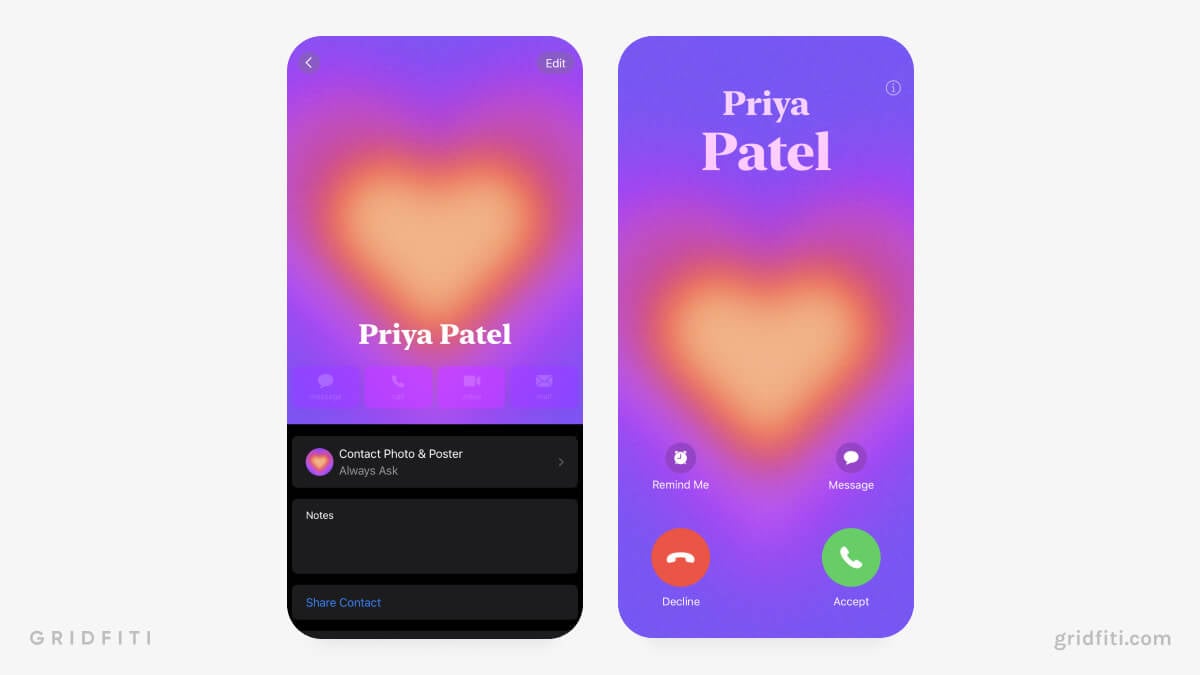 Anime
The quickest way to find the perfect anime-themed background for your iOS contact poster? Grab a screenshot from your favorite anime, or search Pinterest for the perfect aesthetic wallpaper.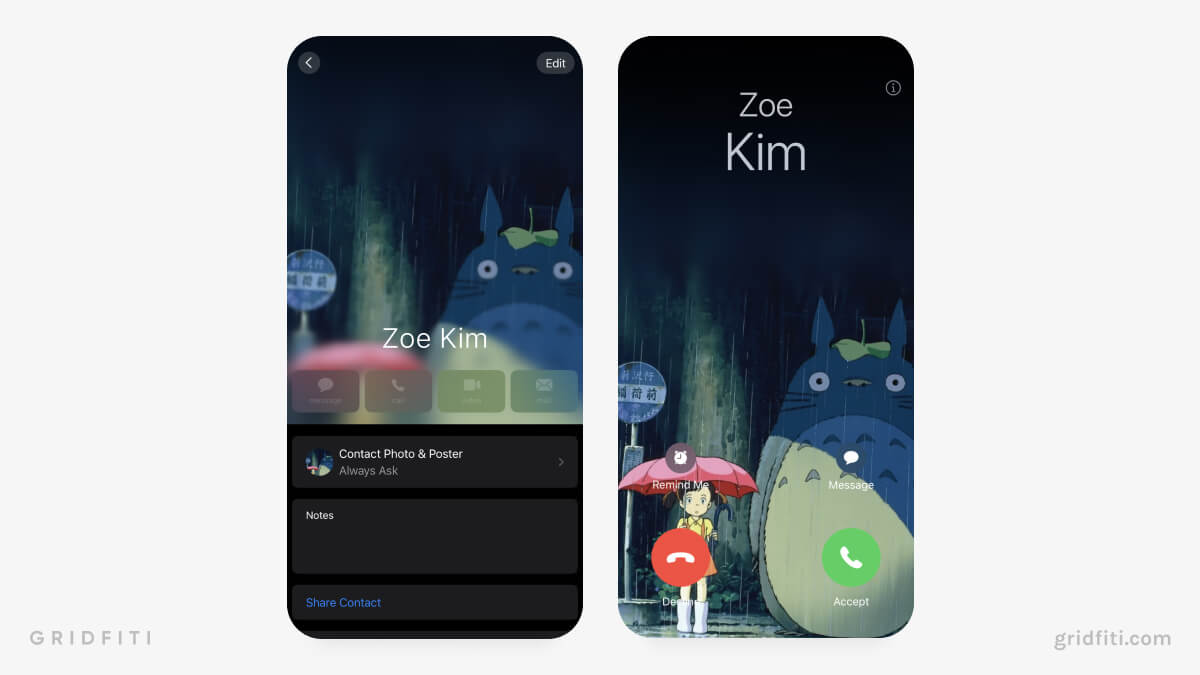 Dark Academia
If your happy place is a centuries-old library with comfy couches and stacks of ancient tomes, a dark academia aesthetic is just the ticket.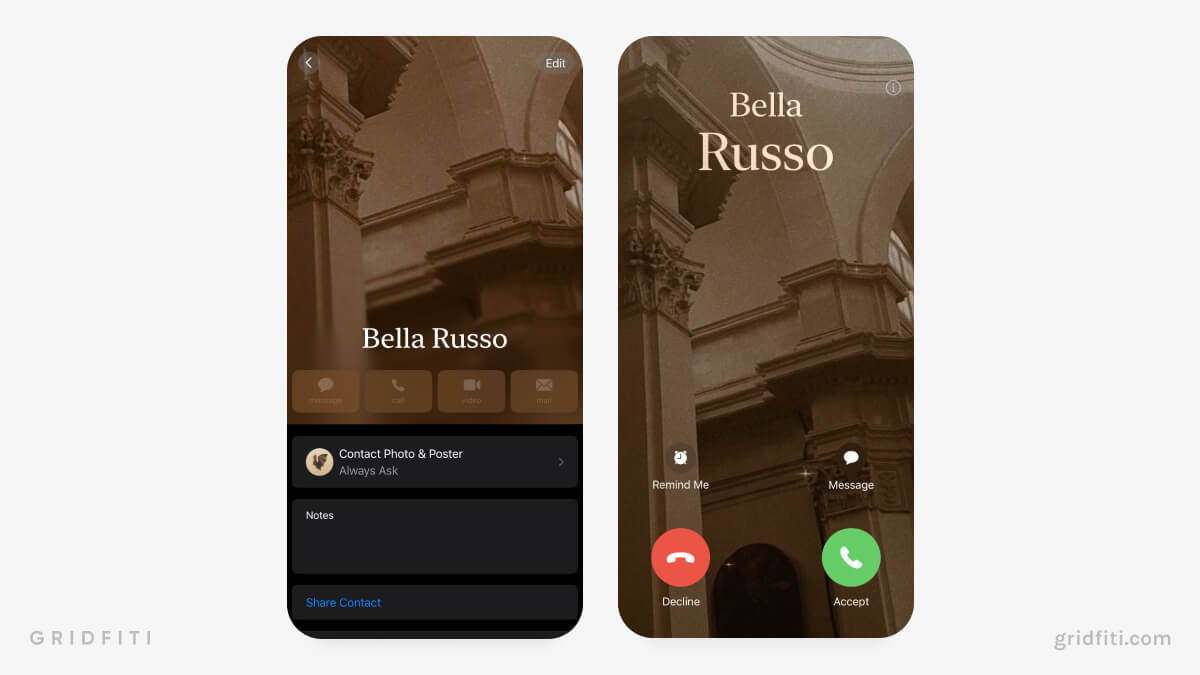 Minimalist
Fans of all things monochrome and minimalist will undoubtedly want to keep their contact poster clean and simple. Choose a solid color background and adjust the text to match for a sleek calling card that's fresh and functional.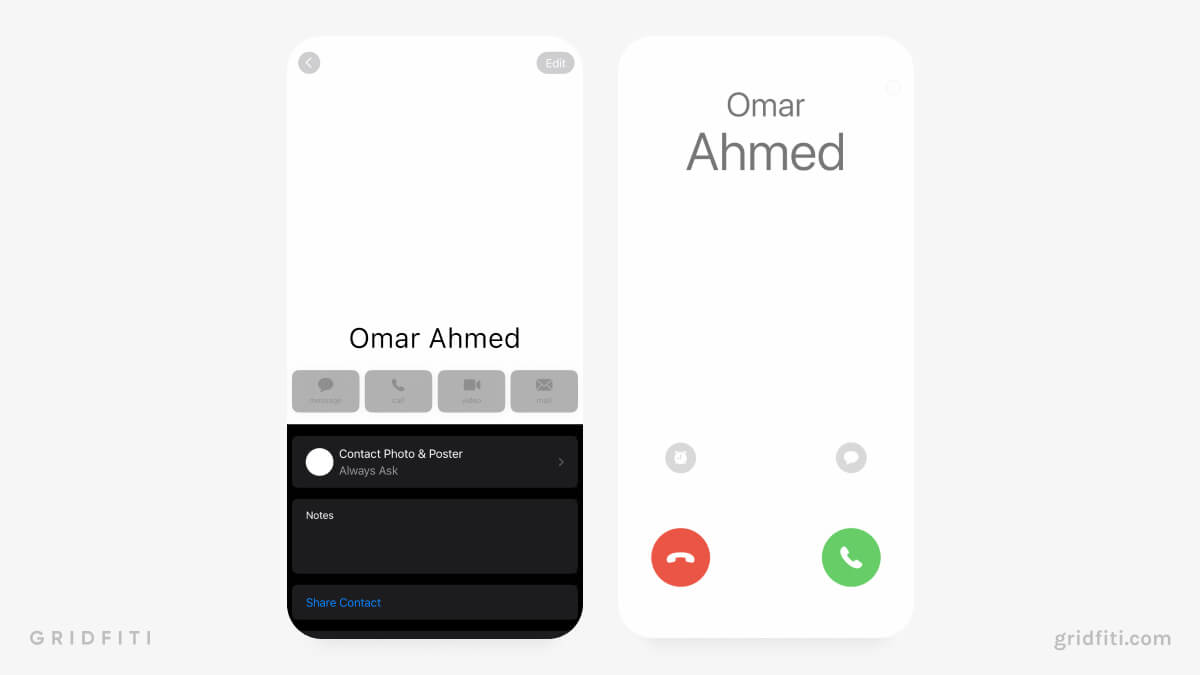 Kawaii & Pastels
There's just something so soothing about a soft pinkcore design. Scroll around Pinterest and IG for 5 minutes and you'll find tons of ideas for your kawaii contact poster, from Sanrio fan art to stylized gamer girl setups.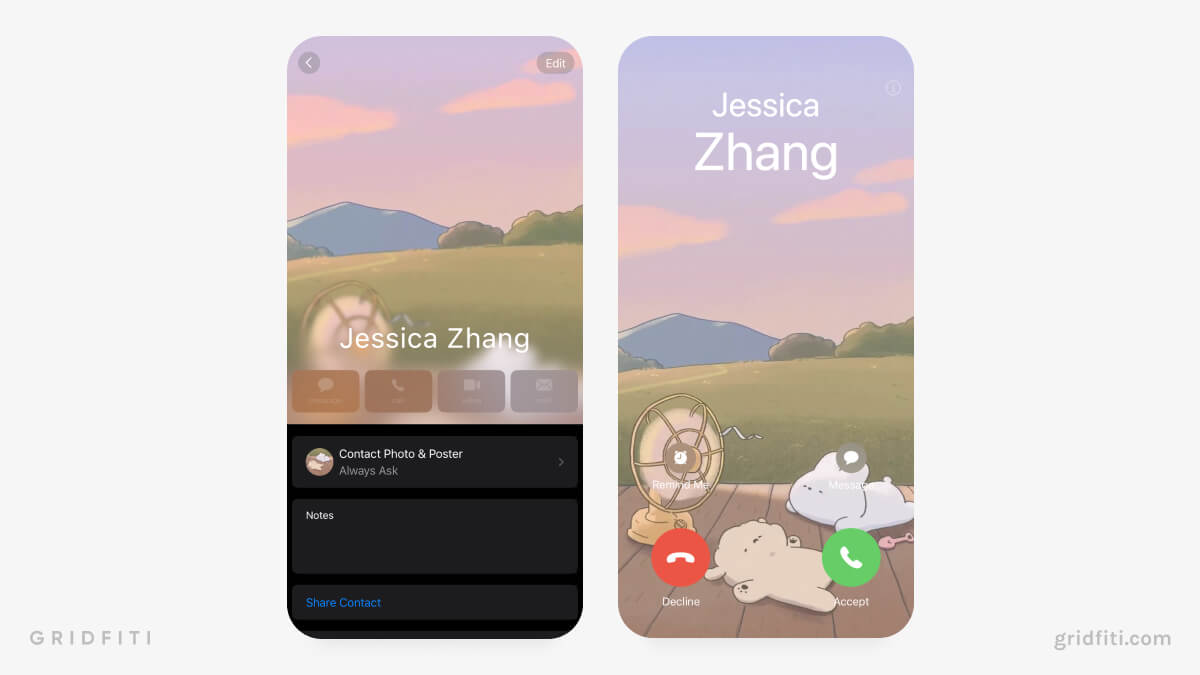 Holographic & Iridescent
Retro holographic designs are making a big comeback — stay on trend with a vibrant holographic poster that perfectly captures your colorful, untamed spirit.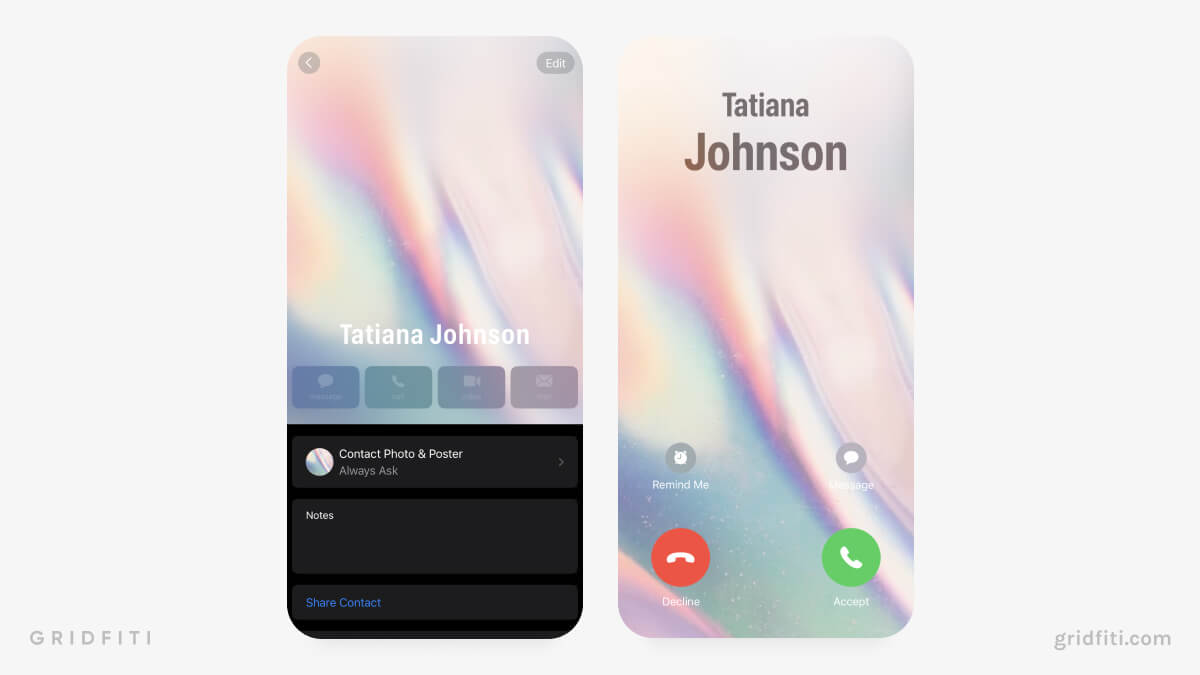 Monogram
Whether you just want to add your favorite color, or give things a little more pizazz with a text style, the monogram iOS contact poster is an elegant and simple approach for your contact poster. Pro tip: If you're not a fan of Apple's font choices, DIY your own monogram in an app like Canva.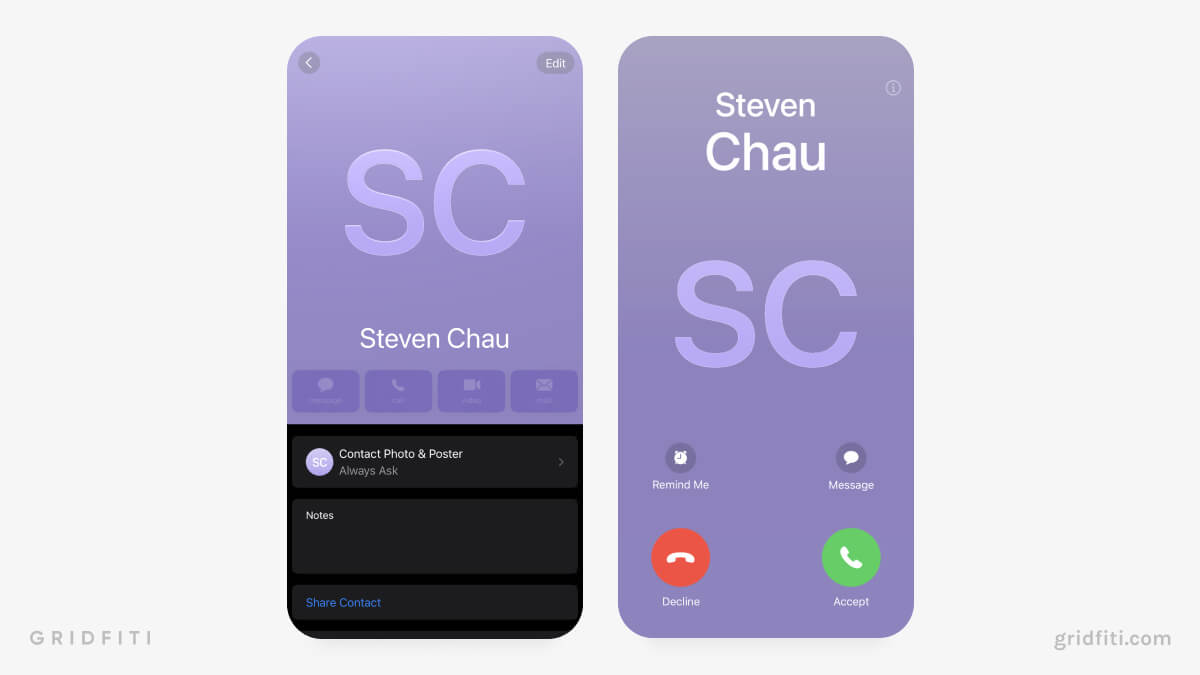 Memoji
Another native customization option, the Memoji . Not keen on creating a Memoji that actually looks like you? Choose an emoji instead — tap the one you like to see more variations, or set your own custom expression using the camera feature.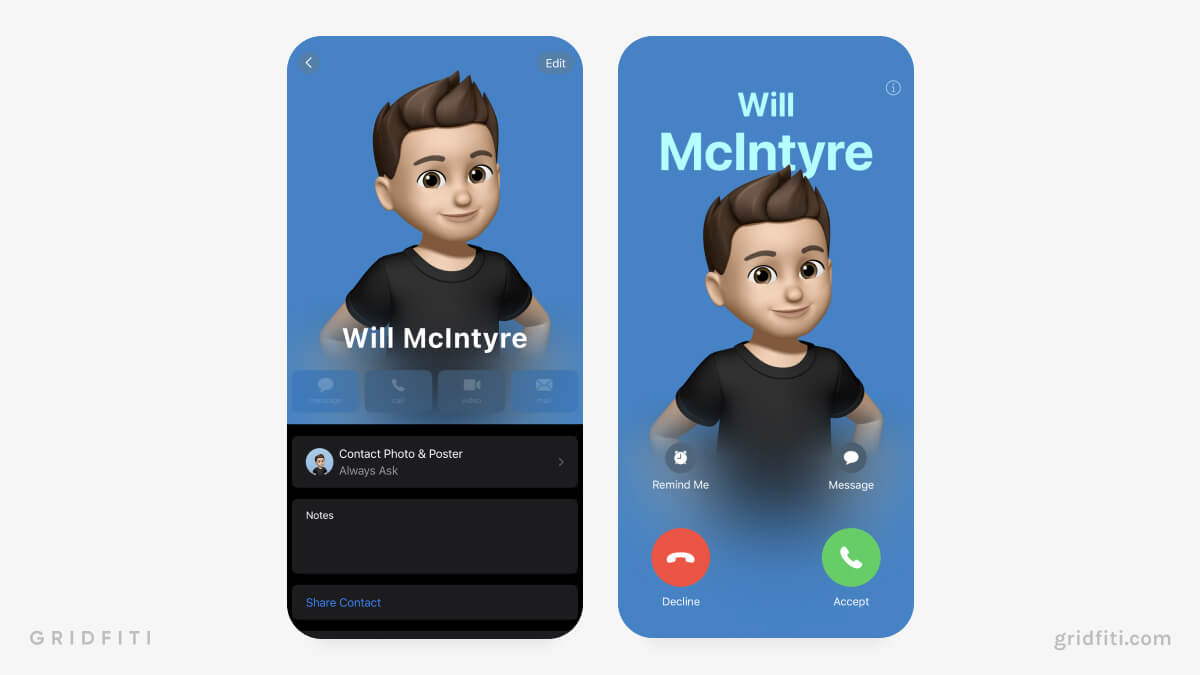 Boho
Fans of the boho aesthetic keep the summer vibes going all month long with warm, earthy tones and lots of natural touches. Search the web for a background with lots of warm sun rays, or take a crack at creating your own in an app like Canva or Procreate.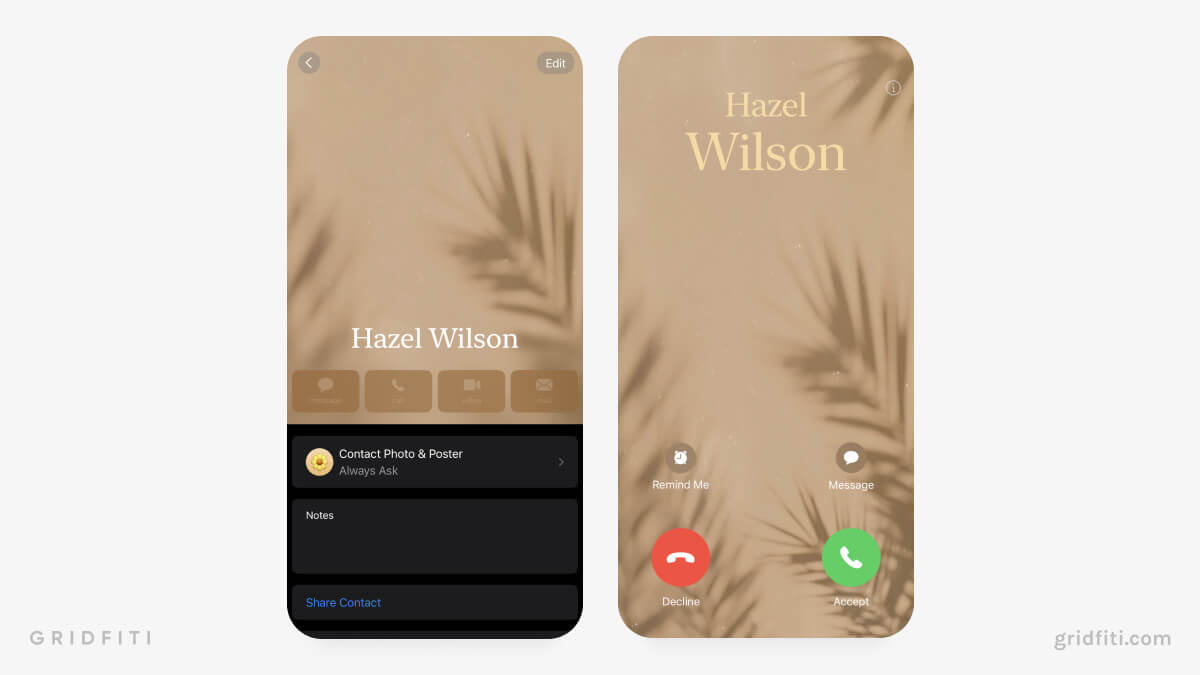 Gothic
If you're the friend who wears all black to every occasion and no matter the weather, why not set a contact card to match? You have tons of options to choose from if you're going for a gothic vibe, from a goth'd out Memoji on a dark background, all the way to a moody black and white shot of a cathedral in winter.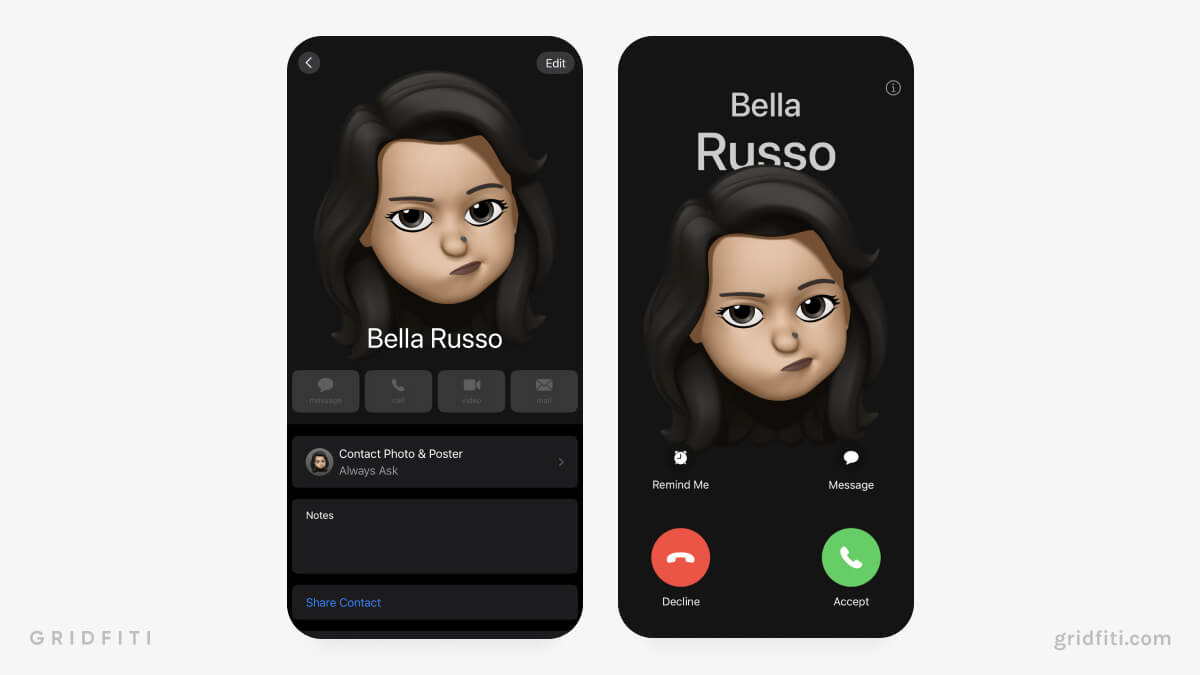 Maximalist Collage
Calling all lovers of kitschy collage! You'll find all manner of aesthetic maximalist wallpapers you can use for your contact card, from the bold and colorful to the weird and esoteric. Pinterest and Tumblr are great places to find images that fit this aesthetic. Or, you can try to create your own in an app like Procreate or GoodNotes.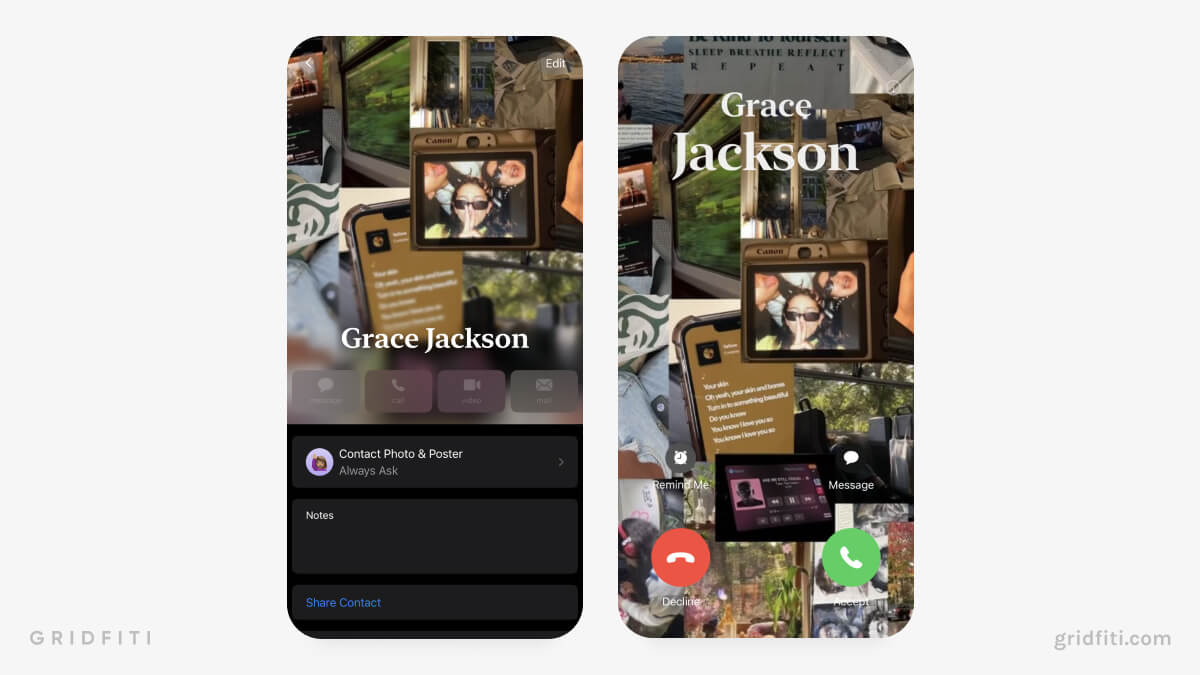 Witchy
Whether you're a sun witch who loves all things bright and pastel, a cottagecore witch who adores earthy tones, or a moon witch who's keen on cool colors, your contact poster is the perfect place to add a dash of your own personal magic!
Create your own custom witchy avatar with Midjourney, or search r/ImaginaryWitches for a done-for-you background that's sure to impress on your next phone call!
Related: Midjourney Prompts Guide (Examples & Settings)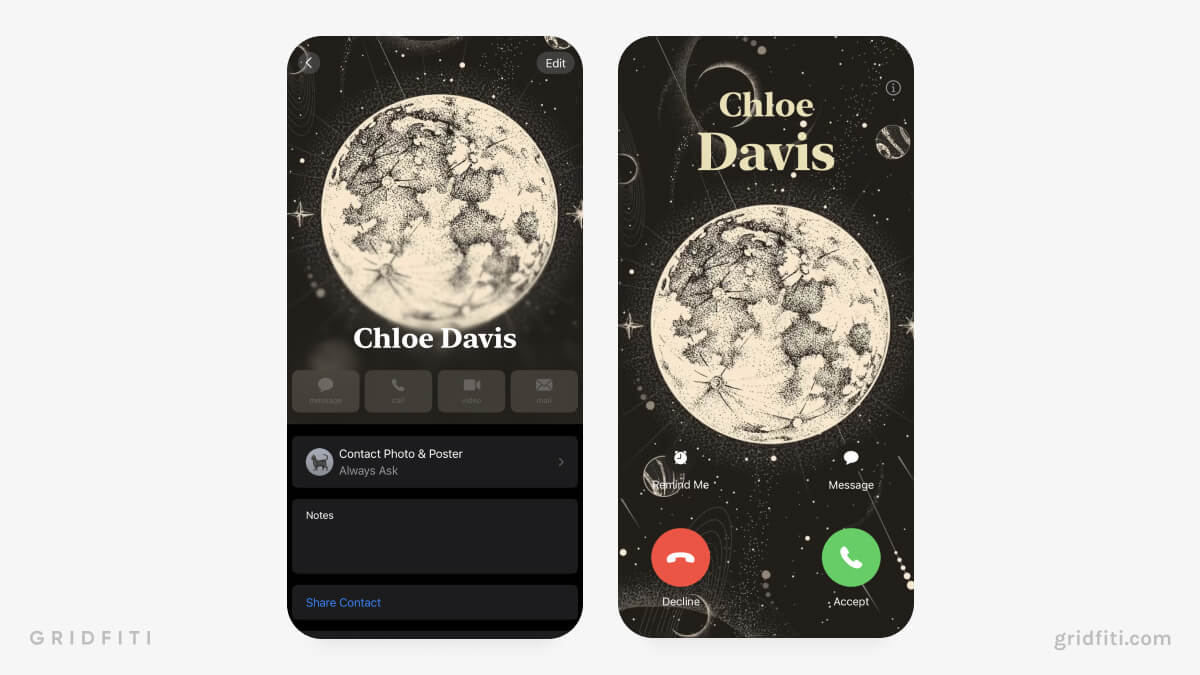 More Ideas for Customizing Your iOS Contact Poster
Do a quick photoshoot. Put together a fit that matches your vibe, and snap some pics at an aesthetic location. A quick pass through an editor like VSCO or Prequel, and voila! You've got an aesthetic, uniquely 'you' background for your contact poster (and hopefully also had some fun during your shoot).
DIY your own background! Your contact poster should be just as unique as you are. And the best way to show off your one-of-a-kind personality is with a custom card that you can't find anywhere else. Apps like Canva and Procreate make it easier than ever to create personalized designs, even if you can't draw a stick figure.
How to Set Up Your Contact Poster in iOS 17
Last but not least, here's how to set up your very own contact poster in iOS 17!
Step 1: Open the Contacts app.

(If it's your first time opening the app after updating to iOS 17, tap Continue below the prompt to customize your contact poster. To close the prompt, tap Set Up Later in Settings.)

Step 2: At the top of your contacts list, tap My Card.
Step 3: Tap Contact Photo & Poster.

If this says "Disabled", you'll be able to enable it on the next screen.

Step 4: Tap Continue.
Step 5: Type the name you'd like to appear on your outgoing calls and texts.

You can input your first and last name. You can also add emojis if you'd like.

Step 6: Choose a source for your poster's graphic: Camera, Photos, Memoji, or Monogram.

If you're using one of the stock Memojis (like the unicorn), you can set your own expression, or choose from one of the preset options.
If you're using a photo, you can swipe right to apply a filter: Black & White, Duotone, and Color Wash. The Duotone and Color Wash effects let you set the overlay colors.

Step 7: Customize the background color and text style.

Tap the circle icon in the bottom left corner to select your background color. Select one of the preset colors, or tap the color wheel for a more personalized touch. Then, use the sliders to adjust the saturation.

Step 8: Customize the text color and style of your name.

Tap your name to change the color and font style. You can choose from 4 styles: 1 serif font and 3 sans serif fonts.
Just like with the background color, you can also set your own custom text color. Use the slider to adjust the text weight.

Step 9: Tap Done when you're finished to preview your poster.

You'll be able to see what your contact poster looks like when you call or text someone. If you're not happy with how it looks and want to keep tweaking, tap Back to return to the customization screen.
Once you're finished, tap Continue to move on to the sharing settings.

Step 10: Set a contact photo (Optional).

This will replace your contact photo if Name & Photo Sharing is toggled on in the next screen.

Step 11: Update your sharing settings

If you toggle on Name & Photo Sharing, and also set Share Automatically to Contacts Only, your name, photo, and contact poster will automatically show up for your contacts.
If you set Share Automatically to Always Ask, you'll be prompted to share your poster and photo for each call and text message.
iOS 17 Contact Poster FAQ
Can I Create Multiple Contact Posters in iOS 17?
Yes! To see all the posters you've created:
Open the Contacts app.
At the top of the list, tap My Card.
Tap Contact Photo & Poster. (If you haven't already set up your first one, you'll need to create it moving on to the next step.)
Under your existing contact poster, tap Edit.
Swipe to the right to scroll through the posters you've created. Tap Customize under each one to edit it. To create a new one, tap the blue circle icon on the bottom right.
How Do I Delete a Contact Poster in iOS 17?
Open the Contacts app.
At the top of the list, tap My Card.
Tap Contact Photo & Poster. (If you haven't already set up your first one, you'll need to create it moving on to the next step.)
Under your existing contact poster, tap Edit.
Scroll over to the poster you'd like to delete. Swipe up to show the circle trash can icon. Tap it to delete the poster.
What's your favorite way to express yourself with your iOS contact poster? Sound off in the comments!
Gridfiti is supported by its audience – when you buy something using the retail links in our posts, we may earn a small commission at no additional cost to you. Read more about our affiliate disclaimer.