There are so many ways to personalize your iPad. Besides customizing it on-screen, Apple's engraving service gives you the opportunity to add a unique physical touch to your iPad before it even arrives to you.
If you're curious about engraving your iPad and are looking for some ideas to get started, you've come to the right place! We've gathered engraving ideas of all kind, as well as pros and cons, and good-to-know tips before you order your engraved iPad.
Looking for more ways to make your iPad aesthetic? Check out our blog post on how you can make your iPad aesthetic and join our mailing list!
What Should You Engrave on Your iPad?
You can choose to engrave quotes, emojis, angel numbers, and so much more. There are so many ideas when it comes to engraving your iPad – and it can be hard to choose since the personalization will be there forever. From functional to aesthetically pleasing picks, here are some great iPad engraving ideas that you can use.
Clever & Funny Engraving Ideas for iPad
Apple allows for up to two lines of text for iPad engravings, giving you more space to be more creative — compared to the character limits on Apple pencil, AirTags, and AirPods engravings. Here are some of our favorite clever/funny engraving ideas you can use for thought-starters!
Engraving Ideas:
"It's our best iPad ever" Apple, 2010-2023
The line below this is false. The line above this is true.
An Apple a day keeps Microsoft away
Property of Tim Apple
No engraving, thanks!
Your engraving
This is temporary, right?
Not Dishwasher Safe
INSPIRATIONAL QUOTE
"SPACE FOR RENT"
"YOUR AD HERE"
This is my iPad. There are many like it but this one is mine.
This engraving will totally ruin the resale value
Don't Panic
An Apple a day keeps the broke away
Leave Blank
If found, call 555-4545 and tell him thanks for the iPad
IF FOUND, AVENGE MY DEATH.
Stuck in iPad factory, please send help!
Scratch here to reveal prize!
In case of emergency, break glass.
We don't need to bring ink and paper into this.
For my parents: "If it doesn't light up that means its off"
Don't drop on foot – it hurts.
I did not stand in line to buy this.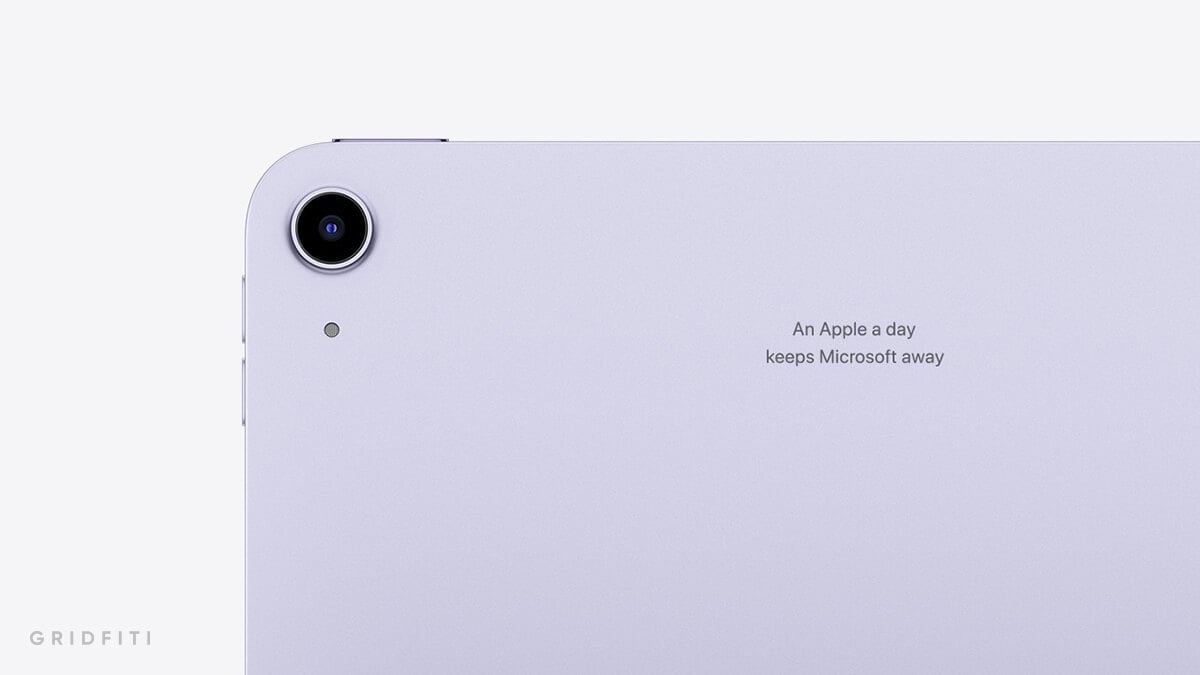 Quotes for iPad Engraving
A good quote is good for the soul. Add a quote to the back of your iPad to brighten your day and even motivate you to be better. There are so many quotes to pick from – whether you're a student, music lover, or cinephile, there are so many great quote types to choose from! Here are some quote genres to start brainstorming ideas:
Study Quotes
Wellness Quotes
Movie Quotes
Book Quotes
Lyrics
Manifestation Quotes
Inspirational Quotes
Motivational Quotes
Positive Affirmations
Reminders
Angel Numbers
If you're not sure which exact quote to engrave on your iPad, here are some quote engraving ideas for you to pick from, or use as reference.
Engraving Ideas:
Taking care of yourself is productive.
Either run the day or the day runs you
One day or day one
Wake up with determination. Go to bed with satisfaction.
When nothing goes right, go left
I don't chase, I attract.
One day at a time.
C'est la vie. That's life.
777 Luck
you have always been enough.
Be the reason someone smiles today
Stop overthinking. Start doing.
It is all part of the process.
Don't stress over things you cannot control.
Do it for your future self.
Focus on the good.
Grow your mind.
With love, always.
Don't overthink it.
Be the energy you want to attract.
Good things take time.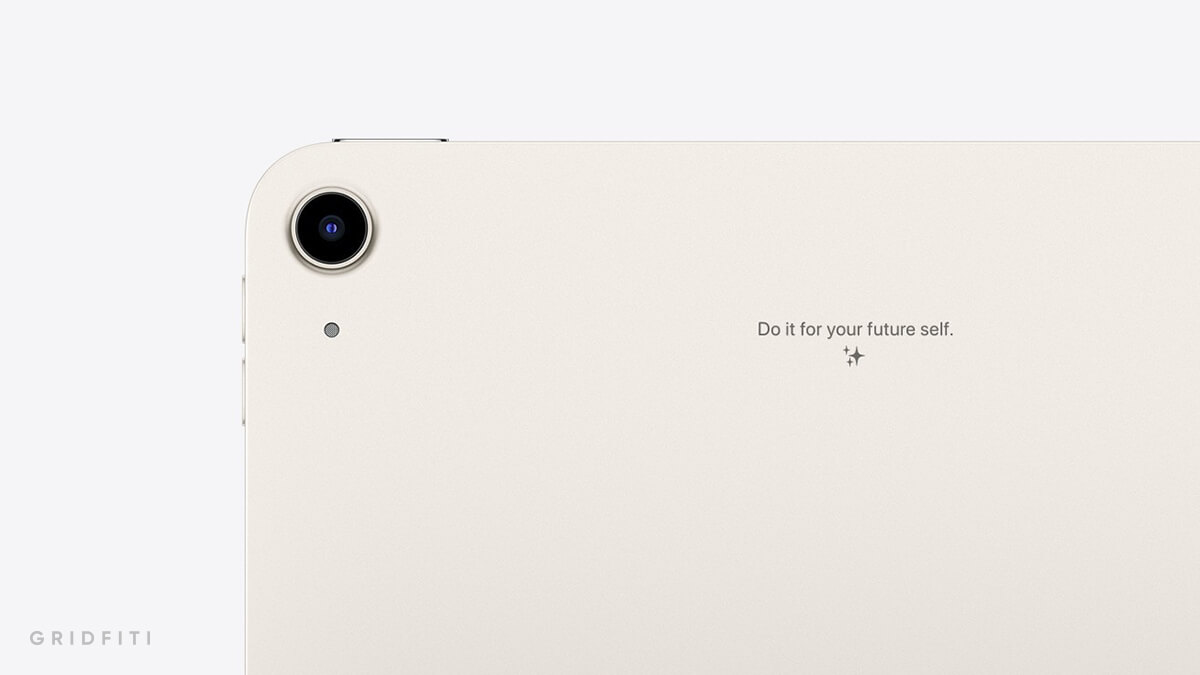 Song & Album Names
If you always have your favorite playlists on rotation, try quoting something related to music. It can be a song name, album name, or even artist name if you're a huge fan.
Engraving Ideas:
Purpose
Started from the bottom
After Hours
Take Care
The Motto
Shake It Off
Glimpse of Us
HUMBLE.
Peaches
No Limit
If you're reading this It's too late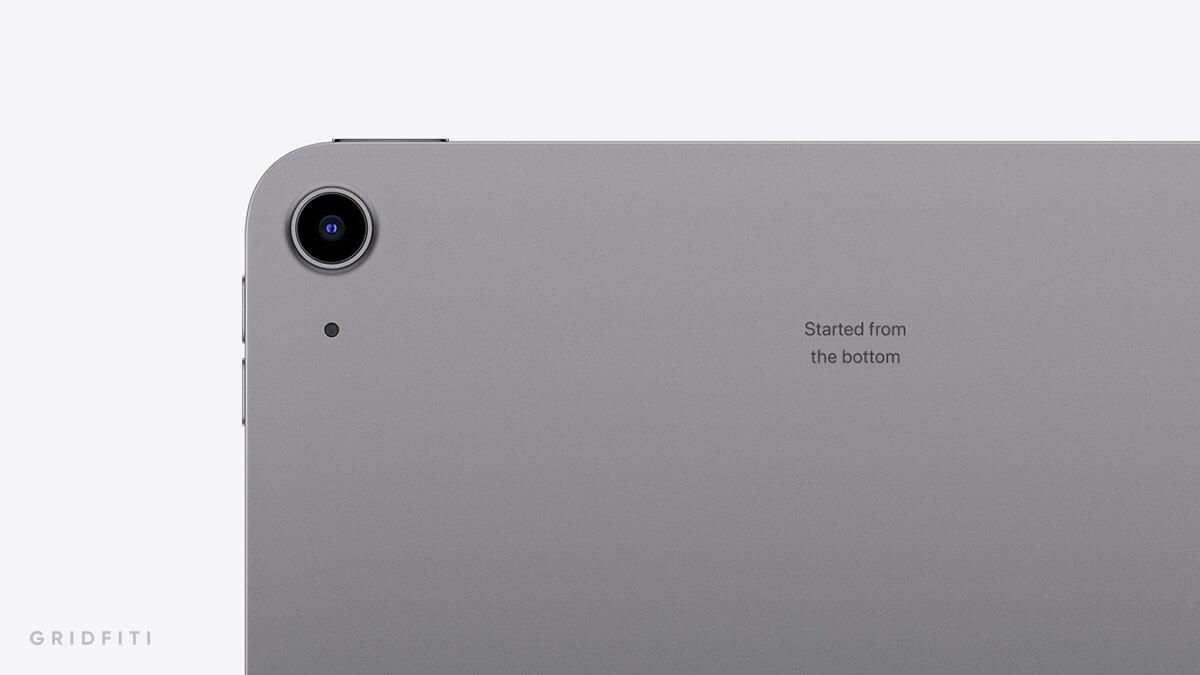 Emoji Engraving Ideas for iPad
Choose from Apple's emoji collection to add some playfulness to your iPad engraving. The emoji design is less detailed compared to the typical keyboard emojis, and there's no color for engravings. Here are the emojis that Apple allows you to engrave on your iPad: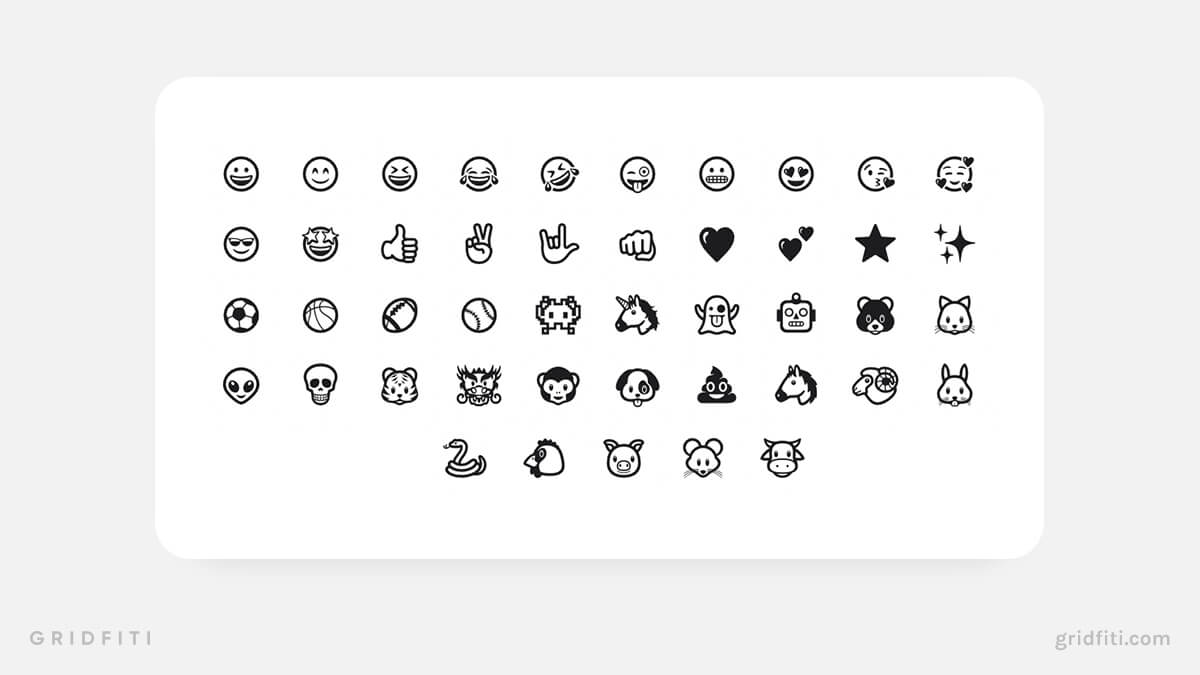 Cute & Aesthetic Emoji Engraving Ideas for iPad
Get creative and mix and match emojis to suit your personal aesthetic. You can add a single emoji to one a second line for simplicity, or select an emoji combo to create your own custom engraving.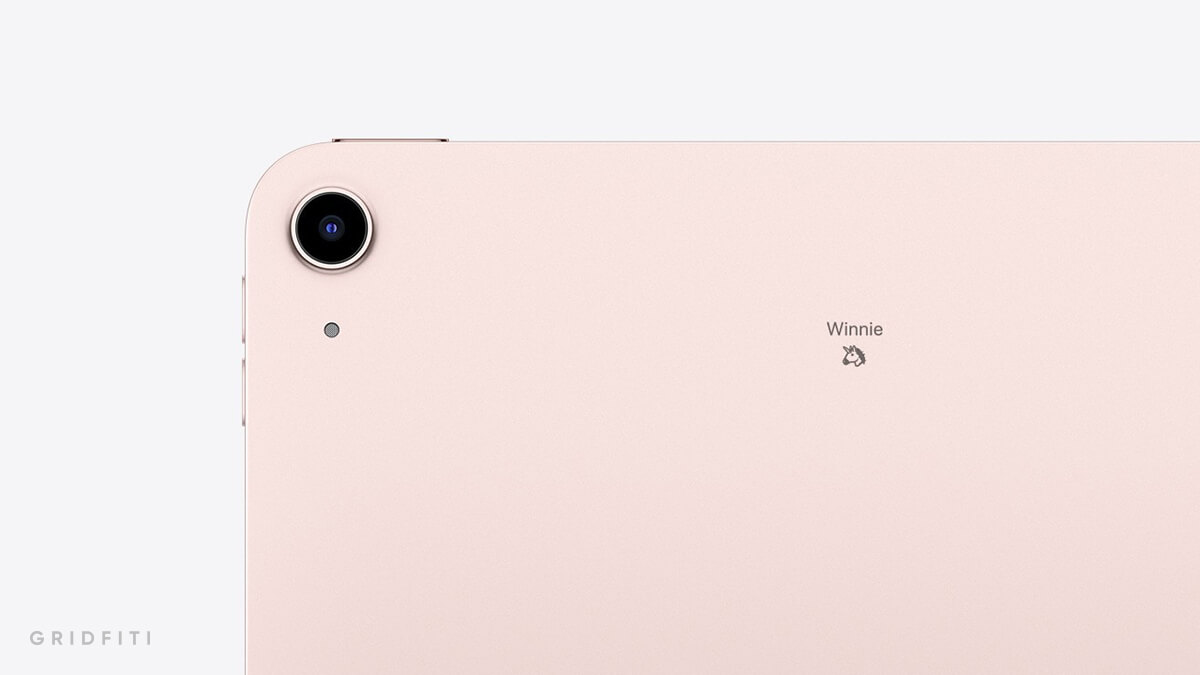 Nicknames & Naming Your iPad
You might already name some of your household items like your car, plants, or even suitcases — so why not name your iPad? If you can't decide on a device name, you can even engrave your own nickname to personalize your tablet.
Engraving Ideas:
Property of <Name>
Your initials
i<Name>
iBelong to <Name>
This iPad was stolen from <Name>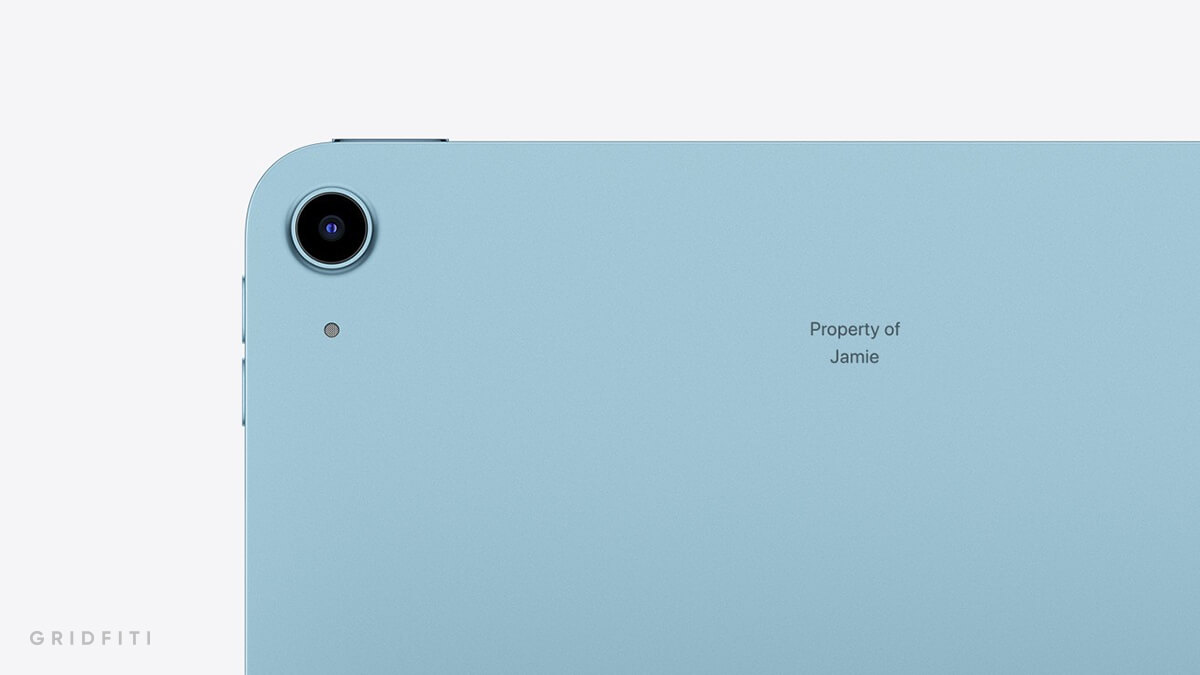 Contact Information — Name, Email Address, Phone Number
One of the most popular iPad engraving ideas is to engrave your phone number, full name, or email address. In the case that you misplace your iPad, this functional approach to engraving acts as a means for people to contact you when the item is found – since they won't be able to access a locked iPad.
If you can't decide which contact method to choose, email address is likely the best pick — since emails can be sent and received from anywhere, and are less likely to change over time than a phone number.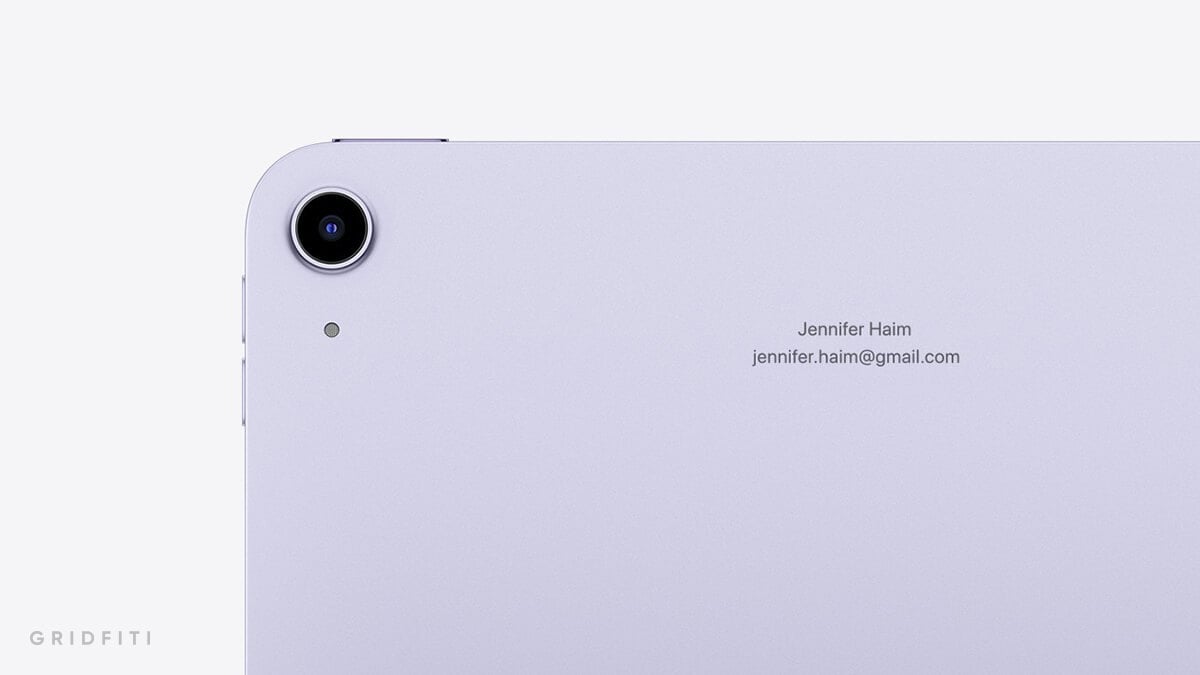 Commonly Asked iPad Engraving Questions
Pros & Cons of Engraving an iPad
Pros
Personalizes your iPad to be uniquely yours
Adds character to your iPad
Allows your iPad to be easily found and returned if lost
Cons
Lowers resale value
Unchangeable later on
Cannot be exchanged (but can be returned online)
How many characters can you engrave on iPad?
iPad engravings allow for two lines of text – and you're able to use both lowercase and uppercase letters. To be safe, you'll want to choose engraving text within the 50-54 character range.
iPad Pro
Lowercase letters gives you a 34 character limit per line (68 characters total)
Capital letters gives you 27 character limit per line (54 characters total)
iPad Air
Lowercase letters gives you a 34 character limit per line (68 characters total)
Capital letters gives you 27 character limit per line (54 characters total)
iPad 9th Gen
Lowercase letters gives you a 36 character limit per line (72 characters total)
Capital letters gives you 25 character limit per line (50 characters total)
iPad 10th Gen
Lowercase letters gives you a 34 character limit per line (68 characters total)
Capital letters gives you 27 character limit per line (54 characters total)
iPad Mini
Lowercase letters gives you a 32 character limit per line (64 characters total)
Capital letters gives you 26 character limit per line (52 characters total)
Where are the engravings on the iPad?
iPad engravings are on the back of the device, in the center slightly below the camera. Typically, Apple engravings are only one short line on a product, but for iPads you can engrave either one line, or an optional secondary line underneath.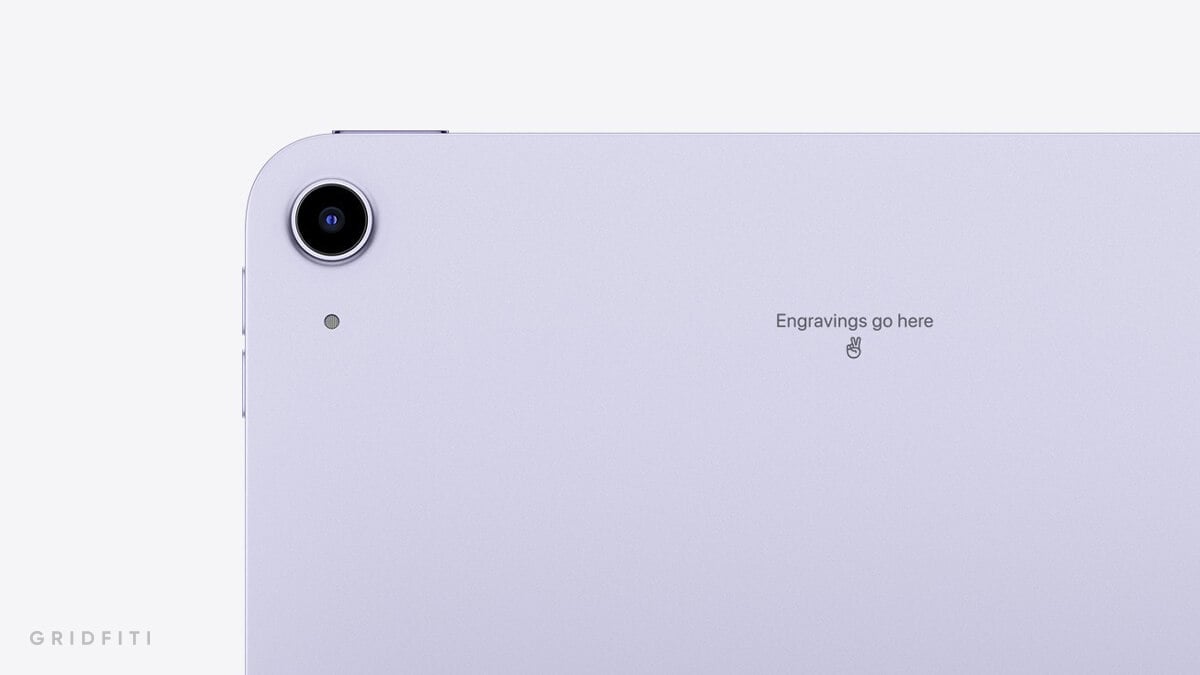 Which iPad can you engrave?
You can engrave all iPads, including iPad (9th & 10th generation), iPad Pro, iPad Air, and iPad Mini models.
To order engraved iPads, head over here to Apple's engraving order page.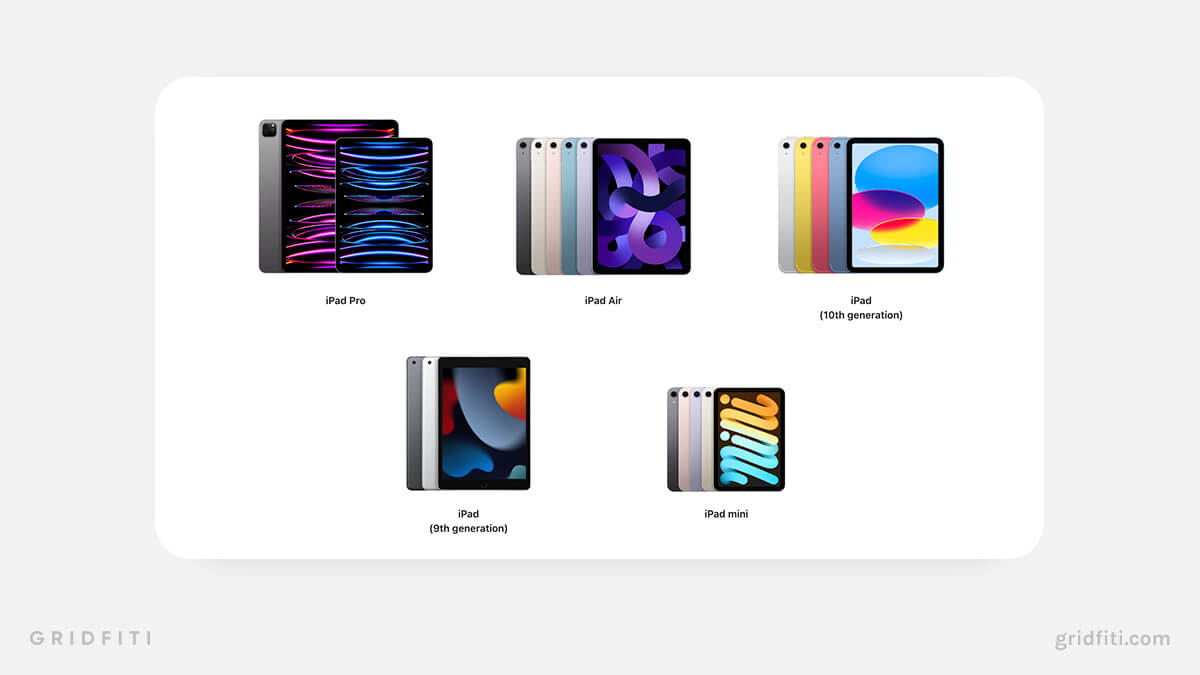 Can you return an engraved iPad?
Yes! Returns are the same for engraved Apple products. As long as it's within the return time window, which is typically 14 days for Apple products.
A couple things to note:
You cannot exchange AirPods that are engraved, only return.
Returns are online only and not in-store.
See Apple's return policy here for the latest information.
Can you engrave an iPad after purchase? Where can I get my iPad engraved?
You cannot engrave your iPad after purchase, as it's all done on Apple's website at the purchase stage. If you want to engrave AirPods you already own, you can use a third party service, but warning: this may void your iPad's warranty.
What font is used for iPad engravings?
SF Pro (aka San Francisco) is Apple's brand font, so it's no surprise this is their pick for engravings. The font used on iPad is SF Pro Rounded Light!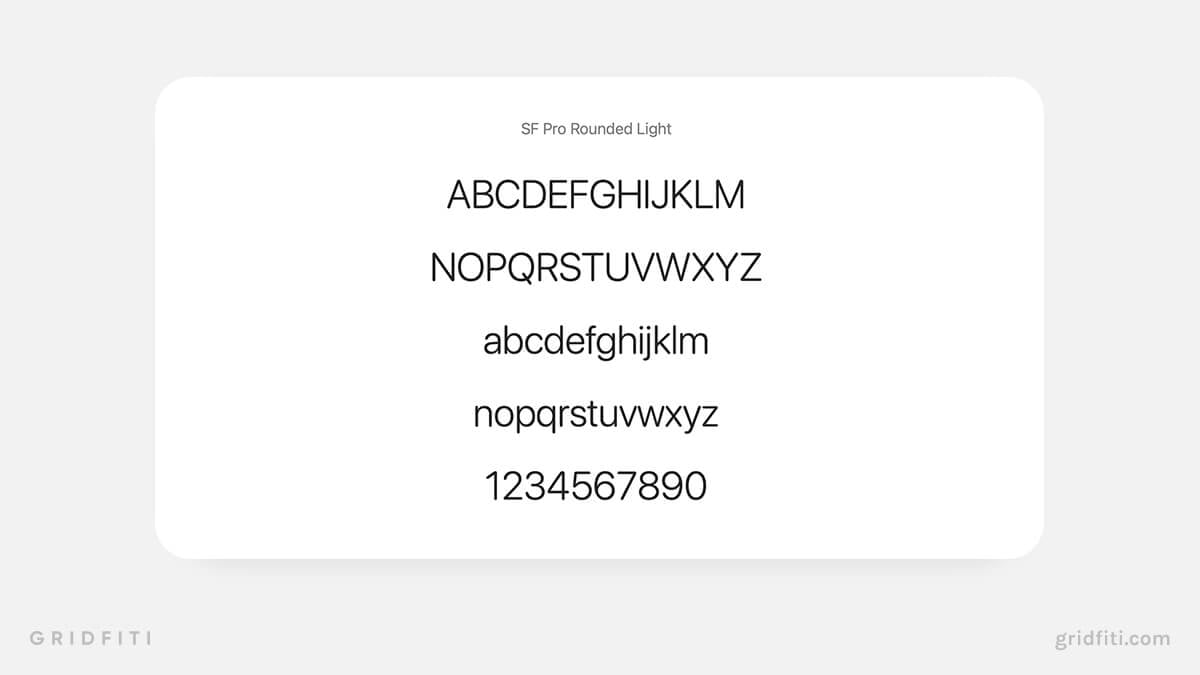 What do you have engraved on your Apple products? What other iPad engraving ideas are we missing from the list? Let us know down in the comments below!
Gridfiti is supported by its audience – when you buy something using the retail links in our posts, we may earn a small commission at no additional cost to you. Read more about our affiliate disclaimer.